Planning a trip to Oahu on a budget and want to know some cheap things to do on Oahu HI? Keep scrolling to find out how to have a cheap vacation in Oahu that rocks!
This list of cheap things to do on Oahu on a budget contains affiliate links which means if you purchase something from one of my affiliate links, I may earn a small commission that goes back into maintaining this blog.
The cost of a trip to Hawaii can quickly add up, but don't worry! You can find plenty of cheap things to do in Oahu.
Oahu is the most-visited island in Hawaii. It's gets almost twice as many tourists come to Oahu every year over Maui, the second most-visited island.
Unfortunately, due to the availability of these higher-priced activities, Oahu has gotten the reputation of being an expensive place to visit.
But nothing could be further from the truth!
There are so many places to go, things to do, and experiences to enjoy that will not bust your budget. The trick is to know where to look!
There's enough to do on Oahu that you can keep everyone in the family entertained, from grandparents and parents to moody teens and kids!
If you are traveling with little ones, be sure to check out my complete Family Guide to Oahu!
Maybe you're actively planning a trip or you're just experiencing a bad case of Wanderlust. You'll find something that excites you on my list of Top Cheap 10 Things to do on Oahu Hawaii for $10 or Under!
Don't have time to read a bunch of Hawaii blog posts and reviews? Here are some of our top picks for visiting Oahu on a budget.
Best Budget-Friendly Oahu Tours/Activities
Best Budget-Friendly Oahu Hotels
Want to skip all the planning and just access my detailed Oahu Itinerary complete with daily schedules, kid-friendly activities, and travel hacks? Click the button below.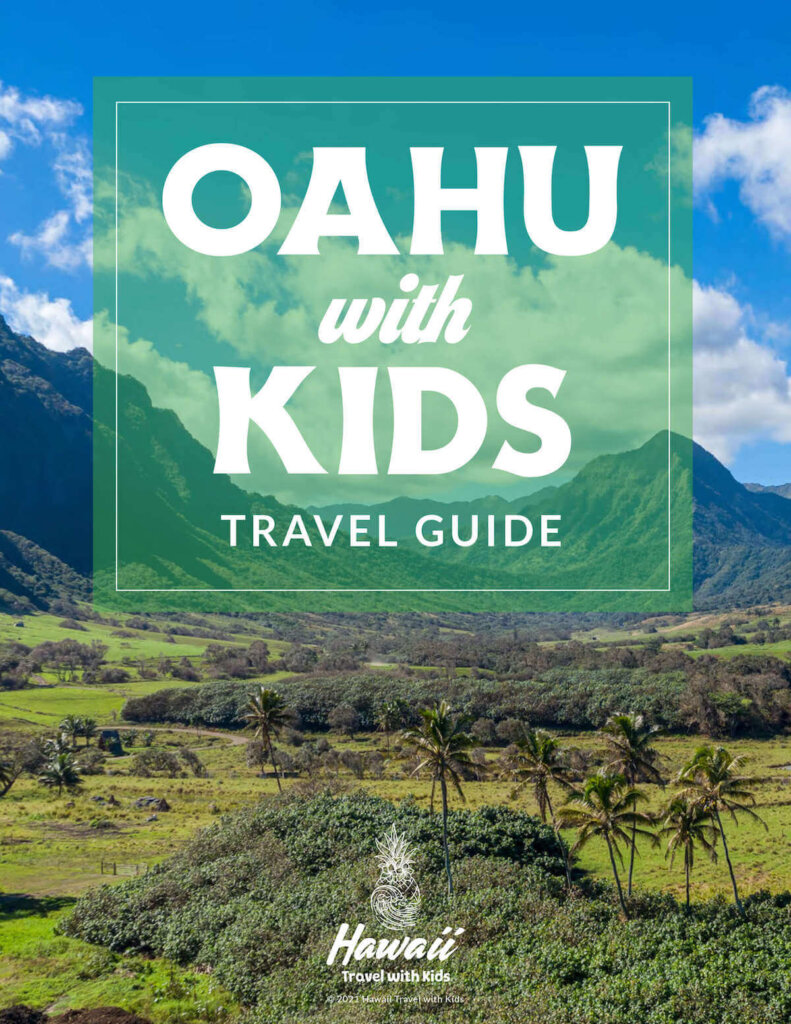 Oahu on a Budget FAQs
What are some ways to save money on Oahu?
The easiest way to save money on your Oahu vacation is to travel off-season. Hotels, rental cars, and even some activities will be much cheaper. And take advantage of all the free things to do on Oahu, like free hula shows, live music, and parks.
How can I save money on food on Oahu?
The best way to save money on food is to hit up the local grocery stores, Costco, and farmers markets. This way, you can make your own meals at a fraction of the cost. Lunch tends to be cheaper than dinner, so make that your splurge meal. You can also take advantage of Oahu food trucks and happy hour deals.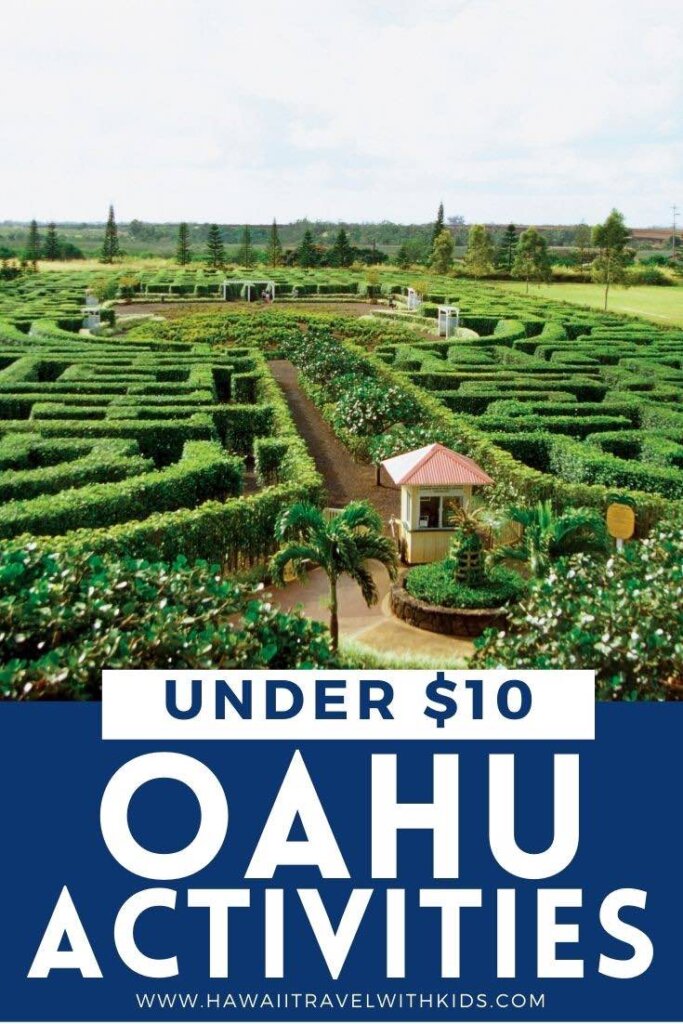 10 Cheap Things to do on Oahu for $10 or Less
If you'd like to explore Oahu without sacrificing your entire travel budget, you'll definitely want to check out these spots!
1. Find a Comfy Spot in the Sand!
One of the biggest reasons for visiting Hawaii is the beach, right?
You'll be happy to know many beach activities are completely free! You can sit on the sand, go swimming, go snorkeling, and more!
Plus, public beaches are free in Oahu. The most popular (and populated!) beach is definitely Waikiki. No matter what you want to do, you'll probably find it along this 2-mile stretch of beach.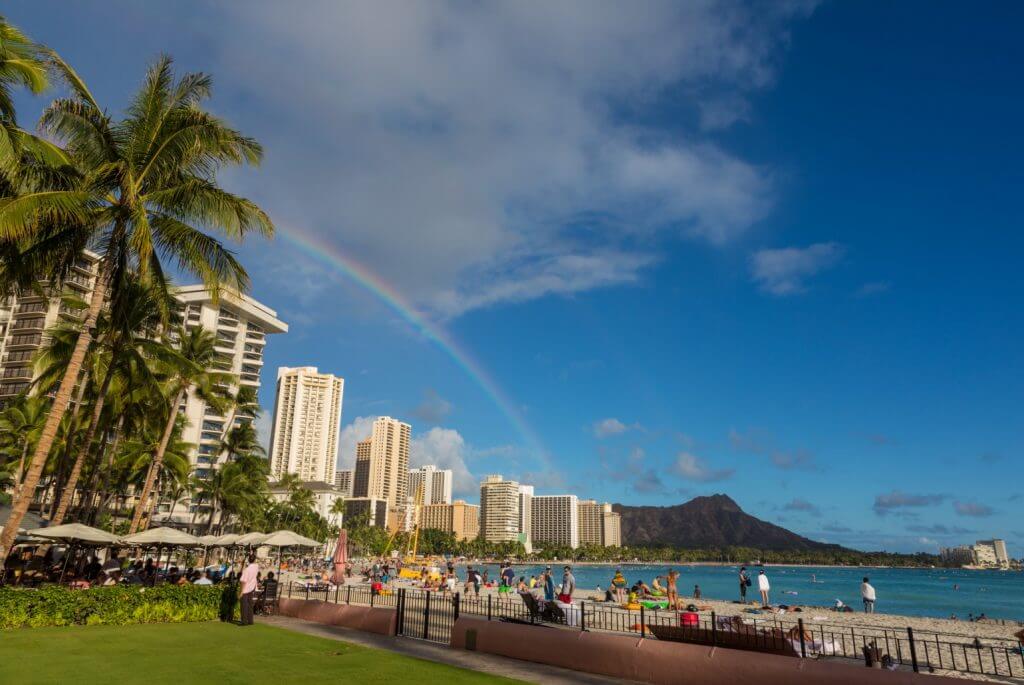 Be sure to check out the Waikiki Beach section of this guide before you go to find the section of beach that best fits what you're looking for.
And don't overlook Oahu's beach parks. These are public beaches with areage and all kinds of great amenities. Two of the best are Lydgate Beach Park and Ala Moana Beach Park.
Plus, there are lots of things to do in Waikiki on a budget. Find out my 25 favorite things to do in Waikiki!
2. Take in the History at the Pearl Harbor National Memorial
Another must-do on Oahu is a visit to the Pearl Harbor National Memorial.
There's honestly so much to see that it could be spread out into several days. I'm not sure we even got to everything last time we were there.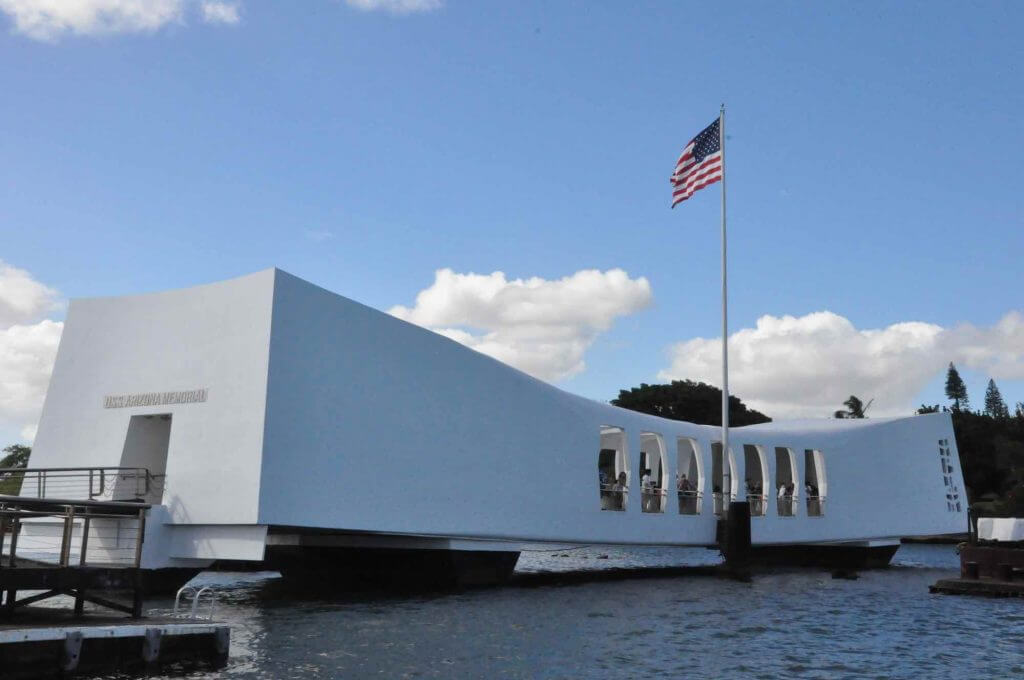 The Pearl Harbor National Memorial is open 7 days a week, from 7 AM to 5 PM. It's free to visit and it's easy to explore Pearl Harbor with kids.
I definitely suggest paying the nominal $1 per ticket price to reserve tickets in advance online. You'll want to do this especially if you're planning a visit during tourist season.
And if you can swing it, the Pearl Harbor Aviation Museum is one of the coolest airplane museums we've been to. Get discounted tickets here.
Once you arrive, you'll understand why Pearl Harbor is one of the top things to do on Oahu for families. And it's so easy to get to Pearl Harbor from Waikiki.
3. Try Island Food!
Now, I know everyone says this, but you really can't beat Hawaiian food!
The best part is that the food is just everyday meals to Hawaiian. That means visitors can snag a deal if they know where to look!
Poke is fresh, sushi-grade fish, usually cut and served in a bento box or over rice in a poke bowl. Foodland has consistently been hailed as the best poke in Hawaii and it's on my must-visit list when we're in Oahu!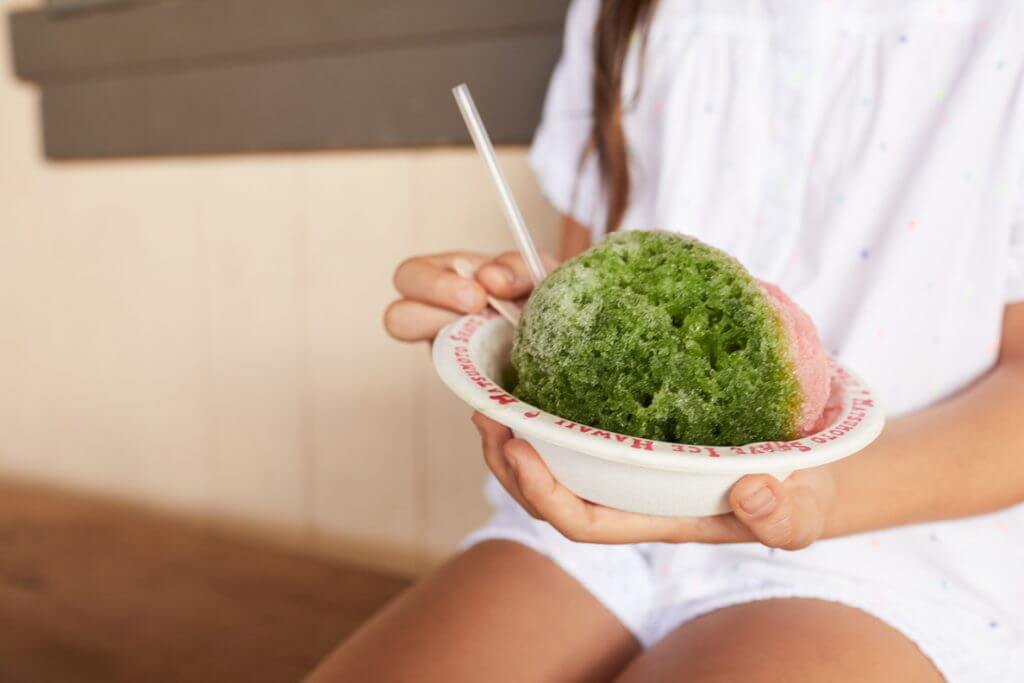 Shave Ice is another Hawaiian classic. And it's bigger, tastier, and more colorful than its predecessor, the snow cone! Hawaiian shave ice is the perfect thing to cool you off after an afternoon on the beach.
Look for Waiola Shave Ice near Waikiki, or Matsumoto Shave Ice if you're up on the North Shore. Just be prepared to stand in line!
Malasadas are Portuguese-inspired, hole-less doughnuts. And there is only one place locals will send you when you ask where to find one: Leonard's Bakery. You can choose to fill a puff or get an original.
And you can't get doughnuts like this anywhere else. But I have a recipe for coconut-filled malasadas that comes pretty close!
4. Let Someone Else Worry about Transportation!
If you're staying in or near Waikiki, you can totally get away with not renting a car. That can save you a TON of money.
Something unique to Oahu is their public transportation system TheBus. A one-day pass for adults is currently $5.50, and for youth is $2.50.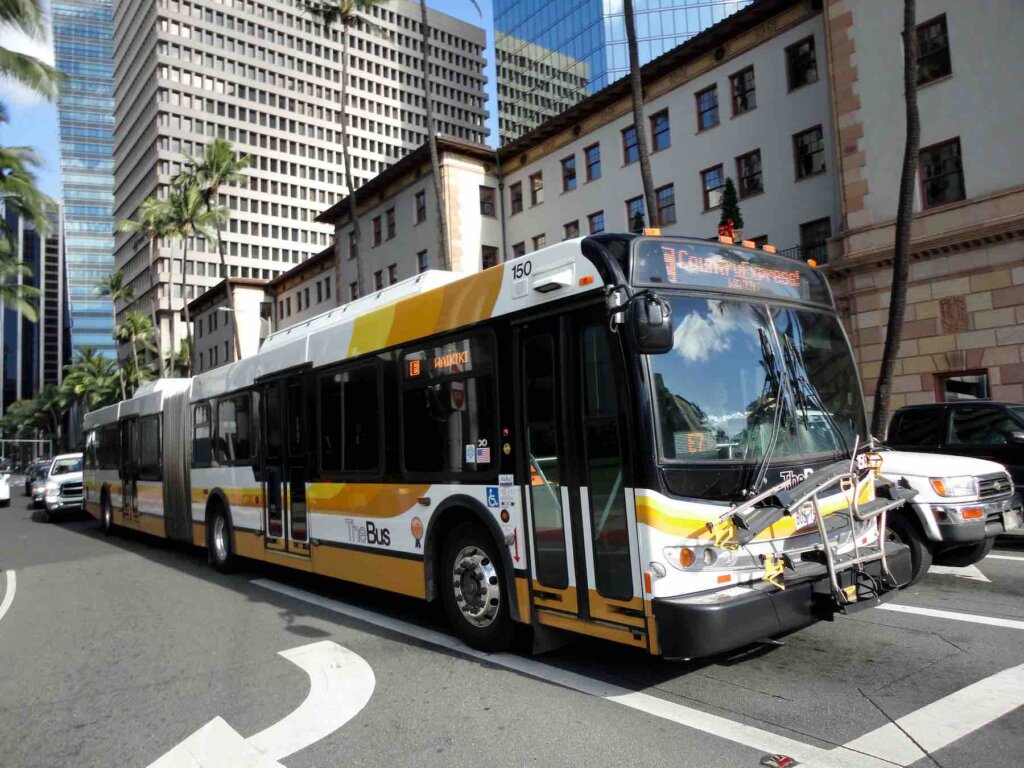 TheBus goes all over the island and stops at a lot of tourist attractions or Oahu points of interest.
In fact, they have 518 buses with 110 daily routes! Grab a map, hop on TheBus, and enjoy the scenery as you travel the island of Oahu.
5. Hike Historic Diamond Head!
Diamond Head State Monument has been a symbol of Hawaii since before extensive oceanic travel was possible. You can see it on all kinds of vintage travel posters.
Today, it offers some of the most popular and scenic hiking trails in Oahu. The ancient volcanic crater offers views of the coastline of Oahu that can't be rivaled.
And the entrance fee is only $5 per person, which makes it one of the best cheap things to do in Oahu.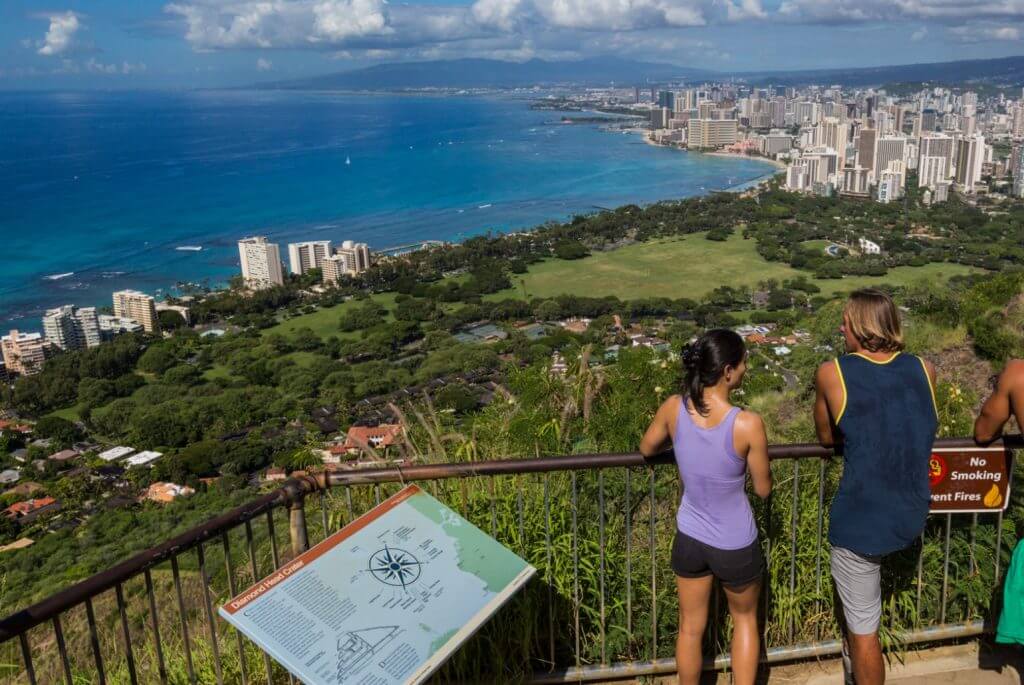 This hike is doable for even the littlest walkers and would be a shame to miss during your time on Oahu! Check out our top tips for hiking Diamond Head with kids.
To get a jump start before crowding becomes an issue, plan to get there early. You can visit every day except Wednesday, when the monument is closed.
And keep in mind that the last entry is 4 PM, so don't wait too late in the day to hit up this Oahu attraction.
As of May 12th, 2022 all out-of-state visitors must have an advanced reservation to enter Diamond Head State Monument. Make your reservations HERE.
6. Visit the Dole Plantation!
For the uninitiated, Dole is a company that grows tropical fruit, namely pineapples. A LOT of pineapples!
You'll pass it on your way up to the North Shore and it's actually one of the biggest tourist attractions in Hawaii. Also, it's one of the top-rated family things to do in Oahu.
The Dole Pineapple Plantation is a wonderful experience if for nothing else than to get some Dole Whip!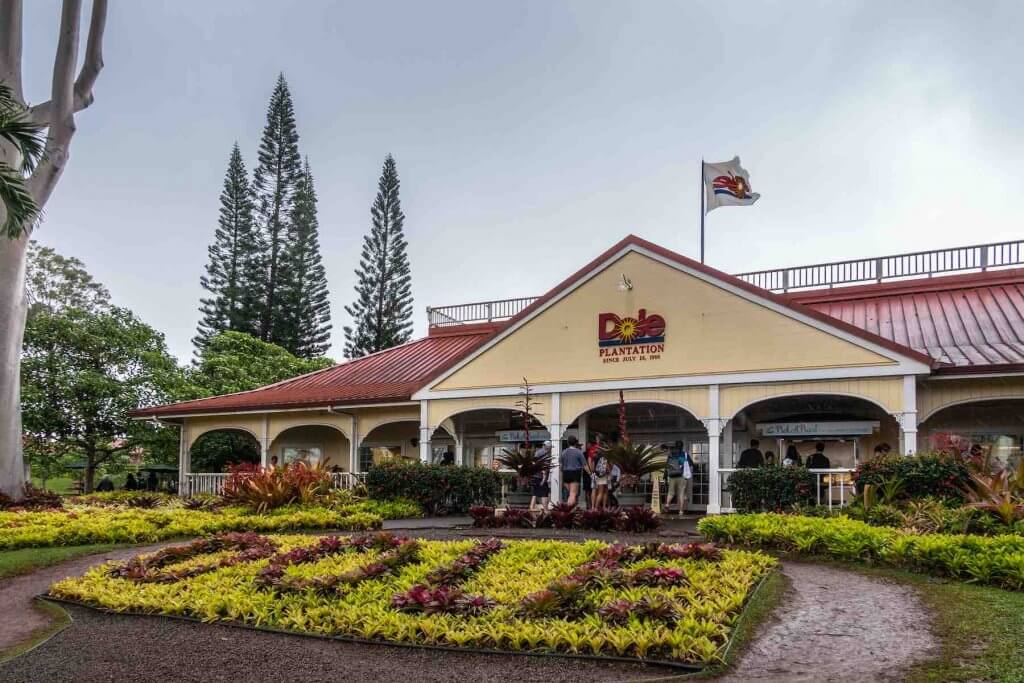 It's actually free to walk around Dole Plantation and take advantage of their cute photo ops. But once you're there, you'll probably want to upgrade to do an activity.
There are several tours available. If you're looking to stay in budget, I suggest either the Garden Tour or the Garden Maze.
Take a look at the different activities being offered and see what looks fun for you.
7. Nurture Your Green Thumb at the Botanical Gardens!
There are several botanical gardens around Oahu and entry fees vary greatly among them. The 2 in Honolulu are Foster Botanical Garden and Lili'uokalani Botanical Garden.
Foster Botanical Garden is the older of the 2, with some trees dating back to the 1850s. It costs a few dollars per person. And Lili'uokalani Botanical Garden is free! It's newer and focuses on the native plant species of Hawaii.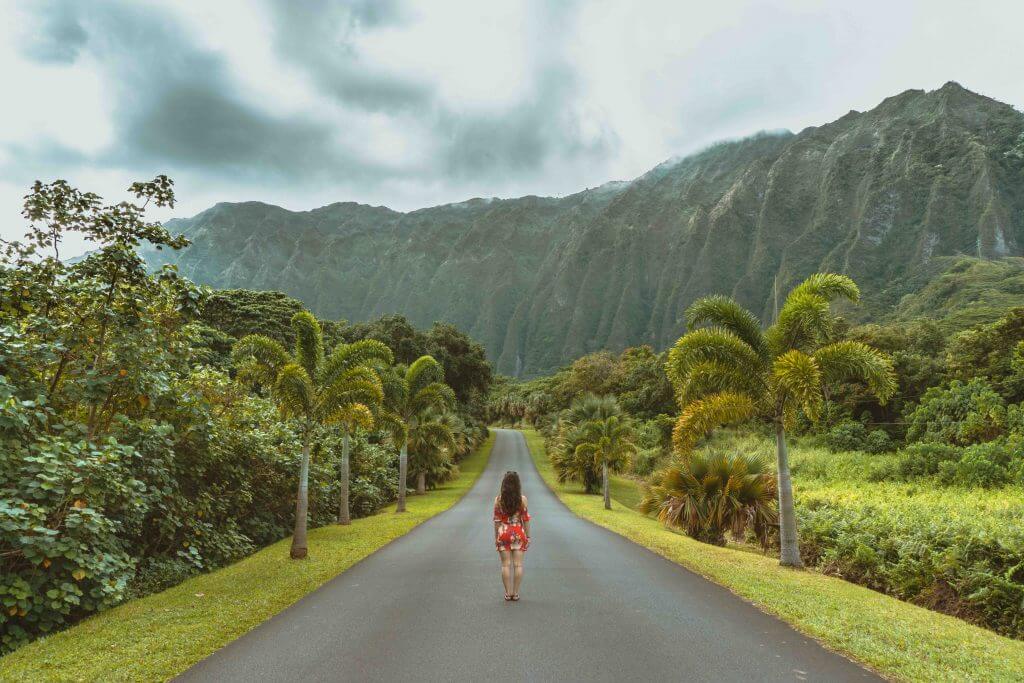 But one of the most famous ones (at least on Instagram) is the Ho'omaluhia Botanical Garden. This one is also free to visit! It's known for its gorgeous entrance, but there are actually tons of things to do there.
Needless to say, visiting a botanical garden is one of the prettiest and most affordable things to see on Oahu.
8. Visit a Coffee Farm!
Being from the Seattle area, you would think we know everything there is to know about coffee. However, something we don't have in the Pacific Northwest is the right climate to grow coffee!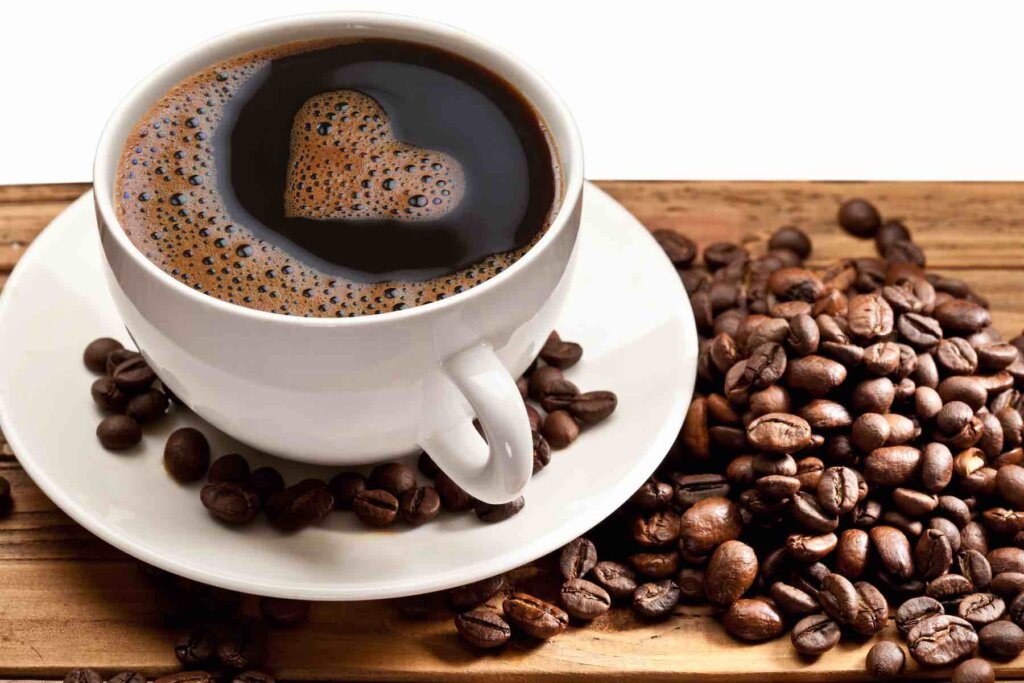 This is something Hawaii does have, so we take advantage of it whenever we get a chance to visit! It's interesting to see the varieties you can only get in Hawaii.
And you don't have to pay an arm and a leg to try it. And coffee farms are free to visit. A great one on Oahu is the Waialua Estate up on the North Shore.
It's about as perfect of a growing condition that coffee beans could ask for. Stop by for a sample, and maybe even a free guided tour if someone is available!
9. Take in a Free Hula Show!
As a former hula dancer, there is no way I wouldn't include this as an option! This is one of the best things to do on Oahu with kids!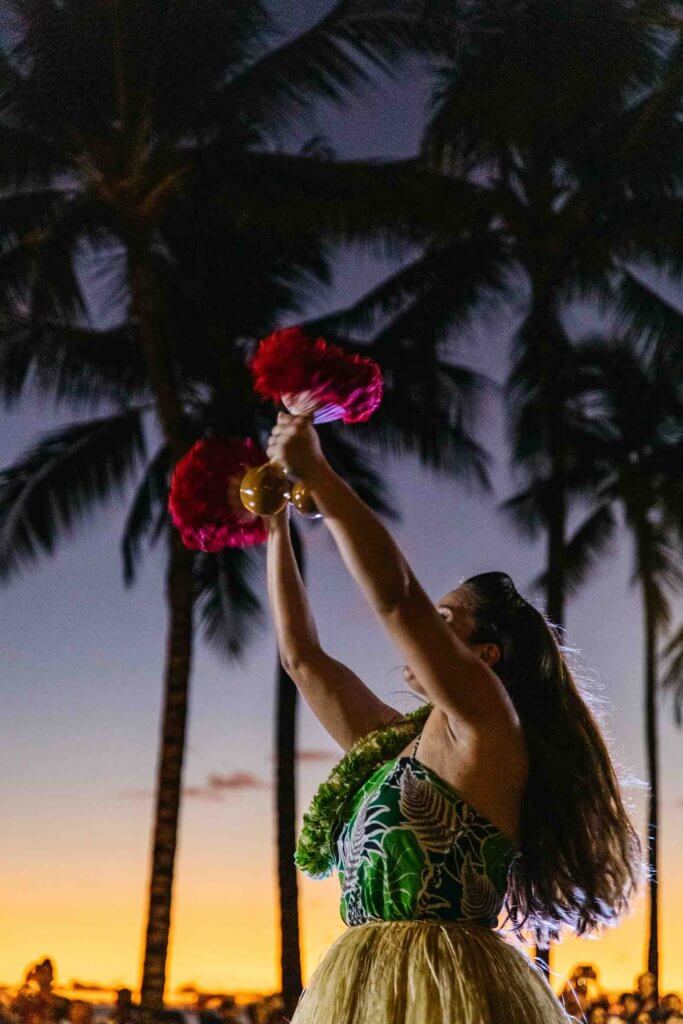 If you are looking for a scheduled hula dance for free, the Kuhio Beach Torchlighting and Hula Show has scheduled occurrences 3 times a week.
There are also awesome free hula shows at the Royal Hawaiian Center and Ala Moana Center throughout the week.
Otherwise, keep your ears open as you stroll along Waikiki Beach each evening. There's bound to be a free show at one of the many hotels along the beachfront!
10. Learn How to Dance Hula Yourself!
This one is a bit dependent on where you're staying. Some of the hotels in Honolulu offer free hula lessons. You just have to ask!
Another place to check out would be the Royal Hawaiian Center. During tourist season, they've been known to have regular (free!) hula dancing lessons that anyone and everyone can participate in.
Go a step past watching the hula. Learn about its history and the Hawaiian culture by learning how to dance yourself! I mean, this definitely one of the best free Oahu activities.
BONUS: Go Shopping at the World's Largest Shopping Center!
While staying to under $10 here might require more discipline than I have, I'm sure it can be done!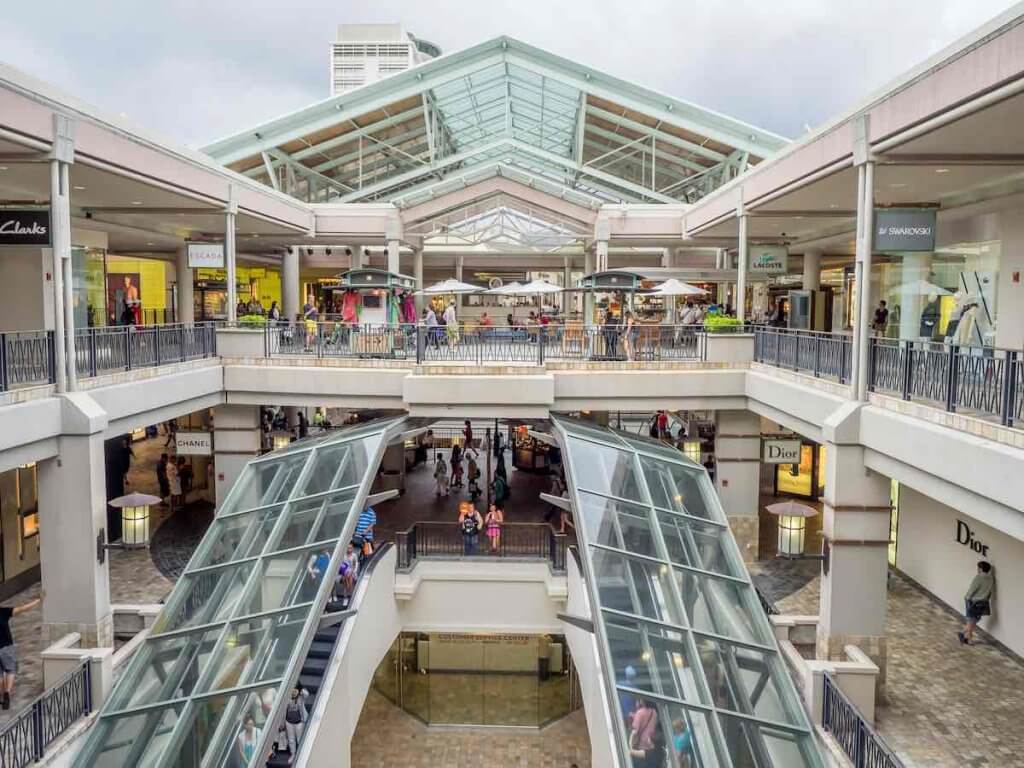 The Ala Moana Center in Honolulu is the largest outdoor shopping center in the world. It's the perfect spot to people-watch, take a stroll, or even help your family look for souvenirs!
With over 300 stores to choose from, you're bound to find something to test that discipline you have!
And their food court is pretty incredible. It's a great place to find cheap eats on Oahu.
Cheap Things to Do In Oahu Wrap Up
Sometimes the most affordable things to do on Oahu are the best ones.
Those of us traveling to Oahu are lucky. With all the tourists that visit each year, companies that cater to visitors have sprung up and flourished. Their success has allowed them to offer activities at a much more discounted rate than other islands!
You might want to sit beach-side and relax, or to ride TheBus until you see somewhere interesting to shop. Rest easy knowing that you will be able to find something to do that fits both your interests and your budget.
Which of the Top 10 Things to do on Oahu for $10 or Under are you most excited to try?