Are you planning a trip to Oahu with kids? You'll definitely want to hit the beach! Keep scrolling for my top picks for the best Oahu beaches for kids worth checking out!
This list of the best Oahu beaches for kids contains affiliate links which means if you purchase something from one of my affiliate links, I may earn a small commission that goes back into maintaining this blog.
Out of all the islands, I think Oahu is one of the best Hawaiian islands for kids. Not only does it have amazing attractions, but it's home to some of the best beaches in Hawaii.
And other families agree with me.
In fact, Oahu is the most-visited of all the Hawaiian islands, with over 6 million individuals visiting the island in 2019.
If you're like me, you'll want to know all the kid friendly activities in Oahu worth adding to your Oahu itinerary.
Today, we're exploring the best Oahu beaches for kids. These are a few great choices for kayaking, snorkeling and lazily lying in the sun with the family. Perfect!
Don't have time to read a bunch of Hawaii blog posts and reviews? Here are some of our top picks for visiting Oahu with kids.
Best Kid-Friendly Oahu Tours/Activities
Best Kid-Friendly Oahu Resorts
Want to Rent a Car in Hawaii?
One of the best places to rent a car in Hawaii is Discount Hawaii Car Rental because they get the best rates from top national companies like Alamo, Dollar, Thrifty, Avis, Enterprise, Budget, and Payless.
Want to skip all the planning and just access my detailed Oahu Itinerary complete with daily schedules, kid-friendly activities, and travel hacks? Click the button below.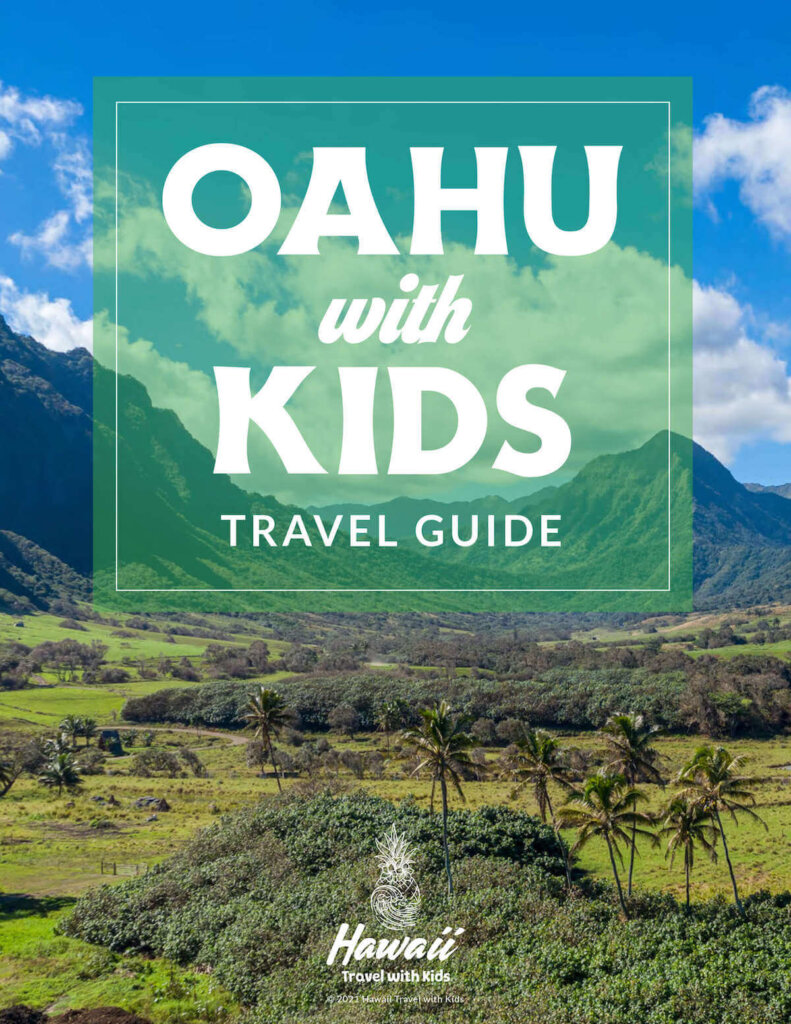 Oahu with Kids FAQs
What are some free things to do in Oahu with kids?
Besides hanging out at the beach, there are tons of free activities in Oahu like seeing Iolani Palace, hiking to Manoa Falls, seeing the U.S.S. Arizona Memorial at Pearl Harbor, and taking advantage of all the free hula shows on Oahu.
What are some non-touristy things to do on Oahu?
Take some time to explore local farmers markets, check out the Honolulu Museum of Art (they have lots of cool programs), eat at Zippy's, and walk around the Bishop Museum.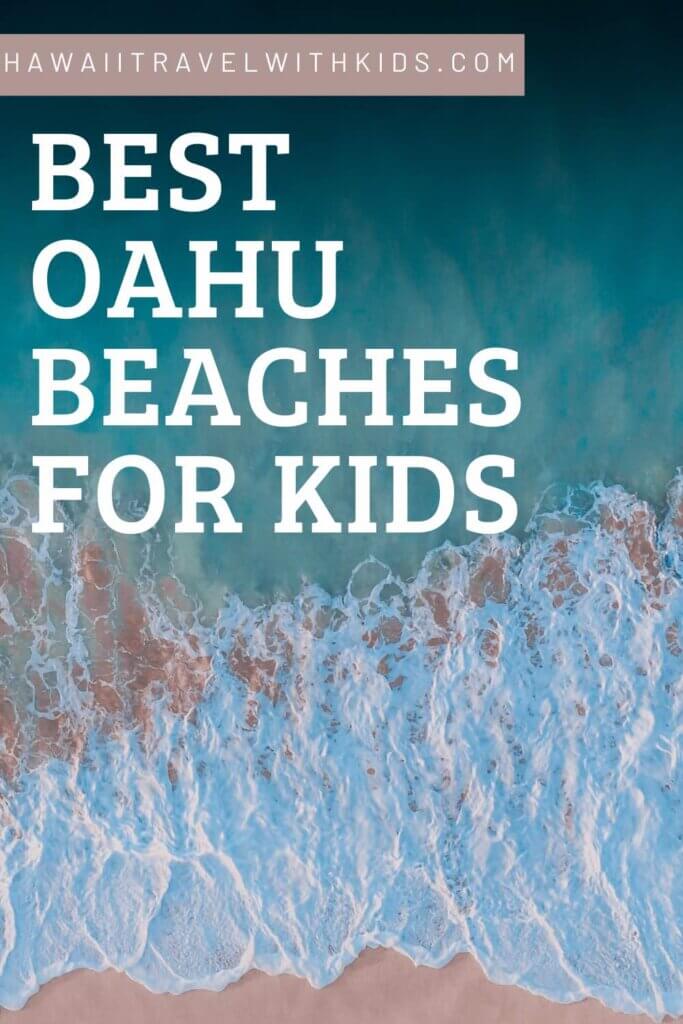 5 Best Oahu Beaches for Kids
If you're heading to Oahu with kids, you'll probably want to hit up at least a few beaches. Here are our top picks for families!
1. Waikiki Beach
Waikiki Beach is one of the most popular beaches in Honolulu! Don't worry, we'll get to a few lesser-known beaches as well.
But Waikiki Beach earns its popularity for its long stretch of sand, rentable paddleboards, parasailing, and water bikes.
If you or your kids are interested in people-watching on the beach, Waikiki Beach is a surefire way to observe individuals from all around the world visiting an iconic beach.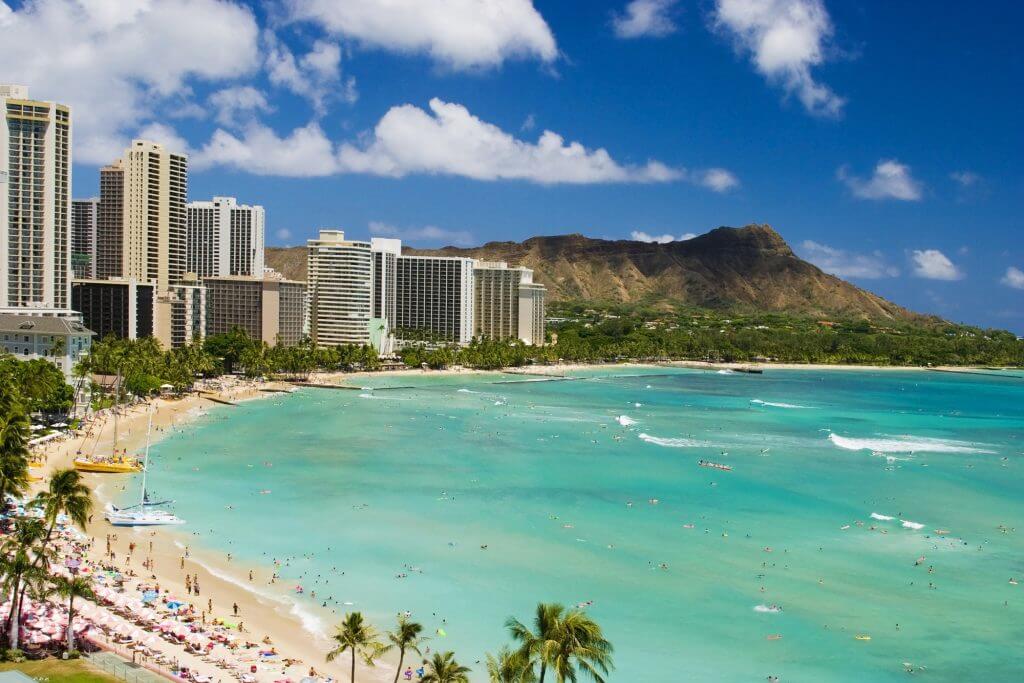 The name Waikiki translates to "spouting waters," because of how the streams and water separated the beach area from inner Oahu. Waikiki Beach is on the south shore of Oahu.
There are countless resorts and hotels up and down the collection of beaches that make up "Waikiki Beach."
Sand on Waikiki Beach is white, and the coast is lined with small pebbles. Surprisingly, the depth of sand at Waikiki Beach is relatively shallow at an estimated 2 feet above a bed of limestone bedrock.
What may be most interesting to water sports enthusiasts is the fact that modern-day surfing essentially originated at Waikiki Beach.
A 1974 technical report named Recreational Surf Parameters by James. R. "Kimo" Walker detailed that "surf shoals" in Hawaii were very stable and therefore ideal for surfing. This refers to the way that waves transform and break in the ocean.
Walker also identified two surfing areas right on the Waikiki reef, including Queen's on Kuhio Beach.
Whether you're looking for the perfect surfing location, paddleboard lesson, or high-energy area, Waikiki may be just the place for your kids to learn and explore. And there are tons of Waikiki surfing lessons for kids and families!
It's no wonder people say this is one of the best beaches in Oahu for families!
Looking for family surfing lessons?
Kids of all ages are able to learn to surf in Waikiki in this family surfing lesson. Check out the latest prices and more information here.
Want an affordable Waikiki boat cruise?
One of the coolest boat trips in Waikiki is this glass bottom boat cruise. It's a great way for kids to see Hawaii's sea life without getting wet! Check out the latest prices and more information here.
2. Ko Olina Beach
The Ko Olina Beach is also referred to as the Ko Olina Lagoons, as this destination on the west side of Oahu is man-made. Four total lagoons feature white sand and are connected by extremely walkable paths.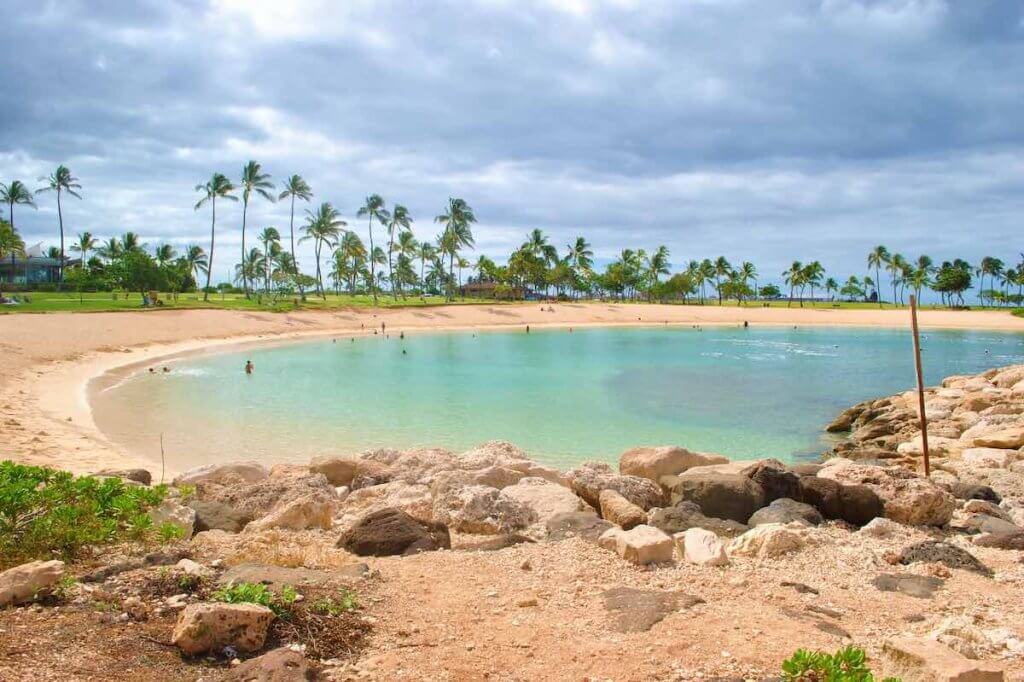 Disney's own Aulani Resort is one of the hotels that sits by the lagoons. While Ko Olina may not be your first choice for natural terrain, its expanse is beautiful and green, offering picnic areas and picture-perfect swimming locations for children.
There are also lifeguards and rental facilities for kayaking, paddleboarding, and more.
This is one of the best beaches on Oahu for kids, especially if your little ones are scared of the big open ocean.
Want a Ko Olina catamaran cruise?
This is an all-ages snorkeling trip on a catamaran boat with a full buffet and lots of drinks. Sure to be awesome for your family! Check out the latest prices and more information here.
3. Lanikai Beach
Lanikai Beach is one of the quieter beaches on our list today, located behind a residential area. It is consistently ranked highly as one of the best beaches in the world!
You'll have to grab street parking here, and may have to deal with fewer amenities compared to other beaches. But it's totally worth it!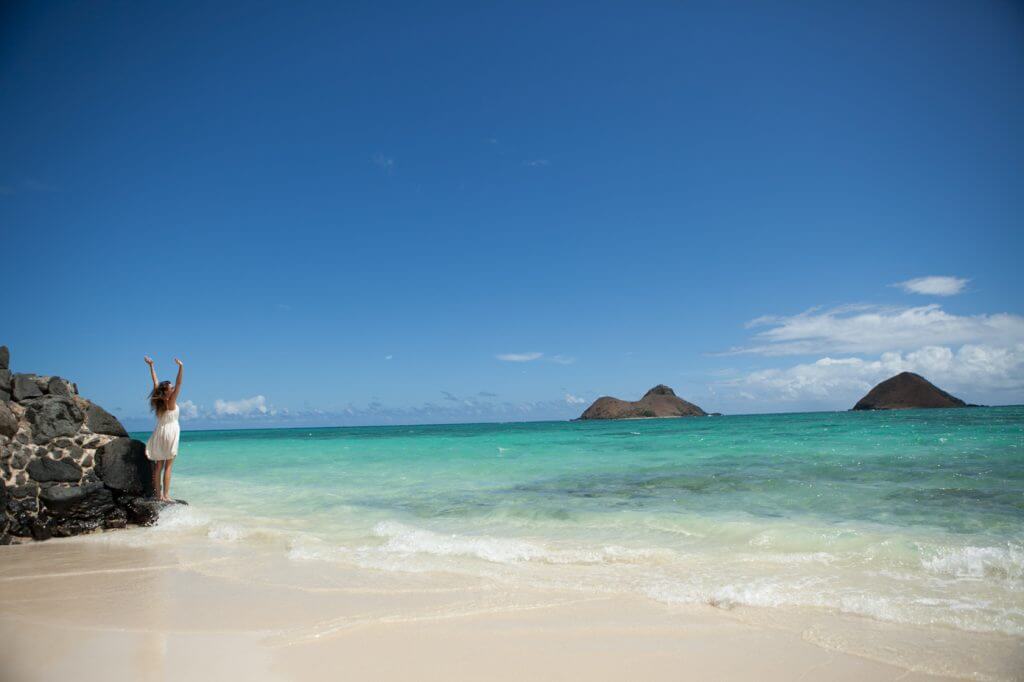 There are also two small islands just off the coast of Lanikai Beach, dubbed "mokes."
You can kayak to the larger of the small islands, and even debark there! It's actually one of the best places to kayak in Hawaii. Unfortunately, the smaller island is off-limits as a bird sanctuary.
Both make wonderful backdrops from the main beach and help make the location perfect for photoshoots. Get the best Oahu photoshoot rates here.
There are a few local restaurants surrounding the Lanikai Beach area but be warned that there are no bathroom or shower amenities dedicated to the beach.
Still, this makes it the perfect beach-centric destination for enjoyable water, sand, and pictures.
Consider bringing along my At the Beach Worksheets for Kids for the perfect activity for kids who prefer ocean breezes from the comfort of a beach towel over creating 50 sandcastles.
I think Lanikai beach is the most beautiful beach in Oahu, Hawaii.
Take a guided kayak tour
Spend the day kayaking around Kailua Bay with a naturalist guide who will point out cool sea life like the Hawaiian Green Sea Turtle.
Plus, it comes with lunch and lots of instruction and information about Oahu. Check out the latest prices and more details.
Want to rent your own kayak?
Rent a tandem kayak for 4 hours so you can explore Kailua Bay on your own. This one is great because an actual person will train you on what to do (versus watching a video.) Check out the latest prices and more details.
4. Kuilima Cove
Kuilima Cove is known as a destination snorkeling location in Oahu! It is located on the North Shore of Oahu, close to the Turtle Bay Resort. The Turtle Bay Resort is also one of our top picks for a kid-friendly stay.
As one of the lesser-known beach locations, parking for Kuilima Cove is ample and you'll always have enough room for a beach blanket and kids here.
This cove offers a great balance between calm waters inside the cove, and beachfront waves for adults and sunbathing.
The waters here are not as clear as some other beaches, but Kuilima Cove is a great place to view aquatic wildlife while snorkeling.
If your kids are interested in turtles and learning how to snorkel, Kuilima Cove is a great kid-friendly Oahu beach.
This is by far one of the best North Shore beaches in Oahu for families.
Want to buy snorkel gear?
If you'll be snorkeling more than one time, it's totally worth buying snorkel gear. Sometimes it's tricky to find kids snorkel gear, so this is my top pick to buy ahead of time. Get the best prices here.
5. Hanauma Bay
Looking for more wildlife? Hanauma Bay is a wonderful beach option for fish and other marine life viewings.
The bay also offers snorkeling opportunities, although Hanauma Bay is a more popular option when visiting Oahu so you may experience more foot traffic when compared to Kuilima Cove.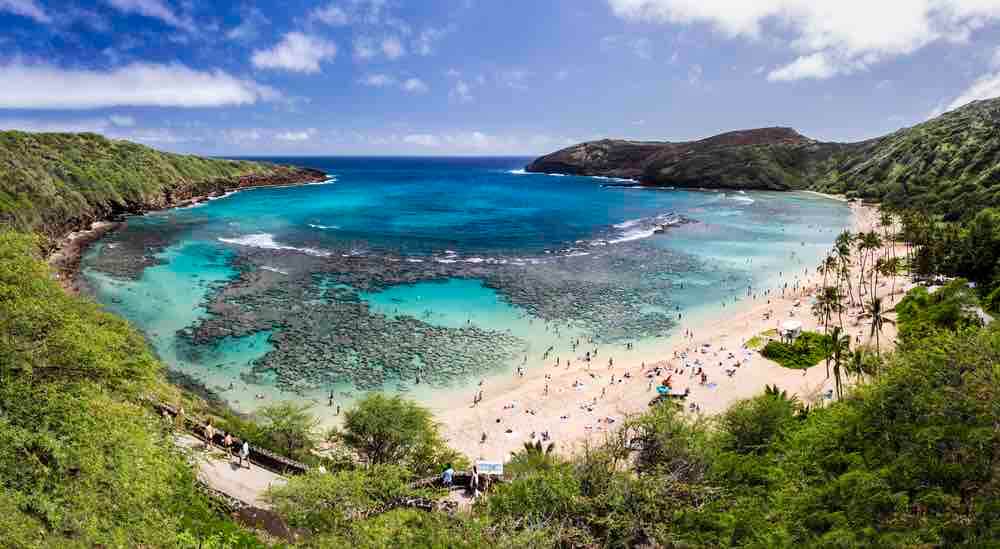 Hanauma Bay is officially a nature preserve and conservation district, and thus, mistreating animals in the bay is forbidden by law.
You just might see coral heads in the water, but must also refrain from touching these to avoid injury and harming the ecosystem.
All in all, Hanauma Bay is an amazing choice that is popular for its wildlife and touch of extreme nature. Bring your children here for a classic taste of the ocean on Oahu!
Hanauma Bay is famous for being one of the best beaches in Oahu for snorkeling for all skill levels.
Want shuttle service to Hanauma Bay?
If you aren't renting a car, this is such an easy way to get to Hanauma Bay. The shuttle will pick you up from your Waikiki hotel and provide all the snorkeling gear you'll need. Super easy. Check out the latest prices and more details.
Choosing The Best Oahu Beach for Your Kids
It's hard to go wrong when choosing between Oahu Beaches! If you have the time, it's worth hitting up popular locations including Waikiki Beach and Hanauma Bay for the array of eateries and marine life features.
However, visiting smaller, lesser-known beaches can also offer you quality family time on quieter shores.
Ko Olina Beach is a wonderful man-made choice for safety, while Lanikai Beach offers a calm location behind residential homes.
Ready to plan your family trip to Oahu beaches with your kids? Read our previous post on 10 Important Oahu Travel Tips You Need to Know today.
P.S. Join our Hawaii Travel with Kids Facebook group to get connected with other families planning a trip to Hawaii!