Planning a trip to Oahu and want to get awesome Waikiki family photos? Keep scrolling to find out how to book an affordable Waikiki photography session for your vacation!
This post about affordable Waikiki photography and how to take Oahu family photos was written by Hawaii travel expert Marcie Cheung and contains affiliate links which means if you purchase something from one of my affiliate links, I may earn a small commission that goes back into maintaining this blog.
Getting amazing Oahu family photography can be tricky if you aren't renting a car. Many of the popular Oahu photo spots require a vehicle.
However, a lot of people don't realize that you can actually book an amazing Waikiki photography session close to your hotel or resort.
My 9yo and I did a quick trip to Oahu and we used Flytographer to get some awesome photos on the beach and it only took us 5 minutes to walk there from our hotel!
Book a Family Photo Shoot
Whenever we travel to Hawaii, we almost always book a family photo shoot with Flytographer. They are super easy, affordable, AND it guarantees that I'll be in some photos. You can get $25 off if you book through this link or use the code HAWAIITRAVEL.
Why are Waikiki Vacation Photos Important?
When I decided to book a special 1:1 trip to Waikiki with my son, one of the first things that I reserved was our photo shoot.
He's 9 years old and I know our days are numbered for getting cute photos together. In fact, it feels like we're just about there.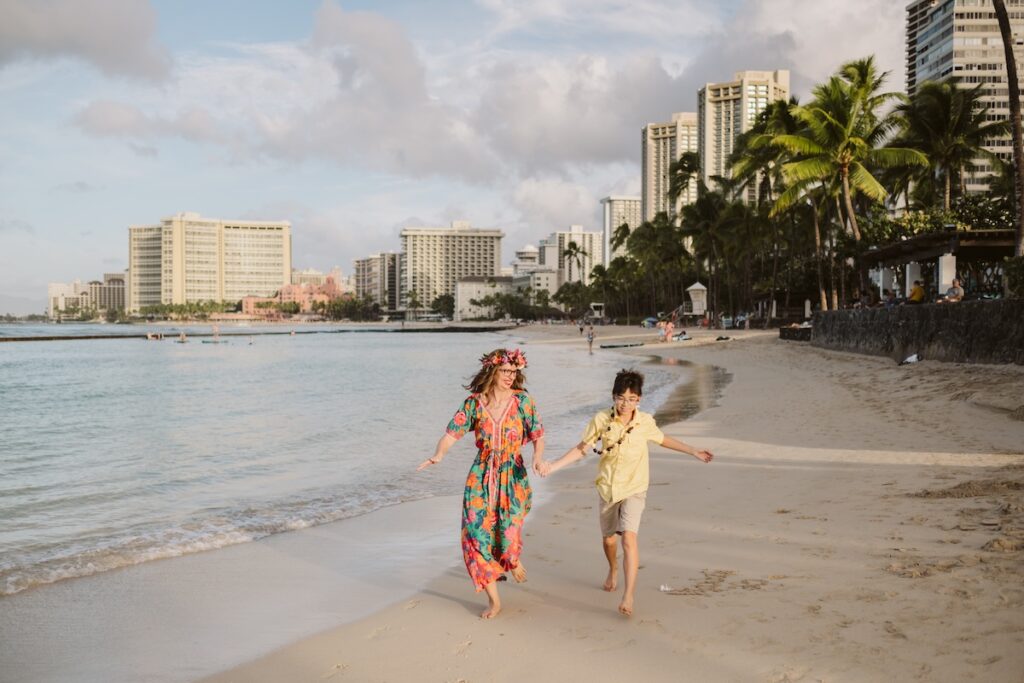 One of the reasons I love doing vacation photography in Waikiki is that our family tends to be in a good mood. I mean, we're usually enjoying daily shave ice, going shopping, and I'm fully caffeinated on macadamia nut lattes!
I'd rather get photos of my family when they are at their best instead of trying to force a photoshoot at home. And there are so many amazing Hawaii family photographers to choose from.
We were lucky enough to get Natalie, who is our FAVORITE Oahu photographer.
Why You Should Hire a Hawaii Vacation Photographer in Waikiki
1. SECRET INSIDER TIPS
When we headed to the beach to do our photos, I noticed a TON of trash left over from the night before.
I was worried that it would either get in our shot or that we'd need to spend some time doing a quick beach cleanup.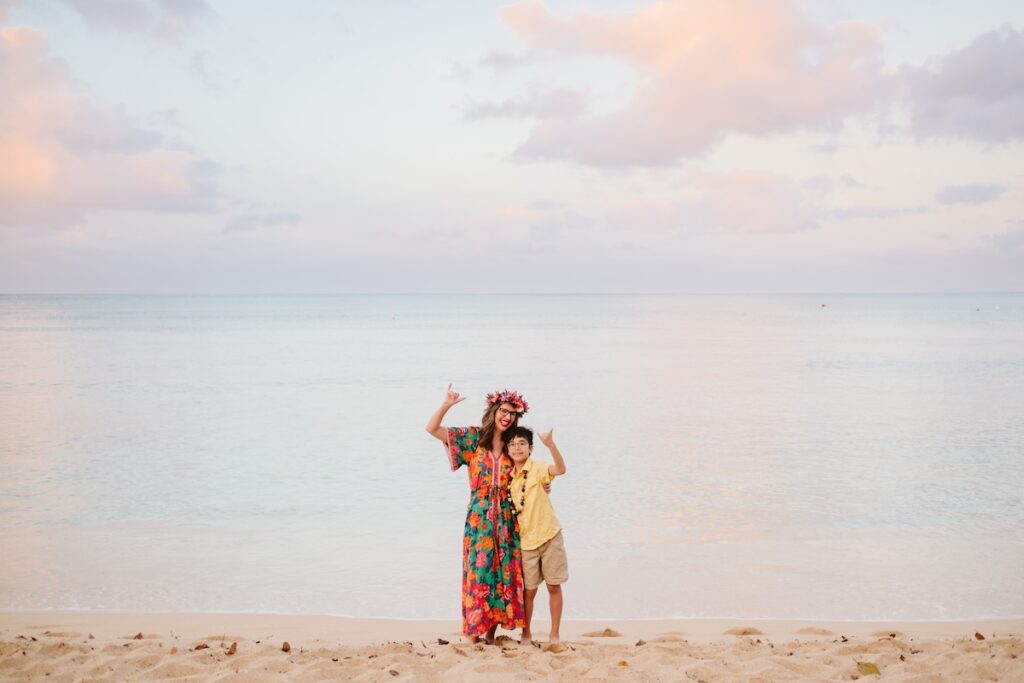 But, Natalie knew exactly where to place us and what angles to use to make it seem like we were the only people on the beach and the beach looked pristine.
Plus, she was able to share quite a few tips for spending our week on Oahu, including her favorite places. And she even shared a few secret spots worth driving to, which is always a nice touch!
2. POSING HELP
Even though I've done a million Flytographer photo shoots (I honestly love them), I still feel awkward in front of the camera.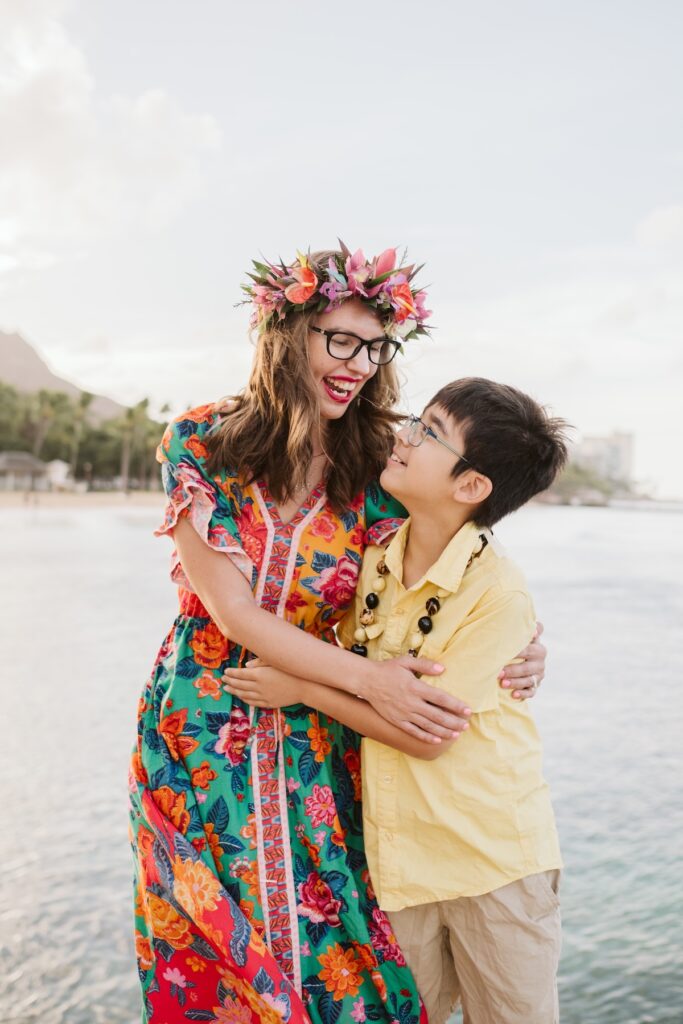 Natalie did an awesome job quickly coming up with posing ideas as well as activities that would make our photos look natural and spontaneous.
She is the queen of keeping kids entertained with fun games that result in candid photos.
And she gave me a lot of specific posing ideas that I wouldn't have come up with on my own.
3. CAN LEAVE YOUR GEAR AT HOME
Hauling heavy camera gear on vacation can be a real drag, especially with little ones in tow. Opt for a Flytographer shoot, and you can ditch the bulky equipment.
Embrace the moment during your Oahu family photography session without the hassle.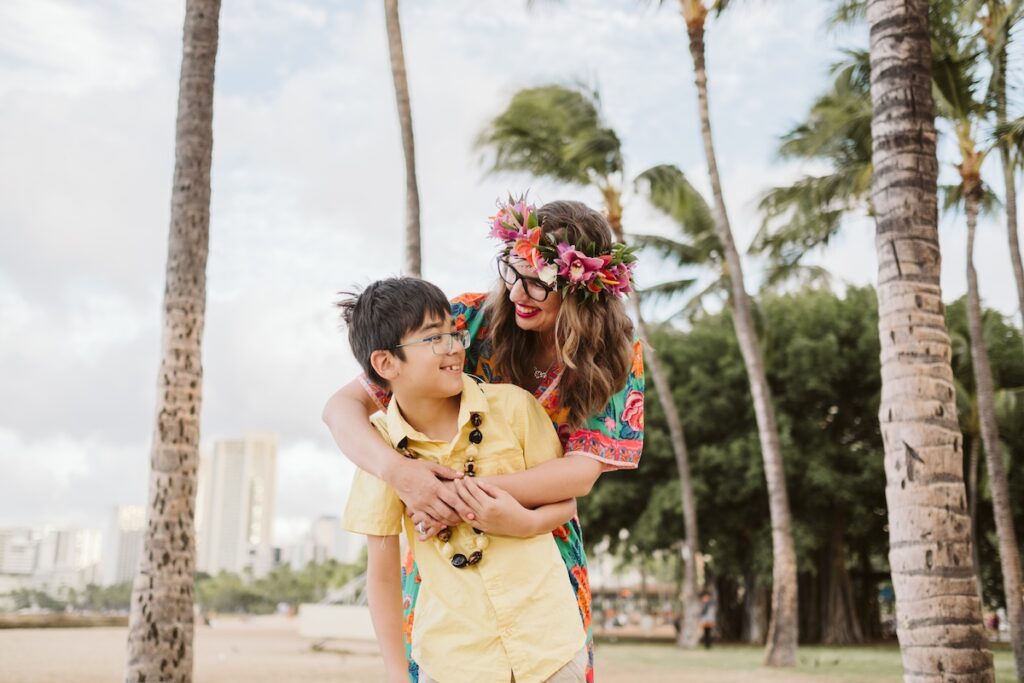 Say goodbye to awkward timer-mode photos and trying to capture that perfect family shot.
With Flytographer, you can relax and enjoy stress-free moments while a pro takes care of capturing your memories. It's all about having fun and making the most of your family time.
4. THEY ARE FUN + EASY!
Our photographer Natalie was a former 4th-grade teacher, so she knew exactly how to talk to our kids on their level and keep them super engaged in the photoshoot!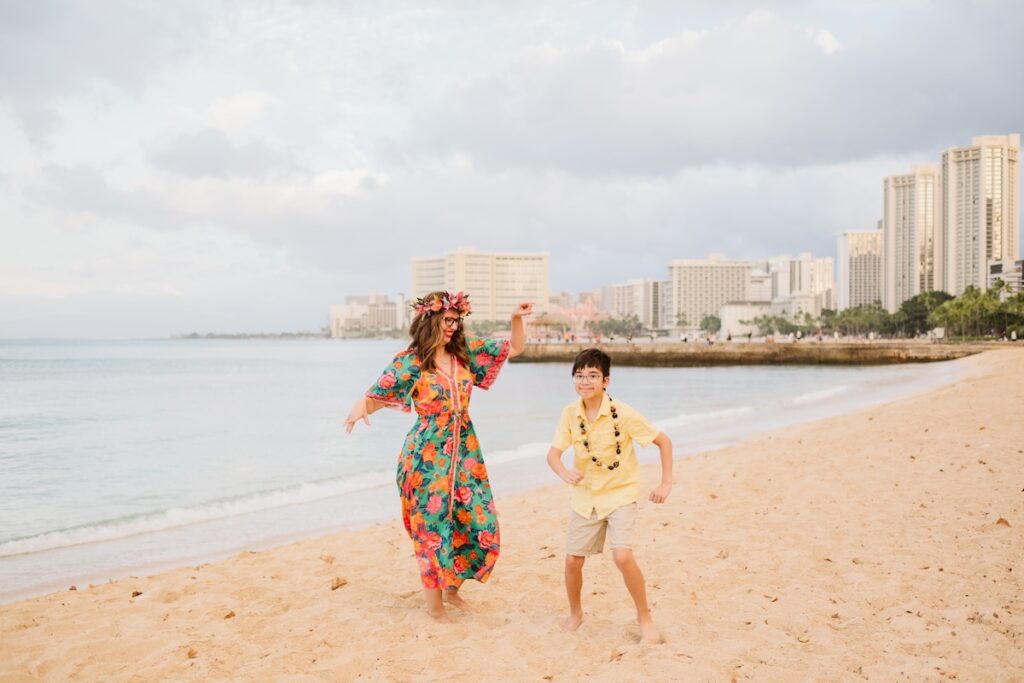 We played a lot of games like Red Light, Green Light and a few super secret new games that made this photo shoot fly by. My son didn't even ask me for a time check during the photography session.
How to Book Waikiki Oahu Photographers
Flytographer stands out as my go-to choice for vacation photography, offering a unique and memorable experience.
This user-friendly service connects you with skilled photographers worldwide. They have a lot of Oahu photographers and most will come to Waikiki.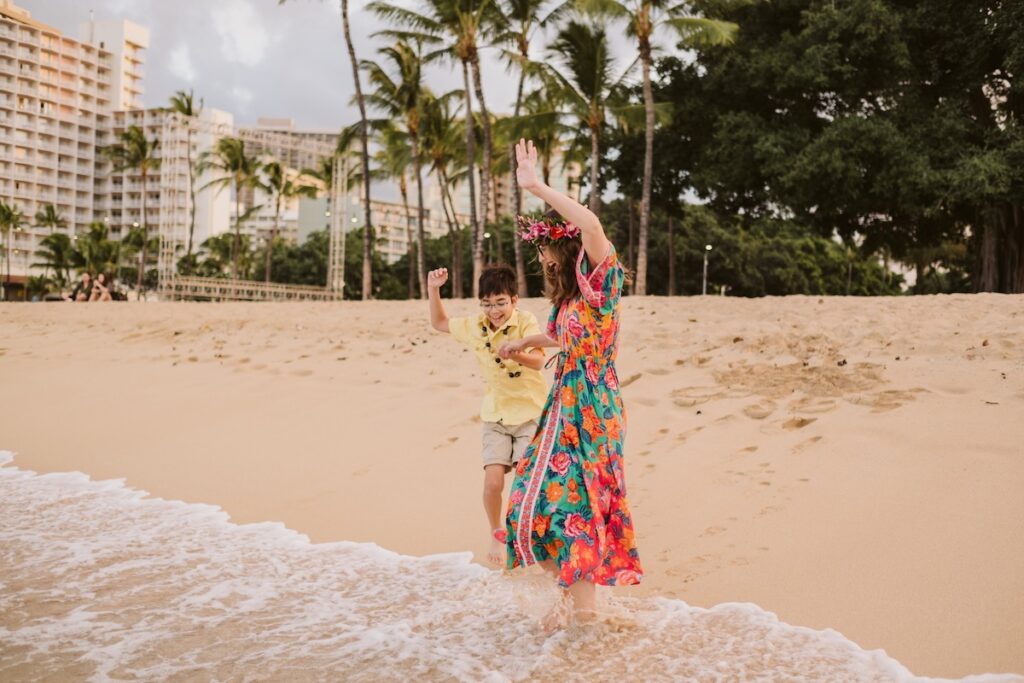 Their range of services covers everything from weddings and engagements to portraits, maternity, couples, vow renewals, and surprise proposals.
Need business headshots? Why not have them taken in Hawaii's stunning landscapes?
Choosing the perfect Oahu photographer is easy with Flytographer. You can explore their styles, secret photo spots, and portfolios online, making booking a breeze.
Their efficient process lets you select dates easily, and the photographer confirms availability, ensuring a stress-free experience.
The best part? Flytographer's speedy delivery often means enjoying your photos before your trip ends, making for a delightful flight home recap!
What to Wear for Waikiki Family Photos
Of course, you can totally wear whatever you want for your Waikiki family photos.
But, I know some people like to get ideas, so I'm listing a few options for your photo session to add to your Oahu packing list to make your photos look cohesive.
Aloha Wear
Aloha wear, with its matching Aloha shirts and Hawaiian dresses, is a timeless choice for professional portraits, often seen in family photos.
While dressing everyone in these iconic outfits can be costly, there are affordable options available on Oahu.
For budget-friendly Hawaiian clothing, the Aloha Swap Meet is an excellent choice, offering a variety of styles at lower prices.
Additionally, stores like Ross, Target, Walmart, and sometimes Costco can be good places to look.
For those seeking specialty stores, Waikiki has options like Reyn Spooner and Tommy Bahama, which are known for their Aloha Wear. Or head to Ala Moana Center for tons of options for the whole family.
Maxi Dresses
If you're not into the Aloha look, a chic maxi dress is a fantastic alternative. Mixing it up with some family members in Hawaiian print dresses or shirts and others in coordinating solid colors can create a visually appealing ensemble.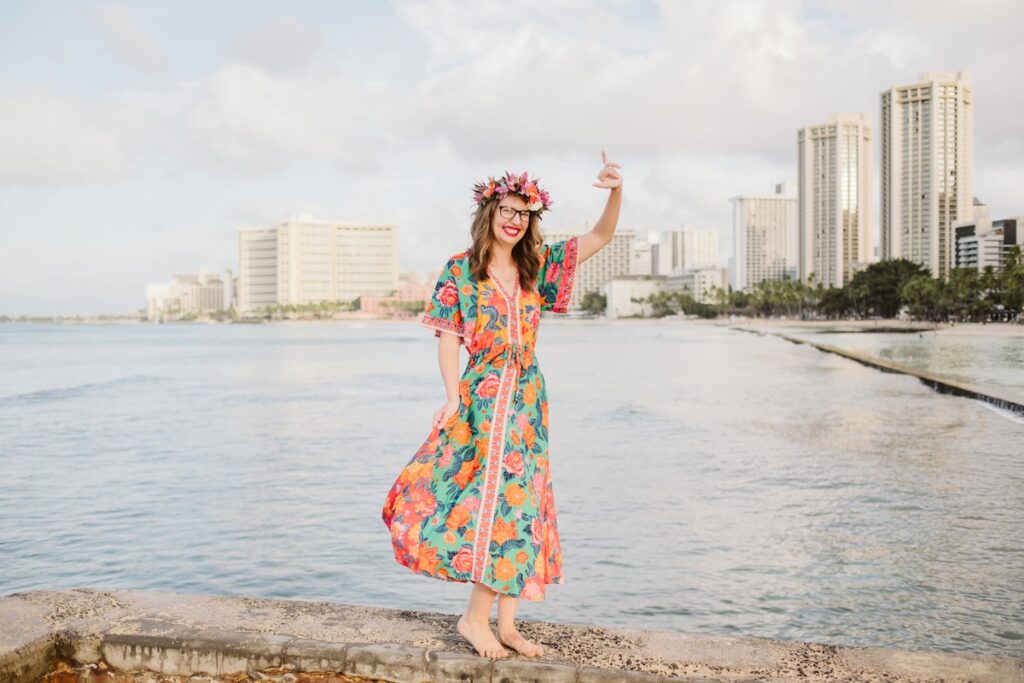 Opting for a breezy skirt, such as a lightweight maxi, is another stylish choice. It brings a dynamic and playful element to photos, especially when caught in the breeze or amidst rustling leaves.
Maxi dresses also work wonderfully for maternity photo shoots on the beach, offering both comfort and elegance in an outdoor setting.
Same Color
Aloha shirts are popular, but if they don't suit your taste, coordinating with your family in the same color scheme is a great option.
Dressing in all-white or light hues can create a stunning contrast against the vibrant, tropical backdrop!
Alternatively, you could have each family member wear varying shades or complementary colors to achieve a cohesive look.
Another fun idea is to pick a theme, like a pastel rainbow, to add a unique touch to your family's outfits.
Hawaiian Flower Crowns (Lei Po'o)
The Hawaiian flower crowns, called haku lei or lei po'o are a staple of any Hawaii photoshoot in the last few years.
They have been around for ages, but people all over Instagram and other social media sites are grabbing them up to wear during their Waikiki photoshoots.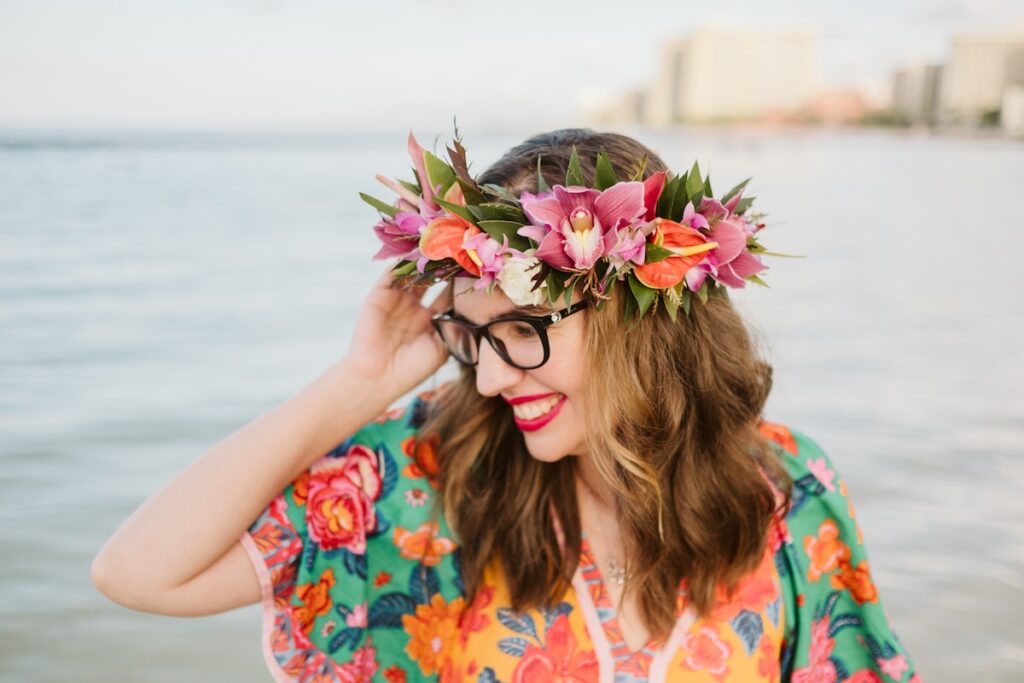 With so many places on Oahu where you can order these beautiful flowers with little trouble from your phone (or computer), there is hardly any excuse not to get one! Mine is from Eco Mindful Lei right in Waikiki.
After your photoshoot in Waikiki, keep them in the fridge. You'll just need to put a wet paper towel over the top or slip it in a plastic bag so it stays fresh. That way, you can get an extra few days of wear out of it!
Kukui Nuts or Flower Leis
If you happen to do your Waikiki photo shoot after a night a luau, you might have kukui nuts or fresh flower leis. These are super fun to wear in photos!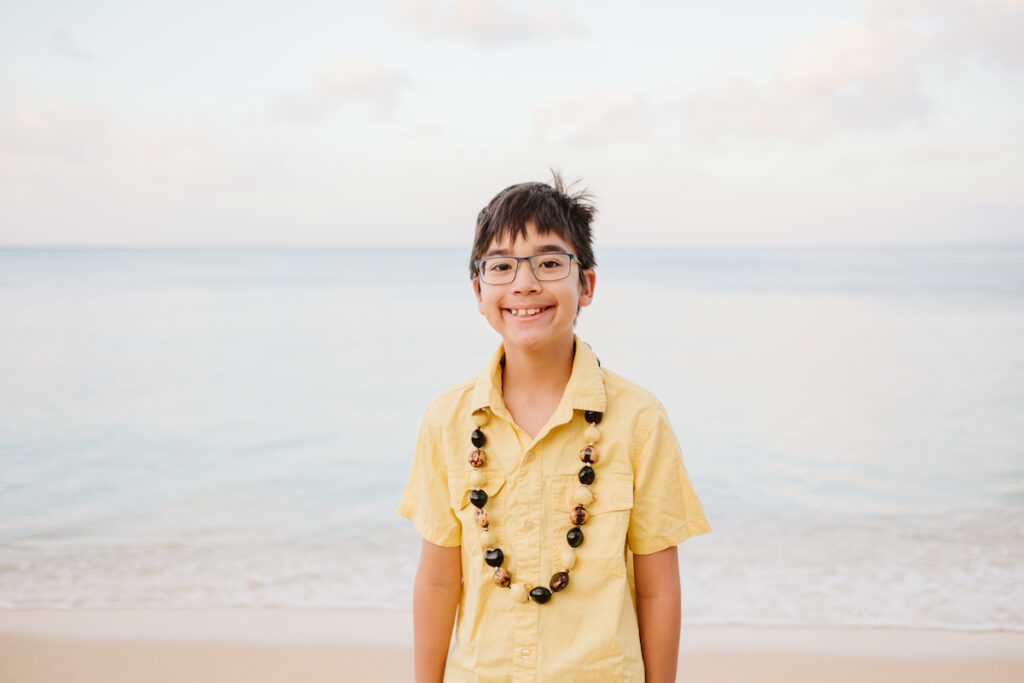 We actually grabbed my son's kukui nut lei from an ABC store right across from our photo shoot. I love kukui nuts as a fun accessory!
5 Tips for Getting Awesome Hawaii Family Pictures
1. DO YOUR HAIR AND MAKEUP
When preparing for a photoshoot in Oahu, it's easy to get caught up in choosing outfits and forget about hair and makeup.
A natural, beachy look is lovely while vacationing, but in photos, it can sometimes make you look washed out.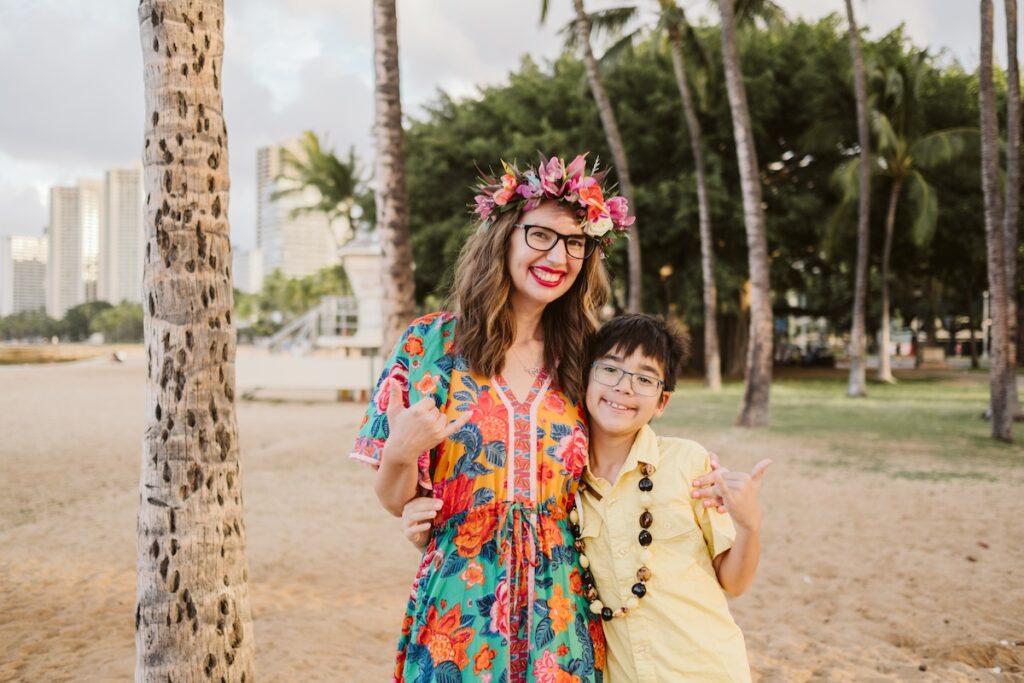 A little makeup, like foundation, lipstick (I always go BRIGHT), and mascara, can brighten your face and enhance your features for the camera.
Hair is equally important. While convenient, styles like ponytails or buns may not always translate well in family portraits.
Bringing along a flat iron or curling iron can help you feel more polished. I'm pretty obsessed with this curling wand.
For a simple yet effective style, wear your hair up during the day and let it down before the shoot to achieve natural, beachy waves.
For those special occasions or if you want an extra touch of glam, consider getting your hair and makeup done professionally at a local salon. This can add a polished, sophisticated look to your photos, making the experience and the results even more memorable.
2. WATCH POSING VIDEOS
Feeling awkward about what to do with your hands in photos is common, often leading to repetitive and unexciting poses.
This changed for me when a friend recommended watching posing tutorials on YouTube. These videos offer simple yet natural-looking poses that anyone can try.
One of my favorite videos breaks down easy-to-follow poses, teaching me how to position my hands, where to direct my gaze, and how to flatter my body in photos.
Additionally, these videos provide tips on interacting playfully with kids, adding an adorable element to family pictures.
3. DON'T BE AFRAID TO GET WET
What I love about working with Natalie is that she's always down to get into the water to get the perfect shot.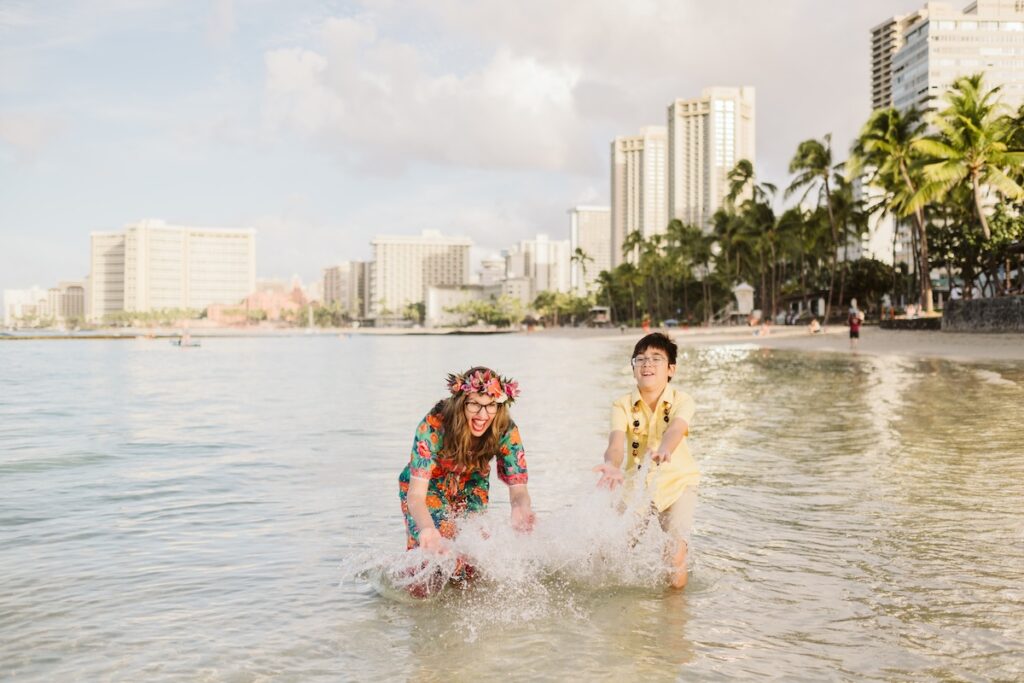 Usually at the end of our photo shoots, we like to play around in the water. This usually results in soaking clothing BUT we also get some of the most playful and candid photos this way!
4. COME UP WITH A SHOT LIST
One of the most important things that you can do for your Waikiki photographer is to communicate what type of photography style and interactions with other family members or friends are desired.
Think about your photo location and if you're picturing something specific (like splashing in the waves or getting shots with Diamond Head).
I've found it really helpful, especially when doing multi-generational vacations, to think about any combinations you want to make sure happen (especially if they might not come out naturally in a photo).
Scrolling through an Instagram page or visiting their portfolio should give some great ideas for poses and creative shots.
5. USE PROPS
A great tip for enhancing Oahu family photos is using props, especially with kids.
Props like ukuleles, surfboards, homemade fresh flower leis, beach balls, or fun cardboard signs can help kids relax and engage more naturally, avoiding forced smiles. They also add a creative touch to the memories being captured.
Involving treats like ice cream cones, shave ice, popsicles, or fancy drinks towards the end of the shoot can be a fantastic idea.
Not only does it serve as a bribe for the little ones, but it also results in some adorable and genuine photos. These props and treats add an element of fun and spontaneity to family photos, making them truly memorable.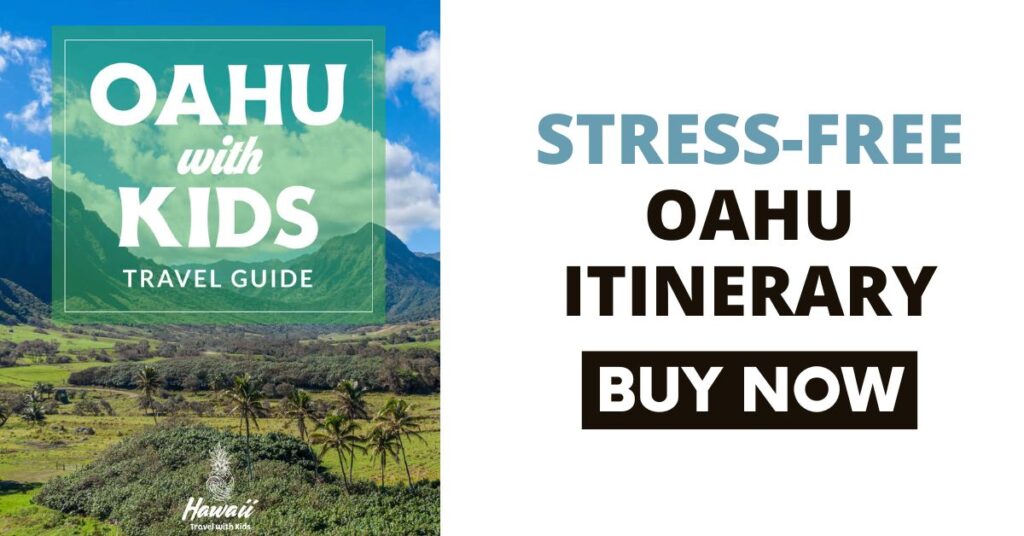 Oahu Photographer FAQs
What are the best locations in Waikiki for a family photo shoot?
Popular spots include Waikiki Beach with its iconic Diamond Head backdrop, Kapiolani Park for a lush green setting, and Magic Island for sunset views.
How should we dress for our photo shoot?
Opt for comfortable, coordinating outfits. Bright, solid colors or subtle prints work well. Avoid matching exactly to add variety.
What is the best time of day for a photo shoot in Waikiki?
Early morning or late afternoon are ideal to avoid harsh midday sun and crowds. Golden hour provides beautiful lighting.
How far in advance should we book our photo shoot?
It's recommended to book at least a few weeks in advance, especially during peak tourist seasons, to secure your preferred time and photographer.
How long do family photo shoots typically last?
I suggest booking a 60-minute photo shoot in Waikiki with kids. This is usually enough time to capture a variety of shots without overwhelming young children.
Are there photographers who specialize in working with young children?
Yes, many photographers in Waikiki (like Natalie) are experienced in engaging with children and making the shoot fun for them.
What if my child isn't cooperating during the shoot?
Experienced family photographers are skilled at handling these situations. They can take breaks, use games to engage children, and capture candid moments.
Will we receive digital copies or prints of the photos?
With Flytographer, you'll get digital prints.
Can we choose the photos we want?
With Flytographer, they will choose the best ones to edit and send you.
Oahu Family Photography Wrap-Up
Get your Waikiki family photos taken by one of the best photographers on the island.
Check out our list of recommended photographers in Oahu, Hawaii, and book a shoot with them today!
They have Waikiki photographers, Honolulu family photographers, as well as photographers across the island. You can also get some Hawaii Instagram caption ideas or cute Hawaii quotes.