Are you looking for things to do in Oahu with kids? Keep scrolling to find out where to swim with dolphins on Oahu and why it's a top thing to do on Oahu with kids, teens, and even adults.
This post about where to swim with dolphins on Oahu contains affiliate links which means if you purchase something from one of my affiliate links, I may earn a small commission that goes back into maintaining this blog.
Are you looking for a unique adventure to do on Oahu with your family?
Our family recently did a dolphin experience through Dolphin Quest at the Kahala Resort in Hawaii Kai. It was incredible!
In this post, I'll share our experience with kids, teens, and adults (including grandma) and give you tips to plan the ultimate Oahu dolphin swim.
You can read about our amazing day below! And if you're planning a trip to Hawaii soon, be sure to check out my other posts on things to do in Honolulu or where we stayed while visiting Oahu. We hope it helps inspire your next Hawaiian getaway!
Keep scrolling to learn more about swimming with the dolphins in Oahu!
Don't have time to read a bunch of Hawaii blog posts and reviews? Here are some of our top picks for visiting Oahu.
Popular Oahu Tours/Activities
Favorite Oahu Resorts/Hotels
Want to Rent a Car in Hawaii?
One of the best places to rent a car in Hawaii is Discount Hawaii Car Rental because they get the best rates from top national companies like Alamo, Dollar, Thrifty, Avis, Enterprise, Budget, and Payless.
Want to skip all the planning and just access my detailed Oahu Itinerary complete with daily schedules, kid-friendly activities, and travel hacks? Click the button below.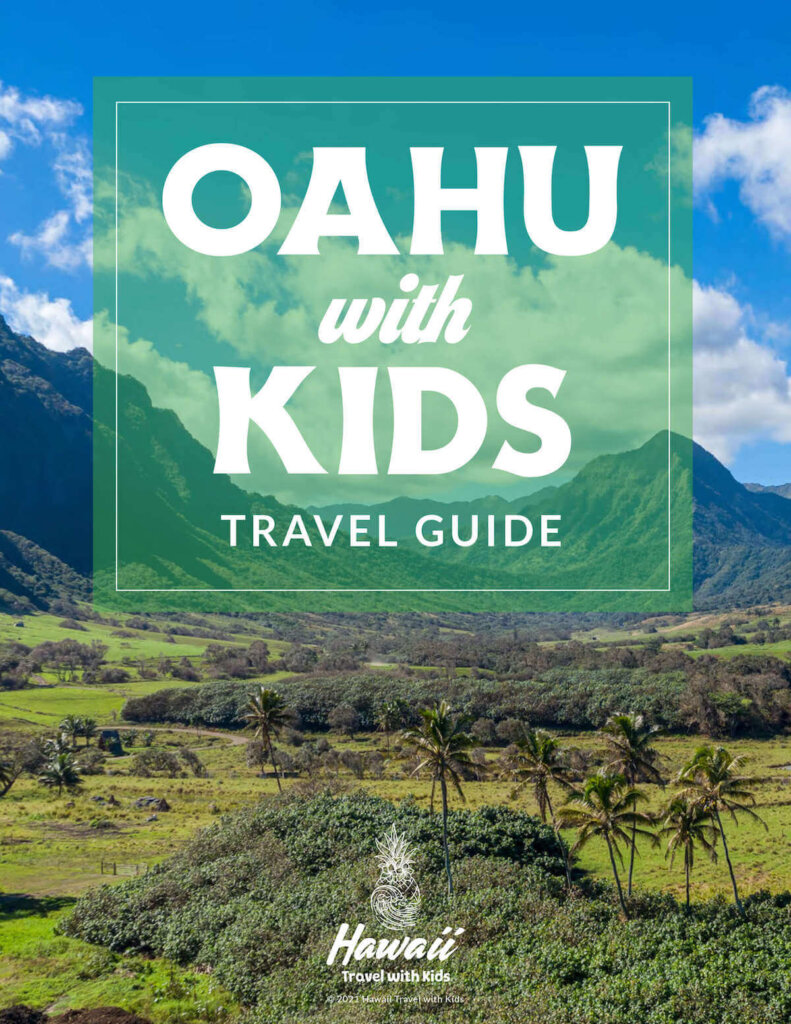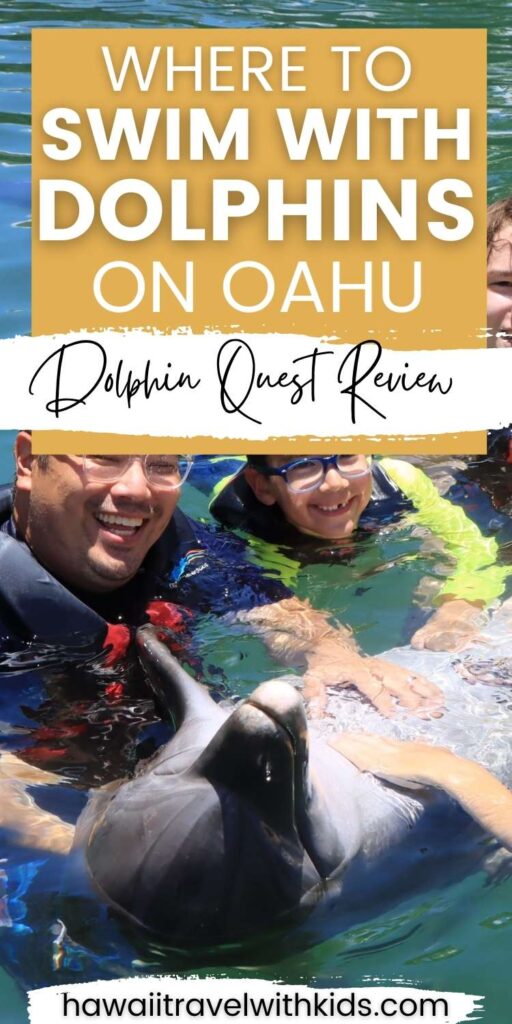 What is Dolphin Quest?
Dolphin Quest is an organization that offers hands-on experiences with dolphins in Hawaii (Oahu and the Big Island) as well as Bermuda. The company is owned by marine animal veterinarians who put dolphin health as a priority.
All of their programs are pretty intimate (usually only 5-6 people), and instead of keeping a rigid format, they keep it pretty organic.
On their website, they say, "At Dolphin Quest, we believe that a dolphin encounter should be the beginning of a love affair with one of the earth's most amazing creatures."
Plus, a portion of all proceeds go towards marine conservation, education, and research.
Where is the Kahala Hotel & Resort?
The Kahala Hotel & Resort is located in Honolulu's residential area of Kahala. This is just a little bit East of Diamond Head. It takes about 15 minutes to drive there from Waikiki.
Once you arrive, it will take about 10 minutes to walk from the Kahala Hotel & Resort parking area to Dolphin Quest. Most dolphin experiences at Dolphin Quest come with parking vouchers, but you'll want to double-check. Otherwise, you'll need to pay for parking.
The Dolphin Quest Oahu is located right by the swimming pool at Kahala Hotel.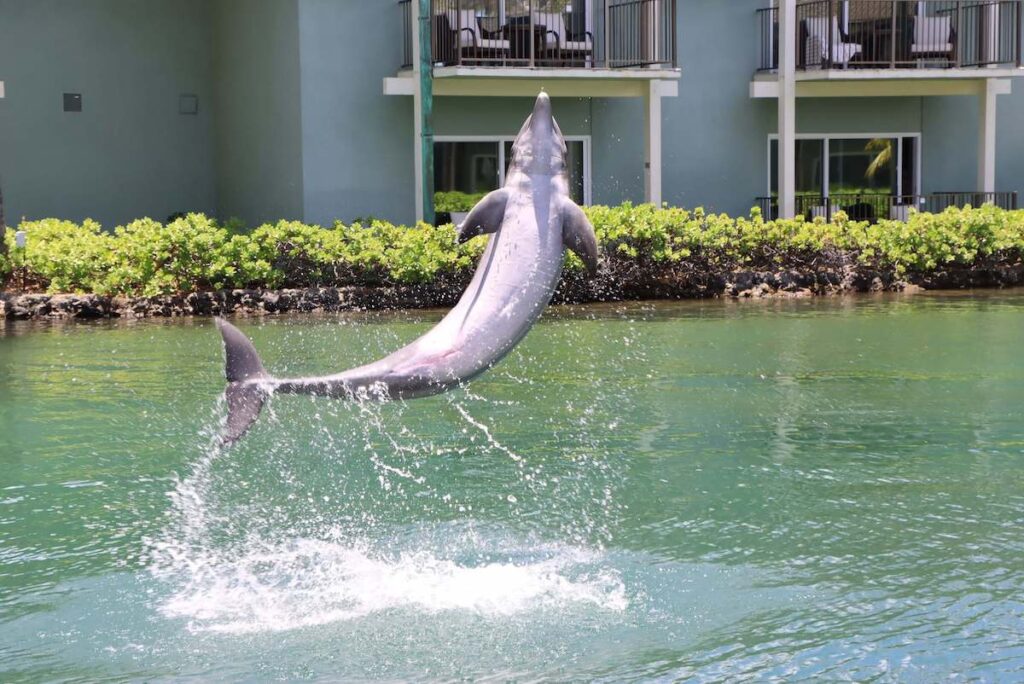 Why Did We Choose Dolphin Quest vs. Sea Life Park?
My mother-in-law had a big dream that she wanted to swim with dolphins in Oahu with her grandkids. So, I did a bunch of research to figure out the best place to swim with dolphins on Oahu.
The two main places were Sea Life Park and Dolphin Quest.
At Sea Life Park, their dolphin encounters seem to be geared toward families with young kids. Kids as young as 3 years old can participate, and it sounds like you're in the water and the dolphins do some tricks. Find out more information about swimming with dolphins at Sea Life Park HERE.
I had heard good things about Dolphin Quest Oahu from friends, and they told me they liked how they offered a variety of options. Kids need to be at least 5 years old for most of their programs. Find out more about swimming with dolphins at Dolphin Quest HERE.
After reading reviews and fully looking at the packages, we decided it was worth spending a little more to do a Dolphin Quest dolphin encounter. My main reason is that the people who were most excited to do it were ages 14 and older, so they might not have as much fun with a program geared toward little kids.
And since this was probably the only time we'd all be getting together to swim with dolphins on Oahu, it seemed worth the splurge.
Honest Dolphin Quest Review
We chose a 10 am time slot so that no one had to wake up super early (ahem, teens), but it would leave our afternoon open to do other stuff. I hate it when activities take up the entire day.
Our party arrived early enough that people were able to order breakfast at one of the hotel restaurants. Unfortunately, it took a bit longer than expected, and we ended up getting it to go to enjoy after the Dolphin Quest experience.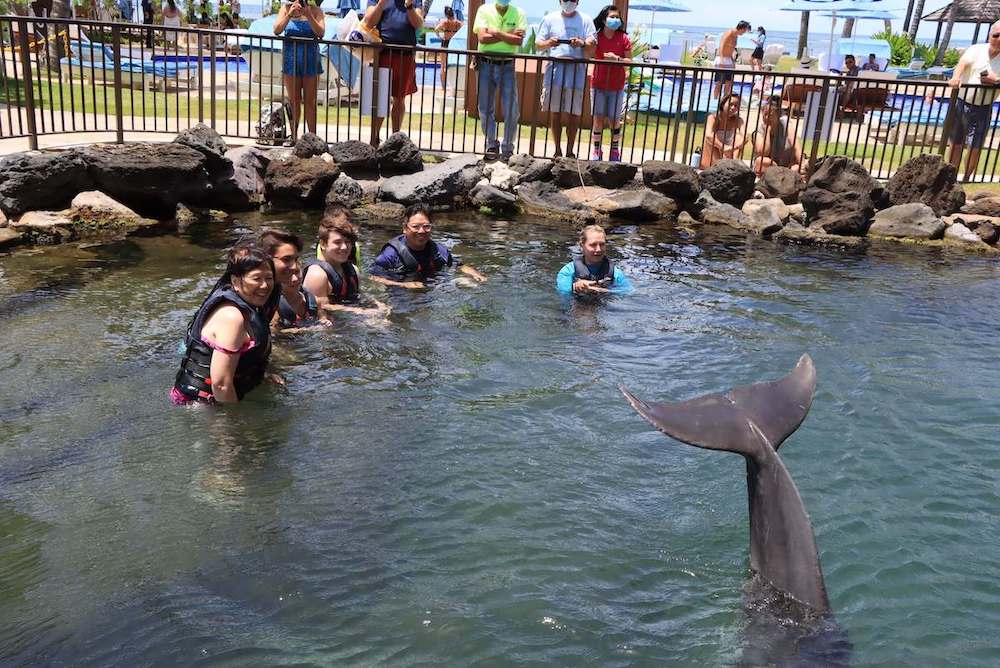 Not everyone in our group wanted to go in the water, so it was nice that they could stand behind the little fence and just watch.
The experience itself was pretty awesome! It started off with an educational component about the amazing dolphins and gave an overview of what would be happening.
Then it was time to get to interact with the dolphins!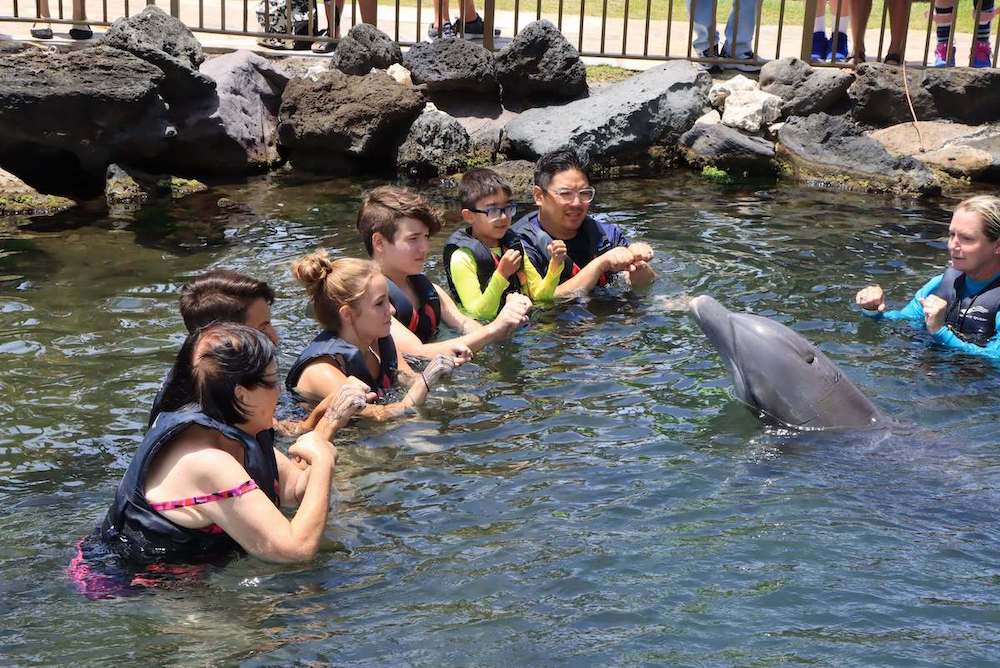 The instructors and dolphin trainers did a great job of teaching everyone hand signals so they could communicate with these amazing creatures. And we could feed fish to the dolphins.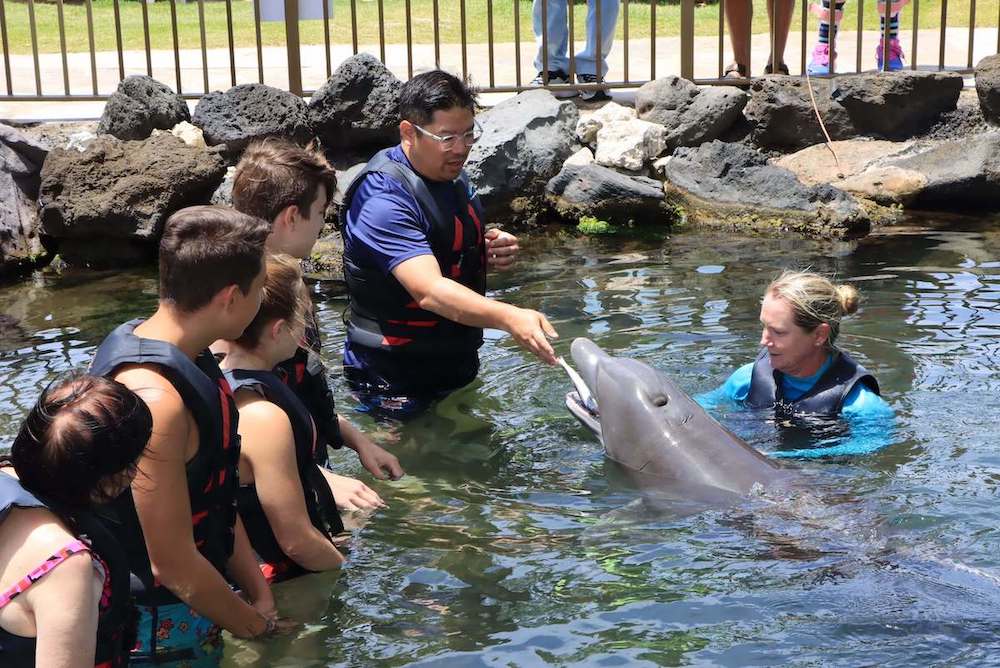 Everyone had the opportunity to swim alongside a dolphin. My 7 yo is still a beginner swimmer, so he was a bit nervous at first. But since he had on a life vest, it was easy for him to just stay near the dolphin.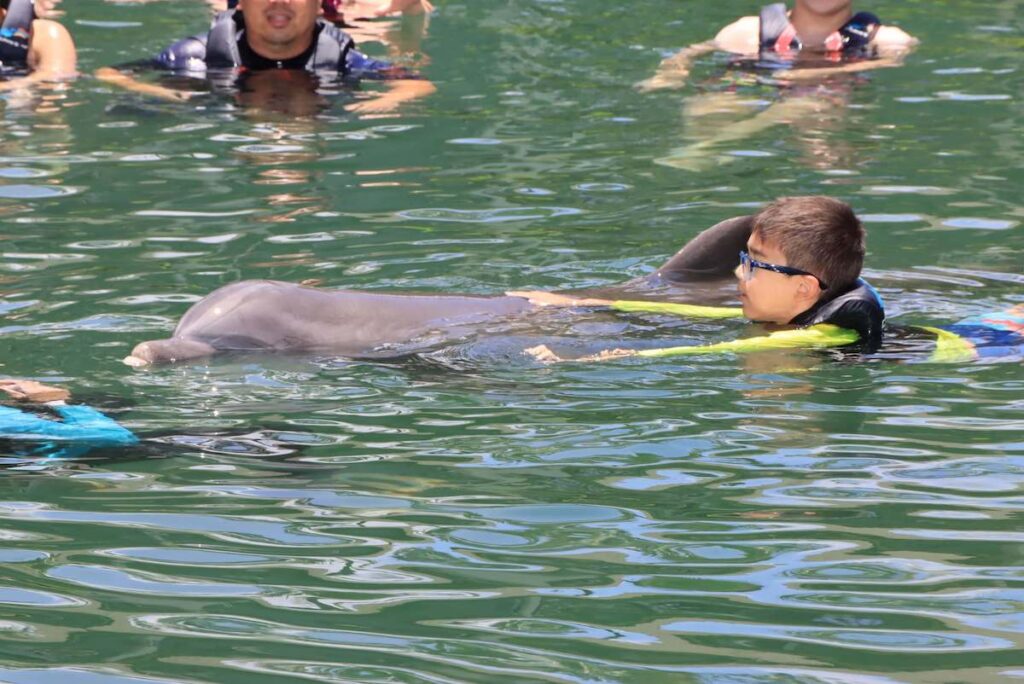 My husband is a stronger swimmer, so he was able to fully swim with the dolphin. He thought it was a really cool opportunity!
And then, there was time for everyone to get individual photos with a dolphin plus a group shot. The photographer got several cute shots of each person in our group.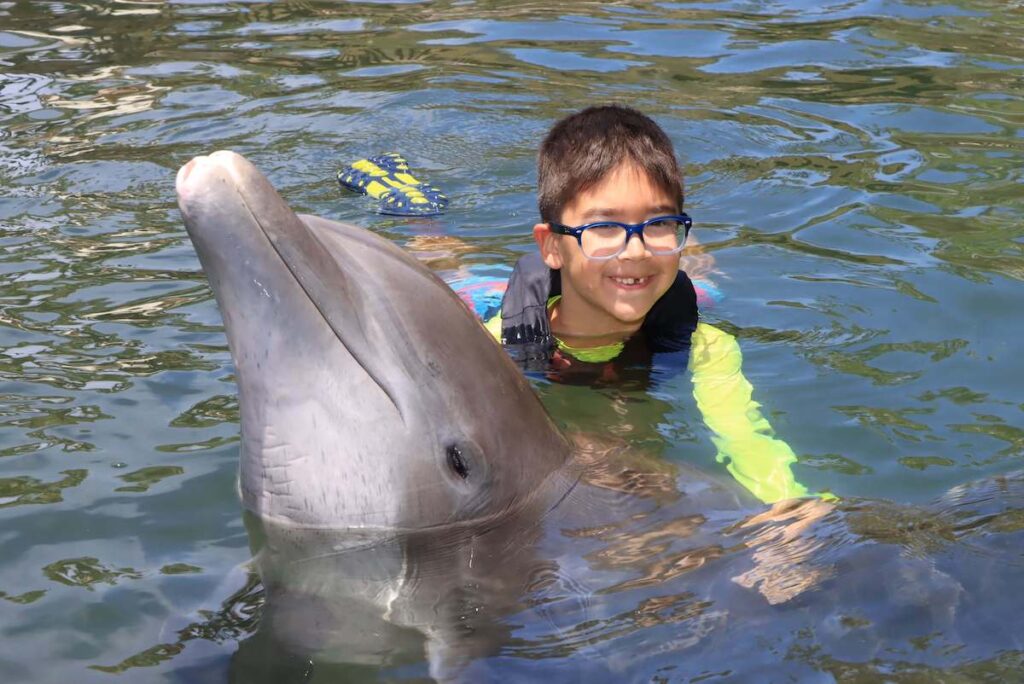 After swimming with the dolphins on Oahu, everyone was able to rinse off at the showers before getting changed into dry clothes.
We would definitely recommend this Dolphin Quest Oahu activity for families!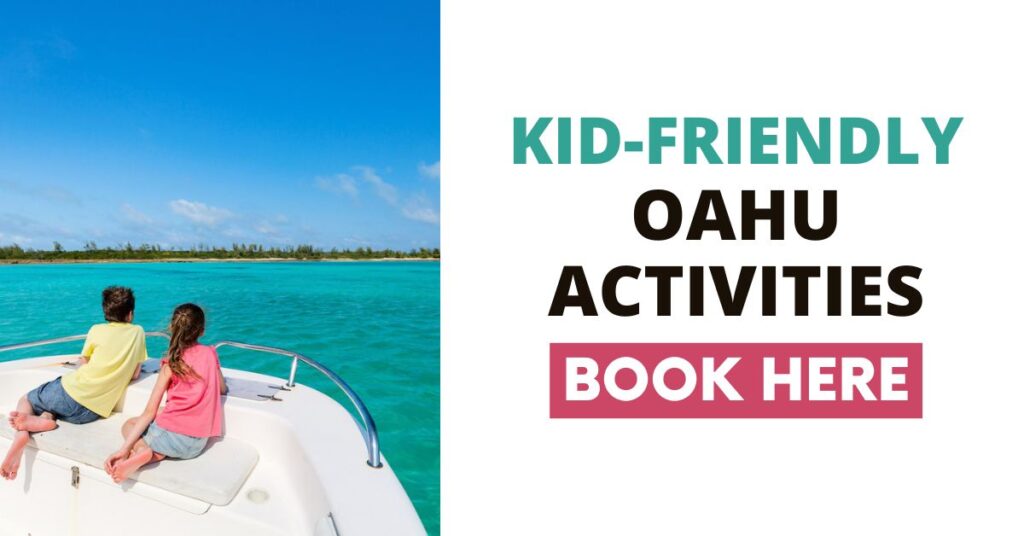 Tips for Swimming with Dolphins in Oahu at Dolphin Quest
If you decide to do this dolphin encounter, here are a few tips for this amazing adventure!
What to Wear
You'll want to arrive wearing your swimsuit underneath your clothing or swimsuit coverup. That way, you are ready to go as soon as you get there. We recommend these SPF swimsuits.
I also recommend that everyone wear sunscreen since you'll be in direct sunlight. However, it's really important to only use reef-safe sunscreen.
What to Bring
You'll want to bring an extra set of clothes to change into after your dolphin encounter. They do have lockers near Dolphin Quest you can use for no charge.
Another thing to bring to Dolphin Quest is a towel for everyone in your group. These are not provided, and if you forget, you'll have to buy one there.
Is the Photo Package Worth It?
Absolutely! All the photos used in this post are from the photo package. My father-in-law took some photos with his phone, and they didn't compare at all to the professional photos.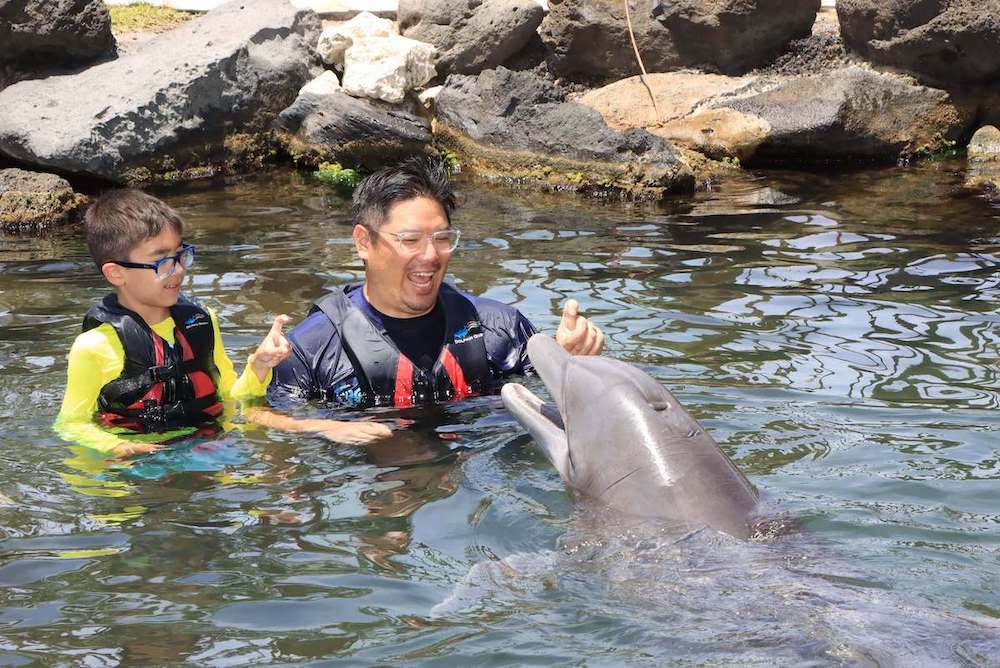 My thinking is that if you're already going to spend a decent amount of money on a dolphin encounter in Hawaii, you might as well spend a little more to get professional photos. I mean, they know exactly how to pose you with the dolphins for cute pictures.
You also aren't allowed to bring a phone/camera into the experience, so this is another reason to get the package.
Book a Family Photo Shoot
Whenever we travel to Hawaii, we almost always book a family photo shoot with Flytographer. They are super easy, affordable, AND it guarantees that I'll be in some photos. You can get $25 off if you book through this link or use the code HAWAIITRAVEL.
Is it Cool for Kids Who Don't Love Animals?
So, my 7 yo is really ambivalent when it comes to doing animal-related activities. He's not a fan of zoos or aquariums or anything like that. He mostly wanted to do this because his older cousins were going.
But, he LOVED it! I think it's because it was only our group in the water, and the staff was really good about making sure everyone had a good experience. They could tell my son was a bit nervous at one point, and they were able to distract him so he could relax.
How to Book Dolphin Quest on Oahu
We booked through Hawaii Activities because it was the cheapest rate I could find. You can check rates and availability HERE.
They actually offer a few options. We did the Dolphin Adventure, which gave us a 35-minute interaction with the dolphins. Kids ages 5 and up can participate in this one. Get more info about the Dolphin Adventure HERE.
There's also the Dolphin Encounter, which gives you 25 minutes with the dolphins, and it's slightly cheaper. This is also for kids ages 5 and up. Get more info about the Dolphin Encounter HERE.
You can also do a Private Dolphin Swim for up to 3 people. Get more info about the Private Dolphin Swim HERE.
They even have a ten-minute interaction shallow water interaction for toddlers too! It is a fun kids aquatic adventure your child will love.
And you can always check the Dolphin Quest website to see any new programs they are offering.
Oahu Swimming with the Dolphins FAQs
Where is the best place to swim with dolphins on Oahu?
If you want a formal swimming with dolphins on Oahu experience, your two choices are Sea Life Park and Dolphin Quest. Dolphin Quest offers a lot more programs for all ages. You can also do some snorkeling trips that claim you can swim with dolphins, but that's more hit/miss.
Do you need to stay at the Kahala Resort to do Dolphin Quest?
Nope! We stayed at a different Waikiki hotel and had no problem doing Dolphin Quest on Oahu. Their programs are open to tourists and residents no matter where they are staying.
How far in advance do you need to book Dolphin Quest?
You'll definitely want to have a reservation. If you know you 100% want to do it (maybe it's on your Hawaii bucket list), book it as soon as you've booked your trip. Otherwise, you can usually wait until a month before your trip. However, you'll want to book sooner if you are traveling during Hawaii's high season.
How much does it cost to swim with the dolphins in Oahu?
It all depends on the type of dolphin interaction you choose to get. For a premium dolphin adventure, you can pay anywhere from $150 to$250.
Is it worth it to swim with dolphins in Hawaii?
I think this is once in a lifetime experience, so I think it is definitely worth it! The dolphin quest Oahu offers is a great experience the whole family will love!
What is the best time of day to swim with dolphins in Hawaii?
Mornings are great times to have a dolphin quest experience. It won't be as hot, and your new dolphin friends will love it!
What time does the Dolphin Quest open?
You can do this dolphin adventure anytime from 8:30 AM to 5 PM.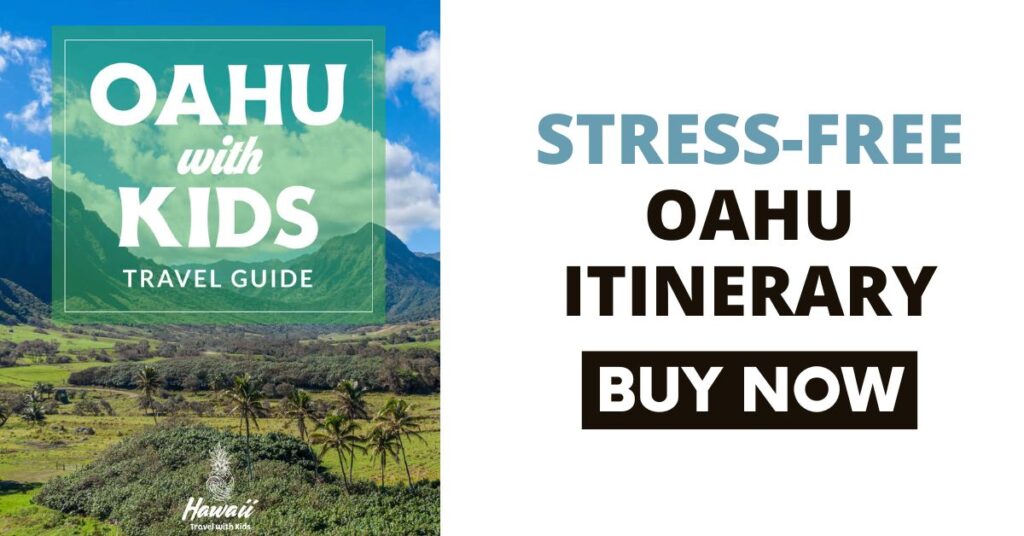 Oahu Swimming with Dolphins Wrap-Up
If you are thinking about doing an Oahu family vacation, then don't leave this off your list. It's a great way to make memories with the kids, and it is something they'll never forget!
If you are a dolphin lover, this Honolulu dolphin encounter is just for your family!
One of the things that I really love about the Dolphin Quest Oahu encounter is that with every dolphin encounter you go on, they will help support the vital marine mammal conservation! They have education programs, community service, and plenty of other things to help marine mammals.
I like the small group aspect and the very friendly and helpful crew members. Children will have so much fun on the kids aquatic adventure with Dolphin Quest Oahu!
We've done it too, and if swimming with dolphins on Oahu is on your bucket list, be sure to book a dolphin encounter at Dolphin Quest. They're awesome! We've also done it on the Big Island, and you can read about it HERE.