Are you a total choco-holic and want to taste some Hawaiian chocolate on your next trip in the islands? Keep scrolling to find out the coolest Hawaii chocolate farms worth visiting.
This list of the best Hawaii chocolate farms to visit contains affiliate links which means if you purchase something from one of my affiliate links, I may earn a small commission that goes back into maintaining this blog.
Sheer paradise. That's the first thing that comes to mind when you think about Hawaii. The colorful reefs, shimmering white sand beaches, and soaring volcanoes make the Hawaiian Islands one of the most beautiful places on planet Earth.
But did you know that Hawaii is also the best territory in the world to grow cacao?
Hawaii is the only US state where cacao can grow. And luckily for anyone visiting the Aloha State, there are tons of tourist-friendly farms you can visit with the kids.
Most farms are located right on the Big Island, but you can find farms scattered on at least 4 of the Hawaiian Islands. So if you're looking for some outdoorsy fun with the kids, visit these culturally-rich cacao farms in Hawaii.
Their tasty chocolate bars make a great souvenir idea, plus, you'll be supporting local agriculture, too.
See the top-rated Hawaii chocolate tour HERE!
Want to skip all the planning and just access my detailed Hawaii Itineraries complete with daily schedules, kid-friendly activities, and travel hacks? Click the button below.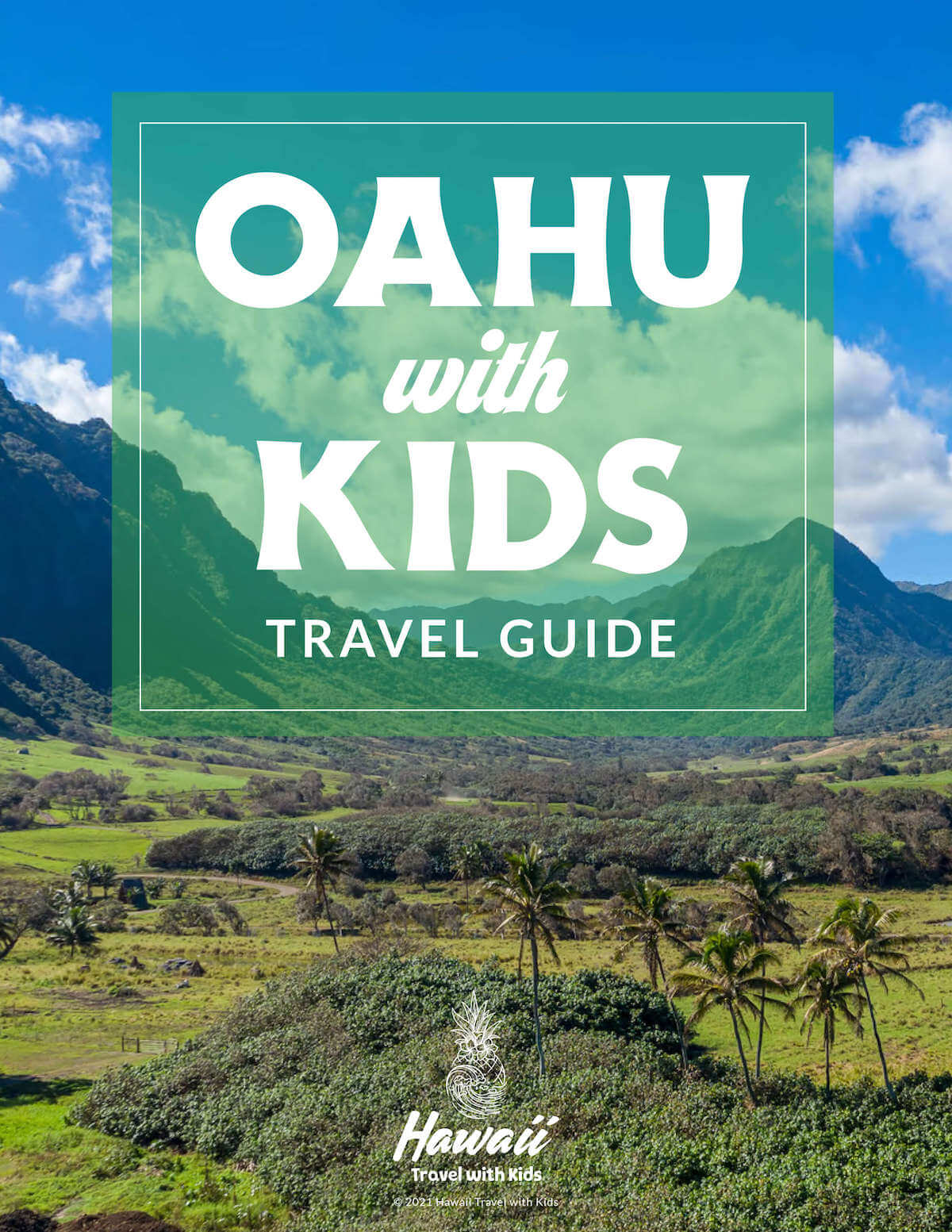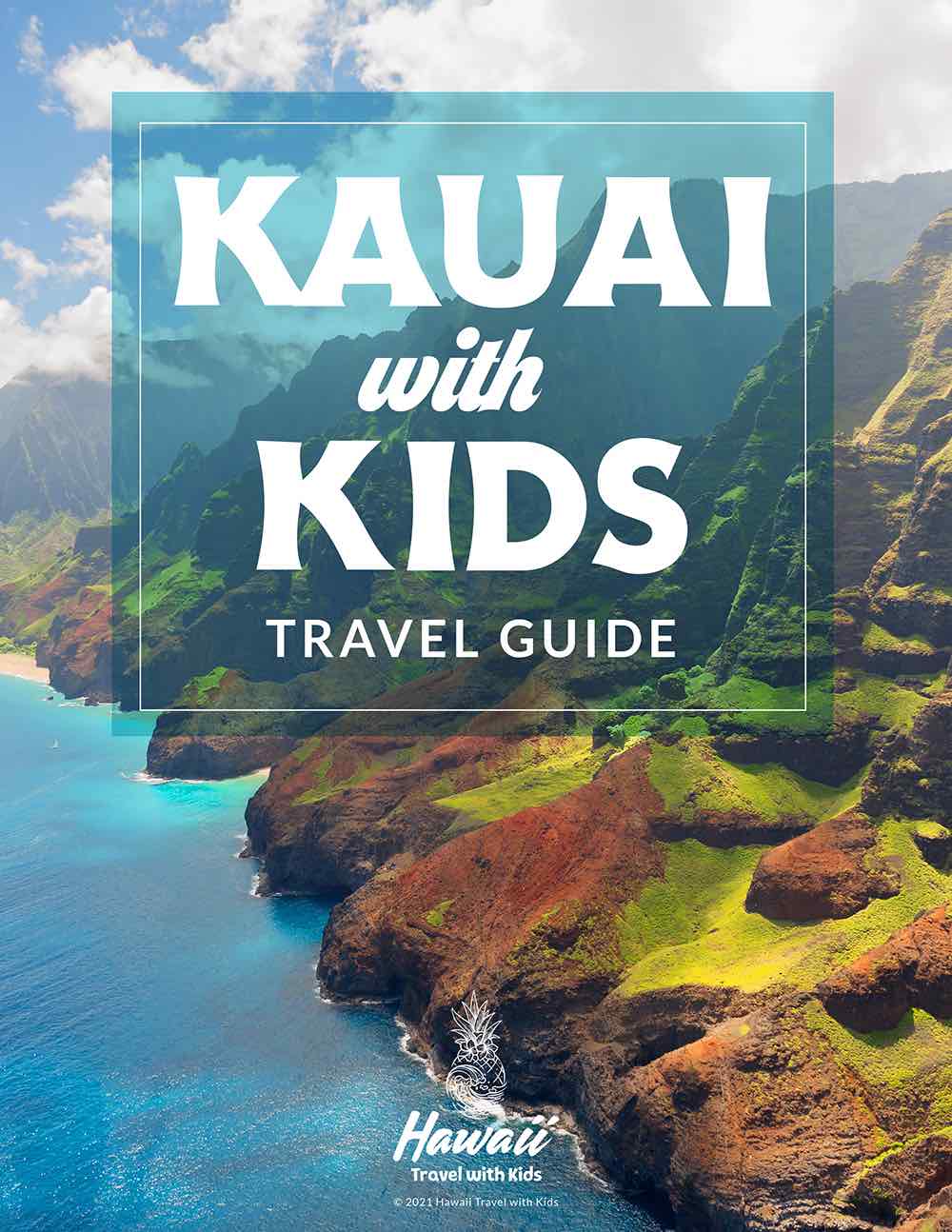 Hawaii Chocolate FAQs
Is Hawaii famous for chocolate?
YES! Hawaii is the only state in the U.S. where cacao trees thrive and grow well. It's been growing in the islands for more than 180 years. And many local Hawaiian candy and cookie companies choose to use locally made Hawaii chocolate in their tasty treats.
Where is Hawaiian Host chocolate made?
While Hawaiian Host chocolates have their company headquarters and a processing plant in Honolulu, Hawaii, manufacturing actually takes place in Southern California. However, Mauna Loa chocolates are made in Hilo, Hawaii and you can tour their factory and visit their gift shop.
Where can you buy chocolate covered macadamia nuts in Hawaii?
You can buy Hawaiian macadamia nut chocolates at just about every gift shop or grocery store in Hawaii. The most popular place to find them in Waikiki are at the ABC Stores, which are on almost every street corner. One of the cheapest places to buy Hawaii chocolate macadamia nuts are at Costco.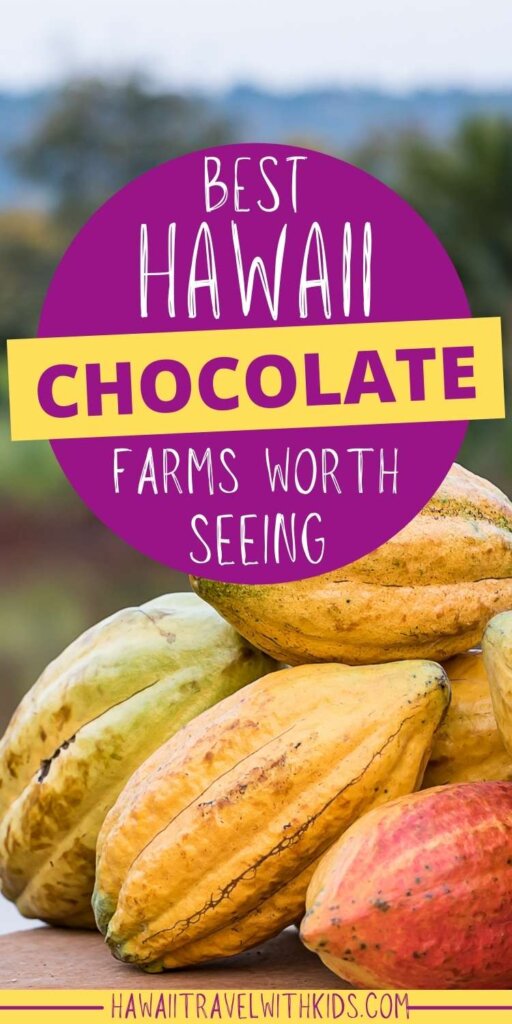 Hawaiian Chocolate Farms Worth Seeing
Want to taste chocolate made in Hawaii? You're in luck! These are some of the best Hawaii chocolate farms worth a stop!
Love chocolate? Then take a break from exploring Hawaii and head to the Mauna Kea Cacao Farm to see how their award-winning chocolate is produced. As you can imagine, the process of turning Hawaii cacao beans into a chocolate bar is full of flavor and history.
Cacao beans are bitter, so they need to be fermented in order to improve their flavor. Then they need to be dried before being finely ground with sugar to make a paste. This mixture goes through an intricate heating process known as tempering which ensures the bar has a perfect texture. It's not too hard or chewy, but also not so soft it melts in your mouth instantly!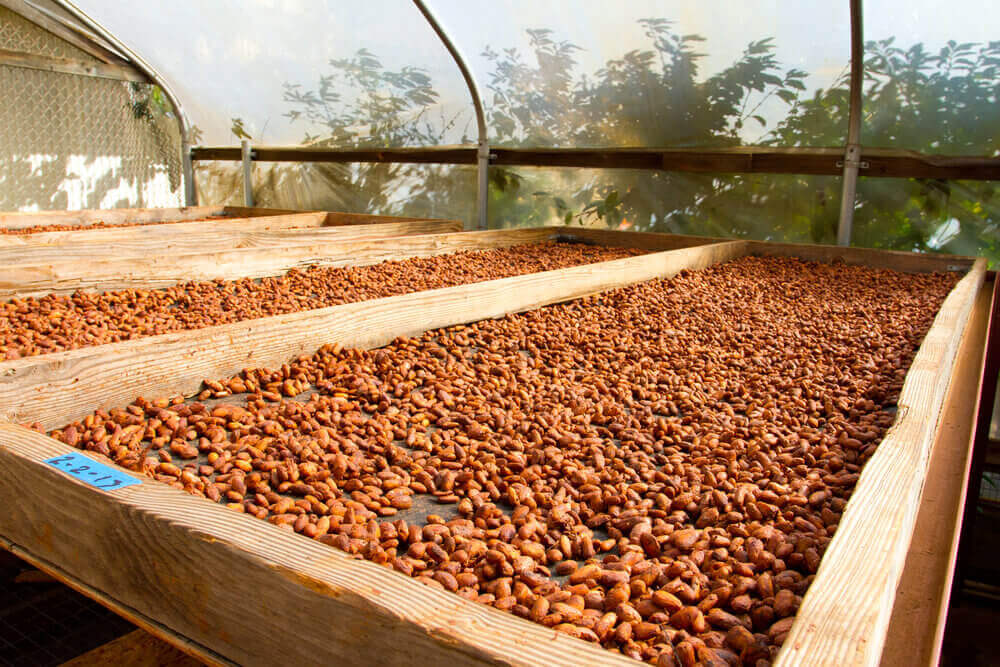 After these steps are complete we're left with yummy homemade Hawaiian chocolates made from 100% sustainable ingredients!
Mauna Kea Cacao offers Big Island chocolate tours around their property where you'll get to learn more about the process of how cacao is harvested and grown, explore the 1,800 cacao trees, and you can even crack open a cacao pod and sample what fresh Hawaii cacao tastes like.
Tours last 90 minutes and cost $40 per adult. For children under 17, it's $15, and it's free for kids under 5.
Get a taste of paradise in this small family-owned cacao farm that's located in Oahu. Their two-hour Cacao Farm & Chocolate Tasting Tour is the perfect opportunity to learn every step of the cacao making process.
Stroll across 10 acres of land and smell, taste, and learn everything there is to know about growing cacao trees. You'll also learn how to harvest and grind cacao beans, and how they make their bars of artisanal chocolate.
The tour guides walk you through this Oahu chocolate farm's history and delve into the original "canoe crops." These were introduced to the land by the first voyagers that first arrived in the islands.
And don't worry about keeping the little ones engaged! The guides make sure to keep things fun and actively engage with the kids by asking them questions. Best of all? You'll get to sample different flavors and textures of all the premium chocolates they grow in their farm.
You'll also find baby goats and playhouses which will be a total slam dunk with the kids. And if you have time to squeeze it in your schedule, the farm offers a Yoga with Goats and Chocolate Tasting Tour.
This small-scale cocoa farm is committed to creating the perfect chocolate bar in a way that sustains life for the future generations to come.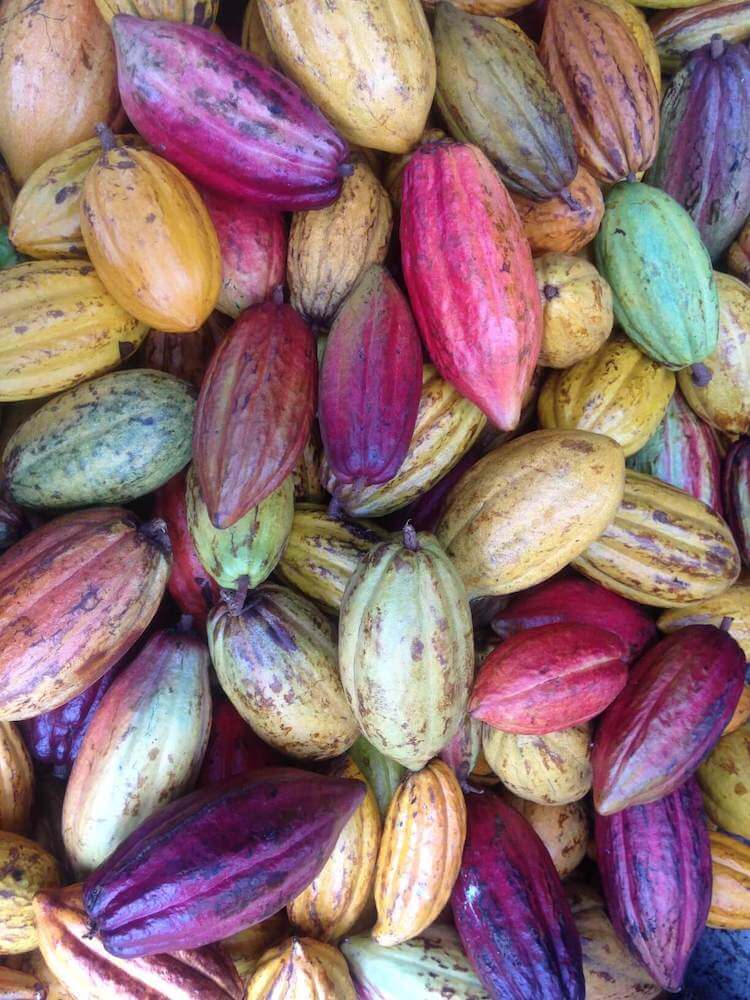 Their chocolate farm tour is one of the most popular ones in Kauai. And is truly an enjoyable experience for kids of all ages. The farm offers a three-hour tour that costs $125 for adults and $95 for children ages 7 and older.
Their walking tour will take you through the fields where they plant cacao seeds, starting at their lavish botanical gardens where you'll get to taste their internationally-acclaimed palm-blossom Kauai honey and lots of local tropical fruits.
The farm operates all year long, whether it rains or not. But make sure to check out their website before heading out. Check out my full Kauai chocolate farm tour review.
Embark in the fascinating journey of how chocolate is made in the Lavaloha farm, located just 10 minutes away from Hilo. Nestled atop the stunning Mauna Kea volcano, the farm offers a Tree-to-Chocolate Tour that lets you pick a fresh pod from the trees. How incredible is that?
From the process it takes to make a chocolate bar, to bringing awareness to the challenges the cacao industry is facing worldwide, there are so many things to see, do, and learn on this 60-minute chocolate tour. Read our full Lavaloha Chocolate Farm tour review HERE.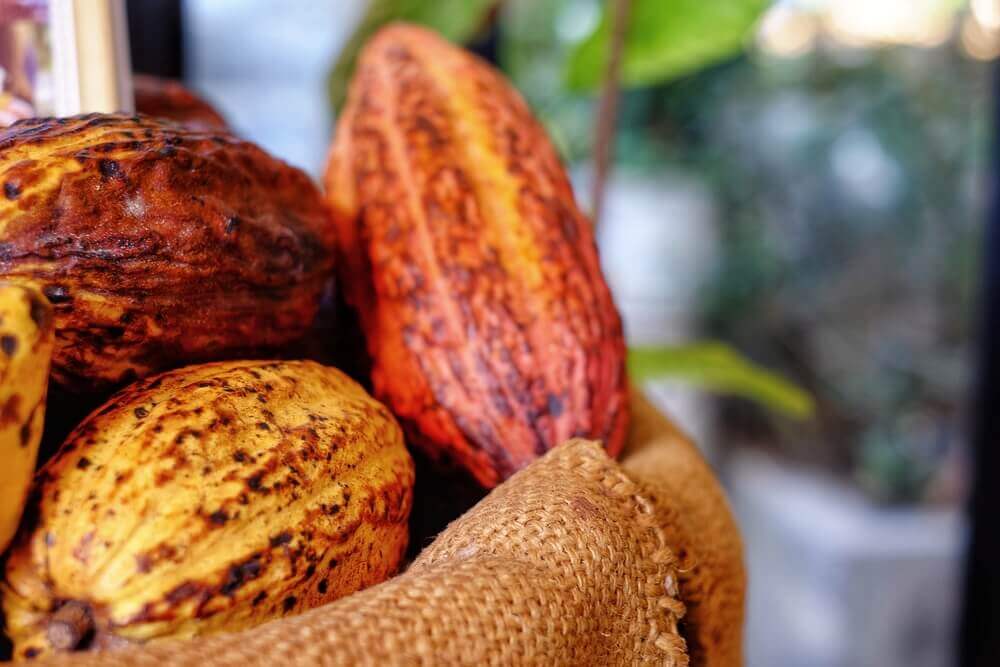 For example, did you know that in Hawaii, cacao beans have a higher concentration of fat than the beans that grow in warmer regions? That's one of the reasons why Hawaiian-grown chocolate is so scrumptious. When it comes to cacao, the higher the fat content, the more delicious the chocolate!
Want another reason why cacao farms in Hawaii make the best chocolate in the world? Hawaii cacao farmers spend around 5-10 days fermenting the beans here, which is a really long time in the world of cacao production. The longer chocolate gets fermented, the less bitter it becomes.
Take an epic stroll through their cacao orchards while knowledgeable guides that will teach you everything there is to know about chocolate. Finish off with free chocolate samples when you complete the tour. Cost is $39 per person and only $7 for children under 12.
Honoka'a Chocolate Co makes amazing hand-crafted chocolate from their beautiful farm on the Hamakua Coast at Kahi Ola Mau farm. As you can imagine, there are stunning views from nearly every part of the property.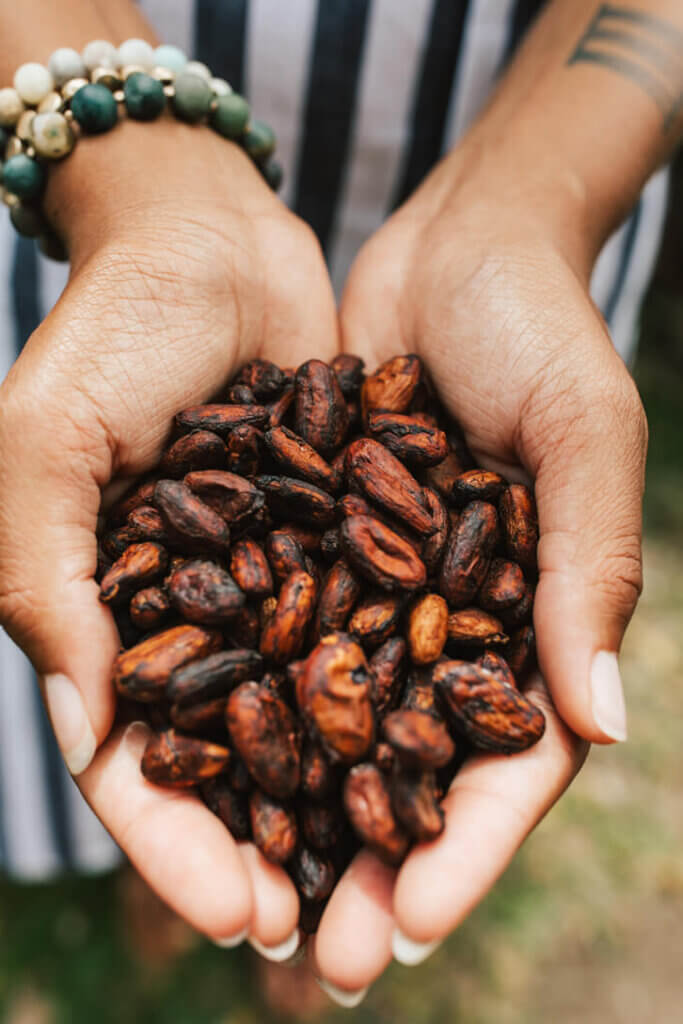 While they're a small, family run company that works hard to provide sustainable and healthy products; they also strive to create an amazing customer experience where you can witness every step of the cacao-making process.
The farm organizes Big Island chocolate tours and tastings that cost $60 per person. Children under the age of 10 pay $30 per person, but it's free for kids under 5 (the tasting isn't included).
Their farm tour takes you deep inside their farm where you'll be amazed at the incredible produce they grow, from nearly 1,000 cacao trees, more than 40 varieties of exotic fruit, 1,600 pineapple plants, avocado trees, coffee, and turmeric. They also grow vanilla orchids and different varieties of Hawaiian sugar cane.
You'll also get to immerse yourself in a culinary tasting experience that's a dream come true for chocolate lovers. Aside from their own chocolate, you'll also get to sample select flavors from different countries, (including Hawaii, of course), letting you experience how different soils can alter the flavor of chocolate.
The chocolates at Honoka'a Chocolate Co are made from only the cleanest ingredients. They contain no gluten, emulsifiers, stabilizers, soy or GMOs.
The company offers tours in both Kona and Hilo so you can choose the one that's more convenient to you. Their 1.5 hour tour lets you taste the chocolates that is made in the farm, plus walk you through an immersive experience of how chocolate is made.
On their Kona Cacao Orchard Tour, you'll get to walk through ravishing cacao orchards where you'll learn all about the process of planting cacao trees and turning them into chocolate treats.
There are 600 cacao trees, more than 2,000 coffee plants, 400 macadamia nut trees, and other tropical vegetation in their Kona chocolate farm. Tours cost $30 per adult.
If you're visiting Hilo, you'll get to immerse yourself in their cacao orchards and see their "fermentory" and cacao nursery, as well as banana and coffee trees. The Kurtistown orchard in Hilo is home to 1800 cacao trees, a family of goats, and lots of macadamia nut, bananas, and coffee trees. The cost of the Hilo Caco Orchard Tour is $25 per adult.
Inspired by an article about Waialua Chocolate, Hana Gold founder Francine Frost decided to start growing cacao. At the time, she didn't think it was possible to grow cacao in Hawaii.
Robert and Francine Frost founded the Hana Gold Plantation in 1978, and ever since then, they've been providing people with the most exquisite, naturally grown products. In the last few years, the farm has started producing the first "branch to bar" chocolate in Maui.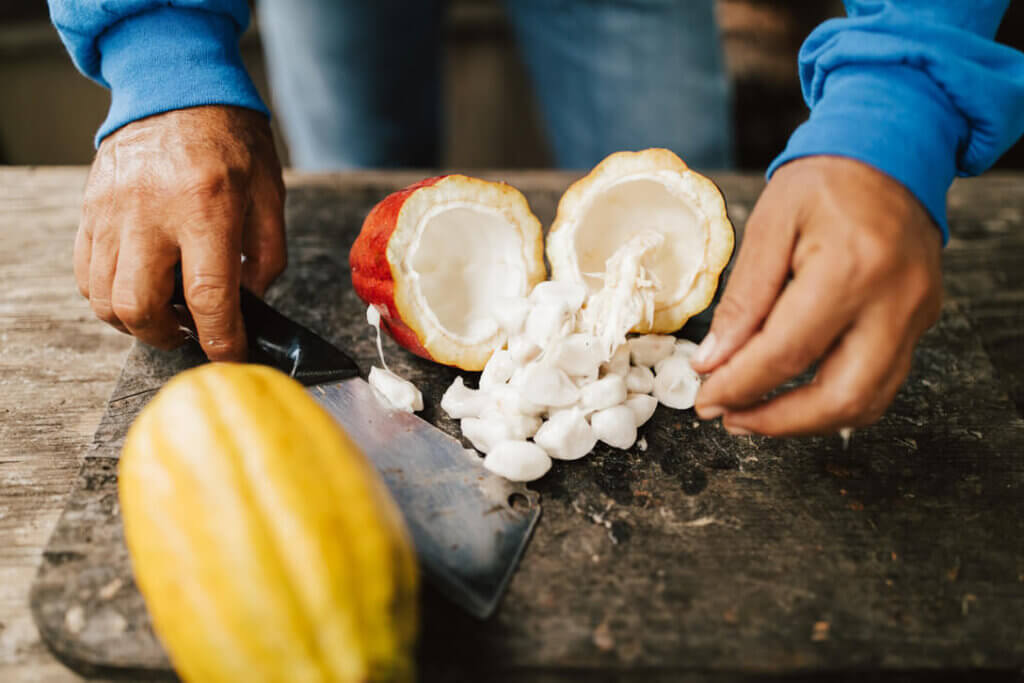 The Hana Gold Chocolate plantation is nestled on the Hana Coast of Maui where you can visit their working cacao plantation to learn all about how chocolate is made. Their cacao beans are naturally fertilized by the rich volcanic soil, which helps them create the most uniquely flavored chocolate in the world.
Hana Gold's chocolate is handcrafted with a conscious approach. And they only use environmentally friendly processes to ensure the purest, most decadent flavor.
Find out more details about visiting the Maui chocolate plantation by sending an email to [email protected] or calling the farm from Monday to Saturday.
You'll definitely want to check out this Maui chocolate tour. Start your journey at the Ku'ia Estates Chocolate Factory in Lahaina, Hawaii. This is not just a tour of a Hawaii chocolate factory; it's an adventure that starts from "farm to bar." Check latest rates and more information.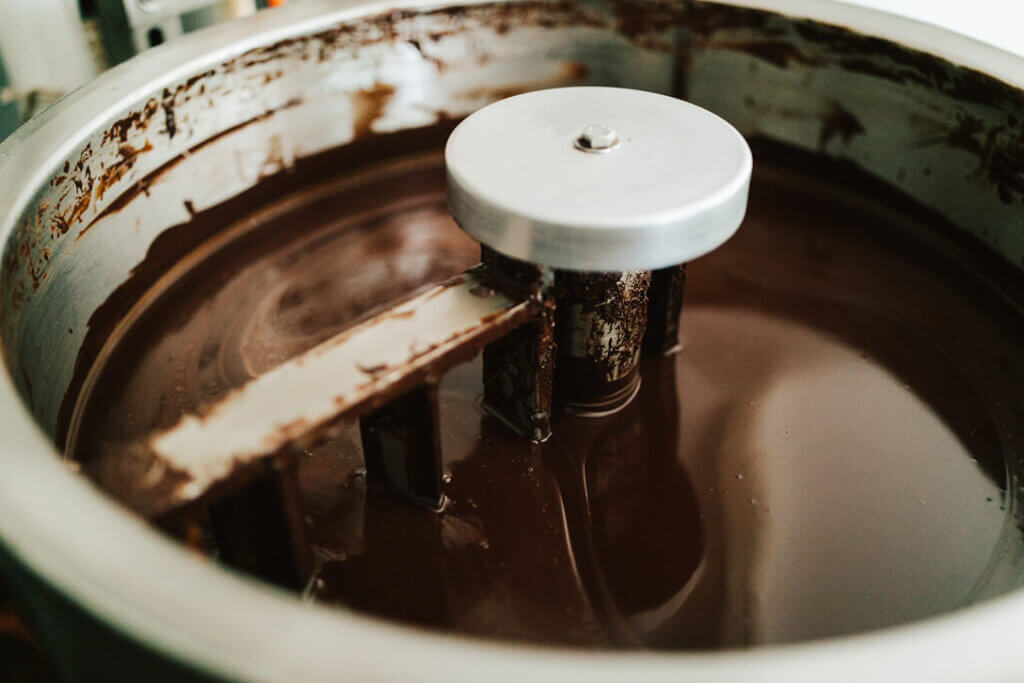 Complete with over 20 acres of cacao trees and various interactive fun activities for kids (and adults!), this trip takes you through all aspects of Hawaiian-grown cocoa beans. You'll see harvesting techniques practiced by Maui farmers every day!
Get enlightened about how they grow these precious yet humble seeds into some amazing-tasting chocolates. And if there was any question left unanswered or curiosity still unfulfilled, so much more awaits during their 9-piece taste test where you'll get to try every flavor under the sun.
Finally, I felt the need to include the Mauna Loa Macadamia Nut Factory Visitor's Center to this list. As of August 2021, it's still temporarily closed. But, it's one of the best things to do in Hilo.
While they are a macadamia nut factory, they specialize in many chocolate-covered macadamia nut products like dark chocolate, sea salt caramel, milk chocolate coconut, milk chocolate toffee, and lots of little gift packs of Hawaiian chocolates.
Where Can You Buy Chocolate from Hawaii?
You can actually order a lot of chocolates from Hawaii online. One of the most popular things to order are Hawaii macadamia nut chocolates and you can order them from Mauna Loa here.
Big Island Candies has some of the best chocolate in Hawaii. While they have their headquarters on the Big Island, they also have a location on Oahu. Check out their online offerings here.
And if you want "fancy" chocolate, head over to the Original Hawaiian Chocolate Factory on the Big Island. Or, you can order online here.
P.S. Join our Hawaii Travel with Kids Facebook group to get connected with other families planning a trip to Hawaii!