Are you looking for a Kauai luau that feels authentic? Keep scrolling for my honest review of the Ahi Lele Fire Show in North Shore Kauai that features lots of Hawaiian fire dancers and storytelling.
This Kauai luau review of the Ahi Lele Fire Show with Hawaiian fire dancers was written by Hawaii travel expert Marcie Cheung and contains affiliate links which means if you purchase something from one of my affiliate links, I may earn a small commission that goes back into maintaining this blog.
Out of all the things to do in Kauai, one of my all time favorite activities is going to a luau.
Usually, we do the Smith Family Luau or Luau Kalamaku at Kilohana Plantation. But this year for our Kauai family vacation, I wanted to try something new.
I'm always on the hunt for the best luau on Kauai, so when I started reading luau on Kauai reviews for the Ahi Lele Fire Show up in North Shore Kauai, I knew I had to check it out for myself.
I'm SO happy I did because it was truly one of the coolest things to do in Kauai with kids. And my boys haven't stopped talking about the Hawaiian fire dancers since we went!
If you're looking for something a little different than a traditional Hawaiian luau, this is a pretty cool thing to do on Kauai at night. Perfect for families or couples.
So, is it one of the best luaus in Kauai? Keep scrolling if you want to read my honest review and find out what to expect at the Ahi Lele Fire Show on Kauai.
Want to skip all the planning and just access my detailed Kauai Itinerary complete with daily schedules, kid-friendly activities, and travel hacks? Click the button below.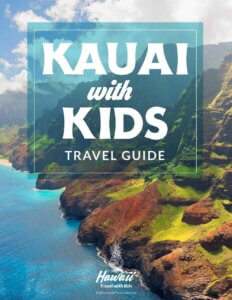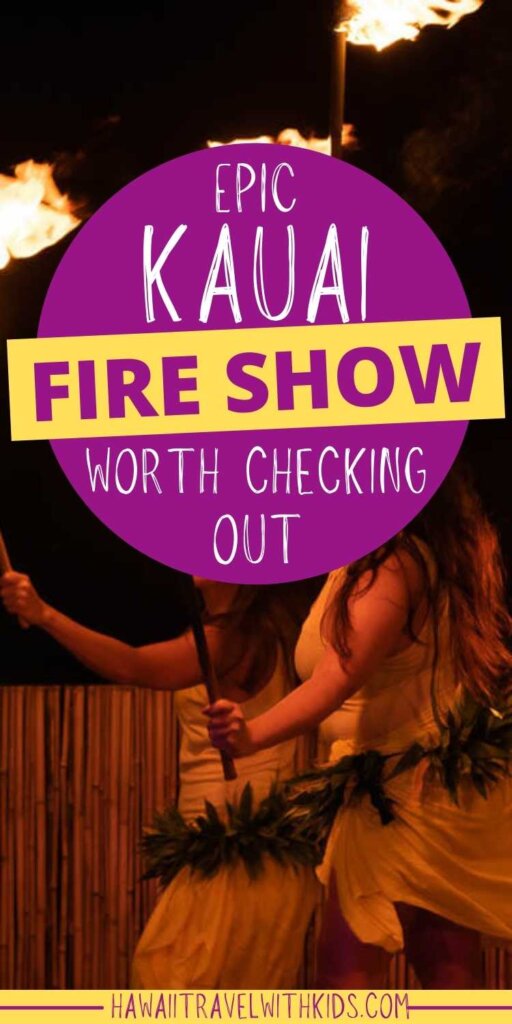 What to Know Before You Go to the Ahi Lele Fire Show:
Arrival
The Ahi Lele Fire Show is a must-see event for those who have never experienced anything like it before.
It's located at the Anaina Hou Community Park in Kilauea Kauai. This is the home of a cool mini golf course, a skate park, an elaborate playground, and a little hiking trail in the woods.
When you enter the park, you'll drive down to an area with a big pavilion. This is where visitors can find parking spots for the luau.
The Ahi Lele Luau Fire Show started at 6 pm. That's when they opened the gates and let people check in and get food. The show started around 7:30 pm.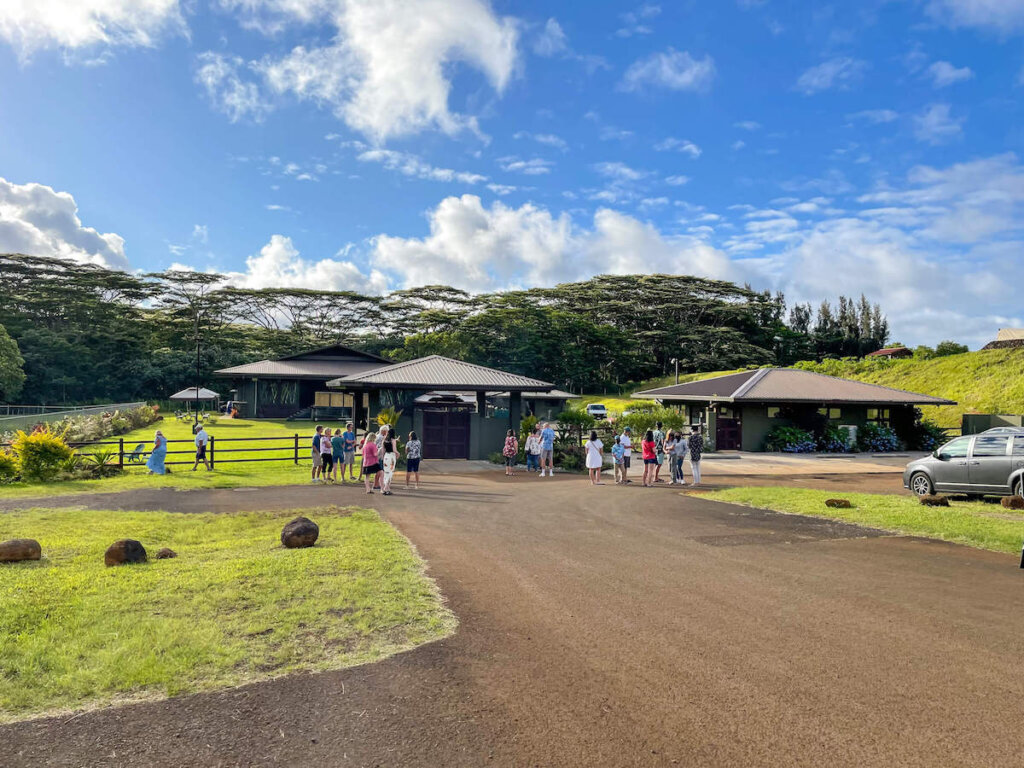 If you're visiting Kauai with kids, I highly recommend arriving early so they can get some wiggles out on their fabulous playground.
Food at Ahi Lele Fire Show
One of the top questions people have about Kauai luaus is about food. Participants want to know if the food is good or if they should lower their expectations.
We attended this Kauai luau in June 2021, and there were still health/safety precautions in place. That means that instead of a traditional buffet dinner, we picked up boxed dinners instead.
I thought it was brilliant, and I'm secretly hoping they keep this in place!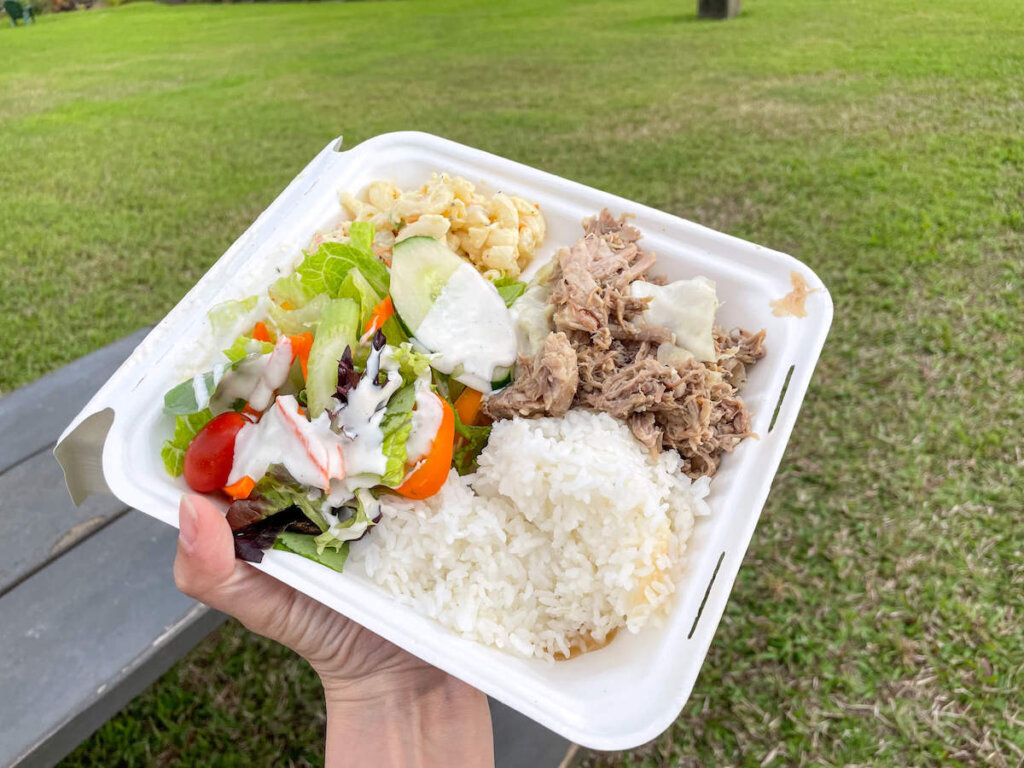 They had pork or vegetarian options, plus a smaller box for kids. Inside the box were kalua pork, rice, macaroni salad, and fresh green salad. It's definitely some of the best luau food I've had. Everything was so flavorful, and the portion was perfect.
For drinks, they had water available for free. Or, you could purchase drinks from the bar, like a mai tai or delicious beer.
I thought it was a delicious dinner, special to Hawaiian culture.
They also had snacks available for purchase, like candy and cookies. I thought the light snack was a great option to grab before the show started.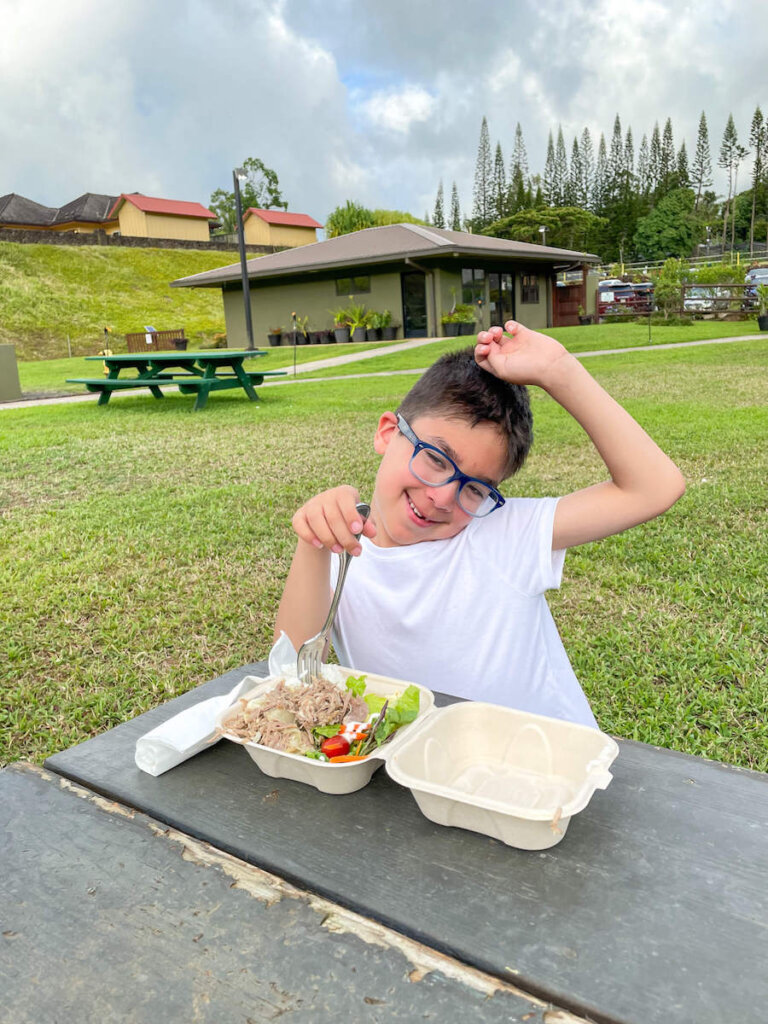 After picking up our boxes of food, we headed to the grassy area and sat to eat it at a picnic table. Some people went straight to the chairs set up for the show to eat on their laps.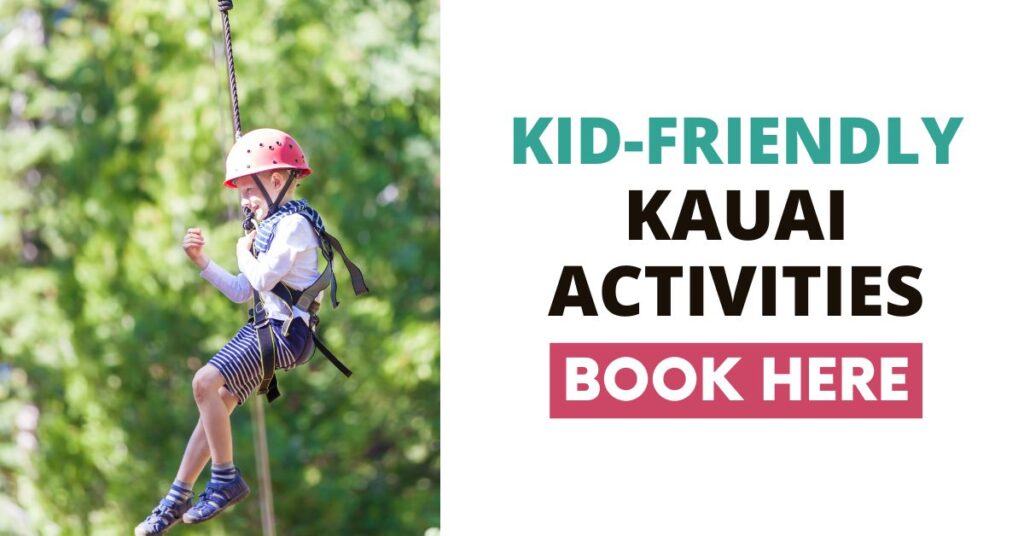 Seating Arrangements
I'm not sure what the seating arrangements are usually like for this Kauai luau, but in June 2021, there were groups of 2-3 chairs spaced out throughout the covered pavilion.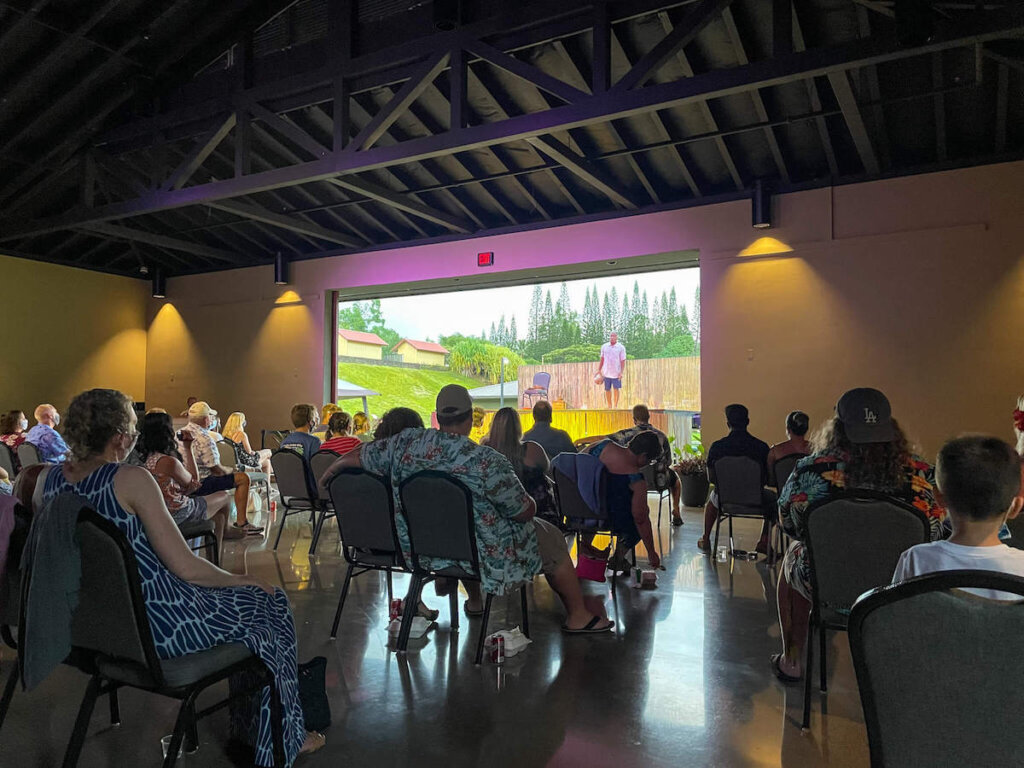 These were open seats, so it's a good idea to head there first if you're able to comfortably eat in your lap. That's probably what we would have done if we didn't have our kids with us.
I did hear that sometimes they invite kids to come to sit closer to the stage on the ground, but they didn't do that for our show due to the health restrictions in place. But, that's something to keep in mind for the future.
We sat in the back corner and had no problem seeing everything on the stage. In fact, our kids were able to stand up and easily switch seats throughout the show without bothering anyone.
Coconut Husking Demonstration
The presentation part of this Kauai luau started around 7:30 pm, and the emcee talked a bit about how important coconuts are to Polynesians and the Hawaiian culture.
Then, he actually husked a coconut on stage, which was really cool to watch. He used a tool to pull off the outer shell and a rock to actually break the coconut in half. That's when he showed us the coconut water that was inside.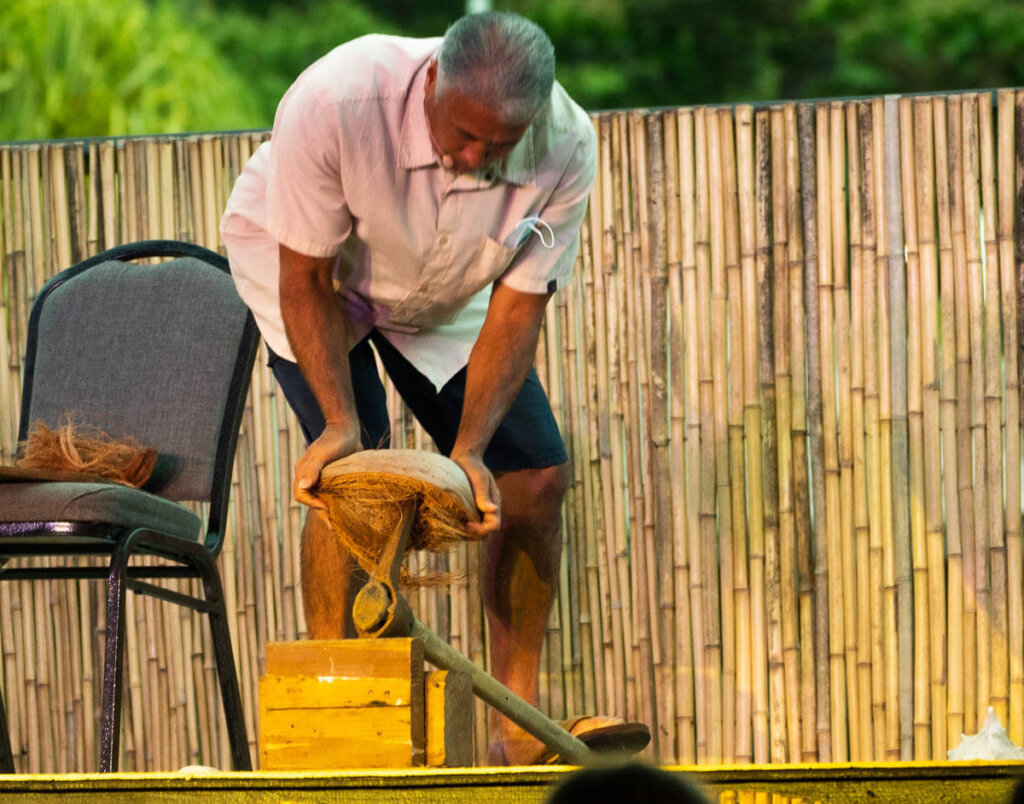 The whole time he was doing this, he was chatting with us and asked if audience members had tried to husk their own coconuts before. I couldn't believe how many had tried during their trip to Kauai!
Next, he showed us a special tool he made to shred the coconut meat. It was kind of like a scraper where he was able to shave the coconut meat. He only spent a few minutes shredding, but he got a little pile.
This is where it got super cool. He put the shredded coconut meat into the coconut husk and squeezed it. That's how they make coconut milk! And it produced a lot more coconut milk than I expected.
We always love seeing unique activities like this when we attend a luau in Kauai. The kids were pretty blown away!
How to Make a Fire
After talking a lot about the many uses for coconut, the emcee did another demonstration on how to make a fire using sticks and coconut husks. This is the part where my kids stood up in an effort to get a closer look.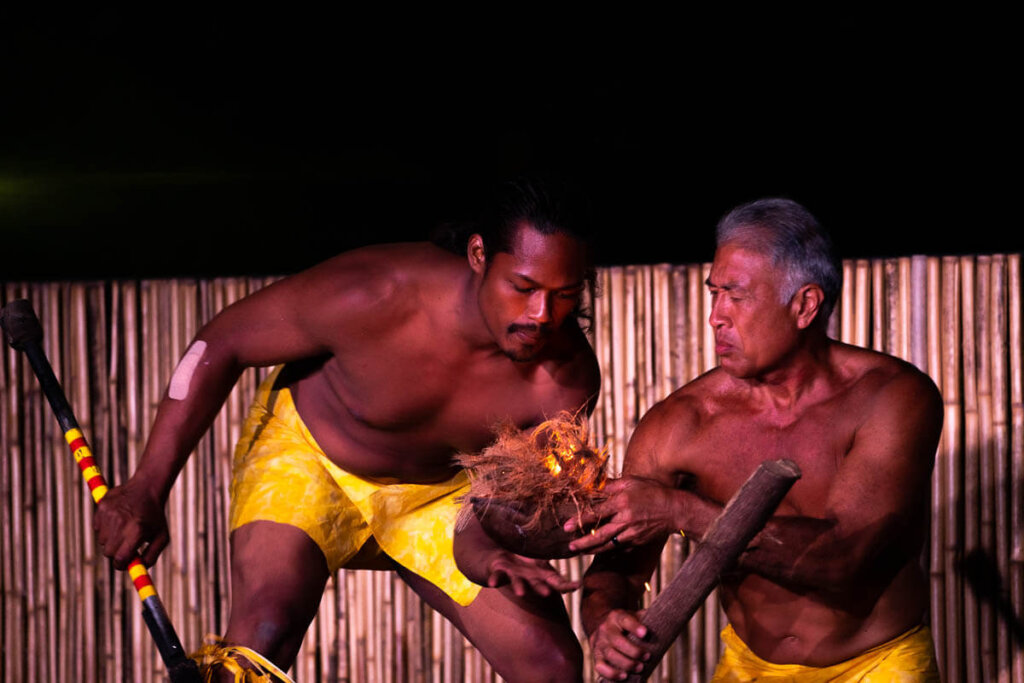 It was really cool to see someone create a fire without matches right on stage! And he was able to get the spark really quickly, and a full fire going just seconds later.
We've definitely seen a similar presentation at the Samoan Village at the Polynesian Cultural Center on Oahu. But, I've never seen this done at a luau in Kauai, Hawaii before. It was really amazing and the kids loved it!
Hawaiian Fire Dancing
Now it was time for the actual show. It started with a theatrical chant that was given to the luau organizers by descendants of people who used to chant it in ancient times.
It was about the Native Hawaiians and their experience with fire and volcanoes. They used to chant this to the volcanoes.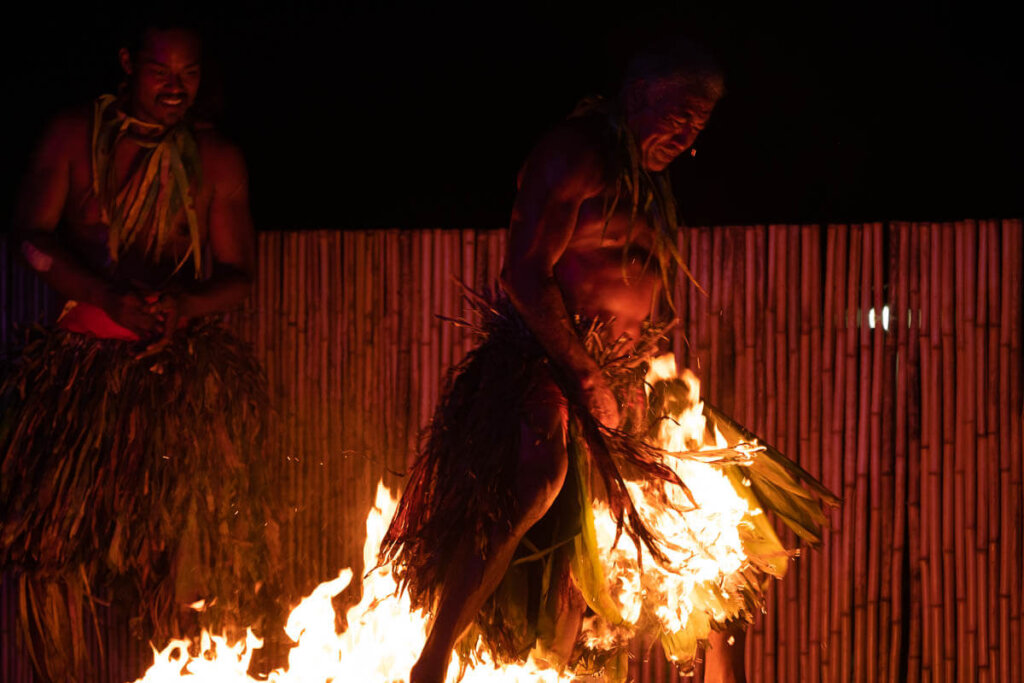 Samoan Fire Knife Dancing
Most people are familiar with Samoan fire knife dancing, but they don't realize it. Often, it's the big finale for luau shows, where a guy dances with what looks like a torch.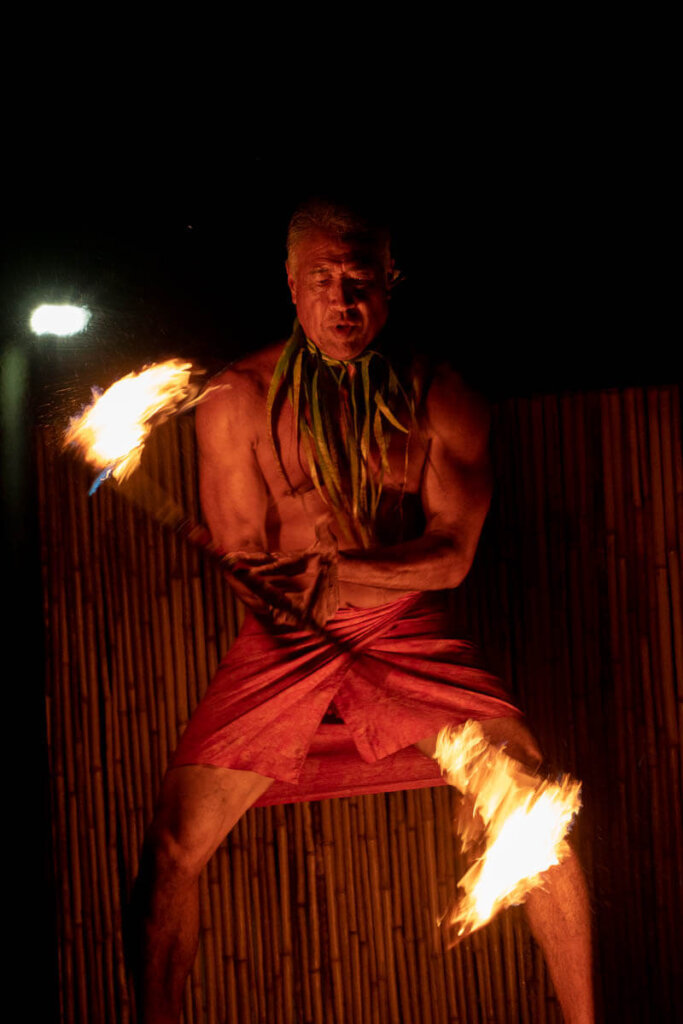 It's actually a pretty intense hooked machete knife on a long stick. It's weighted in a way that they can rotate it and gain momentum. I know this because we actually took a Samoan fire knife workshop with one of the dancers prior to the show.
This section of the show talked about how Samoans were originally afraid of fire and lava and overcame their fear through dancing. It's a very theatrical show, and you really go on the journey with them. It's pretty cool entertainment!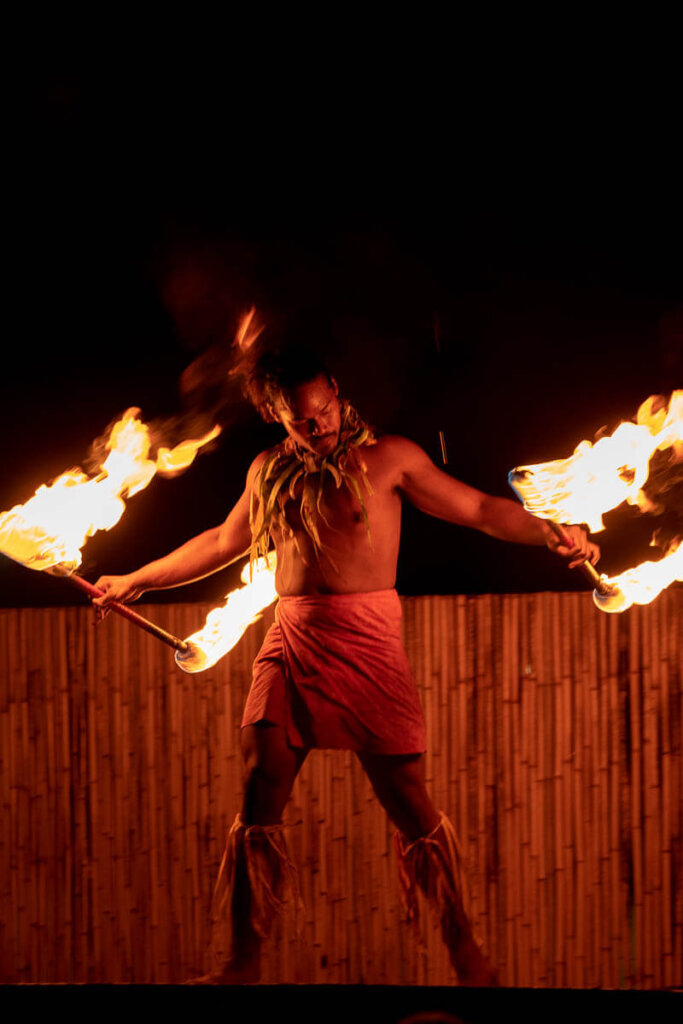 This was actually a pretty extensive part of this Kauai luau. There were 2 main male performers and then they had a teenage performer come on stage where they "taught" him how to do fire dancing. It was quite theatrical and showed how this tradition gets passed on to the next generation.
Tahitian Dancing
One of the most eye-catching dances at Luaus in Kauai is Tahitian dancing. It's the one where women's hips move at lightning speed to Polynesian drumming.
I've seen a lot of Tahitian dancing throughout the years, but I rarely see it performed with fire. It was insanely cool!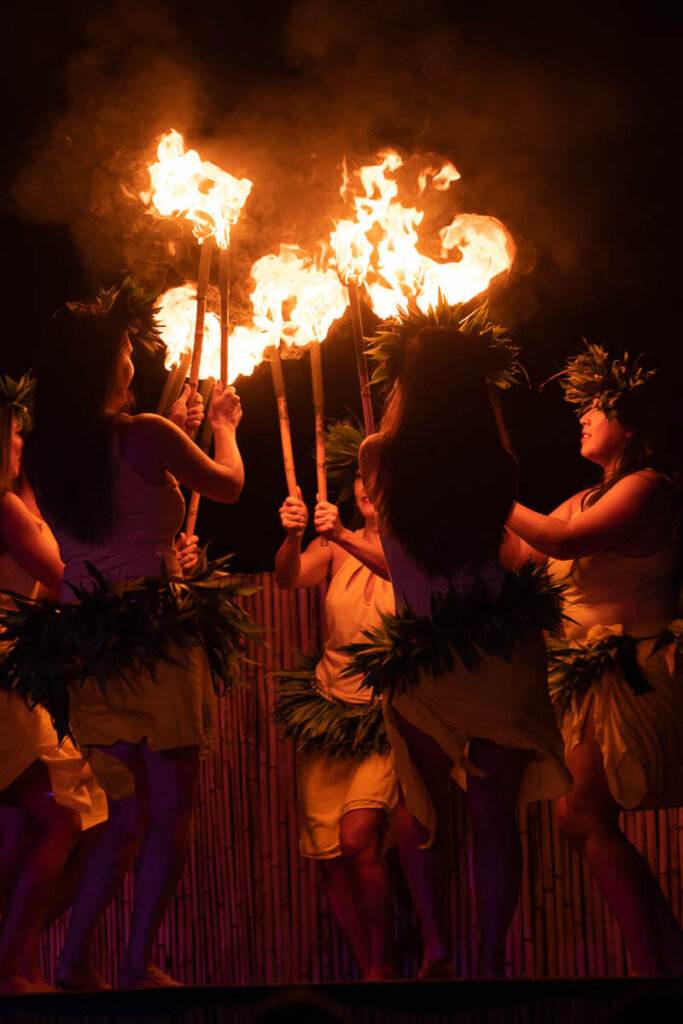 At Ahi Lele, these dancers also carry lit torches. And they gather in a circle and do all kinds of formations. It's similar to what you'd see at other luaus in Hawaii, but they are holding fire the entire time!
There were actually quite a few dancers on stage, and it was completely mesmerizing as they moved at an exhilarating beat.
Maori Fire Poi Balls
Another cool dance that you'll usually see at Luaus on Kauai, Hawaii, is poi ball dancing. It comes from New Zealand, and it involves women swinging balls on a braided string, and it's quite impressive.
Well, this luau lights them on fire. It's incredible!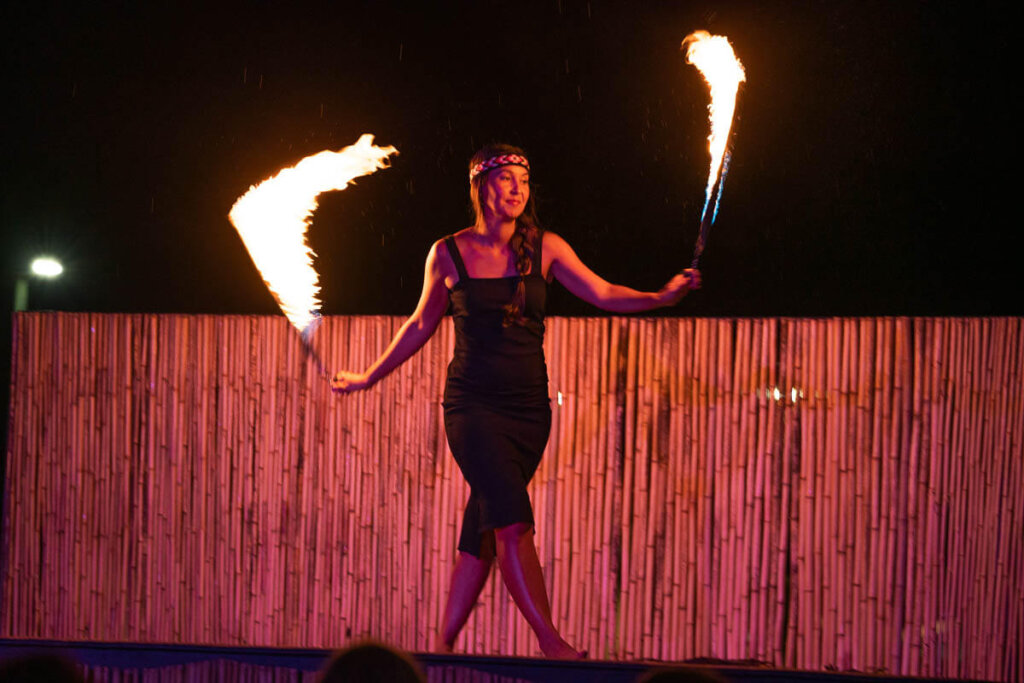 They rotate groups of dancers, so there are always a few on stage. And no one made any mistakes when we went (which is extra impressive)!
We saw Maori dancing when we visited New Zealand, and this was definitely on par!
Drumming
So, I'm a big fan of Polynesian music, and I love the drumming the most. We happened to sit right in front of the musicians, so we could feel the vibrations, which was awesome!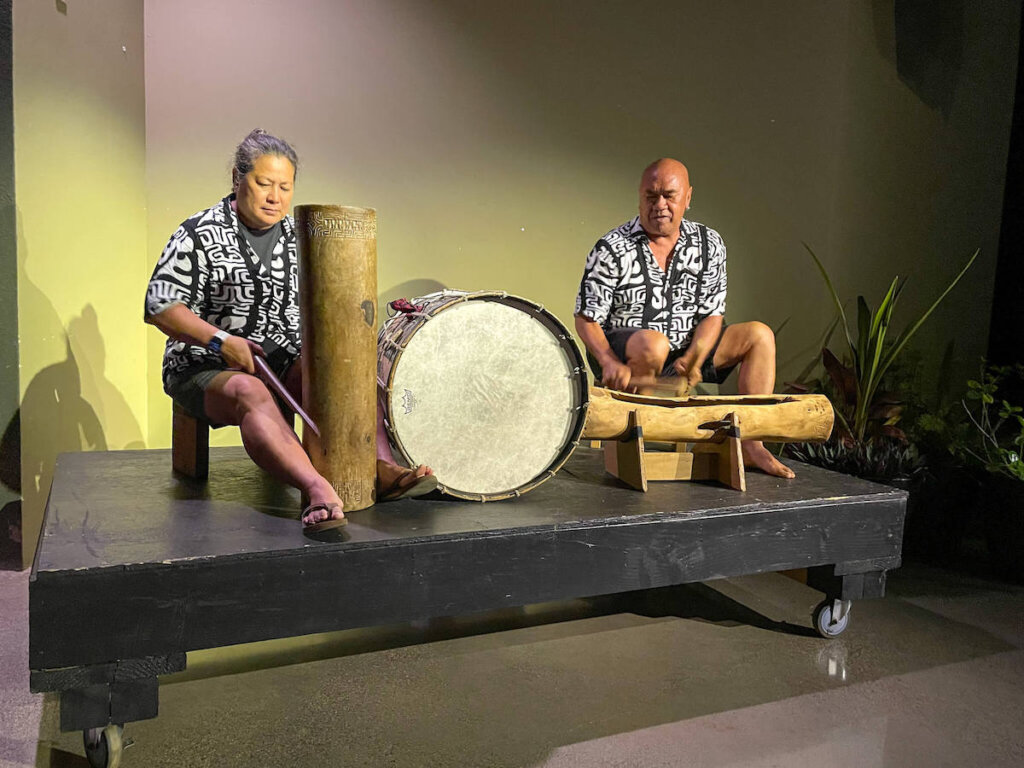 But, the coolest thing is that one of the drummers was an original member of the world-renowned Hawaiian group HAPA!
Keli'i Kaneali'i is a fantastic Hawaiian performer, and it's super awesome that he's part of the Ahi Lele Luau Fire Show.
They seriously drum at an exhilarating beat, which I just find so entertaining.
Luau Tickets
Now that you've read my Kauai Luau review, you probably want to know about tickets. You can book your tickets online to see the amazing artistry here.
They offer a few different options for your ticket price:
VIP Front Row – $104
General Admission – $89
Keiki (Kids) – $47​
Kids ages 2 years old and under are free. Plus, they offer Kama'aina rates for people with a Hawaii I.D.
North Shore Kauai Luau FAQs
Where is the Ahi Lele Fire Show?
The Ahi Lele Fire Show is located at the Anaina Hou Community Park in Kilauea Kauai. When you enter the park, you'll drive down to the pavilion area. If you're looking for a luau in Princeville Kauai, this is one of your best nearby options.
What type of luau food should I expect at the Ahi Lele Fire Show?
You will get the same type of food as any other Kauai luau. Our plate had kalua pork, rice, macaroni salad, and green salad. They also had mini plates for the kids. While there wasn't the same variety of food items as other Hawaii luaus, the quality was top-notch.
Will there be Samoan fire knife dancing?
Absolutely! That's one of the main events at the Ahi Lele Luau fire show! You'll get to see several men twirling the torched knives for a spectacular show.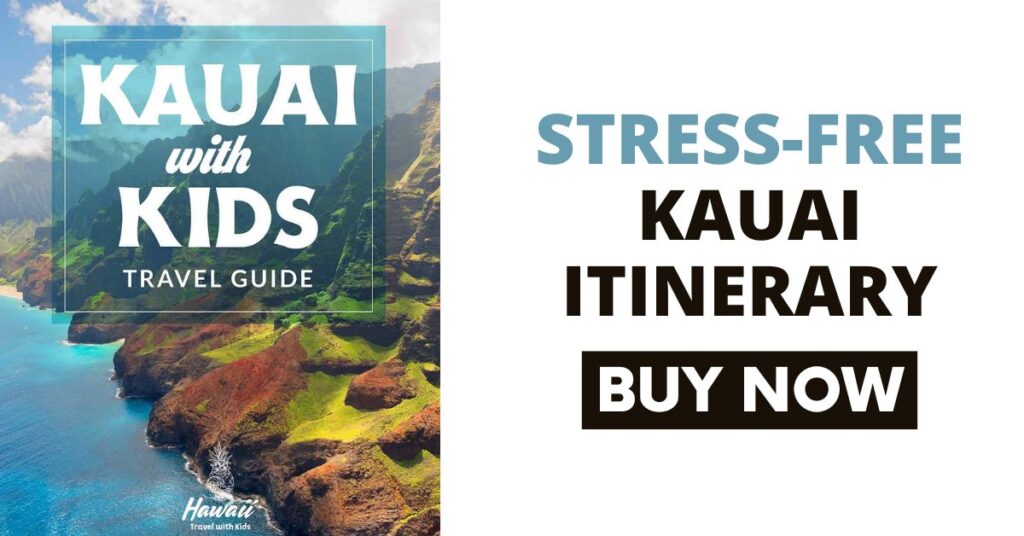 Wrap-Up
The Ahi Lele Fire Show is seriously one of the most unique things to do in Kauai. I know it can be hard to find Kauai activities for families with little kids, but this one is perfect for kids of all ages. And it's the best Kauai luau for people who mainly want to see Hawaiian fire dancers.
Enjoy dinner first, followed by learning about the entertaining Polynesian culture, all included in ticket price.
There are few things more beautiful than watching Polynesian dancing and hearing the sound of drums while you watch an amazing show from start to finish, so don't miss your chance! Book this incredible Kauai Hawaii luau today by going online here.