Looking for a kid-friendly luau on Kauai? Keep scrolling to read our Smith's Tropical Paradise luau review!
This Smith's Tropical Paradise luau on Kauai review was written by Hawaii travel expert Marcie Cheung and contains affiliate links which means if you purchase something from one of my affiliate links, I may earn a small commission that goes back into maintaining this blog.
I've been visiting Kauai for the past 25 years, and one of my fondest family memories involves Smith's Tropical Paradise.
My grandmother used to live half the year on Kauai and another half in Seattle. It was amazing because every time she came home to Seattle, she'd bring Kauai Kookies, cool gecko shoes, Hawaiian stickers, and all kinds of souvenirs.
I remember one year, she showed me a VHS of hula dancing because she thought I would like it. It was a video of the Smith Family Luau on Kauai, and I was instantly captivated!
It was the first time I'd seen Tahitian dancing and Maori dancing with poi balls, and I could not take my eyes off Pele when she danced the Hawaiian hula while emerging from a volcano! I just had to watch it in person!
A couple of years later, my family managed to visit, and she took us to the Smith Family Garden luau on Kauai. It was even better than the video!
I was ten years old at the time, and I still remember the songs and seeing glimpses of the numerous cultures which make up the present-day Hawaiian islands.
In fact, experiencing Smith's Luau Kauai is the main reason I became a hula dancer when I was a teen. I think it's the top luau in Kauai.
Want to know more about this luau on Kauai? Keep scrolling!
Want to skip all the planning and just access my detailed Kauai Itinerary complete with daily schedules, kid-friendly activities, and travel hacks? Click the button below.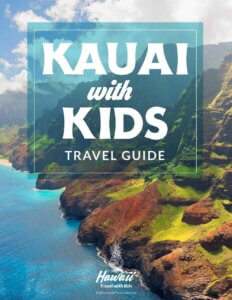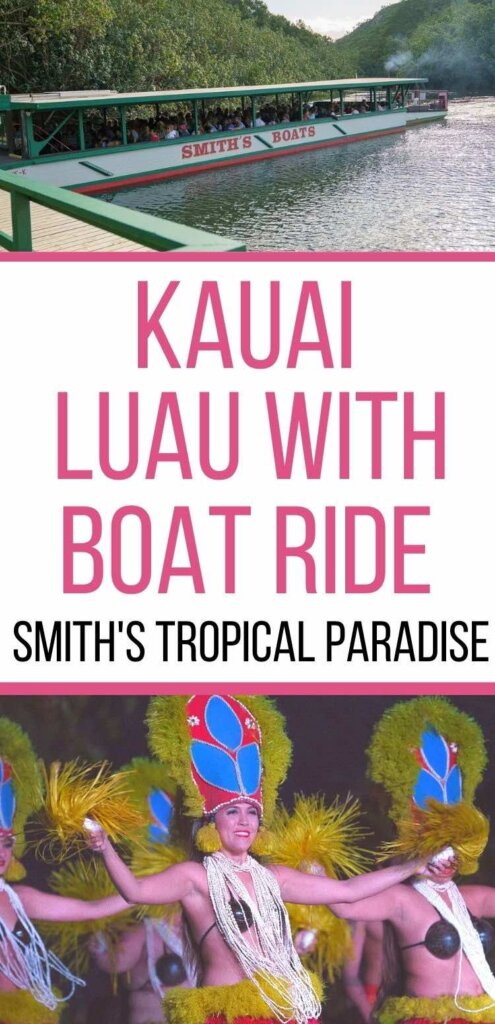 Smith Family Luau on Kauai
HISTORY
If you ask any Kauai local family which luau they need to attend, they will probably suggest Smith's Family Luau. That is because it's been around since the 1980s and has a great reputation.
Smith's Kauai is a family-run business that began with just a rowboat and a borrowed outboard engine more than 50 decades ago.
Today, it's expanded to add the Fern Grotto Wailua River Cruise, Smith's Tropical Paradise (a 30-acre botanical and cultural backyard ), Smith's Weddings In Paradise (a wedding site), along with the Smith Family Garden Luau.
When you're planning a trip to Hawaii, you'll definitely want to add the Smith Family garden luau and Fern Grotto river ride to your itinerary!
SMITHS FAMILY GARDEN LUAU LOCATION
Smith's Tropical Paradise and the Fern Grotto tour are located in the Wailua Marina State Park on the east side of the island (3-5971 Kuhio Highway, Kapaa, HI 96746).
Once you've turned off the highway, just follow the driveway all the way back to the parking space.
From the North (Hanalei, Princeville, Kapaa): Take Hwy. 56 South through Kapaa to the Wailua River. Go past Kuamoo Street, over the lake, and take the first right into the Wailua Marina State Park.
From the South (Waimea, Poipu, Lihue): Take Hwy. 56 North from the Lihue airport. A mile after the Wailua Golf Course, await Marina signs along with the shore on the right. Just before crossing the Wailua River bridge, turn left in the Wailua Marina State Park.
There's loads of free parking available at this Kapaa luau.
SMITHS FAMILY GARDEN LUAU PRICE
With taxes and fees, here are the luau ticket costs when booking through Hawaii Activities:
ADULTS (14-99): $140
KIDS AGES 7-13: $35
KIDS AGES 3-6: $25
KIDS AGES 0-2: Free
You can also do the show-only ticket, which is $25 for adults and $12.50 for kids.
Kama'aina rates are also available for Hawaii residents with state IDs.
Click to purchase your Smith Family Garden Luau discount tickets.
Things to Expect at Smiths Garden Luau on Kauai
Here is all this luau Kauai Hawaii has to offer:
FERN GROTTO BOAT RIDE
I'm all about luaus that set themselves apart from other luaus on Kauai. The Smith Family also runs boat tours that take guests to the hidden Fern Grotto on the Wailua River.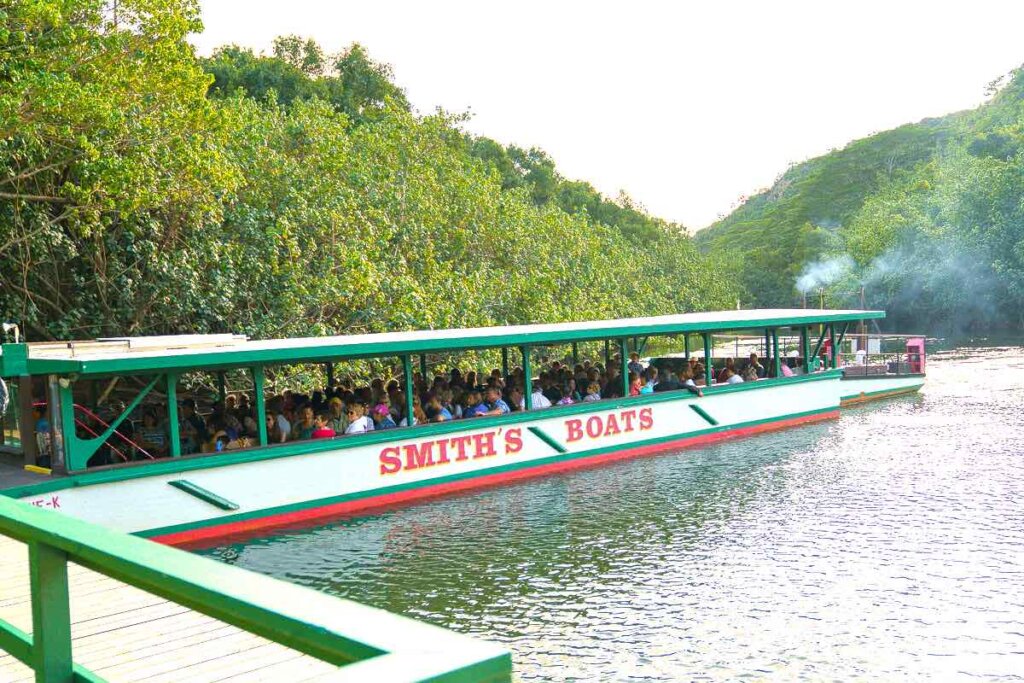 You will climb aboard a large river boat and slowly float down to Fern Grotto, one of Kauai's most popular attractions and destination wedding sites. Your guide will talk to you about Kauai's history and Hawaiian culture.
When you dock, you'll wander through the jungle until you reach the scenic viewpoint.
There, you'll watch hula dancers and musicians perform the beloved Hawaiian Wedding Song.
Following that, you are going to hop back to the boat, where there's more hula dancing and live music for the duration of the trip.
Having this Fern Grotto boat ride option makes this one of the best luaus in Kauai. It is so fun to experience the sacred Wailua River Valley and all it has to offer.
Insider Tip: Reserve the 3:30 pm boat ride and arrive just in time to get Smith's Family Luau!
SMITH'S TROPICAL PARADISE GARDEN
Included in your luau admission, you'll have access to this exquisite Smith's Tropical Paradise Garden.
What's cool about it is that it's sectioned off to emphasize lots of Asian and Pacific Island tropical flowers, plants, and exhibits.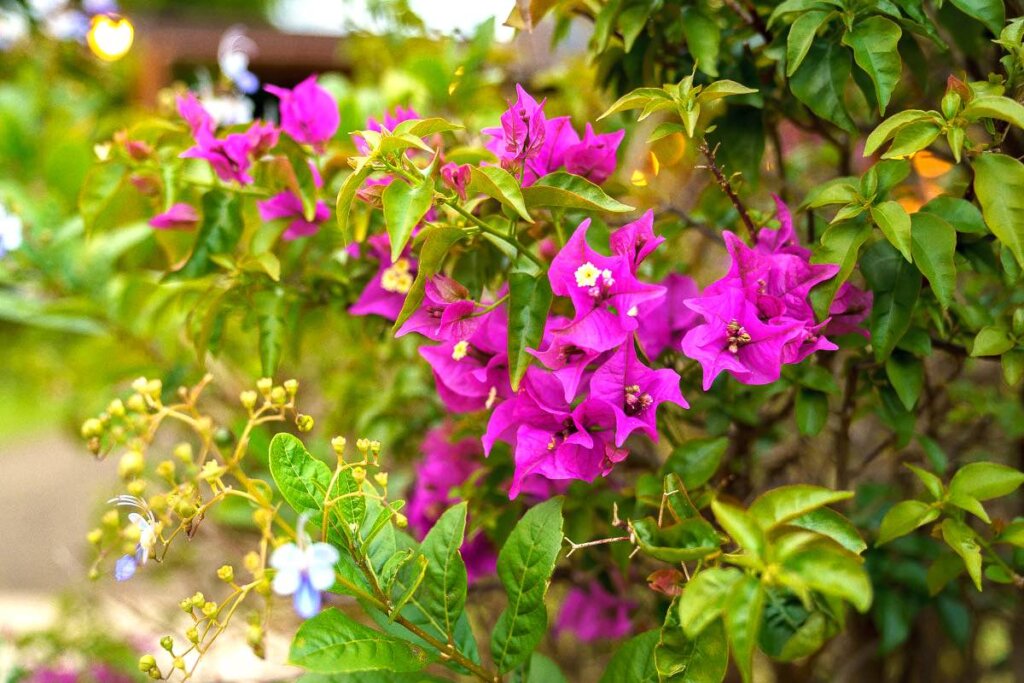 It's kind of like a miniature Polynesian Cultural Center! In reality, that is what the first owners were thinking about when they designed it in the 1960s.
You can hop on the open-air tram (my kids LOVE it) or walk around at your own pace. And bring your camera as there are a lot of amazing photo opportunities and magnificent backdrops.
They have more than a mile of paths that are stroller-friendly. You will see more than 20 types of tropical fruit, like breadfruit, star fruit, jackfruit, soursop, and even macadamia nuts!
And there are replicas of native huts and also a giant Easter Island Moai replica. Plus, a cute Japanese-themed garden island. It's totally Instagrammable!
Additionally, there are peacocks roaming around, which is always fun!
Insider Hint: You can just visit the garden anytime between 8:30 AM to 4 PM. It's $6 for adults, $3 for kids 3-12, and free for children 2 and younger.
IMU CEREMONY
If this is your first trip to Hawaii, you'll definitely want to check out the imu ceremony. Smith's Tropical Paradise includes two imu pits. An imu is a traditional Hawaiian underground oven where they cook the pig.
When we were there, the emcee came out and assembled guests around the imu pits. He spoke a bit about how they cook the pig with hot stones and ti leaves, just like their ancestors did.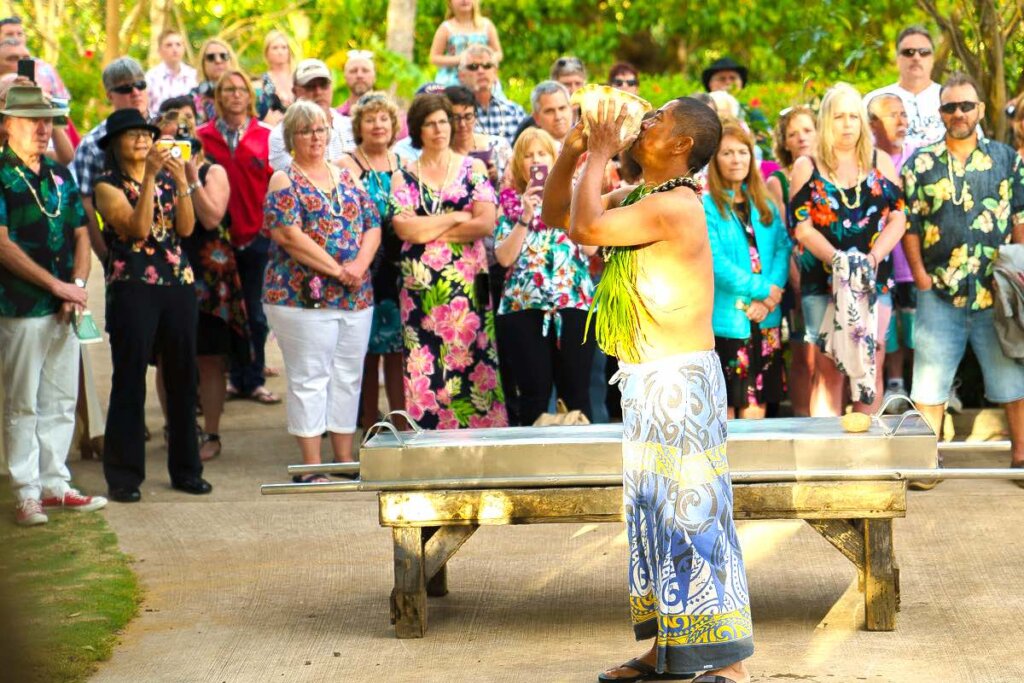 Then, a couple of guys came over and raked the gravel off the top of the underground imu. Then, they opened up the imu and pulled the cooked kalua pig out.
There was a little smoke, but not too awful.
The emcee continued to discuss the history behind this kind of cooking and why they still do it now. I think he said they go through about 3 whole pigs every night!
My kids were completely immersed in the whole experience, and my 5 year old had a lot of questions about how the oven functioned. I really like it when they want to learn more about what they see and how it works!
Following the ceremony, they left the pig on display so people could take a closer look and snap photos.
FOOD & DINNER ENTERTAINMENT
I know one of the top questions families have about Hawaiian luaus is about the food. Whether you have food allergies or a picky eater, you're bound to find something tasty at Smith's Tropical Paradise.
Here are the food options:
Kalua Pork
If you go to a luau in Hawaii, you'll have the chance to eat kalua pork! It's a nice, smoky flavor and is much juicier than pulled pork you'd find at barbecue restaurants since they offer the fresh kalua pig roasted from the imu!
Chicken Adobo
This is one of my favorite Filipino dishes. This tasty chicken adobo has a vinegar base, which makes it tangy and delicious!
Mahimahi Fish
The Hawaiian mahimahi fish was served with a sweet sauce. It's a great option if you are not a huge meat eater but like protein.
Teriyaki Beef
Teriyaki beef is a solid entree option. It's like everything you are able to get from teriyaki spots, and it is usually a hit with the kids. They say it is Cousin Gary's secret recipe!
Poi
Like most luaus, the emcee made a big deal about how folks aren't likely to like poi. He suggested people put it in a little cup on their plate.
I believe their poi is really good and tasted good with the smoky kalua pork and fresh lomi lomi salmon.
Potato/Macaroni Salad
One of my favorite things about plate lunches in Hawaii is the scoop of macaroni salad. But, when it is blended with potato salad, it's next-level yumminess!
Mashed Potatoes
This is a good alternative if you're more of a meat-and-potatoes type of person. It's also a hit with children!
Purple Potatoes
I love their purple potatoes! They serve them chopped and roasted, which means that you may just take a little if you want to try. They taste just like regular potatoes but shinier!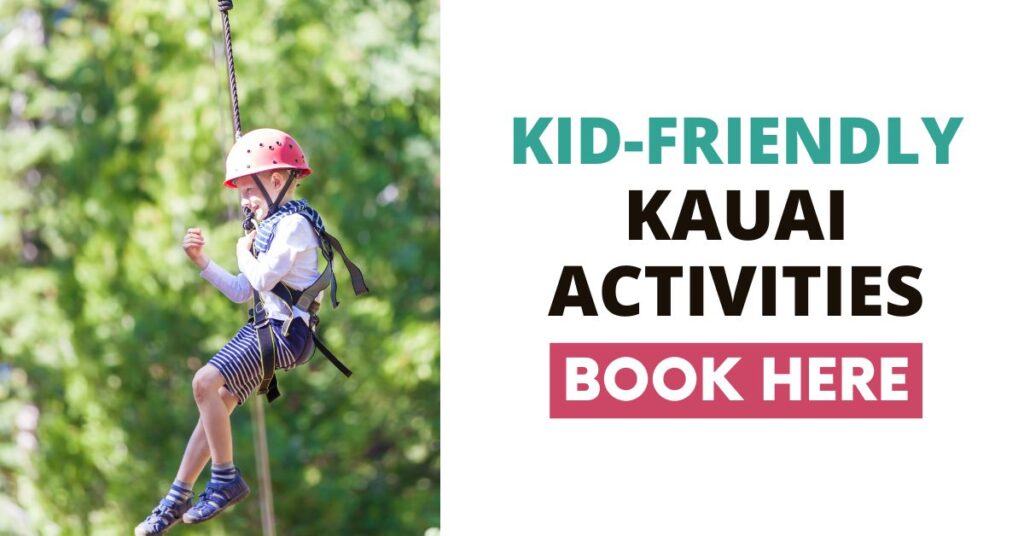 Bean Salad
I didn't try this, but they had a multi-bean salad available.
Green Salad
They had a basic green salad at the front of the buffet line with a couple of distinct types of dressing. Personally, I never do salad as it takes up too much space on my plate.
Bread
There are a few different kinds of bread in many different colors. When we were there, we had taro bread (which was purple) and guava bread (which was pink.) Out of all of the luau food, my children ate the bread the most.
Dessert Options
They feature coconut cake, fresh fruit, and rice pudding. I don't generally like rice pudding, but their version is amazing!
Drinks
They have an open bar with mai tais, beer, and wine. Additionally, fruit punch and soft drinks are also available.
I could be missing a few things, but that's basically the Smith Family Luau dinner menu.
Dinner Entertainment
There's also fun entertainment during dinner. There is a live musical group, several hula dancers, and some silly crowd involvement.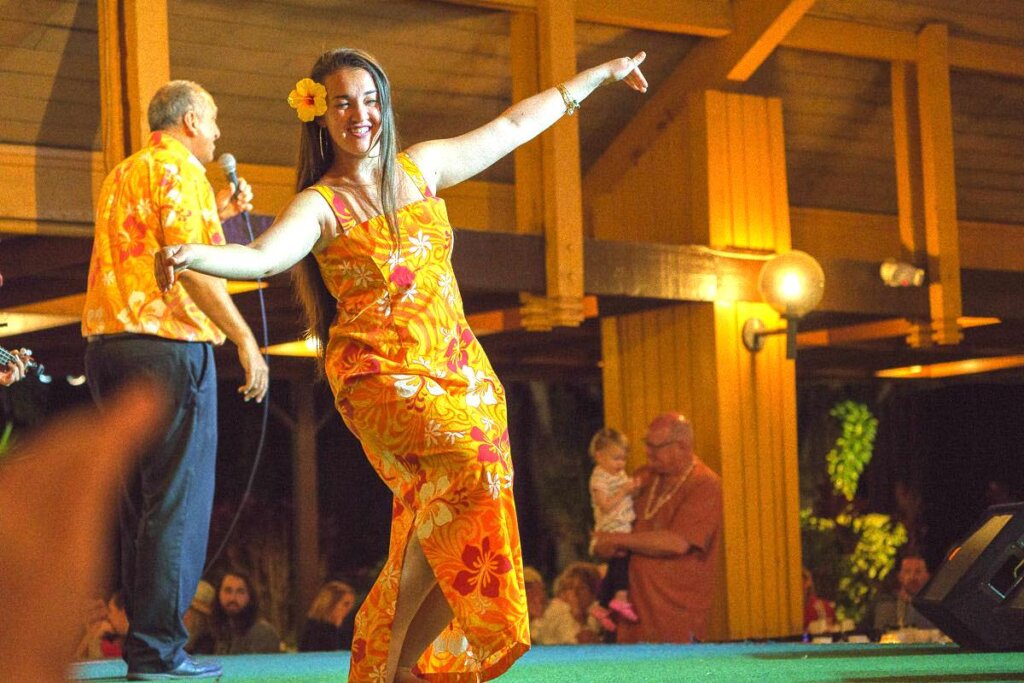 What I enjoy about how Smith Family does their audience involvement is the fact that it's all positive. They are not trying to make fun of anybody or only bring up guys to try to hula dance for the crowd.
Instead, they encourage anybody who'd like to understand hula to come up on stage and learn the very easy Hukilau.
My two-year-old sat on my lap and did all of the hand moves while we watched! It was wonderful! This interactive luau part was quite nice.
LUAU SHOW
What I really appreciate about Smith's Tropical Paradise Luau is that you visit a separate amphitheater to watch the show.
That means you are not craning your neck sitting at a very long table or looking at dirty dishes in front of you while you're trying to enjoy the show.
After dinner, you are going to walk to an outdoor theater. There are tons of rows of bench stadium seating, and there is not a bad seat in the house.
This luau is the only luau on Kauai that showcases Asian culture along with Polynesian culture.
These are the places represented in the luau:
Hawaii
You'll get to find both traditional (hula kahiko) and modern (hula auana) styles of the Hawaiian hula dance.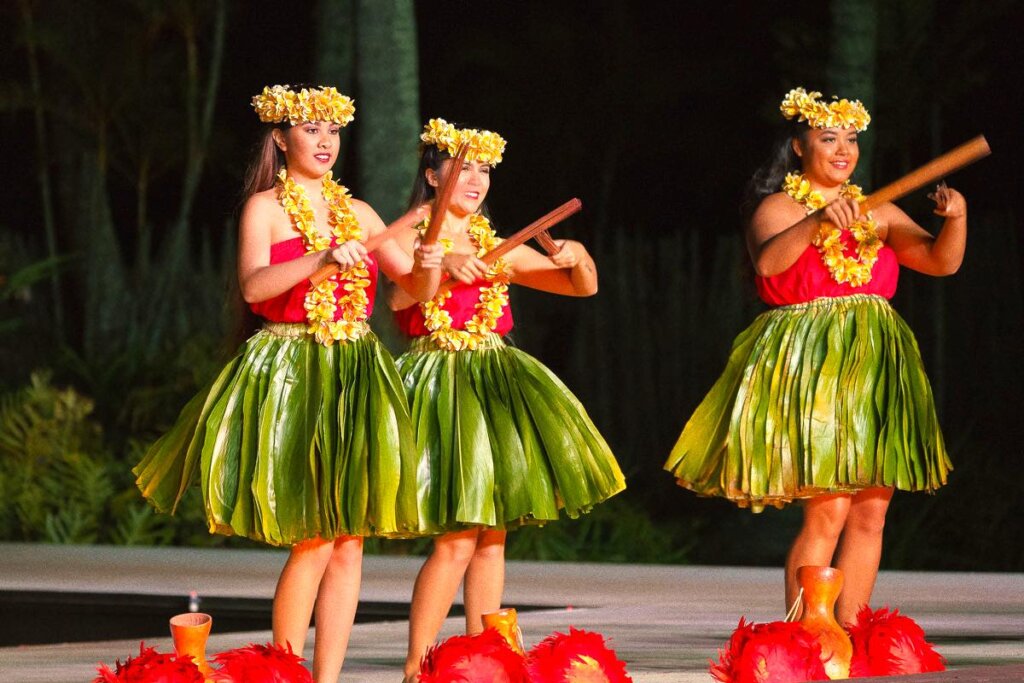 And they use hula implements such as feather gourd rattles (uli uli), split bamboo (pu`ili), and gourd drums (ipu).
New Zealand
My kids always like viewing the poi ball dancing. The women swing the balls above their heads and crisscross them, and it is pretty mesmerizing.
And they light the poi balls on fire! Surely cool for your kids!
Philippines
Dancers perform a traditional Filipino dance where they jump over and in between two large sticks that seated performers clap together. The dance is called Tinikling.
Japan
It starts off with a little story about Japan while the audience watches a man fishing from a rock area.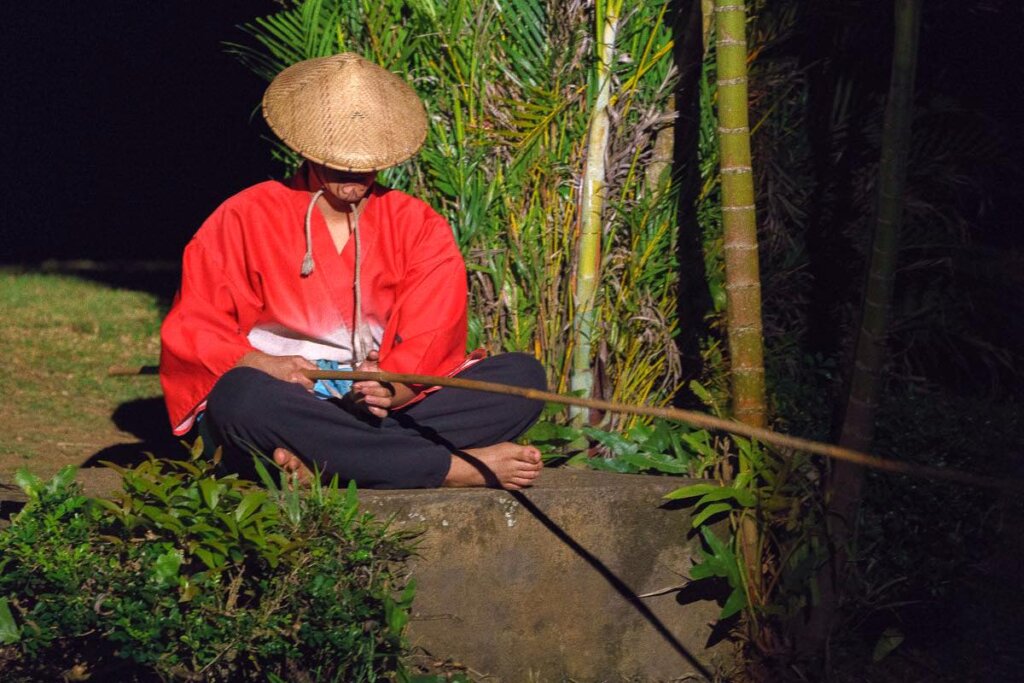 You'll see women wearing kimonos dancing with boughs of cherry flowers dancing with fans.
In the past, they have also done a parasol dance that is really pretty. I am not sure whether they still do it for some performances.
Tahiti
You'll get to see two different styles of Tahitian drum dances. And they even come in front of the stage to dance on the ledge near the water.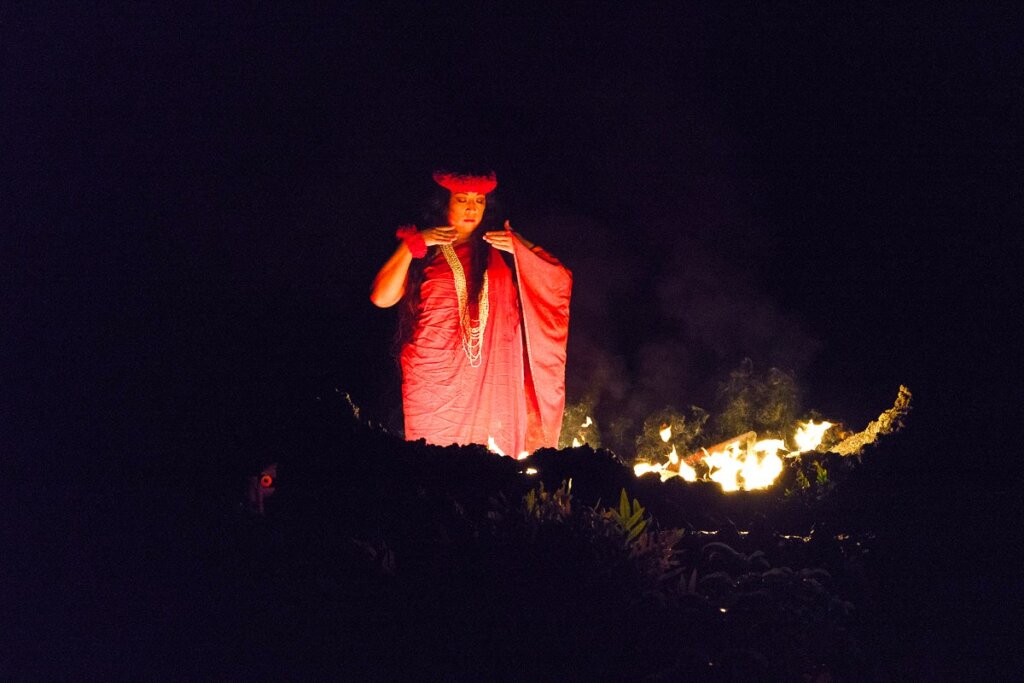 During The Tahiti segment, you will also watch a captivating dance by Pele (goddess of fire and volcanoes) as she beckons individuals of Tahiti to set sail for Hawaii.
There is an elevator inside the volcano, so she rises upward and lowers back into the volcano. It looks really cool during the performance!
Samoa
And also, this Kauai luau ends together with the awe-inspiring Samoan fire knife dancing! The performer even uses two knives, which constantly impresses my children! It is an awesome Kauai fire show.
Can it really be a luau without the Samoan fire knife dance?
This show has had minimal changes in the past 25 years, but that is one of the reasons why I like it. The songs and the dancing nonetheless stand up, and it is fun whether this is your first luau or you go for every trip!
Insider Tip: You can also skip dinner And just go to the show. It's unbelievably affordable at $25 for adults, $12.50 for children ages 3-12, and free for kids ages two and younger.
Why I Think Smiths Family Garden Luau is your Best Luau on Kauai
I love how families really can customize this experience to fit into their Kauai itinerary.
You can make it a half-day trip by exploring the gardens on foot, taking the Fern Grotto scenic boat ride, riding the tram around the garden, watching the imu ceremony, heading into dinner, and then watching the full show.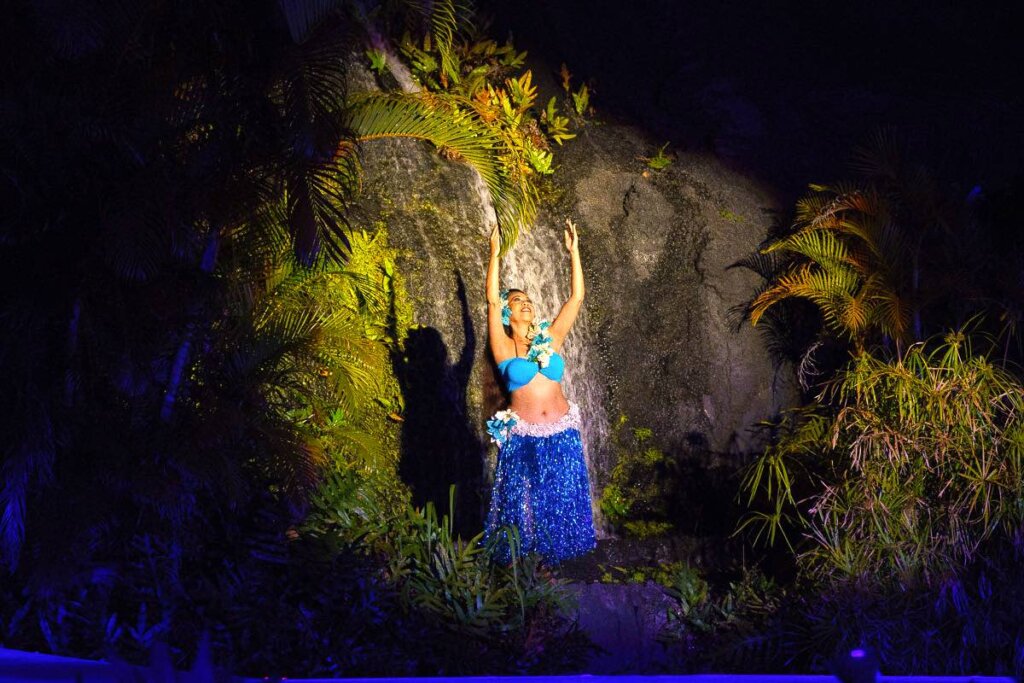 Or, you may only do the show (without dinner). Or just learn more about the garden. There's a lot of wiggle room to find the right option for your family.
I also love that this luau in Kauai, Hawaii, is located on the East Shore. It's near lots of kid-friendly resorts and vacation rentals. Plus, it's not too bad of a drive from the North Shore or South Shore.
I enjoy that it isn't at a hotel/resort, which means you can really immerse yourself in the luau experience (and not deal with resort parking fees). I think it might be the best luau in Kauai, Hawaii.
Hawaiian ancestors preserved their culture, history, and lineage through songs and dances, and this luau shows just that. It is truly one of the best Hawaiian celebrations you'll find filled with Hawaiian spirit. The authentic performances were top notch too!
5 Best Tips for Smith Family Garden Luau on Kauai:
1. SCHEDULE FOR END OF YOUR TRIP
If you're concerned about the time difference, consider scheduling this Kauai luau at the end of your vacation.
This way, your children will still be alert enough to enjoy the show (and you won't have to carry sleeping kids across the grounds and parking lot for your car)!
2. GO ON STAGE
Invite your children to go on stage to understand how to hula dance.
Or, stand near your table whenever they have stage fright. It is a great way to allow your kids to learn about a different culture, and they might appreciate the Polynesian show a little more.
3. YOU CAN SAVE MONEY AND JUST DO THE SHOW
I think the food at Smith's is great and highly suggest doing the complete luau, but there's a budget-friendly option if you'd like.
If you don't think your kids are going to eat any of the Luau food, or you already have dinner plans, you can just purchase tickets to the show.
And it's incredibly affordable!
ADULTS: $25 KIDS (3-12): $12.50 AGES 0-2: FREE
By skipping dinner, this makes it the cheapest luau on Kauai! Just be sure to book straight via the Smith Family website.
4. WEAR BUG SPRAY
The luau performance occurs on an outdoor stage surrounded by water. This makes it a place bugs just like to hang out near.
My husband got a lot of bug bites while we were there (he's got that sweet, sweet blood mosquitoes love)! And we regretted not bringing bug spray.
5. BRING A BLANKET
If you're going in the wintertime, you could think about bringing a blanket or large beach towel to your show.
It can get cool at night, and we saw a great deal of families snuggling under a blanket.
This also helps if you believe that your kids may fall asleep during this show.
General Hawaii Luau Information
Hopefully, this post helps you figure out what to expect at the Smith Family Luau. However, if you still have questions, I have an entire post all about Hawaii luau expectations that is worth a read.
There's a rundown of the different types of luaus, menu items, which ones are kid-friendly, the best luaus in Hawaii, what to wear to a luau, and more. Get all your Hawaiian luau questions answered HERE!
Kauai Luau FAQs
What should I wear to a Kauai luau?
Since most of the luaus on Kauai Hawaii are outdoors, I suggest wearing clothes that are comfortable for the late afternoon sunshine. It helps to bring a light sweater for when it starts getting cooler. Usually, men wear Aloha shirts, women wear either dresses or cute tops with pants, and kids wear something with an Aloha print to a Kauai hula show.
Are luaus on Kauai kid friendly?
Absolutely! In fact, going to a luau is one of my favorite things to do on Kauai with kids. There are tons of activities, experiences, and entertainment. There are plenty of food options for even the pickiest of eaters. You can even bring a stroller to some so little ones can fall asleep while the rest of the family enjoys the show.
Do I need to book a luau on Kauai before my trip?
I definitely recommend booking the best Kauai luau before you go to the island. Most Kauai Hawaii luaus only operate a few days a week, so you'll want to secure your spot. This is especially important if you've already booked other activities and have limited dates available. It can be difficult to reserve Kauai luau tickets for the same day or even the same week.
What time does Smith Luau start?
Smith's Family Garden Luau officially opens at 5 PM. It starts with a welcome, the traditional imu ceremony, and the Hawaii luau food feast. Then the luau show will start at 8 PM. If you are just doing the Kauai luau show only option, gates open at 7:30 PM.
Are luaus really worth it?
All the luaus I've been to on the islands have been incredible and definitely worth it. The Smith Family Garden Luau is a family business that offers the most authentic luau in Kauai. It is an excellent luau for families to enjoy during your vacation.
Smith Family luau vs Luau Kalamaku: which one is better?
Smith's Family Garden Luau is the top luau in Kapaa, while Luau Kalamaku is the top Poipu luau. Both are authentic luaus that are kid friendly. You can read my Luau Kalamaku review HERE.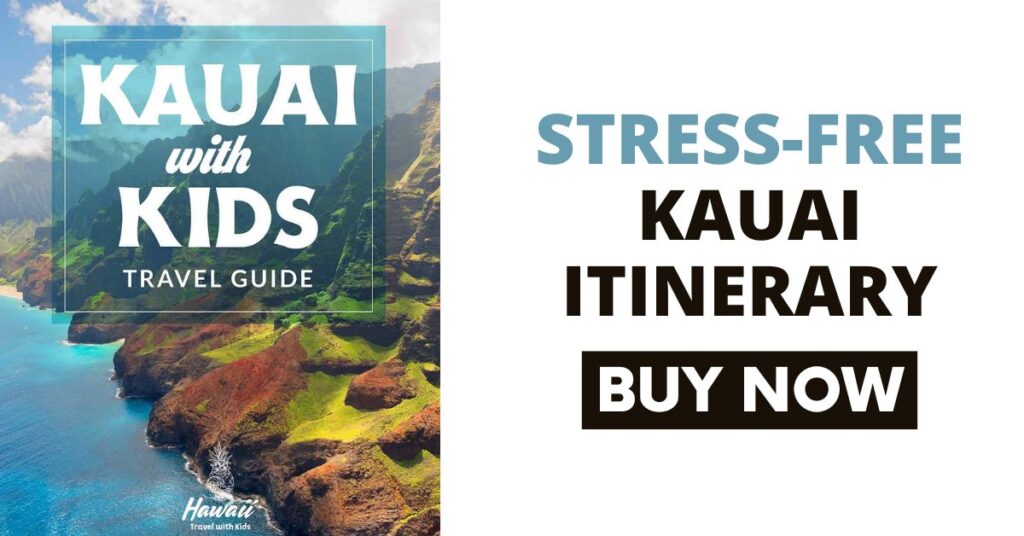 Kauai Best Luau: Smith Family Garden Luau Wrap-Up
For a kid-friendly luau Kauai offers, your family members will love the Smith Family Garden Luau. Be sure to head over one day during your trip and experience this incredible luau.
I hope this helps you decide if this really is the best luau on Kauai for your family. It's always helpful to read Kauai Luau reviews before you go.
Check out the other Smith Family Garden Luau reviews.