Planning a trip to Kauai and looking for cool things to do? Keep scrolling to learn about how to join a Hawaiian fire dancers workshop! It's one of the most unique things to do on Kauai, and it's totally epic!
This post about the Hawaiian fire dancers workshop on Kauai was written by Hawaii travel expert Marcie Cheung and contains affiliate links which means if you purchase something from one of my affiliate links, I may earn a small commission that goes back into maintaining this blog.
When I started looking for kid-friendly things to do on Kauai for our most recent trip, I was super excited to see a Polynesian fire dancing experience open to families.
If you've been to a luau on Kauai (or any island), you've probably seen fire dancing as the big finale. It's quite the show-stopper.
Basically, it's where people light both ends of a long knife on fire and twirl it around, throw it in the air, and do all kinds of impressive feats.
I've never seen an opportunity for tourists to get to learn how to do Hawaiian fire dancing before. So I had to book it ASAP.
Keep scrolling for my detailed description of what the experience was like for my family and why I think it's a great opportunity for other families to learn more about Polynesian culture in a super fun way! Or just sign up HERE.
Want to skip all the planning and just access my detailed Kauai Itinerary complete with daily schedules, kid-friendly activities, and travel hacks? Click the button below.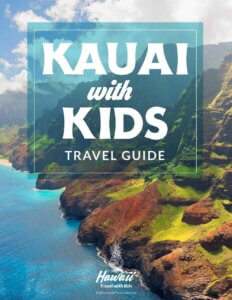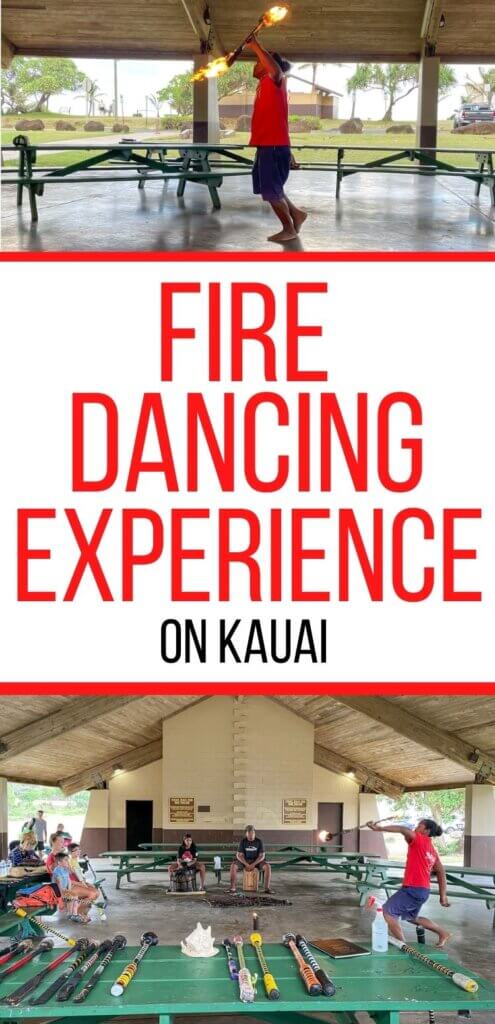 Polynesian Fire Dance Workshop Review
I think it's really important to learn about history and culture when we travel, especially with kids.
And one of the best ways to learn is by talking to local experts and finding hands-on opportunities to really immerse yourself.
This workshop was an awesome way to get our kids excited about trying something new on Kauai.
Arrival
We met up with Pomaika'i from Legacy Entertainment Productions and two of his students at the Lydgate State Park pavilion in Wailua. It's a giant undercover area, and you can't miss it.
It just happened that our family was the only participants, so it was truly a private workshop.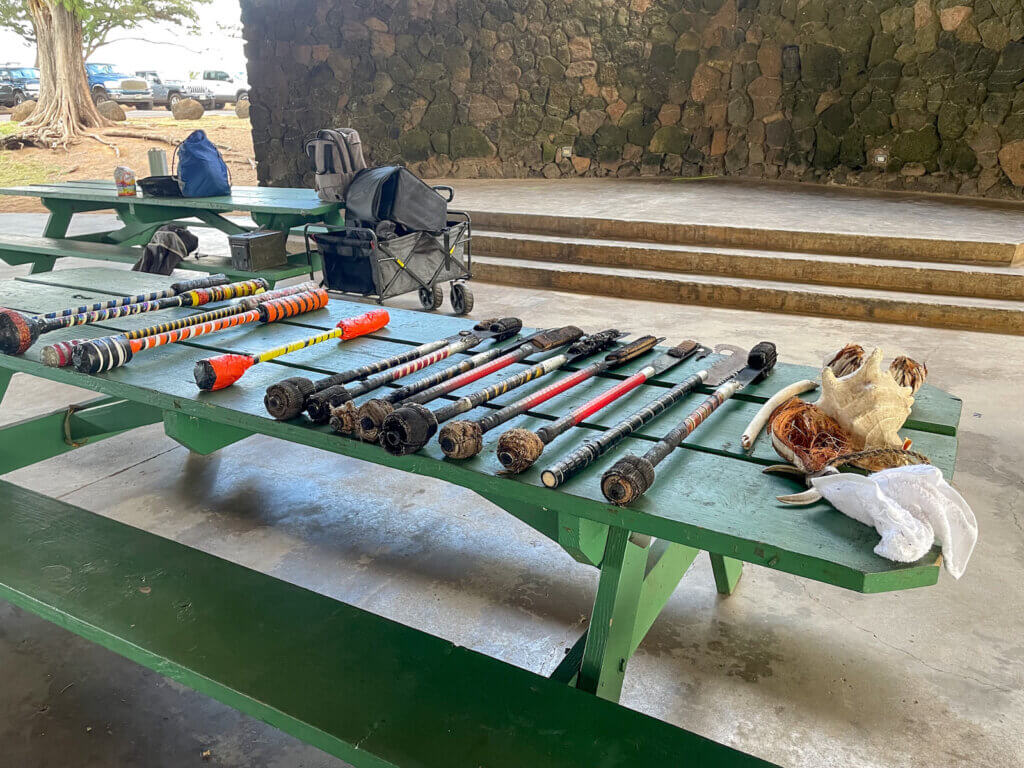 He had an assortment of practice knives (which were really just long dowels with foam ends). We tried them out and picked the ones that were the right length and weight for us. Yes, he even had ones for kids!
Once we found our practice knife, we played around a little to get used to the weight distribution.
Brief History
Once we were all settled, we gathered to learn a little bit about fire dancing. While a lot of people assume fire dancing is part of Hawaiian culture, it actually originated in Samoa.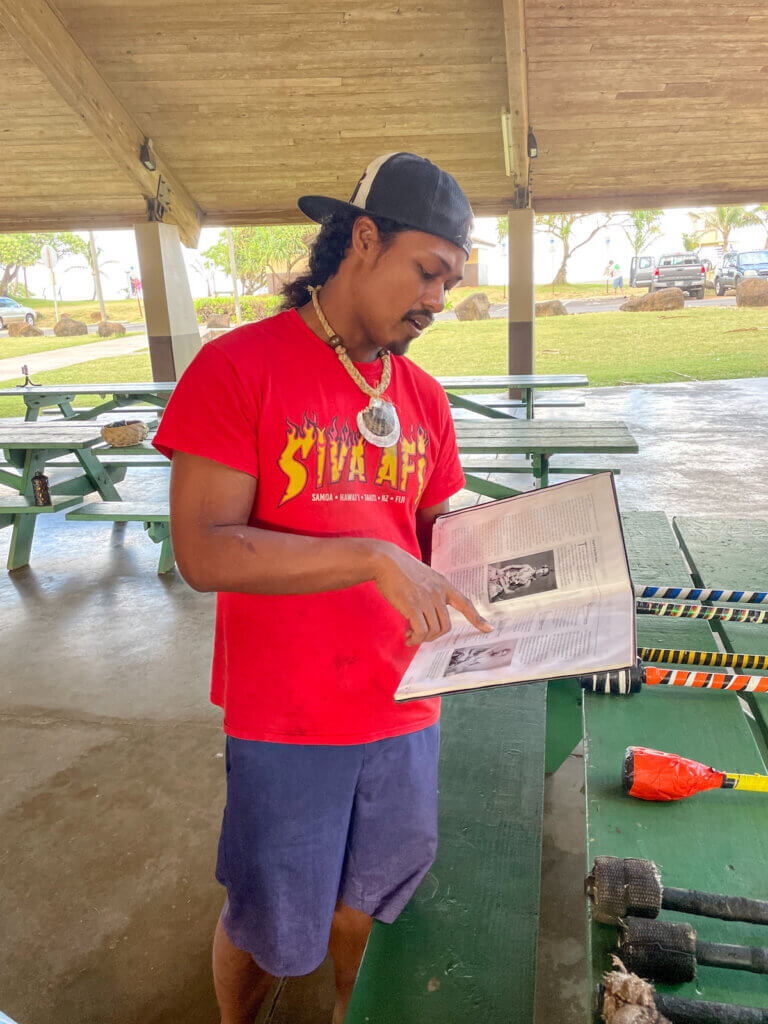 There, men used to practice their knife skills for battle. It became a total art form, and after a while, they started lighting their knives to really show off their skills.
One thing that I never realized is that there's actually a hook on one end of the knife. That's from when it was used as a weapon.
Well, Hawaii is a true melting pot of cultures, and when people came here from Samoa, they brought along the Samoan fire knife dance with them!
How to do fire dancing
Samoan fire knife dancing is SO much trickier than it looks. I thought it would kind of be like baton twirling. It is NOT.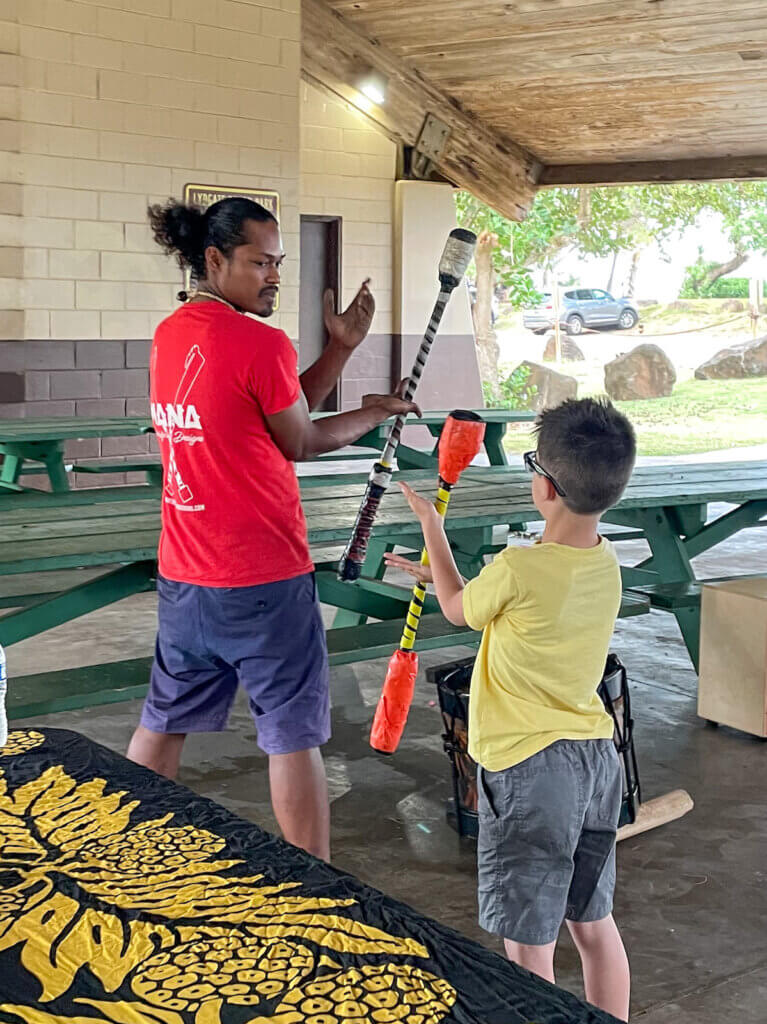 But, Pomaika'i did an awesome job of breaking down each movement so that almost everyone could do all the moves, even if just for a moment.
My mom joined us for this experience, not expecting to actually participate. But, the instructions were so clear that she couldn't help but try, and she was able to get the hang of it pretty quickly!
We learned how to do 3 main movements. And we had lots of time to practice and get one-on-one help with our fire dancer.
Samoan fire dancing demonstrations
In between learning the movements, Pomaika'i and his students did incredible Samoan fire knife dancing demonstrations.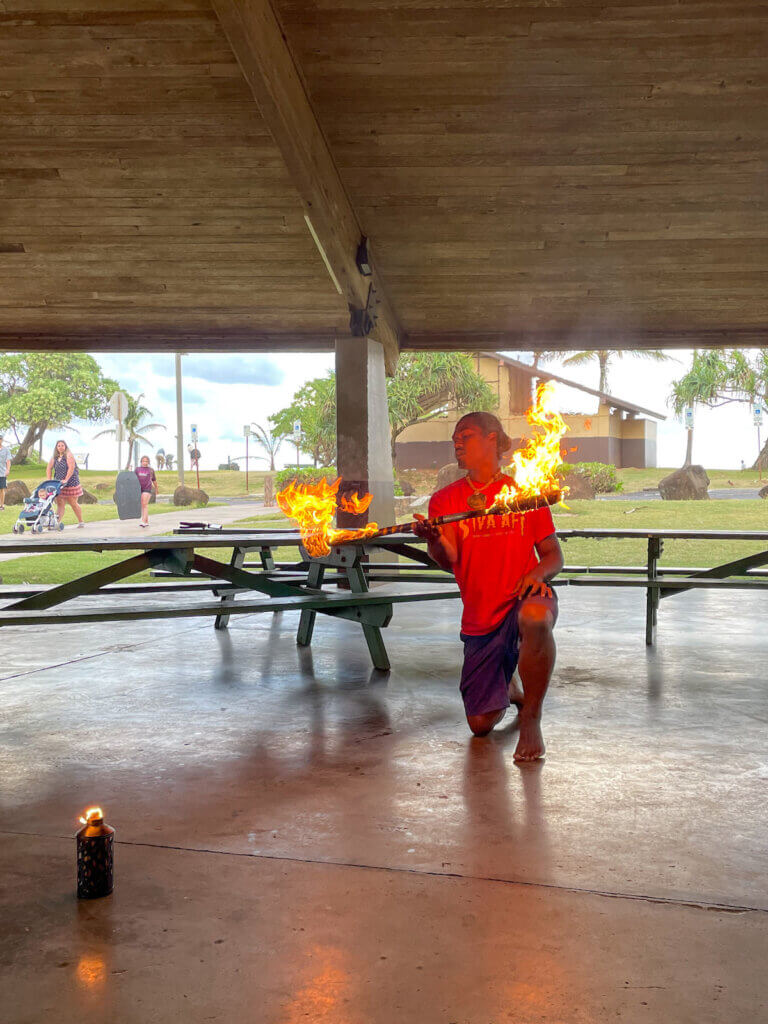 I'm not exaggerating when I say it's one of the coolest things we've seen in Hawaii. At one point, a student hopped on Pomaika'i's shoulders, and then they both started twirling their knives.
And the fire knife dancers even hooked two knives together and started swinging them around. My kids were mesmerized (and so was my husband)!
And the coolest part was that it was basically a private show, and we were so close we could feel the heat!
Finale opportunity
After learning the moves, there's an opportunity to use a REAL knife and actually light it on fire.
I sort of volun-told my husband to do this. He was super excited to do this experience but also a bit nervous to try it with fire.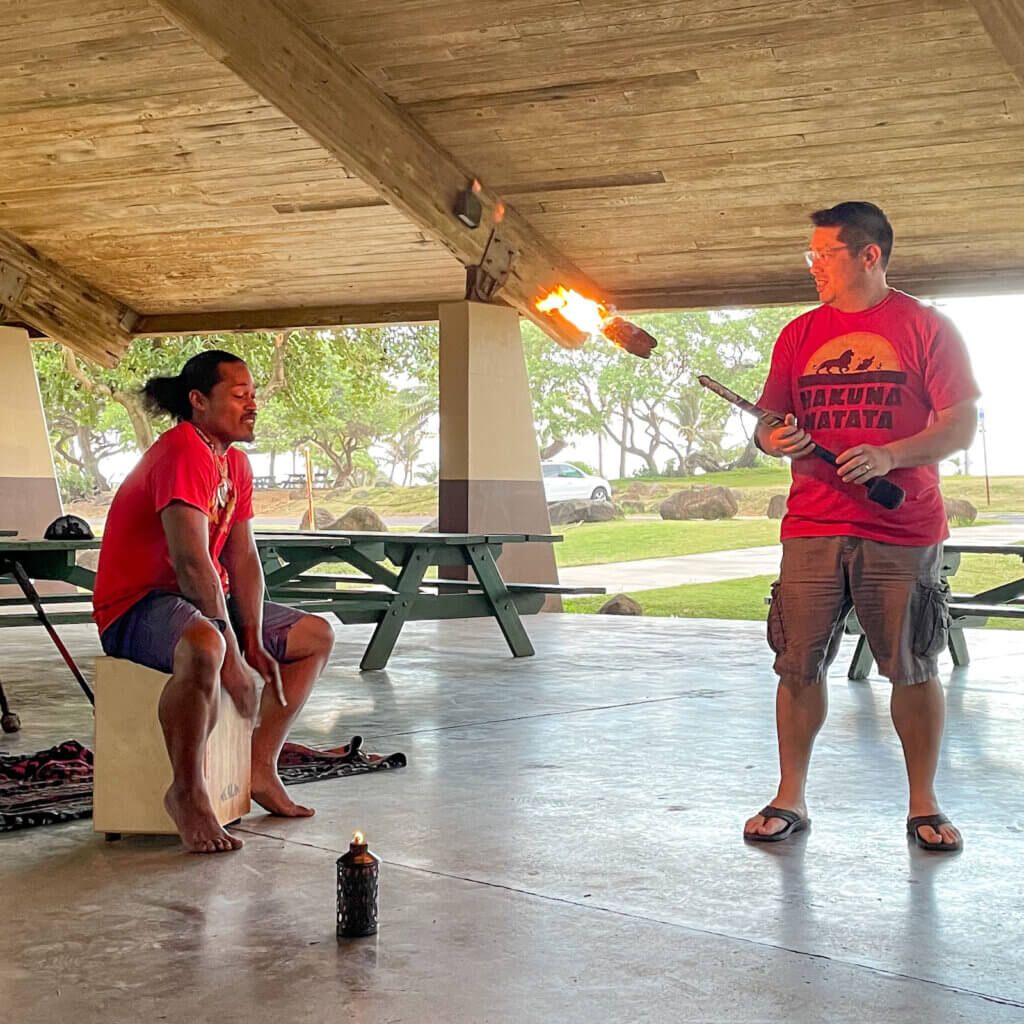 After practicing a few times on his own, he was ready to add fire to his knife and show off his skills. I mean, when would he ever get this opportunity again?
He did such an amazing job! And I know he'll be riding that high for a long time.
Pomaika'i also said we could just pose for photos if we wanted, which would be a great option for those a little nervous to try twirling it.
What Our Kids Thought
We've got two boys (ages 7 years old and 4 years old) and they can be hard to impress some days.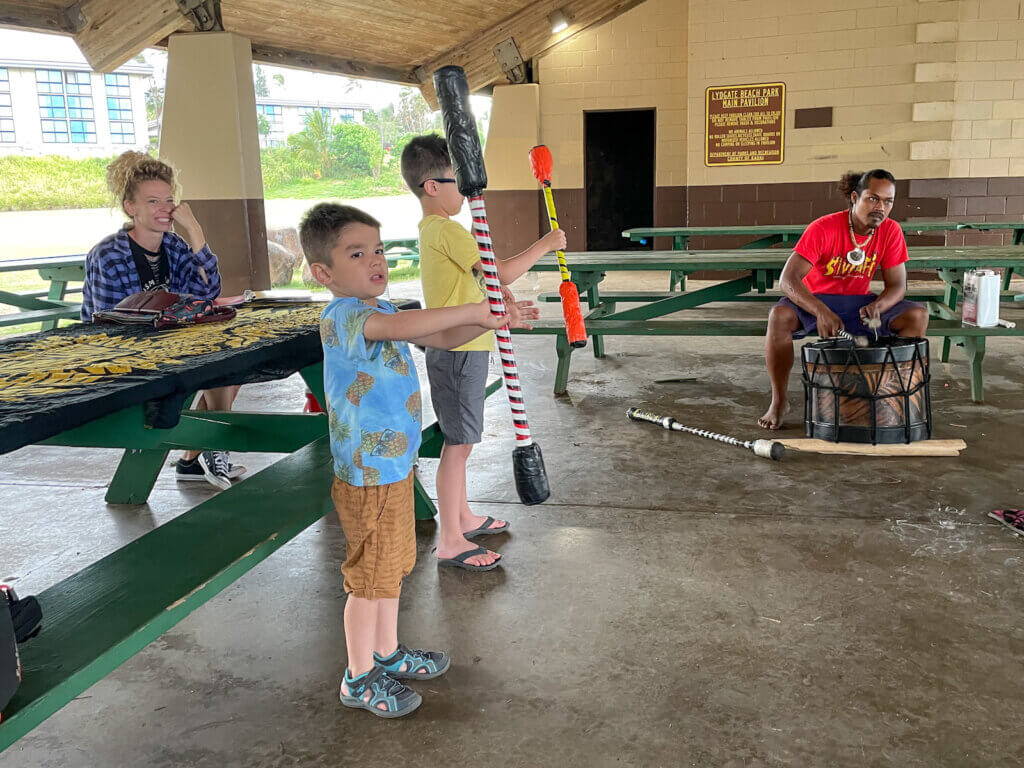 After the workshop, I asked my 7-year-old if he thought it was cool. When he said, "Not really," my heart sank a bit. Until he clarified, "That was EPIC!"
What's extra cool is that we found out that Pomaika'i was going to perform at the Ahi Lele Fire Show we had tickets for a few days later. The kids were super excited to know someone that would be on stage!
Hawaiian Fire Dance FAQs
Is fire dancing actually Hawaiian?
No, it originated in Samoa. It used to just be knife dancing, and it was a great way to practice and show off skills for battles by the Samoan warriors. Then, they started lighting the knives on fire. You'll see it at luaus in Hawaii because it's a big part of Polynesian culture, just like Tahitian and Maori dancing.
Is this Hawaiian fire dancers workshop just for adults?
Nope! We took our 4-year-old, and I was really impressed that he was able to learn a little bit of the moves. Our 7-year-old really got the hang of it after a while.
Do I need to wear anything specific?
No, you can basically wear whatever you're most comfortable in. If you are planning on trying it out with fire, I wouldn't wear flowy dresses or anything. We wore shorts, t-shirts, and flip-flops and it worked out great.
What's the best luau in Kauai?
I think this totally depends on your family. We personally love Smith Family Luau and Luau Kalamaku. However, if you're mainly interested in Hawaiian fire dancing, you'll definitely want to check out the Ahi Lele Fire Show in Kilauea, Kauai.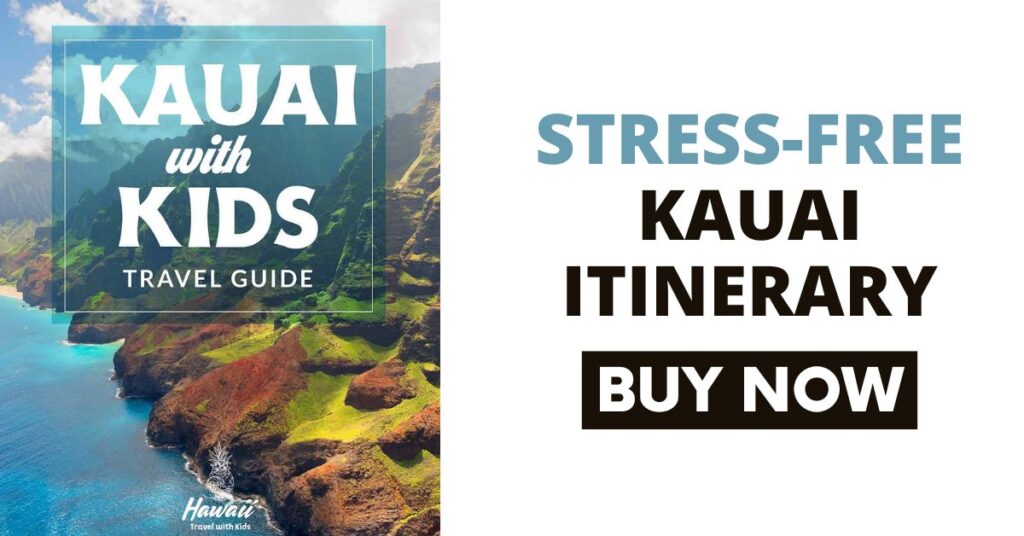 How to Sign Up for this Hawaii Fire Dancing Experience
Okay, if you've gotten to this part of my post and you're feeling excited, you'll definitely want to book this before your trip to Kauai. Check latest rates and more information.
It's easy to use Viator to check availability for your trip dates. Once you book this experience, you'll get messages to coordinate exactly where to meet.
Oh, and I highly recommend taking photos and videos throughout the experience. My kids have already watched the videos I took multiple times!