Are you looking for the best luaus in Kapaa Kauai? Keep scrolling for this honest review of Luau Ka Hikina at the Sheraton Coconut Beach Kauai Resort.
This Sheraton Coconut Beach Kauai Luau review contains affiliate links which means if you purchase something from one of my affiliate links, I may earn a small commission that goes back into maintaining this blog.
Planning a trip to Kauai and looking for something fun to do at night?
Check out our review of the Luau Ka Hikina at the Sheraton Coconut Beach Resort. It's a new luau in Kapaa (formerly Luau Makiawa), and it's definitely worth checking out!
You won't want to miss this incredible luau experience – complete with traditional Hawaiian food, hula dancers, and more. Plus, it's in a convenient location!
Keep scrolling for my full Luau Ka Hikina review!
Want to skip all the planning and just access my detailed Kauai Itinerary complete with daily schedules, kid-friendly activities, and travel hacks? Click the button below.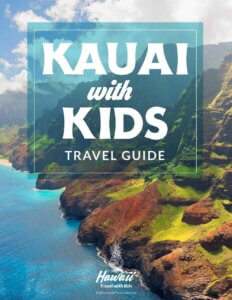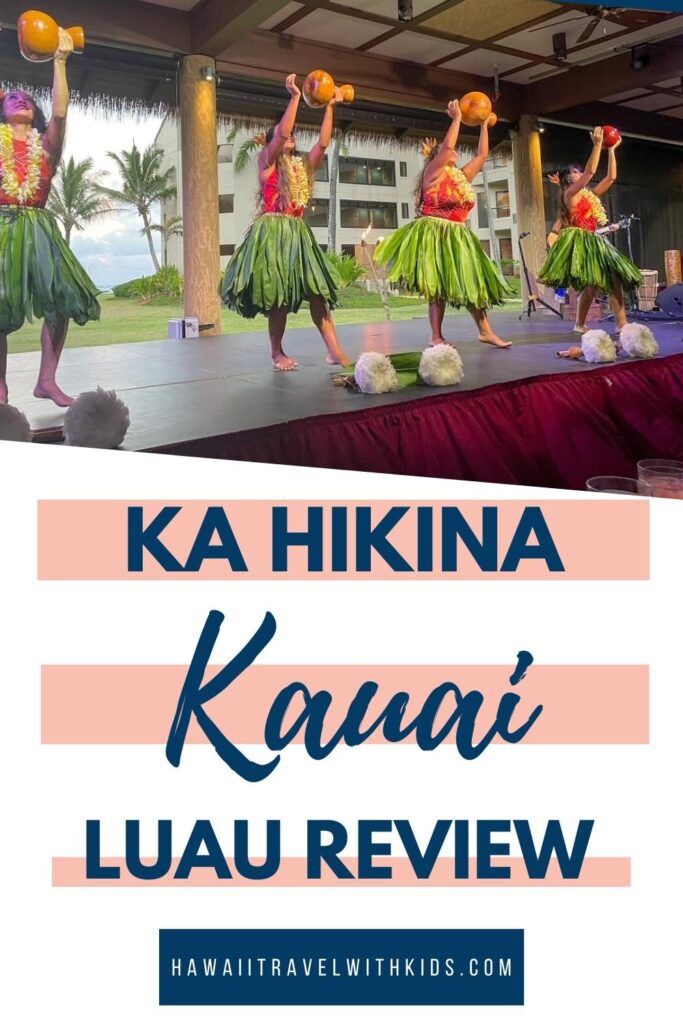 What is a Hawaiian Luau and What Should You Expect?
A traditional Hawaiian luau is a community event that consists of Hawaiian food and entertainment.
A commercial luau in Hawaii will typically have a bar, live Hawaiian music, either a buffet or plated dinner, and hula dancing (or other Polynesian dancing).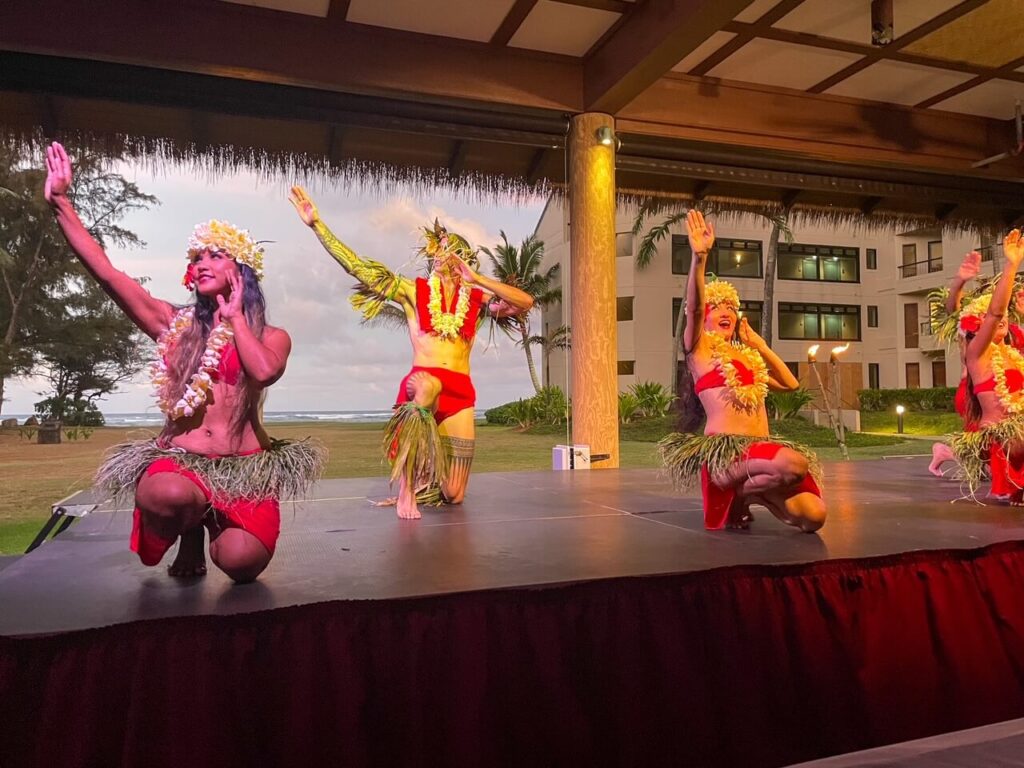 If you are attending a luau, expect it to last about 2.5-3 hours. Most of the time the drinks are complimentary (or they will give you drink tickets).
There are often souvenir photos, as well. I've got a whole post about what to expect at a Hawaiian luau, including Kauai luau prices.
There are NO free luaus in Hawaii. You can see free hula shows at shopping centers, but that is NOT a luau.
Where is the Sheraton Coconut Beach Kauai Luau?
Luau Ka Hikina takes place at the Sheraton Coconut Beach Kauai Resort on the east shore of Kauai. The address is: 650 Aleka Loop, Kapaʻa, HI 96746.
It takes about 20 minutes to get there from the Lihue Airport and it's just a few minutes away from most Kapaa/Wailua hotels.
What to Expect at Luau Ka Hikinia at the Sheraton Coconut Beach Kauai Resort
Arrival
There is plenty of parking right next to Luau Ka Hikina at the Sheraton Coconut Beach Kauai Resort. And there are attendants to show you exactly where to park.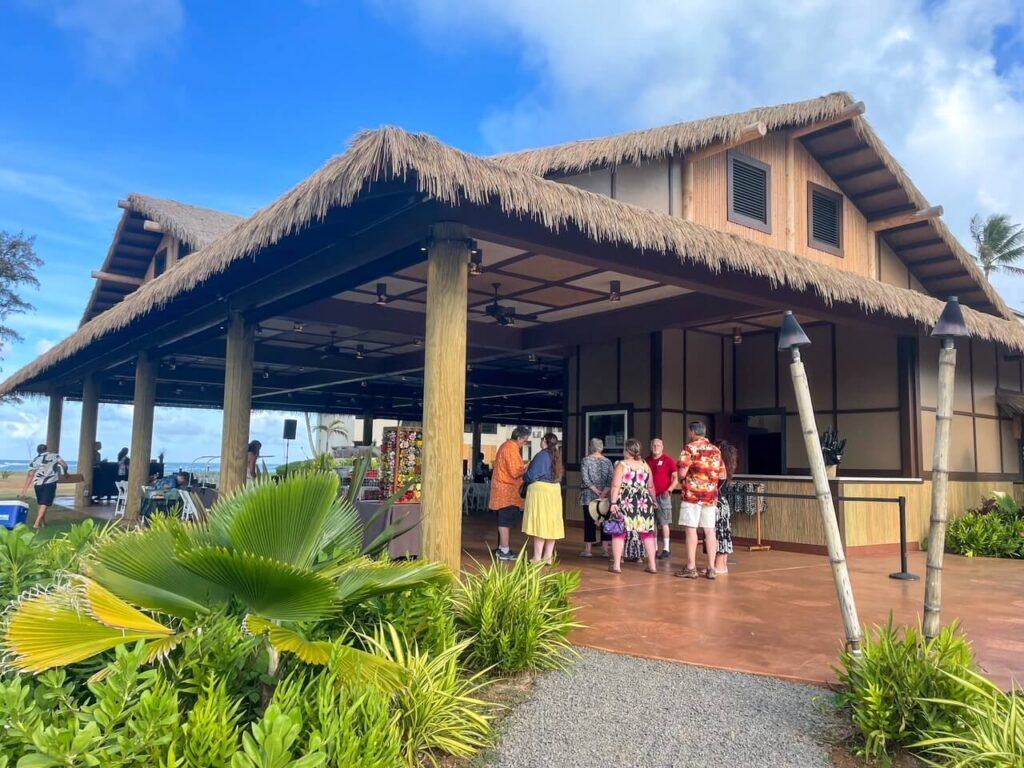 When you arrive, you'll stand in line and wait for the doors to open. Luau Ka Hikina takes place in their newly built, onsite, open-air Event Pavilion, Halau Ho'okipa, which is right across from the ocean.
They handed us mai tais and tropical juices while we were in line to check in. They also passed out large sun umbrellas to keep us shaded.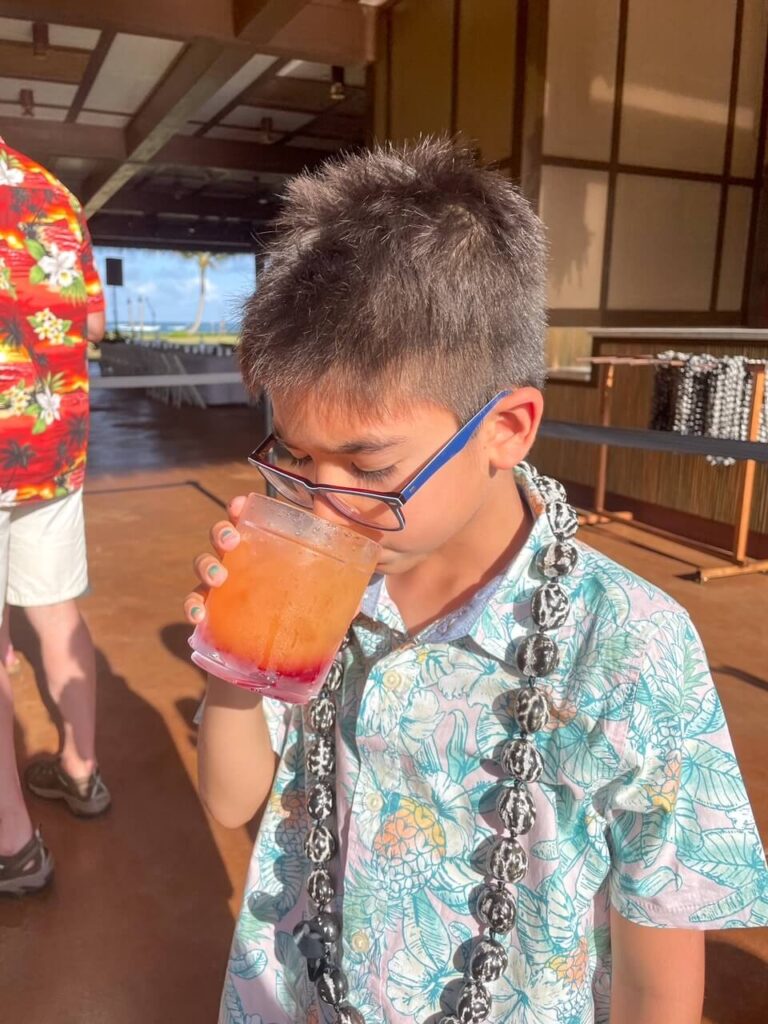 Once it was time to check in, they presented each of us with a painted kukui nut lei and then showed us to our seats. Then, we were able to take photos on the grounds, grab drinks, or participate in the activities.
Pre-Show Activities
When we went to the Sheraton Coconut Beach Kauai Luau in August 2022, there were two main pre-show activities.
The first activity my kids wanted to do was Maori poi ball dancing. They had a performer show the kids basic poi ball motions to get them started.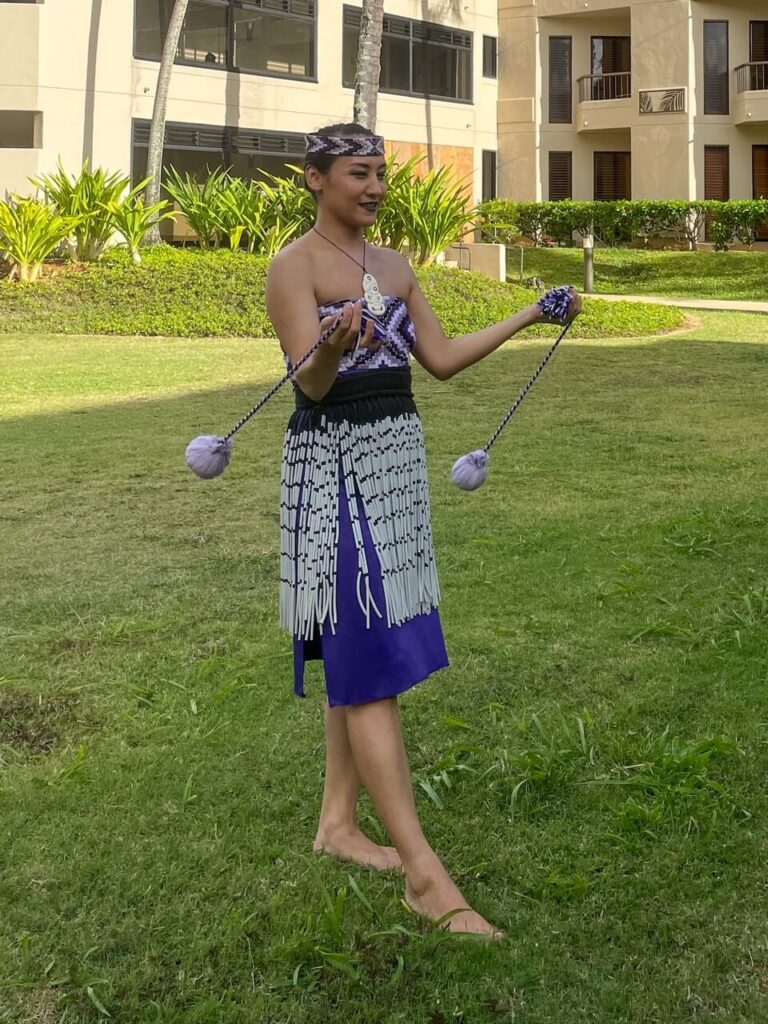 After a few minutes, she taught them more advanced motions, and I was impressed by the level of concentration of all the kids trying to learn.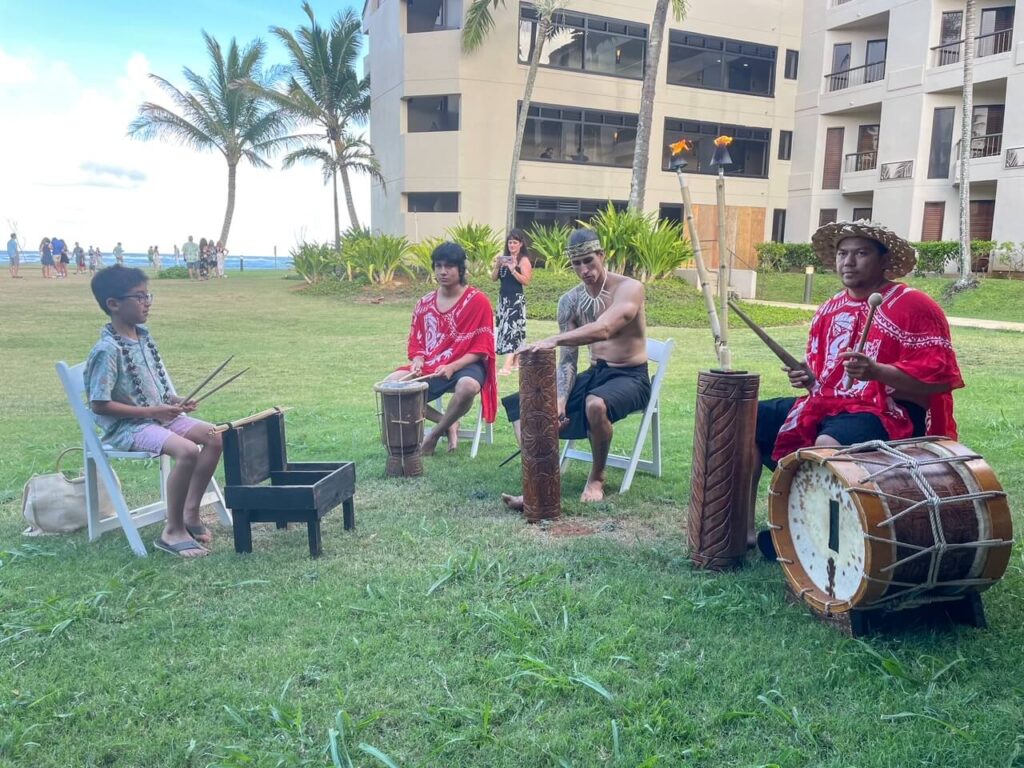 The other activity was Tahitian drumming. We thought it was so cool that kids were invited to join professional musicians. And since there was just a spot for one kid at a time, the music sounded fabulous!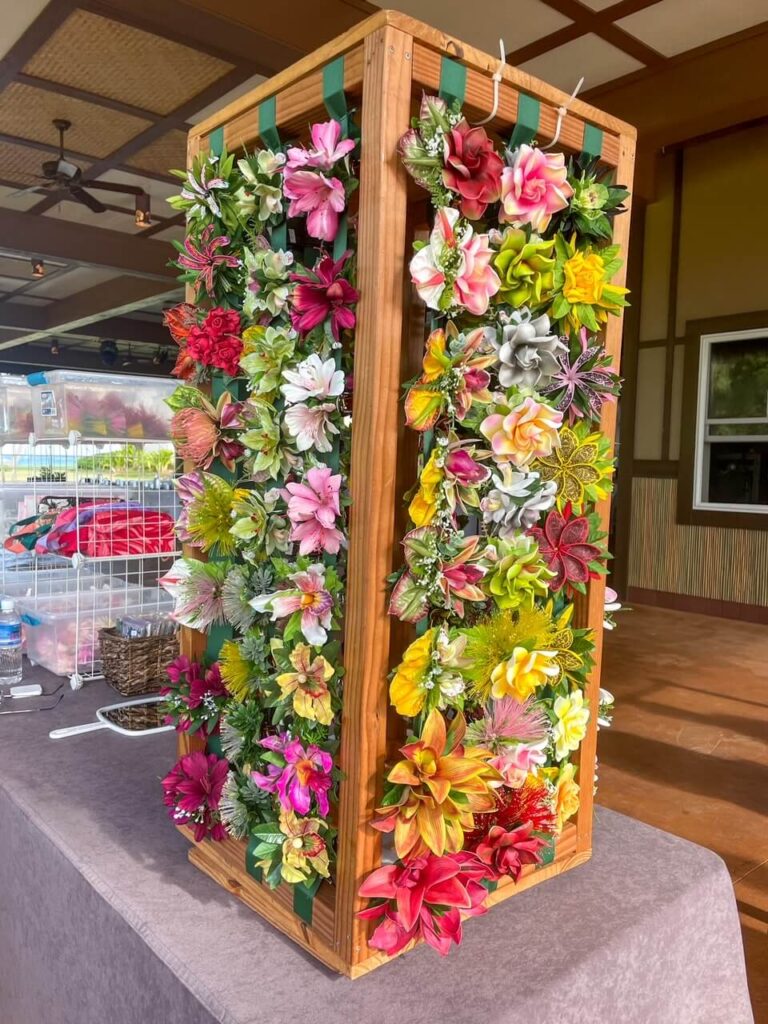 Another activity was shopping at the vendor booths. My favorite stations included the table near the front with gorgeous silk flower hair clips (what a great Kauai souvenir)!
And the dancers were selling fresh flower leis that support their hula school. I thought that was a great concept!
Luau Ka Hikina Bar Options
While you're in line to enter, you'll get a welcome drink that is either a mai tai or fruit punch.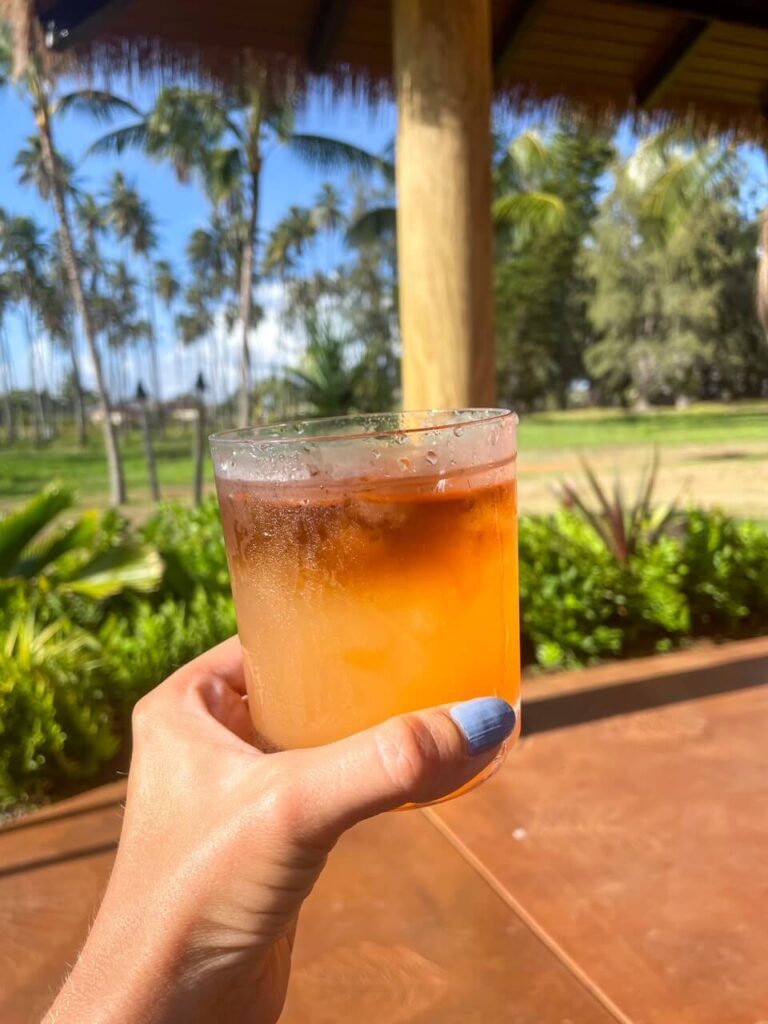 Once you enter, you can enjoy a hosted open bar until the start of the performance. There are all your typical bar offerings.
Sheraton Coconut Beach Kauai Luau Menu
You'll want to come to this Kapaa luau HUNGRY because there are so many yummy food options!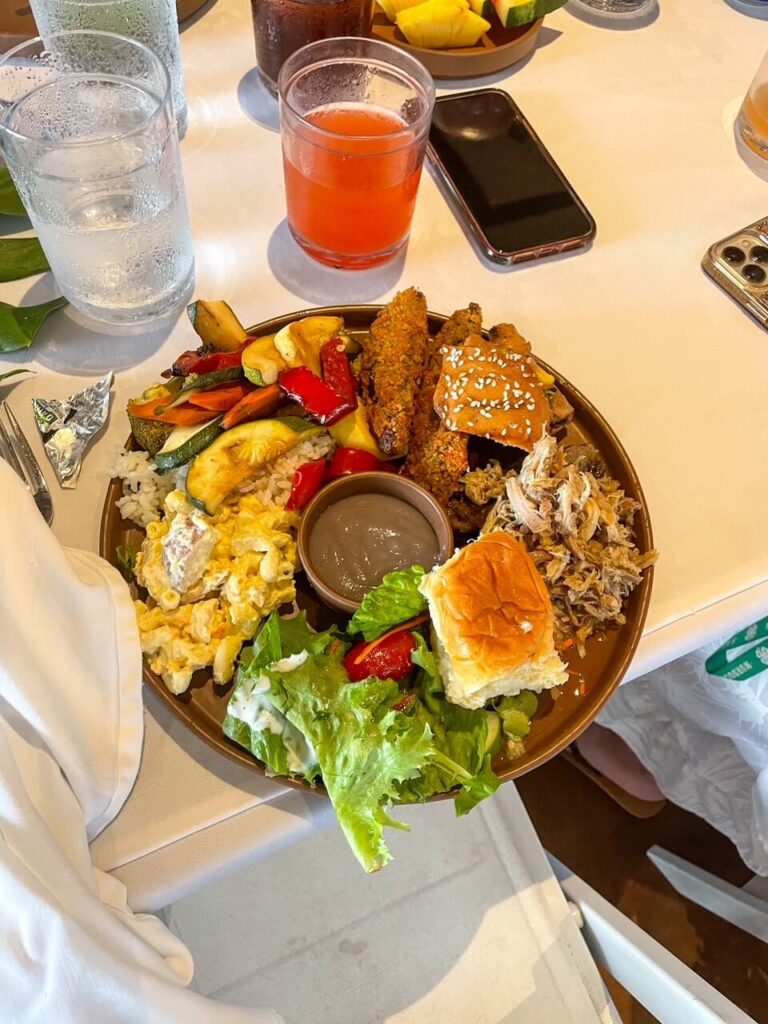 It's a buffet dinner so you can grab roasted vegetables, Molokai sweet potatoes, Hawaiian macaroni salad, teriyaki beef, steamed fish, kalua pork, chicken, salad, rolls, rice, and poi.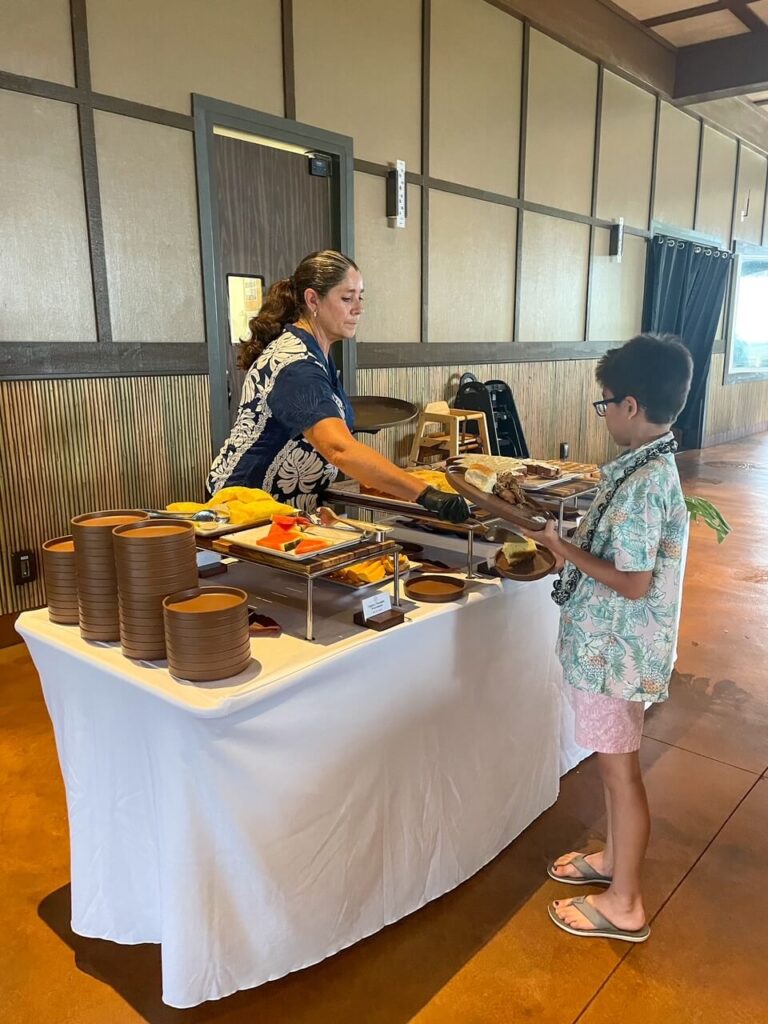 There's also a dessert table. Dessert included pineapple upside down cake, fresh fruit, and tasty haupia tarts.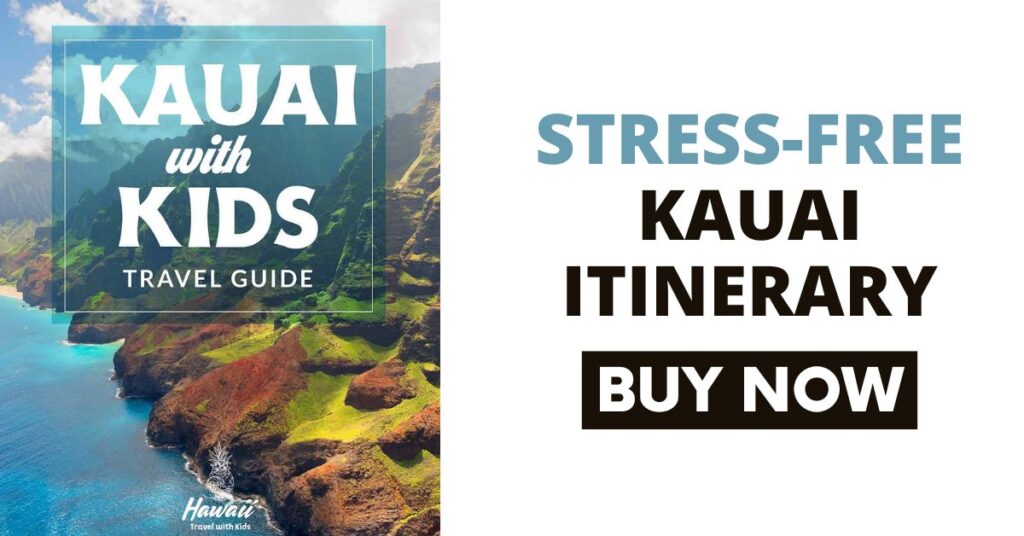 Luau Ka Hikina Show
There's actually a really great show that takes place before and during dinner. Sometimes luaus don't put much effort into this section of the night since guests are distracted. Thankfully, that's not the case here!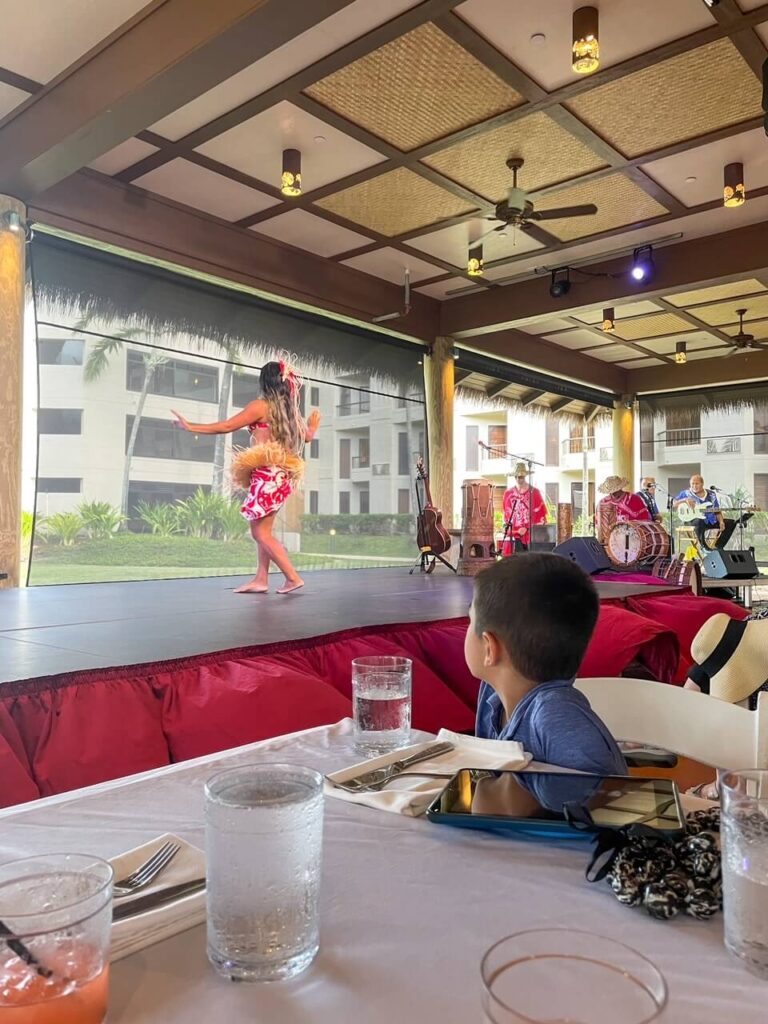 While we waited for our table to be dismissed to head to the luau buffet, we got to see some really awesome hula and Tahitian dancing.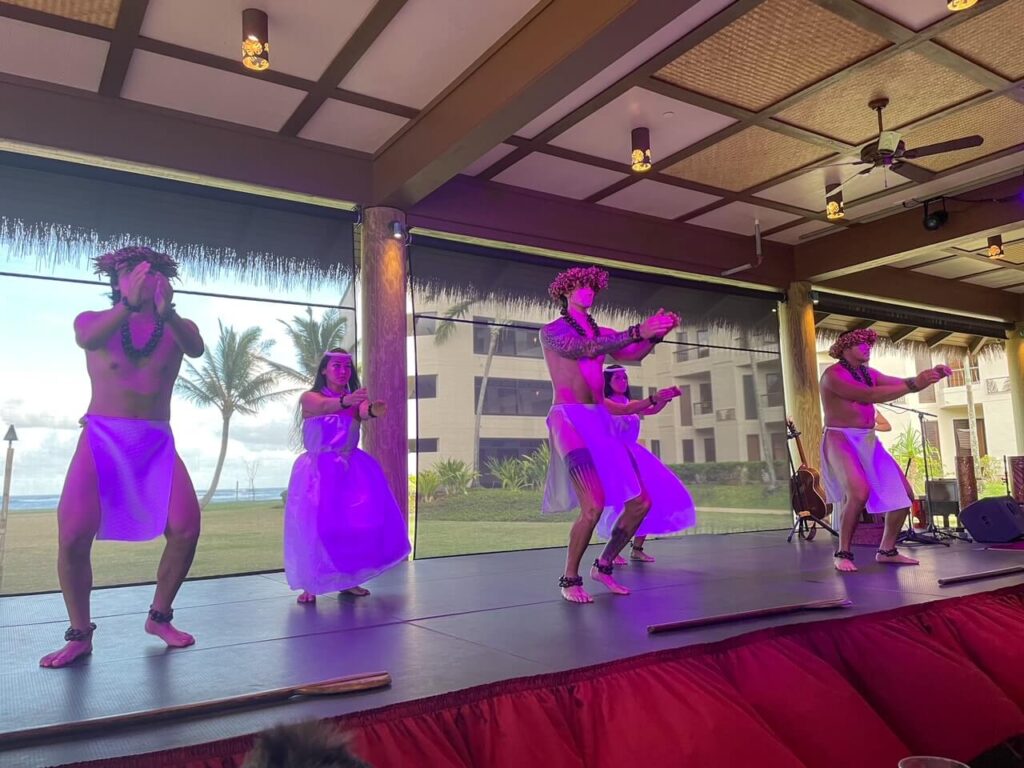 The main show sort of went back and forth between different Polynesian islands, which is different than other luaus on Kauai.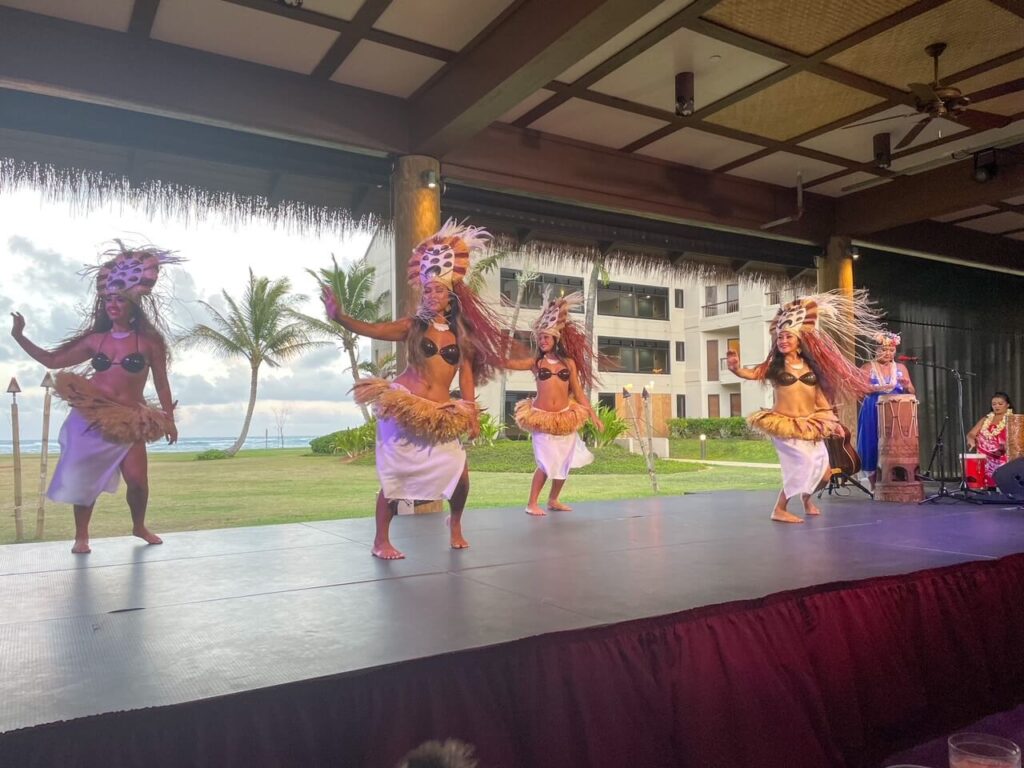 We got to hear stories before each performance so we knew what we were seeing.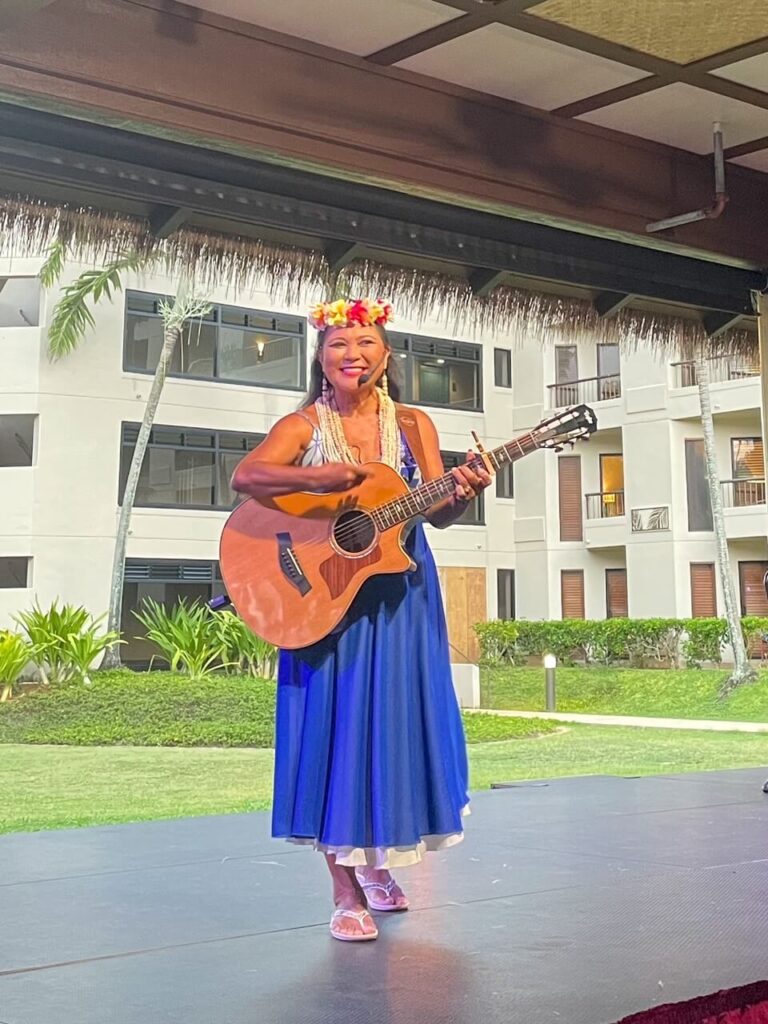 One of the coolest parts of the luau was getting to hear grammy-nominated Leilani Rivera Low since beautiful songs between a few dances. She's also the creative director of Luau Ka Hikina.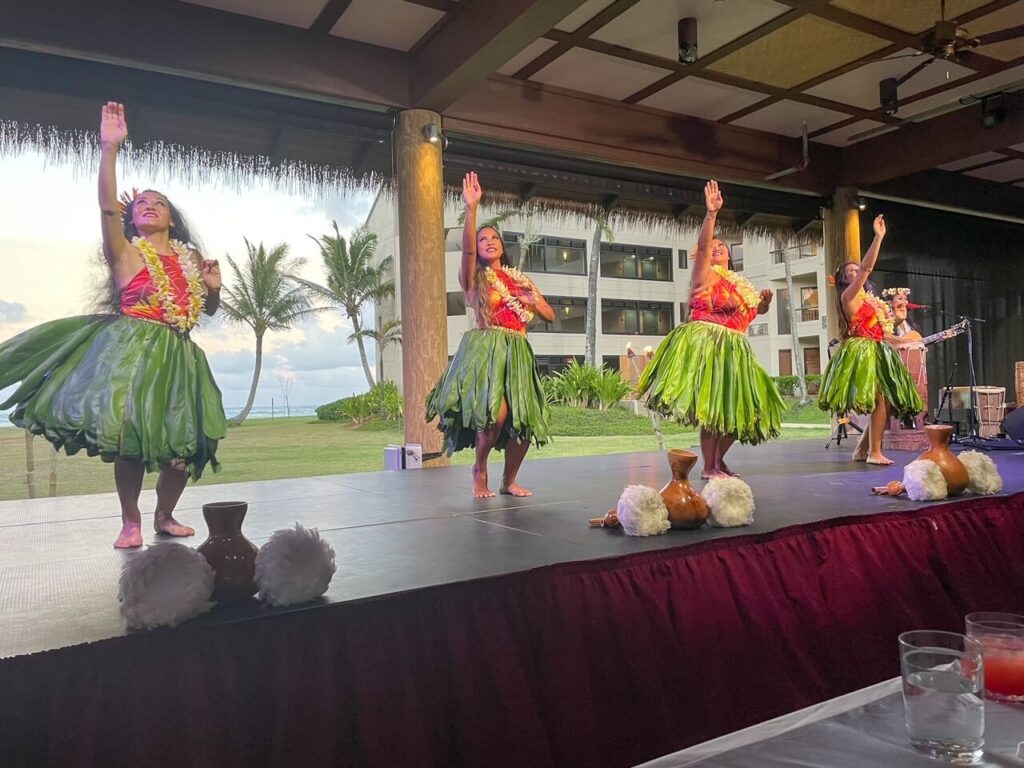 The hula dances were a lot of fun! We got to see the ancient style, 1950s Hollywood style, and more modern hula dances.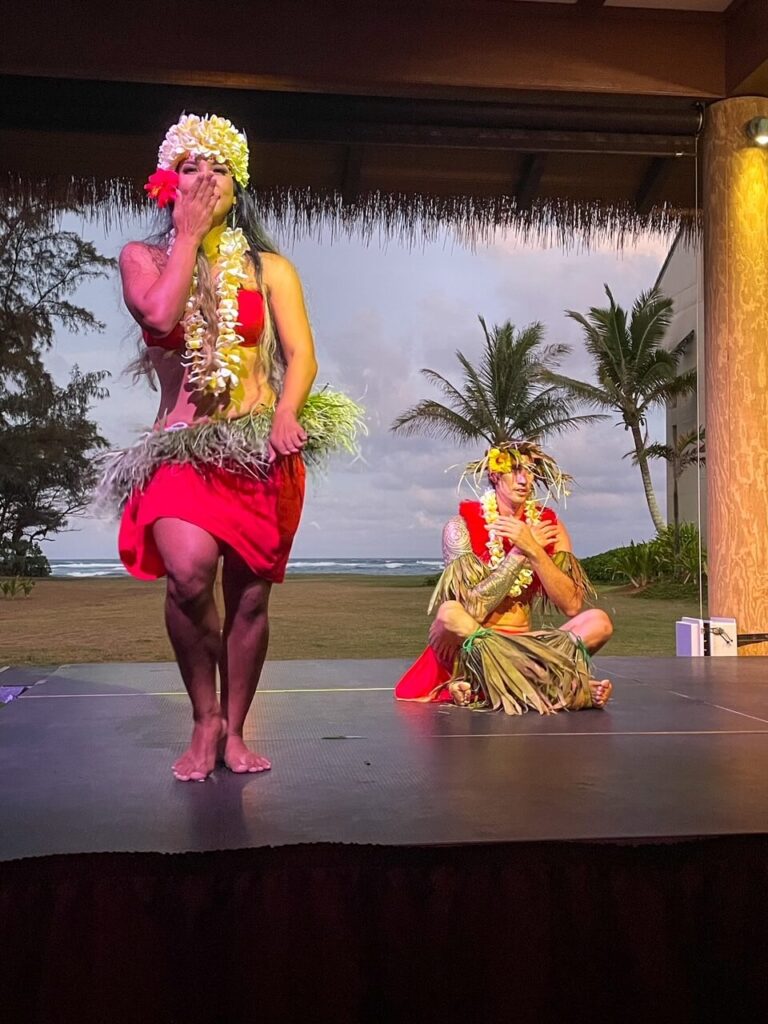 I think we were most impressed with the Tahitian section, though. They did quite a few numbers including ones with the full skirts and tassels (i'i) as well as the more modern aparima style.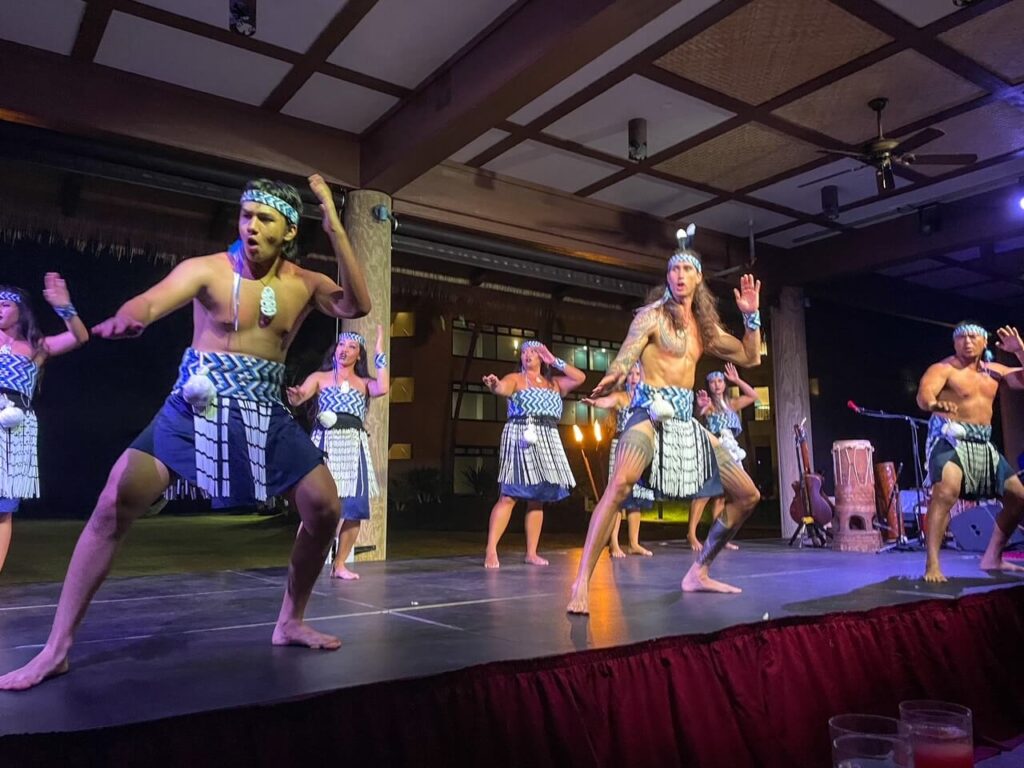 My kids LOVED the Maori section. Part of that was because they got to learn how to use poi balls before the show. But, this is also where they performed the Haka warrior dance most people are familiar with.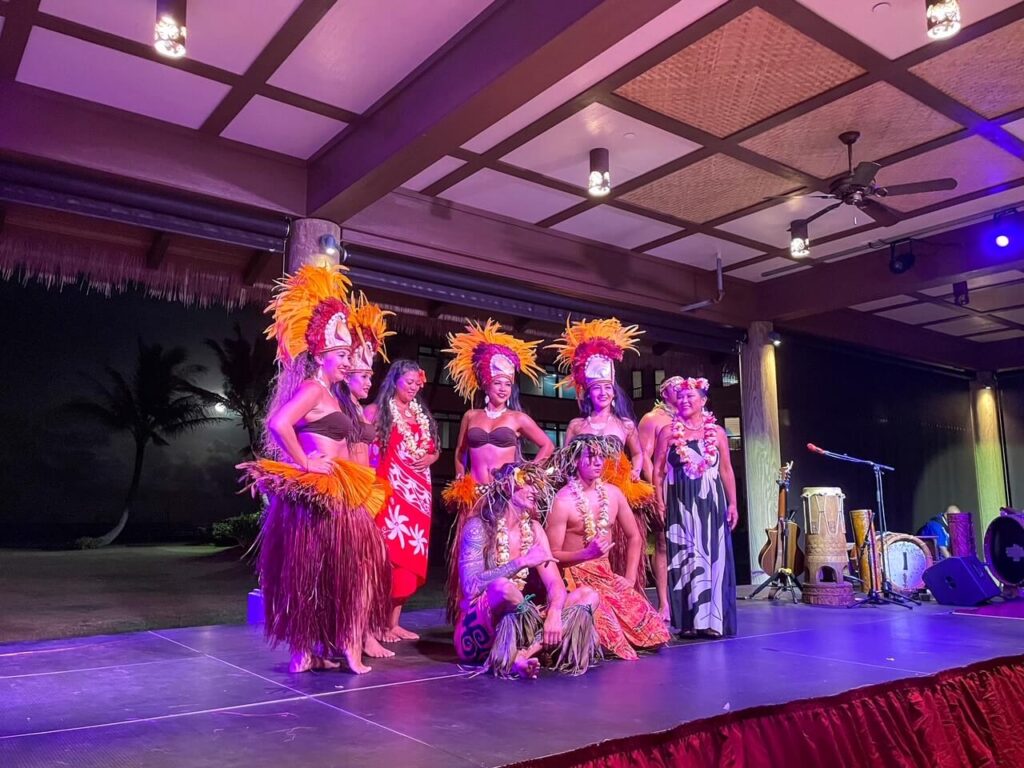 By the end of the luau, our family was fully entertained! We thought it was such a well-done luau that's perfect for families.
Why I Went to This Kauai Luau
I'm always eager to check out new luaus in Hawaii. And Luau Ka Hikina is only a few months old.
The Sheraton Coconut Beach Kauai Resort was renovated right before the pandemic and they have been updating different areas of the hotel since. The performance space was only 5 months old when we visited.
Luau Ka Hikina is also under the direction of the grammy-nominated Leilani Rivera Low. She's a staple in the hula community and I was curious what she envisioned a luau should be.
Is this Kapaa Luau the Best Luau in Kauai Hawaii for Families?
This is an AWESOME luau for families for several reasons.
The first reason is that it's so easy to get to. It's right at the Sheraton Kauai Coconut Coast Resort and it's within walking distance of many other Kapaa and Wailua hotels and condos.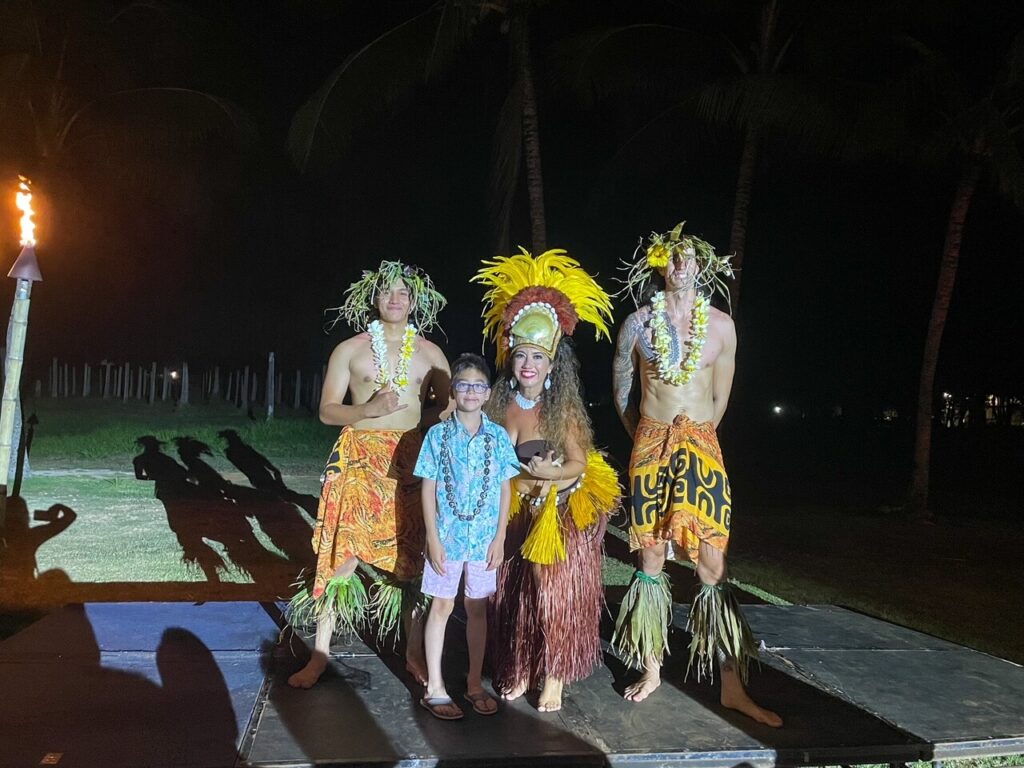 There's also a huge grassy lawn that goes to the beach. This is helpful for families with kids who just need to get some wiggles out or take a break from the show.
This Kapaa luau ended at 8pm, which is really great for families battling jet lag or who have young children.
How Does Luau Ka Hikina Compare to Other Hawaii Luaus?
Most luaus in Hawaii do some sort of welcome photo that they sell you at the end of the evening. You won't find that here.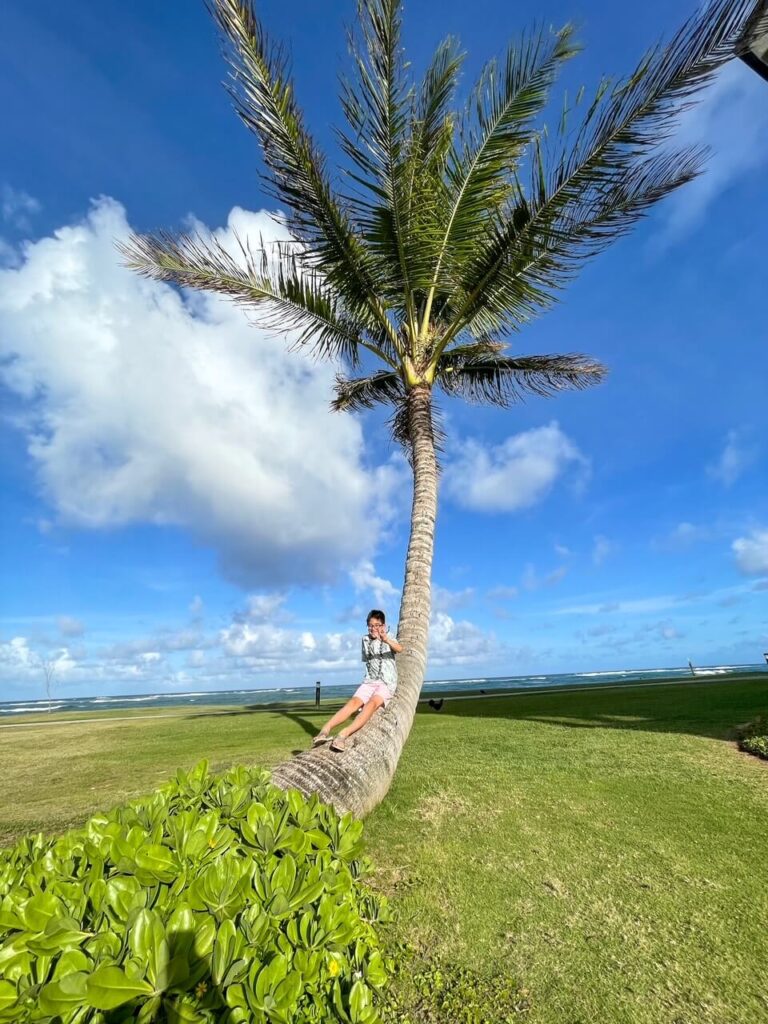 Instead, most people just asked other guests or staff members to take family photos on the grounds. There are a lot of great photo spots!
This is the first luau I've been to where they did a "preview" of the show. They had dancers perform condensed versions of Tahitian, Hawaiian, Samoan, and Maori dances so the audience would know what to expect.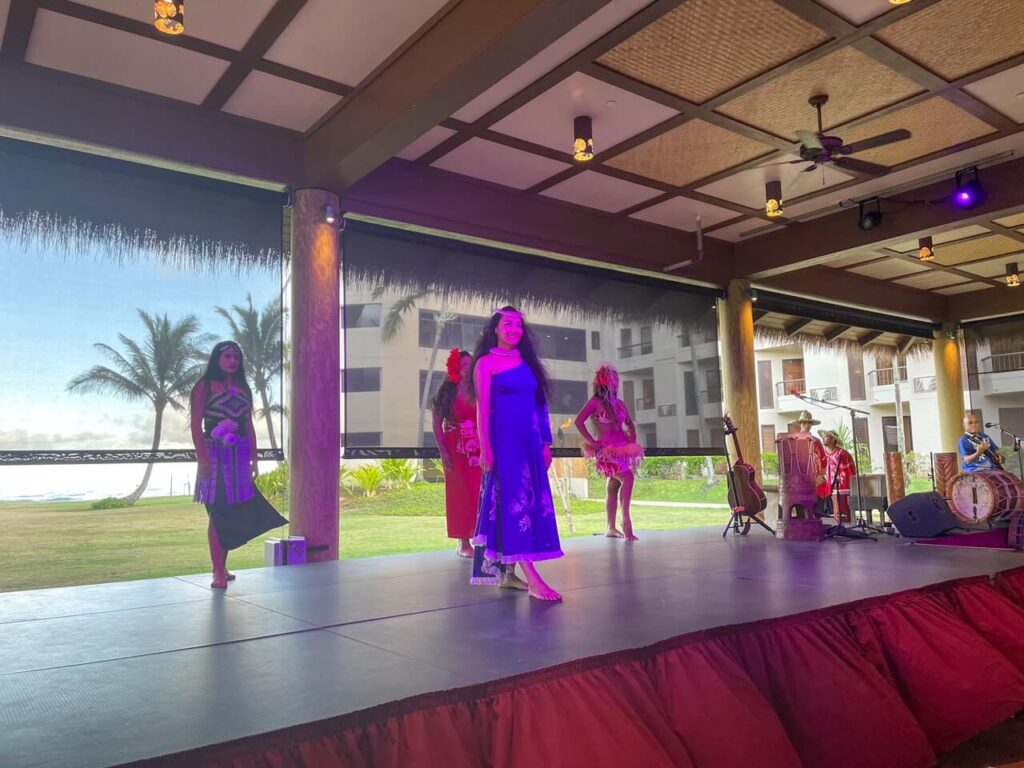 They also did the fire dancing on a separate stage just outside the venue. I've seen this done a few other places.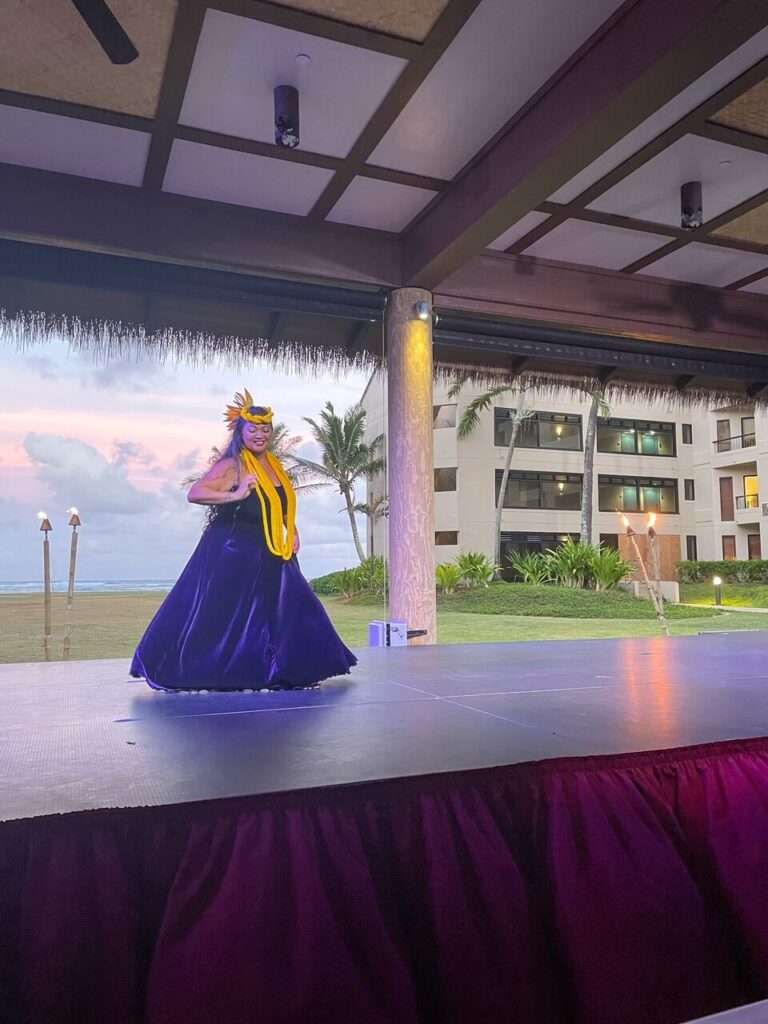 The most special part of the entire evening was when a dancer named Kamalani danced to the song her grandfather had written and named for her. It was made famous by the late Israel Kamakawiwo'ole.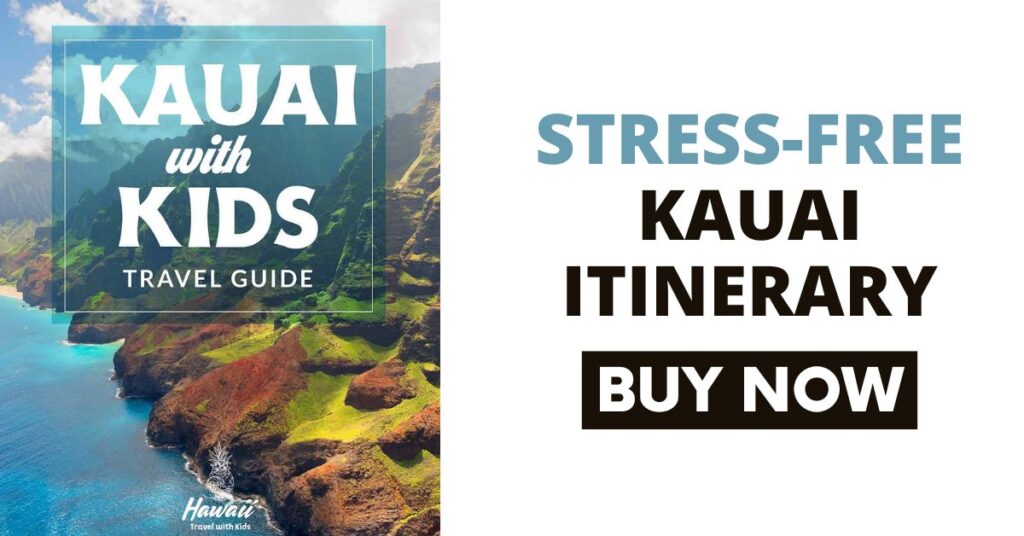 Kapaa Kauai FAQs
What is Kapaa Hawaii known for?
Kapaa is famous for being the home of Kauai's royal coconut coast. The town itself is super cute and has a mix of new and vintage storefronts, food trucks, and restaurants. It's about 20 minutes from Lihue Airport.
What is there to do in Old Kapaa Town?
Old Kapaa Town is an adorable and walkable town with boutiques, restaurants, shave ice, and cafes. It's also located next to the popular Kapaa bike path. So, it's easy to rent bikes and take a ride up the beautiful coastline.
Is Kapaa a good place to stay on Kauai?
Absolutely! This is typically the most affordable area of Kauai to stay in. Plus, it's centrally located along the highway so it's easy to explore Kauai's North Shore, South Shore, and even West Shore.
So, Would I Recommend the Sheraton Coconut Beach Kauai Luau?
Absolutely! It's hard to beat the location since it's right in the heart of Kapaa on the east side of Kauai. It's right off the highway and there's plenty of free parking on site.
We thought the pre-show activities were a lot of fun, the food was excellent and plentiful, and the show was put together beautifully. It's one of the best luaus on Kauai for people staying on the east side.
You can get Luau Ka Hikina tickets online.
Thank you Sheraton Coconut Beach Kauai Resort for hosting my family. All opinions are my own.