Are you looking for the best things to do on Kauai with kids? Keep scrolling to read my honest review of this Kauai ATV tour.
This Kauai ATV Tour Review is in partnership with Viator and was written by Hawaii travel expert Marcie Cheung and contains affiliate links which means if you purchase something from one of my affiliate links, I may earn a small commission that goes back into maintaining this blog.
Thinking about doing an ATV tour on your next trip to Kauai?
I took my mom and two boys on a Kauai ATV tour in Koloa, HI. It was so much fun! The scenery was beautiful and the trails were challenging – but not too difficult.
I had never driven an ATV before and I had no problem operating the vehicle.
Our guides were super friendly and informative, and they made sure that everyone had a great time.
If you're looking for a fun activity that the whole family can enjoy, then this ATV tour is definitely the way to go.
You'll get to see some amazing parts of the island that you wouldn't be able to see any other way. And trust me – you won't regret it!
Keep scrolling for my full Kauai ATV tour review! Or book it now!
Want to skip all the planning and just access my detailed Kauai Itinerary complete with daily schedules, kid-friendly activities, and travel hacks? Click the button below.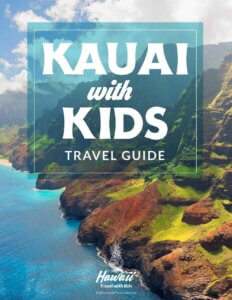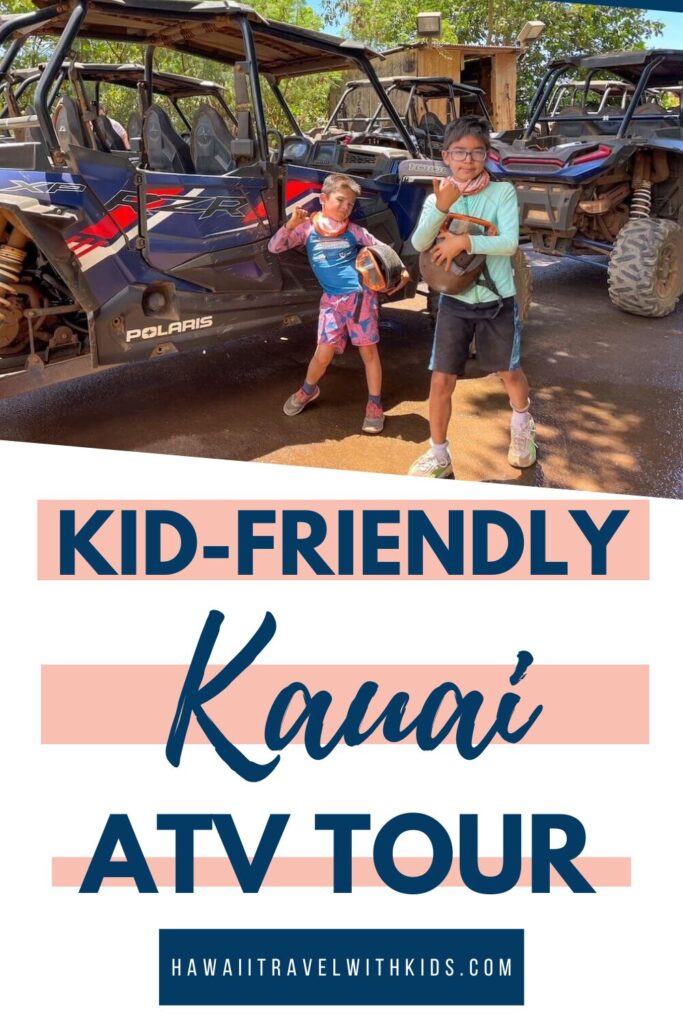 What to Know about the Kauai ATV Tour Before You Go:
We read a lot of conflicting information about what to bring. It seemed like we needed to wear swimsuits and bring extra clothes, towels, sunscreen, bug spray, and shoes that could get wet.
However, I think that might have been old info from when they used to go to a waterfall. They can no longer bring guests to the waterfall because it's on private property.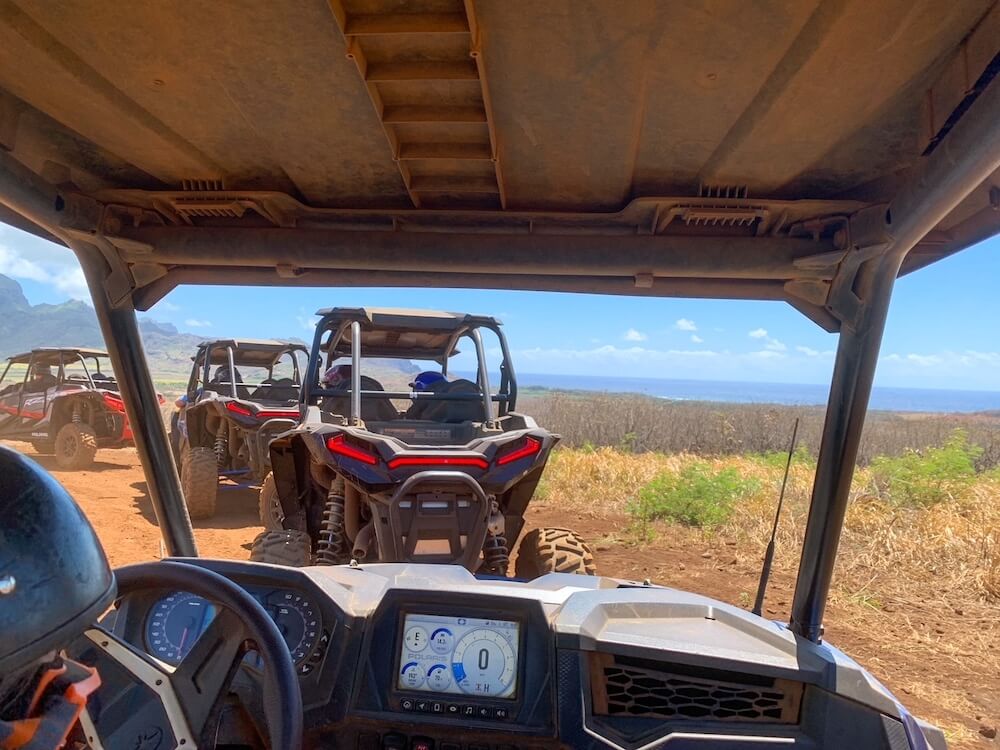 They provided us with water, snacks, and even juice. Although, I'd bring extra snacks if you tend to get hungry.
So, in reality, we only needed to apply sunscreen and wear closed-toe shoes.
Oh, and you'll need to do the liability waiver and watch an instructional video before the tour. It's the only instructions you'll get if you haven't driven an ATV before.
How to Book this Kauai ATV Tour
If driving an ATV is on your Kauai bucket list, you'll definitely want to book this tour in advance. It does sell out during the peak seasons and there are limited spots.
Parking at the Kauai ATV Office
First, you'll need to drive to the Kauai ATV tour office on Weliweli Road.
They will verify that you've completed your waiver, give you the gaiters, and provide directions to get to the actual meeting spot.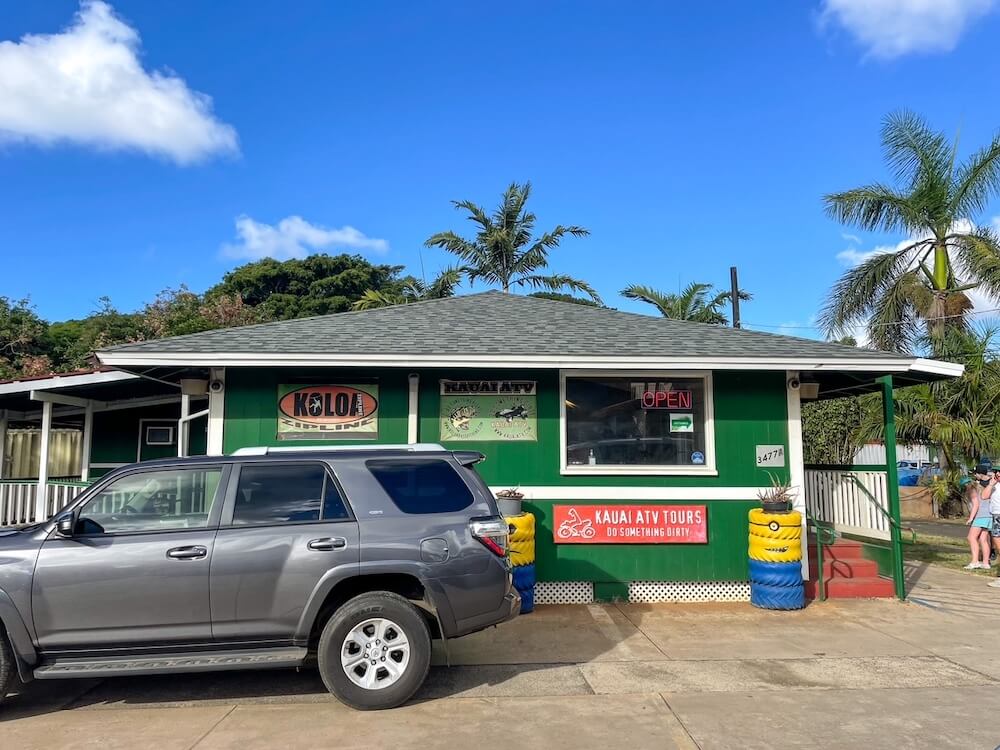 When we were there, we saw a coffee stand in the parking lot as well as a food truck. This is great for people who might need to refuel a bit.
Arrival
Once you are cleared at the office, you'll drive a few minutes down the road to where the Kauai ATV tour begins. This is where we met our Kauai ATV guides Bre and Makoa.
There are picnic tables set up and a port-a-potty in case you need a pit stop. However, there are better bathrooms if you can hold it for a few minutes.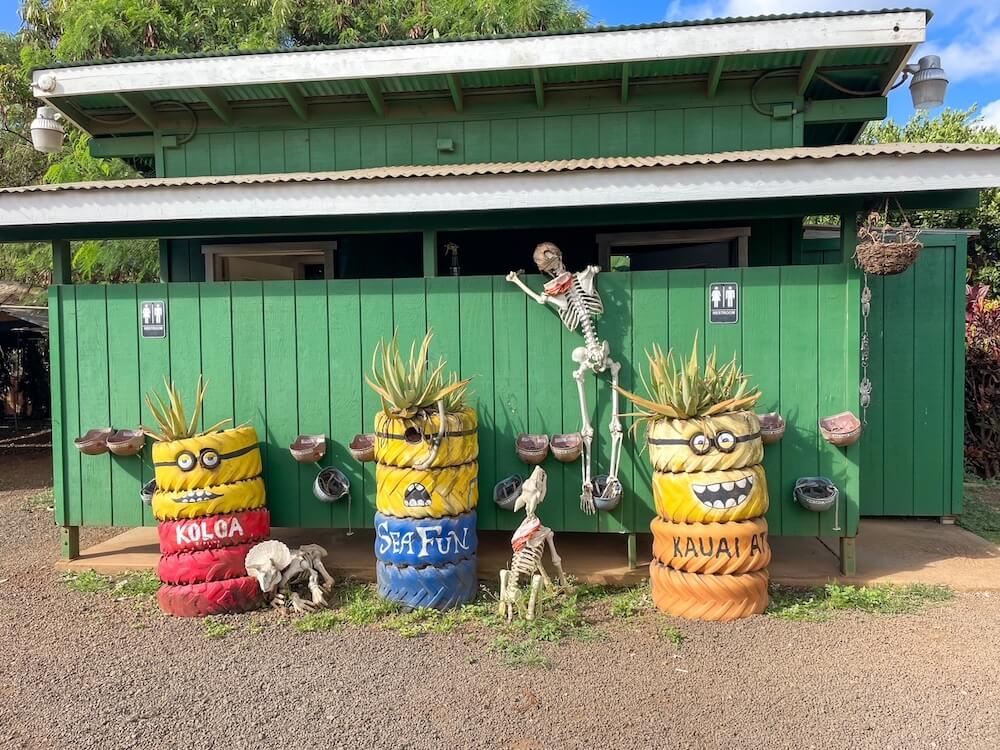 Once everyone arrives, you'll walk over to a really cute area to get fitted for your goggles and helmet. This is where there is an actual bathroom.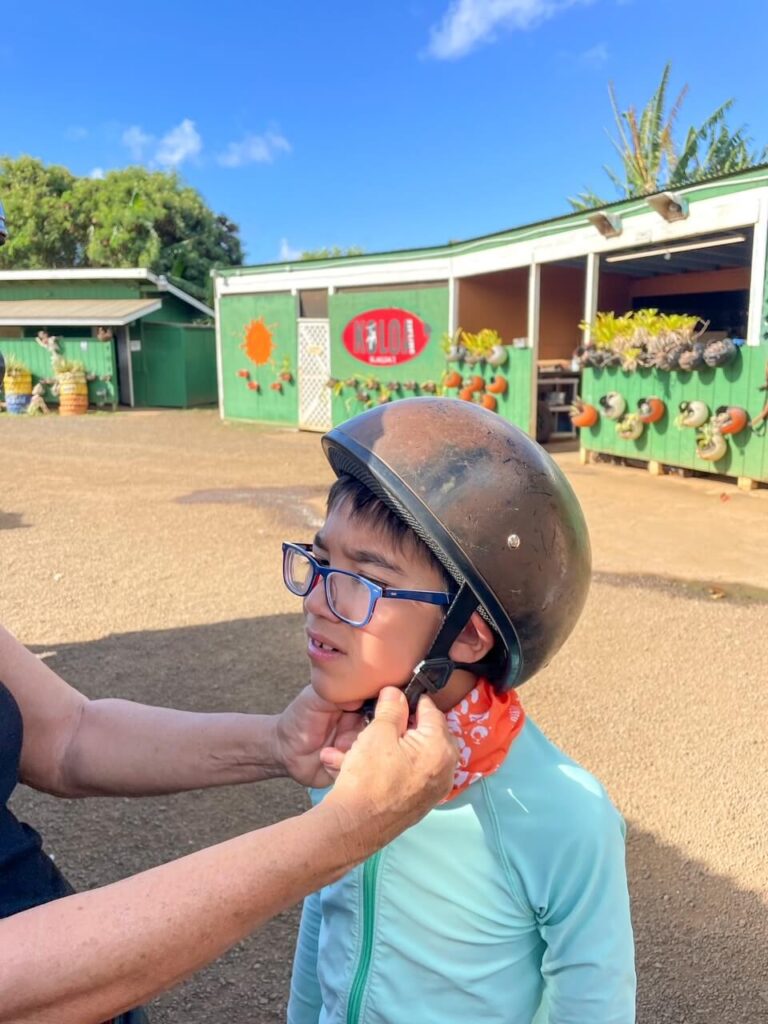 What's cool about the goggles is that the staff members can show you how to fit your prescription glasses inside the goggles so you don't get your glasses dirty!
Finally, you'll hop into your assigned vehicle. Even though this is called an ATV tour, you'll actually be riding in a Polaris off-road vehicle that can seat 4 people.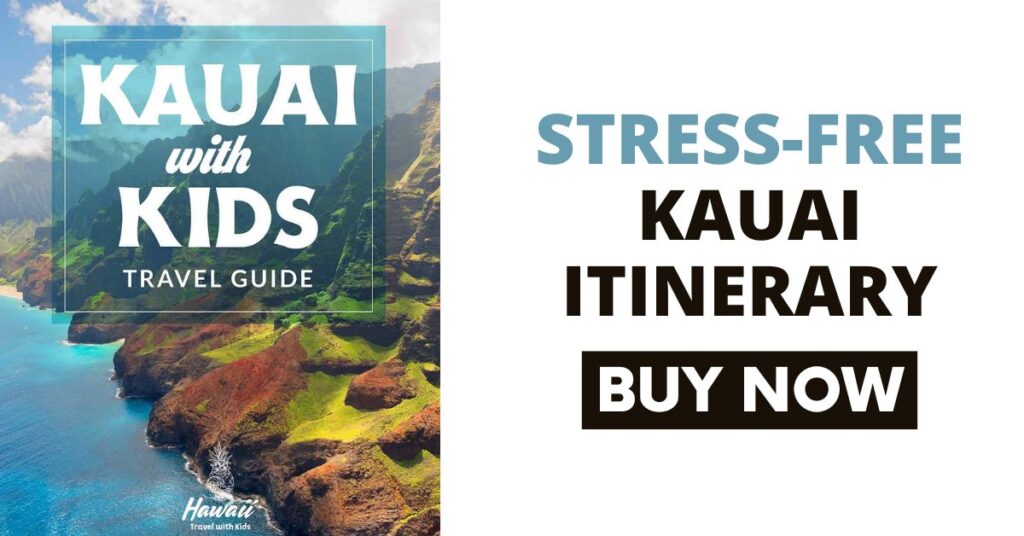 Kauai ATV Adventure
During this 3-hour ATV tour on Kauai, you'll drive about 18 miles across all types of terrain. Most of it is fairly level (not exactly flat because it's super bumpy) but there is a spot where you'll climb up a crazy bumpy hill.
These are the stops we made on our Kauai ATV tour:
Wilcox Tunnel
Our first stop was at Wilcox Tunnel. This is a famous tunnel that was created during plantation days in order to move sugar cane to another part of the island.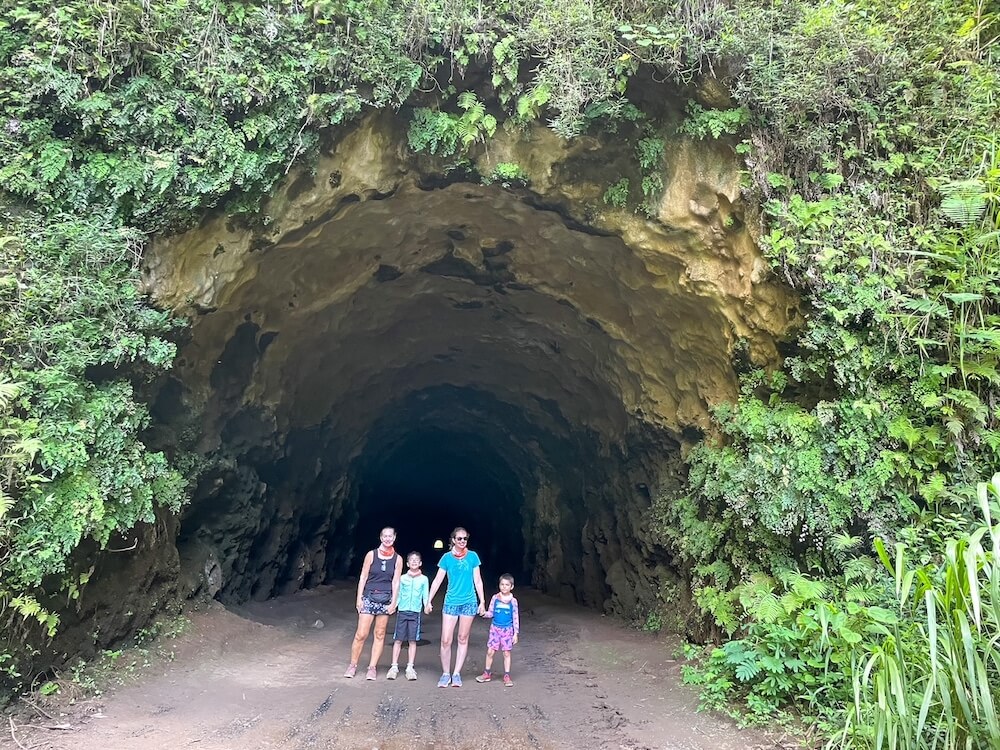 The crazy thing about it is that no one knows how many people worked on it because there's no documentation since it was before Hawaii became a state.
Our guide Bre gave a lot of information about the tunnel. Visitors used to be able to enter the tunnel to head to the waterfall, but that's no longer an option since it's now private property.
Waita Reservoir
Our next stop was Waita Reservoir. Tourists can only access this reservoir on a tour.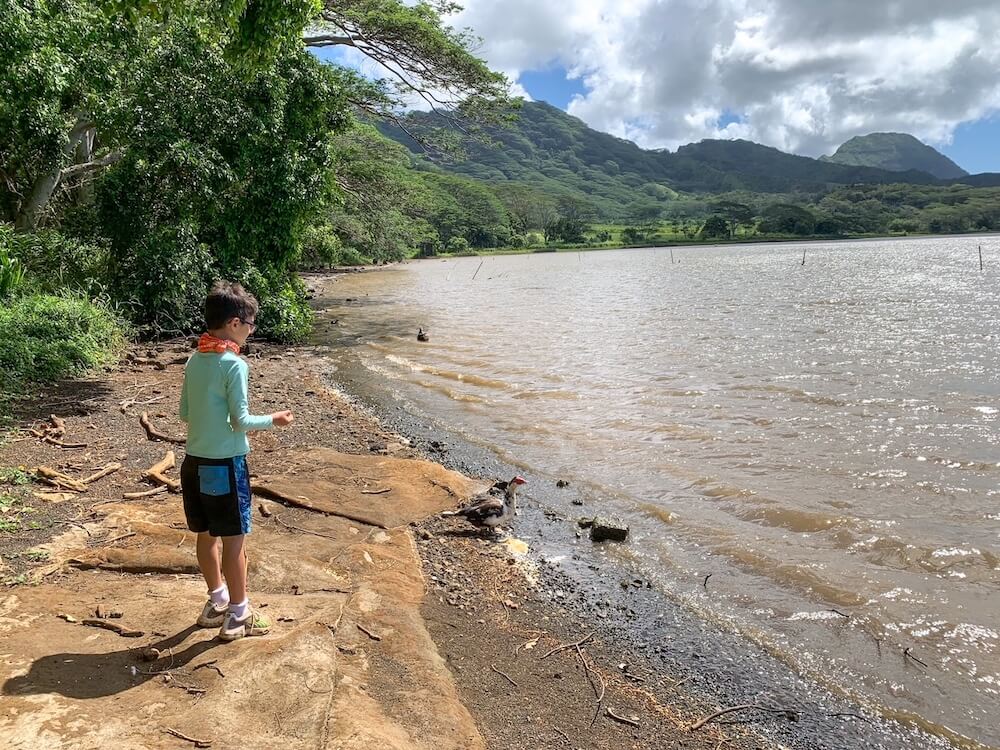 It's a big, man-made lake that is full of all kinds of fish. Kauai ATV provided a bunch of fishing poles and hot dog bait so people could try their luck at catch-and-release fishing at Waita Reservoir.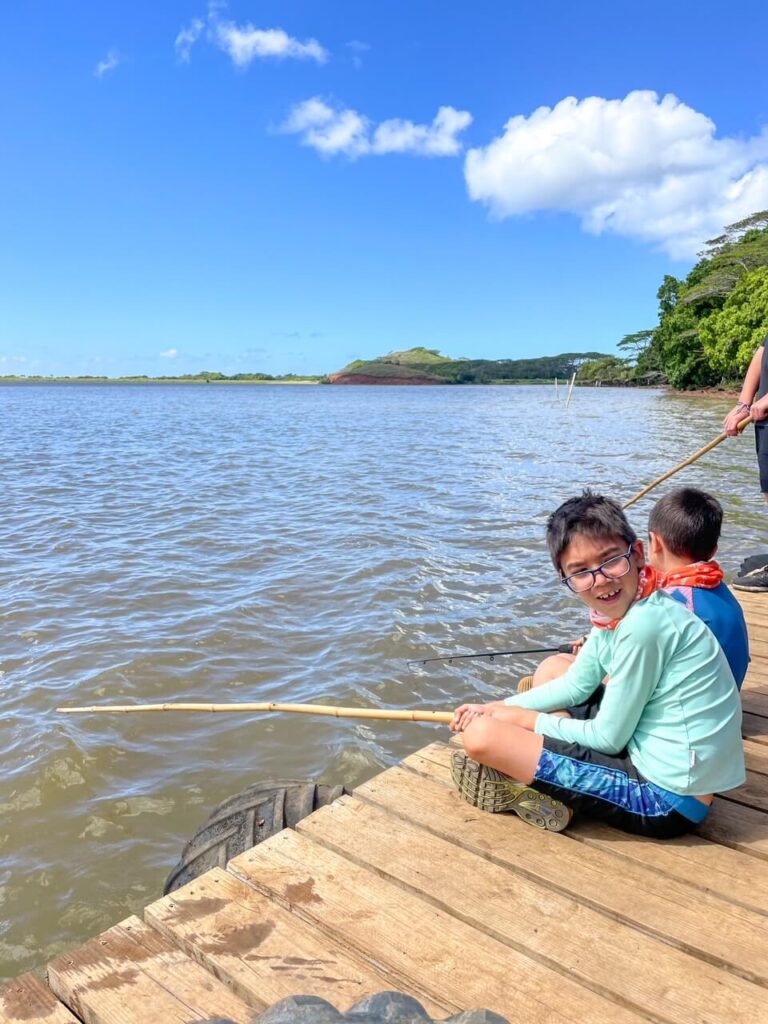 My kids tried for a long time and never got a nibble. A few other kids had fish eat the hot dog off the hook but swim away quickly!
Our guides also offered people water bottles in case they needed to hydrate.
Jurassic Park Jeep
I think this was technically an unscheduled stop, but it was one of my favorites!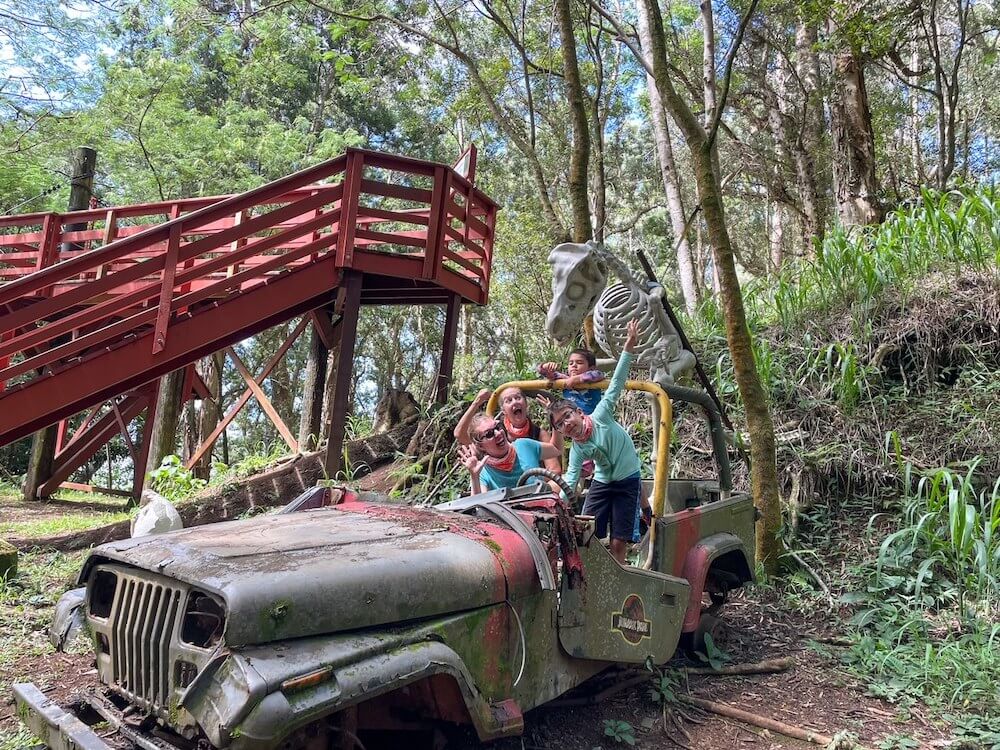 I'm a sucker for any unique photo op and this was definitely a Kauai photo spot for the books!
The inside was completely overgrown and my kids wanted to pretend that the dinosaur skeleton was real, which made it extra spooky!
Sugar Mill
So this wasn't actually a stop because we only drove past it. But, I wanted to point it out since it's such a big part of Kauai history.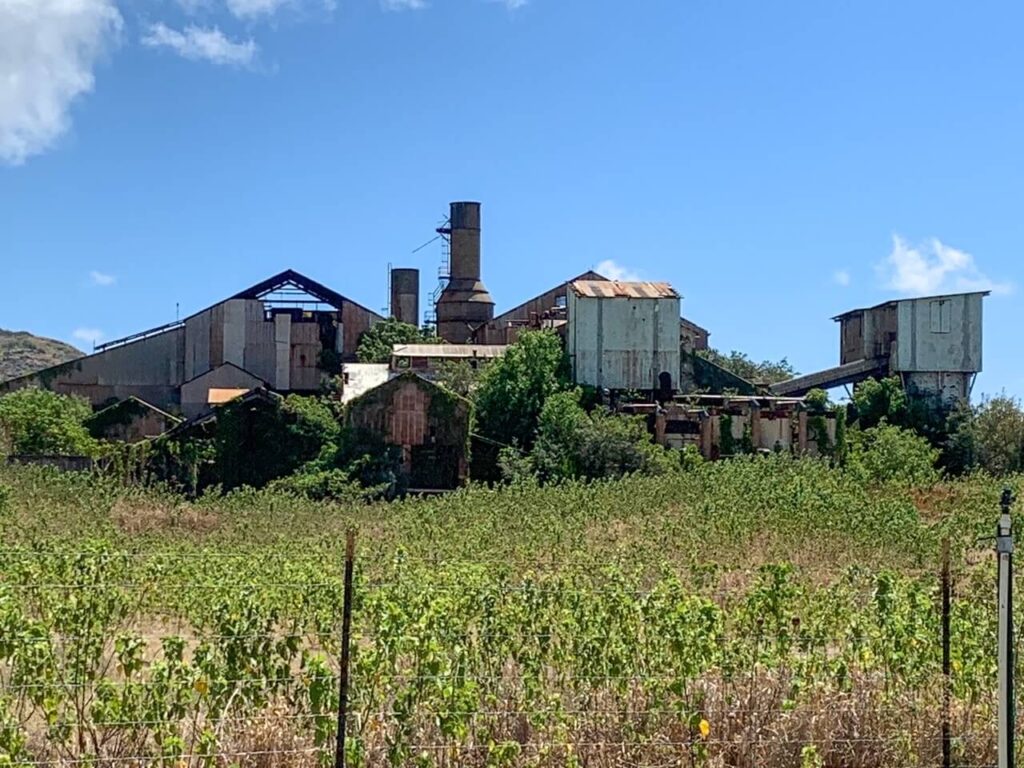 It hasn't been in operation for many years but it's cool to see it and imagine what plantation life might have been like.
If you're interested in Kauai's plantation history, make sure to swing by the Kauai Museum to check out their cool displays!
Scenic Overlook
At this point in the tour, everyone was getting a bit hungry and thirsty. The good news is that the guides had Hawaiian juices, water bottles, and locally made Anahalo Granola bars.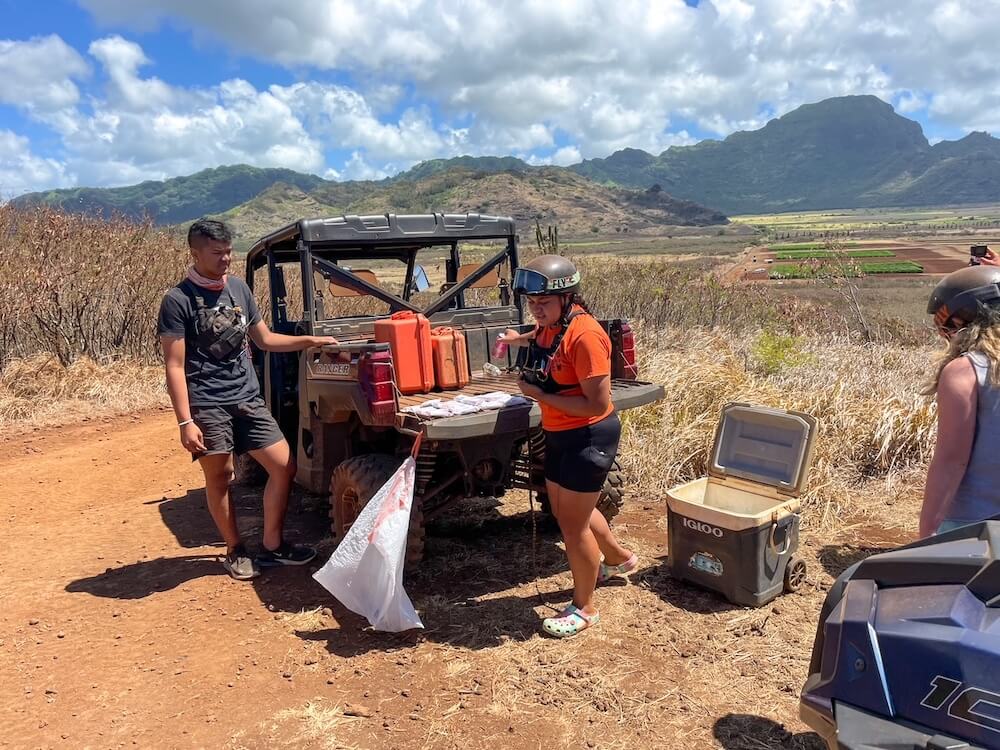 As we ate, our guides told us about how we were looking at the "backlot of Hollywood!"
Yes, movies like Jurassic Park, Pirates of the Caribbean, Jungle Cruise, and Fast and Furious Presents: Hobbs and Shaw all filmed scenes here.
Film directors like shooting here because they can get mountains, ocean, and coastlines in their shot. And it can double for any tropical island.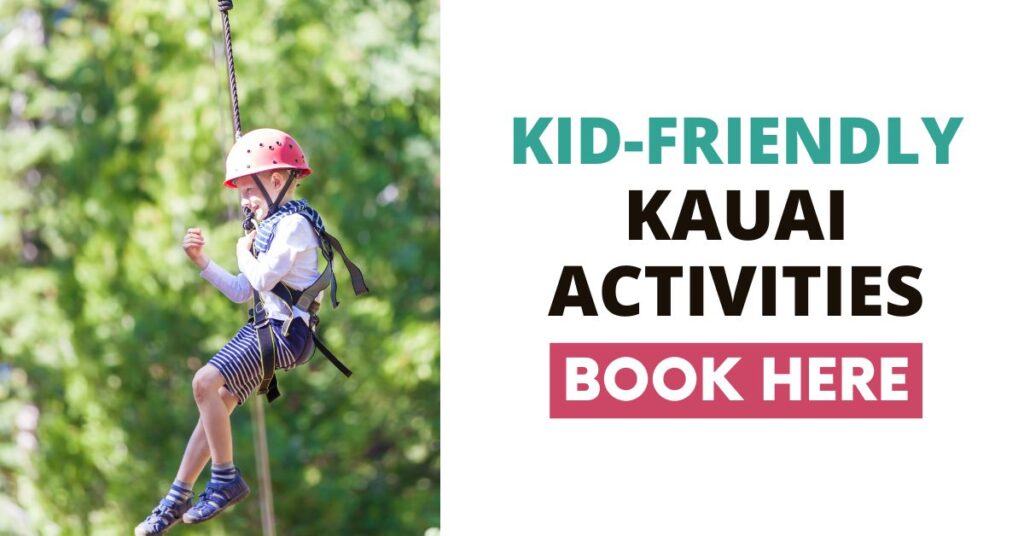 Mahaulepu Cave
The final stop on this Kauai ATV tour is Mahaulepu Cave. We parked our ATVs in the sandy dirt and did a super short hike to the top of the cave.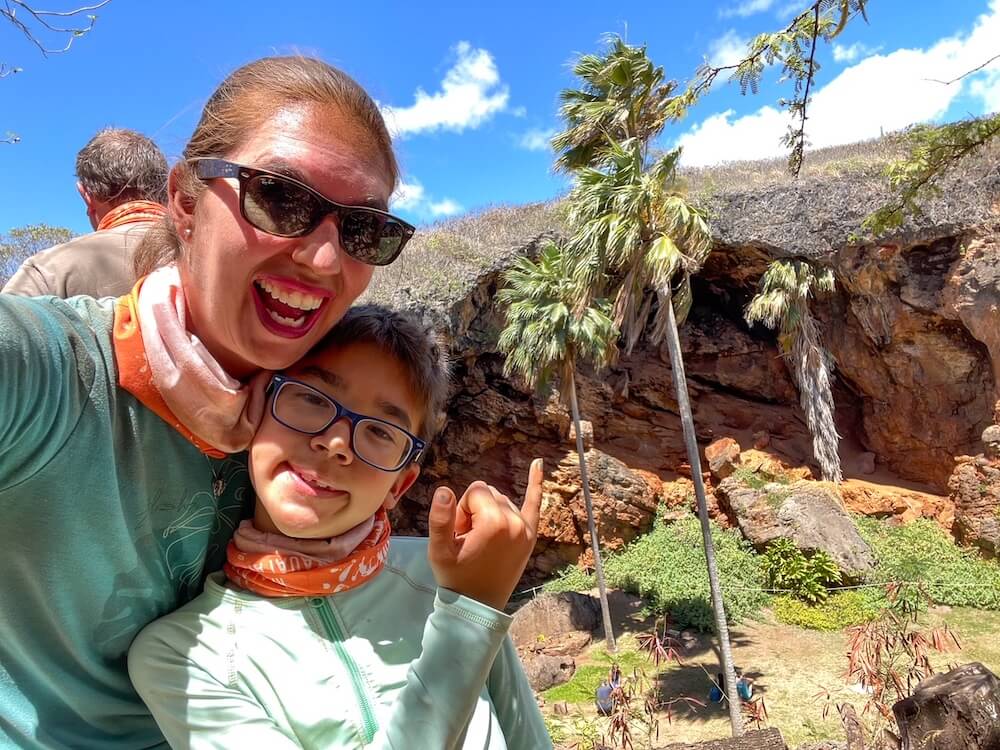 While we were only able to see the top of the cave, it sounds like other tours have time to actually explore inside the cave or head to the beach.
They gave us instructions for visiting the cave on our own. It's actually only open at certain times. I suggest checking the Mahaulepu Cave website.
Clean Up
At the end of the tour, you'll drive close to where you started and then walk to the helmet/goggle area.
They have tubs of water set up so you can drop your gear where they tell you. There are also sinks and soap so you can scrub up a bit.
They also have showers if you want to really clean up. It's your choice.
Food Options
Kauai ATV provided us with locally-made Anahola Granola bars and Aloha juices. Some people brought extra snacks to eat at the stops.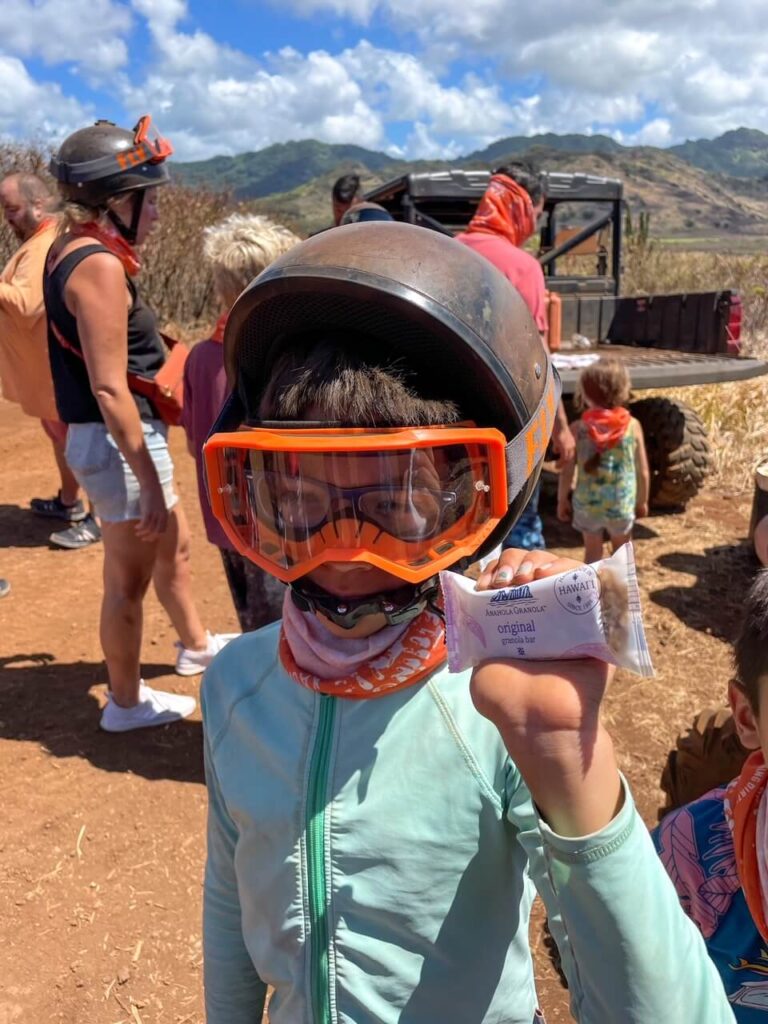 However, if you're looking for a lunch spot, you're just minutes from Old Koloa Town (where they have a ton of food trucks) or Poipu if you want even more options.
The Highlight of this Kauai Tour and What You Should Look Out For
When I asked my kids, they said their favorite part was getting to fish with bamboo poles at Waita Reservoir.
They like doing hands-on activities and it's something they hadn't tried before. They were disappointed no one caught anything, but they still had fun trying.
My highlight was taking a silly photo inside the Jurassic Park Jeep! I love fun photo ops like this and it made it more special knowing only people who do the tour have the opportunity to take one there.
And we also thought it was pretty cool to see the Mahaulepu Cave, even if we didn't have time to explore it. We added it to our Kauai bucket list to visit on our next trip to Kauai!
Kauai ATV Tour Tips for Families
What to Wear
You have to wear closed-toe shoes to do this tour. We saw some people wear Crocs, but we wore old athletic shoes. These worked great for the short walks/hikes we did.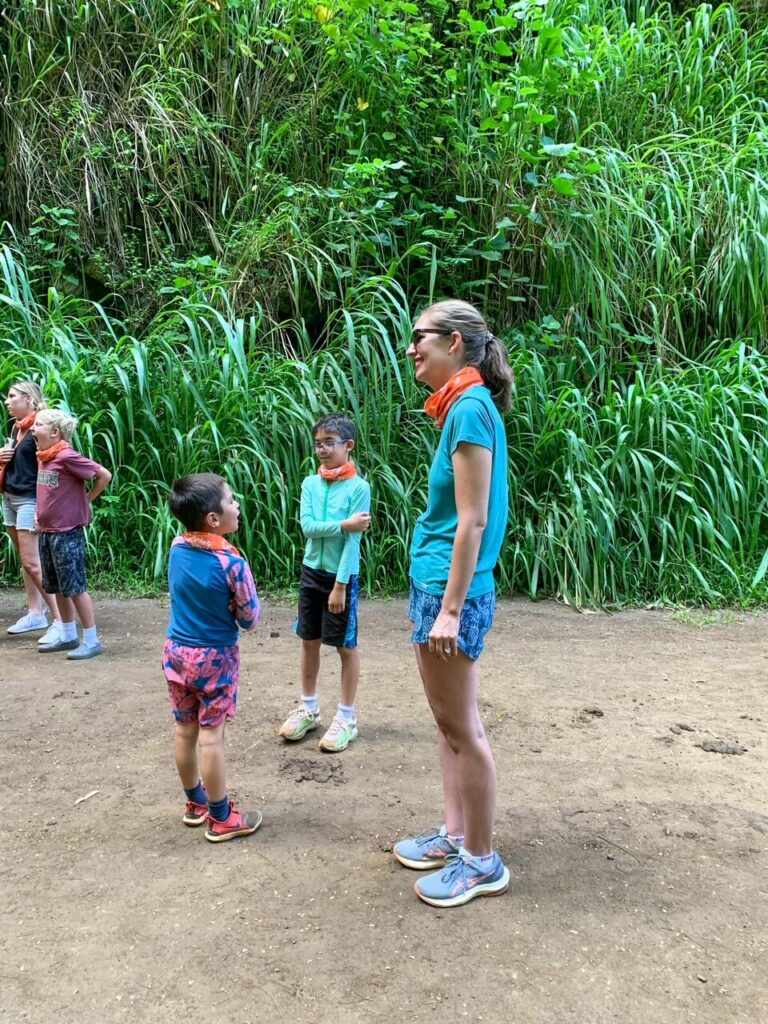 You'll also want to wear clothing that can get dirty. And when I say dirty, I mean you're okay if it gets stained with Kauai's famous red dirt.
I had my kids wear old rashguards and swim shorts because they were already stained with red dirt and I wasn't sure if we'd get wet.
If anyone in your party has long hair, it's a good idea to tie it up in a bun or braid to keep it from thoroughly tangling.
What to Bring
If you are doing this Kauai activity with younger kids, you might want to bring safety pins or something to make the gaiters smaller.
We used hair ties to make the gaiters fit my 8-year-old and 5-year-old. I'm not sure if other kids had any sizing issues, but my kids were very vocal about the gaiters falling down.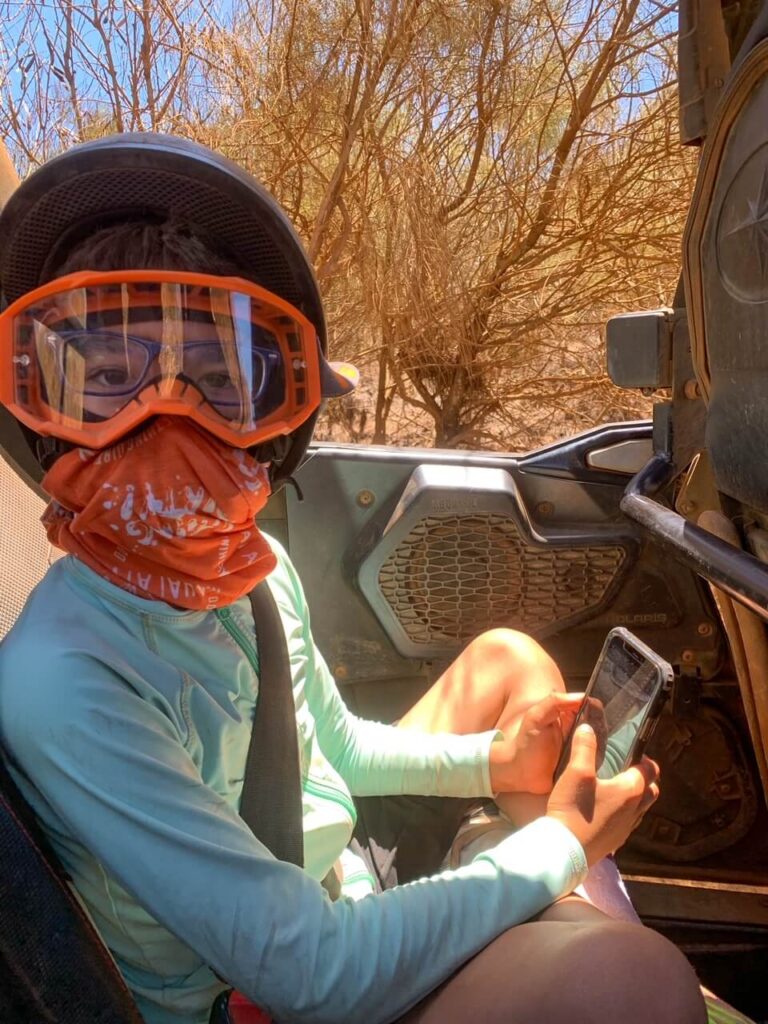 When I read Kauai ATV tour reviews, people suggested bringing a waterproof phone sleeve. I bought one and then left it back at our hotel. Lame!
My phone ended up getting SUPER dusty and I was constantly wiping it down during the tour since I wanted to take photos and video.
As I mentioned before, we were initially told to bring swimsuits and towels, but I'm not sure when we would have used them. We ran out of time to visit the beach and I'm not sure it would have been enough time to actually swim.
So, I suggest just wearing clothing that can get dirty and possibly wet.
Driving Tips
I suggest giving space between your ATV and the one in front unless you want to drive through a cloud of dust. The dust settles quickly, and you'll see so much clearer if you give just a little space.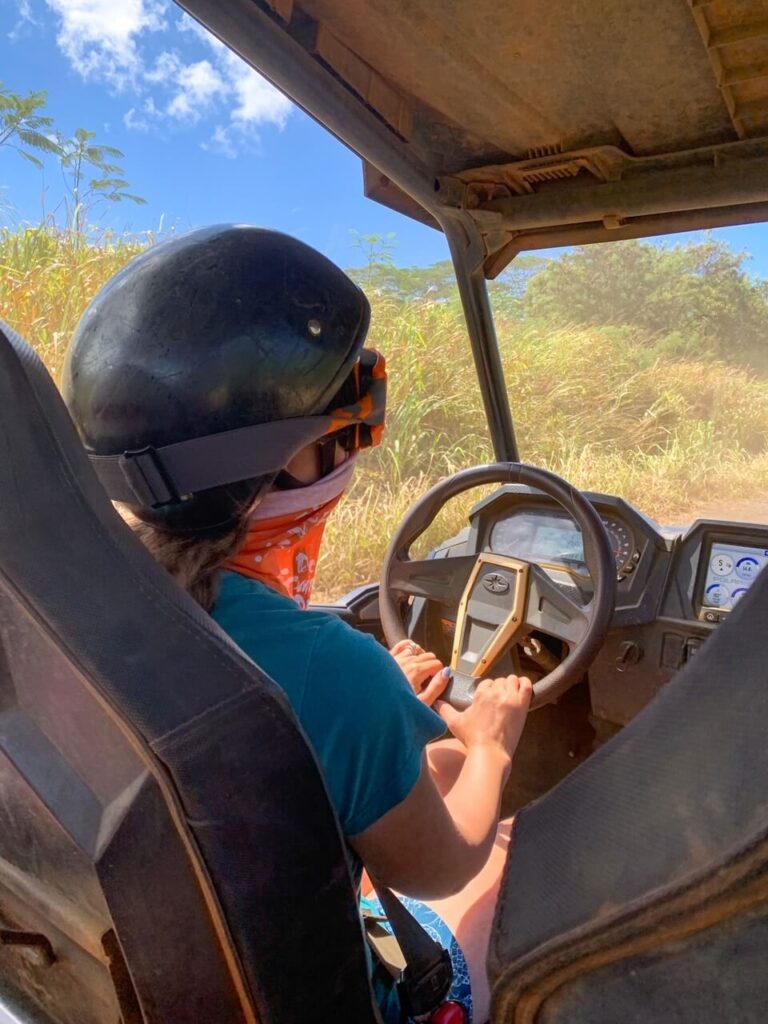 It's also nearly impossible to avoid potholes and uneven ground (that's part of the fun) so make sure everyone in your party is up for a bumpy ride.
ATV Tips
We found the seatbelts to be tricky to buckle all the way. You really have to push down and make sure they click.
Also, you need to SLAM the doors hard and wiggle them to make sure they are shut. We had 3 doors swing open at different parts of the tour and it caught us off guard.
Photo Tips
Ask your guides to take family photos! Trust me when I say they know the best angles at each stop and know to take multiple photos so you have lots to choose from.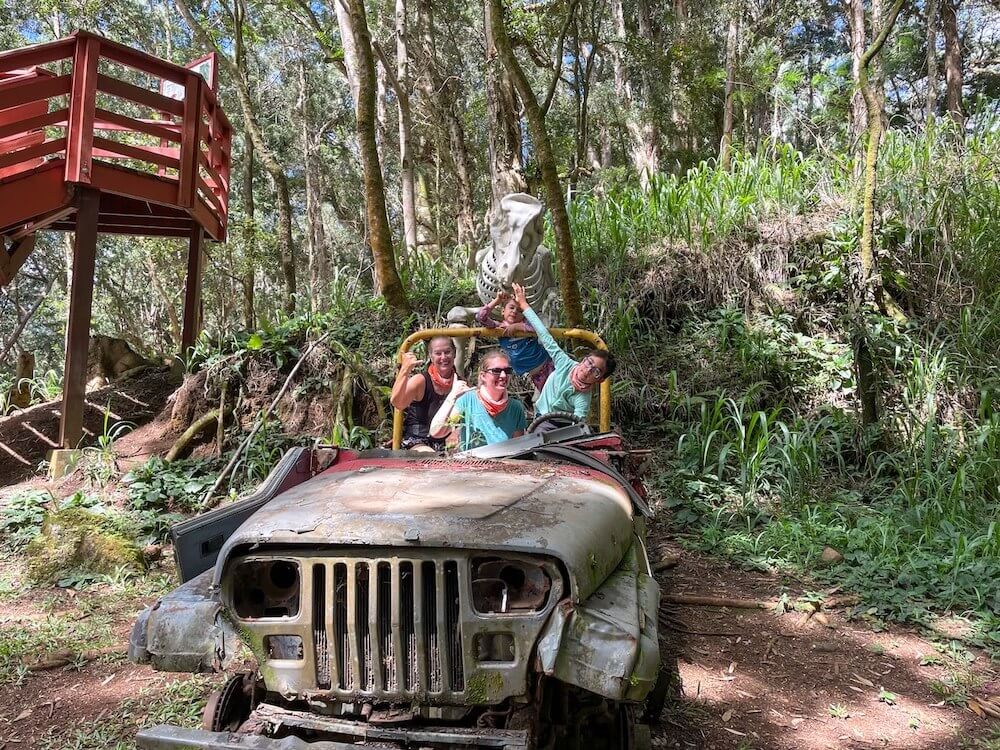 I love that our guides took multiple photos at different angles so we got a lot of great family shots!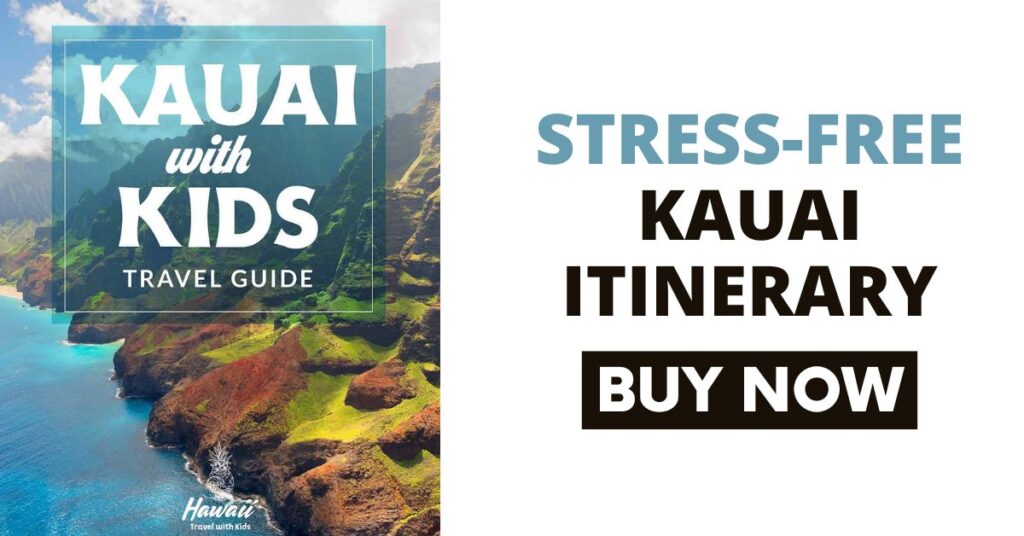 Kauai ATV Tour FAQs
Can you ride ATVs on Kauai?
Yes! There are a couple of companies that run ATV tours on Kauai: Kauai ATV and Kipu Ranch. Some have actual ATVs while others are UTVs.
What do you wear on an ATV tour on Kauai?
Only wear items that you don't mind getting dirty or stained with Kauai's famous red dirt! We wore old athletic shoes, shorts, and shirts. I had my kids wear swimsuits and rashguards in case we got wet. And you'll definitely want to use the Kauai ATV gaiter they provide!
Do you tip Kauai ATV tour guides?
Yes! While it's not mandatory, most people tip their guides 10%-20%. They have a box for tips at the end of your Kauai ATV tour or you can hand it directly to your guide.
So, is the Kauai ATV Tour Worth It?
We honestly had a BLAST! My 5-year-old was apprehensive about doing this tour and I think he had the best time by the end.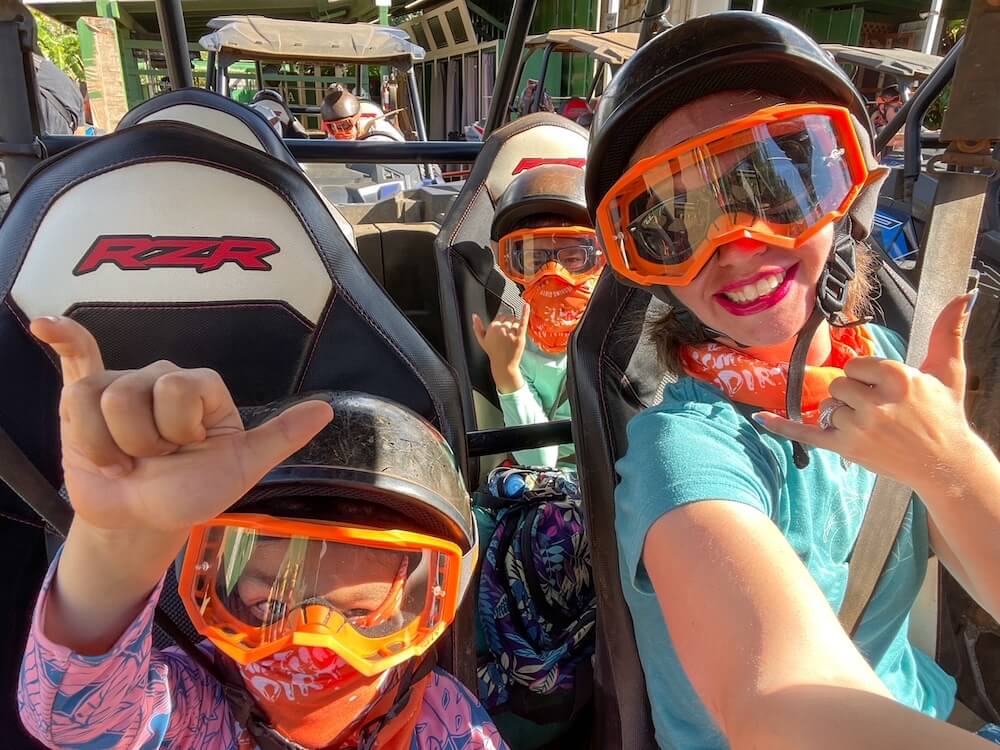 Driving the ATV wasn't nearly as scary as I feared and I actually got really into it and can't wait to do another ATV tour in Hawaii!
We all got incredibly dirty and it's almost like we earned every bit of dust covering our bodies. I definitely recommend hitting the beach or pool afterward!
P.S. Join our Hawaii Travel with Kids Facebook group to get connected with other families planning a trip to Hawaii!