Are you looking for the best luaus in Poipu Kauai? Keep scrolling for this honest review of the Aulii Luau at the Sheraton Kauai.
This Sheraton Kauai Luau review contains affiliate links which means if you purchase something from one of my affiliate links, I may earn a small commission that goes back into maintaining this blog.
Planning a trip to Kauai with the family?
Make sure to add a luau to your itinerary – they are such a blast! And we've got just the one for you – the Aulii Luau at the Sheraton Kauai.
You won't want to miss out on this popular Poipu luau. It's in an open-air theater and offers stunning ocean and sunset views.
Plus, there's plenty of traditional Polynesian entertainment, including hula and fire dancing.
Keep scrolling for my full Aulii Luau review!
Don't want to scroll? Buy Aulii Luau tickets here!
Want to skip all the planning and just access my detailed Kauai Itinerary complete with daily schedules, kid-friendly activities, and travel hacks? Click the button below.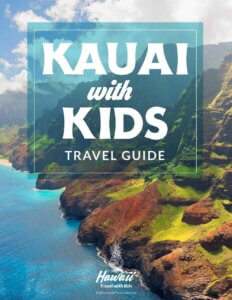 Poipu Kauai FAQs
What is Poipu known for?
Poipu is a resort community on the South Shore of Kauai. It's most famous for snorkeling, sandy beaches, and many restaurants. It's a kid-friendly area with several beaches perfect for kids.
Is Poipu touristy?
Yes, this is one of the most popular places to stay on Kauai for tourists. That also means there are lots of nearby activities/tours, plenty of places to shop/eat, and some of the best resorts on Kauai.
Which part of Kauai is the driest?
While Kauai is known for being a rainy island, the south shore of Kauai is typically dry. So, if you see rain in the forecast head to Poipu or even the west side of the island.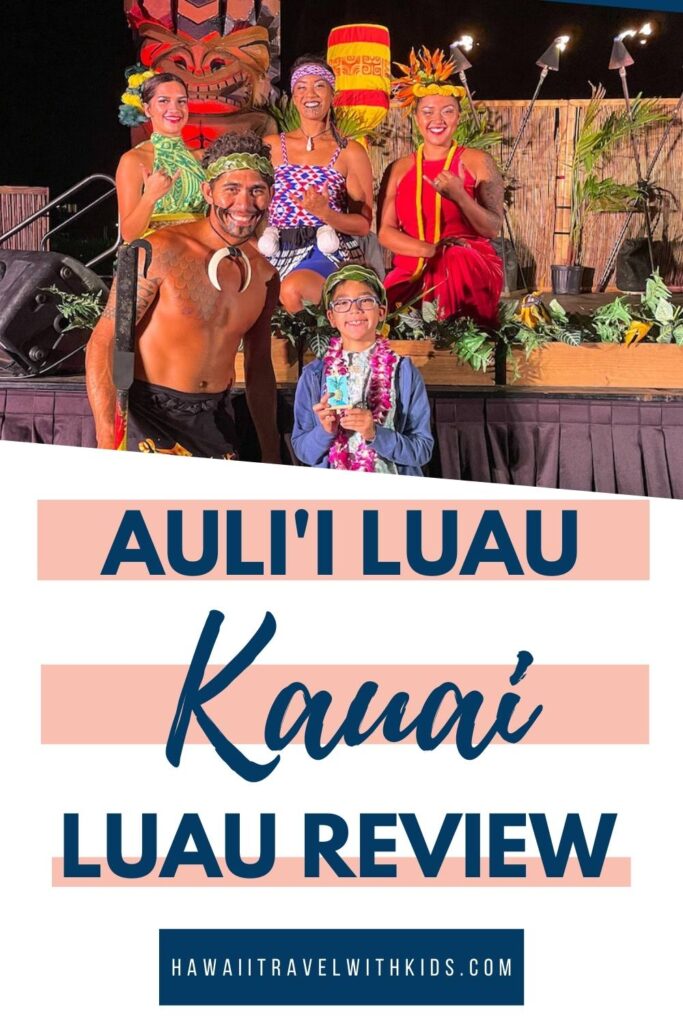 What is a Hawaiian Luau and What Should You Expect?
A traditional Hawaiian luau is a community event that consists of Hawaiian food and entertainment.
A commercial luau in Hawaii will typically have a bar, live Hawaiian music, either a buffet or plated dinner, and hula dancing (or other Polynesian dancing).
If you are attending a luau, expect it to last about 2.5-3 hours. Most of the time, the drinks are complimentary (or they will give you drink tickets).
There are often souvenir photos, as well. I've got a whole post about what to expect at a Hawaiian luau, including Kauai luau prices.
There are NO free luaus in Hawaii. You can see free hula shows at shopping centers, but that is NOT a luau.
Where is the Sheraton Kauai Luau?
The Aulii Luau takes place at the Sheraton Kauai Resort located at 2440 Hoonani Rd, Koloa, HI 96756.
It takes about 20-30 minutes to get there from the east side of Kauai and it's just a few minutes away from most Poipu resorts. GET TICKETS.
What to Expect at the Aulii Luau at the Sheraton Kauai
Arrival
We stayed at the Koloa Landing Resort, a short walk from the Sheraton Kauai Resort in Poipu. However, we saw the luau parking lot, which looked really convenient.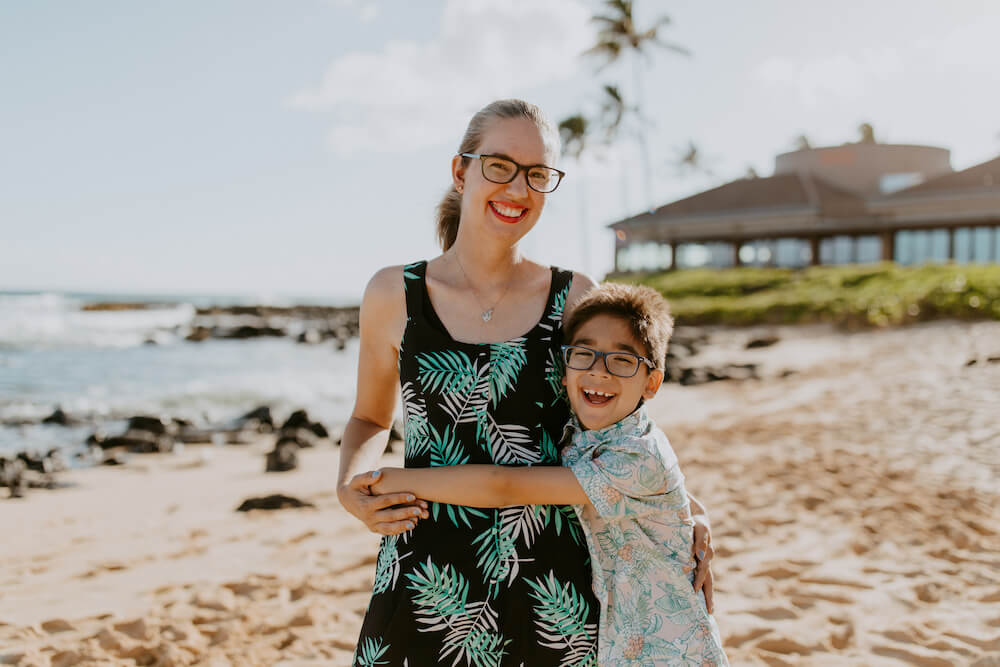 As soon as we arrived, we were invited to take photos on the beach during golden hour with a friendly photographer. These were MUCH better than the standard luau photos we usually get.
Then, we got in line right before the "doors" opened at 5:30 p.m. Right on time, the greeters came out and we were let in.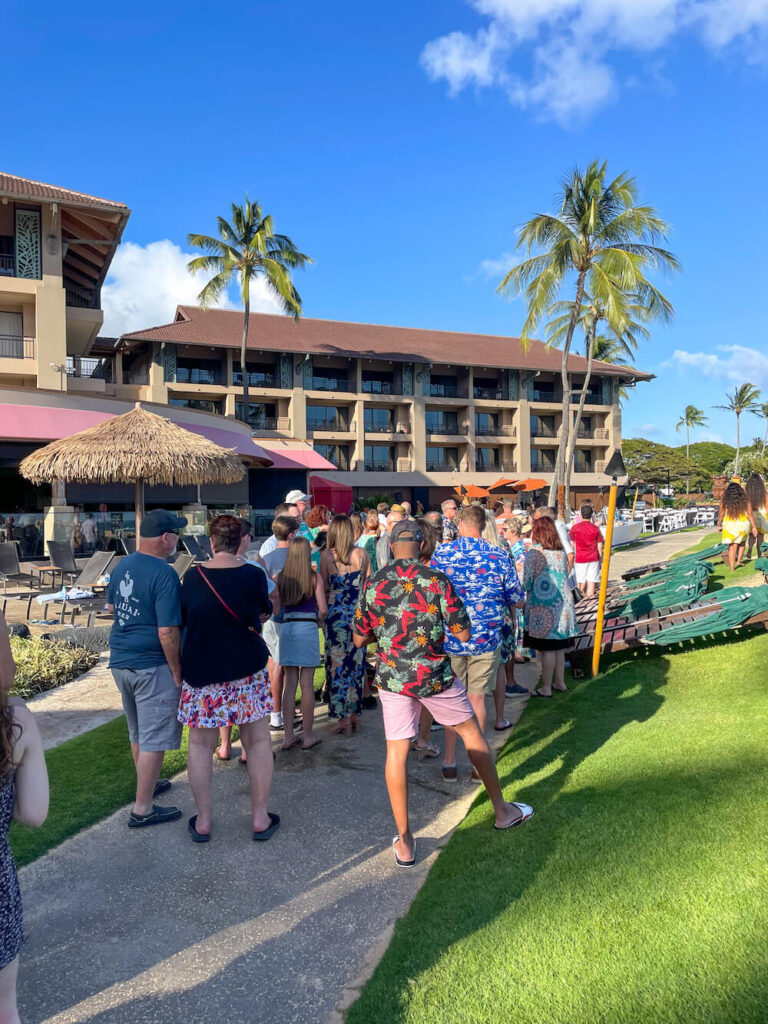 We had premier tickets, so we went in the right line while people with standard tickets when in the left line. There are different leis for the different tickets.
Then, we were shown to our table.
Pre-Show Activities
We didn't even make it to our table before my 8-year-old saw the activities and started chatting up the experts.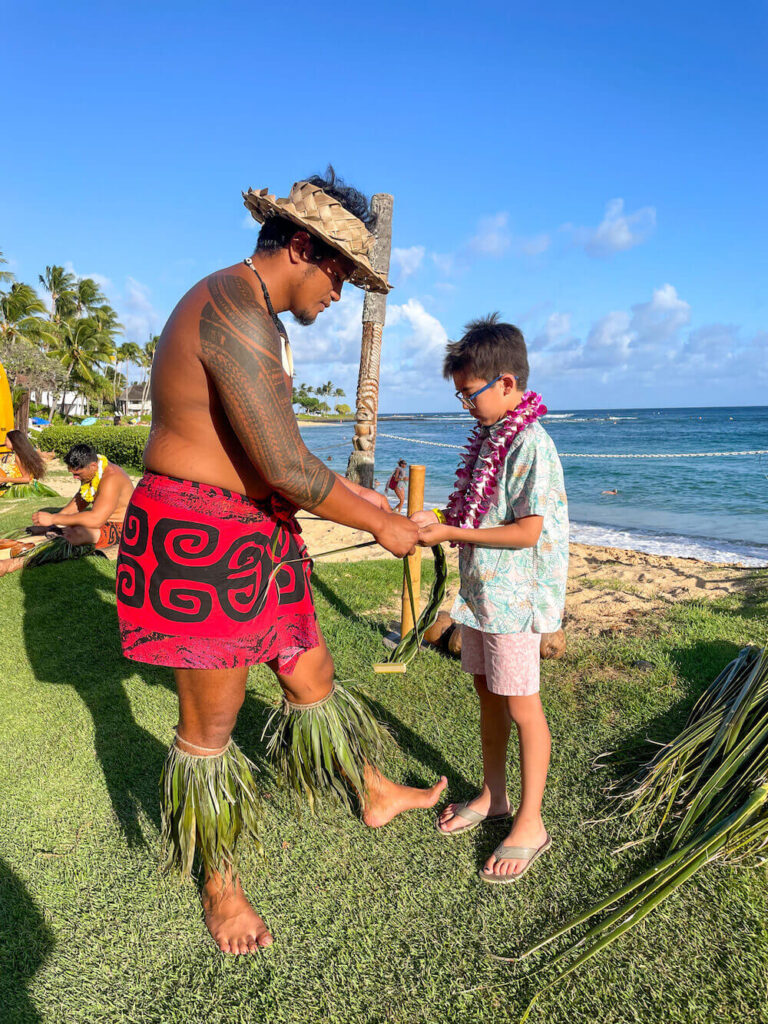 His first stop was with a guy weaving coconut frond headbands. He was so patient with my son and helped him make one that was the perfect fit.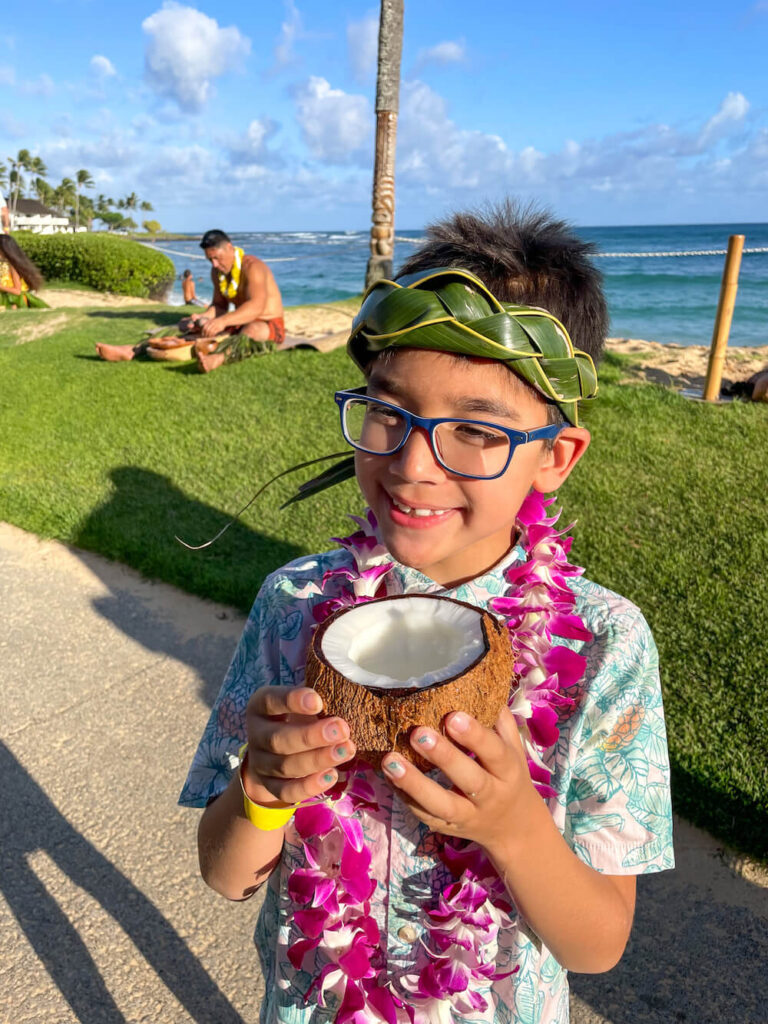 Then, he asked my son if he'd like to crack a coconut. Of course, my son was excited to try this. They husked it and then cracked it open to drink fresh coconut water.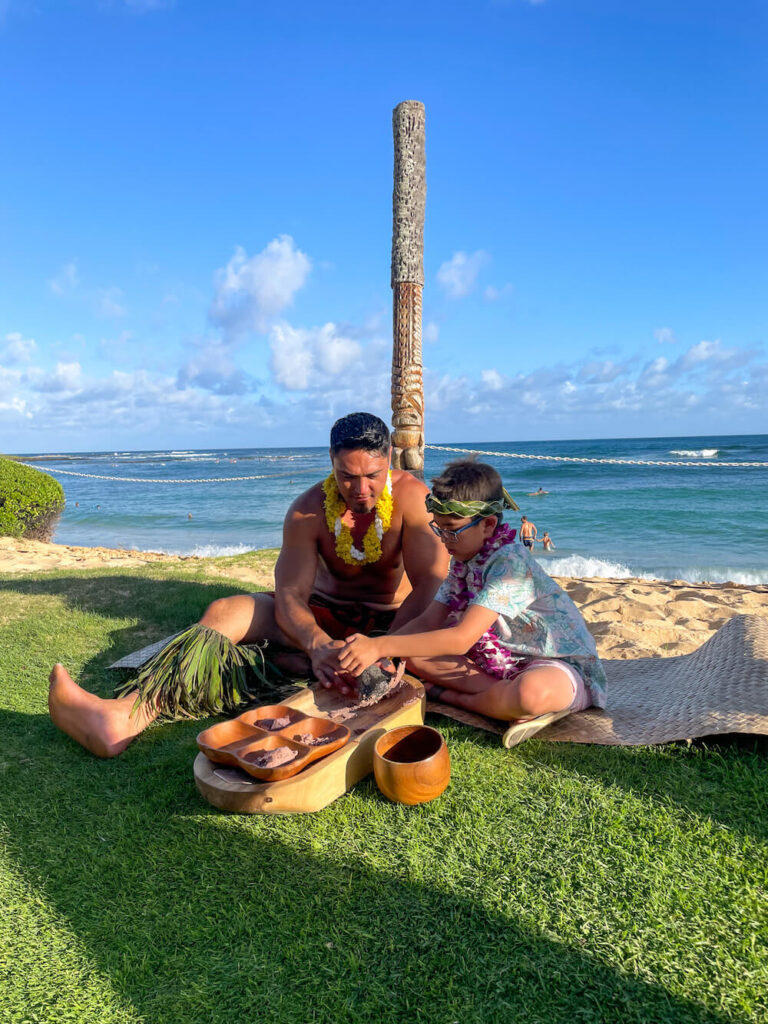 Next up was the poi pounding demonstration. I'm actually not sure if it was just supposed to be a demonstration, but my son asked the guy if he could try it.
I haven't seen poi pounding at any recent luau events, so we thought this was extra special.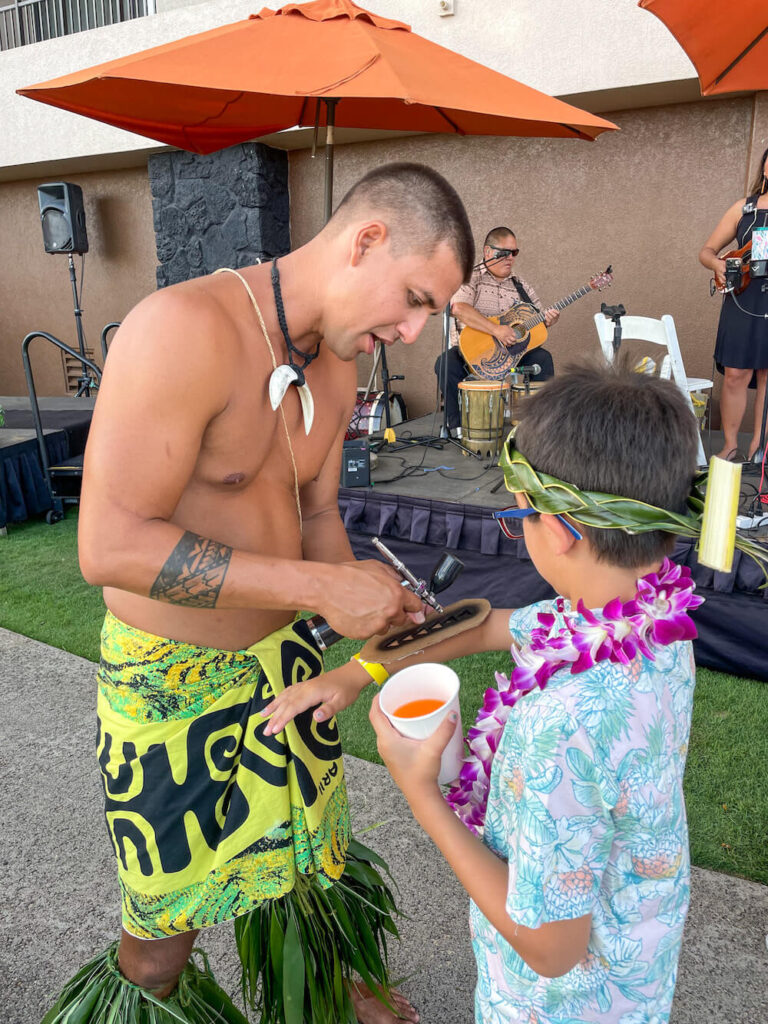 Then, he found a guy who was giving airbrush Hawaiian tattoos. The options were tribal shark teeth, a pineapple, or a flower.
My son first got the shark teeth on his arm, and later the guy went around the tables and got a pineapple tattoo on his hand.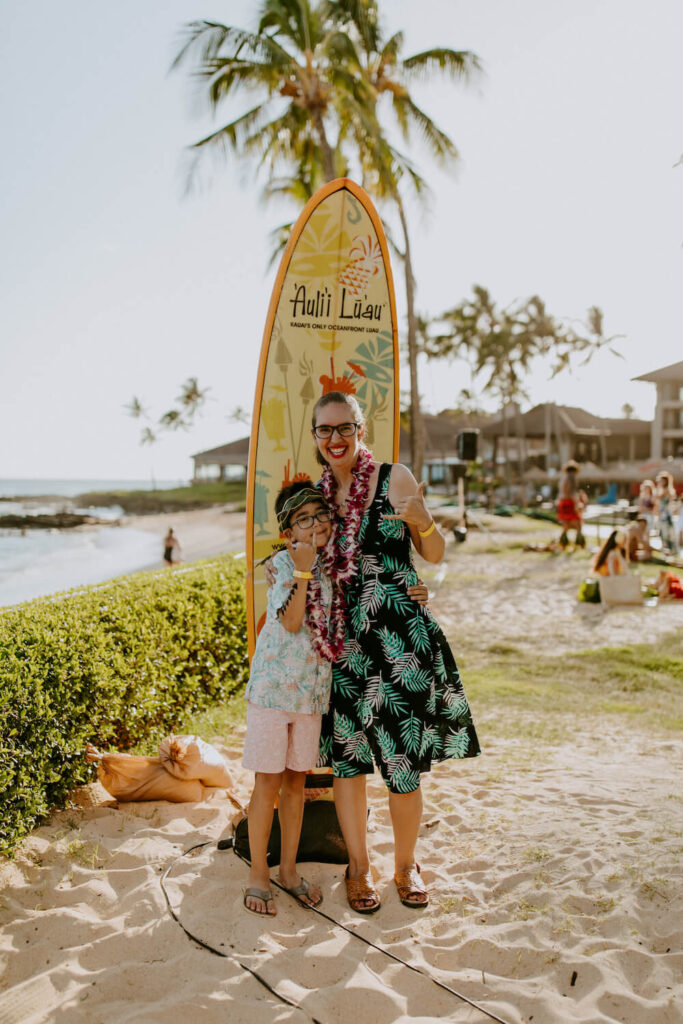 Finally, we headed over for surfboard photos with the photographer. This was fun timing because we had our leis at this point and my son had his new headband.
Another option was sunset photos on the beach. We didn't do them, but we saw many families taking advantage of this.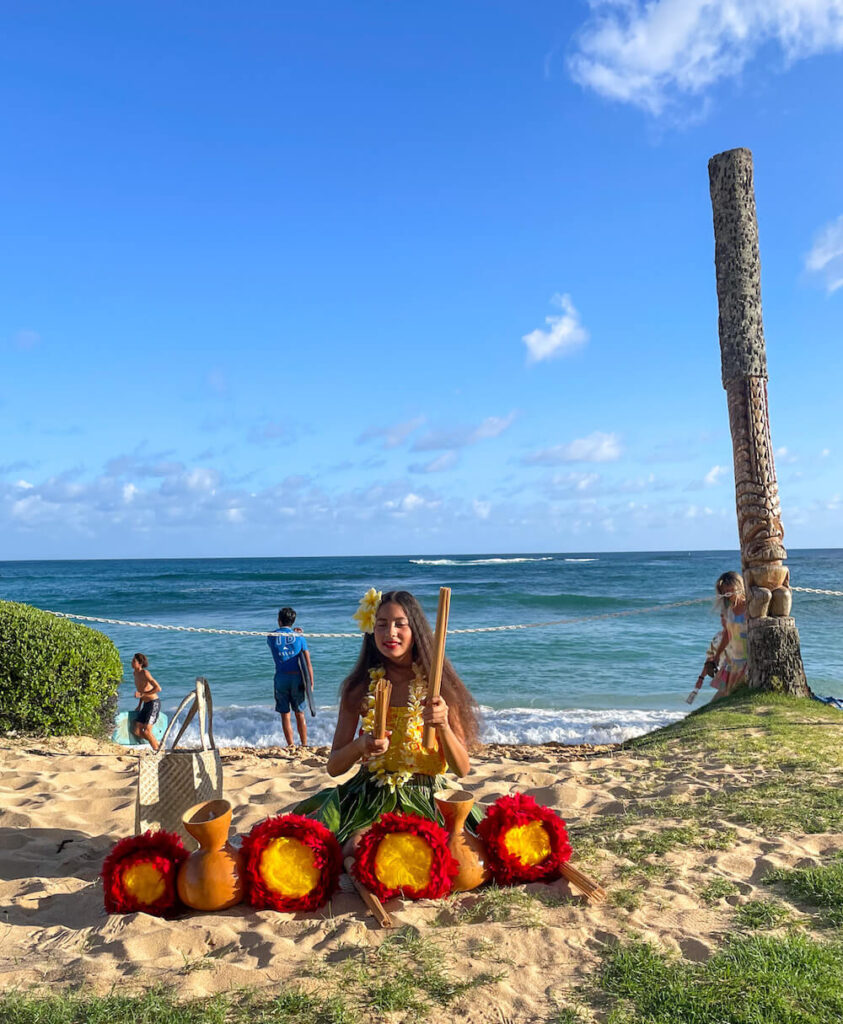 There were also Hawaiian fishing net throwing and hula implement demonstrations that we didn't have a chance to do.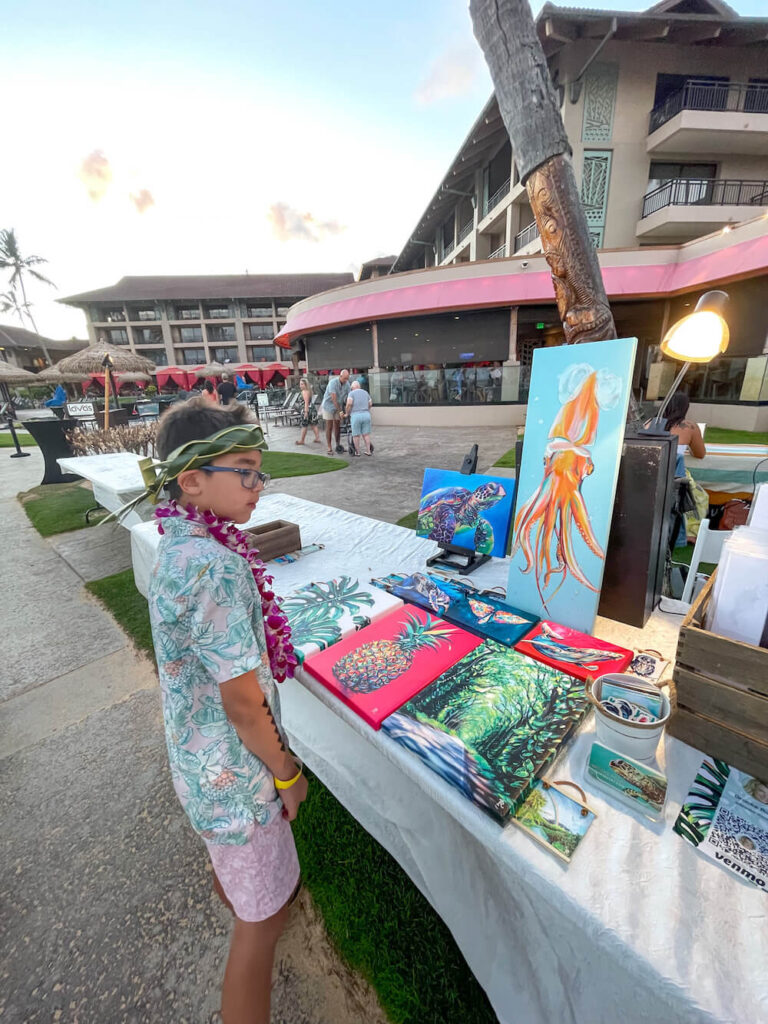 Some vendor booths were set up near the entrance that featured local artists, Aulii Luau merchandise, and fresh flower leis.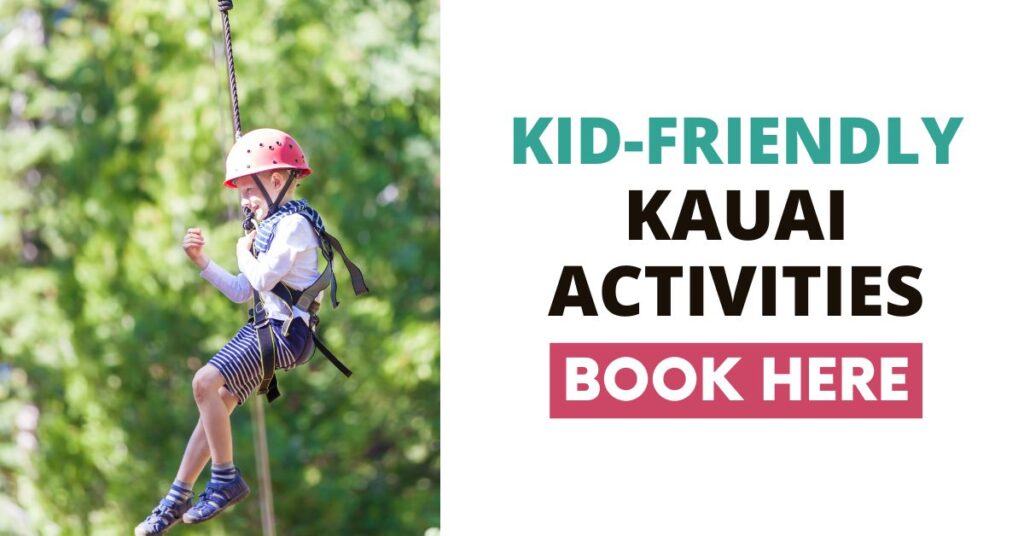 Aulii Luau Bar Options
Of course, one of the most popular pre-show activities was getting drinks!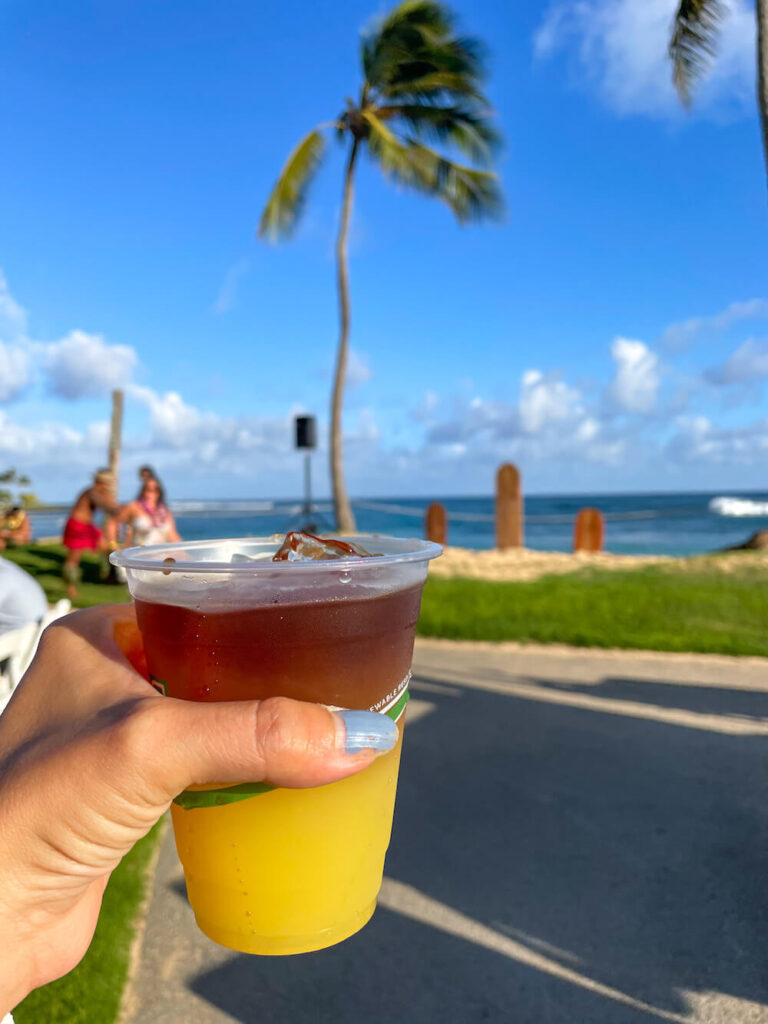 Guests must enter the hotel bar to get pre-made drinks (Mai Tais, Blue Hawaiians, etc). You'll have a wristband that shows you are part of the luau.
There is also a station with POG, water, hot tea, and coffee near the buffet tables.
Sheraton Kauai Luau Menu
Aulii Luau Appetizers
Since we had the Premier tickets, we had a plated appetizer waiting for us at our table.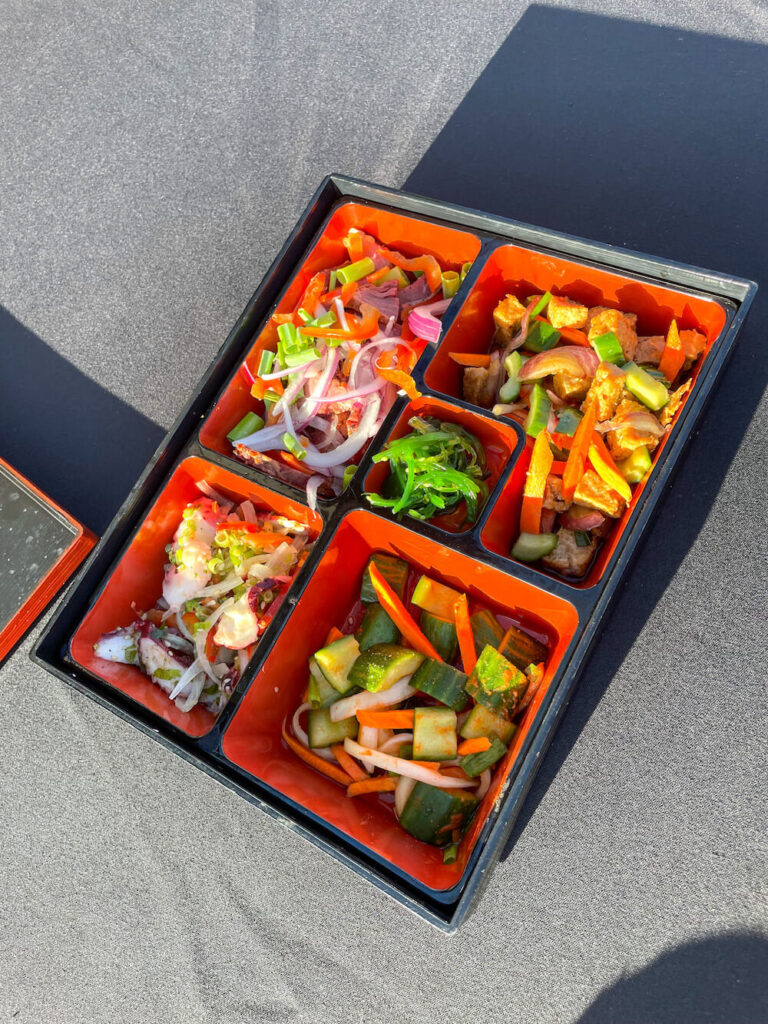 It was a bento box for two people to share, and it included: Ginger Tofu Salad, Hawaiian Chili Pepper Beef Pipi Kaula, Tako Poke, and Cucumber Kimchee.
People with standard tickets went to a small buffet table where they had Crispy Hawaii Potato Chips, Sesame Garlic Edamame, Hawaii Chili Pepper Beef Pipi Kaula, and Roasted Hawaiian Purple Potatoes.
We saw some tables with the plated appetizer go to the buffet line just to get potato chips for their kids.
Aulii Luau Entrees
Everyone at the Aulii Luau (including Premier ticket holders) head over to a big buffet table to get their dinner.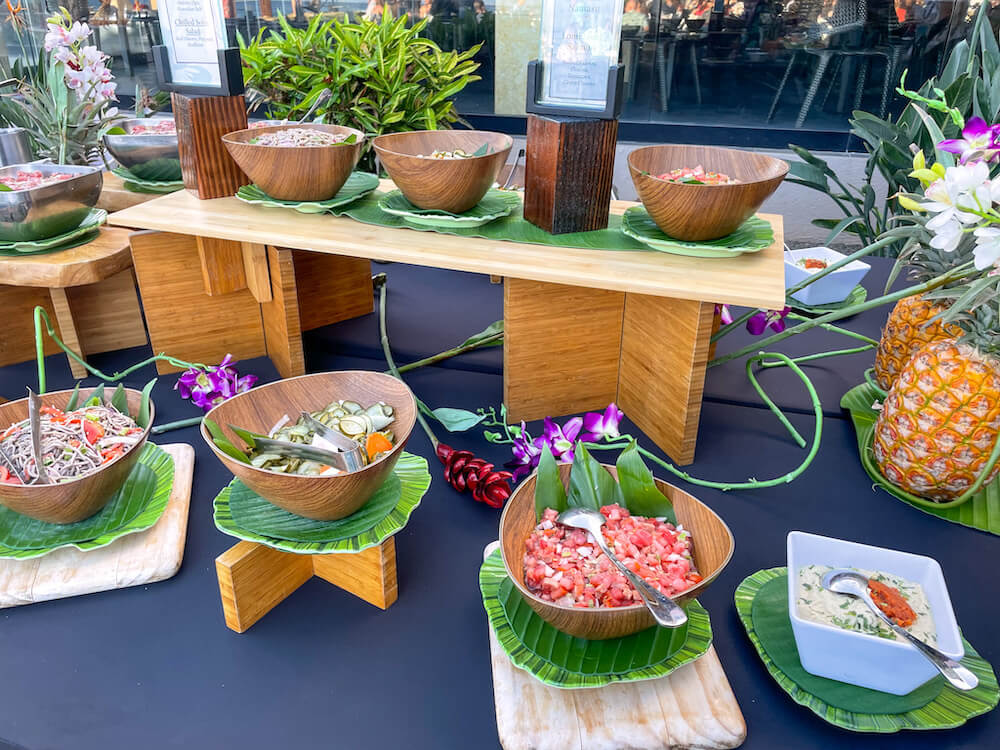 The first section includes unique foods that people probably want just a small portion to try. These items include: Kilauea Island Greens, Vegetable Crudite, Cucumber Salad, Local Style Potato Macaroni Salad, Ahi Ogo Poke, Soba Noodle Salad, Lomi Lomi Salmon, and Hanalei Poi.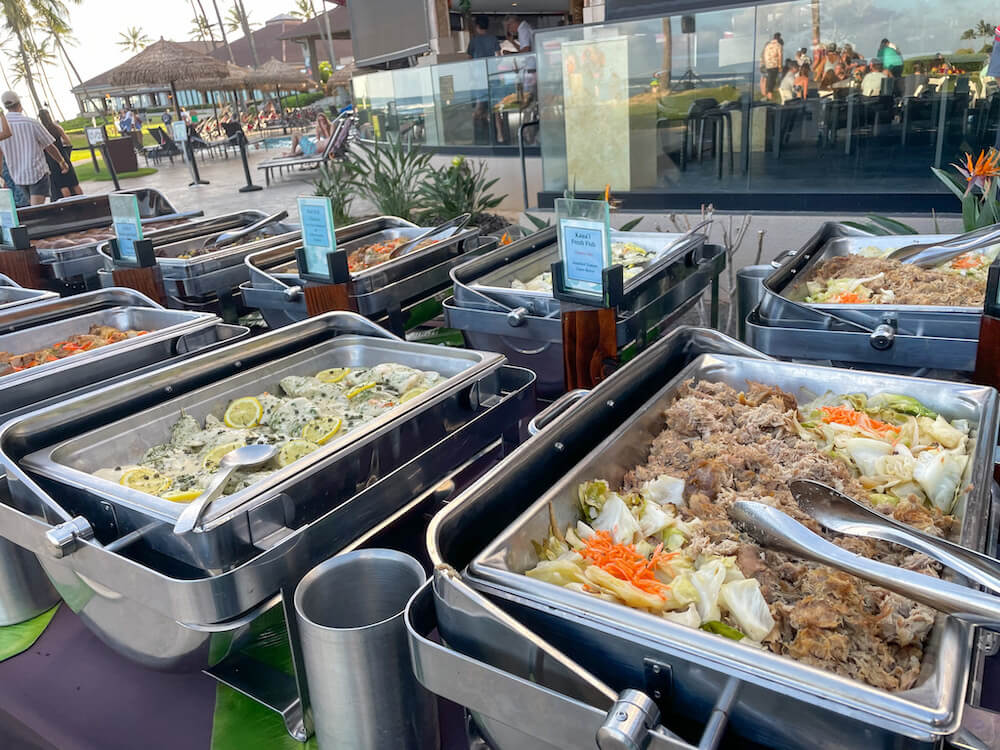 The main entrees include: Island Veggie Chow Mein Noodles, Kaua'i Fresh Fish, Kalua Pig & Cabbage, Grilled Marinated I'o (Beef), Huli Huli Moa (Rotisserie Chicken), Steamed Sticky White Rice, and Taro Rolls.
Dessert Options
We thought there was an incredible assortment of desserts at the dessert buffet table.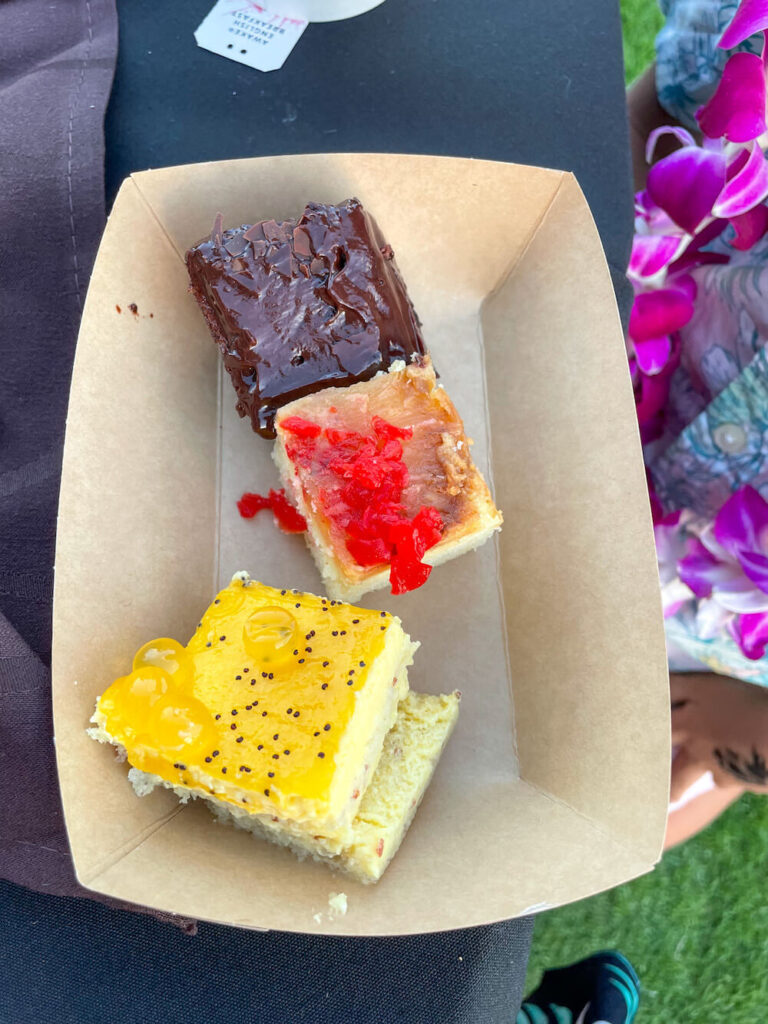 These items included Mango Cake, Coconut Cake, Pineapple Upside Down Cake, Chocolate Brownie, and Sliced Fresh Pineapple.
Pre-Show Entertainment
Throughout the arrival and dinner timeframes, there was some great entertainment.
The live music was fantastic and there was a mix of performances by dancers as well as information from the emcee.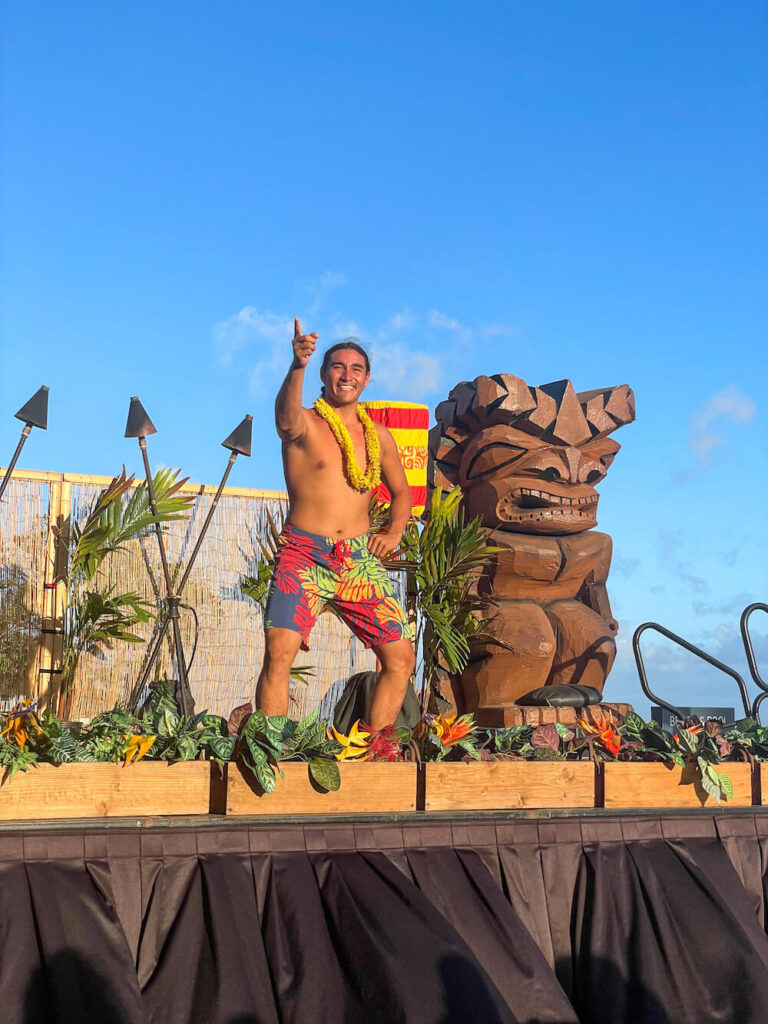 This is the part of the evening where they showcased the ancient Hula Kahiko style of dancing.
Several hula performances were fun to watch as we ate our food and got more drinks. There were solo numbers as well as a few cute hula couple dances.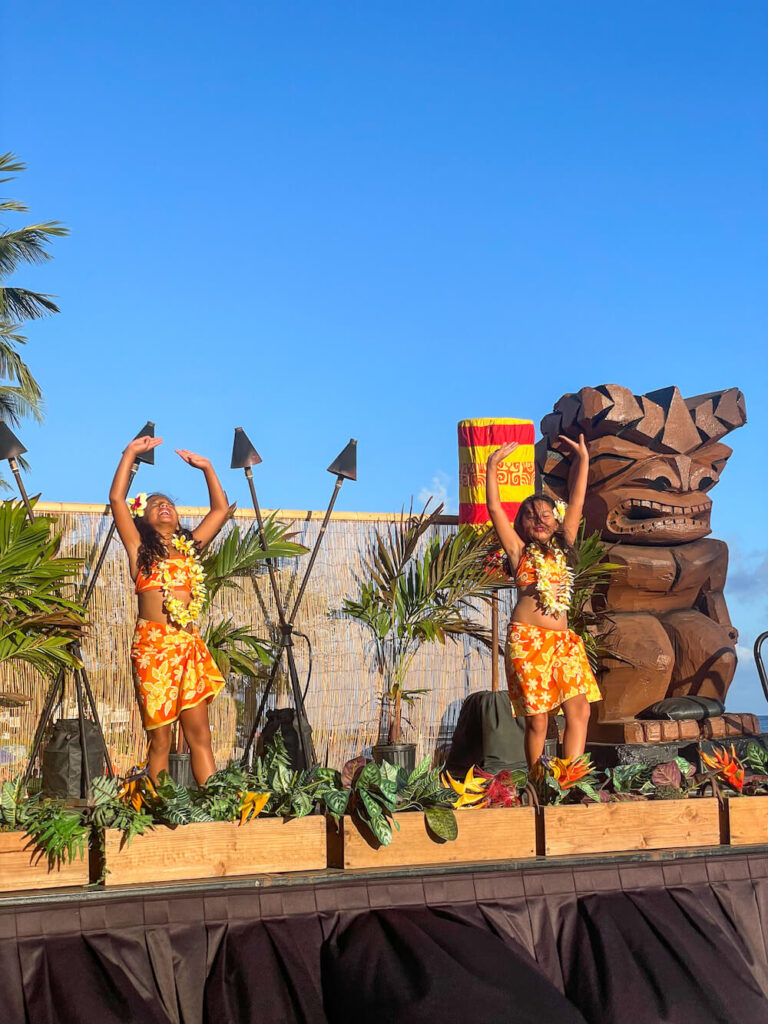 While the adults did a fantastic job, we thought the keiki hula girls stole the show. They were beyond adorable, and we rarely see kids performing at luaus. It was such a cool bonus!
Aulii Luau Show
First of all, I must say that the costumes at this luau on Kauai are probably the best ones I've seen at any luau in Hawaii. They are stunning and whoever designed them deserves a standing ovation!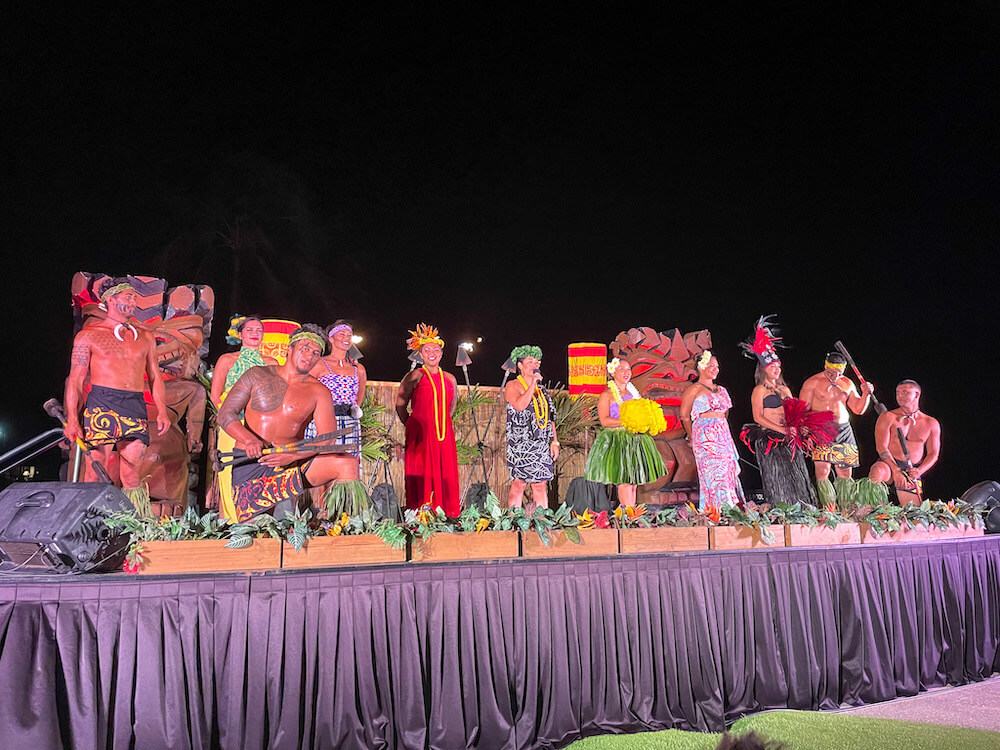 The show was mesmerizing and kept us engaged the whole time. Here's a breakdown of the show.
Tahitian Dancing
If you're looking for exciting hip action, the Aulii Luau has an excellent Tahitian section of their luau featuring both men and women.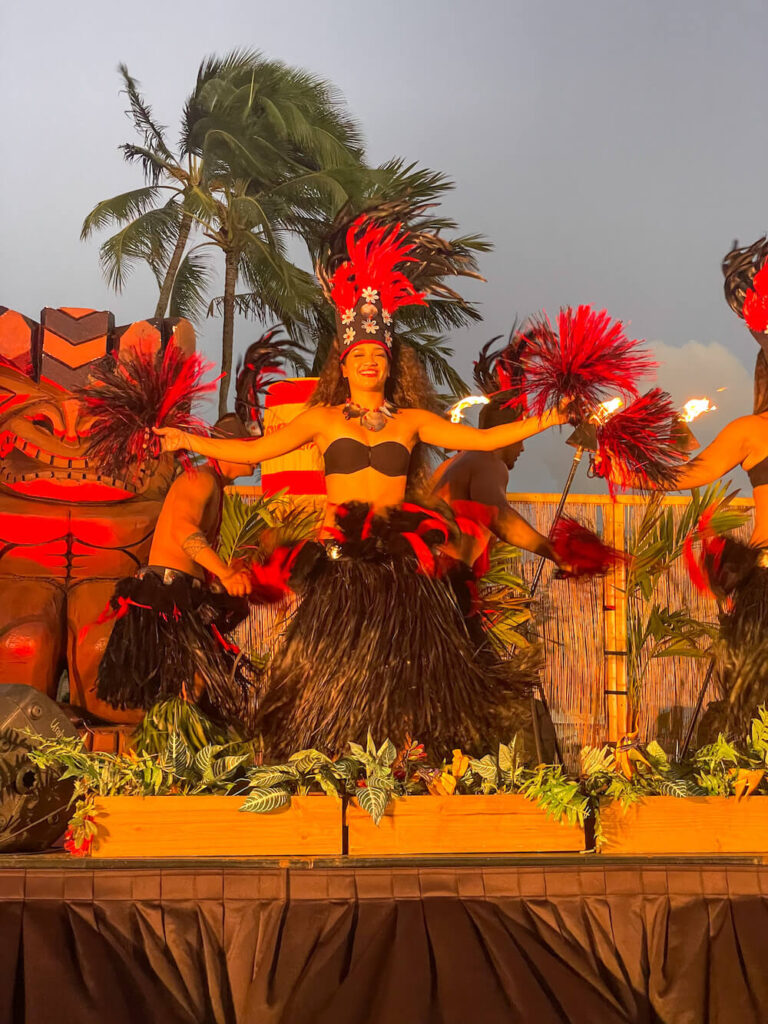 It was exciting and fast-paced, and the whole audience was having fun watching it.
The men even came on stage with fire in order to light the torches on stage, which was such a cool thing to see!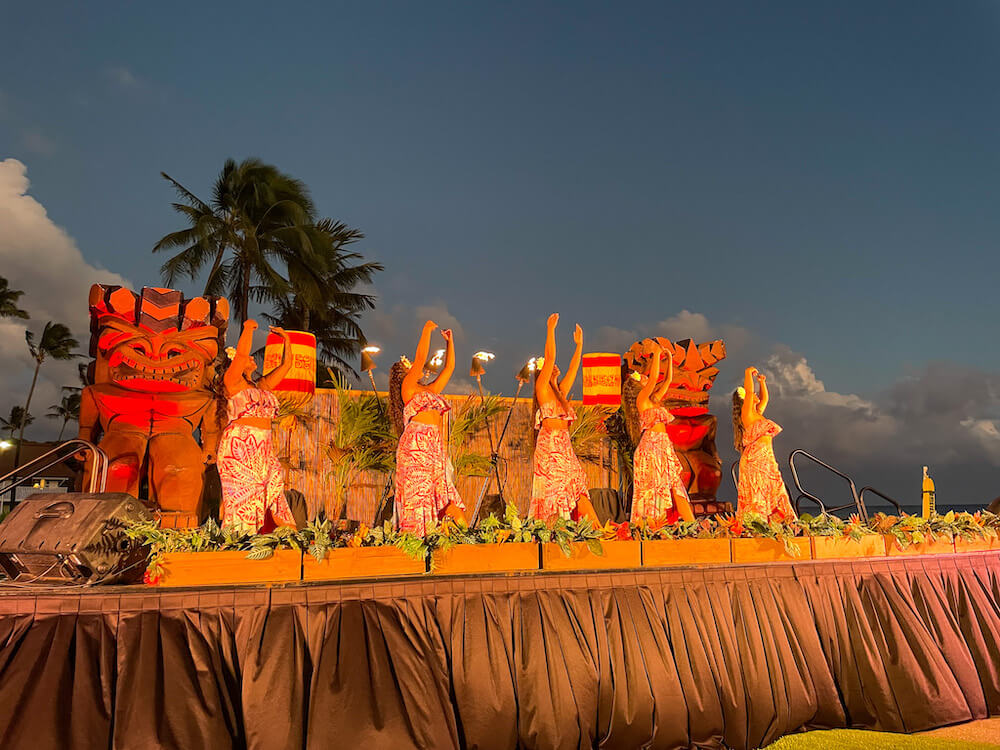 The Tahitian portion ended with an Aparima-style Tahitian dance that looks similar to hula. It made a nice transition into the Hawaiian section of the event.
Hula Dancing
The hula segment of this Kauai luau was really well done. There was a great mix of fun dancing from both men and women.
They did a lot with hula implements, which is always cool to see.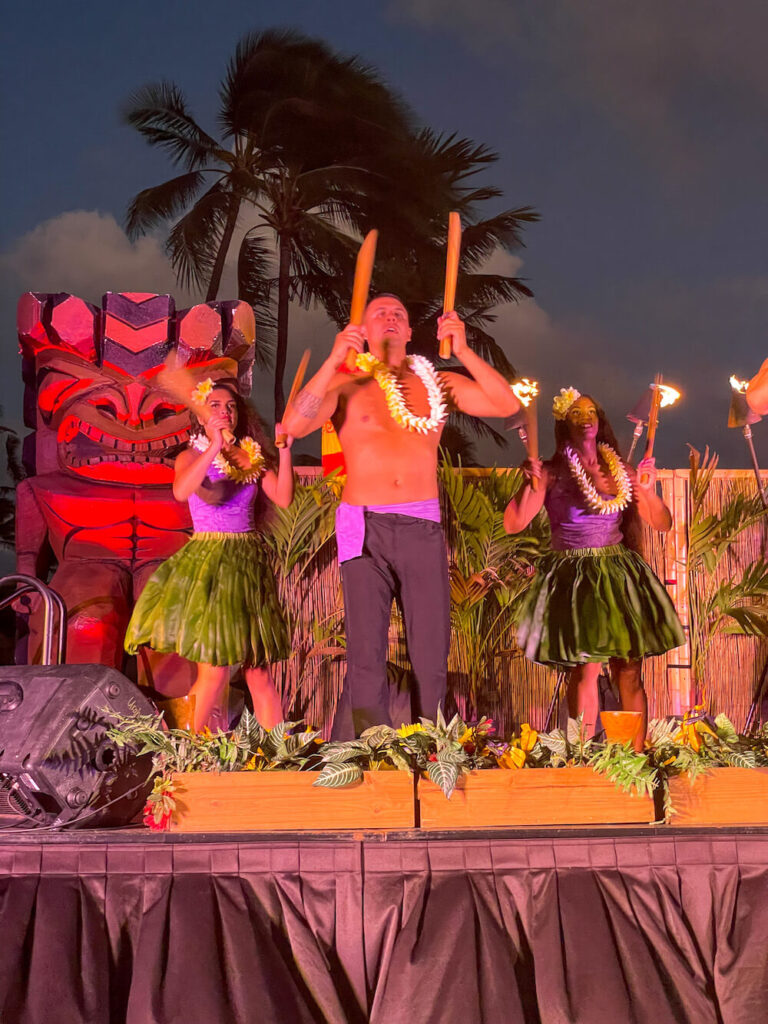 The ladies even came out and danced with fire! It was a beautiful hula dance about how people would throw torches from the cliff at Haena, and the longer it lingered in the air, the longer the love would be between two people.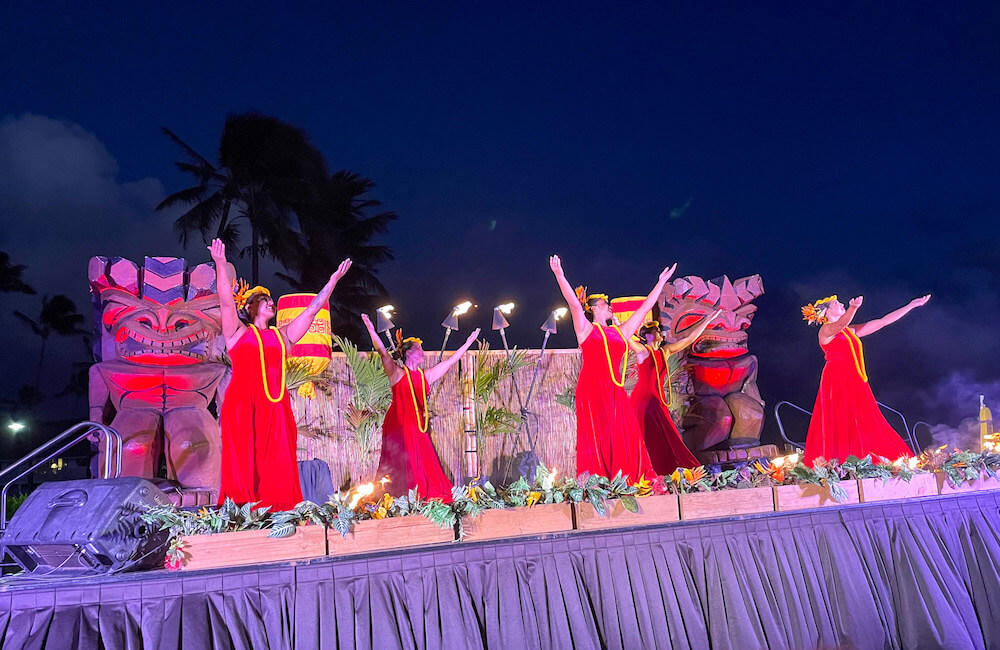 We truly enjoyed all the hula dancing during this Poipu luau. And it was nice to hear the stories in between so we knew what we saw.
Maori Dancing
Something unique about the Aulii Luau is that they had a Maori warrior come out and do a chant while walking around the stage with a spear.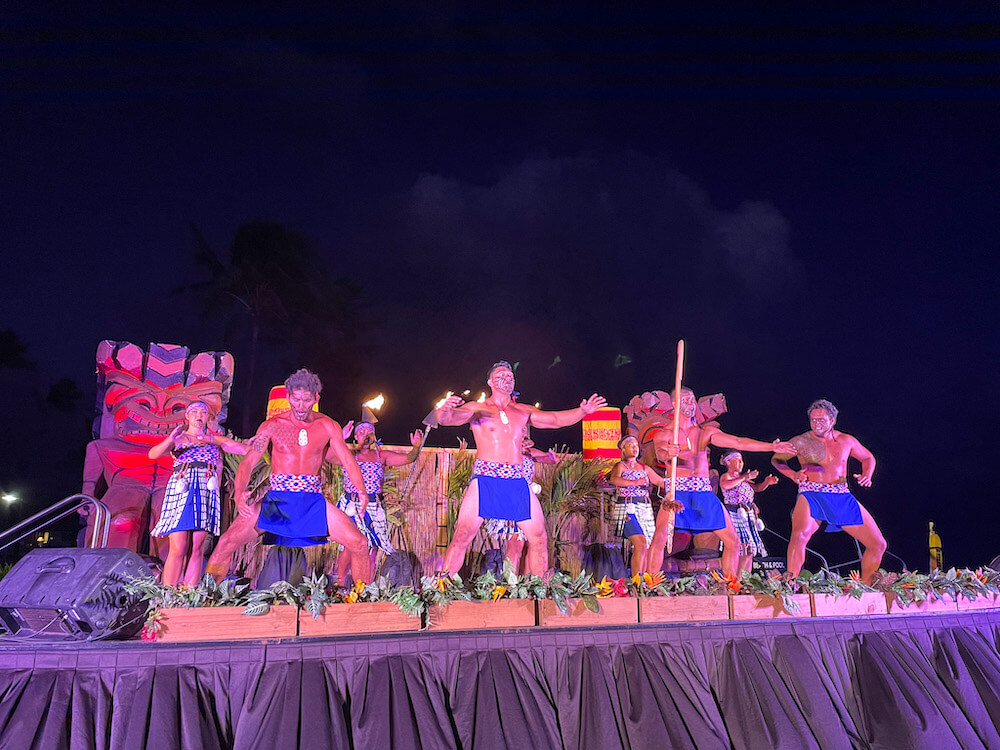 Then the ladies came out with their poi balls for some dances and the men did a traditional Haka dance.
It was all so energetic and we loved seeing all the facial expressions meant to scare off potential enemies in ancient times.
Samoan Dancing
I always appreciate it when luaus in Hawaii showcase Samoan dancing beyond the fire knife dancing.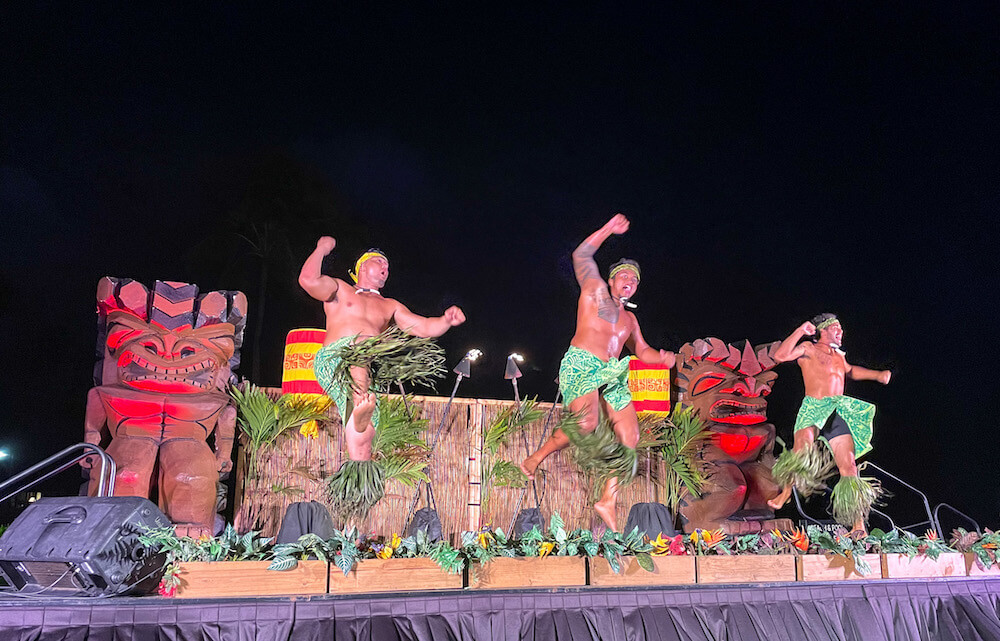 Aulii Luau does a fantastic job of showing a variety of Samoan dancing including the Sasa, which is a captivating clapping dance.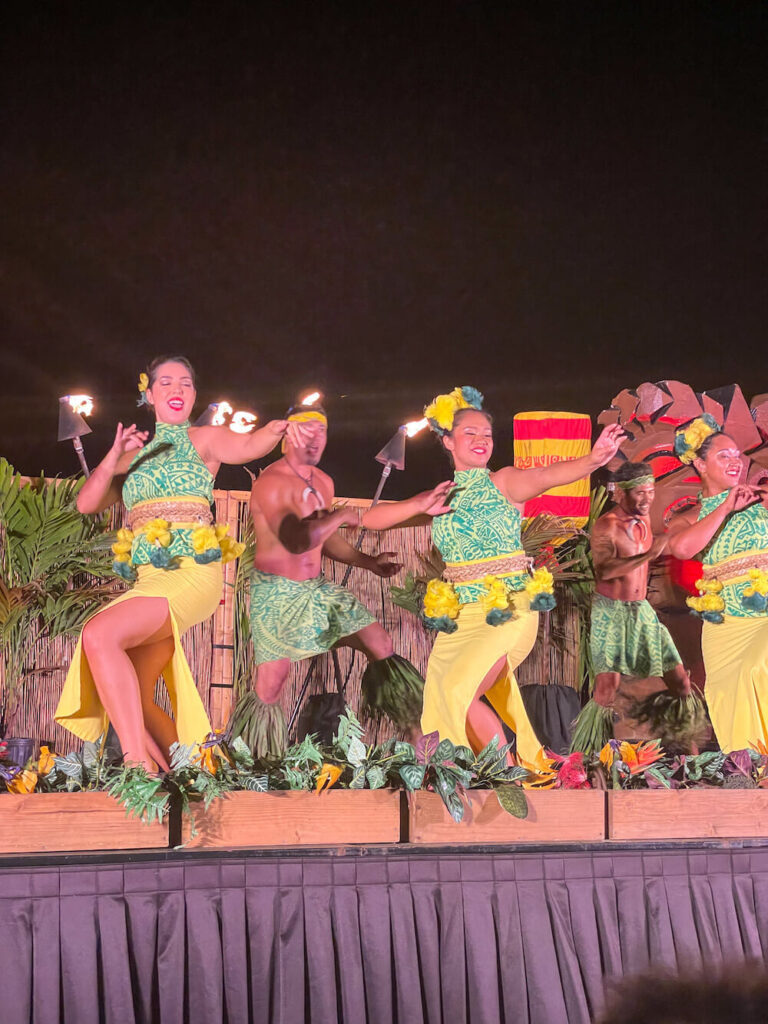 Of course, they also have a cool fire knife show featuring three chiefs! My photos were blurry so I ended up just enjoying it instead of worrying about the photos.
Photos with the Cast
We were really excited to have the opportunity to take photos with the cast. Many luaus stopped doing that during the pandemic and so we never know.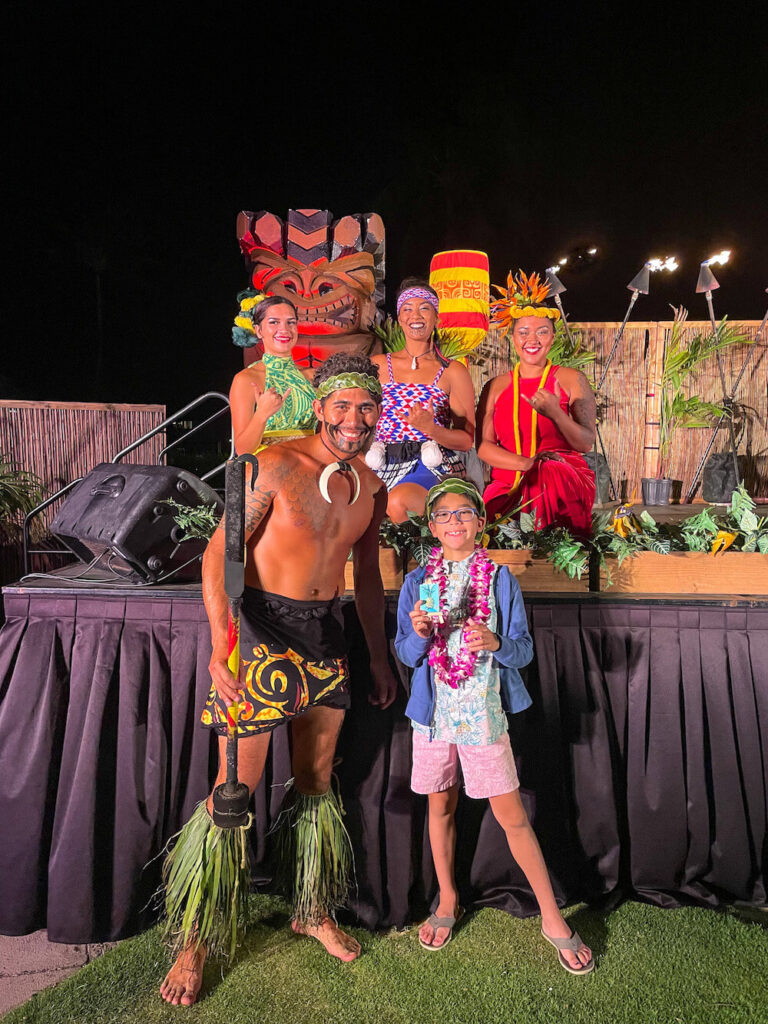 This was cool because they had two photo opportunities on the stage. Of course, we hit up both!
Luau Photo Purchases
The photos were $25/each or 5 for $100. We thought the photos were definitely worth the price since they were the quality of a mini-session with a photographer. And yes, she edited all the photos during the luau!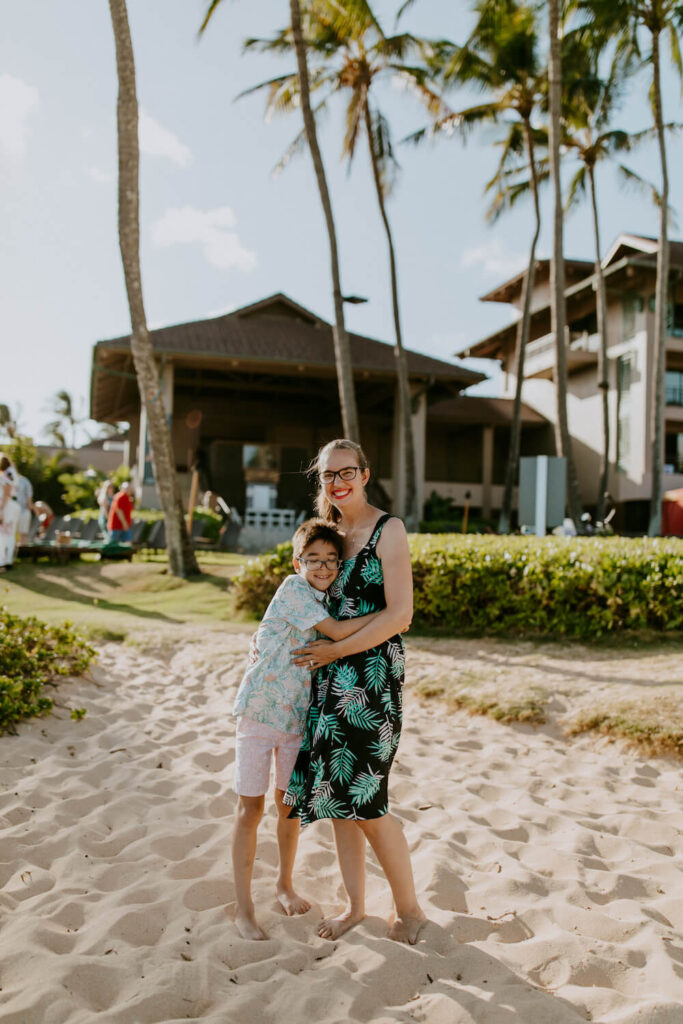 We appreciated having so many photos to choose from. And the lighting in Poipu during the evening is unsurpassed.
We were able to choose our photos and purchase them as we left the luau. They were emailed to us the next morning.
Premier vs Standard Seating
We decided to upgrade to premier tickets because we like to be close to the stage. This guaranteed us seats within the first four rows.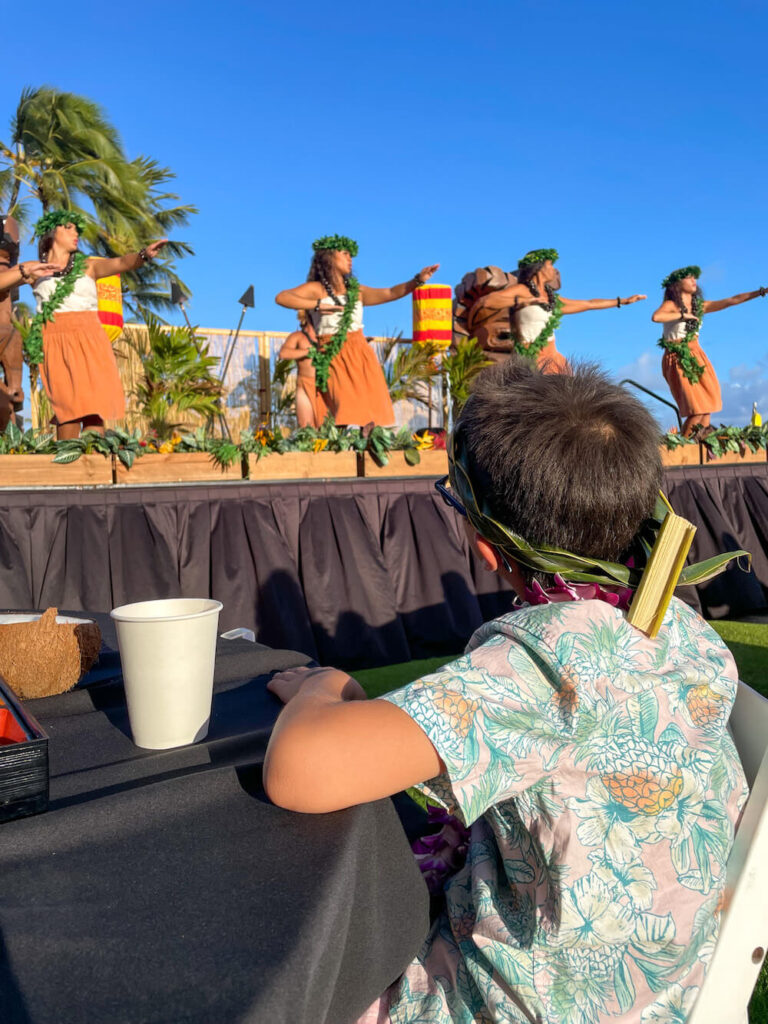 We ended up having front-row seats, sharing a table with a honeymooning couple.
The main perks (besides the killer view) included waiting in a shorter entrance line, getting a fresh flower lei or kukui nut lei instead of a shell lei, having a plated appetizer, and being first to the buffet.
I figured since we were already investing in luau tickets, we might as well splurge on the upgraded tickets to guarantee a better view. We're glad we made this decision. Check the latest prices and availability.
Why I Went to This Kauai Luau
While our family has been to luaus on the East Shore and North Shore, we hadn't done a luau in Poipu yet. Since I know a lot of families stay in Poipu, I figured we needed to check it out for "research" for this site.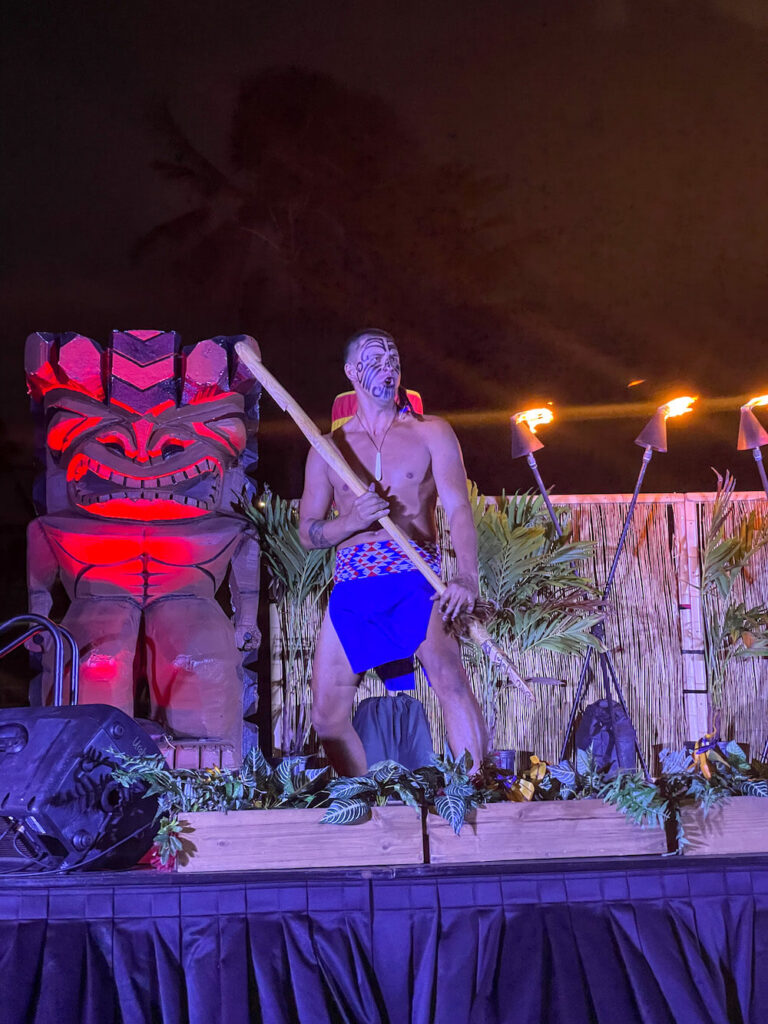 But, the Aulii Luau has been on my Kauai bucket list for the past few years and this was really my first opportunity to get it on our Kauai itinerary.
My main reason for picking this Kauai luau over other luaus on Kauai for this trip is that I thought the photos on the website and their Instagram page were really cute. The costumes looked gorgeous and all the performers looked genuinely happy.
Yes, sometimes you can judge a book by its cover 🙂
Is this Poipu Luau the Best Luau in Kauai Hawaii for Families?
We've done a lot of luaus on Kauai and I can confidently say that this is our new favorite Kauai luau. My 8-year-old proclaimed it the "best luau in Hawaii."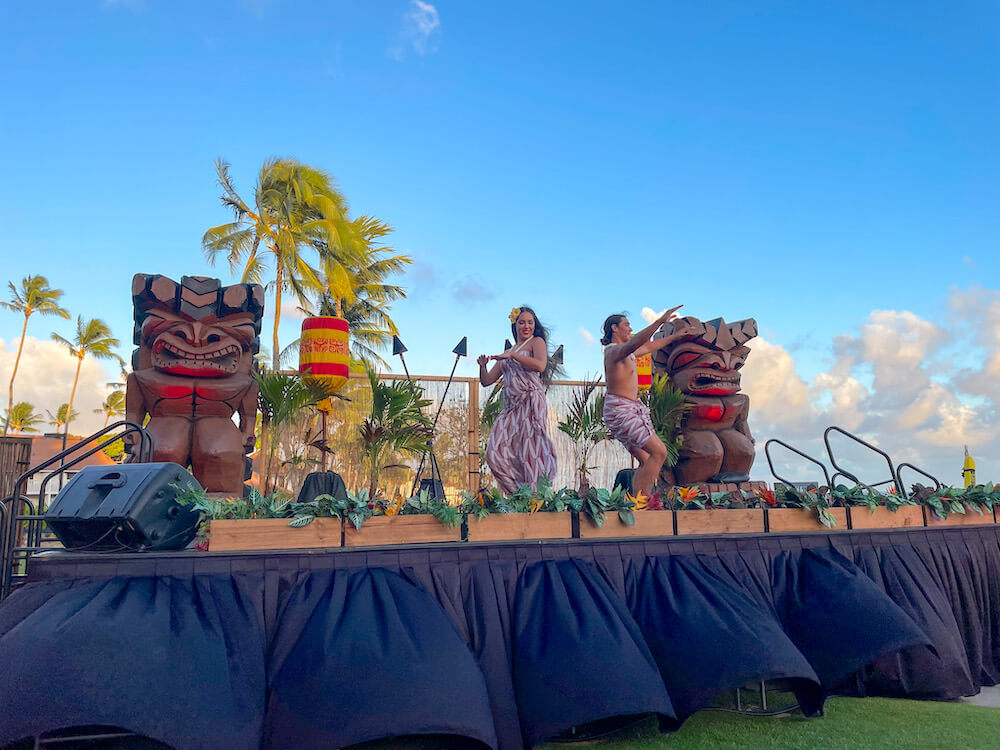 We were thoroughly impressed with everything. The professional photos in 3 locations was brilliant, the greeters were lovely, the drinks were fantastic, the food was tasty, and the entertainment was incredible.
Plus, it's conveniently located near several Poipu resorts. We were able to just walk from the Koloa Landing Resort.
How Does Aulii Luau Compare to Other Hawaii Luaus?
This definitely felt more "upscale" than any other Kauai luau we've attended. Nothing about it felt hokey or overtly touristy.
Even the luau buffet dinner was arranged beautifully with smaller serving dishes than the usual chaffing dishes.
I'd say it's similar to the Feast at Mokapu or the Feast at Lele on Maui in terms of how "nice" it is.
The Aulii Luau also felt more intimate than other Kauai luau shows. It's held on a grassy lawn, and it almost feels like you're at a wedding reception.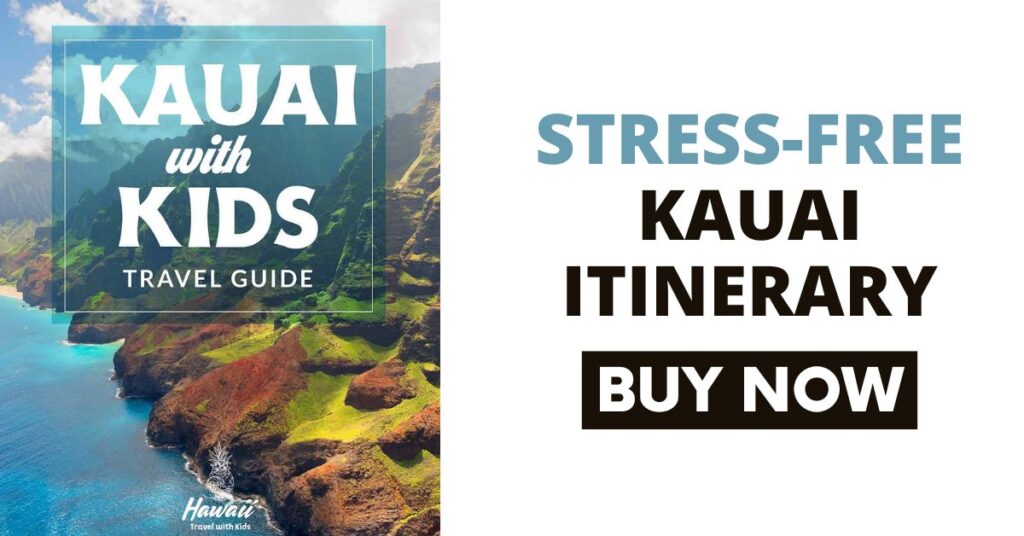 So, Would I Recommend the Sheraton Kauai Luau?
If you are staying in Poipu, I highly recommend getting tickets to this Kauai luau. In fact, I'd even suggest it for people staying anywhere on the island's East, South, or West sides. It's worth the drive.
We were impressed with the quality of the show, the assortment of food options, and all the pre-show experiences.
This definitely felt like money well-spent.