Are you looking for the best luaus on Maui that offer something unique? Keep scrolling for this honest review of the Feast at Mokapu Andaz Maui Luau.
This Maui luau review of the Feast at Mokapu was written by Hawaii travel expert Marcie Cheung and contains affiliate links which means if you purchase something from one of my affiliate links, I may earn a small commission that goes back into maintaining this blog.
Planning a trip to Maui with the family?
If you're looking for an amazing and unique luau experience on your trip to Maui, then look no further than The Feast at Mokapu. This luau is held at the Andaz Maui resort in Wailea and it definitely does not disappoint!
Our honest review of The Feast at Mokapu will help you decide if this is the right luau for your family. We'll give you all the details you need to know before making your reservation, including what to expect from the food, entertainment, and atmosphere.
We want you to have the best time possible on your vacation, so we're giving you all the information you need to make an informed decision about this Maui luau.
Keep scrolling to read our full review of The Feast at Mokapu and then make your decision about whether or not to attend!
Want to skip all the planning and just access my detailed Maui Itinerary complete with daily schedules, kid-friendly activities, and travel hacks? Click the button below.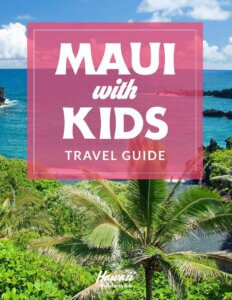 Maui Luau FAQs
How much does a luau cost in Maui?
The prices usually range from $125-$250 per adult. Children's tickets are often slightly cheaper and some luaus are free for babies and toddlers. Most Hawaiian luaus on Maui are about $150/ticket except for higher-end events like at the Andaz Maui Resort and the Grand Wailea Resort.
Is a Maui luau worth it?
If you're going to see a luau in Hawaii, Maui has some great options! It's a fun kid-friendly thing to do on Maui at night that is sure to entertain and delight everyone in your group. They can be expensive, so choose one that is the right fit for your family.
How do I get a free luau in Maui Hawaii?
There aren't any free luaus, but you can catch a free hula show on Maui. These are usually hula students who perform at shopping centers and these are a lot of fun for kids. A few places to find free hula shows on Maui include the Queen Ka'ahumanu Center, Whaler's Village, and sometimes at hotels/resorts.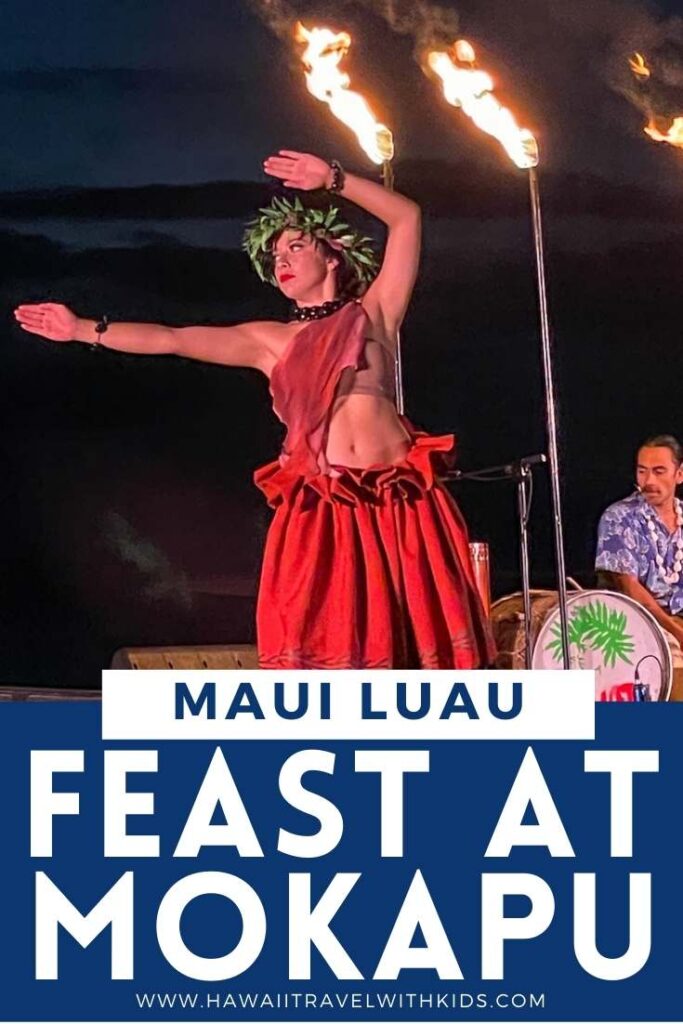 What is a Hawaiian Luau and What Can You Expect at One?
A luau is a community gathering that consists of Hawaiian food and entertainment. A commercial luau in Hawaii will typically have a bar, live Hawaiian music, either a buffet or plated dinner, and hula dancing (or other Polynesian dancing).
If you are attending a luau, expect it to last about 2.5-3 hours. Most of the time the drinks are complimentary (or they will give you drink tickets). There are often souvenir photos, as well. I've got a whole post about what to expect at a Hawaiian luau including Maui luau prices.
There are NO free luaus in Hawaii. You can see free hula shows at shopping centers, but that is NOT a luau.
Where is the Feast at Mokapu on Maui?
The Feast at Mokapu is located at the Andaz Maui resort in Wailea on the South Shore of Maui.
The address is 3550 Wailea Alanui Dr, Wailea, HI 96753. It's just 5-10 minutes South of Kihei.
What to Expect at the Feast at Mokapu Luau
The doors open for this Wailea luau at 5:30 p.m. and the luau ends at 8:00 p.m.
Arrival
If you are driving to the Feast at Mokapu, you can take advantage of their complimentary valet parking.
From there, you'll walk through the lobby and down a bunch of stairs and ramps to the left until you get to the ground level. Then, you'll walk on the path on the left to get to the luau check in table.
Once you give them your name, you'll be handed a complimentary beverage and be escorted to your table. At your table, there are cute green shell leis as well as a plate of rolls in case you are starving.
Seating Arrangement
So, most luaus in Maui have long luau tables where they sort of cram everyone (whether or not you know the people).
The Andaz Maui luau is all about private seating. Each party gets their own table, even if it's just two people. And there is plenty of space in between.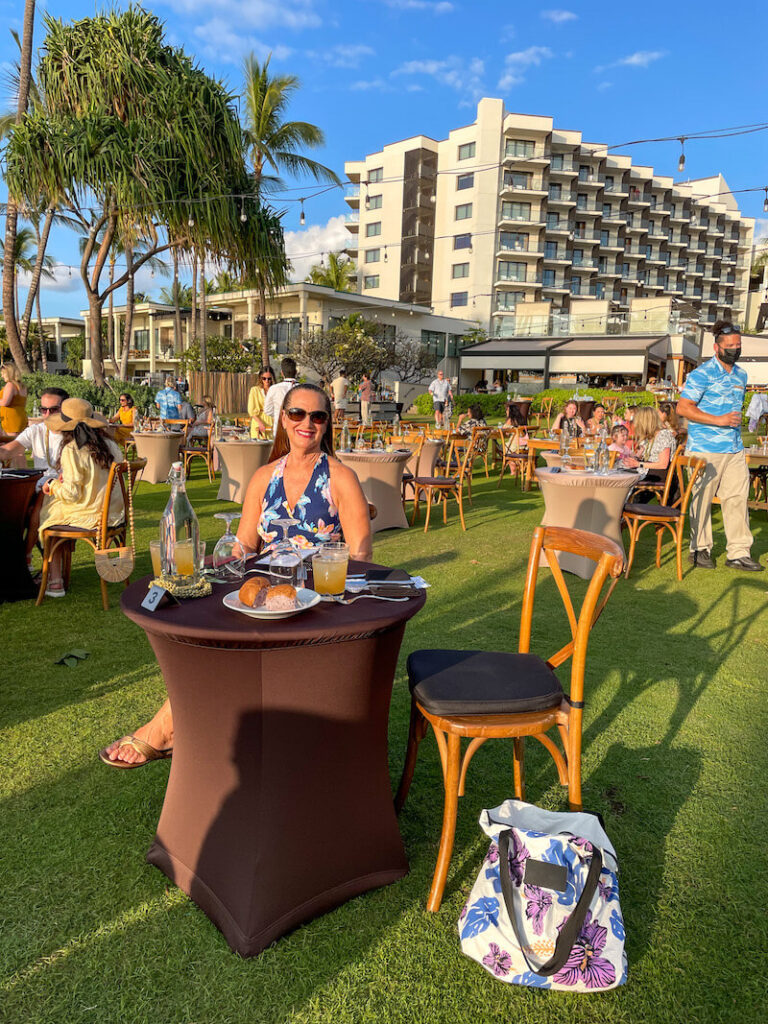 Having a private table makes the entire experience feel super luxurious and worth the extra money.
Pre-Show Activities
When we were there in March 2022, there were very limited activities. The main activity was getting sunset photos.
There was a great photographer there and she did mini photoshoots with everyone (especially for couples and families with kids). I went with my mom and we got 6 photos, but I saw other people get more.
The photos are available online and it's super easy to download them. Oh and they are complimentary!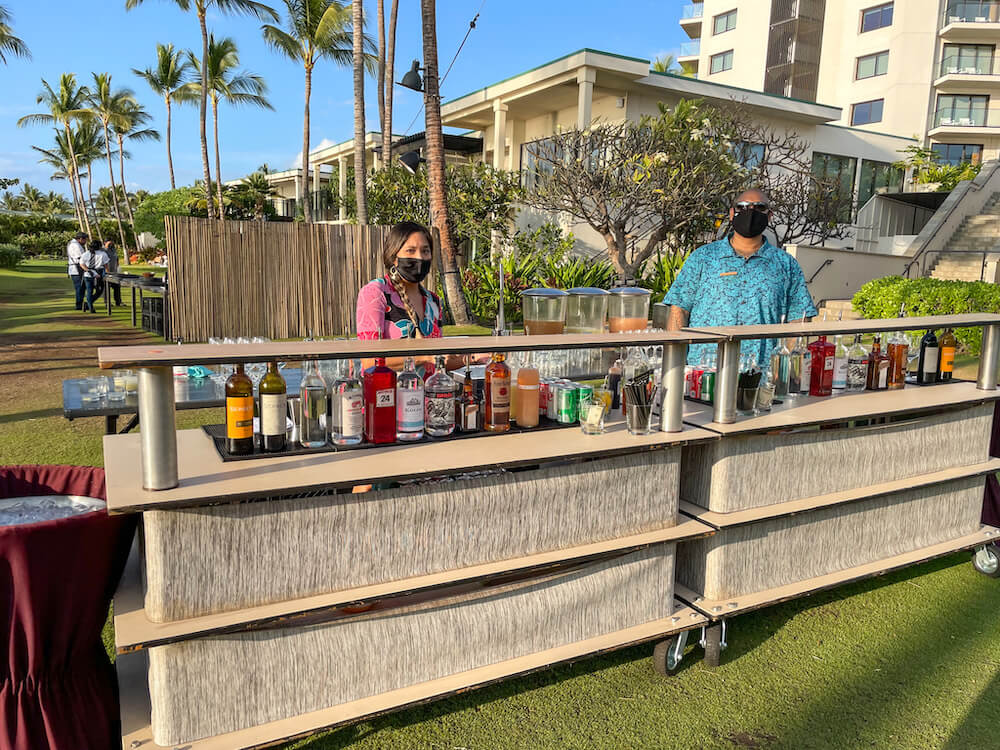 The other "activity" is enjoying the hosted bar! There were a lot of tasty drink options (and they had nice mocktails, too)! I geeked out that they had Koloa Rum (from Kauai).
Andaz Luau Menu
The food at the Feast at Mokapu was AMAZING! I'm actually still dreaming about that first course and wish I could taste it again right now 🙂
I'll quickly mention that there was a group prayer before the meal was served.
First Course
I love that this course has a little bit of so many delicious flavors. The poke was smooth like butter, the poi was thick (in a good way), and the beef "poke" was more like pastrami. I also really enjoyed the mushroom salad because it tasted fresh and the mushrooms complimented it very nicely.
But the standout was the grilled 'ulu salad. Ulu is breadfruit, which is the main starch in Polynesia. If they sold this at a deli, I would buy it weekly. It's the best preparation of breadfruit I've ever had.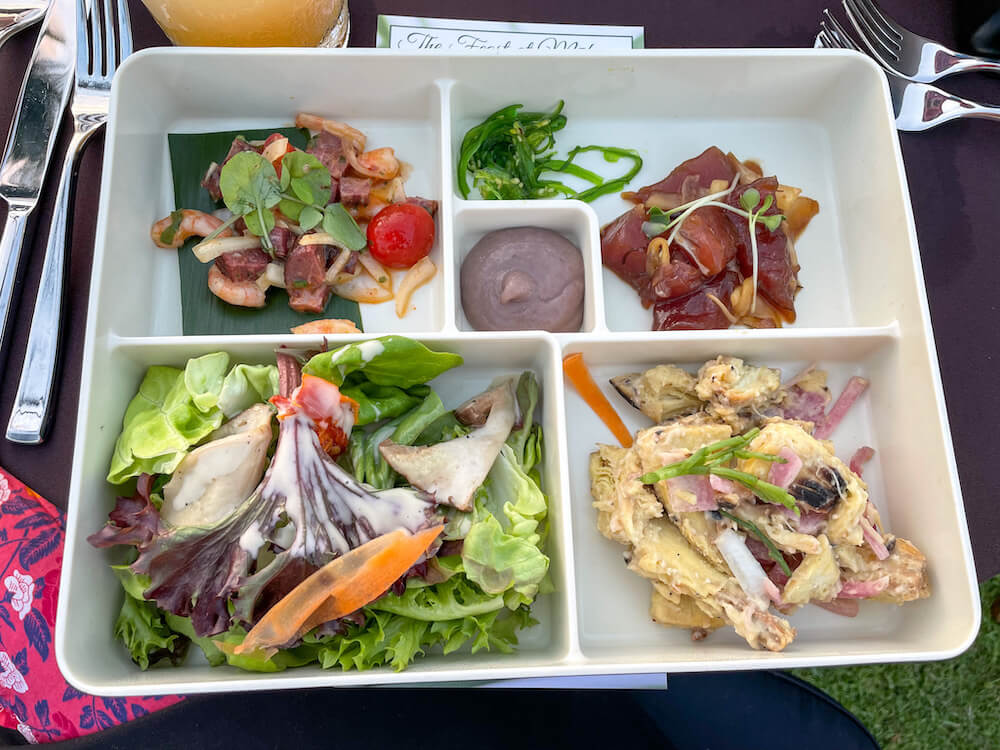 'Ahi Poke (Raw tuna, ogo + alae salt)
Pa'i 'Ai (Traditional poi from Waikapu)
Shrimp & Cured Beef Poke (Cooked shrimp, beef cubes, Maui onion, Ha'iku tomatoes, watercress, + chiso-ginger dressing)
Hamakua Mushroom Salad (Waipoli mixed greens, locally grown mushrooms, with a sugarcane vinaigrette)
Grilled 'Ulu Salad (Grilled breadfruit, macadamia nut dressing, pickled onion, + sea asparagus)
Main Course
While the main course was tasty, it wasn't quite as flavorful as the first course. There are 4 different meat entrees (chicken, pork, beef, and fish) and each one is very distinct.
I actually thought the Moloka'i Sweet Potatoes were the standout for this course. They tasted like they had been steamed with coconut milk or something and the texture was fantastic.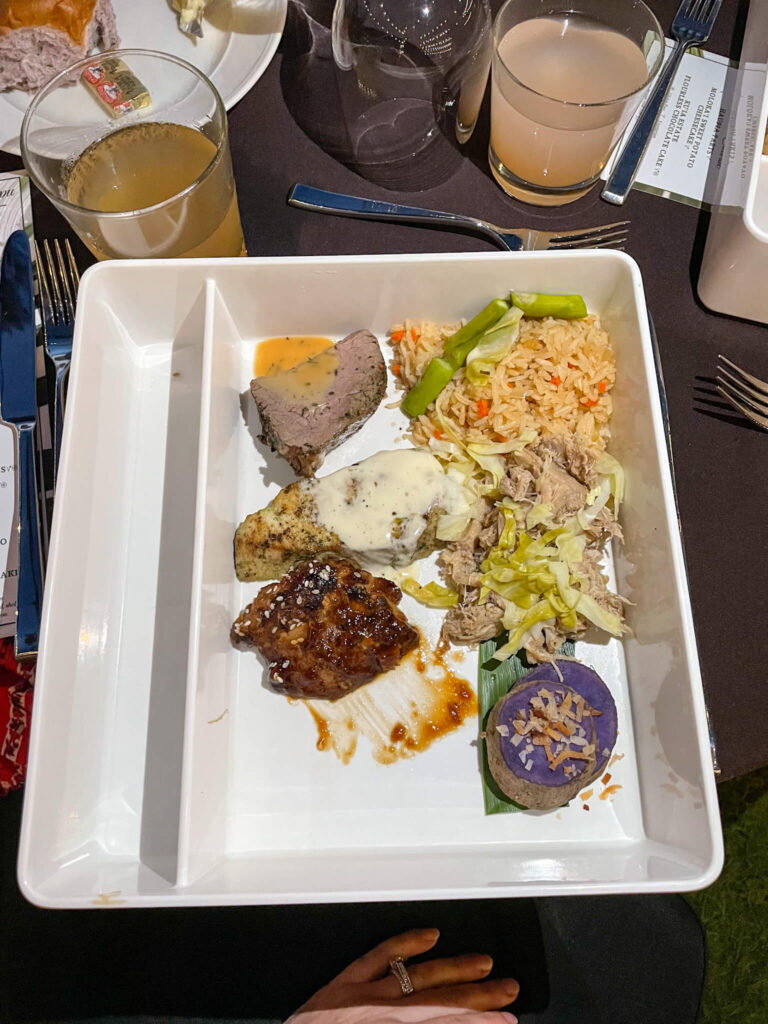 Huli Huli Chicken (grilled chicken with a pineapple teriyaki glaze)
Pua'a Kalua (smoked pork with Hawaiian salt)
Pulehu Ribeye (steak with Mokoka'i sea salt)
Local Caught Fish (Hawaiian fish with a seasonal preparation)
Moloka'i Sweet Potatoes (purples potatoes)
Edamame Fried Rice
Dessert Course
And the dessert course didn't disappoint. It was a trio of three mini desserts and it was perfect. The haupia tarts were light, the Moloka'i sweet potato cheesecake was packed with flavor, and the flourless chocolate cake was just the right amount of sweetness.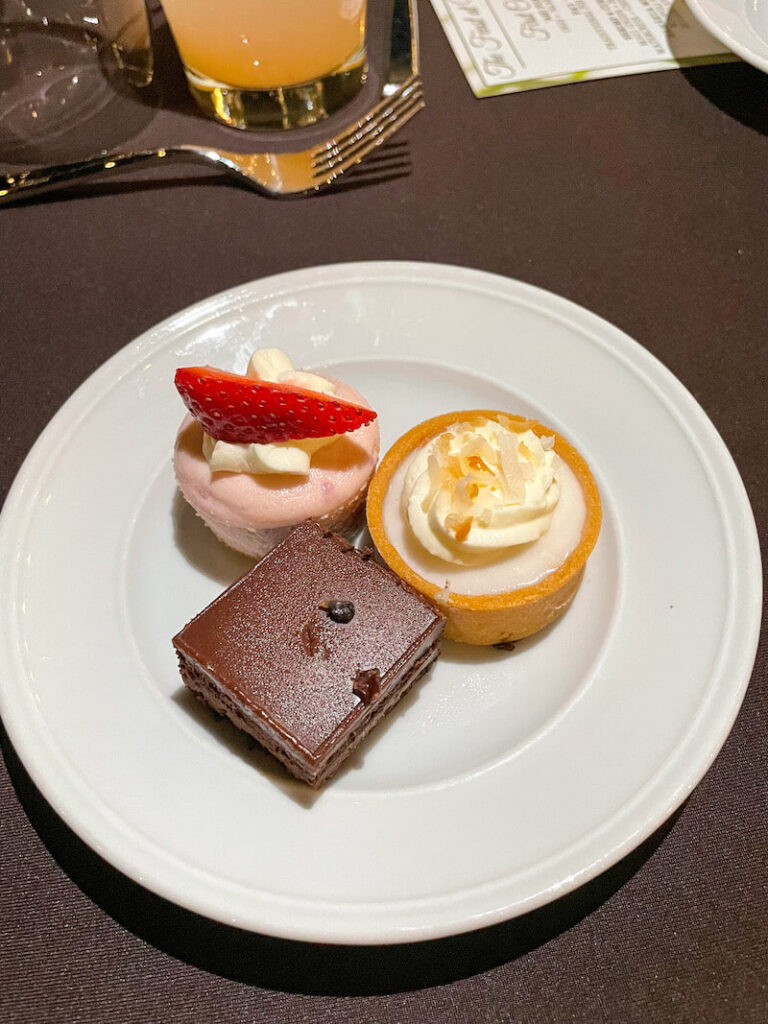 Haupia Tarts
Moloka'i Sweet Potato Cheesecake
Ku'ia Estate Flourless Chocolate Cake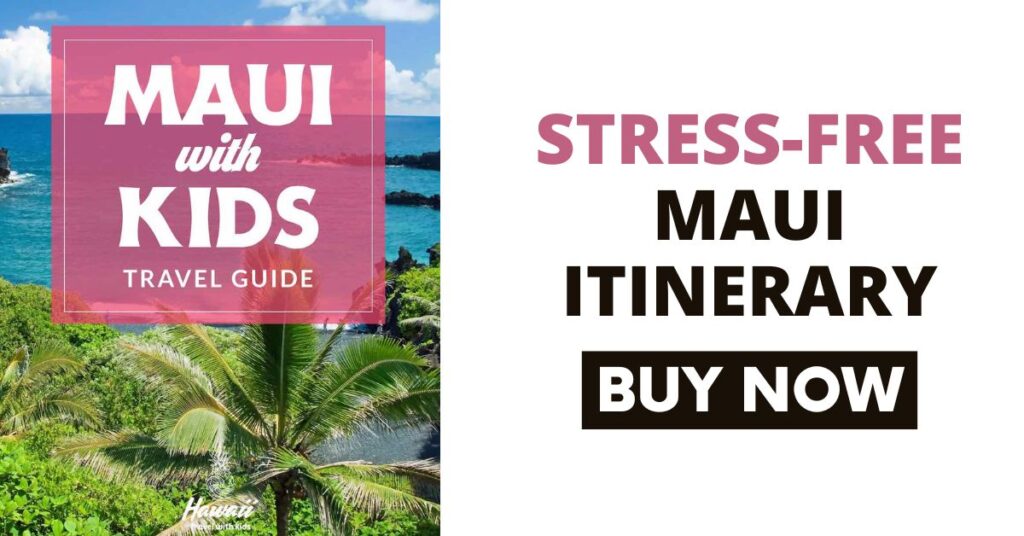 Maui Luau Entertainment
Music
The evening started off with really good live Hawaiian music. Having been around Hawaiian music for most of my life, I was especially excited to hear Menehune Beach Bum Boogie!
Cultural Demonstrations
There were also some awesome demonstrations involving Polynesian cultures. They showed us how ancient Polynesians fished in the ocean with different techniques. We also saw how they do traditional Hawaiian tattoos (which was like what they showed in Disney's Moana).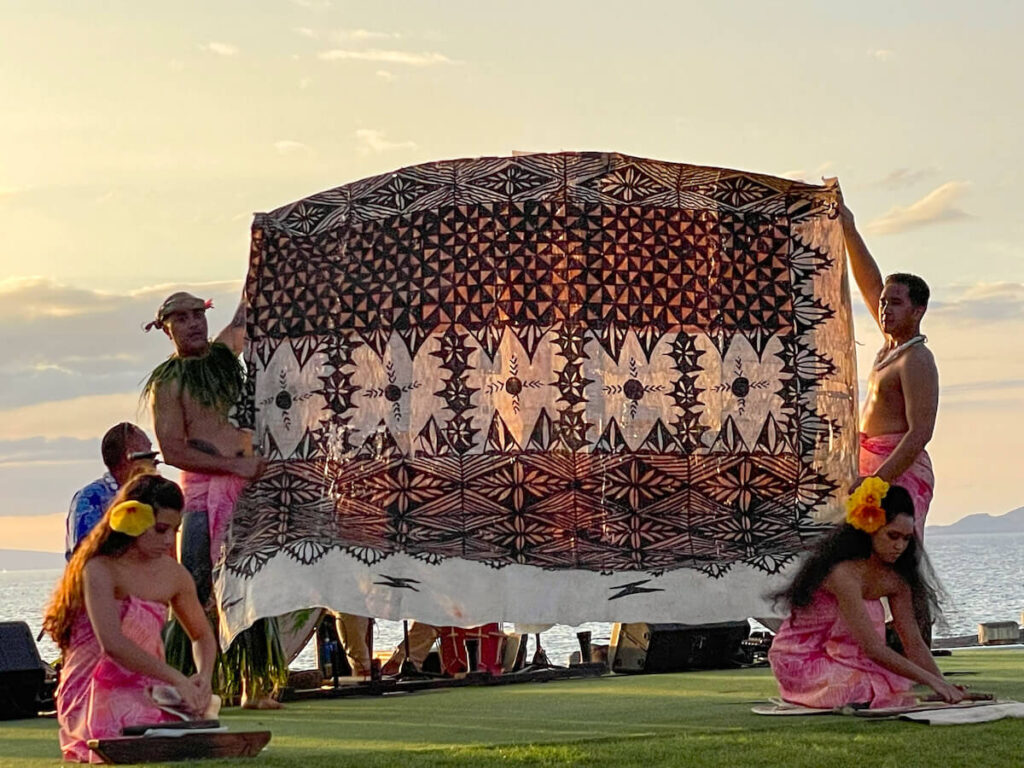 They also showed us how the women used to beat bark until it formed kapa (Hawaiian barkcloth). I've only seen a luau showcase kapa cloth at the Disney Aulani luau before, so this was extra cool!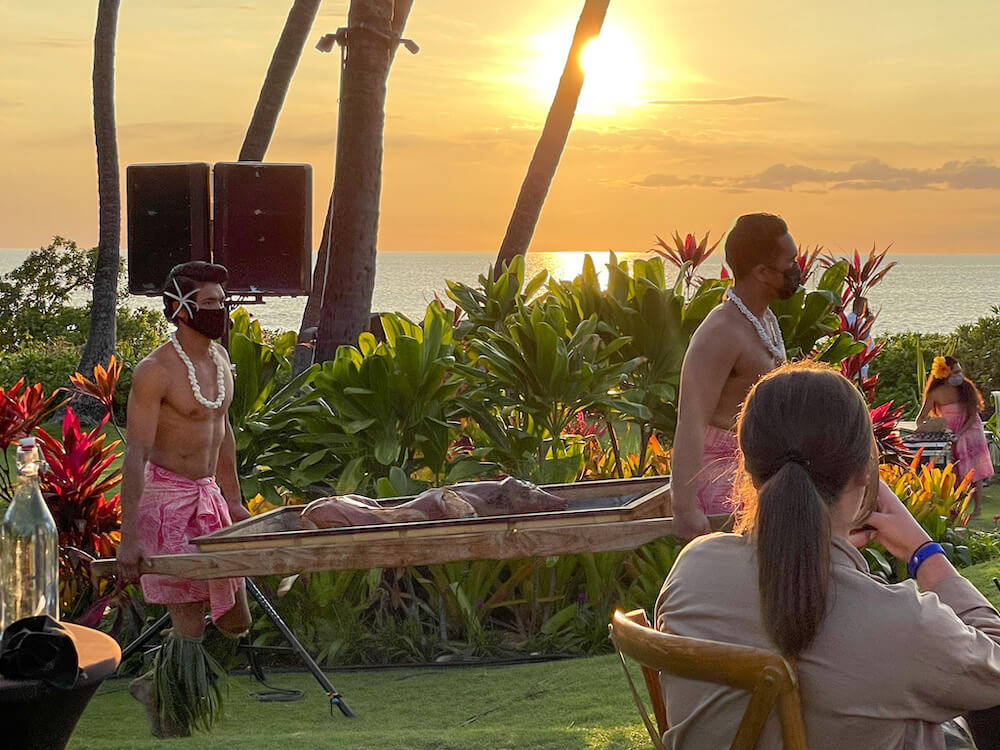 And they presented a roasted pig. You'll see this at a lot of luaus in Hawaii. Sometimes they do a full imu ceremony where they uncover it from the underground pit. At the Feast at Mokapu, they just brought it out on the large tray.
Polynesian Dancing
The broke the dancing up into different sections in between the dinner courses. That way, there was a bit of a break in between for servers to come clear plates or bring new ones without disrupting the show.
Tahitian Entertainment
Since the Tahitians were some of the first people to discover Hawaii, most luaus start with Tahitian dancing. The Feast at Mokapu had both men and women perform several Tahitian dances.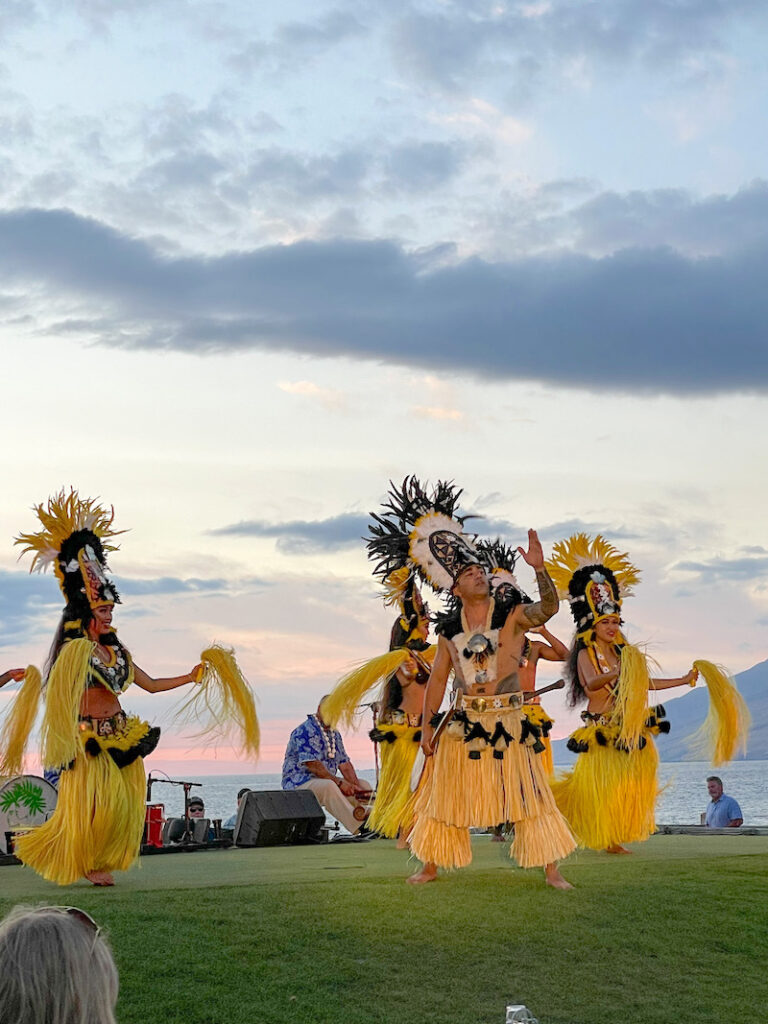 They did a fabulous job with the Tahitian section! They did 3 different dances with fun costumes and each one had a cool story that went along with it.
Hawaiian Entertainment
After the main courses were set, they started the Hawaiian section. This included the ancient style (hula kahiko) as well as the modern style (hula auana).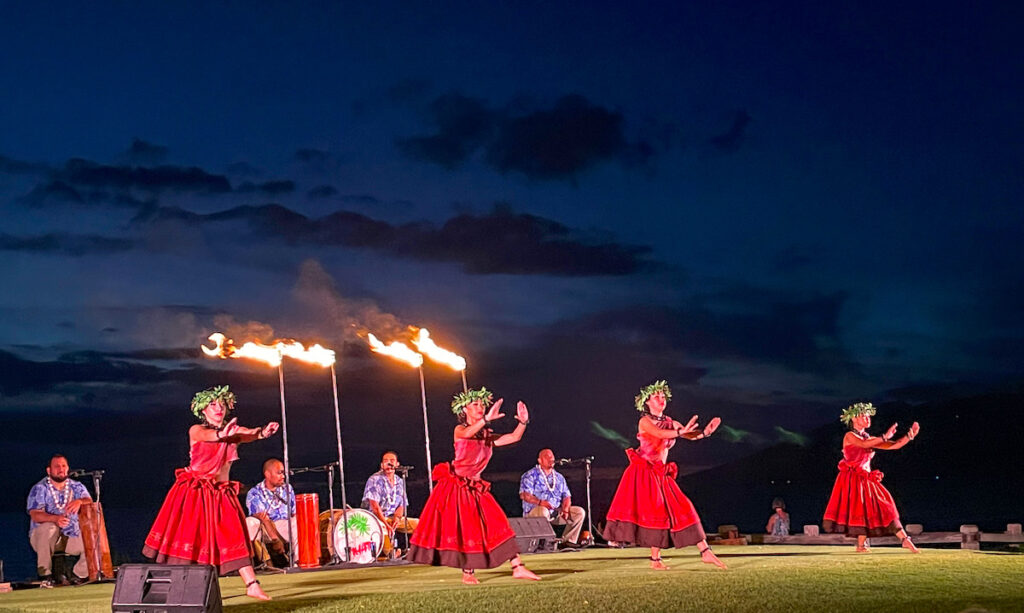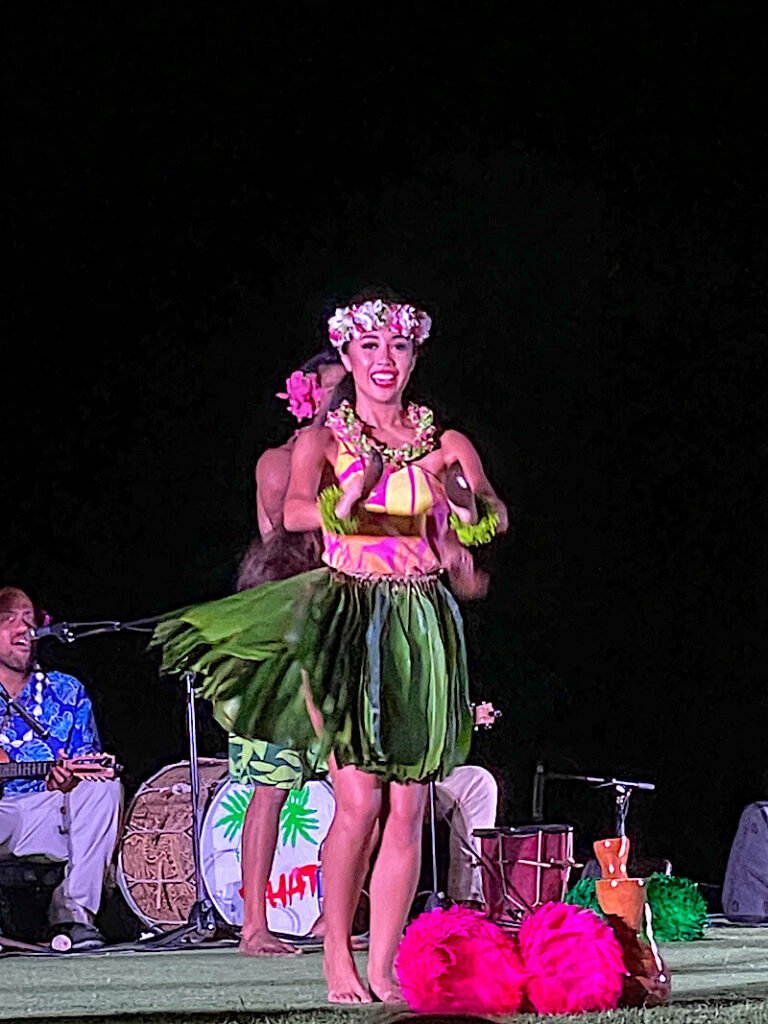 They even did a dance using hula implements (instruments used while dancing). It's one of the few times that I've seen people dancing with coconut shells.
Samoan Fire Knife
The grand finale was Samoan Fire Knife dancing. This is always a fun way to end a luau in Hawaii. He started with one knife and ended with two.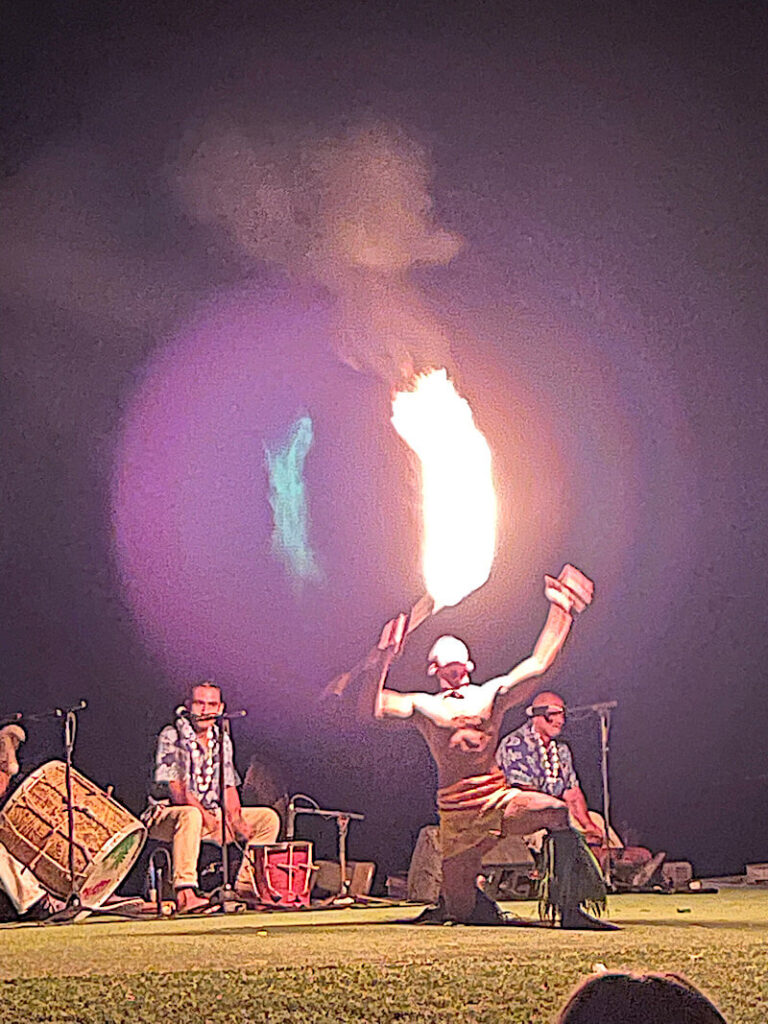 Wailea Luau Farewell
The luau ended after 2.5 hours and it felt like the right amount of time. We thanked the wait staff and then headed back up to get our car from valet and headed back to our hotel.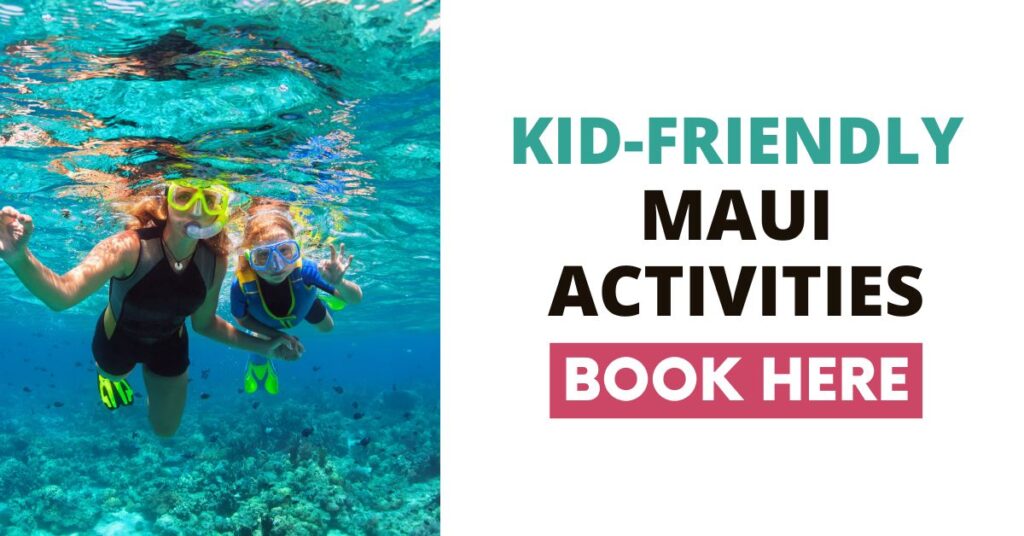 Why I Went to This Maui Luau
I'm always on the lookout for luaus that do something a little different than the standard luau. That's because I've been to SO many luaus. And I've specifically done several luaus in Maui.
My husband and I went to the Feast at Lele several years ago and I liked the pace of the evening. So, when I saw that there was something similar in Wailea, I figured it would be worth checking out.
Plus, I figured this would be a great way to "treat myself" for working so hard this year.
Is the Feast at Mokapu the Best Luau in Maui for Families?
While I did see several families with kids at this luau, I'd say the vast majority of guests were couples. I think that's mostly due to the higher price point and the resort itself.
I'm pretty sure that they usually have pre-show activities that are geared for kids, but those activities were still paused when we went.
How Does the Luau at Andaz Maui Compare to Other Hawaii Luaus?
This is my favorite luau on Maui. It's hard to compare it to most luaus because it's such a different experience. The closest thing would the the Feast at Lele and the Feast a Mokapu has better food, better entertainment, and I'd say a nicer location.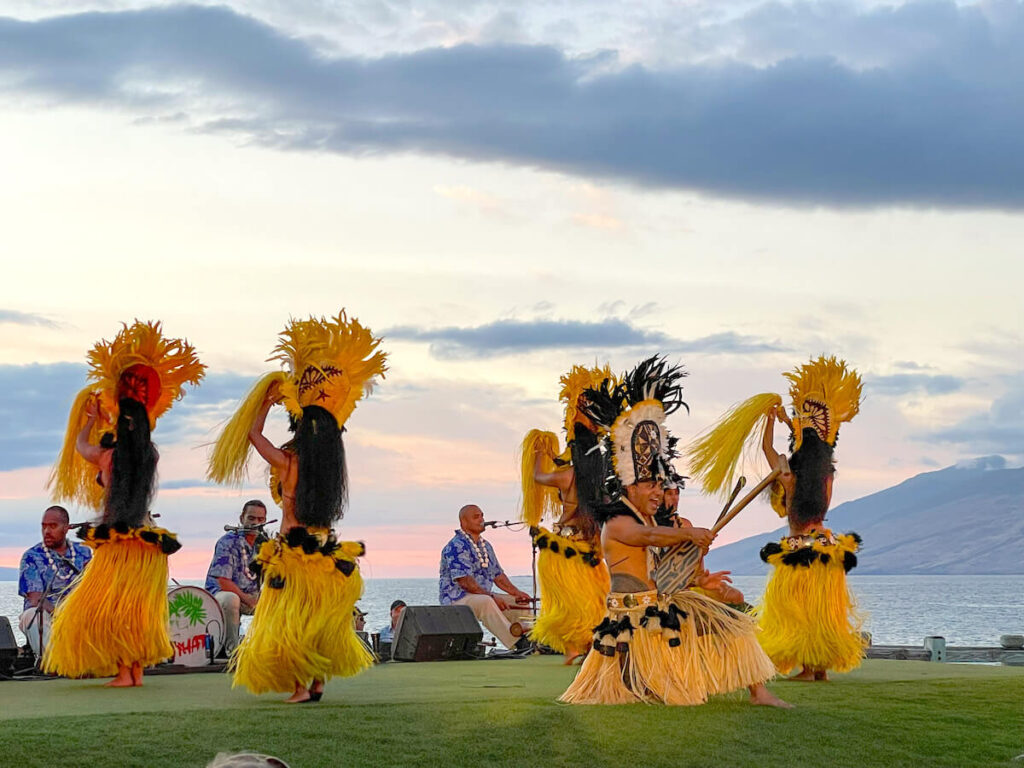 The Andaz Maui luau has the fantastic ocean backdrop that is magical at sunset. There's also a lot more room to move around and much fewer guests. It feels like a VIP experience.
It's no wonder why this is one of the top luaus in Maui.
So, Would I Recommend the Feast at Mokapu?
Absolutely! It's definitely on the pricier side, but it's twice as good as cheaper Hawaiian luaus on Maui. And it's some of the best luau food I've had anywhere in Hawaii.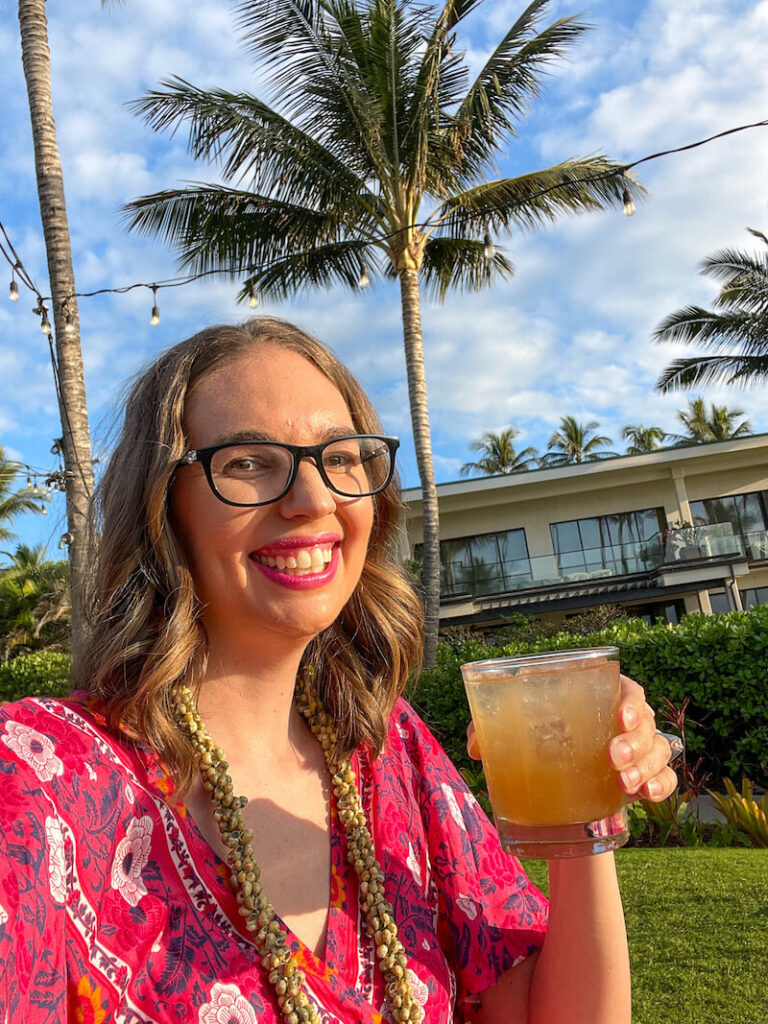 If you are doing a few "splurge" activities on your trip to Maui, I'd say this one should make the list.
And this is especially good for foodies or people who don't want to be crammed at a luau table with strangers. It's a true Hawaii feast you'll be dreaming about days later.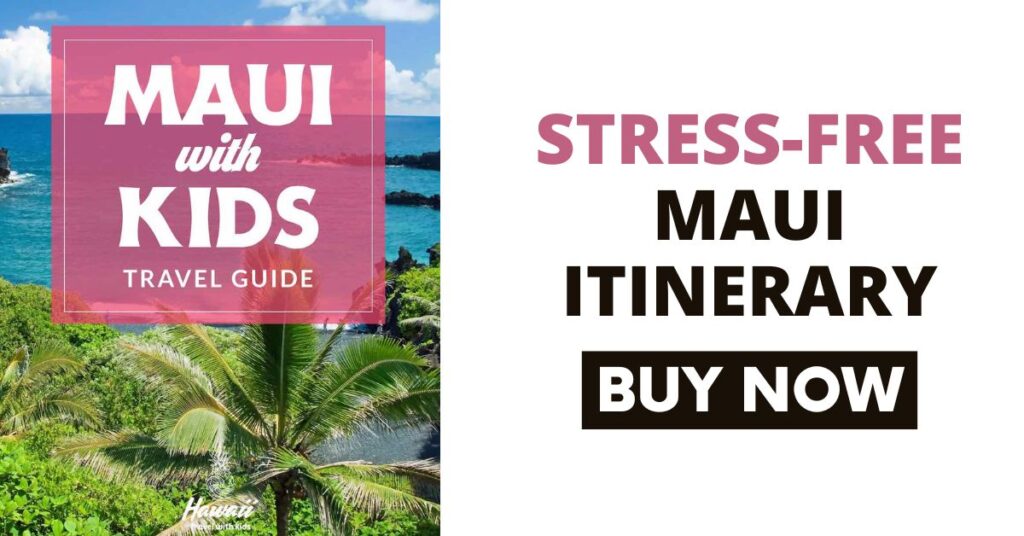 How can I make my Andaz Maui luau reservations?
Since this luau is smaller than other Maui luaus, it's important to make your reservations ahead of time (at least a month before your trip).
It's really easy to book the Andaz luau online before you go.