Are you trying to decide between visiting Kauai vs Maui on your next family vacation? We've compared the two so you can make an informed decision about the best Hawaiian island for kids. Scroll to see the results!
This post about Kauai vs Maui contains affiliate links which means if you purchase something from one of my affiliate links, I may earn a small commission that goes back into maintaining this blog.
Do you want to visit Hawaii with your family?
You've probably heard that the Hawaiian islands are beautiful, but have you ever wondered which island is best for kids?
If you've never been, it can be hard to know which island is best for your family. A lot of families go to Oahu for their first trip and want to try something different for their next trip to Hawaii.
Today, we'll take a look at Kauai versus Maui and find out which are the best Hawaiian islands for kids.
Both Kauai and Maui are great islands for families visiting Hawaii but there are definitely some differences between them when it comes down to what each has available for children and teens alike.
Let's dive into these two beautiful Hawaiian Islands side by side so you can see if one might be better suited than another based on age groups!
Keep scrolling to find out if Maui or Kauai is the best Hawaii island for kids.
Want to skip all the planning and just access my detailed Hawaii Itineraries complete with daily schedules, kid-friendly activities, and travel hacks? Click the button below.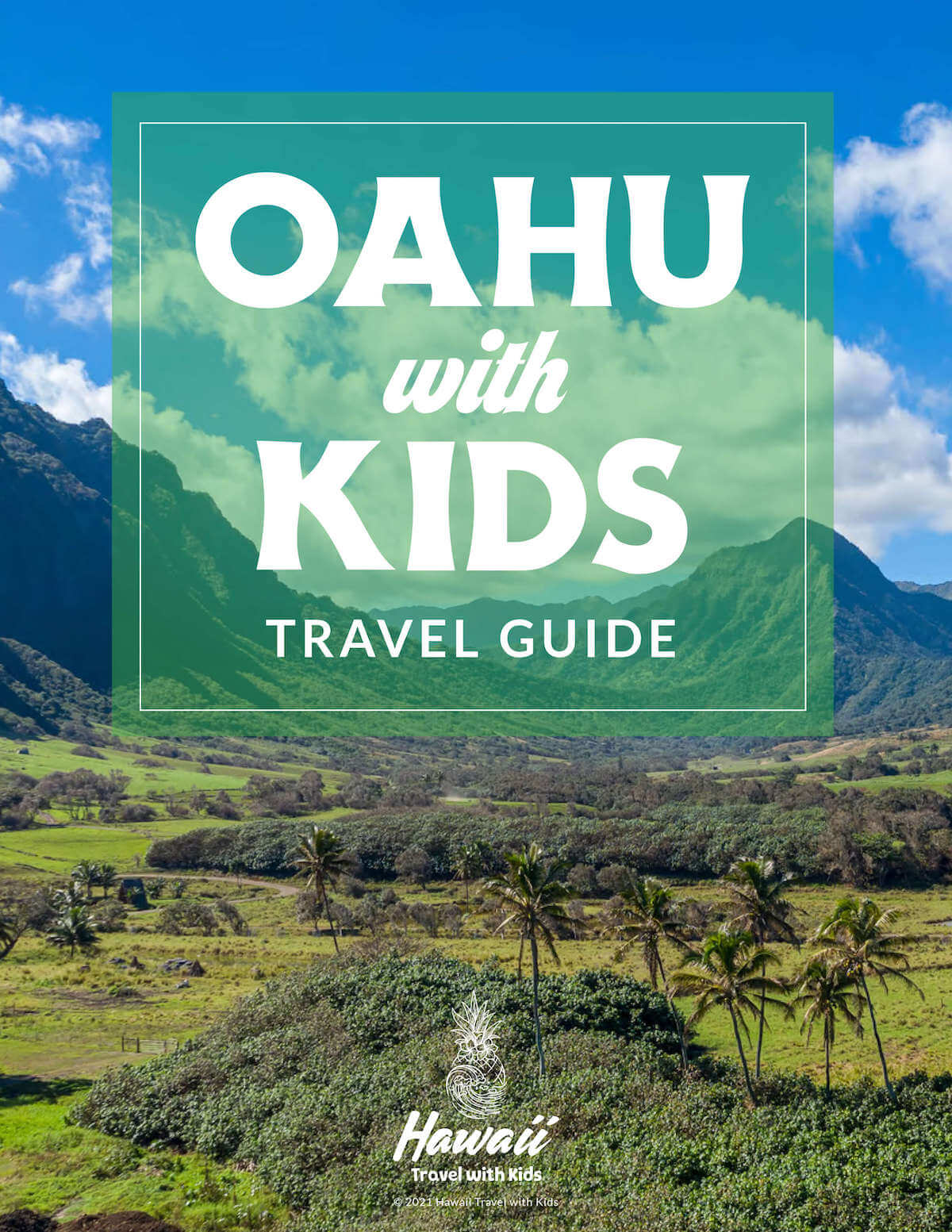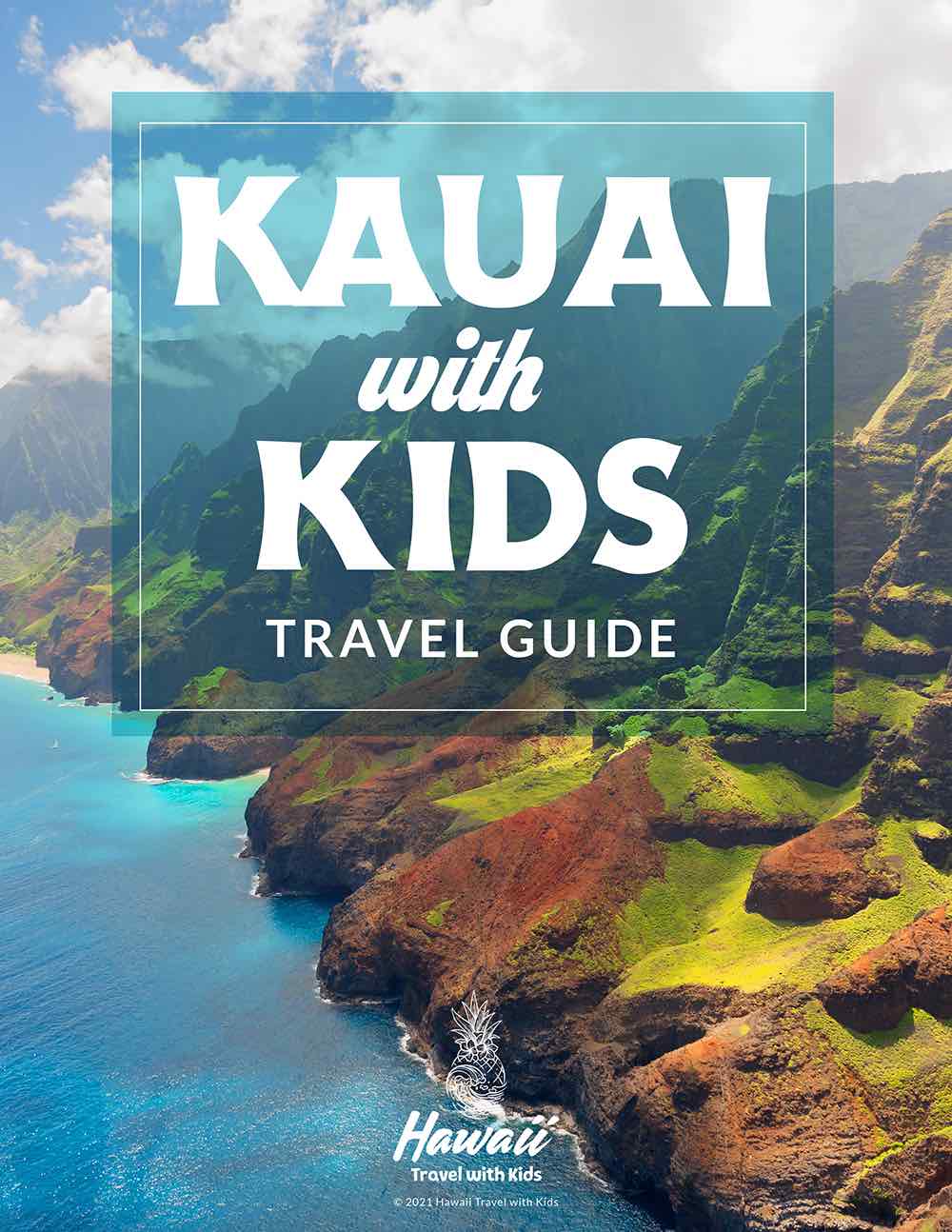 Best Hawaiian Island for Kids FAQs
Are there more things to do with kids on Maui or Kauai?
It really depends on what your kids like to do. Maui has better shopping options, day trips, and resort experiences. Kauai has better outdoor adventures, food trucks, and off-the-grid vibes.
Does Maui or Kauai have better resorts for families?
Maui definitely has more kid-friendly Hawaii resorts with amazing pool areas and on-site restaurants. Kauai has a few family resorts, but mostly hotels or vacation rental options.
Which is the prettiest Hawaiian island?
The most beautiful island in Hawaii is definitely Kauai. This is where you can find majestic mountains, cascading waterfalls, epic hiking trails, and tons of eco-adventures. It's also home to several botanical gardens like the Limahuli Garden in Hanalei.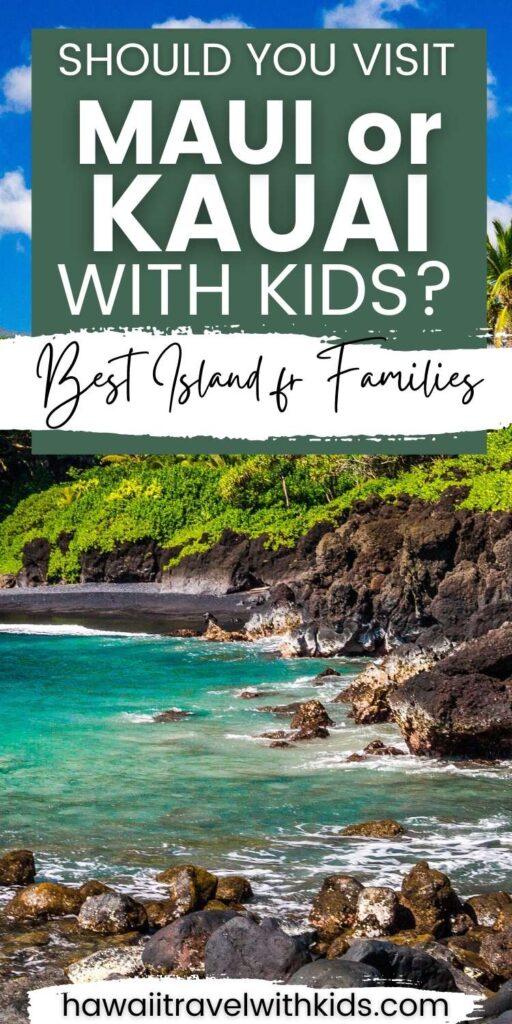 Is Kauai the Best Hawaii Island for Kids?
Kauai is known as the most beautiful Hawaiian island, which is why it's on so many people's Hawaii bucket lists. It's full of lush mountains and stunning beaches.
The East Shore of Kauai has tons of Hawaii vacation rental options and budget-friendly hotels. That's why it's a popular destination for families visiting the Hawaiian island for the first time.
And Poipu is the premier Kauai resort community where you can find the best Kauai hotels with amazing swimming pools.
Kauai is also famous for outdoor adventures like ziplining, sugar cane canal tubing, whale watching, hiking, snorkeling, and so much more!
Free Things to Do on Kauai with Kids
Best Kauai Beaches for Kids
On the North Shore of Kauai, Pu'u Poa Beach is close to the resorts in Princeville. While a lot of beaches in Princeville have large waves, the waters here are calm and great for kids.
There's also Hanalei Bay and Anini Beach that are always a huge hit with my boys. The waves are super gentle.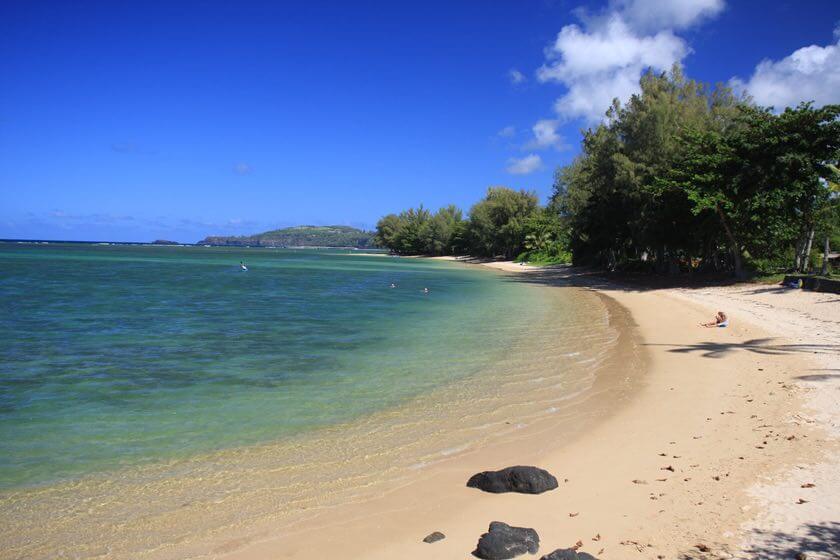 Lydgate Beach Park on the East Shore is another great option. Not only is there a man-made saltwater pool for kids but they also have two playgrounds.
For families visiting the South Shore of Kauai, Poipu Beach is a popular kid-friendly Kauai beach.
Complete with lifeguards, snorkeling, and shallow wading spots for toddlers, Poipu is one of the best options for families with kids of varied age ranges. And head a bit further and check out Salt Ponds.
Tour a Coffee Plantation
Even if you aren't a big coffee fan, you won't want to miss the biggest coffee farm in the US. It's Kauai Coffee and they have free walking tours multiple times a day.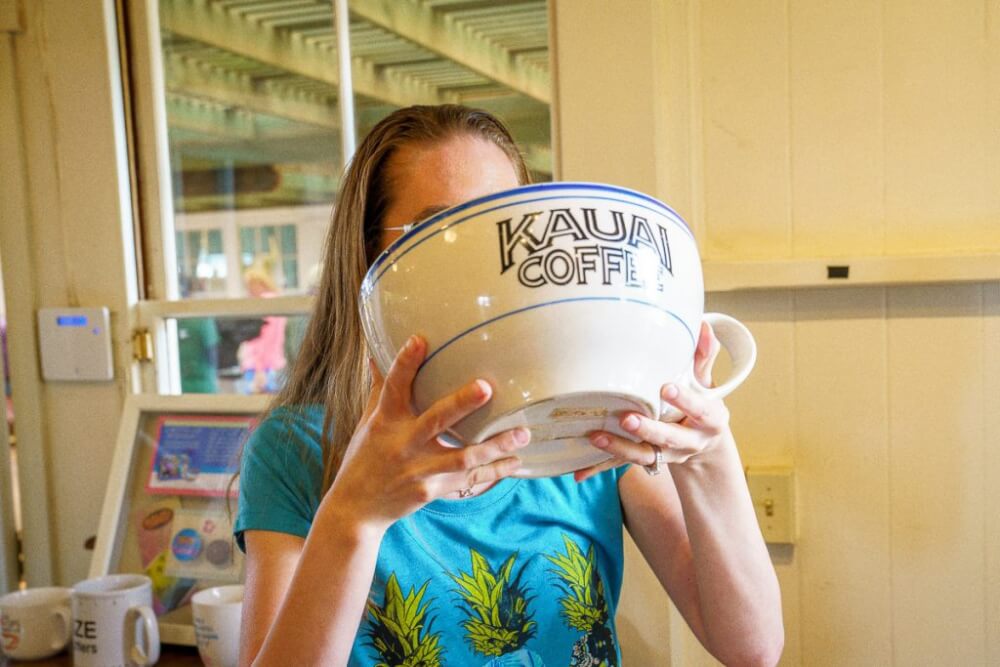 They have free coffee samples available for adults and there's a cool scavenger hunt on Wednesday mornings where families can earn a free bag of coffee when they complete it.
Another fun thing to do on Kauai with kids is to check out the Kauai Culinary Market at The Shops at Kukuiula.
Every Wednesday from 3:30 pm – 6 pm, guests can see live cooking demonstrations and take a look at Kauai grown food and treats.
Plus, there are live musicians and activities.
Kid-Friendly Kauai Hiking
Sleeping Giant Trail is located near Wailua and is a short, out and back trail. It offers gorgeous mountain views and it is perfect for a day trip and afternoon picnic.
The Kuilau Ridge Trail is another popular kid-friendly Kauai hiking trail that goes for 3.7 miles.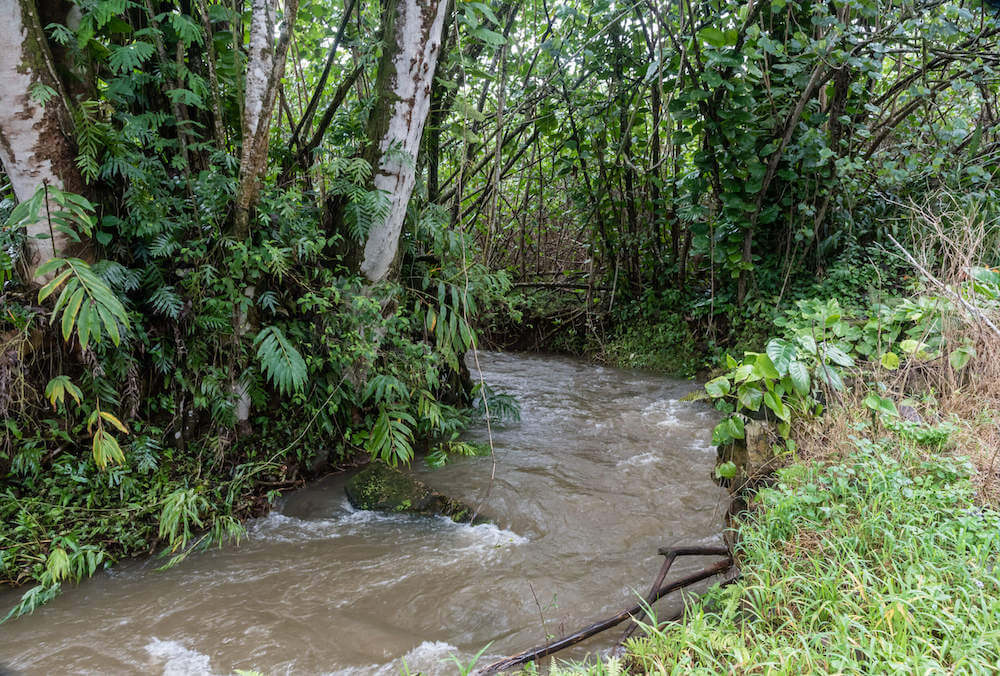 There's also a really cool Bike Path along the East Shore. You can rent bikes and ride up the coast, or just go for a walk. It's perfect for families with strollers.
Personally, I think that Kauai is the best Hawaiian island for hiking because there are so many options and they usually aren't as crowded as the hiking trails on Maui.
Read more Free Things to do on Kauai
Things to Do With Kids on Kauai
Kauai Mountain Tubing
If you're looking for a mini-adventure with kids on Kauai, try tubing down an old sugar cane canal. We did it with a 5-year-old and it was incredible. Read about our experience HERE.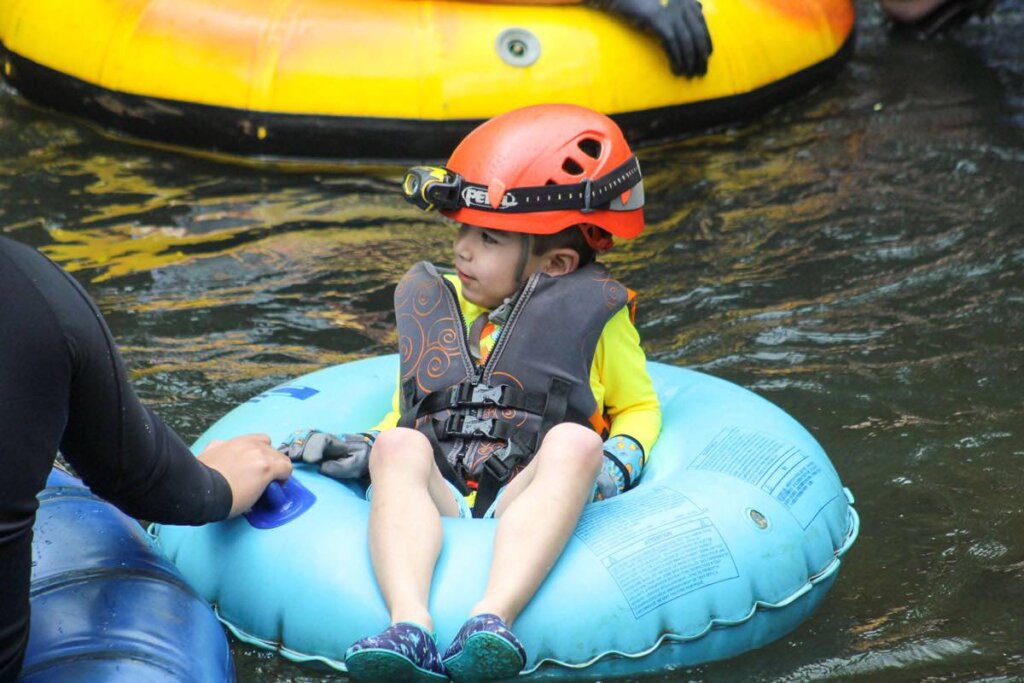 It's really more of a lazy river float, but you'll get to wear headlamps and go through some tunnels, which is fun. Check the latest rates and more information.
Kauai ATV Off-Road Tour & Waterfall Swim
This is an awesome 3-4 hour ATV tour that goes through plantation lands, a hidden tunnel, Jurrasic Park filming sites, and ends with swimming at the base of a waterfall.
Kids as young as 5 years old can participate. It's quite the adventure and it's one of the most popular tours on Kauai! Check the latest rates and more information.
Wailua River Kayak, Hike & Waterfall Swim
Adventurous families will love this 5-hour tropical waterfall adventure. You'll get to kayak down the Wailua River, hike through a Kauai rainforest, and even discover a secret waterfall!
We did this tour when I was a kid and I still remember how cool it was! It's geared for kids at least 6 years old. Check the latest rates and more information.
Find out 101 amazing things to do on Kauai with kids!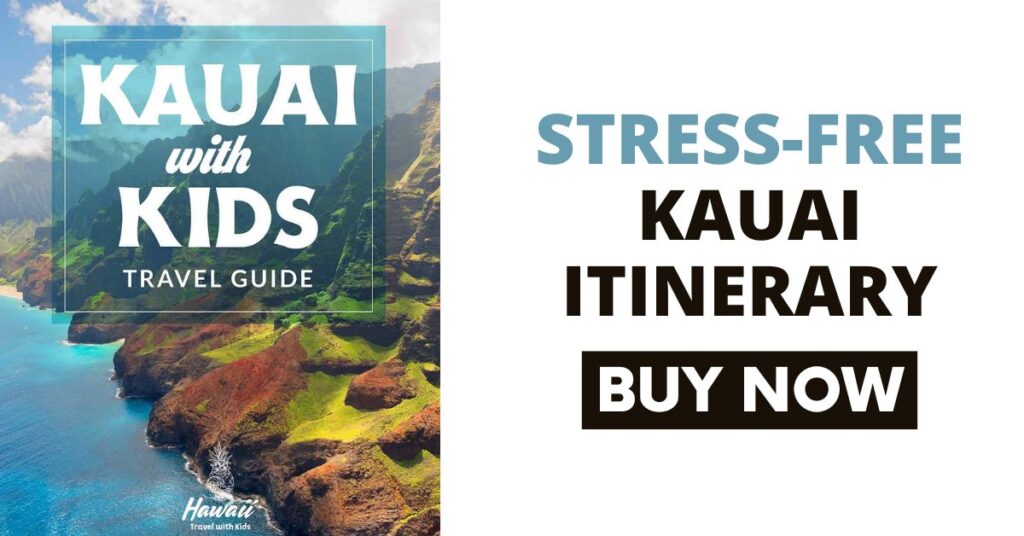 Family-Friendly Kauai Attractions
Waimea Canyon
One of the most impressive things to do see on Kauai is Waimea Canyon State Park. This Hawaii park stretches for 10 miles and has a depth of 3,000 feet. It's often called the "Grand Canyon of the Pacific."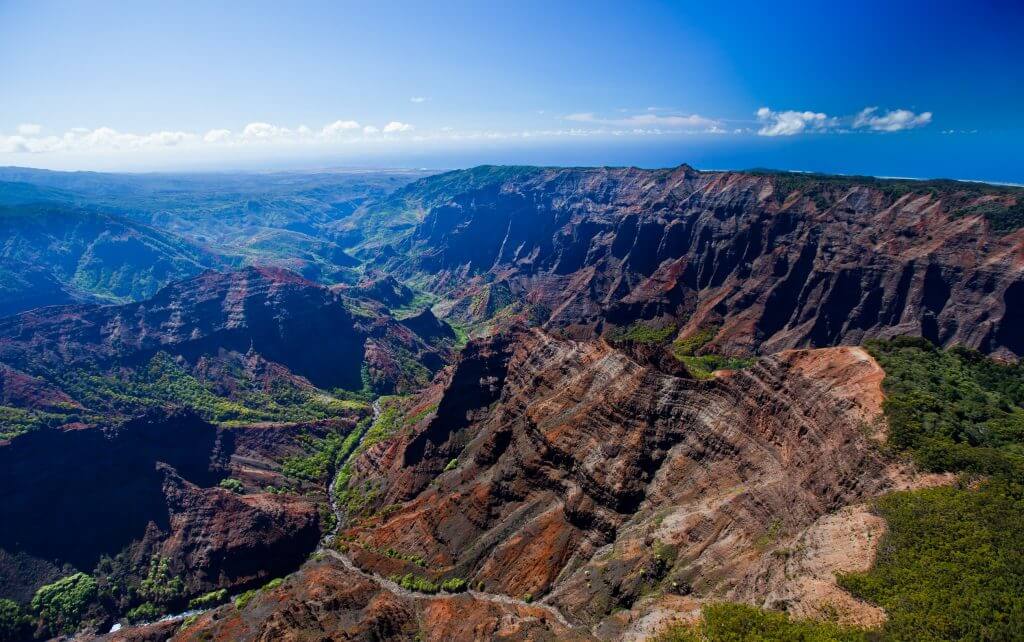 Most families visit Waimea Canyon as a day trip since it's a bit of a trek. You can either just drive to the scenic viewpoints to take photos or you can hike some of the trails.
Hanalei Town
If you drive up to the North Shore of Kauai, you'll go through the surf town of Hanalei.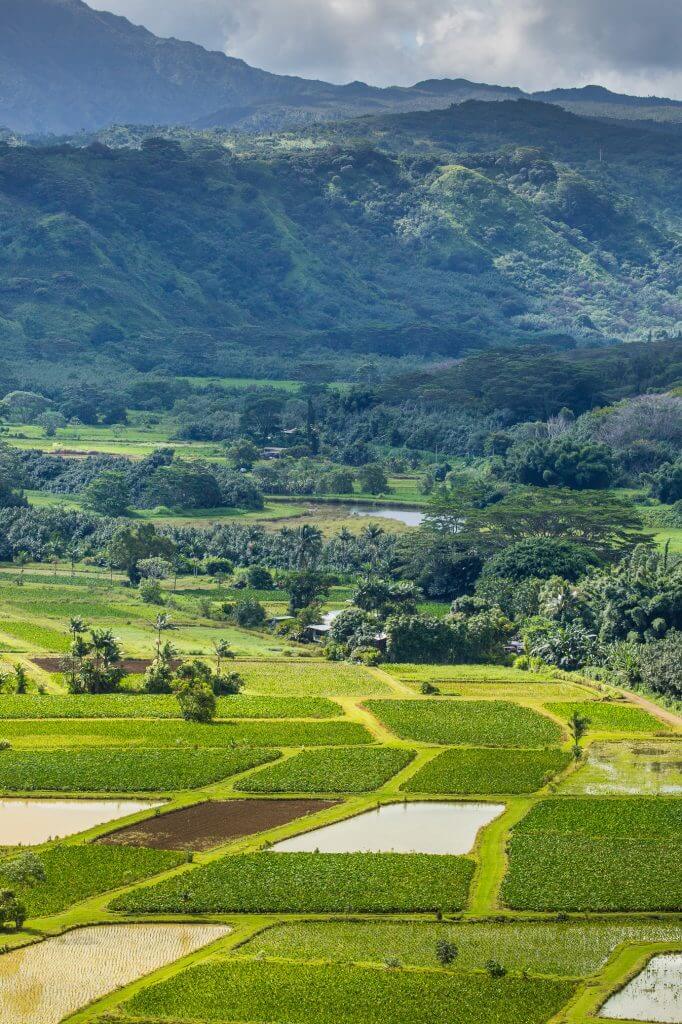 There are tons of things to do in Hanalei for families. A few of our favorite activities include doing a North Shore food tour, relaxing at Hanalei Bay, and shopping at the boutiques.
Spouting Horn
Another cool feat of nature that kids may enjoy visiting is Spouting Horn. This blowhole often shoots water 50 feet high as waves crash underground and through a hole on the coastline.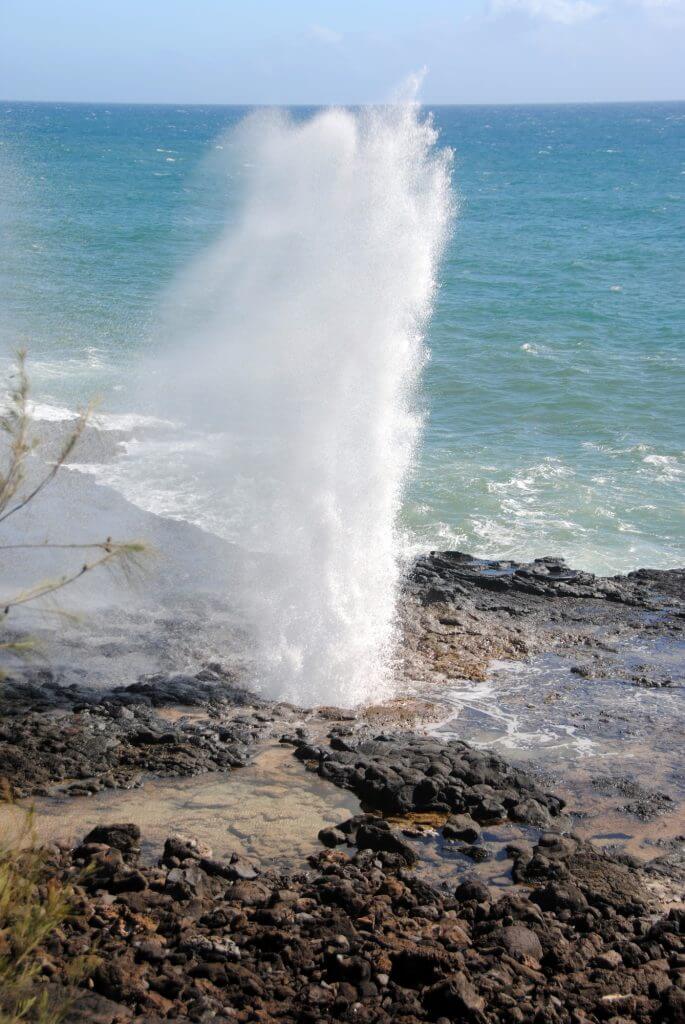 Spouting Horn is a great stop off to visit from the overlook on your way to or from Poipu Beach on the South Shore of Kauai. It's also one of our favorite Kauai toddler activities.
Family Friendly Kauai Luaus
The Smith Family Luau has been around since I was a kid and I've been at least 5 or 6 times. It's a 4-hour luau experience with a traditional Hawaiian buffet. Check out the latest prices and more details.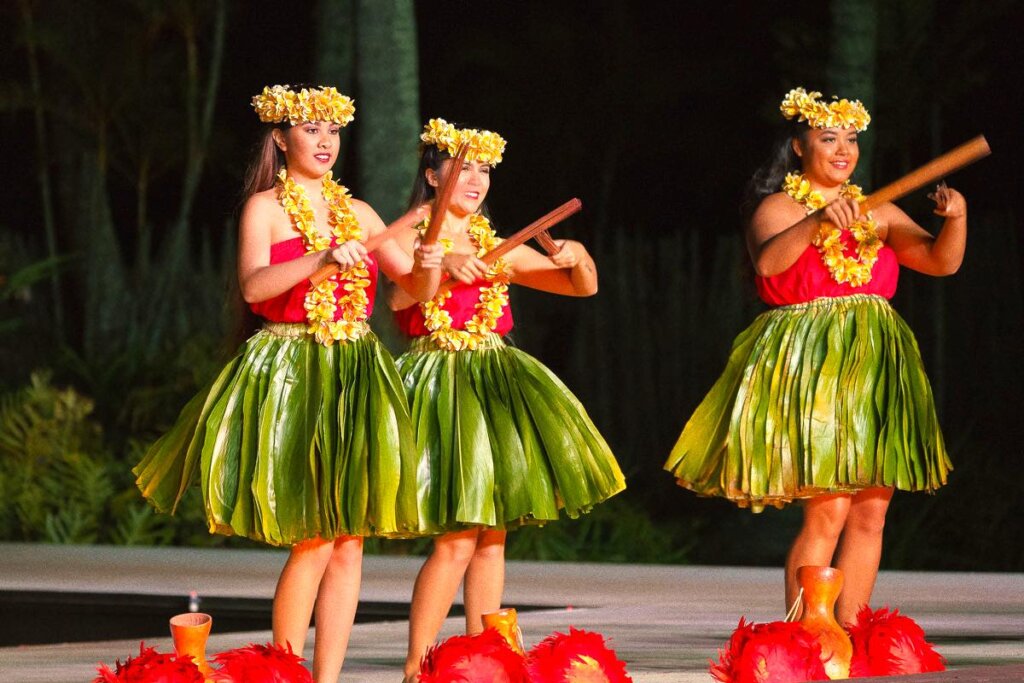 They feature an open bar for guests over 21, a tram tour of the gardens, and a performance that includes dances from Asia and Polynesia. Plus, you can take a boat ride to Fern Grotto before the luau. Read my Smith Family Luau review.
There's also Luau Kalamaku at Kilohana Plantation. This luau has really good food and they do a theatrical Polynesian presentation instead of a traditional luau show. And you can do a train ride before the show. Check out the latest prices and more details.
The newest luau on Kauai is the Ahi Lele Fire Show up on the North Shore. It's definitely one of the most unique luaus in Hawaii that I've been too and I highly recommend it!
Read about all the kid-friendly Kauai luau options
Kid Friendly Kauai Resorts
Grand Hyatt Kauai
This is one of my favorite Poipu resorts on Kauai for families. You can read my full review HERE. The main perks are the on-site luau, restaurants, and incredible pool area.
Royal Sonesta Kauai
Formerly the Kauai Marriott, the Royal Sonesta Kauai is the best place to stay in Lihue with kids. You can read my full review HERE. The top features are the location, on-site luau, restaurants, massive pool, and beach access.
Aston Islander On The Beach
This is a great budget-friendly option for families. It's right on the beach and is near a lot of restaurants, grocery stores, shops, etc. Plus, it has easy access to the Bike Path.
Is Maui the Best Family Island in Hawaii?
Lots of families swear that Maui is the best Hawaiian island with kids. That's because it's a great mix of resort towns and natural beauty.
The island of Maui has so much to offer, including 3 main resort areas: Wailea, Lahaina, and Ka'anapali.
If you're looking to enjoy some outdoor activities with kids on your trip (and who isn't?), this could be just what you need. There's amazing ziplining, horseback riding, whale watching, hiking, snorkeling, and so much more!
Be sure to read my top 101 things to do on Maui with kids!
Free Things to Do on Maui
Best Maui Beaches for Kids
There are several kid-friendly beaches on Maui that are great for babies, toddlers, and kids of all ages.
One of the best beaches in Maui for kids is baby beach up in Paia. It's got a protected lagoon and sandy white shores that are perfect to build sandcastles on or wade out into!
Plus it's pretty secluded–you'll have this amazing private getaway with yourselves surrounded by tall coconut trees all around you.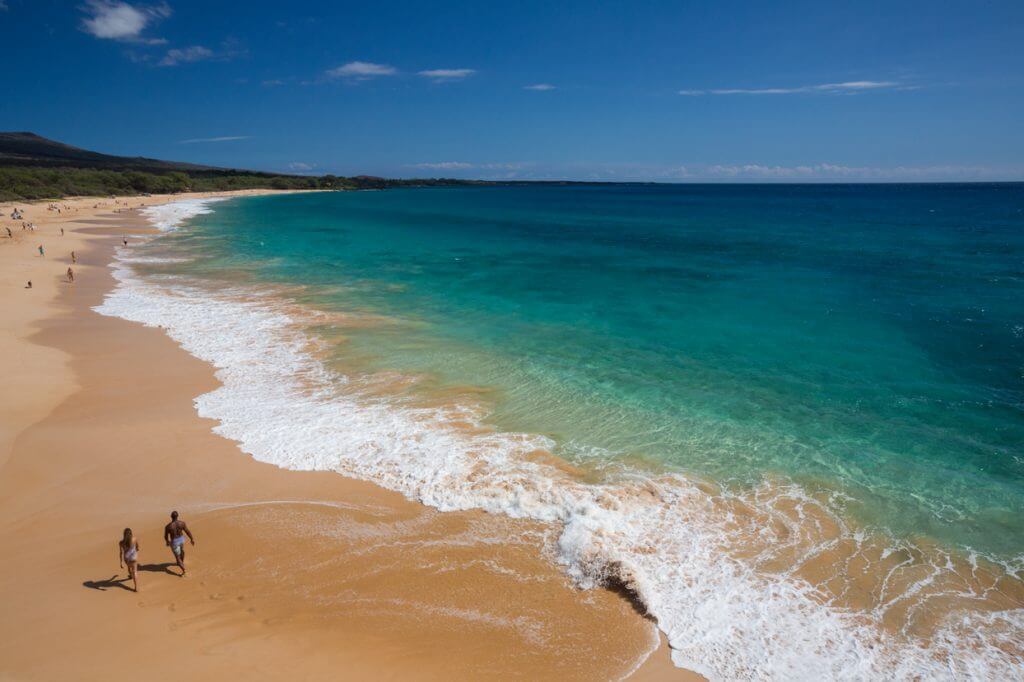 And don't forget about Makena too-it might not be as big/busy, but what makes matters better? There IS a lifeguard here so even if your little one gets scared easily (or has any other special needs), they can enjoy themselves without worrying too much.
Finally, one of the best beaches in Maui for kids in West Maui is Kapalua Bay. It's on a reef, so the water is fairly calm.
Get my complete Hawaii beach packing list for babies!
Drive the Road to Hana with Kids
One of the most unique things to do on Maui is to drive the famous Road to Hana. This is a twisty, highway full of one-lane bridges that takes you to the remote town of Hana.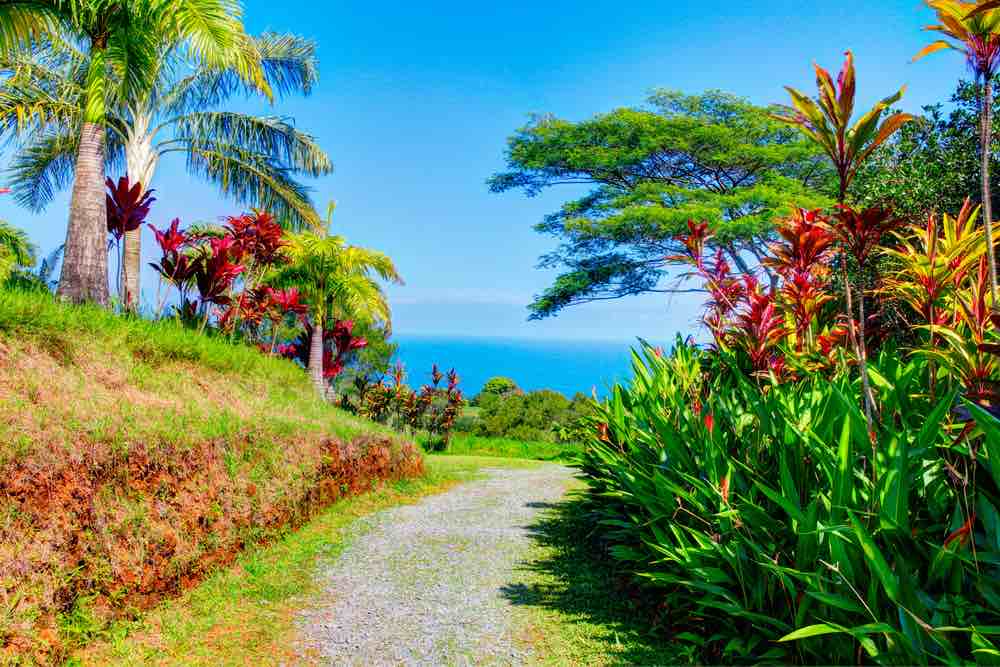 But the point of the drive isn't to actually get to Hana but to enjoy some of the fun Road to Hana stops along the way that kids will love.
Several of the stops include easy Maui hikes that will take you to hidden away waterfalls or awesome scenic viewpoints. And there's even a black sand beach!
While this is technically free, understand that you'll be using up a lot of gas. So, consider this a cheap thing to do on Maui!
Hike to a Maui Waterfall
There are so many spectacular waterfalls on Maui that are totally worth checking out.
You can see several waterfalls just off the side of the road as you're driving along, or you can do easy (or difficult) hikes to find some pretty cool Maui waterfalls.
A trip to Maui is not complete without a visit to the many waterfalls that can be found along this beautiful island.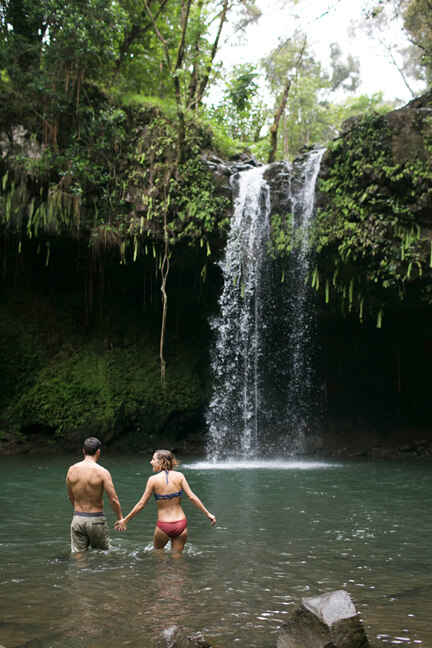 One such place, Twin Falls, offers visitors ample opportunities for picturesque scenery. It's perfect if you're looking for food or just want some rest after getting your fill on adrenaline-pumping adventures all day long!
Punalau Falls also lies in close proximity; making it another great option when visiting with kids who need something safe yet still stimulating before calling home.
Lastly, there's Alelele Falls which stands at 50 feet tall. It's just a 10-15 minute hike where you'll hop across streams to get to this Maui waterfall.
Things to Do on Maui with Kids
Sunrise at Haleakala Crater
One of the top things to do in Maui is to visit Haleakala National Park. A big reason for this is that it's the best place to see the sunrise on Maui.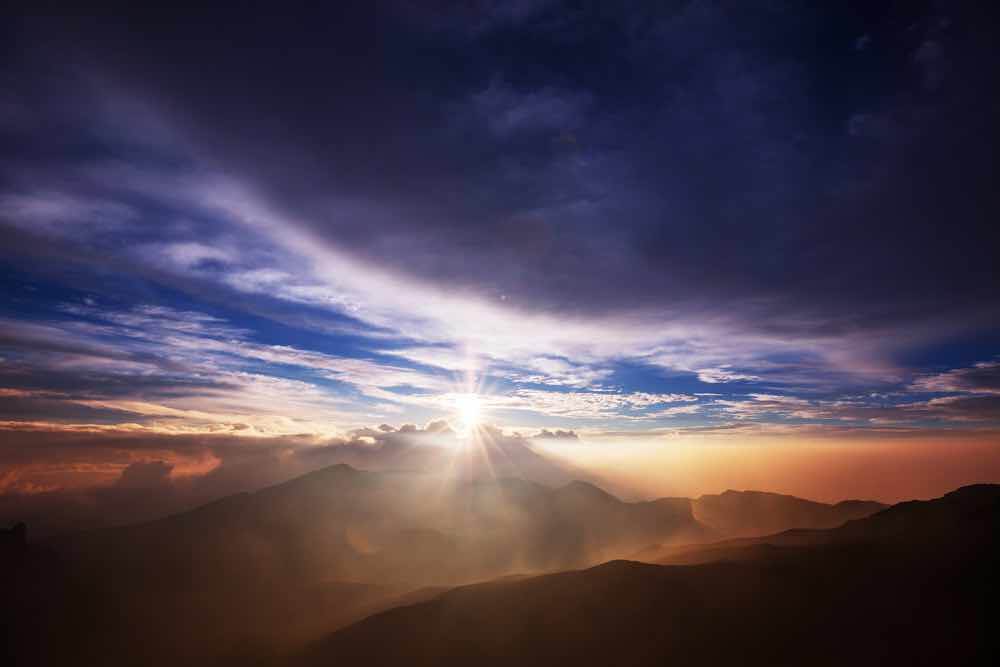 Starting off while it's still dark outside, you'll head up to the top of the crater. As the sun peaks over the crater, you'll be in total awe. People say it's the best sunrise in Hawaii.
You can either drive up on your own (you'll need to reserve a parking ticket ahead of time) or join a Haleakala sunrise tour. Some of them even let you bike down the mountain after sunrise. Check out the latest prices and more details.
Maui Hike to See I'ao Needle
When you're heading to Hawaii with kids, it's always nice to know some easy hikes. Well, the I'ao Needle is probably the most kid-friendly hike on Maui.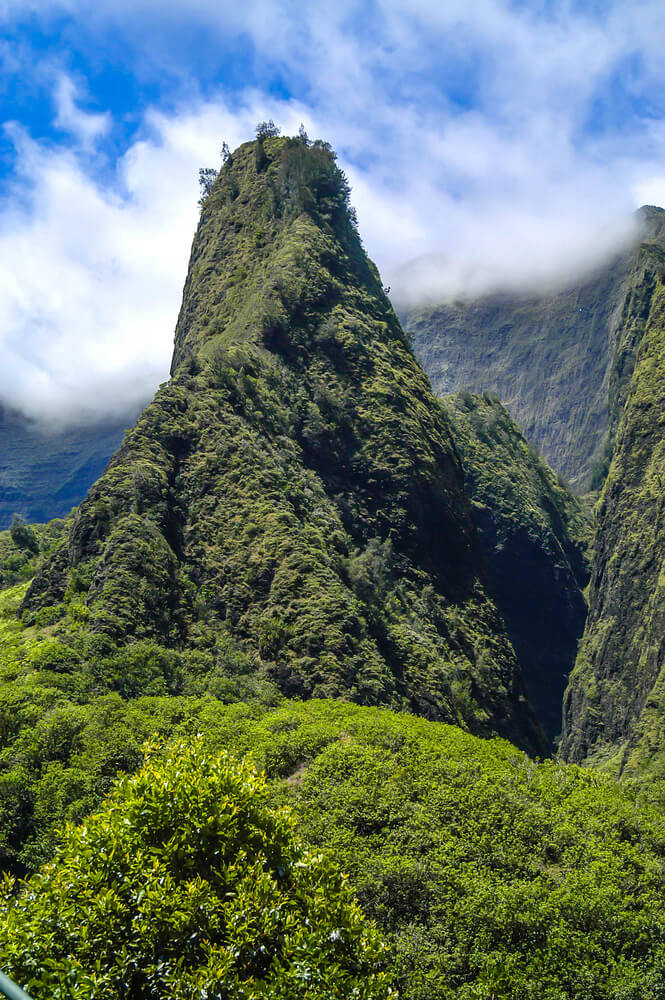 Part of what makes it a great Maui hike for kids is that it's only 0.6 miles long. Plus most of the hike is either paved or has stairs to get to the scenic viewpoint of I'ao Needle.
I've done it solo with a 2-year-old and he walked the entire thing on his own.
It's the perfect Maui adventure for little kids, but it's also a fun stop for families driving around Maui.
There's a $5 fee to park, otherwise, this is a free thing to do on Maui.
Snorkel Molokini Crater
If you want to go snorkeling on Maui, the most famous spot is Molokini Crater. Part of why families love this Maui activity is that you need to take a boat ride to get there.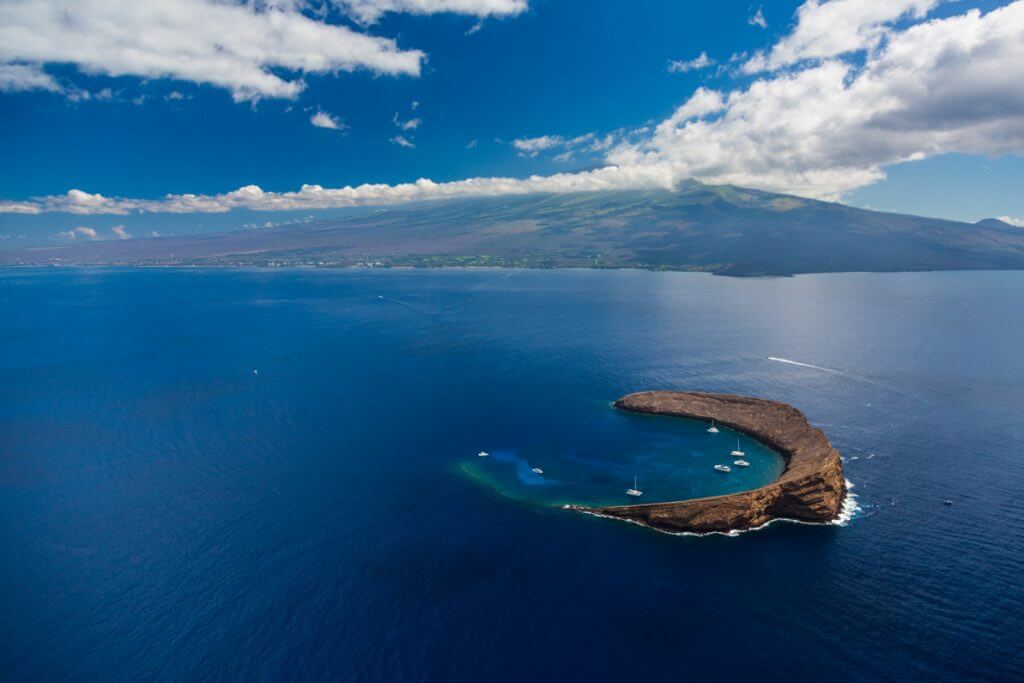 While the boat cruise is fun, the real perk is going into the water and swimming with sea turtles and other tropical Hawaiian fish.
Many boat tours also have water slides on board as well as kid-friendly flotation devices where kids can see underwater with a little help. Check out the latest prices and more details.
Ziplining on Maui
Maui is such a pretty island and you can get a unique viewpoint by going ziplining!
There are actually quite a few Maui zipline tours for families who are feeling adventurous.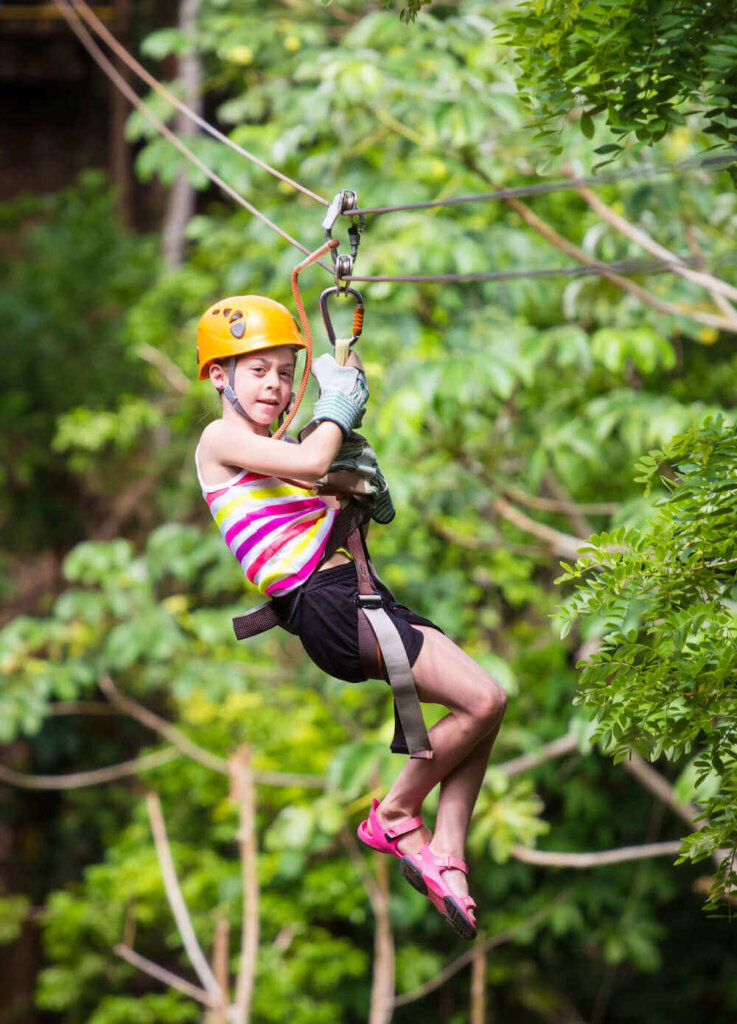 This Maui zipline tour is available for kids as young as 5 years old, making it one of the best Maui kids activities the whole family can enjoy! Read our full Maui zipline tour review.
Plus, there are obstacle challenges and a Camp Maui museum that's worth checking out. That's why it's the best Maui zipline for kids. Check out the latest prices and more details.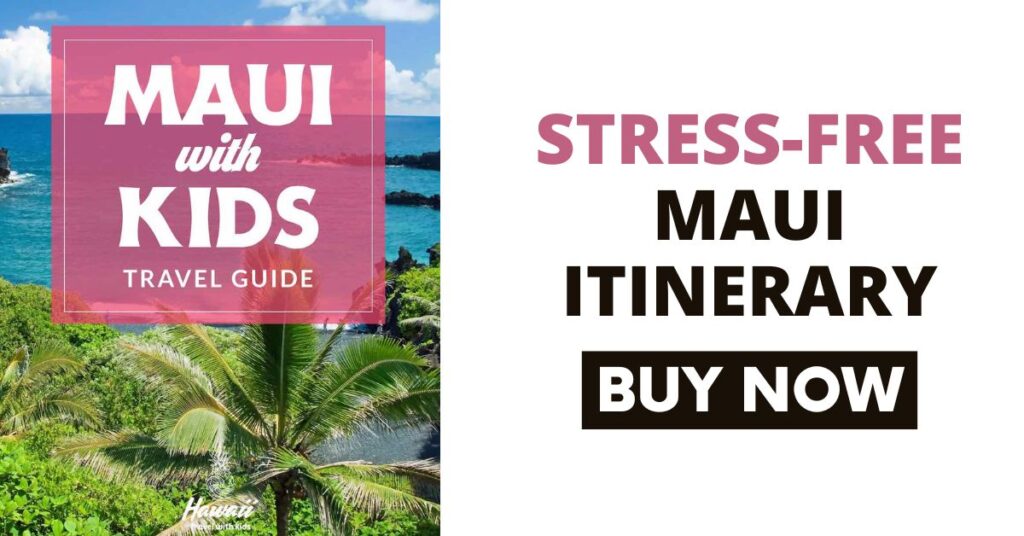 Family-Friendly Maui Attractions
The Maui Ocean Center is probably the top thing to do on Maui with toddlers and preschoolers.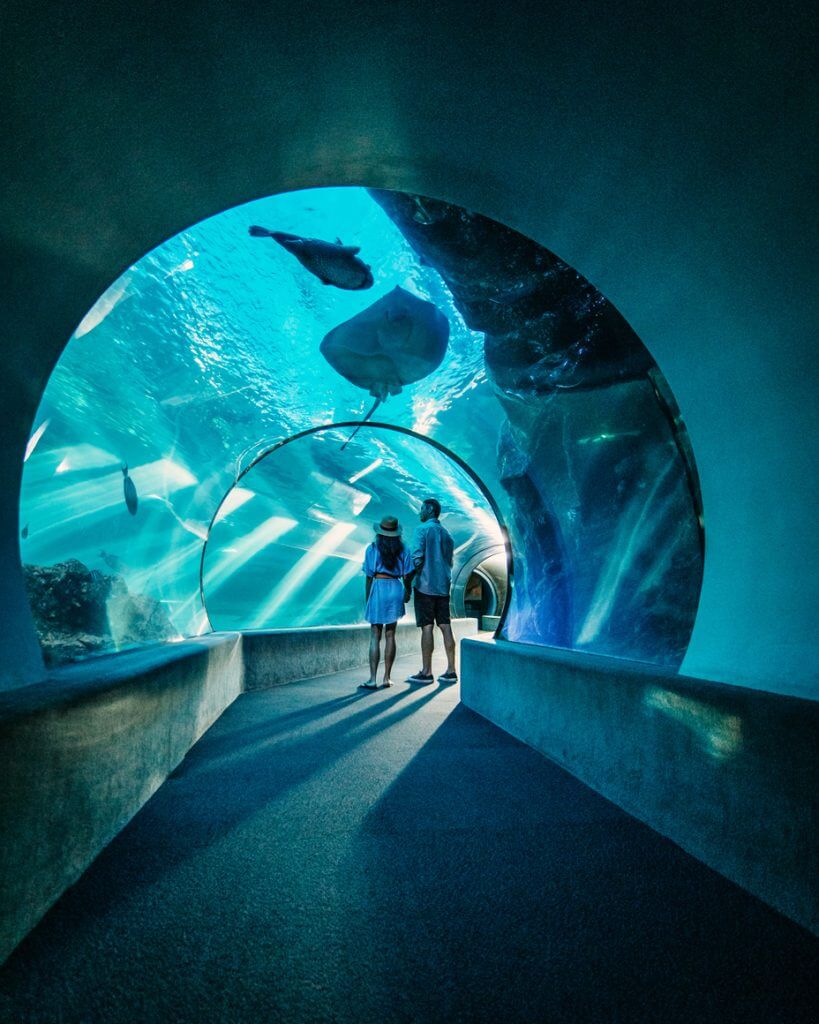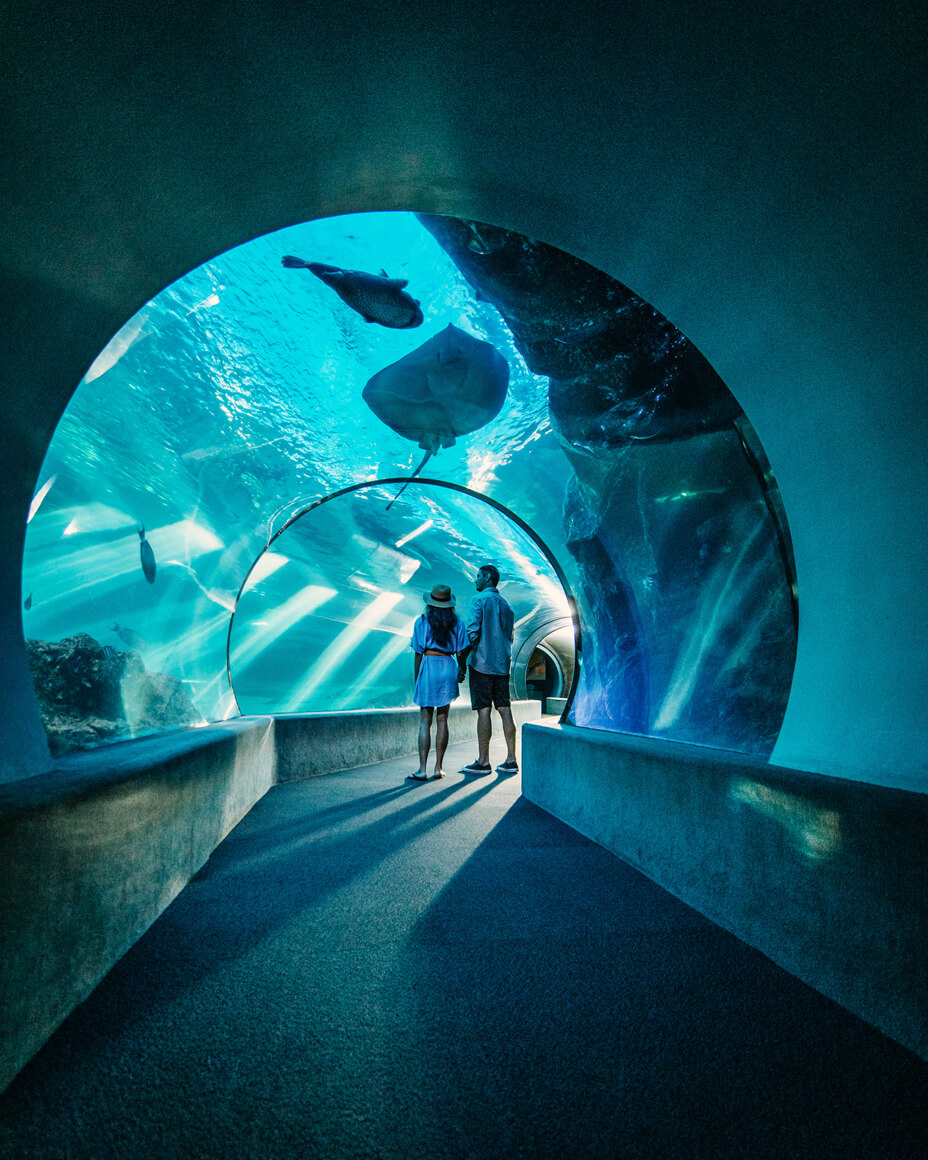 It's one of the few aquariums in Hawaii. Here, you'll find indoor and outdoor marine life exhibit areas, tidepools, and indoor aquariums. Plus, you can stroll through an immersion tube where you feel like you are walking through the ocean!
The really cool thing about the Maui Ocean Center is all the Hawaiian Cultural Programs they offer throughout the day. Find the best prices here.
Maui is very famous for its pineapples and it's home to one of the last remaining working pineapple plantations.
One of the best things to do with kids on Maui is taking a Maui pineapple tour! You can only really do this on Maui or Oahu.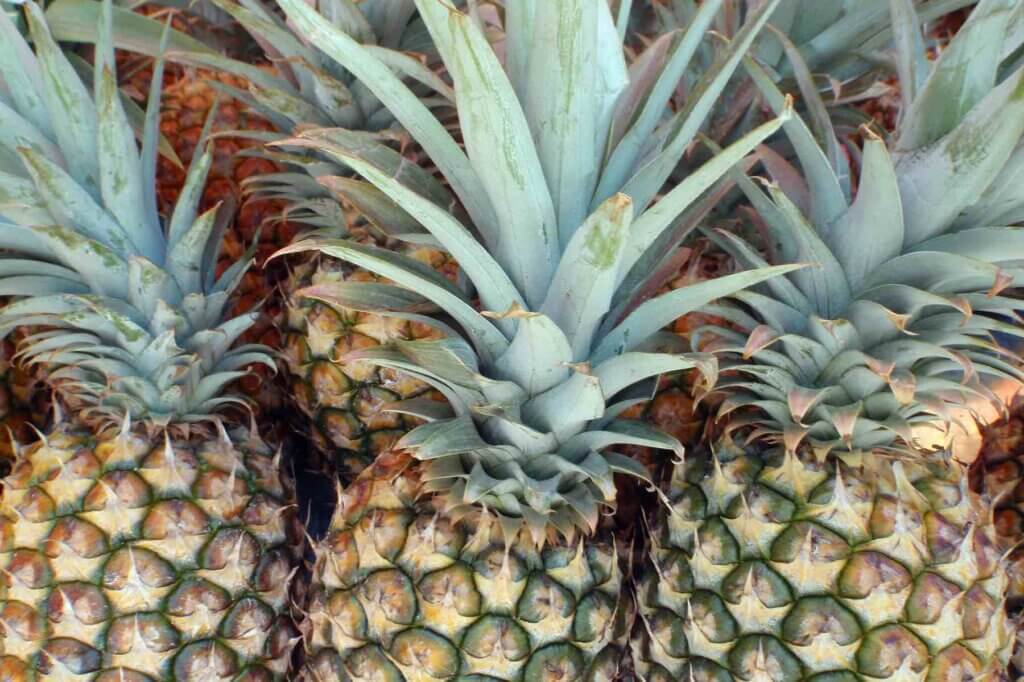 Here, you'll get to walk around the pineapple plantation, learn about Maui's agricultural history and even see how pineapple cultivation has changed throughout the years.
And there's lots of yummy pineapple tasting, of course!
Kids as young as 2 years old can participate in this Maui tour and everyone takes home an "airport-ready" pineapple!
If you want an authentic pineapple tour, Maui is the best island for kids in Hawaii. Check out the latest prices and more details.
One of the best kid-friendly botanical gardens on Maui is the Maui Tropical Plantation. It's located in Wailuku, which is about 30 minutes from Lahaina and 15 minutes from Kihei.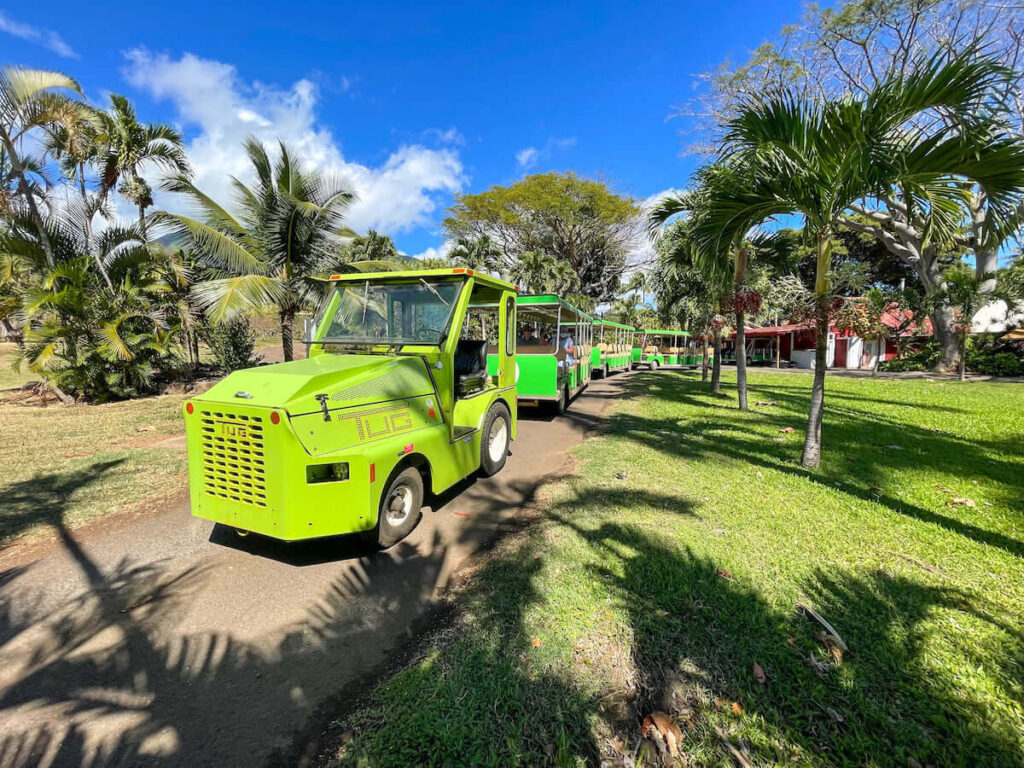 Here, you'll find a kid-friendly tram tour that will take you around the perimeter of the property. You'll also have a chance to get out and experience an awesome coconut husking demonstration.
Maui Tropical Plantation is also home to two ziplines. One is geared for kids ages 5+ (and walk alongs are free) and the other is for kids ages 10+ (and includes an ATV ride).
There's also a tasty coffee shop, nice restaurant with a killer view, and the Kumu Farms Market which has items made in Maui.
Best Maui Luaus for Families
While you can see a Hawaiian luau on any of the major Hawaiian islands, Maui has a ton of kid-friendly luau options.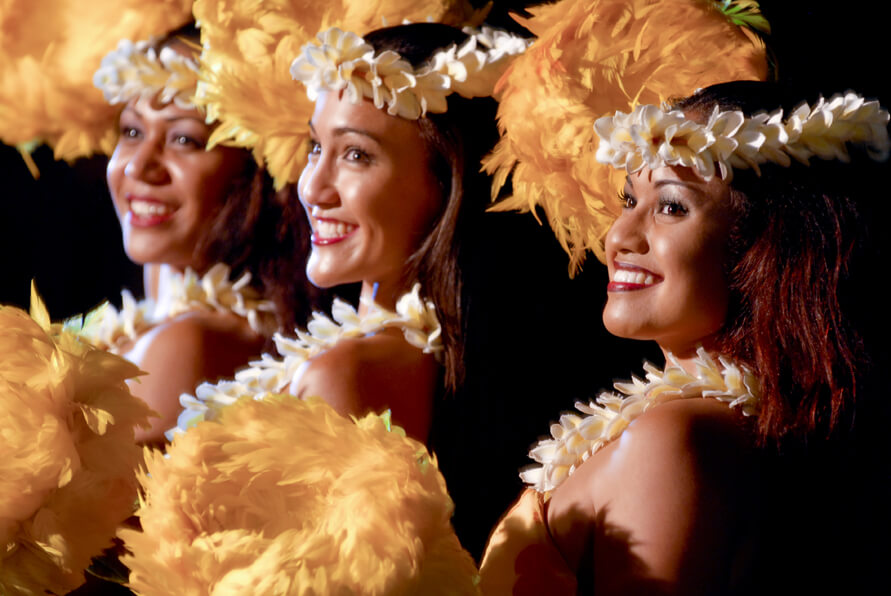 The most popular luau on Maui for kids is the Old Lahaina Luau. It's been around for decades and they have a good reputation for hands-on kids activities. Check latest rates and availability.
For families who have already done a traditional luau on another island or who are looking for something a little different, check out the Feast at Lele.
It's the same organization that produces the Old Lahaina Luau, but it's a plated dinner with Polynesian performances scattered throughout the meal. And it's easy to let kids get some wiggles out at the beach during the show. Check the latest rates here.
The Myths of Maui Luau is another great option for families looking for an oceanfront Maui luau in West Maui. Check out the latest prices and more details.
Honua Kai Resort & Spa
This is usually where we stay on Maui with kids. You can read my full review HERE. The main perks are Duke's Restaurant, access to Kaanapali Beach, condo-style rooms, and their incredible pool area.
Hyatt Regency Maui
This is one of the top-rated family resorts in Maui Hawaii. The main perks are their full-service spa, 5 on-site restaurants, and a water park
Grand Wailea Resort
This is one of the most popular places to stay in Wailea Maui. The main amenities include 5 on-site restaurants, a spa, a water park, and 3 golf courses.
So, Kauai or Maui? Which is the Best Hawaiian Island for Kids?
Honestly, the best island in Hawaii for kids to visit will totally depend on your own family's interests and vacation goals.
The biggest difference between Maui and Kauai is the number of kid-friendly resorts. Maui definitely has more of the best family resorts in Hawaii. But Kauai has a lot of vacation rental homes, condos, and budget-friendly hotels.
Both have pretty amazing boat tours, snorkeling, awesome beaches, fantastic restaurants, and plenty of cool photo ops! Maui and Kauai are two of the best Hawaiian island for families.
Whether you choose to visit Maui or Kauai with kids, you're sure to come home with experiences and memories that will last a lifetime. Both are perfect for a Hawaii family vacation.
Want to do Both Kauai AND Maui?
If you want to island hop for a Kauai to Maui day trip, it's really easy to travel from Kauai to Maui or vice-versa. Maui to Kauai flights usually cost about $80-$100 each way.
The flight from Kauai to Maui is only about 48 minutes, so you have tons of time to explore if you want to do a day trip from Kauai to Maui or Maui to Kauai.
I recommend booking a really early morning flight to maximize your time on the island, especially if your kids tend to fall asleep early in the evening.
Is there a ferry to Kauai from Maui?
A lot of people planning their first trip to Hawaii want to know how to get from Maui to Kauai and they ask about a Maui to Kauai ferry.
While there used to be a (very short-lived) ferry service throughout the Hawaiian Islands called the Super Ferry, it's completely out of service and not an option.
The only way to travel between those islands is by a Hawaii inter-island flight.
Oahu vs Maui vs Kauai
If you are also considering visiting Oahu and debating between Oahu vs Kauai, you'll probably want to read my full post about Oahu or Kauai.
Oahu is much more touristy than Maui or Kauai and they have a TON of attractions, activities, tours, and more.
P.S. Join our Hawaii Travel with Kids Facebook group to get connected with other families planning a trip to Hawaii!