Heading to Maui and want to get a lei when you land? Scroll to learn exactly how to book a Maui airport lei greeting as well as tips and tricks for making your lei last!
This guide to how to book Maui airport lei greetings in Hawaii contains affiliate links which means if you purchase something from one of my affiliate links, I may earn a small commission that goes back into maintaining this blog.
Do you want to make your next trip to Maui especially memorable?
A lei greeting is the perfect way to start your vacation in Hawaii – it's a warm and traditional welcome that will make you feel right at home. Plus, who can resist those beautiful island flowers?
I know you'll love the experience of being greeted by someone holding a fresh flower lei. It's definitely one of the highlights of my trip every time I visit Maui.
There are a few things you need to know before arranging your airport lei greeting in Maui.
Keep scrolling down for my top tips and tricks for making sure your leis last as long as possible.
Don't have time to read a bunch of Hawaii blog posts and reviews? Here are some of our top picks for visiting Maui.
Popular Maui Tours/Activities
Favorite Maui Resorts/Hotels
Andaz Maui (this is a luxury resort with the best luau on Maui)
Honua Kai Resort & Spa (this is one of our personal favorites because there are tons of pools and there are condo options)
Want to Rent a Car in Hawaii?
One of the best places to rent a car in Hawaii is Discount Hawaii Car Rental because they get the best rates from top national companies like Alamo, Dollar, Thrifty, Avis, Enterprise, Budget, and Payless.
Want to skip all the planning and just access my detailed Maui Itinerary complete with daily schedules, kid-friendly activities, and travel hacks? Click the button below.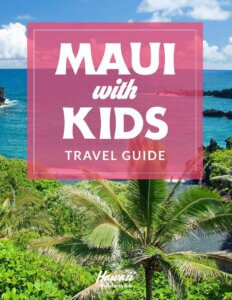 Maui Lei Greetings FAQs
Do you say lei or leis?
In the Hawaiian language, there isn't a distinction between plural and singular. So, most of the time people just say "lei" when they mean multiples leis.
Are there any rules to wearing a lei?
There aren't any rules, but there's a kind of unspoken etiquette. It's considered rude to turn down a lei if it's offered to you! Also, never take it off in the presence of the person who placed it on you. So, if you need to take it off after your Maui lei, do it discreetly!
Can I book a lei greeting for someone else traveling to Maui?
Yes! You are welcome to a lei greeting for loved ones who will be traveling to Maui. Just make sure that you obtain their flight and hotel information. You'll need this information when you book, and they'll need to confirm their identity to receive the service.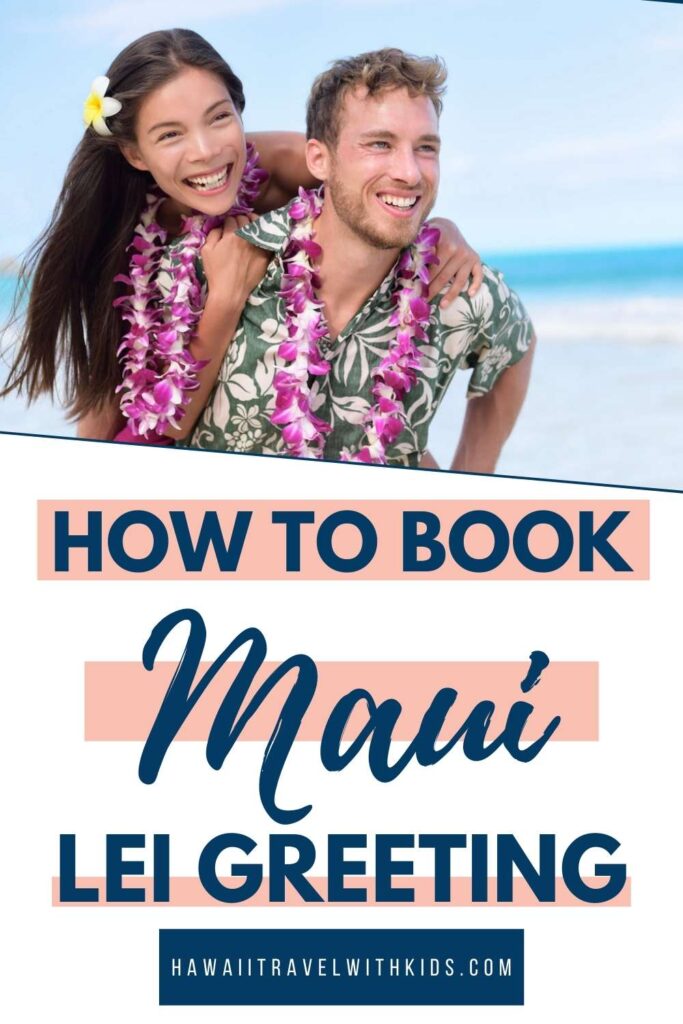 The Story Behind Lei Greetings
While you plan your lei greeting in Maui, you might know nothing about the history. It's beneficial to know where the tradition comes from!
It all started around 1,000 years ago when Polynesians traveled to the Hawaiian Islands and decided to settle there. These Polynesian voyagers were the ones who invented leis once they arrived, making it a unique part of Hawaiian culture.
What is a Lei?
Basically, leis have always been made from items from nature like flowers, vines, nuts, and shells that are strung together and worn decoratively. You might also see leaves, certain types of berries, seeds, feathers, or even bones used.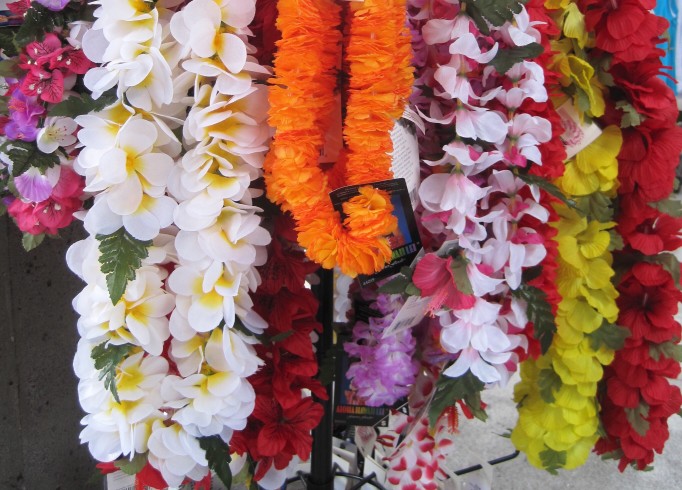 The Polynesians most commonly wore leis to represent their economic or political rank, but they were also just beautiful to wear!
They made some leis to honor the Polynesian gods and others to be used in peace talks between chiefs. They eventually came to represent honor, love, friendship, and a warm welcome.
Traditionally, you wear leis draped over the shoulders, hanging them equally in front and back, not like a necklace. You'll also find lei po'o (flower crowns worn on the head) and bracelets and anklets. These are often worn for hula dancing.
Men can wear flower leis but are often given ones made of ti leaves or kukui nuts.
You'll Find Leis Everywhere on Maui
Leis have never just been for greetings. You'll see flower leis at special occasions like weddings, at parties, and all over the place at luaus.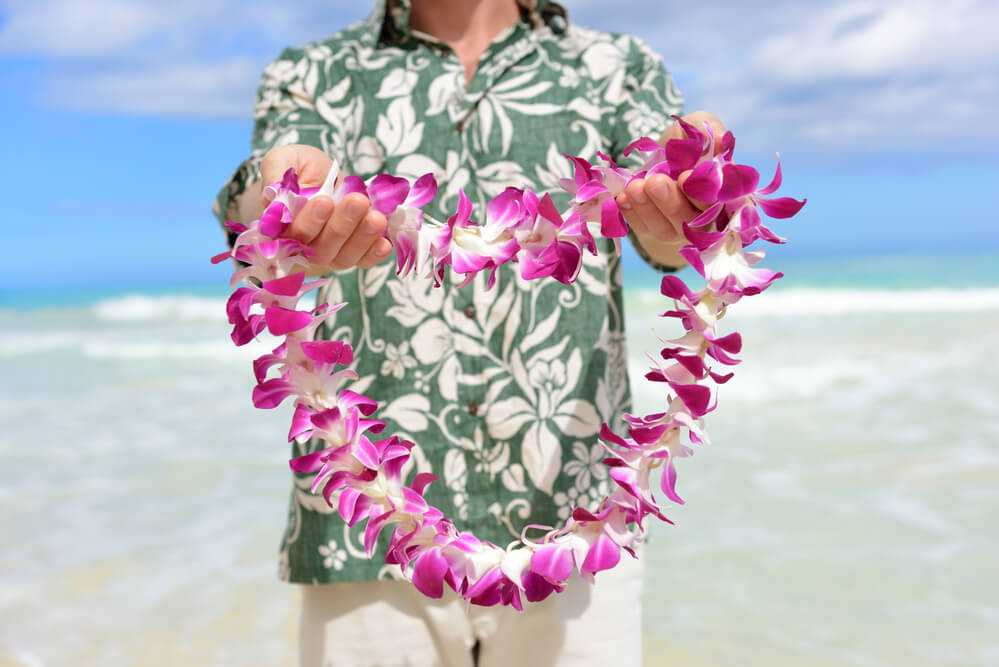 But you don't need a special occasion to wear yours on the islands! You might see locals wearing a garland of shells, nuts, or other things that last longer than flowers.
The Evolution of Lei Greetings
After the annexation of Hawaii by the United States, boats of tourists started pouring in. In those days you would see lines of lei vendors on the pier waiting to greet visitors and make some money.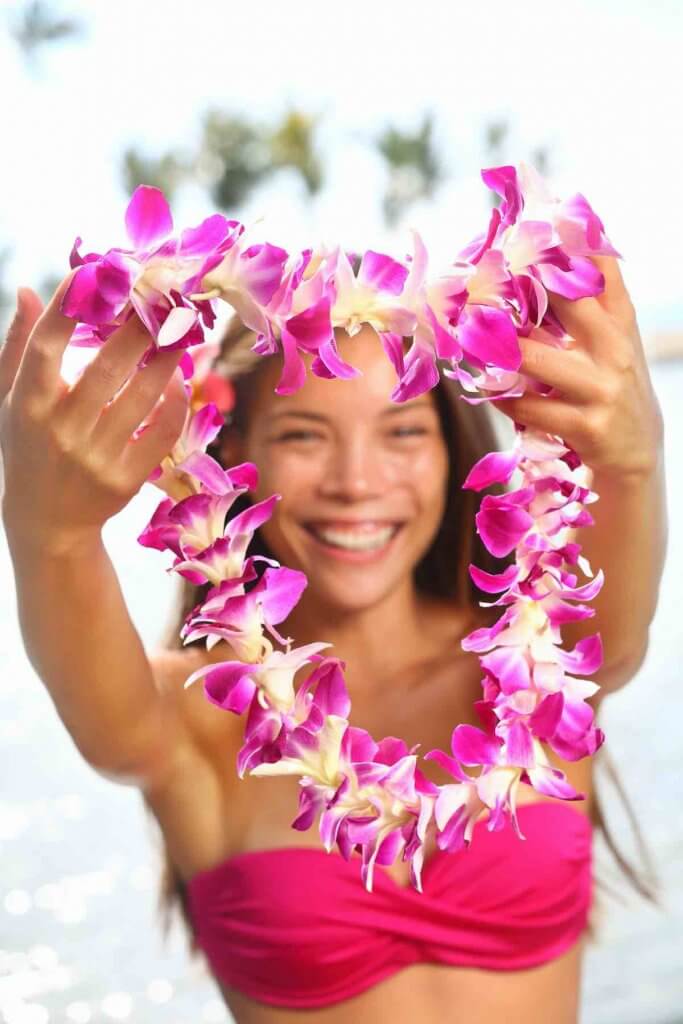 A native Hawaiian welcoming you with a handmade flower lei became the image Americans thought of when imagining an island getaway!
Well into the 20th century, this was the tradition. Along the way, it became less and less common, especially with the rise in airport security. Greeters could no longer meet you at your gate and the tradition changed.
So, what is a lei greeting today?
You can enjoy the nostalgia of the golden days by booking a Maui lei greeting for your airport arrival. Your greeter will welcome you and your party, placing leis on your shoulders.
Then, if you book a lei greeting with a shuttle, they'll warmly assist you with your luggage to your transport.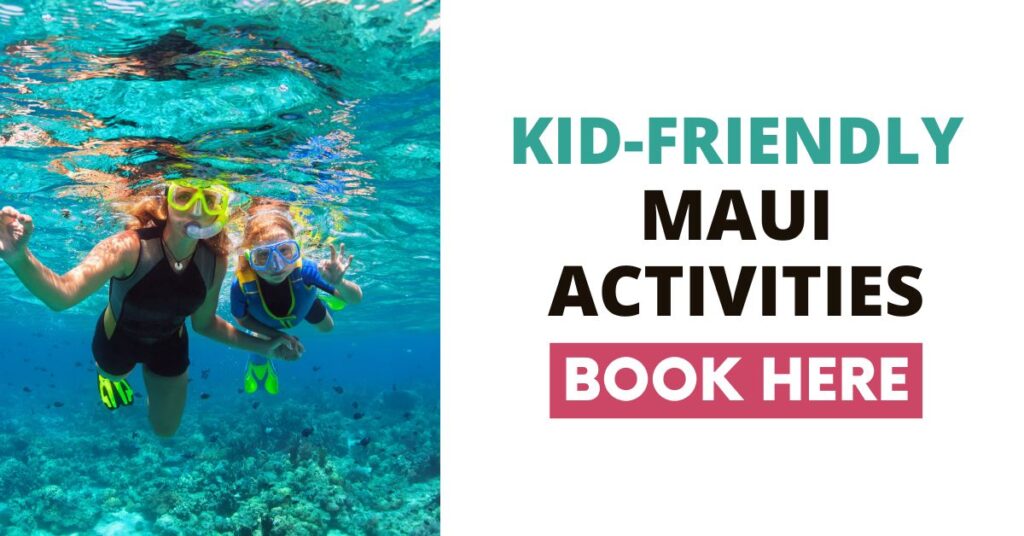 Does Everyone Get a Lei When They Arrive at the Airport?
At one time this may have been the case, but not anymore. Today, you can purchase a lei greeting for a fee through several companies ahead of your arrival.
You can also include a lei greeting in your hotel shuttle package or it can be gifted to you by someone else. It's a great way to surprise the family if you're traveling with others!
Book a Family Photo Shoot
Whenever we travel to Hawaii, we almost always book a family photo shoot with Flytographer. They are super easy, affordable, AND it guarantees that I'll be in some photos. You can get $25 off if you book through this link or use the code HAWAIITRAVEL.
Where to Book a Maui Airport Lei Greeting
When you start your search for a lei greeting in Maui Hawaii, you'll find all kinds of private companies.
It can get confusing, but I suggest focusing on going through booking companies that offer ratings and reviews from those who previously booked the service.
Maui Lei Greeting
For a traditional airport lei greeting on Maui, check out this one by Honolulu Lei Greeting. They offer a basic package that you can book one time for the whole family.
Choose from a selection of classic and deluxe leis, as well as leis made especially for children. They even have candy leis! Check the latest prices.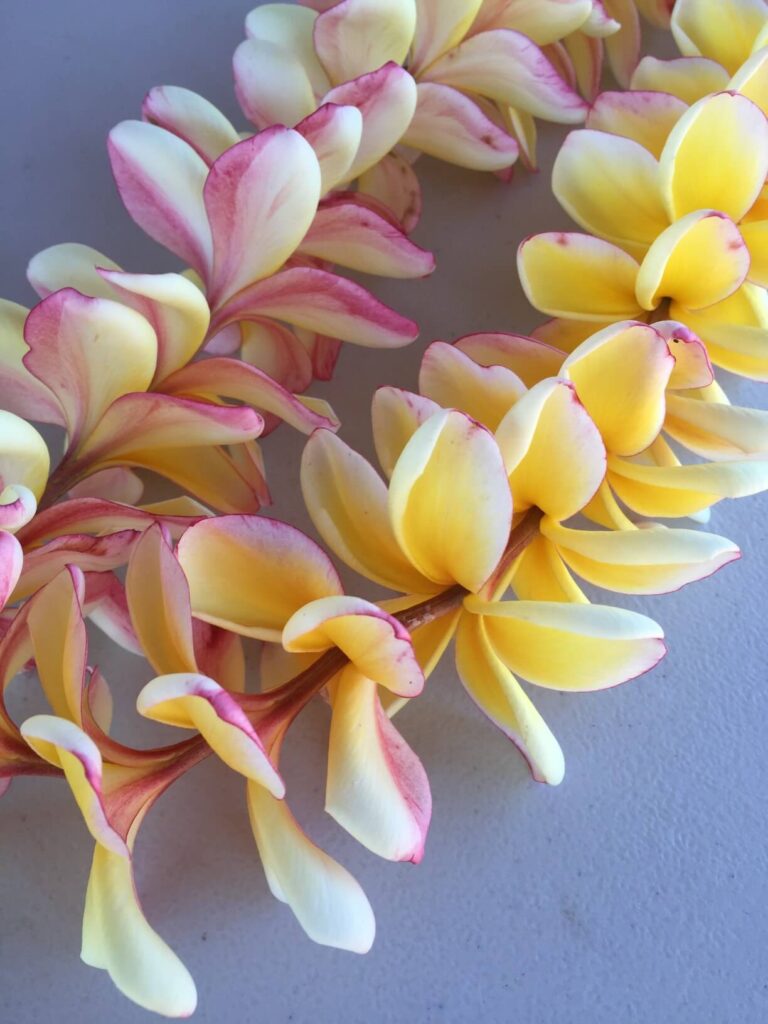 Hawaii Flower Lei's greeters will meet you at baggage claim at the Kahului Airport. You should look for their official airport ID badges and someone holding a sign with your party's name on it. They'll greet you with leis by placing them over your shoulders.
After this, in true Aloha spirit, they'll assist you with your luggage and answer any questions you have. They can take a picture of you and your family in your leis, help you get to connecting flights or rental services, and more.
Romantic Maui Lei Greetings
If you prefer a more special lei greeting on your honeymoon or any other romantic getaway, you can also find ones for couples.
I like this one from Honolulu Lei Greetings for a smaller travel party because it takes the guesswork out of booking!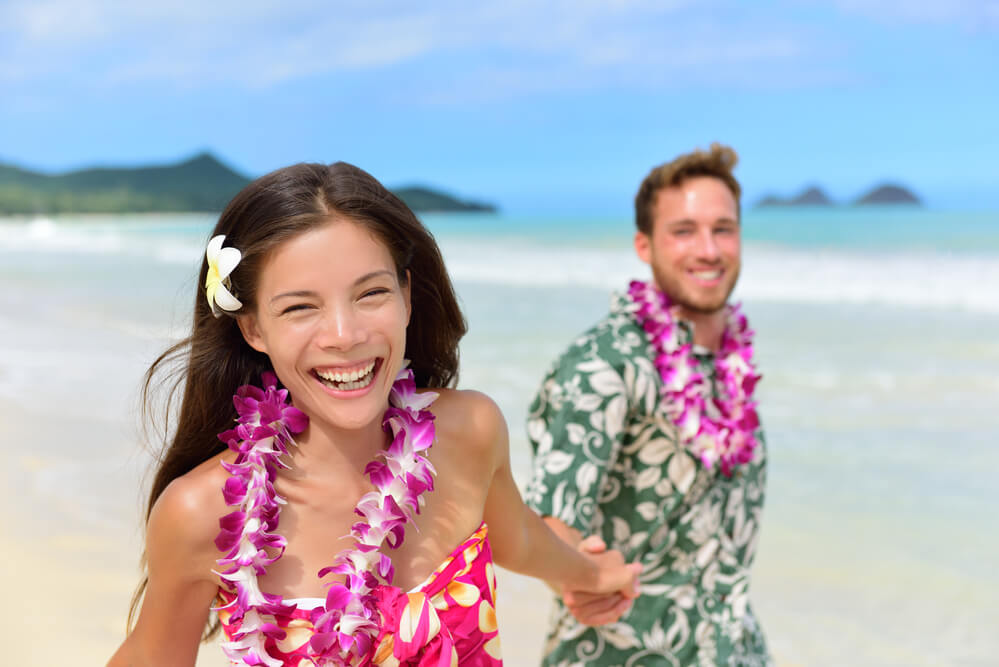 Just choose from a variety of lei combinations, like an orchid lei for a woman and a kukui nut lei for a man. Check the latest prices.
While the other booking is non-refundable for no-shows like if your flight is canceled, the couple's booking has another big plus. If for any reason you can't meet your greeter, your leis will be delivered to your hotel!
A Step-by-Step Guide to Booking a Lei Greeting in Maui
To book your Maui lei greeting at the airport, there are certain steps you want to take. For the most positive experience, follow my how-to below:
Before anything else, get your flight and accommodations in order. You'll need this information when you book your lei greeting.
Steps on booking sites vary. I highly recommend entering your arrival date and number of travelers first so you know what your available options are.
The site will prompt you to choose what kind of lei you want for each person you include in your booking.
At this point, double-check that you're happy with your order. Make sure you've entered the correct arrival date, number of people, and lei choices.
Enter your payment choice and provide your exact flight and hotel info.
After you finish booking, print the confirmation or voucher. It might pop up on the screen or be sent via email. You'll need this printed paper when you meet your greeter to confirm it's you.
That's basically it! It's not difficult to book a lei greeting, but it's good to be prepared with all the correct information. Make things as smooth as possible so you can relax and enjoy your vacation!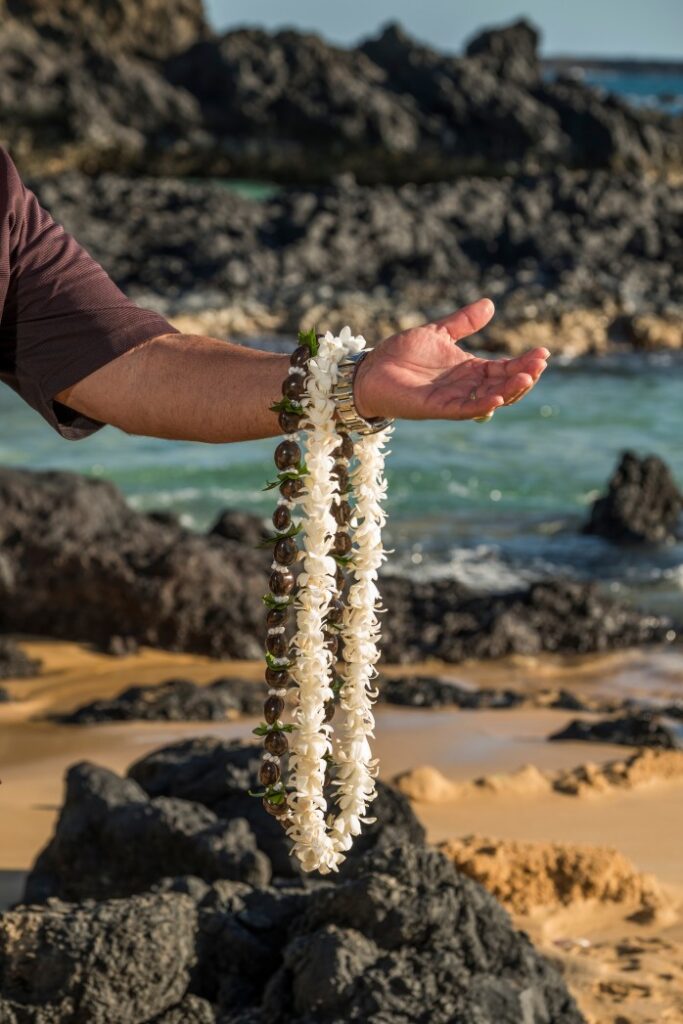 Tips for Booking a Hawaii Lei Greeting
If you like the sound of a traditional Maui lei greeting, there are a few things to keep in mind. Keep reading for all the details.
When you book, you'll get to choose from a variety of lei types
If the person you're booking for has allergies or sensitivity to fragrant flowers, skip leis made with tuberose. This is a highly fragrant flower.
Instead, you can go with purple orchids that have no fragrance, or choose a lei made of something else, like seashells or ti leaves.
Remember to book in advance
Keep in mind that most companies offering lei greetings ask you to book them at least 48-hours in advance of your arrival for logistical reasons. Sometimes you can book last minute if you pay a small rush fee.
Health/Safety protocols are in place
Be aware that all guests and greeters are required to wear masks throughout the experience for everyone's safety. Greeters will move into your personal space to place the lei on your shoulders.
If you or someone in your party aren't comfortable having someone that close to you, you might want this service.
It will cost between $35-$50 per person
Prepare for leis at Maui airport to cost anywhere from $35 to $50 per person, depending on where you book. This price reflects not only the cost of the lei but also the labor of your greeter!
If you want a deluxe lei or a lei made of kukui nuts, this may change the price as well. If you book your greeting along with a shuttle to your airport, it'll probably run about $15 to $25 for the add-on.
There are several Maui lei greeting services
When booking a lei greeting in Maui, you'll have to decide what kind of service you want. You'll find bookings for just lei greetings, as well as lei greetings that include transportation or tours around the island.
Read the fine print along the way to make sure you get what you want.
You might book a shuttle that includes a lei greeting
When you're on Maui, you may skip the rental car and book a shuttle for things like luaus or sightseeing tours. Lei greetings are included on many of these van shuttles.
If a lei greeting at Maui airport sounds too hectic, consider instead adding one to your shuttle package for a special treat!
How Do You Properly Dispose of Your Lei?
Throwing your lei in the garbage is disrespectful! A lei is a gift symbolizing love and friendship, so it should be respected.
Traditionally, you're supposed to return it to the earth. You'll find lots of leis hung in trees or placed on statues around Maui because the visitors are encouraged to leave their lei somewhere they felt a connection to the island.
You can also remove the flowers from the string and burn them or scatter them in the ocean.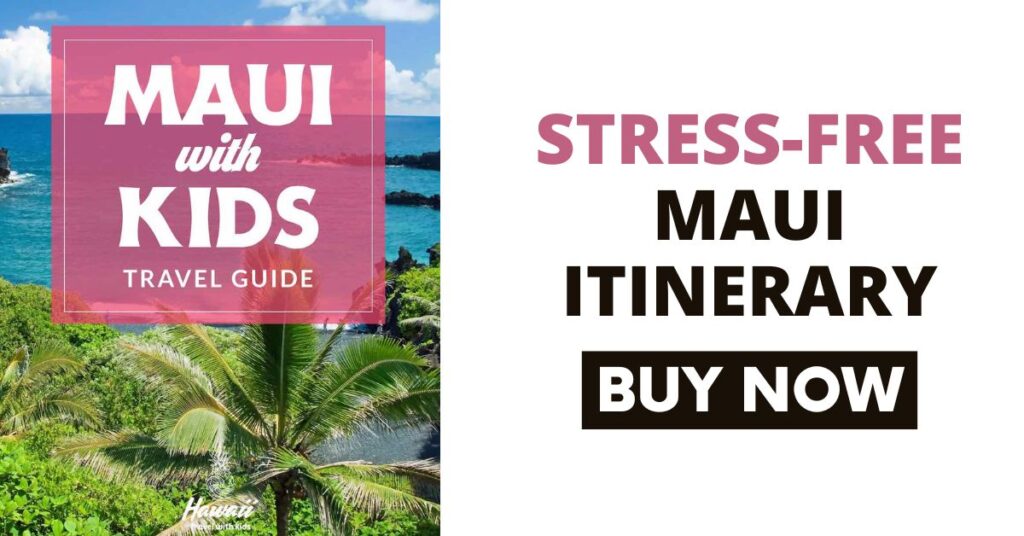 Start Your Vacation with Maui Airport Lei Greetings
Now you have all the information you need to book a lei greeting in Maui Hawaii! When you travel, traditions are more enjoyable for everyone when you have a historical and cultural context.
Plus, if you've never had a lei greeting, the last thing you want to worry about is the technical stuff!
Take it easy, breathe deep, and remember that you'll be on vacation! The whole point of a Hawaiian greeting is to help you feel welcome and relaxed from the very start of your stay.
Be open to the personal, accommodating greeter. Let them adorn you with the lei and enjoy their hospitality!