Are you looking for the best things to do in Oahu with kids? Keep scrolling to read my honest review of the Kualoa Ranch Movie Tour.
This Kualoa Ranch Movie Tour Review contains affiliate links which means if you purchase something from one of my affiliate links, I may earn a small commission that goes back into maintaining this blog.
Looking for something fun to do on your next trip to Hawaii?
Kualoa Ranch is one of the most popular tourist destinations in all of Hawaii. With good reason – it's home to some of the most amazing scenery and has been used as a filming location for dozens of movies and TV shows.
The ranch offers several different tours, but the movie tour is by far one of the most popular. I did this tour with my mom and my 5-year-old son and we loved it!
It takes you on a bus ride around the property, stopping at various locations where famous movies and TV shows were filmed. You'll get to see firsthand how they turned this beautiful piece of land into an epic movie set.
If you've watched movies that take place in Hawaii, chances are at least a few scenes were filmed at Kualoa Ranch.
Keep scrolling to read my full Kualoa Ranch Movie Tour review so you know whether or not to book it for your next trip to Oahu!
Already know you'd like to book? Get your Kualoa Ranch Movie tour tickets HERE.
Don't have time to read a bunch of Hawaii blog posts and reviews? Here are some of our top picks for visiting Oahu.
Popular Oahu Tours/Activities
Favorite Oahu Resorts/Hotels
Want to Rent a Car in Hawaii?
One of the best places to rent a car in Hawaii is Discount Hawaii Car Rental because they get the best rates from top national companies like Alamo, Dollar, Thrifty, Avis, Enterprise, Budget, and Payless.
Want to skip all the planning and just access my detailed Oahu Itinerary complete with daily schedules, kid-friendly activities, and travel hacks? Click the button below.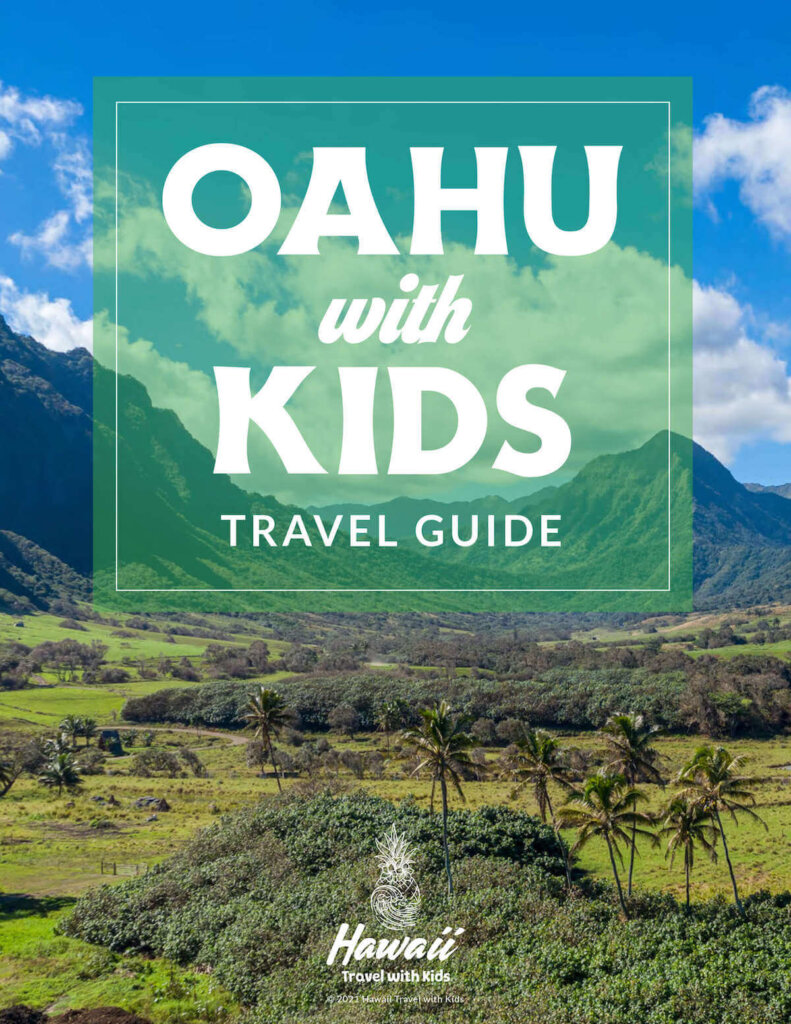 Kualoa Ranch on Oahu FAQs
Which tours are Kualoa Ranch movie tours?
While there is technically only one designated movie tour, almost every tour at Kualoa Ranch features a few Oahu filming sites. That's because SO many movies and TV shows were filmed at Kualoa Ranch.
Where are the Finding Ohana filming locations?
A lot of scenes from this Netflix movie were filmed right at Kualoa Ranch. You can see some things inside the bunker.
What are the best Hawaii movies to watch before visiting Kualoa Ranch?
Some of our favorite Oahu movies include Finding Ohana; Mike and Dave Need Wedding Dates; 50 First Dates; You, Me, and Dupree; Jumanji Welcome to the Jungle, and Jurassic World. These are just a few of the movies filmed at Kualoa Ranch.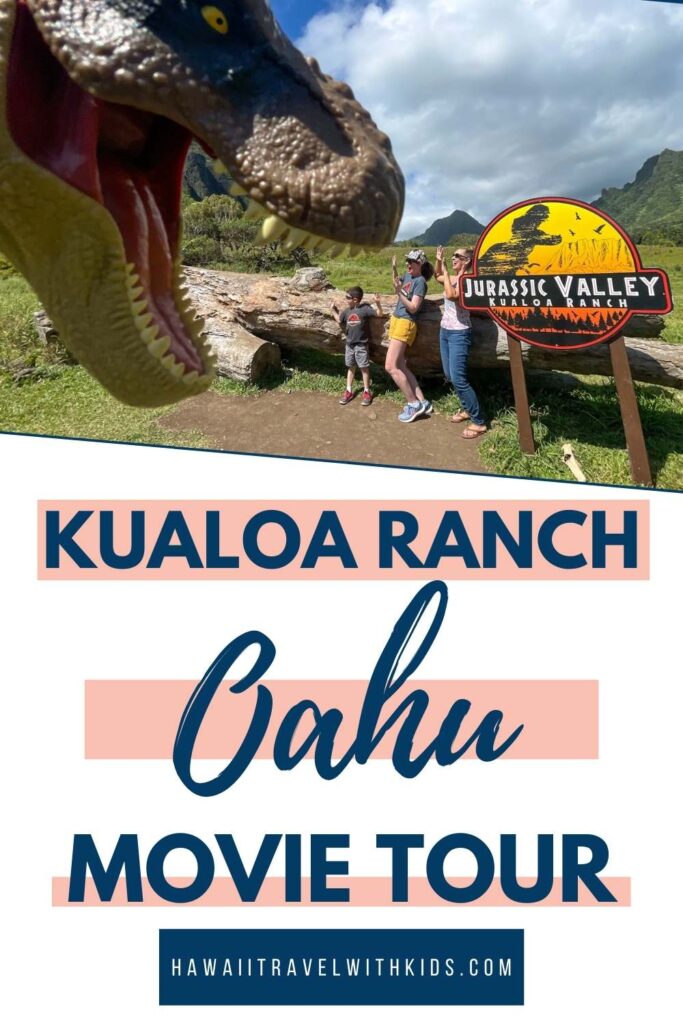 Brief History of Kualoa Ranch
Kualoa Ranch was founded by Dr. Gerritt P. Judd back in 1850. He came to Hawaii from the East Coast to help treat Native Hawaiians who were battling diseases and new illnesses.
After seeing how Waikiki and Honolulu were quickly developing, he decided to purchase the 4,000 acre Kualoa Ranch property for $10,000 in order to preserve the sacred land.
Today, the land is still owned and managed by Dr. Judd's descendants. They offer tours, event rentals, and commercial activities in order to keep the land at Kualoa undeveloped and pristine for future generations.
Kualoa Ranch Tours
There are a TON of Kualoa Ranch tours. So, if some people in your party want to do the movie tour, but others are looking for something else, you can probably find something for everyone here.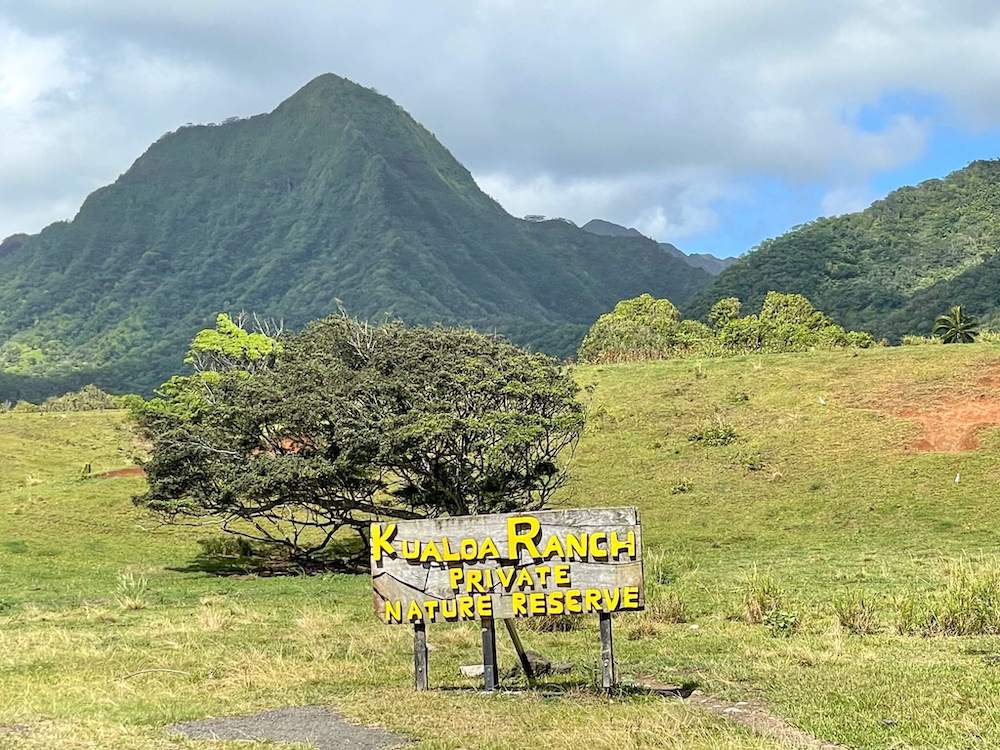 And if you are pretty energetic, you could also do more than one tour in a day. Just be sure to leave time to refuel with food and drinks in between.
Here are some of the best Kualoa Ranch tours besides the Hawaii movie tour:
What to Know about the Kualoa Ranch Movie Tour Before You Go:
How to Book the Kualoa Ranch Movie Tour
All the Kualoa tours are pretty popular so it's really important that you reserve your tour ahead of time. It's not a good idea to just show up.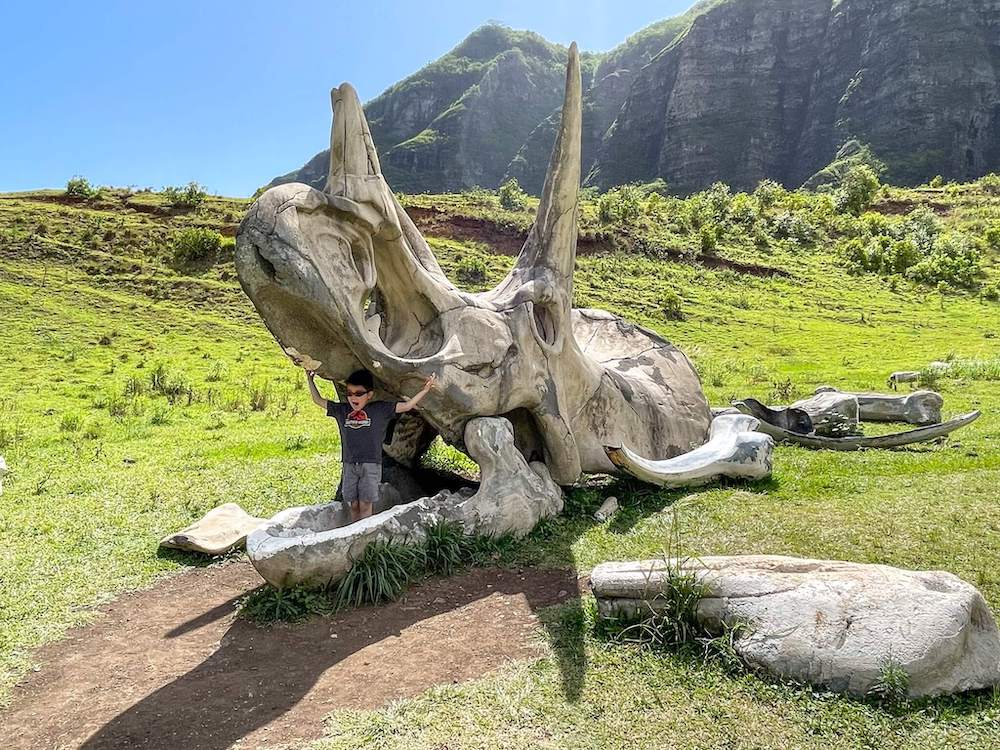 This Oahu movie tour was sold out a lot during this past year so we booked our tickets a few months in advance. It's really easy to book online HERE.
Parking at Kualoa Ranch
Thankfully, there are TONS of parking spots at Kualoa Ranch. It's all free parking, too. Just avoid the spots designated for their tour vehicles, which are clearly marked.
Arrival
They will ask you to arrive 45 minutes before your tour time. That's so you'll have plenty of time to check in, use the restroom, etc.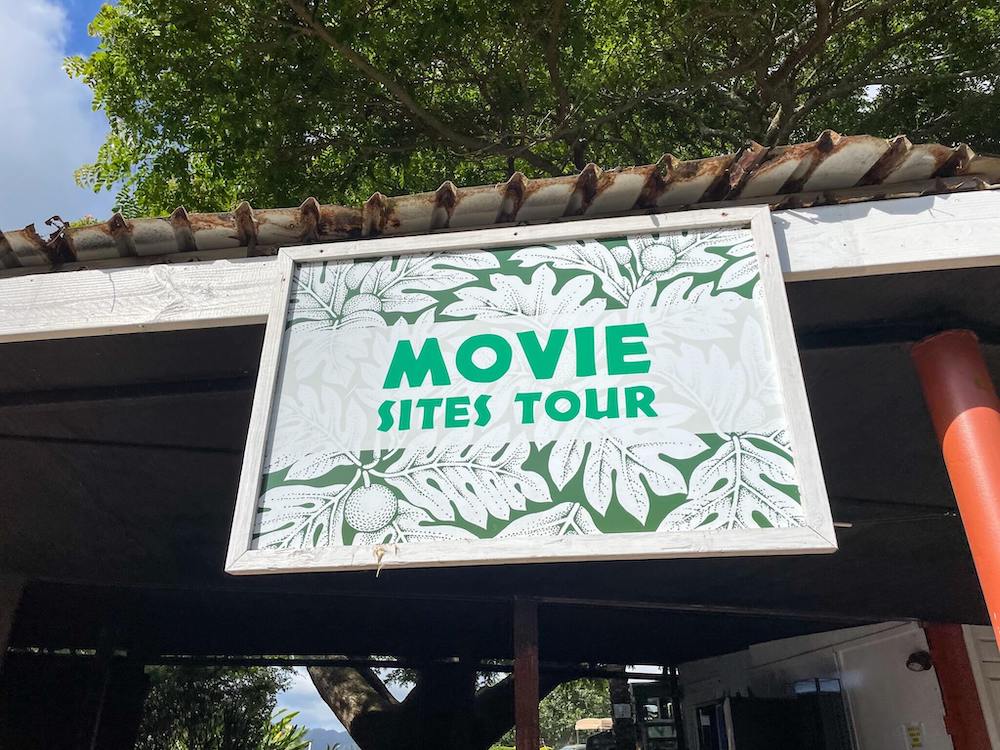 If you didn't bring a water bottle, you can head into Aunty Pat's Cafe to get some drinks and/or snacks for the tour.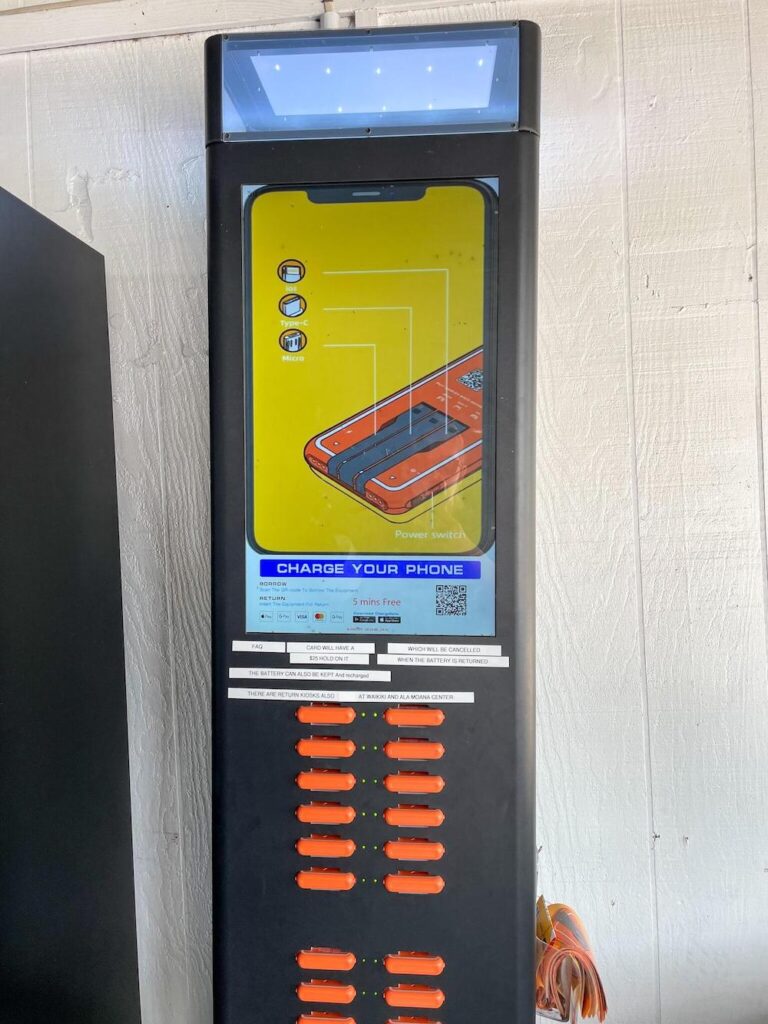 Once you head to the movie tour loading area, you'll see a vending machine with ponchos and snacks. And there's another machine with phone battery chargers.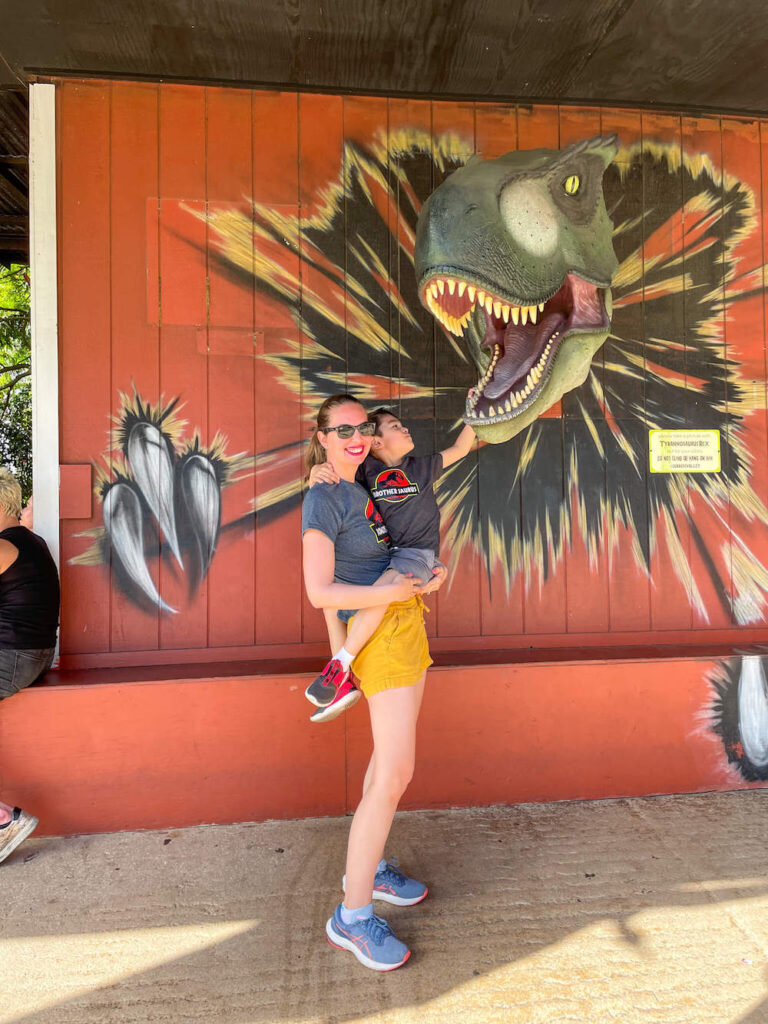 There are also LOTS of fun photo spots in the waiting area for the Kualoa movie tour. It's a perfect place to take some pre-tour photos.
Kualoa Ranch Movie Tour
You'll take a commemorative photo in front of the mountains before hopping inside a large bus with no windows.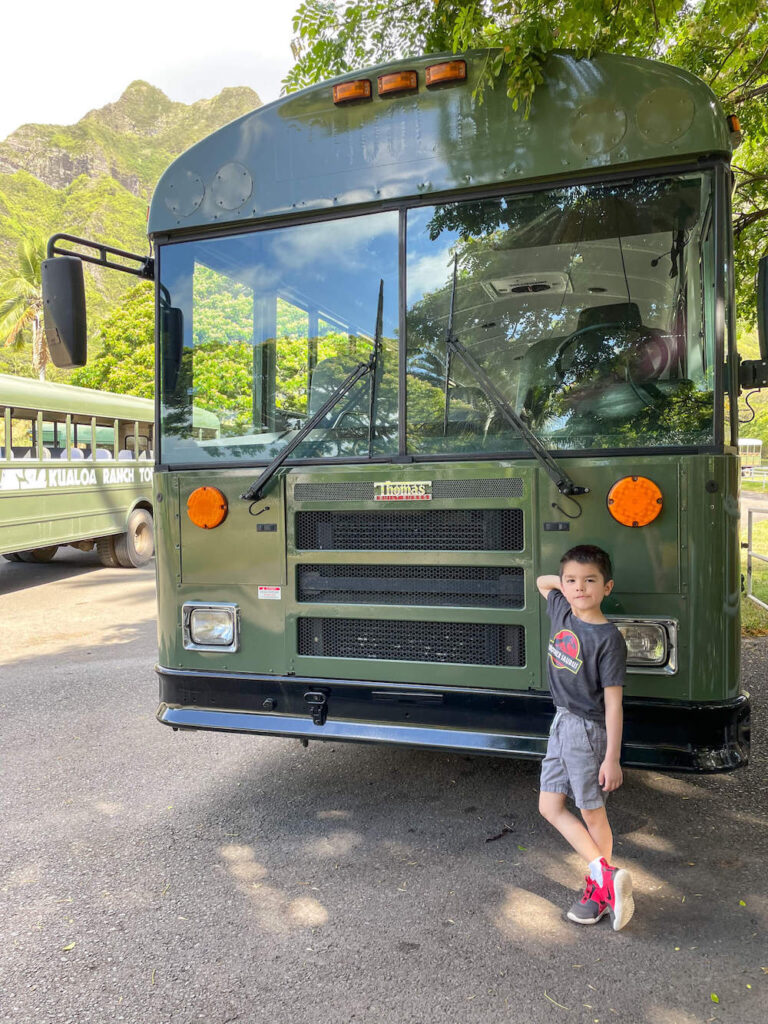 The first row has ample leg room but the rest of the bus is pretty standard. They will have you sit 2 to a seat.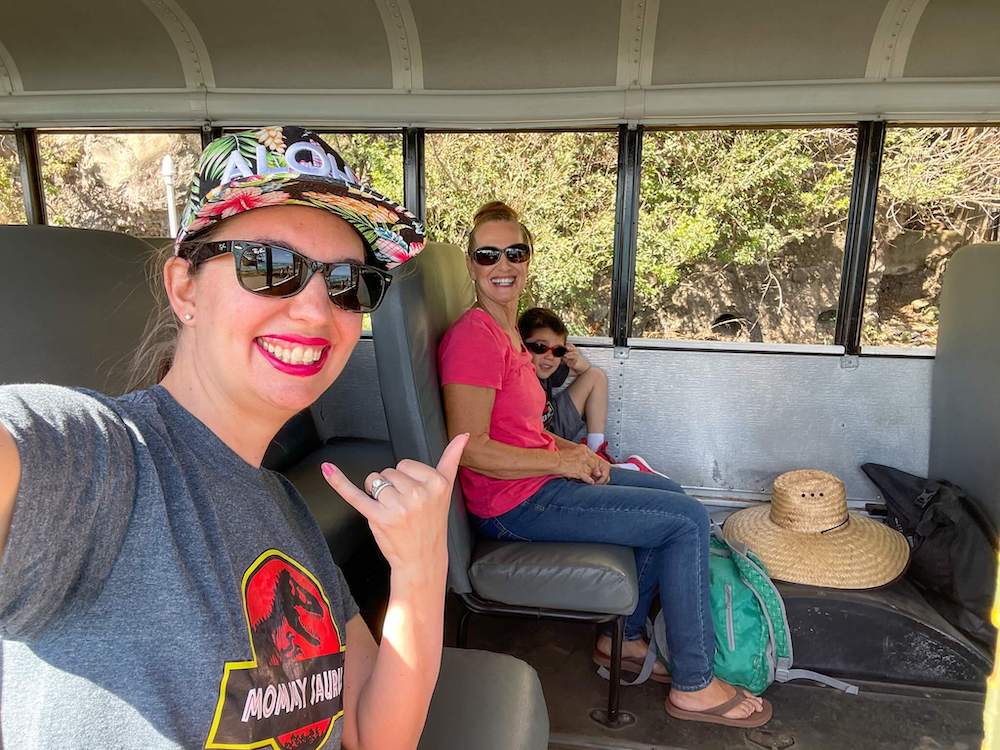 This 90-minute tour focuses just on the Ka'a'awa Valley (there are 3 valleys at Kualoa Ranch). You'll spend most of your time on the bus with just a couple of stops where you can get out and take photos.
You won't be stopping at every movie site or photo op. Kualoa Ranch is huge and there's not enough time to see everything in a 1.5-hour tour.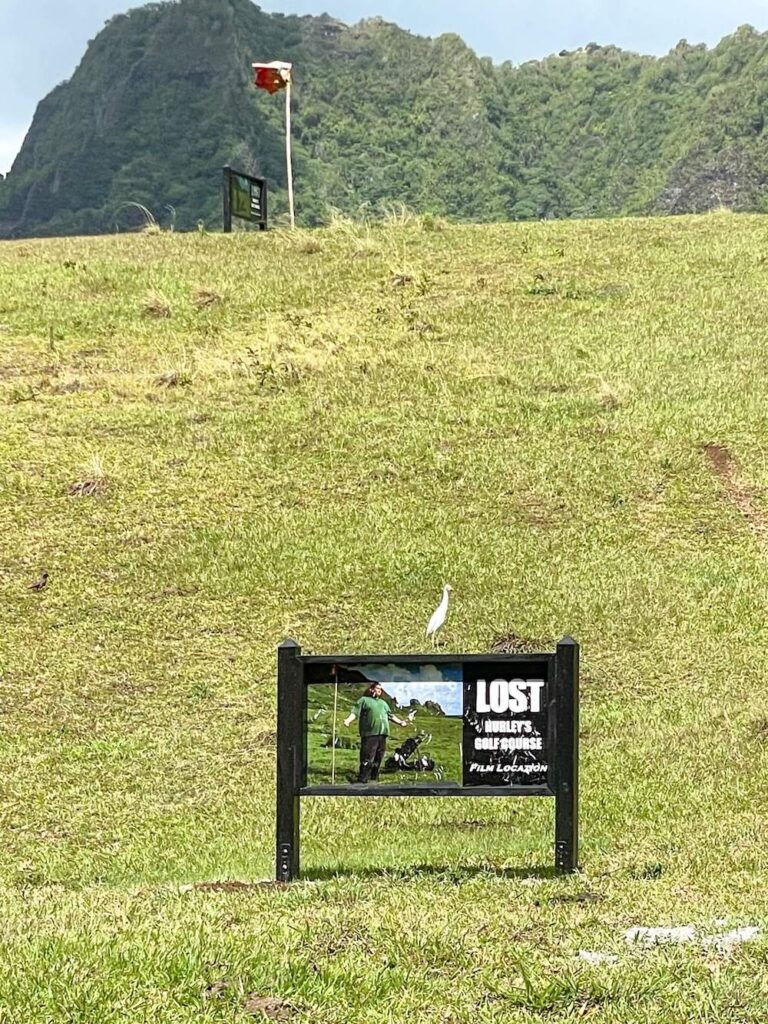 I do want to point out that because this is a working filming site, there are only movie props/sets in specific areas. Most of the sets have been cleared away but there is signage to show you where specific movies were filmed.
Our guide was hilarious and she told us all kinds of stories throughout the tour. It was quite informative and entertaining.
Kualoa Ranch is where many movies on Oahu were filmed including 50 First Dates, Mike and Dave Need Wedding Dates, and Jurassic World.
Food Options
If you're trying to figure out where to eat at Kualoa Ranch, you'll want to set aside time to enjoy lunch at Aunty Pat's Cafe. This is the Kualoa Ranch restaurant.
Almost all of their food is grown locally at Kualoa Ranch. And the food is GOOD.
You'll need to stand in line to order your food and then wait for them to cook it. They also have grab and go options where you don't have to wait in the grill line. I saw prepackaged sandwiches, snacks, and drink options.
Otherwise, you can drive into Kaneohe or Kailua and have an array of restaurant options.
Gift Shop
The gift shop features lots of merchandise inspired by Kualoa Ranch movies. There are a bunch of Jurassic Park items, stuffed penguins from 50 First Dates, and so many other things.
Plus, they have a great assortment of general Oahu souvenirs.
The Highlight of this Oahu Tour and What You Should Look Out For
This is really the perfect Kualoa Ranch tour for families with babies or toddlers or for grandparents who don't want to do an "adventure."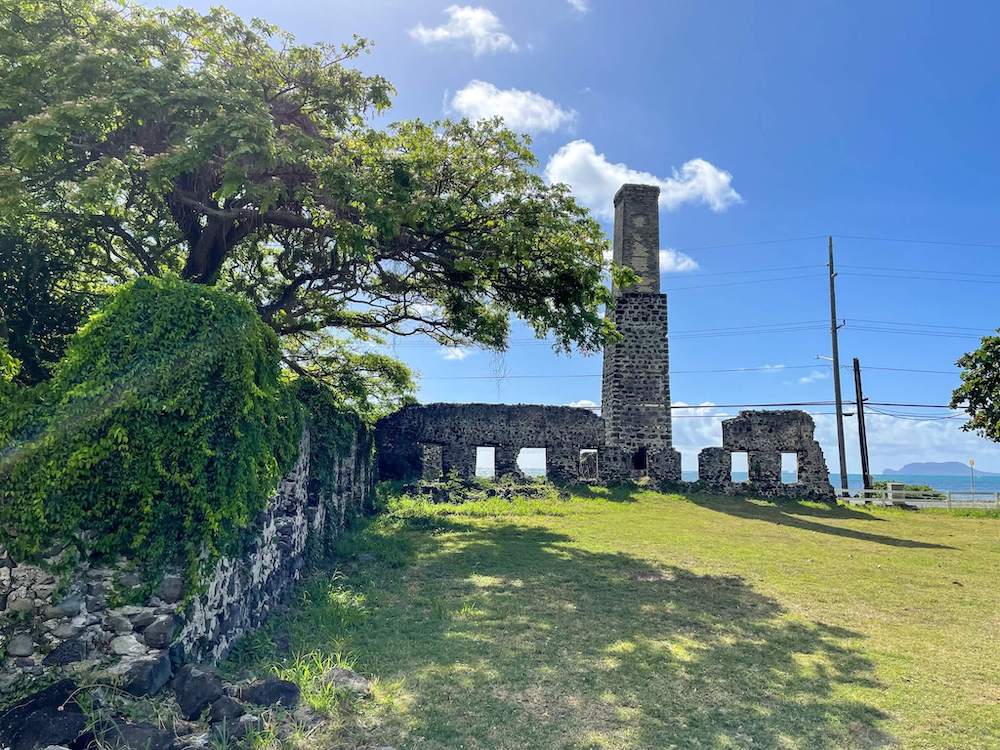 We drove past an old sugar cane mill and we learned that was one of the first endeavors on the property. It only lasted a few years before folding.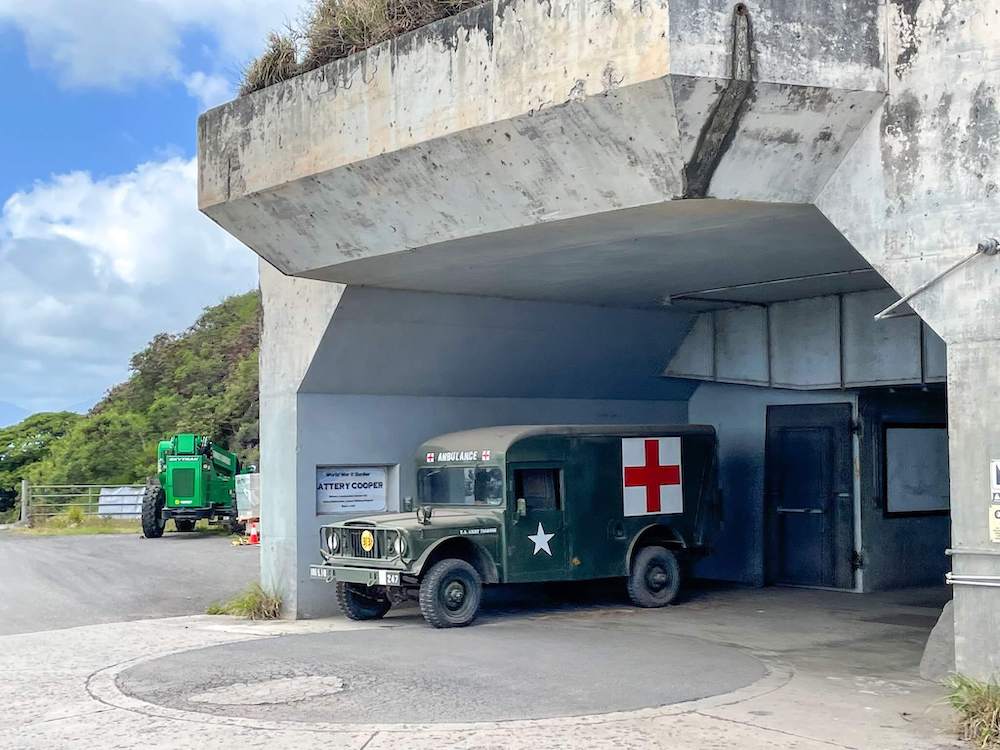 The first stop was an actual bunker that is filled with movie memorabilia and displays. It's all undercover so it's a great way to get out of the sun.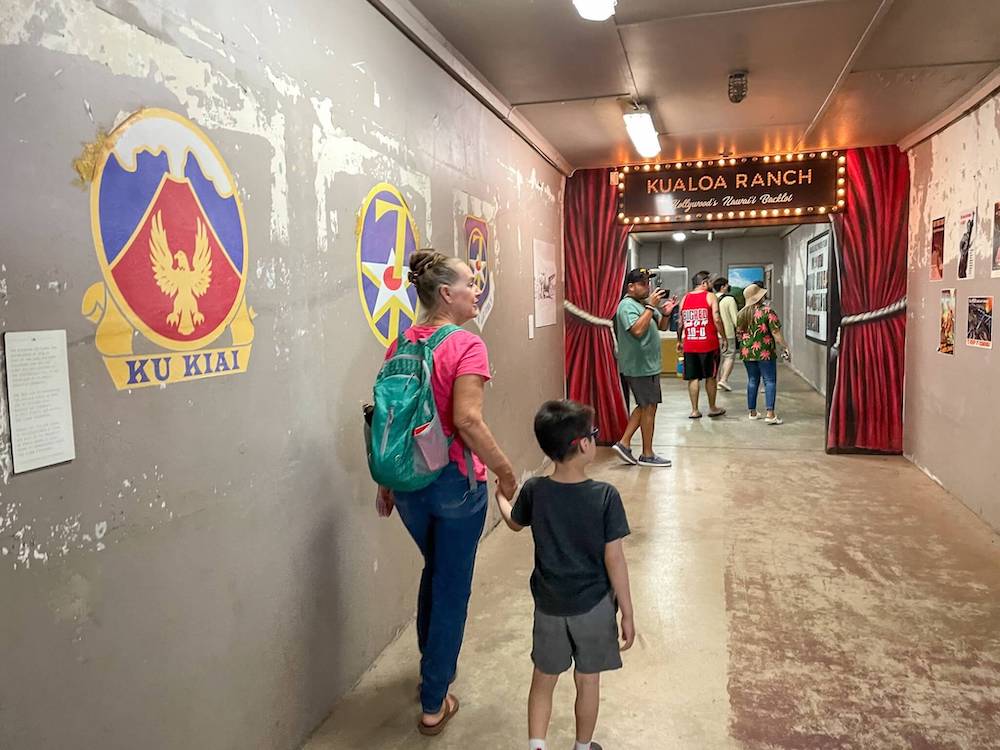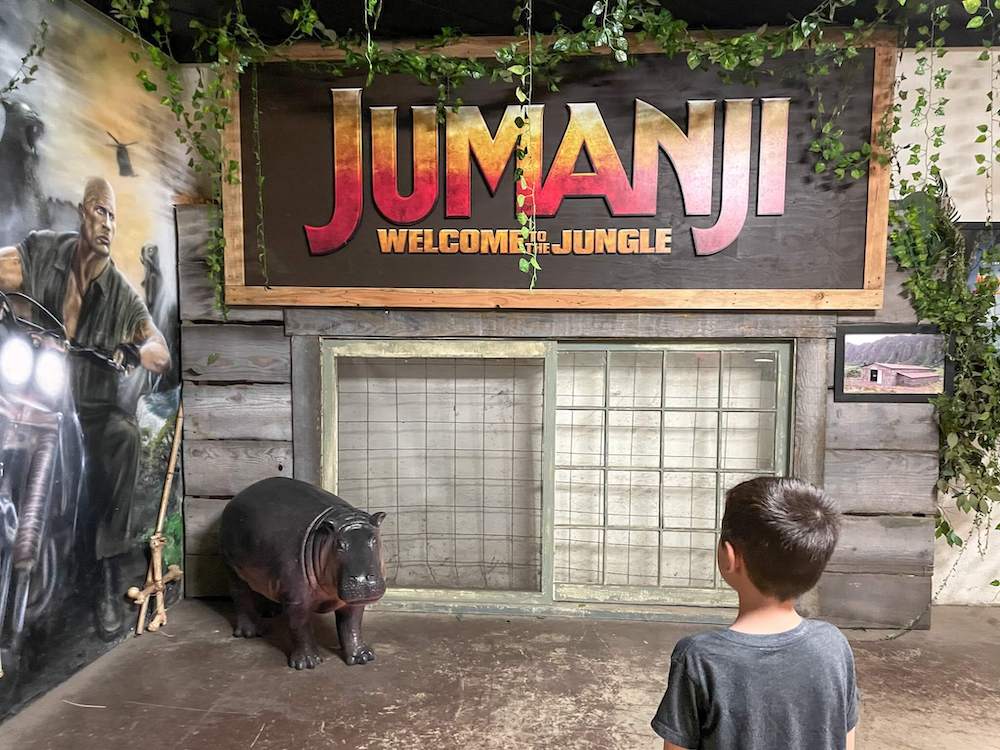 We loved all the cool photo spots and movie scenes set up. I didn't realize just how many movies were filmed at Kualoa Ranch and it was cool to see all the movie posters.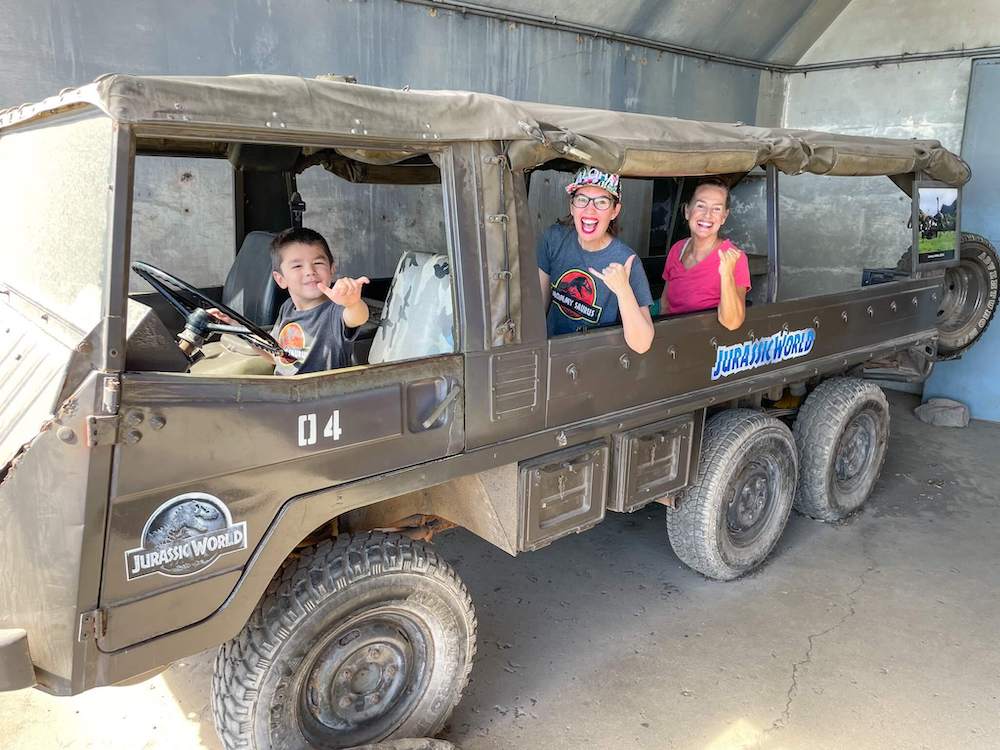 We also drove through a really gorgeous replica Hawaiian village with homes, plants, and a fish pond.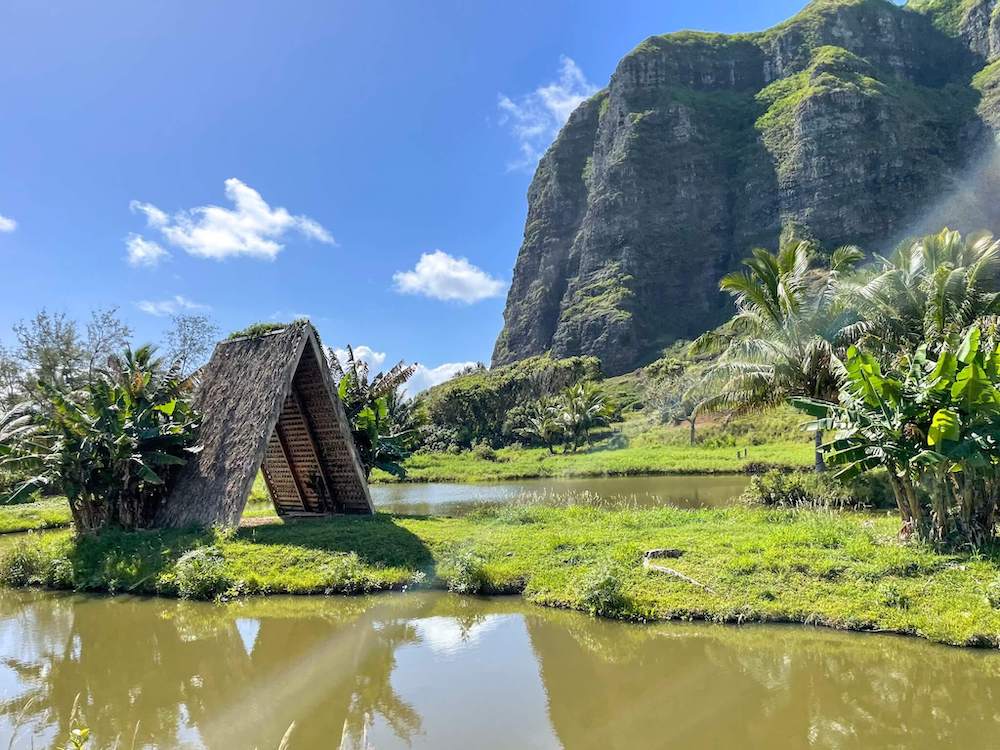 This was a great opportunity to learn more about Hawaiian culture and the ways that Kualoa Ranch is trying to keep that educational component for visitors and residents.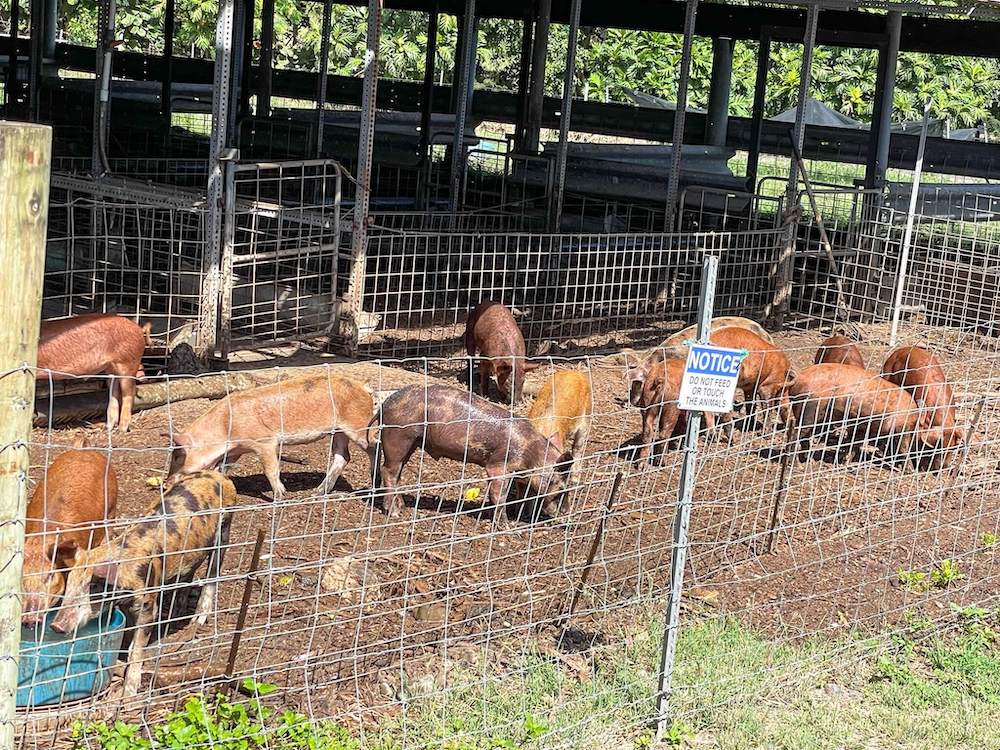 Along the way, we drove past a pig sty that had little baby piglets! Apparently Kualoa Ranch uses a special Korean method of raising pigs and there's no smell involved.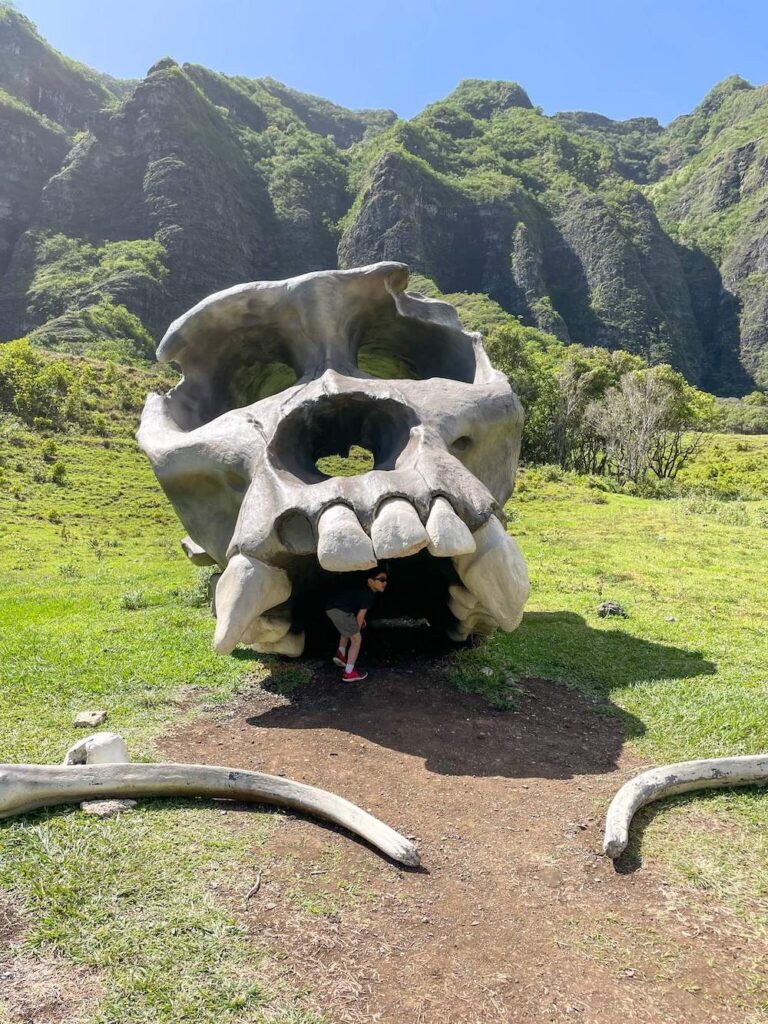 We also stopped at the boneyard where we could get out and take photos with all the replica dinosaur bones and King Kong.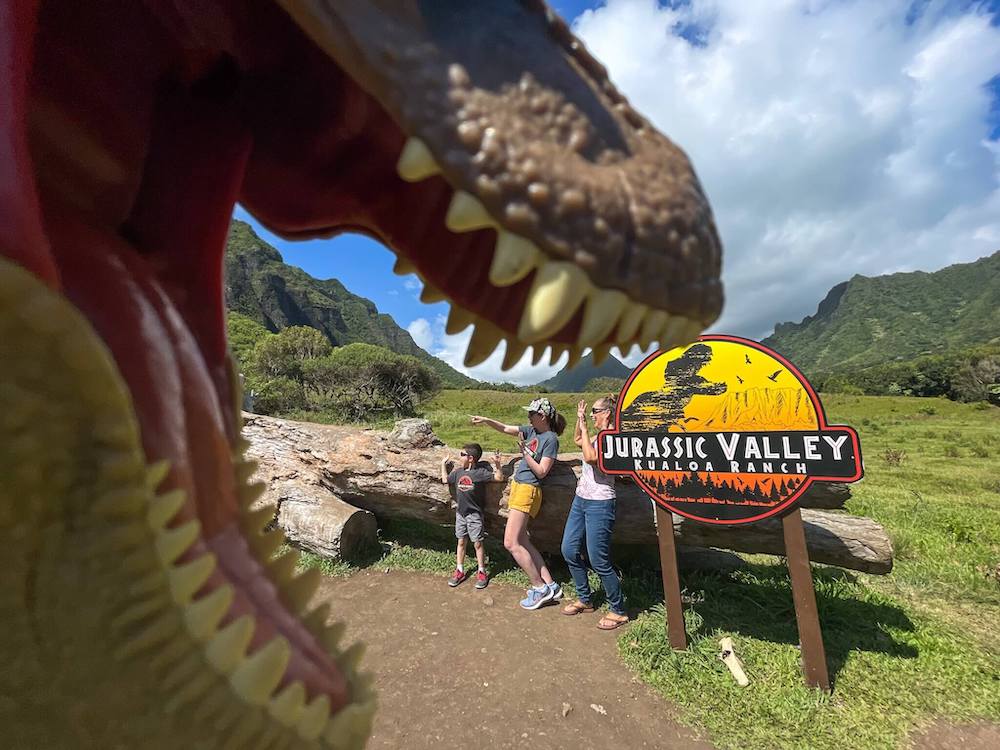 This is where our guide offered to take photos and video of us with the Jurassic Park sign and a toy dinosaur. It was really awesome!
Kualoa Ranch Movie Tour Tips for Families
What to Wear
While some Kualoa Ranch tours require closed-toe shoes or long pants, this Kualoa Ranch movie site tour does NOT.
You really can wear whatever you like. We saw people wearing shorts, dresses, skirts, sandals, flip flops, etc.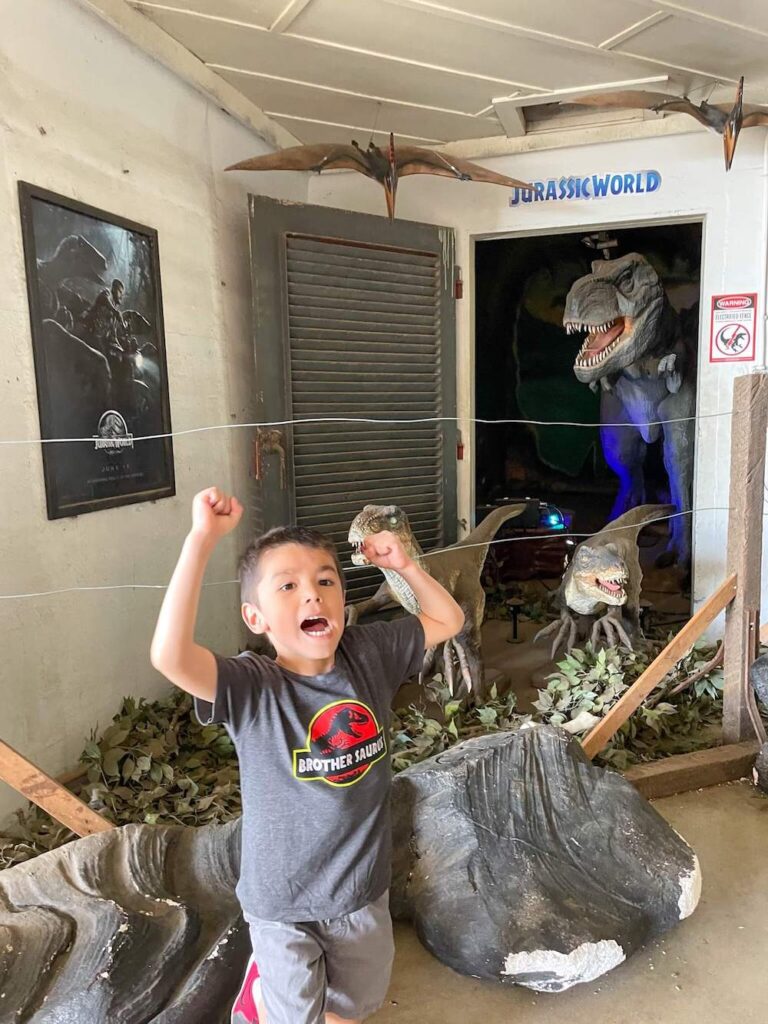 My son and I wore our Jurassic Park shirts because it was a good excuse to wear them again! I originally had our matching family shirts made for the Kualoa Ranch ATV tour that we did a few months prior.
I do recommend wearing sunscreen as the sunlight does come in through the window. And you might want to wear a hat when you explore the boneyard (there's no shade).
What to Bring
You'll definitely want to bring a camera (either cellphone or a big camera). And you might even want a gimbal so you can take steady video along the drive.
You'll also want to make sure to bring cash so you have tipping money.
If you think you'll want to head to Kualoa Beach right after (which I definitely recommend), be sure to pack a swimsuit and change of clothes.
How Much Does it Cost and Where is it Located?
Kualoa Ranch is located in Kaneohe and it's about a 45 minute drive from Waikiki. It can be much longer during thick traffic, so be sure to check before you go.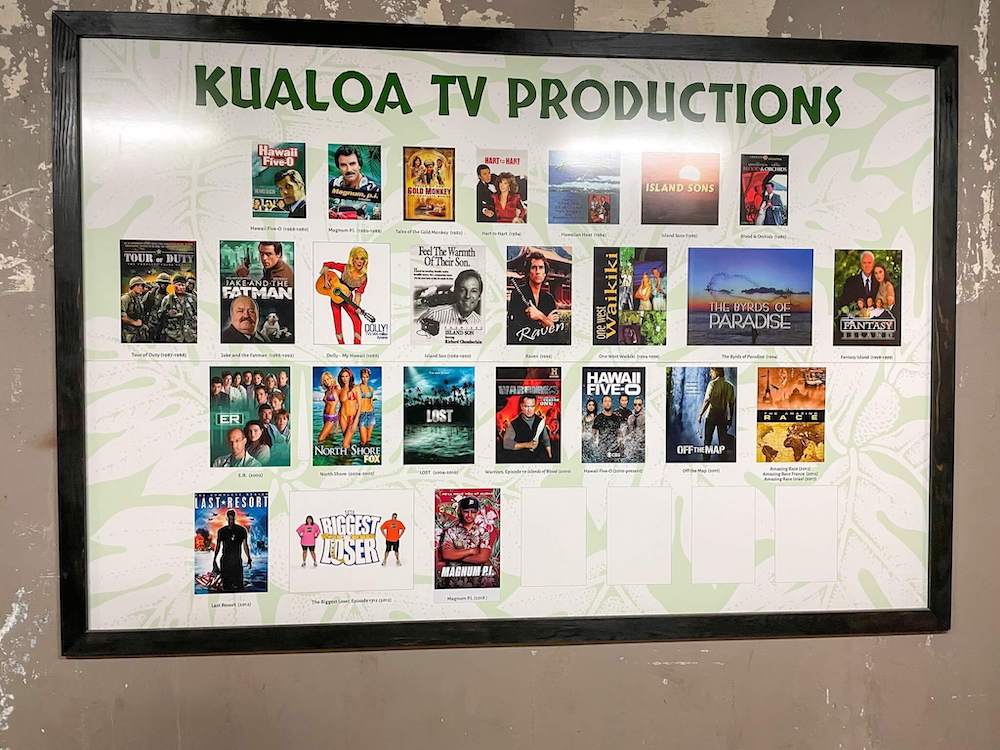 The Kualoa Ranch Movie Tour costs $54 for adults, $38 for kids ages 3-12, and kids 0-2 years old are free. This Kualoa movie tour is for kids of all ages.
Kualoa Ranch Jungle Tour vs Movie Tour
I know a lot of families debate between doing the Kualoa Ranch Movie Tour vs Jungle Tour.
We actually did both the Movie Tour and the Jungle Tour in the same morning. We started with the movie tour at 9:00 am and then did the jungle tour at 11:00 am.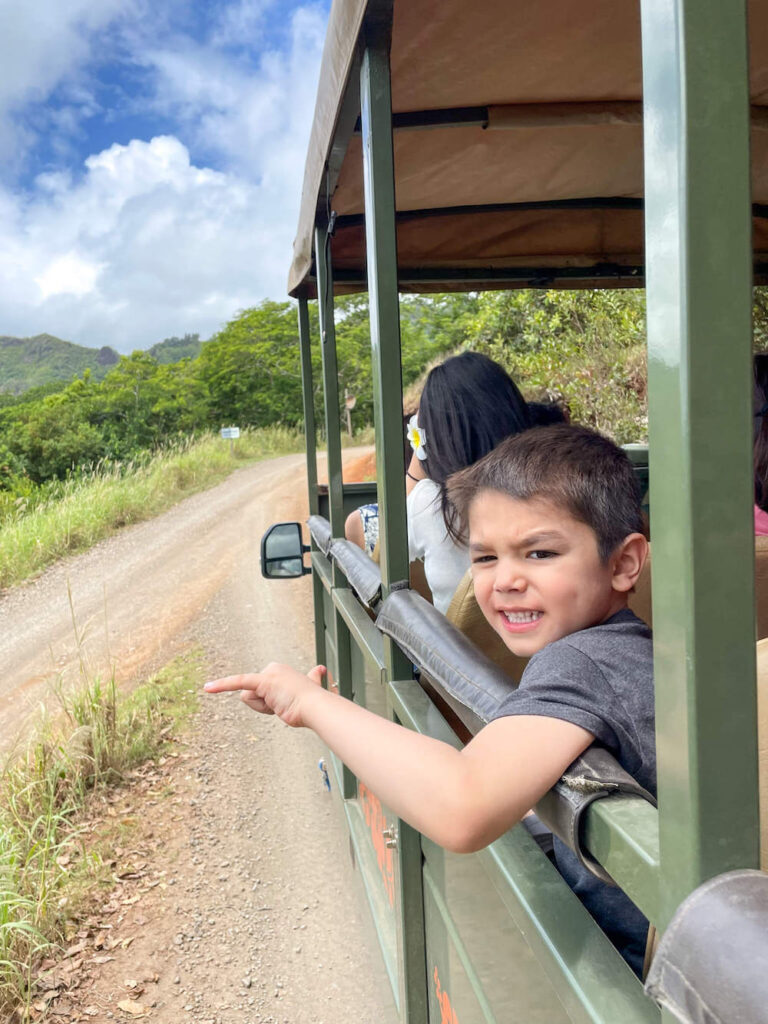 The Movie Tour focuses on the Ka'a'awa Valley and the Jungle Expedition focuses on the Hakipu'u Valley. They do not see the same attractions.
The Jungle Expedition is for kids ages 3+ and it's a pretty bumpy ride. You'll go off-roading a bit. It's less adventurous than the ATV tour, but it will check the box for families who want a few thrills. Read my full Kualoa Ranch Jungle Tour review.
So, is the Kualoa Ranch Movie Tour Worth It?
Yes! We've done several Kualoa Ranch tours and this was such a relaxing way to see the property.
This is perfect for families with kids who are too young to do some of the adventures. Or for grandparents who need something to do while the rest of the families goes ziplining or rides ATVs.
It's super cool to get out at the bunker to see all the movie memorabilia (something you don't do on the ATV tour or Jungle Expedition).
We actually did this Kualoa Ranch Movie Tour first and then headed to the Jungle Expedition later that morning, which features a different valley. It worked out perfectly!