Are you looking for the best things to do in Oahu with kids? Keep scrolling to read my honest review of the Kualoa Ranch Jungle Tour.
This Kualoa Ranch Jungle Tour Review contains affiliate links which means if you purchase something from one of my affiliate links, I may earn a small commission that goes back into maintaining this blog.
Are you looking for a fun Kualoa Ranch tour?
Kualoa Ranch is one of the most popular tourist destinations in all of Hawaii, and for good reason.
It's home to lush jungles, beautiful beaches, and plenty of movie filming sites. You can explore it all on a fun Jurassic Jungle expedition tour that goes off-road into a secluded valley.
It's an open-air Jeep tour that goes off-road to check out movie filming sites and breathtaking views of Oahu.
The Kualoa Ranch Jungle Expedition is an open-air Jeep tour that takes you into a hidden valley full of breathtaking views and movie filming sites. It's perfect for anyone who wants to see more of Hawaii than just the beach.
Keep scrolling to read my full Kualoa Ranch Jungle Tour review so you know whether or not to book it for your next trip to Oahu!
Don't have time to read a bunch of Hawaii blog posts and reviews? Here are some of our top picks for visiting Oahu.
Popular Oahu Tours/Activities
Favorite Oahu Resorts/Hotels
Want to Rent a Car in Hawaii?
One of the best places to rent a car in Hawaii is Discount Hawaii Car Rental because they get the best rates from top national companies like Alamo, Dollar, Thrifty, Avis, Enterprise, Budget, and Payless.
Want to skip all the planning and just access my detailed Oahu Itinerary complete with daily schedules, kid-friendly activities, and travel hacks? Click the button below.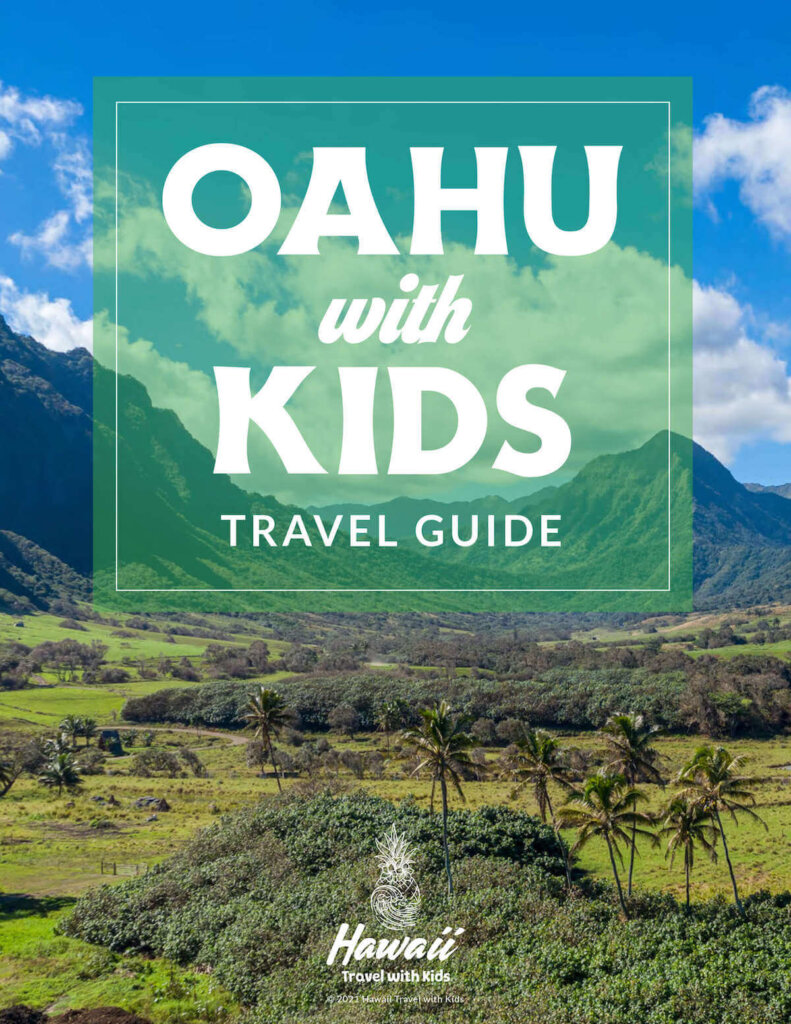 Kualoa Ranch on Oahu FAQs
What are the best kid-friendly Kualoa tours?
There are SO many tours at Kualoa Ranch for all ages and abilities. The Kualoa Ranch Movie Tour, boat ride to Secret Island, and the catamaran cruise are for all ages. Kids ages 3 and older can participate in the Jungle Expedition. The ATV tour is for kids ages 5 and older and the zipline tour is for kids ages 6 and older.
Which is the Kualoa Ranch Jurassic Park tour?
Most people associate the ATV tour with Jurassic Park simply because you'll visit a lot of the Jurassic World filming sites and it covers the entire ranch. But, the movie tour will take you to the dinosaur boneyard. And several of the tours will include Jurassic World in some way.
Is there Kualoa Ranch parking?
YES! There are tons of free Kualoa Ranch parking spots in their large parking lot.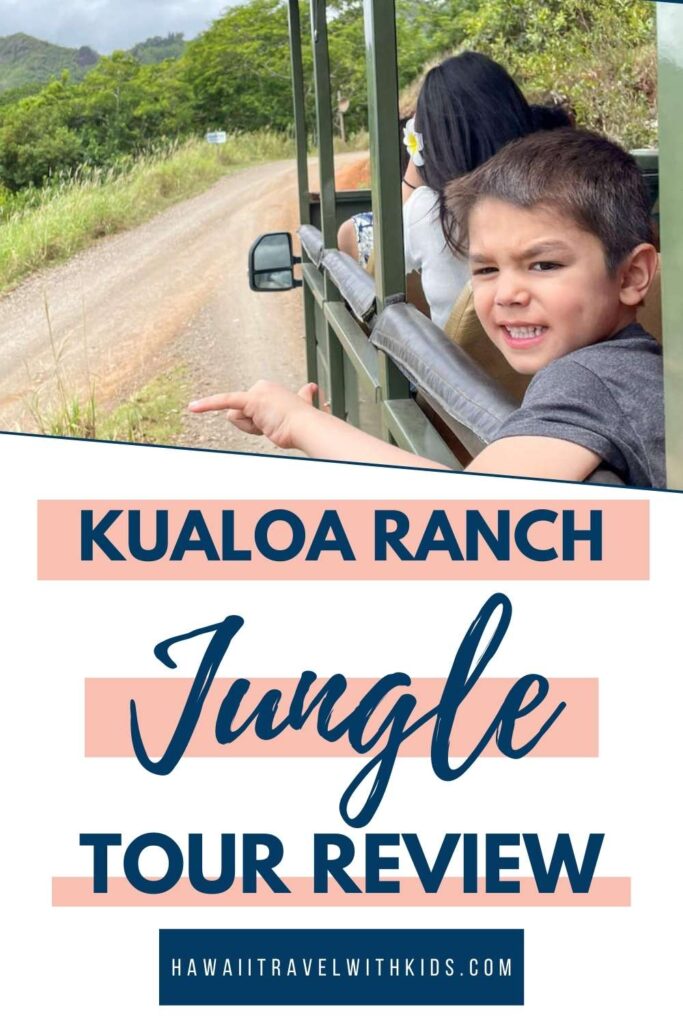 Brief History of Kualoa Ranch
Kualoa Ranch was founded by Dr. Gerritt P. Judd back in 1850. He came to Hawaii from the East Coast to help treat Native Hawaiians who were battling diseases and new illnesses.
After seeing how Waikiki and Honolulu were quickly developing, he decided to purchase the 4,000 acre Kualoa Ranch property for $10,000 in order to preserve the sacred land.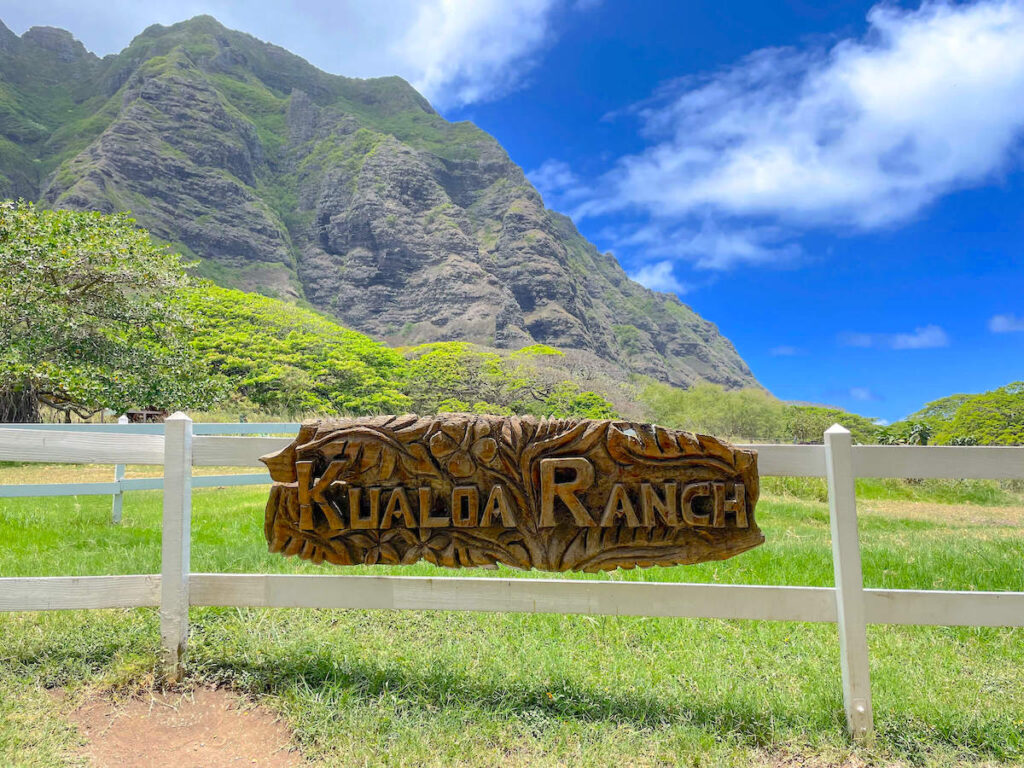 Today, the land is still owned and managed by Dr. Judd's descendants. They offer tours, event rentals, and commercial activities in order to keep the land at Kualoa undeveloped and pristine for future generations.
Kualoa Ranch Tours
There are a TON of Kualoa Ranch tours. So, if some people in your party want to do the jungle tour, but others are looking for something else, you can probably find something for everyone here.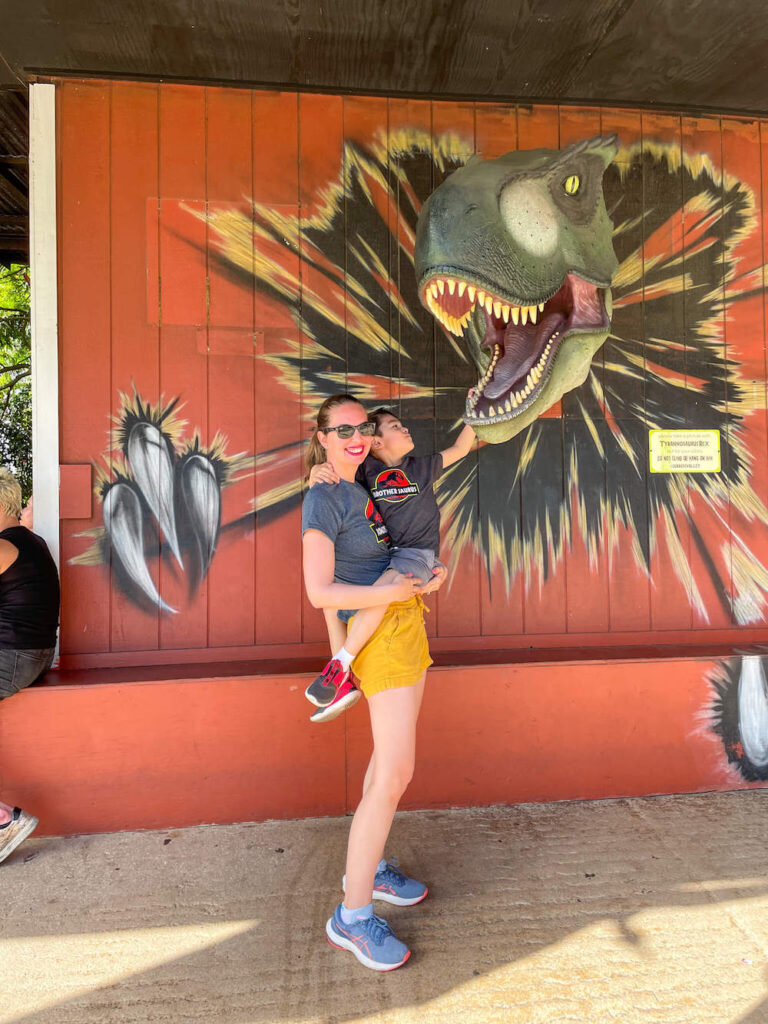 And if you are pretty energetic, you could also do more than one tour in a day. Just be sure to leave time to refuel with food and drinks in between. You can read my full Kualoa Ranch review.
There are NO Kualoa Ranch self guided tours. It's privately owned and you must reserve a spot on a tour if you'd like to see Kualoa Ranch.
Here are some of the best Kualoa Ranch tours besides the jungle tour:
What to Know about the Kualoa Ranch Jungle Tour Before You Go:
How to Book the Kualoa Ranch Jungle Tour
All the Kualoa tours are pretty popular so it's really important that you reserve your tour ahead of time. It's not a good idea to just show up.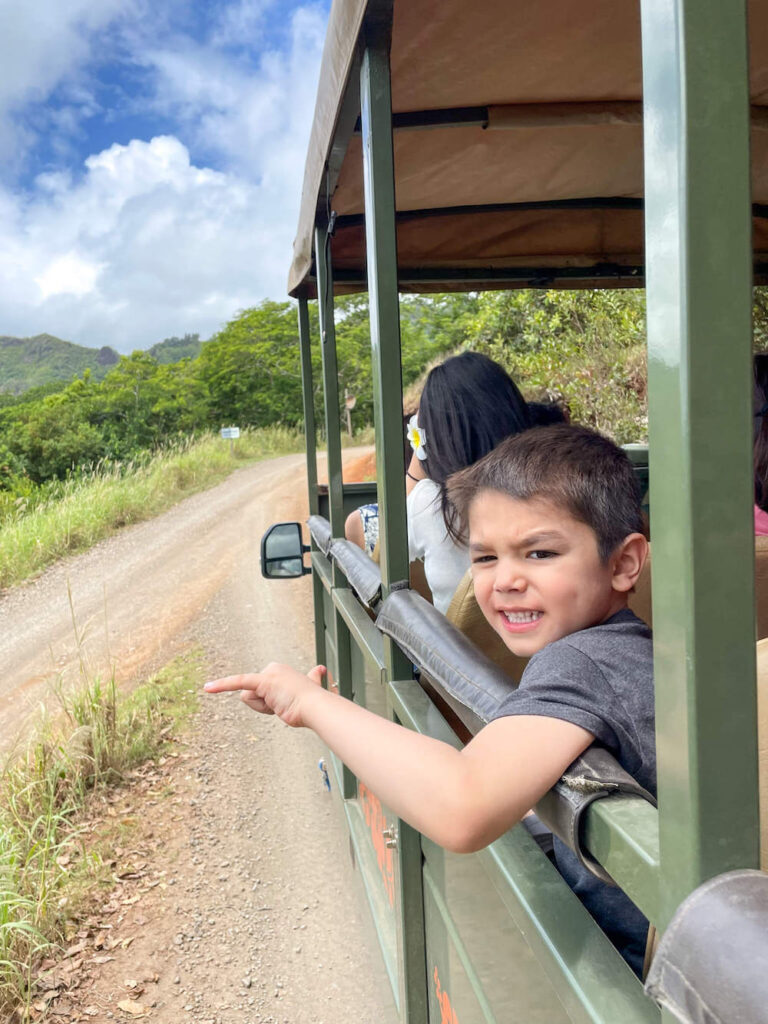 This Oahu jungle tour was sold out a lot during this past year so we booked our tickets a few months in advance. It's really easy to book online HERE.
Parking at Kualoa Ranch
Thankfully, there are TONS of parking spots at Kualoa Ranch. It's all free parking, too. Just avoid the spots designated for their tour vehicles, which are clearly marked.
Arrival
They will ask you to arrive 45 minutes before your tour time. That's so you'll have plenty of time to check in, use the restroom, sign the waivers, etc.
If you didn't bring a water bottle, you can head into Aunty Pat's Cafe to get some drinks and/or snacks for the tour.
Kualoa Ranch Jungle Tour
This tour is for kids ages 3 and older. Part of that is that the stairs to climb up the back of the Jeep can be tricky for young kids. Plus, it's a VERY bumpy ride.
They also ask that people who are pregnant or have back issues not participate in this tour.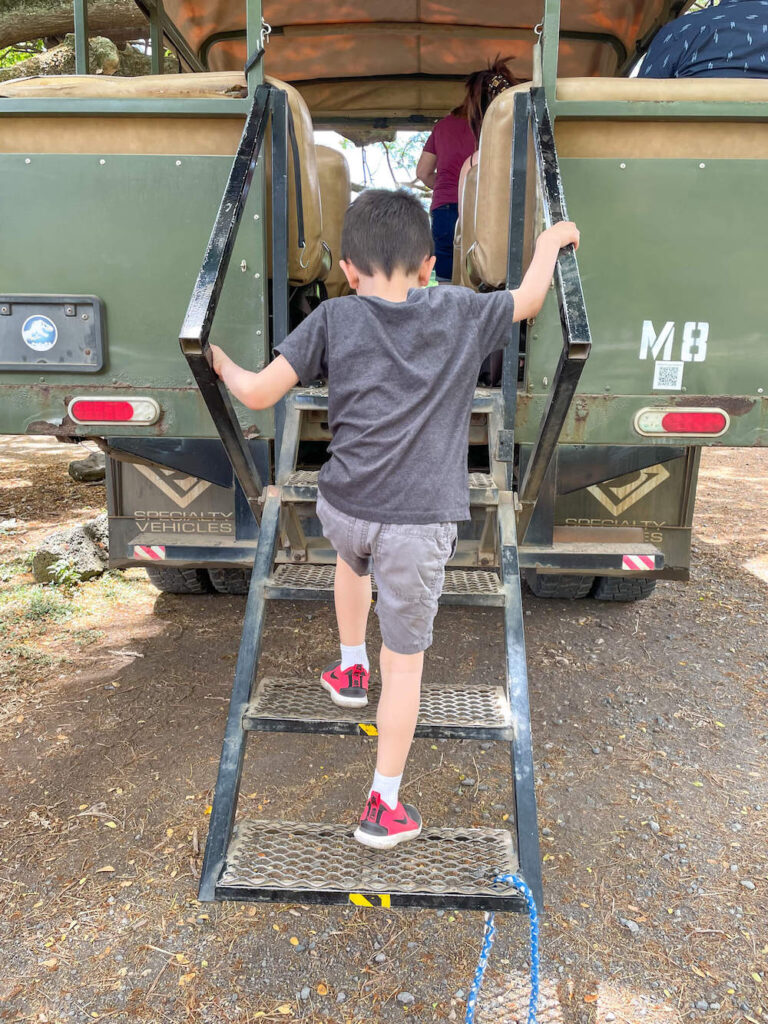 The vehicle is a 12-passenger all-terrain vehicle. There are seatbelts and let me tell you, you'll need them!
This Kualoa jungle tour heads to the Hakipu'u Valley. It only makes one stop. That stop is a scenic viewpoint that also has a short hike up to the top of the mountain.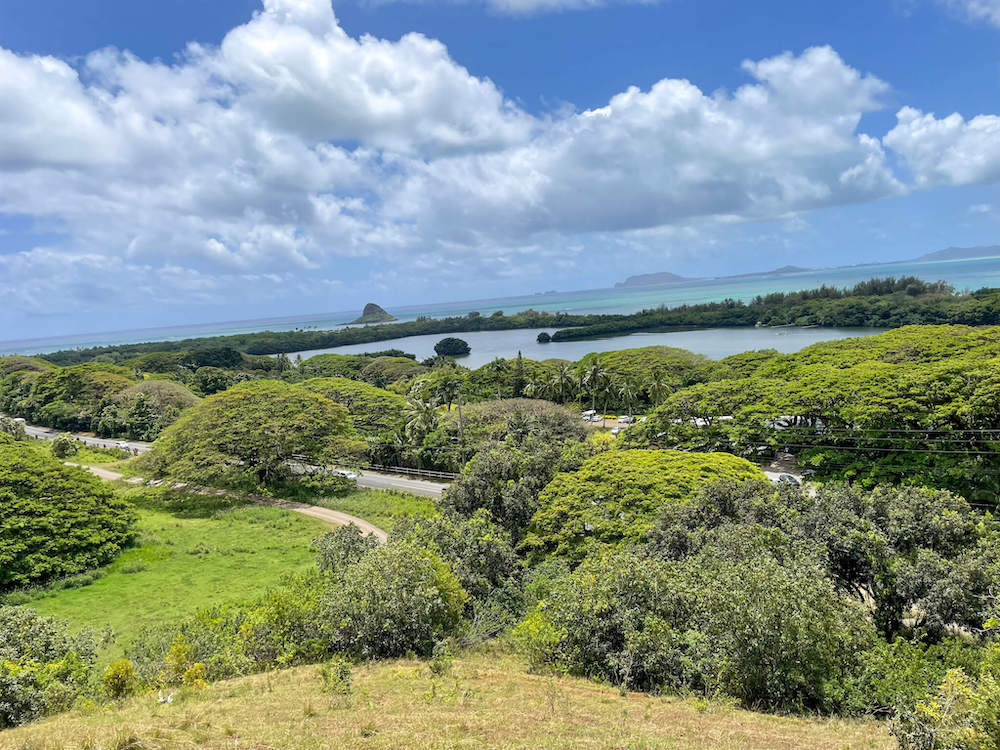 This is a bumpy tour that goes off the main roads so you can really go through the jungle and see all kinds of sights.
We've also done the Kualoa Ranch ATV tour and I'd say the Jungle Expedition is just as bumpy (if not bumpier)!
Food Options
If you're trying to figure out where to eat at Kualoa Ranch, you'll want to set aside time to enjoy lunch at Aunty Pat's Cafe. Almost all of their food is grown locally at Kualoa Ranch. And the food at this Kualoa Ranch restaurant is GOOD.
You'll need to stand in line to order your food and then wait for them to cook it. They also have grab and go options where you don't have to wait in the grill line. I saw prepackaged sandwiches, snacks, and drink options.
The Highlight of this Oahu Tour and What You Should Look Out For
If you enjoy breathtaking views, rugged jungle roads, and seeing a few Hawaii filming sites, this is the tour for you!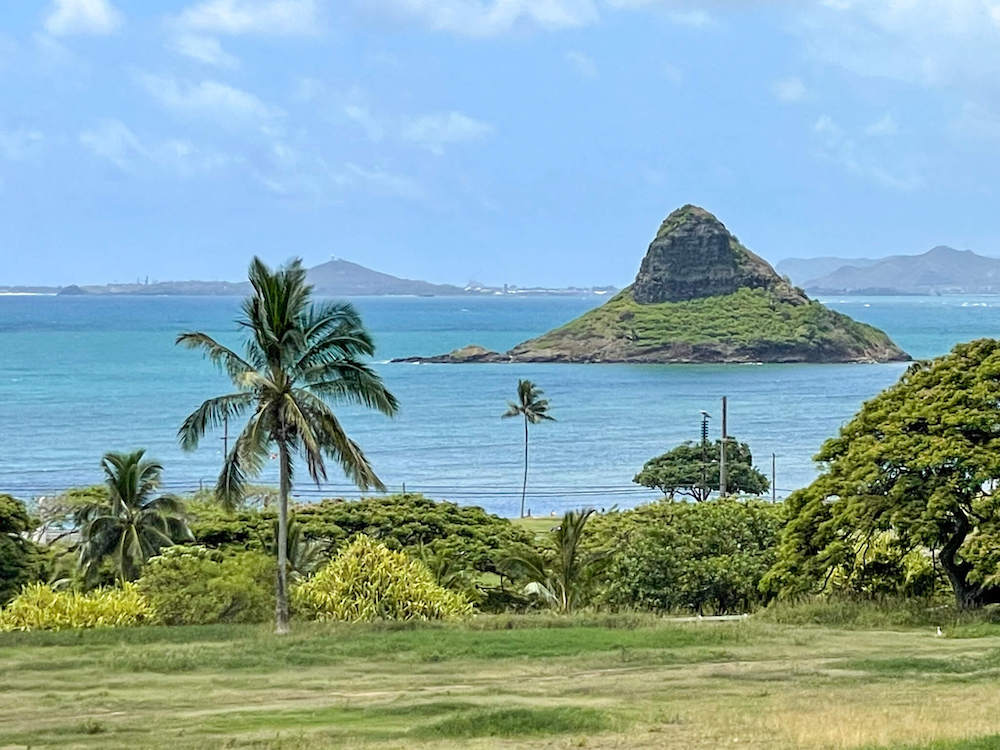 There were some pretty epic views from this Kualoa jungle tour. One of my favorites was seeing Chinaman's Hat out in the bay. It was stunning!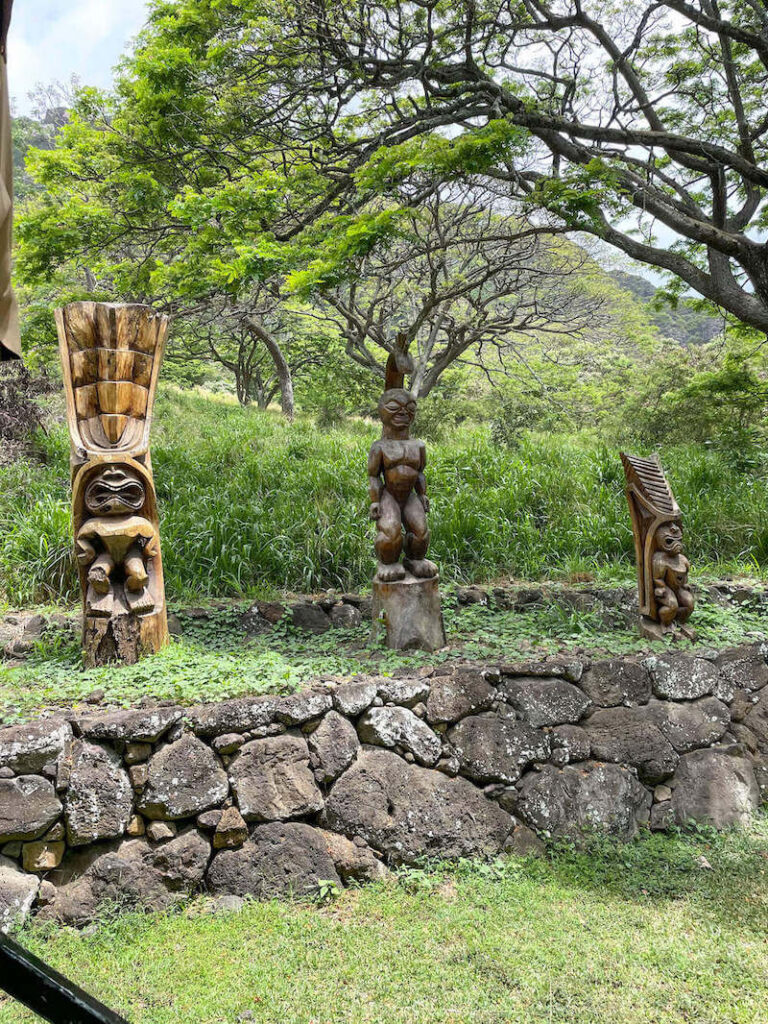 We also got to see some cool tiki statues and learn about a few Hawaiian gods that have connections to Kualoa Ranch. The ancient Hawaiians actually called them "ki'i" but they are commonly known as tikis.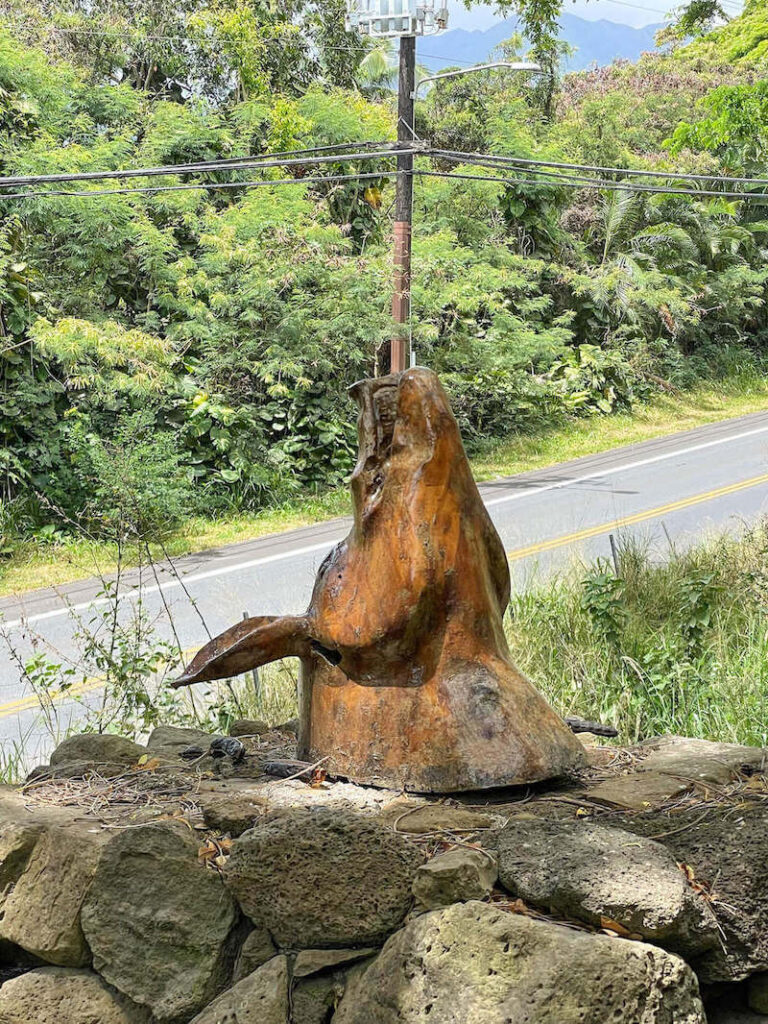 Another interesting thing was seeing the pig statues along the way. They show where the traditional Hawaiian land divisions were. These divisions are called ahupua'a and they used to use a real pig head.
There are actually several of these markers throughout Kualoa Ranch.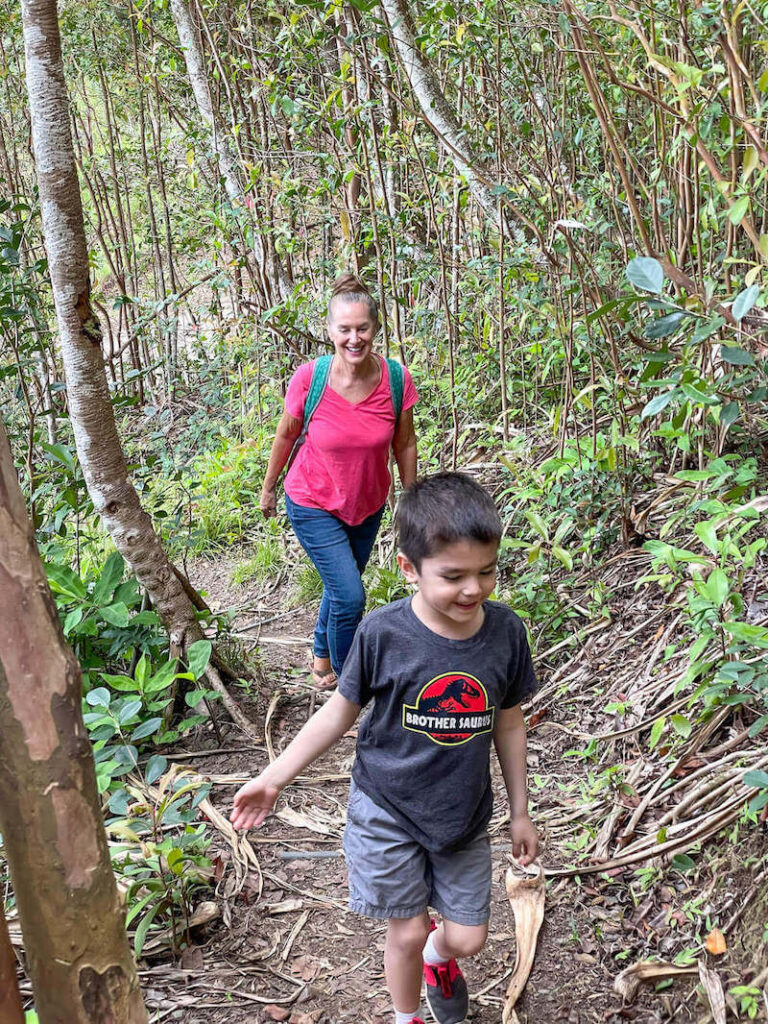 We went up a really bumpy road that took us to the top of a mountain. From there, we climbed up a short hike to get to a cool scenic viewpoint.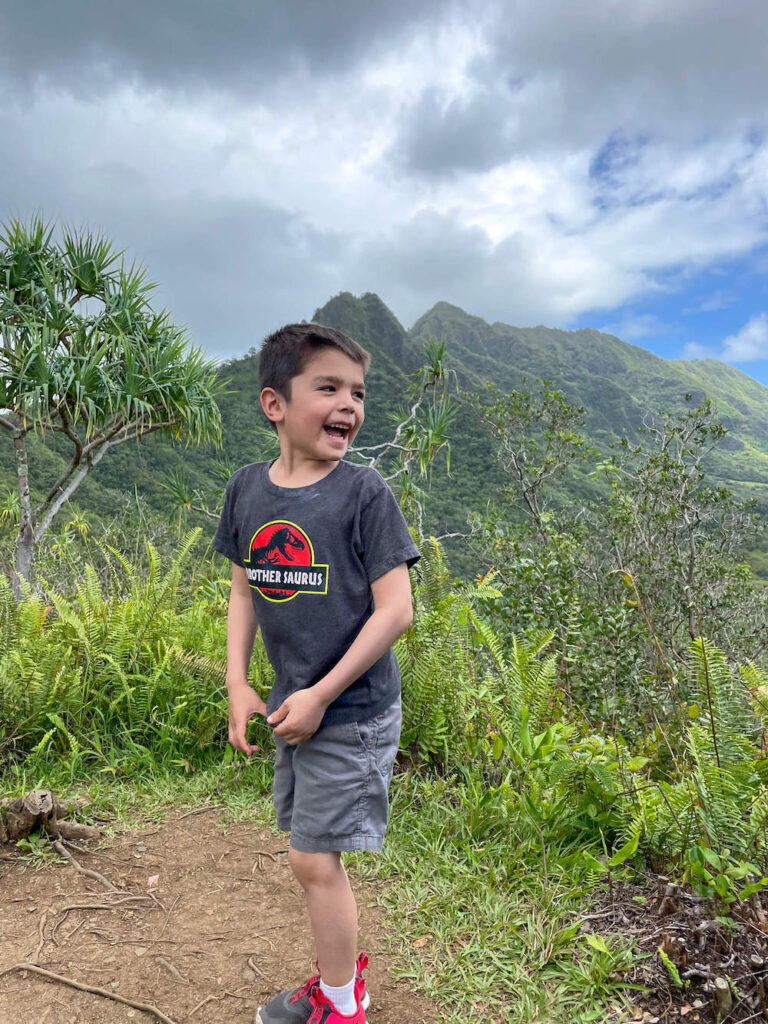 The trail was sort of steep, but my mom and 5-year-old managed just fine. It was cool to "trek" through the jungle a bit.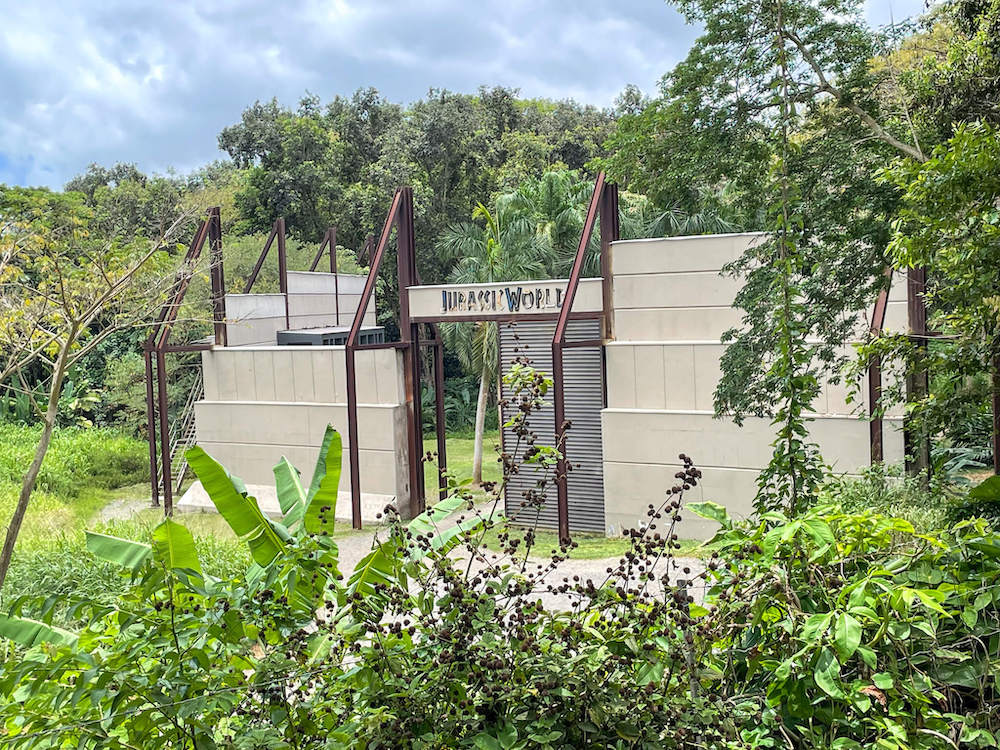 We also saw a few filming sites including the big building from Jurassic World. And there was a helicopter in the jungle from Kong Skull Island.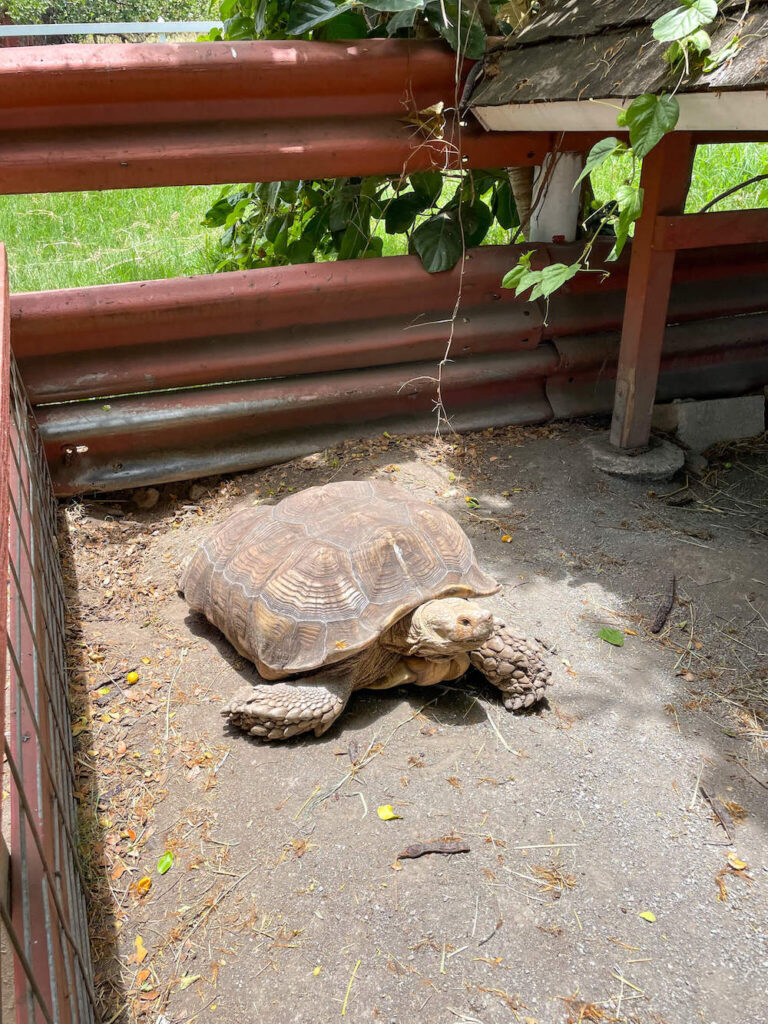 Finally, there were some animals that were fenced in next to where they park the vehicles at the end of the tour. We saw some goats and a big tortoise!
Kualoa Ranch Jungle Tour Tips for Families
What to Wear
While some Kualoa Ranch tours require closed-toe shoes or long pants, this Kualoa Ranch jungle tour does NOT.
You really can wear whatever you like. We saw people wearing shorts, dresses, skirts, sandals, flip flops, etc.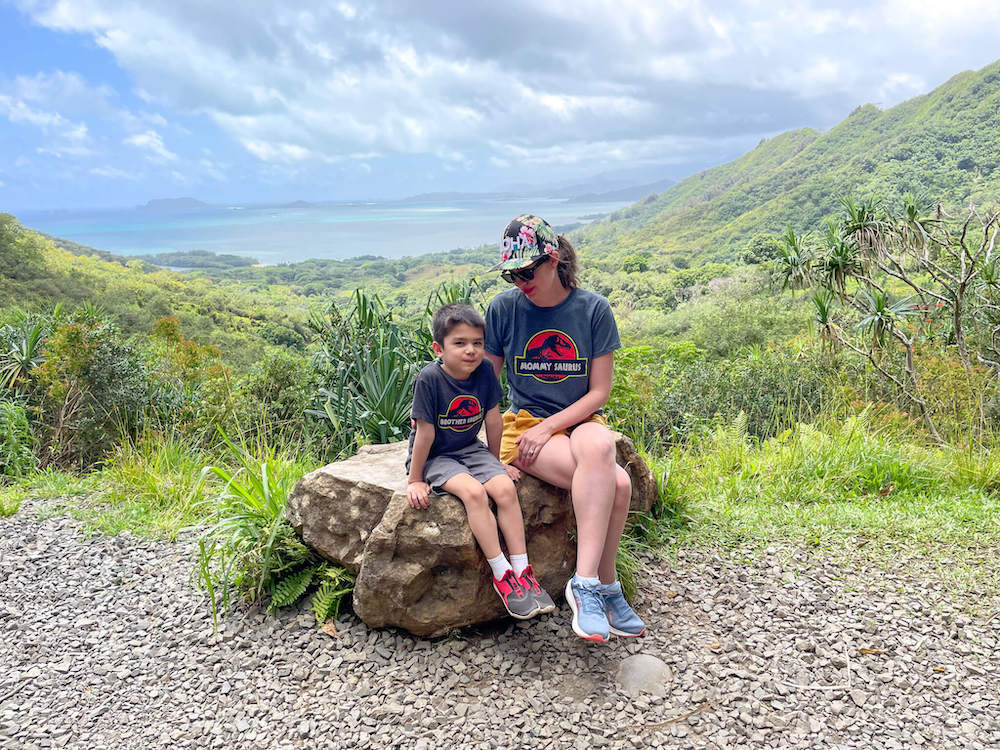 I'm glad we wore closed-toe shoes just for the hiking part. My son and I are beginner hikers and it made me feel more secure.
My mom lives in Hawaii and she hiked it in flip flops without a problem. So, use your judgment.
I definitely recommend wearing sunscreen (at least on your arms) as this is an open-air vehicle.
What to Bring
You'll definitely want to bring a camera (either cellphone or a big camera). And you might even want a gimbal so you can take steady video along the drive.
You'll also want to make sure to bring cash so you have tipping money.
If you think you'll want to head to Kualoa Beach right after (which I definitely recommend), be sure to pack a swimsuit and change of clothes.
How Much Does it Cost and Where is it Located?
Kualoa Ranch is located in Kaneohe and it's about a 45 minute drive from Waikiki. It can be much longer during thick traffic, so be sure to check before you go.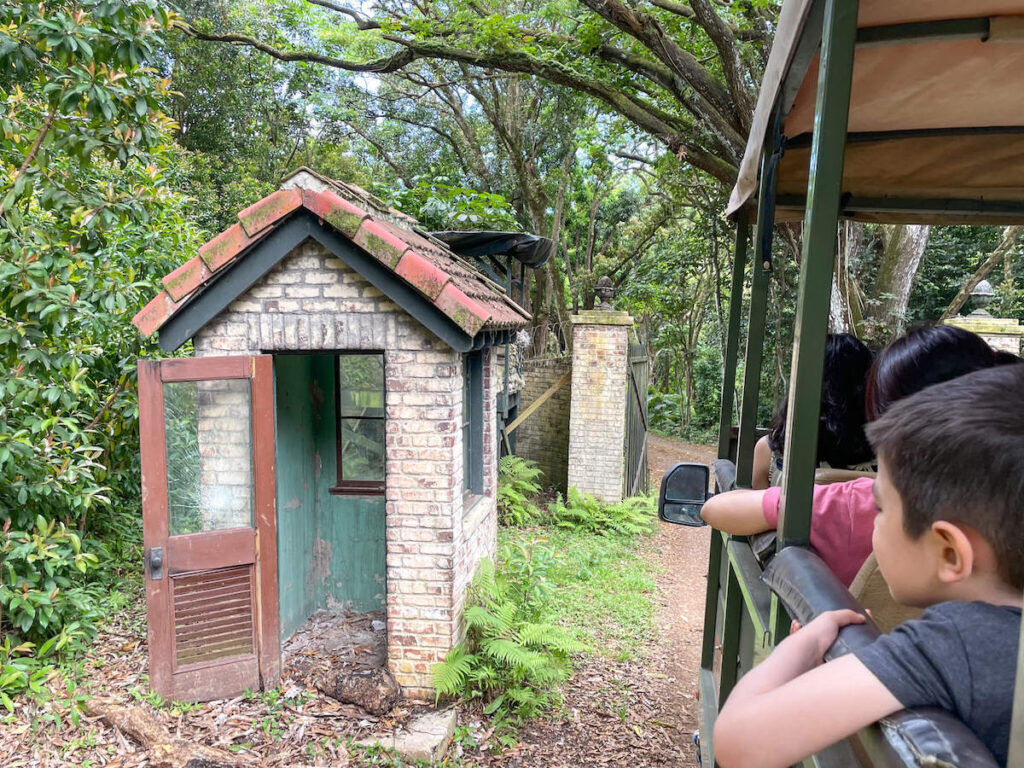 It's $157 for adults (ages 13+) and $104 for kids ages 3-12.
You'll definitely need to make Kualoa Ranch reservations before your trip as it's a popular Oahu attraction.
Kualoa Ranch Movie Tour vs Jungle Tour
We actually did both the movie tour and the jungle tour in the same morning. We started with the movie tour at 9:00 am and then did the jungle tour at 11:00 am.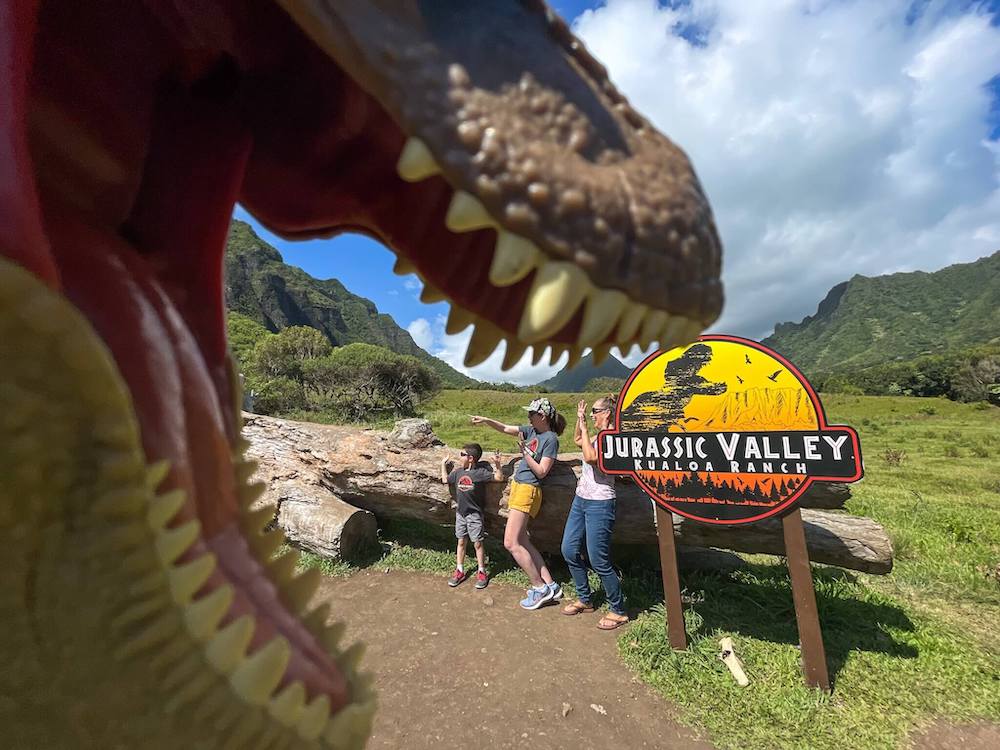 If you're looking for a Kualoa Ranch bus tour, the movie tour is perfect. It's an open-air bus that stays on the paved road and goes past multiple filming sites, a Hawaiian fishpond, scenic viewpoints and more.
The Kualoa Ranch Movie Tour is really smooth and it's great for grandparents, families with babies/toddlers, and anyone who would like to see Kualoa Ranch without doing an "adventure". You can read my full Kualoa Ranch Movie Tour review.
The movie tour focuses on the Ka'a'awa Valley and the jungle expedition focuses on the Hakipu'u Valley. They do not see the same attractions.
The Kualoa Ranch Jungle Expedition is a much bumpier ride and geared toward families looking for a medium-sized adventure or couples who want to explore the valley.
So, is the Kualoa Ranch Jungle Tour Worth It?
This is such a fun Kualoa Ranch experience! I'm not very "adventurous" and I thought this was just the right amount of bumpy thrills that made me feel adventurous without exerting too much energy.
It was really cool to do the short hike up to the scenic viewpoint. And my 5-year-old squealed with delight on the bumpy journey as well as getting to see all the cows on the side of the road and the replica helicopter nestled in the jungle.
We had so much fun that we'll probably do this tour again!
P.S. Join our Hawaii Travel with Kids Facebook group to get connected with other families planning a trip to Hawaii!