Are you looking for the best things to do in Oahu with kids? Keep scrolling to read my honest review of the Kualoa Ranch ATV tour.
This Kualoa Ranch ATV Tour Review was written by Hawaii travel expert Marcie Cheung and contains affiliate links which means if you purchase something from one of my affiliate links, I may earn a small commission that goes back into maintaining this blog.
One of the most popular Oahu attractions is Kualoa Ranch in Kaneohe, Hawaii. Our family recently did the Kualoa Ranch ATV tour and it was a blast!
On the tour, you enjoy amazing views while riding through ancient Hawaiian history. This is why it's one of our favorite activities on Oahu. The scenery alone is worth every penny!
Plus, there are plenty of other fun activities that will keep everyone entertained throughout your stay at Kualoa Ranch. And did I mention they have Jurassic Park Hawaii tours?
We had an absolute blast exploring everything that this beautiful ranch has to offer. It's truly a magical place where memories are made and I hope you have as much fun as we did during your visit!
Scroll down to hear what I loved about our experience at Kualoa Ranch on Oahu.
Already know you'd like to book? Get your Kualoa Ranch ATV tour tickets HERE.
Want to skip all the planning and just access my detailed Oahu Itinerary complete with daily schedules, kid-friendly activities, and travel hacks? Click the button below.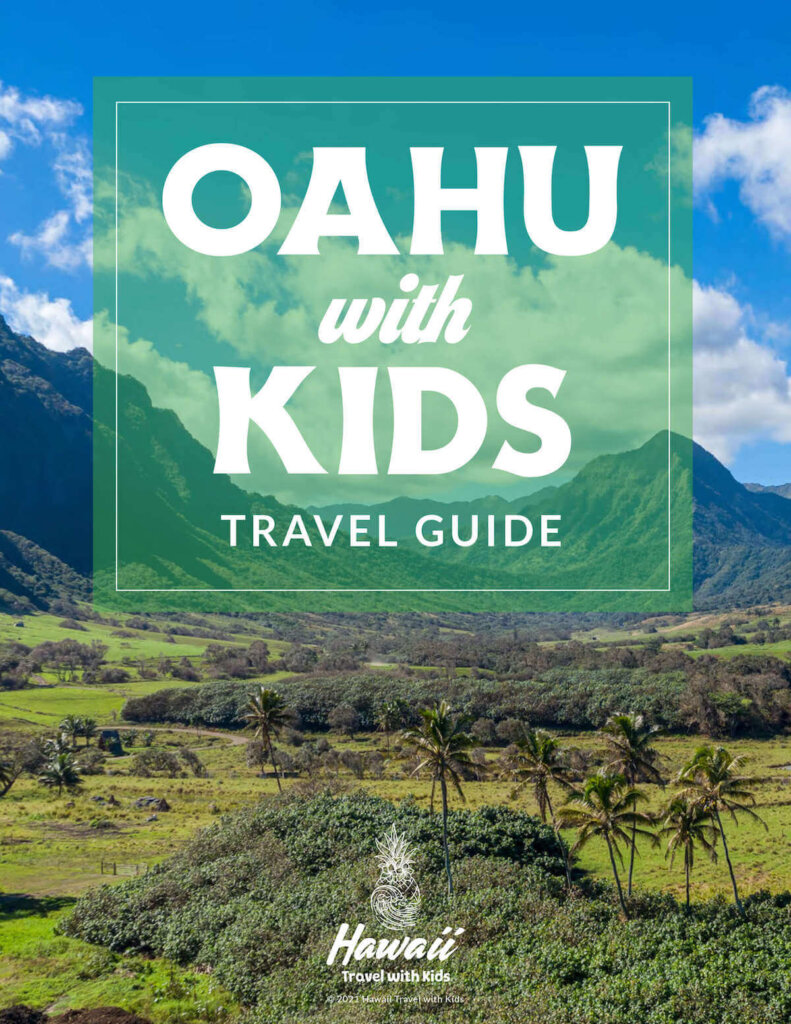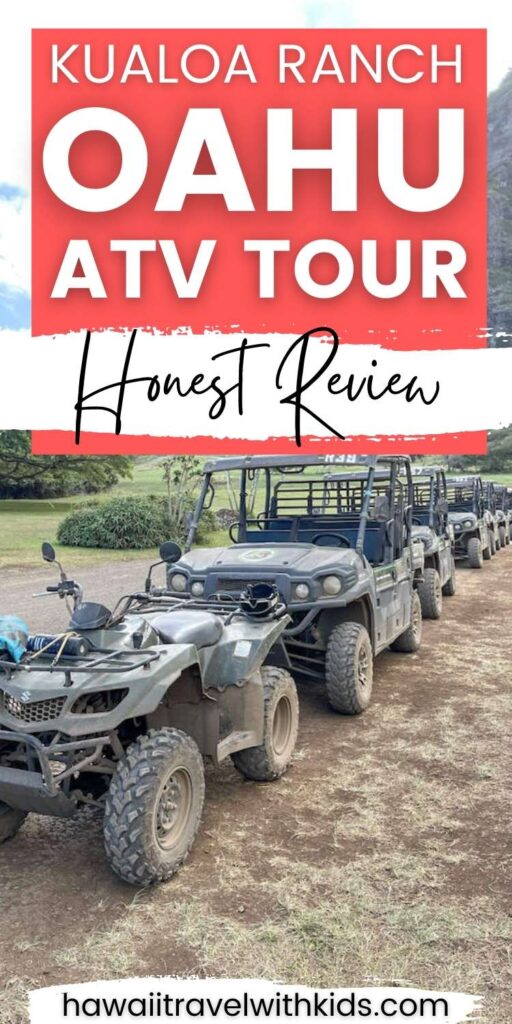 History of Kualoa Ranch
We learned on our Kualoa Ranch ATV tour that the ranch was founded by Dr. Gerritt P. Judd back in 1850. He came to Hawaii from the mainland to help treat Native Hawaiians who were battling diseases and new illnesses.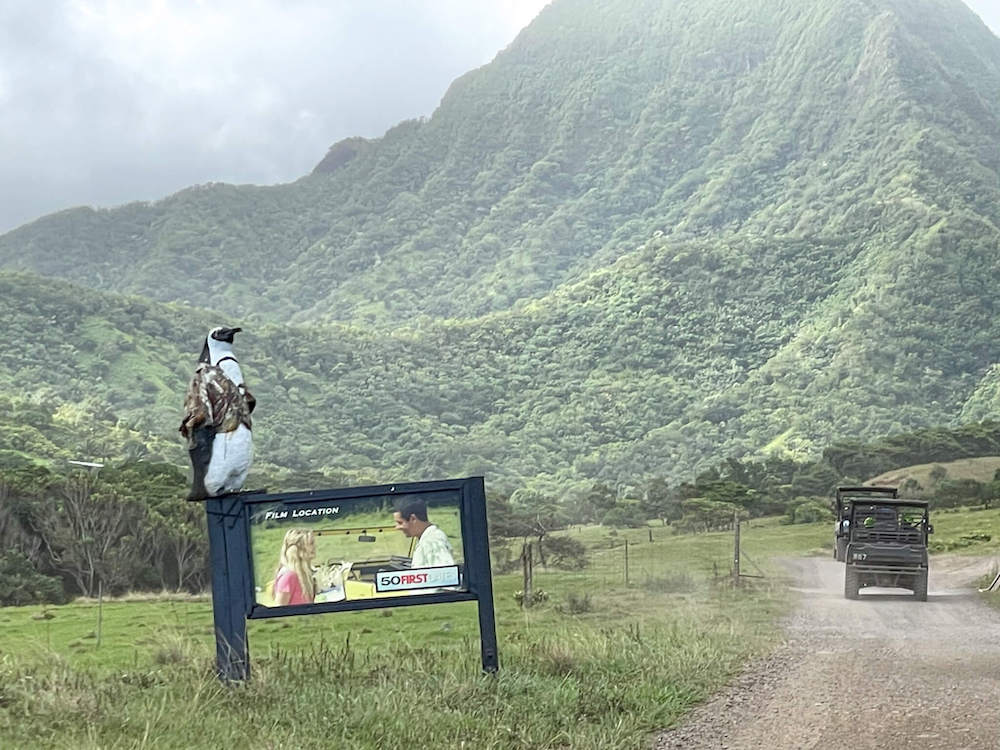 Seeing how Waikiki and Honolulu were quickly developing, Judd decided to purchase Kualoa Ranch in order to preserve the sacred land. He paid $10,000 for the 4,000-acre property.
Today, the land is still owned and managed by Judd's descendants. They offer tours, event rentals, and commercial activities. When you book a Kualoa Ranch Oahu tour, it helps keep the land at Kualoa undeveloped and pristine for future generations.
Kualoa Ranch Tours
There are a TON of different Kualoa Ranch tours to choose from besides the ATV Oahu tour. So, if someone in your party wants a different experience, you can probably find something for them here!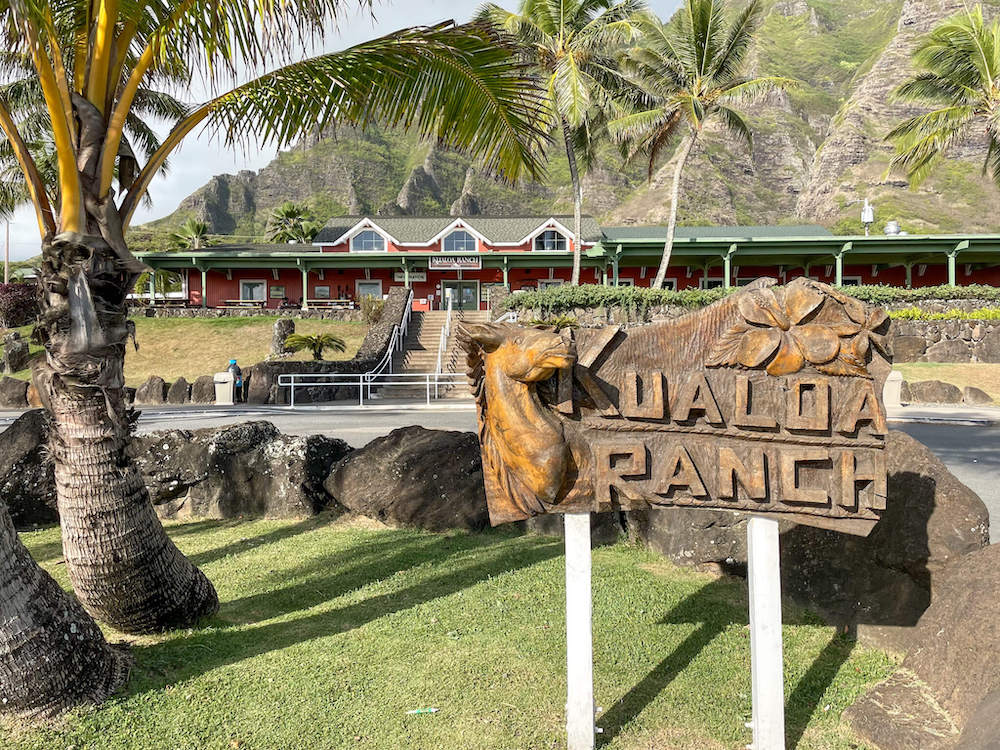 And if you are pretty energetic, you could also do more than one tour in a day. Just be sure to leave time to refuel with food and drinks in between.
Here are some of the best Kualoa Ranch tours besides the ATV tour Kualoa Ranch: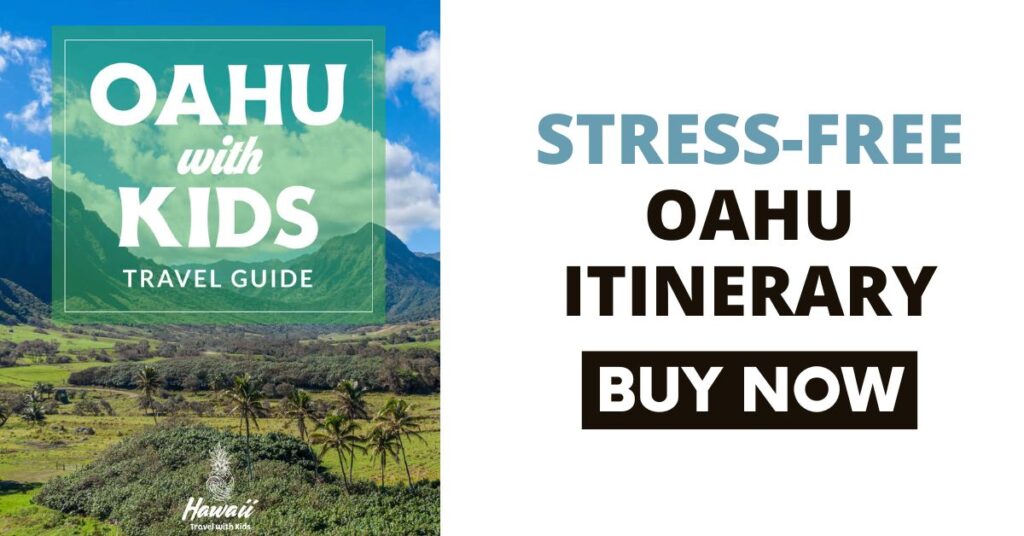 What to Know about the Kualoa Ranch ATV Tour Before You Go:
Here is everything you need to know for this ATV Oahu tour.
How to Book the Kualoa Ranch Raptor Tour
All the Kualoa tours are pretty popular so it's really important that you reserve your tour ahead of time. If just show up, the tour you want might be sold out!
And keep in mind that kids must be at least 5 years old to do this ATV tour on Oahu. The ranch doesn't budge on this rule both for your safety and theirs.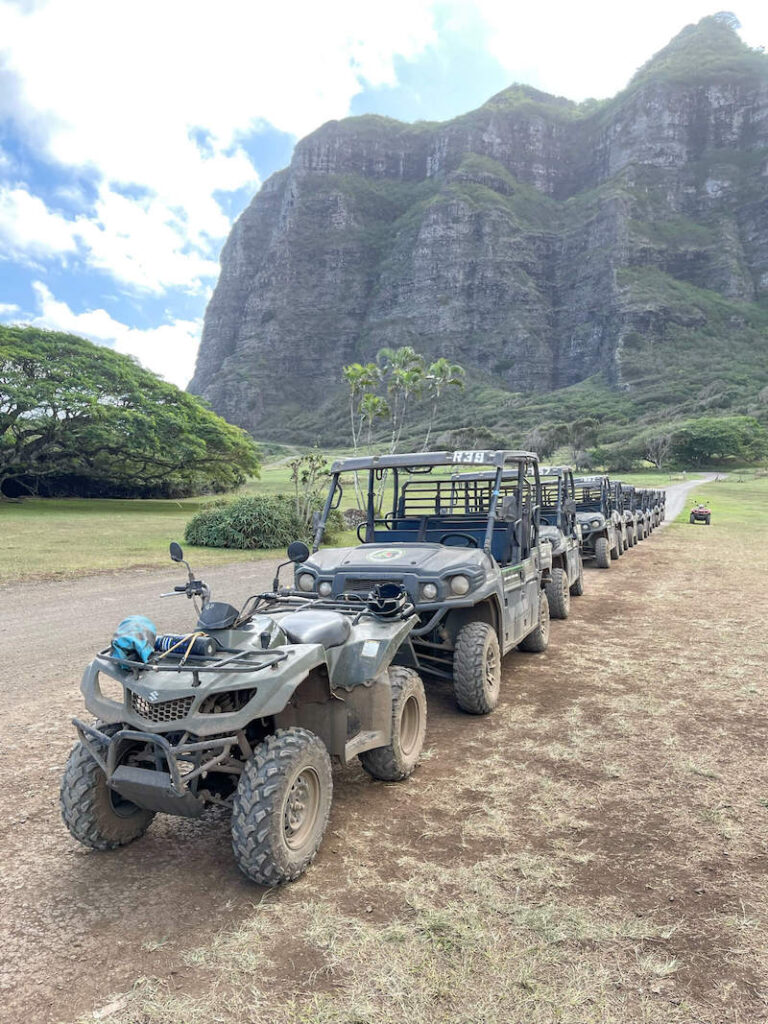 This Oahu ATV tour was sold out all summer. We booked our tickets a few months in advance. And it's really easy to book online and get your Kualoa Ranch tickets HERE.
Parking at Kualoa Ranch
Thankfully, there are TONS of parking spots at Kualoa Ranch. Plus, it's all free parking, too. Just avoid the spots designated for their tour vehicles, which are clearly marked.
Arrival
They will ask you to arrive 45 minutes before your tour time. That's so you'll have plenty of time to check-in. This gives you a chance to use the restroom, sign the waivers, and get fitted for your helmets ahead of time.
If you didn't bring a water bottle, you can head into Aunty Pat's Cafe. They sell all kinds of drinks, snacks, and even plates of food for the whole family.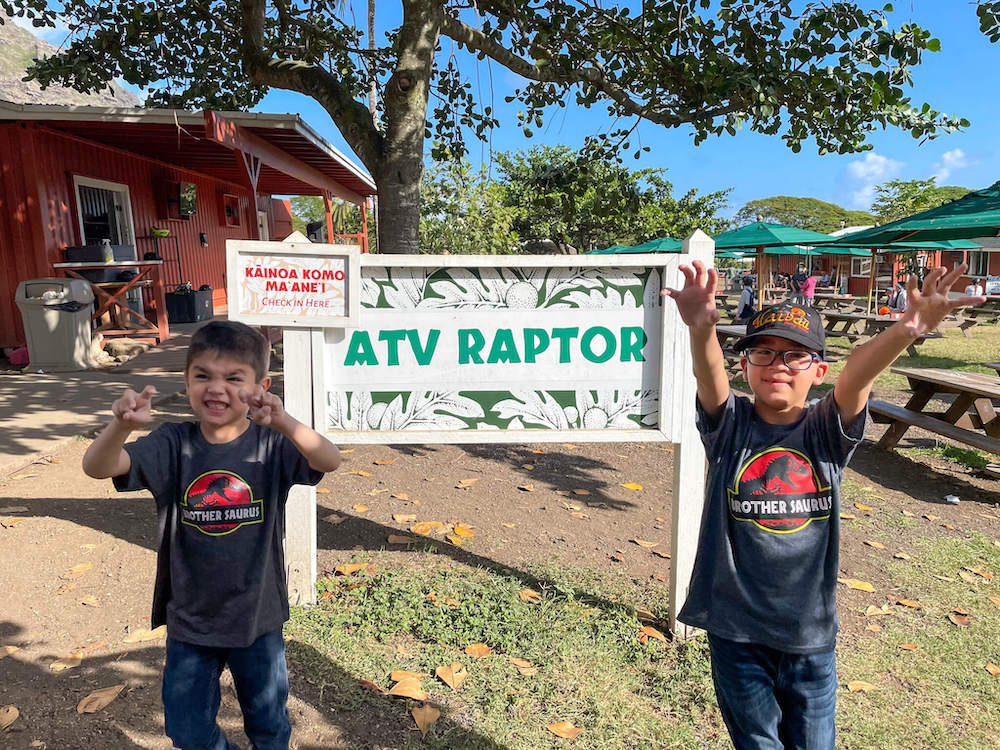 We had plenty of time to do all this plus say hi to the horses and take some fun photos. You can even see Blue from Jurassic World in a cage in the back of the waiting area!
About 15 minutes before your ATV Jurassic Park tour, they'll have all the drivers come up and watch a safety video. This is just to make sure everyone knows what they are doing.
Jurassic Park UTV Tour
While this is called an Oahu ATV tour, you'll actually be in a UTV. The main difference is that the UTV can seat up to 6 people, has doors on it, and there's a roof. It's sort of like the "glamping" version of riding an ATV in Hawaii!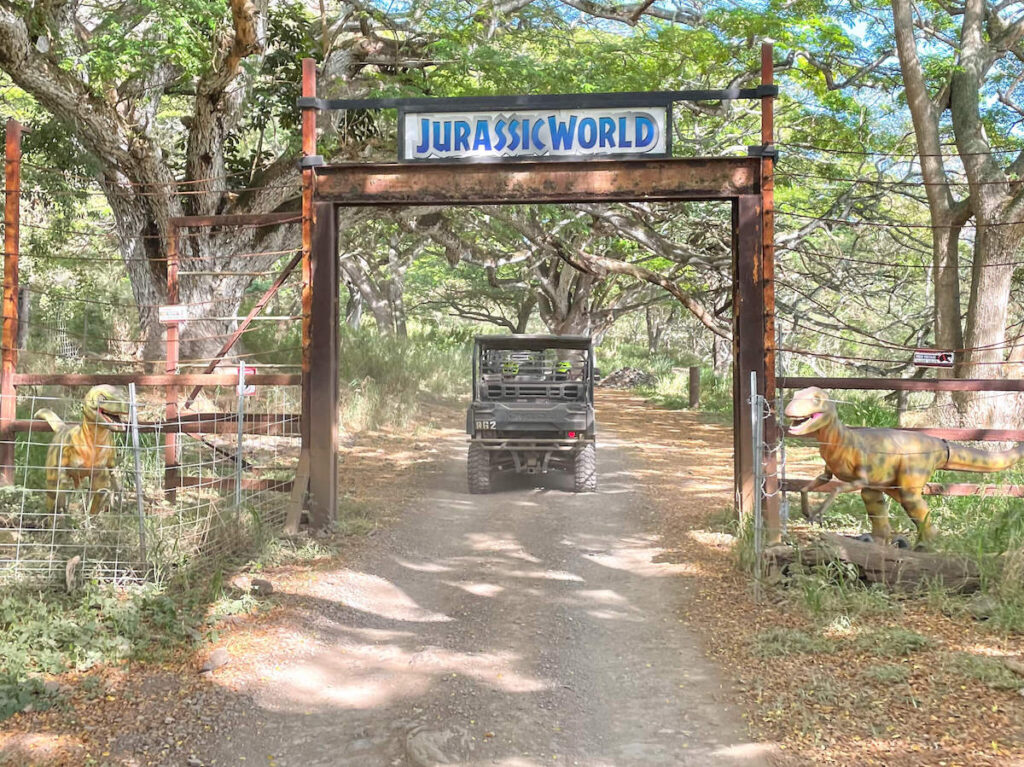 This is also a 2-hour Oahu Jurassic Park ATV tour that covers a LOT of ground. You'll be exploring all 3 valleys at Kualoa Ranch (Kualoa Valley, Ka'a'awa Valley, and Hakipuʻu Valley). There will be times when you're driving for 10-15 minutes to get to the next stop.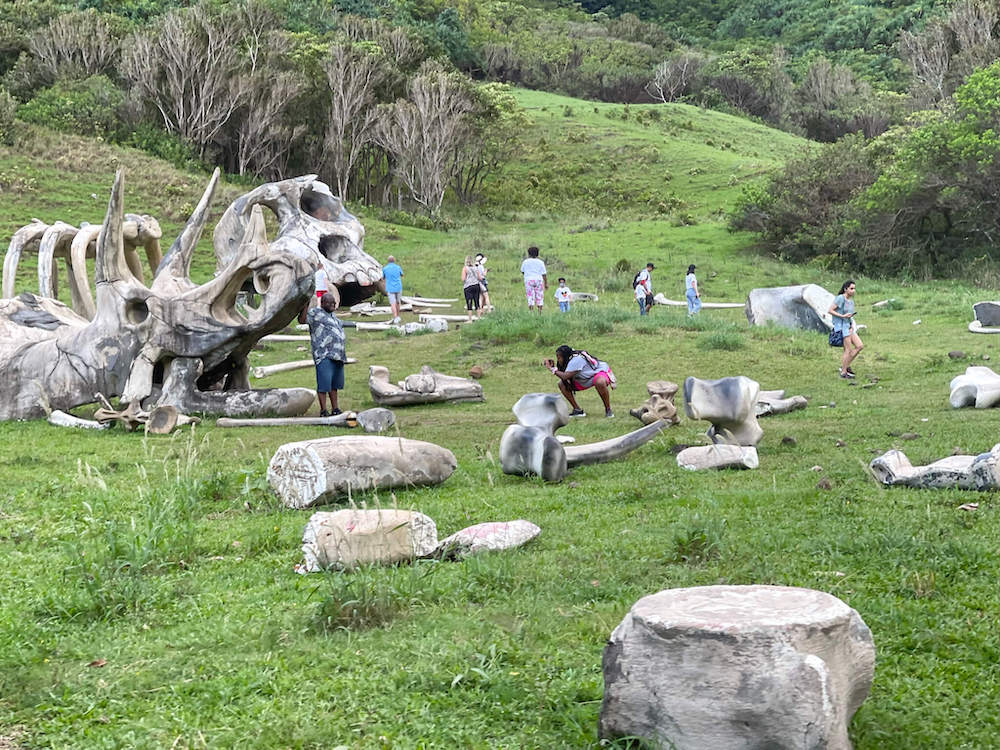 You'll be making several stops are either scenic viewpoints or movie sites. But you won't be stopping at every movie site or photo op. Kualoa Ranch is huge and there's not enough time to see everything in a 2-hour ATV Hawaii Oahu tour.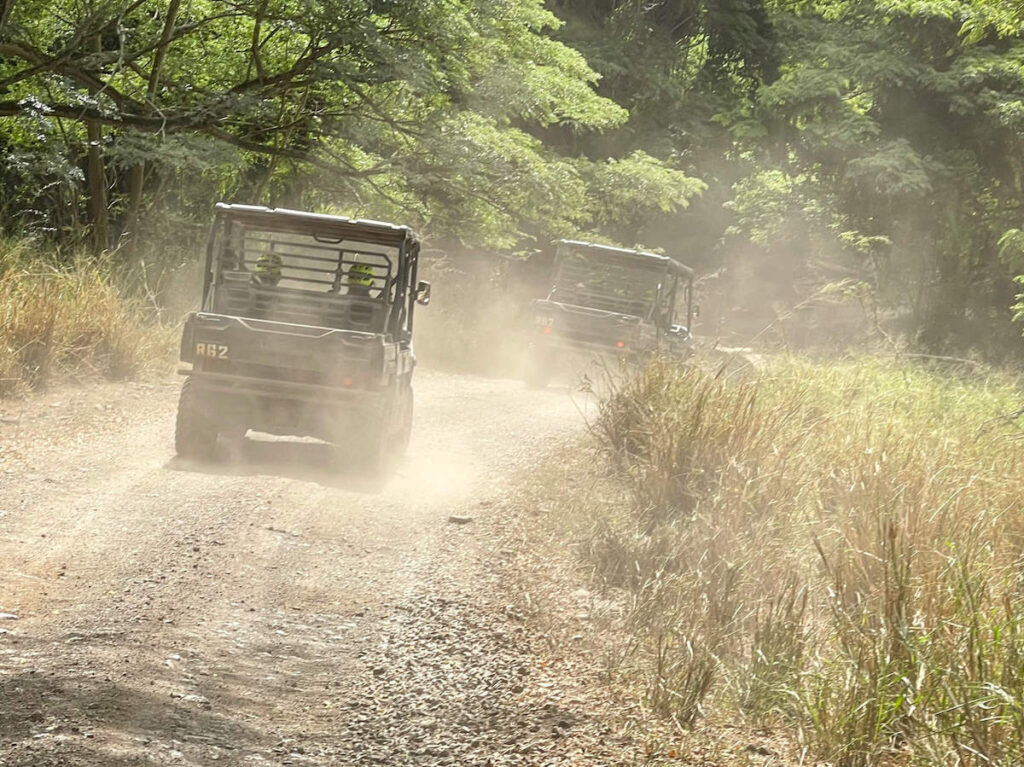 Be prepared to get very, very dusty. It's a really smart idea to either wear a mask or bandana while on the Kualoa Ranch ATV tour. Otherwise, you'll probably breathe in a lot of dust or get dirt in your mouth.
You can try to request the first ATV (right after the guide) to cut down on the dust. Or my friend was in the very back and said it was pretty awesome!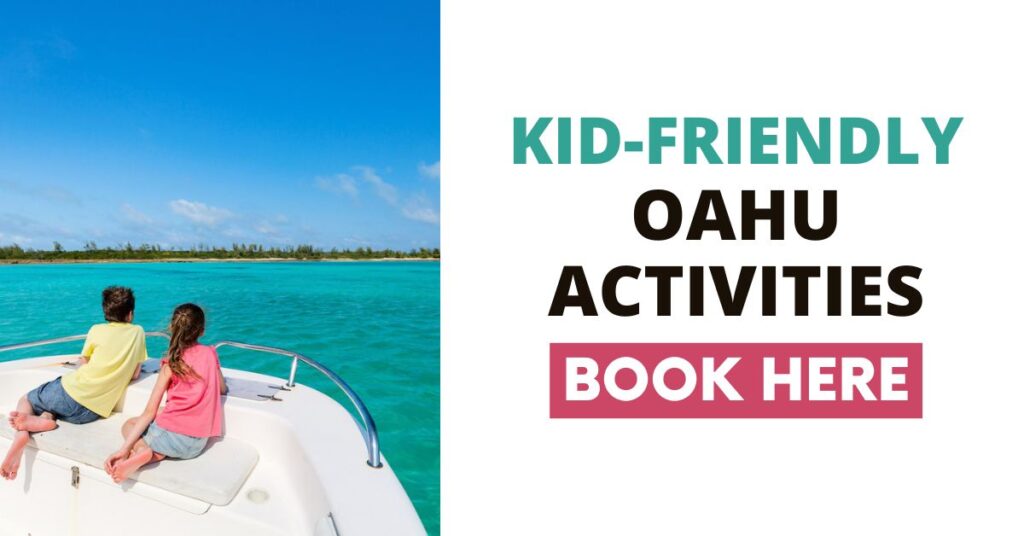 Food Options for Your Kualoa Ranch ATV Tour
If you're trying to figure out where to eat at Kualoa Ranch, you'll want to set aside time to enjoy lunch at Aunty Pat's Cafe. Almost all of their food is grown locally at Kualoa Ranch. And the food is GOOD.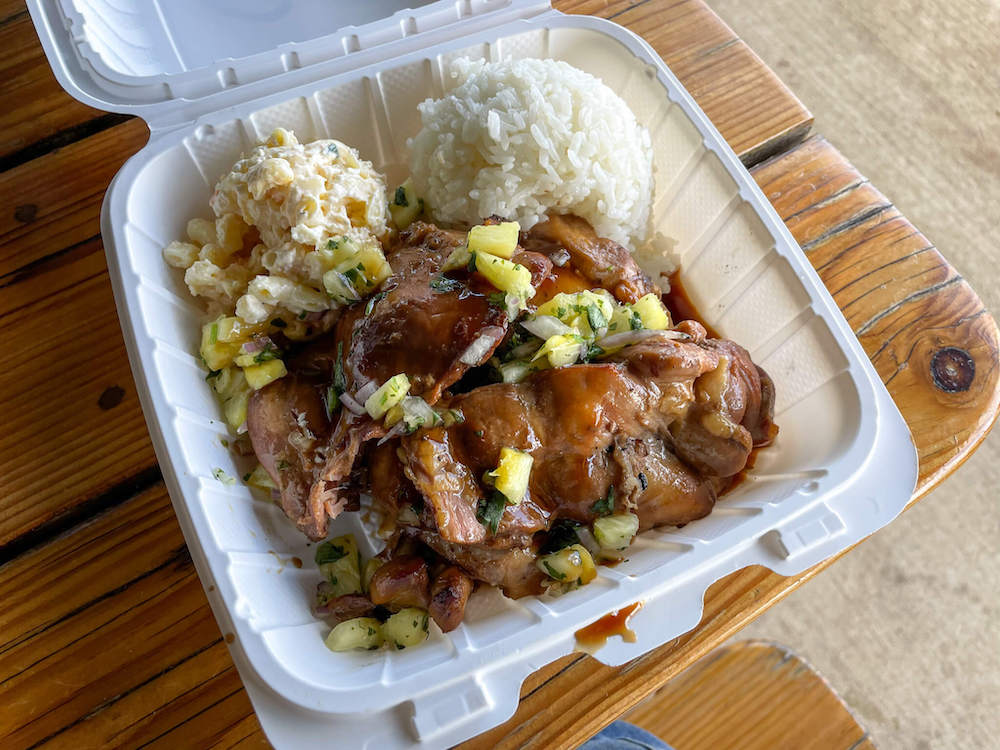 You'll need to stand in line to order your food and then wait for them to cook it. We visited on Thanksgiving Day and it was the busiest day since 2019. It took about 90 minutes to order food and eat it.
But they also have grab-and-go options where you don't have to wait in the grill line. When we were there I saw prepackaged sandwiches, snacks, and drinks.
The Highlight of this ATV in Oahu Tour and What You Should Look Out For
Our family was seriously blown away by how cool this Jurassic Park Oahu ATV tour is! It's perfect for people who want to feel adventurous without skydiving or jumping off a cliff!
I think everyone in our family liked something different about the Jurassic Valley ATV tour.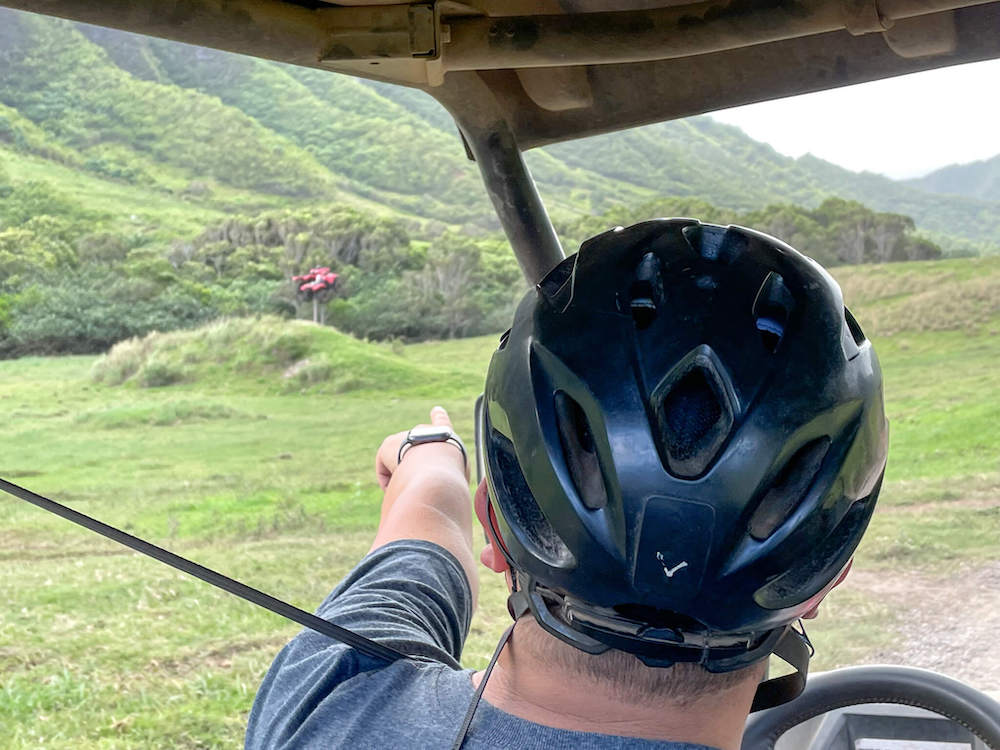 My husband loved being able to drive the UTV around the property. It gave him a chance to test out his driving skills from his track days and playing video games.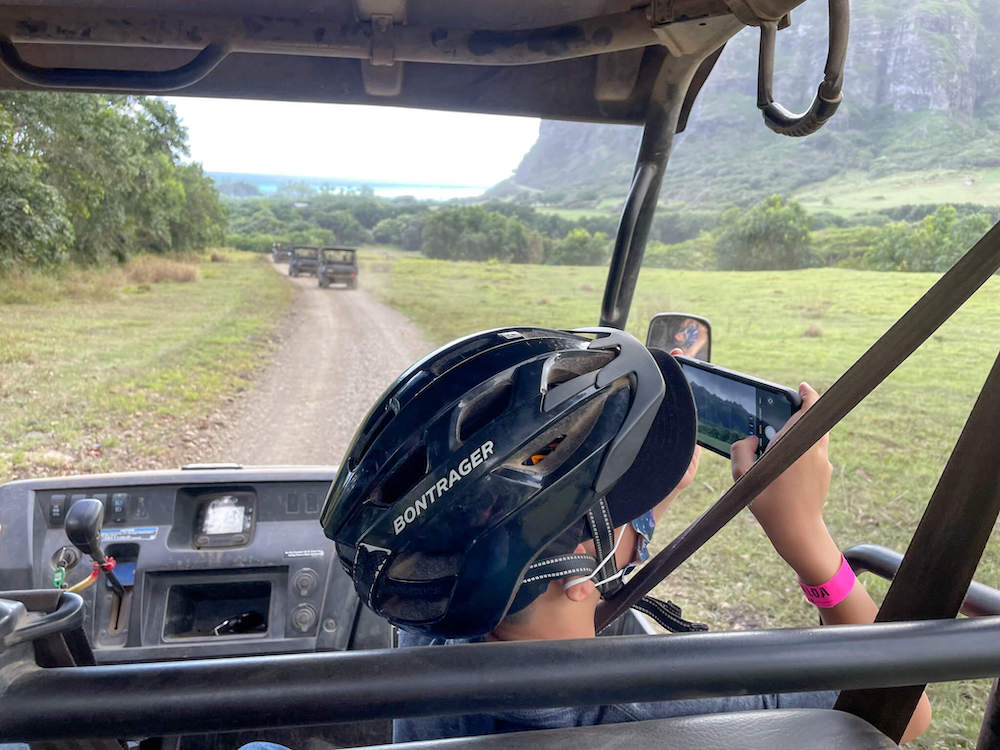 My kids really had fun taking turns with my husband's phone trying to take photos as we raced around the property!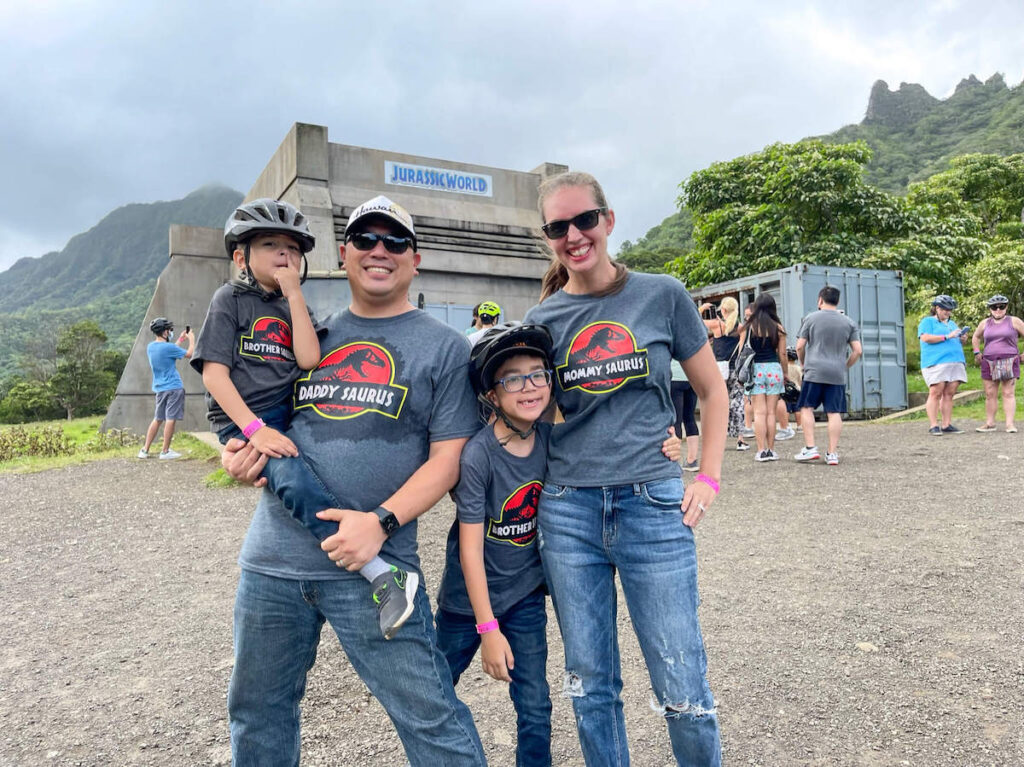 My favorite part was taking family photos at some of the movie sites and scenic spots. Plus, it was amazing to just soak in the lush green valleys and the epic coastline views.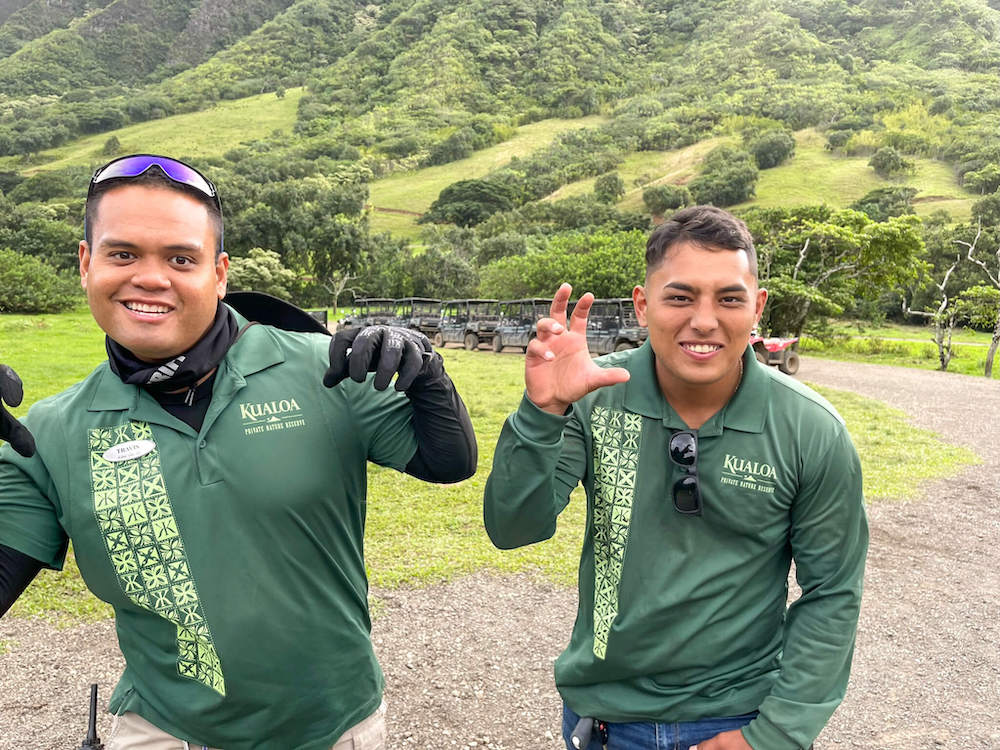 And we all really appreciated our tour guides! They provided a ton of information about Kualoa Ranch. They even wove in important Hawaiian myths and legends that took place at or near this Hawaii ranch.
Kualoa Ranch ATV Tour Tips for Families
Here are some tips to fully enjoy your ATV tour at Kualoa Ranch in Oahu.
Kualoa Ranch What to Wear
They require closed-toe shoes and strongly recommend long pants. Our family wore athletic shoes and jeans. It was a bit hot while we were waiting for the tour to start, but once we got into the mountains, we were pretty comfortable.
They have goggles you can borrow, but you'll probably want to use sunglasses instead. You'll get dust in your eyes so just be sure to wear something to cover them.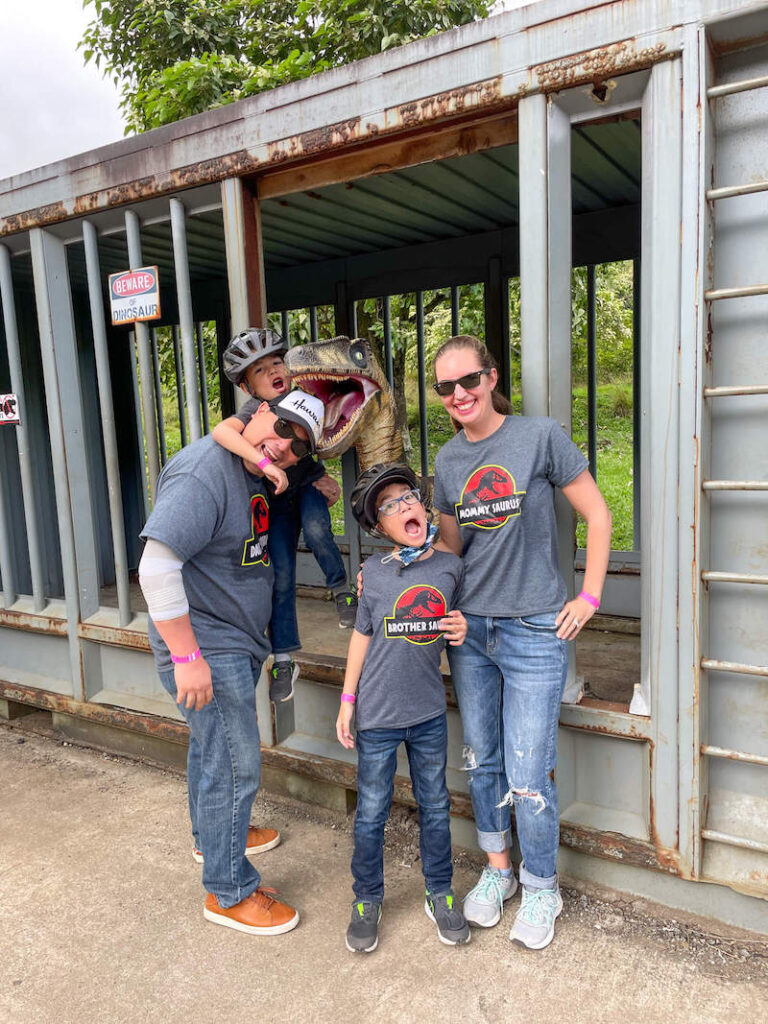 Because my family likes to be "extra" we ordered Jurassic Park shirts from Etsy. You can have them say whatever you like, but we thought it'd be cute to do Daddy Saurus, Mommy Saurus, and Brother Saurus shirts!
Whatever clothes you wear, keep in mind that they will either be covered in dust or mud.
We visited in November 2021 and face masks were required during check-in and anytime we went inside the building. Masks were optional when we were outside. Now things should be back to normal.
What to Bring
You might want to bring some baby wipes or makeup remover cloths to help clean off your face after the Oahu ATV tour. They have outdoor sinks where you can wash up afterward, but I found it to just be easier to use a wipe.
Reef-safe sunscreen is also a smart idea because you're out in the sun all day. It's important to make sure your arms, neck, and face are protected from UV rays.
You'll also want to make sure to bring cash so you have tipping money to tip your tour guides!
And if you think you'll want to head to Kualoa Beach right after (which I definitely recommend), be sure to pack a swimsuit, towel, and change of clothes.
How Much Does it Cost and Where is it Located?
Kualoa Ranch is located in Kaneohe on the North Shore and it's about a 45-minute drive from Waikiki. It can be much longer during thick traffic, so be sure to check before you go.
The Kualoa Ranch ATV Raptor tour tickets are $145 for adults (ages 13+) and $74 for kids (ages 5-12). Kids must be at least 5 years old to participate.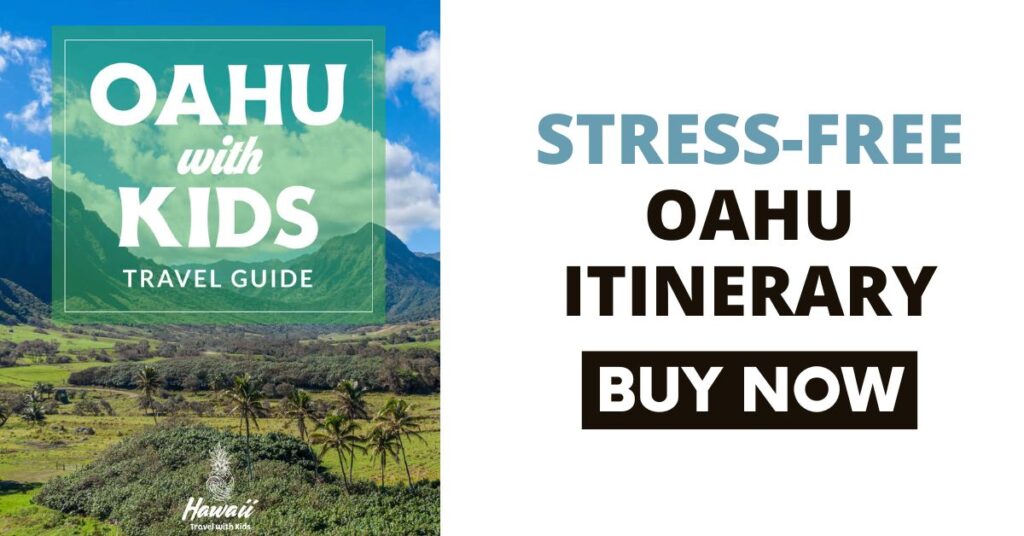 Kualoa Ranch on Oahu FAQs
What are the age restrictions on the Kualoa Ranch ATV tour?
Kids must be at least 5 years old in order to participate in a Kualoa ATV tour. It's a liability issue, so there are no exceptions.
Do they offer transportation to Kualoa Ranch?
Yes! If you aren't renting a car on Oahu, you can pay a bit more to take the Kualoa Ranch shuttle from Waikiki.
Where can I do a Hawaii Jurassic Park tour?
Kualoa Ranch is definitely the premier spot for a Jurassic Park Hawaii tour. Almost all of their tours on Oahu stop at Jurassic Park filming sites or include props from the movie franchise.
What are some Kualoa Ranch movies?
Some of the most popular TV shows and movies filmed at Kualoa Ranch include Jurassic Park, Jurassic World, 50 First Dates, Finding Ohana, Godzilla, Hawaii Five-0, Lost, and more.
How long is the ATV tour at Kualoa Ranch?
The Oahu Jurassic Park ATV Tour is about two hours long.
Is Kualoa Ranch worth going to?
Yes, absolutely! This Oahu ranch is totally worth visiting. From the Jurassic ATV tour to the secret island tour, there are so many fun things to do at the Kualoa Ranch!
So, is the Kualoa Ranch ATV Tour Worth It?
I think the Kuaoloa Ranch ATV Tour is absolutely worth it. We had a total blast on this Kualoa Ranch Jurassic Park tour. We're already talking about doing some of their other ATV Oahu tours the next time we visit Oahu.
Our entire family had fun riding in the ATV and seeing famous Oahu filming sites. This was hands-down one of our favorite Oahu tours and I love that my 5-year-old was able to do it.
It is one of the best ATV tours in Oahu! If you want to go on a Jurassic Park tour in Hawaii, why not try out this ATV tour Oahu has to offer.
Hopefully this Kualoa ATV tour review helped you see why it is perfect for your Oahu trip!