Are you looking for the best luaus on Maui that offer something special? Keep scrolling for this honest Grand Wailea Luau review.
This Grand Wailea Luau review contains affiliate links which means if you purchase something from one of my affiliate links, I may earn a small commission that goes back into maintaining this blog.
Guest post by Chelsea Kelly-Sipe
Are you planning a trip to Maui and want to choose the right luau for your family?
There are so many to choose from. Is the Grand Wailea the best luau on Maui? Check out my detailed review to decide for yourself.
You can read about what I loved about this show, why I think it's worth every penny, and how much fun we had!
Plus, if you have kids who love animals or fire dancers (or both), then they will absolutely adore this show. It was one of our favorite parts of our entire vacation!
If you're looking for an amazing experience with your family in Hawaii, check out my review today!
Want to skip all the planning and just access my detailed Maui Itinerary complete with daily schedules, kid-friendly activities, and travel hacks? Click the button below.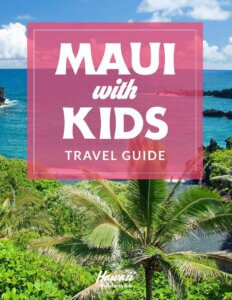 Maui Luau FAQs
What should I wear to a luau in Maui?
Most people choose something that is dressy casual. Anything with an Aloha print is a safe bet. Or you can wear a collared shirt or a dress.
Is it worth going to a Maui luau?
Maui has some of the best luaus in Hawaii. But, it's important to do your research and find the best Maui luau for your family. Some offer pre-show activities, allergy-friendly food items, or other features that make them stand apart from other luaus in Hawaii.
Where are the luaus in Maui?
Most of the luaus on Maui are located in Ka'anapali, Lahaina, or Wailea. These are also the most popular resort towns in Maui.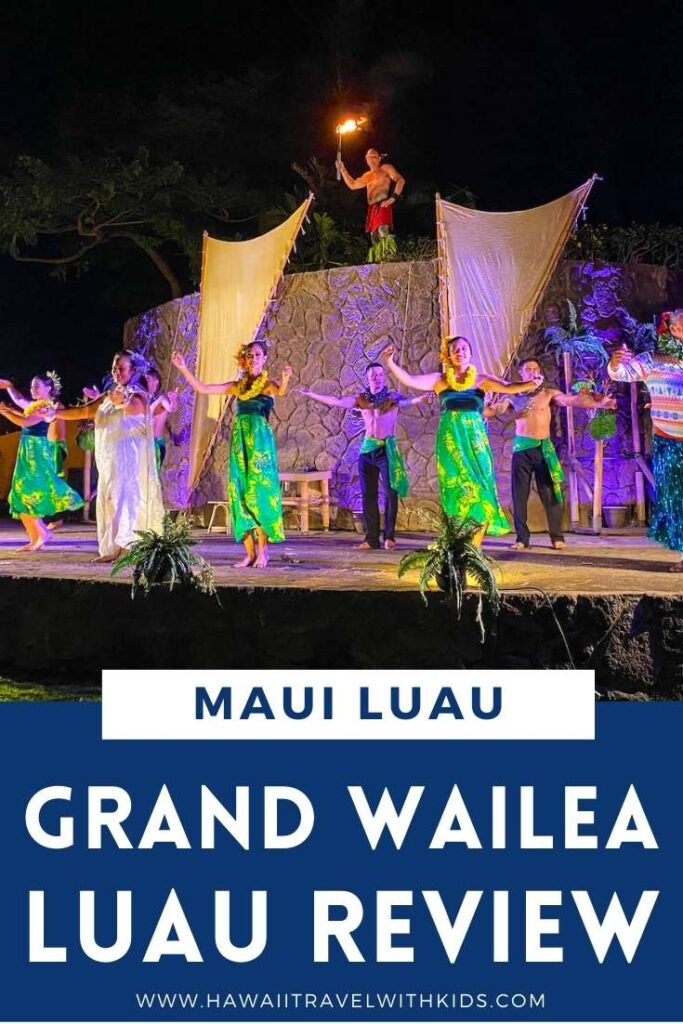 What is a Hawaiian Luau and What Can You Expect at One?
When you are planning a trip to Hawaii, one of the first things you might think of is the beautiful beaches with turquoise blue water. The second thing you might think of is the traditional Hawaiian Luau. Attending a luau is one of the best things to do on Maui during your visit.
So, what is a luau and what can you expect at one?
A luau is a traditional Hawaiian party that features entertainment such as live music and traditional island dancing such as Hula dancing. Luaus also feature a feast of various flavors, including some island favorites such as poi, kalua pork, poke, salmon, haupia, and 'opihi.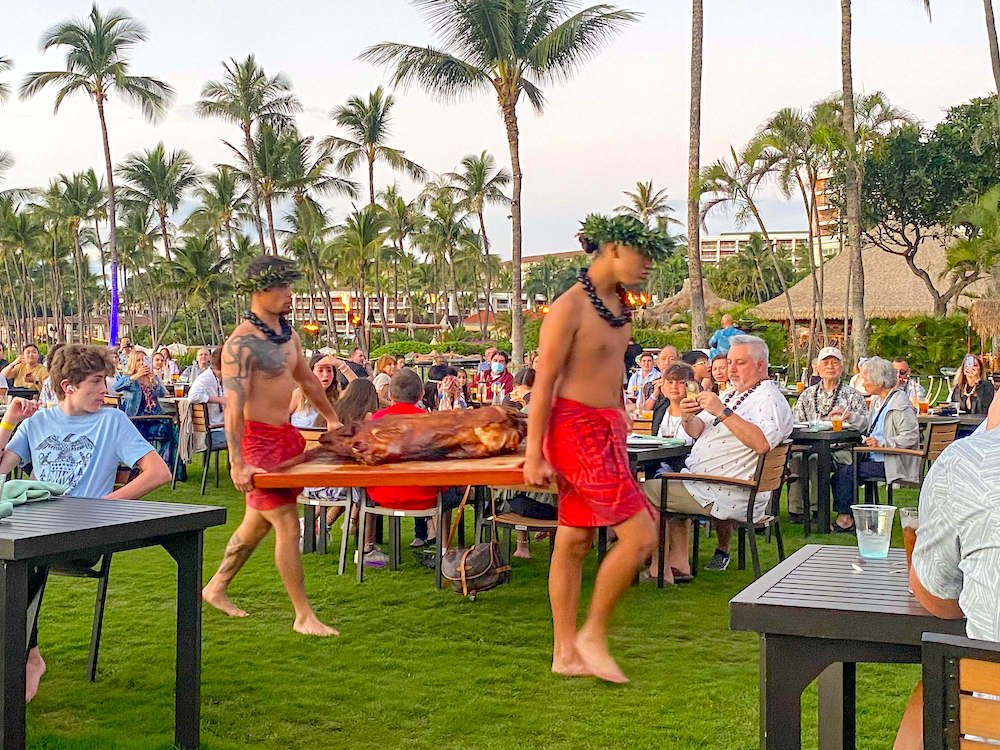 A typical luau features a lei greeting as you enter, pre-entertainment activities, food served either via buffet or individually at your table (especially with COVID-19 restrictions), and then a show of dancers and often fire dancers at the end of the show to delight guests.

There are typically two seating options including preferred seating near the front for an added charge and general seating. Each luau offers slightly different menus and entertainment options, as well as price points.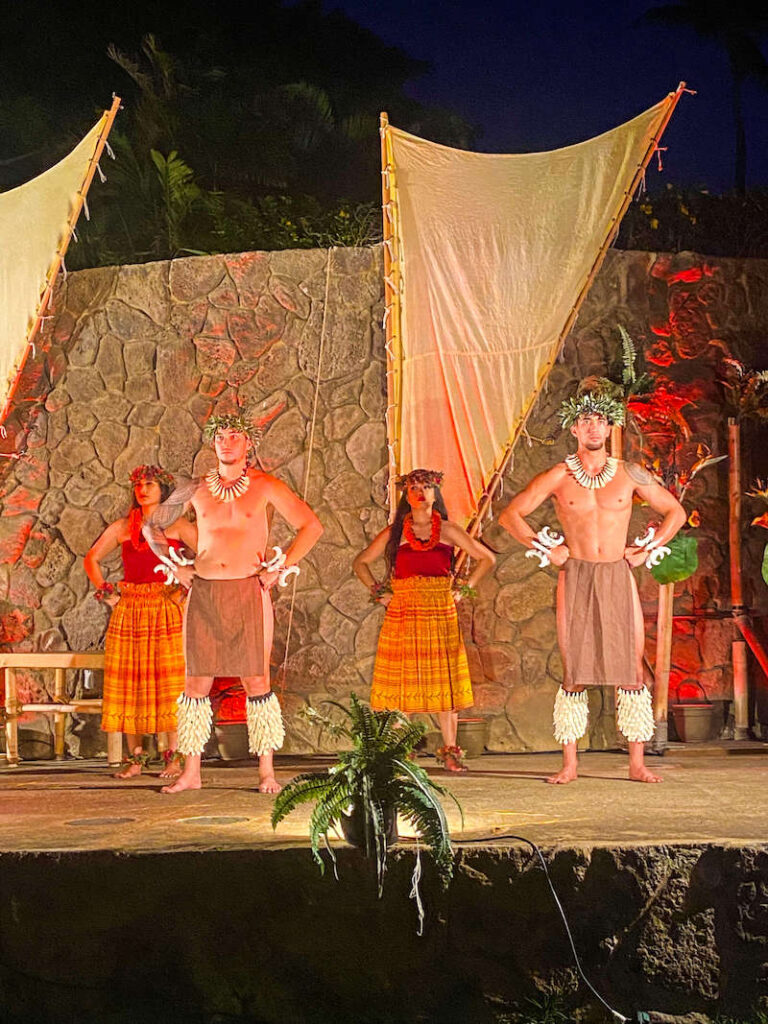 Almost all of the luaus on Maui are outdoor entertainment gardens with a covered stage. Some feature covered seating and others are uncovered. Luaus will run regardless of rain or sun.
So, is the Grand Wailea the best luau on Maui? Check out my detailed review to decide for yourself. Perhaps you'll also decide that it is the best luau in Wailea.
Where is the Grand Wailea Luau on Maui?
The Grand Wailea Luau is located at the Grand Wailea Resort on the Southside of the island. It is approximately 15 minutes from Kihei and one hour from Lahaina.
Guests are welcome to arrive early in order to enjoy the beautiful, manicured grounds of the resort.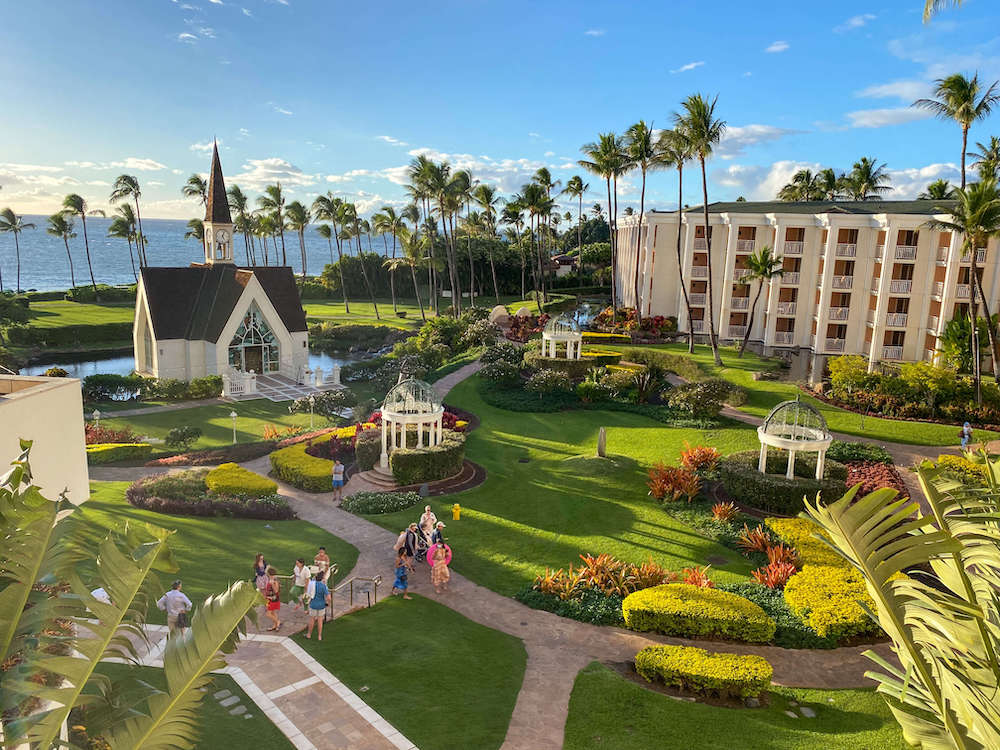 Be sure to browse the shops, visit the koi ponds, grab a snack at the bar or dream about staying at the resort to enjoy the beautiful pools, I know we did.
What to Expect at the Grand Wailea Luau
The Grand Wailea Luau features private tables overlooking Wailea Beach at the Grand Wailea Resort in Maui. The luau takes place in the ocean-front Molokini garden.
There are two options for seating. Ali'i Premium Seating features seating in the first two rows of the stage, as well as a shell or kukui nut lei upon arrival. In addition, your food will be served first, and the server will get your drinks from the bar.
Premium seating is approximately $50 more per ticket, but well worth the cost in my opinion.
General seating features a private table behind the first two rows of tables (reserved for premium seating) and depending on your location, may or may not have a good view of the stage.
For either option, a 3-course lunch/dinner is served family-style at your private table, and drinks are included at the bar. The pina coladas were delicious!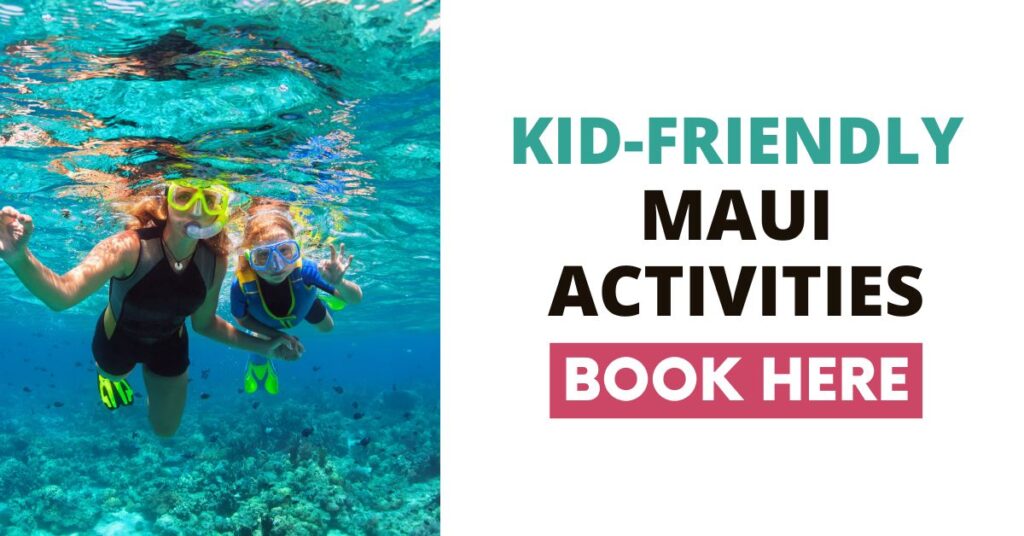 Arrival
Seating is split into two arrival times to avoid large gatherings of groups. You'll find your seating time listed on your tickets.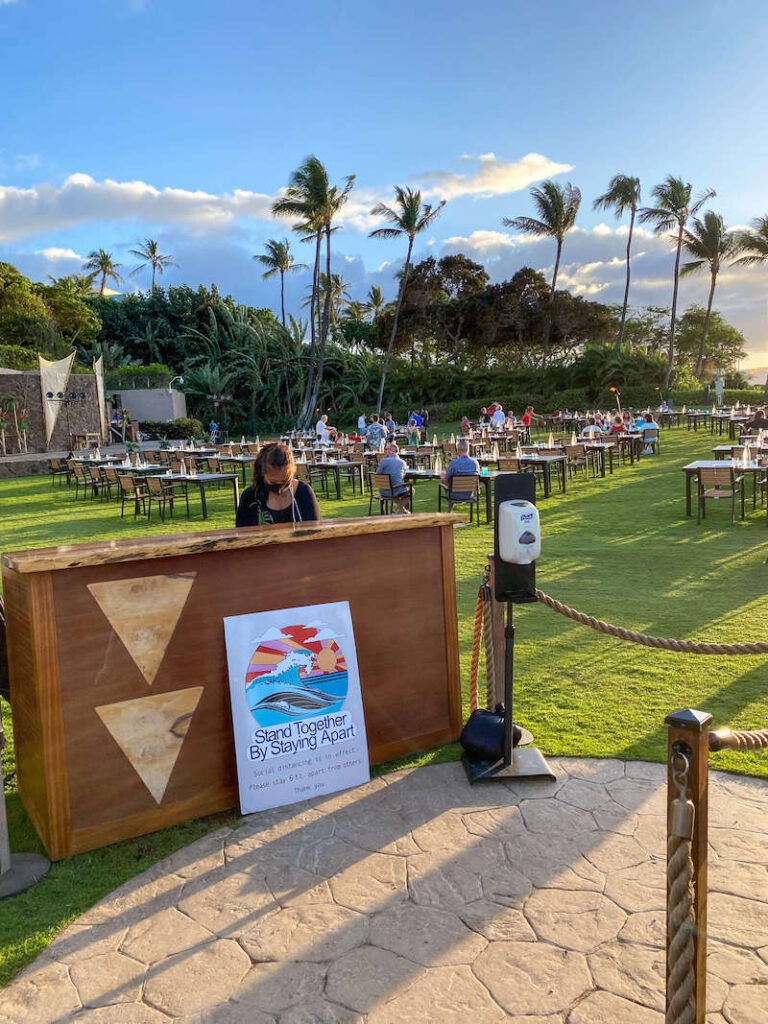 Upon arrival to the Grand Wailea resort luau, you will check in with the host and receive one or two drink options (alcoholic or non-alcoholic).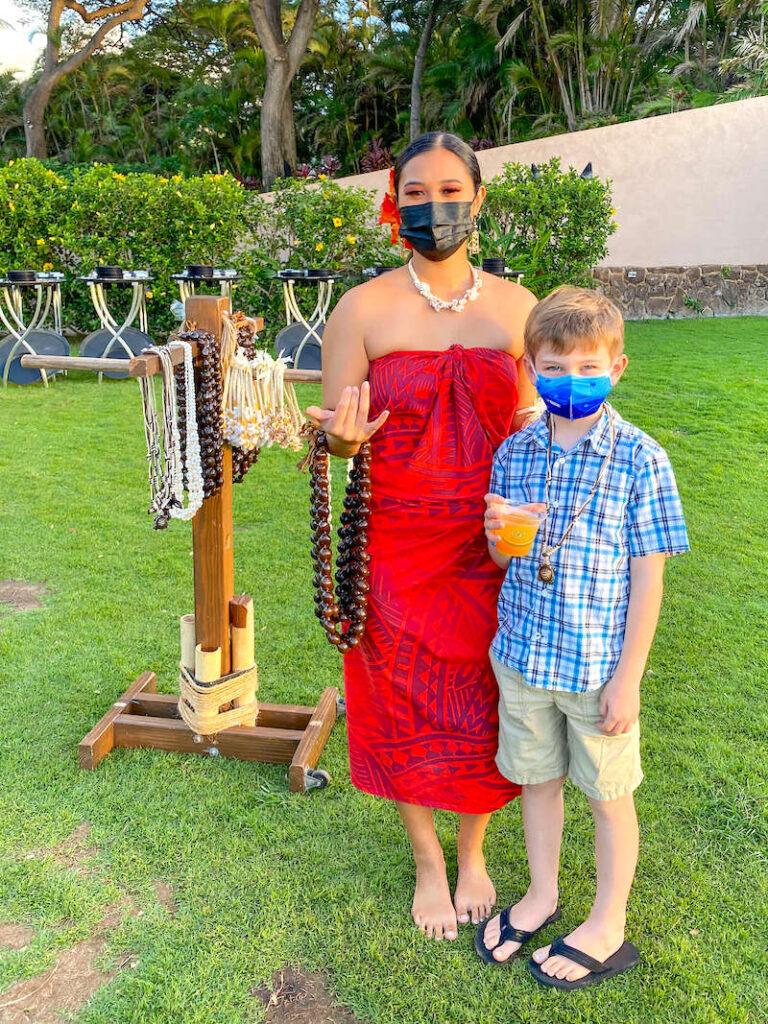 If you paid for premium seating, you will be escorted over to a separate greeting area where you will receive your lei.
My son was given a fun wood carved turtle necklace, I received a beautiful flower necklace and my husband received the traditional kukui nut lei. The leis make wonderful souvenirs to take home and enjoy.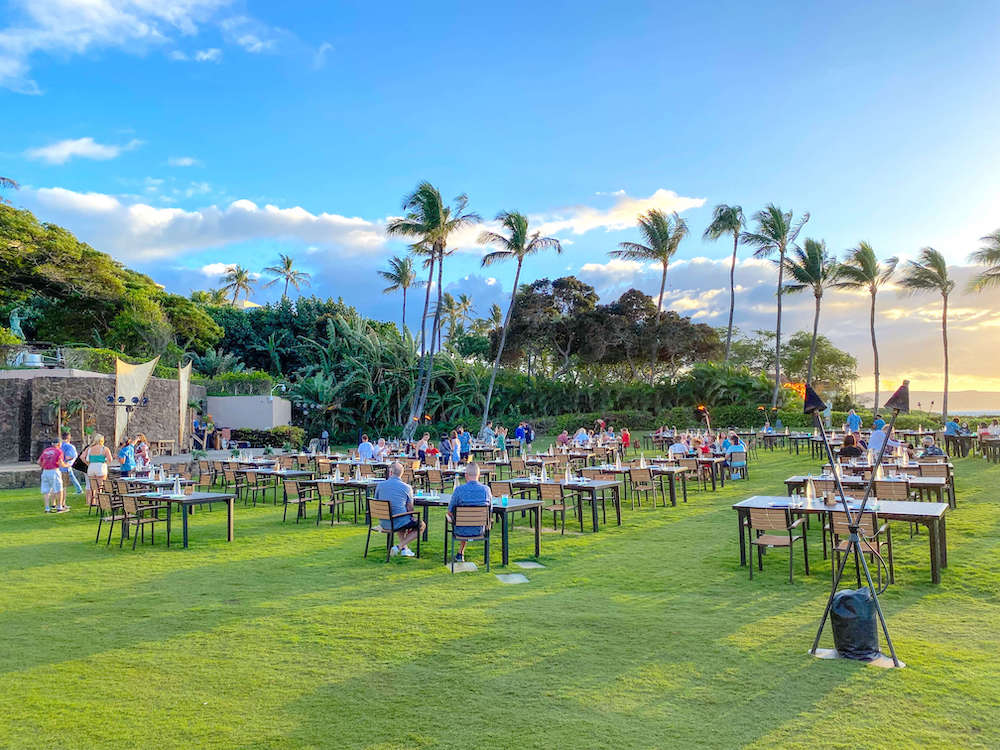 Also, note that masks are required when moving around the venue and when you are not seated at your private table. Due to COVID-19 restrictions, there are now ½ of the tables that there used to be. Meaning fewer people, private tables, and great views of the stage.
After we settled in, we had some time before the show to wander around as we sipped on our cocktails from the open bar. There were several tables selling jewelry, wood carvings, and clothing items. We picked up a cute little wooden turtle and the gentlemen engraved our son's name on the back.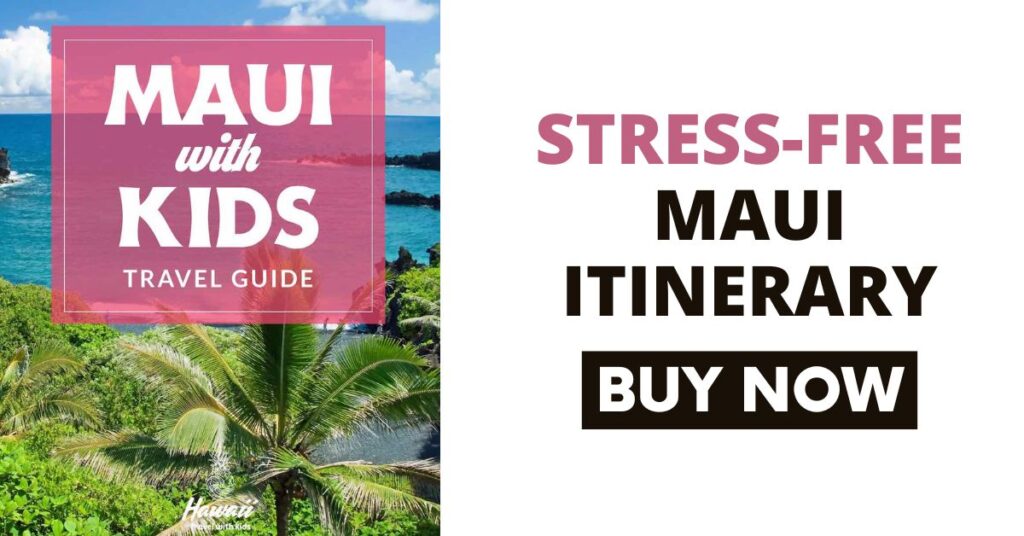 Pre-Show Activities
Surrounding the tables and stage, you'll find areas set up with temporary tattoos, sunset photos (extra charge), a spot to learn how to play the ukulele, and a games station where you could learn to play a traditional Hawaii game.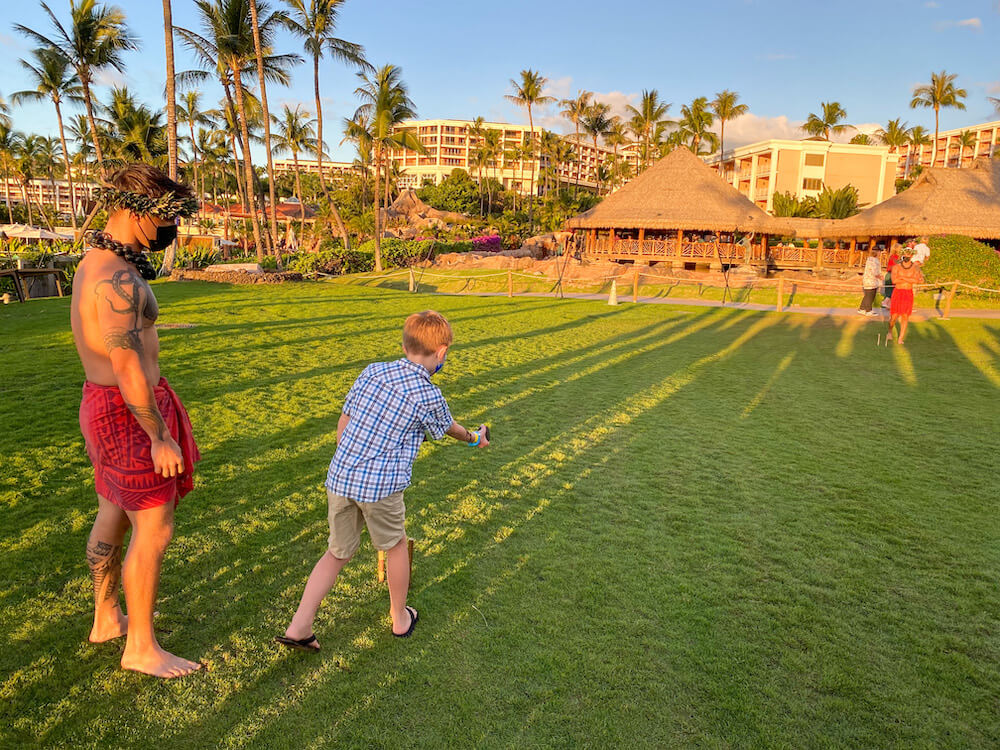 My son enjoyed picking out a tattoo for his arm (shark), playing the Hawaiian game where you try to toss a lava ball through two sticks, and learning how to play three notes on the ukulele. There was plenty to keep us busy before the show started.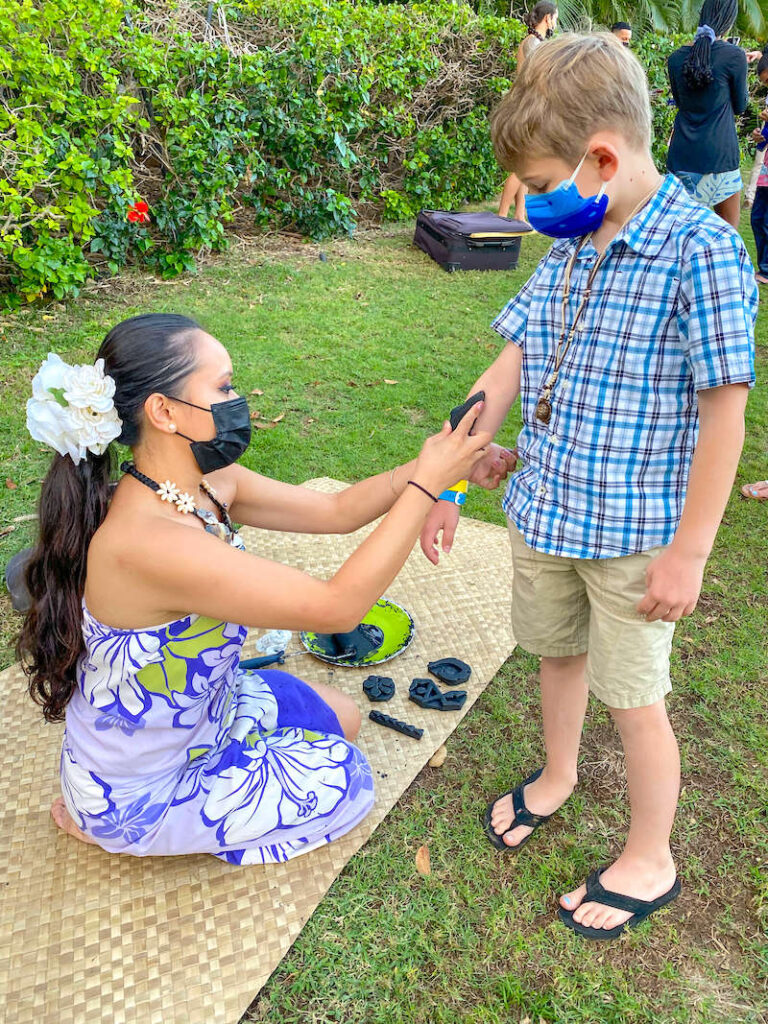 As the evening progressed, we were invited to find our seats and watch as the hula dancers came onto the stage to tell us a little bit about the Hawaiian history of hula and teach the guests some hula moves.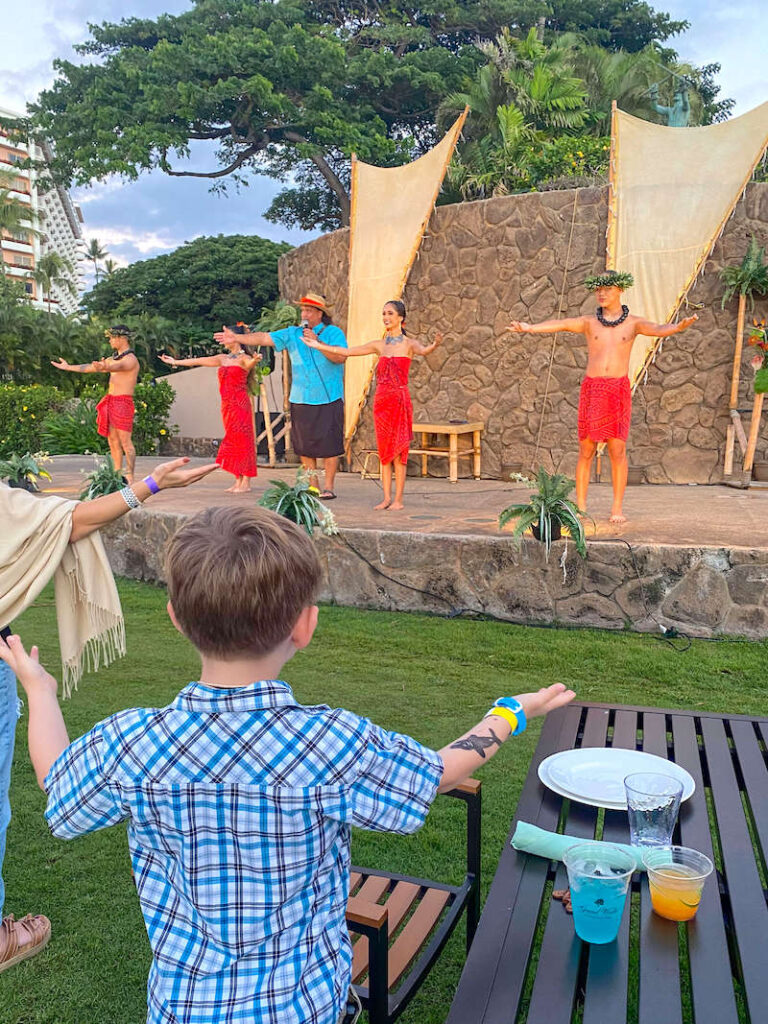 It was a nice introduction and a great way to get everyone ready for the night's entertainment.
Grand Wailea Luau Menu
The Grand Wailea luau menu features a three-course dinner. The staff is happy to work with any dietary needs, just list them in the comments section of your reservation and they will do their best to accommodate your group.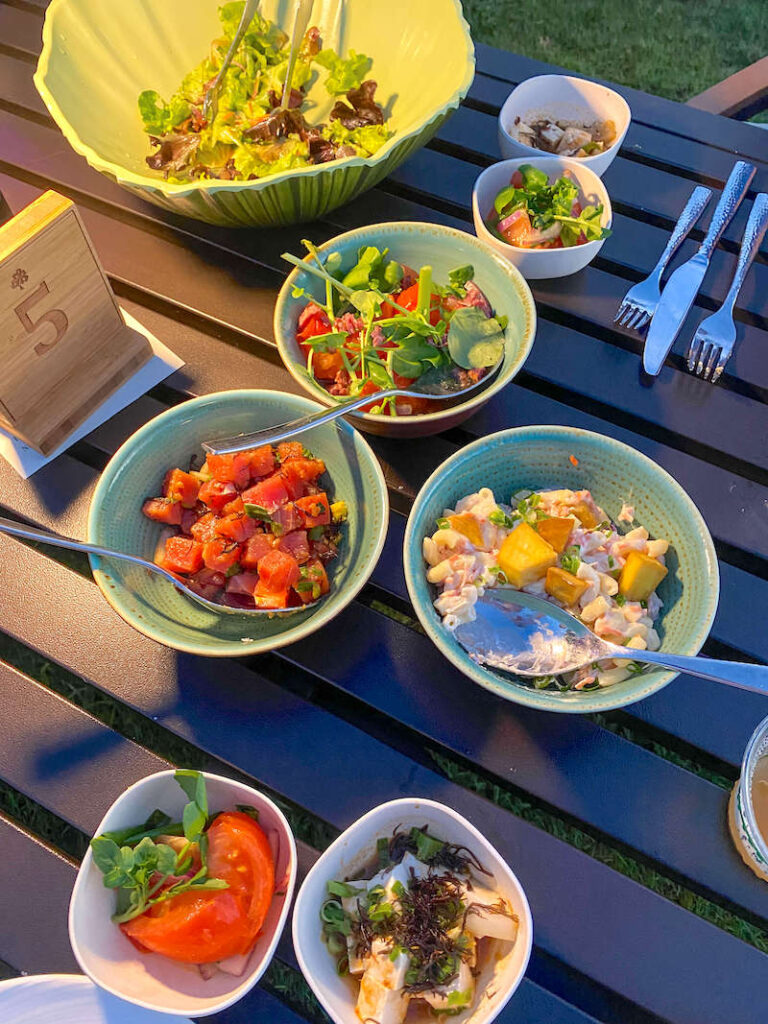 FIRST COURSE- APPETIZERS
AHI POKE WITH OGO, MAUI ONION & HAWAIIAN SEA SALT
POI BOWL
ULU MAC SALAD
PIPIKAULA – TRADITIONAL DRIED BEEF SALAD
GREEN SALAD WITH PINEAPPLE VINAIGRETTE & KULA VEGETABLES
HAWAIIAN SWEET ROLLS WITH LILIKOI BUTTER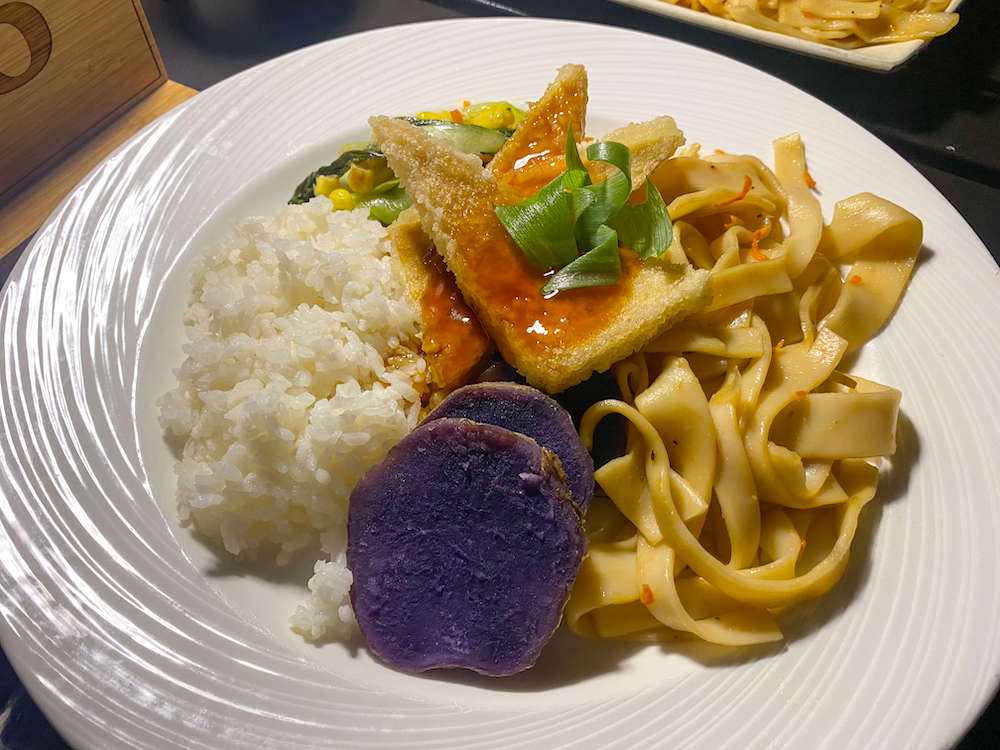 SECOND COURSE- MAIN COURSE
TERIYAKI STEAK WITH SESAME & GREEN ONION
SHOYU CHICKEN & SWEET POTATO WITH MACADAMIA NUTS & LOCAL HONEY
MAHI MAHI WITH COCONUT, KAFFIR LIME & GREEN CURRY
MAUI CHOW FUN NOODLES WITH LOCAL VEGETABLES AND GREEN ONION
KALUA PIG & CABBAGE – PA'AKAI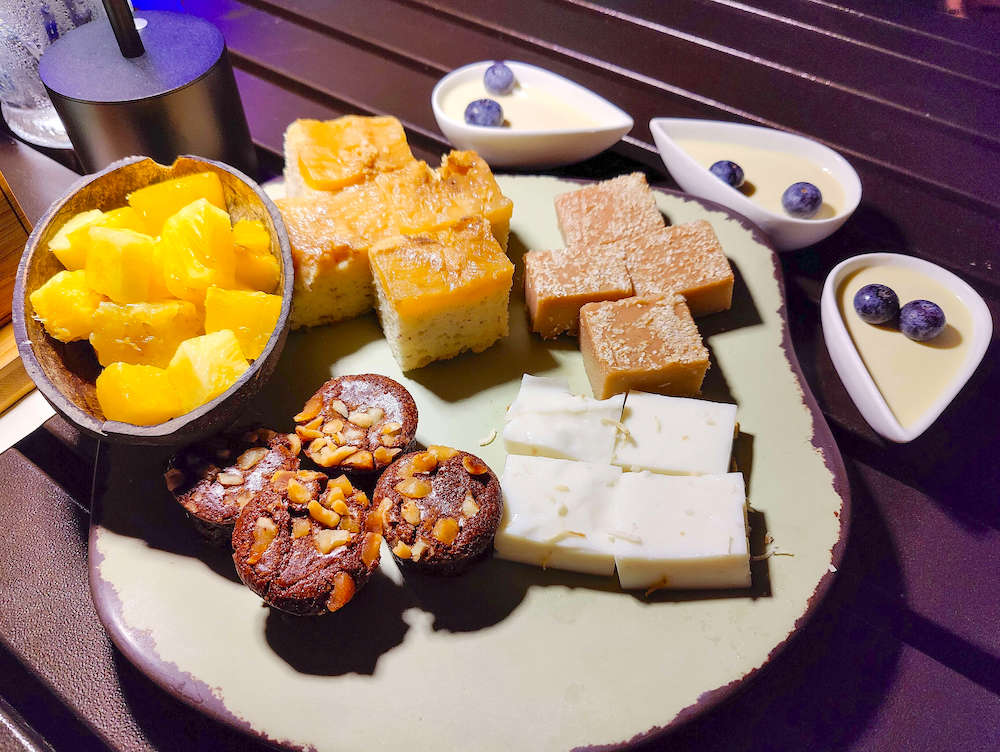 THIRD COURSE- DESSERT
SELECTION OF MAUI GOLD PINEAPPLE, HAUPIA, KULOLO & OTHER SEASONAL SWEETS BY OUR PASTRY CHEF
With the private tables, there is plenty of food for guests to enjoy. We thought all of the dishes were well prepared and flavorful. We enjoyed the variety of flavors and choices.
Our seven-year-old son didn't have trouble finding foods to eat, but he is also not a picky eater. We did not see any traditional kid foods (chicken nuggets, fries). So, if you are visiting Maui with kids and your kids are picky eaters, you might want to inquire with staff on additional items.
The Maui luau dinner was one of our favorite dinners because it gave us the opportunity to try some Hawaiian specialties. We also like the added touch of a light at each table so we could enjoy the entertainment, but also see the food that we were eating.
Maui Luau Entertainment
The "Grand Luau at Honoa'ula" itself has a storytelling element, a chanting lesson, a hula lesson, a sky ropes dancer, and a flame dancer.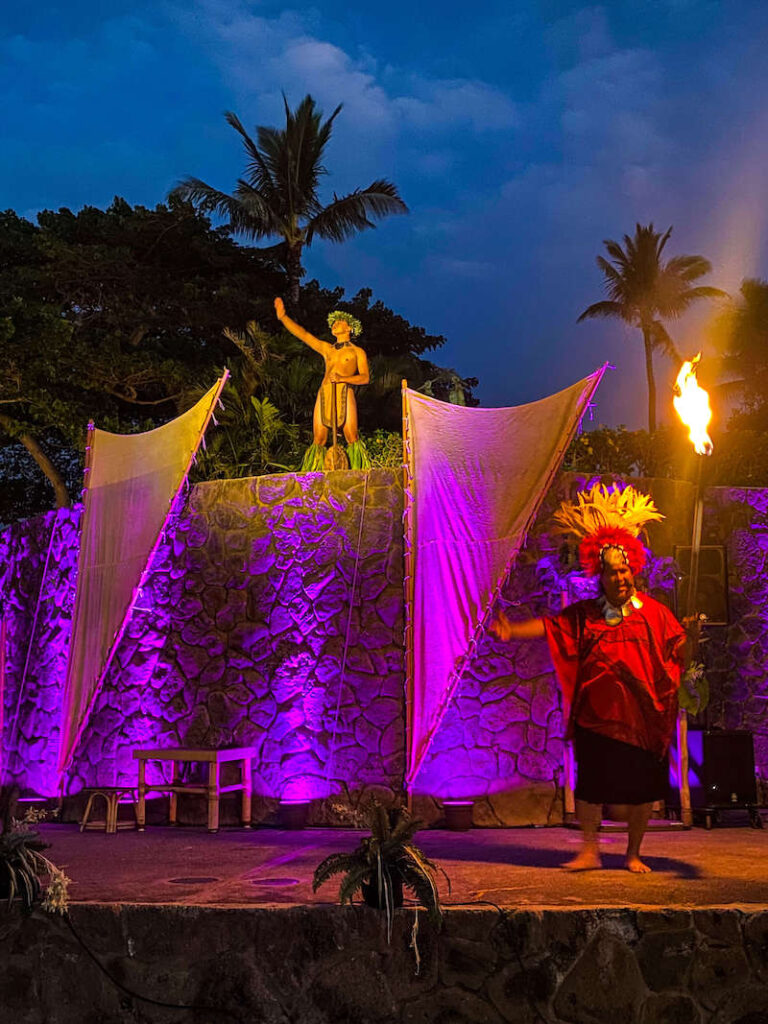 Unlike some luaus, the 3-course meal takes place before and during the show. There are plenty of breaks to use the restroom or grab another drink at the bar. We never felt rushed or worried that we would miss any part of the entertainment.
The show was about an hour-long, and we enjoyed every moment. There are a series of scenes telling short stories from Hawaiian legend and history.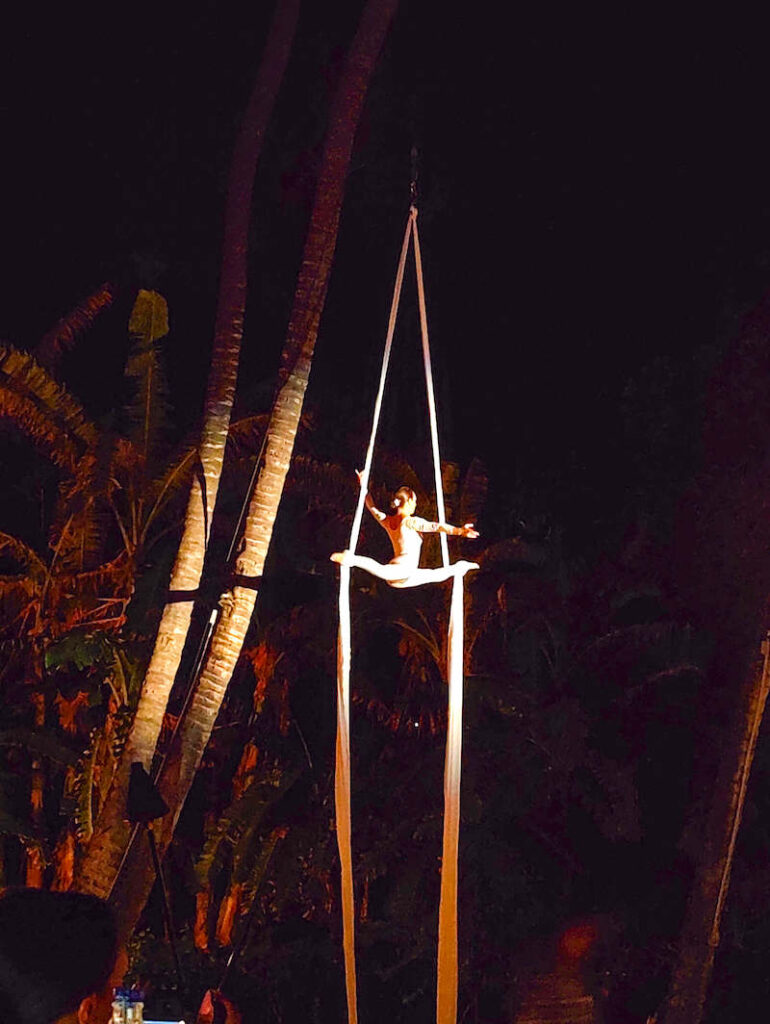 Unlike other luaus across the island, this one features a Cirque-du-Soleil-style performance that involves a dancer swinging from a palm tree on white fabric! In addition, one hula dancer wears a large parachute skirt and shows off her hula skills in a unique way.
The uniqueness of the performances makes this one of the best luaus in Maui.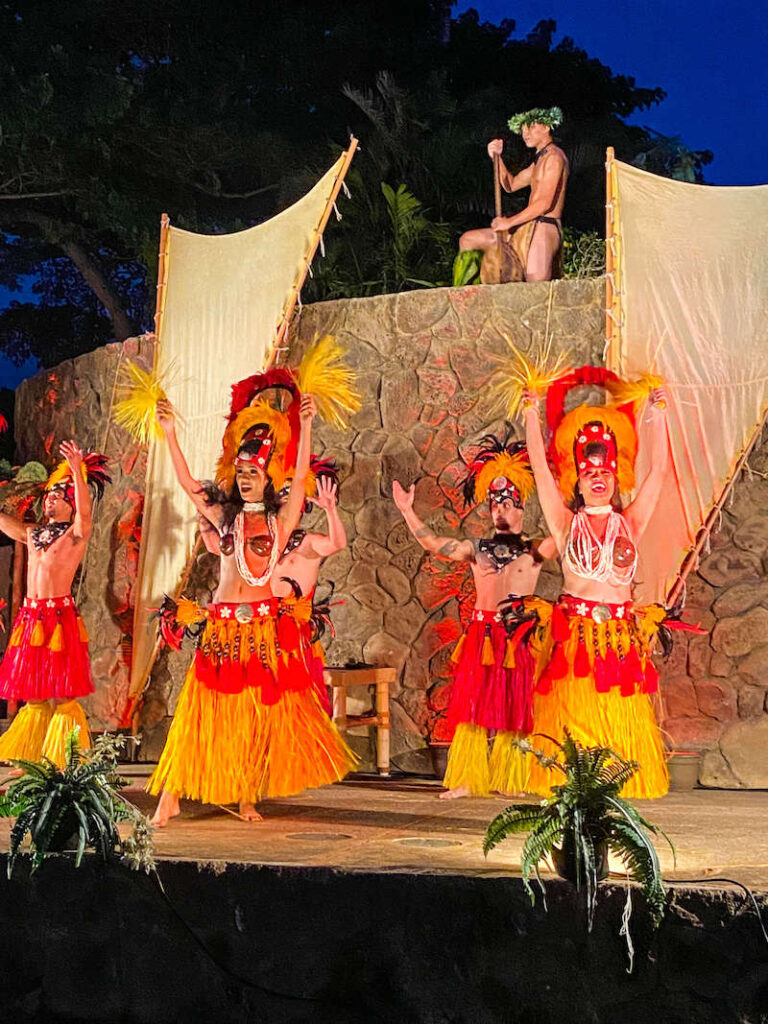 The start of the show opens up with the story of the Tahitians traveling across the Pacific in search of a new land to call home. A warrior's dance depicting the strength of the ruling chief, and his men.
The Hawaiian men are tempted by a mermaid and the mystical goddess high above in the palm tree depicting the majestic peak of Haleakala. Guests were then mesmerized by the beauty of a hula dancer in a white parachute skirt before ending the show with a fire dancer.
There were certainly a few giggles with the fire dancers attempting to put the fire out with their grass skirts before the master of the fire came to dance and spin delighting the audience.
Farewell
At the end of the show, the master of ceremonies welcomed the entire staff out onto the stage and wished us a wonderful holiday season. It was a great way to spend Christmas Eve in Hawaii.
The guests at the show slowly cleared out of the venue and the valet drivers were quick to get everyone on their way.
Why I Went to This Maui Luau
We chose this Luau because we were staying in Kihei, which is only 15 minutes from the Grand Wailea Resort. In addition, we were staying during winter break, and it was hard to find availability at the luaus on the island during Christmas week.
Overall, we were really happy with our decision. We thought the Grand Wailea Luau was incredible.
Is the Grand Wailea Luau the Best Luau in Maui for Families?
We brought our seven-year-old son, and he had a wonderful time at the luau. We saw plenty of other children as well ranging in age from preschoolers to teenagers.
Highlights for families include the pre-show activities, ability to try new delicious foods and the different hula dancing. Of course the fire dancing at the end seems to delight both the young and the old.
How Does the Luau at Grand Wailea Compare to Other Hawaii Luaus?
We lived on Oahu for 5 years and have attended quite a few luaus over the years. Because of this experience, we felt like the Grand Wailea Resort luau was excellent in comparison to the other Hawaii Luaus that we've been to.
We also thought the location was perfect at the resort. The food and drinks were delicious, the staff was friendly and our Ali'i seating was perfect (center of the stage and front row).
The master of ceremonies was entertaining, the dancers were experts at their craft, and I liked how Hawaiian History was interwoven into the stories and dances. I also enjoyed the interactive aspect to the show. Multiple times we were encouraged to learn the storytelling of hula through dances and chants.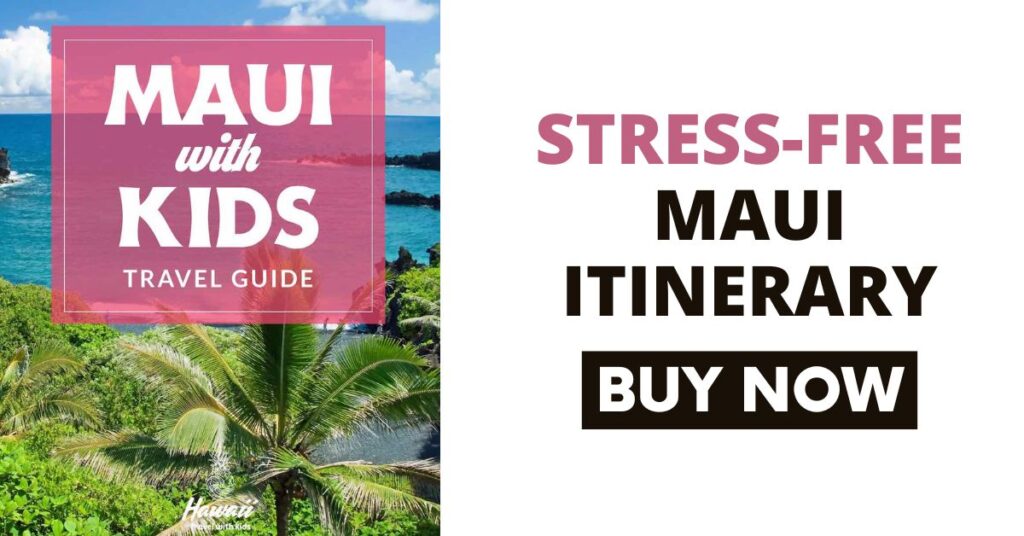 So, Would I Recommend the Grand Wailea Luau?
Yes! I would have no problem recommending the Grand Wailea Luau. It was a wonderful way to spend Christmas Eve.
From arriving with free Valet parking, to walking through the gorgeous grounds of the Grand Wailea Resort, grabbing drinks at the bar, partaking in the many activities, enjoying a feast fit for a king and being mesmerized by the hula dancing and storytelling.
The price can be overwhelming, but we felt like the entertainment, food and service exceeded our expectations. Our seven-year-old told us it was one of his favorite nights.
How can I make my Grand Wailea luau reservations?
Ready to book? Check out the Grand Wailea Maui luau prices here. Unfortunately, they do not offer a military discount or even a Kamaaina discount, I called.
So, your best bet is to book your Grand Wailea luau tickets directly with the Grand Wailea resort.
Hopefully once capacity returns back to pre-COVID days, they will offer a Grand Wailea luau discount.
About Chelsea
Chelsea is the founder/editor of Pack More Into Life, a travel blog that covers adventures as a family around the globe. She is a special education teacher and military spouse who has grown up all over the world and continues to share her passion and love for travel with her husband and son. She has visited family friendly hotels and destinations around the world including Costa Rica, Finland, Quebec City, Germany, Croatia, Slovenia and aims to inspire fellow families to pursue their travel dreams around the globe