Are you looking for the best way to explore Lanai from Maui? Keep scrolling to read an honest review of the Trilogy Maui Discover Lanai tours from Maui.
This review of Trilogy Maui Discover Lanai tours from Maui contains affiliate links which means if you purchase something from one of my affiliate links, I may earn a small commission that goes back into maintaining this blog.
Guest Post by Siv Eng
Are you looking for a fun way to spend your day on the island of Lanai? If so, then this is the tour for you!
The Trilogy Maui Discover Lanai Tour takes place on the island of Lanai and offers an exciting opportunity to see all that it has to offer. Keep reading below for more details about these Lanai tours from Maui.
You get to see two islands in one day, while also enjoying some time on each island.
This Lanai snorkel trip takes you from Lahaina to Lanai and back again, so it's perfect for those who want a little more than just a quick stopover at each place.
Plus, there are plenty of activities planned throughout the day so everyone will have fun no matter what their interests may be. If you're looking for an unforgettable Hawaiian vacation then check out these tours today!
Keep reading if this sounds like something that would interest your family!
Don't have time to read a bunch of Hawaii blog posts and reviews? Here are some of our top picks for visiting Maui.
Popular Maui Tours/Activities
Favorite Maui Resorts/Hotels
Andaz Maui (this is a luxury resort with the best luau on Maui)
Honua Kai Resort & Spa (this is one of our personal favorites because there are tons of pools and there are condo options)
Want to Rent a Car in Hawaii?
One of the best places to rent a car in Hawaii is Discount Hawaii Car Rental because they get the best rates from top national companies like Alamo, Dollar, Thrifty, Avis, Enterprise, Budget, and Payless.
Want to skip all the planning and just access my detailed Maui Itinerary complete with daily schedules, kid-friendly activities, and travel hacks? Click the button below.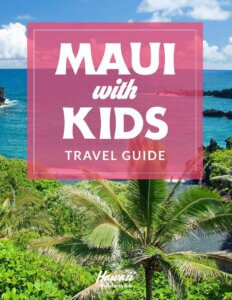 Maui to Lanai FAQs
Where can I find the best Lanai snorkeling?
If you want to go snorkeling on Lanai, your best bet is to book a Lanai snorkeling trip from Maui. The best Lanai snorkeling tours will have certified staff on board who can tell you about the amazing sea creatures and help you safely snorkel Lanai.
What are some things to do on Lanai?
Lots of people enjoy snorkeling in Lanai. There are also fabulous beaches, Sweetheart Rock, the Lanai Cat Sanctuary, and walking around Lanai City.
Is it worth doing a day trip to Lanai?
Absolutely! It's so easy to travel from Maui to Lanai and there are plenty of things to do and see along the way. It's a less-populated island so you'll get a more special experience. Doing a Lanai snorkeling tour is a great way to explore some new places, as well.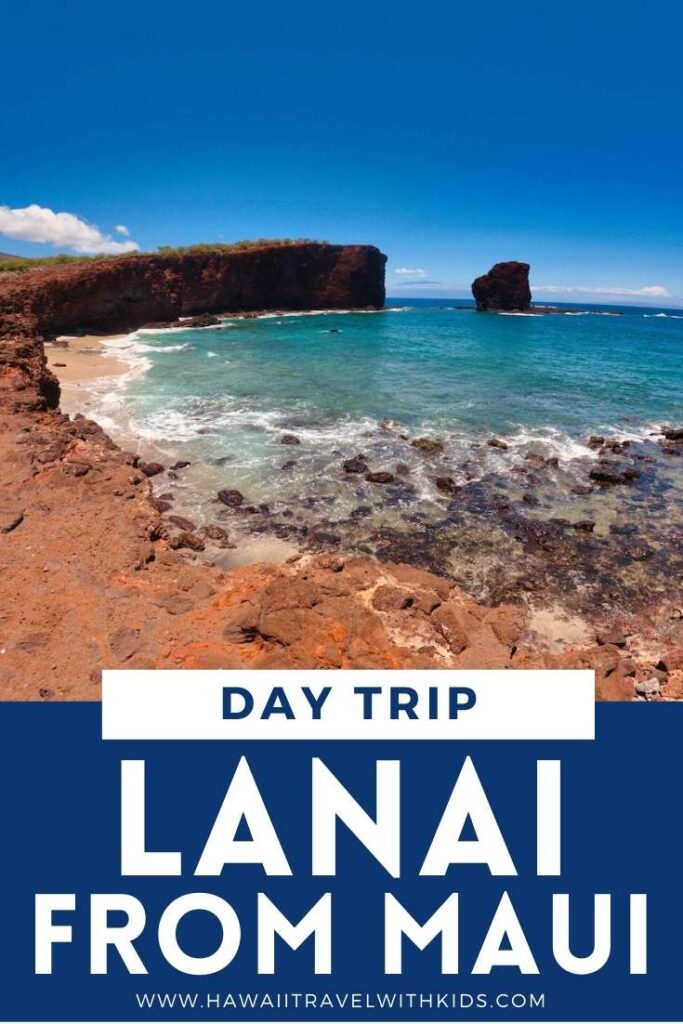 Overview of the Discover Lanai Tour
The Discover Lanai Tour is an 8-hour excursion departing from Lahaina Harbor.
There are two departure times; 6:30 AM and 10:30 AM. We opted for the 6:30 AM tour because we heard that the waters can be more calm and less risk of seasickness. I also wanted to see the sunrise!
The 10:30 AM tour probably got to see the sunset since sunset time was around 5:45 PM. Of course, sunrise and sunset times will vary depending on the season.
An ample amount of food is provided and guests will NOT go hungry – breakfast, brunch, and lunch were provided during the 6:30 AM tour.
They also do a great job of accommodating guests' food preferences. I marked my husband down as gluten-free and they provided him with a yellow bracelet so that the staff would know he needed an alternative food choice.
Since he doesn't have celiac disease and was just a preference, they told him if he got jealous of our cinnamon roll, he could have some too! There were also guests on board who were vegan or vegetarian who were also well accommodated.
In addition to the actual sailing to Lanai, the adventures included snorkeling Hulopo'e Bay. This is a protected Marine Preserve. There was also a short scenic hike to Pu'u Pehe (Sweetheart) Rock and/or a visit to the large tide pools nearby, an add-on SNUBA upgrade, or just sand and beach time.
After these adventures, you're served a freshly cooked lunch before heading back to the boat for the ride back.
Why We Chose This Maui Tour
As an effort to simplify our lives and seek minimalism, we decided to splurge more on family experiences instead of Christmas gifts. We don't often do excursions for family trips, so this felt like a nice splurge.
I did research in various Facebook groups and often Trilogy came highly recommended. Some mentioned how they go on a Trilogy tour every time they visit Maui. On our tour, we had some repeat guests so I think that speaks for itself.
I was debating whether or not to do a whale watching tour since our time in Maui was at the beginning of whale season. However many people reported seeing whales and/or spinner dolphins on this tour so I didn't feel the need to do both.
I was also concerned if any family members would get seasick. So having to choose between whales or Lanai, I went with the day trip to Lanai since that seemed more unique. Check the latest rates and availability HERE.
I also heard they have a great team. Our tour was led by Captain Riley and was accompanied by Becca, Robert, and, Mario.
What to Know about the Trilogy Maui Discover Lanai Tour Before You Go:
Arrival/Parking
It was suggested that we arrive to check-in at Lahaina Harbor 15 minutes prior to departure time. We were staying in Kihei the night before, so we had a very early day and left the condo about 10 minutes later than I was intending.
We arrived at the suggested public parking lot around 6:10 AM. The parking lot had a sign for Trilogy guests and we were also greeted by Becca one of the amazing crew members. She informed us that the lot was closed and we can park at a nearby parking lot which we had no issues with.
It was really helpful to have a staff member greet us and tell us where to go for this Maui to Lanai day trip. We weren't late or anything, but it definitely helped to start the day right and make for a smoother experience.
The Highlights of this Lanai Tour and What You Should Look Out For
Sunrise
Since this was my second Maui trip, and maybe the third or so trip for the husband, I decided to have a more relaxed trip compared to our last Hawaii trip in which I scheduled two sunrise hikes on Oahu! LOL!
I was super excited that we would be able to get out on the water AND experience a Maui sunrise. Since our departure was at 6:30 AM, the sunrise was scheduled to be around 6:45 AM for December. Perfect!
Breakfast
Breakfast provided consisted of cinnamon rolls, fruit, and coffee, and juice. My husband received a gluten-free muffin and fruit.
Prior to landing at Lanai, we got another snack which was a croissant breakfast sandwich. I think it had egg and ham inside. I scarfed mine down so I don't remember what it had – so no picture!
The gluten-free option was an acai bowl. The husband found it a bit too sweet and didn't eat much of it. The 10:30 AM departure receives a deli wrap instead of the croissant breakfast sandwich.
Sail
During our sail, I came prepared with MotionEase which is a topical mixture of essential oils to apply to the back of the ears. I used that prior to sailing and during sailing. You can check the price and more information HERE.
We got a great spot in the front and the kids sat on the netting. But these spots are probably better for the afternoon as it was still chilly in the morning and they got splashed from underneath!
I was originally concerned about my husband, but unfortunately, it was my two younger girls (6.5 years old and 9 years old) who began to not feel well.
I asked one of the crewmembers if they had any ginger chews, but he was only able to find ginger pills. They did provide me with a cup of ginger ale, though.
First, it was kid #2 who didn't feel well. They suggested she sit near the captain in a spot they deemed as the best spot on the boat if not feeling well. Then it was kid #1 who didn't feel well. I thought she might hurl so they had her sit at the back of the boat…and aim there! Haha!
Thankfully neither kid actually threw up and it was more the latter part of the trip there instead of the entire time. They did miss out on their croissant sandwich because they didn't feel well enough to eat. I think maybe it was a combination of fatigue and maybe needing more hydration.
Since they were up near the captain, they also had a chance to steer the boat!
Spinner Dolphins
On our way there we saw a pod of spinner dolphins. Trilogy is very respectful of wildlife and stayed a good distance away from them.
However, when we continued our way, some dolphins came to swim with us! We also saw them on our way back as well! We didn't see as many whales as I had hoped. But we did see some tail splashes!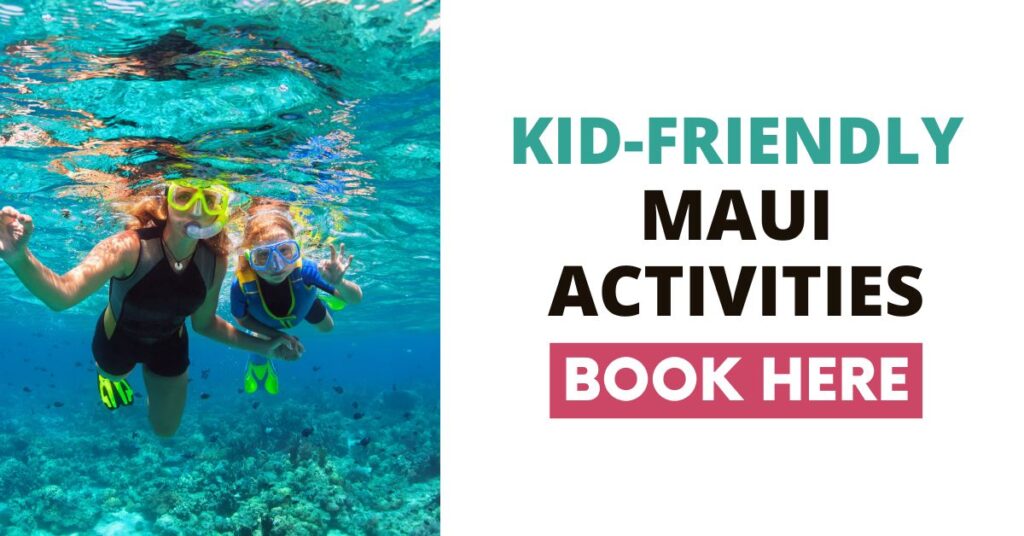 Lanai Activities
Snorkeling was a must for us. Thankfully, after months of swimming lessons, the kids were pretty confident swimmers. But snorkeling was new and an adjustment. We got some cheap snorkel gear from Walmart and had them practice in the pool, but they weren't too interested.
I was a little bit nervous heading into the water with the kids. The waves were a bit bigger than I would have liked and I would definitely not go in as far into the ocean (by ourselves), but the staff was confident and I trusted their judgment.
Becca instructed us to hold onto our flippers and stand sideways to the waves. They helped us time it right so that we wouldn't get knocked down by the waves.
Captain Riley was in the water with a board waiting for us. We hung onto it as we got our flippers on in the water and kept a hand on the board as he guided us around. We were able to see a variety of fish and coral during our snorkel. I didn't bring an underwater camera so, unfortunately, there are no pictures to share.
The kids got a few peeks into the water but they mostly stayed above the board. The kids were getting cold so we headed back to shore.
Again, I was nervous about how to get back to shore, but Becca and Captain Riley helped time it right so that we got back to sand safely!
After snorkeling, we went to check out the tide pools. We saw black crabs scurrying around but as we got closer they hid in the rocks. The kids wanted to play in the sand so I left the husband to enjoy the tide pools.
I fetched some sand toys that were provided and let the kids do their thing. Becca led a small hike to check out the rock. I was a bit sad to miss out on it.
Lunch
Becca stayed at the beach with us as we got the girls cleaned up and sand washed away. Things always take longer with kids, right? I was appreciative that she stayed back with us and didn't make us feel rushed.
We got to the lunch area and were greeted by Captain Riley who directed us to a table that was reserved for us.
Robert, another crewmember, remembered I had looked for ginger chews for the girls found some for me. He also let me know there were other items for the trip back if I was interested. It was a nice touch that he remembered and found me.
My husband's meal was served before us due to his gluten-free preference. I assume that they used gluten-free soy sauce for the chicken, and maybe brown rice spaghetti for the noodles.
We were surprised that they cooked his meal separately and gave gluten-free versions of the meal versus an alternative that might not have been as tasty. Both kids also ate their fair share and asked for seconds!
On our way back, alcoholic drinks were provided for those of age. I also asked them to make a special drink for the kids. They mixed something up with soda and POG juice and added a slice of pineapple to make it fancy.
My only regret is not asking about the ice cream that was mentioned in the tour information. Ice cream would have been a nice way to end the trip.
Also, since we all ate a big lunch, I had checked the tray of pills, and supplements for the trip back. I stocked my pockets with some ginger chews, and also had each of us take some Dramamine. I figured, better to be safe and enjoy our trip back!
Thankfully, there were no issues with the trip ride back. The kids were exhausted and passed out.
Lanai Tour Tips for Families
What to Wear
We wore swim clothes underneath our clothes as well as long sleeves knowing that it would probably be chilly and breezy out on the water.
My husband had his swim shorts and a t-shirt underneath his zip-up long sleeve. The girls had on shorts and a t-shirt over their swimsuits and hoodies. And I wore a bikini with a dress cover-up and a hoodie.
I brought my sunhat but kept that inside the boat with the rest of our stuff so that it wouldn't get blown away.
They also suggested wearing rubber shoes in case the deck got wet. But we all wore flip flops and I instructed the girls to hang on to the rails when walking and take slow steps.
What to Bring
Other than the swim clothes that we already had on, we brought beach towels which were not provided.
We brought the kids' snorkel gear and goggles since we knew that they might prefer them. But we ended up using the provided snorkel gear instead since they were higher quality.
We also brought reef-safe sunscreen but ended up using the ones onboard.
In addition to the snorkel gear, they also had floatation belts, beach sand toys, and beach mats. Beach chairs were also provided but we didn't end up using those.
I regretted not bringing bottles of water, but thankfully Trilogy thought about that and also provided cups with a big water dispenser out on the beach.
After playing out in the water and sand, there was also a shower and bathroom to get cleaned up similar to other Hawaiian beach parks.
How Much Does it Cost and Where is it Located?
The current price as of this writing is $249 for adults, $218 for youth (13-17), and $149 for children (3-12). Kids younger 2 and younger are free. Departure is from the Lahaina Harbor. Click HERE for the latest rates and more information.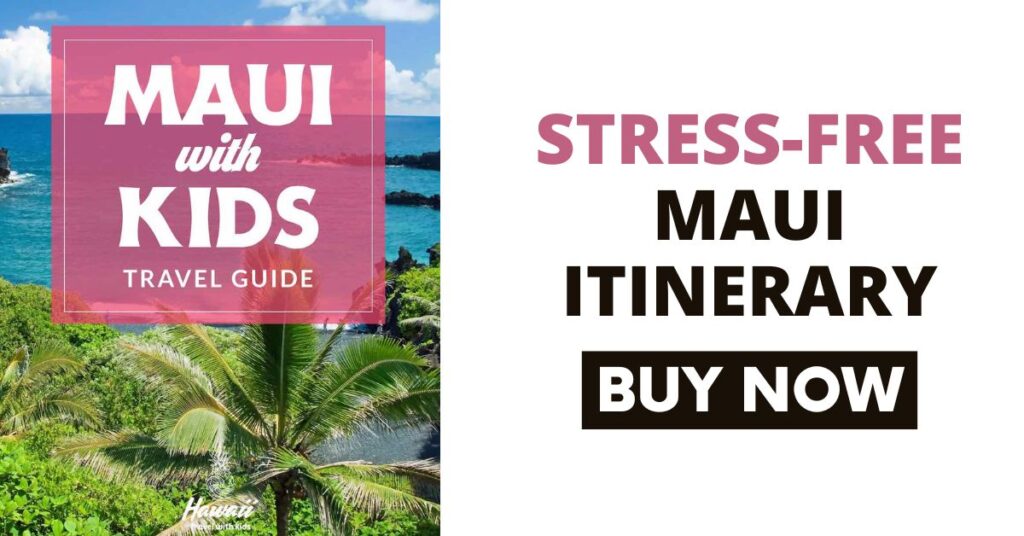 So, is the Discover Lanai Worth It?
Cost is always a factor for us when vacationing as a family of four. While we did pay a lower price than the current price, having had our experience, I would still pay the current price and be happy with our experience.
It was amazing to get out in the open water which I always find peaceful and therapeutic. The food and staff were fantastic.
During the trip, Captain Riley also spoke about the history of the Trilogy company as well as their stance on respecting the ocean and animal life.
I truly felt that the family-owned company made a difference in our experience. I felt like a valued guest, versus just a random tourist for the day. Each staff member was very patient and kind especially with my two kids who appeared to be the youngest on board.
Our Discover Lanai was one of if not THE highlight of our trip! We are so glad we went on this trip. It made our Maui trip special!
About Siv
Siv is a Seattle-area mom of two who LOVES to travel. A few of her favorite family vacations include Hawaii and Disney trips.