Are you planning a trip to Maui and wondering if it's worth visiting Moloka'i for the day? Keep scrolling to find out how to plan a Maui to Moloka'i day trip.
This guide to planning a Maui to Moloka'i day trip contains affiliate links which means if you purchase something from one of my affiliate links, I may earn a small commission that goes back into maintaining this blog.
Wondering if it's worth doing a day trip to Moloka'i?
Moloka'i is one of the most beautiful Hawaiian islands and not very many people get the opportunity to explore it.
I'll show you exactly how to fly to Moloka'i from Maui, the best things to do in Moloka'i, and why it's totally worth a visit. Plus, I'll even give you some suggestions in case you want to do an overnight there.
You'll have everything you need to know before making the decision on whether or not to add Moloka'i to your vacation itinerary.
With this Maui to Moloka'i day trip guide, you can make the most out of your time on this beautiful island.
Molokai Vacation FAQs
What are some interesting Moloka'i facts?
There are NO traffic lights on Moloka'i. And we never experienced any traffic. There's also a phallic rock that legend says will help visitors get pregnant. Oh and there's only one hotel on the island!
Which is better: Lanai or Moloka'i?
Personally I think Moloka'i is much prettier and there are more things to do. But it's cheaper and easier to go on the Lanai ferry from Maui and spend a few hours.
Is the Moloka'i ferry still running?
No, it closed its doors in 2016 due to decreased demand. The only way to visit Moloka'i is via commuter airlines like Mokulele.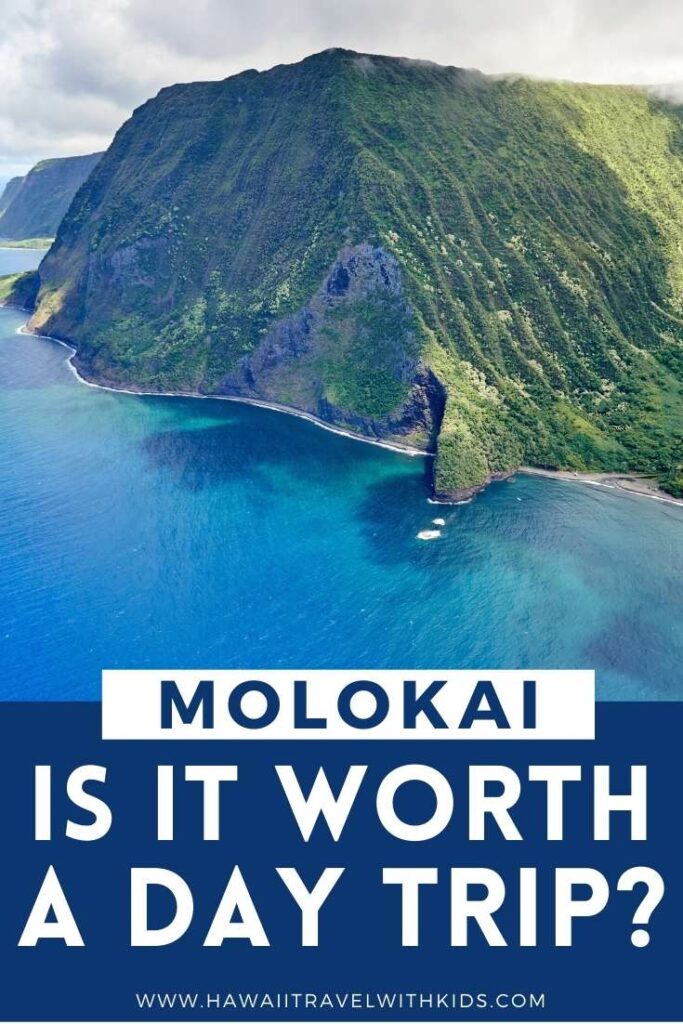 How to Get from Maui to Molokai
You'll need to fly to Moloka'i if you want to visit. They used to have a Moloka'i ferry from Maui, but that was a rough ride and it was discontinued. Right now, the only way to get to Moloka'i is via airplane.
We flew on Mokulele Airlines and it was a great experience! You'll head to Kahului Airport on Maui and go to the commuter terminal (which is across the street from baggage claim and behind the building that stores the airport shuttle/train.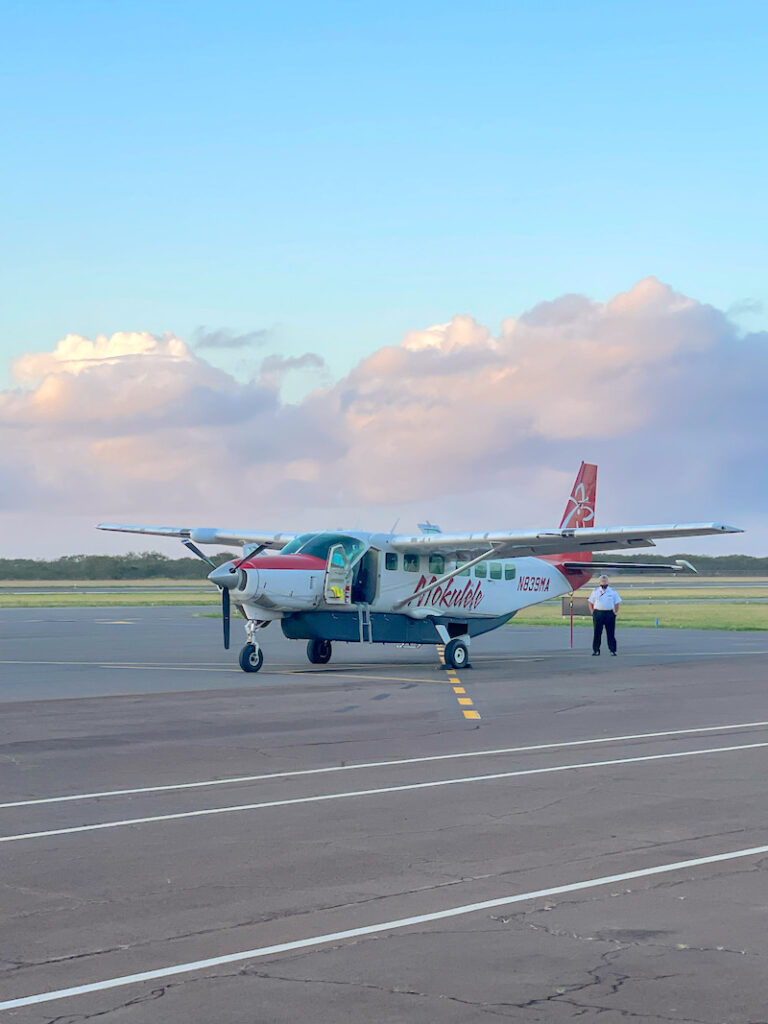 The airline will ask you to show up 30 minutes before your flight. That's when you'll pay for your bags ($20 for checked bags) and tell them your weight. That's how they figure out the seating arrangement on the 10-passenger plane.
The flight time from Maui to Moloka'i is about 30 minutes and there are gorgeous views of Lanai from the left side of the plane and Moloka'i from the right side of the plane.
It's a very small plane and there is no beverage service or anything. But, it's very fast and very smooth.
When you land, you'll pick up any checked bags right at the airplane itself and then walk to the airport terminal.
On the way back to Maui, you'll still need to show up 30 minutes before your flight. This time, the best views are from the right side of the plane as you go around the island of Moloka'i as well as the North West side of Maui.
Do You Need a Rental Car?
Unless you have a friend picking you up from the airport, you'll definitely need a rental car. If you are only renting a car for the day, one of the best options is to rent through Alamo. They are the only national car rental agency left on Moloka'i.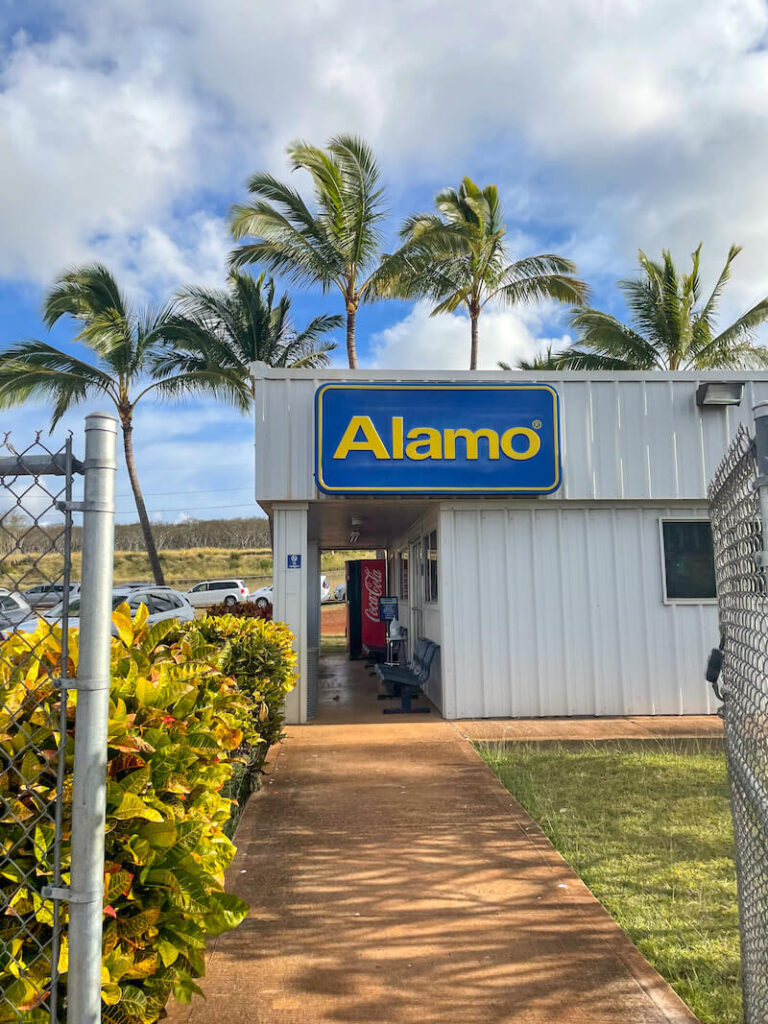 We actually booked our Alamo car through Discount Hawaii Car Rental and saved some money. Plus, we just had to walk across the street from the airport to pick up our car. It was the easiest (and fastest) car rental experience we've had in Hawaii.
There are local car rental companies like Aloha Rents and Mobettah Car Rentals but sometimes they have a minimum car rental of 5 days.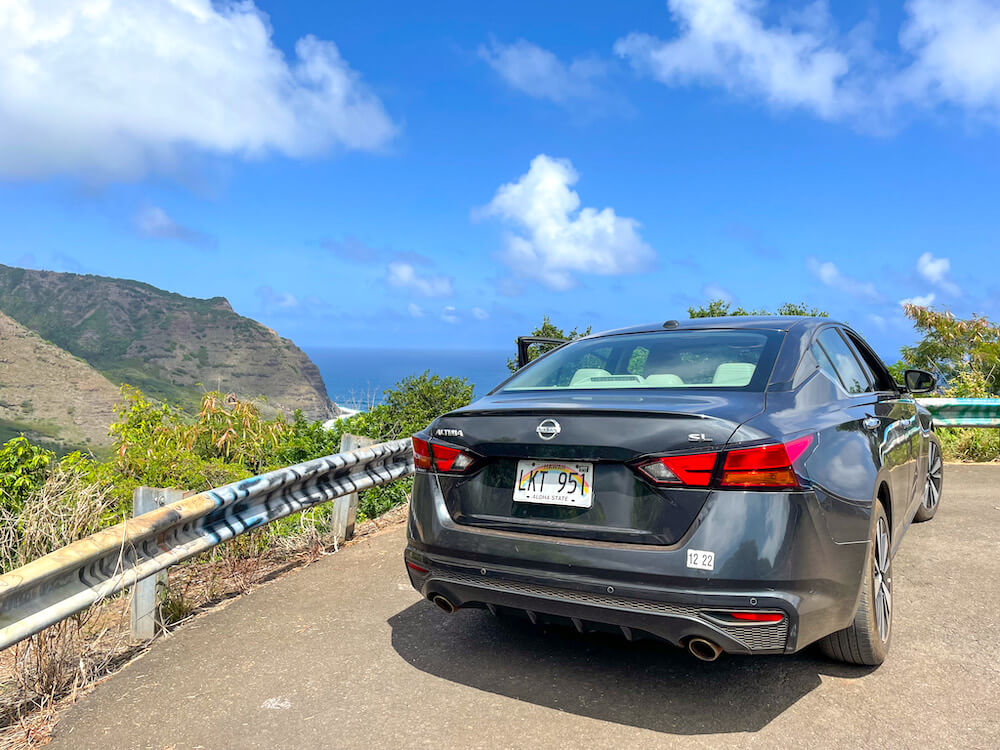 I'm SO glad we had a car because we were able to drive all over the island and see tons of cool things.
Best Things to do on Molokai
Walk Around Kaunakakai
The main town in Moloka'i is Kaunakakai. The "downtown" area is basically one main drag along Ala Malama Avenue. The street was named after a Moloka'i house used by King Kamehameha V during the 1860s.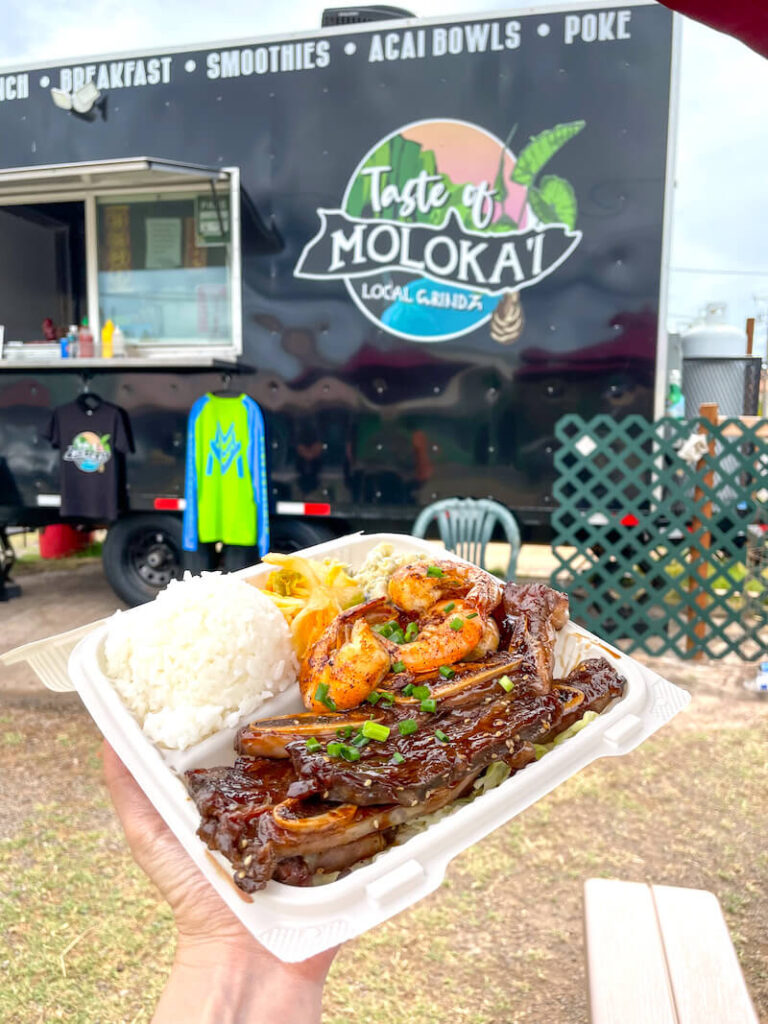 Here, you'll find a couple of markets/grocery stores, some food trucks, a few restaurants, and some shops. We really liked A Taste of Moloka'i food truck (love their kalbi ribs) and Kanemitsu's Bakery & Coffee Shop (their taro pancakes were so flavorful).
It's really easy to find street parking and then wander up one side of the street and then down the other checking out the storefronts.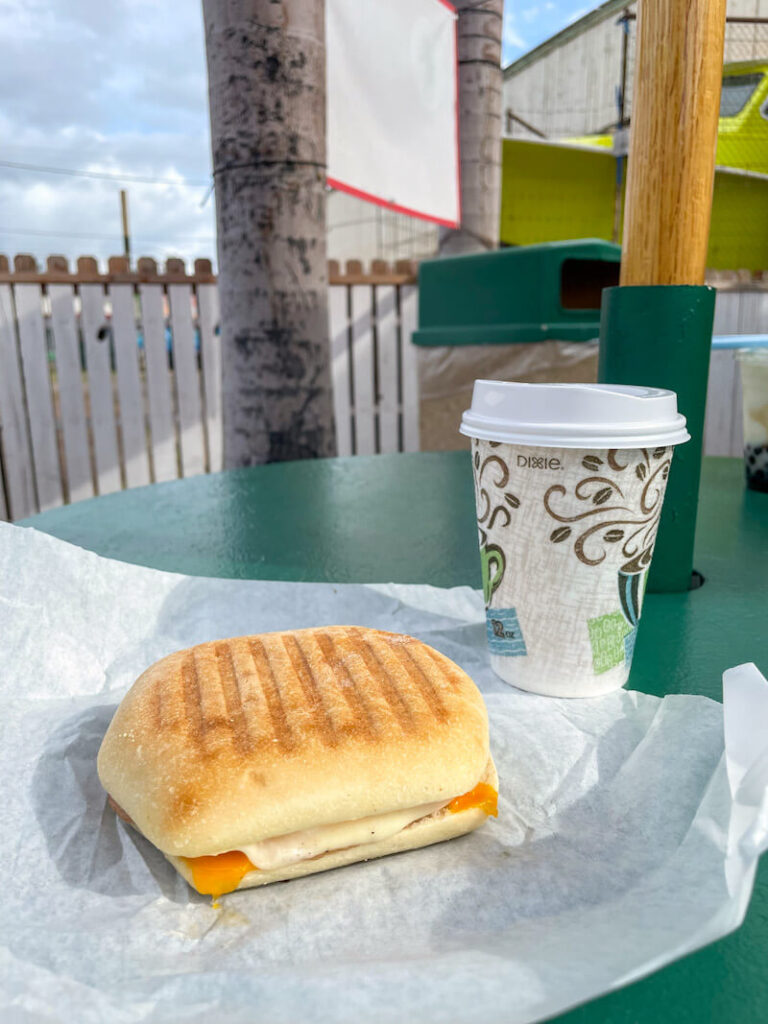 There are also some side streets worth checking out. I highly recommend Hula Bean Cafe. They have amazing coffee and really fresh tasting breakfast sandwiches on the best bread. And the food at Moloka'i Pizza Cafe was also really good.
If you happen to visit Moloka'i on a Saturday, they supposedly have a really awesome street market and that's when the town is hopping.
Moloka'i Plumeria Farm
One of the most unique experiences on Moloka'i is getting to tour a real plumeria farm. You'll start in the grove and learn how to choose the perfect plumeria flowers. There are a few things to look out for!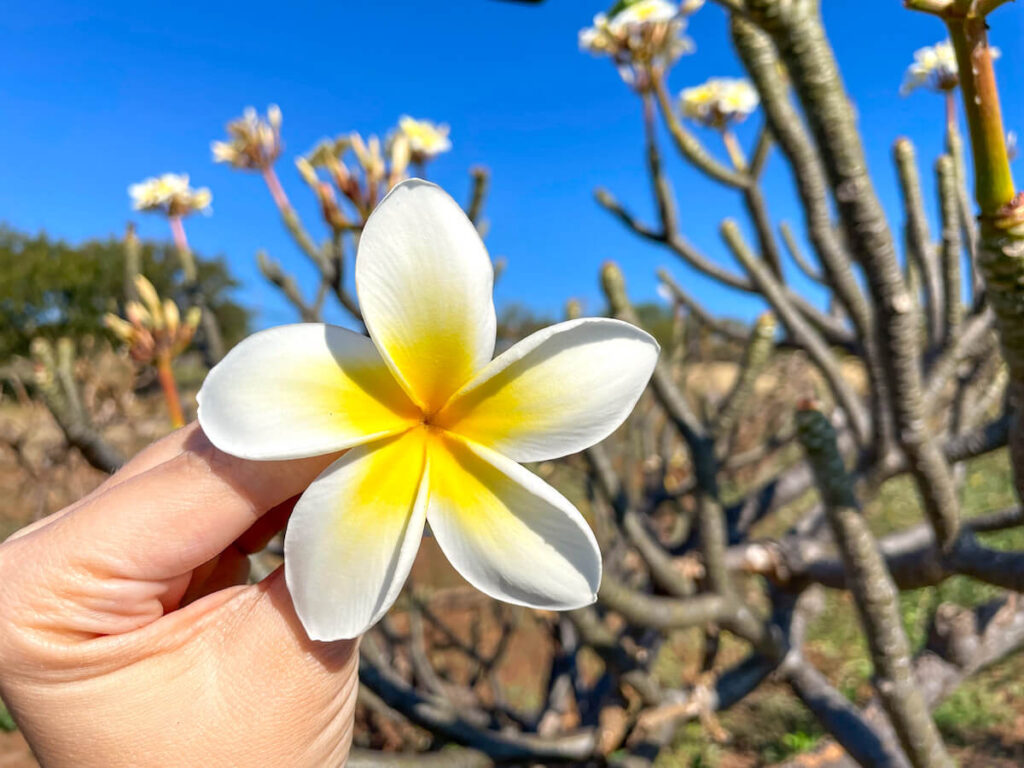 Then, you'll learn how to make your own plumeria flower lei just like a professional! It's such a fun thing to do on Moloka'i for families or couples. And you'll even get a few loose plumeria blossoms to bring back to your hotel room to make it smell amazing.
We had a blast on their tour and I wrote a full guide to Moloka'i Plumerias including how to reserve your tour.
Drive to the Halawa Valley
One of the best things to do on Moloka'i hands-down is the drive to the Halawa Valley. Some people like to compare it to the Road to Hana on Maui, but it really is completely different.
For one thing, it's WAY less crowded than the Road to Hana. We only saw a handful of cars on the drive. And there are fewer "stops", although there are several quiet beaches, a few general stores, and random vending machines along the road.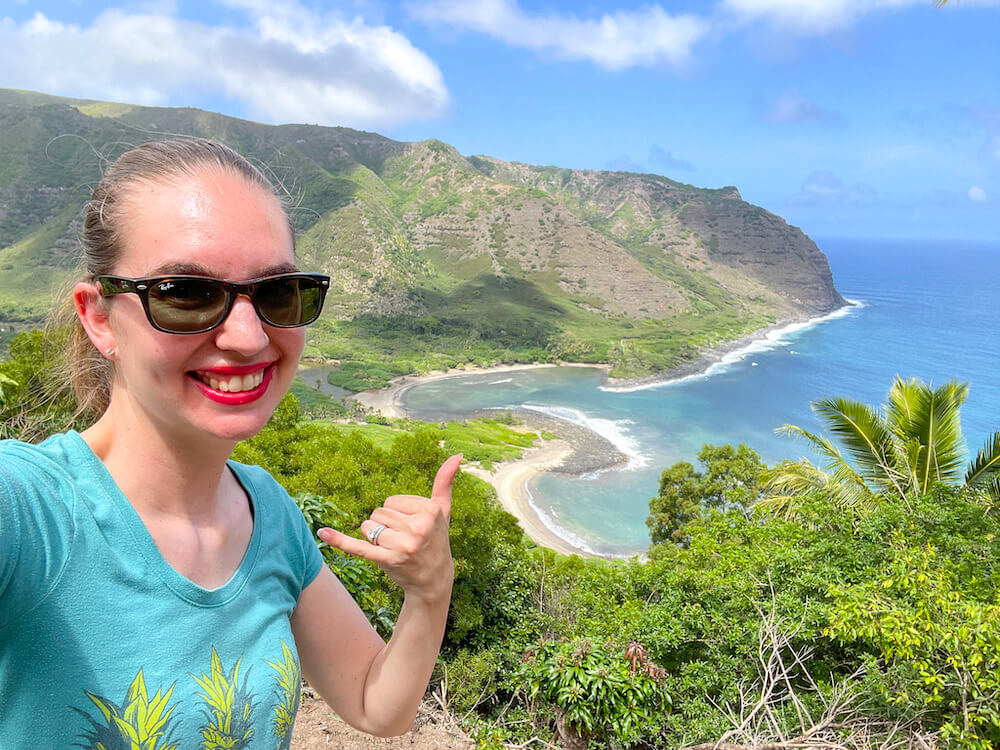 The drive itself is AMAZING. We pulled over several times just to take in the scenery. And the final destination of the Halawa Valley beach does not disappoint.
There's even a cool cultural hike that you can sign up for since there's a waterfall on private property. It wasn't available when we were there and it's actually a big reason why I want to go back asap!
Mail a Coconut Home
Another unique thing to do on Moloka'i is mail a coconut home. Post a Nut is located at the Hoolehua post office. The program has been around since 1991 and the money earned from the coconut postage has really helped the post office out.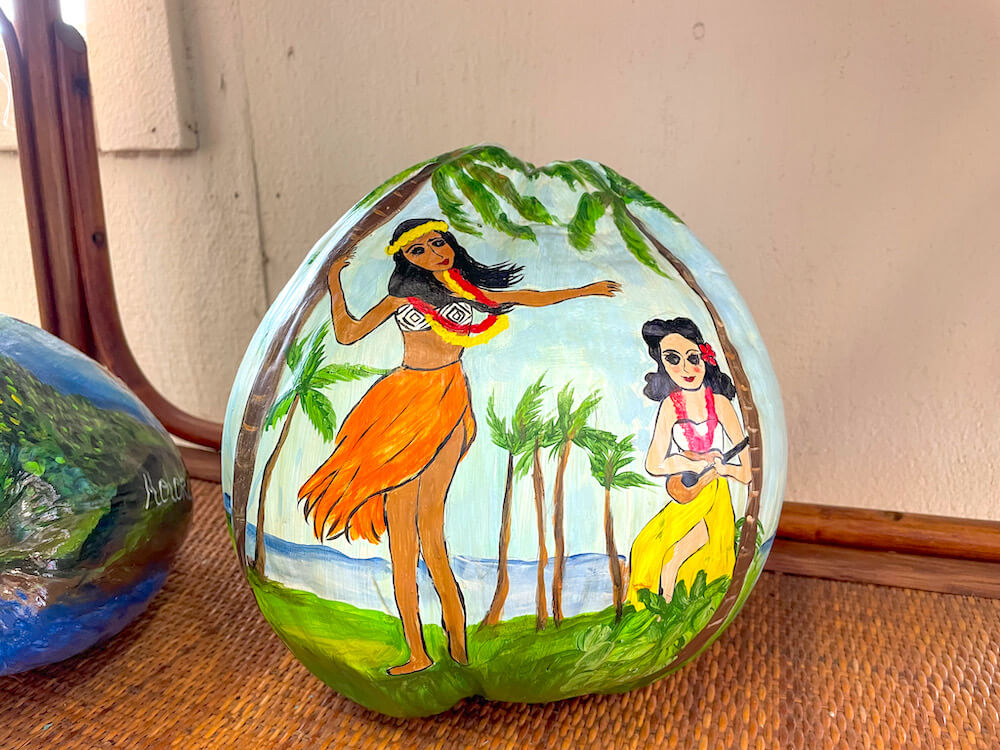 Mailing the coconuts usually costs between $13-$20 depending on how big the coconut is and its final destination.
The post office actually supplies the coconuts and the art supplies for FREE. Yes, decorating your coconut before mailing it off is a big part of the draw.
Now, if you don't want to decorate it yourself, you can visit Teri at the bookstore in Kaunakakai and she'll paint it for you for a small price.
Either way, it's one of the most unique Moloka'i souvenirs!
Visit the Moloka'i Museum
One of the most underrated things to do on Moloka'i is visit the Moloka'i Museum and Cultural Center. It's actually housed on an old sugar plantation and there's an opportunity to explore the historic sugar mill.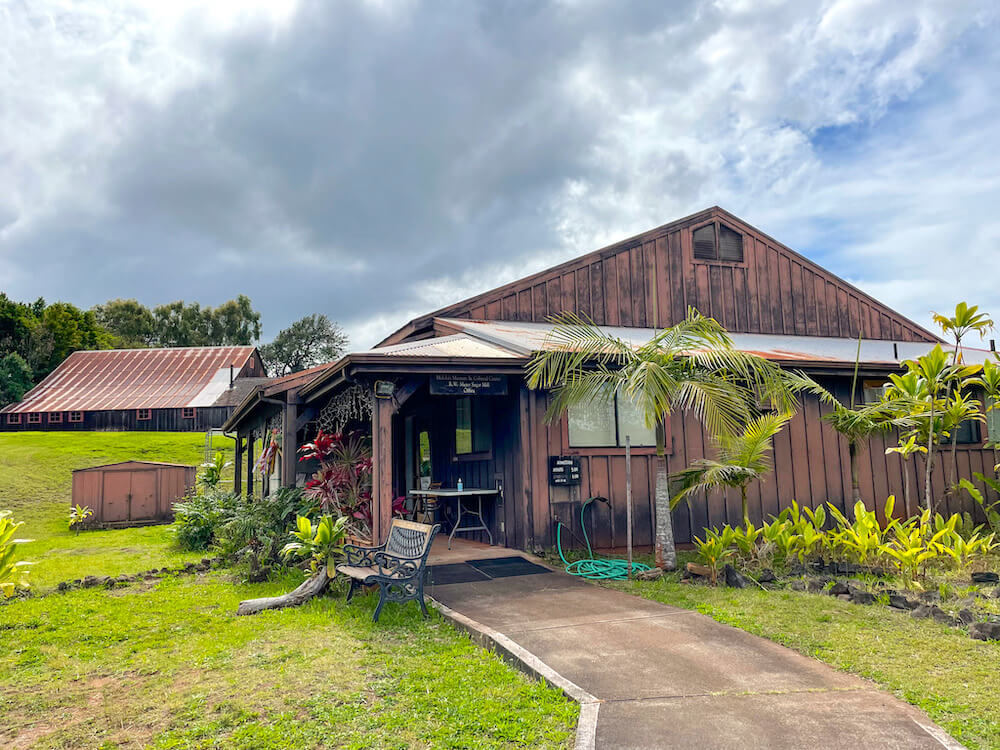 When you arrive, you'll be greeted by a docent who will show you a couple of films. The first one is all about the history of the R.W. Meyer Sugar Mill. It's really helpful to watch it before walking through the mill so you know what you're looking at.
The second film is all about the people who lived at Kalaupapa. That's the colony where they sent people who had Hansen's disease. It's a pretty heartbreaking story but it's really important to learn about it because it's a big part of Moloka'i's history.
Then, you can explore the photo exhibit featuring Kalaupapa residents. The photos were taken in the 1980s and include summaries of the lives of the people featured. It's absolutely fascinating and powerful.
Visit Kalaupapa National Historical Park
So, I'm including a visit to Kalaupapa in this guide even though they are currently not accepting visitors (as of March 2022). That's because they will re-open to tours at some point and I'd like it to be on your radar as a possibility. I will update this post as soon as they do re-open.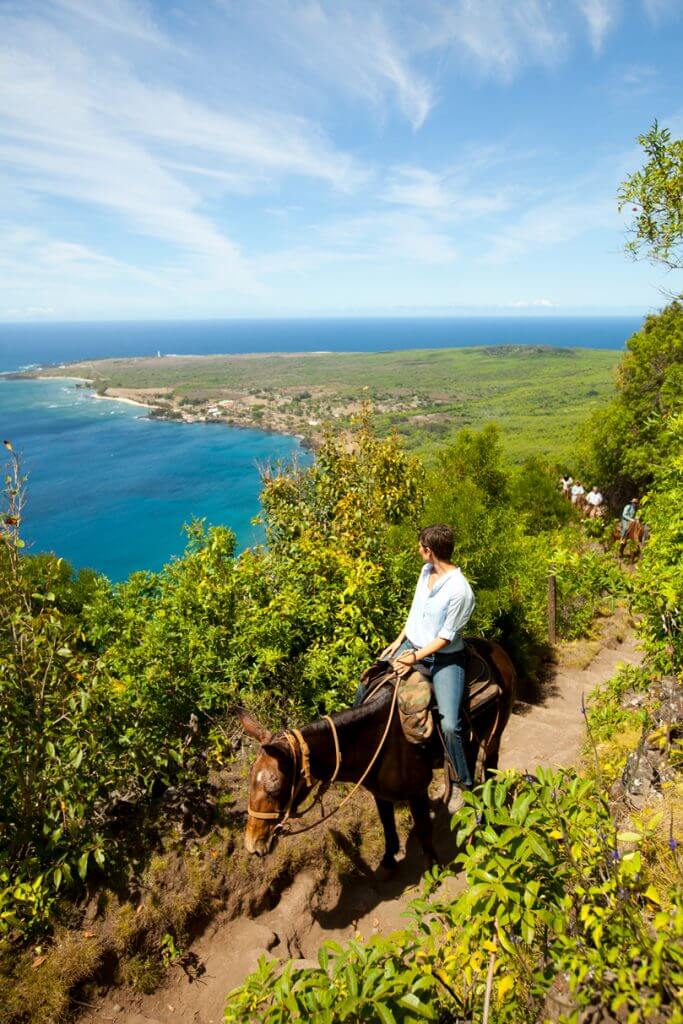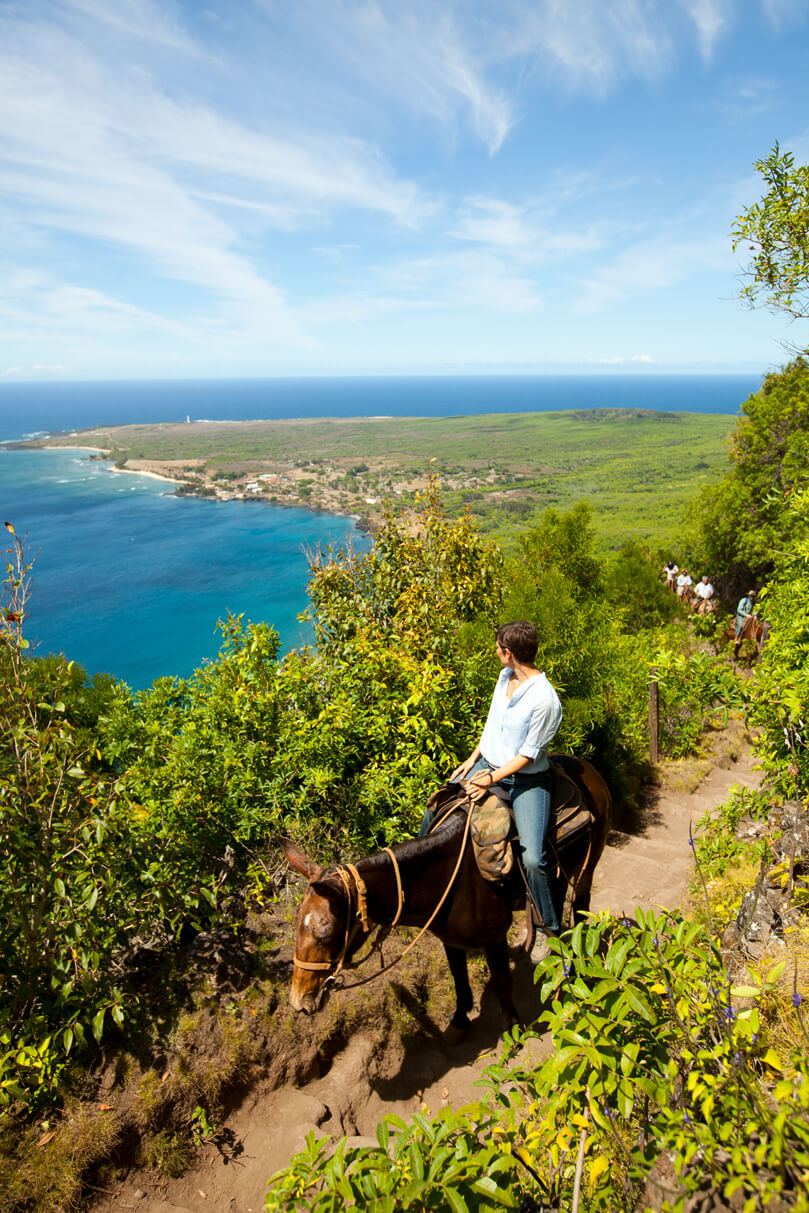 There was actually a mudslide that happened pre-pandemic that closed the trail down to Kalaupapa. People used to be able to hike or ride a mule down to the town. When that happened, people had to fly directly to Kalaupapa to visit.
When the trail does re-open, Hawai'i State law requires all individuals to secure a permit prior to entering Kalaupapa National Historical Park. Visitor permits can be secured through one of two tour companies: Kekaula Tours or Saint Damien & Mother Marianne Cope Molokai Tours.
Also, visitors must be at least 16 years old, so it's not a kid-friendly activity.
Do the Kalaupapa Lookout
Since Kalaupapa isn't currently open to visitors, the next best thing is to head ot the Kalaupapa Lookout. It's only a few minutes from the Moloka'i Museum and Cultural Center.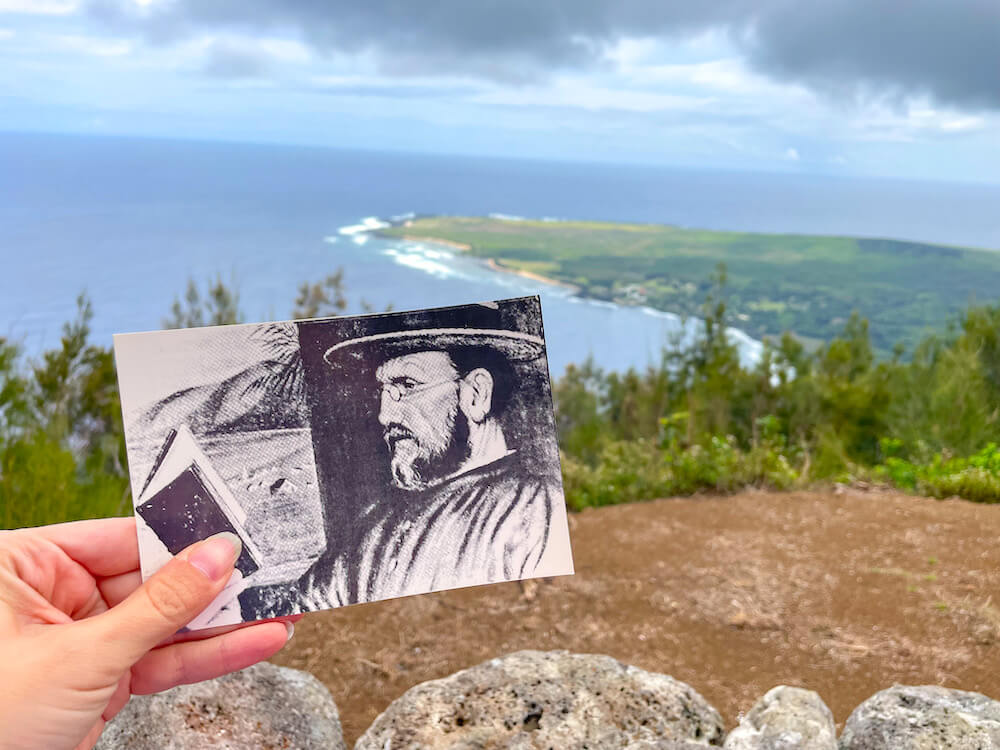 They have a bunch of panels for an outdoor exhibit that give a great overview of the history of Kalaupapa and what you can see from the lookout.
It's a really short walk from the parking lot and I highly recommend reading all the info as you look down on the settlement.
If You're Staying on Moloka'i
Hotel Moloka'i
If I've gotten you excited to explore Moloka'i and you're considering spending the night, the most famous place to stay is Hotel Moloka'i.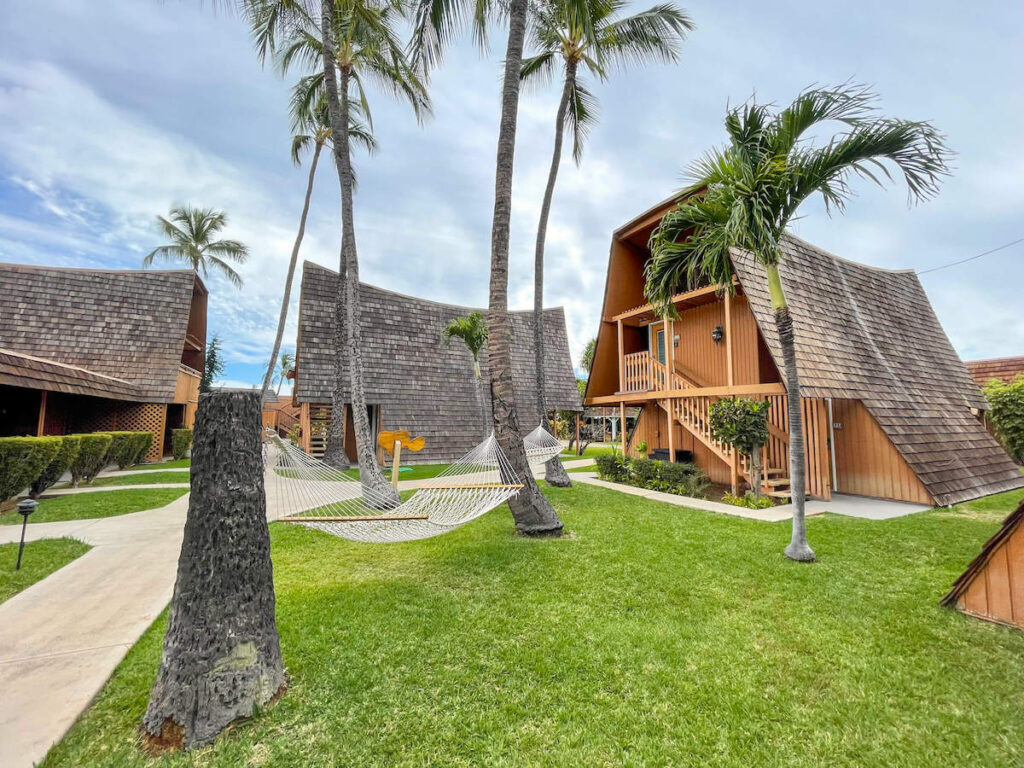 It's a super cute, bungalow-style hotel that's right on the water, just about 5 minutes from downtown Kaunakakai. It has an on-site restaurant/bar, laundry facilities, a pool, and a ton of hammocks throughout the property.
You can read my full Hotel Moloka'i review to see if it's the right fit for your family.
Moloka'i Hot Bread
One of the best things to do on Moloka'i for foodies (or people who love an adventure) is to get Hot Bread. This tradition has been around for decades, but it only happens at night, which makes it tricky to do on a day trip from Maui.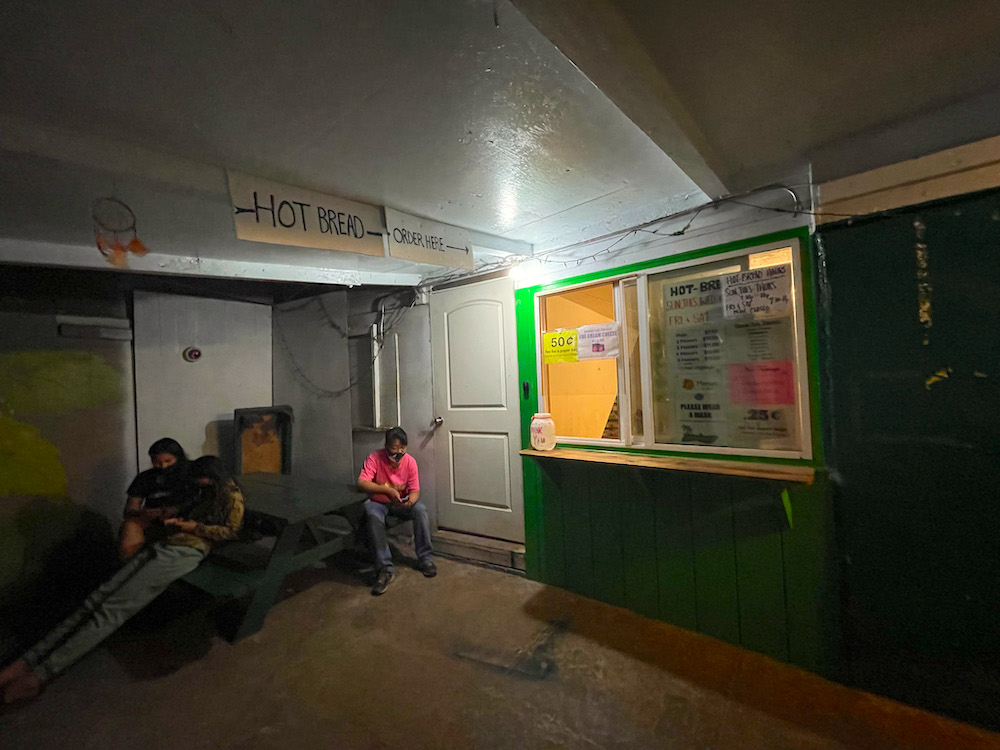 Basically, you park your car on the main drag (aka Ala Malama Avenue) and walk down a dark alley until you see a little window behind a bakery. This is where they sell bread fresh out of the oven.
The loaves are MASSIVE and you can choose from a ton of toppings like cream cheese, mango jam, guava jam, cinnamon, blueberries, strawberry, and more.
So, is it Worth Doing a Day Trip to Moloka'i?
100% yes! If you're looking to island hop in Hawaii and want to see a low-key Hawaiian island, Moloka'i is pretty amazing.
It feels like a step back in time (in a good way) where the pace of life is slower and there is a lot of unspoiled beauty.
However, since we all want to keep Moloka'i looking and feeling gorgeous, it's important to be a responsible tourist when visiting Moloka'i. That means pulling over to let locals pass you, cleaning up after yourself, spending money to support local businesses, and being respectful.