Whether you're traveling with kids to Hawaii in February during Mid-Winter Break or just happen to be visiting during the winter, you'll find the winter months ideal for a family vacation.
This visiting Hawaii in February post was written by Hawaii travel expert Marcie Cheung and contains affiliate links which means if you purchase something from one of my affiliate links, I may earn a small commission that goes back into maintaining this blog.
After the excitement of Christmas and New Year's, the winter months can feel like such a letdown. And if you live in a cold climate, the days are short and dark. It can be such a depressing time.
Thankfully, Hawaii is just an airplane ride away! And with so many direct flights, it's even easier than ever to fly to Hawaii.
I love visiting Hawaii in February because the weather isn't too hot and there aren't as many families traveling (most are snowbirds) so we have a lot of attractions and tours to ourselves.
And airfare is a lot better than trying to go during the holidays!
Whether you already have your February Hawaii trip booked or are in the early stages of planning, this guide will answer your questions about traveling to Hawaii in February.
Want to skip all the planning and just access my detailed Hawaii Itineraries complete with daily schedules, kid-friendly activities, and travel hacks? Click the button below.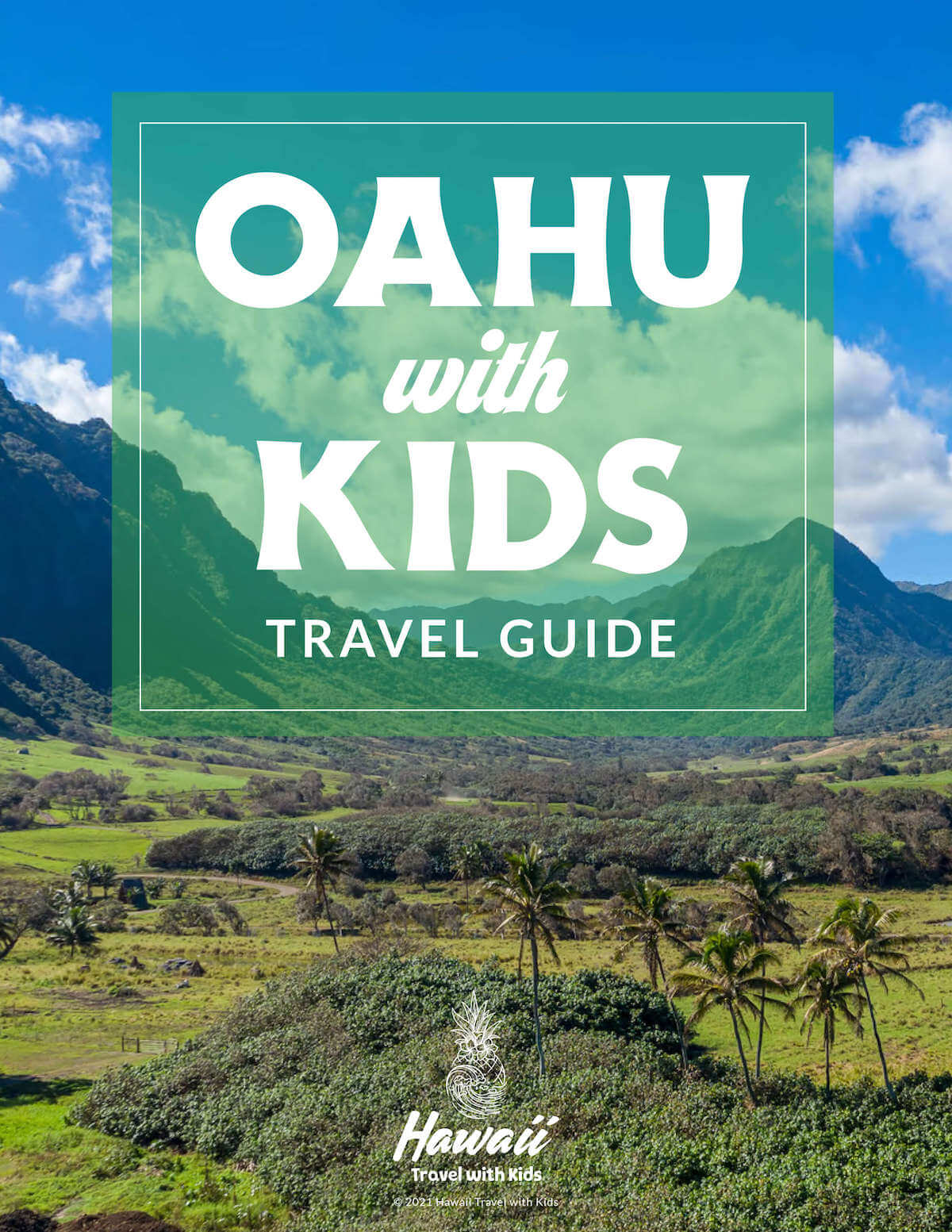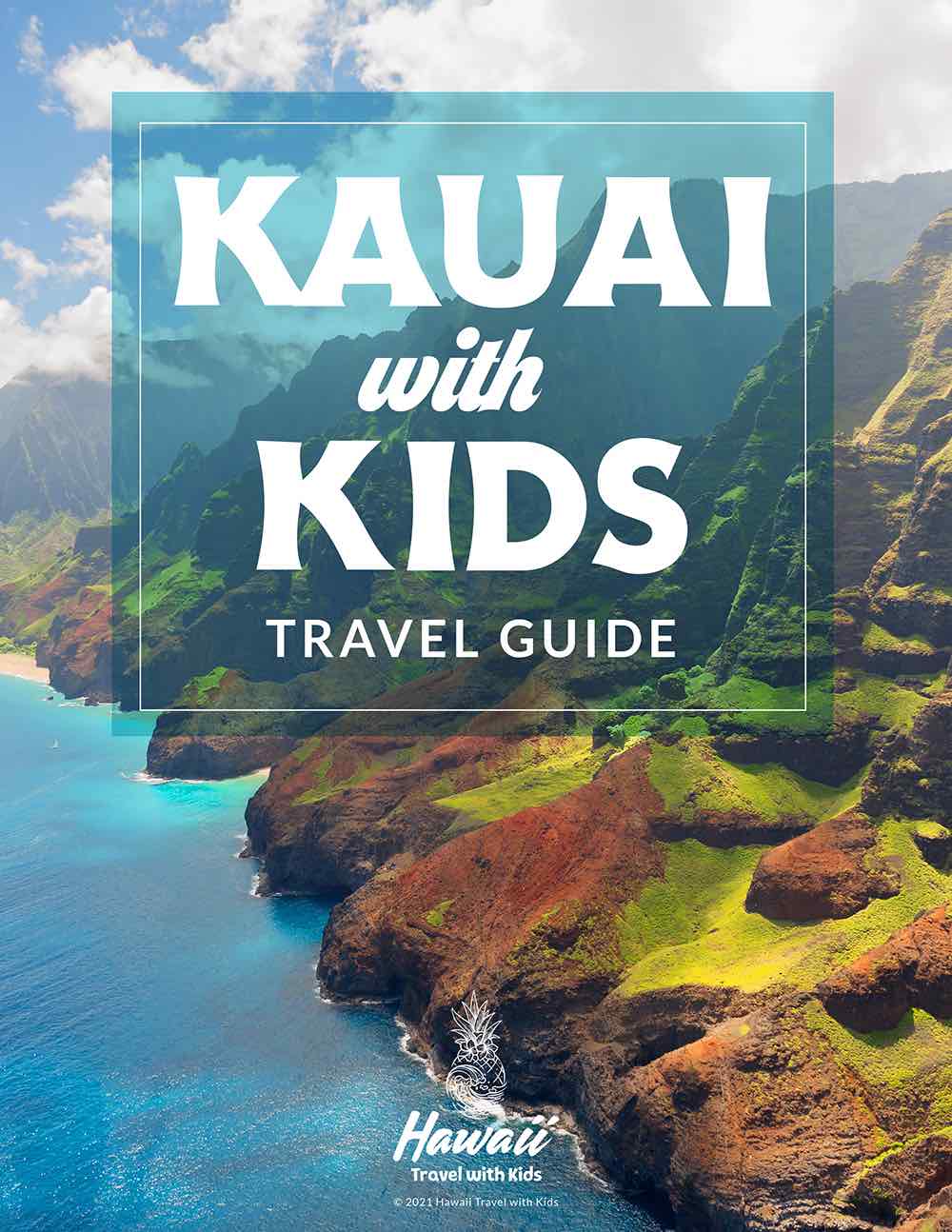 Hawaii in February FAQs
Is February a good time to go to Hawaii?
Absolutely! It's between Winter Break and Spring Break, so it's less crowded and the weather isn't too hot or muggy. The temperature in Hawaii in February is quite lovely. Plus, you'll have the opportunity to see whales in Maui or Kauai!
Can you swim in Hawaii in February?
Yes, but keep in mind it's one of the cooler months. Hotel and resort pools may be a little chilly if they aren't heated or are in the shade. But, you should be totally fine swimming at the beach, depending on ocean conditions.
Which Hawaiian island is best to visit in February?
Any of them are pretty awesome that time of year! Oahu has lots of tourist attractions, shopping, and activities. Kauai is more laid back with incredible food and boutiques. And the Big Island offers a lot of secluded beaches and volcanoes. But, if you want to see whales in Hawaii, you'll want to head to Maui for your best opportunity.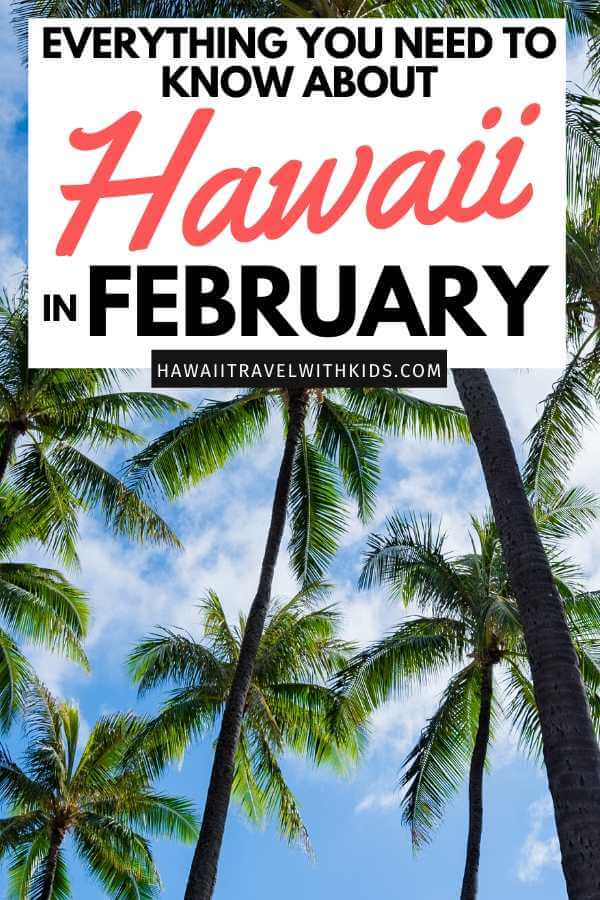 Everything You Need to Know about Visiting Hawaii in February
Hawaii Weather in February
The temperate climate of Hawaii makes it ideal to visit all year round.
If you're traveling in February, you'll find the temperatures ideal for beach days and lounging in the sun. Average temperatures range from 77 to 83 degrees Fahrenheit. During the night temperatures on the oceans dip down to an average low of 65 degrees.
The weather in Hawaii in February is great for families who don't mind a little rain, too. Usually, the rain breaks are quick so you'll still be able to do outdoor adventures.
What are the Crowds Like in Hawaii in February?
Because it is not as crowded as the Summer months, visiting Hawaii in February may be a great option for many families.
Since Spring Break for most begins in late February through mid-April, there are few crowds to deal with. With the exception of a few families in the Northwest visiting Hawaii during their week-long school vacation in February, it's generally an ideal time to visit.
If you're planning to visit during the month of February, keep an eye on the airlines. While flights can be expensive from some parts of the world, there are often airline deals for those traveling to Hawaii in January or February.
What to Do While Visiting Hawaii in February with Kids:
If you haven't booked an underwater excursion with Atlantis Submarine, you may want to consider booking one at one of their Kona, Maui, or Waikiki locations.
It's a great thing to do in Hawaii in February because the weather won't affect your views of the tropical fish.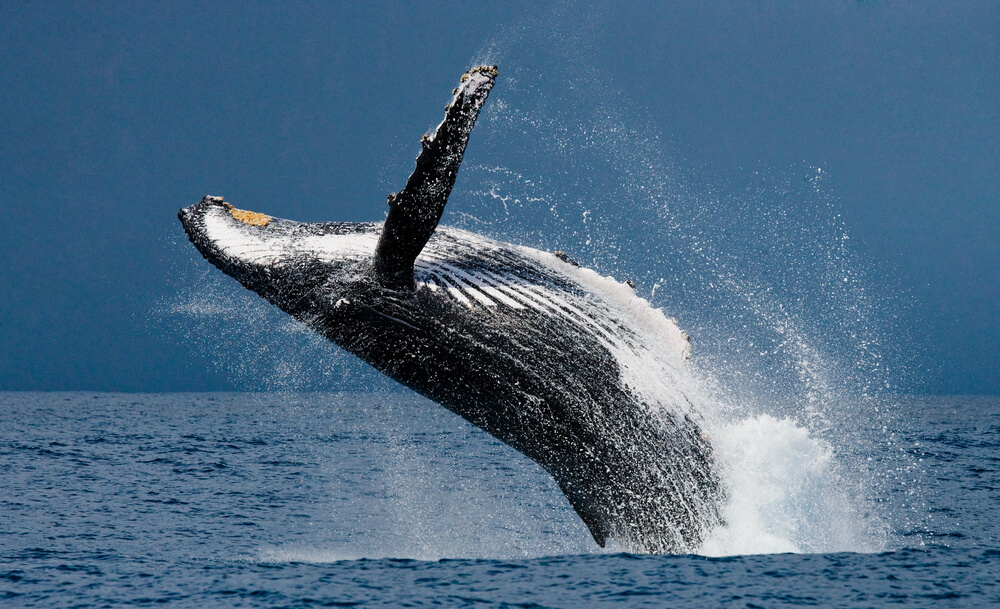 The humpback whale migration season peaks during the winter so it's a definite must-see when visiting Hawaii in February; the peak migration month.
If you're visiting Maui, be sure to take advantage of the events and activities throughout the month during the Maui Whale Festival. And book your Maui whale watching tour. Check out the latest prices and more details.
Families traveling with kids over the age of 5, may want to consider mountain tubing in Kauai. You'll tube through 17,000 acres of lush green forests and emerald waters Lihue property.
Formerly a sugar plantation, part of the land has been transformed into a mountain tubing adventure. Visitors will make their way in an inner tube through remote waterways with exquisite views of the ocean and mountain vistas.
There are also many free things to do with kids in Hawaii which is great when you're trying to stick to a budget.
If you are trying to stick to a budget on your next trip to Hawaii, consider camping on the beach. Your kids will love the idea and there are plenty of options at Hawaii State Parks.
If you're visiting Hawaii in February you'll be right in the middle of the rainy season, so do take that into consideration when planning.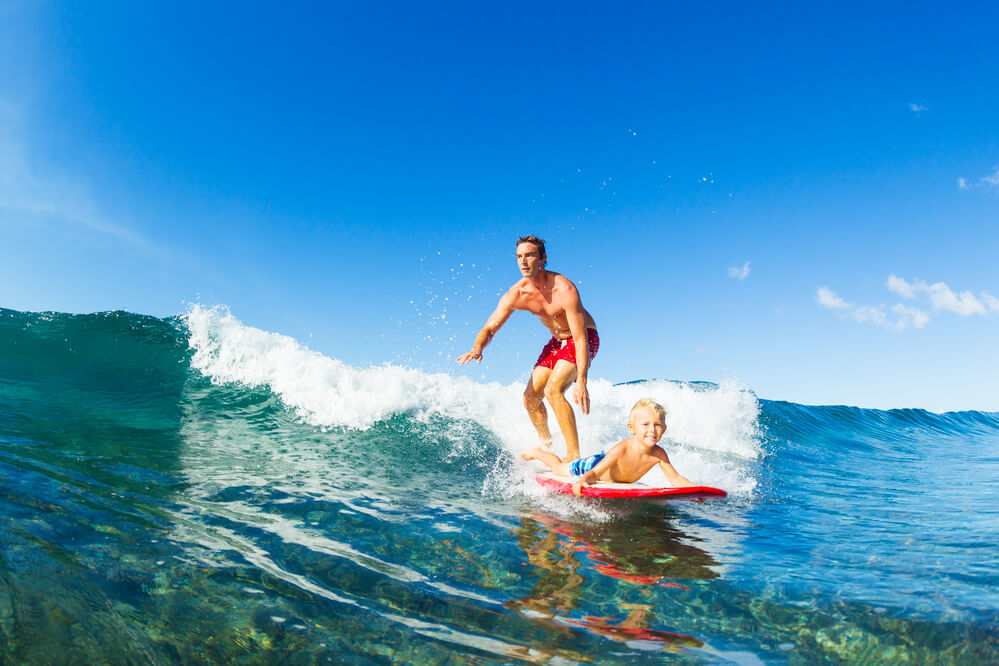 For those with a budding surfer in the family, Waikiki is the ideal spot for surf lessons. Check out the latest prices and more details.
Located on the island of Oahu, this South Shore neighborhood of Honolulu provides plenty of facilities for lessons. The waves in February in Hawaii are long-rolling and smooth, ideal for beginners.
Adventure seekers will appreciate the many hiking, biking and outdoor adventures to be had in Hawaii. One way to do this is to with an eco-tour adventure in Oahu. Check out the latest prices and more details.
Here you'll get up close and personal view of the Hawaiian wilderness, swim in a waterfall, go stand-up paddleboarding, and explore more of the North Shore of Oahu.
Visting Hawaii in February: Events to Attend
Depending on when Lunar New Year is, there are oftentimes really impressive events on several islands featuring Chinese lion dancing, food, parades, and all kinds of festivities.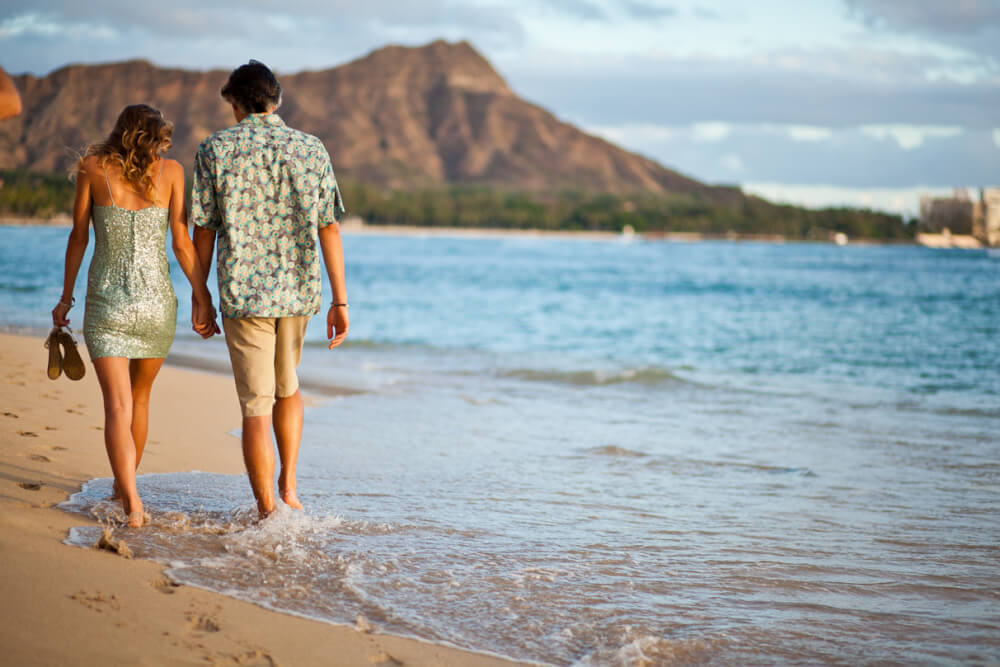 Valentine's Day is also a fun holiday to celebrate in Hawaii. There's the Aloha is for Lovers Market in Kailua, Oahu. And lots of special Valentine's Day dinner specials all across the islands.
And the Waikiki Artfest kicks off in mid-February and runs through November. It features 75 of Hawaii's fine artists and handcraft artisans who display their own artwork for sale.
The Maui Whale Festival is a month-long celebration of the humpback whale migration with concert cruises, photo safaris, VIP eco-tours and so much more.
And on the Big Island, check out the Waimea Cherry Blossom Heritage Festival. This town-wide celebration showcases the annual blooming of its historic cherry trees and the Japanese tradition of viewing and appreciating the transient beauty of their flowers.
The Big Island also hosts the Panaewa Stampede Rodeo, which features bull riding, calf roping, bronco bustin', barrel racing, and a trio of unique-to-Hawaii events.
On Kauai, there's the Kauai Steel Guitar Festival. This 3-day festival is free to attend and includes steel guitar performances by Hawaii steel guitar masters, workshops, jam sessions, and more.
Things to Do on a Rainy Day in Hawaii in February
If you do happen to get caught in the rain, there are several things to do with kids on a rainy day in Hawaii. It never hurts to get in an educational adventure while on vacation and in Hawaii there are plenty of options.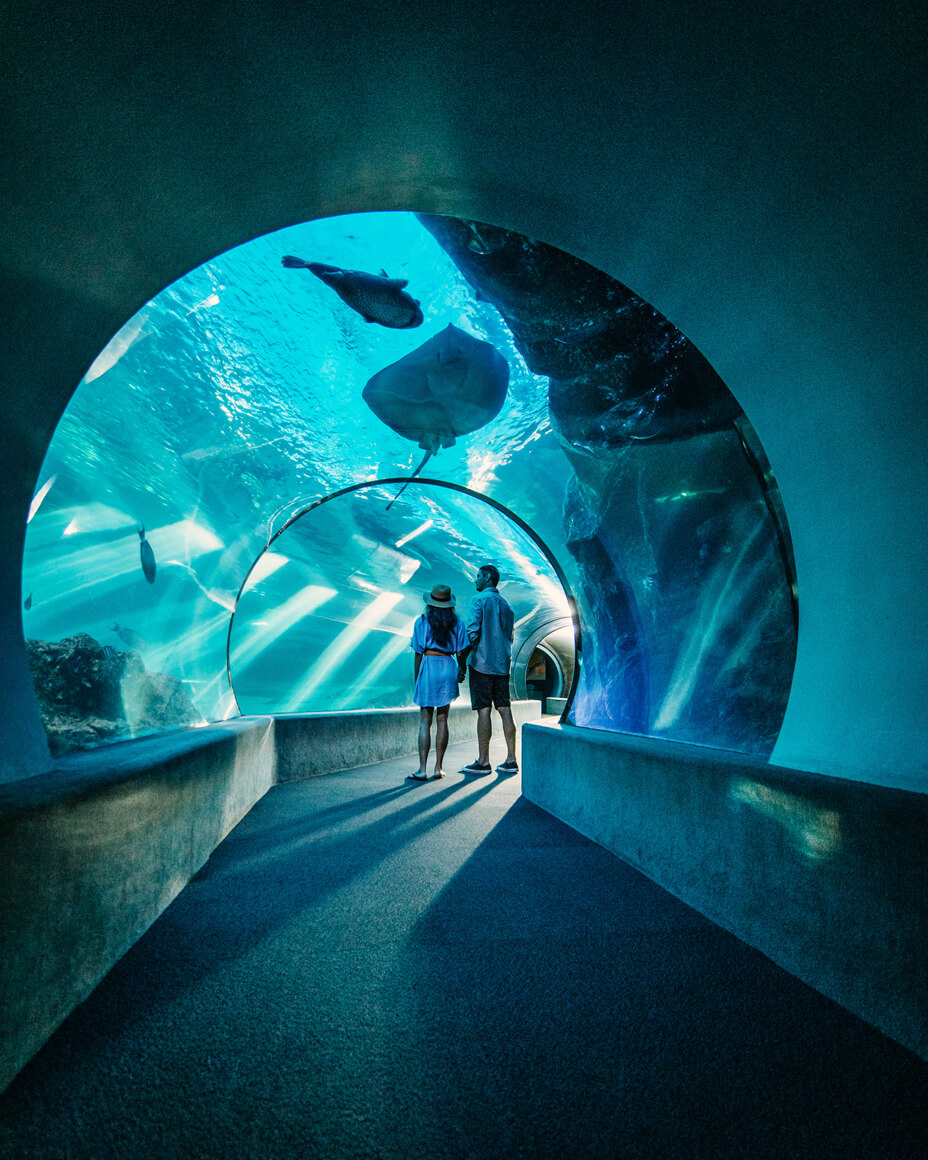 The mini marine biologists in your life will enjoy a visit to the Waikiki Aquarium or Maui Ocean Center. Budding astronomers can visit the planetarium at Imiloa Astronomy Center.
If you're in Kailua-Kona on the Big Island, Hulihe'e Palace is an ideal rainy day excursion that brings the culture and history to visitors from all over. Round out your rainy day Kona adventure with a trip to Kailua Candy Company.
If traveling to Hawaii with older kids and teens, an escape room is always a hit. The Kauai Escape Room is a challenging but family-friendly way to spend a fun day indoors on a rainy day. The Kauai Museum is another great spot for history buffs to learn about the island's past and culture.
What to Pack for a Hawaiian Family Vacation
When packing for Hawaii, there are a few things to consider. In February, it tends to rain more often than not. Overnight rainstorms are common so preparation is key.
When compiling your Hawaii packing list, be sure to include swimwear for everyone as well as rash guards. There are ample opportunities for beginner snorkeling and a rash guard provides optimal protection from the elements.
Hiking Travel Essentials for a Hawaiian Family Vacation
Temperatures can fluctuate, especially when hiking in higher elevations. Be sure to include waterproof light jackets with a hood. These will be a lifesaver for those occasional showers. Pack a light sweater or sweatshirt for layering.
Additionally, choose quick-dry clothes when shopping for your trip to Hawaii in February. A travel umbrella that you can stash in your travel stroller for emergencies is also a packing essential. You'll also want to include water shoes, flip flops, and tennis shoes for everyone so you're prepared for any adventure.
Whether you're visiting Hawaii in February or any other time of year, reef-safe sunscreen is a must.
The chemicals oxybenzone and octinoxate, readily found in mainstream sunscreen are known to damage coral reefs. Stick to reef safe and keep the ocean and your family happy and healthy in the sun.
February in Hawaii Wrap Up
If you're planning to visit Hawaii in February, the aforementioned tips and suggestions are a great starting point.
Whether your family chooses to go mountain tubing, visit museums, lounge at the beach, or learn to surf, they're bound to enjoy the Aloha State and all it has to offer.
With some planning and a bit of flexibility, you're sure to have a memorable time on your Hawaiian vacation.