Want to enjoy some of the best snorkeling in Hawaii? Keep scrolling for some amazing Hawaii snorkeling tips and hacks for your next Hawaii vacation!
These tips for the best snorkeling in Hawaii contains affiliate links which means if you purchase something from one of my affiliate links, I may earn a small commission that goes back into maintaining this blog.
Guest post by Keri Baugh of Bon Voyage With Kids
If you are planning a family vacation to the Hawaiian Islands, snorkeling in Hawaii is hands down one of the best things to do on your trip.
In fact, the waters off of each of the four major islands offer some of the best snorkeling and scuba diving in the world!  
Our family visits Hawaii each summer. And our snorkel experiences have been some of the most memorable for our kids.
From snorkeling near dolphins on the Big Island to the resident sea turtle that lives in Kapalua Bay in Maui to snorkeling at Molokini Crater, it has been a great family activity to enjoy and create lasting vacation memories.
Check out my Maui snorkeling guide, best snorkeling in Oahu, and beaches with the best snorkeling in Kauai!
Want to skip all the planning and just access my detailed Hawaii Itineraries complete with daily schedules, kid-friendly activities, and travel hacks? Click the button below.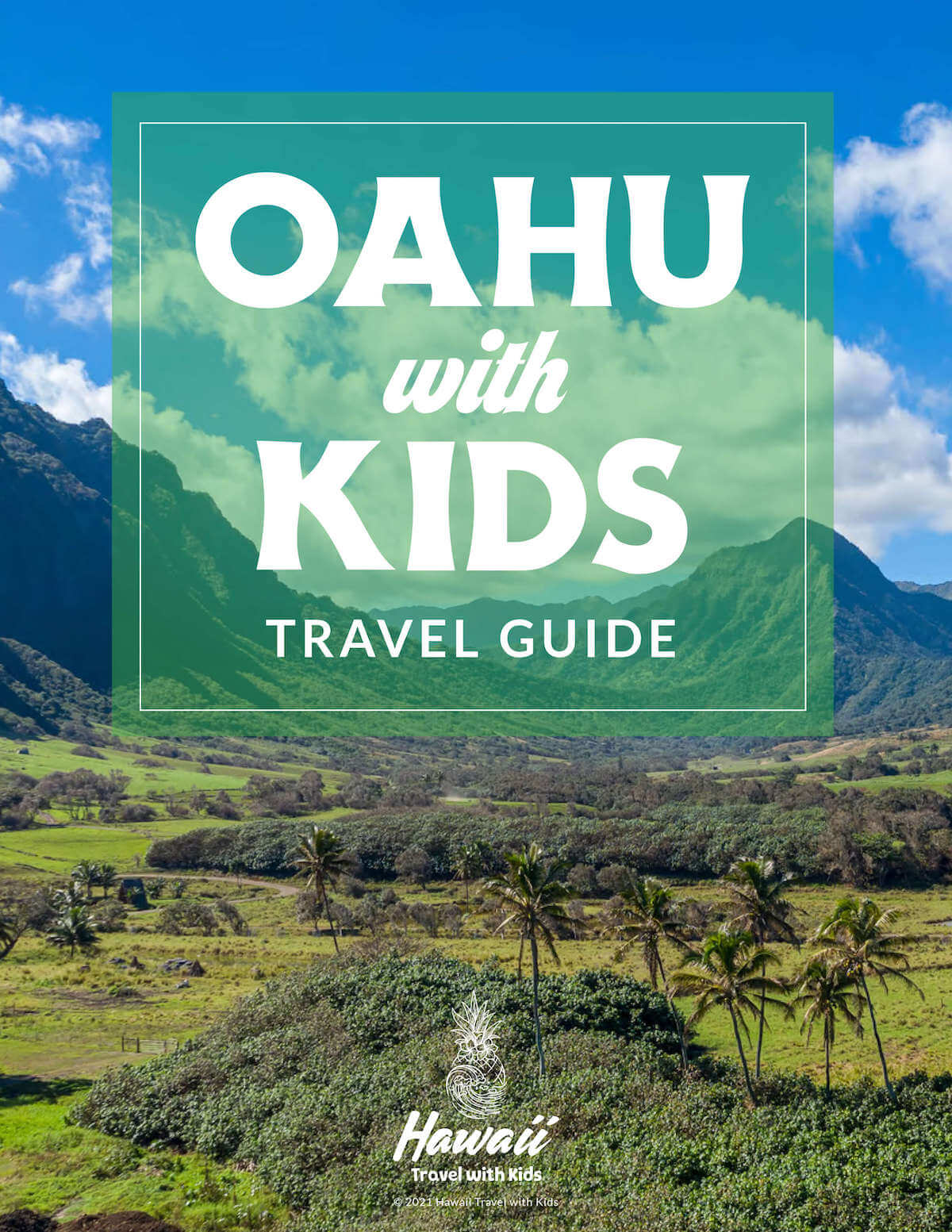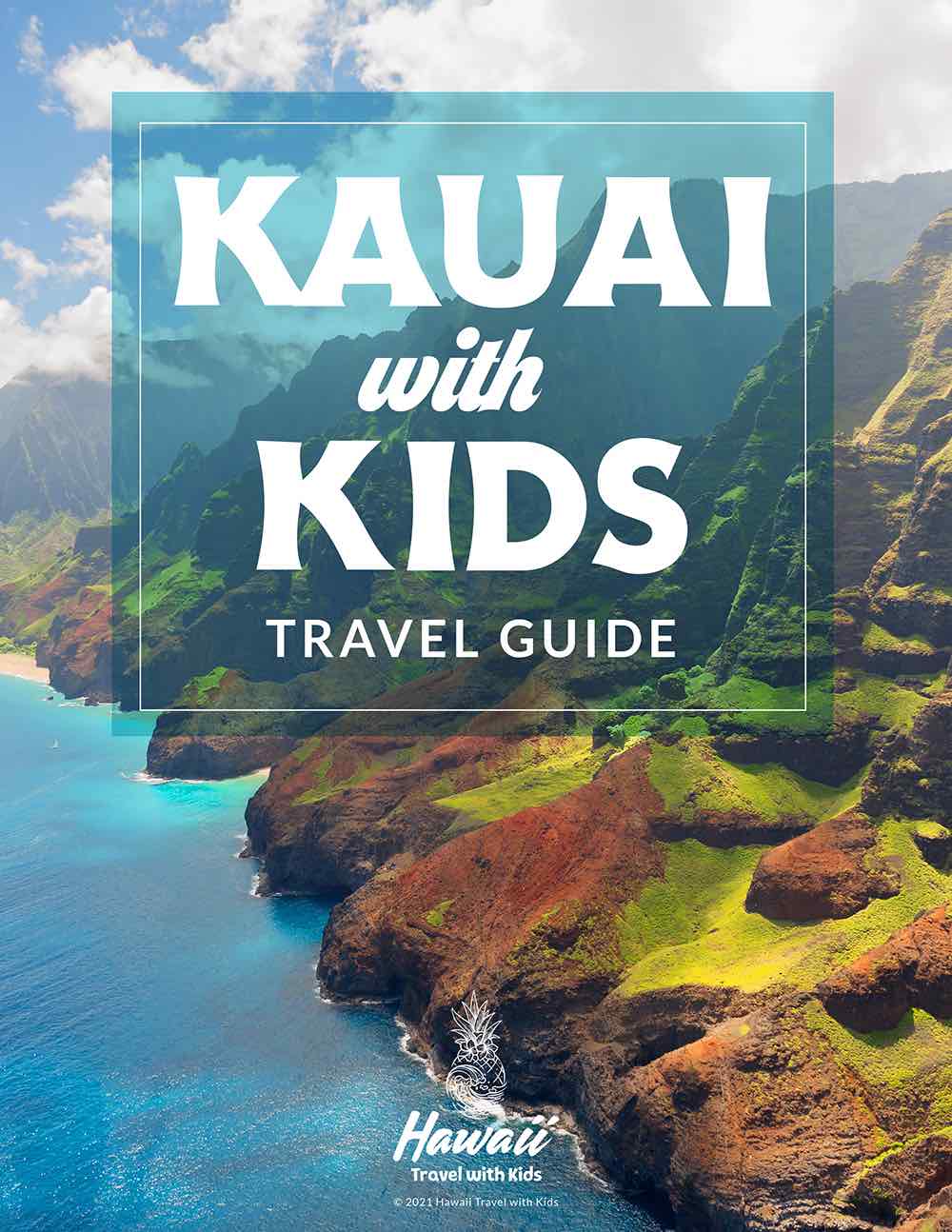 Snorkeling in Hawaii FAQs
What's the best Hawaii island for snorkeling?
Either Kauai or Maui is the best island for snorkeling in Hawaii. There's tons of Kauai snorkeling tours off the Na Pali Coast or even to nearby Niihau, but there are also many fantastic snorkeling beaches on Kauai. On Maui, there's the added option of taking a boat to Molokini Crater or even to nearby Lanai island for epic snorkeling.
Is snorkeling dangerous in Hawaii?
It can be very dangerous to snorkel in Hawaii. In fact, more Hawaii tourists die from drowning while snorkeling than any other outdoor activity in Hawaii. So, it's really important to watch ocean conditions and the weather and always snorkeling with a buddy.
What is the best time to snorkel in Hawaii?
Late morning or early afternoon tends to be the best time of day for Hawaii snorkeling. If you are an early riser, you can definitely snorkel in the early morning to see more sea life. While you can snorkel year-round in Hawaii, summertime (May-September) has some of the best snorkeling in Hawaii.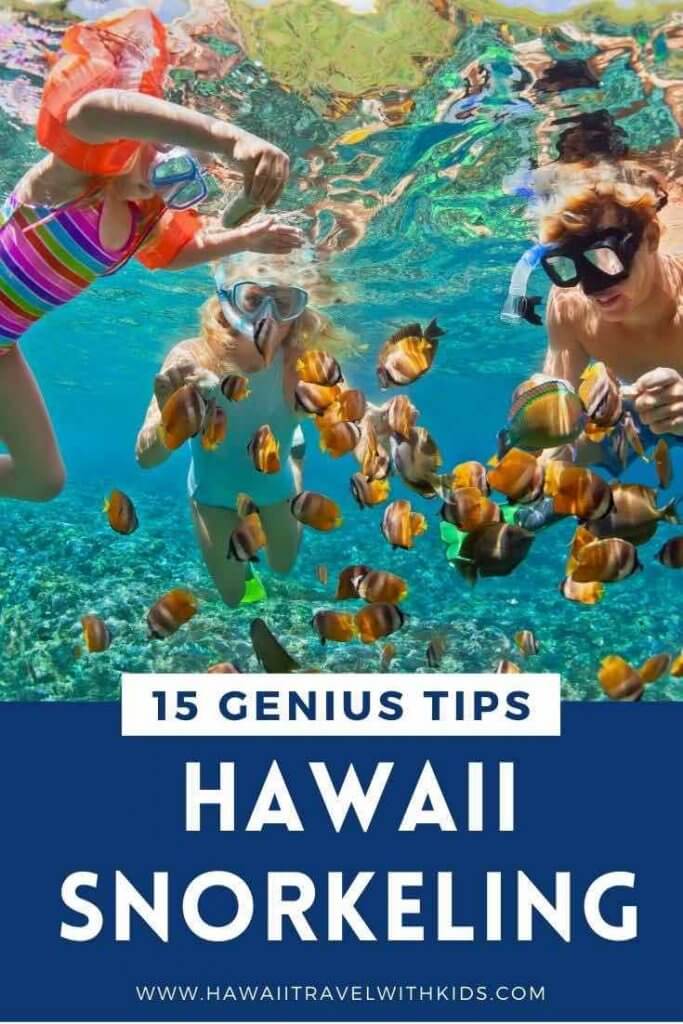 Why Snorkeling In Hawaii Is One Of The Best Family Activities
The warm waters off of Hawaii (depending on the time of year you visit), crystal clear views, and incredible sea life give you an amazing view into the extraordinary world surrounding the islands.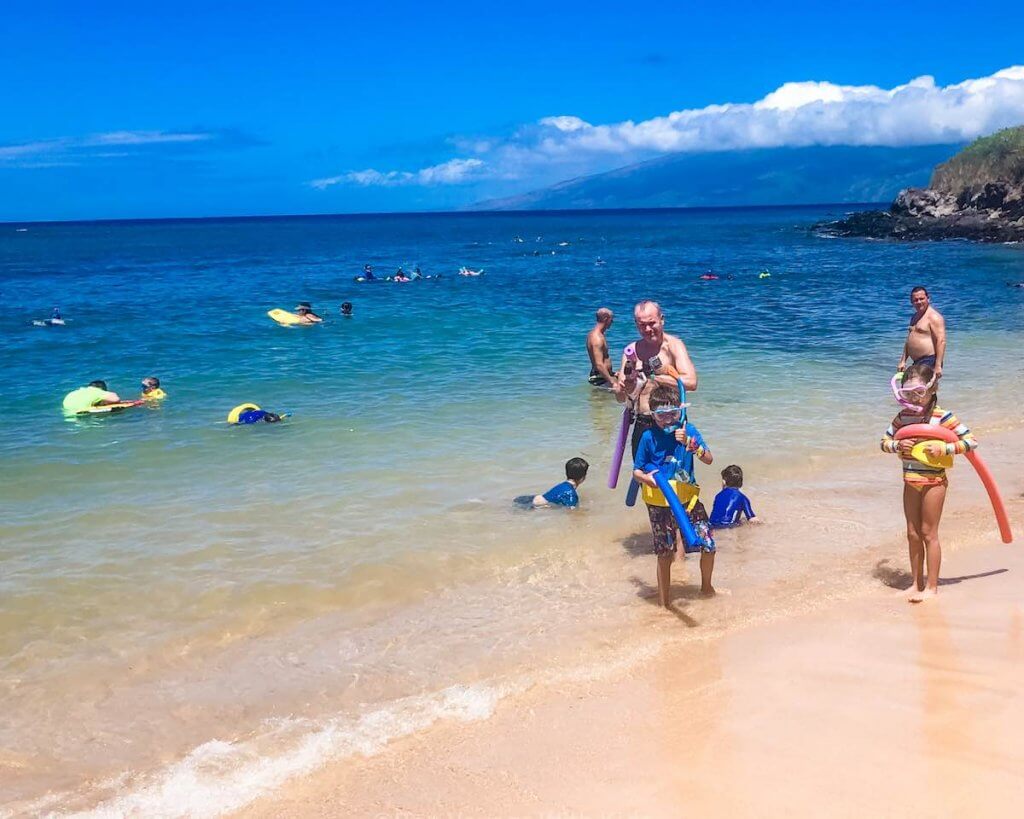 Not only will you feel like you are swimming in an aquarium, with the colorful and variety of ocean life, but you can even come in contact with some of Hawaii's most beloved residents!
Hawaiians cherish and respect the kai (Hawaiian word for ocean) and its many special sea creatures.
Some of the sea life you could see include a green sea turtle (called honu in Hawaiian) or the humuhumu fish (called humuhumunukunukuāpuaʻa in Hawaiian and known as the state fish.)
You could even see an eel or a ray, sometimes in the shallowest of water!
Snorkeling in Hawaii will introduce you to a fascinating underwater world sure to add value to your vacation!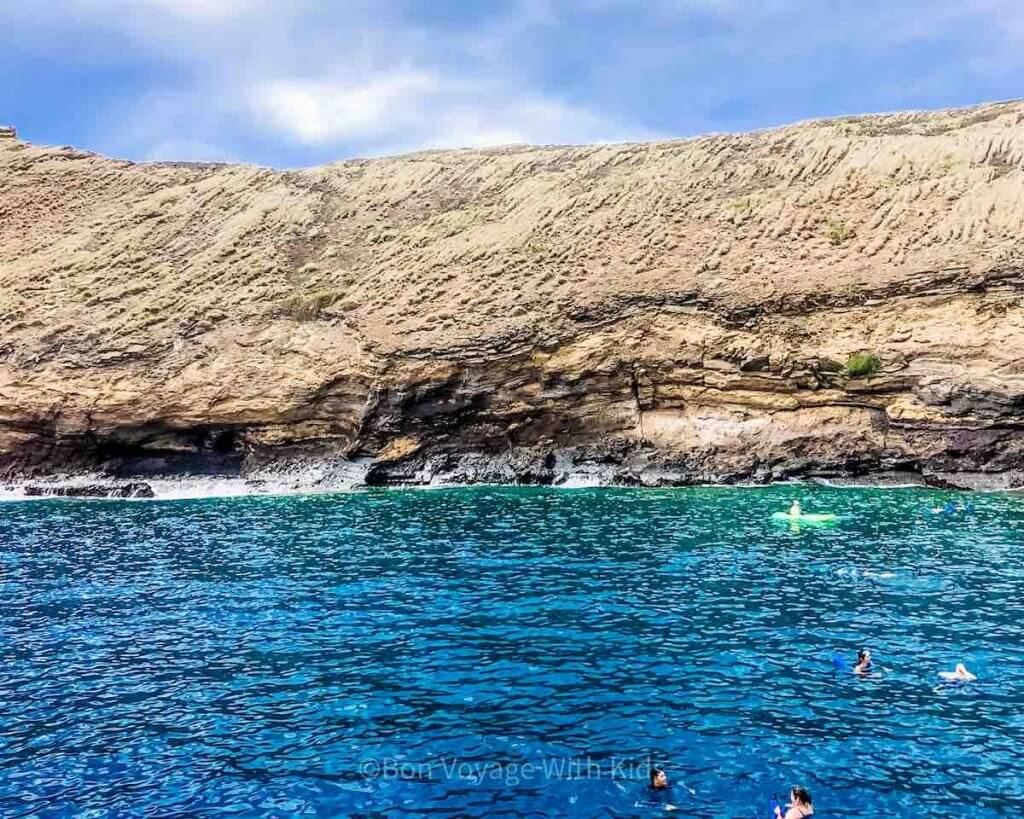 Hawaii Best Snorkeling Islands
Snorkeling Maui
There are no shortages of beaches with the best snorkeling in Maui. A few popular spots include Black Rock, Kaanapali, and Kihei.
But, one of the most popular Maui activities is to take one of the many Molokini Crater snorkeling tours offered. It's by far one of the best places to snorkel in Maui.
MAUI SNORKELING TOURS
Molokini Crater Tour: This is one of the best snorkeling tours in Maui, as it goes to both Molokini Crater and Turtle Town Maui. Check out the latest prices and more details.
Coral Gardens Snorkeling Tour: This awesome Maui snorkel tour heads to Coral Gardens on a boat with a water slide. Find the best prices here.
Kihei Snorkeling Tour: Hop in a clear kayak and go for a unique Maui snorkeling tour from Kihei. Check out the latest prices and more details.
Snorkeling Oahu
There are tons of places to snorkel in Oahu for all skill levels.
One of the best places to snorkel in Oahu is Hanauma Bay. Because it's so close to Waikiki, it's some of the best snorkeling in Honolulu for families.
OAHU SNORKELING TOURS
Turtle Canyon Oahu Snorkel Tour: This easy 2-hour Waikiki snorkel tour is perfect for families looking for a half-day Oahu excursion. Find the best prices here.
Hanauma Bay Snorkeling Tour: Hop on this shuttle for some of the best snorkeling in Oahu Hawaii at the famous Hanauma Bay. Find the best prices here.
North Shore Snorkeling Tour: If you want to go snorkeling in North Shore Oahu, this is a great tour to see turtles, dolphins, rays, and tropical fish. Find the best prices here.
Snorkeling Kauai
Kauai has some of the best snorkeling in Hawaii islands. Many visitors head to the South Shore to enjoy Poipu Beach snorkeling, which is perfect for kids and beginner snorkelers.
But, Tunnels Beach up in North Shore Kauai is definitely one of the best places to snorkel in Kauai for experienced swimmers.
KAUAI SNORKELING TOURS
Na Pali Coast Snorkeling and Sailing Tour: Enjoy the spectacular views of the Na Pali Coast before jumping in the water to explore the sea life. Check out the latest prices and more details.
Lawai Beach Snorkeling Tour: If you're looking for kid-friendly snorkeling in Kauai Hawaii, this tour is perfect for families. Check out the latest prices and more details.
Niihau Snorkeling Tour: This epic Kauai snorkel tour takes you to the forbidden island of Niihau. Check out the latest prices and more details.
Snorkeling Big Island
KONA SNORKEL TOURS
Snorkeling with Manta Rays in Hawaii: This is one of the most popular Big Island snorkeling tours, as you get to swim with Manta Rays at night. Find the best prices here.
Captain Cook Snorkeling Tour: Cruise through Kealakekua Bay for some of the best snorkeling in Kona Hawaii. Find the best prices here.
Snorkel and Dolphin Tour: Enjoy a scenic cruise to look for dolphins before jumping into the water to check it out under the sea. Find the best prices here.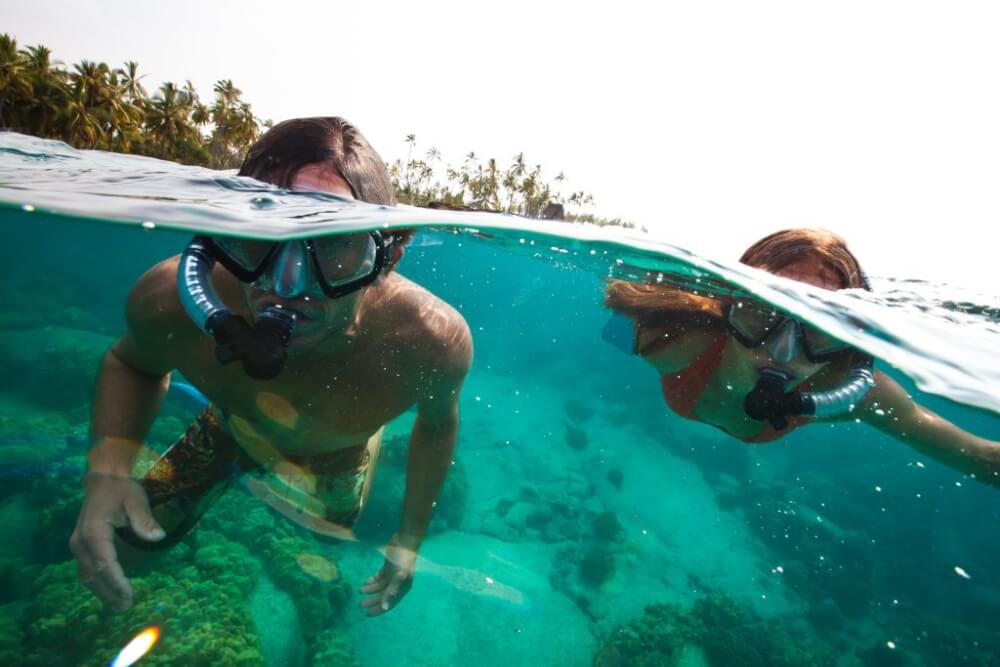 What You Need To Know Before Snorkeling In Hawaii
Having the opportunity to snorkel in Hawaiian waters is a tremendous privilege and a chance to see amazing wildlife.
But it is also a living and breathing ecosystem that requires proper knowledge, preparation, and safety to enjoy it.
Before you go snorkeling in Hawaii, here are 15 helpful tips to keep in mind.
15 Helpful Tips For Snorkeling In Hawaii
1. Make sure you have or rent quality gear
Because you will be in the ocean, you want to make sure you have or rent quality equipment.
You don't want to be snorkeling with gear that has a broken seal, that fogs up too much, or in any way isn't suitable to use in the ocean.
If your mask does fog up, be sure you know how to clear it.
Pro tip: Scuba divers sometimes use a bit of baby shampoo diluted in water in a spray bottle to help reduce fogging. They spray it in the mask, swish it around, and then rinse it right before putting it on.
2. Practice in a pool if you haven't done it before
You should be able to swim well, and be in very good physical health (check with your doctor in advance) before attempting to snorkel in the ocean.
It is a physically demanding activity, and being a strong swimmer is really important for your safety.
There are also strong currents in Hawaii's waters, so when snorkeling in Hawaii, you really need to know how to swim well and be physically able to swim back.
You may want to practice snorkeling in a pool in advance to get comfortable with using a mask and snorkel before entering the ocean.
3. Wear sunscreen
Your back will be facing the sun when snorkeling and you can be exposed to the sun's rays more than you realize.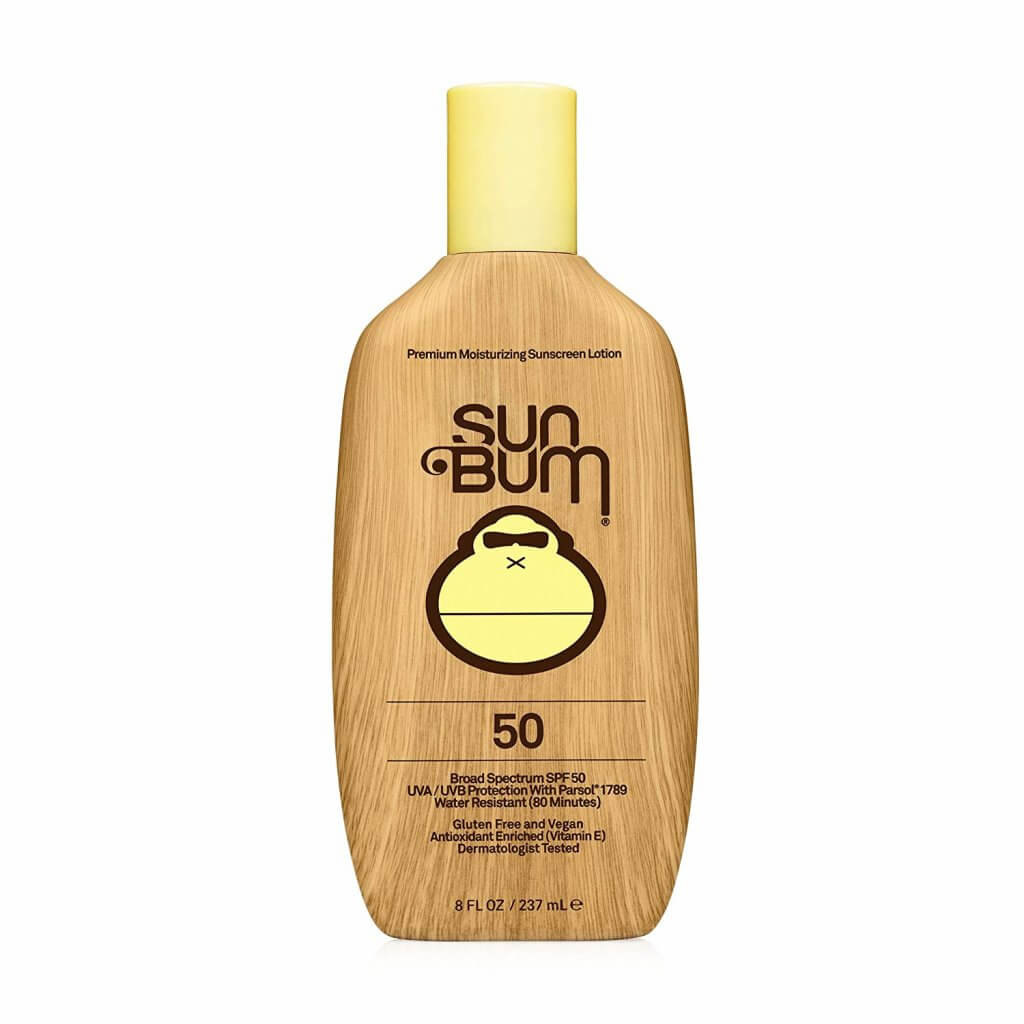 Be sure you put on good, waterproof sunscreen when snorkeling in Hawaii. And it needs to be reef-safe sunscreen like this one.
4. Only snorkel with a buddy
You should never snorkel alone and personally, I like to snorkel where there are a lot of people.
Hawaii's waters can have currents and the weather and ocean conditions can change quickly.
It is important to make sure you have at least a buddy if not more people around for added safety when snorkeling in Hawaii.
5. Be aware of currents
Because of Hawaii's ocean currents, you can get farther out from shore than you planned.
It is important to be aware of currents (see tip 4), pay attention to signs, ocean, and weather conditions and follow the advice of the local officials.
6. Be aware of changing weather and swimming conditions
It is important to watch the weather and ocean conditions before snorkeling in Hawaii, and be aware of any potential for change.
The weather patterns can change quickly and it can make the water unsuitable or unsafe for snorkeling.
7. Be sure to obey warning signs and ocean condition flags
If you see flags that note the ocean is unsafe or signs that warn of riptides, it is important to pay attention.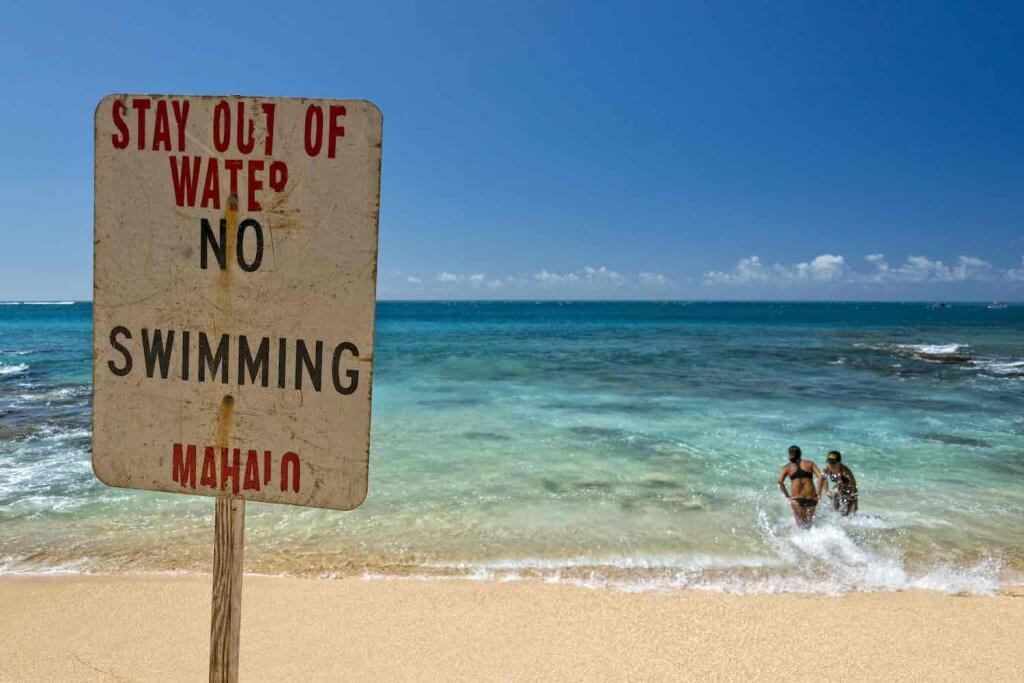 These warning signs and flags are there for your safety and are there for a reason.
Hawaii's waters can be unforgiving, so be sure to check these important notices to safely enjoy your experience.
8. Stay close to shore
When our family snorkels in Hawaii, we prefer to stay close to shore. There are many places where you can snorkel and see quite a lot of sea life in very shallow water (as in knee high water!)
You don't have to go far out, and personally I am more comfortable staying close to shore. I don't ever like to be the farthest person out in case of an emergency.
9. Only snorkel in clear water
Hawaii's sea life includes a variety of wonderful animals, including sharks. It also can have a lot of sharp coral and things that bite.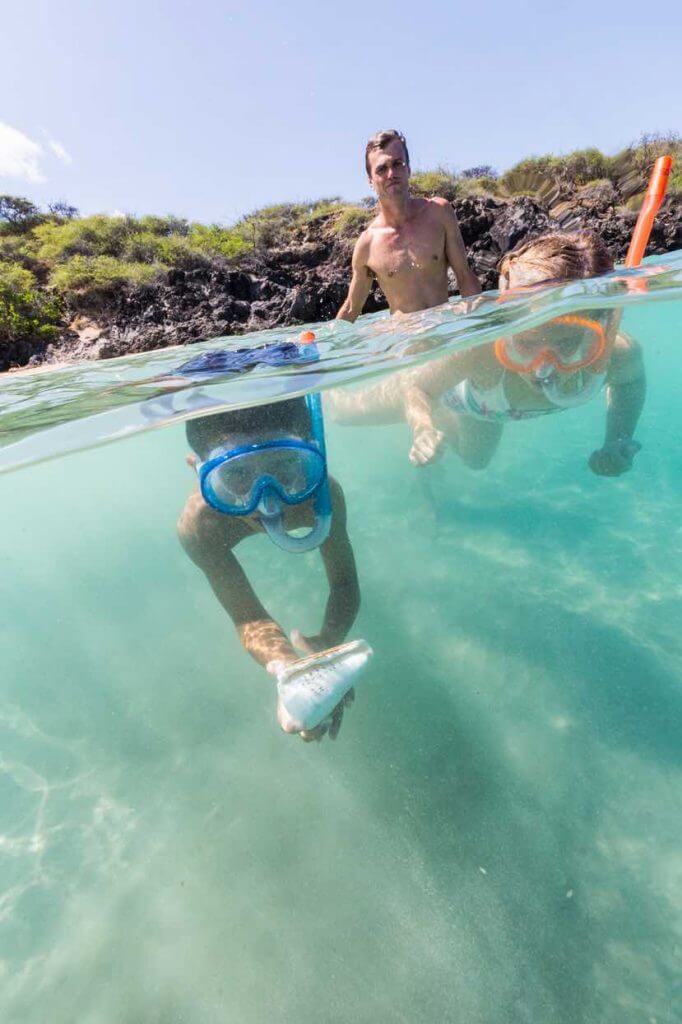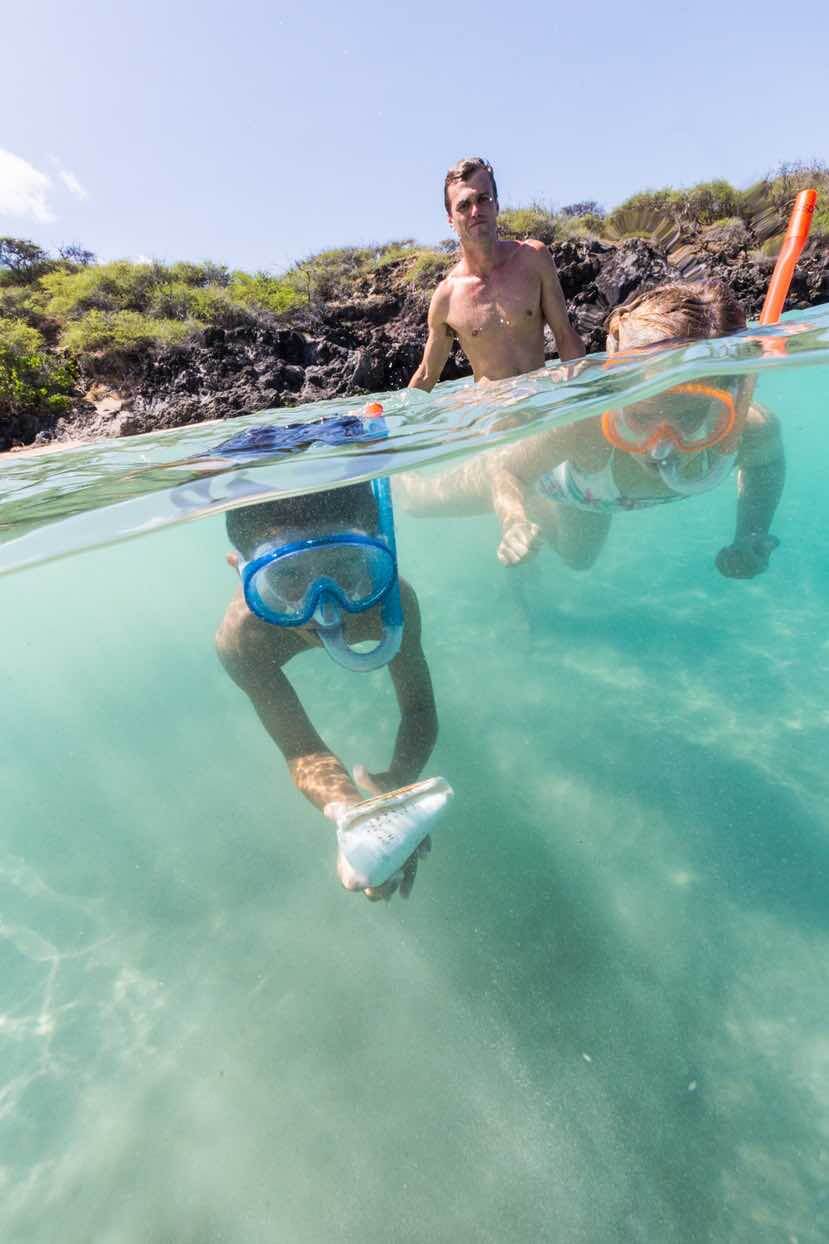 I only like to snorkel where I feel comfortable, and that includes snorkeling in clear water where I can see my feet.
This way, I can see everything, so I can enjoy the sea life and can stay safe at a distance.
10. Respect the ocean and its inhabitants
When you are snorkeling in Hawaii, you are a guest of the ocean and all of the creatures that live there.
It is important to look from a respectful distance so you do not harm or disturb the natural patterns of the animals. It is also very important not to litter in any way.
11. Keep distance from sea life
The state of Hawaii protects its sea life.
While you may have an amazing opportunity to see a green sea turtle or even a dolphin on your snorkeling adventure, it is recommended you stay at least 10 feet from turtles and 50 yards from dolphins.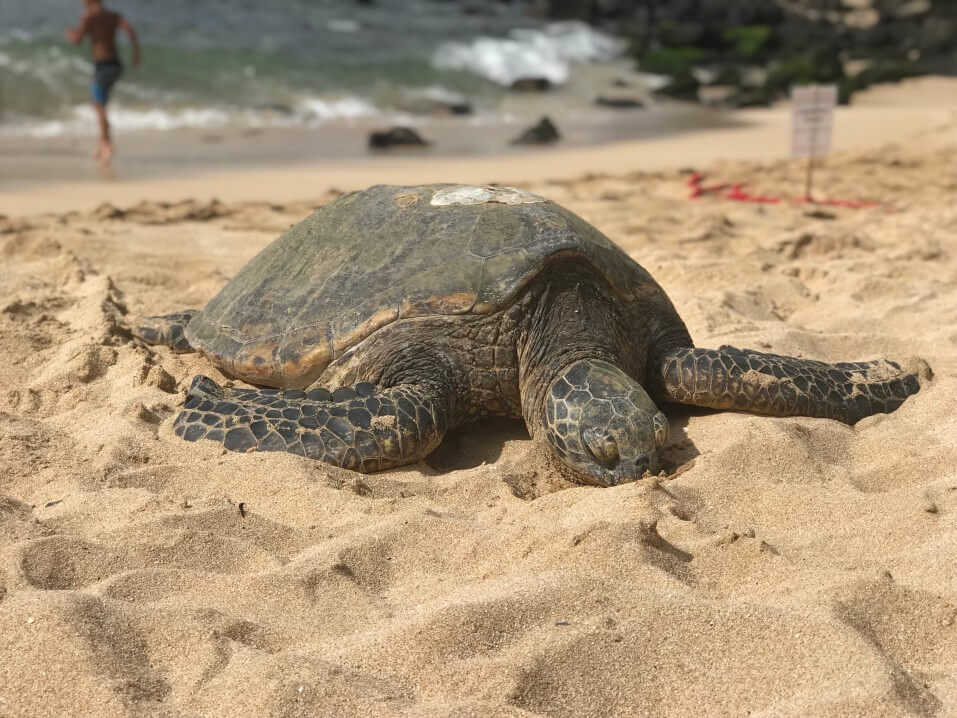 You are also not permitted to touch or harass them in any way. It is for their health and safety and also for your safety, as these are wild animals after all!
12. Look but don't touch (and remember your waterproof camera!)
While you can and should enjoy all of the beauty when snorkeling in Hawaii, you want to look but not touch.
You also do not want to stand on the coral or even hit it with your fin, as it can damage the coral and all the animals living in it.
Coral can be sharp and cause injuries to you so it is a good idea to look from a distance.
You also shouldn't take anything from the ocean, but instead bring your waterproof camera to capture your memories! Find the best prices here.
13. Set yourself up for success by having floaties and knowing your ability
Know your swimming ability, and remember snorkeling requires physical exertion.
Both adults and kids might consider snorkeling in Hawaii with life vests, noodles, fins, and floaties because you are in the open ocean.  
You may encounter currents, waves, and passing watercraft that can make the water choppy.
These tools can help to keep your body horizontal and so you can just relax and enjoy the scenery.
14. Only take snorkel boat trips with a reputable company
Many tour companies offer snorkel tours in Hawaii. It is important that you research the company and their safety record in advance.
In Maui, our family has loved the eco snorkel adventure at Molokini Crater with the Pacific Whale Foundation.
It is a great experience for families and one of my top things to do in Maui with kids.
Tip 15: Have fun!
Snorkeling in Hawaii can be such a wonderful experience that will surely mesmerize you!
It is a special way to enjoy the island and a great activity to include on your vacation.
Have fun exploring the kai!
Final Thought About Snorkeling In Hawaii
Each of Hawaii's four islands offer such a special and unique experience that are worth returning to year after year.
There is so much to explore both on the land, and in the sea, which is a very special part of the Hawaiian experience.
Snorkeling in Hawaii is a great way to discover the underwater world that surrounds these islands, and a great family experience to create lasting vacation memories.
About Keri
Keri Baugh is a USA-based family travel blogger for Bon Voyage With Kids. She, her husband, and three children travel often and have been to Maui eight times. In addition to traveling often to Europe, Hawaii, the Caribbean, and throughout the USA, Keri and her family love to snorkel, scuba dive, hike, horseback ride and ski together.  They love creating family memories and opening their kids' eyes to the world through travel.