Are you starting to plan a trip to Hawaii with kids? Do you want to know the best place to stay in Hawaii? Keep scrolling for the best Hawaii hotels for families recommended by family travel bloggers!
This post about the best Hawaii hotels for families contains affiliate links which means if you purchase something from one of my affiliate links, I may earn a small commission that goes back into maintaining this blog.
Don't Want to Scroll? Here Are The Best Hawaii Resorts for Families
hide
You're planning a big family vacation to the islands! But how do you know how to find the best Hawaii hotels for families?
If you're just starting to plan your Hawaii vacation, the first thing you need to do is figure out which island to visit.
There isn't just one best Hawaiian island for families. It's super important to figure out the best Hawaii island that has everything your family is looking for in a Hawaiian vacation.
So, I asked other families who love traveling as much as mine does to share what the best Hawaii family hotels and resorts were. They'll give you the run down on everything they loved during their stay at these hotels.
Keep scrolling for some of the best Hawaii hotels for families recommended by family travel bloggers.
Want to skip all the planning and just access my detailed Hawaii Itineraries complete with daily schedules, kid-friendly activities, and travel hacks? Click the button below.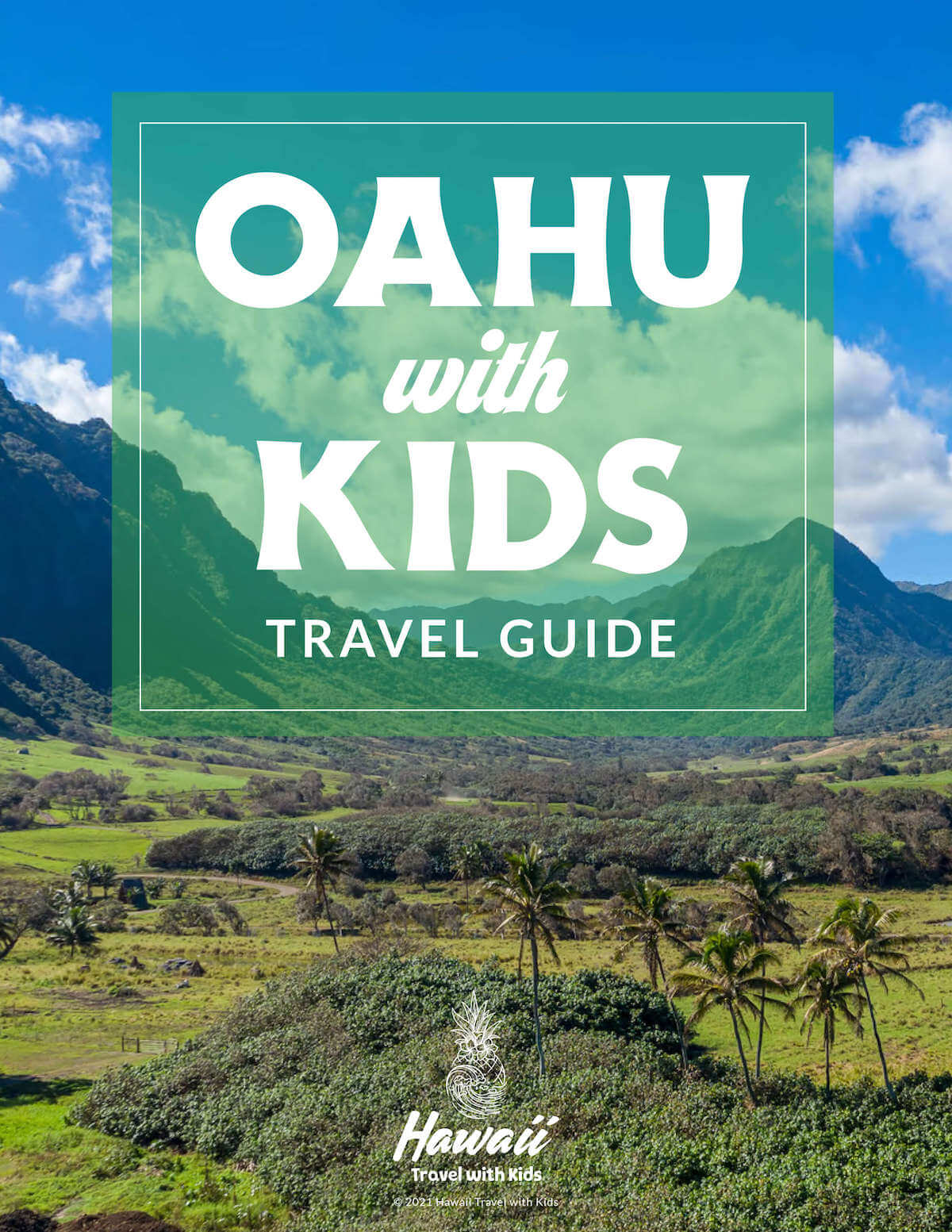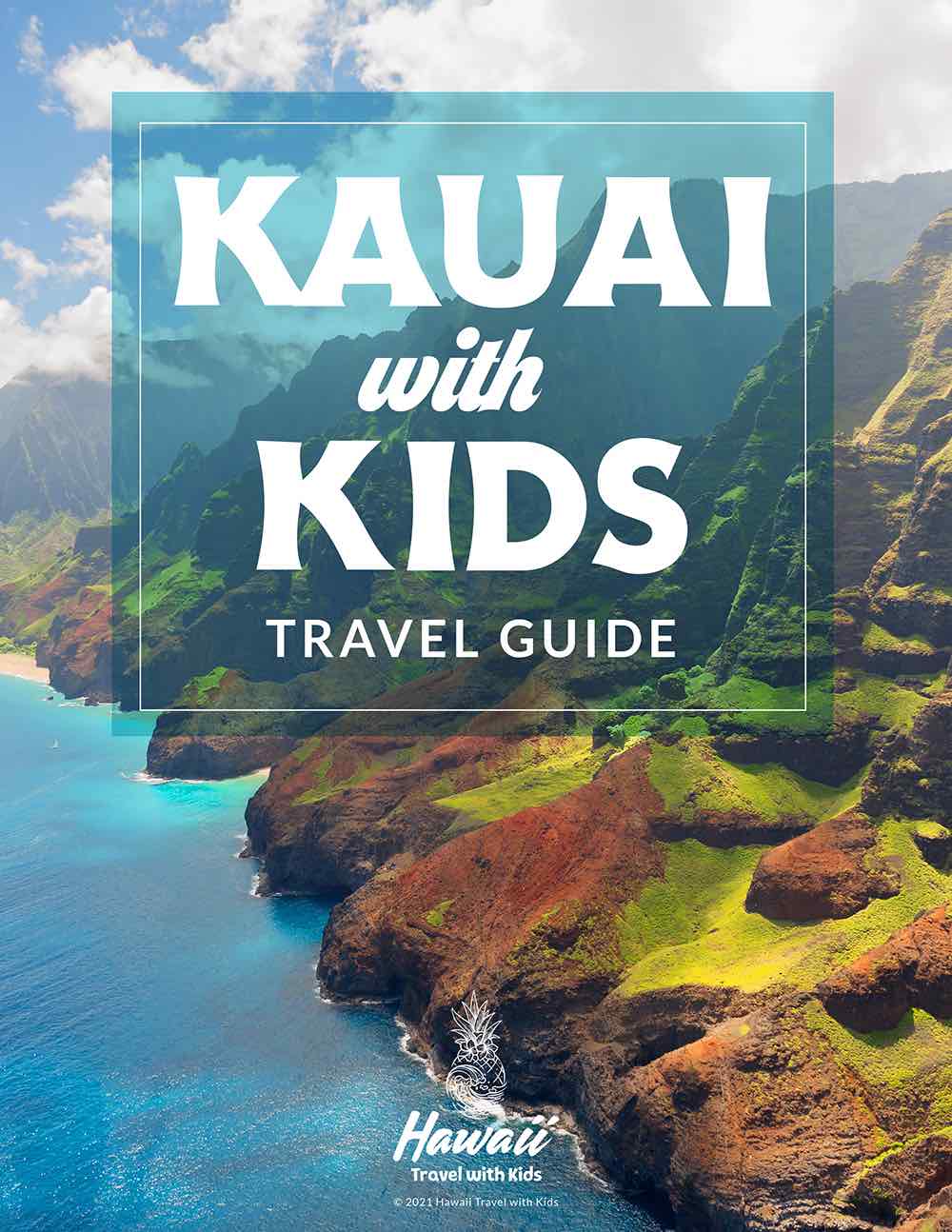 FAQs About the Best Hawaii Hotels for Families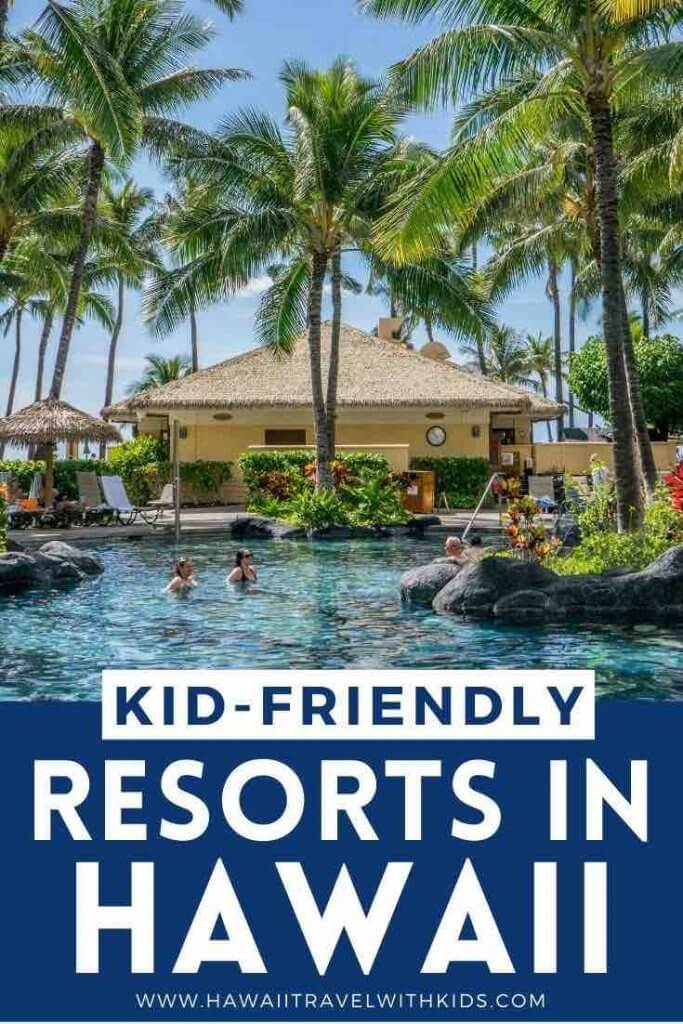 Our Picks for the Best Hawaii Hotels for Families
If you're trying to decide which is the best Hawaiian island for your family, I suggest start by looking at the resorts. Here are some of the best Hawaii resorts for families recommended by travel bloggers who have stayed there.
Best Oahu Resorts for Families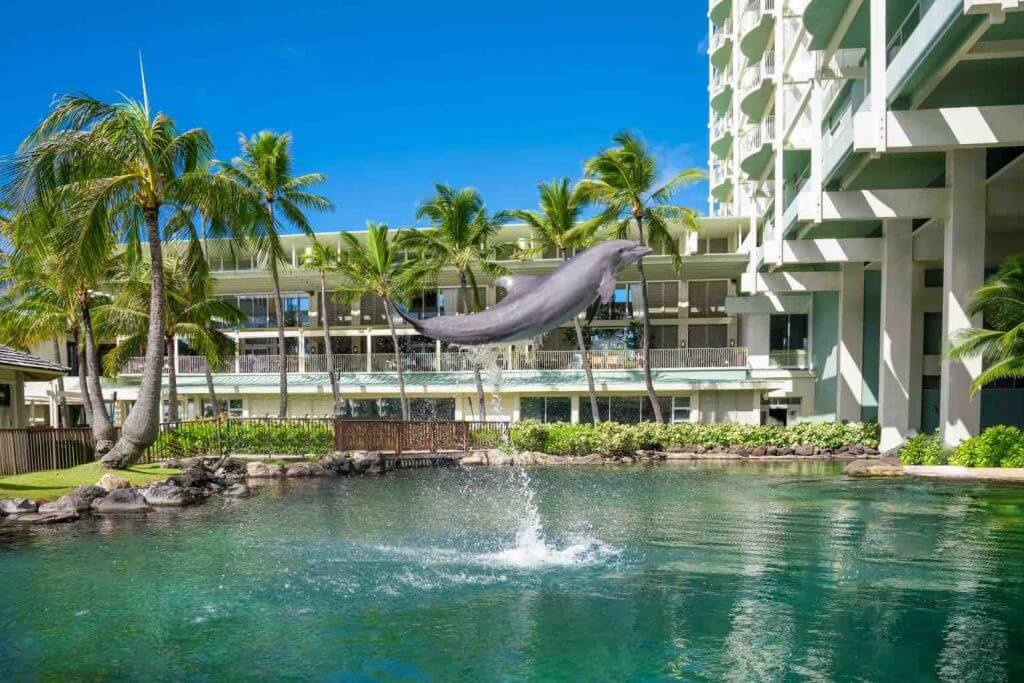 While all of the well-known Aulani resort or any of the major hotels in Waikiki are great, you might be looking for something a little more off the beaten path. Then the Kahala Resort is a great option for families! Check out the latest prices and more details.
It's located on the eastern end of Honolulu, away from the hustle and bustle of downtown. But it's still close enough for easy driving access to all the city's amenities and attractions.
The Kahala Hotel has large, spacious suites with plenty of room for a young family. And the bathrooms are really something else! My husband and I loved being able to take a break by relaxing in the huge jetted tubs.
The Kahala resort is great if you're looking for the best Hawaii hotels for families near the beach. Plus, it's a beach resort in front of a very kid-friendly beach with super calm waters for your littlest ones!
We loved the pool, as well as the beach view dining options on-site. But what Kahala is best known for, are their dolphins!
Kahala Resort's Dolphin Quest
Families can pay for a variety of dolphin experiences. There are a range of prices, depending on the time spent with the dolphins as well as the level of interaction.
Foor example, sitting on the side and petting them is going to cost differently than going out in the water and swimming with them. You can read my Dolphin Quest review HERE.
This is a unique, fun family experience, but expect to pay handsomely for it. Check latest prices and availability.
For those who don't want to shell out the money for an interactive experience, you can still see the dolphins.
Just take a stroll around this gorgeous resort and you can see them swimming around the hotel anytime. Plus, some of the rooms even look out over the dolphin lagoon!
The Kahala Resort is one of the best hotels in Hawaii for families.
While you're in Oahu, make sure you take the family to visit a cacao farm; the kids will love it! Read the guide to visiting this beautiful Hawaii cacao farm.
By Constance of A Well-Read Wanderer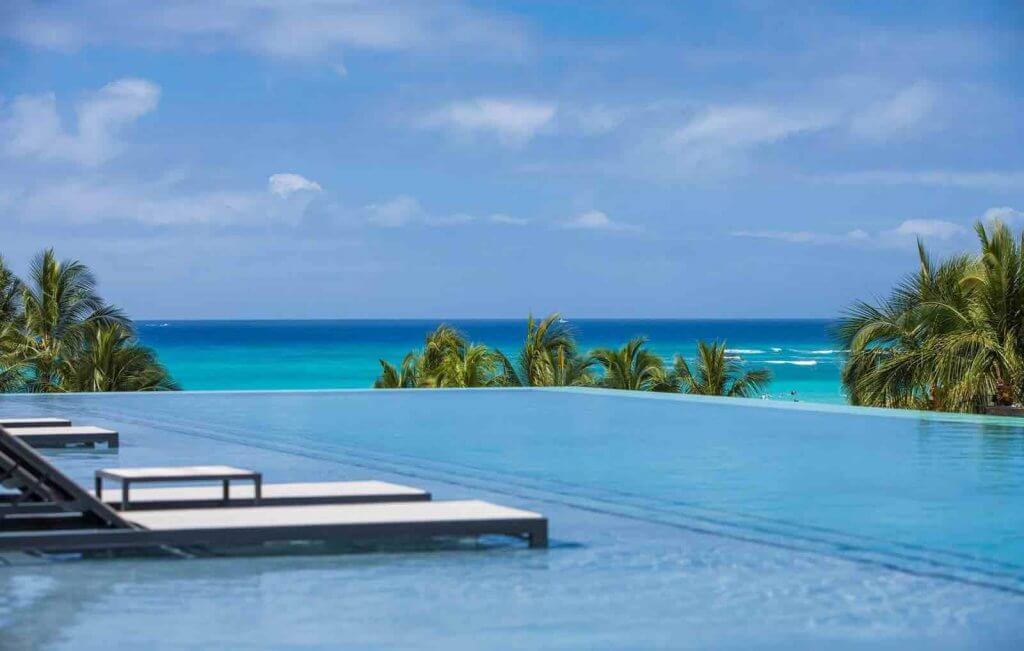 How do you pick the best hotel for your family when Hawaii is filled with so many amazing family hotels?
I did a lot of research prior to our Oahu vacation and landed on Alohilani Resort. It's located just steps from Waikiki Beach.
It turns out that the excellent location of this beach resort is just one of the many benefits to staying at the Alohilani Resort. It's also super kid friendly! Check out the latest prices and more details.
Alohilani has been recently renovated and has a gorgeous lobby complete with an aquarium. My daughter loved to watch the fish swim around while we were in and out of the lobby.
Also, like any kid-friendly resort in Hawaii, Alohilani has a beautiful pool. It's an infinity pool with an attached hot tub for adults and kids 5-12. But kids can only get into the hot tub with an adult!
Plus, if you have kids younger than 5, they also have their own space. There is a kid's pool for those 12 and under.
The resort also has the Monkeypod Kids Club for kids aged 5-12. We didn't use it during our stay, but it's certainly a nice perk if you are looking for a resort with a children's program.
Rooms and Dining Options at Alohilani
Amenities are important, but when you're looking for the best hotels in Hawaii for families, rooms are equally important! All rooms have a balcony with either a partial or full ocean view. And you can choose from a king or two queen beds.
Our little one was still crib age and we were happy that cribs were offered. This way we didn't have to bring our own pack n' play!
They also have suites if you need a bit more room. But we found the standard rooms met our needs just fine.
If you need a bite to eat, the hotel also has plenty of options from casual to fancy dining. Our kids tend to land on the casual side of things, so we appreciated the choices.
Morimoto has an upscale restaurant here, but there's a casual ramen place, too. And there's also a coffee shop, a pool bar, and an ice cream shop!
When it came down to it, we chose Alohilani for the location, the views, and the kid-friendly amenities. It checked all the boxes. And we were so happy with our stay here!
It's one of the best Hawaii kid friendly hotels, and I can't recommend it enough.
By Brittany of Family on Standby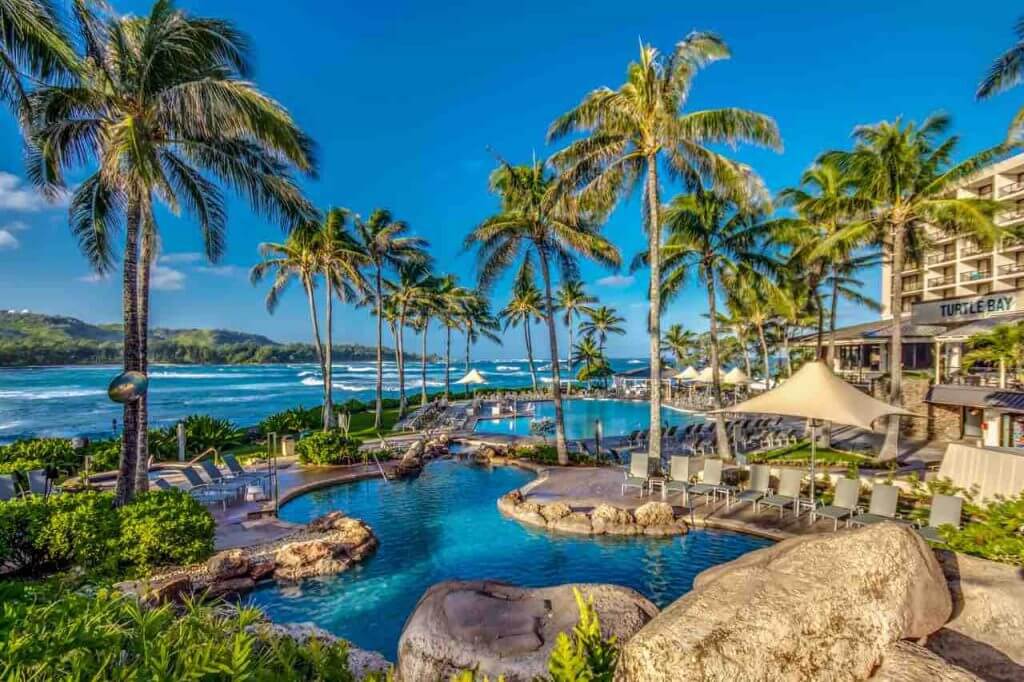 Located on Oahu's North Shore, Turtle Bay Resort is a perfect family friendly accommodation. The North Shore is a little quieter, which is one reason why I think it is the perfect option for kids.
My family loved Turtle Bay's has many options for accommodations. They have beautiful, spacious suites and villas, which are great for larger families. Check out the latest prices and more details.
Things to Do at Turtle Bay
Turtle Bay offers some fun family activities that are included in your resort fee. Kids can take ukulele lessons or hula lessons. And the resort has a great kiddie pool with a slide near the main pool.
They provide snorkel gear so you can go snorkeling on site at Kuilima Cove. Or if you want to get out of the water, they also have tennis courts and 2 different world-famous golf courses.
There's also a beach in close proximity to the resort. And we found out that you can check out a GoPro camera from the front desk to capture all the fun you will have.
I found Turtle Bay to be a one-of-a-kind family friendly resort on the North Shore. There are no other resorts on this side of the island. And with sapphire blue water along 5-miles of golden sand beaches, it's totally Instagrammable!
With so many amenities, you don't ever have to leave the absolutely huge Turtle Bay Resort! But if you want to take advantage of the other activities located along the North Shore, you'll need to rent a car.
You can find so many great things to do on the North Shore. The Polynesian Cultural Center is a must, and it's not too far from the resort. Also, Waimea Valley is close by. You have to stop and get some shave ice! Or check out the secluded Laniakea (Turtle Beach) for an amazing time.
Turtle Bay is the perfect place to stay on North Shore Oahu and one of the coolest kid friendly Hawaiian resorts!
Lisa from Planning Away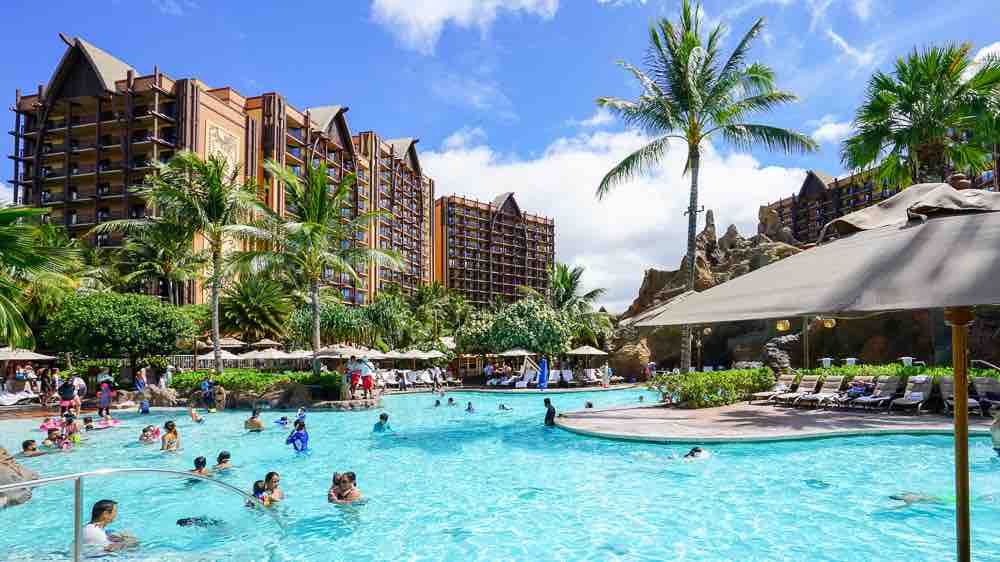 It's no surprise that kids love Disney. So when you're searching for a great kid-friendly resort in Hawaii, it's no surprise that Disney Aulani Resort is one of the best. Check out the latest prices and more details.
Located on the island of Oahu in the Ko Olina area, Aulani has been designed to appeal to families. It's a Disney Vacation Club property. And it contains your traditional hotel room-style in addition to multi-room villas with full kitchens.
This means there's a room option that will work well for both small and large families. Also, if you have a villa with a kitchen, you can save on food expenses, which can definitely add up in Hawaii.
At the resort, kids ages 5 to 12 will absolutely love Aunty's Beach House. This kids' club is really cool. It's designed like a house and offers kids the chance to decide where they want to spend their time.
Also, while kids are in the club, they get to take part in hands-on activities and character meet and greets!
But families with teens aren't left out! You're also covered with fun teen-only activity coordinators. These staff members arrange for beach games and even late-night parties at Aunty's Beach House.
Aulani Water Fun
But when it comes to family fun at Aulani, it's all about the pools and beaches!
Aulani has a massive lazy river that winds around its center that will appeal to both kids and adults. Plus, there are a few slides, including one that glows the dark! And the grotto pool even has a fun surprise for those brave enough to put their heads underwater.
The beach is located on a Ko Olina lagoon which means it's protected from winds and currents. This makes the waters extremely calm. Families with younger kids and relax by the water and know that everyone is safe!
Also, Aulani is about 45 minutes away from Honolulu. There is a local strip mall shopping area across the street from the resort. But if you want to explore more of the island or eat off-site, you'll want to plan on renting a car.
My family thinks that Disney Aulani Resort is seriously one of the best Hawaii hotels for families!
By Kim from Stuffed Suitcase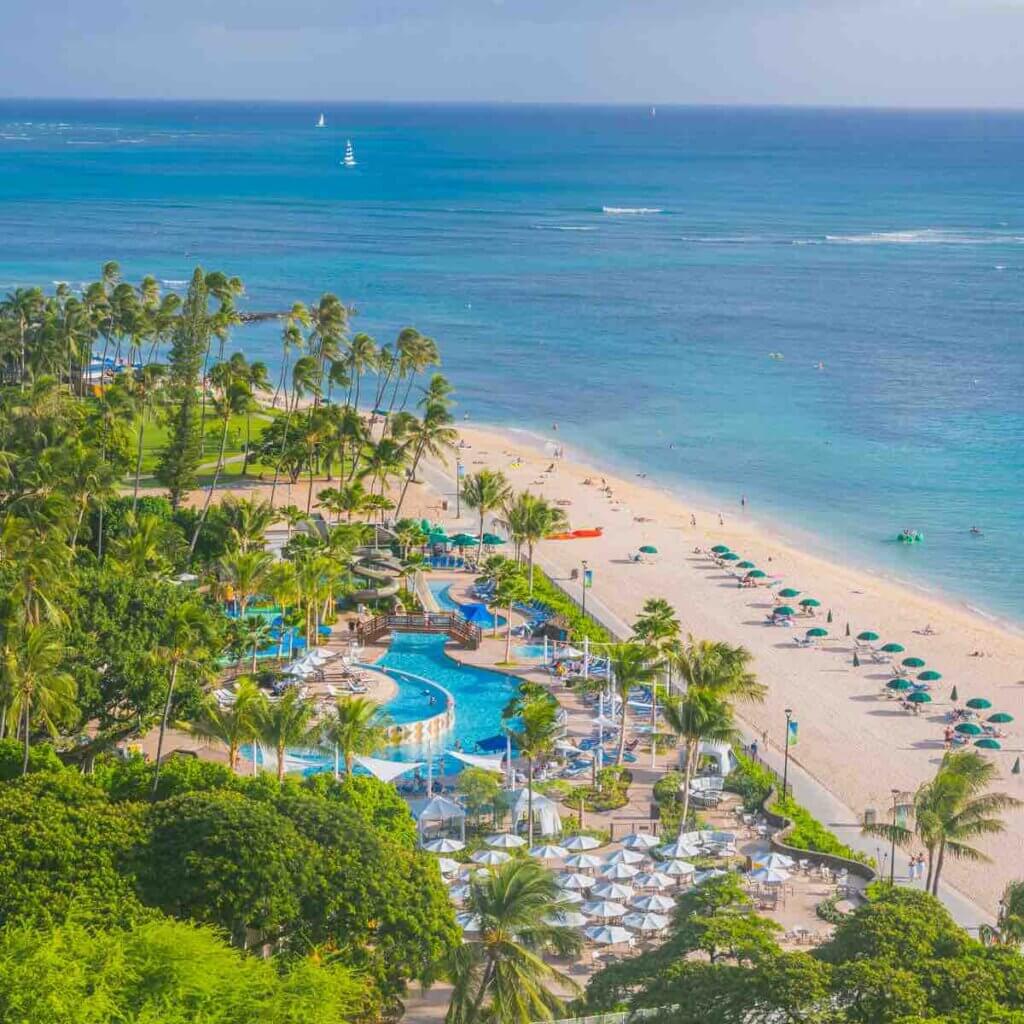 We chose to stay at the Hale Koa because it is a military friendly hotel located on the oceanfront in Waikiki.
The accommodations were very affordable for the area, and it had tons of amenities that were perfect for our family. Check out the latest prices and more details.
They even had a fireworks display at Hale Koa that we could watch every Friday night. We could sit outside in the warm breeze and watch a beautiful show for free.
At the hotel there was a wonderful pool with food and beverage service, plus tons of kid friendly food options. And it was walking distance to the International Marketplace, with tons of shopping and restaurants.
Hale Koa: Fun for the Whole Family
But the beach was the best amenity by far! It was crystal clear, calm, and warm. The kids could play all day and take their boogie boards in the ocean without concern of a huge wave.
While visiting the Hale Koa, we attended the luau that the resort boasted as one of the island's best. It was fantastic! My daughter enjoyed learning part of one of the dances. Ad I thought that the fire dancers were excellent.
The music was enthusiastic, and the food was mouthwatering. Even if you don't stay at the resort, I highly recommend it when you're visiting this area.
The resort is kid friendly but, doesn't forget that parents need an escape as well.
They have an adult only pool, a workout space, and a spa to indulge in while you visit. My husband and I even escaped for a bit and enjoyed a couples massage. This was definitely the highlight of the stay for us!
Overall, my family thought that the Hale Koa Hotel was professional, relaxing, and priced very well. I consider it one of the best Hawaii hotels for families!
By Cortney of Tin Can Living
Best Maui Resorts for Families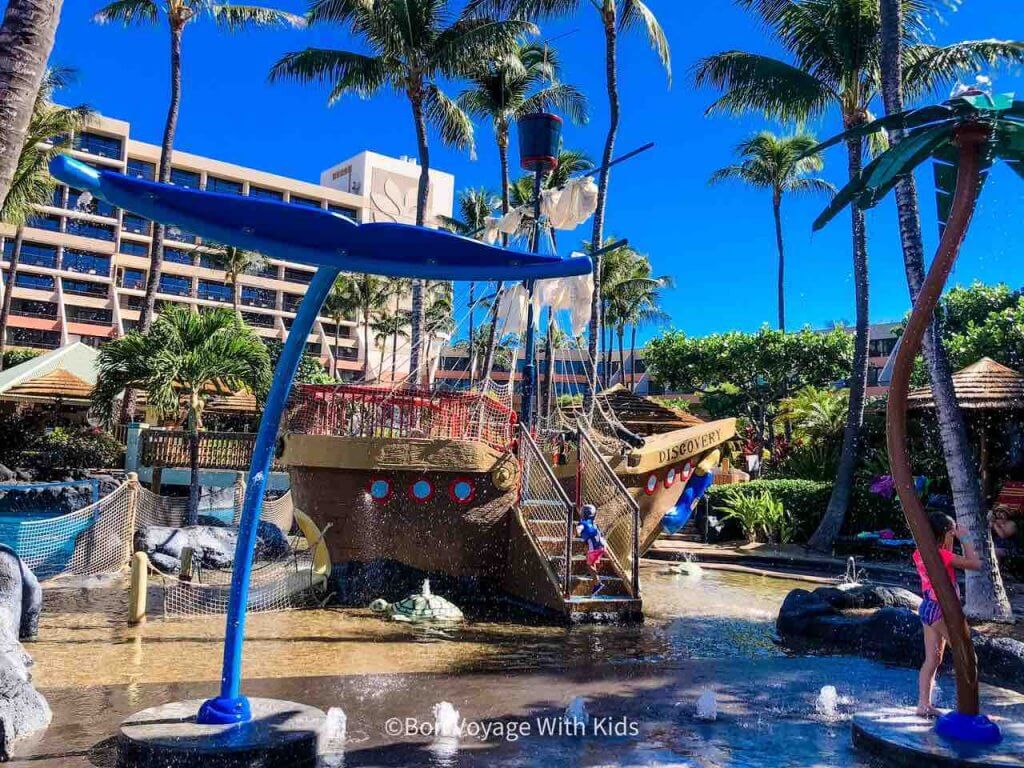 Year after year, our family rerturns to the Marriott Maui Ocean Club on the gorgeous island of Maui. We think it's one of the best kid friendly resorts in Hawaii.
The resort is located in Ka'anapali with a view of Lanai in the distance. It's is an ideal spot to take your family on a holiday in paradise. Check out the latest prices and more details.
The Maui Ocean Club by Marriot is within walking distance to Whaler's Village, which is full of fantastic restaurants and shops. But in addition to its fantastic location, the resort itself also hosts a variety of family-friendly amenities.
Marriot's Maui Ocean Club Amenities
Here you'll find rooms with kitchenettes or full-on kitchens. There's laundry on-site, and some rooms have grills for cooking, making is an ideal spot for families!
Maui Ocean Club boasts three family-friendly pools, but that's just the beginning! There's also a pirate ship splash park and water slide that my kids love!
This family-friendly resort also offers guests onsite games, movie rentals, and an activity center. Or you can enjoy a variety of complimentary staff-hosted activities, like free shave ice or pirate treasure hunts.
Enjoy onsite entertainment like family movie and smores nights. The kids will love staff-led games and classes like lei-making.
Onsite restaurants include Ka'anapali Grille and Tap Room, Lokelani Pool Bar, Beach Walk Kau Kau To Go, and Starbucks.
Family-Friendly Things to Do Nearby
The location of Marriott's Maui Ocean Club is ideal. It's near aquatic centers where you can learn to surf and take an introductory shore dive.
You're also near some of the island's best luaus, with the Hyatt next door and the Sheraton Black Rock within walking distance. Golfers can enjoy a round at the gorgeous Ka'anapali Golf Course.
Also, it's just a short 5- to 10-minute drive to all of the shopping and dining of Lahaina town.
Marriott's Maui Ocean Club is definitely one of the best Maui kid friendly resorts!
By Keri of Bon Voyage With Kids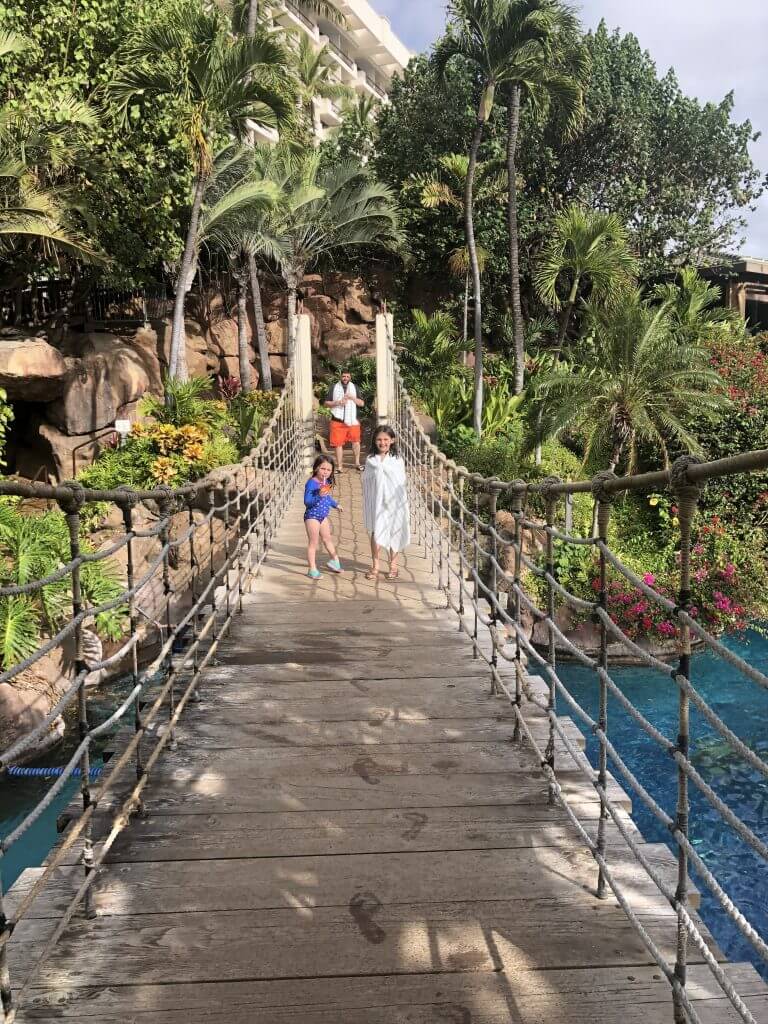 Maui is full of amazing options for lodging when you're staying on the island! But one of the best hotels for families is definitely the Hyatt Regency Maui Resort and Spa.
The Hyatt Regency in Maui is located in a central location in Lahaina. You have just a short drive to fun outdoor adventures. But you're also within walking distance to shops and restaurants along Kaanapali Beach. Check out the latest prices and more details.
Walk less than a mile along the beach from the resort and you will find Whaler's Village. Here there are lots of restaurant options and all kinds of shopping experiences.
What the Hyatt Regency Maui Offers Families
In addition to being in a great centralized location, the Hyatt Regency in Maui also has some awesome amenities for kids. Their multiple pools are great for familie. They have many different offerings, including slides and a shallow wading pool for younger kids.
In the lobby of the hotel, you'll also find penguins! For even more fun, check with concierge to find out when they get fed. This was so much fun for both my kids and I to experience!
Another reason the Hyatt Regency is perfect for families is their multiple options for dining on-site. This includes one of the best-rated luaus on the island – Drums of the Pacific.
Also conveniently located right on the beach and next to the pool is the best shave ice in Maui – Ululani's Hawaiian Shave Ice!
The amenities great for a family staying in Maui, but the rooms are what really sold me on the resort. The rooms were a good size, and many offer balconies with sweeping ocean views.
Our family chose this hotel because it gave us easy access to the beach. It's literally directly on the beach! But we could still walk to additional off-site restaurants and shops
The pool was perfect for kids and adults. And the location was perfect for accessing the rest of the island easily for some day trips!
By Amanda of Patsey Family Travels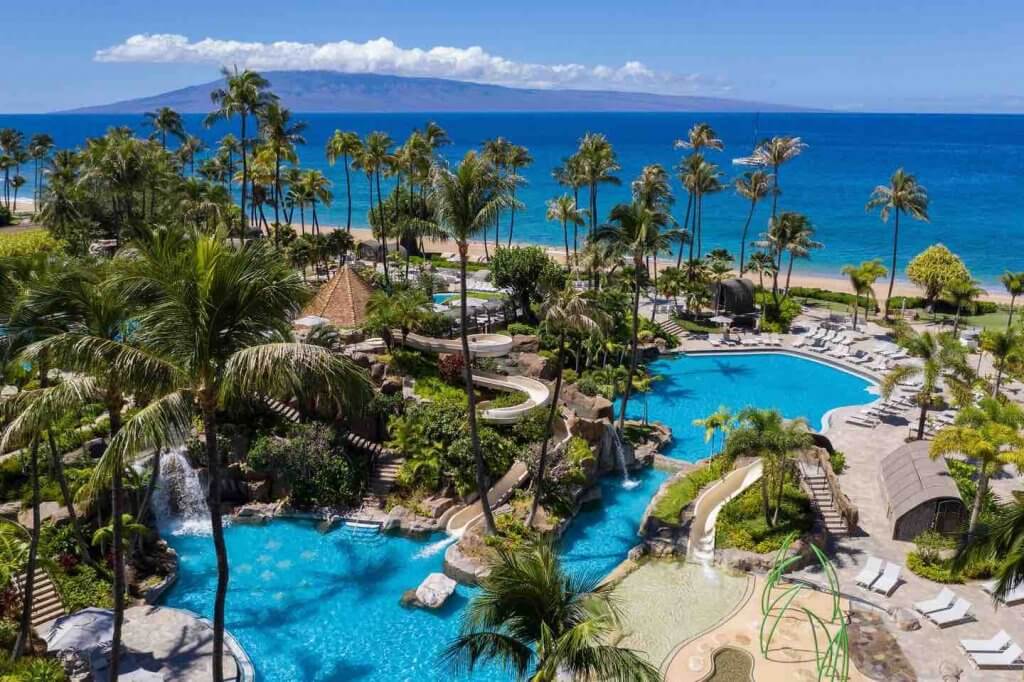 The Westin Maui Resort & Spa, Ka'anapali, known locally as the Westin Maui, is one of the most kid-friendly resorts in Hawaii. Check out the latest prices and more details.
The oceanfront resort underwent extensive renovations in 2019 and 2020. Everything from the guest suites and five restaurants to the spa and six gorgeous pools were upgraded.
One of the focal points of the resort's overhaul was making it more family-friendly but upscale.
On the other side of the renovations, the water area has been drastically updated! Today you'll find an enormous family pool area with a 270-foot waterslide, spray pad, and zero-depth pool with a mini waterslide for the littlest swimmers.
I loved that the family pool has connecting pools on either side with a few swim-through waterfalls. Also, there's a hidden grotto with a hot tub!
There's an adults-only infinity-edge pool, which allows you some downtime. This is especially great if you have children old enough to swim and play in the kid zones with minimal supervision.
Aside from the pools, the Westin Maui also has several restaurants on-site, ranging from casual pool bars to formal dining venues and an excellent weekend all-you-can-eat breakfast buffet.
Also, as impressive as the grounds of the Westin Maui are, you don't have to stay on the resort to have fun with the family!
Other Things to Do in Ka'anapali
Fortunately, the resort is situated directly on the beach in the heart of Ka'anapali. This area features a pristine 3-mile stretch of beach and Whalers Village, where you'll find dozens of restaurants and shops.
When you're ready to indulge in some family-friendly adventure, the Westin Maui also offers easy access to just about every imaginable outdoor activity.
You can hit some kid-friendly hiking trails or get out on the ocean for whale-watching. In the area there are also some great SCUBA and snorkel trips, sailing excursions, or surf and SUP lessons. And you'll find all of it within minutes of the resort!
Fun Back at the Westin Maui
When you want to hang out at the resort, there are numerous immersive, educational programs for every member of the family.
Choose from an 'Ulana Niu coconut weaving class, stargazing, and and traditional Hawaiian wayfinding. There's Ku'i Kalo taro pounding or the Ho'e Wa'a paddling (canoeing) program.
Take the family to watch a nightly torch-lighting ceremony at sunset. Also, the resort just launched its Wailele Polynesian Luau. The beachside luau includes a buffet dinner and unlimited drinks.
By Taryn of Chasing Trail
Best Kauai Resorts for Families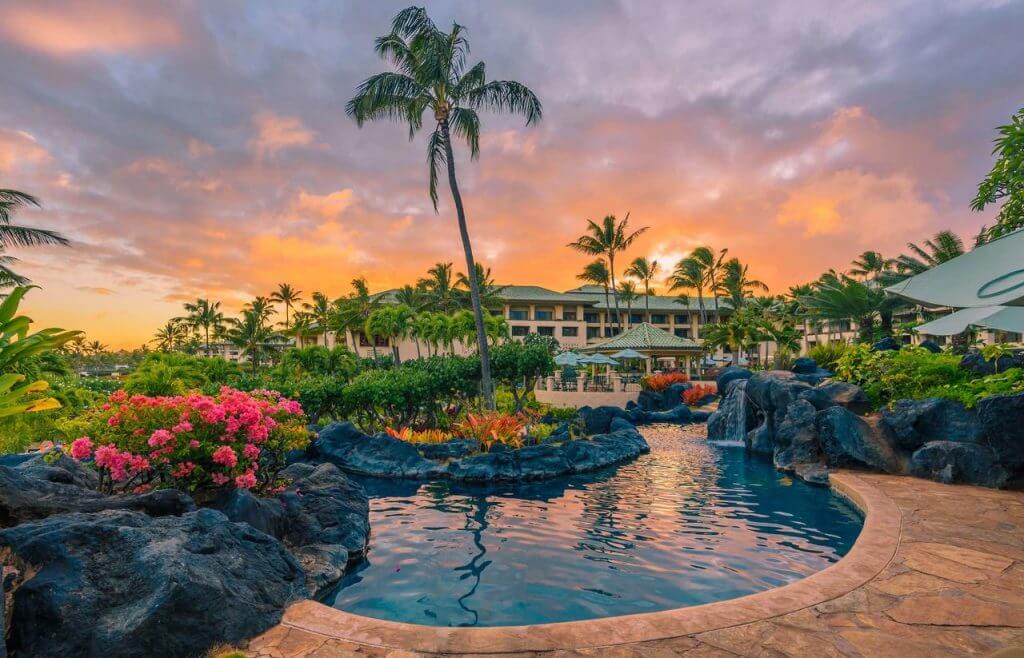 If you're looking for a gorgeous Kauai resort for kids, definitely check out the Grand Hyatt Kauai.
It's conveniently located in Poipu, on the South Shore (aka the sunny side) of Kauai! There are tons of nearby restaurants, shopping, and attractions to check out. Check out the latest prices and more details.
But you'll also want to reserve time to simply enjoy the resort. It's seriously amazing!
Enjoy the Many Resort Amenities
Our kids love the pool area. There's a zero-entry saltwater pool that's great for younger kids and there's also a fun waterslide.
But one of the cool things about the Grand Hyatt Kauai is that they have parrots in the lobby!
They also have on-site restaurants (including a coffee bar). And you won't want to miss out on the Grand Hyatt's awesome in-house Kauai luau.
If you're coming to Kauai with kids, you'll want to stay at the Grand Hyatt Kauai. Read my full Grand Hyatt Kauai review HERE.
By Marcie of Hawaii Travel with Kids
Best Big Island Resorts for Families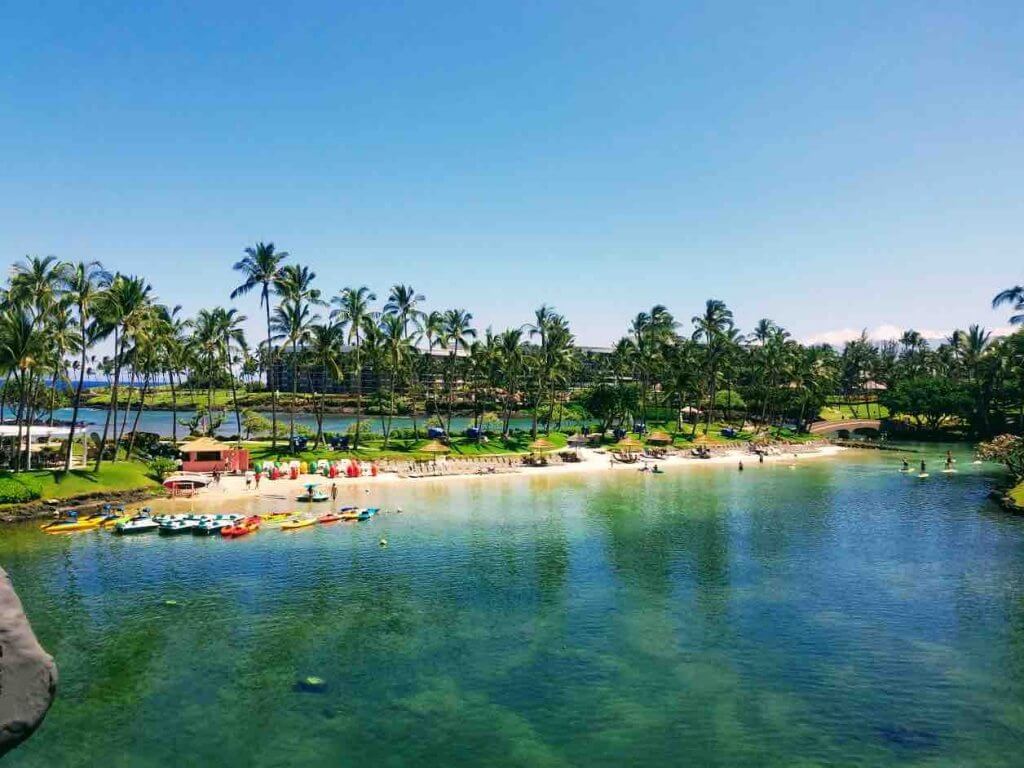 If you're looking for a family-friendly resort on the Big Island, look no further than Hilton Waikoloa Village! This sprawling, 62-acre oceanfront resort has so much to offer for visitors of all ages.
Water Fun at the Hilton Waikoloa Village
One of our favorite features of the resort was the ocean-fed lagoon with its lovely white sand beach. This feature was one of the reasons we chose the Hilton Waikoloa Village for our family trip in the first place! Check out the latest prices and more details.
At the lagoon, you can rent paddleboards, kayaks, and paddleboats. You can also go snorkeling in the lagoon. And make sure to keep both eyes open! You're likely to see sea turtles and a variety of tropical fish.
Located next to the lagoon is Dolphin Quest, which is home to several bottlenose dolphins. There you have the opportunity to watch the dolphins in training or to arrange for an intimate, up-close encounter (although some may have ethical concerns about dolphins kept in captivity).
The spectacular pools were another highlight of our stay. The largest, Kona Pool, features a 175-foot waterslide. And a swim-through waterfall leads to caverns where you can find hot tubs and a swim-up bar.
Our toddler loved the sandy zero-entry section that provides a shallow play area and gradual entrance into the larger pool.
The smaller Kohala River Pool contains several more slides and a winding river for some peaceful floating. Also, there's the adults-only Ocean Tower pool for those kid-free moments!
Other Amenities at the Resort
Due to the massive size of the Hilton resort, there are a few fun ways to move around the resort if you'd rather not walk. There's tram and a canal boat, both of which provide transportation between the rooms and the main entrance.
For our young son, this was one of the most exciting parts of the day!
And there are plenty of dining options at the resort, with 14 on-site restaurants and lounges to choose from. Also, don't want to miss an evening luau with live entertainment (including fire and hula dance), and a Hawaiian buffet!
There are also some fun cultural classes and activities available at the resort. We enjoyed making kukui nut leis, ukulele lessons, and learning how to roast a pig!
All in all, our family loved our stay at Hilton Waikoloa Village. It's an experience that the whole family is bound to enjoy!
By Martha of Go Places with Kids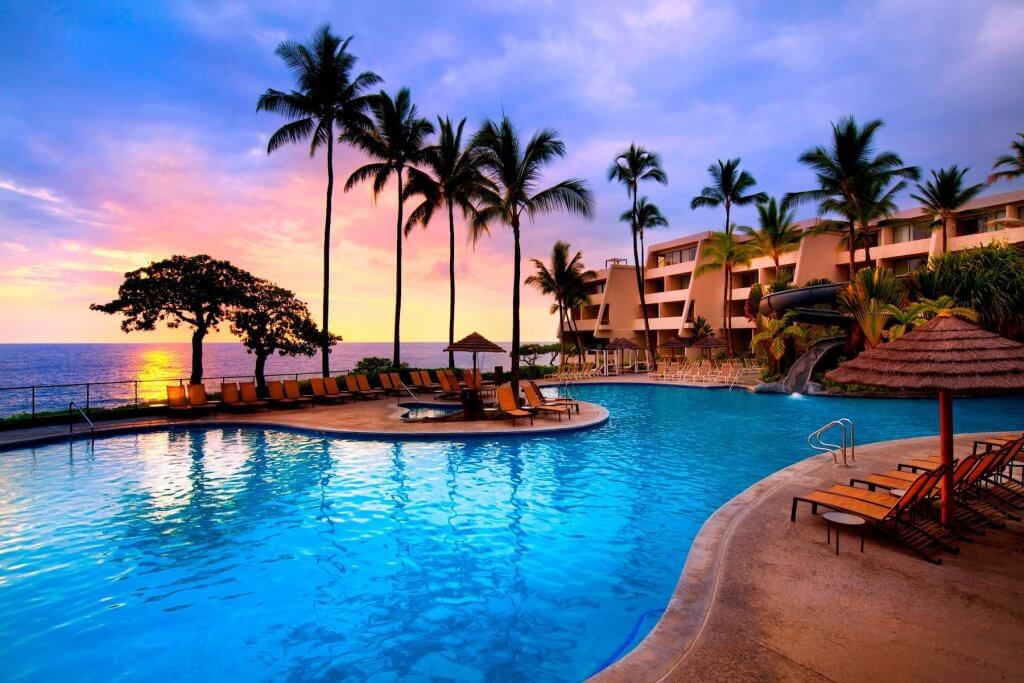 One of the best kid friendly hotels located on the Big Island of Hawaii is the Outrigger Kona Resort and Spa located in Kona.
This is a very popular resort with beautiful gardens, swimming pools, and wonderful outdoor spaces and restaurants. The resort caters perfectly to families for a kid friendly vacation in the Kona area. Check out the latest prices and more details.
The swimming pool areas are so much fun! There's with a giant slide area as well as kiddy play areas and fenced in play zones. This makes it easy to keep track of your kids playing in the public areas!
The nice thing about the hotel is that it is self-contained with security at the front, so there's not too much outside influence. Plus, it feels very safe all around the resort in all the public areas.
There are also tons of dry fun things you can do around the grounds of the Sheraton Kona Resort and Spa!
Take the kids for a walk around the expansive grounds and lovely gardens. Or check out the unique Manta Ray viewing areas. This is a fun thing to do at night!
What to Do Nearby
You can walk down to the harbor area in Keauhou and grab a bite a local cafe. There's one that serves delicious seafood dishes. Or there's a weekly farmers market that sells arts and crafts. They also have prepared food and other finished goods on the grass areas in the front of the property.
Close by the resort is a mall with restaurants, a movie theatre, and shops. And there's also a large grocery store for your convenience.
Or you can take free boat shuttle service to downtown Kona area and the harbor there. This is a great way to go sightseeing around Kona without driving!
While visiting the area, you might want more ideas on what to do with kids. Check out this kid focused post on Hawaiian Petroglyphs to visit on the islands for more inspiration and experiencing the ancient drawings in Hawaii.
By Noel of This Hawaii Life
Final Thoughts on The Best Hawaii Hotels for Families
And now you know some of the best hotels for families in Hawaii worth staying at. Whether you choose Maui or Oahu, Kauai or the Big Island, there are lots of awesome places to stay in Hawaii with kids.
Hopefully, you found some kid friendly Hawaii resorts you'd like to check out for the best family Hawaiian vacation!