Are you trying to decide between visiting Maui vs Oahu for families on your next beach vacation? We've compared the two so you can make an informed decision about the best Hawaiian island for kids. Scroll to see the results!
This post about Maui vs. Oahu was written by Hawaii travel expert Marcie Cheung and contains affiliate links which means if you purchase something from one of my affiliate links, I may earn a small commission that goes back into maintaining this blog.
Don't Want to Scroll? Here's What to Know About Maui vs Oahu
hide
Are you feeling confused about which is the best Hawaii island for kids?
When planning your first trip to Hawaii, it may be difficult to decide which is the best Hawaiian island for families.
You'll want to make sure there's something fun for everyone in your family, no matter their age.
Both Oahu and Maui are great islands for families to visit. They are also the most popular Hawaiian islands.
In this post, we'll take a look at Oahu vs Maui to find out which are the best Hawaiian islands for kids to visit for a first time in Hawaii.
Keep scrolling for my recommendations to see if Maui or Oahu is the best Hawaii island for kids.
Want to skip all the planning and just access my detailed Hawaii Itineraries complete with daily schedules, kid-friendly activities, and travel hacks? Click the button below.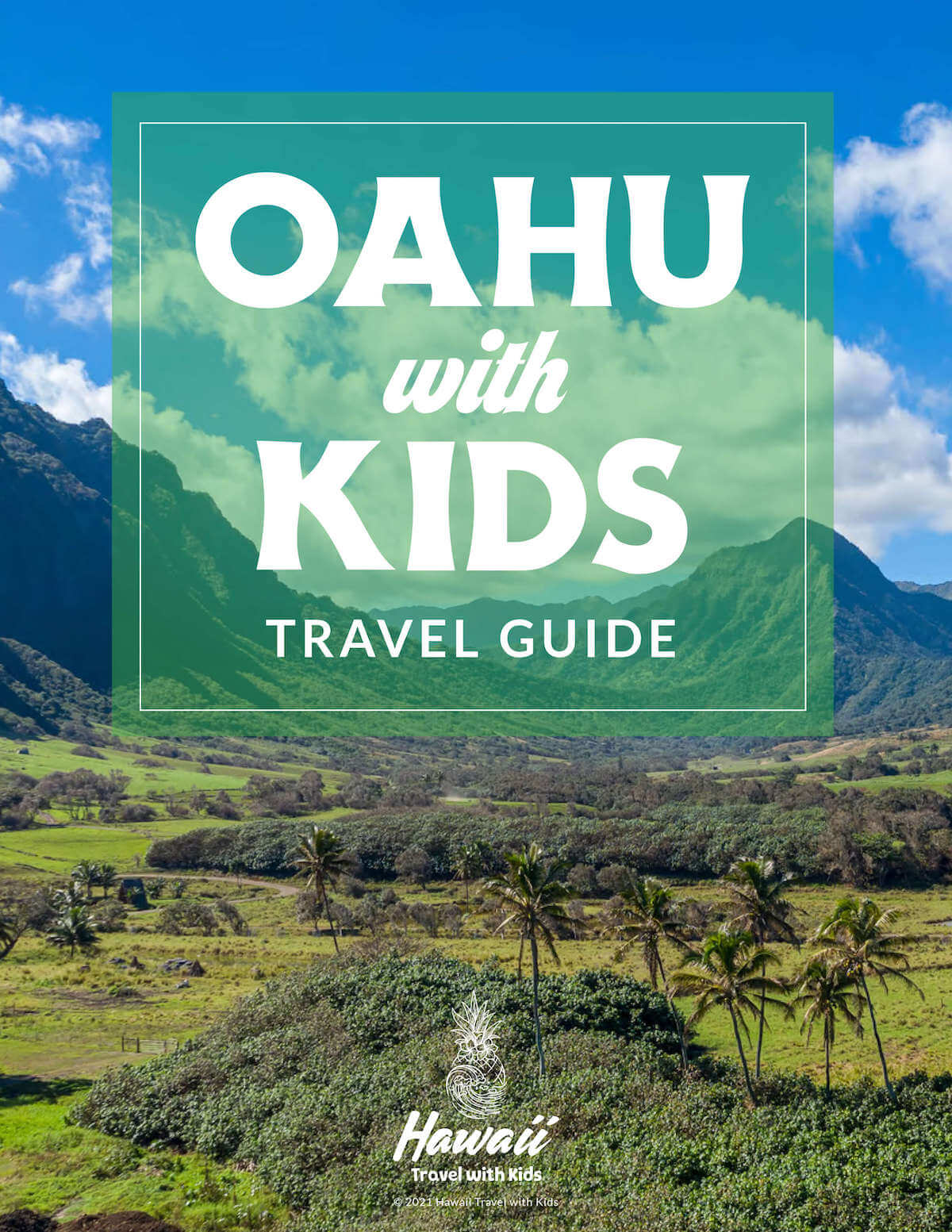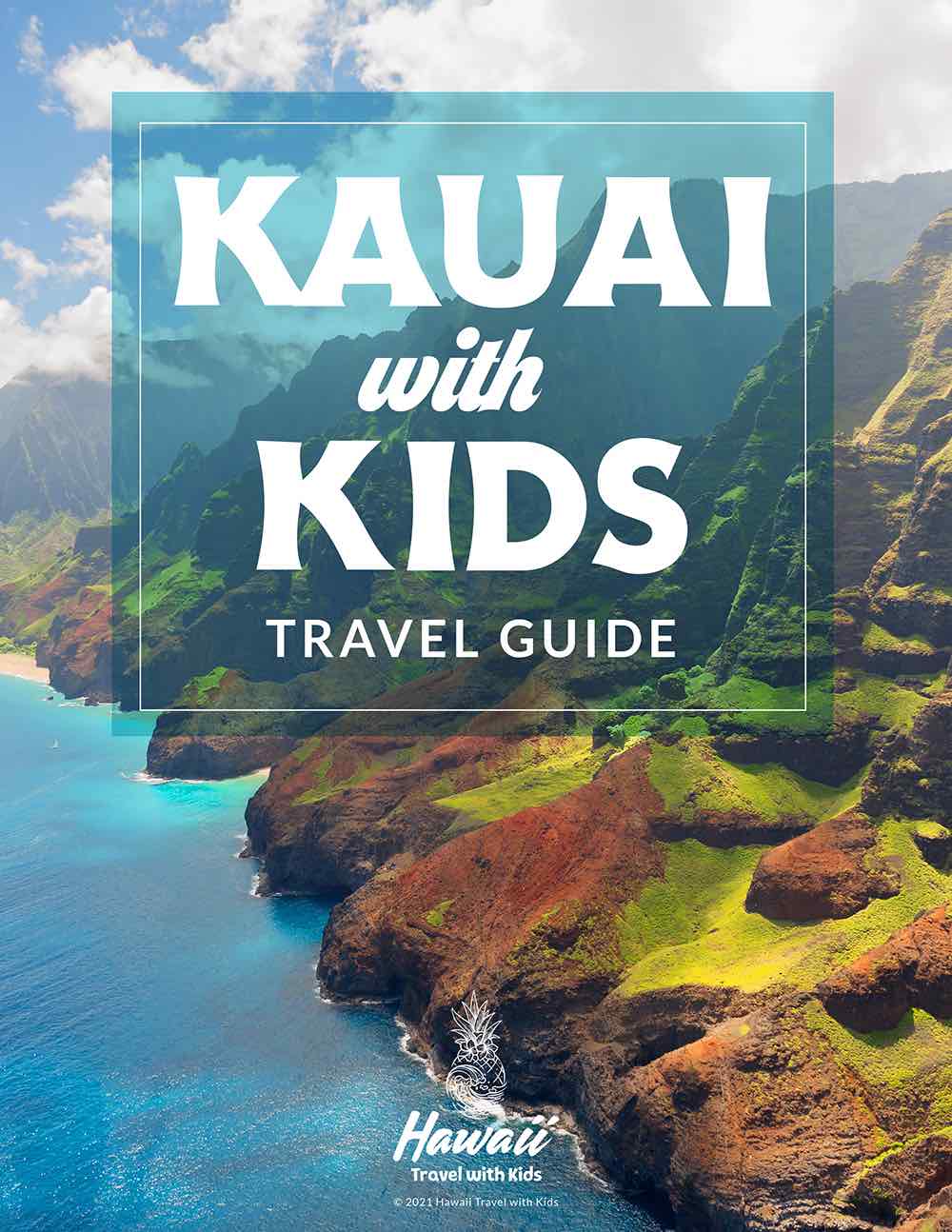 Best Hawaiian Island for Kids FAQs
Which Hawaiian island has the calmest beaches?
While you can find calm beaches on all the islands in Hawaii, Oahu has some of the most famous (Waikiki beach, Kailua beach, and Ko Olina lagoons.) Each island has at least one "baby beach" that features small coves and super calm waves perfect for babies and toddlers.
Which Hawaiian island is the most kid-friendly?
Almost all of the islands in Hawaii are super kid-friendly. But, Maui and Oahu have the most kid-friendly Hawaii attractions and activities. These islands also have lots of resorts for families and lots of direct flights from the West Coast.
Is Maui better than Oahu?
It really depends on what type of vacation you'd like when comparing Oahu vs Maui. If you want a resort vacation with a few cool day trips and adventures, Maui is the ultimate Hawaiian vacation for families. But, Oahu has more tourist attractions, shopping, and historical sites. However, Oahu and Maui are both amazing destinations.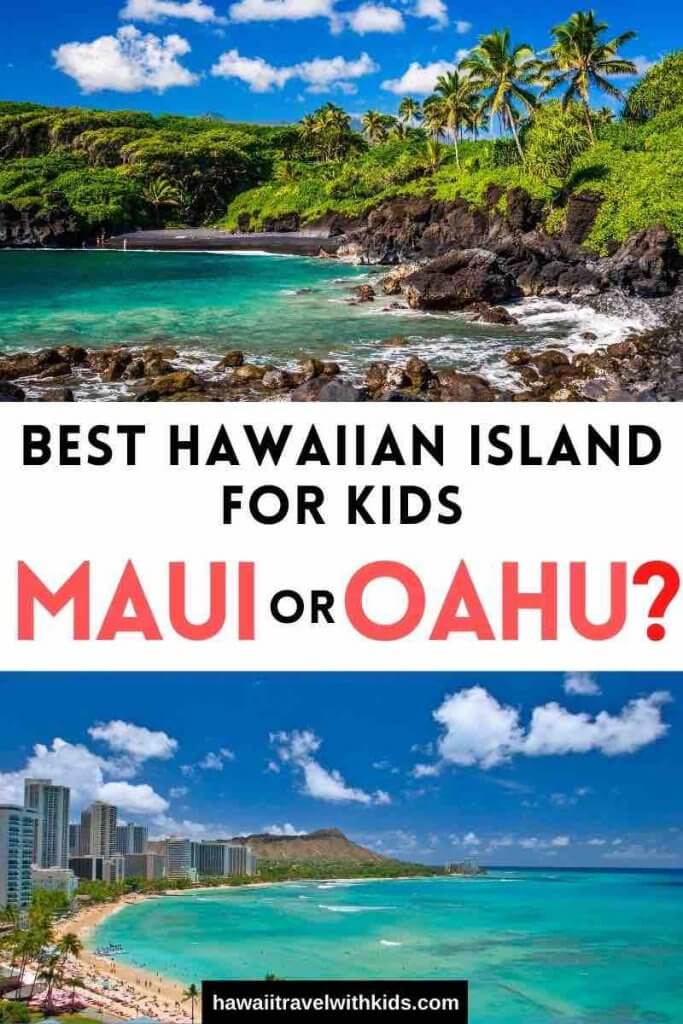 Is Maui the Best Hawaiian Island for Kids?
Lots of families swear that Maui is the best Hawaiian island with kids when comparing Oahu vs Maui. That's because it's a great mix of resort towns and natural beauty.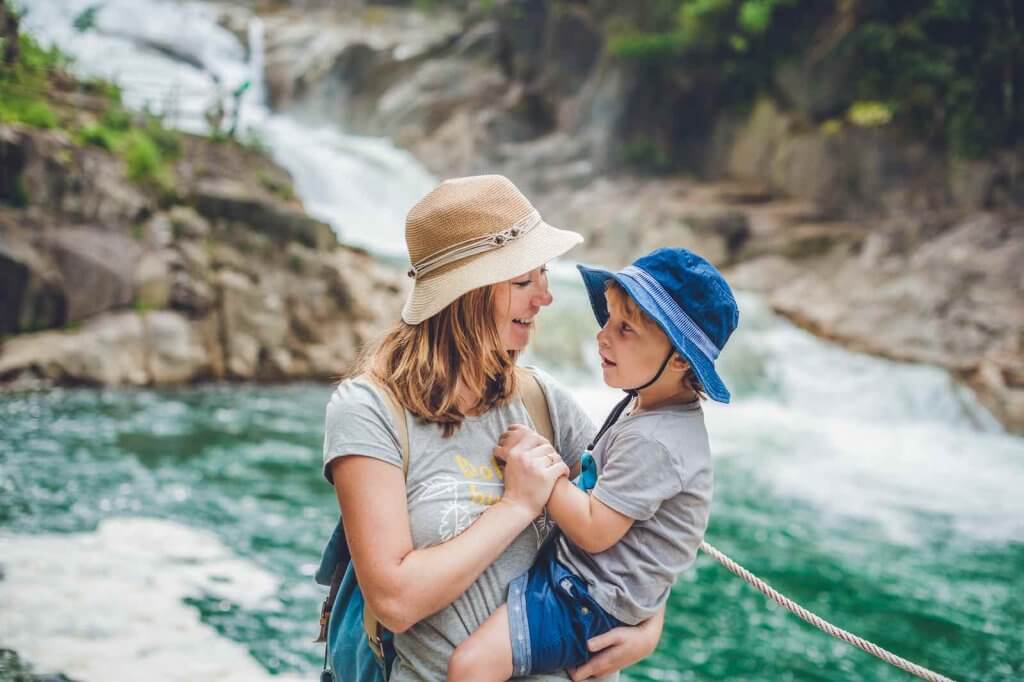 The island of Maui has a volcanic crater, adorable small towns, stunning beaches, and lovely rolling hills of green.
There are 3 main resort areas: Wailea, Lahaina, and Ka'anapali. Many of these kid-friendly resorts on Maui have on-site restaurants, luaus, and tons of activities.
If you're looking for some of the best outdoor activities on the Hawaiian islands for kids, Maui may be just the vacation destination for your family.
There's amazing ziplining, horseback riding, hiking, snorkeling, and so much more!
Be sure to read my top 101 things to do on Maui with kids!
Free Things to Do on Maui
Best Maui Beaches for Kids
There are a number of kid-friendly beaches on Maui that are perfect for babies, toddlers, and kids of all ages.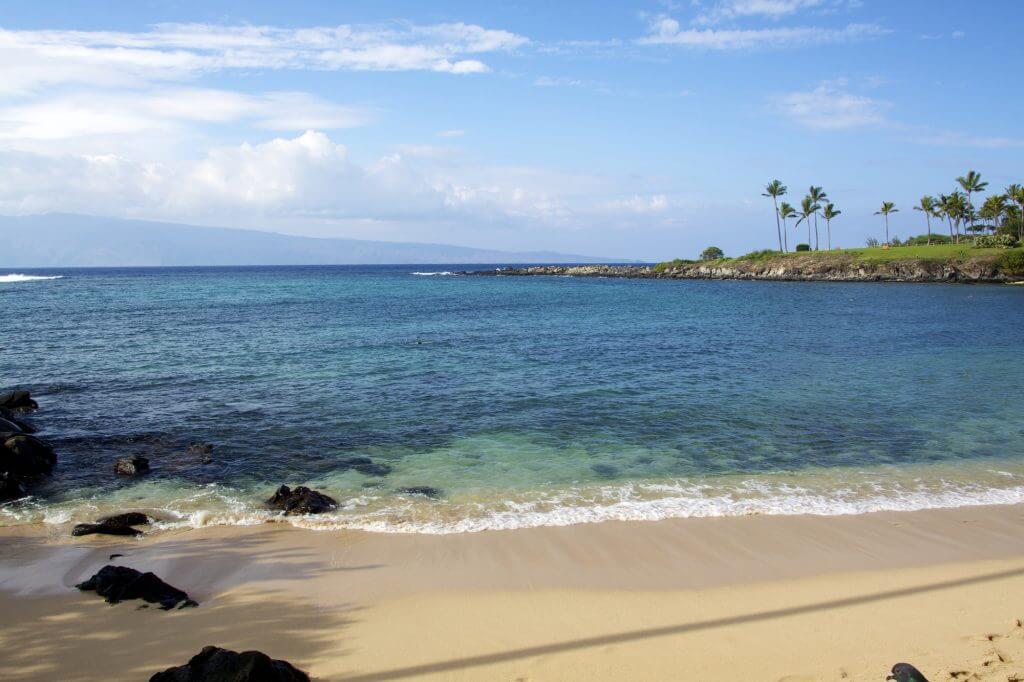 One of the best beaches in Maui for kids in West Maui is Kapalua Bay. It's on a reef, so the water is fairly calm.
It's a cute beach for building sandcastles or wading into the water. Plus, it's pretty secluded.
Baby Beach up in Paia is another one of the best beaches in Maui for kids. It's got a protected lagoon for swimming and the beach is quite lovely.
There's also Makena Beach in Wailea. This is an amazing white, sandy beach and probably exactly what you picture when you think about a tropical beach.
It's one of the best Maui beaches for kids because there's a lifeguard on duty, tons of parking, restrooms, and even food options.
Get my complete Hawaii beach packing list for babies!
Drive the Road to Hana with Kids
One of the most unique things to do on Maui is to drive the famous Road to Hana. This is a winding highway full of one-lane bridges that takes you to the remote town of Hana. When comparing Oahu vs Maui, the Road to Hana usually sets them apart.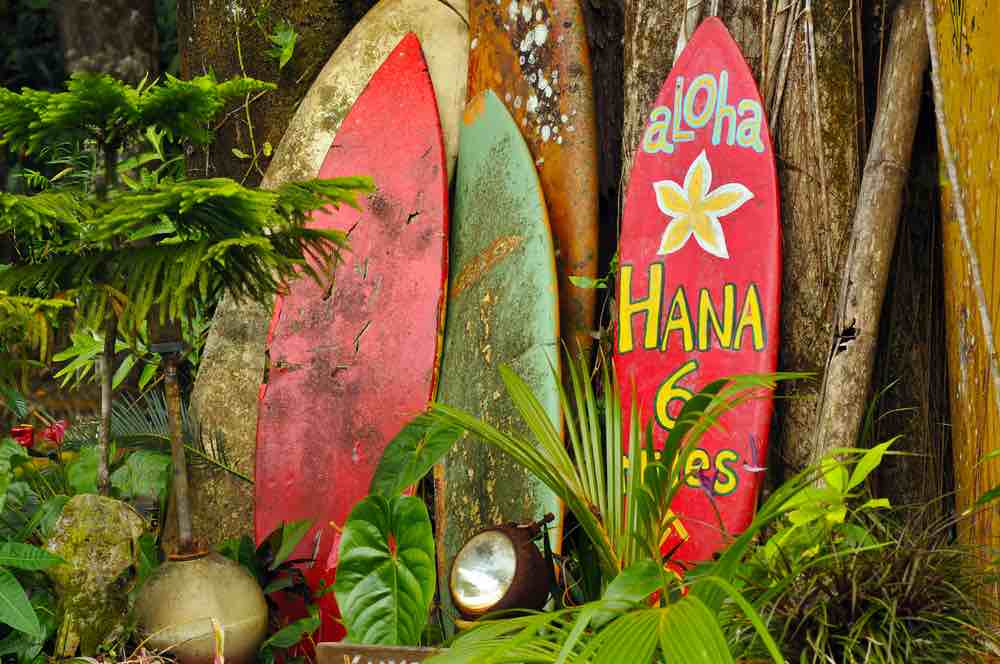 But, there are tons of cool Road to Hana stops along the way that are perfect for kids.
Many of the stops include easy Maui hikes that will take you to secluded waterfalls or awesome viewpoints. And there's even a black sand beach!
While this is technically free, understand that you'll be using up a lot of gas. So, consider this a cheap thing to do on Maui!
Hike to a Maui Waterfall
There are so many cool waterfalls on Maui that are totally worth checking out.
There are several waterfalls just off the side of the road as you're driving along, or you can do easy (or extensive) hikes to find some pretty cool Maui waterfalls.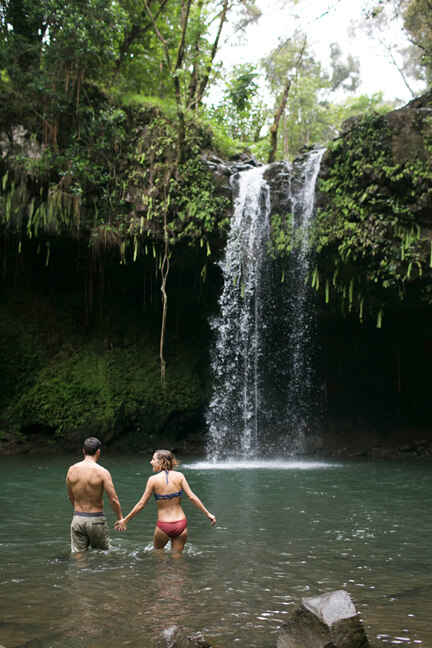 Twin Falls is a popular Road to Hana waterfall that's always worth a stop. There's plenty of parking and there's usually food available if you get hungry. And there's an awesome Maui waterfall tour worth doing.
Punalau Falls is also found on the Hana Highway. It's one of the best kid-friendly waterfall hikes Maui has to offer and it only takes 10-30 minutes to get there by foot.
Alelele Falls is 50 feet tall and found along the Pi'ilani Highway on the East side of Maui. It's a 10-15 minute hike across streams to get to the falls.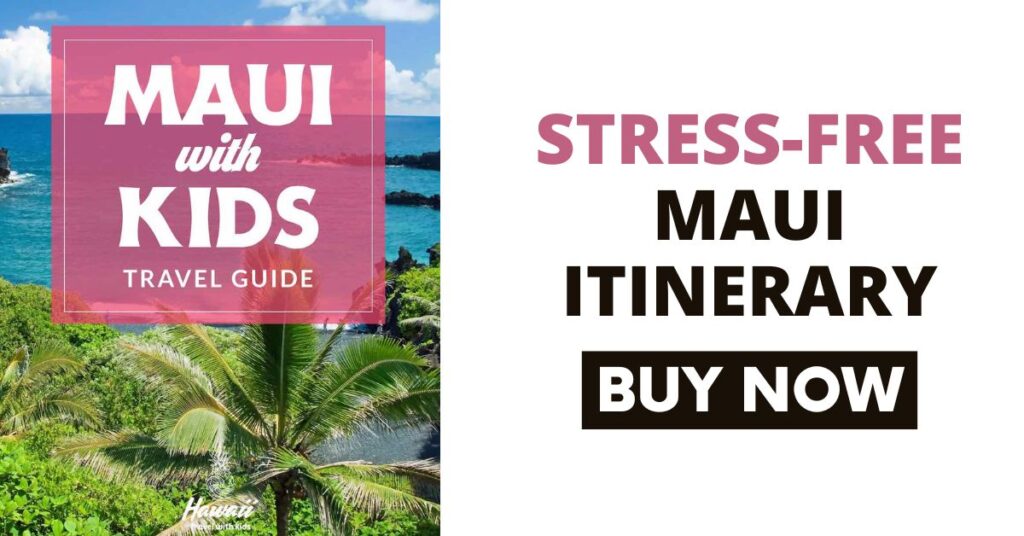 Things to Do on Maui with Kids
Sunrise at Haleakala Crater
One of the top things to do in Maui is to visit Haleakala National Park. A big reason for this is that it's the best place to see the sunrise on Maui.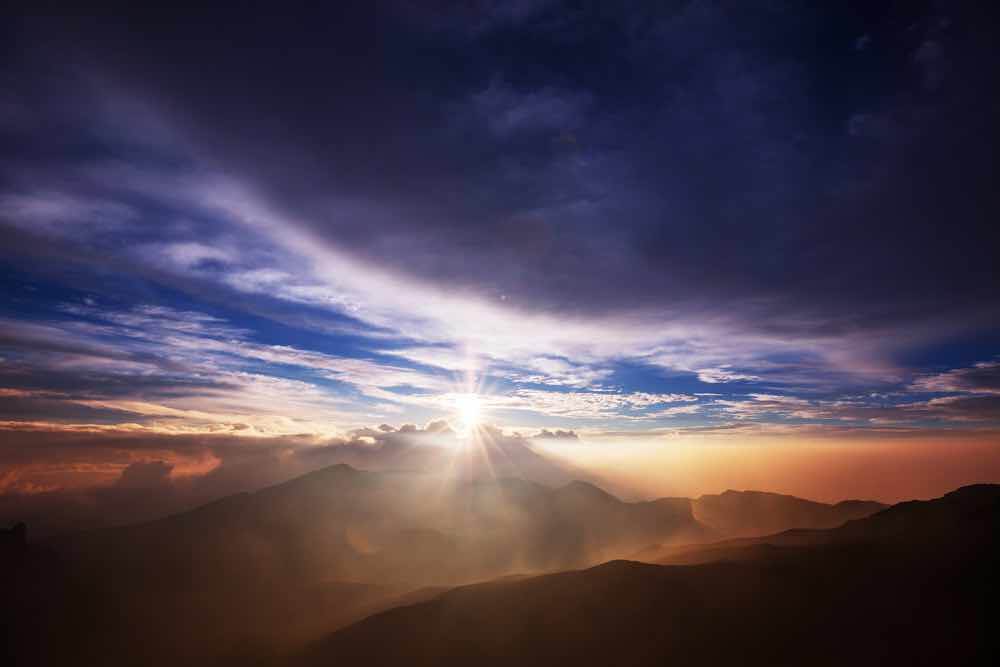 You'll head up to the top of the crater before dawn and watch as the sun lights up all the crevices of Maui. People say it's like a religious experience and some are moved to tears.
You can drive up on your own (you'll need to reserve a parking ticket ahead of time) or join a Haleakala sunrise tour. Some of them even let you bike down the mountain after sunrise. Check out the latest prices and more details.
Hike to See the I'ao Needle
When you're heading to Hawaii with kids, it's always nice to know some easy hikes. Well, the I'ao Needle is probably the most kid-friendly hike on Maui.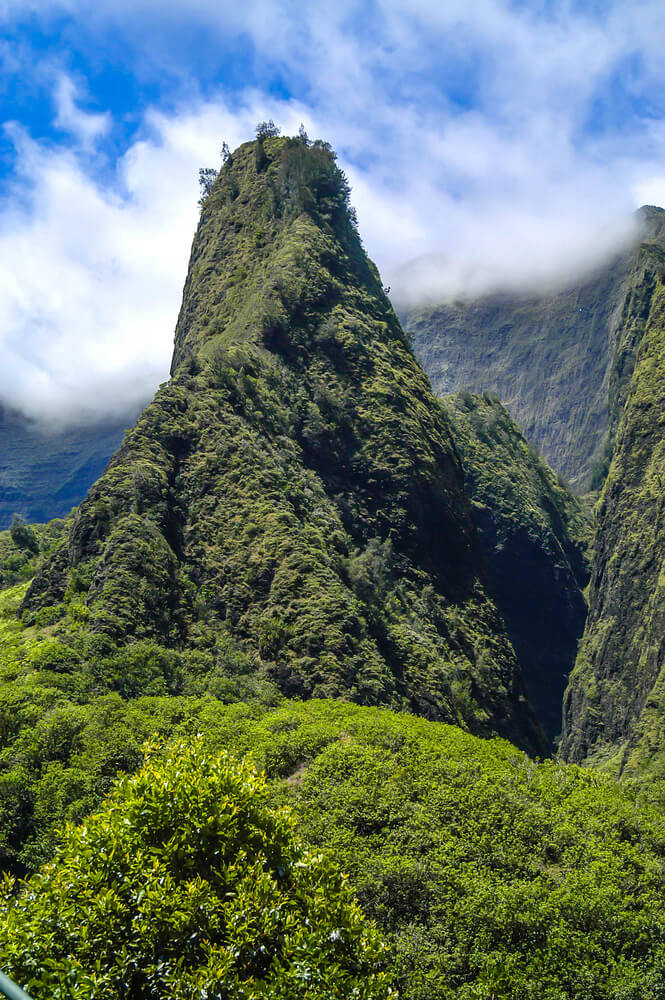 It's only 0.6 miles long and most of it is either paved or has stairs to get to the scenic viewpoint of I'ao Needle.
I've done it with a toddler and he walked the entire thing on his own.
It's the perfect Maui adventure for little kids, but it's also a fun stop for families driving around Maui.
There's a $5 fee to park, otherwise, this is a free thing to do on Maui.
Snorkel Molokini Crater
If you want to go snorkeling on Maui, the premier spot is Molokini Crater. Part of the draw is that you need to take a boat ride to get there.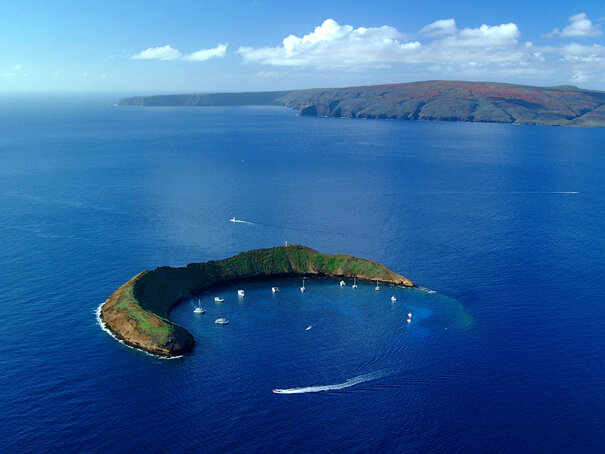 But, the real payoff is going in the water and getting to swim with Sea Turtles and other tropical Hawaiian fish.
Many boat tours also have water slides on board as well as kid-friendly flotation devices where kids can see underwater with a little help. Check out the latest prices and more details.
Ziplining
The island of Maui is simply stunning! And one of the best ways to appreciate the beauty of this tropical paradise is from a zipline.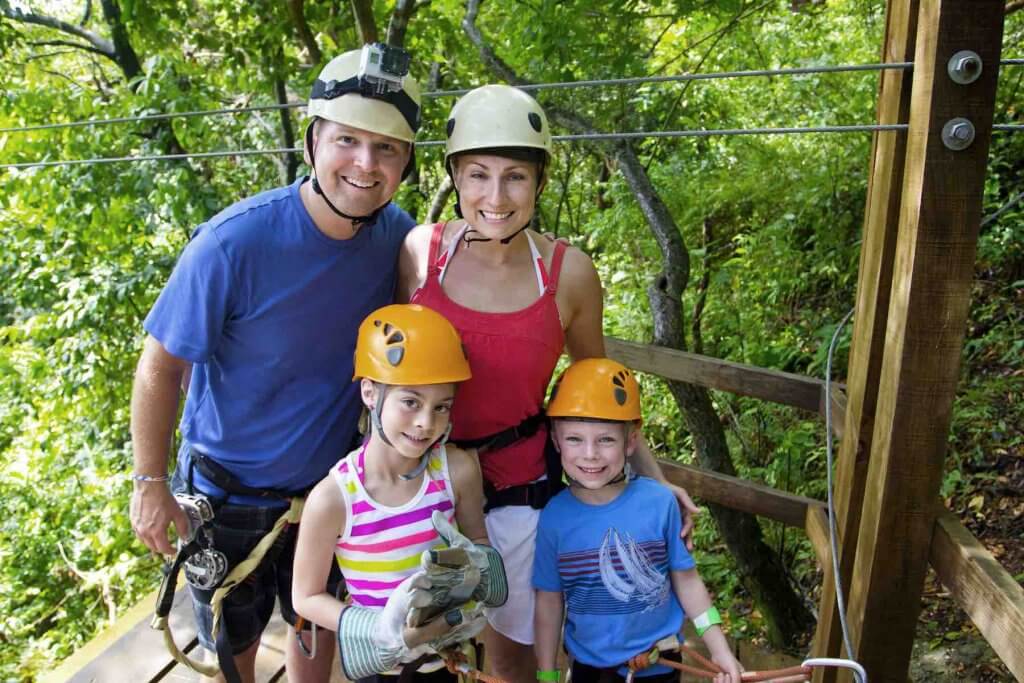 What a fun way to soar high above the treetops for unsurpassed ocean views!
This Maui zipline tour is available for kids as young as 5 years old, making it one of the best Maui kids activities the whole family can enjoy! Read the full Maui zipline tour review.
Plus, there are obstacle challenges and a Camp Maui museum that's worth checking out. That's why it's the best Maui zipline for kids. Check out the latest prices and more details.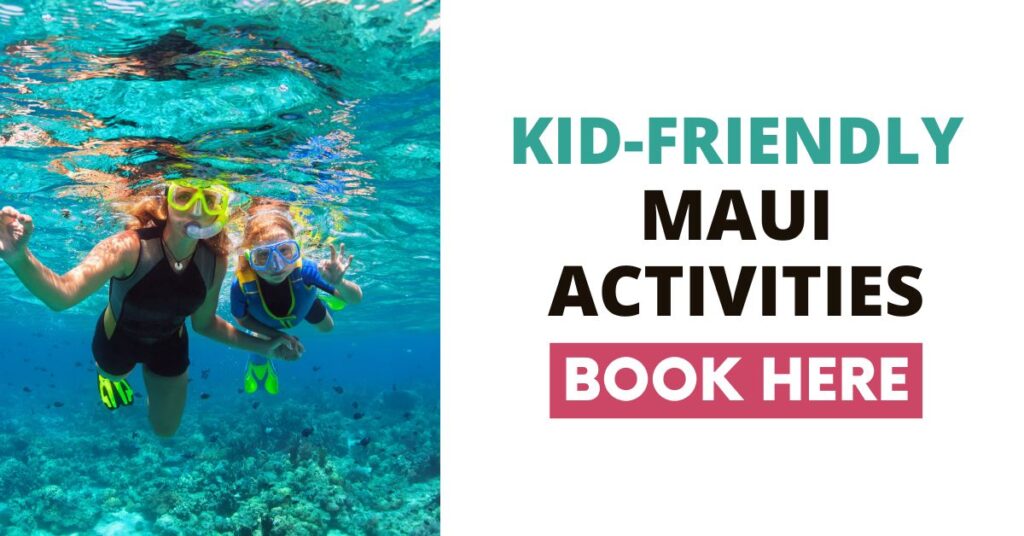 Family-Friendly Maui Attractions
The Maui Ocean Center is probably the top thing to do on Maui with toddlers.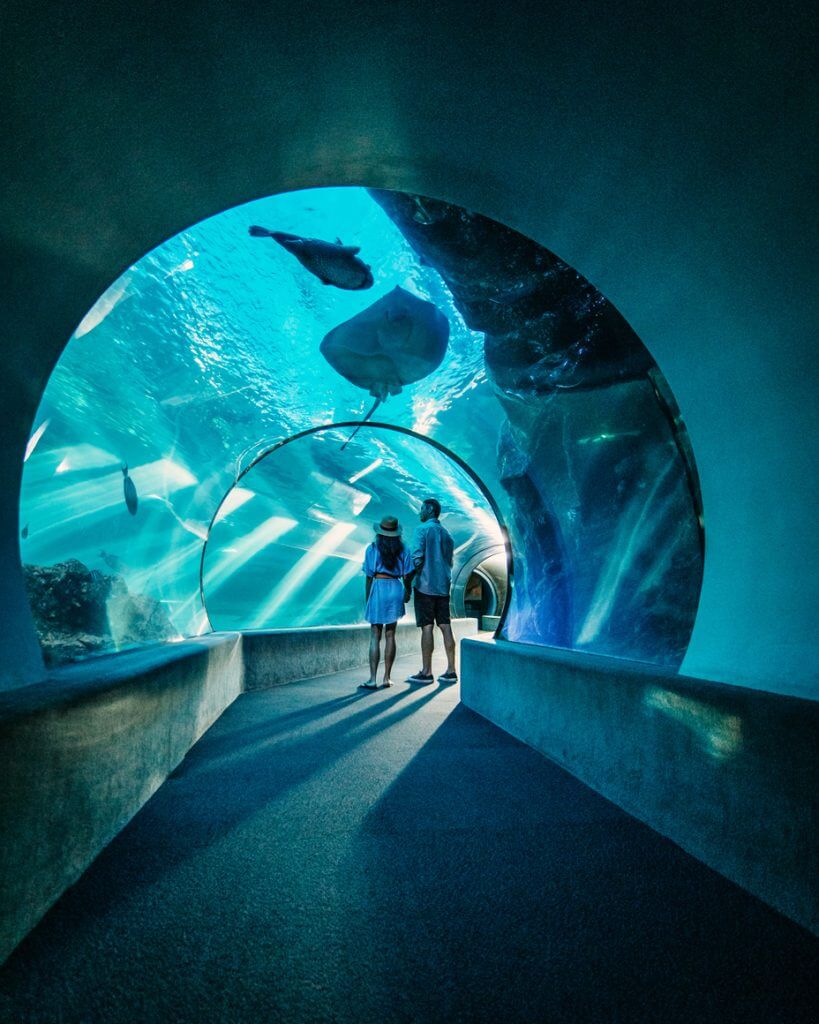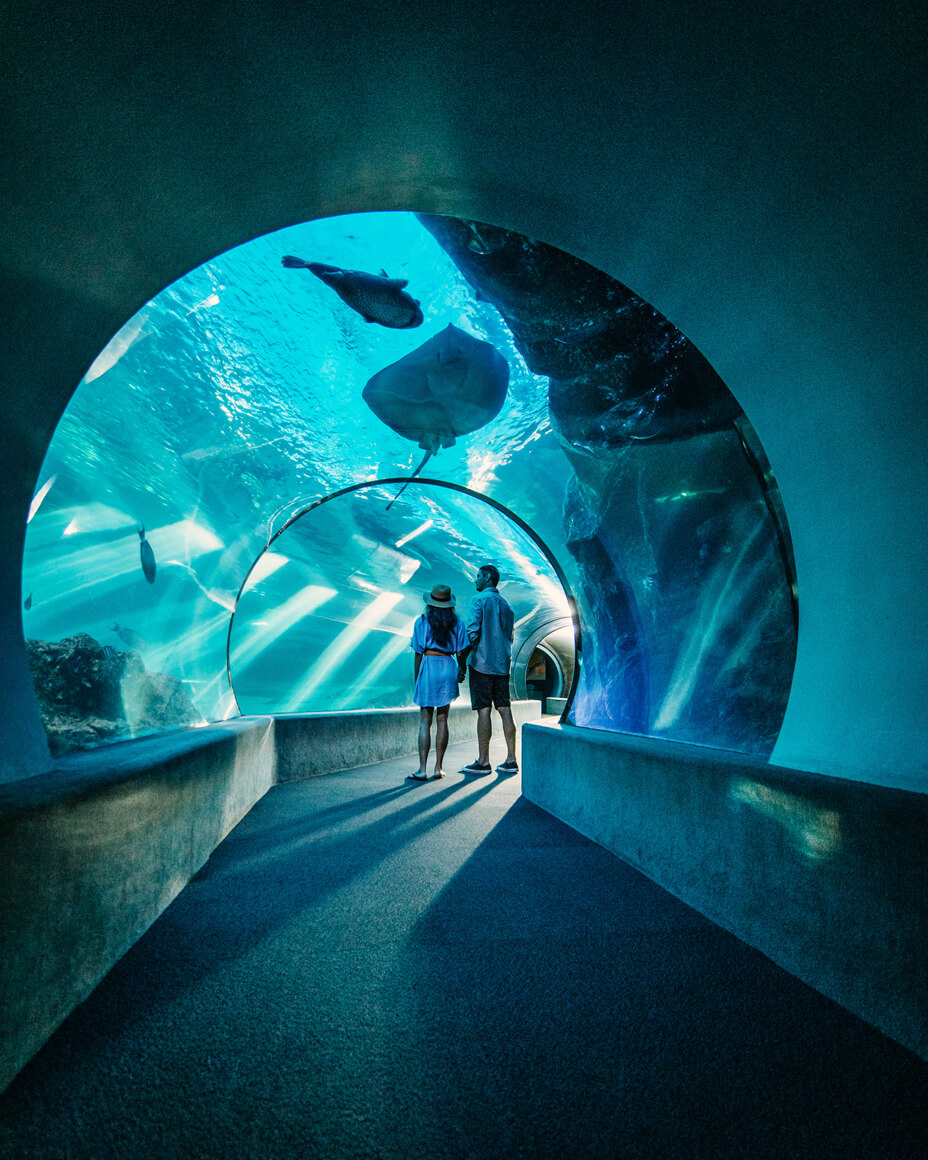 This is where you'll find indoor and outdoor marine life exhibit areas, tidepools, indoor aquariums, and an immersion tube where you feel like you are walking through the ocean!
The really cool thing about the Maui Ocean Center is all the Hawaiian Cultural Programs they offer throughout the day. Find the best prices here.
Maui is very famous for its pineapples and it's home to one of the last remaining working pineapple plantations. If you're comparing the pineapple tours on Maui vs Oahu, this Maui Pineapple Tour is the clear winner.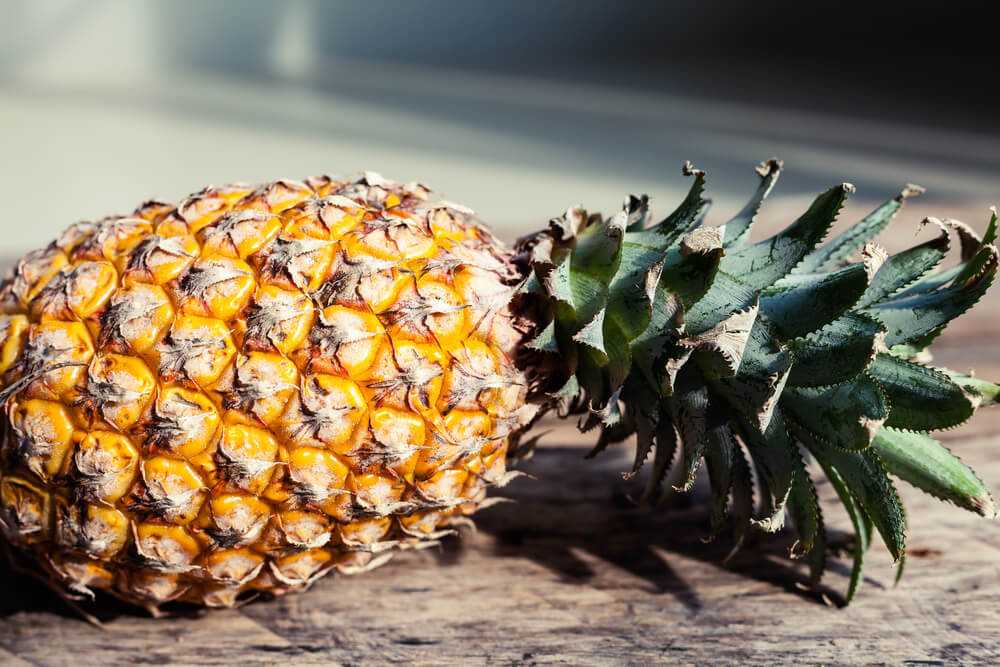 One of the best things to do with kids on Maui is taking a Maui pineapple tour!
Here, you'll get to explore the pineapple plantation, learn a bit about Maui's history and see how pineapple cultivation has changed throughout the years.
And there's lots of pineapple tasting, of course! Read my full Maui Pineapple Tour Review.
Kids as young as 2 years old can participate and everyone takes home an "airport-ready" pineapple!
If you want an authentic pineapple tour, Maui is the best island for kids in Hawaii. Check out the latest prices and more details.
Best Maui Luaus for Families
While you can see a Hawaiian luau on any of the islands, Maui has a ton of kid-friendly luau options.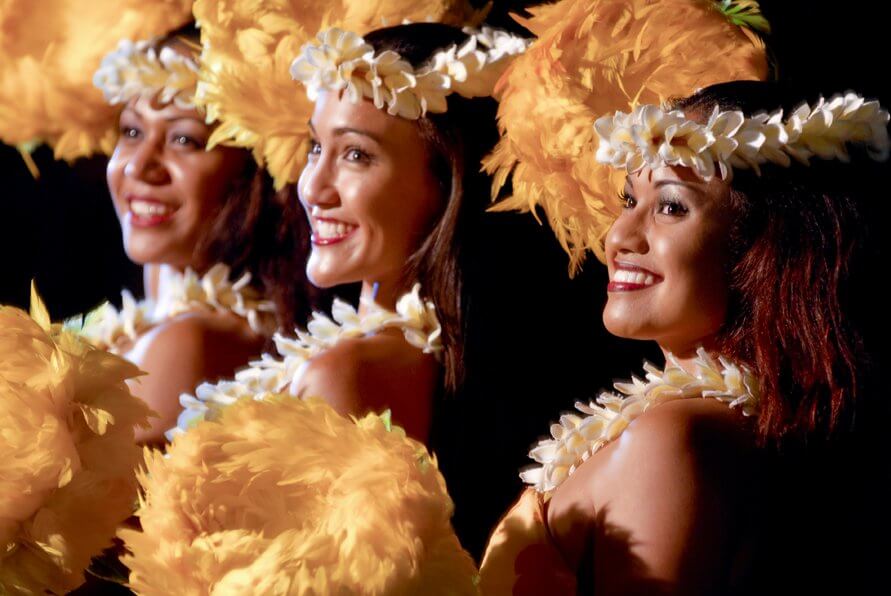 The most popular luau on Maui is the Old Lahaina Luau. It's been around for years and they have a good reputation for hands-on kids activities. Check latest rates and availability.
For families who have already done a traditional luau or who are looking for something a little different, check out the Feast at Lele.
It's the same people who do the Old Lahaina Luau, but it's a plated dinner with Polynesian performances scattered throughout the meal. And it's easy to let kids get some wiggles out at the beach during the show. Check the latest rates here.
The Myths of Maui Luau is another great option for families looking for an oceanfront Maui luau in West Maui. Check out the latest prices and more details.
Is Oahu the Best Hawaiian Island for Kids?
You'll also hear a lot of families say Oahu is the best island in Hawaii for kids. That's because this is where you'll find the most tourist attractions and activities in Hawaii.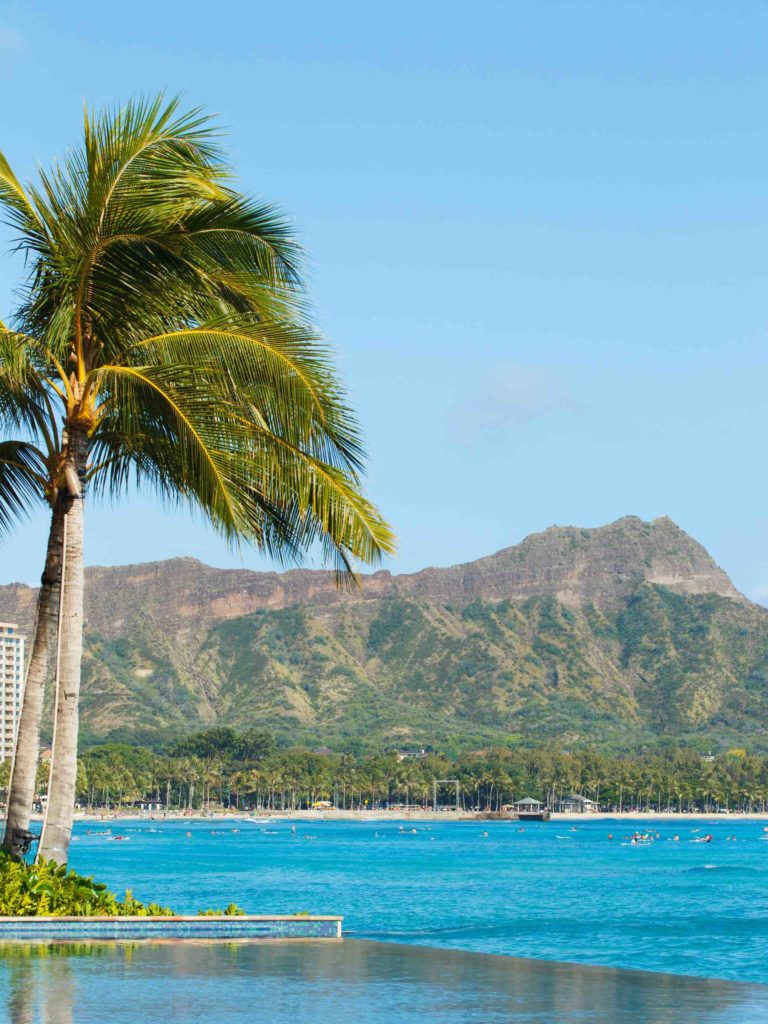 The island of Oahu has some cool mountain ranges in the East and some of the most beautiful beaches in the islands.
Oahu's North Shore is a surfer's paradise while central Oahu is home to Pearl Harbor with the U.S.S. Arizona Memorial.
If you're looking for some of the best activities on the Hawaiian islands for kids, Oahu may be just the vacation spot for your family.
Be sure to read my top 101 things to do on Oahu with kids!
Free Things to Do on Oahu
Best Oahu Beaches for Kids
There are lots of kid-friendly beaches on Oahu including the most recognizable: Waikiki Beach.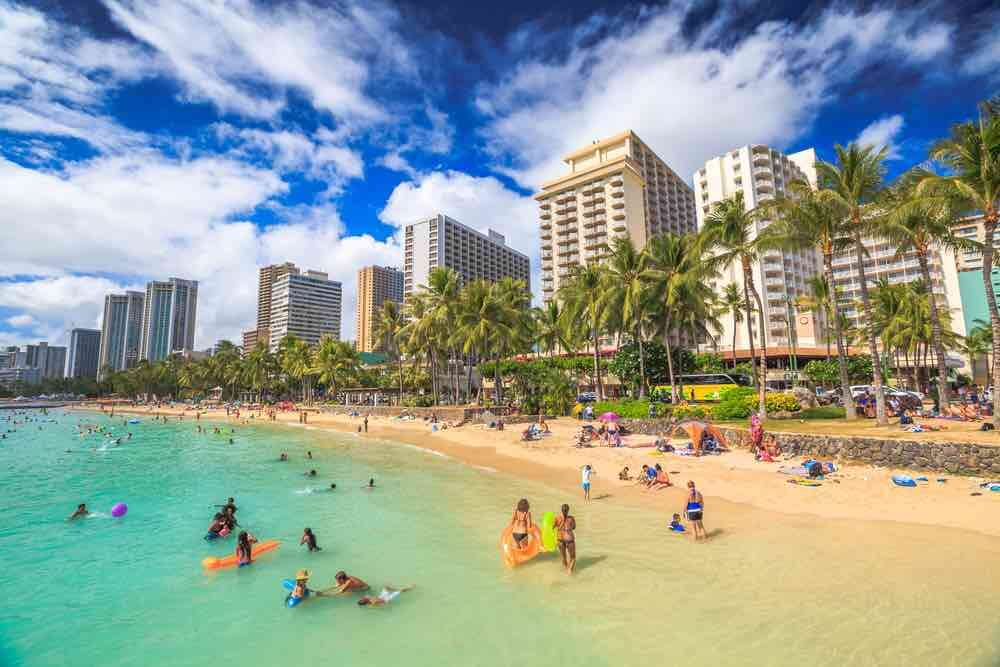 Because of its popularity, Waikiki Beach can be a bit crowded, but the beach is awesome for young children and there are several walkable restaurants to grab lunch and relax.
Kailua Beach is a fairly small beach that is protected from harsh waves. That makes it ideal for younger children that prefer to wade in shallow water or play in the sand.
If you're interested in adding a bit of education to your beach trip, the tide pools are a wealth of discovery with sea life waiting to be explored by curious little hands.
Another great Oahu beach for kids is Hanauma Bay. Much like Kailua Beach, there are very few waves, which makes it great for young children.
While there is a parking fee, it is a great beach for beginning snorkelers and parents looking to relax on the beach without worrying about kids being knocked down by crashing waves.
Visit Pearl Harbor with Kids
If you're looking for historical free things to do on Oahu with kids, consider an educational visit to the USS Arizona Memorial at Pearl Harbor. When comparing Oahu vs Maui, Pearl Harbor sets them apart.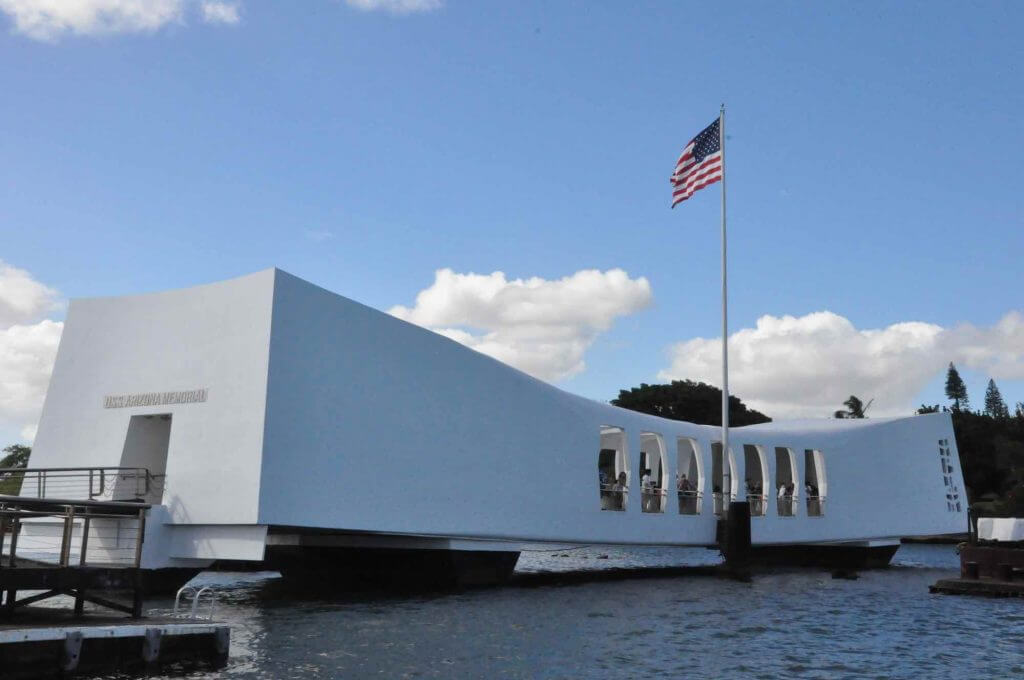 Here, you'll be able to check out several exhibit galleries that pay tribute to men women, and children killed during the attack on Pearl Harbor.
But, there's also a really cool Pearl Harbor Aviation Museum, the USS Bowfin Submarine, and the U.S.S. Battleship Missouri that's interesting to explore. Those are additional fees.
If you're visiting Oahu with elementary-aged children, consider checking out the American Girl book Growing Up with Aloha: A Nanea Classic to introduce young readers to Pearl Harbor in an age-appropriate way.
Pearl Harbor makes Oahu the best island for families in Hawaii with a military connection or those visiting with grandparents. There's even a small group tour for the ultimate experience. Check out the latest prices and more details.
Hike the Makapu'u Point Lighthouse Trail
While you can't drive directly to the lighthouse, this 1.5-mile paved hiking trail is ideal for families with young children.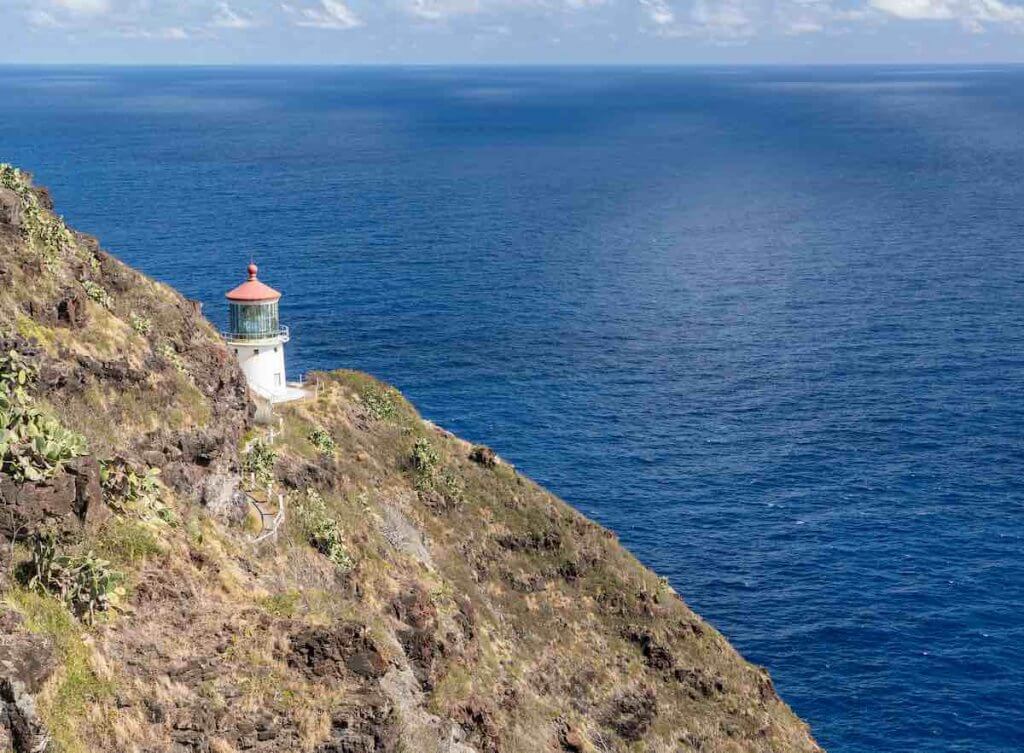 It is advised to stay along the trail and of course, keep children nearby at all times as there are steep drop-offs. Check out our full guide to hiking Makapu'u Lighthouse trail with kids.
With sweeping views from the observation deck and a variety of cool plants and flowers along the way, this Oahu hike will hold the interest of children of all ages.
At certain lookout points along the trail, you'll be able to catch a glimpse of West Maui.
If you're lucky enough to be visiting during the humpback whale migration season (during the winter), the Makapu'u Point Lighthouse Trail is the place to be for the best whale sightings on Oahu.
Read more Free Things to do on Oahu and how to hike Diamond Head.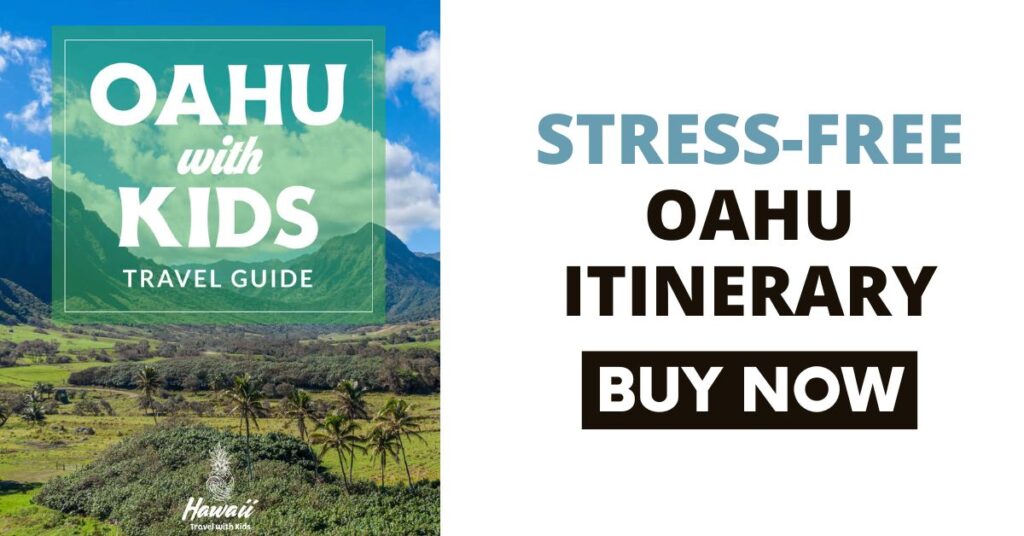 Kids will love visiting the Dole Plantation in North Shore Oahu. This Oahu pineapple plantation offers free admission to just look around. And it's one of the best things to do on Oahu with toddlers and preschoolers.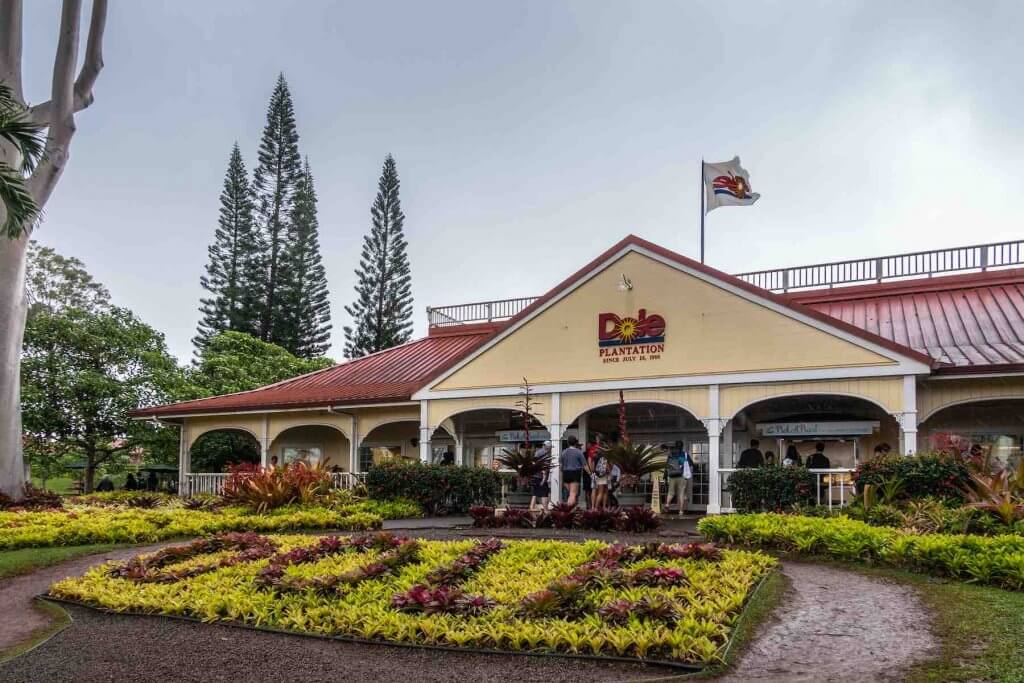 Here, you'll be able to experience pineapple demonstrations and tastings. For an additional cost, your family can take a Pineapple Express Train Tour and the visit the Pineapple Garden Maze.
Plus, this is where you can get authentic Dole Whip!
Read my full North Shore Oahu guide
Breakfast with Mickey Mouse
Another fun thing to do on Oahu with kids is head to Disney Aulani to have breakfast with Mickey Mouse.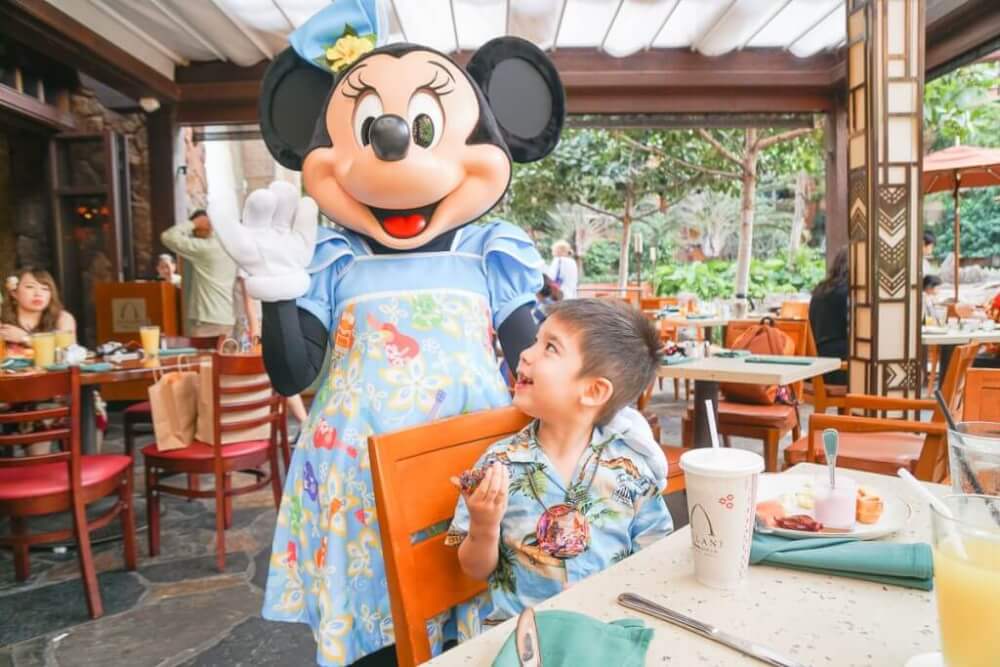 This Disney character meal has a huge buffet, lots of fun character interaction, and kids will love the entertainment. If you're comparing Oahu vs Maui and you LOVE Disney, you'll definitely want to do this breakfast on Oahu.
And the best part is that you don't need to be staying at Aulani to do the breakfast. You'll also enjoy complimentary parking during your meal.
Oahu is definitely the best Hawaii island for families who love Disney!
Waterfall Hikes on Oahu Island
Waimea Falls is a popular Oahu waterfall hike for families. It's only 1.5 miles long and the path is mostly paved.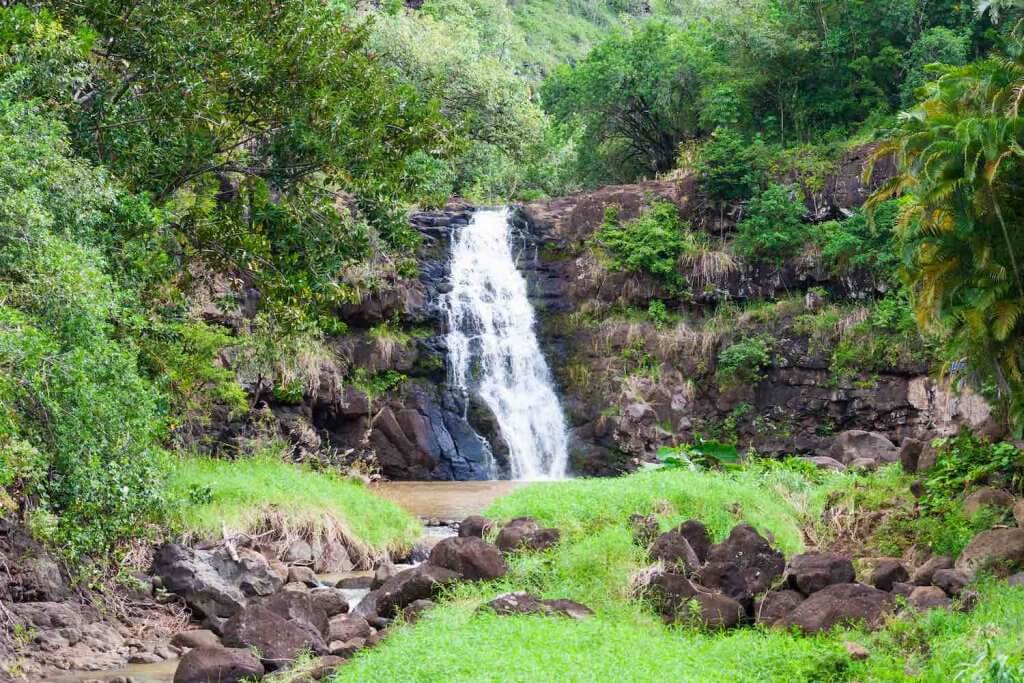 Families can either hike the trail on foot or take advantage of the provided golf cart shuttle. This way you can gauge your young child's hiking ability stress-free.
I suggest attempting the hike to the 45-foot waterfall on foot and if it looks as though your children are going to have a tough go of it on the way back, you can just hop on the shuttle.
For a larger waterfall, consider Manoa Falls.
Situated near Oahu's capital of Honolulu, Manoa Falls is just over 1.5 miles and you'll walk through a bamboo forest to get to the 150-foot falls.
Read my full post about waterfall hikes on Oahu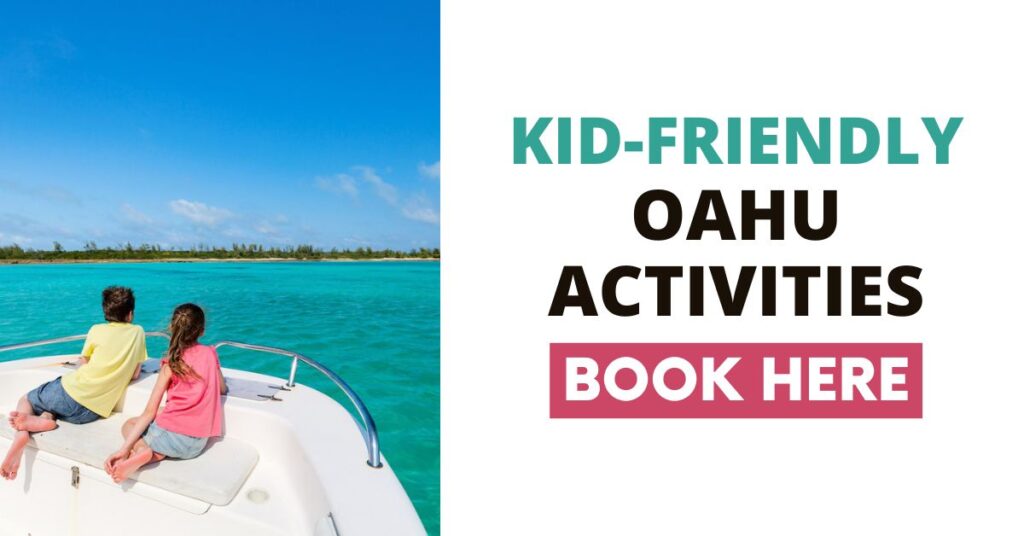 Family-Friendly Oahu Attractions
A popular attraction on Oahu is Kualoa Ranch, which offers a variety of family-friendly things to do.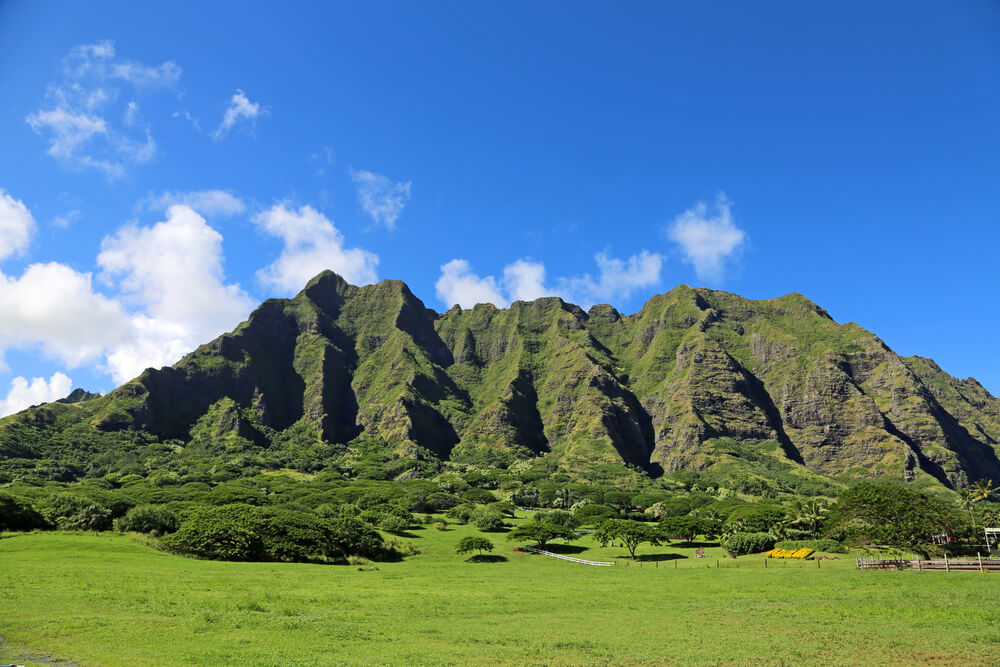 Here families can take horseback rides, zipline over the landscape, or take an ATV ride through the jungle. Read my full Jurassic Park ATV tour review HERE.
Classic movie lovers may recognize the ranch as the setting for the first Jurassic Park movie. Kids will recognize it as the setting for the 2021 Netflix film Finding Ohana.
Kualoa Ranch offers a movie tour and provides picnic tables for lunch. Check out the latest prices and more details. Read my full Kualoa Ranch Movie Tour review HERE.
If you happen to visit on a Sunday, take advantage of the Hawaiian fishpond tour and a free petting zoo.
Finally, the Polynesian Cultural Center is a great place to look at the history and culture of Hawaii and other Polynesian islands.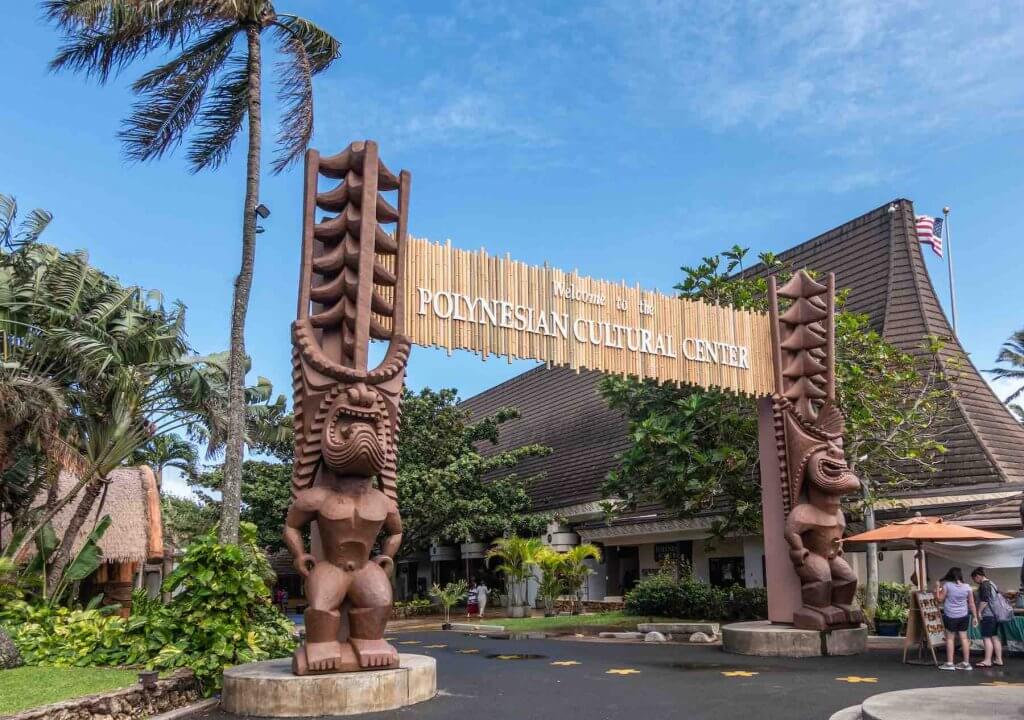 This living history museum on Oahu offers families a look into the culture of Polynesia. It's one of the coolest educational spots to visit. You can read my full review HERE.
Kids can get passports stamped throughout the villages within the park as they visit and interact.
Join a canoe tour to get a lay of the land to see all the different villages you can explore. There's also a canoe pageant where dancers perform on the canoes as they float down the stream.
Plus, they also offer a luau and one of the most impressive theatrical presentations highlighting Polynesian culture.
The Polynesian Cultural Center provides an engaging, hands-on, interactive experience for all ages and is a must-do on Oahu. Check out the latest prices and more details.
So, Oahu or Maui? Which is the Best Hawaiian Island for Kids?
The best Hawaiian island for kids to visit will totally depend on your family's interests and activity level. Oahu and Maui both are amazing family vacation destinations with great outdoor activities.
The biggest difference between Maui and Oahu is the number of attractions. Oahu definitely has more tourist attractions, but Maui has a lot of outdoor adventures and activities. And Maui is the best place for whale watching in the winter.
Both have pretty amazing kid-friendly Hawaii resorts, awesome beaches, fantastic restaurants, and plenty of cool photo ops!
Whether you choose to visit Maui or Oahu with kids, you're sure to come home with experiences and memories that will last a lifetime.
Book a Family Photo Shoot
Whenever we travel to Hawaii, we almost always book a family photo shoot with Flytographer. They are super easy, affordable, AND it guarantees that I'll be in some photos. You can get $25 off if you book through this link or use the code HAWAIITRAVEL.
Want to do Both?
Are you thinking now you want to visit both Oahu and Maui? Both have amazing outdoor adventures and unique experiences.
If you want to island hop for a Maui to Oahu day trip, it's really easy to travel from Honolulu to Maui or vice-versa. Oahu to Maui flights usually cost about $80 each way.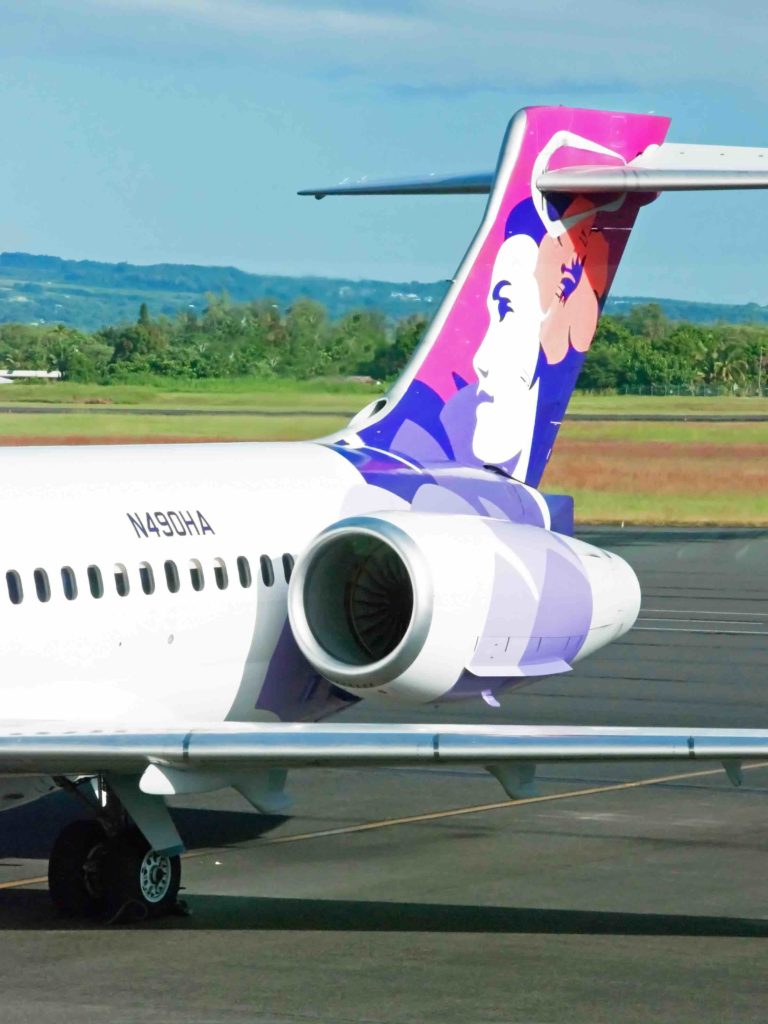 The flight from Oahu to Maui is about 45 minutes, so you have tons of time to explore if you want to do a day trip from Oahu to Maui or Maui to Oahu.
Just be sure to book a really early morning flight to maximize your time, especially if your kids tend to fall asleep early in the evening.
Is there a ferry to Maui from Oahu?
A lot of Hawaii newbies want to know how to get from Honolulu to Maui and they ask about a Maui to Oahu ferry. It's a valid question when comparing Maui vs Oahu.
While there used to be a (very short-lived) ferry from Maui to Oahu, it's completely out of service and not an option.
The only way to travel between those islands is by a Hawaii inter-island flight.
Oahu vs Maui vs Kauai
If you are also considering visiting Kauai and debating between Maui vs Kauai, you'll probably also want to read my full post about Oahu or Kauai.
Kauai is much more laid back than Maui and has a ton of outdoor adventures and an incredible food scene.
I hope this helped you choose the best island to visit in Hawaii with family.
P.S. Join our Hawaii Travel with Kids Facebook group to get connected with other families planning a trip to Hawaii!