Are you wondering how to meet Disney Aulani characters in Hawaii? Keep scrolling to get all my tips for seeing Disney Hawaii characters at the Aulani Resort on Oahu.
This post about Disney Aulani characters in Hawaii was written by Hawaii travel expert Marcie Cheung and contains affiliate links which means if you purchase something from one of my affiliate links, I may earn a small commission that goes back into maintaining this blog.
Are you planning a Disney Aulani vacation and want to know how you can meet Aulani characters during your stay?
In this post, I'll show you exactly how to meet Disney characters at Aulani Resort and my tips for seeing all of them without spending your whole day waiting in line.
Keep scrolling to find out which Disney characters you'll see at Disney's Aulani Resort in Hawaii and what makes them so special!
You won't have to spend hours standing in line with the kids just to get a photo with one character. Instead, we were able to see each of the Aulani Disney characters multiple times throughout our trip because they had scheduled appearances throughout the resort.
This is perfect if you're traveling with little ones who might not be able to stand still that long or if it's hot outside (which it was when we visited). We never waited more than 5 minutes for any of these encounters either – bonus!
Keep scrolling to read about how easy it is to meet Polynesian Disney characters at Aulani Resort in Hawaii!
Want to skip all the planning and just access my detailed Oahu Itinerary complete with daily schedules, kid-friendly activities, and travel hacks? Click the button below.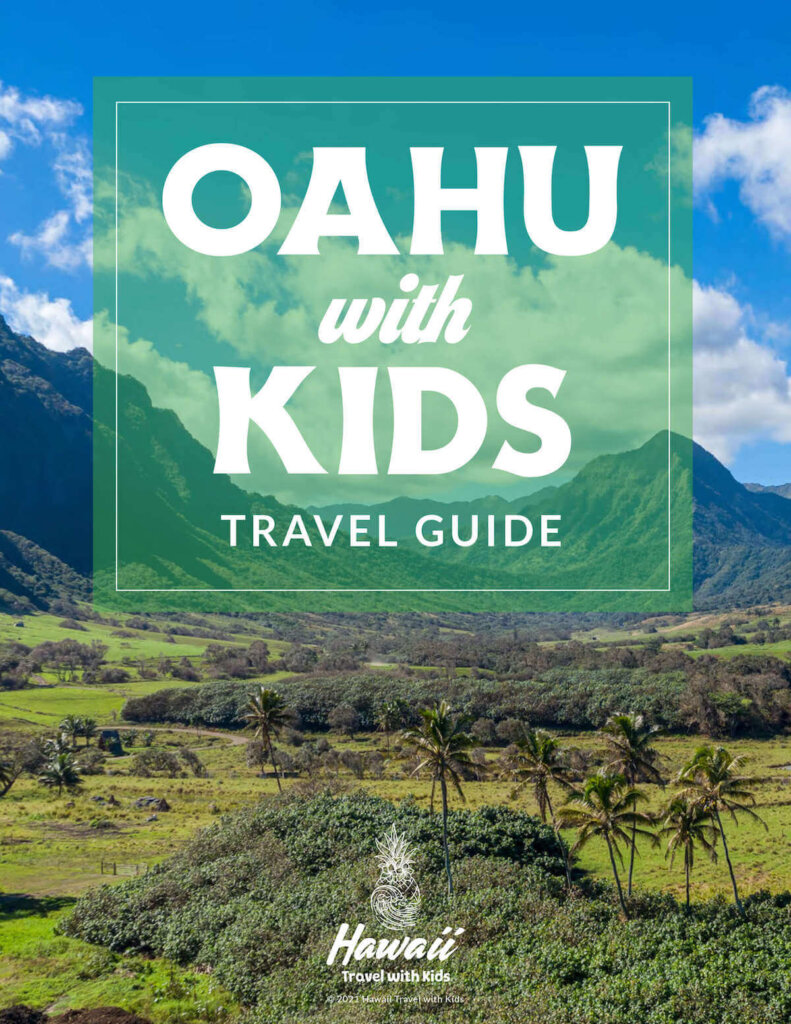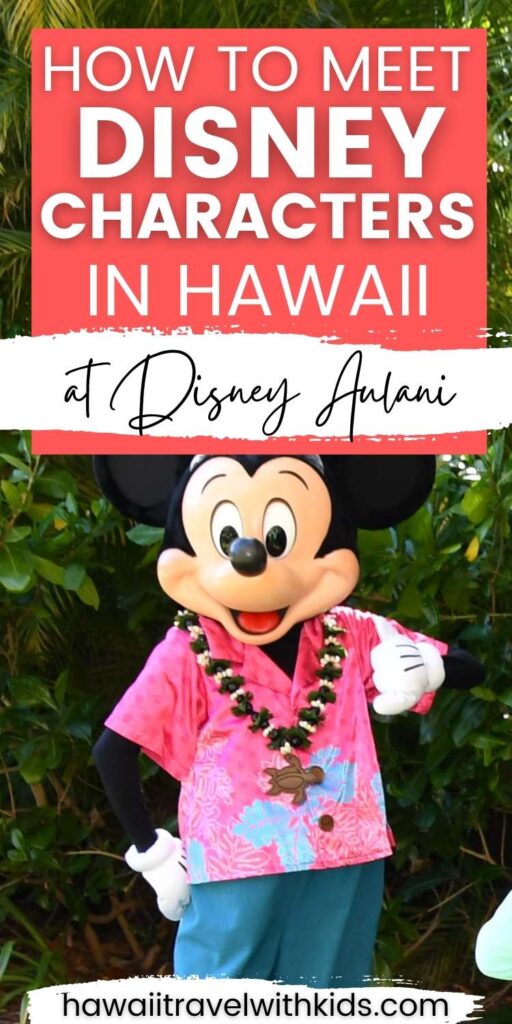 How Do I Meet Characters at Disney Aulani Resort?
If you'd like to meet characters at Disney Aulani Resort in Hawaii, you'll need to find out the daily schedule of meet and greets.
Pre-Covid, you'd call a special number each morning from the Aulani room phone to listen and write down the schedule.
In November 2021, you either needed to find a cast member wearing a purple shirt (they are the PhotoPass folks) or head to the Pau Hana Room to ask them for the Aulani character schedule. You'll need to write it down yourself.
The Aulani character meet and greet times are not currently listed on the Aulani app.
From now on, I think you can call the character hotline each day to once again know the schedule of when the characters will make their appearance throughout the day.
Another option is to book a Disney Aulani character breakfast at Makahiki. Here, you'll meet at least 2-3 Disney characters, and you do not need to stay at the resort to make a reservation.
Disney Aulani Character Breakfast
My family LOVES the character breakfast at Disney Aulani Resort. I know we don't get to see as many characters here as we do when we do character meals at Disneyland and Walt Disney World, but I appreciate the chill vibe.
The Aulani breakfast with characters was a bit different in November 2021 than when we went a few years ago, but we still think it was worth it.
Mickey & Minnie
It's usually pretty rare to get to do photos with both Mickey and Minnie at the same time. It only happened to us one other time at Walt Disney World during the holidays.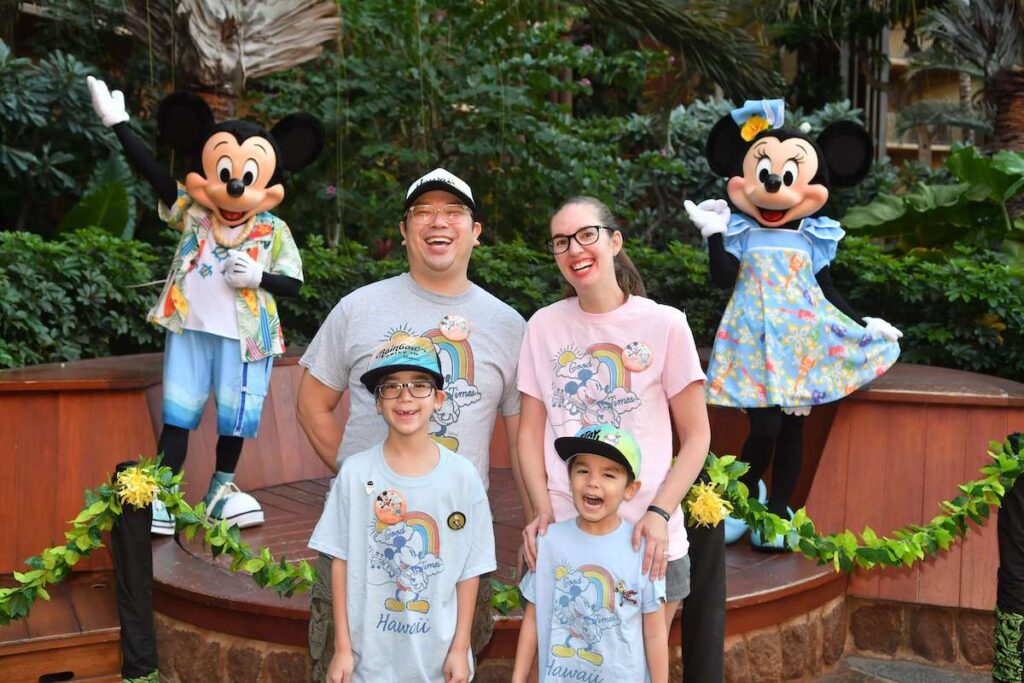 They tend to change it up a bit. A few years ago, we got photos with just Mickey. And while we were walking around the resort, we saw it was Mickey and Goofy another day. But, since this is a "Breakfast with Mickey," you'll definitely get a photo with Mickey Mouse.
Chef Goofy & Pluto
Another thing that was different in November 2021 compared to a few years ago was how they did the other breakfast characters. They used to roam around while guests ate their food, and people could take photos with them at their table.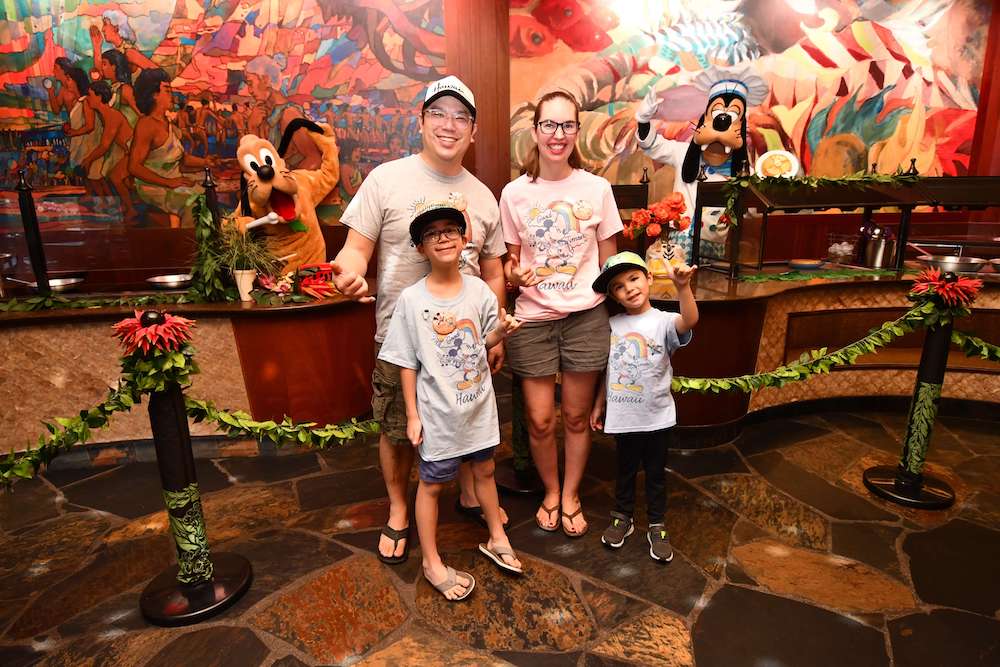 In 2021, the characters were hanging out in a designated photo spot by the unused buffet tables. This was actually WAY better because we didn't have to worry about our kids being covered in food before taking pictures. They even had a PhotoPass photographer there to help.
The Disney character breakfast Aulani Resort offers is lots if fun for the entire family!
You can read my full Disney Aulani Character Breakfast review HERE.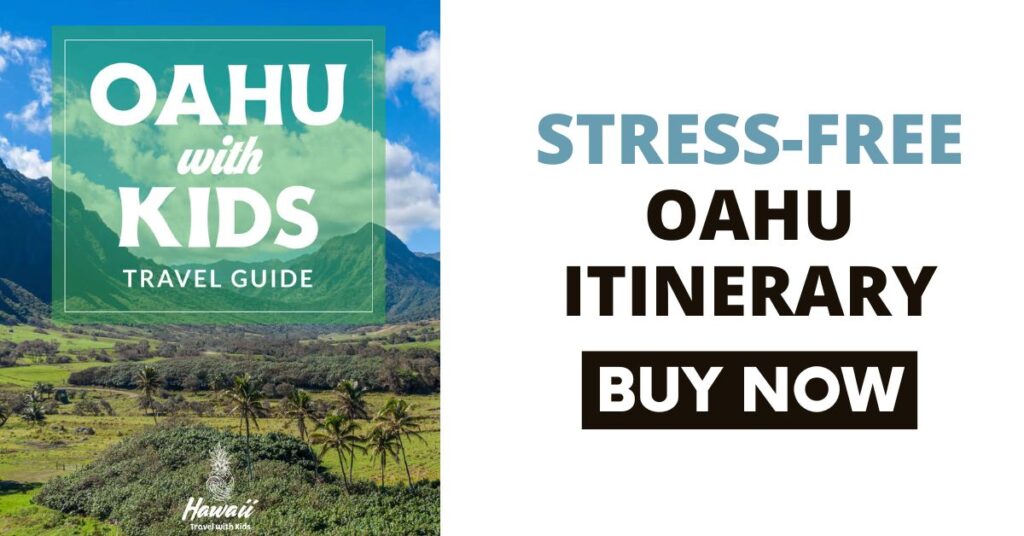 Aulani Characters Meet & Greets
Now, if you don't want to splurge for the Disney Aulani character dining for breakfast, don't worry! That's not your only opportunity to see Disney characters in Hawaii. They actually have lots of meet and greets at Aulani Resort.
In the past, they have been located in different areas of the resort, usually around the pool area. This made it easy to get kids out of the pool for a minute to snap a photo with a character before they hopped back in.
However, in November 2021, they were all located at the Halawai Lawn, tucked in a grassy area in between hotel towers. Since they were hidden away, a lot of guests either forgot about them or didn't realize it was going on. That meant NO lines to see characters.
We always have great conversations with the characters, and my kids love to tell them jokes!
Now you can find them all along the resort once again.
Mickey & Minnie Mouse
We felt super lucky to get another opportunity for photos with both Mickey and Minnie during an Aulani character meet and greet. They were even wearing different clothes, which always makes it more fun!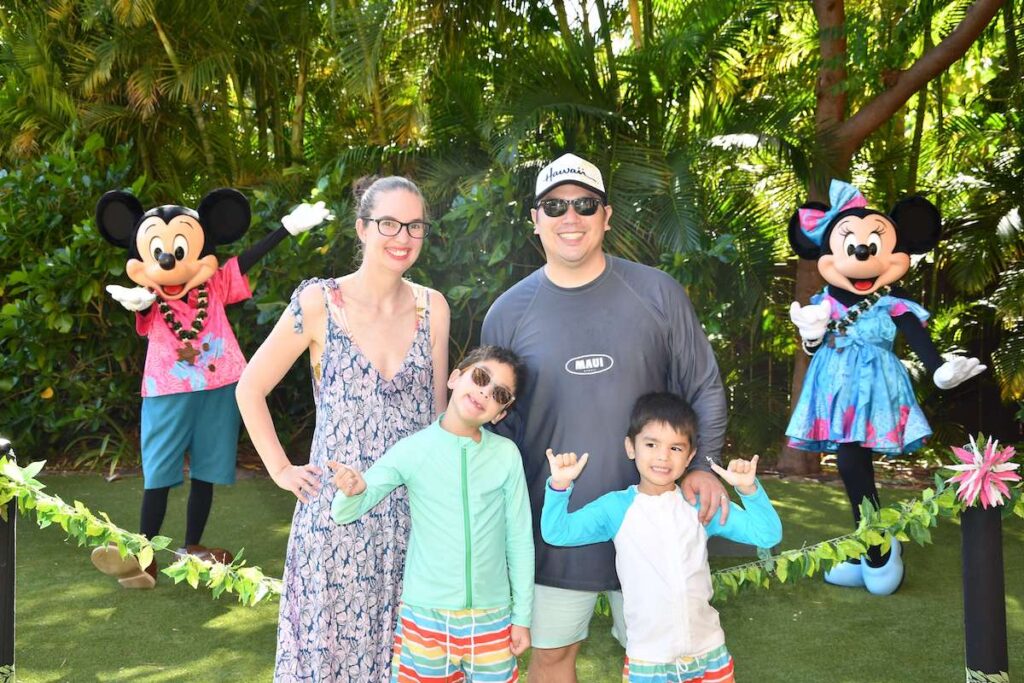 They were so fun to "chat" with, and they did a lot of hand motions to keep the conversation going.
Moana
It can be SO hard to take photos with Moana at Disney Parks since she's now a rare character. But she's easy to find at Disney Aulani Resort in Hawaii!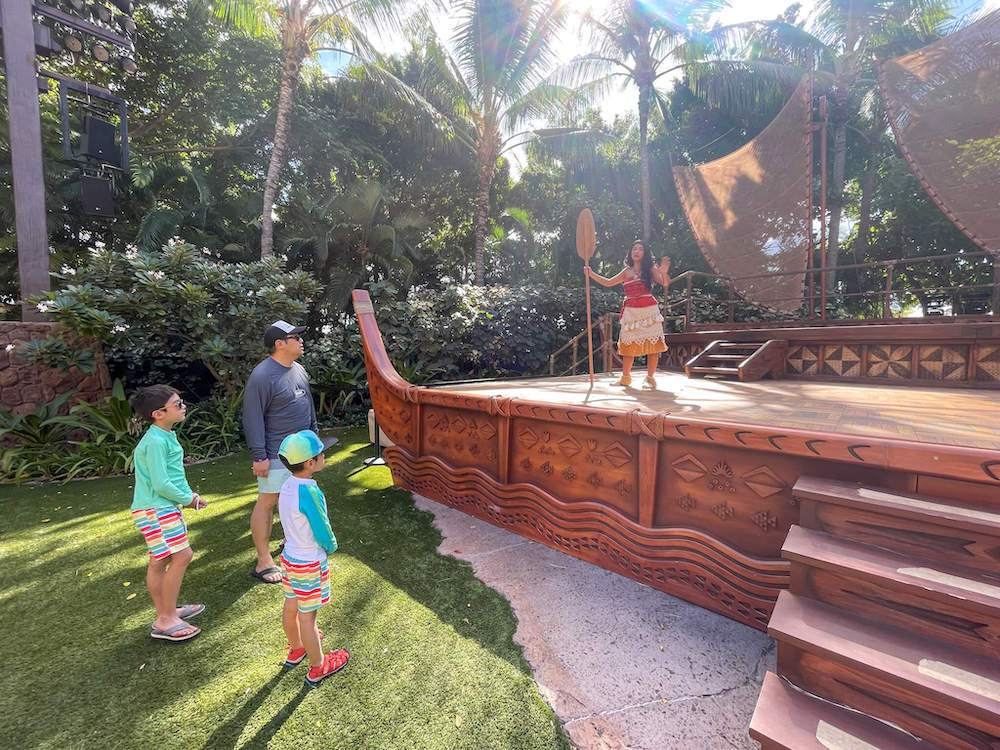 We even got to take photos with her on the Ka Wa'a Luau stage, which looks just like her canoe! And since she's a "face" character, we were able to have a full conversation with her. It was definitely a highlight for the kids!
Donald & Daisy
It's a total treat to get photos with both Donald and Daisy at the same time. I think this was a first for our family!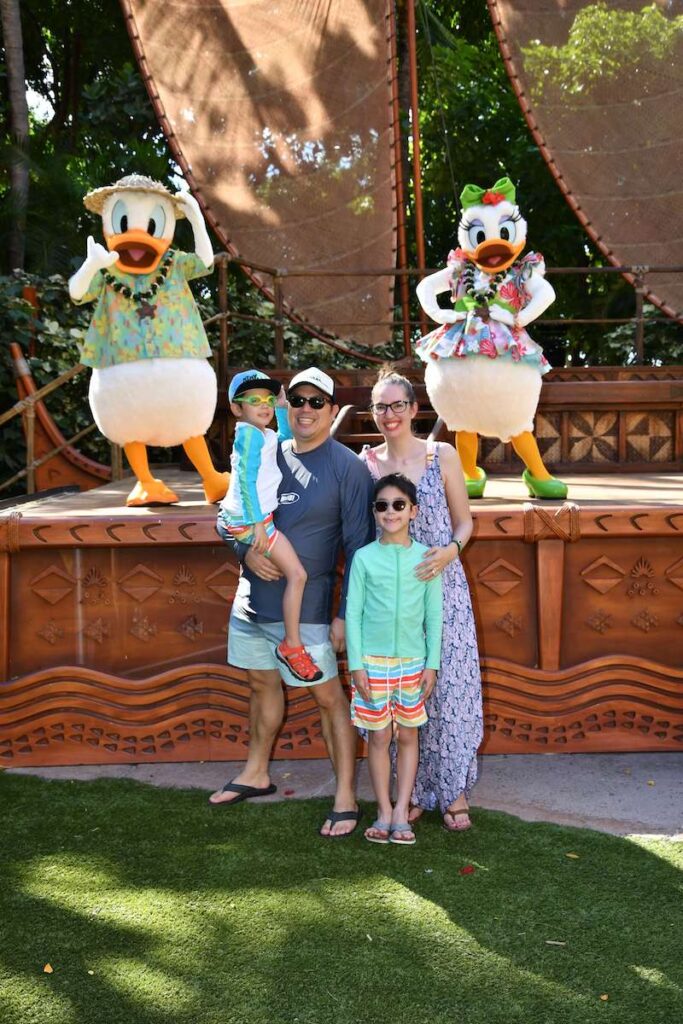 Of course, Donald loves to joke, so we had some pretty fun conversations with him storming off due to his temper.
Stitch & Angel
All I had to do was tell my 7-year-old that we could see Angel for the first time, and he put his shoes on in record time, and we were out the door!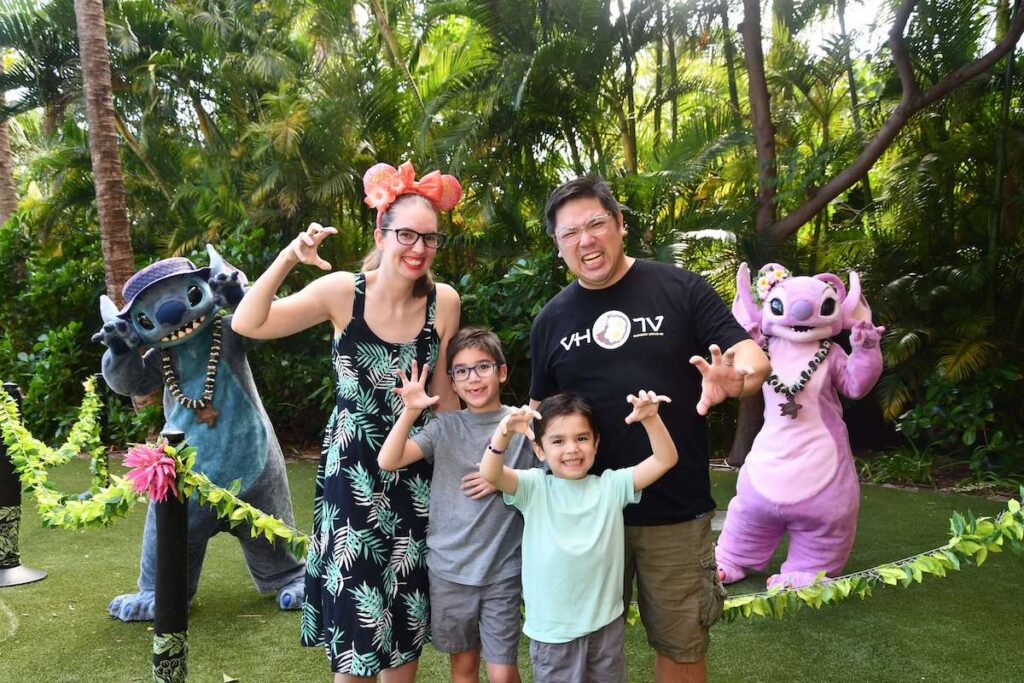 Angel is a friend of Stitch, and I think the only place you can see her in the U.S. is at Disney's Aulani. She's popular in Asia.
We had such a fun time at this meet and greet that we even bought an Angel and Stitch surfing ornament to remember our time at Aulani.
Duffy & Minnie
Ok, I admit that I totally geeked out when I realized I could finally meet Duffy at Disney Aulani! My understanding is that Duffy is a character popular in Japan but doesn't make an appearance at Disneyland or Walt Disney World.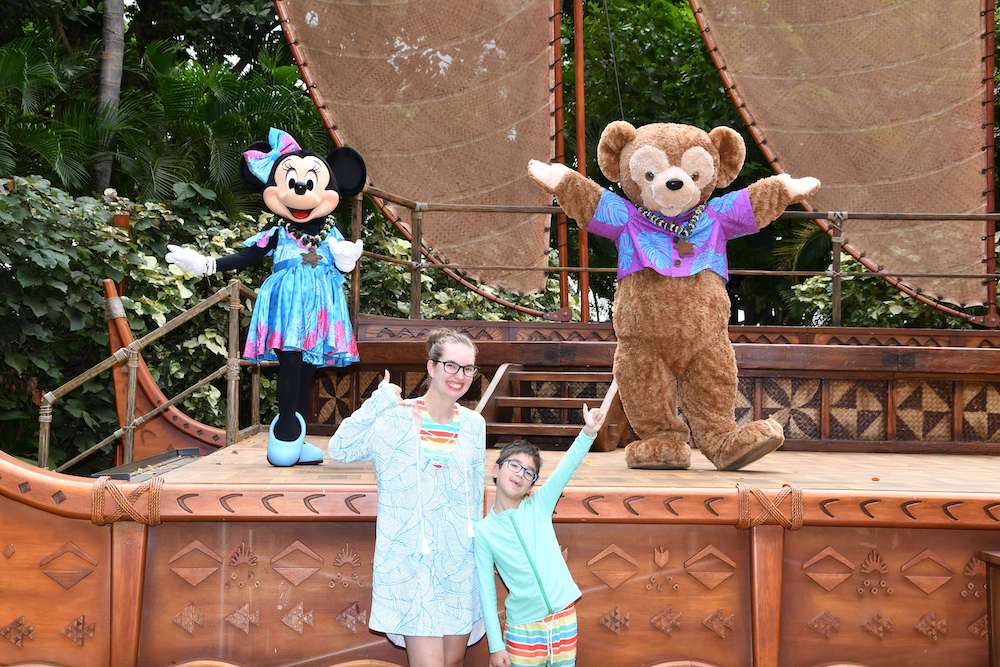 If you go to the Aulani Gift Shop, you'll see tons of Duffy merchandise. So, I grabbed my 7-year-old for a quick photo! Plus, he was hanging out with Minnie Mouse, and she's always fabulous!
Goofy & Max
My husband totally geeked out when I told him there was a Disney meet and greet with both Goofy and Max. Those are some of his favorite characters, and it's not often we see them together.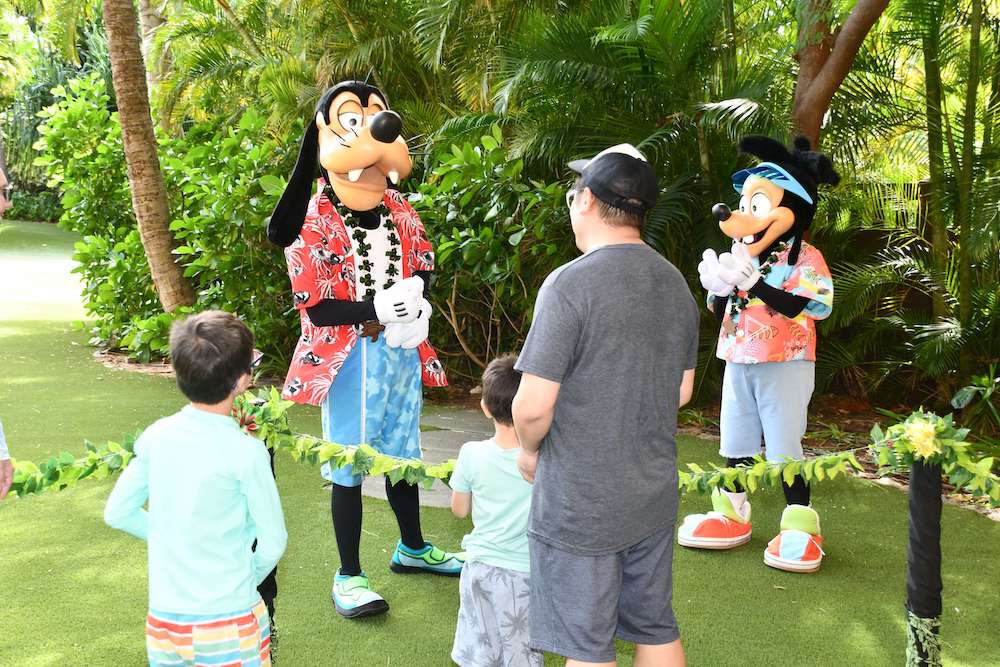 And my kids have seen a lot of the movies with Goofy and Max, so they were pretty excited, too!
How Do the Character Meet and Greets Compare with Disneyland or Walt Disney World?
The lines are SO much shorter at Disney Aulani Resort compared to Disneyland and Walt Disney World. There were times when we just walked right up to take photos. And we didn't feel rushed to leave.
When we were at Aulani Resort a few years ago (pre-Covid), there were usually only a couple of people ahead of us in line. In November 2021, the longest line we saw was about 3 families.
What Makes Disney Aulani Characters So Special?
Disney's Aulani Resort is one of the few places where you'll see the Fab 5 dressed up in their Aloha shirts and dresses. You'll definitely want to snap a few photos with them in their vacation gear!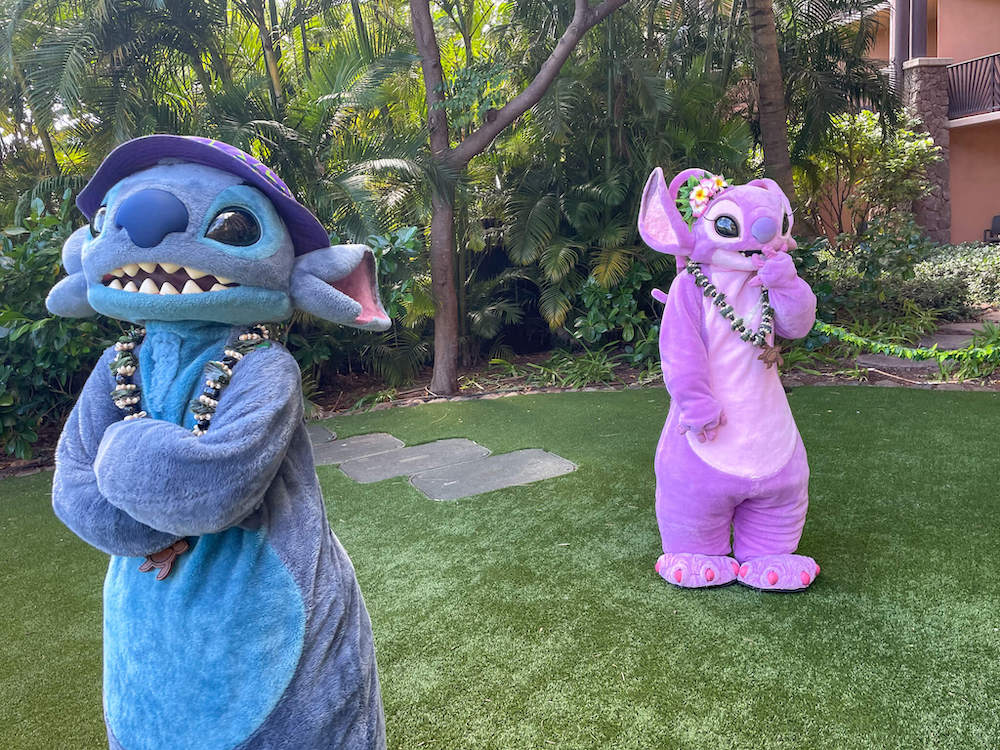 Tips for Meeting Characters at Aulani
Always Get the Daily Schedule
It's really important to find out what times the characters are making an appearance so you can add it to your daily schedule. I usually mark it in my phone and give myself a 10-minute warning so we have time to walk over.
When we were there in November 2021, the cast members had the schedule by 8 a.m.
Keep an Eye Out at the Pool
There were several Disney characters waving to guests from bridges at the pool area. These weren't scheduled meet and greets.
These were perfect for taking selfies or photos just of the characters.
Dress Up
This is totally optional, but your photos look extra cute when you dress up a bit. Personally, I love the excuse to wear our Mickey Minnie ears, and I feel so much more festive.
We also saw some families wearing matching jammies that were super cute for character photos. And I saw another family wearing Lilo & Stitch clothing when they met Stitch.
Wearing Aloha shirts or Hawaiian dresses is always a fun clothing choice for Disney character photos, too.
Check out some Disney Aulani shirts you'll love
Bring Props
It can be really cute to bring a stuffy of the character you are meeting. These can be packed from home, or you can get a new one at the Aulani gift shop for cute Aulani souvenirs.
Get the Aulani PhotoPass
While you can totally take your own photos with the characters, it's really nice to just buy the Aulani PhotoPass. When we were there in November 2021, it was $20/day. We took our own photos and took advantage of the PhotoPass photographers.
There's no limit on how many photos you can do. Plus, there are Disney Aulani PhotoPass photographers set up on the beach at sunset, so you can get some really nice family portraits on Oahu.
Aulani Disney Characters FAQs
Is there a Disney Aulani day pass so I can meet Aulani characters and use the pool?
No, one of the main perks of staying at Disney Aulani is that you have private access to meeting characters and hanging out at the pool. If you want to check out the resort, you can make dining reservations at Makahiki or book the Ka Wa'a Luau.
Do you need a car at Aulani Resort?
Not really. If you are planning to hang out at the resort, you can easily walk to a few restaurants, a little store to get groceries, and some shops. There are also places to eat at Disney's Aulani and an on-site luau. If you'd like to explore Oahu, you can either choose tours with transportation from Aulani or rent a car for just the day. Alamo rents cars right from Aulani Resort.
What do I need to know about Disney Aulani Resort before I go?
Disney's Aulani is located in Ko Olina, which is about 25 minutes from Honolulu Airport and about 35 minutes from Waikiki without any traffic. It's a bit isolated and perfect for families wanting a resort vacation. They have places to eat at the resort and within walking distance. They also have an on-site rental car company.
What characters are at Makahiki Aulani?
Some of the favorite Disney characters are at Makahiki Disney Hawaii character breakfast, including Minnie Mouse, Mickey Mouse, and Pluto. Other characters are around the resort all throughout the day, including the Hawaiian Disney princess Moana!
What characters are at the Polynesian resort?
There are plenty of characters that make their appearance at this resort in the South Pacific. Some you might meet are Mickey Mouse, Moana, Minnie Mouse, Stitch, Pluto, Goofy, Donald Duck, Chip, Dale, and a few others. You can view them at the Aulani Disney character breakfast or throughout the resort at various times.
What Disney character is Hawaiian?
Moana is from Polynesia, and the movie shows various Polynesian's rich culture, but the actress who plays Moana in the animated film is a native Hawaiian. Disney announced they wanted to do a live-action Moana movie and are looking for another Hawaiian to potentially play Moana as well.
Is there an Aulani character dinner?
While there was an Aulani resort character dining at one point in time for dinner, right now that is not an option. The only character dining at Aulani right now is with the Disney Aulani breakfast with characters. But there are plenty of Disney Aulani dining options you will love!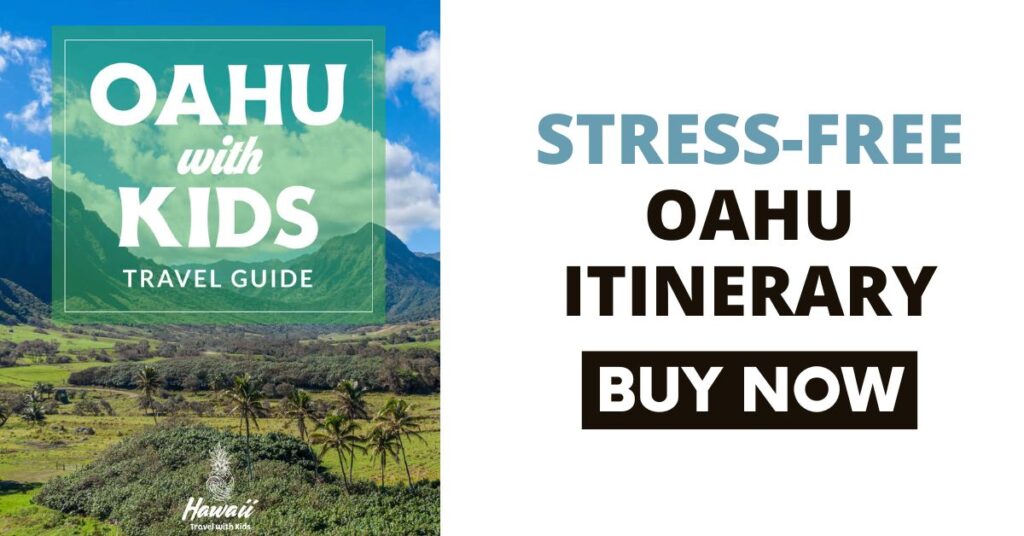 Disney Aulani Characters Wrap-Up
I hope this blog post has helped you understand how to meet some of your favorite Disney characters at Aulani.
It's a great opportunity to take photos with your favorite Disney characters wearing Aloha shirts, Hawaiian dresses, and other vacation styles.
You won't regret taking a few selfies with these adorable Hawaiian Disney characters! It's one of my favorite Aulani Resort activities.