Planning a trip to the Big Island and want to learn more about the Kona side of the island? Scroll to find out the best places to stay, eat, and explore in Kona.
This Guide to the Best Things to Do in Kona Hawaii contains affiliate links which means if you purchase something from one of my affiliate links, I may earn a small commission that goes back into maintaining this blog.
So you decide to book a vacation to Kona, Hawaii, and want to know a little more about it?
Well, you've come to the right place. Kona is a thriving town that you will find on the leeward side of the Big Island. It is a laid-back community that is right on the coast.
It is also home to one of the biggest airports on the Big Island. You can even find direct flights to Kona from most West Coast airports.
First trip to Hawaii? Check out my step-by-step Hawaii planning guide!
Don't have time to read a bunch of Hawaii blog posts and reviews? Here are some of our top picks for visiting the Big Island.
Popular Big Island Tours/Activities
Favorite Big Island Resorts/Hotels
Want to Rent a Car in Hawaii?
One of the best places to rent a car in Hawaii is Discount Hawaii Car Rental because they get the best rates from top national companies like Alamo, Dollar, Thrifty, Avis, Enterprise, Budget, and Payless.
Want to skip all the planning and just access my detailed Big Island Itinerary complete with daily schedules, kid-friendly activities, and travel hacks? Click the button below.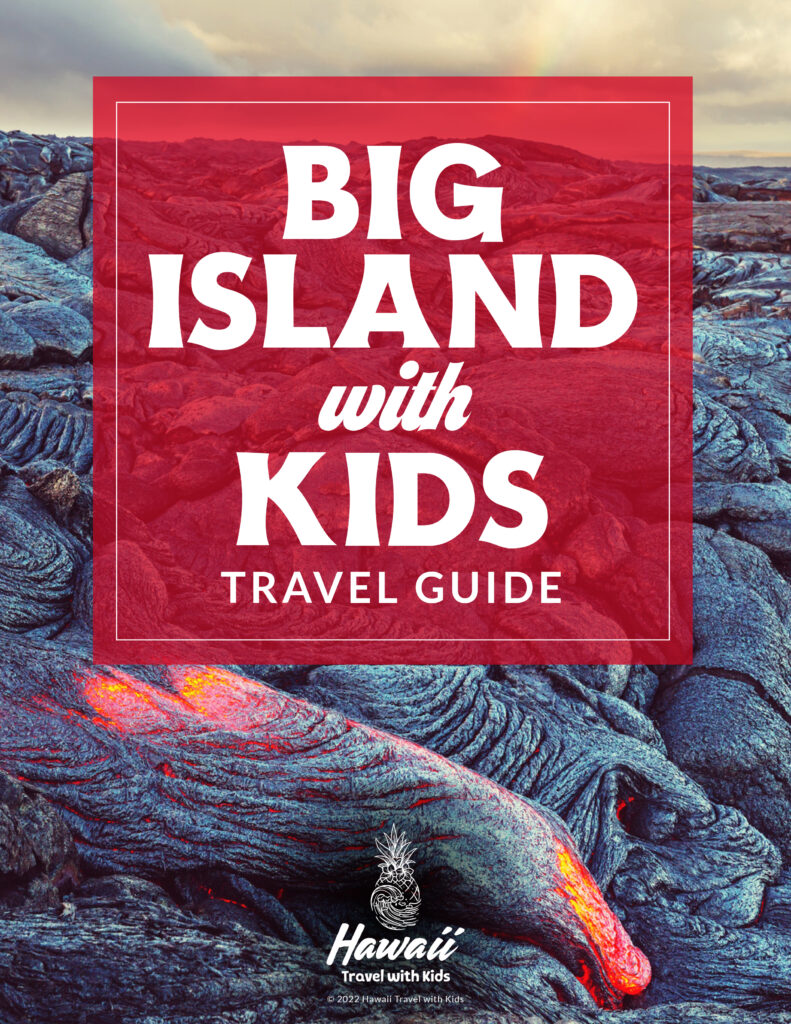 Kona Hawaii FAQs
What is Kona Hawaii known for?
Most people know that Kona is where some of the best coffee in Hawaii is grown. Kona is also a popular spot for deep-sea fishing.
What is the best time of year to visit Kona?
Any time of year is pretty awesome for a Kona vacation. If you want to get the best view of the stars, head to Kona in Winter. That's when the skies are the clearest and you'll be able to see lots of constellations. This is also when it's less crowded (except for Winter Break.)
What is the rainy season in Kona Hawaii?
It's actually not what you'd expect. Kona is usually rainiest during the Spring, Summer, and Fall. Although it doesn't typically get a lot of rain compared to the other islands.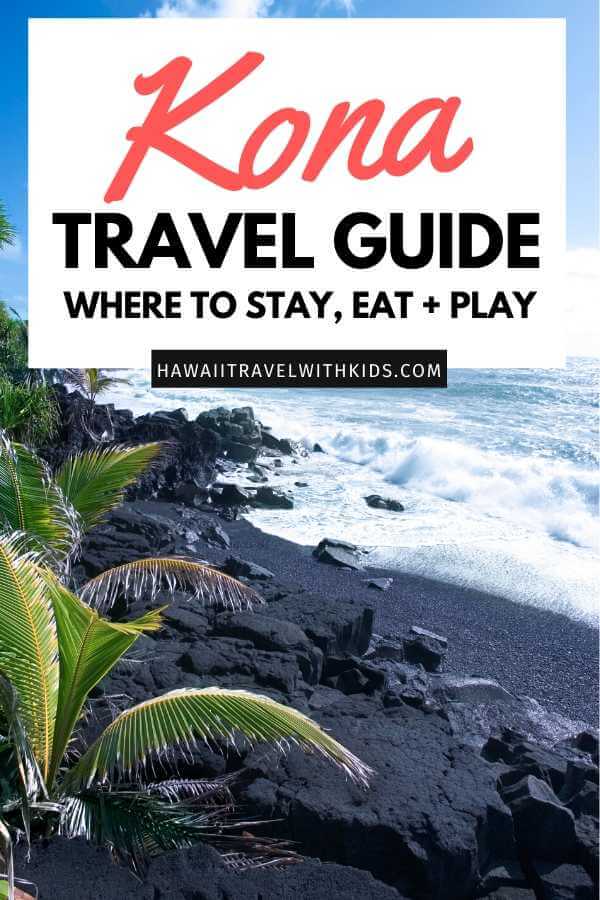 Overview of Kona
When you first land, you'll notice that there isn't much to look at. I mean that it doesn't have the lush, tropical landscape you'll see on other islands.
Typically, you'll fly in on an inter-island flight from Oahu, which will bring you around the coast that is most often resembled to a pan of burned brownies.
The lava here is brown and smooth but don't let that fool you, it is still unforgiving when walking across it.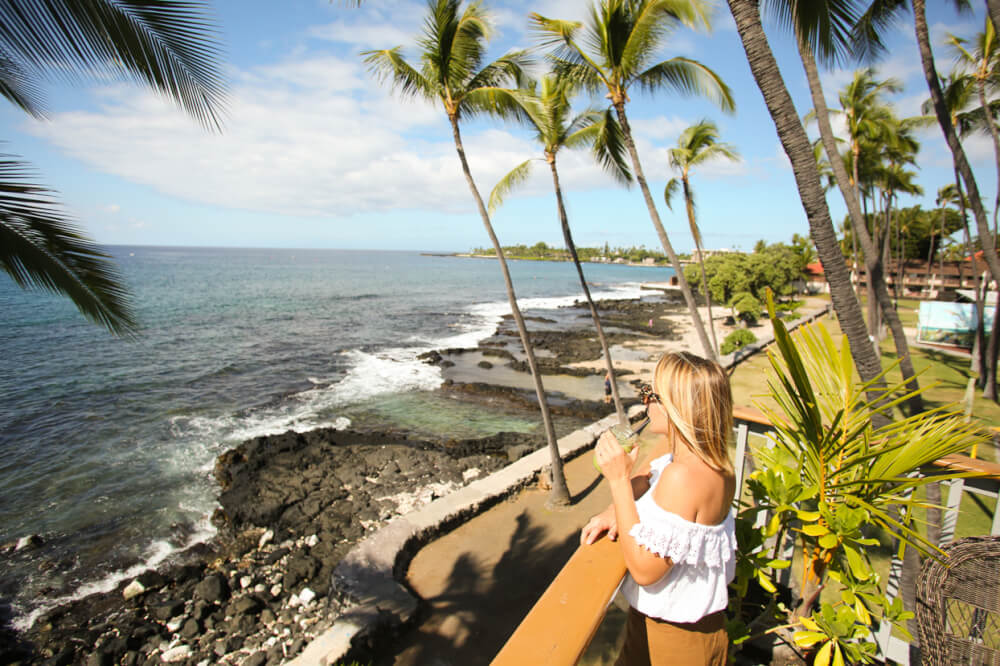 Nonetheless, you have made your way to the newest Hawaiian island that continues to grow every day. That is thanks to the lava that pours out of the Kilauea crater, slowly adding inches to this remarkable island.
But just because you flew in to a rugged and not-so-lush terrain, doesn't mean that you won't find it on the side of the island. In fact, with just a few miles out of the airport, the scenery changes drastically.
Kona has everything that you possibly need or want. Here you will find five-star restaurants and hotels, along with activities for the whole family. Just make sure that you have plenty of time to see and do everything.
Although the town may seem small, there are tons of things to see and do.
Best Things to Do in Kona: Hotels vs. Airbnb/VRBO
The first thing that you'll want to figure out is where to stay. Now you could pick one of the many hotels that line the coast. See my top picks for kid friendly Big Island resorts.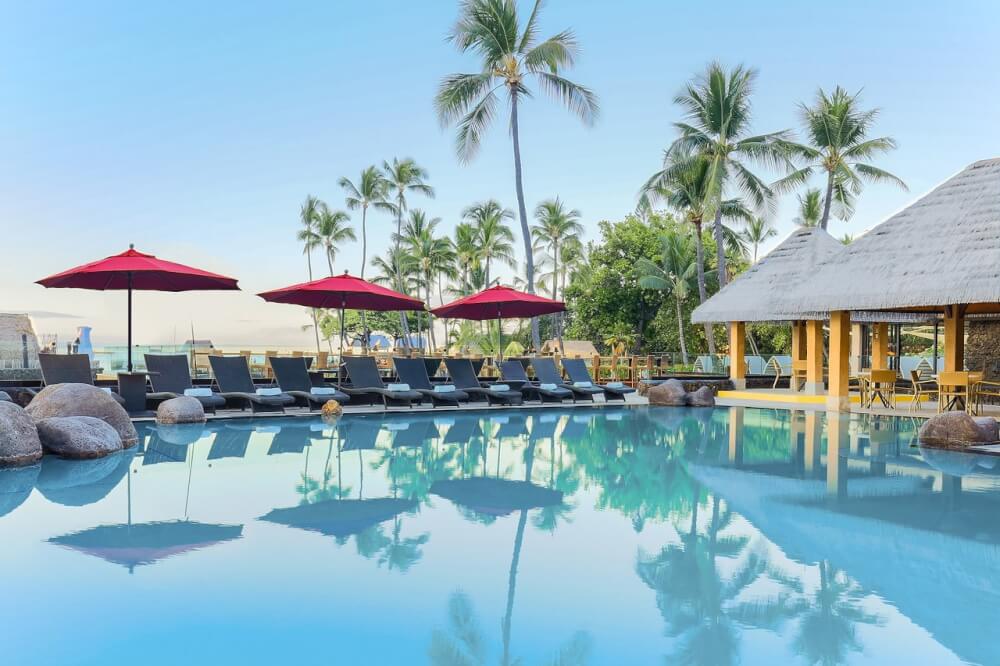 You'll find the refurbished King Kamehameha Hotel very pleasant to stay at. In fact, it is one of the first hotels they find when traveling down Ali'i Drive. Check out the latest prices and more details.
It also has a wonderful luau that anyone coming to Kona should attend. The King Kamehameha luau is very authentic to the point where they even have an old Hawaiian court journey up to the reception area on an old canoe.
It's a fun activity and when you get there earlier, you can watch and learn how to do various things the Hawaiians used to do. Here you'll find how to skin a coconut or climb a coconut tree. You'll also see how the ancient Hawaiians used to weave baskets.
There are several activities that make it worth wild all before the luau actually starts. So if you get a chance deftly check out the luau.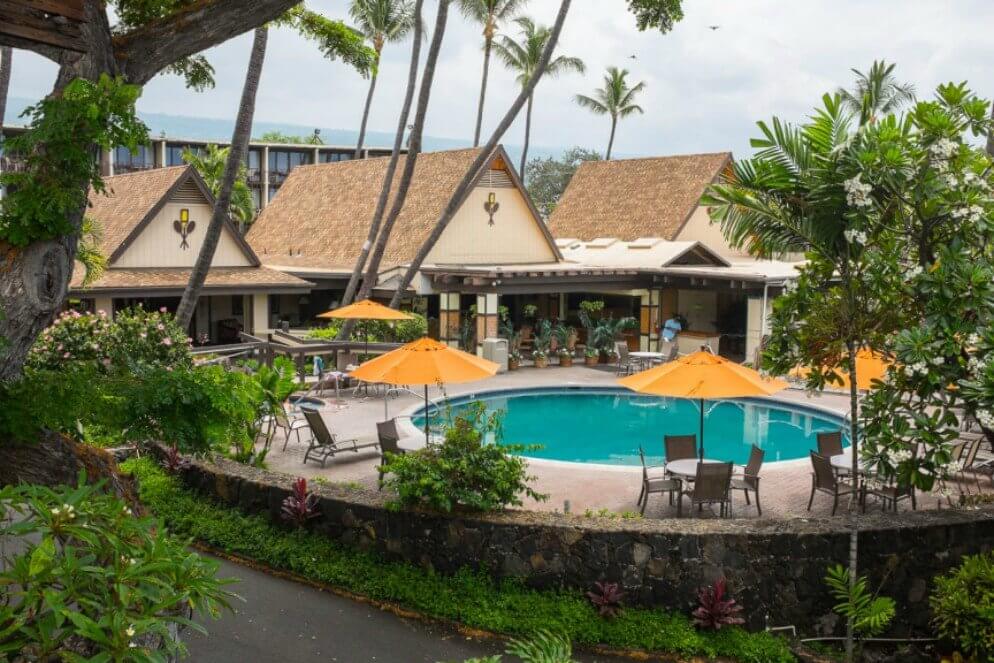 But the King Kam is just one hotel that you'll find on the coast. It is also on the pricier side, so if you're looking for a cheap hotel to stay in, you might want to cruise down Ali'I Drive a bit further and check out Uncle Billy's hotel. Check out the latest prices and more details.
The price here is decent and you won't be forking over a lot of cash to stay here. But it is not going to be a five-star hotel. it's more of a place for people on a budget.
The one thing it does have going for it though is the interior of their hotel rooms are very authentic and even incorporate lava rock into the walls, which is kind of cool.
Read my full post about cheap Big Island hotels
The further down you travel you'll find the pricier hotels like the Sheraton. Check out the latest prices and more details.
What if you don't want to stay at a hotel? What if you were looking at staying at an Airbnb or VRBO? The truth of the matter is that you want to really do your homework if you're planning on staying somewhere other than a hotel or camping.
VRBO (also known as Vacation Rentals By Owner) and Airbnb can be a hit/miss on the Big Island. That's not to say you shouldn't go that route, but there are some things to know.
There are been some recent law changes that affect taxes on rental properties in Hawaii. Because of this, sometimes vacation rental owners don't charge the right amount of taxes and you end up having to expectantly pay more.
There are also situations where owners try to avoid paying certain taxes when renting out their house or apartment. And some have a 28-night minimum stay. Also, you don't know whether you're getting someplace clean.
So just make sure that you do your homework (and read all the fine print) before settling into a place that is not a hotel or camping site.
Do You Need a Car in Kona?
There's a great debate on whether you need a vehicle to get around Kona and the short answer is: No.
You can catch a lift from a taxi from the airport and drive 15 minutes to the town of Kona. There, once you establish yourself in your hotel, everything is pretty much within walking distance.
However, if you plan to explore the Big Island (especially going from Kona to Hilo), you are definitely going to need a rental car. There are far too many things to see on the Big Island and they are very spread out.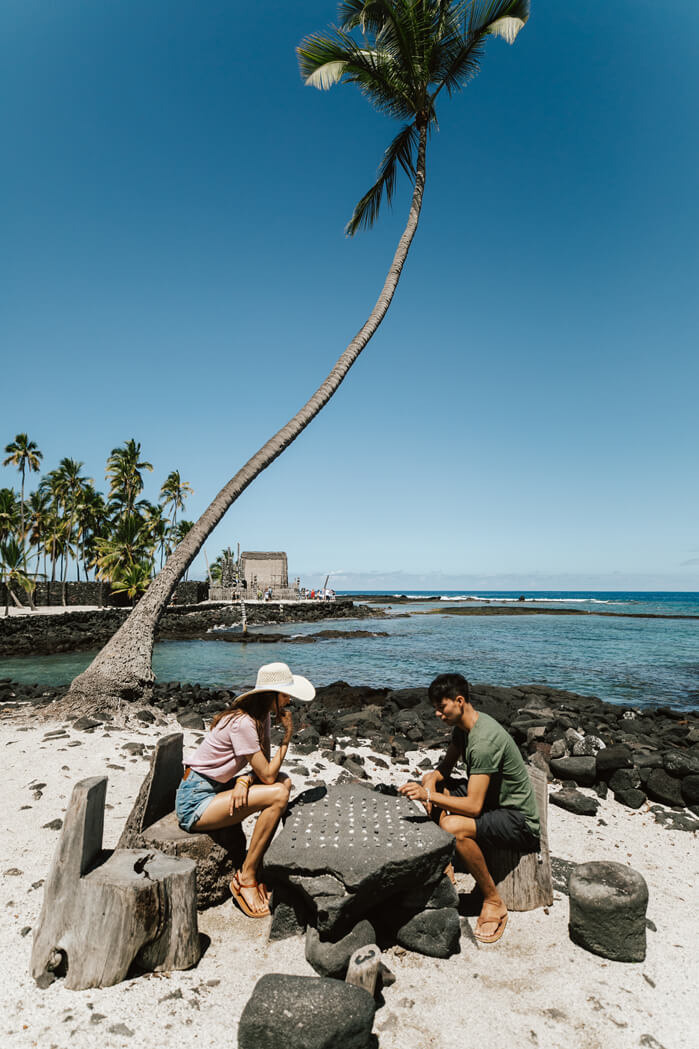 Take the beaches, for example. You'll find some great beaches down the Kohala coast. However, those beaches are about a 45 minute drive away from Kona. So if you want to see them, you're going to need a car.
You also need to have a vehicle if you plan to go to the Hawaii Volcanoes National Park, which is a 2.5 hour drive from Kona. So if you plan to explore more than just the Kona side, then yes, you should definitely get a vehicle.
There is no public transportation in the way you would find in other places. Yes, you will see buses traveling about, but those are basically for the tourists that come on the cruise ship.
And yes, you could pay an arm and a leg to get a taxi to drive you around. But forking over $26 a day for a rental car that will allow you to go wherever you want to go will be far cheaper than trying to get a taxi.
Read my full post on renting a car in Hawaii
Best Things to Do in Kona: Where to Shop
So let's talk shopping.
On the Kona side you'll find all kinds of stores to meet your needs. It doesn't matter if you're looking for a quick bite or groceries or whatever, there are plenty of stores all around.
Groceries
Now if you specifically looking for food, then you might want to check out Walmart. If you're on Ali'i Drive, just make your way to the main road and take a right. Keep driving until you find Walmart on the left-hand side. Next to Walmart there is also a Denny's for quick bite to eat.
There's also KTA Super Stores, Safeway, and Sack n Save. And Island Naturals Market & Deli is also a great option.
Kona Souvenirs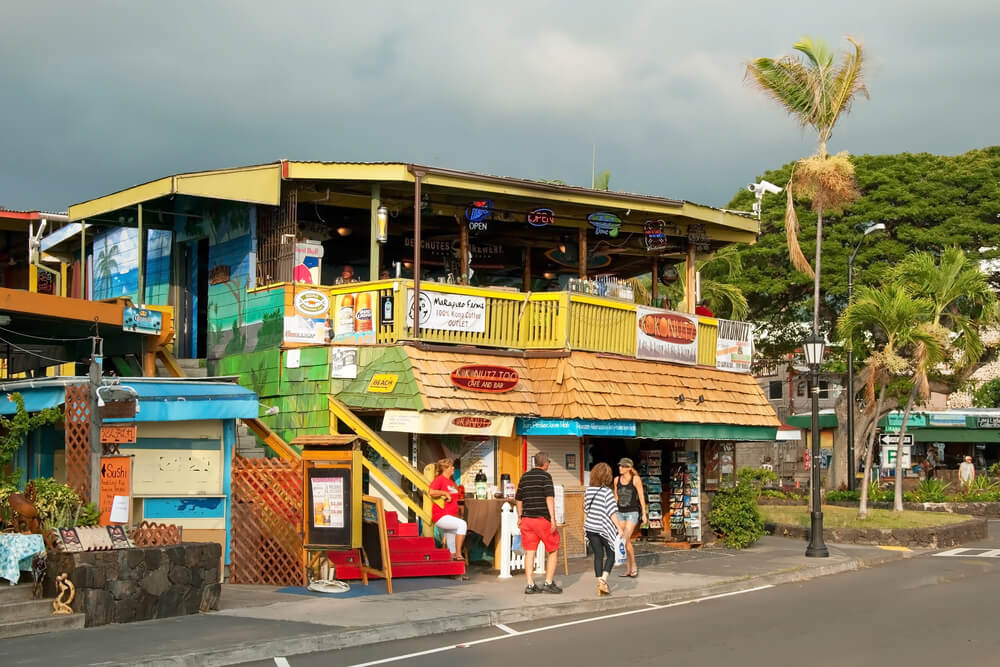 As for souvenirs, you can find whatever you want at Walmart for half the cost it will cost you if you bought it at a novelty shop on Ali'i Drive.
You see, Ali'i Drive is nothing but a long road with several shops and restaurants lining the coast. But most of the items on this strip are double if not triple the price that you can find at a store like Walmart.
Granted, there are a few items that you'll find on Ali'i Drive that you won't find elsewhere. But for the thrifty spender on vacation, get your souvenirs and beach gear from Walmart.
But just because Ali'i Drive is full of shops, doesn't mean you should avoid it. There are some pretty neat things to see strolling between the shops and boardwalk. So take in the sites, just don't get suckered into buying stuff there when you can go to a regular store and get it cheaper.
Hilo Hattie
Another place you'll want to check out is Hilo Hattie. This store is a bit of a walk, from the King Kam hotel, but not too far. As mentioned earlier, you can walk everywhere around Kona, but Hilo Hattie is a nifty little shop with fun stuff.
There, you'll find oysters that you can crack to get a pearl and have the pearl mounted for you in a necklace, ring or whatever. It also has a lot of other fun items that you won't find anywhere else. So, it is worth checking out.
Best Things to Do in Kona: the Best Restaurants
When it comes to eating in Kona, there are several places you could eat. On the Rocks serves great poke and other culinary treats that you'd expect from an island.
If you are looking for Mexican food, you'll be able to get your fill at Pancho and Lefty's on Ali'i Drive.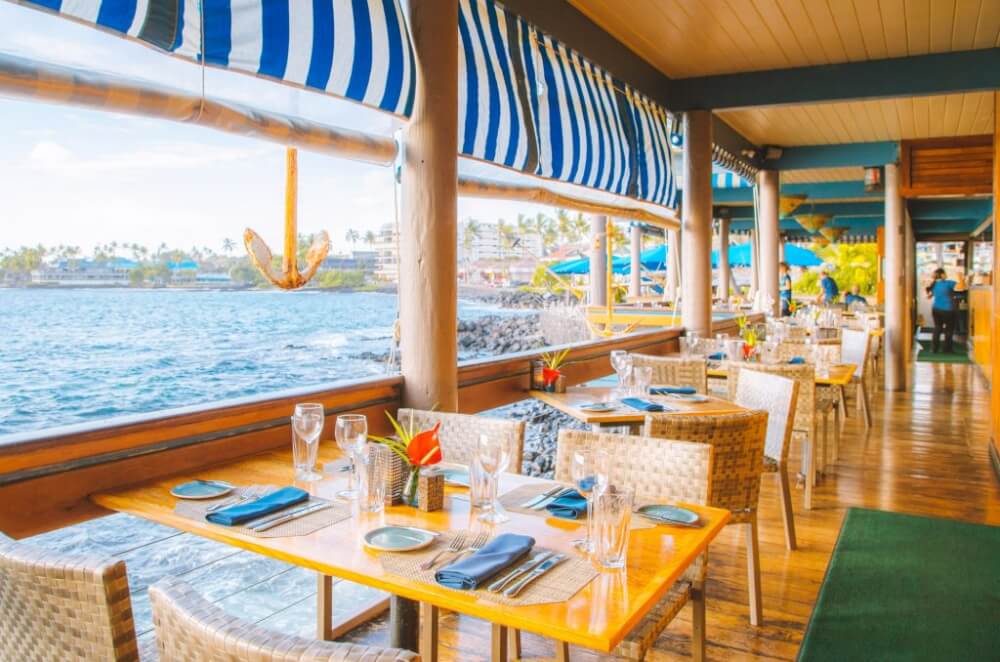 Huggo's is another place you'll want to stop and have a bite to eat. It is one of the best restaurants on this side of the island. However, it can be a bit pricy. But, it's well worth it for sure. Make sure you get the ahi poke salad if you go.
If you just want some place cheap to go, you'll find all sorts of fast food places from McDonald's to Burger King. There is also a Panda Express and mom and pop hole in the wall diners that are worth exploring if you want something other than the run-of-the-mill stuff.
There is also the Kona Café tucked in a corner of a building next to Hilo Hattie and has the best lunch plates at a reasonable price. Plus, you get more than you pay for here as they load the plates up with a ton of food.
The Best Things to Do in Kona: the Beaches
Kona isn't really a place known for its beaches but there are some awesome places to go if you know where to look. Of course it all depends on the time of year you take your trip too.
Magic Sands can be found cruising down Ali'i Drive. It's a small cove of a beach that can get super packed during the summer months.
However, during the winter months, the sand recedes leaving a rocky shore, thus the name "Magic Sands." It comes and goes with the seasons.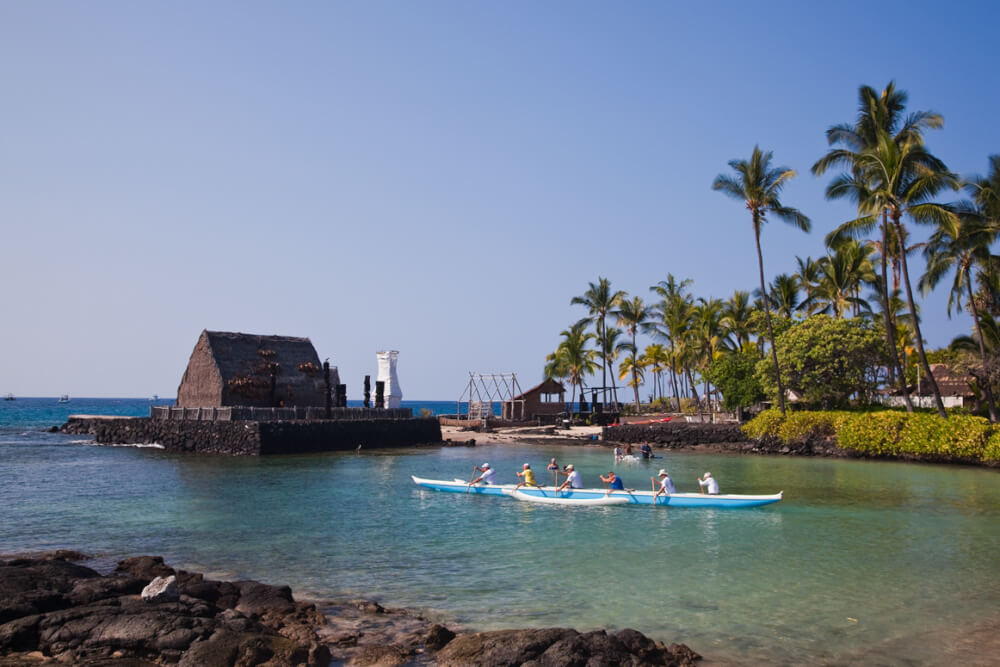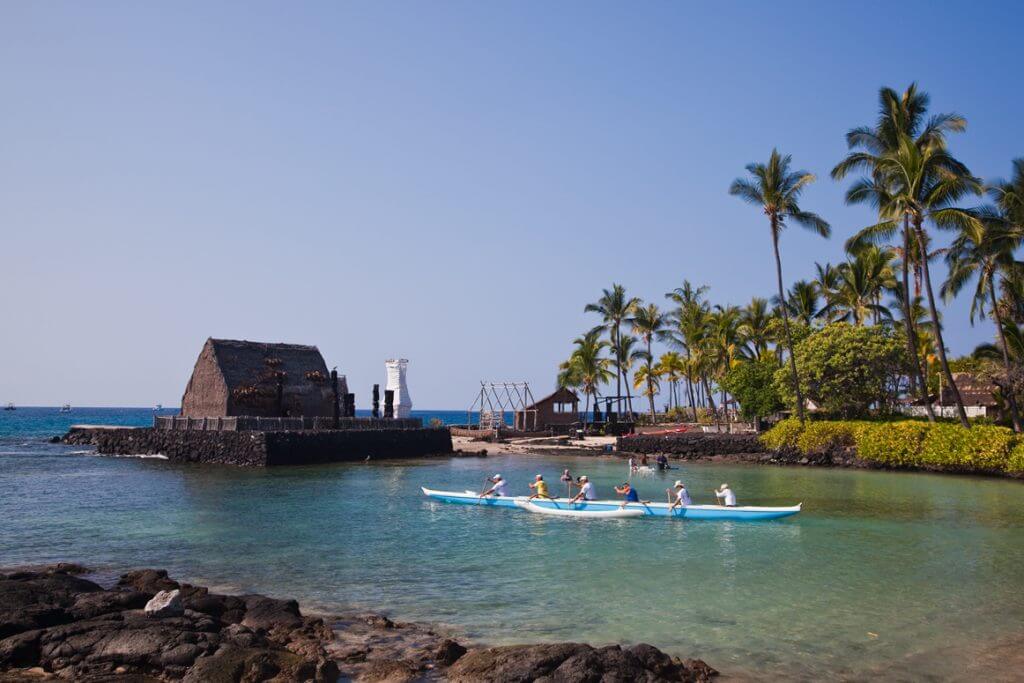 There is also the small bay area called Kamakahonu Beach that is on the doorsteps of the King Kam hotel. This is the place where the royal court comes into on Wednesday, Thursday, and Sunday luau performances.
It's a safe place for kids to play. Just be aware of the sea urchins lingering in the rocks around the pier area. It's also a great spot to snorkel.
A not-so-sandy place is "Turtle Bay" or as the locals calls it, Honokohau Beach. Here you'll find shallow waters but an impressive place to snorkel once you get out past the shallows. You'll find all sorts of beautiful fish.
Now if you happen to have a four-wheel-drive vehicle or want to go on a small hike, there is Makalawena Beach which is a beautiful white sand beach.
This place is highly protected by a care taker who doesn't allow camping unless you've got a highly coveted permit to put up a tent. But, you can camp on the outside of the gate.
Makalawena is what you'd expect from a tropical beach. You'll find crystal clear waters and if you hike around the area, you'll find two lava pools that can get warm in the summer.
Insider tip: Just be sure to hike out of the place by dusk as the caretaker will start knocking down your tents to kick you out if he thinks you're planning on staying longer than dusk.
Best Things to Do in Kona
King Kam Hotel
There is a lot to do in Kona. Definitely take time to explore the King Kam hotel. Here you'll find a bunch of history. The hotel has portraits of the Hawaiian Royals that once ruled Hawaii.
You'll also see the biggest Marlin caught along with other artifacts about the Hawaiian Islands.
Ali'i Drive
Another great place to check out is Ali'i Drive. Just walking down the road and taking in the different sights and sounds is worth it. It's a fun little strip that you don't want to miss.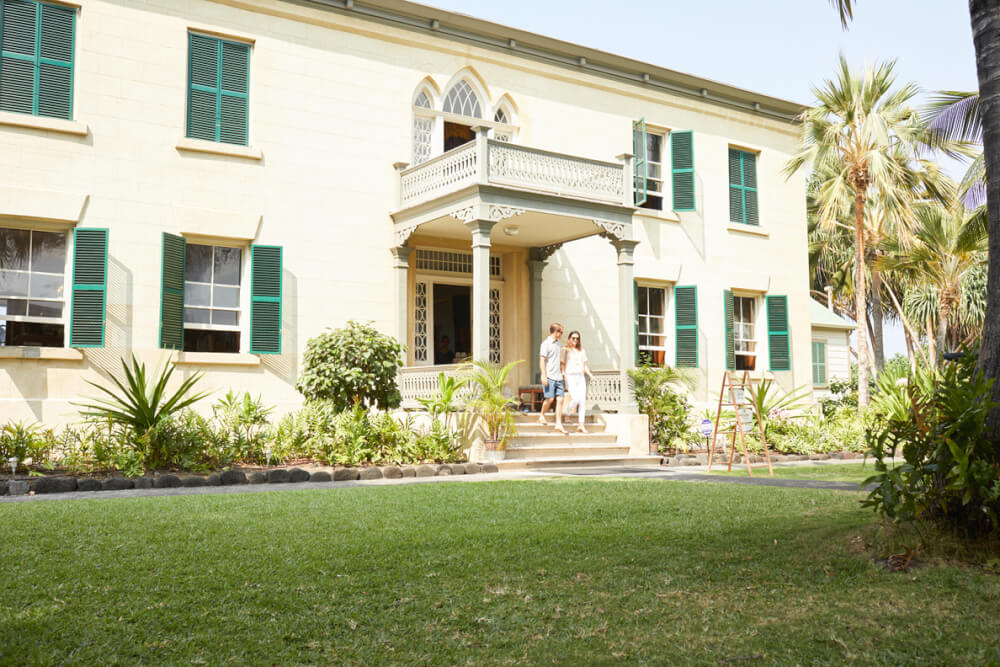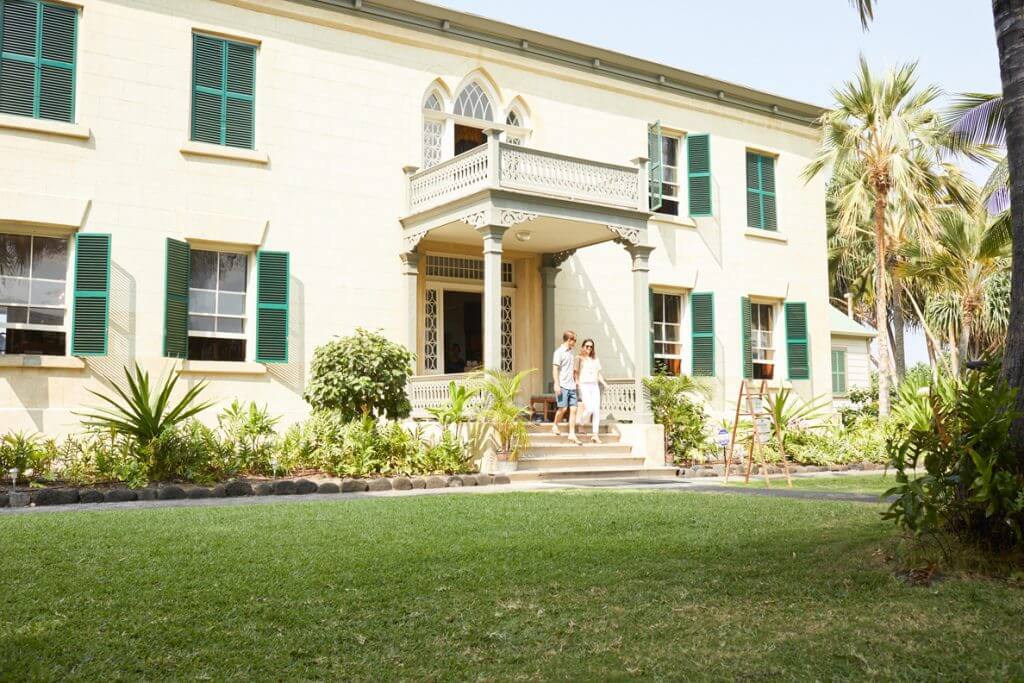 Plus, you'll be able to see the old Hulihe'e Palace. You can tour the palace which has a bunch of artifacts from old Hawaii.
More Kona Activities
Don't forget to check out the different activities that Kona has to offer.
You can do nighttime swimming with Manta Rays. Or you can jump on a boat and do a snorkeling tour or whale watching. Or you can also try out UFO Parasailing in the harbor if you're brave enough.
With so many things to do in Kona, you may have to pick and choose what's right for you and your budget. There are quite a few cheap and free things to do in Kona.
But, sometimes the test thing to do is stroll about the area first and just go with the flow of things in this unique little town.