Planning a trip to the Big Island and want to learn more about the Kona side of the island? Scroll to find out the best places to stay, eat, and explore in Kona.
This Guide to the Best Things to Do in Kona Hawaii contains affiliate links which means if you purchase something from one of my affiliate links, I may earn a small commission that goes back into maintaining this blog.
So, you decide to book a vacation to Kona, Hawaii, and want to know a little more about it, including what to do in Kona Hawaii?
Well, you've come to the right place. Kona is a thriving town that you will find on the leeward side of the Big Island. It is a laid-back community that is right on the coast. Plus, there is plenty of fun stuff to do in Kona!
It is also home to one of the biggest airports on the Big Island. You can even find direct flights to Kona from most West Coast airports.
Use this as your Kona Hawaii travel guide! You will learn the best time to go to Kona Hawaii, the best Kona hotels, the top Kona Hawaii activities, and so much more!
If you travel to Kona for your Hawaii vacation, be sure to read through the entire Kona visitors guide down below!
First trip to Hawaii? Check out my step-by-step Hawaii planning guide!
Don't have time to read a bunch of Hawaii blog posts and reviews? Here are some of our top picks for visiting the Big Island.
Popular Big Island Tours/Activities
Favorite Big Island Resorts/Hotels
Want to Rent a Car in Hawaii?
One of the best places to rent a car in Hawaii is Discount Hawaii Car Rental because they get the best rates from top national companies like Alamo, Dollar, Thrifty, Avis, Enterprise, Budget, and Payless.
Want to skip all the planning and just access my detailed Big Island Itinerary complete with daily schedules, kid-friendly activities, and travel hacks? Click the button below.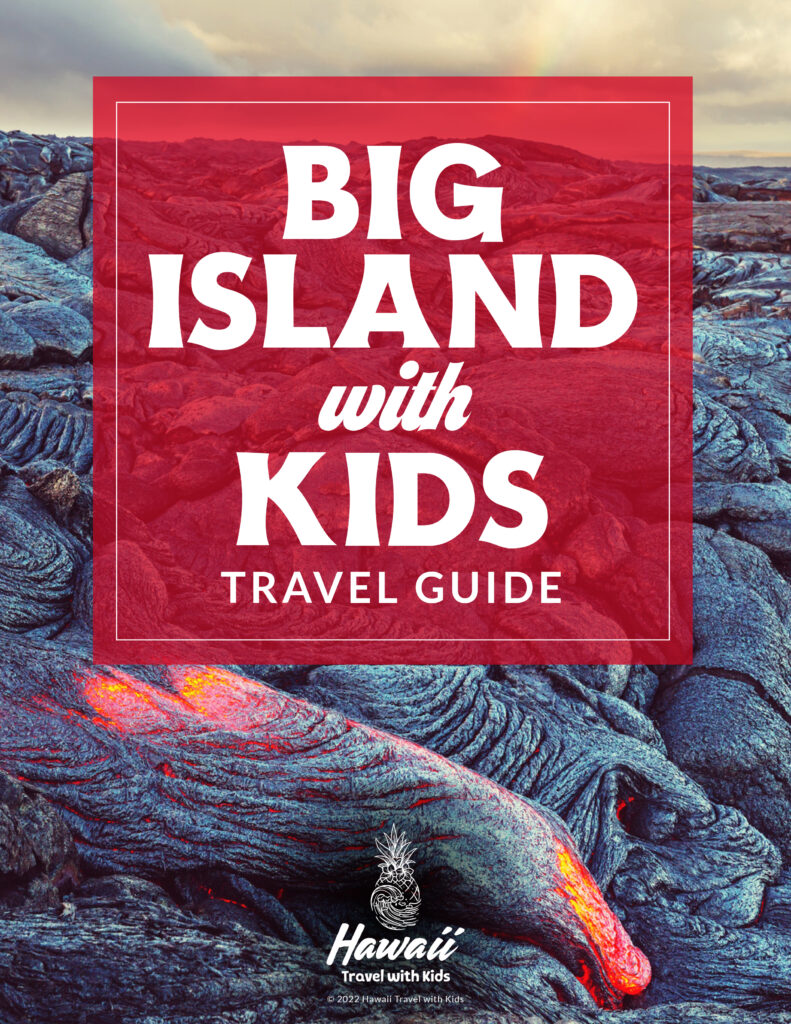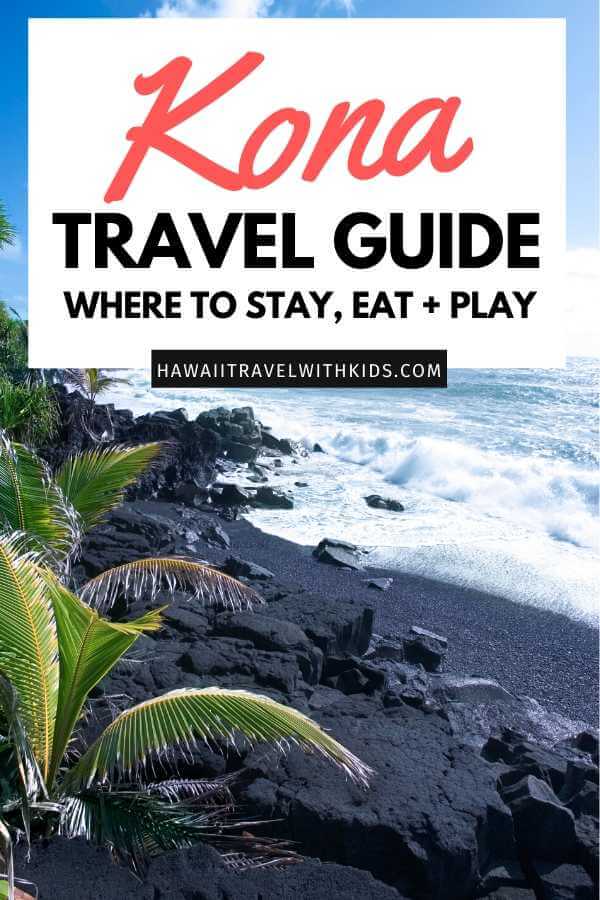 Overview of Kona
When you first land, you'll notice that there isn't much to look at. I mean that it doesn't have the lush, tropical landscape you'll see on other islands. But don't worry, there is plenty of natural beauty here too.
Typically, you'll fly in on an inter-island flight from Oahu, which will bring you around the coast that most often resembles a pan of burned brownies.
The lava here is brown and smooth, but don't let that fool you; it is still unforgiving when walking across it.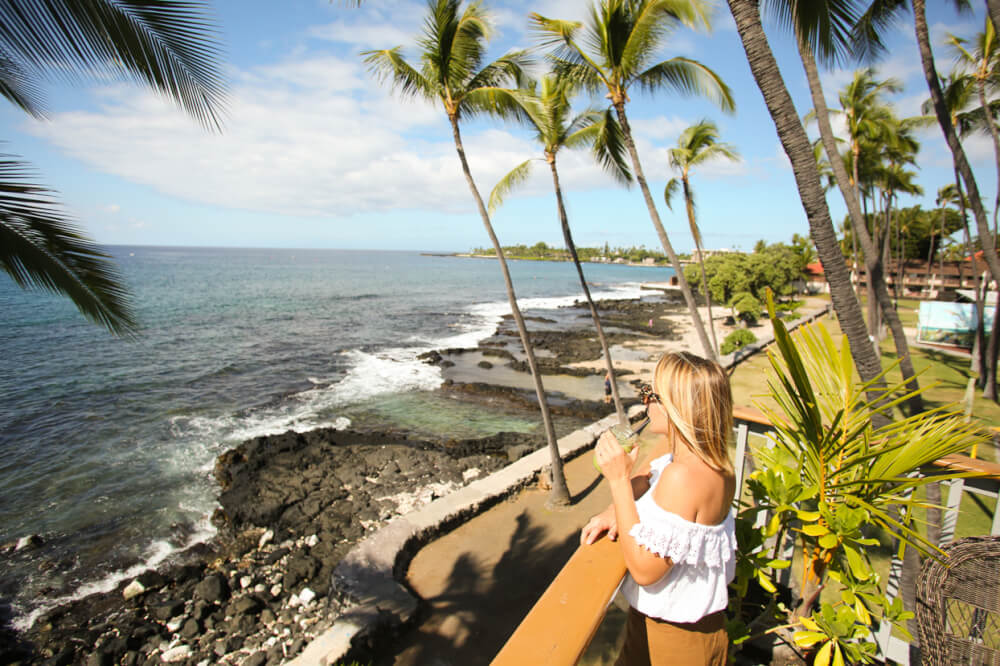 Nonetheless, you have made your way to the newest Hawaiian island that continues to grow every day. That is thanks to the lava that pours out of the Kilauea crater, slowly adding inches to this remarkable island.
But just because you flew into a rugged and not-so-lush terrain, doesn't mean that you won't find it on the side of the island. In fact, with just a few miles out of the airport, the scenery changes drastically.
Kona has everything that you possibly need or want. Here you will find five-star restaurants and hotels, along with activities for the whole family. Just make sure that you have plenty of time to see and do everything.
Although the town may seem small, there are tons of things to do on Kona Hawaii.
Hotels vs. Airbnb/VRBO
The first thing that you'll want to figure out is where to stay. Now you could pick one of the many hotels that line the coast. See my top picks for kid friendly Big Island resorts.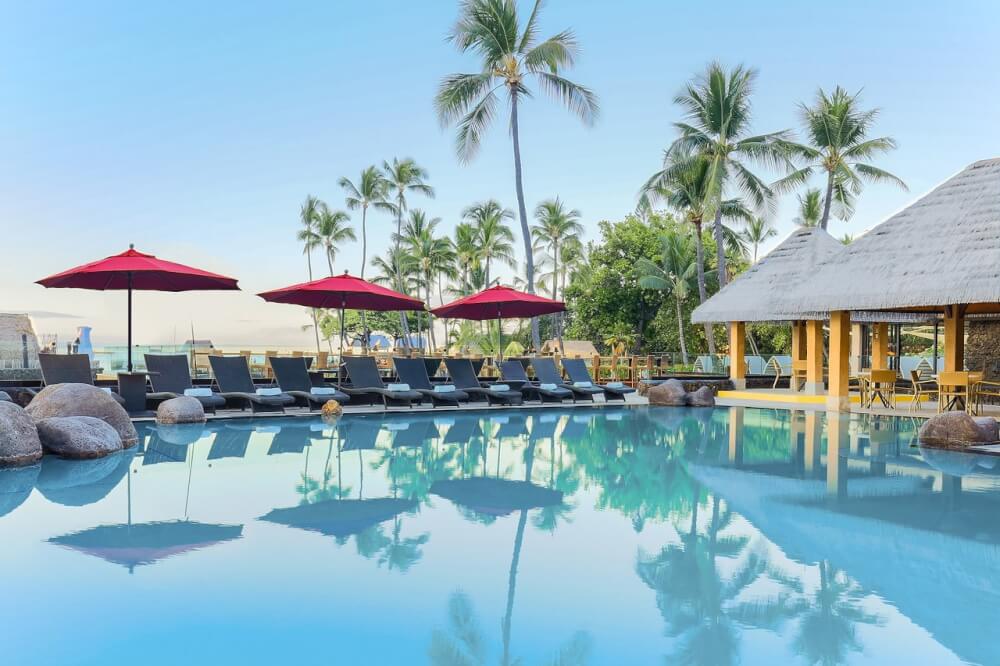 You'll find the refurbished King Kamehameha Hotel very pleasant to stay at. In fact, it is one of the first hotels they find when traveling down Ali'i Drive. Check out the latest prices and more details.
It also has a wonderful luau that anyone coming to Kona should attend. The King Kamehameha Luau is very authentic to the point where they even have an old Hawaiian court journey up to the reception area on an old canoe.
It's a fun activity, and when you get there earlier, you can watch and learn how to do various things the Hawaiians used to do. Here you'll find how to skin a coconut or climb a coconut tree. You'll also see how the ancient Hawaiians used to weave baskets.
There are several activities that make it worthwhile all before the luau actually starts. So if you get a chance, definitely check out the luau.
But the King Kam is just one hotel that you'll find on the coast. It is also on the pricier side, so if you're looking for a cheap hotel to stay in that fits your budget, consider staying in a VRBO or Airbnb.
A vacation home can be cheaper and have a lot of amenities too!
Read my full post about cheap Big Island hotels
Do You Need a Car in Kona?
There's a great debate on whether you need a vehicle to get around Kona, and the short answer is: it depends.
You can catch a lift from a taxi from the airport and drive 15 minutes to the town of Kona. There, once you establish yourself in your hotel, there are some things to do on Kona close by.
However, if you plan to explore the Big Island (especially going from Kona to Hilo), you are definitely going to need a rental car. There are far too many things to in the Kailua Kona region, and they are very spread out.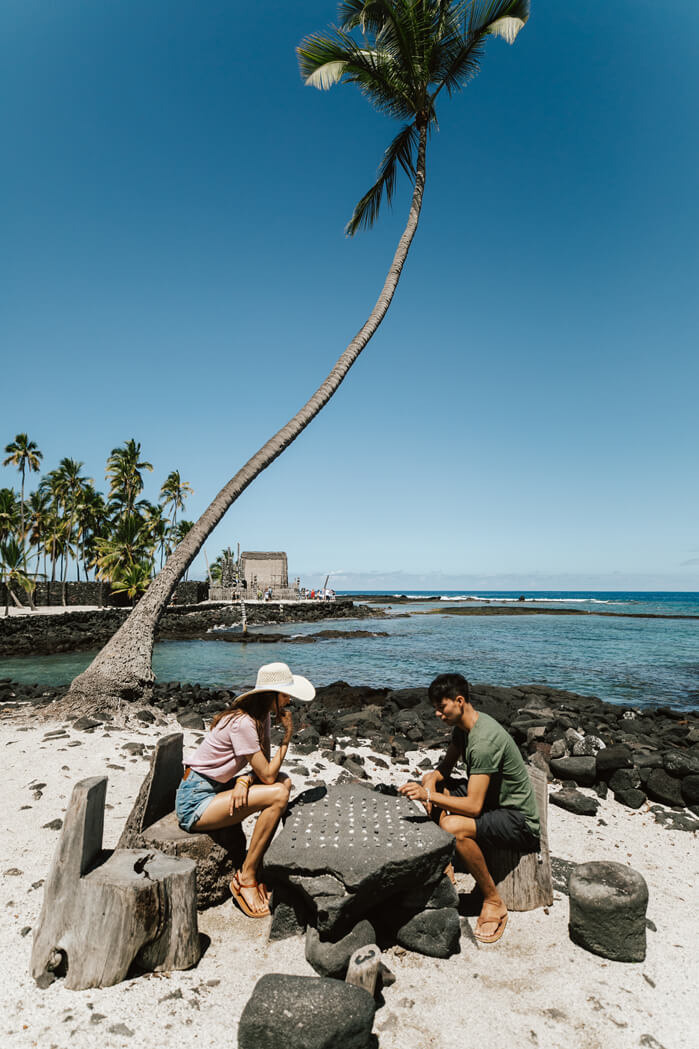 You will need to have a vehicle if you plan to go to the Hawaii Volcanoes National Park, which is a 2.5-hour drive from Kona. So if you plan to explore more than just the Kona side, then yes, you should definitely get a vehicle.
Read my full post on renting a car in Hawaii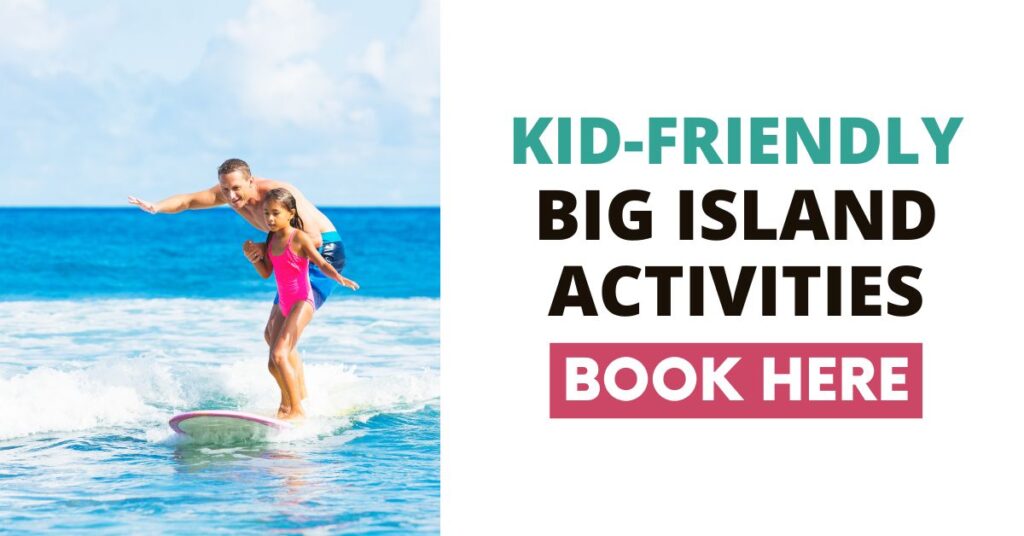 Best Things to Do in Kona
Now that you know for your Kona trip, you need to learn exactly what to do on Kona! Here are the top things to do in Kona for kids and families.
Enjoy the Beaches
Kona isn't really a place known for its beaches, but there are some awesome places to go if you know where to look. Of course, it all depends on the time of year you take your trip too.
Magic Sands Beach Park can be found cruising down Ali'i Drive. It's a small cove of a beach that can get super packed during the summer months.
However, during the winter months, the sand recedes, leaving a rocky shore, thus the name "Magic Sands." It comes and goes with the seasons.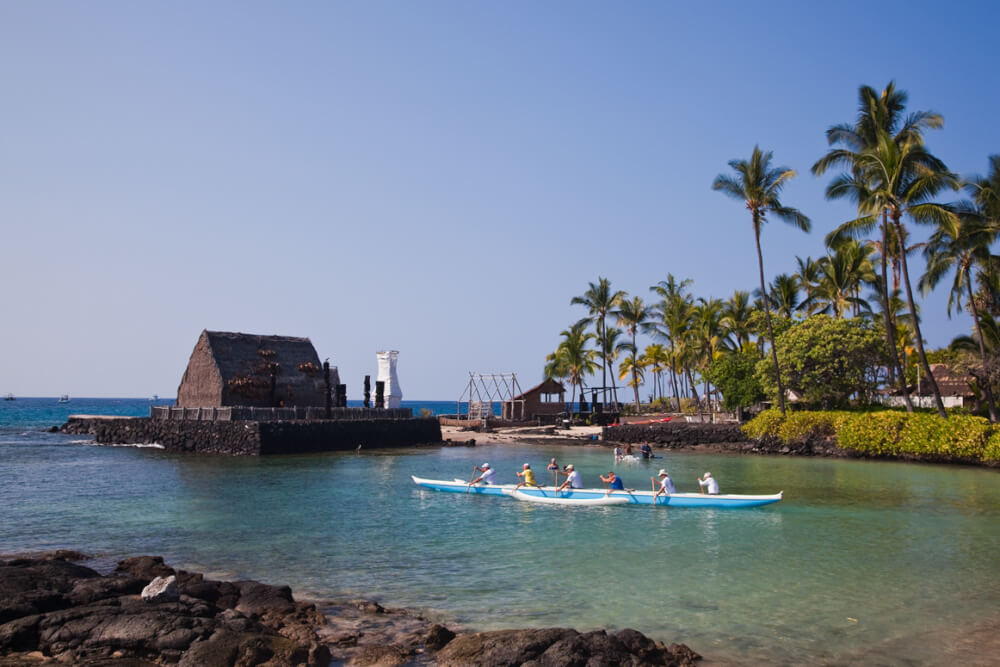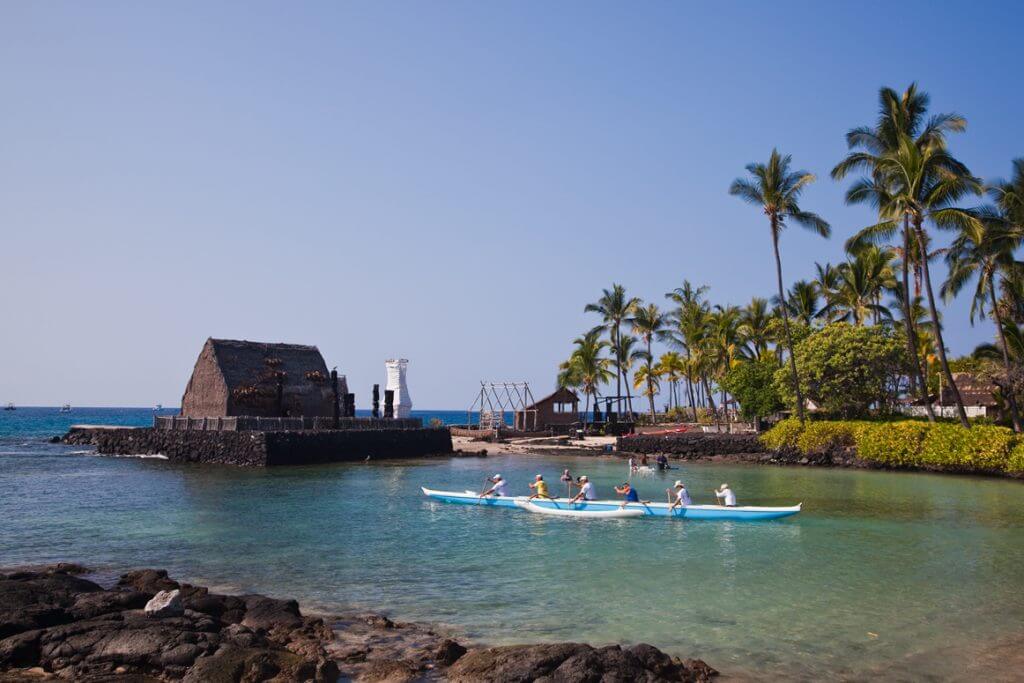 There is also the small bay area called Kamakahonu Beach, which is on the doorsteps of the King Kam Hotel. This is the place where the royal court comes in on Wednesday, Thursday, and Sunday luau performances.
It's a safe place for kids to play. Just be aware of the sea urchins lingering in the rocks around the pier area. It's also a great spot to snorkel.
A not-so-sandy place is Honokohau Beach. Here you'll find shallow waters but an impressive place to snorkel once you get out past the shallows. You'll find all sorts of beautiful fish.
If you happen to have a four-wheel-drive vehicle or want to go on a small hike, there is Makalawena Beach, which is a beautiful white sand beach.
Makalawena is what you'd expect from a tropical beach. You'll find crystal clear waters, and if you hike around the area, you'll find two lava pools that can get warm in the summer. It is one of the amazing white sand beaches to enjoy!
Visiting a beach is one of the top things to do in Hawaii in general, so be sure to enjoy a few during your stay.
Explore Ali'i Drive
Another great place to check out is Ali'i Drive. Just walking down the road and taking in the different sights and sounds is worth it. It's a fun little strip that you don't want to miss.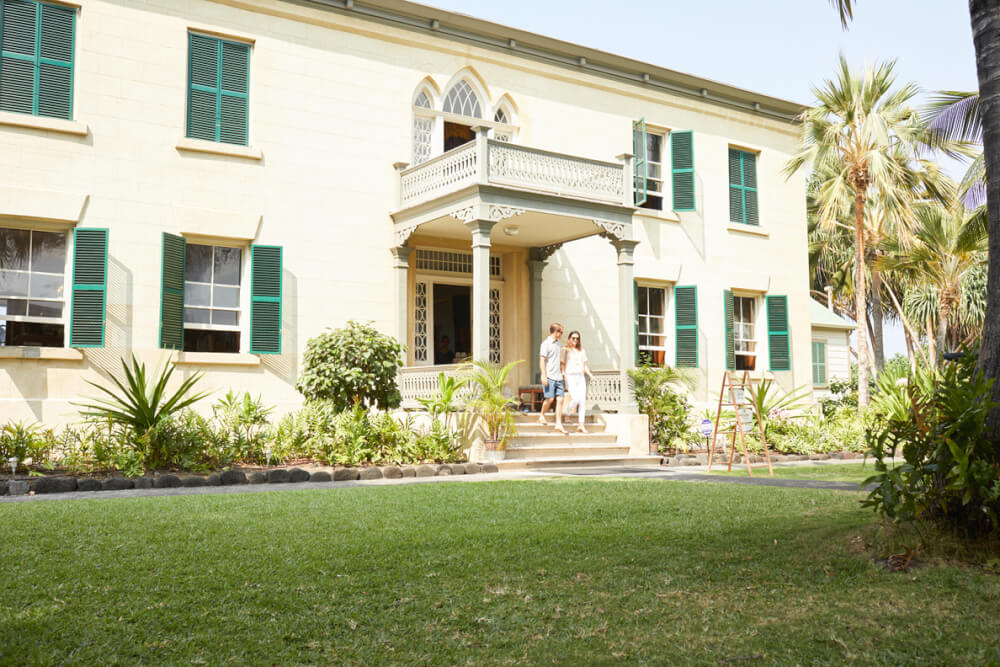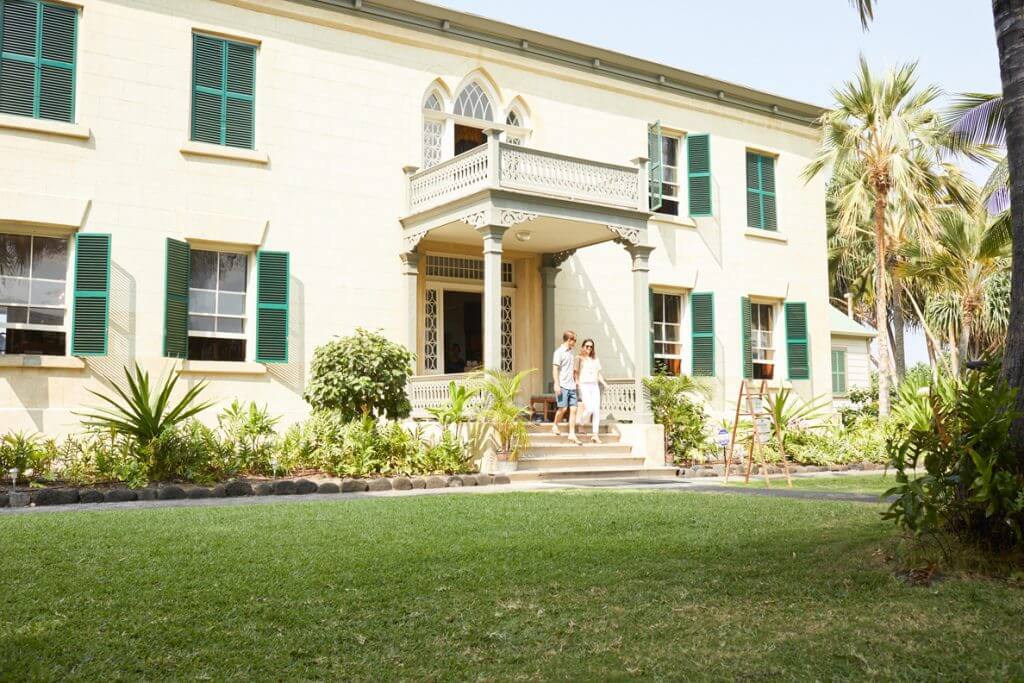 Plus, you'll be able to see the old Hulihe'e Palace. You can tour the palace, which has a bunch of artifacts from old Hawaii.
Grab a Bite to Eat
When it comes to eating in Kona, there are several places you could eat. On the Rocks serves great poke and other culinary treats that you'd expect from an island.
If you are looking for Mexican food, you'll be able to get your fill at Pancho and Lefty's on Ali'i Drive.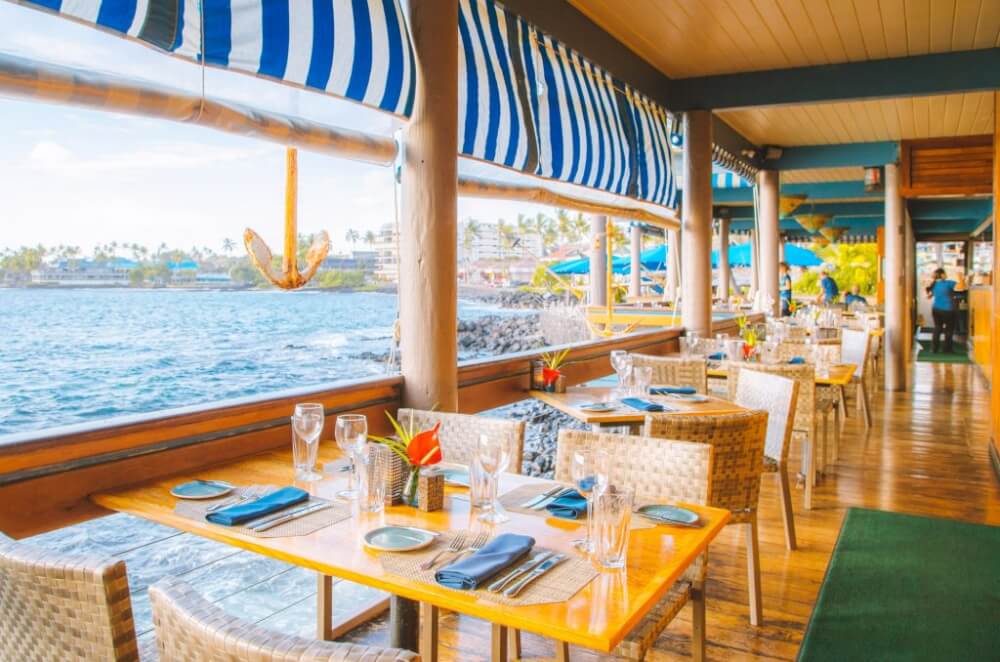 Huggo's is another place you'll want to stop and have a bite to eat. It is one of the best restaurants on this side of the island. Make sure you get the ahi poke salad if you go.
You will want to try the local food when you visit the Hawaiian islands
Get Some Kona Coffee
One of the things to see in Kona is a coffee farm. Mountain Thunder Coffee Plantation is located in Kona and is one of the best things to do Kona offers!
At Mountain Thunder Coffee Plantation, you can go on a free or guided tour. You will get to learn how coffee is grown, see coffee beans, and even get a sample!
There are even a few self guided tours that go to see the lava tubes and go on a nice nature walk.
After the tour, be sure to stock up on your own coffee beans because it is so delicious!
You can also enjoy plenty of Kona coffee at a coffee shop or anywhere you go during yoru trip.
Kona Hawaiian Quilt Museum
If you like sewing, check out the Kona Hawaiian Quilt Museum. Here you will find tons of vintage Hawaiian quilts that are traditional to the Hawaiian culture.
You can even learn the traditional art of making kapa. There are special exhibits, a quilt show, a gallery, and so much more. Going on a self guided tour is a great way to see some Hawaiian history.
Plus, admission is only $5, so it is one of the cheap things to do in Kona Hawaii!
Kona Farmers Market
You have to check out the Kona Farmers Market during one of your trips to Kona Hawaii.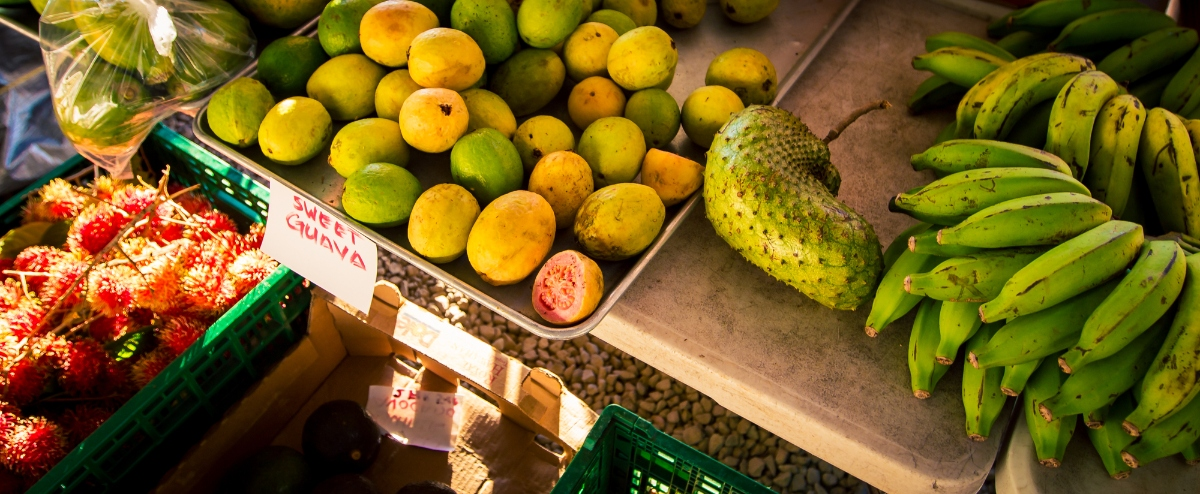 This is one of the best things to do in Kona Hawaii! Here you will find tons of local, fresh produce, honey, flowers, Kona coffee, jam, handmade goods, and so much more.
It is one of the best ways to support the Big Island and help these small farmers and businesses.
The Kona Farmers Market is open on Saturdays from 8 AM to 12 PM and is located at the Keauhou Shopping Center.
Kanaloa Octopus Farm
If you are looking at some things to do in Kona before flight takes off, head to the Kanaloa Octopus Farm.
Your kids will love looking at and interacting with all the octopuses. You can even get to meet them!
You will need to make a reservation to do a farm tour. If you have time, your family will love this adventure in Kona town.
Honaunau National Historical Park
One of the best places near Kona is the Honaunau National Park. It is about 40 minutes away from Kona town. This is considered a place of refuge and has lots of importance to the Hawaiian culture.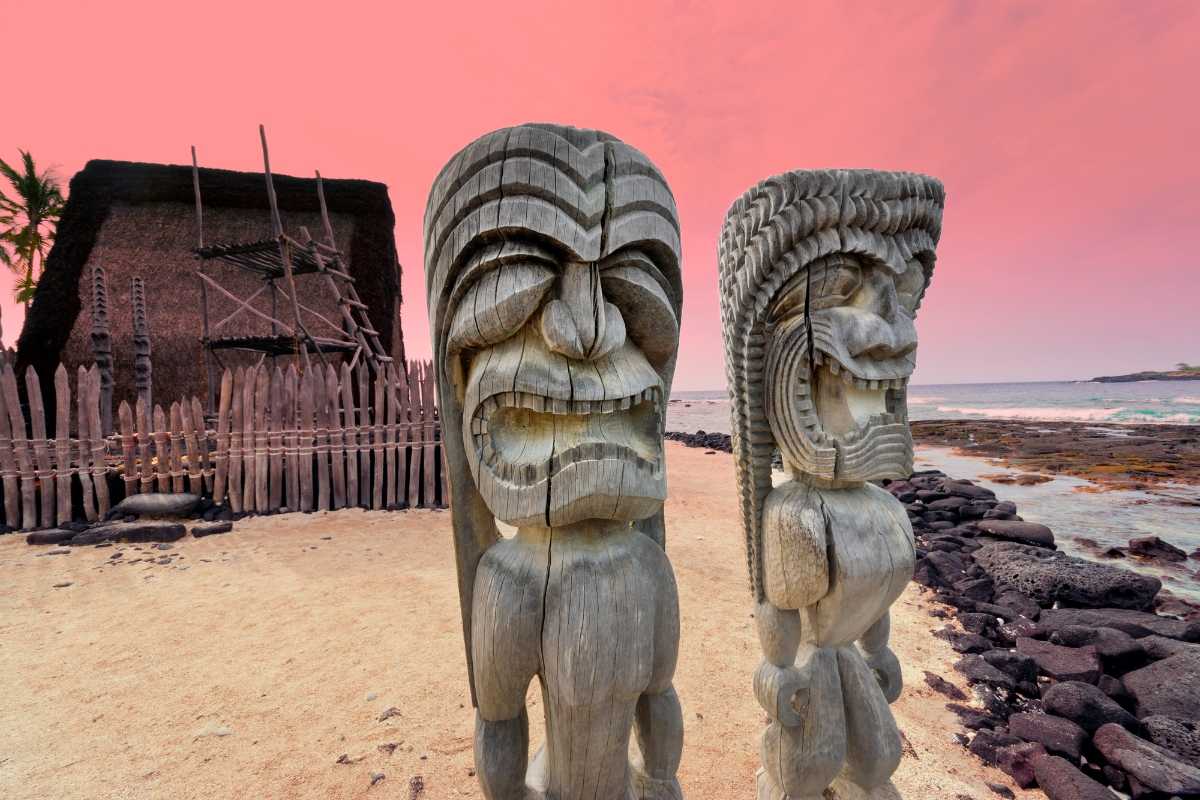 Here you can see the Hale o Keawe Temple, Tiki Statues, Hawaiian shelters, and so much more! It truly is a fun place to spend a bit with your family and learn about Hawaiian history.
Hawaii's Big Island has multiple national parks to enjoy and this is one of them!
Read my full review on the Puʻuhonua o Hōnaunau National Historical Park
Honokohau National Historical Park
Another one of the national parks in Hawaii is the Honokohau National Historical Park.
At the Kaloko-Honokohau National Historical Park, you can enjoy ancient fishing pools, a canoe house, petroglyphs, and much more.
You might even spot some Hawaiian sea turtles at the beach close by too! Kids can enjoy the junior ranger program and the easy hike to get to the beach.
Read my full guide on the Kaloko-Honokohau National Historical Park
Kamakahonu National Historic Landmark
The Kamakahonu National Historic Landmark is another one of the historical places in Kailua Kona. It is located close to King Kamehameha's Kona Beach Hotel and Kailua Bay.
At this ancient Hawaiian settlement, you will find a temple and other structures that were used by Hawaiian royalty in the past.
You can head to the beach surrounding the area and look at these landmarks.
Go Snorkeling
Another one of the Kona, Hawaii things to do is to go snorkeling! You will find tons of cool snorkeling spots all over the area.
One of the best places to visit in Kona for snorkeling is the Captain Cook Monument.
With this snorkeling cruise, you will head out to Kealakekua Bay where you will see all the beautiful tropical fish and coral gardens.
Set sail on a catamaran and enjoy the calm waters and beautiful fish. You might spot some sea turtles too!
Going on a snorkeling tour, you won't need your own gear as everything is provided!
Manta Rays
One of the top Kona things to do is to go snorkeling to see the Manta Rays! Head out during sunset and enjoy a quick boat ride. From there, as the moon is setting, you will start to see the rays appear.
With this manta ray snorkeling tour, enjoy a few hours of swimming with these beautiful creatures. It is one of the best things to do along the Kohala Coast!
Get your manta ray snorkeling tickets
Whale Watching
If you are visiting Kona during the winter, one of the best Kailua Kona things to do is to go whale watching!
Whales migrate during the winter months, so you can enjoy seeing these stunning animals out on a boat tour!
The nice thing about whale watching is that you can go in the morning or afternoon and still see them swimming around in the ocean.
Most whale watching tours offer guaranteed sightings or you get to go again for free!
Get your whale watching tickets
Kona Brewing Company
If you want to taste some Hawaiian beer, head to the Kona Brewing Company to taste some delicious beers.
Many of their beers have tropical flavors you will love! Stop by during your trip and enjoy some of their "liquid aloha."
Kona Cloud Forest Sanctuary
The Kona Cloud Forest Sanctuary is one of the best places in Kona Hawaii if you want a quiet, relaxing experience.
Here you can go on guided tours to explore the tropical cloud forest on this private nature reserve. Reservations are required to attend.
If you plan to head to the sanctuary, make sure to wear closed-toe shoes as you will be hiking during the tour.
This is a great way to explore the tropical plants and learn more about the ecosystem in Hawaii. Plus, they even have meditation experiences too!
This is the only tropical cloud forest, so it is quite unique to experience.
Ocean Rider Seahorse Farm
Another one of the activities in Kona is to head to the Ocean Rider Seahorse Farm. This is the perfect kid-friendly thing to do in Kona that the entire family will love. The Ocean Rider Seahorse Farm is the only one in the world!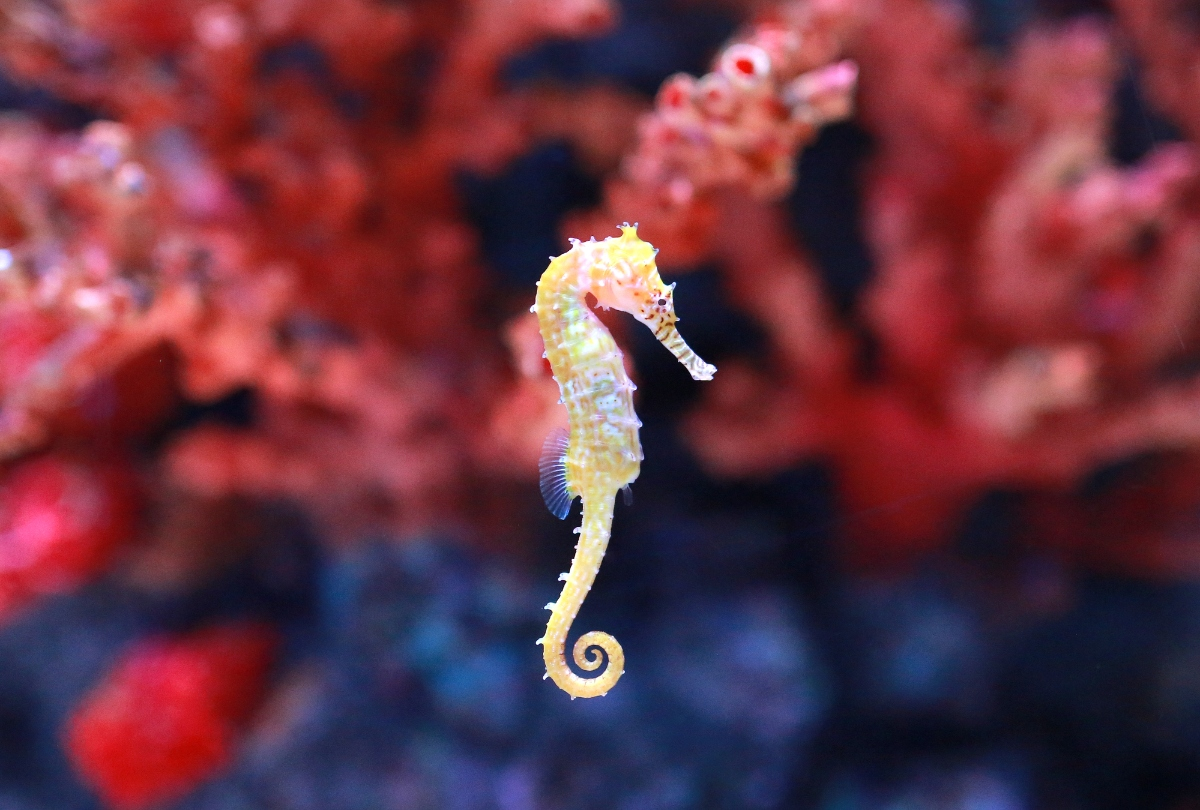 Here you can learn more about the seahorse and even hold one in your hands and feed them! Their interactive tours are so educational and so much fun!
To hold a seahorse, your child must be 6 years and older, but all ages can enjoy the farm.
Old Hawaiian Chocolate Factory
If you love chocolate, one of the Kona best things to do is to visit the Old Hawaiian Chocolate Factory!
Enjoy a guided tour of the plantation to learn more about the cacao orchard and how chocolate is made. Plus you get to try a few different samples too!
100% Hawaiian-grown chocolate is so delicious and the tour is quite fun for the entire family.
Go to a Luau
One of the best luaus in Kona is the Island Breeze Luau.
At the Island Breeze Luau, you will find delicious food, fun dances, and so much more. It lasts three hours and is located at the King Kamehameha's Kona Beach Hotel.
Get your Island Breeze Luau tickets
Sunset Dinner Cruise
If you to do something romantic to do during your babymoon, honeymoon, or for a date night during your trip, why not try a sunset dinner cruise?
With this sunset dinner cruise, you'll head out on the water to watch a gorgeous Hawaiian sunset and enjoy a delicious meal at the same time.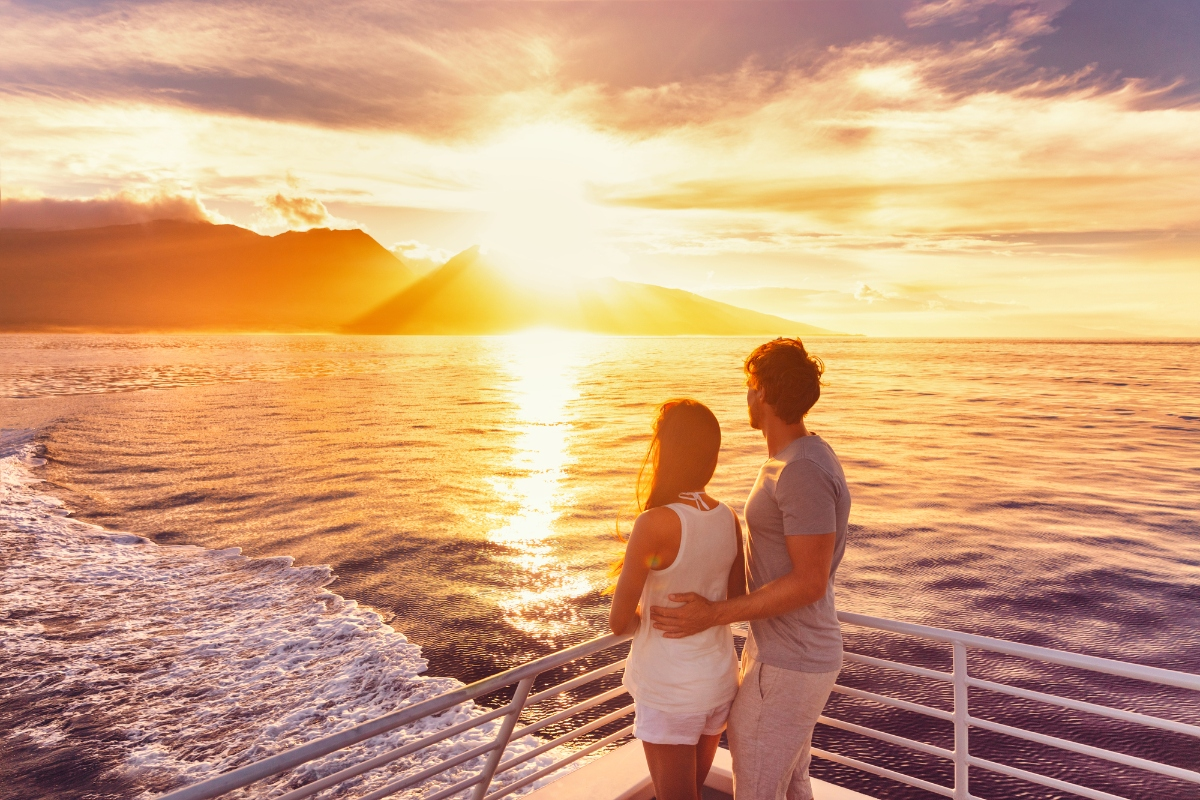 You'll also enjoy live music during this three-hour cruise aboard a 65-ft. double-decker catamaran. It is one of the most romantic things to do in Kona!
Get your sunset dinner cruise tickets
Three Ring Ranch Exotic Animal Sanctuary
If your kids love seeing animals, head to the Three Ring Ranch. You can see some exotic and endangered animals including zebras, hawks, owls, flamingos, reptiles, and more!
While this exotic animal sanctuary is not open to the public, if you want to support the sanctuary and see the animals, you can do a private tour with children 6 years and older.
Painted Church in Hawaii
Another one of the fun things to do near Kona is to visit the beautifully painted church. It is about 30 minutes away from Kona and is quite spectacular to see.
Father John Velghe of Belgium built the church and wanted the bible to come to life through the paintings. Everything is painted from the ceiling to the walls!
Learn more about the Painted Church in Hawaii
Go on a Helicopter Tour
If you want to see all the Big Island offers, why not try out a helicopter tour? There are a few companies that take off from Kona and Mauna Loa Helicopter Tours is one of them.
With this helicopter tour, you can choose to have the doors on or off for your flight. You will love to see stunning views of Hawaii Volcanoes National Park, waterfalls, white sand beaches, black sand beaches, tropical rainforests, historic temples, and so much more.
It truly is an unforgettable experience!
Get your helicopter tour tickets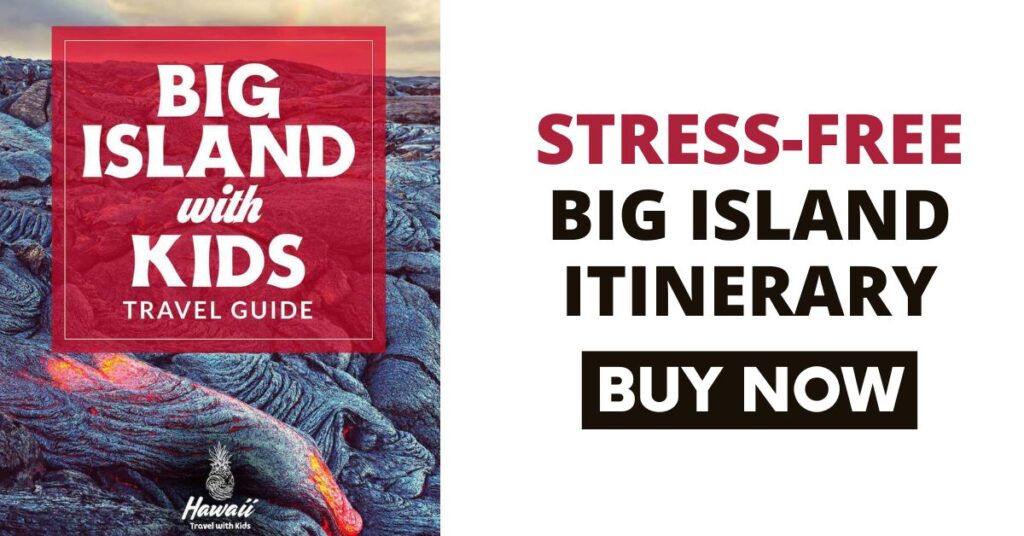 Things to do Kona Hawaii Wrap-Up
These were just some of the things to do with kids in Kona during your vacation. From learning about Hawaiian culture to trying some famous Kona coffee, this Kona guide has it all.
With so many things to do in Kona, you may have to pick and choose what's right for you and your budget. There are quite a few cheap and free things to do in Kona.
Hopefully this Kona travel guide has helped you figure out the top Kona Hawaii tourism places to explore during your trip to Kona!
Kona Hawaii Things To Do FAQs
Where is Kona Hawaii?
Kailua Kona is on the West Side of the Big Island. The Kona district is pretty big, where you will find the historic Kailua Kona town and Downtown Kona, along with plenty of fun things to do in Kona!
What is Kona Hawaii known for?
Most people know that Kona is where some of the best coffee in Hawaii is grown. Kona is also a popular spot for deep-sea fishing.
What is the best time to visit Kona Hawaii?
Any time of year is pretty awesome for a Kona vacation. If you want to get the best view of the stars, head to Kona in Winter. That's when the skies are the clearest, and you'll be able to see lots of constellations. This is also when it's less crowded (except for Winter Break.)
What is the rainy season in Kona Hawaii?
It's actually not what you'd expect. Kona is usually rainiest during the Spring, Summer, and Fall. Although it doesn't typically get a lot of rain compared to the other islands.
Is Kona good for families?
Yes! There are plenty of fun things to do in Kona with kids! From some awesome snorkeling spots to a black sand beach, you will find something for the entire family here!
What is the best month to visit Kona Hawaii?
The best time to visit Kona would be the winter months so you can enjoy the beautiful whale watching, coffee farms, and so much more.