Are you craving traditional Hawaiian food? This classic Hawaiian Beef Stew Recipe is the ultimate Hawaiian comfort food. Keep scrolling for the full recipe!
This Hawaiian beef stew recipe contains affiliate links which means if you purchase something from one of my affiliate links, I may earn a small commission that goes back into maintaining this blog.
This Hawaiian Beef Stew recipe is warm, comforting and filling. Made with big chunks of meat, carrots and tomatoes and slowly cooked in a thick, tomato based beef broth, this is going to become a family favorite meal in your home.
Hawaiian Beef Stew is one of those recipes that you grow up with in Hawaii.
It's made with carrots, and potatoes and is slowly cooked in tomato broth and then served over sticky white rice.
Honestly just writing about it makes me crave a big bowl of it!
In Hawaii, it's just called beef stew or local beef stew. And while it's traditionally served over rice, (so it can soak up all those delicious juices) you can eat it by itself, with some bread or with macaroni salad on the side.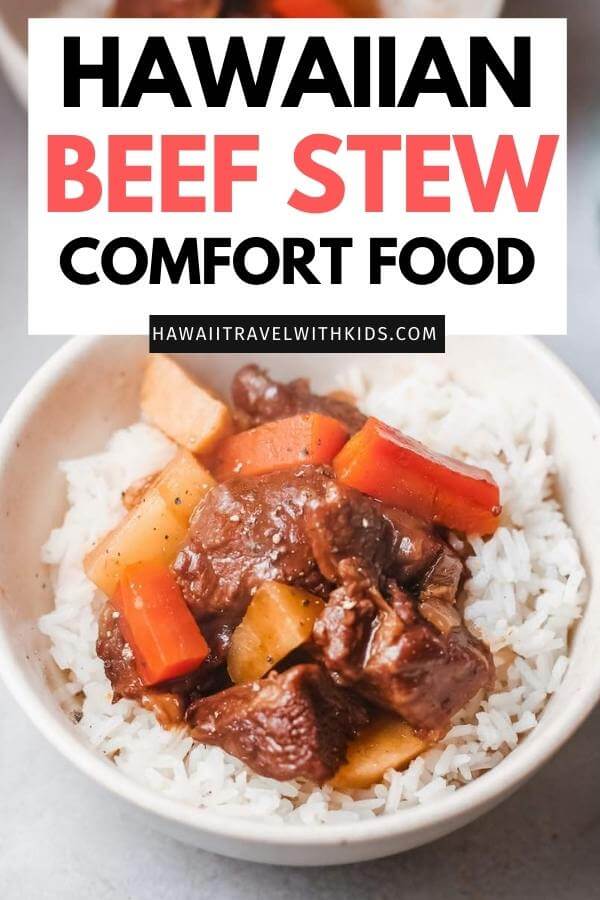 What do you need to make Hawaiian Beef Stew?
The great thing about this recipe? Is super easy to replicate it at home. You only need a handful of ingredients and a little bit of time to create this delicious dish.
The only secrets for a mind blowing local beef stew? Using a lot of very ripe tomatoes and bay leaves.
Tomatoes in Hawaii are usually super sweet and flavorful.
Since you probably won't have access to them, make sure to use ripe and fresh tomatoes.
If you feel they are a bit acidic, you can add a teaspoon or two of brown sugar to balance it out and give it a taste more similar to the ones you'll get in Hawaii.
And the bay leaf?
Well it's the little secret ingredients that gives it all that comforting flavor that's so characteristic of this dish.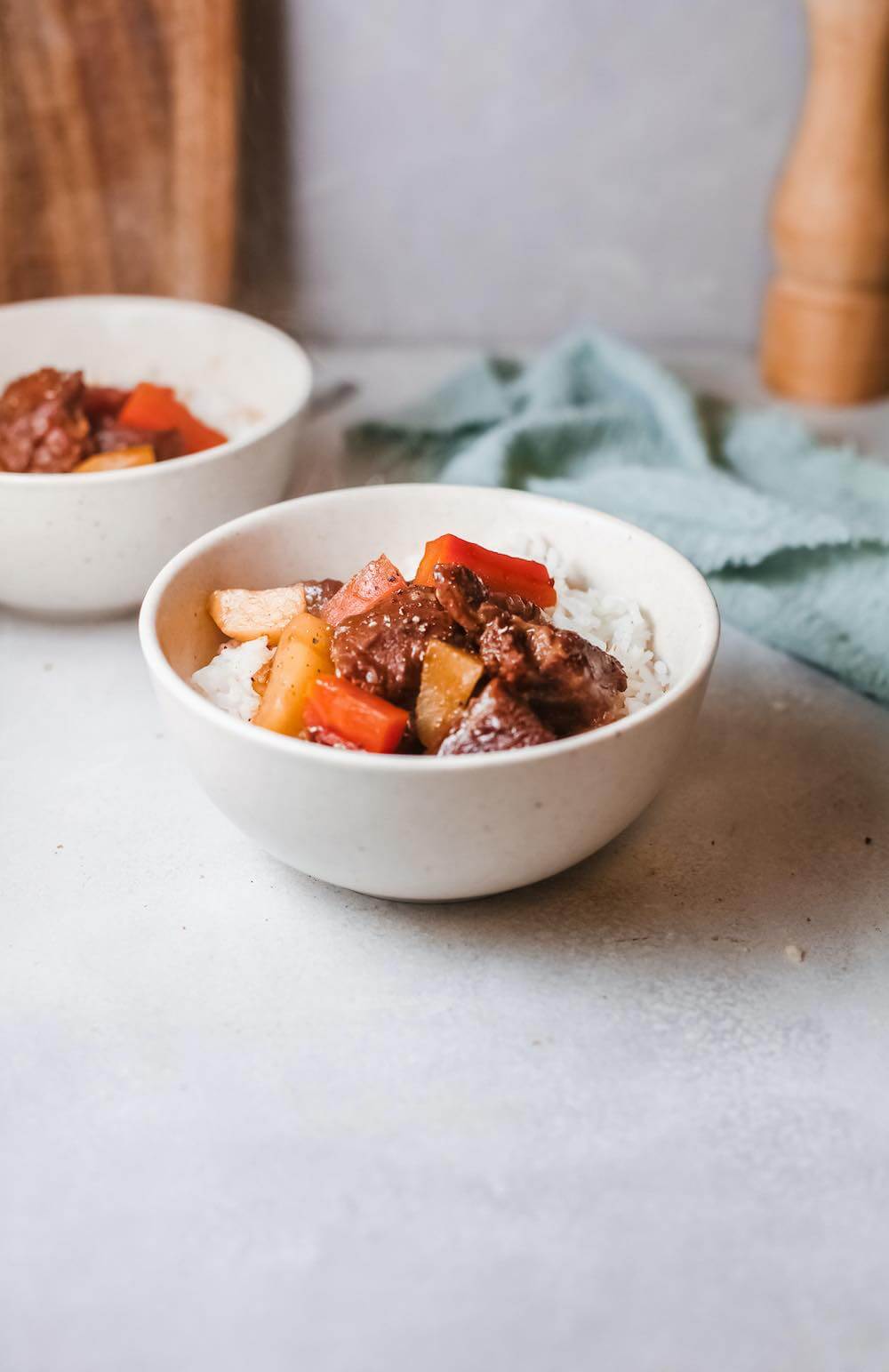 Can you cook Hawaiian Beef Stew in the Instant Pot?
Yes! The great thing about this recipe is that you can cook it in the Instant Pot, in a slow cooker and also on the stove top.
All three ways work just as good and the end result is going to be incredibly aromatic and delicious.
Hawaiian Beef Stew Recipe
Hawaiian Beef Stew Ingredients:
1 Pound boneless chuck roast, cut into chunks
3 Tbsp vegetable oil
1 Large onion, chopped
2 Garlic cloves, minced
3 Carrots, chopped
3 Potatoes, chopped
2 Cups tomatoes, chopped
½ Cup water
2 Tbsp tomato paste
1 Bay leaf
Salt and pepper to taste

How to Make Hawaiian Beef Stew
Heat half the vegetable oil in a pot over medium heat. Add the chuck roast and cook until browned on all sides. Transfer to a plate and set aside.
Add the remaining oil to the pot and the onion and cook until transparent. Add the garlic and saute for 1 more minute or until fragrant.
Add the tomatoes and the tomato paste and saute for around 5 minutes or until the tomato becomes richer in color.
Add the water and bay leaf and bring to a simmer. Cook it for around 45 minutes or until the broth has reduced and thickened.
Add the carrots, potatoes and the beef. Season with salt and pepper and cook for 45 minutes more or until the beef is tender and the veggies are cooked.