Are you heading to Maui and want to know where to stock up on groceries, snacks, drinks, beer, wine, and other food items? Find out the best Maui grocery stores to hit up once you land in Hawaii. Scroll down for all the info!
This Maui grocery stores post was written by Hawaii travel expert Marcie Cheung and contains affiliate links which means if you purchase something from one of my affiliate links, I may earn a small commission that goes back into maintaining this blog.
Whether you are staying on a condo or hotel on Maui, chances are, you'll want to swing by a grocery store to grab items at least once on your trip.
Whenever we stay in a condo on Maui, we always plan on cooking to save money. We stock up on breakfast items, sandwich makings, meat for grilling, and lots of poke!
Plus, we like to get POG (passion orange guava juice), a variety of Hawaiian potato chips, baked goods, spam musubi, and lots of cookies and bakery items!
If you're heading to this special island, we have a list of all the places you can get your Maui groceries.
Find out the best Maui bakeries worth checking out!
Don't have time to read a bunch of Hawaii blog posts and reviews? Here are some of our top picks for visiting Maui.
Popular Maui Tours/Activities
Favorite Maui Resorts/Hotels
Andaz Maui (this is a luxury resort with the best luau on Maui)
Honua Kai Resort & Spa (this is one of our personal favorites because there are tons of pools and there are condo options)
Want to Rent a Car in Hawaii?
One of the best places to rent a car in Hawaii is Discount Hawaii Car Rental because they get the best rates from top national companies like Alamo, Dollar, Thrifty, Avis, Enterprise, Budget, and Payless.
Want to skip all the planning and just access my detailed Maui Itinerary complete with daily schedules, kid-friendly activities, and travel hacks? Click the button below.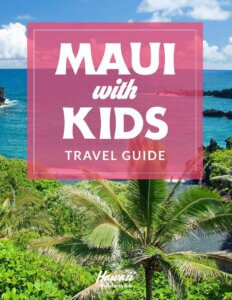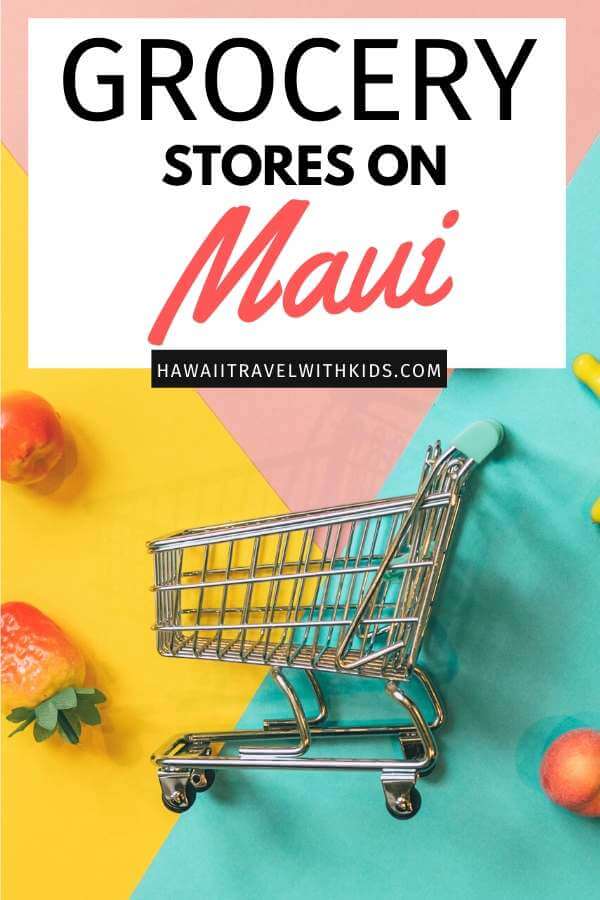 The Best Maui Grocery Stores You Need to Know About
Down to Earth is Maui's leading food store chain, selling all organic, natural, local, and fresh food. They have six stores, out of which five are in Oahu while one is in Maui.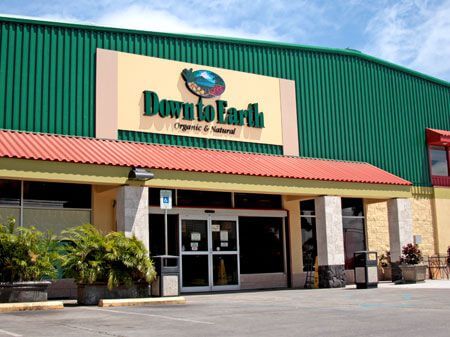 They feature a huge selection of items that cater to your health, natural, and dietary needs. Buying groceries from 'Down to Earth' in Maui means a healthy lifestyle.
You can find plenty of gluten-free, vegan, and vegetarian items, as well as fresh organic produce. When you shop from this store, you can rest assured that you only have the freshest, locally produced, farm-grown foods, including deli items too.
This is not all, though: at 'Down to Earth,' you can also buy fresh juices, smoothies, and healthy sandwiches from their menu.
While you are shopping here, you can even stop and have a look at their salad bar and a hot table. Plus, their wide array of delectable, freshly-made desserts is a unique experience. You will not regret buying your groceries from here.
Times Supermarket is one of Maui's most reasonable grocery stores to shop from. You can find a wide variety of fresh produce here, as well as warm food and a huge assortment of poke.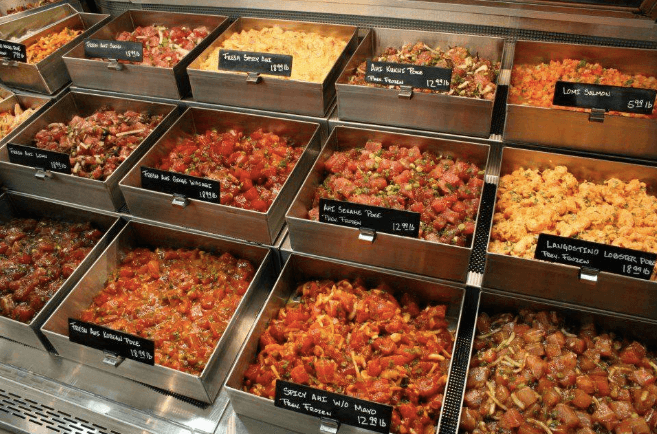 This supermarket is a very clean place to shop from, with plenty of well-trained helpers to assist you in your shopping experience. With a wonderful poke station and a great parking structure, your grocery shopping experience will be totally worthwhile.
There are two Times Supermarkets in Maui, and they operate from 5 AM to 2 AM. One of the Maui grocery stores is situated at 1310 South Kihei Road, while the other one is at 3350 Lower Honoapiilani Road.
It is one of the best places to buy groceries!
P.S: Do not forget to try the sweetened lemon iced tea by Hawaii's Dairy Meadow at this supermarket!
3. Foodland
Foodland is the place where you can find all your grocery and pharmacy needs. Not only do you get to shop at a very clean place, but the food available here is also freshly sourced, such as fish and poke.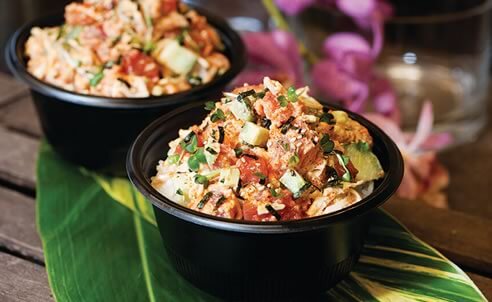 You can find a wonderful variety of poke here, including Ahi Tuna, California, Wasabi Ahi, and Shoyu.
At Foodland, you can also shop from an extensive selection of non-alcoholic and alcoholic items, including all the soda flavors of the Hawaiian Sun you crave for.
That is not all, though; if you get tired of all the grocery shopping, you can take a break and their hot station and have a bite to eat from their delicious entrees, including Spam musubi and Japanese curry.
It also offers local produce and a deli counter too!
4. Island Gourmet Market
Have you heard of ABC Stores? They are a super popular chain in Hawaii where people can get souvenirs, clothing, snacks, toiletries, etc.
Well, Island Gourmet Market is one of their sister companies.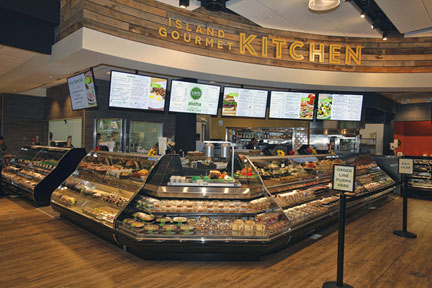 The Island Gourmet Market has a fine selection of all local foods. You can find some great sushi, musubi, and poke, as well as a huge variety of fresh fruit bowls and sandwiches.
Plus, it's a great place to get fresh pastries and wine!
5. Walmart
A Maui Walmart is one of the most popular grocery stores on the island and on the mainland. It's where you find everything you need at tremendously great prices.
From groceries, fresh produce, household items, electronics, and car tires to pet items, you name it, and you will find it here.
Walmart has very reasonable prices as compared to the mainland. You can find Walmart right after you leave the airport in Kahului.
It offers some of the cheapest groceries in Maui you will find!
6. Costco Maui
We love love love Costco!
You can buy a variety of deli items, dairy items, and frozen and bakery items at Costco Maui. You can get large portions of ready-to-heat items that will save you money in Hawaii.
When it comes to the top choices of Maui grocery stores, you will see the majority of people recommending Costco because it is the one place, like Walmart, where you can find everything on your vacation grocery list.
Apart from regular grocery items, you can also find some great microwave options as well as fish/hamburgers for your grill, organic coffees, steaks/ chicken fillets, and a great variety of alcoholic and non-alcoholic beverages.
If you compare the prices of Costco with some other stores in Maui, you will find this a reasonably priced place for most regular and standard items.
Plus, you can't beat their $1.50 hot dogs!
7. Safeway Maui
For all your basic grocery needs, including cereals, breakfast items, and bread, a Maui Safeway is a great option. You will find some of the most standardized stuff here, as well as some unusual cuts in fish in the fish section.
If you already have a Safeway Club Card (or use a phone number), it will work here. Plus, they have $5 Fridays, where you can save a lot of money when you buy groceries.
8. Whole Foods
Did you know you can also find Whole Foods in Maui too? It is located at 70 E Kaahumanu Ave in Kahului.
Here you will find local produce along with plenty of healthy foods to enjoy. They often have good deals, especially on gluten-free items.
For specialty items and top-notch groceries in Maui, you will love Whole Foods!
9. Hawaiian Moons Natural Foods
If you are in South Maui, stop by Hawaiian Moons Natural Foods. It is open every day from 8:00 am to 8:00 pm and offers groceries, fresh produce, a deli, a coffee bar, sandwiches, and so much more.
Here you can pick up tons of drinks and breakfast/lunch items as well.
Hawaiian Moons Natural Foods works hard at being sustainable and a zero-waste grocery store!
10. Island Grocery Depot
If you want a family-owned company, you will love Island Grocery Depot. Here you will find both bulk and individual sizes.
There are two Island Grocery Depot stores, one in Lahaina and the other in Kahului.
It is another great grocery store that offers fresh produce, meat and seafood, and other grocery items.
Check their weekly ad to find out the best deals!
Some Helpful Tips for Maui Grocery Stores
The Basics
When you have to buy basic items, including breakfast items, basic groceries, and some seafood, the best Maui grocery stores are Times Market, Safeway, and Foodland.
Some of you may even have a Safeway card, which you can use anywhere in Hawaii. You can also get yourself a rewards and loyalty discount card from Foodland.
Where the Times Supermarket is concerned, they have plenty of ongoing sales, so they do not offer loyalty cards as such.
For more fresh produce, you must visit Foodland Farms in Lahaina. Although it is a supplementary, smaller store, you can find a sufficient variety of fresh produce here.
Locally Grown Items on Maui
If you are searching for natural, organic products, then you must shop from Down to Earth in Kahului, Whole Foods, and Mana Foods Paia. You will notice how Mana Foods and Down to Earth prioritize locally-grown produce and are especially great grocery stores for all vegetarians and vegans.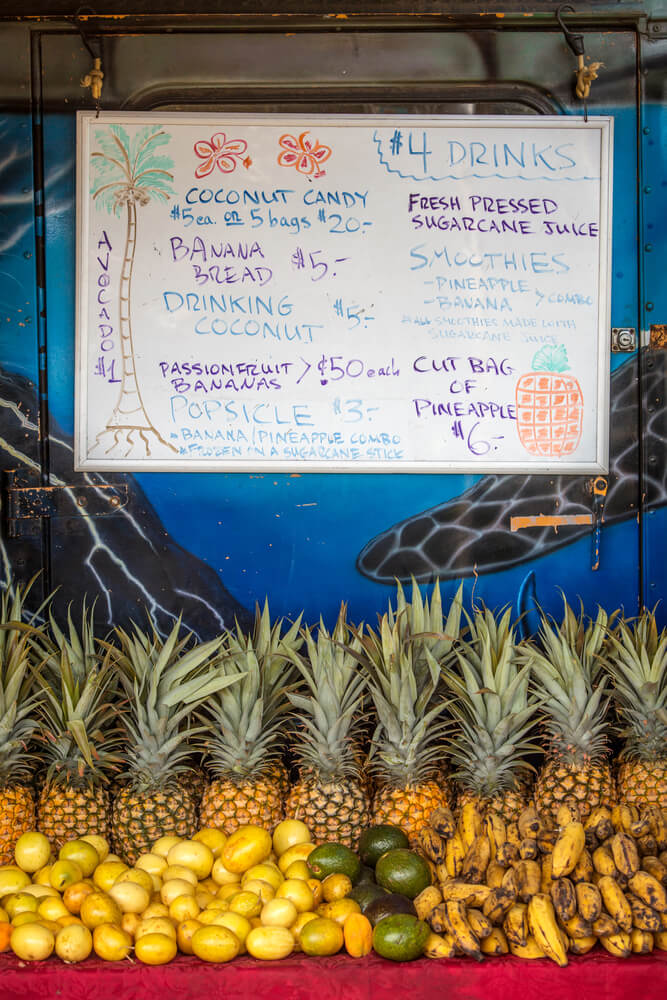 At this point, we would also like to mention the Kula Country Farms produce, which is a stand you can find in Upcountry Maui. Local farmers put up this stall to sell vegetables, fruits, jams jellies, and freshly baked goods.
It is a worthwhile visit here and would not only get you some really authentic, fresh foods but also encourage the local farmers.
Bulk Purchases on Maui
For bulk grocery shopping, it is best to purchase from Costco Maui. They also have a membership card that is a great option for those who stock grocery things up in bulk. With the card, you will be able to buy loads of basics at a very reasonable price.
Maui Farmers Markets
Although these are different from the regular grocery stores, you will, however, notice many craft fairs and farmer's markets that take place at Queen Ka'ahumanu Center in Kahului.
You can come here on any Wednesday, Tuesday or Friday and buy some special treats for your home. The banana bread at these fairs is much popular in Maui.
Other Places to Shop on Maui
There are also tons of other Maui shopping experiences. You can check out Maui malls, boutiques, craft fairs, and gift shops.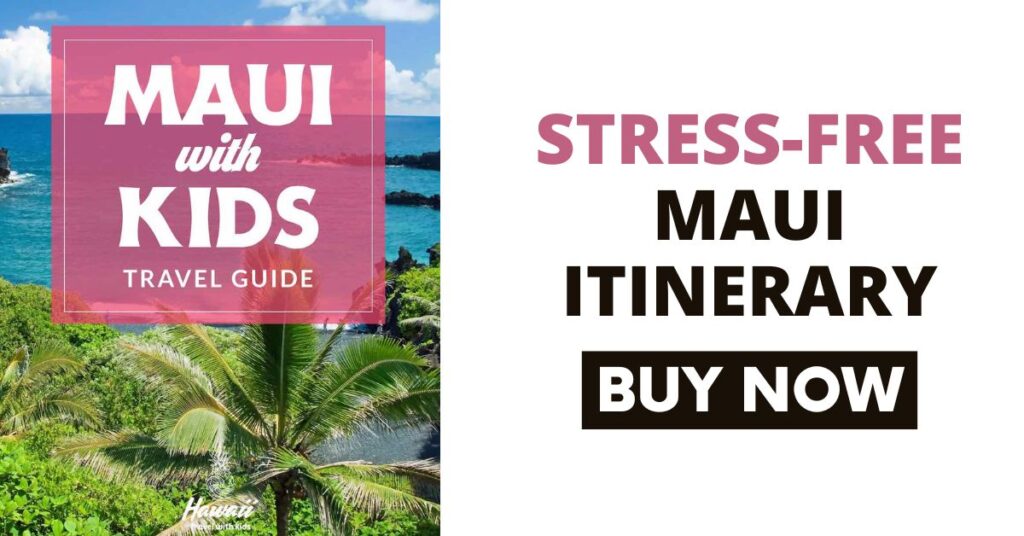 Maui Grocery Store FAQs
How Much Do Groceries Cost In Maui?
The prices of meals in Maui vary. However, an estimate shows that an average meal in Maui costs you approximately $57 each day. This means that groceries in Maui are generally on the higher side.

You can save money by buying in bulk (if you have enough people in your party or are staying a long enough time to eat them all.)
Can You Have Your Groceries Delivered in Maui?
Yes, you can have your choice of groceries delivered to your hotel, condo, or your residence in Maui. You can even pre-order so that you find your groceries in stock upon your arrival in Maui. Or you can instruct for delivery any day during your time in Maui.

There is an efficient delivery system on Maui that allows you to order whatever items you need, delivered on any choice of the day before or after you arrive.
Do You Need To Carry Your Own Bags When Off For Grocery Shopping In Maui?
Yes, as a rule, Maui grocery stores do not practice packing their customers' shopping in plastic bags. You must, therefore, carry your own reusable bags or your own plastic or tote bags.
Is Costco in Maui more expensive?
Grocery prices at Costco are cheaper than other grocery stores you will find on the island. But Costco in Maui, compared to the mainland, might be a bit more expensive for some things.
Maui Grocery Stores Wrap-Up
From grocery delivery to the cheapest groceries you will find, Maui has it all. If you are staying in a vacation rental with a kitchen, stock up your food at any of these grocery stores in Maui!
Planning a trip to Maui? Click here for my Maui travel planning articles to help you save money in Hawaii!