Are you looking for a super easy, but delicious Hawaiian chicken recipe? Try this Hawaiian Shoyu Chicken recipe. It's sure to delight your whole family! Scroll down for the full recipe!
This Hawaiian shoyu chicken recipe contains affiliate links which means if you purchase something from one of my affiliate links, I may earn a small commission that goes back into maintaining this blog.
I'm all about the plate lunches in Hawaii. There are so many delicious marinated meat options. Add some rice and macaroni salad, and you've got a full meal!
One of the most popular Hawaiian chicken recipes is Shoyu Chicken. Shoyu is the Japanese word for soy sauce and that's what everyone calls soy sauce in Hawaii.
What I like about this chicken recipe is that it's really easy to prep and then it simmers for half an hour, giving plenty of time to cook up some veggies or make rice.
Plus, you can make a double batch for dinner to ensure leftovers for lunch the next couple of days!
Check out the rest of my Hawaiian recipes.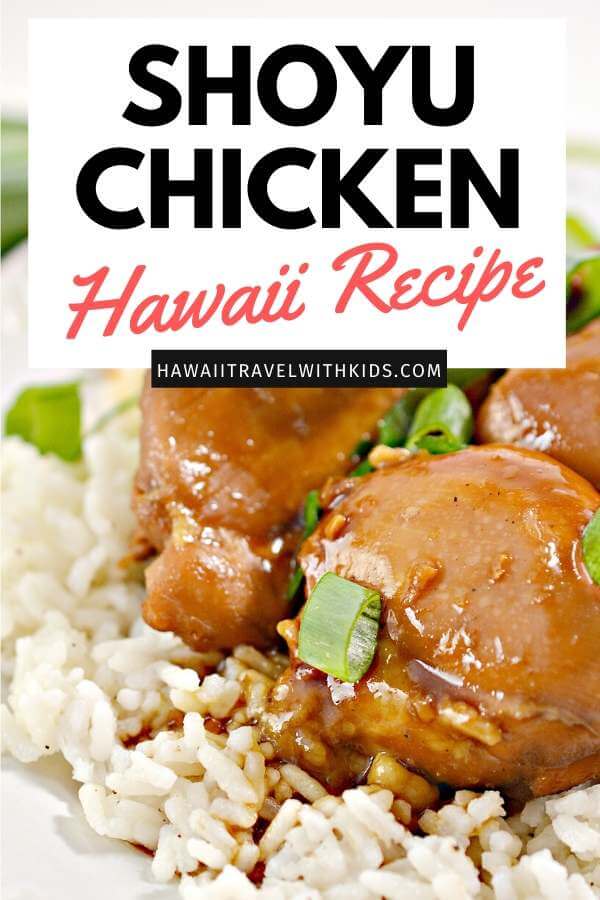 Hawaiian Shoyu Chicken Recipe
Prep Time: 15 minutes
Cook Time: 35 minutes
Servings: 5
Ingredients for your Hawaiian Shoyu Chicken Recipe:
2 lbs. Boneless skinless chicken thighs
⅔ C. Soy sauce
½ C. Brown sugar
2 C. Chicken broth
3 tsp. Minced garlic
1 Tbsp. Ginger paste
½ tsp. Chinese five spice powder
2 Tbsp. Cornstarch dissolved in 2 Tbsp. warm water
Fresh chopped green onions for garnish
How to Make Hawaiian Shoyu Chicken:
In a pot big enough to hold all of your chicken, add the soy sauce, brown sugar, chicken broth, minced garlic, ginger paste and 5 spice powder. Whisk to combine the ingredients well.
Add the chicken to the pot with the sauce, and toss to coat, pushing the chicken down into the liquid.
Place a lid on the pot, and bring it to a boil over medium-high heat.
Reduce the heat and simmer the chicken over medium-low heat until it is cooked through, about 30 minutes.
Remove the chicken from the pot.
Add the cornstarch to the pot with the sauce, and raise the heat to medium. Cook until the sauce has thickened.
Serve the shoyu chicken over rice with the sauce and green onions for garnish.

Yield: 5 Servings

Hawaiian Shoyu Chicken Recipe

Are you looking for a super easy, but delicious Hawaiian chicken recipe? Try this Hawaiian Shoyu Chicken recipe. It's sure to delight your whole family!

Ingredients

2 lbs. Boneless skinless chicken thighs
⅔ C. Soy sauce
½ C. Brown sugar
2 C. Chicken broth
3 tsp. Minced garlic
1 Tbsp. Ginger paste
½ tsp. Chinese five spice powder
2 Tbsp. Cornstarch dissolved in 2 Tbsp. warm water
Fresh chopped green onions for garnish

Instructions

In a pot big enough to hold all of your chicken, add the soy sauce,
brown sugar, chicken broth, minced garlic, ginger paste and 5 spice
powder. Whisk to combine the ingredients well.
Add the chicken to the pot with the sauce, and toss to coat, pushing the chicken down into the liquid.
Place a lid on the pot, and bring it to a boil over medium-high heat.
Reduce the heat and simmer the chicken over medium-low heat until it is cooked through, about 30 minutes.
Remove the chicken from the pot.
Add the cornstarch to the pot with the sauce, and raise the heat to medium. Cook until the sauce has thickened.
Serve the shoyu chicken over rice with the sauce and green onions for garnish.

Nutrition Information:

Yield:

5

Serving Size:

1 Amount Per Serving:

Calories:

413

Total Fat:

15g

Saturated Fat:

4g

Trans Fat:

0g

Unsaturated Fat:

10g

Cholesterol:

223mg

Sodium:

2575mg

Carbohydrates:

24g

Fiber:

1g

Sugar:

18g

Protein:

48g