Are you planning a honeymoon in Hawaii? Scroll to see the best Oahu honeymoon resorts for your honeymoon that relaxing, indulgent, and oh-so-romantic! Scroll down for all our recommendations!
This post about Oahu honeymoon resorts was written by Hawaii travel expert Marcie Cheung and contains affiliate links which means if you purchase something from one of my affiliate links, I may earn a small commission that goes back into maintaining this blog.
If you are looking for an incredibly romantic honeymoon destination, it doesn't get much better than a honeymoon in Oahu.
This island is perfect for couples who want to do some hiking adventures, go snorkeling at Hanauma Bay, enjoy arts and culture, or just relax at the beach.
If you're looking for a bit of nightlife and high-end shops and restaurants, head straight for Waikiki.
Not only will you get the hustle and bustle from city life, but you'll also spend your honeymoon just steps away from the iconic Waikiki beach.
While there are tons of amazing Hawaii honeymoon resorts, some of the best ones are located on Oahu.
Your Honolulu honeymoon is also a great first stop in Hawaii before island-hopping to another island, like Maui or Kauai.
So, if you think you want to honeymoon on the island, let's take a peek at some of the best Oahu honeymoon resorts you won't want to leave!
Check out my Ultimate Hawaii Honeymoon Packing List!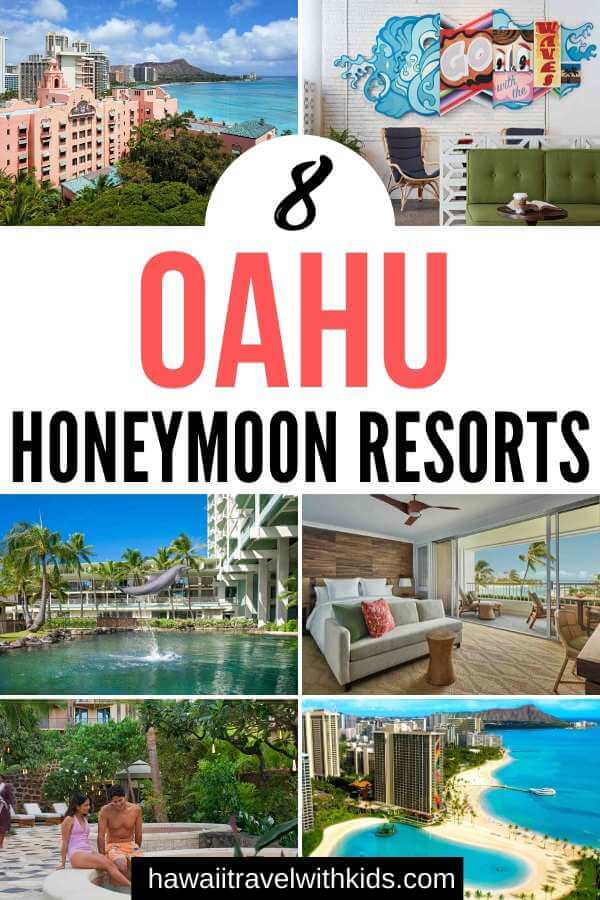 Oahu Honeymoon FAQs
Where in Hawaii is best for a honeymoon?
While all the islands are pretty spectacular and perfect for honeymoons, Oahu is a popular Hawaii honeymoon spot because there are so many romantic things to do! Plus, they have some of the most luxurious resorts!
Is Honolulu good for a honeymoon?
Honolulu is a pretty big city, so there are areas within Honolulu that are more romantic than others. Waikiki is a popular place to stay in Oahu for a honeymoon as they have resorts for every budget.
Is Turtle Bay all-inclusive?
No, it's not. But, they have tons of amenities and food options on site which makes it pretty easy to stay there all day long. Plus, it's where celebrities stay in Hawaii!
8 Romantic Oahu Honeymoon Resorts
If you're looking for the ultimate Hawaii honeymoon hotel, you'll find tons of options on Oahu. Here are some of my top picks!
If you are looking to completely get away and unplug, it doesn't get much better than the North Shore of Oahu, which is about 45 minutes from Waikiki. And the most romantic place to stay on the North Shore is Turtle Bay Resort.
What makes Turtle Bay Resort unique is that because of the way the hotel is designed, you can watch both the sunrise and sunset from their hotel. That's hard to come by! Check out the latest prices and more details.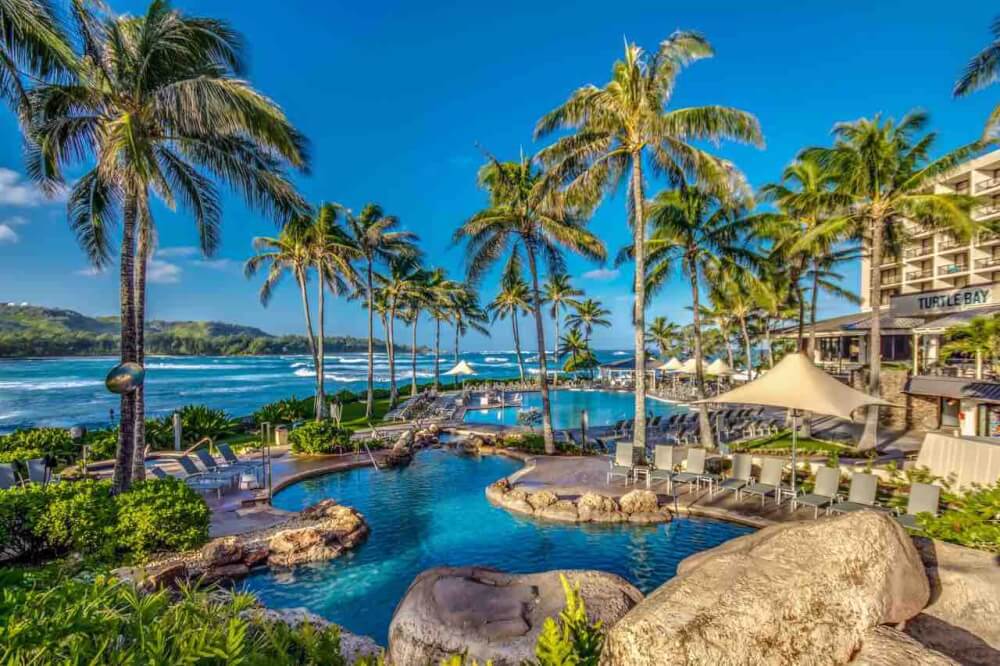 Romantic Things to do at the Turtle Bay Resort
Lots of couples choose to stay at Turtle Bay Resort because of their many Oahu honeymoon activities like sunset horseback riding, sipping mai tais in a private pool cabana, or getting a seaside couples massage.
Plus, there's even private butler service!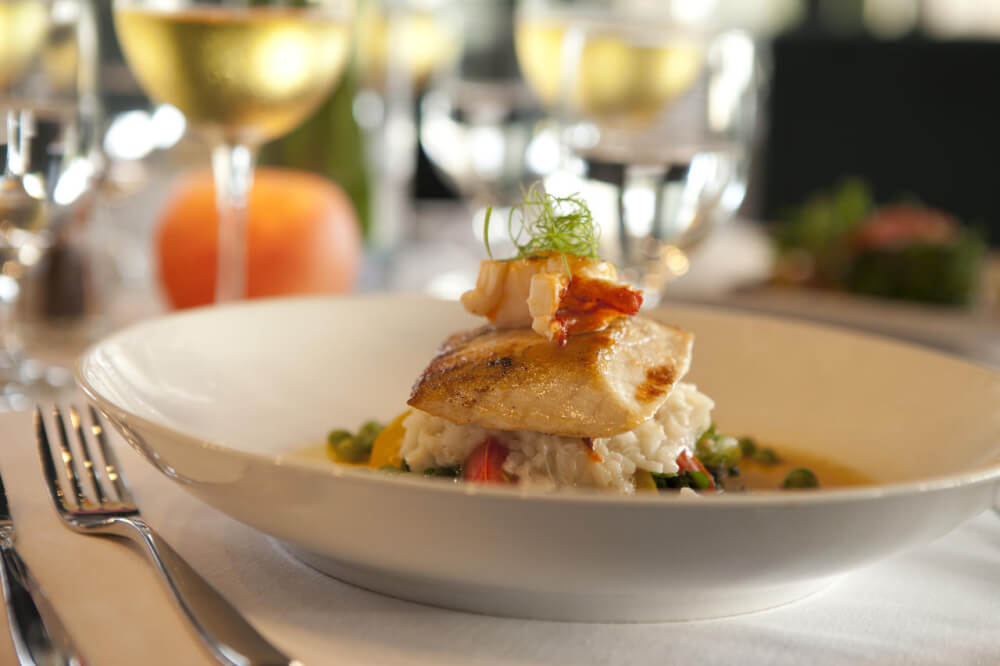 You can even enjoy a romantic dinner on the beach at Roy's Beach House. And then after dessert, kick off your sandals and take a barefoot stroll as you watch the sunset.
Turtle Bay Resort is also where they filmed the hilarious romantic comedies Forgetting Sarah Marshall and Mike and Dave Need Wedding Dates.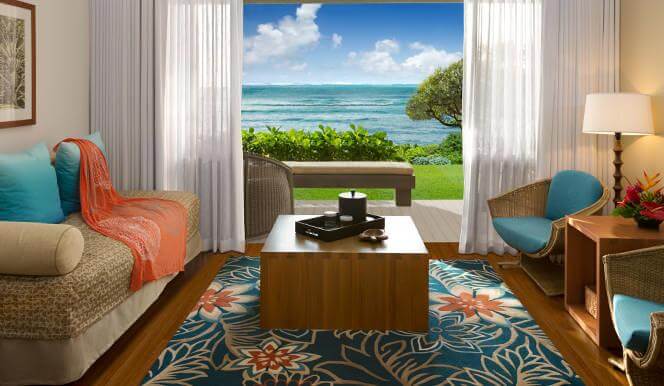 Rooms at the Turtle Bay Resort
As for the rooms, they have some ocean vista view rooms that come with a dedicated VIP Concierge, plush robes and slippers, Express Seating at Pa'akai Restaurant, guaranteed late check-out, and so much more.
But if you really want the ultimate Oahu honeymoon, splurge and get a Beach Cottage. These have high vaulted ceilings, deep soaking tubs, cozy lanais, and hammocks out on the cottage lawn.
You'll get daily surprises and a Cottage Host who will make sure you get everything you want.
And be sure to connect with their concierge team who will greet you with a fresh flower lei, champagne, and chocolate-covered strawberries!
This is hands-down one of the most romantic hotels in Oahu!
Check Rates at Turtle Bay Resort
If you are looking for a luxurious Honolulu honeymoon, you'll want to check out the Kahala Hotel & Resort in Honolulu's exclusive residential area of Kahala.
It's known as one of the most romantic hotels in Honolulu.
Elizabeth Taylor and Richard Burton spent their honeymoon here. And so many other famous celebrities have vacationed here (including presidents and music artists.)
This Oahu honeymoon resort is right on a white sandy beach and it feels completely secluded. But it's just 10 minutes from world-class shopping and entertainment in Waikiki. Check out the latest prices and more details.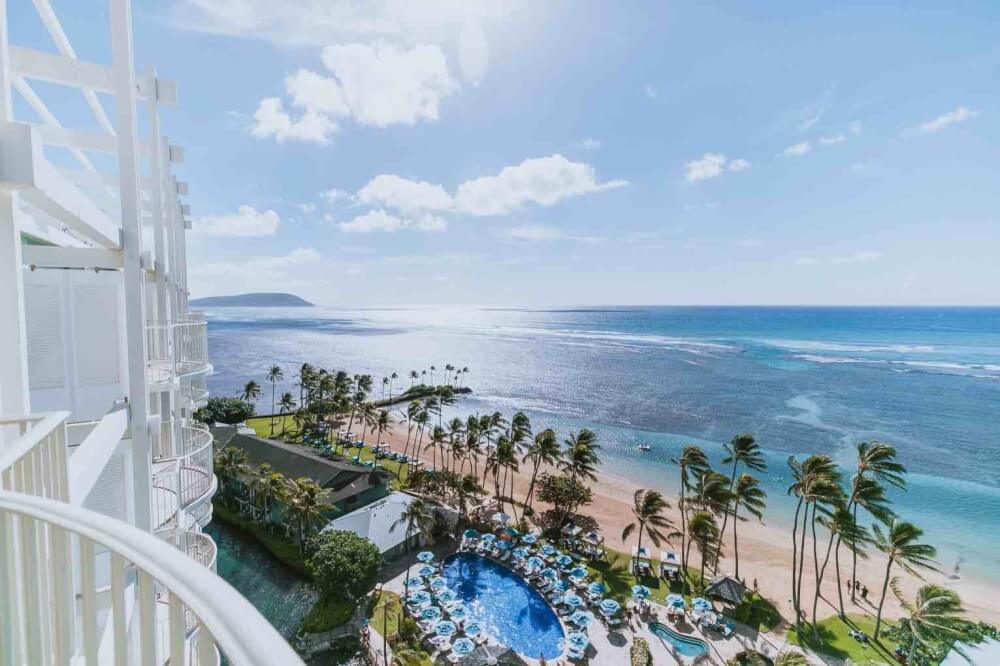 Romantic Things to do at The Kahala Resort & Spa
If you're looking for a unique thing to do on Oahu, the Kahala Hotel & Resort is home to Dolphin Quest. This is where you can become a dolphin trainer for a day (or week) or just play with the dolphins in the shallow lagoon.
These Atlantic Bottlenose dolphins are sure to be a highlight of your Oahu honeymoon! And it's one of the most fun things to do in Kahala! Check latest rates and availability.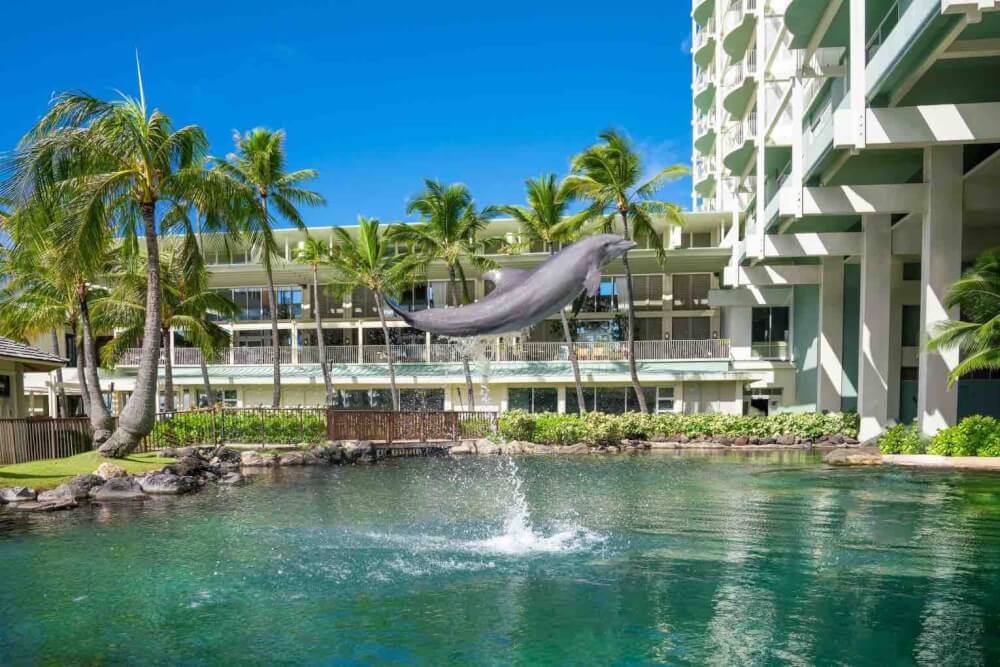 They also offer an outstanding dining experience where you can indulge in a culinary journey at their acclaimed restaurants: Pacific at Hoku's, Plumeria Beach House, and The Veranda.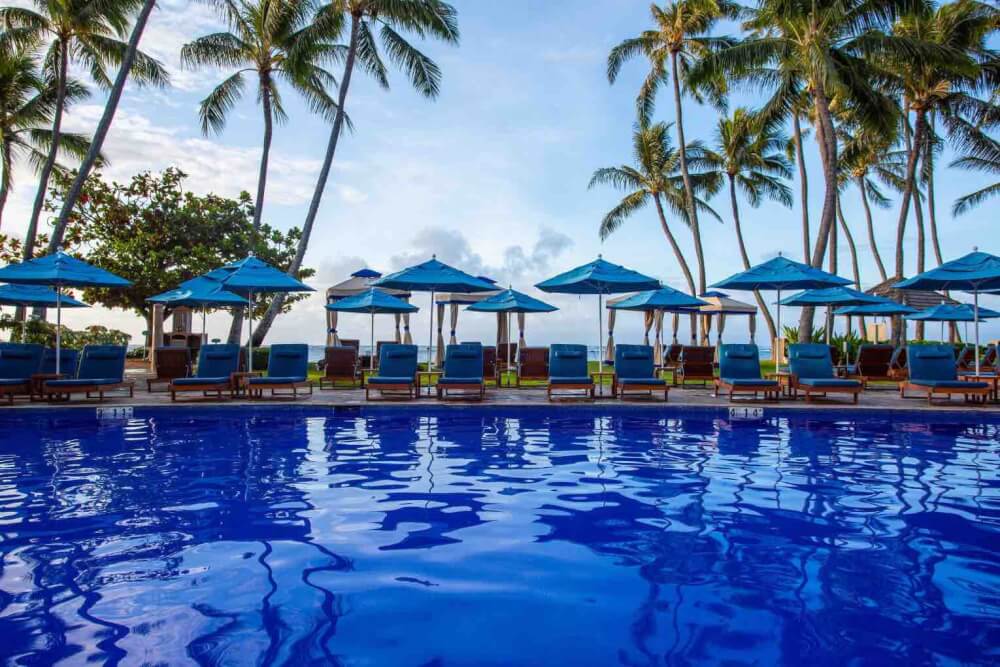 Or plan to just sit and relax under an umbrella next to their lovely swimming pool.
You won't want to miss their romantic spa packages, either. They have a 3.5 hour Romance Package signature spa experience complete soft lighting with hundreds of tropical flower petals.
Or, opt for The Kahala Rose in Room Bath Service, where you can experience romantic bliss in the privacy of your hotel room.
With all these activities, the Kahala is one of the most romantic hotels in Honolulu.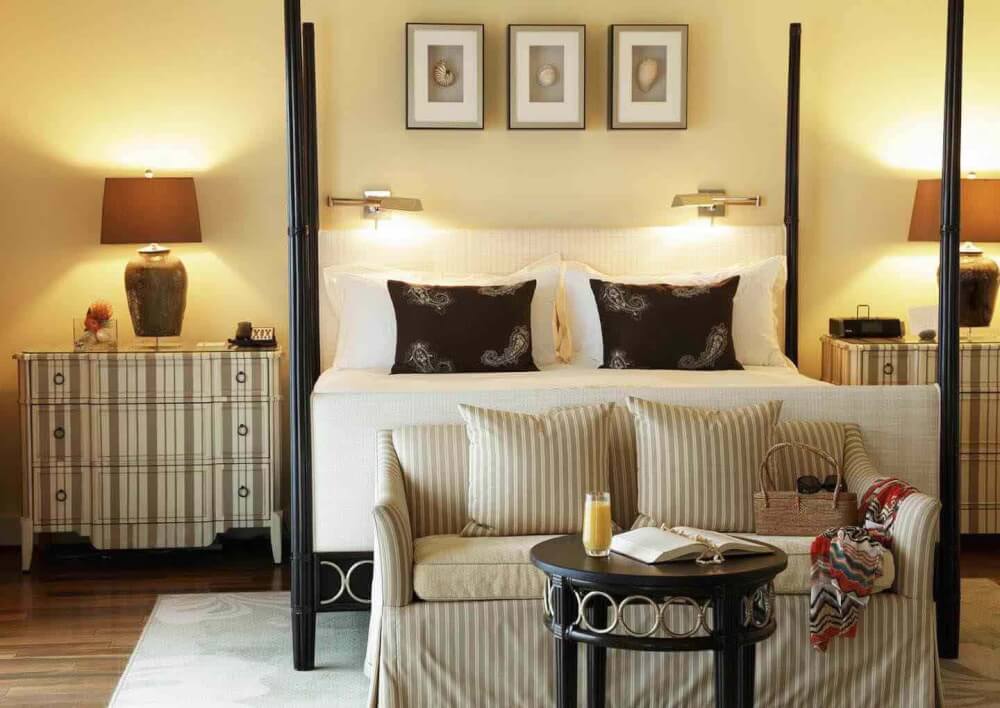 Rooms at The Kahala Resort & Spa:
Splurge on your Honolulu honeymoon and upgrade to one of their suites.
The Kahala Beach Suite is in a private, secluded area of the Oahu resort that's just steps away from Kahala beach.
It has a huge bedroom/bathroom set-up with two wardrobe closets, a glass-enclosed shower, a deep-soaking tub, and a wrap-around patio.
The Kahala Kai Signature Suite is also in a secluded area and has twin terraces. There's an option to add connecting rooms, which makes it ideal if you are having a destination wedding in Hawaii.
Regardless of which room you pick, be sure to head to the "Kissing Point" around sunset for a truly romantic honeymoon experience.
If you want to do a honeymoon in Waikiki, it doesn't get much more romantic than The Royal Hawaiian. It's playfully referred to as the "Pink Palace" and it's been featured in tons of movies since the 1960s.
It's located right in the heart of Waikiki, so you can walk to tons of restaurants, bars, high-end shopping, and more. You can also skip the rental car and just use the open-air Waikiki Trolley to get around town.
Many of the rooms directly face the Pacific Ocean and The Royal Hawaiian also has a private beach area that's just for guests.
This Oahu honeymoon resort is perfect for couples looking for a retro-chic vibe while still enjoying modern luxuries.
Something special about The Royal Hawaiian is that they have a honeymoon registry set up where wedding guests can easily select and purchase from an array of items for your honeymoon. Check out the latest prices and more details.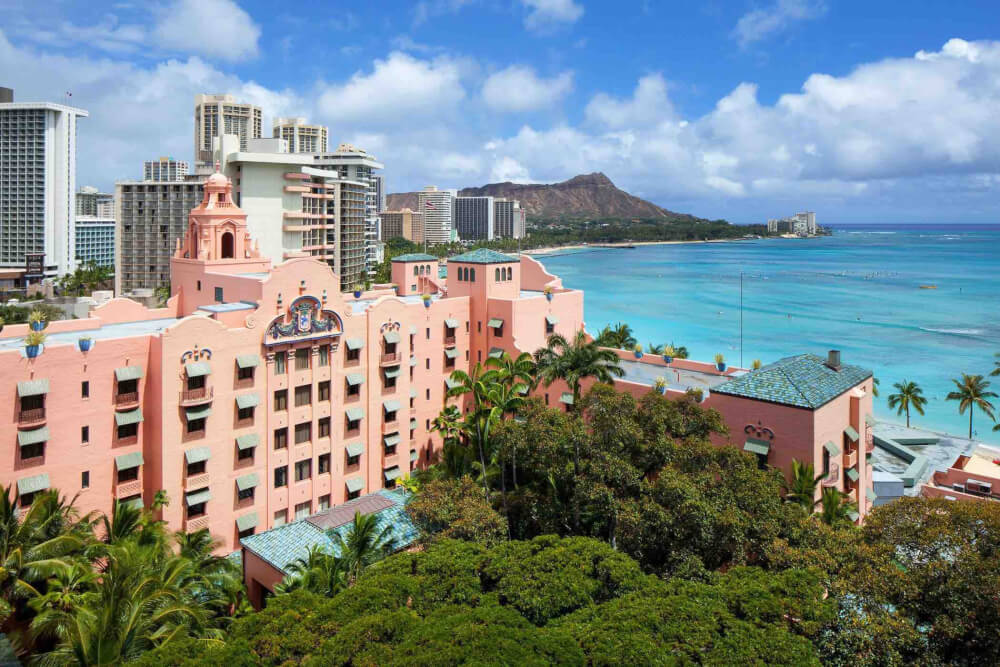 Romantic Things to do at The Royal Hawaiian Hotel:
The Royal Hawaiian offers a full spa with both indoor and outdoor treatment rooms. And a pool where you can book a private poolside cabana.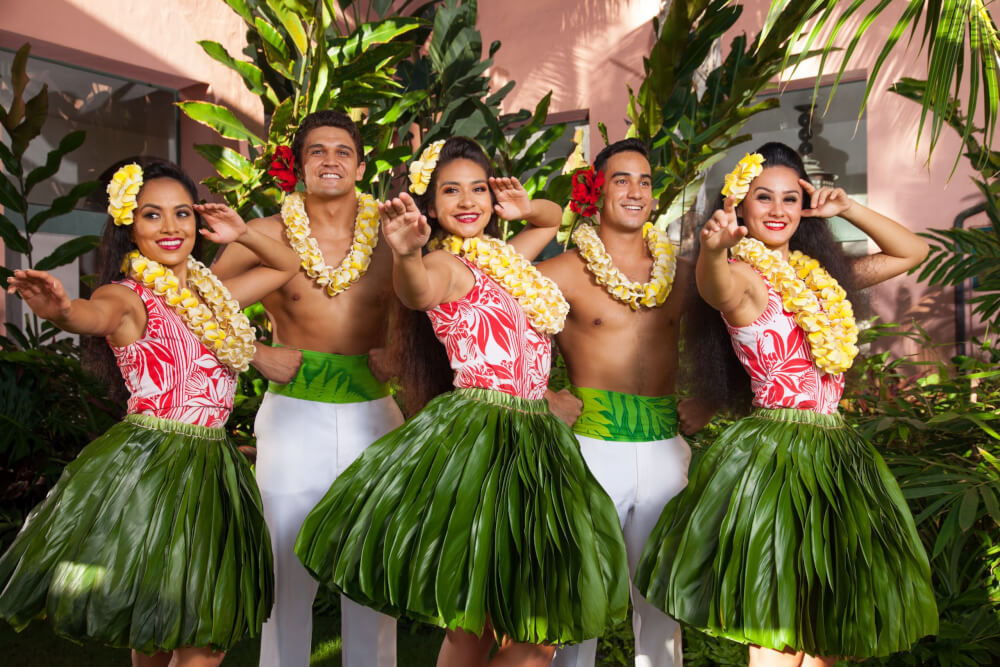 Want to go to a luau without dealing with traffic? The Royal Hawaiian has an on-site luau called the Aha'aina Luau and it's been completely refreshed.
You'll want to book an intimate dinner for two at Azure, an upscale dining experience with lavish decor and amazing seafood options.
And you'll definitely want to spend some time at their Mai Tai Bar. You can book a private cabana to sip your cocktails and listen to live Hawaiian music.
On those days you just don't want to leave your room (and we don't blame you!), opt for in-room dining. They have everything from morning coffee and pastries in bed, to a fantastic three-course gourmet dinner with wine pairing.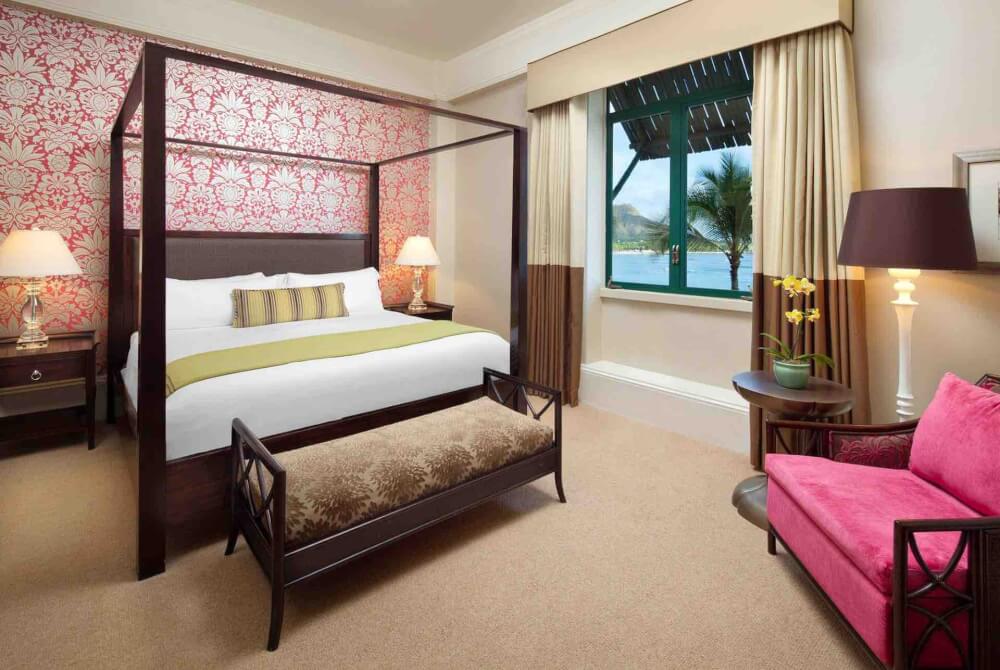 The Royal Hawaiian Hotel Rooms
This Oahu honeymoon resort offers more than 500 rooms, including 34 hotel suites (18 are even ocean-front!)
Choose from their renovated Mailani Tower, which features an exclusive lounge, or their Historic Wing. Both offer an amazing selection of rooms and suites.
The Mailani Tower Oceanfront Suite features a private balcony with panoramic ocean views. It also comes furnished with chaise lounges and outdoor tables and chairs (perfect for in-room dining on the lanai.)
You'll also be invited for complimentary continental breakfast as well as nightly hors d'oeuvres, beer, and wine.
Their Historic Ocean Suite offers views of the majestic Pacific Ocean. And the decor features updated designs in a room built with the sophisticated glamour of the 1920s. Tres chic!
This is by far one of the most romantic Oahu hotels to book for your Hawaii honeymoon.
Check Rates at The Royal Hawaiian
Save Money with Points
Here are the best credit card offers for families who travel and want to use points to pay for airfare and hotels in Hawaii.
While it may seem a bit unconventional to spend your honeymoon at a Disney resort, Aulani is an experience all on its own.
With their stunning beaches, fine dining, and romantic spa packages, you'll enjoy a Hawaii honeymoon with the world-class service Disney is known for providing.
They also have a honeymoon registry where guests can select experiences like a luau, spa treatment, dining, a sunset dinner cruise, and much more. Check out the latest prices and more details.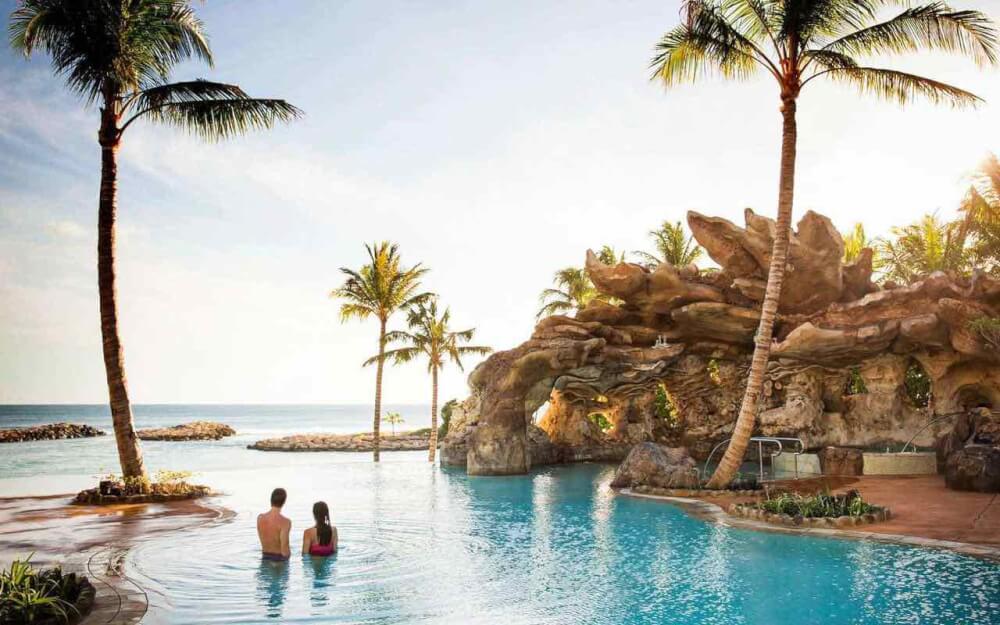 Romantic Things to Do at Aulani, a Disney Resort & Spa:
Wake up and greet the day with their Sunrise Yoga on the Beach class, perfect for couples. Or their evening Star Gazing experience.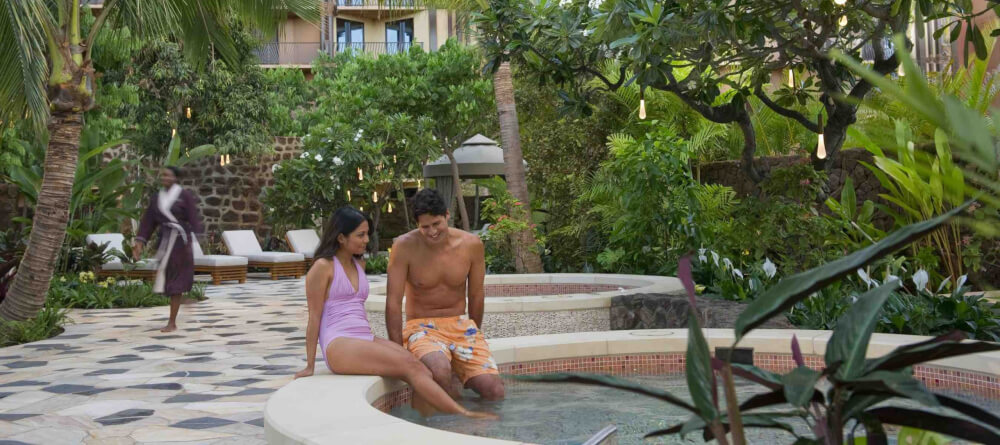 Take advantage of their secluded, adults-only whirlpool near the ocean. It makes the perfect spot to enjoy a Hawaiian sunset. And there's an exclusive pool bar just for adults and you can rent a private cabana.
For dinner, book a table at 'Ama 'Ama, an elegant oceanfront restaurant that specializes in fresh-caught seafood.
There's also the 'Olelo Room, where you can sip a cocktail and enjoy appetizers or dessert while listening to live Hawaiian music on the patio.
Or opt for a private dinner for two in your room with their world-class in-room dining. You can even get in-room treats like chocolate-dipped strawberries and champagne!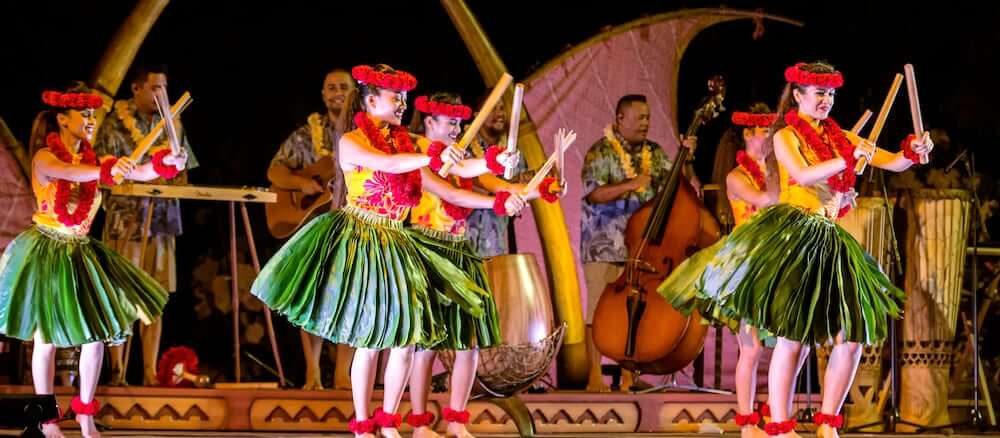 They also have an on-site luau with a Disney twist. After sipping Mai Tais all night, you'll love being able to walk right up to your room.
And you won't want to miss their unbelievable couples spa packages at Laniwai Spa, including Hawaiian lomi lomi massage and tropical exfoliation. They also offer an outdoor hydrotherapy garden.
Finally, they even have professional photography services available. You can get their Aulani PhotoPass or book a private photography session.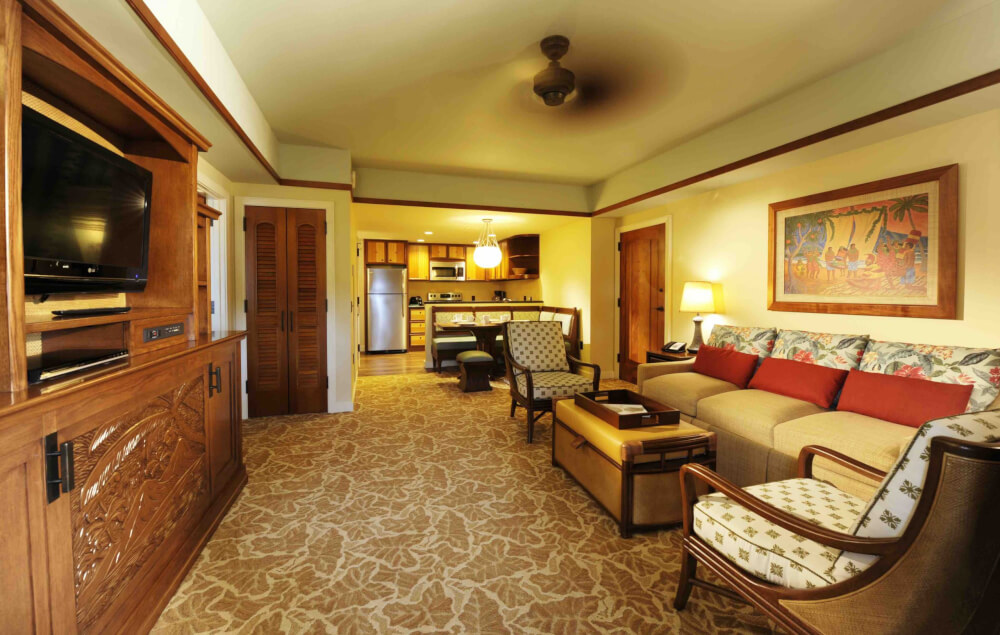 Aulani Resort Rooms
There are more than 350 rooms and suites to choose from, many with ocean views.
Their 1-bedroom villa is more than 750 square feet and has a luxurious living space which will let you spread out a bit. It has a full-size refrigerator, a washer/dryer, a whirlpool tub, and more!
They also offer a Signature 1-bedroom suite with more than 1,500 square feet of lavish living space. You'll get a private bedroom, butler pantry, separate catering entrance, whirlpool tub, washlet, and more!
At nearly 100 years old, the Halekulani Hotel is one of the first and finest hotels in Hawaii. It's located on a pristine stretch of Waikiki beach with an unobstructed view of Diamond Head.
Because of its romantic tranquility, the Halekulani is one of the most sought-after Oahu honeymoon resorts in Hawaii. It's also located along Kalakaua Avenue, where you'll find luxurious shops and trendy restaurants and bars.
This is where you want to stay in Hawaii if you are looking for an attentive staff. The Halekulani has the highest staff-guest ratio of any of the resorts in Hawaii.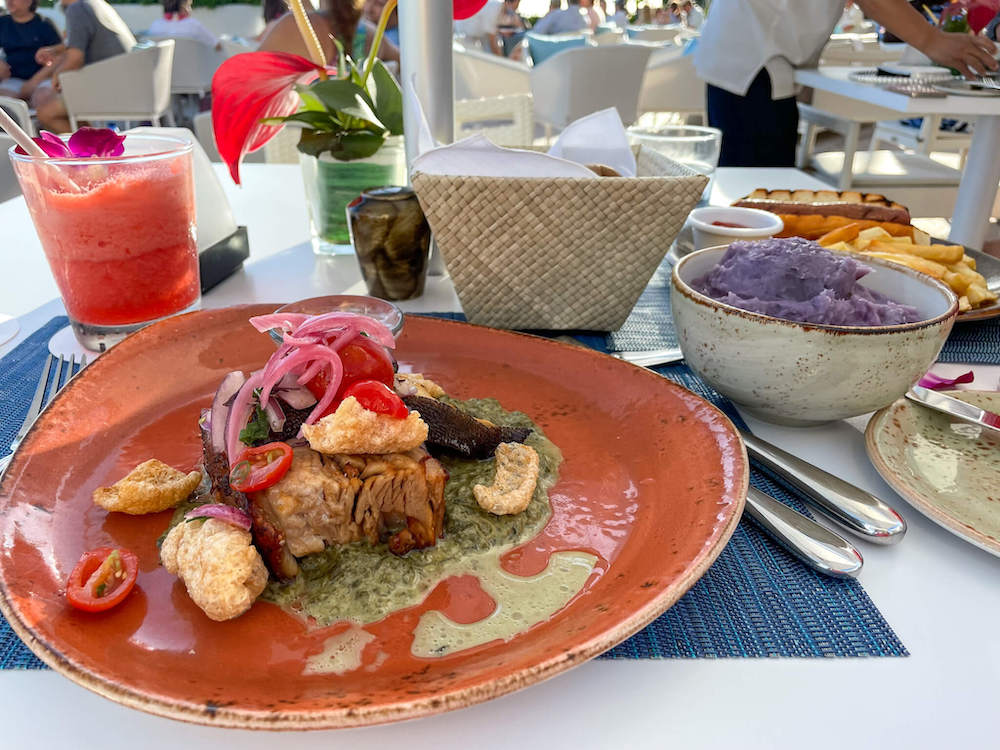 What makes the Halekulani Hotel a unique place to stay in Hawaii is that it was the inspiration for the book House Without a Key.
The author used to sit at the Halekulani and chat with a police detective, which resulted in the famous literary character Charlie Chan. Check out the latest prices and more details.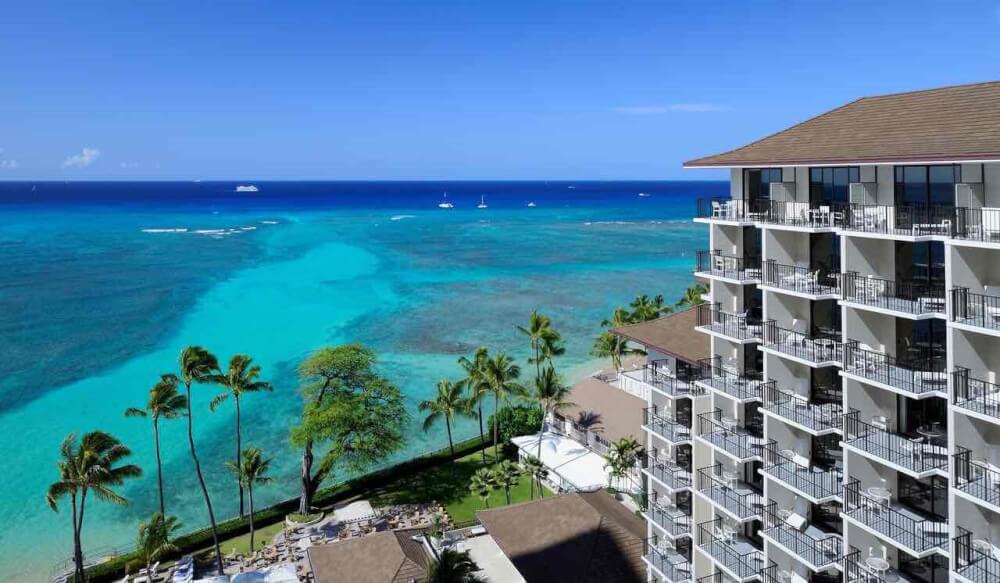 Romantic Things to Do at the Halekulani Hotel:
The first thing you should do is book time at the award-winning SpaHalekulani, their onsite resort spa that features traditional Polynesian and Hawaiian treatments.
They have a Traveler's Welcome spa package that helps alleviate jet lag.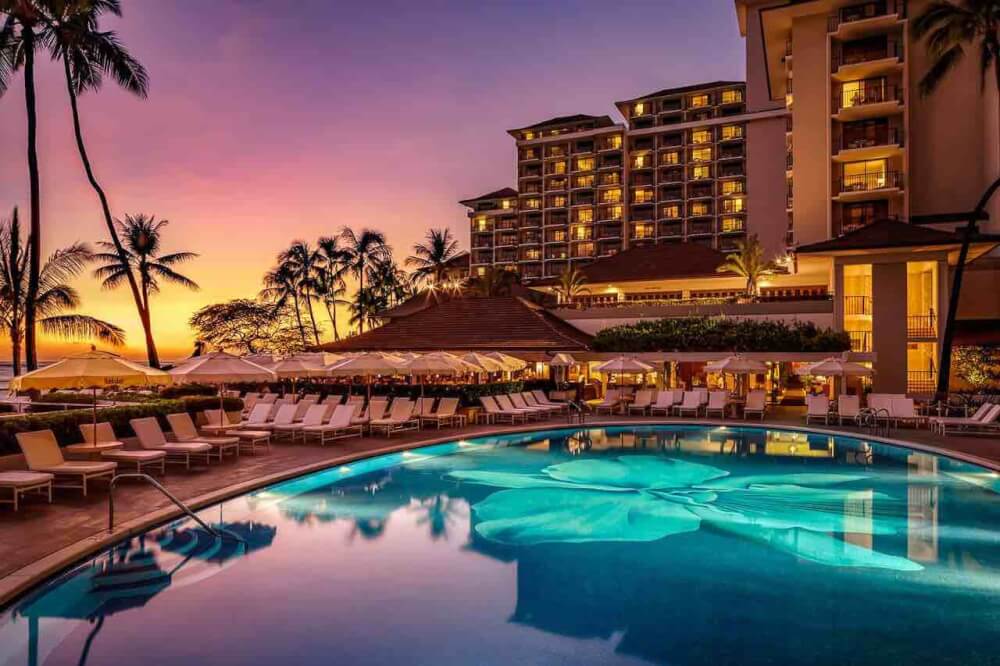 They have a 82 foot long, heated swimming pool that overlooks Waikiki. The bottom of the pool has a spectacular mosaic of an orchid (made up of 1.2 million pieces of glass tiles!)
You can also walk out to their intimate beach and participate in a morning stretching class or check out their daily surfing demonstration.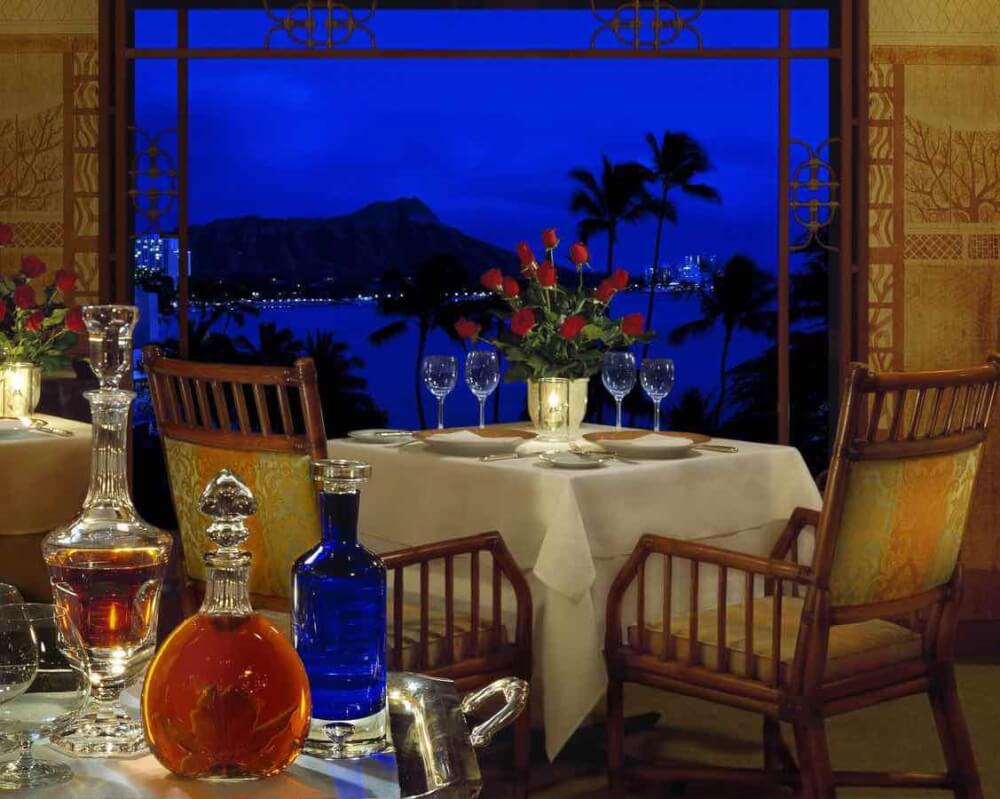 You won't want to miss out on a romantic dinner for two at their restaurant.
And if you enjoy working out, the Halekulani has one of the most extensive fitness rooms in Waikiki featuring all the latest gym equipment.
All guests receive complimentary admission to Iolani Palace, Bishop Museum, and the Honolulu Museum of Art.
Halekulani Hotel Rooms
Choose from one of their 453 spacious rooms and suites featuring their signature "seven shades of white" motif.
Their Ocean Junior Suite has a separate bedroom and sitting area, a wet bar, and two lanais that are the perfect spot to enjoy in-room dining while gazing at their unending ocean views.
Their Poolside Suite is on the ground floor and is just steps away from their poolside courtyard and Halekulani's iconic swimming pool.
It has a separate bedroom (with a walk-in closet), living and dining room, a lanai, and a large bathroom with a deep soaking tub.
If you really want the VIP treatment, go for one of their premier suites. These included a dedicated, personal butler, in-room check-in, and complimentary limousine service to and from the airport. Wow!
Head over to Oahu's sunny West side to experience the Four Seasons in Ko Olina. It's about 35 minutes from Honolulu and it's right next to Aulani, a Disney Resort & Spa.
Here, you'll have a top-notch hotel experience in an oceanfront location once reserved for Hawaiian royalty. Today, it's a sacred place to meditate and connect with Hawaii's rich history.
There are 4 lagoons nearby that offer safe swimming and unsurpassed sunset views.
This Oahu honeymoon resort is known for its peaceful setting away from the hustle and bustle of Waikiki. It's great for couples who want to get away from it all and soak in resort life. Check out the latest prices and more details.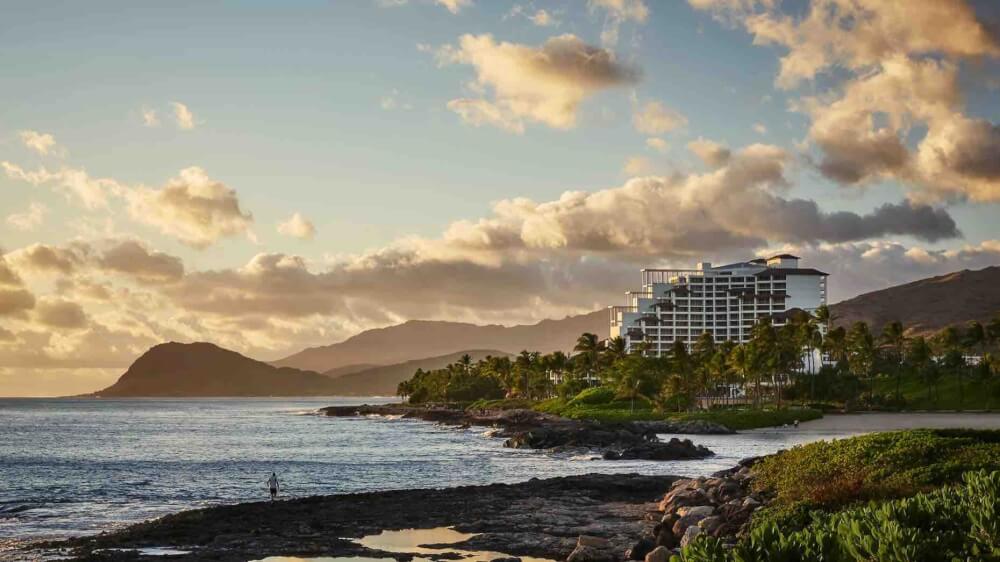 Romantic Things to do at the Four Seasons:
Kick-off your morning with a relaxing Sunrise Yoga session taught by an on-site, certified yoga instructor overlooking the ocean and beach.
The Four Seasons Ko Olina really knows how to make a Hawaiian honeymoon special. They can deliver a romantic champagne breakfast for two in your suite.
Or set up a private barbecue dinner overlooking the ocean. You can even add fireworks!
They also have an infinity-edge Adult Pool with butler-serviced cabanas. The pool faces West, making it perfect for watching the colorful Hawaiian sunset. And there's an Adult Beach area.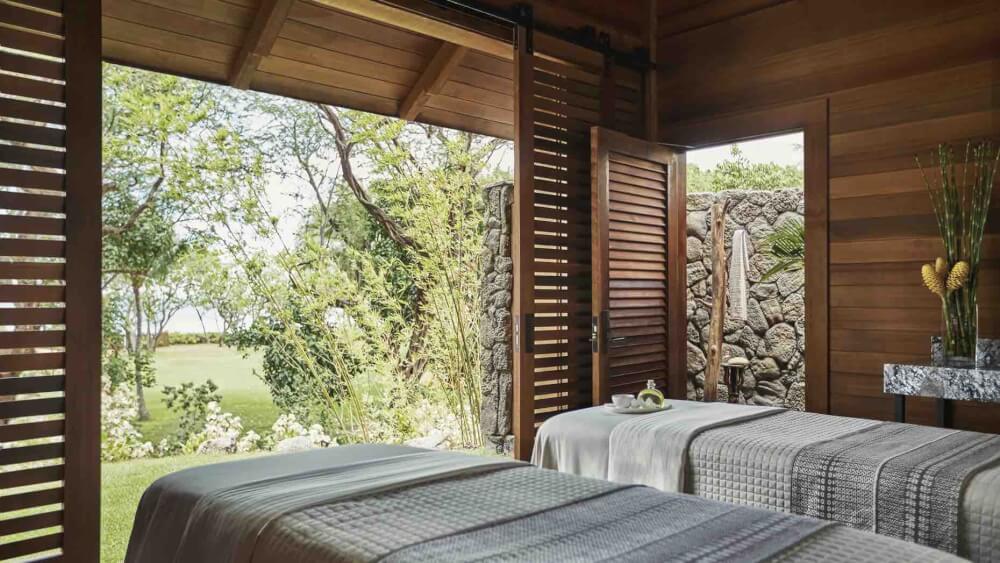 Of course, spa services are an important honeymoon activity. They have a Spa & Wellness Center where you can do a couples massage. Or book a waterfront massage in one of their private cabanas.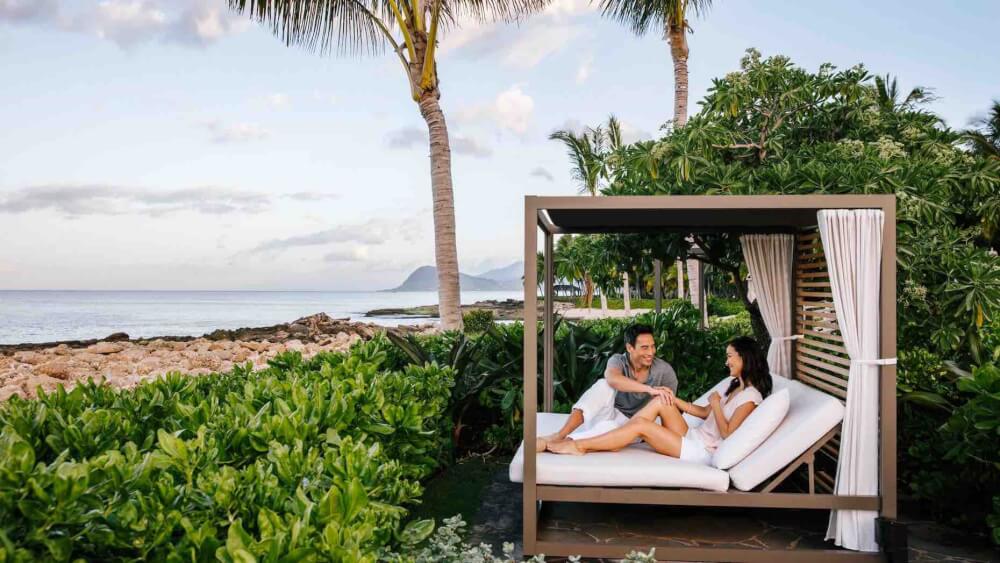 Or for a super special after-hours experience, book a candle-lit oceanfront cabana for their Spa Under the Stars package. You'll get a couples massage followed by a private stargazing session.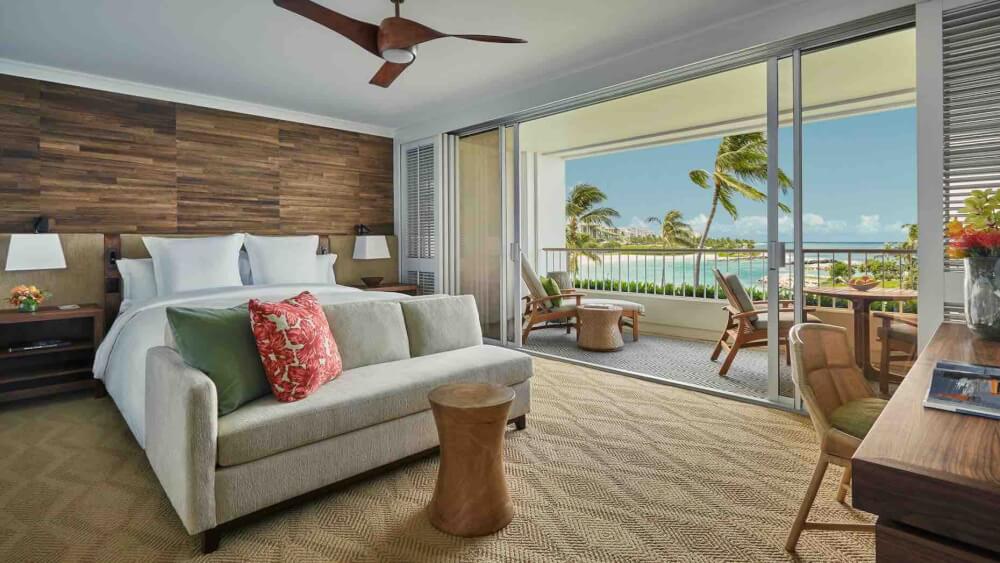 Four Seasons Ko Olina Hotel Rooms
More than 80 percent of the oversized rooms at the Four Seasons have epic ocean views.
Get a Deluxe Room with Outdoor Spa Tub, which is located on the ground floor. Not only is there a spa tub in a private garden area, but you'll also have easy access to the beach.
And there's an outdoor dining set for two, a lounge chair and a refrigerated personal bar.
There's also an Oceanfront Junior Suite that is perfectly situated to watch an Oahu sunset from the lanai. Plus, each suite has a huge, spa-like bathroom, an outdoor dining area, and huge sliding glass doors.
It's no wonder this is one of the best Hawaii honeymoon resorts!
If you're looking for a Hawaiian honeymoon resort with tons of activities, restaurants, and shops, the Hilton Hawaiian Village is pretty awesome. In fact, you've probably seen it on Hawaii Five-O!
This massive, 22-acre resort is located on the West edge of Waikiki on Duke Kahanamoku Beach. It's perfect for honeymooners who don't want to rent a car because you have just about everything you need at your fingertips.
And it's always a shuttle stop for tons of tours and activities around Oahu.
They also have a honeymoon registry where guests can select from an array of Hilton Hawaiian Village experiences. Check out the latest prices and more details.
Plus, it's an LGBT-friendly Hawaii hotel!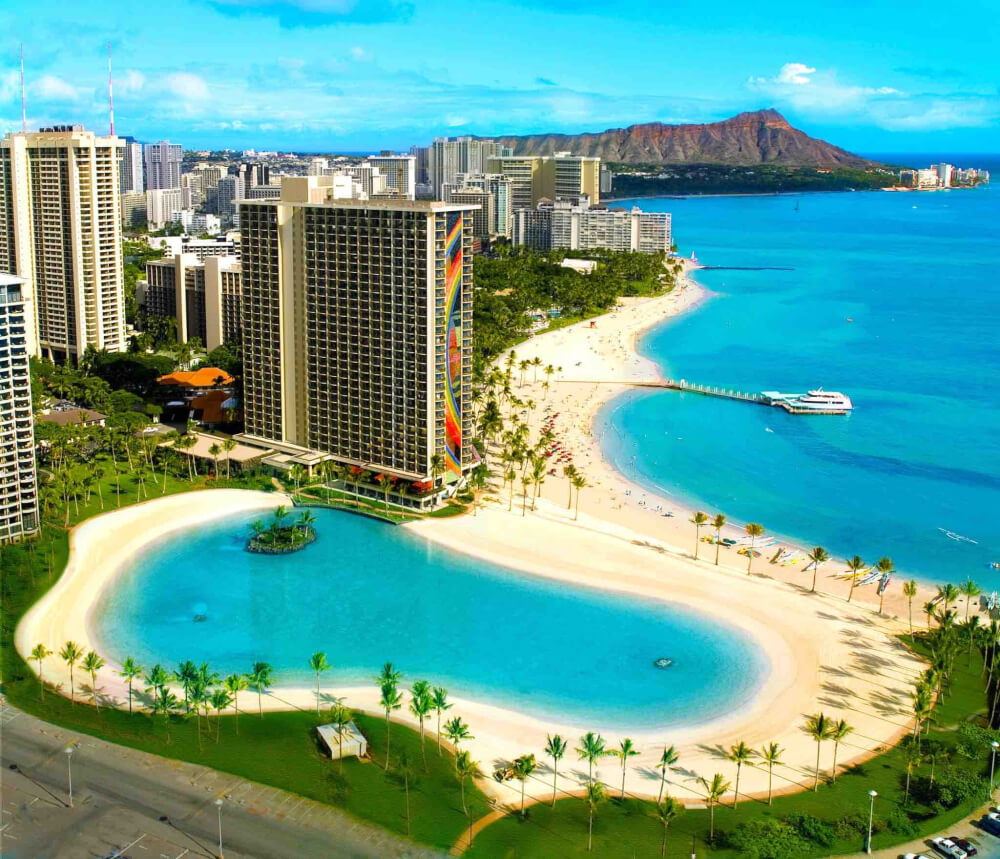 Romantic Things to do at the Hilton Hawaiian Village:
Enjoy a romantic candlelit dinner in one of their many restaurants (there are actually more than 20 restaurants, bars, and cafes on the property!)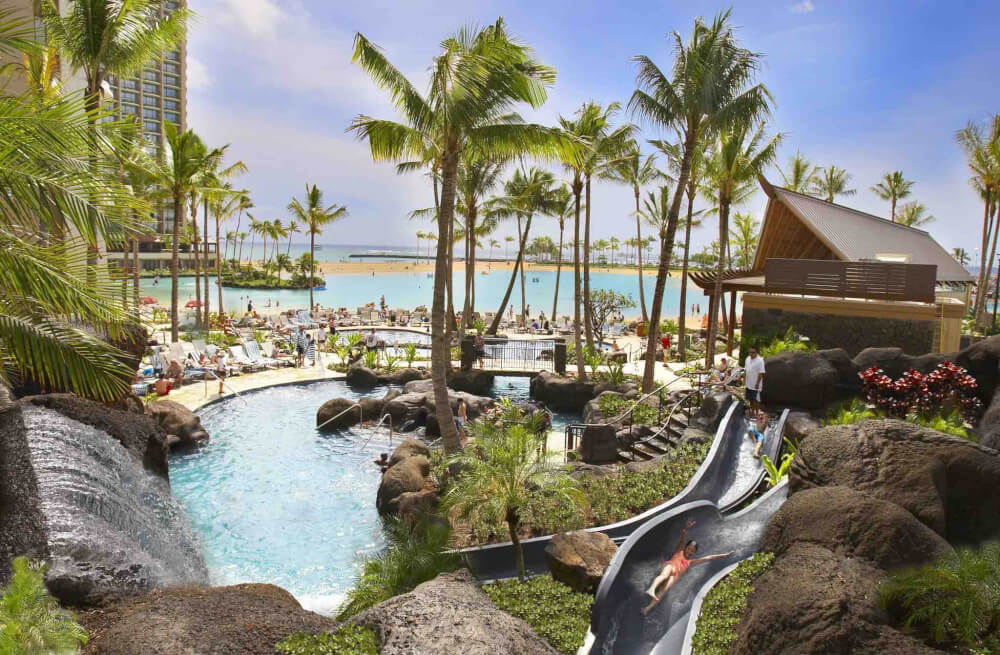 While there are 5 pools at the Hilton Hawaiian Village (including one with the longest water slide in Waikiki) you'll probably want to head straight for the Kalia Tower Pool.
It's located on the 4th floor of the Kalia Tower and it's just for adults. There's also a whirlpool there.
You'll also want to set aside time to hang out at the Duke Kahanamoku lagoon. This private 5 acre saltwater lagoon is where you can ride an aqua-cycle, try stand-up paddle yoga, or transform into a mermaid!
And don't miss out on a couples massage or body treatment at the largest spa in Waikiki.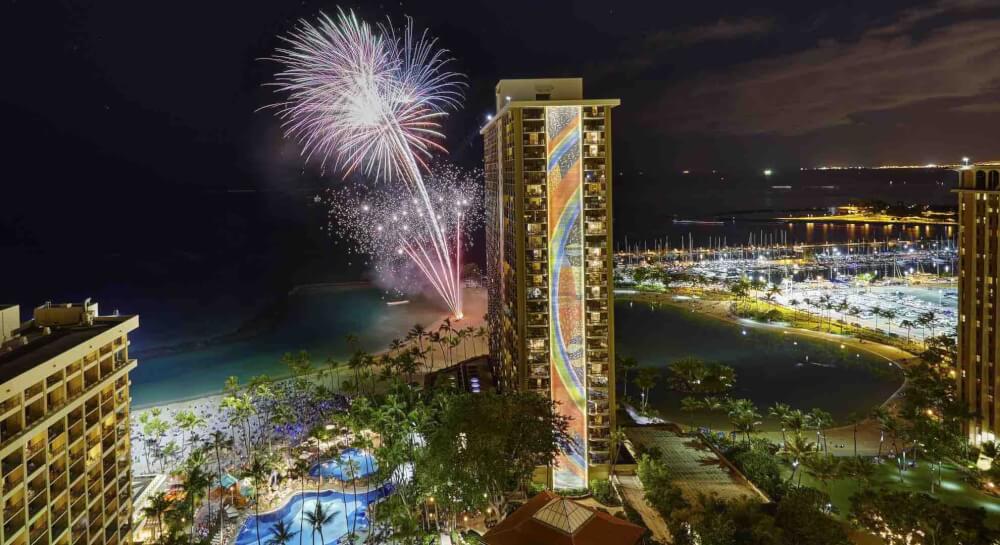 Not only do they have their own on-site luau, but they also have a spectacular fireworks show every Friday night that lights up the sky in Waikiki.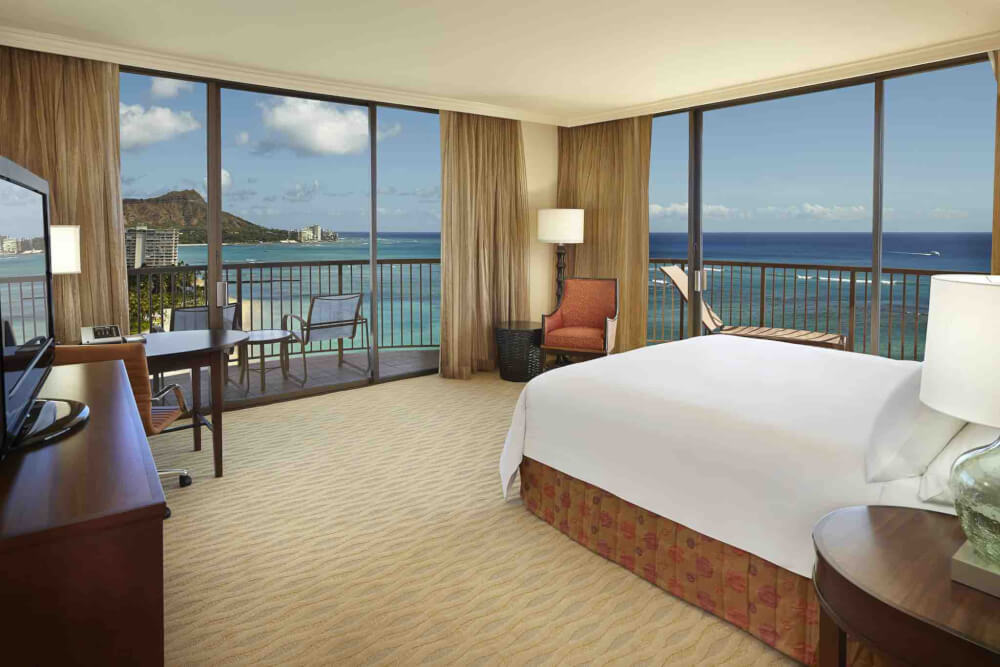 Hilton Hawaiian Village Hotel Rooms
Since this is a family-friendly Hawaii resort, you'll want to let them know that you are going on your honeymoon so they can try to book a room in a quieter part of the resort.
For your honeymoon in Hawaii, consider upgrading to one of their specialty rooms or suites. There's the Rainbow Tower (with awesome ocean views) or the Ali'i Tower (which was just renovated.)
Most honeymooners choose the exclusive Ali'i tower because it has its own lobby reception desk, private pool and bar, shorter wait times at restaurants, and private fitness center.
The Ali'i Oceanfront Corner Room has 2 lanais that overlook the Pacific Ocean.
Or upgrade to the Ali'i One Bedroom Suite with a king bed, separate living area and spectacular views of the Pacific Ocean, Waikiki Beach, and Diamond Head. Read my full Hilton Hawaiian Village review.
Check Rates at Hilton Hawaiian Village
If you are a bride planning a boho chic wedding (or love the vintage Hawaii vibe), you'll probably want to book the Surfjack for your Oahu honeymoon.
This Instagrammable Waikiki hotel is geared for couples who love trendy boutiques, hip restaurants, and artsy independent hotels. The rooms here are vintage-inspired and celebrate the heyday of Waikiki's surfing culture.
Something unique about this hotel is that they offer Raw Elements reef safe sunscreen dispensers in the Swim Club.
If you are looking to grab a latte, go out on adventures during the day, and come back to chill at a cool hotel, this is the place for you. Check out the latest prices and more details.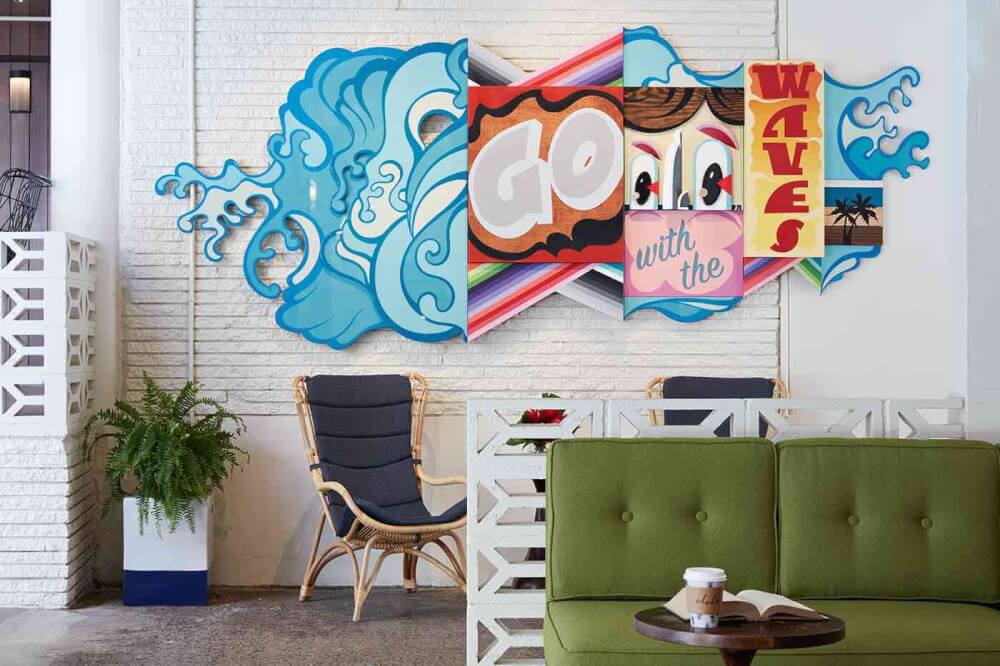 Romantic Things to do at the Surfjack Hotel:
One of the central points of the Surfjack is their Swim Club. It's so much more than just a hotel pool and bar. It's a whole new experience.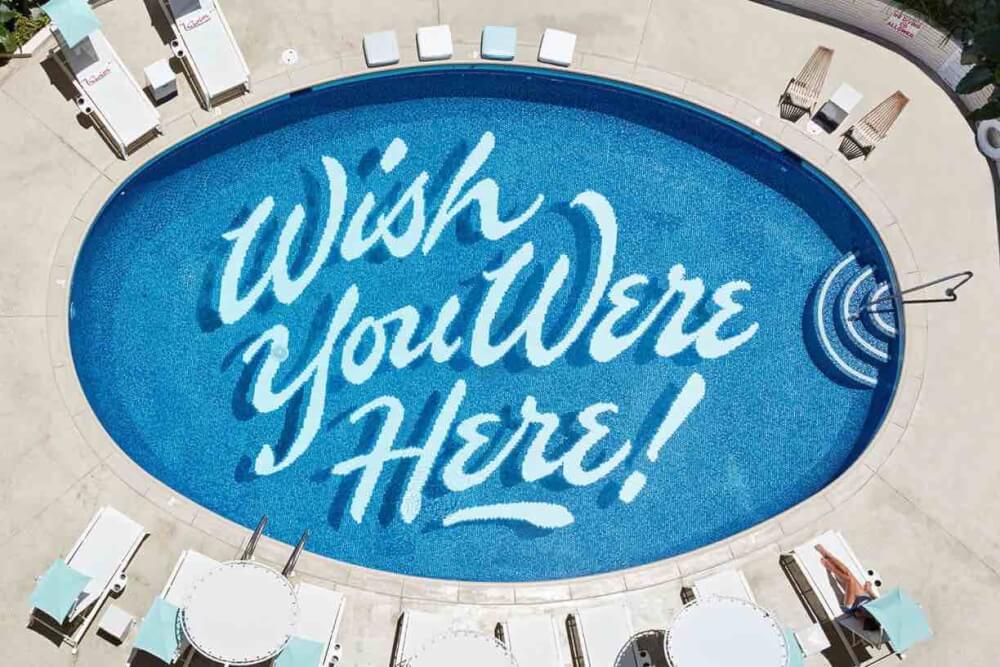 The hotel invites local and visiting artists, musicians, photographers, filmmakers, chefs, etc to come "talk story" with guests. This is awesome for couples who want to meet new people and swap stories.
They also project films on a big screen above the pool. So you can watch movies while dipping your toes in the pool or hanging at the bar.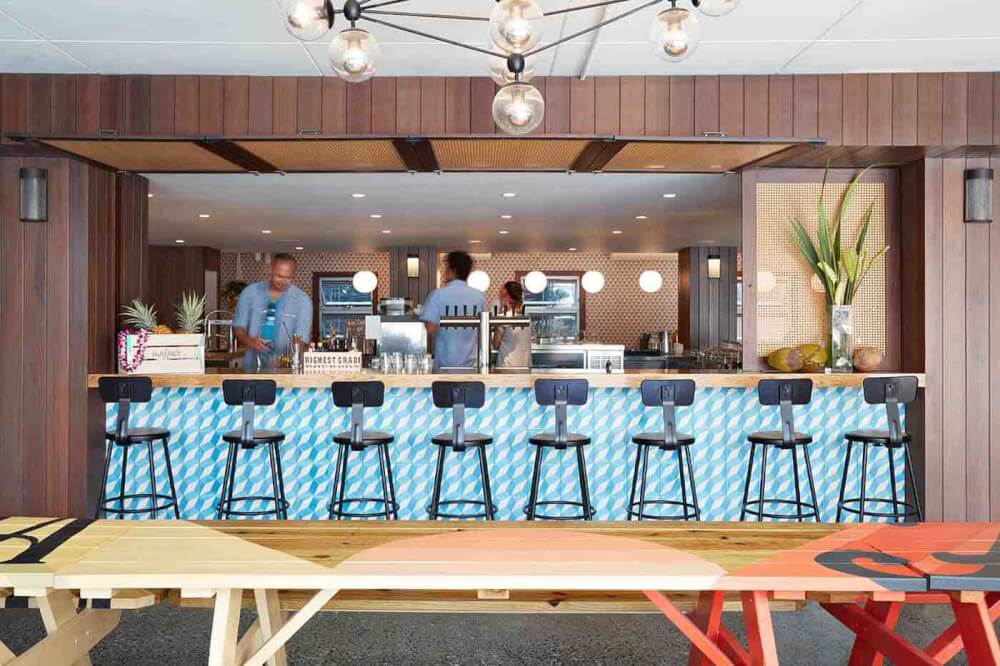 And every night between 6pm-9pm, there's an adult-only swim time. Grab a cocktail and cozy up to your partner for a romantic evening of drinks and pool time.
Plus, when you book a stay at the Surfjack, you'll also get free admission to Bishop Museum and the Honolulu Museum of Art!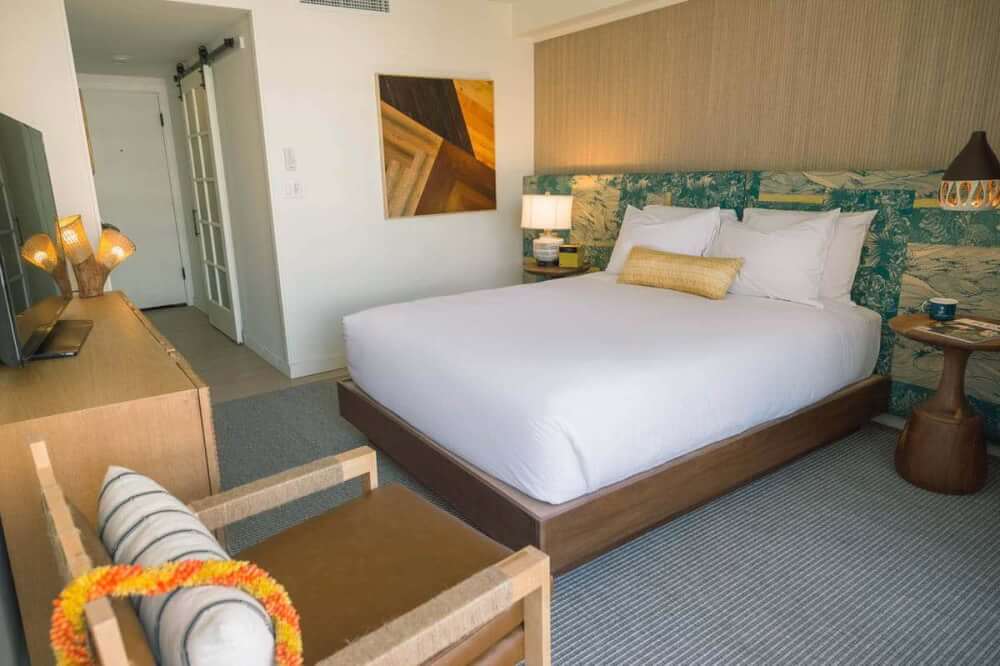 Surfjack Hotel Rooms
There are 122 rooms in this boutique Oahu hotel with a mix of traditional hotel rooms and luxury suites.
Check out the One Room Bungalow Penthouse, which offers 300 square feet of living space plus an oversized lanai. It has a studio layout.
Go big or go home. Book a One Bedroom Suite Penthouse for 480 square feet that includes a bedroom and separate living area.
Plus an oversized lanai with an awesome cityscape view that's perfect for your morning coffee or evening cocktail.
It's one of the best honeymoon resorts in Hawaii for people who want the action of Waikiki Beach.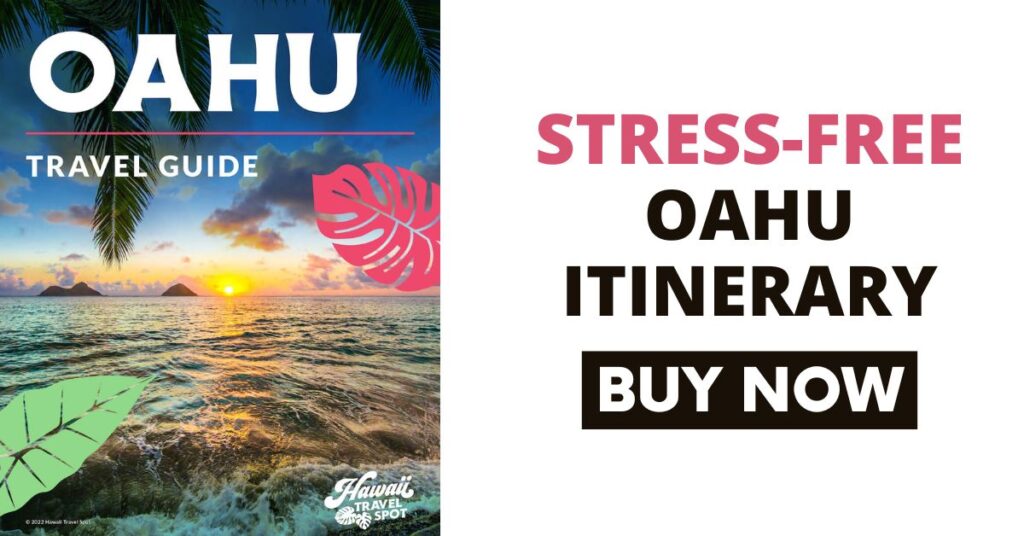 Oahu Honeymoon Resort Wrap Up
And there you have it! Some of the most romantic hotels in Hawaii!
If you're looking to island hop, be sure to read about the most romantic hotels on Kauai and Maui! Plus, you'll want to read my full Hawaii Honeymoon Packing List!