Looking to splurge on your Maui vacation? Find out about the best places to stay in Maui and how to book them, keep scrolling down for all the info on my favorite Maui luxury hotels and resorts!
This post about Maui luxury hotels contains affiliate links which means if you purchase something from one of my affiliate links, I may earn a small commission that goes back into maintaining this blog.
Maui is one of the most popular islands of Hawaii and one of the go-to for outdoor fun like exploring the Road to Hana, snorkeling at Molokini Crater, or seeing sunrise at Haleakala.
However, nothing tops spending your vacation at one of their many luxury hotels.
It can be hard to figure out where to stay in Maui. That's because there are tons and tons of options!
In this article, we'll talk about the 5 Best Maui Luxury Hotels or Resorts. For all things Maui, you can check our Maui tag on the website here.
We believe that one of the things that can make or break a vacation is where you stay.
In addition, a good night's rest is key in enjoying all the activities on the island. And there are SO many awesome things to do in Maui!
Let's get to it!
Don't have time to read a bunch of Hawaii blog posts and reviews? Here are some of our top picks for visiting Maui.
Popular Maui Tours/Activities
Favorite Maui Resorts/Hotels
Andaz Maui (this is a luxury resort with the best luau on Maui)
Honua Kai Resort & Spa (this is one of our personal favorites because there are tons of pools and there are condo options)
Want to Rent a Car in Hawaii?
One of the best places to rent a car in Hawaii is Discount Hawaii Car Rental because they get the best rates from top national companies like Alamo, Dollar, Thrifty, Avis, Enterprise, Budget, and Payless.
Want to skip all the planning and just access my detailed Maui Itinerary complete with daily schedules, kid-friendly activities, and travel hacks? Click the button below.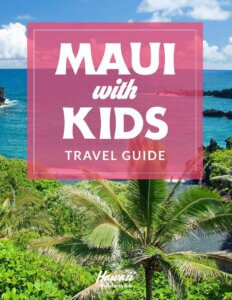 Maui Luxury Resorts FAQs
What is the nicest part of Maui?
Wailea is a popular resort town on Maui and that's where you'll find a lot of upscale restaurants, shopping, and hotels. West Maui (primarily Lahaina and Kaanapali) are also nice resort areas with tons of attractions and beautiful scenery.
Is it better to stay in Wailea or Kaanapali?
It depends on what you'd like to do. Wailea is pretty great if you want to relax at a luxurious resort and do a few day trips to Haleakala and the Road to Hana. Kaanapali is a bit further away, but it's close to more luaus and activities.
Can you swim in the ocean in Maui?
Yes and that's why oceanfront resorts are so desirable. Maui has 120 miles of gorgeous coastline and many luxury resorts offer lounge chairs or cabanas right on the beach.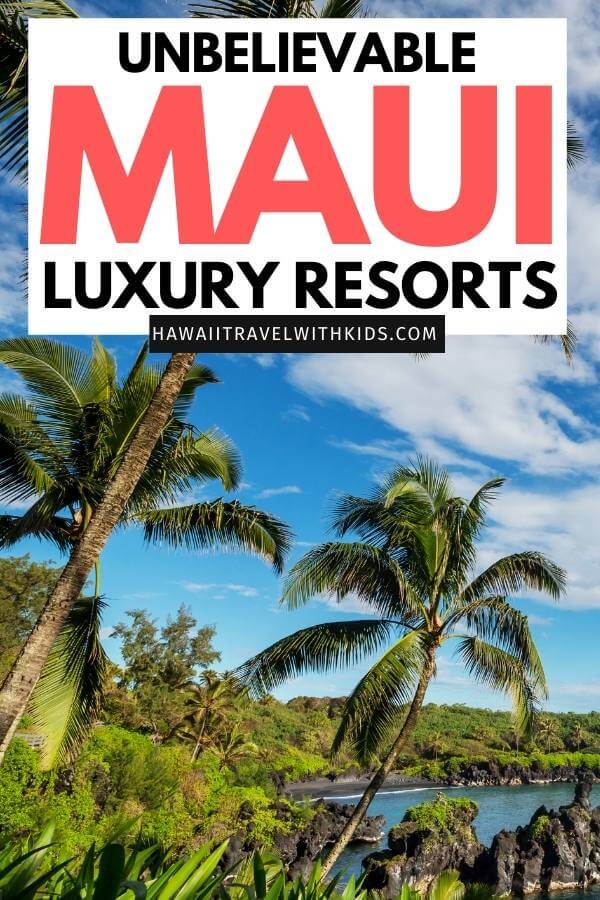 5 Mind-Blowing Maui Luxury Hotels Worth Checking Out
First on the list is Maui's only all-suite and villa luxury hotel. It's one of the best Maui honeymoon resorts on the island.
Fairmont Kea Lani is perfect for both couples and families traveling together. Their large and roomy suites can accommodate up to 4 people. Check out the latest prices and more details.
Likewise, the Villas at Fairmont Kea Lani offer a large 2 or 3-bedroom residential suite, equipped with a full gourmet kitchen, private courtyard with a plunge pool, and barbecue grill.
This luxury hotel is only a mere 30-minute drive from The Kahalui Airport.
In addition, the five-star hotel also offers a number of transportation services including shuttles and car rentals.
Fairmont Kea Lani also features a lot of different packages and activities for all types of travelers.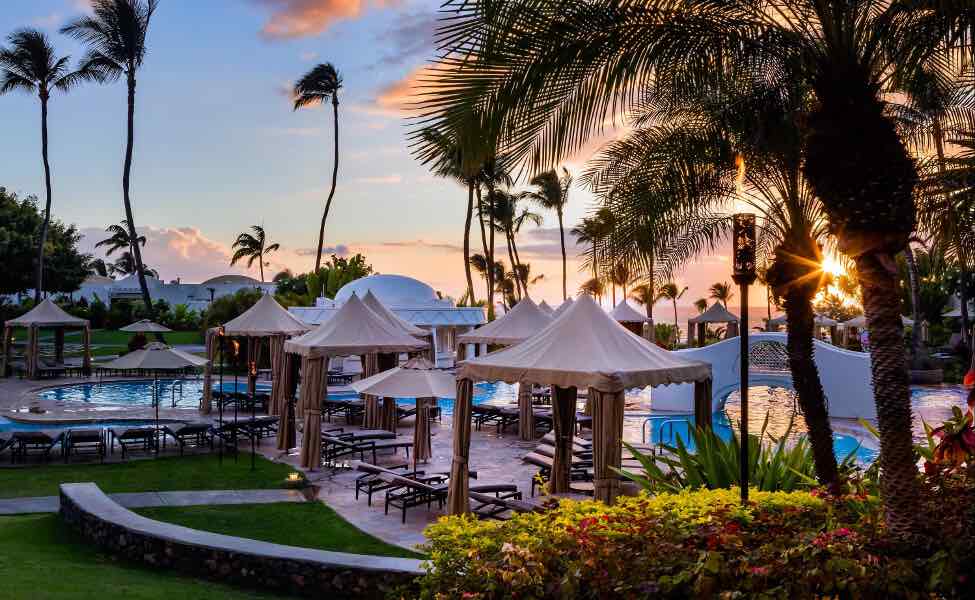 Their Wailea Romance Package includes a luxury or villa accommodation, Moet & Chandon Champagne welcome amenity, breakfast for two daily at Kea Lani, and a day spent at a private poolside cabana.
However, the highlight of the Wailea Romance Package is definitely the Twilight Dinner for two set poolside by the Adult Tranquility Pool with 4-courses and one bottle of wine.
This is perfect for a Hawaii honeymoon!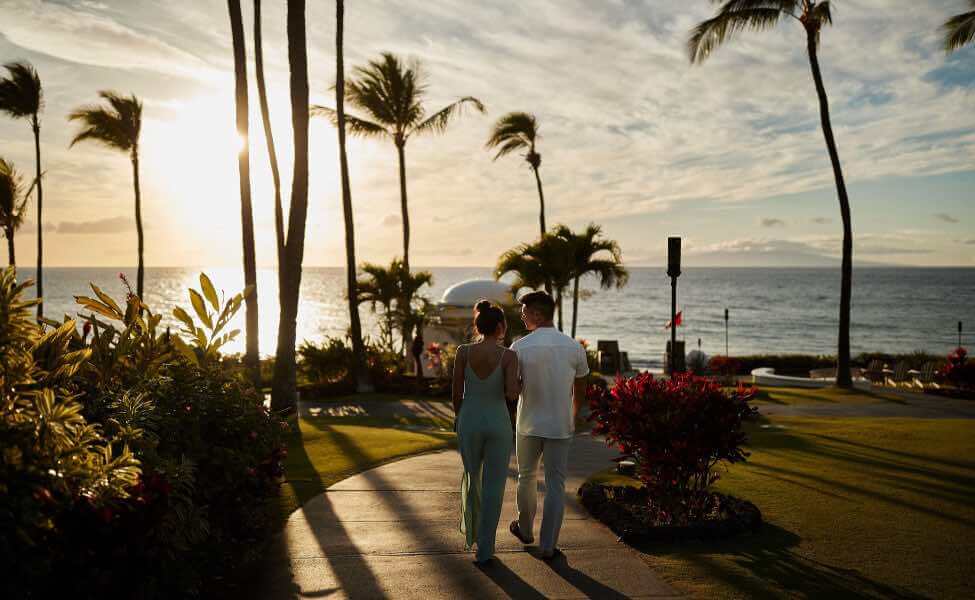 While enjoying their stay at one of Maui's luxury hotels, guests can also visit Fairmont Kea Lani's Willow Stream Spa.
The spa is recognized as the world's best luxury hotel spa in Hawaii.
In fact, there are a number of spa treatments and facilities including a 24-hour fitness center, daily group fitness classes, personal training, private yoga sessions, and guided excursions.
Enjoy and escape to Maui's shores through Andaz Maui's 15-acre luxury resort.
Discover a new lifestyle experience in Maui with indulgent amenities that highlight the region. The resort offers local farm-to-table dining and direct access to Mokapu beach.
Andaz Maui features Hawaii's wonders and unbelievable beauty. Check out the latest prices and more details.
Guests can relax on their own private lanai, dine on locally-sourced cuisine at the four different restaurants, or even plan the wedding of their dreams on the oceanfront lawn along the coast.
The hotel can house more than 600 guests with its 300 guestrooms that include 10 villas and 35 suites.
The hotel also features 3 cascading outdoor pools, a full-service spa, and salon, award-winning dining, and access to championship golf.
Welcome beverages are served upon arrival and complimentary in-room snacks and beverages are provided for each room.
Aside from this, there is an exclusive private adult pool for people aged 18 above.
There is also an early arrival and late departure lounge, making sure that guests are fully-welcome.
Aside from all that, the hotel features five dining and entertainment spaces including Ka'ana Kitchen, Lehua Lounge, Bumbye Beach Bar, Mokapu Market, and Morimoto Maui.
Morimoto Maui is home to the highly-acclaimed chef Masaharu Morimoto. It's one of the best sushi in Maui! And it's home to the Feast at Mokapu, one of the best Maui luaus!
Andaz Studios are a variety of residential-style meeting spaces that feature built-in screens and storage spaces.
This luxury hotel is perfect for everyone and anyone under the sun. The hotel features amenities fit for adults, kids, and older individuals.
In fact, the hotel is equipped with fully accessible ramps and areas.
Pets are also welcome in the hotel, making it perfect for all members of your family!
Hotel Wailea is the 5-star resort located in the most exclusive resort community on Maui.
Known as the #1 Resort of Hawaii by Conde Nast Traveler Reader's Choice Awards in 2018 and one of the top 21 Most Romantic Hotels in the World 2019, Hotel Wailea is the only luxury adults-only hotel in Hawaii.
The hotel features an open-air ocean view dining and an open-air cocktail lounge with panoramic ocean views of the three Hawaiian Islands.
Along with all these amenities includes complimentary valet services and even touch-less Tesla Model X house vehicles for service within the Wailea area.
The hotel also includes a 24-hour fitness studio with Peloton bike and Techno-gym equipment.
Aside from this, the luxury hotel also includes a number of in-room spa treatments. The Couples' Paradise Retreat promises to revitalize you and your loved one. Check out the latest prices and more details.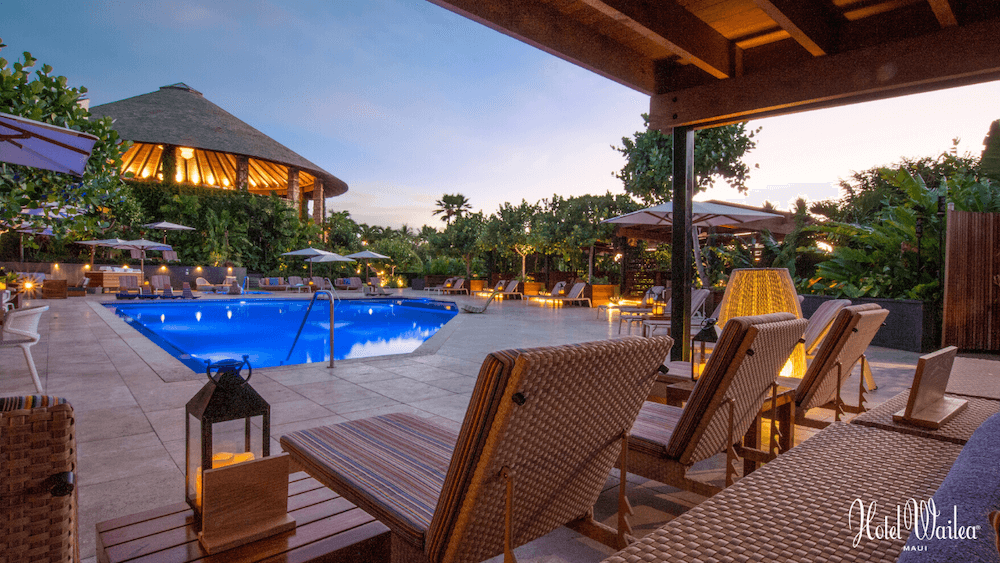 The retreat includes Ho-omana Signature Lomi Lomi Massages and a rejuvenating coconut milk bath infused with Hawaiian honey.
As for accommodation, Hotel Wailea offers numerous amount of suite options with different views. In addition, the 720-square feet of suite space comes with separate living and bedroom areas.
Each suite includes a VIP welcome bottle of Laurent-Perrier Brut Champagne, a tropical fruit platter, and a daily breakfast on the lanai or restaurant.
While all that already sounds amazing and perfect for couple getaways, Hotel Wailea offers a variety of island experiences.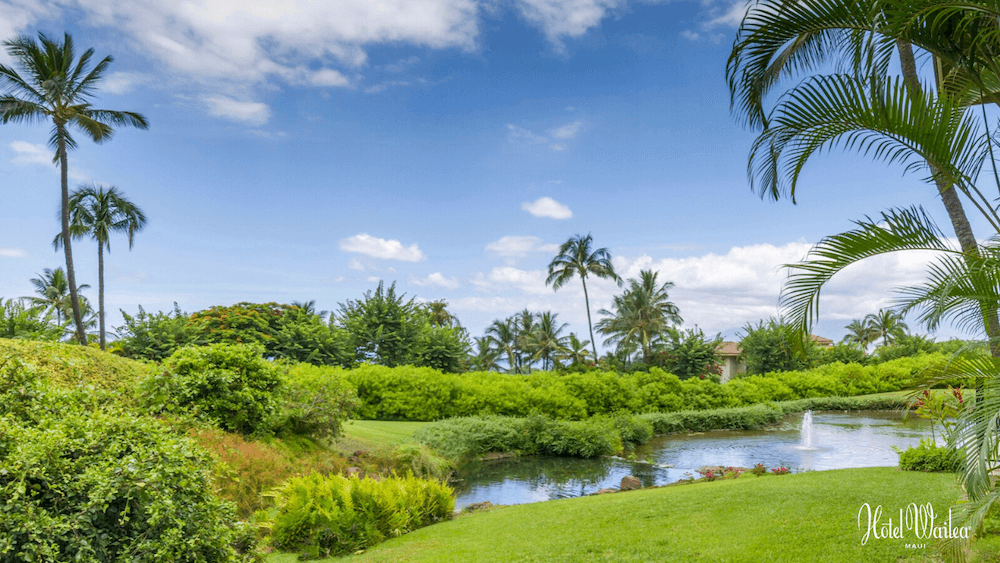 Their packages vary from the guests' "Travel Personality" and divide their activities into 4 categories: adventurers, foodies, relaxaholics, and wellness warriors.
Island Experiences include vintage cruising, couple's paradise retreats, floating sound baths, aerial silks, tropical mixology 101, serenity sound baths, sunset sailing, and Hawaiian outrigger canoeing.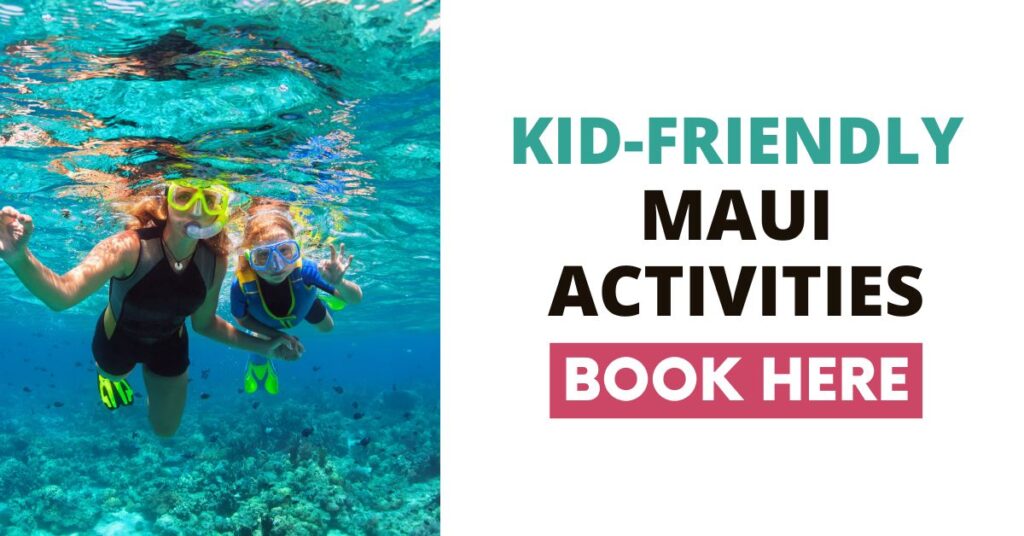 The words "Ritz-Carlton" certainly bears a lot of weight in the field of hospitality. On the other hand, Kapalua translates to "arms embracing the sea".
Similarly, the Ritz-Carlton Kapalua embraces guests with Hawaii's natural aloha. Check out the latest prices and more details.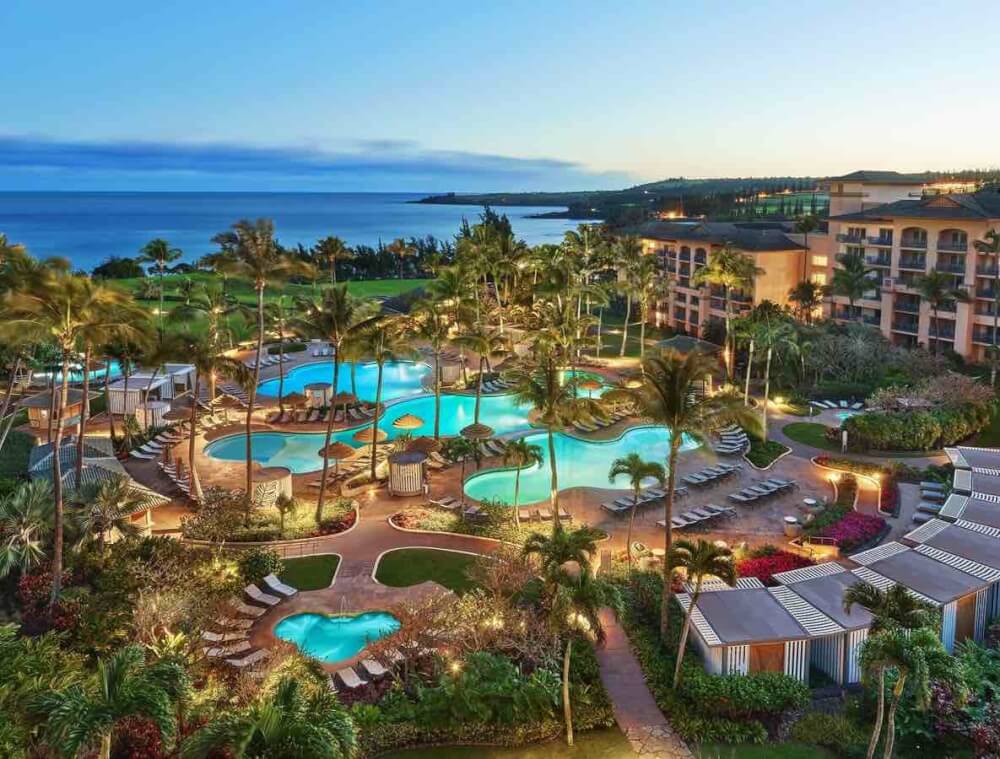 Located on the Northwest shores of Maui, the hotel features rooms with a stunning view of the ocean.
With a whopping 22,000 acres of wide-open space, the hotel is perfect for all sorts of activities ranging from water sports to world-famous championship golf.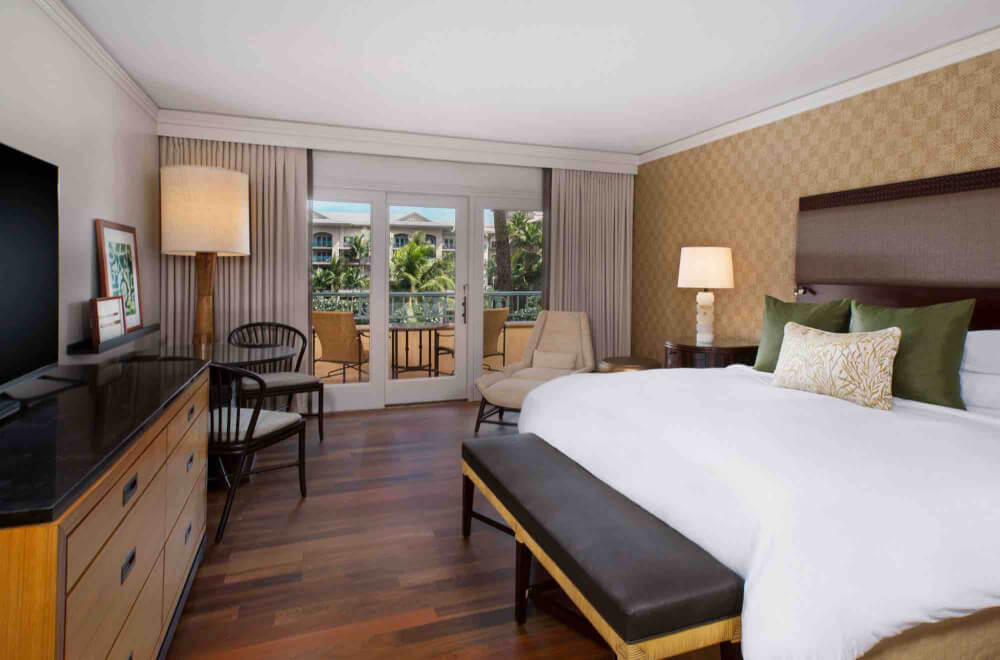 In addition, the Ritz-Carlton Kapalua features 466 newly-reimagined hotel rooms, suites, and Club-level accommodations that are designed with wood floors, marble bathrooms, and island-modern décor.
The hotel offers six different dining experiences featuring locally-sourced ingredients, fresh seafood, and Pacific cuisine.
However, there are still a variety of more than 10 restaurants within 2 kilometers of the resort.
As for all the activities on the hotel, the Ritz-Carlton Spa features treatments inspired by ancient Hawaiian traditions that include a variety of body treatments, massages, facials, and fitness classes.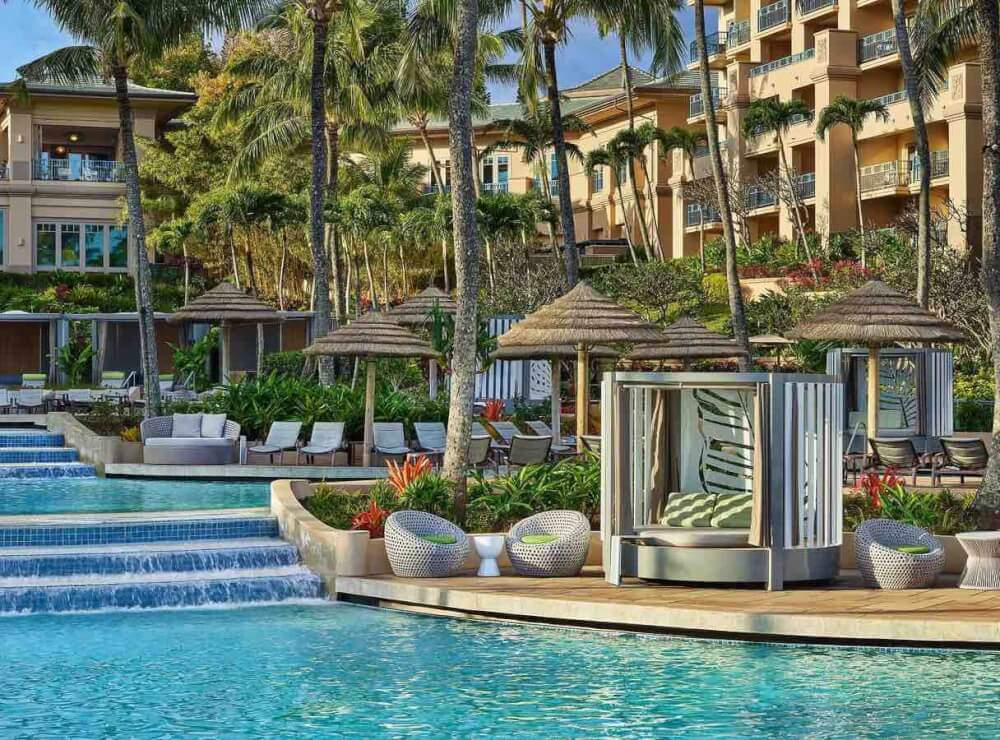 Aside from that, the hotel's fitness center with world-class cardio equipment makes sure that guests can take care of their bodies.
To accommodate the large property, Kapalua offers shuttle services to nearby beaches, restaurants, shopping centers, and golf courses.
Also, the hotel is well-equipped to cater to full-service weddings and vow renewals. Plus, it's where celebrities stay in Hawaii!
Book a Family Photo Shoot
Whenever we travel to Hawaii, we almost always book a family photo shoot with Flytographer. They are super easy, affordable, AND it guarantees that I'll be in some photos. You can get $25 off if you book through this link or use the code HAWAIITRAVEL.
Located along the golden crescent of Wailea Beach rests the Four Seasons Maui resort and luxury hotel. The luxury hotel is home to three Zagat-rated restaurants. Plus, this is where they filmed the 2021 HBO Max mini-series White Lotus.
The Four Seasons at Maui also boasts about their long list of daily complimentary activities. Check out the latest prices and more details.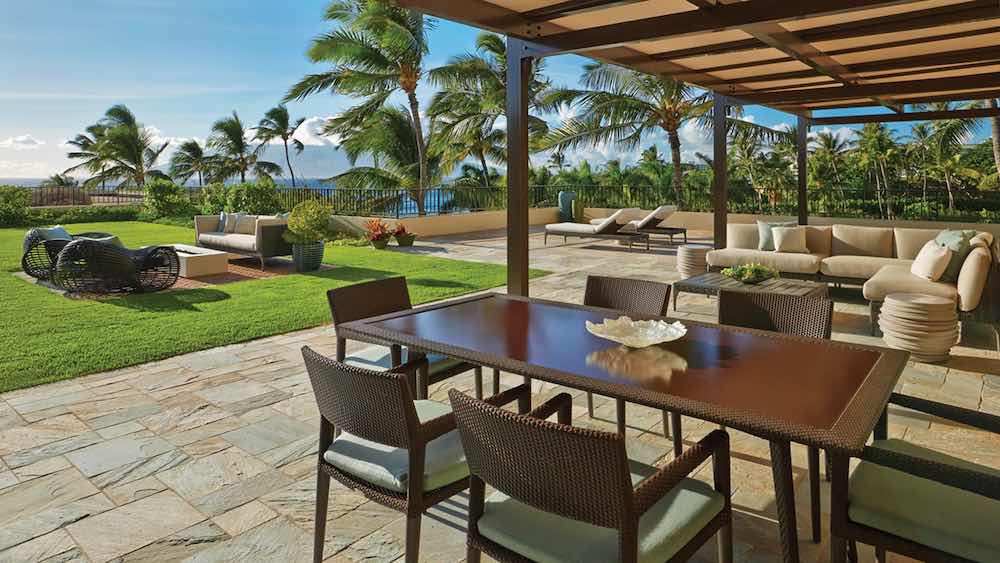 These activities range from heading over to their award-winning spa, enjoying the three saltwater pools, to learning about Hawaii's cultural activities.
One of the best things about the Four Seasons Maui is their state-of-the-art accommodations.
The luxury hotel's accommodation ranges from residential suites, club floor, large and small suites, guest rooms, and accessible rooms.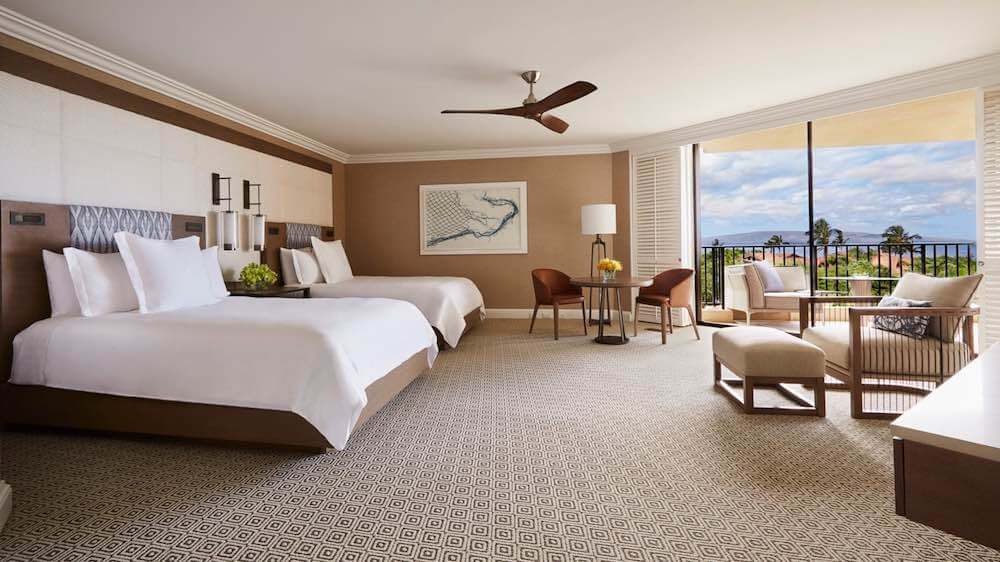 Their residential suites are perfect for families and groups of friends. Residential suites can accommodate up to 6 adults and 5 children.
In addition, all rooms are equipped with state-of-the art air purification systems that sanitize every 30 minutes.
The Club Floor offers two types of suites that have the beautiful view of the Maui shores. The rooms are also perfect for small families.
All of the Four Seasons' suites offer a different type of vacation.
Their Complete Suite Experience offers a higher form of service, amenities, and privacy. Each Ocean-front Suite includes a Personal Assistant who will create the guests' customized Maui escapade.
The Four Seasons' guests can experience a wide variety of complimentary services, amenities, and activities.
In fact, there are 67 cabanas and 22 oceanfront sanctuaries that guests can enjoy daily. Guests can also enjoy complimentary car service all around Wailea.
The luxury hotel also offers a number of unique and exquisite experiences that you and your family will definitely remember.
In Four Seasons Maui, guests can helicopter to enjoy the local scenery and cuisine served by Executive Chef Craig Dryhurst.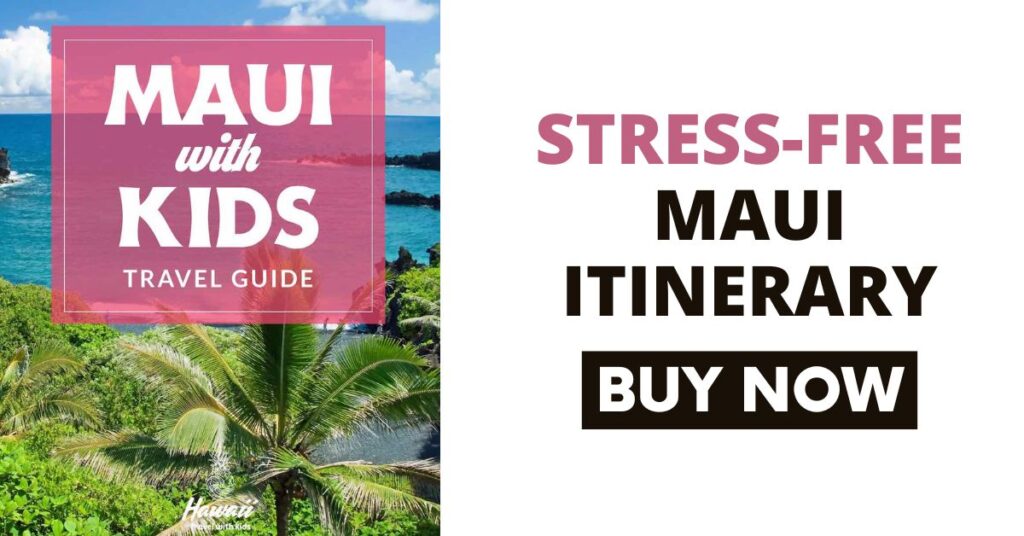 Are Maui Luxury Hotels and Resorts Worth the Price?
When traveling to a paradise, it's ideal to travel with luxury. All these luxury hotels give you the accommodation and island experiences of your dreams.
Finally, it looks as if the travel industry is getting back on its feet. What better way to jump on that train than by booking a room at one of Hawaii's luxury hotels?
However, it's still important to remember and note all the COVID-19 Safety Guidelines and Precautions the island has laid out.
For updates about Island guidelines, check this website out. Happy and safe travels ahead, friends!