Are you thinking about popping the question on your next Hawaii vacation? Keep scrolling to find out the most romantic Hawaii beach proposal ideas, scroll down for all the info!
This post about Hawaii beach proposal ideas was written by Hawaii travel expert Marcie Cheung and contains affiliate links which means if you purchase something from one of my affiliate links, I may earn a small commission that goes back into maintaining this blog.
There are dozens of reasons why I love Hawaii besides the tropical cuisine, the music, and the fact that everyone's so laid back and friendly. There are plenty of hiking opportunities, jaw-dropping volcanoes, and giant sea turtles swimming near the coast.
But of course, Hawaii is mostly known for its gorgeous beaches.
There are popular party beaches where you can mingle with fellow travelers and locals, while you sip on a cocktail or two. But there's no shortage of small, cozy, and secluded beaches for families who are looking to unwind and get away from it all, as well.
With so many options, it can be hard to choose. Luckily for you, I've come up with the best Hawaii beach proposal ideas where you can go surfing, swim with turtles, or take a stroll by the shore with tropical forests as the backdrop.
And be sure to read my top 15 romantic things to do in Hawaii!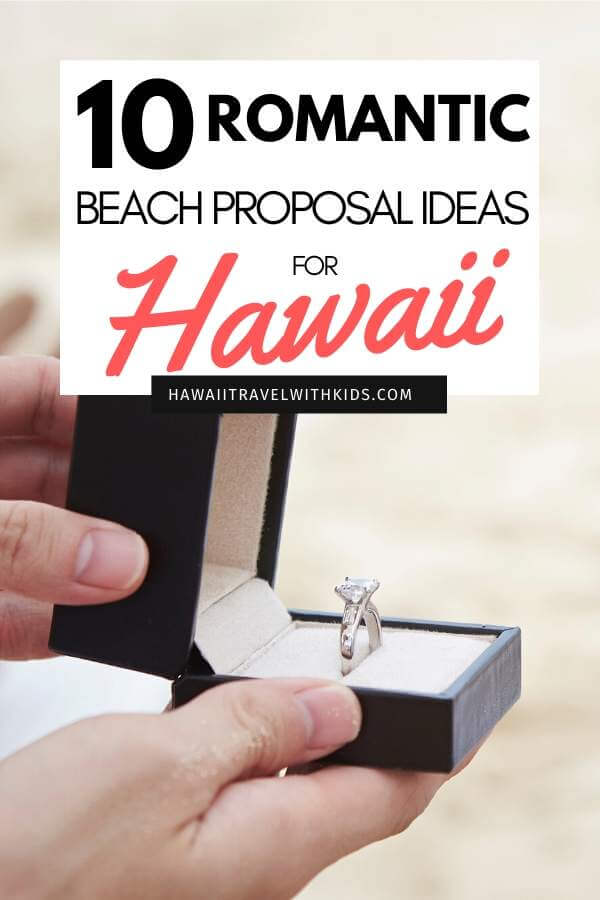 Hawaii Proposal FAQs
Do you need pictures of a proposal?
While it's not essential, it can be a really special way to capture this memorable moment. You can hire a professional photographer (who can stay hidden during the proposal) or you can use a self-timer on your own camera.
How do you propose?
Before planning your proposal, make sure you and your partner are on the same page about eventually getting married. If that's the case, think about what you want to say to your partner and any ways you can make it extra special or more meaningful. Usually, you'll present the ring at the proposal, but you could always plan to choose one together after the proposal.
What to do after proposing?
If your partner has said yes to your proposal it's time to celebrate! Take a few selfies and decide when/how you'd like to share your news with friends and family. At some point after, have a conversation about what you'd like the wedding to look like and how long of an engagement feels right.
10 Super Easy Hawaii Beach Proposal Ideas
Write it in the Sand
For a Hawaii beach proposal, it doesn't get more timeless and classic than this!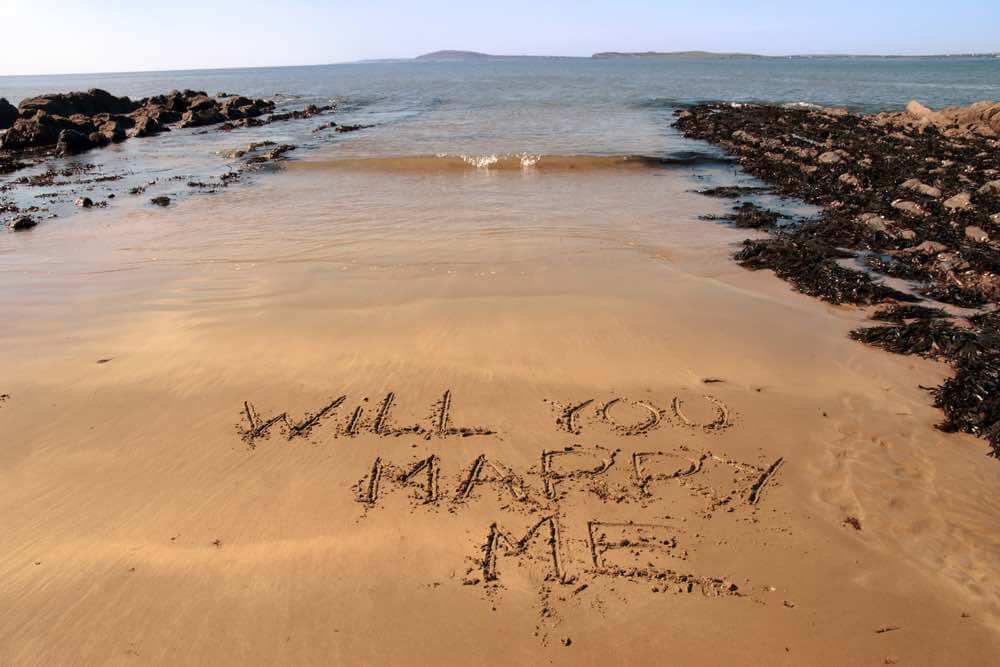 All you need to do is write "Will you marry me?" in the sand and make sure your partner knows the question is directed at them!
Insider tip: Plan to do this in early morning or early evening to avoid beach crowds and to protect your message from being washed away by the tide.
If you really want to wow them, you can decorate your message with Hawaiian flowers, leis, or pretty shells.
Another option is to use shells and/or flower petals to pop the question. This is great if you have a few minutes head start to create and then immediately grab your partner.
Otherwise, you risk the petals blowing away or getting messed up by curious beach goers.
Afterwards (if your partner says yes), you can write both your names in the sand with your engagement date and take a photo to make it Facebook official!
Pop the Question Underwater
If you and your partner are adventurous, it doesn't get much cooler than this unique beach proposal idea.
Book a snorkeling or scuba diving tour and see if your instructor can help you pop the question. Simply create a waterproof sign that says "Will you marry me?" and have your instructor plant it at the diving or snorkeling site.
Then, when you get the go-ahead that everything is set, casually head over to the sign and see if your partner gives you the okay!
Or, if you are an experienced snorkeler or diver, you can do it all yourself. You can even bring a waterproof whiteboard with your proposal written on it. It's just a bit trickier to be sneaky about it.
Insider tip: Don't bring the ring underwater! It's probably safest to keep it back in your hotel room.
Early Morning Beach Walk
Sometimes simple is best. The sunrises in Hawaii are absolutely majestic and signify a new beginning. Sounds pretty perfect for a Hawaii beach proposal, right?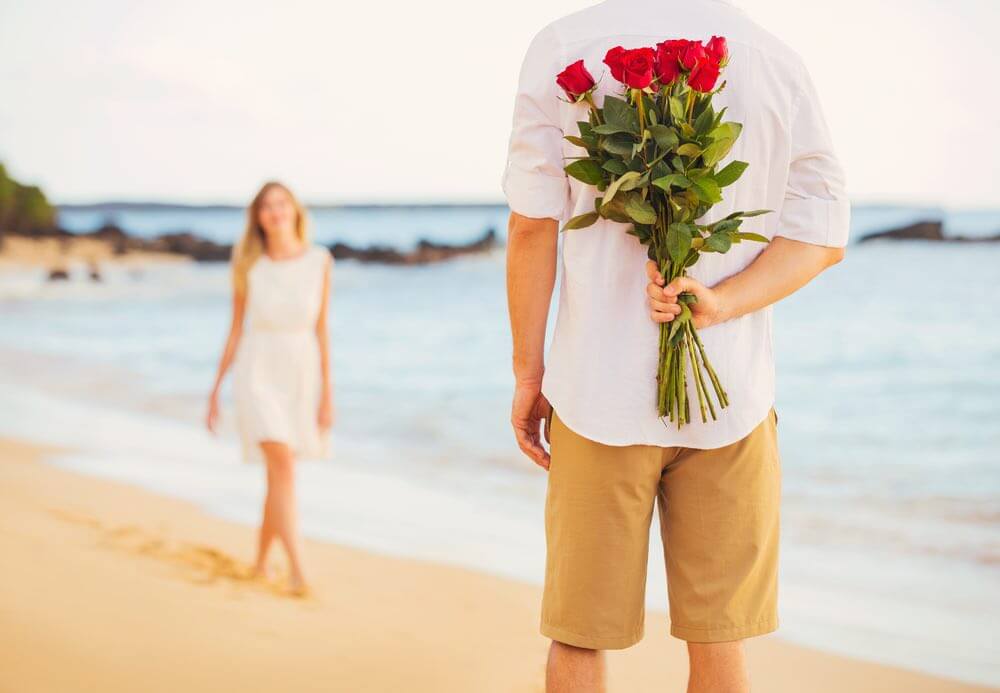 Because of the time difference from the Mainland, chances are you will be awake before sunrise anyway. This is a great option if you want to propose on your first morning in Hawaii.
Plus, the beaches are much less crowded at sunrise than they are at sunset. Having the beach all to yourselves sounds pretty romantic to me!
Romantic Sunset Dinner or Picnic
However, Hawaiian sunsets are pretty classic for a reason.
If you have your heart set on proposing at sunset, that puts you right about dinner time in Hawaii. So, you can easily combine them for a romantic dinner on the beach.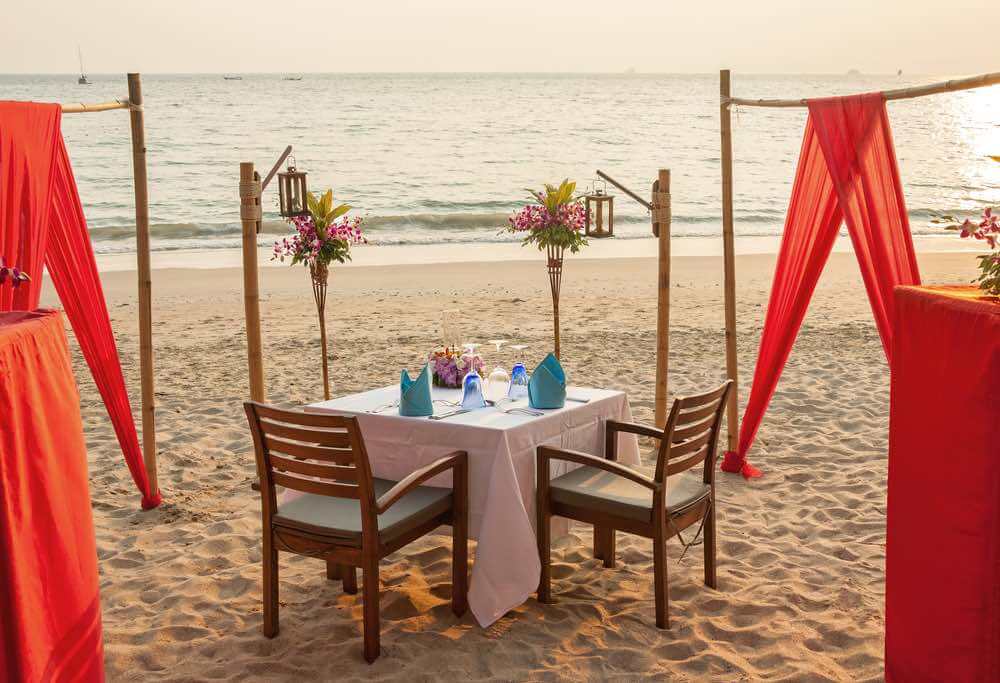 Lots of Hawaii resorts and restaurants have beachfront dining areas. Some even have nightly live music! Contact them ahead of time to see if they have a romance package or can set something up for you.
Hawaii Sunset Cruise
Another Hawaii sunset proposal idea is to pop the question on a Hawaiian sunset cruise. There are lots of sunset boat tours on each island, so it's easy to find one. Find the best rates here.
I suggest contacting them ahead of time to give them a heads up and to see if they can store champagne or something celebratory for you.
Or, you can pull out all the stops and rent a private boat.
Once you get out in the water, wait for the sun to start to set and then propose when the mood strikes.
Luau Proposal
Another unique Hawaii wedding proposal idea is to do it at a luau. This is a good idea if you want a built-in audience to celebrate with you (and you are sure your partner will say yes!)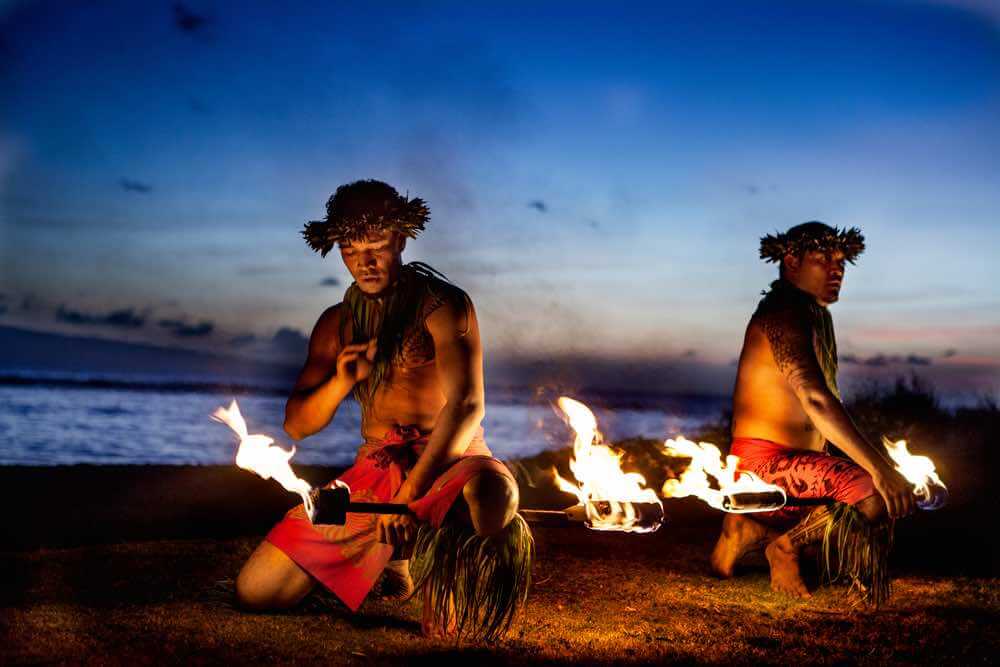 There are tons of luaus to choose from. For the most romantic, I'd recommend Toa Luau on Oahu, the Feast at Lele on Maui, and Luau Kalamaku on Kauai.
Give the luau a heads up that you will be proposing and they can help you find the right time. They might even be able to make an announcement or involve their musicians in your Hawaii proposal.
You can read my full post about the best Oahu luaus and Maui luaus.
Live Musicians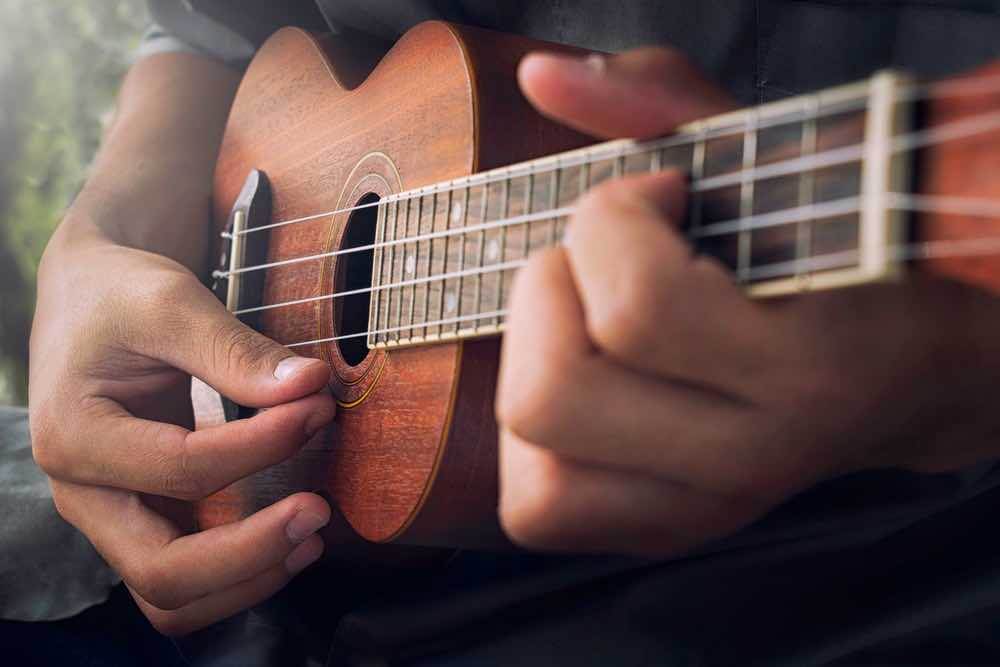 If you want one of those "straight out of a movie" moments, hire a group of local Hawaiian musicians to meet you on a beach or garden.
They can play a beautiful Hawaiian love song (or your special song) during your proposal. Then, you can use that same song in your wedding as your first dance or for when you walk down the aisle.
Not sure where to start? Here's a great list of Hawaiian musical artists to inspire you!
This is a great option if you have someone there to take photos of the proposal. You'll definitely want pics to show when you tell the story!
Romantic Beach Set Up
If writing your proposal in the sand feels too simple for you, this is the beach proposal idea for you!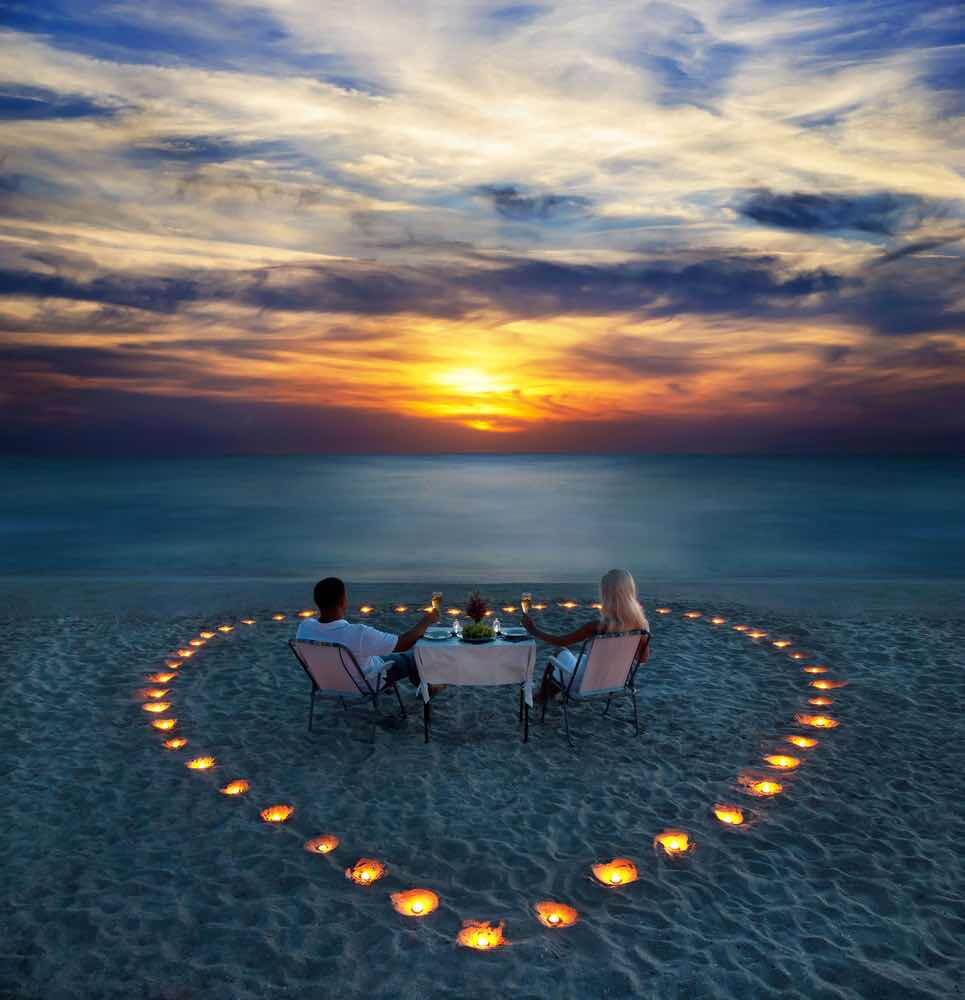 Find a pretty beach and create the ultimate romantic beach proposal set up with anything that speaks to you. It could be framed photos, a sandcastle with your names on it, a romantic picnic with champagne, a teepee style beach tent, etc.
Step it up by placing handmade signs leading up to the set up with sweet sayings, special moments between the two of you, etc. You could even have individual signs that say "Will," "You," "Marry" Me" "name of your partner?"
By the time your partner gets to the romantic spot, they should have an idea that the proposal is coming!
Insider tip: This idea only really works if you are able to sneak away to do the full set-up without your partner getting suspicious. It's really easy if you are traveling with another couple or group who can help distract your partner during this time.
On a Hawaii Tour
If it's your first time to Hawaii, it could be awesome do your proposal on a circle island tour. There are large group tours as well as smaller, more private island tours to choose from.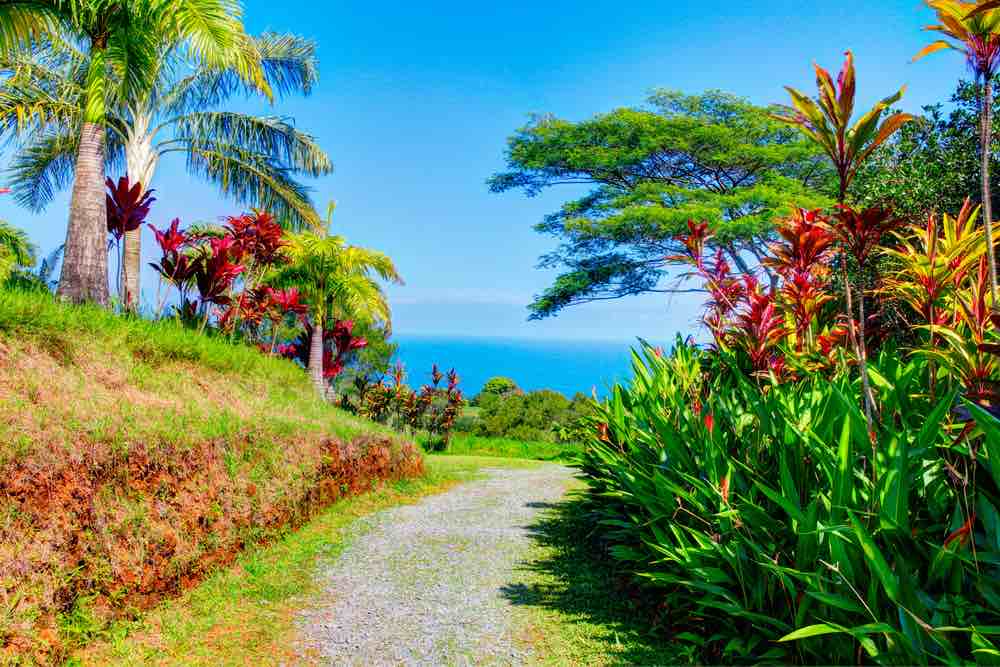 Again, you'll want to let your tour guide know your plans ahead of time and see if they can help.
I recommend this for first-time Hawaii travelers because your tour guide can suggest romantic spots or somewhere pretty. Because it will be the first time either of you has been to that spot, it will be extra special!
Hire a Hawaii Vacation Photographer
No matter which option you choose, I highly recommend booking a professional photographer to capture the big moment. You'll probably do professional engagement and wedding photos, so might as well have "nice" proposal photos, too!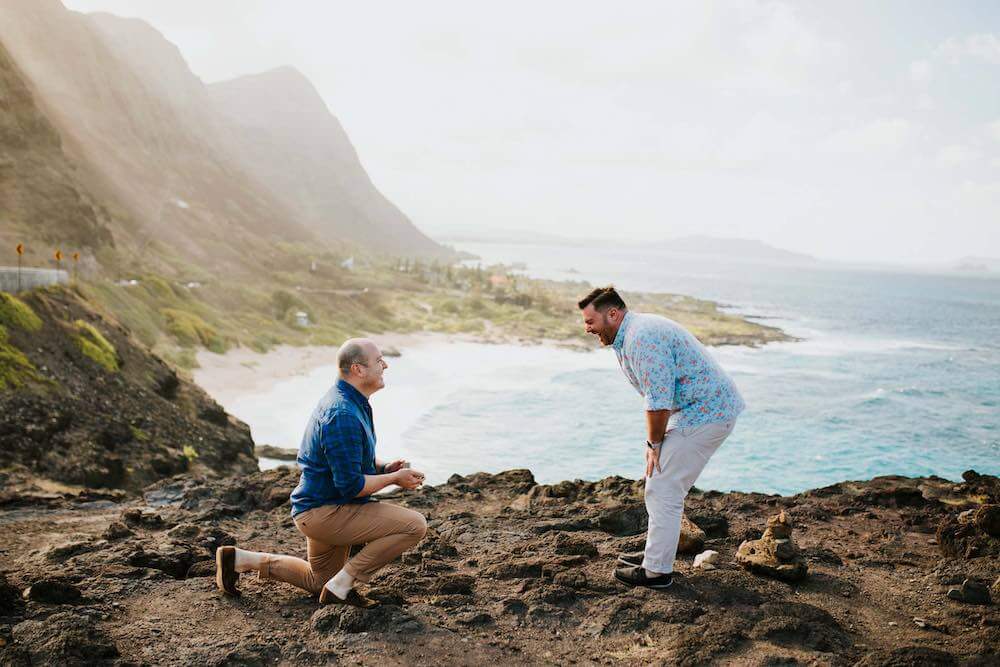 You can even have the photoshoot be the entire proposal.
Depending on the level of deception you want, you can pretend that you won the photoshoot through a giveaway or just give it to your partner as a gift.
The easiest way to do this is through Flytographer. They have photographers all over the world, and lots of them in Hawaii.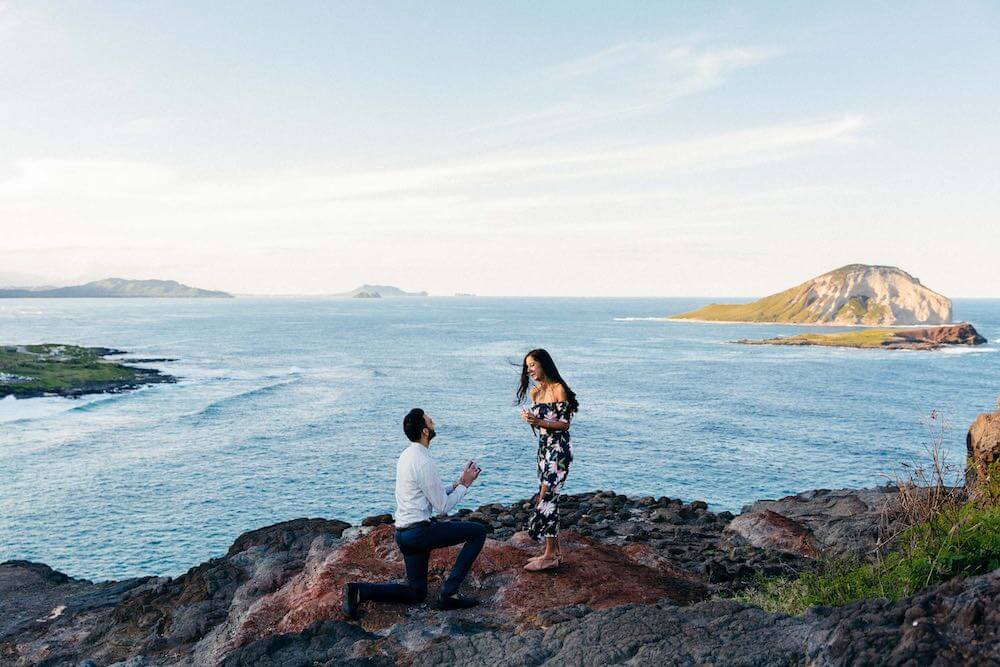 They are known for doing epic proposal photoshoots. You'll be able to talk to the photographer ahead of time and come up with the ultimate beach proposal in Hawaii.
Because they are local photographers, they know the best beaches for a Hawaii proposal. Plus, they might even have some proposal ideas you haven't thought of yet!
Trust me, your partner will appreciate having stunning photos to post on social media and to hang up in your home!
Save $25 when you book a Flytographer proposal session!
9 Unbelievably Romantic Beaches for your Hawaii Beach Proposal
1. Makena 'Big' Beach
Makena "Big" Beach is rated the #1 beach on Maui for good reason. For starters, it's sheltered from the wind and the Makena cloud that stretches from the tip of Haleakala to the island of Kahoolawe often covers the area and keeps the sand cool.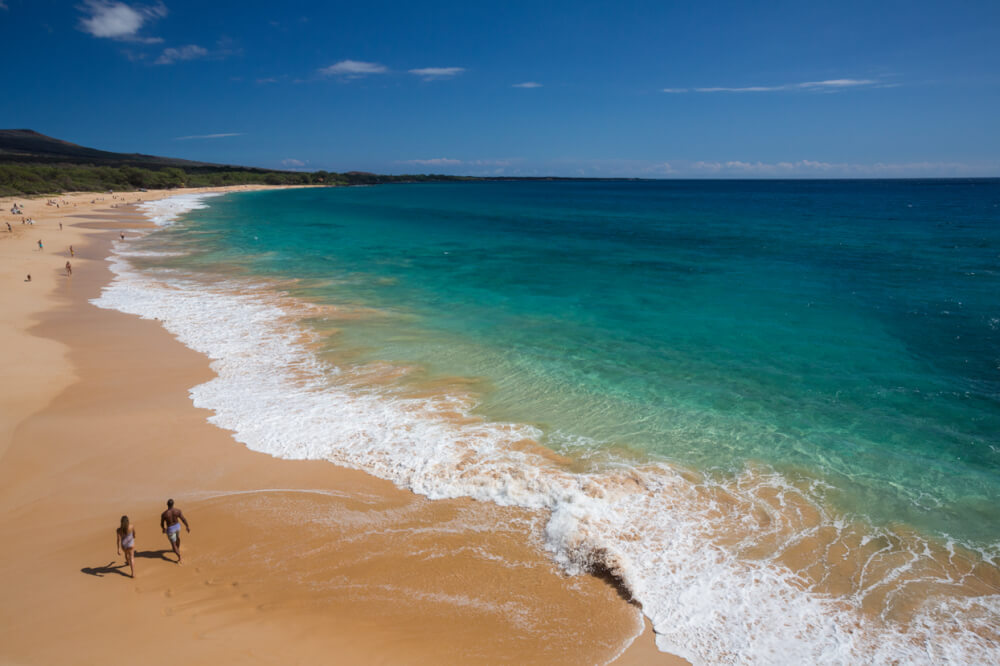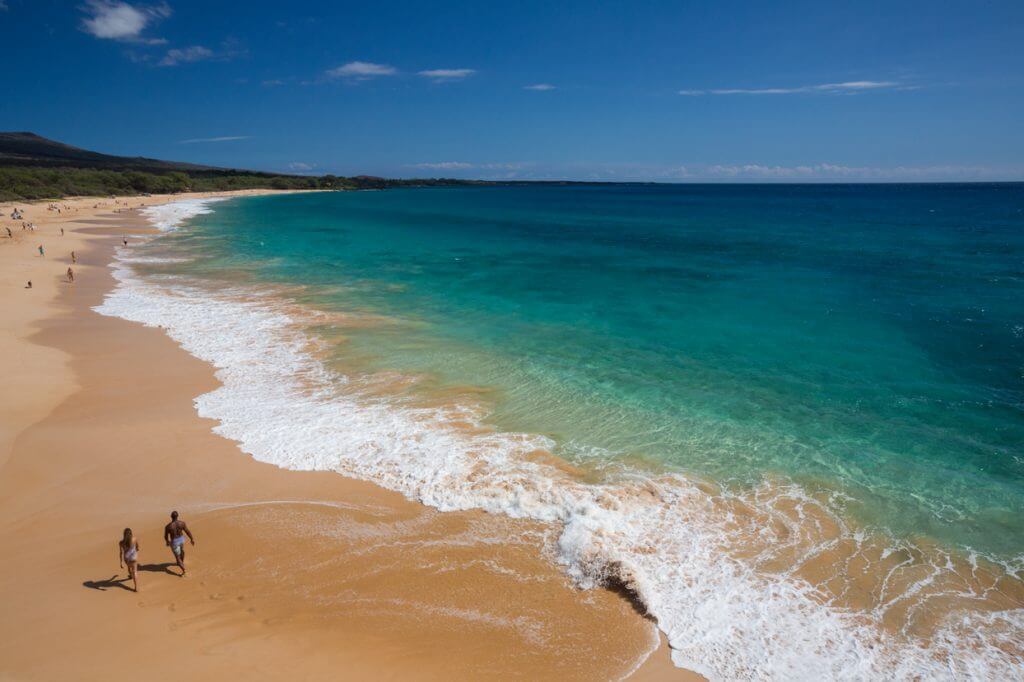 But best of all, the nearly 2/3-mile-long beach is big enough for you to sunbathe, swim or snorkel without worrying about overcrowding.
And on the right of the beach is a path directly over the hill and lava that leads to Little Beach, where many sunbathers love to go to sunbathe and relax.
2. Punalu'u Black Sand Beach, Hawaii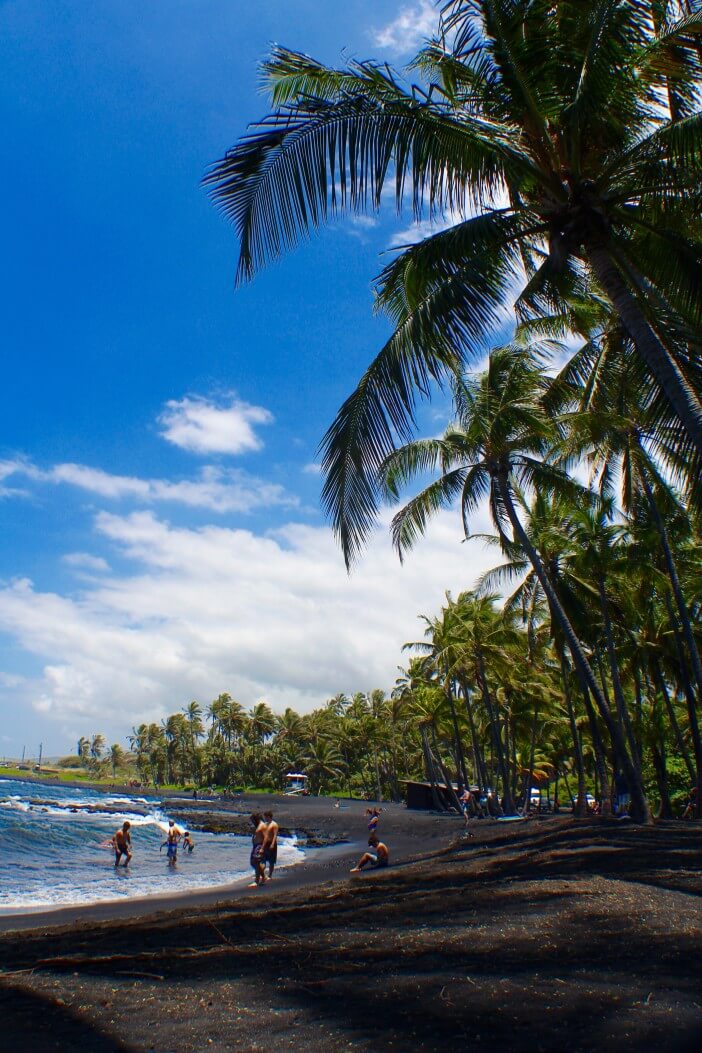 The Punalu'u Black Sand Beach is a sight to be seen. The impressive black shoreline gets its deep black shade thanks to tiny basalt particles, which was created by lava flowing into the ocean.
As it hits the water, these particles explode and cools down. Eventually, they make their way to shore.
Punalu'u is nestled in between coconut trees and soft and shiny black sand beach. You can sunbathe when you go, take plenty of pictures, and if you're lucky, spot a few sea turtles.
3. Ko Olina Beach, Oahu
Set up a lawn chair on the white sandy shores, and enjoy the sight of the beautiful clear blue waters of the Ko Olina Beach in Oahu.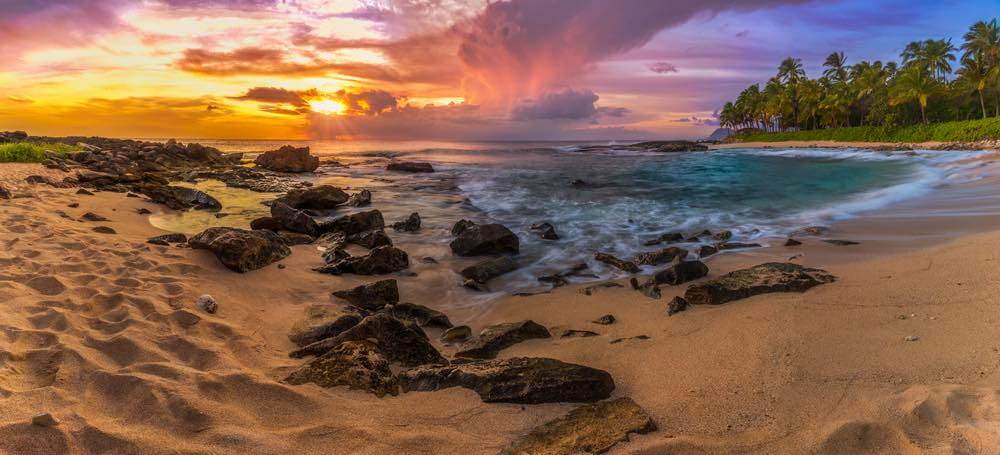 The beach is protected by the reef so the water is relatively shallow and safe for kids, especially those who can't swim yet. You don't have to worry about massive waves either.
There's a paved walkway along the beach that takes you from one resort to the next where you can go for a stroll.
And if you happen to get there in the morning, beachgoers claim that the crystal clear waters almost look like glass.
4. Waianapanapa State Park & Beach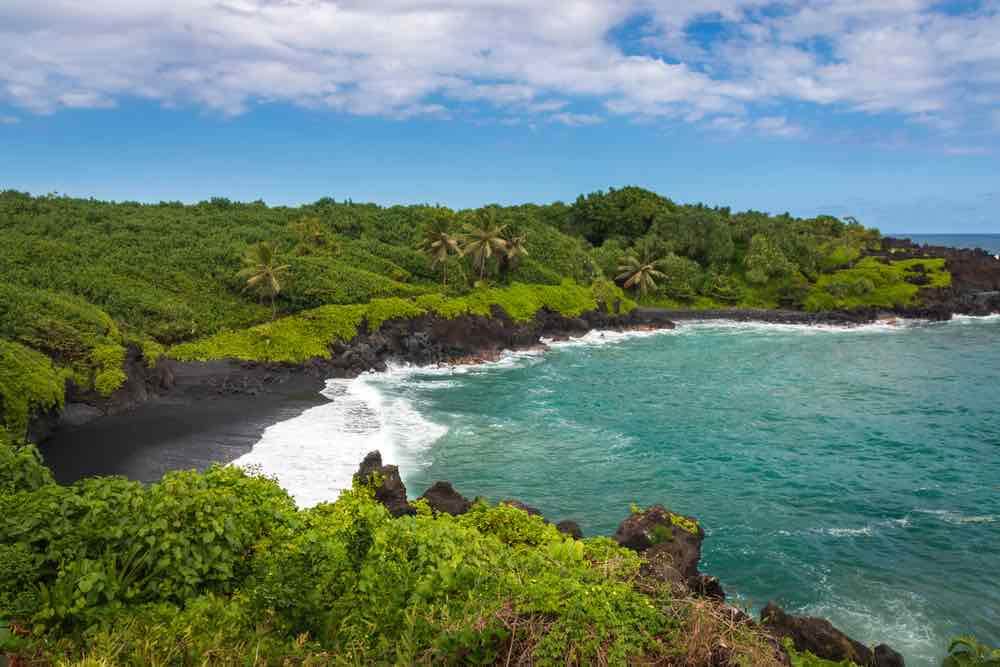 If you happen to drive along Maui's Road to Hana, make sure to make a stop by the Waianapanapa State Park & Beach.
Here you'll find the Honokalani Black Sand Beach in Pa'iloa Bay where you can feel the black sand lava pebbles between your toes. And if you stand on the beach, facing the water, you'll notice that on your right is a small lava tube near the shoreline.
Some of the main highlights in this beach are the lava caves and tubes, sea arches, impressive waves crashing into the shores, the Pīpīwai Trail, and sea cliffs. You can read all my tips for this Maui black sand beach HERE.
Read my full Road to Hana guide
5. Poipu Beach Park, Kauai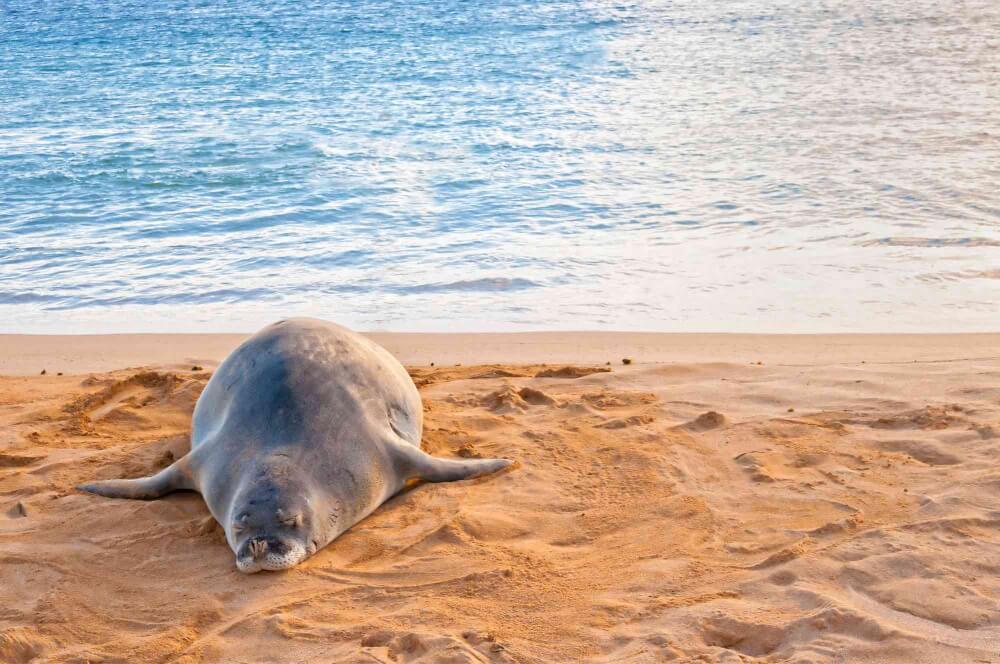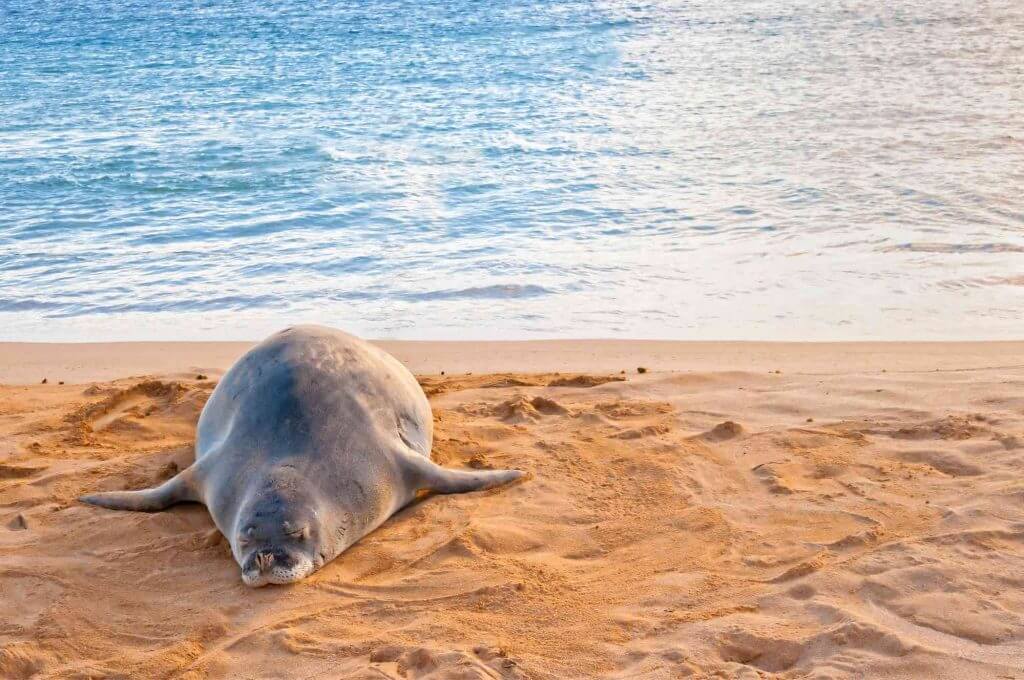 If you love surfing, then you should definitely head to Poipu Beach Park in Kauai. Besides the sunny shores, there are swimming and snorkeling areas for beginner swimmers.
But there's also a surf break over a reef that's perfect for experienced surfers because the waves are really challenging.
You can also go snorkeling, turtle sightseeing or whale watching. And you might even see a few monk seals hanging around in the shoreline.
Find out more things to do in Poipu, Kauai
6. Manini'owali Beach, Kona
The crescent-shaped Manini'owali Beach has been dubbed "The Caribbean of Hawaii" because of the white, sandy beaches that lean toward crystal clear waters.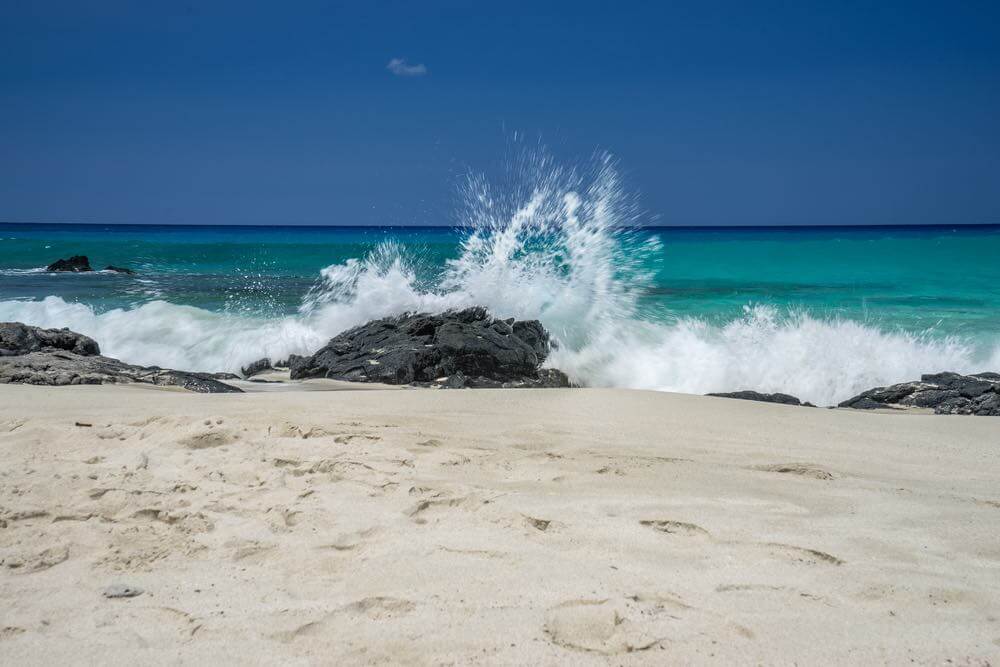 Waves can get pretty rough in the winter, so it's a great spot for anyone who loves surfing.
And if you love snorkeling, you might get to see some beautiful tropical fish or a couple of sea turtles swimming under the coral and boulders in the water. Occasionally, you might see a dolphin or two.
Keep in mind that there's virtually no shade at the beach, so you need to be prepared.
Make sure to also bring a pair of comfy sneakers, as you have to walk through 10 feet of lava rocks to get to this pristine white sand beach. The way down is a bit rocky and somewhat steep, but it's totally doable even if you're traveling with kids.
7. 'Mauna Kea' Beach
If you're looking for a beach that's so beautiful, it looks like it came straight out of a postcard, then this is it. It's located behind the Mauna Kea Hotel, and it's close to Hapuna Beach State Park.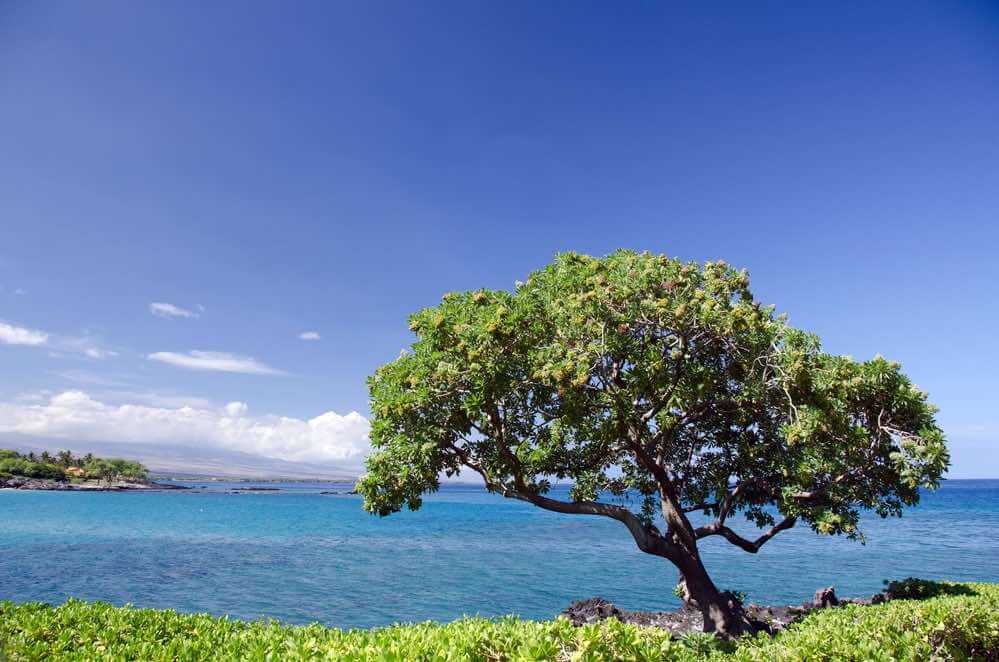 Since there's a small number of parking spaces, I suggest planning an all-day trip to Mauna Kea and getting there early in the morning. This small, quiet and almost intimate beach is sheer paradise.
It's the perfect spot for boogie boarding, swimming, play beach games with the whole family, snorkeling, or just walking by the shore.
8. Polihua Beach, Lanai
Lanai is known for its pristine tropical beaches and world-class snorkeling.
So if you're looking to run away from it all, then it doesn't get any better than this isolated white sand beach that stretches for two miles along Lanai's northeastern shore.
While swimming is not advisable on Polihua Beach due to its strong currents, there's still plenty to do here.
Polihua is the perfect spot to take some Instagram-worthy photos, go on long beach strolls, sunbathe for hours on end, and plan a delicious picnic.
If you visit this majestic little piece of paradise, you can go great humpback whale watching, since they're known for coming very close to the coastline.
9. Kapalua Bay, Maui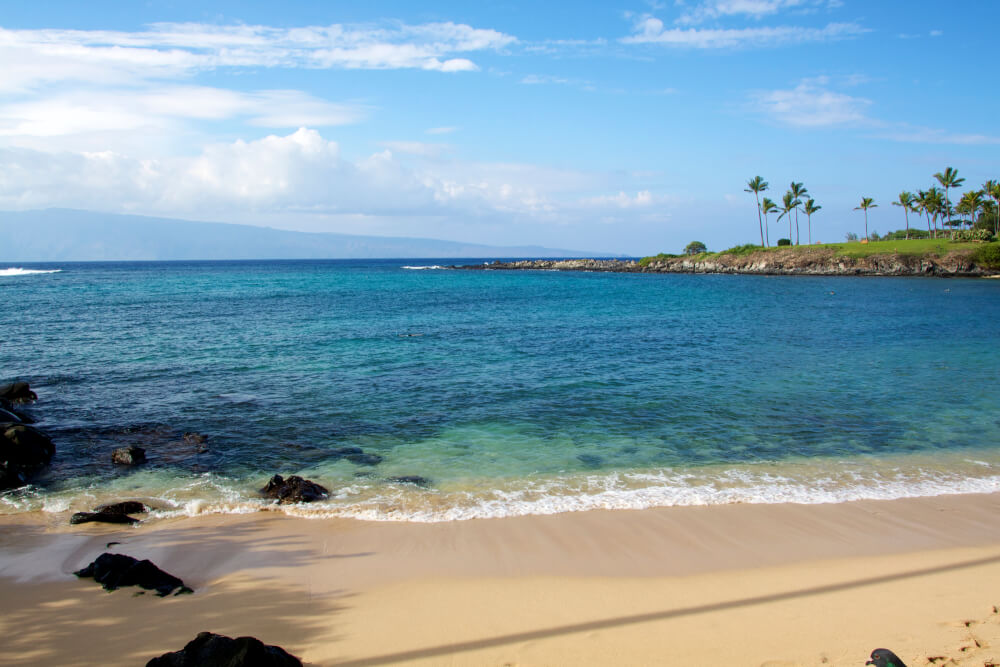 This nice little secluded beach is known for its calm bay waters, and is one of the most popular beaches for SUP-boarding, snorkeling, body surfing, kayaking, swimming, and boogie boarding.
Park your beach chairs and towels, and get your snorkel ready.
Depending on where you're snorkeling, be prepared to spot giant sea turtles, corals, oysters, soldierfish, boxfish, eels, puffer, and parrotfish, just to name a few. You'll definitely feel like you're stuck inside an aquarium in this picture-perfect beach.
Just remember that if you spot a turtle, you should refrain from touching them as they're federally protected.
Turtles need to surface to breathe, so if they have a pack of snorkelers following them around and stressing them out, they could panic and drown. So be responsible and kind, and give them plenty of room to breathe.
Loving this Hawaii beach proposal ideas and want to know what to do after you propose? Find out my top 15 romantic things to do in Hawaii! Plus, find out the most romantic resorts on Oahu and Kauai!