Are you looking for the best Road to Hana stops that are worth it? Keep scrolling for an honest review of the Maui black sand beach and how to secure reservations.
This posts about tips for Maui black sand beach contains affiliate links which means if you purchase something from one of my affiliate links, I may earn a small commission that goes back into maintaining this blog.
Guest post by Chelsea Kelly-Sipe
Ready to find some amazing black sand in Maui?
One of the unique features of Hawaii is the beautiful black sand beaches that grace the many shores of the Hawaiian Islands.
One of the most popular and well-known black sand beaches is located on the road to Hana in Wai'anapanapa State Park. It is a must-see for visitors in Maui. And it's one of the best places to stop on the Road to Hana.
Wai'anapanapa State Park not only features a black sand beach, but also a sea arch, blowhole, cave with stunning sea views, hiking trails, lava rock formations, tidal pools, and native forests.
Wow! No wonder it is a top destination!
Note: You MUST make reservations to visit Waianapanapa State Park to see the black sand beach. Reservations can be made 7 days in advance but MUST be made at least 24 hours in advance. You'll be given a 2.5- 3-hour window to arrive and leave. The staff is strict with arrival and departure times. If you aren't sure what time you will arrive, you can purchase multiple reservation slots. But no refunds are given for unused reservations.
Did you know there are at least five Maui black sand beaches? Yep!
Keep scrolling to find out why Honokalani Beach at Pailoa Bay is one of the best black sand beaches in Maui.
Don't have time to read a bunch of Hawaii blog posts and reviews? Here are some of our top picks for visiting Maui.
Popular Maui Tours/Activities
Favorite Maui Resorts/Hotels
Andaz Maui (this is a luxury resort with the best luau on Maui)
Honua Kai Resort & Spa (this is one of our personal favorites because there are tons of pools and there are condo options)
Want to Rent a Car in Hawaii?
One of the best places to rent a car in Hawaii is Discount Hawaii Car Rental because they get the best rates from top national companies like Alamo, Dollar, Thrifty, Avis, Enterprise, Budget, and Payless.
Want to skip all the planning and just access my detailed Maui Itinerary complete with daily schedules, kid-friendly activities, and travel hacks? Click the button below.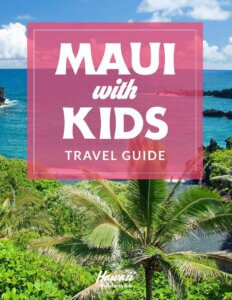 Road to Hana FAQs
Should you drive the Road to Hana with kids?
That's a personal preference. We've driven the Road to Hana with a toddler and it was a lot of fun. But, I know other families who say their kids get car sick. You can always start in Paia and just do the first half of the drive. There are plenty of kid-friendly stops.
Is the Road to Hana safe?
In terms of driving the Road to Hana, yes it's safe as long as you follow traffic rules and watch out for other cars. Check the weather before you go. Rain on the Road to Hana can mean flash floods which can close the road. Always make sure to park in places that won't block the road. And never leave valuables in your car.
How bad is the Road to Hana?
The Road to Hana is a very windy road with many one-lane bridges. If you are used to driving on windy roads, you won't have any issues. But, if you are used to driving straightaways, it can feel a bit overwhelming. It's always great to switch drivers when you stop. And don't drive the Road to Hana in the rain.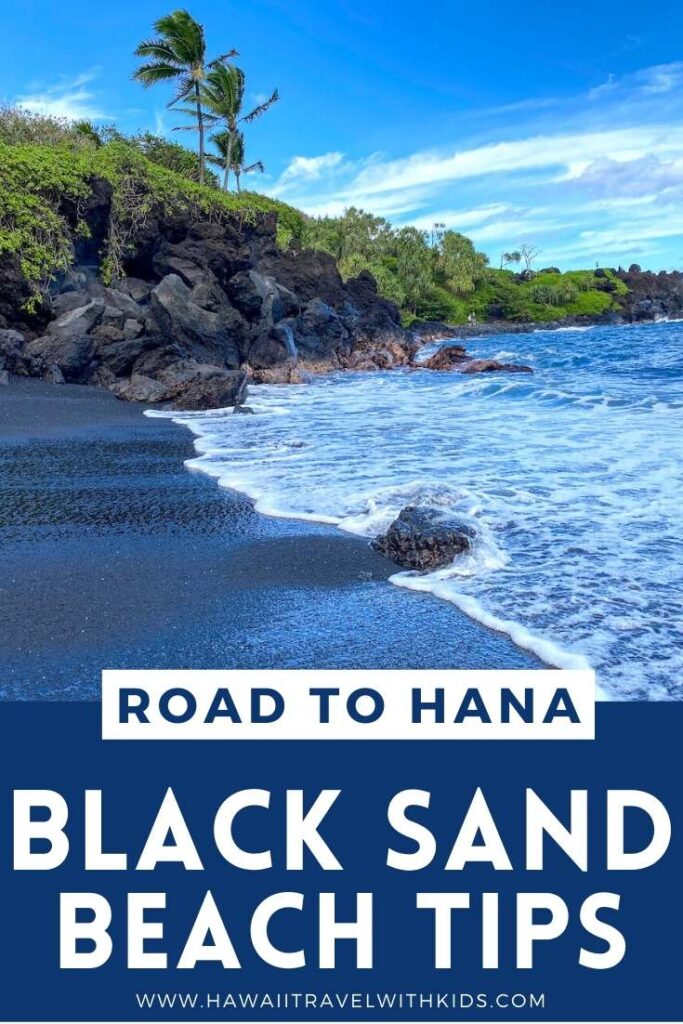 Where is the Road to Hana on Maui?
Waianapanapa State Park is located on the Road to Hana approximately 8 minutes from the town of Hana (when approaching from the west going clockwise).
Most visitors take a day trip to visit the sights along the road on their way to Hana and then turn around once they reach the town of Hana to head back to their resort.
If you are staying in Lahaina, Waianapanapa State Park would be 2.5 hours from your hotel. That seems like a really far drive, but if you get up early, you can drive it pretty smoothly.
If you are staying on the southern side of Maui near Kihei, it would be around 2 hours from your hotel.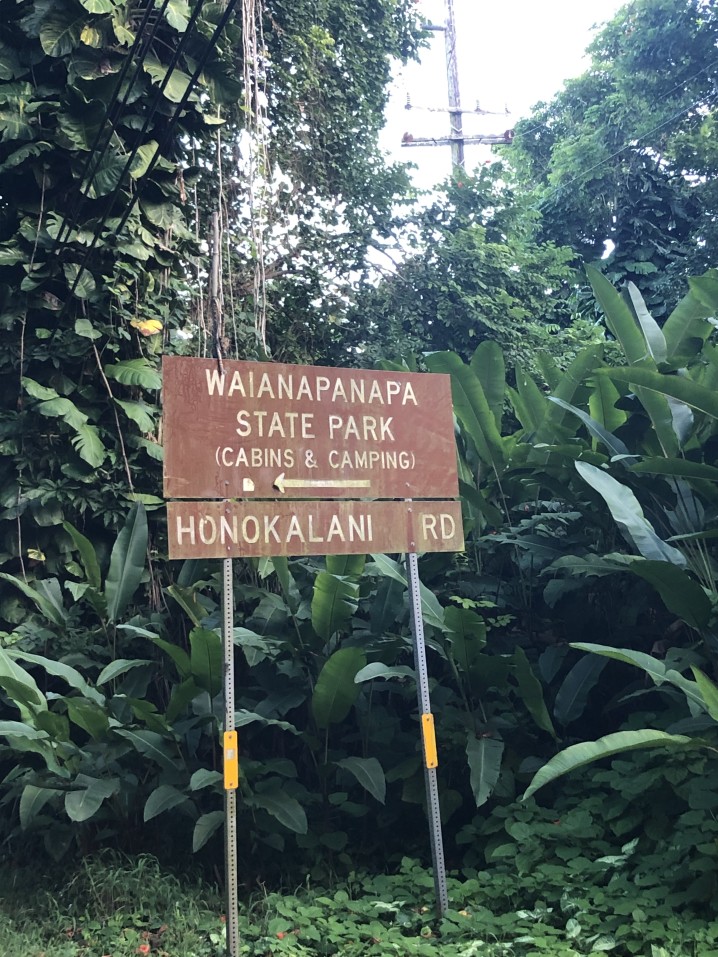 While driving the road to Hana, Wai'anapanapa State Park is off the road at Mile Marker #32 with outstanding panoramic views. From Hana Highway, you will need to turn into Honokalani Rd/Waianapanapa Rd and the entrance gate to this Hana beach park will be soon after.
You will need to show a Mobile QR code at the entrance confirming your reservation. The visitor parking lot is located after the entrance gate to the right. The attendant at the gate will tell you where to park.
Road to Hana Stops: Black Sand Beach on Maui
The majority of visitors plan a full days' worth of activities to visit the sights along the Road to Hana.
Leaving your resort in Lahaina or on the south side of Maui, visitors can make multiple stops along the drive to explore waterfalls, gardens, swimming pools, beaches, cliff views, and more. One of the best stops on Road to Hana is Honokalani Beach.
You have a few options to incorporate the black sand beach in Maui into your day's plans.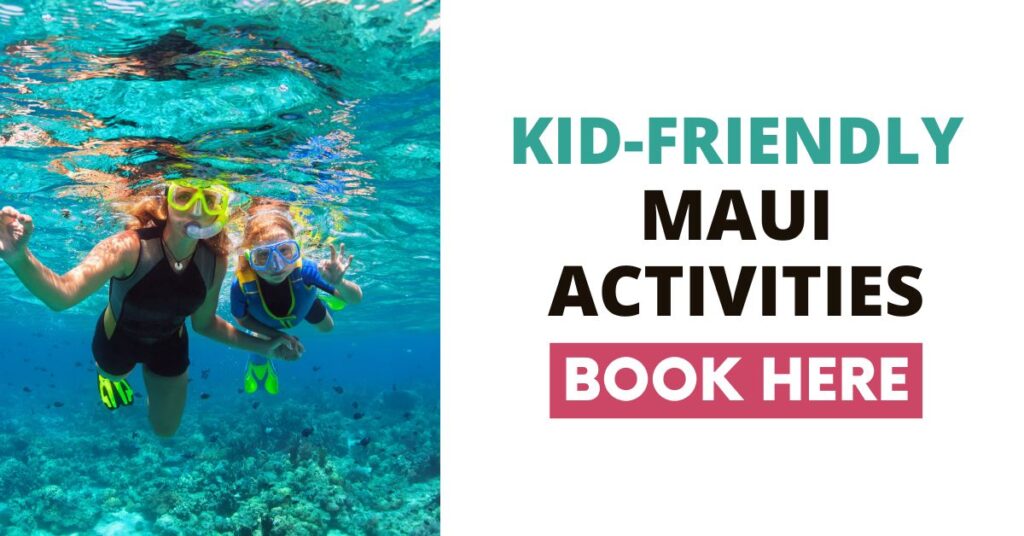 Option 1
Enjoy a leisurely drive along the Hana coast stopping at points of interest along the way. The black sand beach at Waianapanapa State Park would be one of your last stops. Be sure to arrive before 5 pm in the winter.
Many visitors reach Hana, grab some dinner and then turn around for the long drive home.
Option 2
Drive directly to Hana without making stops, enjoy breakfast in the town of Hana and then enjoy a visit to the black sand beach in the morning/early afternoon with viewer crowds.
On your return, you can visit the waterfalls, cliffs, and pools. This way you are sure to visit the beach. And you'll be on the opposite side of the road with less traffic.
Option 3
Drive all the way around the Hana coast. Old blog posts will tell you that you aren't allowed to do this, but that's not true. We've been to Maui multiple times over the past 15 years and the roads have changed for the better. We always drive all the way around. It's a LONG day, so start early, aka 6:30 am or earlier.
With Option 3, you can go clockwise or counterclockwise. We chose to go counterclockwise to enjoy the Pipiwai Trail and ʻOheʻo Gulch in the morning. This also puts the boring part of the drive first off in the morning when we are fresh and with fewer cars on the road.
What are the road conditions like?….bumpy, narrow, and winding. With this option, you'll hit Waianapanapa Beach State Park in the early/late afternoon. You may have to be picky about which attractions you visit with the setting sun.
This is also a great option if you can stay in Hana for one night or visit another section of Hana on another day.
With any option that you choose, you'll have a blast on this road to Hana black sand beach!
What Can I do at Waianapanapa State Park?
After parking, you can head to the right or left depending on where you parked along the cliff path.
This trail will provide beautiful panoramic views of the coastline with the black sand beach below and the sea arch in the background. With all the tropical plant life, it is quite the contrast and a photographer's delight.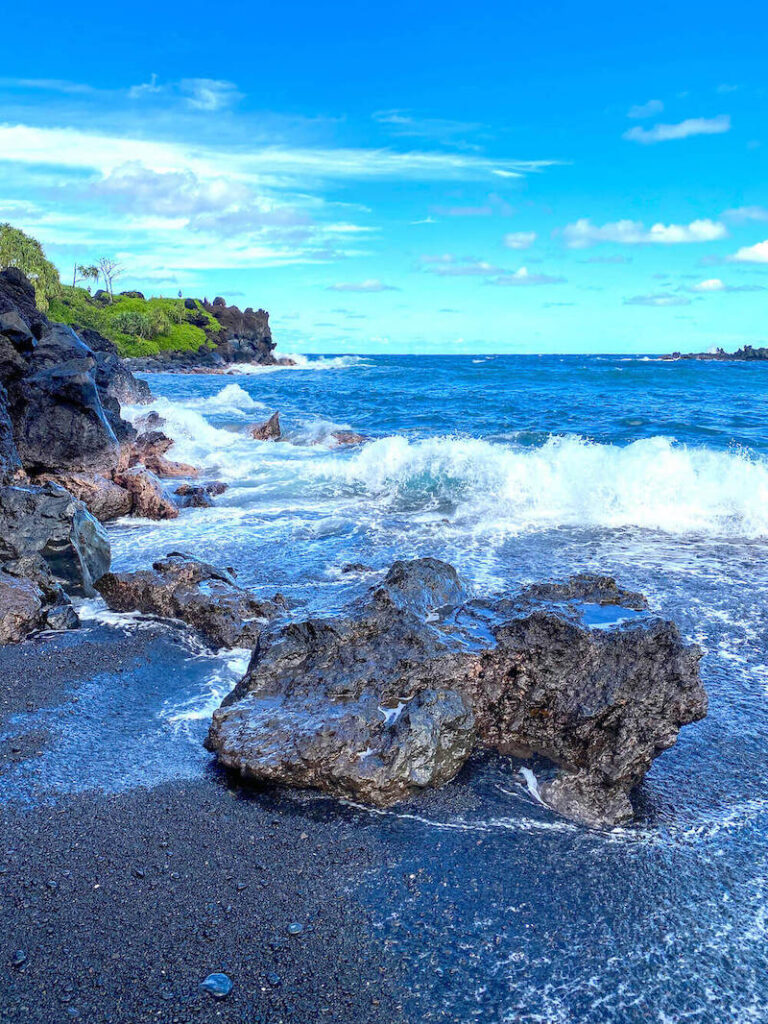 You'll reach a set of stairs that lead you down to the black sand beach. For those with mobility issues, the stairs could prove a bit of a challenge. I also wouldn't recommend strollers or wagons. Plan to carry anything you bring down and up.
Once on the black sand beach, there is plenty of space to spread out. Be sure to walk around a bit before you settle on a location.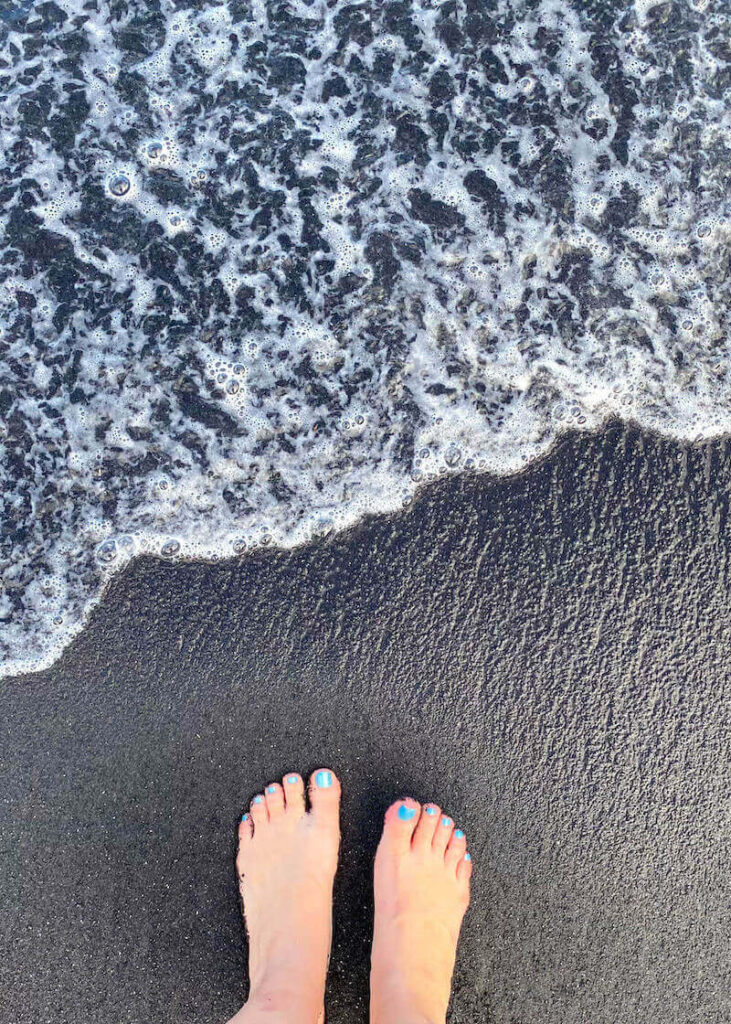 If you're up for a swim, keep an eye on the waves and be sure to watch where it is safe to swim (usually in the center or closer to the cave). The waves here at the black sand beach can be much more powerful than other beaches, so if you are not a strong swimmer, I would plan on just getting your feet wet.
If you have water shoes or hiking sandals, I highly recommend wearing those. The sand and rocks along this shore are sharp and make it difficult to walk around barefoot.
Maui Caves
There are a couple of interesting attractions along the Black Sand Beach. To the right of the cove, there is a Sea Cave made of black volcanic rock that you can explore with stunning views of the ocean at the opening in the end.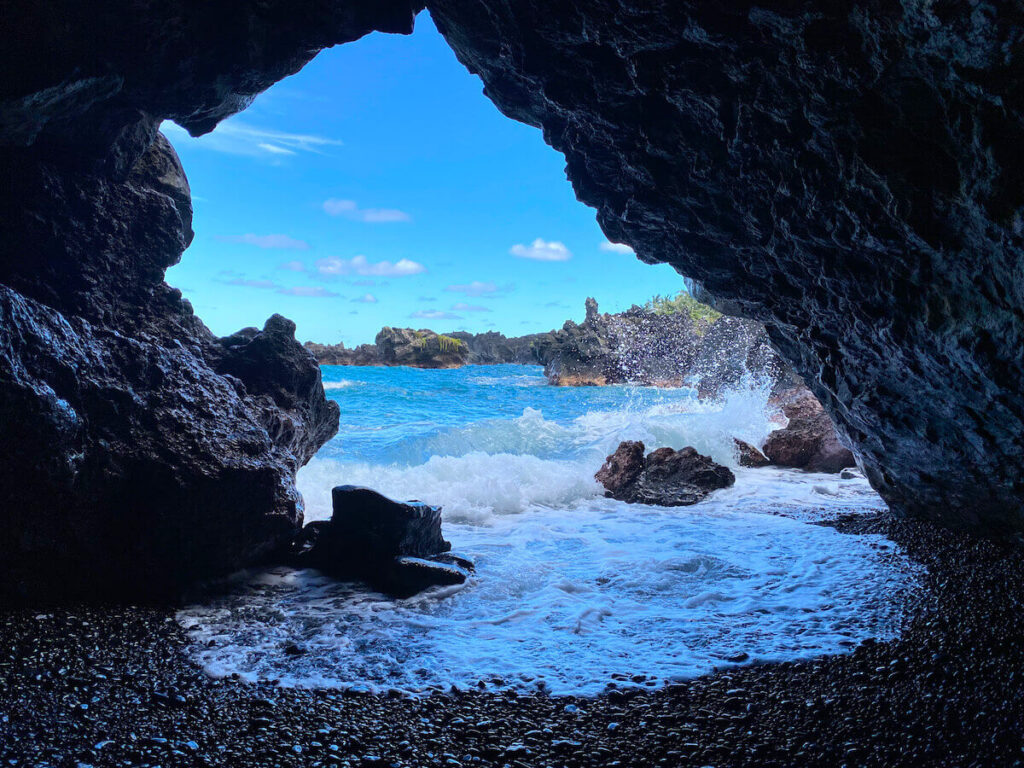 It's a bit low in the very beginning of the Waianapanapa cave, but then opens up nice and tall once you enter. Be careful and don't go too close to the entrance to the water. The waves come in sets and the larger waves will come up higher than expected.
Hiking Paths
To the left of the beach, there is a Coast Path. This is the Waianapanapa Coastal Trail (aka Piilani Trail) that climbs up to an overlook of the beach. With a mix of black sand, turquoise water, and green vegetation, this is truly a sight to remember!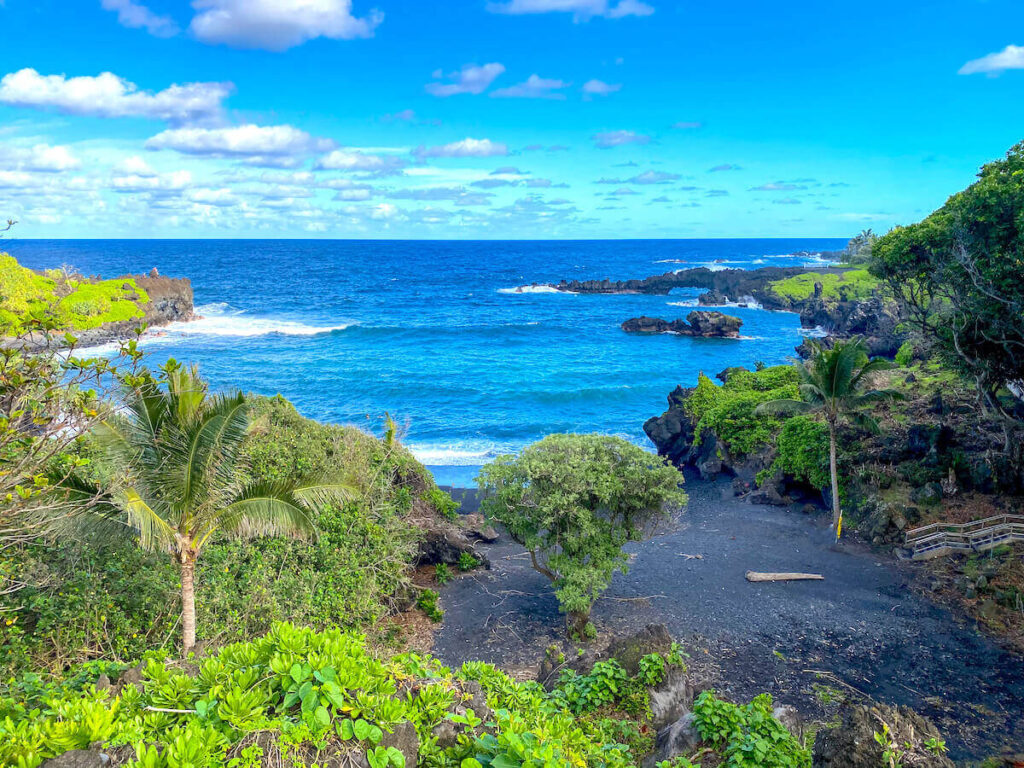 This is one of the best hikes in Maui but be sure to save enough time to walk back along the path back to the black sand beach and up the stairs to your car before your reservation time has expired.
Important Information About Visiting
No one came down and asked us to leave, but reservations are grouped by parking lots, and they will close the gate if you don't leave during your reservation time, so heads up. Before you worry too much, the gate isn't locked, but let's not ruin it for everyone else.
If you need to use the restroom before exiting, there is a bathroom at the top of the stairs that also has an outdoor shower to wash off your feet.
Expect to spend 1-1.5 hours exploring Waianapanapa State Park. If you aren't sure what time you plan on arriving, go ahead and book multiple reservations to give yourself flexibility. Since this is one of the Road to Hana best stops, you don't want to miss it!
Waianapanapa Cabins & Camping Options
If you want to overnight on the Road to Hana, then there are overnight stays possible at Waianapanapa State Park, including camping and cabins. These are great affordable options that help you really experience the beauty of the beaches in Hana.
Waianapanapa camping spaces for tents go for $20 a night for Hawaii residents and $30 a night for non-Hawaii residents. There is also space for campervans at the same cost per night
Waianapanapa State Park cabins, which feature kitchenettes and private bathrooms, are $70 for kama'aina (Hawaii residents) and $100 for out-of-state visitors. Reservations can be made through the State of Hawaii Department of Natural Resources and require a two-night minimum.
Not quite ready to rent a cabin or go camping, but you still want to split up the Road to Hana adventure into two days?
One of the most popular places to stay in Hana is the Hana-Maui Resort. Formerly the Travaasa-Hana, it's one of the best resorts for people who want to unplug but still enjoy resort amenities.
There is also the Kailani Suite at Hana Kai Resort, Heavenly Hana Paradise, or the Hana Estate Home.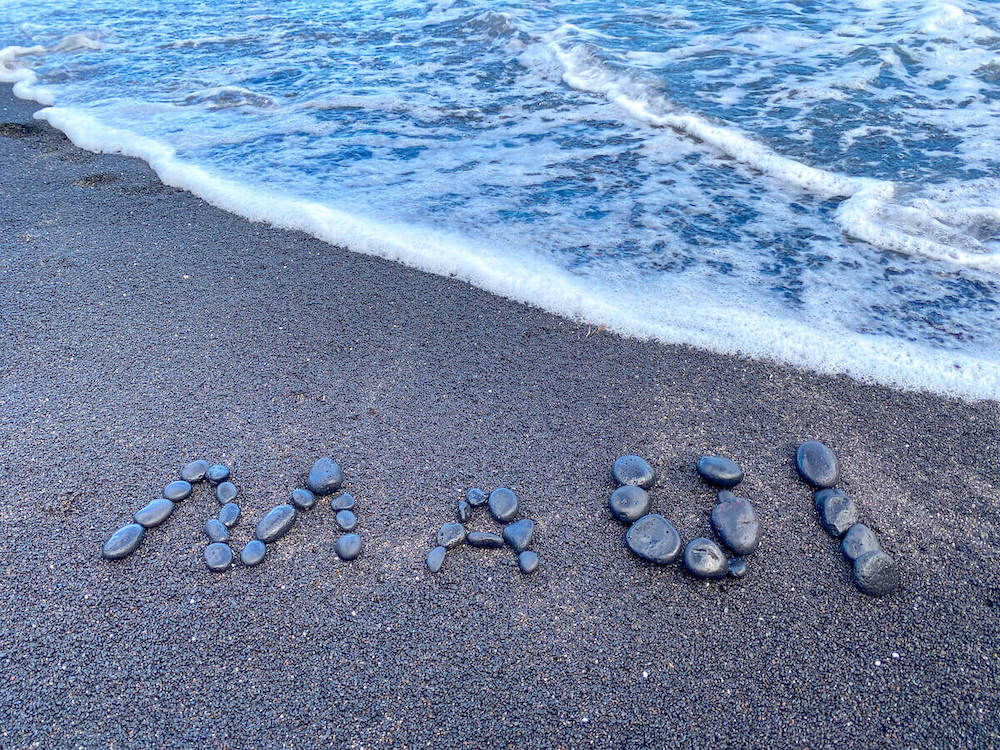 5 Tips for Visiting This Maui Black Sand Beach with Kids
What to Pack
If you plan to swim, you'll definitely want water shoes, a beach towel, a boogie board, and reef-safe sunscreen.
Hikers will need sturdy shoes, a good sun hat, and sunscreen.
If you have kids, you'll want to pack beach toys, water shoes, a towel, and sunscreen.
I'd also bring down drinks and snacks so you don't have to run back to the car if anyone gets hungry. Pack everything in a packable backpack for ease.
What to Wear
If you plan to swim at this black sand beach on Maui, you'll want to wear a swimsuit and water shoes.
Hikers should wear breathable clothing, a hat, and sunglasses.
Make sure your kids are wearing summer attire with a hat.
How Long to Stay
Expect to spend 1-1.5 hours here. Most visitors make a quick visit, but there is so much to discover! Just as a reminder again, you must enter and leave during your reservation slot. They close the parking lot when your time is up.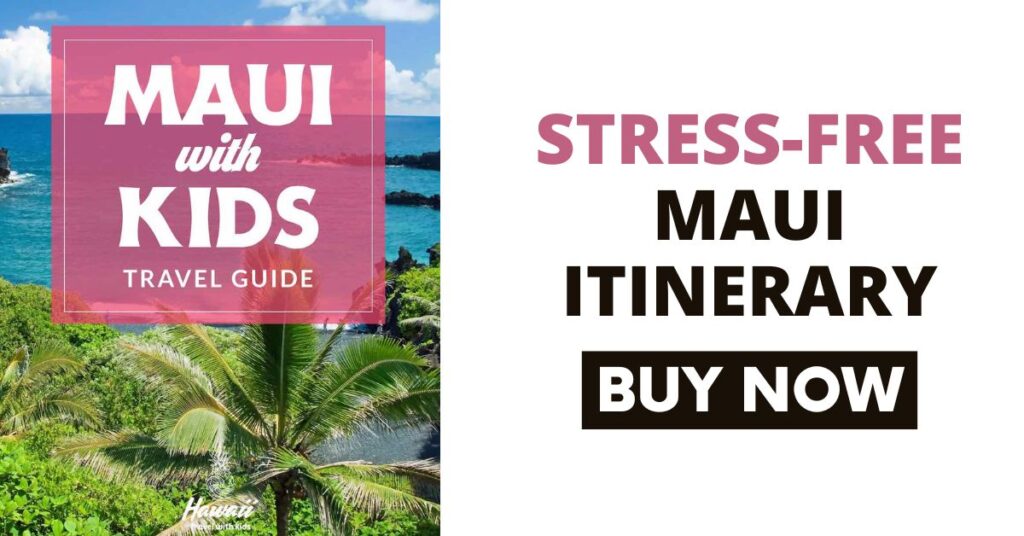 What Not to Miss
For the perfect day spent at Waianapanapa black sand beach, start by packing a backpack with some sunscreen, drinks, snacks, and beach towels.
Then stop off at the various viewpoints to take a few photos before you head down the stairs to the beautiful Maui black sand beach.
Once you step foot on the stand, turn right and explore one of the really unique caves in Maui. You'll enjoy turquoise ocean waves crashing into the dark volcanic rock cave.
Considerations with Kids
I always recommend keeping a close eye on children when at the beach at Waianapanapa park, but this advice is even more important when visiting the black sand beach. I've worked as a lifeguard in Hawaii for many years and have seen way too many close calls with children.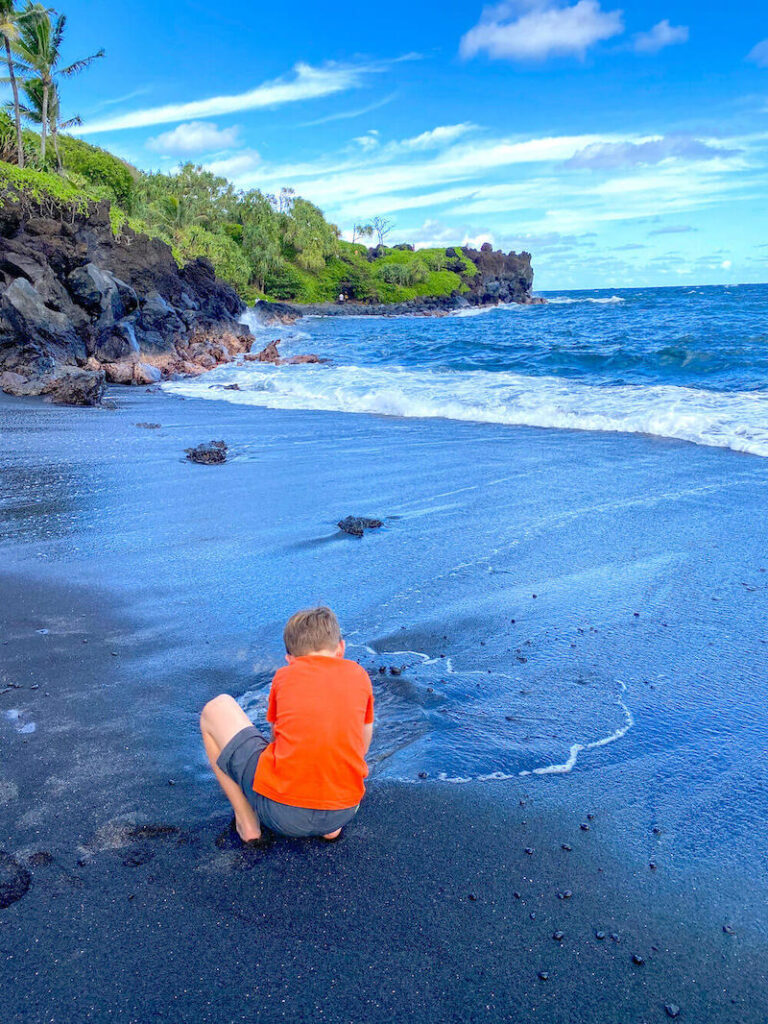 My best advice is to look at the sand and rocks before you enter the water. Look to see how high the waves come and teach your children never to turn their back on the ocean.
Now you can see why this black sand beach is one of the best things to see on Road to Hana!
Ready to plan your adventure to one of the best black sand beaches in Maui? Make your reservation HERE. You don't want to miss one of the best Road to Hana Highway stops!
About Chelsea
Chelsea is the founder/editor of Pack More Into Life, a travel blog that covers adventures as a family around the globe. She is a special education teacher and military spouse who has grown up all over the world and continues to share her passion and love for travel with her husband and son. She has visited family friendly hotels and destinations around the world including Costa Rica, Finland, Quebec City, Germany, Croatia, Slovenia and aims to inspire fellow families to pursue their travel dreams around the globe