Are you looking for fun Moana party games or activities to do on the plane ride to Hawaii? Keep scrolling to download this free Moana I Spy printable.
This post about Moana party games and printables contains affiliate links which means if you purchase something from one of my affiliate links, I may earn a small commission that goes back into maintaining this blog.
Do your kids love Moana?
If they do, they're going to love this printable activity sheet. It's filled with characters and shapes from the movie for tons of fun.
It's time to test your skills with a fun Disney Moana I Spy printable. As fast as you can say "Te fiti" you can print out this activity sheet for an adorable way to keep your kids busy.
The PDF features Moana and her friends Heihei, and Pua along with Maui and his magical hook. Playing is easy – just count how many of each character or shape you see and write the number in the box on the bottom of the page.
It's a great way to keep your kids busy while you're on vacation in Hawaii, too.
Keep scrolling to download this Moana printable game today!
Moana Birthday Ideas FAQs
What types of food should I serve at a Moana party?
It's always fun to serve Hawaiian food at a Moana party. I recommend this easy Instant Pot Kalua Pork recipe that you can turn into Hawaiian sliders. Spam Musubi and fried rice are also great options.
What are some other Moana party games?
You could play pin the hook on Maui, name that Moana song, Moana-themed bingo, or Moana says (like Simon says).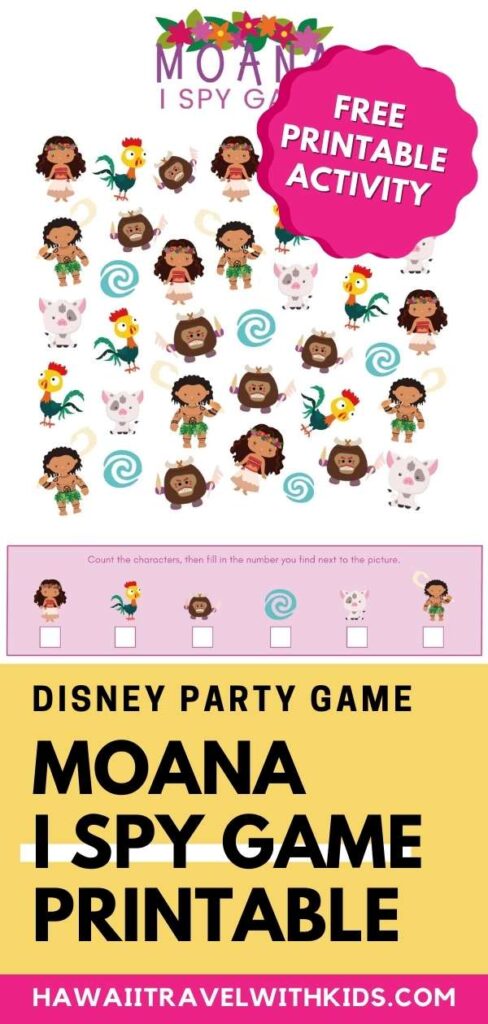 How to Use This Moana I Spy Printable
There are so many ways to use this game to entertain the kids. Here are a few creative ways you can challenge your kids or class to search for Moana and her friend.
1. Try playing with your child on an airplane or during a long car trip
The flight to Hawaii (or any destination) can feel long so it's always nice to have a few screen-free activities ready to go. Just print these Moana games out and have them ready to pull out after you find your seat and are waiting to take off.
2. It's a great classroom activity
Print out copies for the whole class as a starter as the summer months approach. It's a nice thing for kids to do after they have finished their work or are waiting around in the morning. Or use it as a rainy day recess activity.
3. Use the PDF as a family movie night activity
Moana movie nights are always a blast! And you can upgrade your family movie night by having the kids work on the Moana I Spy game while you're popping the popcorn.
4. It's perfect for parties
Throwing a Moana birthday party? This is a great way to keep the kids entertained while you cut the cake and serve it. Or have it be a Moana party game where kids can win prizes.
5. Use it as a rainy day activity
Put together a boredom folder of Disney coloring pages and other worksheets kids can do when they run out of ideas.
6. Use it to improve listening skills
Have your child practice their listening skills while you call out the character's name you want your child to count.
7. Turn it into a math activity
Use the number results to make math problems. Ex. How many more of Pua is than Maui? You can even include ratios and fractions for older kids.
8. It's a great conversation starter
Start a conversation about obeying parents, courage, kindness or one of the other themes in the movie.
9. Create a summer fun day
Plan a summer fun day with activities inspired by your favorite Disney characters who love water. Include fun ideas involving Ariel, Lilo & Stitch, and of course, Moana!
10. On your trip to Hawaii
This would be super handy to keep in your bag and you could pull it out when you're waiting for your food at a restaurant. It would also be handy at luaus if your kids start to get restless. Or they could do it on a long car drive around the island.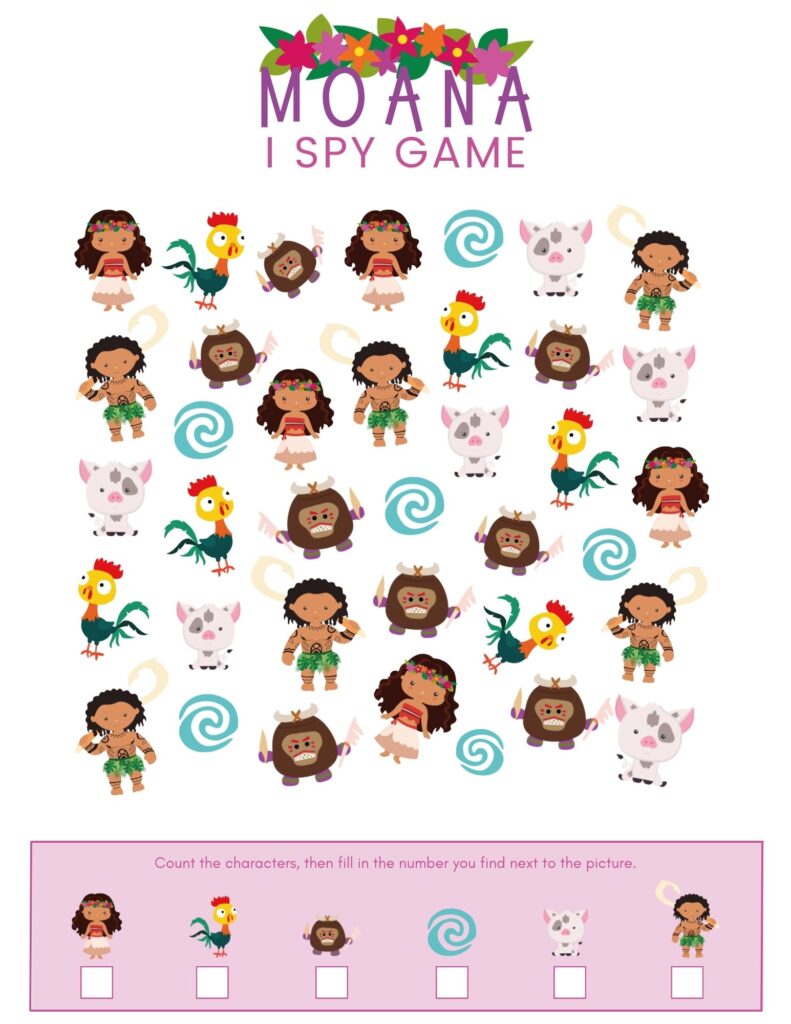 Moana I Spy Disney Printable Wrap Up
Summertime fun should always include everyone's favorite adventurous teenager, don't you think? With so many fun Disney printable ideas, there are plenty of ways to give your kids something to do.