Are you looking for a flavorful weeknight dinner recipe that works as a side dish or a complete entree? Keep scrolling for my Hawaiian Pineapple Fried Rice recipe!
This Hawaiian fried rice is incredibly delicious and a total crowd favorite! Made with juicy pineapples, spam meat and just the perfect amount of soy sauce and it's spices it's a fun twist to the traditional fried rice most are used to.
Can we all just agree that fried rice is one of the best dinner ideas ever?
I mean you can pretty much use all leftovers you have in your fridge and transform it into a delicious meal everyone loves.
However, my heart is forever set in Hawaiian fried rice. I always order it at least once every trip to Hawaii because it's so satisfying and comforting.
It's really similar to the traditional one but slightly sweeter, a bit more savory and can I say even more delicious?
And I'm not alone on this, every time I make this for family or friends everyone loves and raves about it.
It's slightly crispy and chewy (just like a good fried rice is supposed to be!)
And I'm going to go ahead and suggest that you buy 2 cans of Spam while you're at it so you can make Spam Musubi!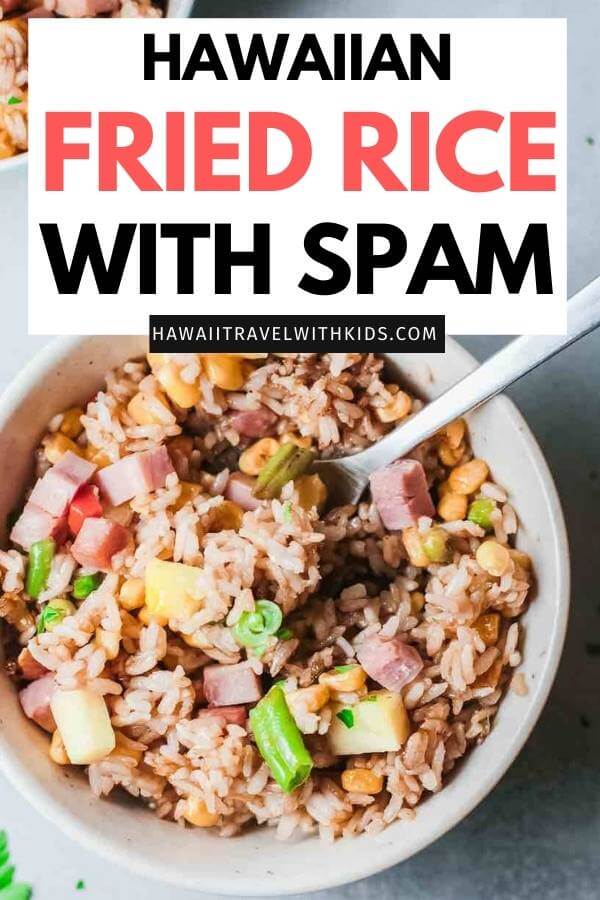 What You Need to Make Hawaiian Fried Rice
● Cold rice
● Sesame oil
● Soy sauce
● Pineapple chunks
● Eggs
● Green beans
● Carrots
● Corn
● Sesame seeds
● Fresh herbs
● And the total star of this recipe: Spam!
Don't have something on hand? Just change it for whatever you have in your fridge.
The great thing about this recipe is that it's super customizable to first what you have and like.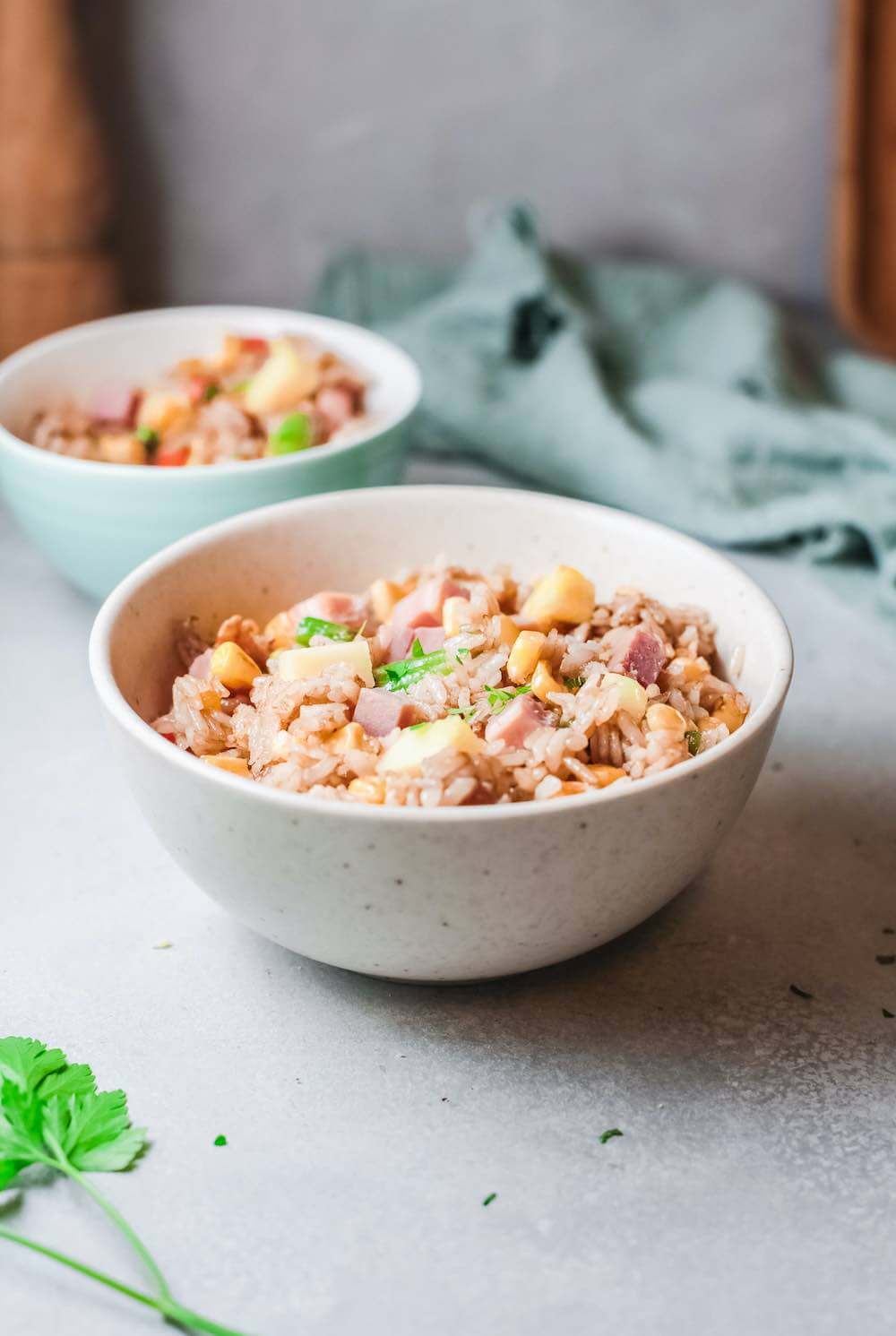 Why You Need to use COLD Rice for Making Pineapple Fried Rice
One of the most common mistakes when making fried rice is using warm rice.
When your rice is freshly made (or warm), when you fry it again it turns out mushy and soggy.
When the rice is refrigerated it dries up which in turn helps to give the grain a chewier, distinct texture that we all know and love.
Besides that, it's a great way to use leftover rice!
So next time you are cooking rice, make a double batch to have on hand for some delicious Hawaiian fried rice.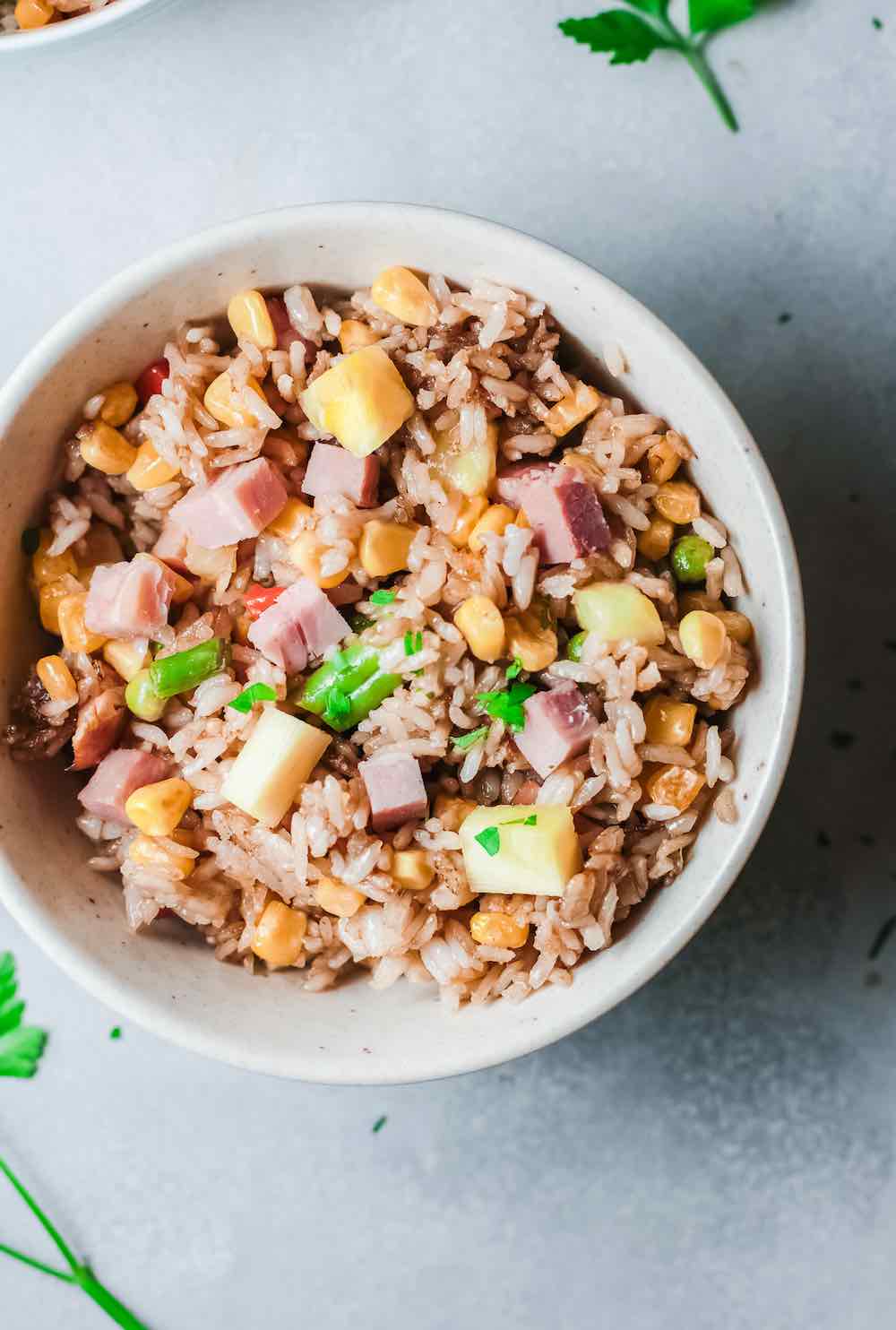 Hawaiian Pineapple Fried Rice Recipe
Hawaiian Fried Rice Ingredients:
1 Tbsp sesame oil
2 Tbsp vegetable oil
5 Cups rice, cooked and cold
2 Eggs
1 Cup Spam, diced
1 Cup pineapple, diced
⅓ Cup carrots, diced
⅓ Cup corn
⅓ Cup green beans, roughly chopped
4 Tbsp soy sauce
Sesame seeds and cilantro as a topping (totally optional)
How to Make Hawaiian Fried Rice
Heat 1 Tbsp vegetable oil in a large pan over medium heat.
Add the Spam, pineapple, carrots, corn, and green beans and cook until tender.
Transfer to a bowl and set aside.
Add the remaining vegetable oil and the sesame oil.
Add the cold rice and cook until crispy, around 7 minutes.
Push the rice to the side and add the eggs, beat, breaking out large lumps and roughly incorporate with the rice.
Add the cooked veggies and the soy sauce and stir to incorporate. Cook for 3 more minutes.