Salivating for Hawaiian shrimp tacos? You'll want to check out this awesome recipe for Shrimp Tacos and Mango Salsa that will transport you to Hawaii. Scroll for the full Hawaiian recipe!
This Shrimp Tacos and Mango Salsa Hawaiian recipe contain affiliate links which means if you purchase something from one of my affiliate links, I may earn a small commission that goes back into maintaining this blog.
We eat a ton of shrimp when we are in Hawaii or hanging out at home. From coconut shrimp to Hawaiian-style garlic shrimp, we love it all!
We're also big fans of tacos. I mean, who doesn't love tacos?
So, we thought we'd combine some of our favorite flavors into one incredible dish: Hawaiian Shrimp Tacos with Mango Salsa.
This recipe also includes a Cilantro Cream Sauce. Personally, I hate the taste of cilantro, but the rest of my family likes it. So, I always keep this off to the side and people can add their own.
Sometimes I even make this sauce without the cilantro so it's basically just sour cream and lime juice.
This shrimp taco recipe is ready in just 30 minutes and your whole family will love it!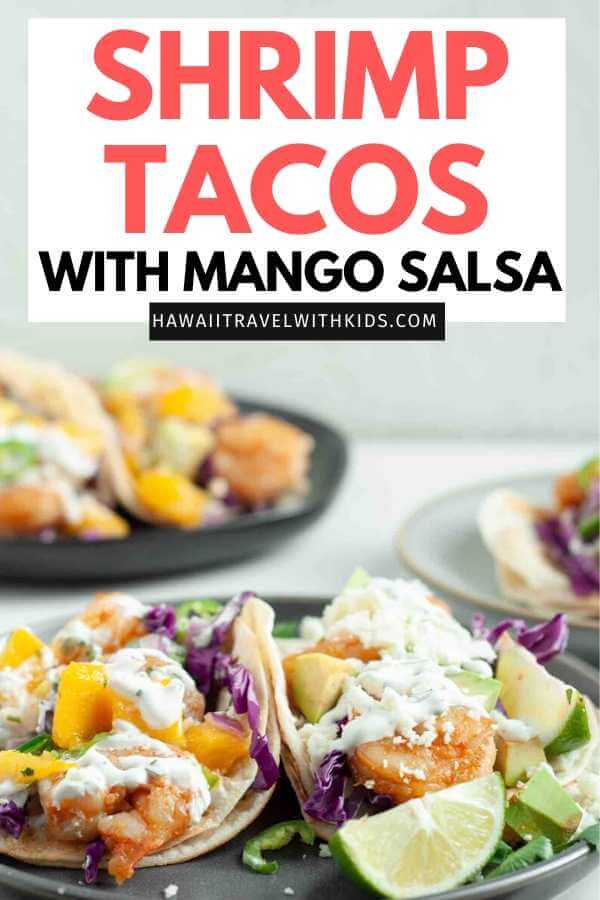 Shrimp Tacos FAQs
What goes well with shrimp tacos?
We love making a double batch of mango salsa and serving it with crunchy tortilla chips. Or we serve it with a side of Hawaiian fried rice to keep the tropical theme going.
Can you substitute fish for the shrimp?
Yep! Mahi Mahi is a really good option for cooked fish tacos. Or, you can add in fresh Hawaiian Ahi poke (raw fish) to change it up a bit.
Does it matter if you use corn or flour tortillas?
I think that's a personal preference. I like corn tortillas and my husband prefers flour, so I usually buy both when we make this recipe. Regardless, you'll want to double up the tortillas because these Hawaiian shrimp tacos can get messy!
Shrimp Tacos with Mango Salsa Recipe
Hawaiian Shrimp Taco Ingredients
12 ounces of medium size raw shrimp, peeled with the tail off
1 teaspoon of onion powder
1 teaspoon of garlic powder
½ teaspoon of salt
2 tablespoons of honey
1 tablespoon of olive oil
1 tablespoon of sriracha (add more for extra spice)
Yellow or white corn tortillas
½ cup of shredded purple or green cabbage
Crumbled Cotija cheese (or your choice of cheese)
1 avocado cut into cubes
1 serrano pepper, sliced (optional for extra heat)
Cilantro leaves
Mango Salsa Ingredients
2 ripe mangoes
½ purple onion
Juice from 1 lime
1 jalapeño
1 bunch of cilantro (add according to your taste)
Salt to taste (about ½ teaspoon)
Cilantro Cream Ingredients
½ cup of sour cream
1 bunch of cilantro (add according to your taste)
Juice from one lime
½ teaspoon of salt (or more according to your taste)
How to Make Shrimp Tacos with Mango Salsa
For the Shrimp:
Start by cleaning and deveining the shrimp, set aside while you prepare the marinade.
Mix together the onion powder, garlic powder, salt, honey, olive oil and sriracha in a bowl and add the shrimp to it.
Cover the bowl and let it sit in the fridge for 20 minutes.
Heat a large skillet over low-medium heat and add the shrimp and marinade to the pan.
Turn the shrimp over after three minutes and cook for an additional two to three minutes.
Reduce the heat and let the sauce simmer for three more minutes before turning the heat off and removing the pan.
Let the shrimp cool in the pan to allow the sauce to thicken before removing the shrimp and serving.
For the Mango Salsa:
Cut the mango into small cubes, dice the onion, remove the seeds from the jalapeño and dice it.
Mix the mango, onion, jalapeño, lime juice, cilantro and salt to a bowl and mix well.
Taste and add salt according to your taste.
Cover the bowl and refrigerate for ten to fifteen minutes before serving.
For the Cilantro Cream:
Mix together the sour cream, cilantro, lime juice and salt together until well combined.
Cover and refrigerate for ten to fifteen minutes before serving.
To Assemble the Tacos
Lay out all of the ingredients to make assembly easy.
Heat a pan over medium heat to heat your tortillas. If you like your tortillas to be crispy, let them heat for about three minutes on one side before flipping them and heating for another minute or so. To keep the tortilla from getting too crispy, heat only one side for a longer amount of time.
Fill the tortillas as they come off of the pan to prevent them from trapping any moisture from sitting.
Layer in the cabbage, shrimp, mango salsa, avocado, cilantro cream, Cotija cheese, serranoes and cilantro.
Serve immediately.

Yield: 10

Shrimp Tacos with Mango Salsa

This Hawaiian-style Shrimp Tacos with Mango Salsa recipe has layers of fresh ingredients topped with a Cilantro Cream Sauce and is ready in just 30 minutes!

Ingredients

For the shrimp:
- 12 ounces of medium size raw shrimp, peeled with the tail off
- 1 teaspoon of onion powder
- 1 teaspoon of garlic powder
- ½ teaspoon of salt
- 2 tablespoons of honey
- 1 tablespoon of olive oil
- 1 tablespoon of sriracha (add more for extra spice)
For the mango salsa:
- 2 ripe mangos
- ½ purple onion
- Juice from 1 lime
- 1 jalapeño
- 1 bunch of cilantro (add according to your taste)
- Salt to taste (about ½ teaspoon)
For the cilantro cream:
- ½ cup of sour cream
- 1 bunch of cilantro (add according to your taste)
- Juice from one lime
- ½ teaspoon of salt (or more according to your taste)
For the tacos:
- Yellow or white corn tortillas
- ½ cup of shredded purple or green cabbage
- Crumbled Cotija cheese (or your choice of cheese)
- 1 avocado cut into cubes
- 1 serrano pepper, sliced (optional for extra heat)
- Cilantro leaves

Instructions

For the Shrimp:

Start by cleaning and deveining the shrimp, set aside while you prepare the marinade.
Mix together the onion powder, garlic powder, salt, honey, olive oil and sriracha in a bowl and add the shrimp to it.
Cover the bowl and let it sit in the fridge for 20 minutes.
Heat a large skillet over low-medium heat and add the shrimp and marinade to the pan.
Turn the shrimp over after three minutes and cook for an additional two to three minutes.
Reduce the heat and let the sauce simmer for three more minutes before turning the heat off and removing the pan.
Let the shrimp cool in the pan to allow the sauce to thicken before removing the shrimp and serving.

For the Mango Salsa:

Cut the mango into small cubes, dice the onion, remove the seeds from the jalapeño and dice it.
Mix the mango, onion, jalapeño, lime juice, cilantro and salt to a bowl and mix well.
Taste and add salt according to your taste.
Cover the bowl and refrigerate for ten to fifteen minutes before serving.

For the Cilantro Cream:

Mix together the sour cream, cilantro, lime juice and salt together until well combined.
Cover and refrigerate for ten to fifteen minutes before serving.

To Assemble the Tacos:

Lay out all of the ingredients to make assembly easy.
Heat a pan over medium heat to heat your tortillas. If you like your tortillas to be crispy, let them heat for about three minutes on one side before flipping them and heating for another minute or so. To keep the tortilla from getting too crispy, heat only one side for a longer amount of time.
Fill the tortillas as they come off of the pan to prevent them from trapping any moisture from sitting.
Layer in the cabbage, shrimp, mango salsa, avocado, cilantro cream, Cotija cheese, serranoes and cilantro.
Serve immediately.

Nutrition Information:

Yield:

10

Serving Size:

1 Amount Per Serving:

Calories:

184

Total Fat:

8g

Saturated Fat:

2g

Trans Fat:

0g

Unsaturated Fat:

5g

Cholesterol:

50mg

Sodium:

523mg

Carbohydrates:

25g

Fiber:

4g

Sugar:

19g

Protein:

7g