Are you looking for things to do on Oahu with kids? Keep scrolling for my top tips and tricks for Bishop Museum in Hawaii and why it's one of the best things to do in Honolulu with kids, especially on a rainy day.
This guide to visiting Bishop Museum with kids contains affiliate links which means if you purchase something from one of my affiliate links, I may earn a small commission that goes back into maintaining this blog.
Guest post by local Oahu mom Kate Tekurio
Do you have kids and want to check out one of the best museums in Oahu?
The Bishop Museum on Oahu is full of amazing Pacific Island culture, mixed in with lots of fun interactive activities too! It is a great place to learn a lot about Polynesian culture and to explore and learn new things.
Here is your guide to the Bishop Museum with kids so you can get the most out of your trip!
You will be able to see some amazing artifacts from Hawaii's history that are more than 100 years old, as well as enjoy all kinds of hands-on activities for children.
There are also many different programs throughout the year that focus on specific topics such as astronomy or even Hawaiian legends.
If you're looking for an activity that both adults and children will enjoy then this is it! Let's go exploring now!
Scroll down to find out how to visit Bishop Museum on Oahu with kids.
Don't have time to read a bunch of Hawaii blog posts and reviews? Here are some of our top picks for visiting Oahu with kids.
Best Kid-Friendly Oahu Tours/Activities
Best Kid-Friendly Oahu Resorts
Want to Rent a Car in Hawaii?
One of the best places to rent a car in Hawaii is Discount Hawaii Car Rental because they get the best rates from top national companies like Alamo, Dollar, Thrifty, Avis, Enterprise, Budget, and Payless.
Want to skip all the planning and just access my detailed Oahu Itinerary complete with daily schedules, kid-friendly activities, and travel hacks? Click the button below.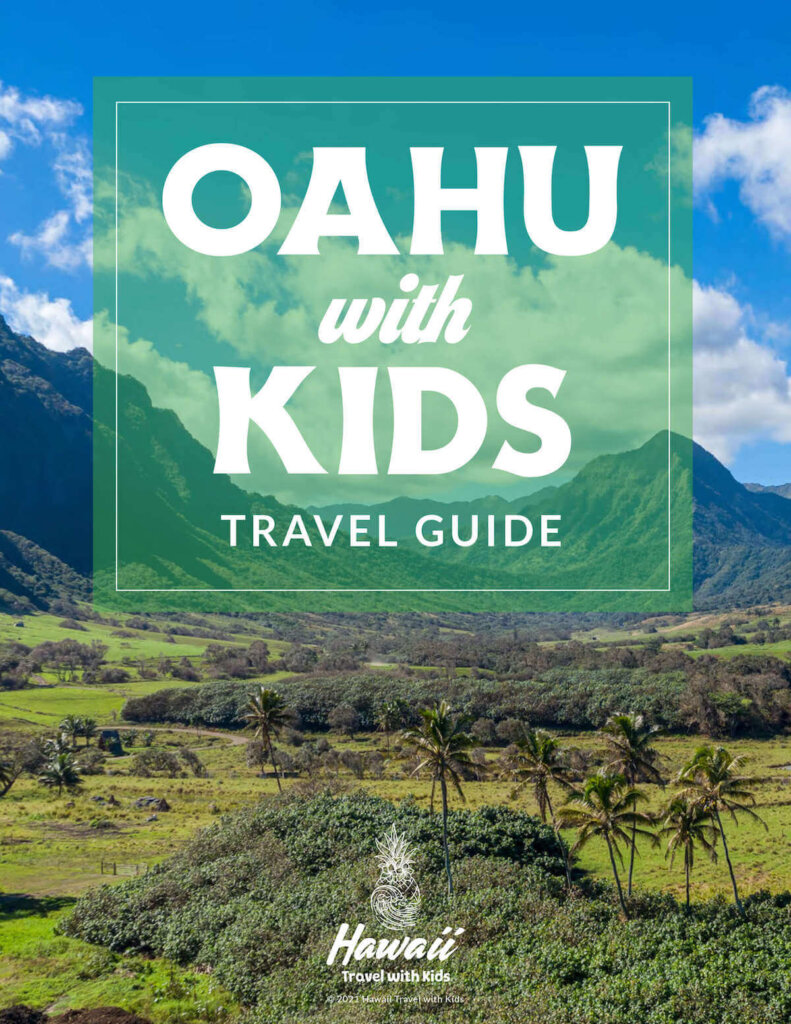 Things to do in Honolulu with Kids FAQs
What is there to do on Oahu at night for kids?
One of our favorite nighttime activities for kids is experiencing an Oahu luau. Our top picks are Toa Luau and Experience Nutridge Luau. On Fridays, you can enjoy the free fireworks show at the Hilton Hawaiian Village. And some of the museums offer an after-dark experience.
What can you do on a rainy day on Oahu?
One of the top things to do on Oahu in the rain is going shopping at Ala Moana Center, the largest outdoor shopping center in the world. It's almost all undercover and they have tons of shops and restaurants. You can also check out one of the Honolulu museums, like the Bishop Museum or the Honolulu Museum of Art.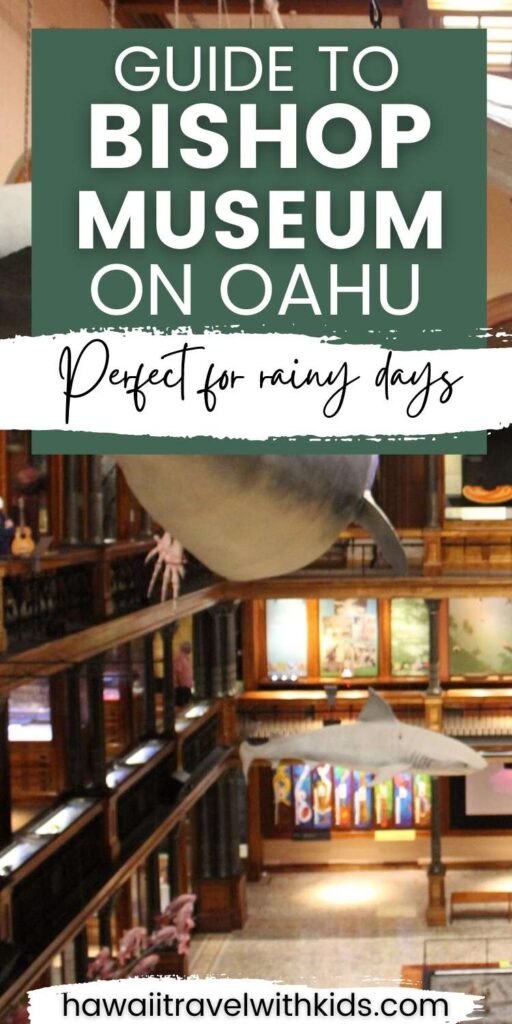 What is the Bishop Museum in Honolulu?
The Bishop Museum was founded in 1889 by Princess Bernice Pauahi Bishop's husband Charles Reed Bishop to honor his wife.
In the beginning, it was a place for all the family heirlooms and ancient Hawaiian artifacts from the princess. Since then, it has expanded with so many amazing historic pieces of all the Pacific Islands!
This museum holds so much cultural history and is the biggest museum on the island. It also is the biggest museum for Hawaiian and Pacific culture in the United States too!
You can see the amazing history of some of the original buildings built by Charles Bishop. They are beautiful buildings with exquisite designs. Now, the museum is in the process of expanding and has created many more buildings with fun interactive pieces too.
This is one of the best museums in Honolulu to learn about Hawaiian history and culture.
How Much Does it Cost to Get into the Bishop Museum?
The Bishop Museum has three types of tickets. For youth 4-17, it is $16.95. It costs $24.95 for adults and $21.95 for seniors. Babies and toddlers under three are free. There are also some extra costs, including their dinosaur exhibit and parking. You pay for those separately at the front desk.
There is also a Bishop Museum gift shop where you can purchase fun cultural souvenirs you won't find anywhere else!
Where is the Bishop Museum in Hawaii?
The Bishop Museum is located in Honolulu, Hawaii, right off the H1 highway. It is very easy to get to and has plenty of parking!
Does Bishop Museum have Parking?
Yes, the museum has parking, but you will have to pay for it. Bishop Museum parking costs $5.00 and gives you all-day access. You will pay at the kiosk in the front.
When is the Best Time to Visit the Museum?
The Hawaii Bishop Museum hours are from 9:00 am to 4:00 pm. The best time to visit is early in the morning, as there is no one. When we arrived at 9:30 am, only two other people were exploring the museum.
By the time we left at noon, the parking lot was full, and people were everywhere! Go to this Hawaii museum in the morning for fewer crowds and more time to yourself to go through the exhibits!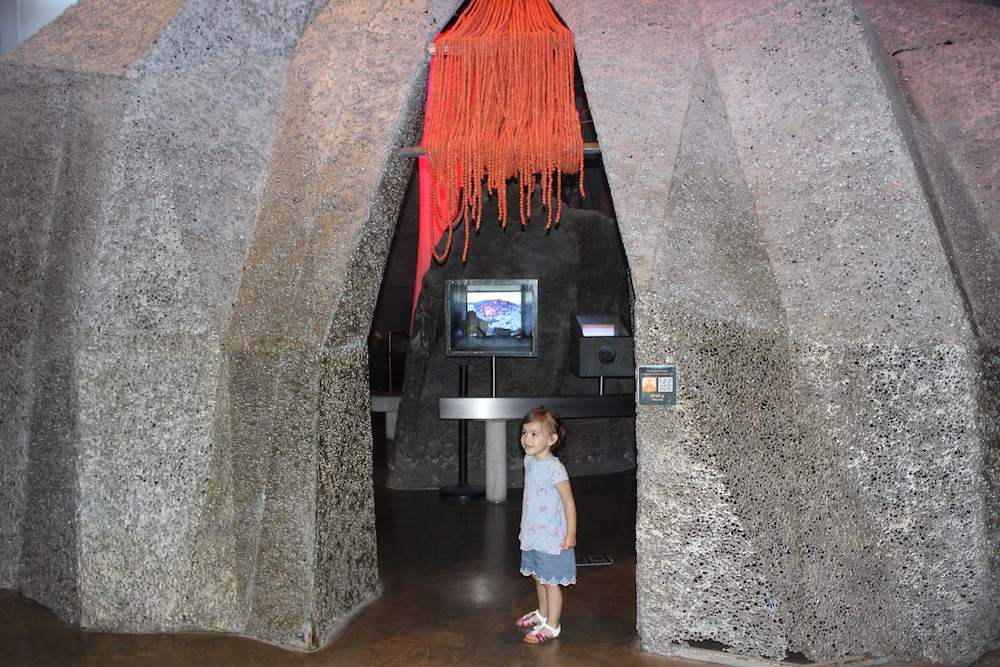 How Long Does it Take to Go Through the Bishop Museum?
Because there are so many buildings and displays to visit and explore, it will probably take around 3 hours to fully enjoy.
We stayed 2 ½ hours and did not see everything. If you have younger children, you can visit and have some fun for two hours. If you love learning about history and Hawaiian culture, you could easily spend 4-5 hours seeing everything.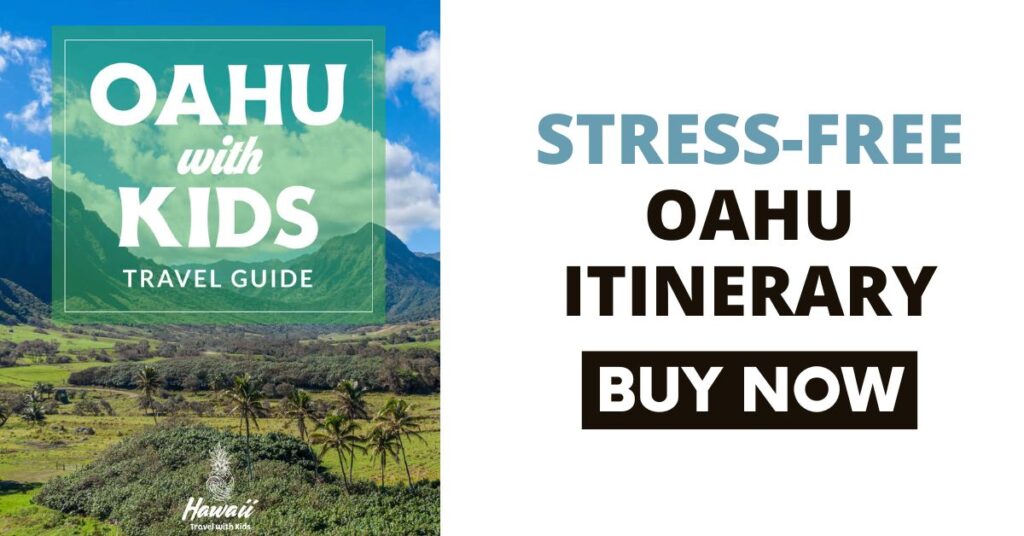 Can You Bring Food into Bishop Museum?
Yes, you can bring your own food into the museum! However, you cannot eat in any of the exhibits. You can only eat outside in the pavilions and grass areas.
There is a cafe as well that you can eat at if you don't want to bring your own food. The Cafe also offers picnic mats if you prefer to eat out in the sunny weather. You can enjoy many wonderful Hawaiian dishes such as poke, Kalua pork, and plate lunches.
Is it Worth it to Visit the Bishop Museum?
If you love exploring and learning about Hawaiian culture, you will love the Bishop Museum in Hawaii! While young children may not enjoy everything the museum has to offer, there are many fun buildings dedicated to exploring and having fun while learning.
Is the Bishop Museum Kid Friendly?
Yes and no. Many buildings are not kid-friendly, including the Hawaiian and Pacific Hall. While you can take your children inside those areas, you might have trouble keeping them entertained. It will also be hard to keep them from touching the artifacts and displays.
But there are also many buildings made especially for kids. The Science Center and the Dinosaur Exhibit both have interactive displays that your kids will love! We spent the majority of our time here, and the kids loved it!
Bishop Museum is one of the best things to do with kids in Oahu who are a bit older and are interested in Hawaiian culture, geography, or science. It's one of the top museums in Hawaii for worldschooling and homeschooling families.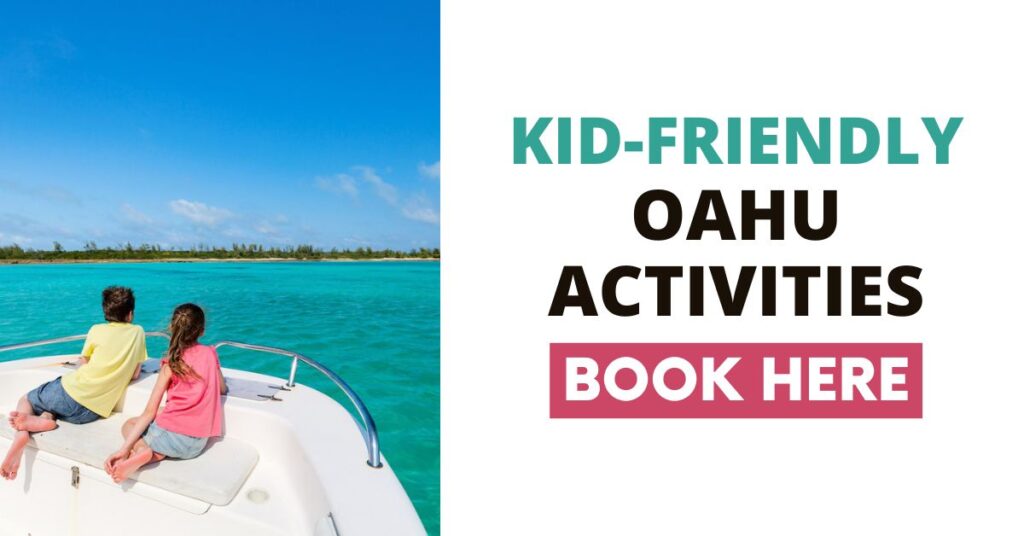 Bishop Museum Exhibits
Here are just some of the awesome exhibits at the Bishop Museum! These exhibits will teach Hawaiian history while others are all about having fun while learning! These are just a few of the many great exhibits you will find at the museum.
Hawaiian Hall
The Hawaiian Hall exhibit is gigantic! It covers the majority of the main building and is filled with authentic Hawaiian antiques.
My personal favorite was the gorgeous display of several genuine 'Ahu 'Ula, Hawaiian feather cloaks reserved for chiefs. These cloaks are intricately woven with extremely rare bird feathers. They are impressive, to say the least.
There are some interactive sections here, but they are now closed due to the pandemic. However, there are QR codes that act as a personal tour guide along many of the displays.
Pacific Hall
Several of the other pacific islands and their histories are also represented in the Pacific Hall. Islands such as Tonga, Samoa, Tahiti, or the Marquesas display authentic relics. It is fascinating to discover the similarities and differences between the islands of the South Pacific and the islands of Hawaii.
These Halls are truly a pleasure to explore, and you may want to if you can, split up and send the kids to the Dinosaur Exhibit while you roam around peacefully through this extensive display of the Pacific heritage.
Bishop Museum Dinosaur Exhibit
This was one of our favorite places to visit! The dinosaur exhibit has about a dozen different dinosaurs on display. Each moves and has its own unique roar. You can walk through, take pictures with, and learn about each dinosaur.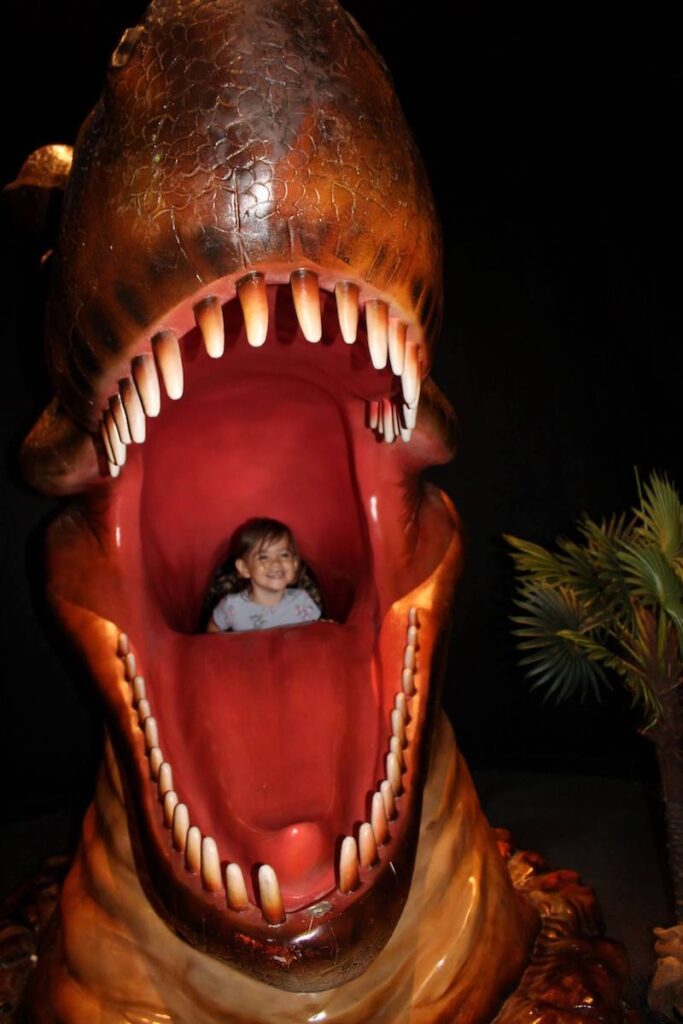 There are also many fun interactive places for younger kids to enjoy. There is a sandpit where children can have some sensory play that lights up with dinosaurs. Or they can dig around for dinosaur fossils at the digging station.
This exhibit is extremely fun and worth the additional cost. While it is fun, it is also very loud and can be overwhelming for some children who are more sensitive to sound.
However, there is a spot at the front called the quiet section where children and parents can enjoy a comfy couch to rest for a bit, and the kids can enjoy some fun dinosaur puzzles all away from the noise.
Richard T. Mamiya Science Adventure Center
This was a huge surprise for us. You must not skip on the Richard T. Mamiya Science Adventure Center. It is south of the main building and a little separated from the rest of the exhibits, but you have to see it.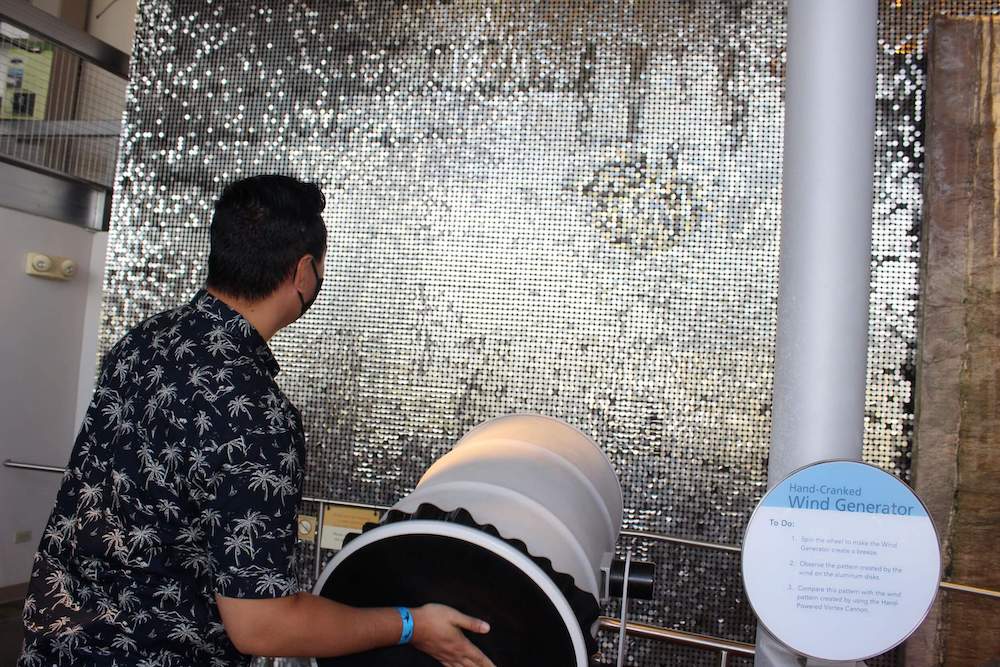 This Science Center is a blast for adults and kids with fun activities and interactive displays. You can learn how to make your own wind on their stunning wind wall.
They also have an actual volcano inside the building as well as a tunnel leading to its center. The glow in the dark tunnel represents the ocean, and children may be reluctant to go through it at first.
The volcano is interactive, and you can actually control it with spurting gases and lava commands. The young, as well as the older, will totally enjoy this immersive experience.
J. Watumull Planetarium
The Planetarium is another fun exhibit that both adults and children will enjoy. Throughout the day, you will find many shows where some live and others are programs to see. You can learn all about the sky, planets, and stars, as well as the earth too! This is a NASA exhibit that all ages will enjoy!
Some of the shows include:
The Birth of Planet Earth
Hidden Pacific
Wayfinders
And more!
Nā Ulu Kaiwi'ula Native Hawaiian Garden
As you stroll through each of the buildings, take a stop along the way at the beautiful native Hawaiian Garden. You will see many plants you will not find anywhere else in the world, along with other traditional Hawaiian plants. It is beautiful to look at and enjoy the fresh air!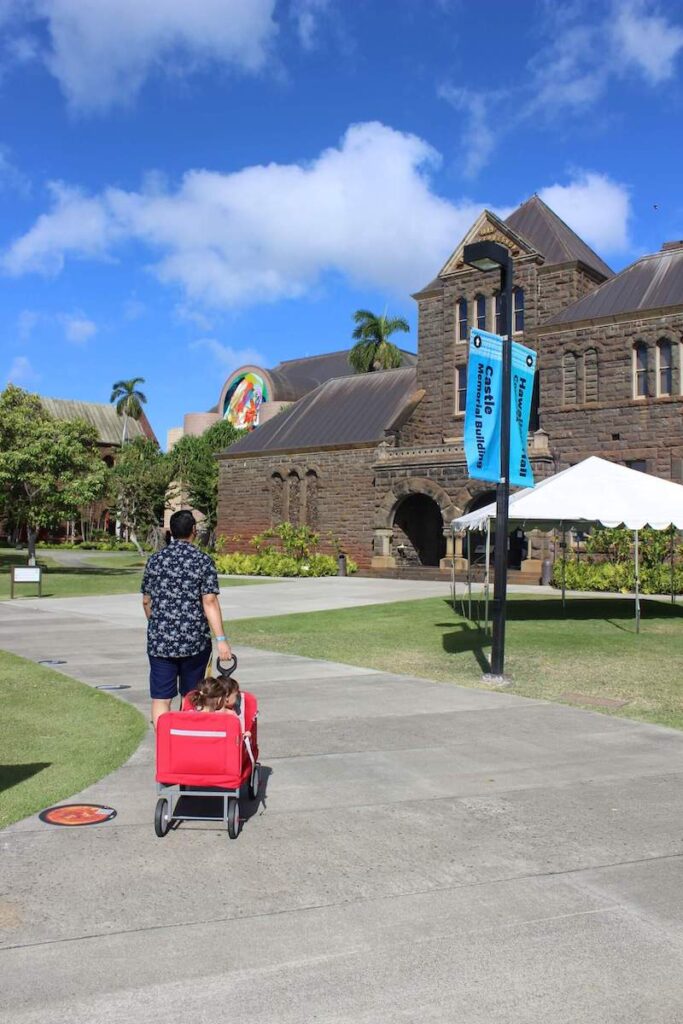 Tips for Visiting the Museum
Here are a few tips to help you make the most out of your trip!
If you are bringing smaller children, bring a wagon or stroller. There is enough room to move around and explore with them and help keep your little ones more contained when you need to!
Bring your own water bottle. They do not have water fountains or bottled water; you will have to bring your own. There are many water stations where you can fill them up if you need to.
Bring a camera! There are many fun photo spots throughout the museum. You will want to capture those fun memories, such as smiling inside of a dinosaur's mouth or surfing on a board!
Get Your Bishop Museum Tickets
If you'd like to visit this Oahu museum, you can get your tickets to Bishop Museum and the planetarium online HERE.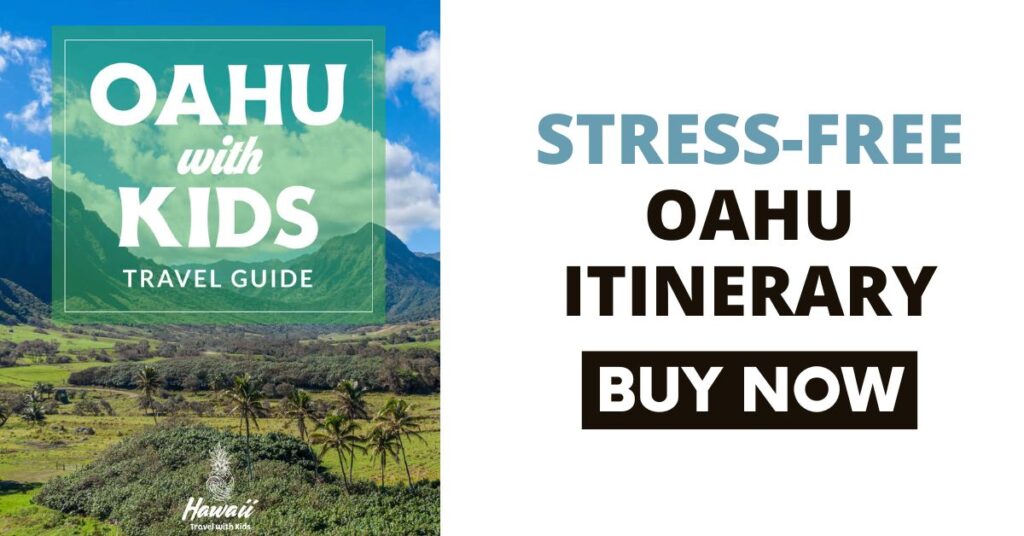 Bishop Museum in Hawaii Wrap Up
The Bishop Museum in Honolulu has so many amazing exhibits where you can learn about the beautiful Hawaiian culture and have fun while doing it!
When you come to Hawaii, come visit Bishop Museum so you can learn and respect the culture of this beautiful island.
About Kate
Kate Tekurio lives on Oahu with her husband and toddler. They love exploring the island and sharing their best tips with other families traveling to Hawaii.
P.S. Join our Hawaii Travel with Kids Facebook group to get connected with other families planning a trip to Hawaii!