Are you looking for things to do in Oahu with kids? Keep scrolling for my top tips and tricks for visiting Sea Life Park in Hawaii and why it's a top thing to do on Oahu with toddlers and preschoolers.
This guide to visiting Sea Life Park in Hawaii was co-written by Hawaii travel expert Marcie Cheung and contains affiliate links which means if you purchase something from one of my affiliate links, I may earn a small commission that goes back into maintaining this blog.
Guest post by local Oahu mom Kate Tekurio
Are you visiting Oahu with your family?
You should stop at Sea Life Park! This is an amazing attraction with many fun animal exhibits for you to explore. They have tons of hands-on experiences with animals. You can even swim with the dolphins!
Here is your ultimate guide to visiting Sea Life Park in Hawaii!
The dolphin show at Sea Life Park on Oahu is one of the most popular attractions there. It's so much fun watching these beautiful creatures jump through hoops and play together!
Your kids will love seeing all these wonderful creatures up close and personal, and they'll be begging to go back again soon. It's a great place for families because there are so many opportunities for everyone to get involved in the experience together.
Keep scrolling to read our full guide about how much fun it is going to be when you visit Sea Life Park in Hawaii today!
Don't have time to read a bunch of Hawaii blog posts and reviews? Here are some of our top picks for visiting Oahu.
Popular Oahu Tours/Activities
Favorite Oahu Resorts/Hotels
Want to Rent a Car in Hawaii?
One of the best places to rent a car in Hawaii is Discount Hawaii Car Rental because they get the best rates from top national companies like Alamo, Dollar, Thrifty, Avis, Enterprise, Budget, and Payless.
Want to skip all the planning and just access my detailed Oahu Itinerary complete with daily schedules, kid-friendly activities, and travel hacks? Click the button below.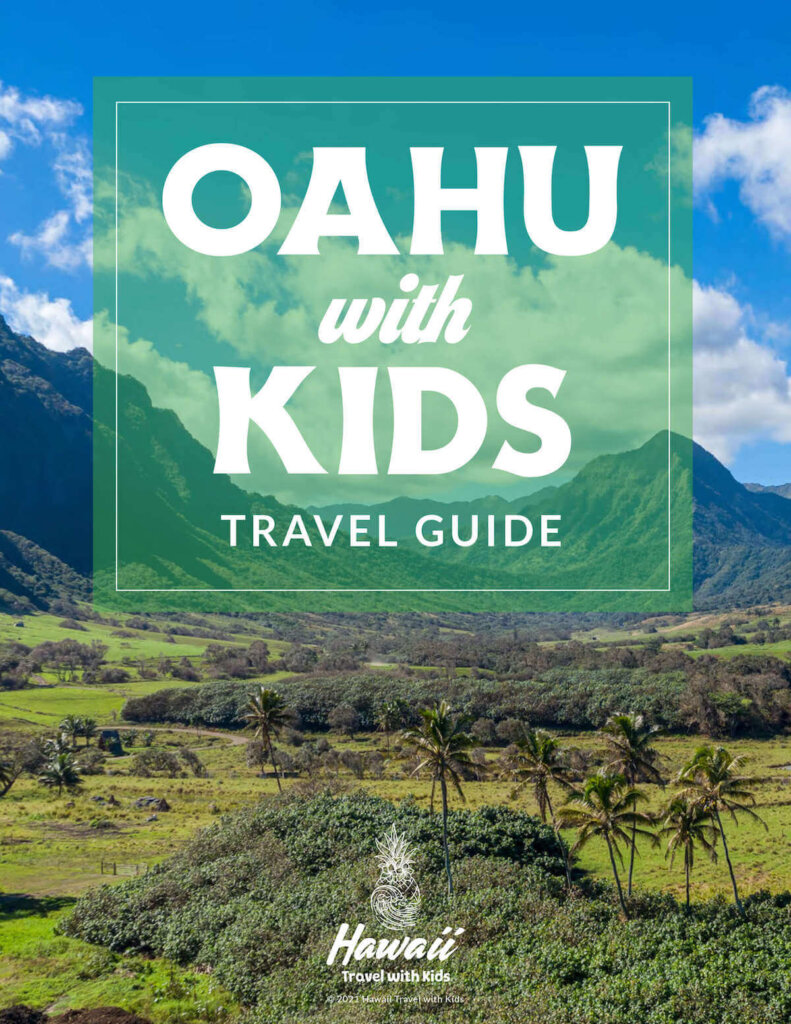 Oahu Sea Life Park FAQs
Is this the only Oahu aquarium?
Sea Life Park in Hawaii is definitely one of the best aquariums on Oahu, but it's not the only one. There's also the Waikiki Aquarium. However, Sea Life Park offers a lot more for families to do/see.
Is there a Sea Life Park luau?
Yes! The Ka Moana Luau at Sea Life Park is definitely a hit with families. And when you buy your luau tickets, you'll get free entry into Sea Life Park. It's a great way to save money if you are planning on doing Sea Life Park and a luau during your Oahu vacation.
Where can you go dolphin swimming in Hawaii?
There are two main places to swim with dolphins on Oahu: Sea Life Park or Dolphin Quest. Sea Life Park's options are great for little kids while Dolphin quest is great for older kids and teens. You can also do some snorkeling adventures with dolphins in the wild.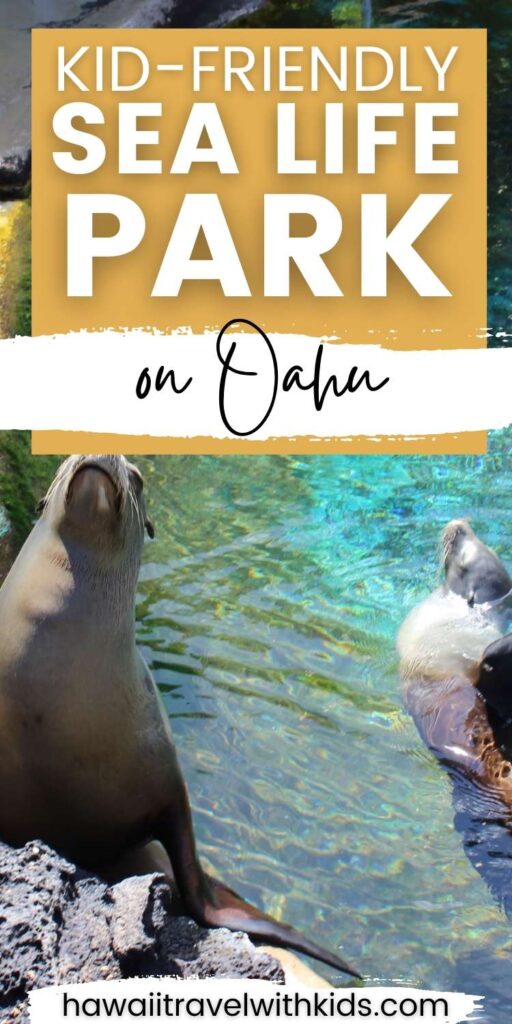 Where Exactly is Sea Life Park?
Sea Life Park is located on the east side of Oahu. It overlooks rabbit island and is right by the lighthouse. The Park is in the Koolau mountain range and makes for a gorgeous place to visit! The Park is in Waimanalo city.
If you want to make this into a full-day trip, you can easily stop by the Halona Blowhole, go snorkeling at Hanauma Bay, or play at Waimanalo beach.
How Much Does It Cost to Go to Sea Life Park?
The Sea Life Park prices will vary. There are some discounts for Kama'aina (people with a Hawaii state ID) and military personnel which give a 40% discount.
For visitors, you will want to get a day pass which is $39.99 for 13+ years and older and children 3-12 years are $24.99. Children two and under are free! If you purchase your Sea Life Park tickets online, you can get a 10% discount too!
You will also have to pay for parking in addition to your Sea Life Park admission. Parking is an additional $5.00 and is good for the entire day.
When is Sea Life Park Open?
The Sea Life Park hours are from 10:00 am to 4:00 pm. They are open on Monday and Tuesday, and Friday-Sunday. They are closed on Wednesday and Thursday.
When is the Best Time to Go Visit Sea Life Park?
When we went at 12:00 pm it was packed and there was a long line to enter. Noon is a busy time because there is a very fun dolphin show at 12:15 pm. If you want to visit that show, be sure to arrive before 12:00 pm or you might miss it waiting in line!
It was also very hard to find parking, and we had to park on the grass in the very back. When we were leaving around 2:00-2:30 pm, there were plenty of parking spaces and it was a lot less crowded. 2:00 pm would be the ideal time to visit because there is another dolphin show at 3:30 pm you can see!
What Can Visitors do at Sea Life Park Hawaii?
There are tons of fun things to do at the Hawaii Sea Life Park! From feeding the birds to swimming with the dolphins and learning about sea lions, there is something for everyone in your family to enjoy!
Here are a few of the best things to do during your visit to Sea Life Park.
Swim with Dolphins on Oahu
This is one of the best places to swim with dolphins on Oahu! The Sea Life Park dolphin encounter is such a fun activity to do with your kids.
There are a few ways you can enjoy your dolphin encounter. Three-year-old and older can get waist deep and interact with the dolphins in the water for 45 minutes. You can also get individual pictures for $35 with the dolphins as well.

If you don't want to get into the water, you can interact with the dolphins without getting in the water. This one is available for anyone over a year old.
You can also snorkel and be around stingrays and sharks with the reef encounter! This is a 40-minute activity that anyone ages 4 years old and up will enjoy!
Prices will vary on which experience you want to do, but these are so worth it and are a blast, especially for kids! There are not many opportunities to swim with dolphins, sharks, stingrays, and sea lions, so if you go, be sure to include this during your trip!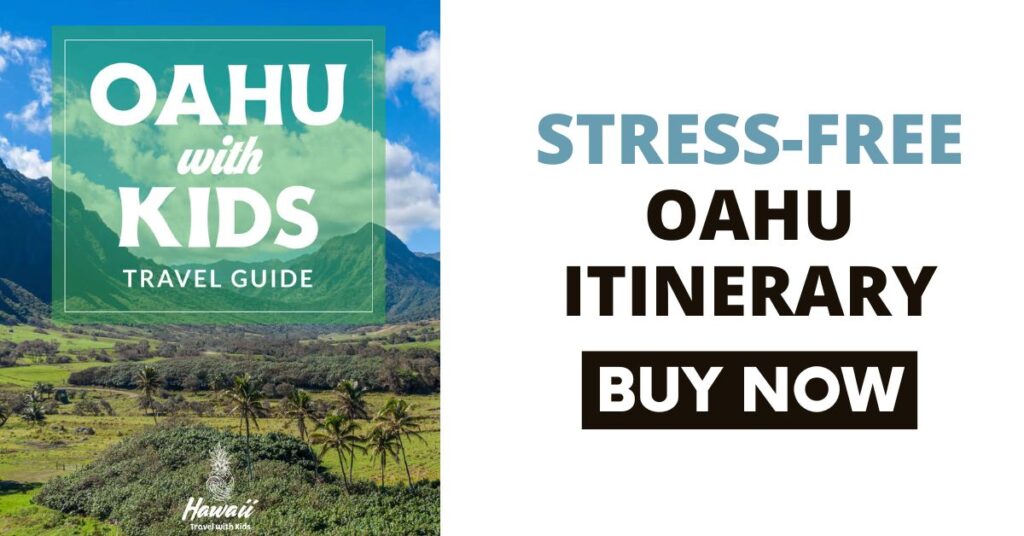 Fun Shows
There are all sorts of shows throughout the day to view. These shows are free and really fun to watch.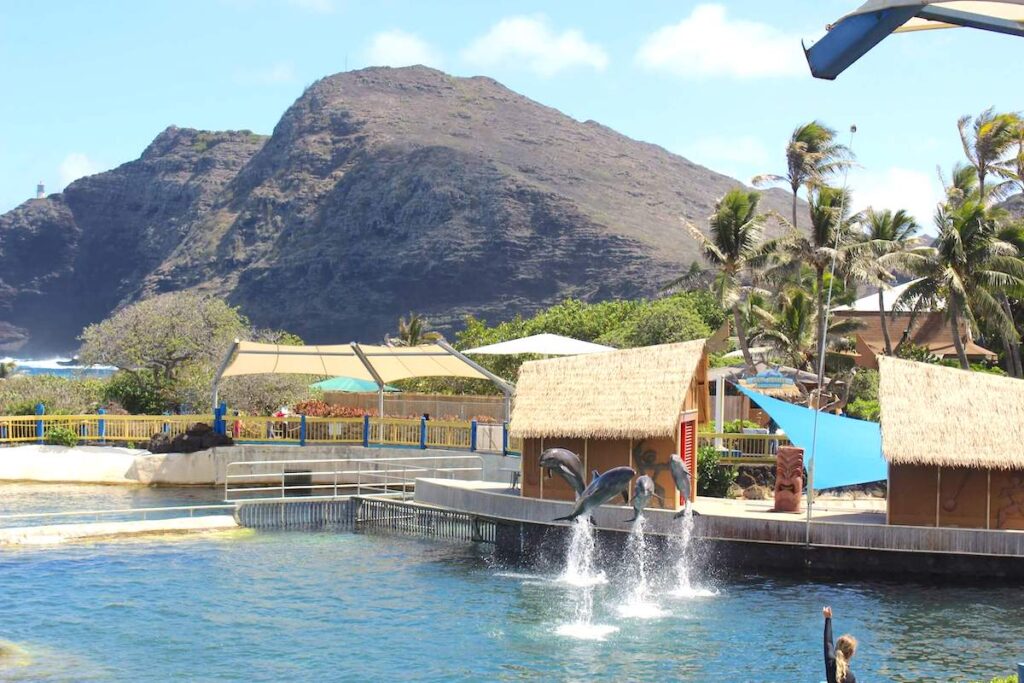 The dolphin show is either at 12:15 pm or 3:30 pm. Here you will learn about all the dolphins at the park, their names, their family history, and watch them do some awesome tricks. You may already know how intelligent dolphins are, but you will still be amazed at everything they do!
Instructors get in the water and surf on the dolphins, play catch with them, and so much more. Plan your trip to Sea Life Park around one of these two shows, for sure!
You can also learn about the sea lions during their presentation as well as watch penguins do some pretty neat tricks too. There are more educational ones like learning about Hawaiian seaweed and how the sea lions came to Hawaii.
Another fun one is to watch a baby shark feeding! You can watch a trainer feed the sharks in this 300,000-gallon aquarium!
There are multiple showings for each show, so you don't miss out on any of them! You will also get a schedule after you arrive so you can catch them all if you want.
Sea Life Park Hawaii Exhibits
Besides the fun shows you watch during the day; you can also go through the park to view a variety of exhibits. Here are a few of our favorites!
Touch Pond
If you are visiting with toddlers and younger children, this will probably be one of your favorite places to visit. Here you can actually touch all the fish and sea creatures! There are plenty of areas that the kids can reach and go explore the ocean life.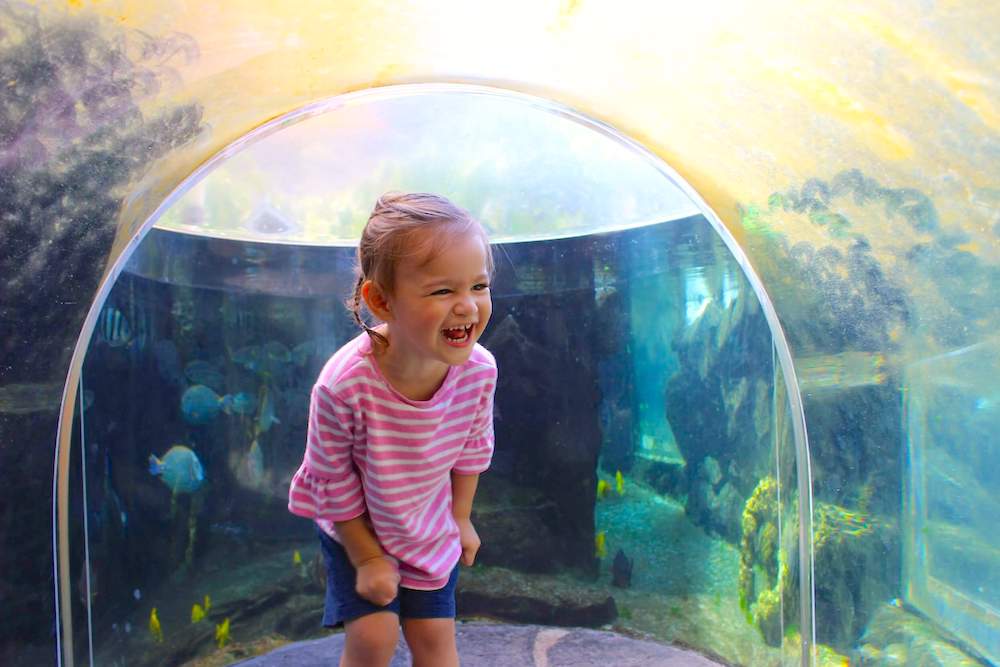 There are also opportunities to feed the fishes too. Here children can explore and learn in a very hands-on experience. Plus there is a little section where your children can crawl in and feel like they are swimming with the fish!
There are starfish, urchins, and sometimes even baby turtles you can touch and hold in your hands! The larger fish will come and eat food out of your hand if you are very gentle and calm. My toddler wanted to stay here the entire time!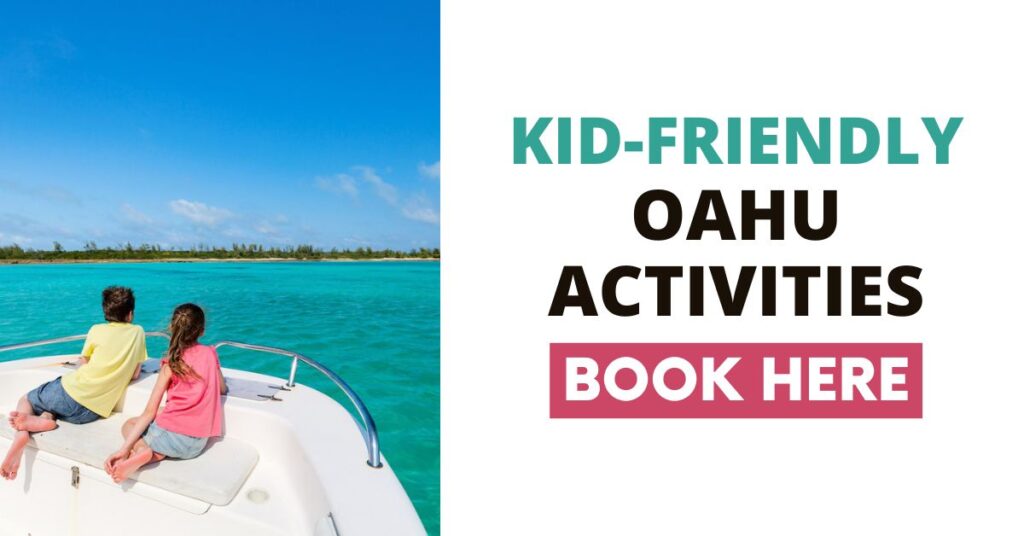 Bird Feeding
Another one of our favorite spots was the bird sanctuary! Here you are inside a large bird habitat and you can feed the birds! Only a certain number of people are allowed in at a time so you might have to wait in line, but it is so worth it. This is another free exhibit at the park.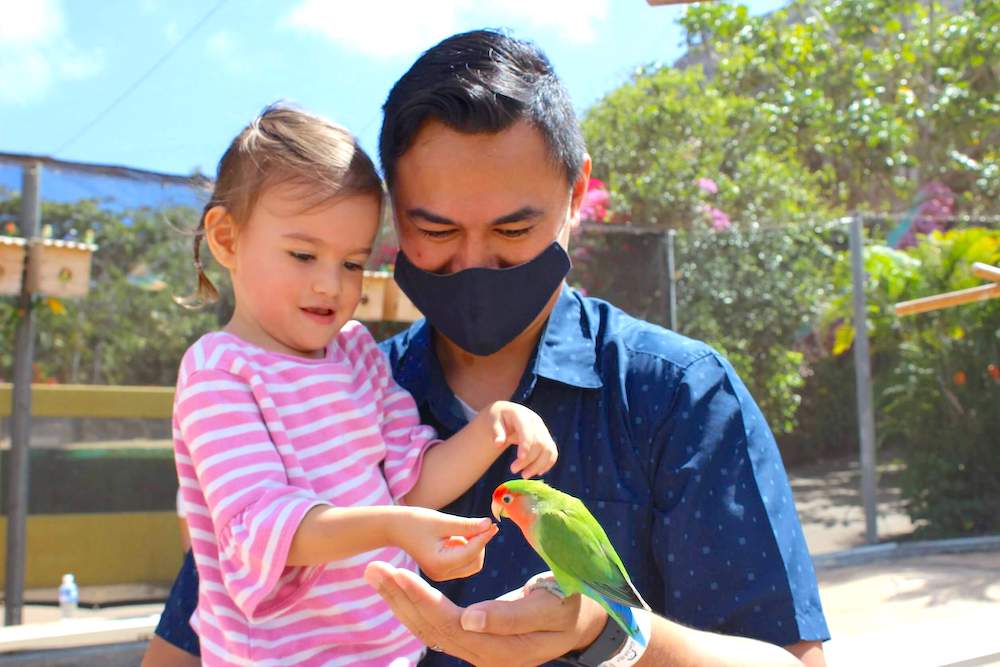 Sometimes they have sticks covered in birdseed to feed the birds while other times the seeds are directly in your hand! Your kids will love feeding the birds and seeing them up close. The birds are beautiful colors of blue, green, orange, and white.
After you exit, you may also be able to get a photo with some larger, more exotic birds too! You can hold some endangered and beautiful birds during your photo. This is only offered every now and again, so if it is there when you go, be sure to get one!
Sea Lions
You can see some fun sea lions up close and explore their habitat. When we went they were right next to the gate and kept waving at us! Certain times you can feed the sea lions, and even swim with them too!
Penguins
It is so fun to see penguins living in Hawaii. There are a few rescued penguins that you can visit. They love to show you how they play, swim, and explore the island! A lot of the time they stay in their caves, but when they come out, they are so fun to watch!
These are only some of the exhibits that Sea Life Park offers, but there is so much more! Enjoy learning about plenty of other sea life animals while you are there.
Ka Moana Luau at Sea Life Park
Enjoy this fun Sea Life Park luau with your entire family. You will watch some fun hula dancing, fire knife dancing, and so much more! From 5:30 pm to 8:30 pm, you will have some more hands-on learning activities.
You will learn how to hula dance, make your own lei, ukulele lessons, coconut headband weaving, and so much more! The dinner is so delicious and worth it for the fun experience. If you plan to do the luau, you will also be able to explore the entire Sea Life Park before the luau starts.
How Long Do People Spend at Sea Life Park?
Most often, people will spend a couple of hours at the Oahu Sea Life Park. If you are short on time, you can explore the majority of the park in around two hours, but you might miss out on some tours and shows.
It is best to plan for 3-4 hours so you can enjoy the entire park and not feel rushed. Your ticket includes the entire day so if you want to keep exploring you can! It is so easy to stay for hours on end because it is so much fun!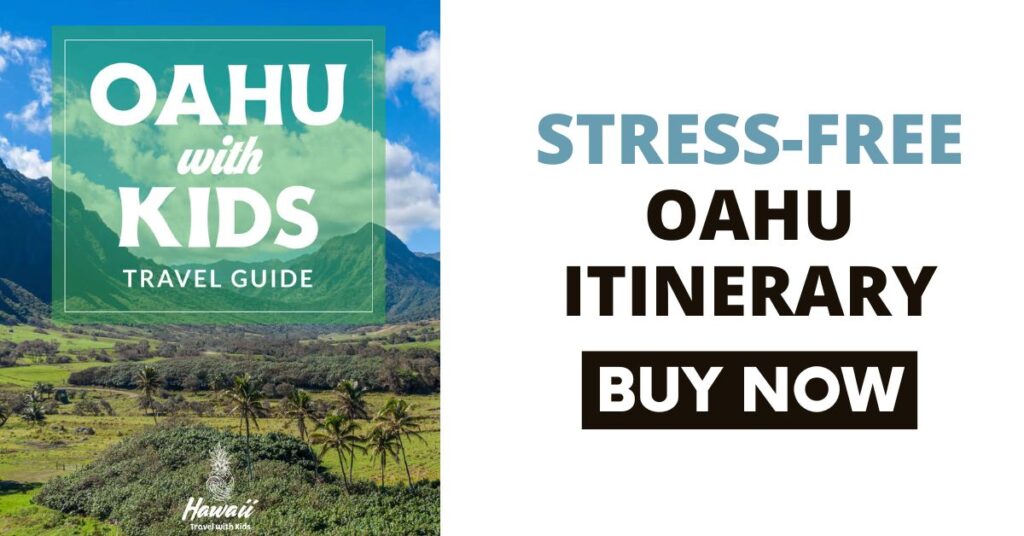 Sea Life Park in Hawaii Wrap Up
If you enjoy learning about the ocean and the sea life living down below, be sure to stop at Sea Life Park in Hawaii!
With fun activities for every member of the family, this is a great activity during your vacation on Oahu! Have some fun with the animals and learn while you are there!
About Kate
Kate Tekurio lives on Oahu with her husband and toddler. They love exploring the island and sharing their best tips with other families traveling to Hawaii.