Are you planning a Hawaii honeymoon? Find out everything you need to bring on your honeymoon in Hawaii for the most romantic vacation. Scroll for the full Hawaii packing list!
This Hawaii honeymoon packing list contains affiliate links which means if you purchase something from one of my affiliate links, I may earn a small commission that goes back into maintaining this blog.
Planning your honeymoon can be a lot more fun than planning a wedding. For starters, it's usually a lot less stressful and you don't have to think about anyone but you and your partner.
Hawaii is one of the most romantic honeymoon spots in the United States. The beaches are perfect for evening strolls, you can get Mai Tais any time of the day, and don't get me started on the gorgeous Hawaiian sunsets!
While it's always fun to go to Hawaii on vacation, going there on your honeymoon takes it to a whole new level. Going out to eat on your honeymoon instantly becomes a romantic dinner for two.
And since there are so many fun things to do on a Hawaii honeymoon, you'll want to make sure to pack the right stuff to keep you feeling gorgeous.
So, let's dive into everything you need to add to your Hawaiian honeymoon packing list.
Check out my favorite Hawaii zero-waste travel items and what I always pack in my carry on bag!
A Complete Hawaii Honeymoon Packing List
Here is your ultimate Hawaii packing guide so packing for honeymoon will be easy and fun!
So if you're wondering what to pack for Hawaii honeymoon, here is your honeymoon travel list!
Cute Hawaii Honeymoon Outfits
There are tons of honeymoon outfits for Hawaii!
If you're pressed for time, one of my favorite ways to find cute outfits for Hawaii is by taking advantage of clothing subscription boxes. I've tried them all and my favorite by far is Wantable.
You can request Hawaii vacation clothing from a stylist who will hand-pick the cutest items for you. You can even request specific items on their website. And they will send you 7 items to try on. Check out the subscription rates and more information.
Hawaii Packing List: Airplane
I like to say that the honeymoon starts at the airport, which is why I'm kicking off this packing list here.
For brides, I suggest dressing up a little and telling anyone who works at the airline (from the reservation desk to the flight attendant) that you just got married and are on your honeymoon. You never know who can pull a few strings to sprinkle some perks your way.
Looking put together can increase your chance of getting upgraded on a flight. So, dress like you're sitting in First Class. I recommend wearing a nice maxi dress, a sweater, and sandals that you might wear to a nice dinner later on your honeymoon. Find the best prices here.
If you're able to get into an airline lounge, that can be a nice way to grab a few snacks and make sure all your tech is charged up.
You'll also want to bring a carry-on bag with you. There are some cute ones that say "bride" that can keep you in the honeymoon spirit. Check out the latest prices and more details.
In your carry-on, you should include the following:
Disinfecting Wipes: This isn't the most glamorous item, but the last thing you want is to get sick on the way to your honeymoon in Hawaii. Protect yourself by wiping down your seat, the window, the armrests, and the tray table. Find the best prices here.
And make sure to have hand wipes or hand sanitizer to use after you visit the lavatory.
Noise Cancelling Headphones: You'll want to get off your flight feeling energized and ready to hit the ground running. Headphones can minimize the airplane noise that can drain your body. Check out the latest prices and more details.
Plus, it's a great way to listen to Hawaiian music or watch a couple of movies before you land.
A Paperback Book: Just in case you forget to charge a device, it's nice to have an old-school version of entertainment. Pick out a romantic book set in Hawaii (like Bound in Flame) to read that will keep you entertained.
And if you don't read it on the flight, you can always bring it to the beach or the pool.
Wedding Thank You Cards: If you are really feeling motivated to cross this off your list, pack your thank you cards, envelopes, and stamps so you can write them at the gate and during your flight.
Then, you can drop them in the mail on the way to your Hawaii honeymoon resort. These Hawaiian thank you cards are super cute!
Luggage ID Tags: You don't want to arrive in Hawaii only to discover your luggage didn't join you. That's why it's extra important to put luggage tags both outside and inside each suitcase. These Hawaiian luggage tags are fun!
Sunglasses: The airports in Hawaii have a lot of outdoor areas and you might be a little blinded when you get off the plane. Make sure your sunglasses are handy, so you can slip them on as you walk to baggage claim.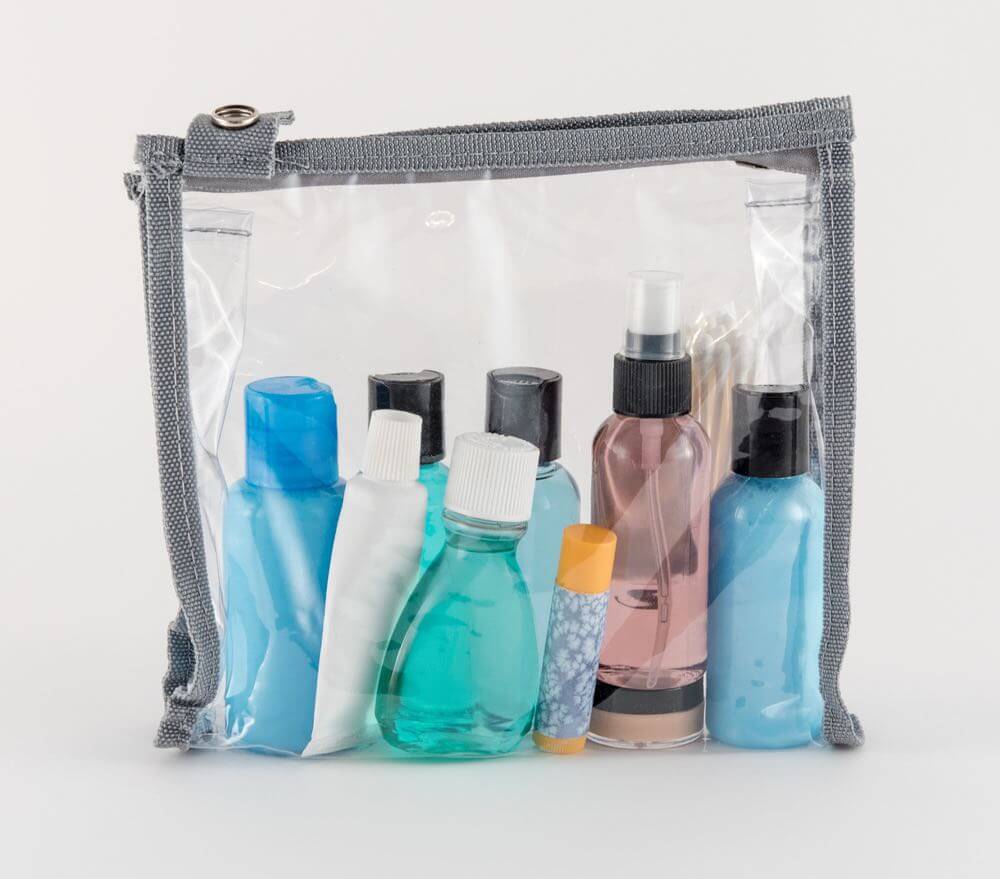 Hawaii Packing List: Toiletries & Essentials
I didn't want to have a packing list for honeymoon that skipped out on basic travel essentials and toiletries. Many of these items can vary and hopefully, you already know which items you usually pack to travel. But, here's a general list so you don't forget anything.
Deodorant (yes, I have forgotten this multiple times. This is my favorite natural deodorant that actually works and smells like vanilla/coconut) Check out the latest prices and more details.
Prescription drugs (keep them in their original container)
After sun lotion (you can find it in Hawaii, but it's nice if you already have it. We swear by Maui Vera and never leave home without it. It is one of the top honeymoon must haves) Find the best prices here.
Ear plugs (in case you discover your partner snores or you hate the sound of the ocean) Check out the latest prices and more details.
C-Pap machine (yep, my hubby forgot this on our honeymoon and it was a major drag)
Comb and brush
Hair products (you can get refillable containers and bring your favorite products or buy travel size hair products)
Toothbrush and toothpaste
Mouthwash
Contact lenses and solution
Makeup and makeup remover
Tampons
Floss
Razor
Nail file and clippers (hang nails are so annoying)
Tweezers
Small first aid kit with Band-Aids and antibiotic ointment
Pain reliever, cold medication, etc. (your body might relax from all the wedding stress and make you feel sick)
Hand sanitizer (you really don't want to get sick on your honeymoon!!!)
Birth control and condoms (unless you are hoping for a honeymoon baby. If so, good luck!)
Hawaii Honeymoon Packing List: Technology Essentials
While not the most sexy topic, many couples bring at least a few devices/screens with them. It really depends on your relationship and whether or not you want to unplug during your honeymoon.
Here's what I think is handy:
iPad or Tablet: If you love binge-watching Netflix or Amazon Prime, this is a great way to have a screen large enough for you both to watch at the same time. The newest iPad has a huge screen!
Plus, it can be helpful if you like a bigger screen to see a map of the island or book an excursion.
Camera and Tripod: If you look at peoples' honeymoon photos, it's usually photos of one person or the other. Or it's just couple selfies. Lame.
Bring a good camera (I love my Sony A6000) with a lightweight tripod so you can get lots of couple shots out on your adventures. I mean, you're going to have all these amazing wedding photos. You don't want just iPhone pics for your honeymoon; you want some nice Hawaii couple pictures. Check out the latest prices and more details.
Osmo Pocket or Gimbal: Life is all about video these days. The Osmo Pocket is the perfect size to bring along just about anywhere you go. There's even a waterproof case in case you want to take it snorkeling or swimming with dolphins! Check out the latest prices and more details.
Then, you can make a little honeymoon video of all your epic vacation memories. I think it should be on your tropical honeymoon packing list.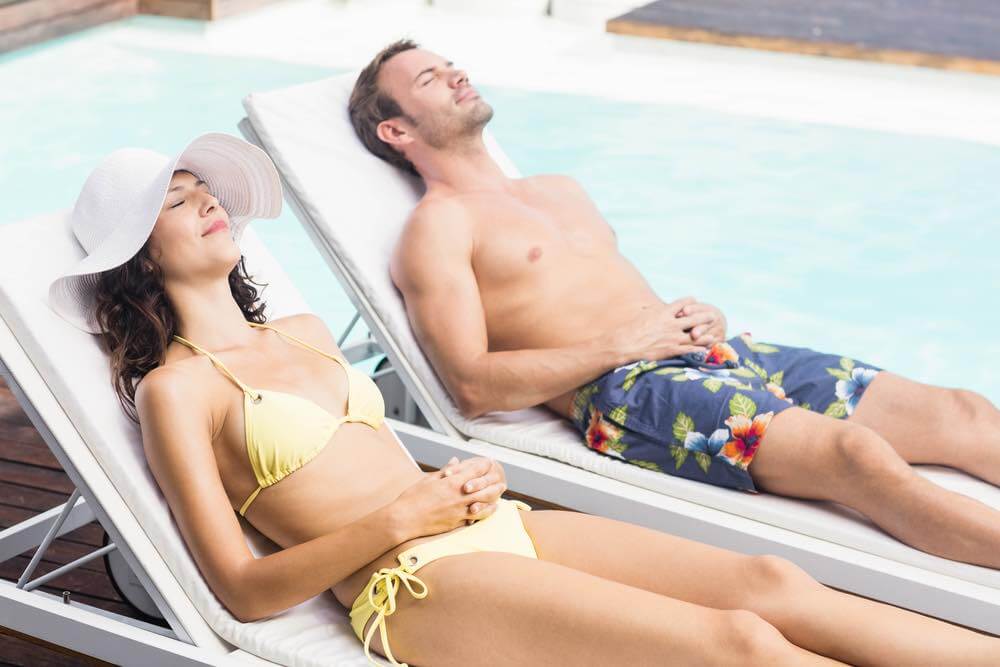 Hawaii Packing List: Pool Time
If you're staying at a honeymoon resort in Hawaii, you'll want to carve out time to chill at the pool. And you'll want to dress the part. Swimsuits are definitely one of the top honeymoon essentials, especially for your beach honeymoon packing list.
Here's what you'll want:
Cute Swimsuit: Did you work out or adopt a healthy lifestyle before your wedding? Show off your body with a cute bikini or flattering swimsuit. There are also some fun retro one-piece swimsuits that will make you feel like a bombshell! Find the best prices here.
His and Her Swimwear: You can also do matching couple swimsuits that are super cute for water adventures or just hanging at the beach. These ones even have UV protection so you won't get burned. If you want to be the cute couple in Hawaii, definitely get matching swimsuits!
Large Brimmed Sun Hat: You won't want a red face in your honeymoon photos, so make sure to give your face a break from the sun. A large brimmed hat will protect your face, neck, and shoulders. Check out the latest prices and more details.
Sandals: The area around the pool can be quite hot, so you'll want to keep your feet comfortable. You can wear flip-flops or cute sandals. They are some more items on our honeymoon packing checklist!
Pool Bag: You'll want to make sure to have SPF lip balm, sunscreen, and a water bottle near you during your pool time. Keep it all together with a cute straw bag or waterproof bag. More things you'll want to add to your packing list for Hawaii vacation!
Swimsuit Cover Up: This is handy for looking modest as you walk around the resort as you head to or from the pool area. Plus, you can just throw it on and head to a poolside lunch. Find the best prices here.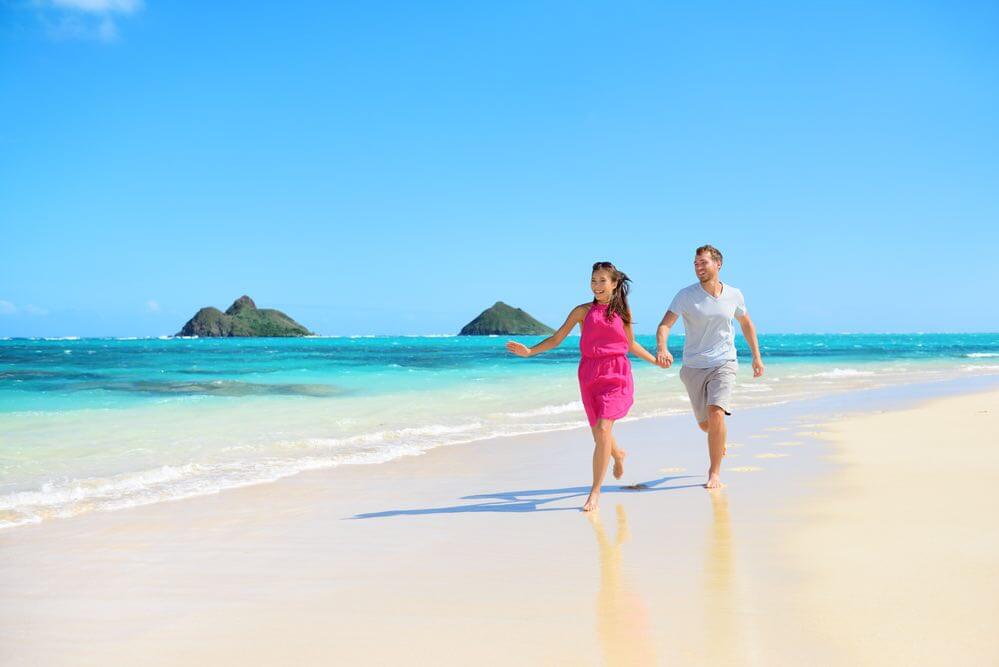 Hawaii Honeymoon Packing List: Beach Days
Of course, if you're in Hawaii, you'll want at least a few beach days! Whether you're people-watching at Waikiki or trekking to a more remote beach, lazy beach days are the best.
Here's what to bring to the beach in Hawaii to use as your beach packing list for couples:
Beach Mat: You'll want something to lay out on while soaking in the rays. I like bringing a sand-free beach mat because it's easy to shake it off. Find the best prices here.
You can also use a sarong.
Wet/Dry Bag: These are great for holding wet swimsuits because they will keep the rest of your bag completely dry. I always add this to my packing list for Hawaii! Find the best prices here.
Baby Powder: Hate getting sand in your rental car? Shake some baby powder on your sandy feet, rub with a towel, and watch the sand just fly away.
Reef-Safe Sunscreen: It's really important to use reef-safe sunscreen in Hawaii.
Flip Flops: You'll want to wear something you can kick off immediately when you reach the sand. Chances are you'll be carrying beach stuff, so flip-flops are easy to get on and off.
Sundress: Not all Hawaii beaches have a place to change, so it's nice if you're already wearing your swimsuit to the beach. Throw a sundress on over it so you can easily take it off once you've found your perfect beach spot. Check out the latest prices and more details.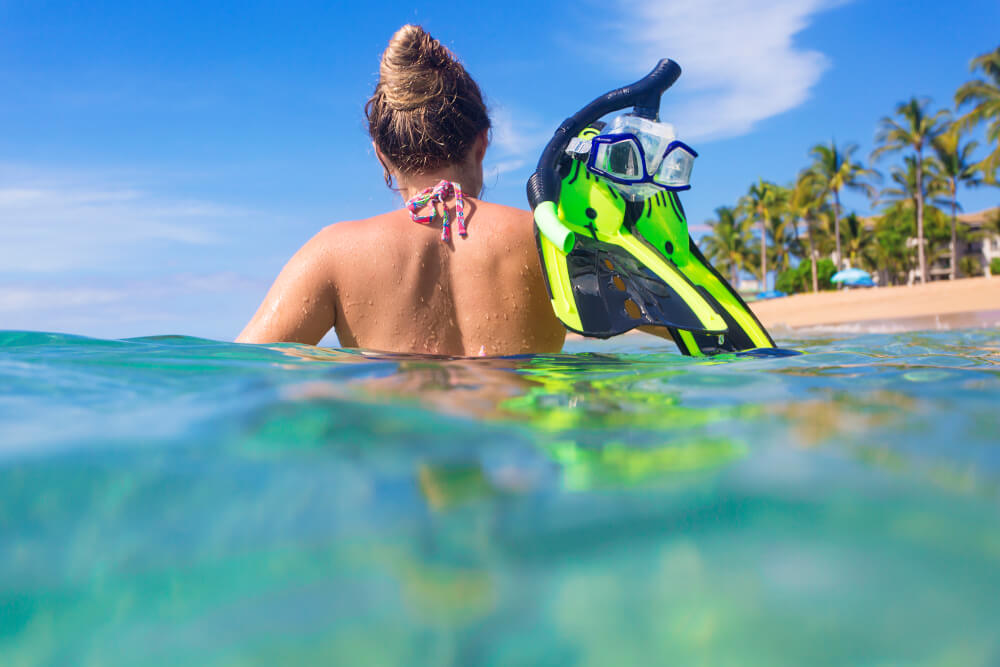 Hawaii Packing List: Snorkeling
One of the top things to do in Hawaii is go snorkeling. Hawaii has some of the most beautiful tropical fish and sea life. I've got some great guides to snorkeling on Kauai, Oahu, and Maui.
There are some awesome Hawaii snorkeling tours you can sign up for or you can go out on your own. If you do it on your own, here's the gear you'll need to add to your honeymoon list of things to bring:
Snorkel Mask: This is crucial if you want to actually see what's underwater. There are traditional snorkel masks, and there are full-face snorkel masks.
Fins: Snorkel fins are helpful for letting you cover a bit more distance with a fraction of the work.
Rash Guard: These are great for creating a layer between your body and any rocks that might scratch you. Look for an SPF rash guard to protect your skin from getting sunburned. Check out the latest prices and more details.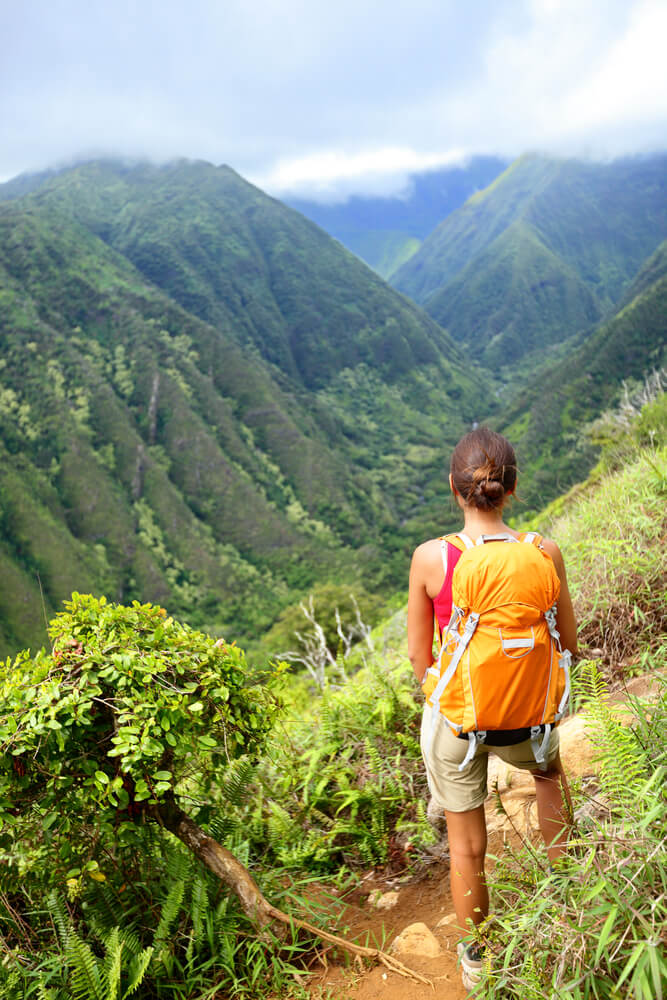 Hawaii Honeymoon Packing List: Hiking
Hawaii is also known for its incredible hiking trails. Trek through the jungle to see waterfalls or discover a private beach. I've got guides for hiking on Oahu, Lanai, and Maui.
You can also read my detailed Hawaii Hiking Packing List. But, here are a few Hawaii hiking essentials:
Sturdy Hiking Shoes or Sandals: Don't make the rookie mistake of hiking in flip-flops. Invest in some sturdy hiking shoes and your feet will thank me later! Check out the latest prices and more details.
Cute Tank Top and Shorts: The key is to be very comfortable when hiking in Hawaii. It's great to wear breathable material and athletic wear that will wick away sweat. These are great to add to your Hawaii travel checklist even if you are not hiking too!
Rain Jacket: Hawaii weather can be a bit unpredictable. Pack a foldable rain jacket in case you get an unexpected downpour! You don't want to forget this in your Hawaii travel packing list! Find the best prices here.
Sun Hat: You'll want to protect your face and neck from getting sunburned on your hike. Check out the latest prices and more details.
Lightweight Backpack: Make sure to pack sunscreen, bug spray, a water bottle, and lots of snacks. Find the best backpack prices here.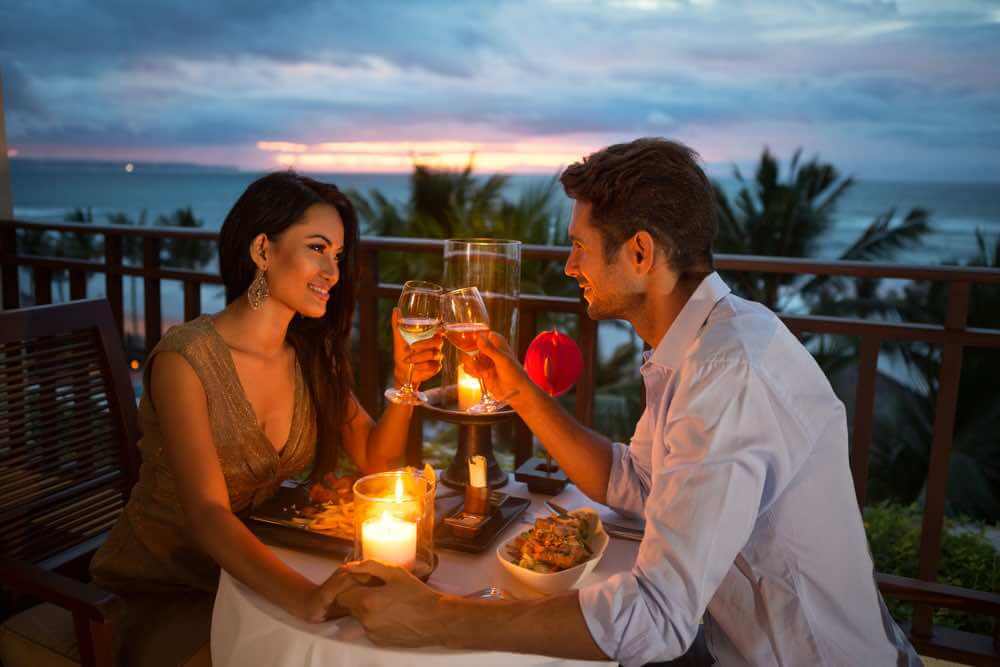 Hawaii Packing List: Luau or Date Night
I highly recommend booking a luau near the end of your trip to get a little taste of Hawaiian culture. You can read my detailed guides to luaus on Maui, Oahu, Kauai, and the Big Island.
On a few other nights, plan on a romantic dinner at a top restaurant. You'll want to get a bit dressed up and here's what to pack:
Tropical Dress: This is the easiest way to really feel like you're on a Hawaiian honeymoon. You can even find a coordinating (or sometimes matching) shirt for your partner, which is a Hawaii packing list for couples must-have! Check out the latest prices and more details.
And if tropical prints aren't your thing, you can choose a solid color dress and put a Hawaiian flower in your hair.
Flat Sandals: If you're attending a luau on the beach or in the grass, you'll have a better time if you aren't worrying about your heels sinking into the ground. Flats are definitely the way to go for outdoor dining, too, so be sure to add them to your honeymoon checklist.
Inexpensive Jewelry: While your rings are the true bling, bring along a few pieces of costume jewelry to really dress up your outfit. I suggest knock-offs for your packing checklist for Hawaii just in case they get lost on your trip.
Small Purse: You really just need something to hold your phone, wallet, and maybe a few other essentials (like lipstick.) Check out the latest prices and more details.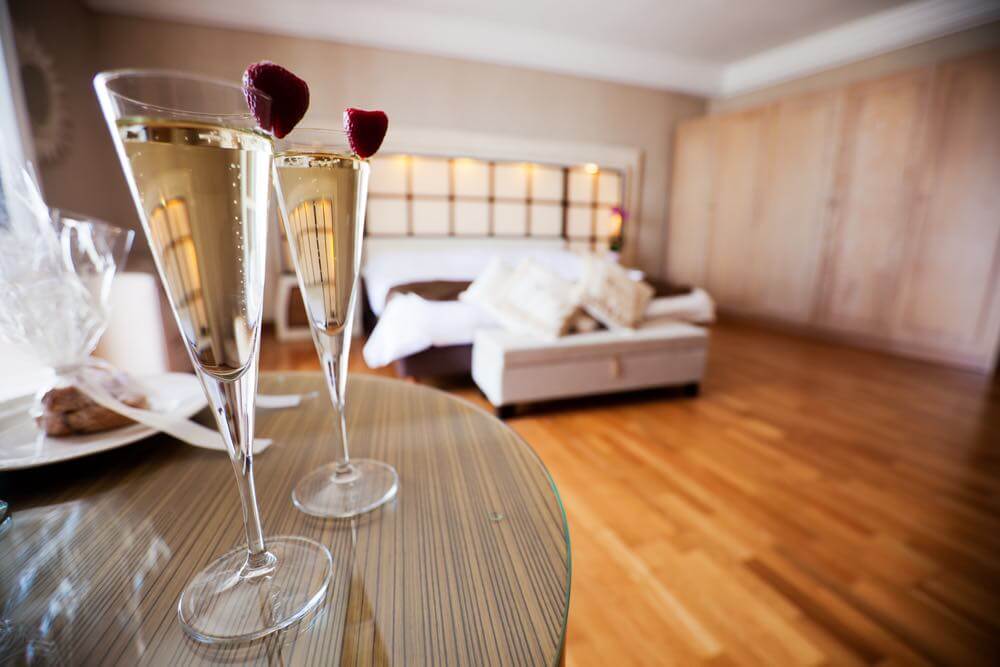 Hawaii Honeymoon Packing List: Romance in Your Room
Don't schedule stuff for every night of your honeymoon. You'll want plenty of time for romantic fun in your room! And it can be super simple.
If you want to know what to pack for honeymoon for some romance, just pack these items:
Lingerie: Pick out some new lingerie to debut on your honeymoon! It can be added to your honeymoon bag packing list.
Massage Oil: This is a nice way to relax your muscles after a long day of hiking or other outdoor activities. Although, you might want to add in a bit of Aloe Vera if you got a bit sunburned! It is one of the fun things to bring on honeymoon. Find the best prices here.
Bath Salts: If your Hawaii honeymoon resort has a soaking tub, bring along a Hawaiian bath bomb or oils for a romantic bath for two. Check out the latest prices and more details.
Hawaii Trip Packing List FAQs
Can you wear jeans in Hawaii?
Hawaii is a really relaxed place and jeans are acceptable just about anywhere. However, you might feel too warm wearing jeans anytime outside of winter. They are great for the airplane ride or if you plan on being up in the mountains, though.
What should I not forget to pack for Hawaii?
There are tons of items people forget to pack including a pen for the declaration forms on the airplane, a lightweight sweater for chilly nights, and reusable bags (since Hawaii has banned plastic bags.)
What's a good Hawaii souvenir to bring back?
Make sure to leave room in your suitcase to bring back some awesome Hawaii souvenirs! Specialty food items are always a best bet (including the famous Maui Gold pineapple.) Other ideas include a ukulele, Aloha shirts, kukui nut leis, and Hawaiian dolls.
What should I pack for my honeymoon on an island?
You definitely want shorts, swimsuits, and sandals for your Hawaii honeymoon trip! As long as you keep to this Hawaii vacation checklist, you should have everything ready for your honeymoon trip to Hawaii!
Honeymoon Things to Pack Wrap-Up
Now you know what to bring on honeymoon in Hawaii!
There are lots of other things that you can include in this Hawaii honeymoon packing list, but these are my top picks.
Hawaii is truly a beautiful honeymoon destination and it's the perfect place to make romantic memories. So use this honeymoon items list to pack for this tropical paradise.
Having a packing for Hawaii checklist makes things easier and stress-free, which is the perfect way to start off your honeymoon!
Additionally, it's also the perfect place to celebrate your anniversary! You can even make it an annual Hawaii anniversary trip!
Looking for more Hawaii Honeymoon Resources? Check out the Top Things to do on a Hawaii Honeymoon, plus the Best Honeymoon Resorts on Kauai and Oahu!