Are you debating booking a treatment at the Disney Aulani spa? Keep scrolling for my honest review of the Laniwai Spa at Aulani Resort on Oahu.
This Laniwai Spa at Aulani Resort review contains affiliate links which means if you purchase something from one of my affiliate links, I may earn a small commission that goes back into maintaining this blog.
Are you planning a Disney Aulani vacation and want to know if the Laniwai Spa at Aulani Resort is worth it?
I tried it out on our most recent trip to Disney Aulani Resort in Hawaii. Keep scrolling for my honest review of the Aulani Spa so you can decide whether or not it's worth the hefty price tag.
If you're looking for a relaxing, rejuvenating experience that will leave your skin feeling soft and smooth, then this is definitely something you should try! It was an amazing way to kick off our trip to this Oahu resort.
The Disney Aulani Resort Spa offers many different services, including massages, facials, manicures/pedicures, hair styling & makeup application, and family treatments.
When you book a spa service, you'll also have access to their outdoor Hydrotherapy Garden with rain showers, private pools, and even a reflexology path. It's one of the best spas on Oahu.
This would be perfect for families who don't mind splurging on themselves once in a while! But if money isn't an object, then go ahead and book yourself a treatment ASAP because they fill up fast! You won't regret it!
Want to skip all the planning and just access my detailed Oahu Itinerary complete with daily schedules, kid-friendly activities, and travel hacks? Click the button below.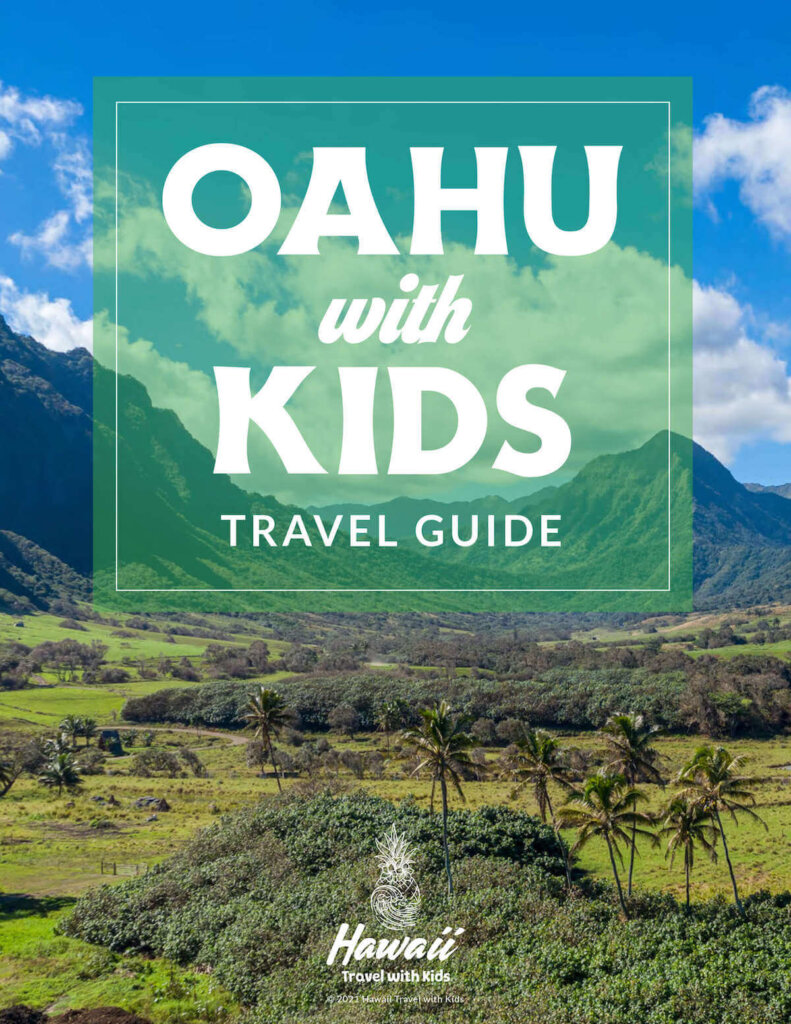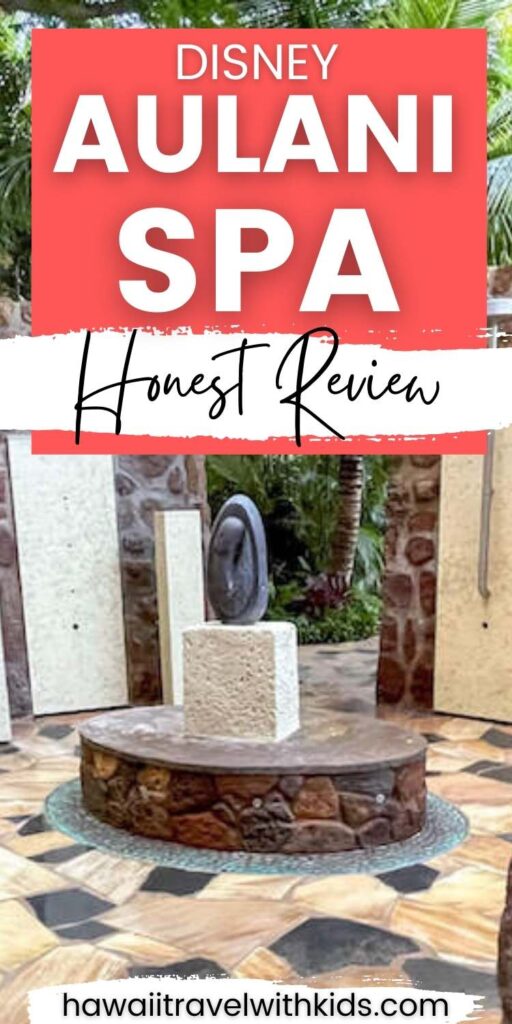 My Disney Aulani Spa Experience
Visiting Disney spas has been on my travel bucket list for a while. Disney always has amazing customer service and an elevated experience.
I was on the fence about booking myself a massage at Aulani Resort because it really is a splurge. However, I had several friends tell me it was a highlight of their Aulani vacations, so I figured I'd try it out.
Check In
They ask you to check in one hour before your service so you'll have time to enjoy the Hydrotherapy Garden. My massage was at 11:30 a.m., so I arrived right at 10:30 a.m. to check-in.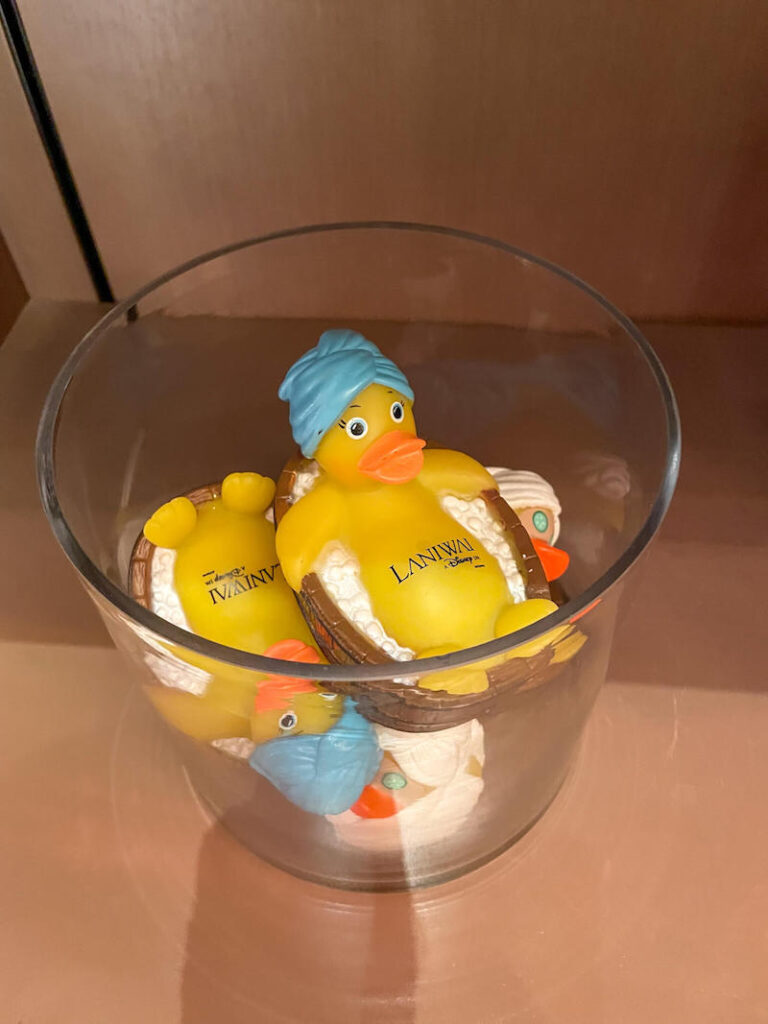 They have a really cute gift shop area with tons of yummy-smelling bath products, cute clothing, and other spa-related items.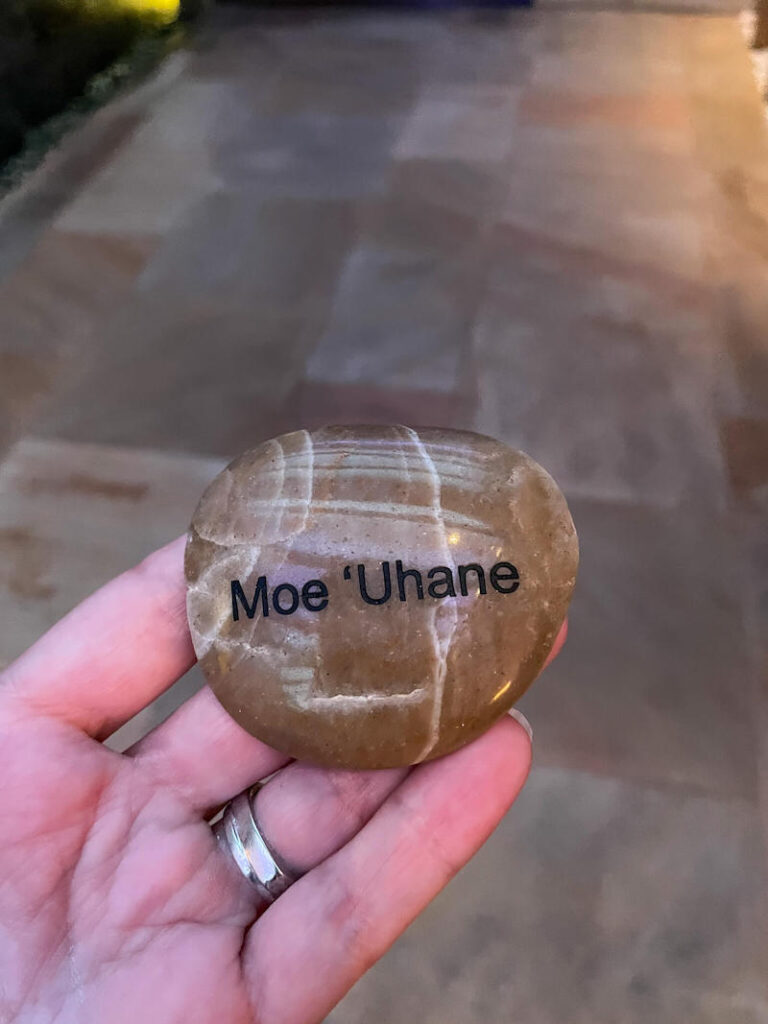 After looking at the shop, I checked in, and a cast member came to give me a tour of the facilities. They had me close my eyes and picked a stone from a bowl. I chose one that said "dream" in Hawaiian on it, and that was the theme of my spa day.
We walked to the center of the Laniwai Spa, and I carefully placed my stone in the fountain and made a wish.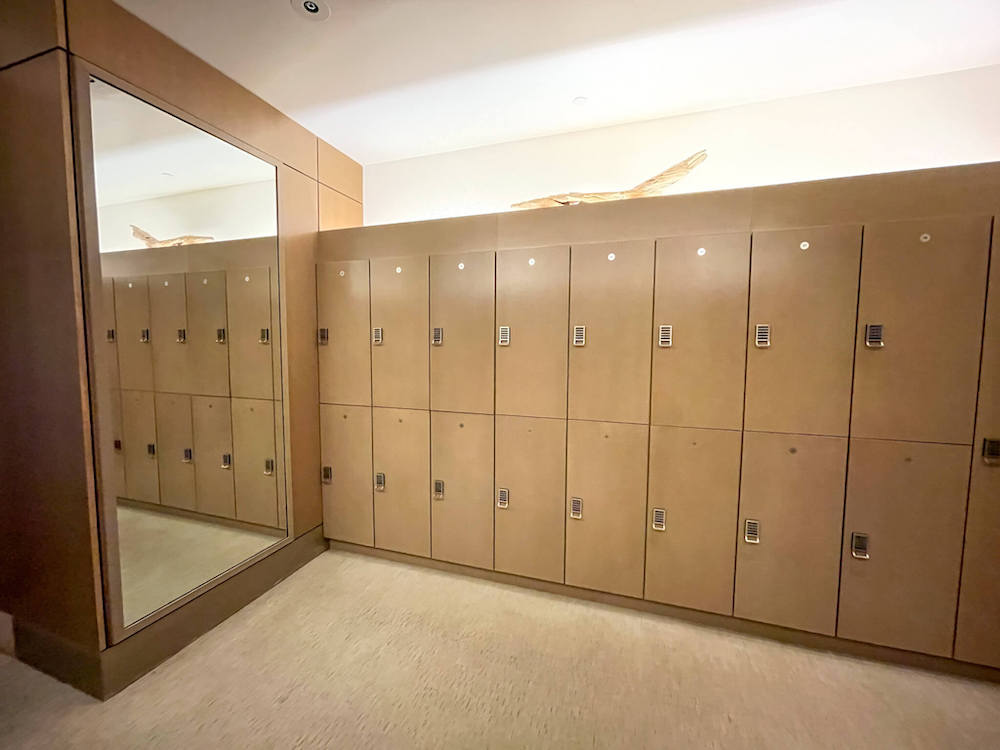 Then, the cast member showed me the locker room and restroom before we headed out to the Hydrotherapy Garden. You'll need to wear a swimsuit to use the Hydrotherapy Garden.
Hydrotherapy Garden
The Hydrotherapy Garden at the Disney Aulani Resort is definitely a highlight of the Laniwai Spa. They did a great job making it feel private even though it's surrounded by hotel room balconies.
There are lots of small pools that are different temperatures. There's even a cold plunge pool that is crazy cold! Nothing is too hot, and they are all relaxing.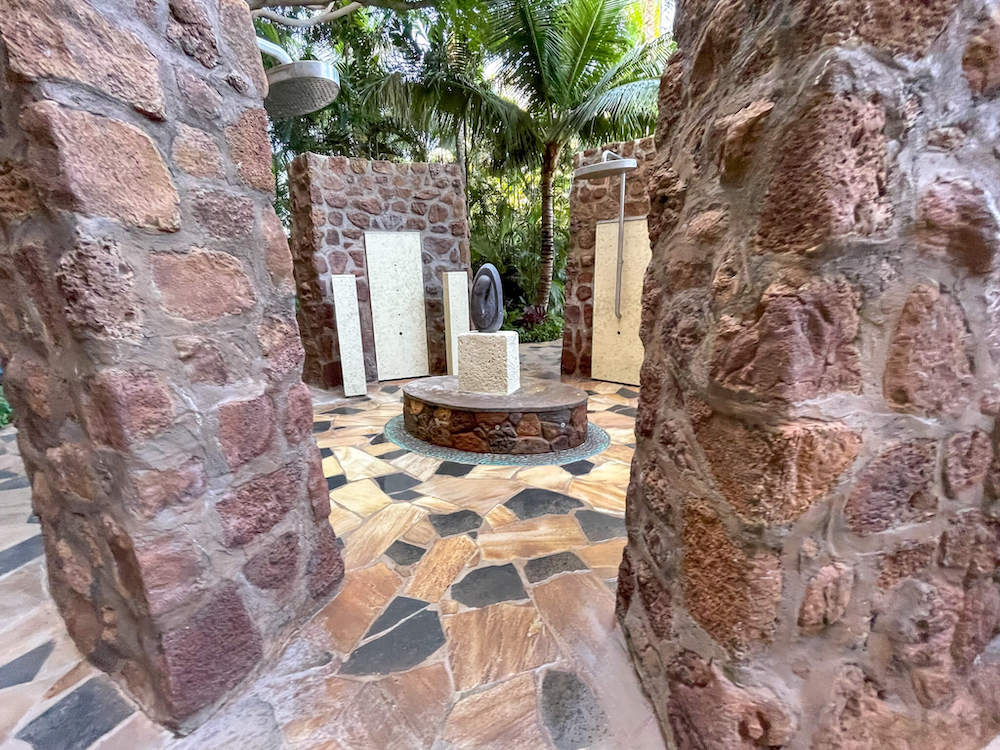 Another feature of the Hydrotherapy Garden is the shower area. There are 6 showers that are very different. Some have water shooting out in different directions. They are all relaxing and part of the spa experience.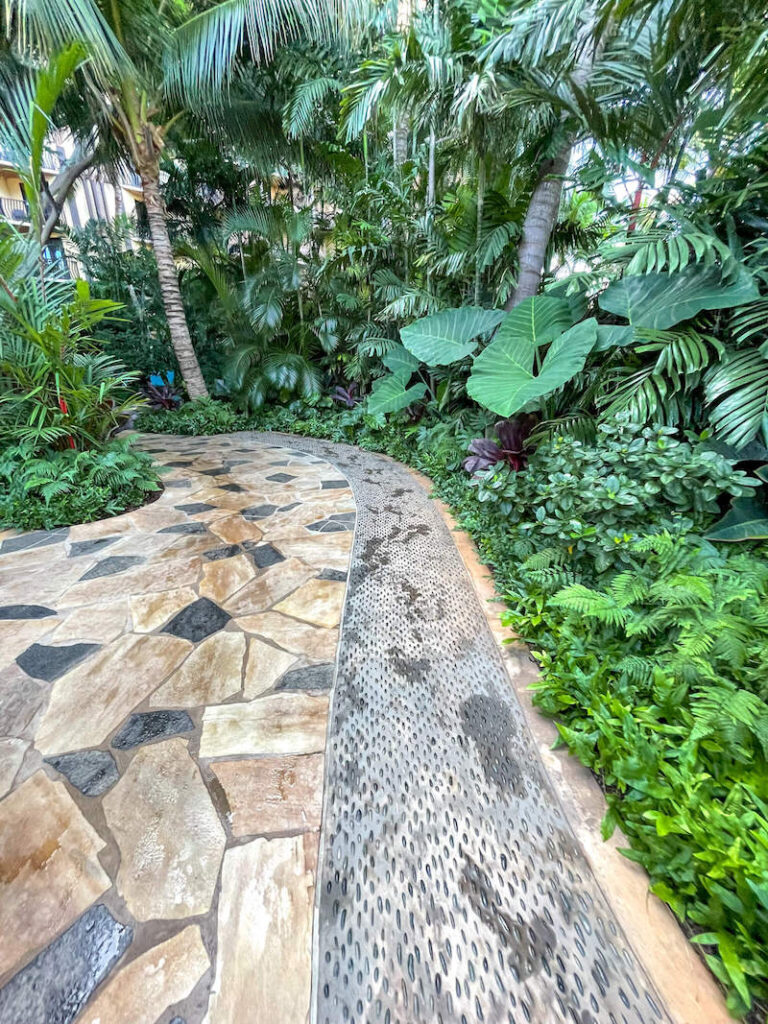 Finally, there's a reflexology path. This is a skinny path with smooth rocks sticking out. It's supposed to give you a foot massage as you walk down it. You'll want to walk slowly to appreciate the benefit of this tropical exfoliation.
And you don't need to be in the water the entire time. There are comfortable cushioned lounge chairs set up so you could sit and just zone out for a bit.
A cast member will come to get you 15 minutes before your spa service, so you really can feel stress-free for a bit.
Relaxation Room
After the cast member has given you your 15-minute warning, take a quick shower and put on your spa robe.
You'll head over to the Relaxation Room. Here, they have really cool massage chairs set up. They look like zero-gravity chairs, but they have built-in vibrating massage capabilities.
I could easily have spent a half hour here just enjoying the quiet and the massage.
Massage Service
When it's time for your service, your therapist will come to collect you from the Relaxation Room and take you to your service room.
My massage therapist had me select my lotion fragrance (I chose lilikoi lime) and then hop on the massage table.
I got an 80-minute deep tissue massage, and it was fantastic. One cool thing is that I got to pick what music we listened to. They had a bunch of different "spa music" options, and one of them was Hawaiian melodies. That's the one I chose.
I actually ended up chatting with my massage therapist the entire time about motherhood and raising little boys. Usually, I'm not super chatty during massages, but I felt so comfortable, and it was nice to share parenting struggles and wins with someone who "gets it."
After my massage, I got a little bottle of water and went back to the front desk to check out.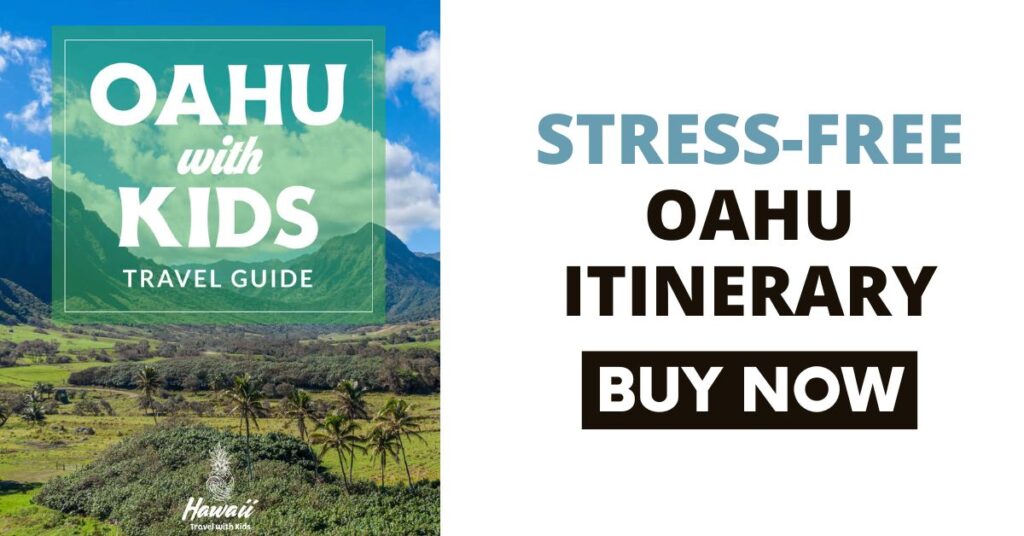 Disney Aulani Spa Menu
There are tons of Aulani spa services offered. You can see the full Aulani Spa Menu HERE.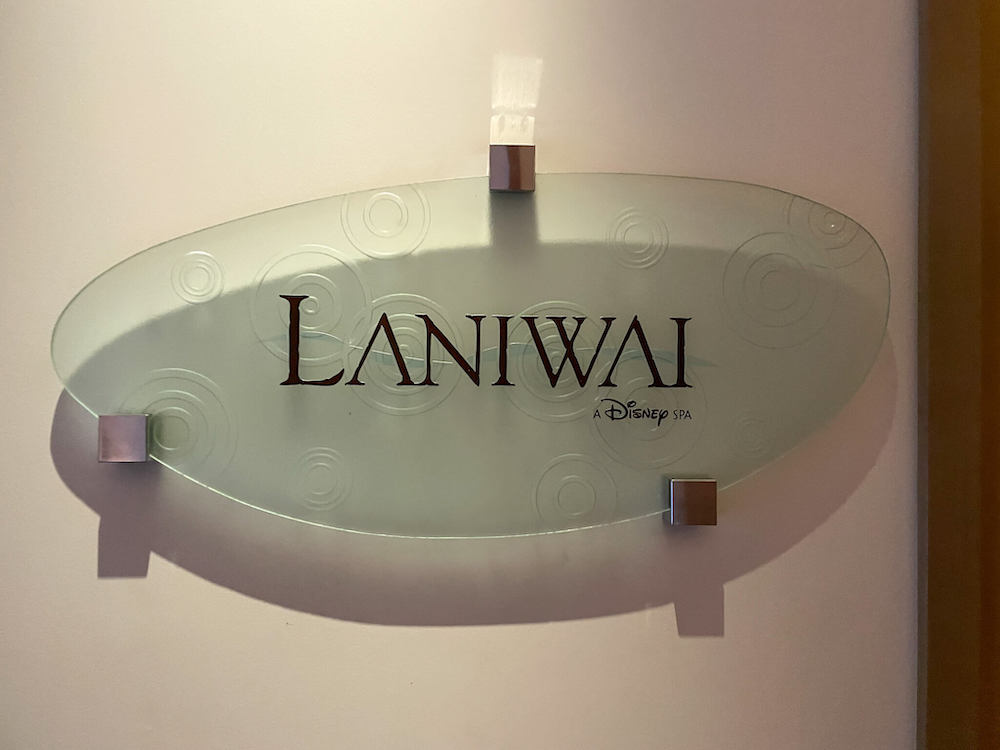 Their signature treatments are their lomi lomi massage services. This is a traditional Hawaiian technique of using long strokes to relax muscles. They offer a prenatal version as well as a deep tissue lomi lomi massage.
You can also find a few couples massage options as well. The rhythmic massage is so relaxing and definitely one of the best massage I've ever gotten!
Disney's Aulani Resort also offers a lot of facial services. These are less expensive than massages, so it's a more affordable way to enjoy the Laniwai Spa. But it's definitely not cheap.
And if you're looking for spa services for kids, they have several packages and individual services. They specifically have packages for kids to get "luau-ready" that include clothing, hair, and special accessories.
The Laniwai Salon will do your hair and nails, for the whole family! The style studio will get you ready for any occasion too. You will have a talented stylist to do your hair based on exactly what you want!
I'm not going to sugar-coat it: Aulani spa prices are probably more expensive than you'd expect.
Aulani Laniwai Spa Tips
I always think it's helpful to read a few tips before committing to anything on a Disney vacation. Here's what I've learned about the Laniwai Spa at Aulani Resort in Hawaii.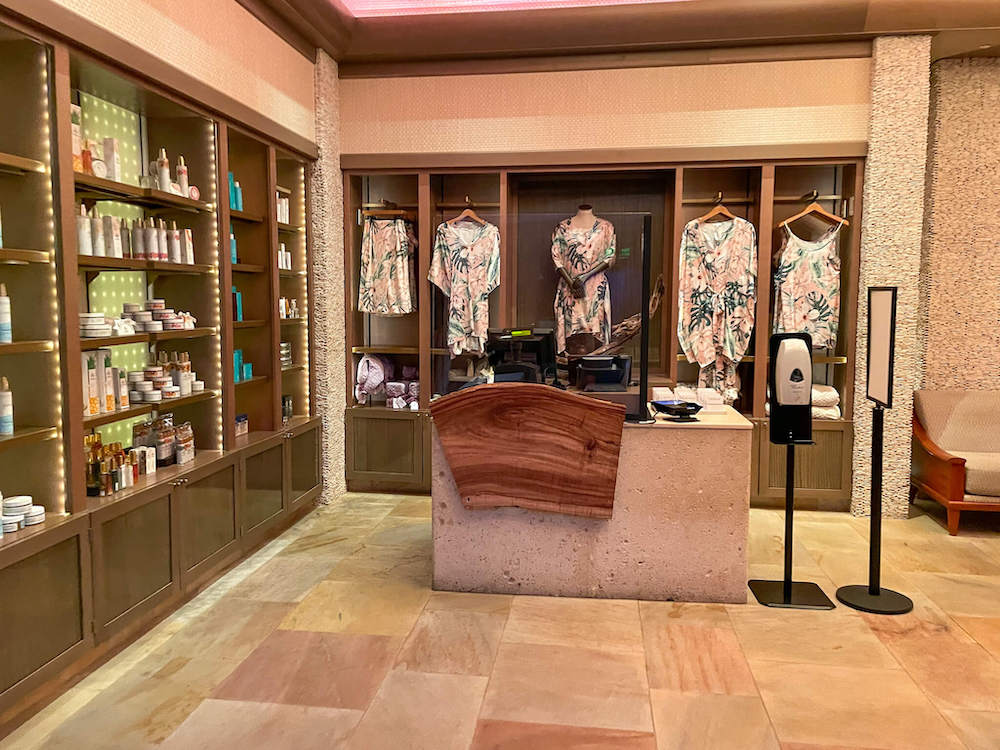 Make Reservations
One of the top things to do at Aulani Resort is enjoy the Laniwai Spa. So, spa services can book up quickly. You'll want to make Aulani Spa reservations by either calling the Laniwai Spa or booking online.
There might be appointments available to book during your trip, but if it's important to you, just make sure to reserve ahead of time.
Book for Beginning of Your Trip
I know it's tempting to book a massage or body treatment for the end of your trip. I mean, that sounds like a great way to end a Hawaiian vacation, right?
The tricky thing is that you might have a sunburn, and that will make your spa experience a bit uncomfortable.
I recommend kicking off your trip with a spa service to help you decompress from the plane ride over to Hawaii.
It will also give you positive energy to enjoy the rest of your trip!
Couples' Treatments
You'll want to check to see if Aunty's Beach House is open before booking a couples' treatment. That's your best bet for having childcare unless you have friends or family who can watch your kids.
Otherwise, you can stagger your appointments so you each can enjoy treatments. That's what we did since Aunty's Beach House hadn't re-opened yet.
Wear a Swimsuit
You'll need to wear a swimsuit to enjoy the Hydrotherapy Garden. It's easiest to just arrive in your swimsuit and bring an extra change of clothes to wear after your treatment.
Disney Aulani Spa FAQs
What are the Disney Aulani spa hours?
As of June 2023, you can make appointments from 10 a.m. to 6 p.m.
Is there a Disney Aulani spa price list?
Aulani massages range from $185 to $285, facials range from $185 to $330, and children's packages range from $130 to $175.
What other paid Aulani activities are available at the resort?
Besides the Aulani Spa, other fun things to do at Disney Aulani include the character breakfast, on-site luau, Rainbow Reef snorkeling, make-your-own Minnie Ears, and so much more.
How far in advance can I book Aulani Spa?
You can reserve your soothing massage up to 90 days before you arrive at the Disney Aulani Resort.
Are there herbal body remedies at the Disney Spa?
Yes you can find a variety of herbal body remedies for your spa treatment. Enjoy the healing touches with a Nature's Healing 'Āina or a Nourishing Avocado treatment.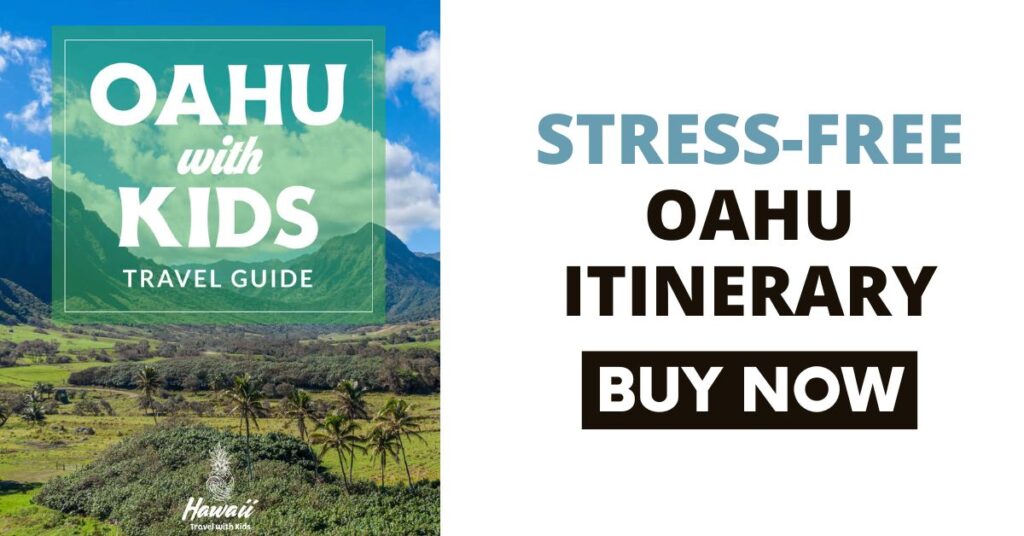 So, is the Disney Aulani Spa worth the price?
I'm really split on this. I had just spent the previous 2 weeks traveling solo with my 5-year-old so I enjoyed just having quiet, kid-free time as much as the massage itself. It was exactly what I needed to shake off some of the stress and get quality "me time."
Just having access to the Hydrotherapy Garden was a huge perk. I never considered myself a "pool person" but I think I just don't like being in crowded pools. Being the only person in the soaking pools made it a much more relaxing experience.
However, it's a really high price tag. My 80-minute massage was $285 plus the automatic 20% gratuity. For that price at home in Seattle, I could get a spa package that includes a body scrub or body wrap or something.
But, enjoying a spa day at home is very different than a spa day in Hawaii.
If you have room in your budget to accommodate the Laniwai spa prices while visiting Ko Olina, I definitely recommend booking a spa service at this Disney Resort. However, if you're choosing between the Laniwai Spa and the Aulani luau or character breakfast, I'd probably think really hard about it.