Have you seen Disney's Jungle Cruise movie starring Dwayne "The Rock" Johnson and Emily Blunt and want to visit some of the movie sites on Kauai? Find out how to visit some of the Kauai filming locations on your next Kauai vacation.
This list of Jungle Cruise Kauai filming locations was written by Hawaii travel expert Marcie Cheung and contains affiliate links which means if you purchase something from one of my affiliate links, I may earn a small commission that goes back into maintaining this blog.
One of my favorite Disney attractions that we do every trip to Disneyland is the Jungle Cruise. I love the puns, corny jokes, and the gags along the boat ride.
So, when I heard that Disney was making a movie based on the attraction, I was intrigued. And when I heard they were going to film part of it on Kauai, I got super excited!
Over the years, there have been tons of movies filmed in Kauai. Some of them are set in Hawaii, but others are set in Africa, Vietnam, and now the Amazon jungle.
We watched this new Disney movie as a family, and there were several times we shouted out, "that's Kauai!" It's always fun to recognize cool Kauai locations in movies!
So, I thought I'd share a few places on Kauai that were featured in Jungle Cruise that you can visit on your next trip to Kauai.
Want to skip all the planning and just access my detailed Kauai Itinerary complete with daily schedules, kid-friendly activities, and travel hacks? Click the button below.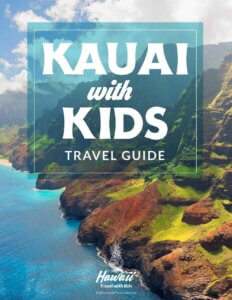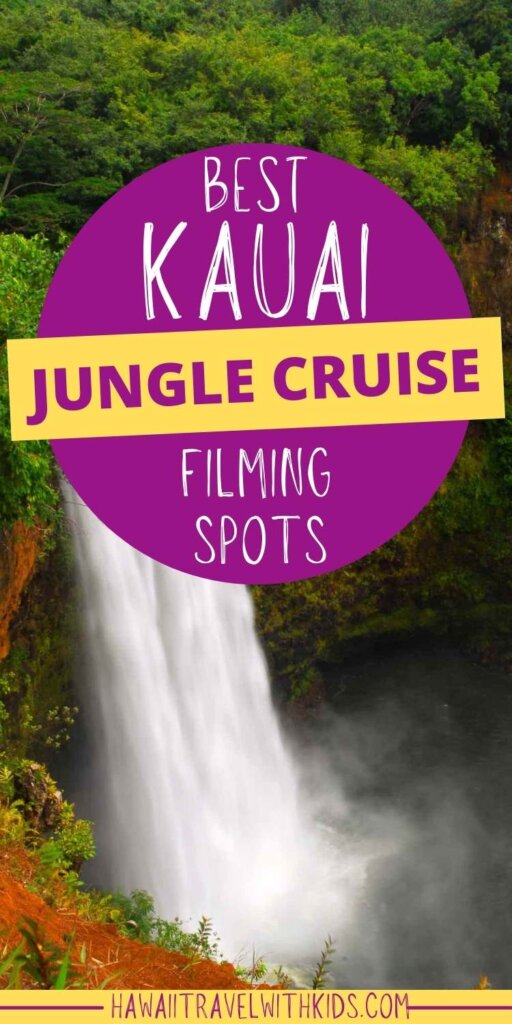 Jungle Cruise Premise and Characters
So, I've already told you that Walt Disney Pictures Jungle Cruise is based on the Disneyland Jungle Cruise attraction with the same name. But, the movie basically just uses that as the setting and really takes it in a whole new direction.
The plot is that Dwayne Johnson's character Frank (who plays the Jungle Cruise skipper) takes Emily Blunt's character Lily and her brother MacGregor (played by Jack Whitehall) on a trek through the Amazon to find a tree that has magical healing powers.
But, it's not that easy. Along the way, they have to fight off wild animals and protect themselves from a rival German expedition (these are the villains of the movie as it's set during WWI).
There are a lot of elements that feel similar to the Indiana Jones movies, which were actually also filmed on Kauai!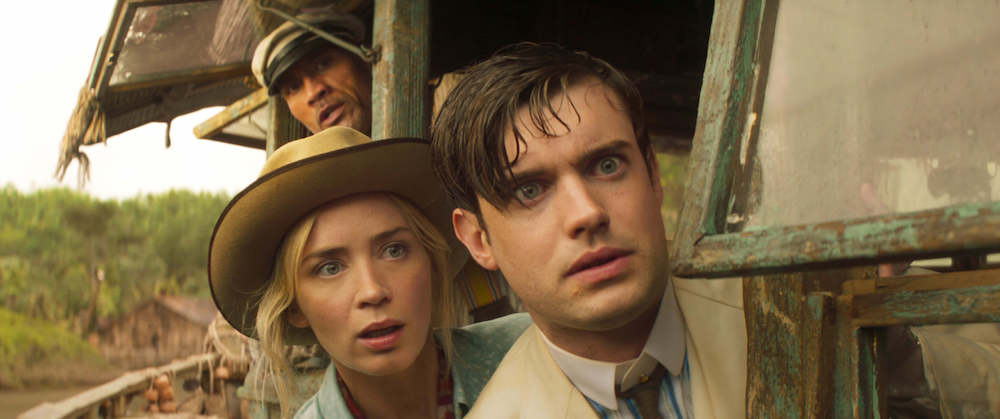 Dwayne Johnson (Frank the Skipper)
At the beginning of the film, Frank is basically the Jungle Cruise skipper you see on the Disneyland attraction. He does a lot of the exact same jokes that we all know and love, plus he has a few extra tricks up his sleeve.
Emily Blunt (Lily)
She's a smart, resourceful adventuress who is determined to find the Tears of the Moon, and she won't take no for an answer. She's also a feminist and wears pants in a time when that wasn't common.
With a lot of adventure movies set in the early 1900s, the protagonist is male, so I found it super refreshing to have a woman as half of the action duo.
Jack Whitehall/ Lily's Brother (MacGregor)
MacGregor is the quintessential English chap who insists on wearing a dinner jacket to dine on the rickey boat and wonders whether or not he'll need his tennis racket during the voyage.
If you've seen Jack Whitehall's stand-up comedy specials or his hilarious Netflix show Travels with My Father, expect a lot of the same comedic delivery.
Top Kauai Filming Locations to See in Jungle Cruise
Where was Jungle Cruise filmed? Check out these Jungle Cruise locations on Kauai!
Kilohana Plantation Railway
I recognized the Porto Belo train station immediately as being the Kauai Plantation Railway at Kilohana Plantation on Kauai. It's one of our favorite kid-friendly Kauai attractions!
In the movie, you'll see Lily and McGregor arrive in Porto Belo via a train. Well, you can ride that old-timey train yourself! There's a cool little train ride that goes around this historic property, and you can even hop out and feed some animals along the way.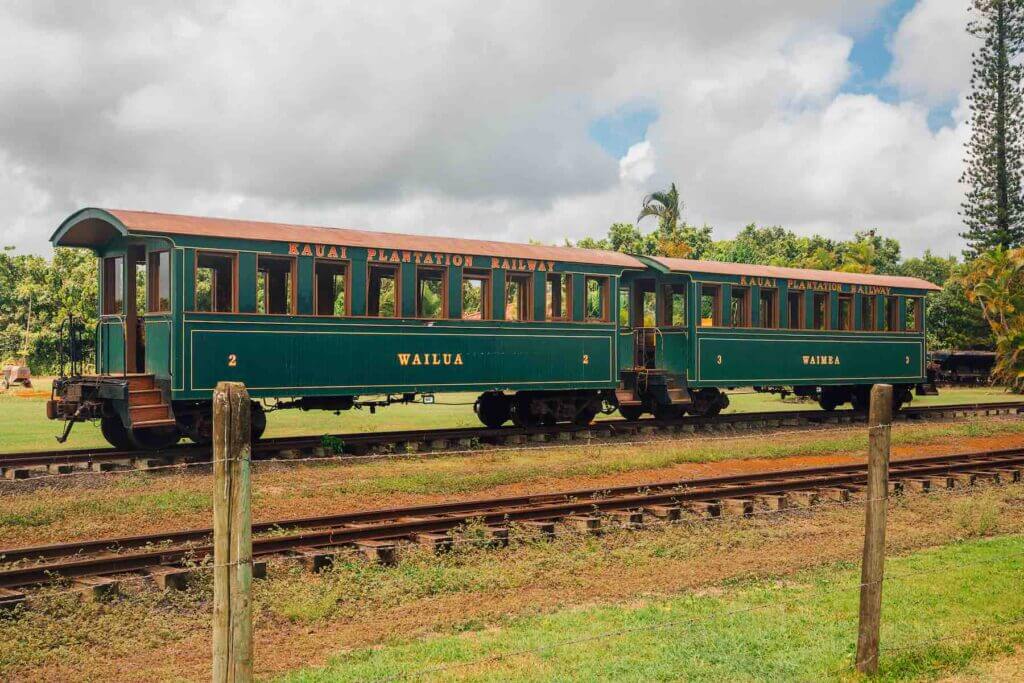 As if that wasn't cool enough, it's also home to Luau Kalamaku. This is one of the best luaus on Kauai for families because it's a theatrical presentation about voyaging (and it reminds us a bit of Disney's Moana!)
And grown-ups might like to know that you can also do a rum tasting at Kauai Rum, which is also at Kilohana Plantation. It's definitely worth a stop where you can see and experience it in real life!
Wailua River and Wailua Falls
Speaking of Porto Belo, they created this Brazilian town by filming around Lihue, the biggest town on Kauai.
You'll see Wailua River State Park and Wailua Falls as part of Porto Belo. This area was originally made famous by the 1970s TV show Fantasy Island (which was actually rebooted on Fox for 2021). It shows up in several Kauai movies, too.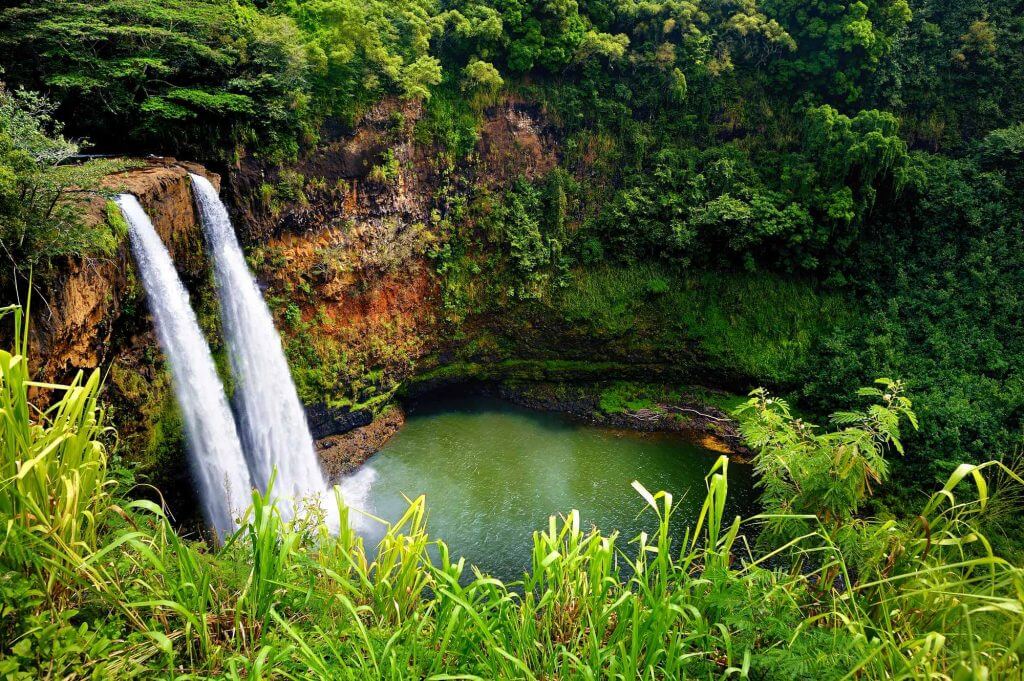 Disney worked a bit of magic to make the Wailua area look a bit more like what the Amazon Rainforest might have looked like in 1916.
It's super easy to visit Wailua Falls. There's a scenic lookout with a large parking lot that's great for capturing a selfie. Please note that the hiking trail is on private property, and it's illegal to trespass there.
But I think the best way to explore the area is with a Wailua River kayaking expedition. You can kayak down the beautiful Wailua River and then explore a secret waterfall. You'll feel like you're in the movie! Check latest rates and more information.
Kapaia Reservoir (one the main Kauai filming locations)
Near the beginning of this Kauai film, you see the exterior of Porto Belo, the Hotel de Fereira, Jungle Navigation Company's docks, Nilo's River Adventure moorings, and the tavern. This is actually the Kapaia Reservoir.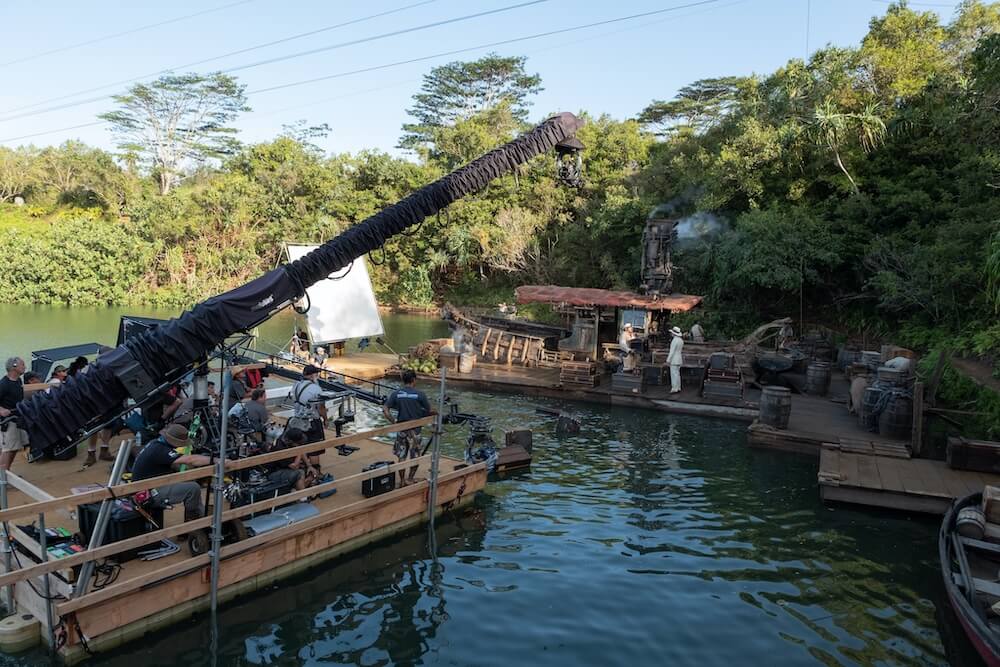 Disney actually built a massive set here to make the entire area look like 1916 Brazil. And the whole thing was created by Disney production designer Jean-Vincent Puzos. He used the Disneyland ride as his inspiration to create the shacks, docks, and jungle foliage.
Unfortunately, the Kapaia Reservoir is actually on private property, so you'll be unable to check this one out in person.
Opaeka'a Falls
If you remember Ucayali Cove (where Frank and McGregor drink from flasks on the shore), that's actually one of the most popular Kauai waterfalls: Opaeka'a Falls.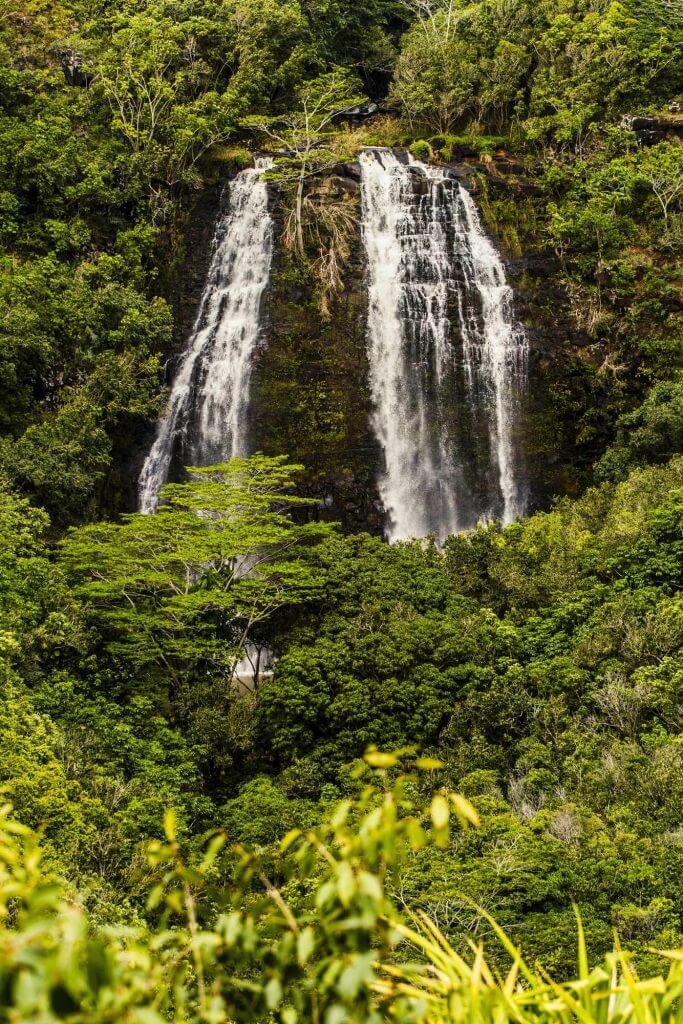 You can actually tell it's Opaeka'a Falls because of the rock formations. There are some shots of the boat mooring at the base of the falls, too.
It's really easy to visit Opaeka'a Falls. There's a scenic lookout that you can drive to. I know a lot of people think you can hike Opaeka'a Falls, but it's actually on private property, so PLEASE don't try this.
Huleia River
A few scenes were also shot near the Huleia River, which is part of the private Huleia National Wildlife Refuge. This is a popular Kauai birdwatching spot where you can see the nene goose, stits, ducks, Hawaiian coots, and moorhens.
It's also a popular Kauai filming location, and you can see it featured in movies on Kauai like Raiders of the Lost Ark, Jurassic Park, and Lost World.
Because this area is usually closed to the public, the only way to explore the Huleia Valley is on a guided tour. There's a really cool Kauai ATV tour at Kipu Ranch that is an awesome option! Check latest rates and more information.
And if you want an even bigger Kauai adventure, try this Kipu Safari Adventure. You'll get to go ziplining, hiking, kayaking down the Huleia River, and even swim in a waterfall! Check latest rates and more information.
Movies Filmed on Kauai FAQs
What are some of the most popular movies filmed in Kauai, Hawaii?
While there have been dozens of movies shot in Kauai, some of the most famous include Jurassic Park, The Descendants, Blue Hawaii, Tropic Thunder, Pirates of the Caribbean, Avatar, Outbreak, and Raiders of the Lost Ark.
Can I take a Kauai movie tour?
Absolutely! We've done it before, and it's perfect for people who love films! This Kauai Movie Adventure takes you to a bunch of movie sites in East Shore and North Shore Kauai. Plus, it includes lunch at Tahiti Nui, made famous by the George Clooney film The Descendants.
Where are some other Kauai film locations?
Many scenes from The Descendants were filmed in Hanalei. The classic Elvis movie Blue Hawaii was filmed at Lydgate Beach Park and the now-closed Coco Palms Hotel. Honeymoon in Vegas was filmed in Kapaa Town. And Lumahai Beach was featured in South Pacific.
Was any of Jurassic Park filmed on Kauai?
Yes! The Allerton Garden in Kapaa was where some of Jurassic Park and The Lost World: Jurassic Park were filmed.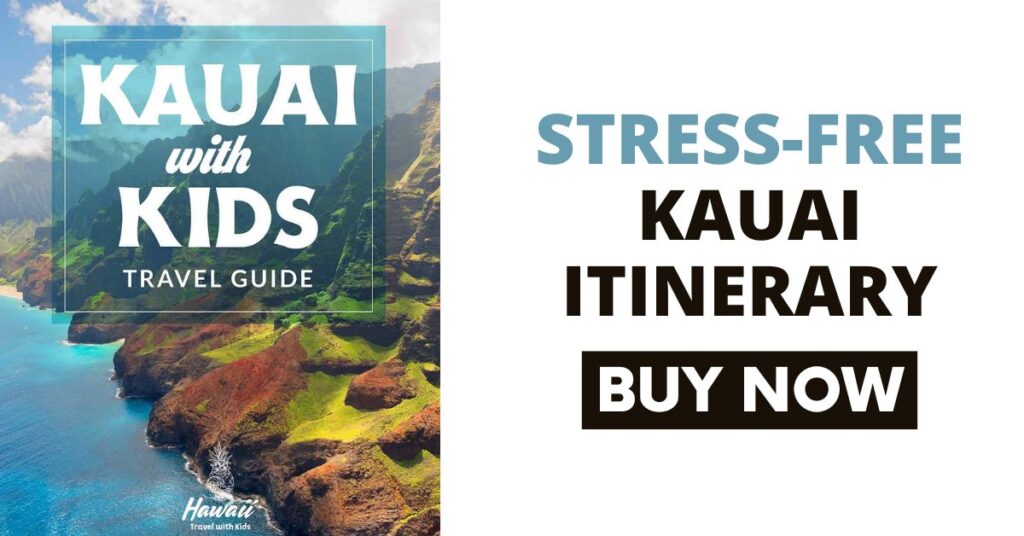 Where Was Jungle Cruise Filmed Wrap-Up
As you can see, there are plenty of ways to recreate the Jungle Cruise movie on your next trip to Kauai. It's no wonder why so many movies filmed in Hawaii choose Kauai as their filming site. It's so gorgeous!
If you enjoy the Jungle Cruise ride at Disneyland, you will love this comedy movie. Watch it before you head to the garden island and enjoy seeing all the places where scenes took place!