Are you thinking about booking a trip to Maui but don't know where to stay? Keep scrolling to find out whether to stay in Kaanapali vs Wailea plus our top picks for hotels and resorts in both locations.
This post about where to stay on Maui: Kaanapali vs Wailea was written by Hawaii travel expert Marcie Cheung and contains affiliate links which means if you purchase something from one of my affiliate links, I may earn a small commission that goes back into maintaining this blog.
Wondering if Wailea is better than Kaanapali for your family vacation?
I've got you covered! In this article, I'll compare and contrast the two locations so you can make the best decision for your family.
There's a big debate on which is the best place to stay, Kaanapali or Wailea. Keep reading for my breakdown of what each city has to offer.
Both areas have a lot to offer families, but there are some key distinctions that might make one area more appealing to you than the other. Keep reading to find out what they are.
Don't have time to read a bunch of Hawaii blog posts and reviews? Here are some of our top picks for visiting Maui.
Popular Maui Tours/Activities
Favorite Maui Resorts/Hotels
Andaz Maui (this is a luxury resort with the best luau on Maui)
Honua Kai Resort & Spa (this is one of our personal favorites because there are tons of pools and there are condo options)
Want to Rent a Car in Hawaii?
One of the best places to rent a car in Hawaii is Discount Hawaii Car Rental because they get the best rates from top national companies like Alamo, Dollar, Thrifty, Avis, Enterprise, Budget, and Payless.
Want to skip all the planning and just access my detailed Maui Itinerary complete with daily schedules, kid-friendly activities, and travel hacks? Click the button below.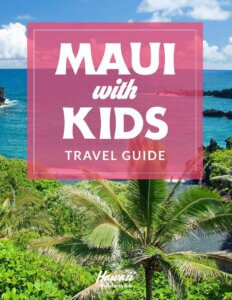 FAQ about Where to Stay in Maui
Should we split our vacation up and stay on both parts of the island?
If you have a longer vacation and you want to experience a luxury resort without breaking the bank, then it might be worth it. Stay at a resort for a few days and rent a more budget-friendly hotel in Kaanapali for the next few days. However, you have a shorter trip, I suggest you pick a location and stay there. It'll be more of a hassle to pack up and travel. Enjoy the attractions where you are and make the most of your vacation!
Why do people mostly stay at resorts when they visit Maui?
Most people stay at resorts during their Maui vacation because of all the amenities offered! A lot of the resorts offer kids' clubs, which are great for the kids and allow the parents to relax on their vacation. Kids often eat free and you'll often find activities set up on the grounds! Also, housekeeping is a plus for families who want to be on the go.
Is Oahu or Maui better for families?
It's hard to choose between Maui or Oahu. Stay on Maui if you want to relax by the pool or the beach and enjoy the ultimate island resort vacation. Oahu is a place with more touristy attractions like luaus, island tours, and shopping. The big historic locations are also on Oahu.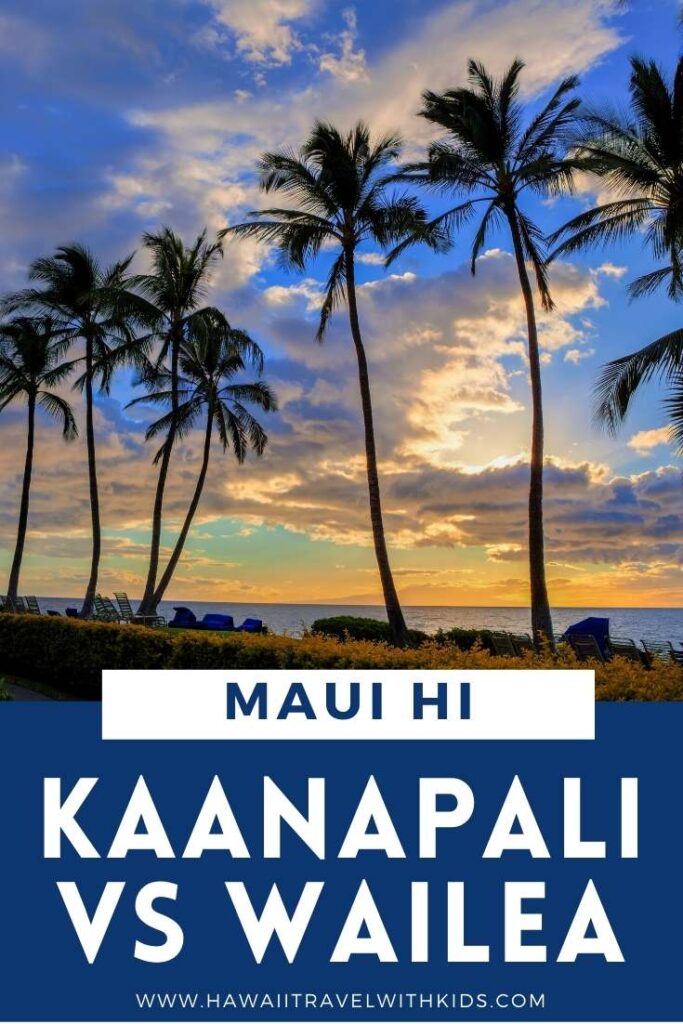 West Maui vs South Maui
When thinking about where to stay in Maui, people get stuck between 2 areas: Kaanapali on the west coast and Wailea on the southern coast.
Both are considered the best places to stay on Maui for families. Both offer beachside resorts and hotels geared towards families.
So, which is best for your family? It all depends on what kind of experience you're looking for. Both areas are the less remote, more tourist-friendly parts of the island.
Kaanapali
Kaanapali is the best part of Maui to stay in for touristy attractions and more affordable digs. Here you'll find resorts, hotels, bed and breakfasts, and rentals with a variety of price points.
It's also more densely populated with commercial attractions.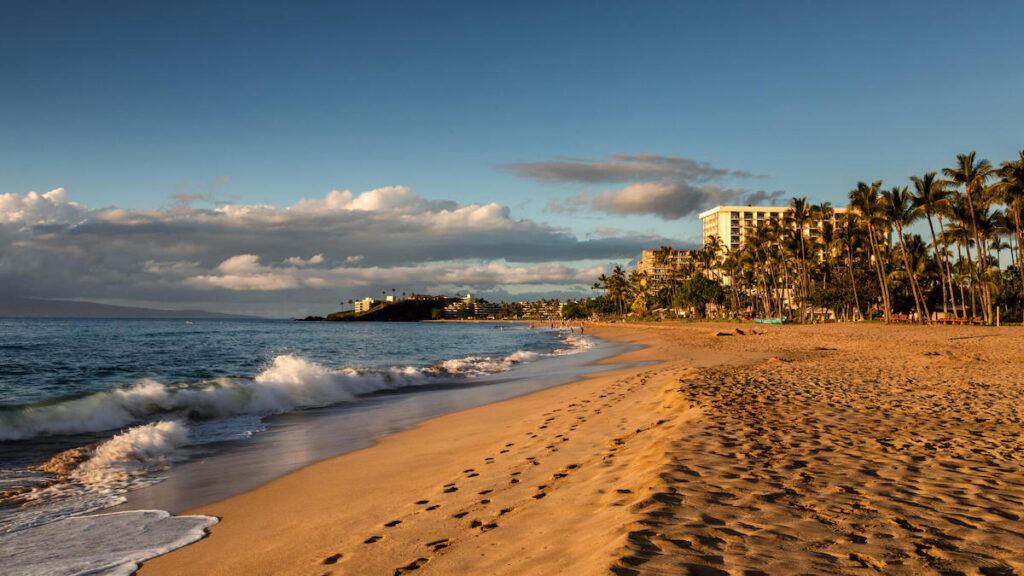 The downside is that this older, well-established area can get really crowded during the tourist season. Also, if you're renting a car, it can be hard to find parking. Kaanapali also has rainy winters.
Save Money with Points
Here are the best credit card offers for families who travel and want to use points to pay for airfare and hotels in Hawaii.
Wailea
Wailea is the best area of Maui to stay in if you're looking for high-end luxury resorts or vacation homes.
There's a relaxed atmosphere with spread-out resorts connected by a quiet walking path. Outside of golf courses and tennis clubs, the fun things to do in Wailea are at the resorts, but you'll find all kinds of activities available to you there.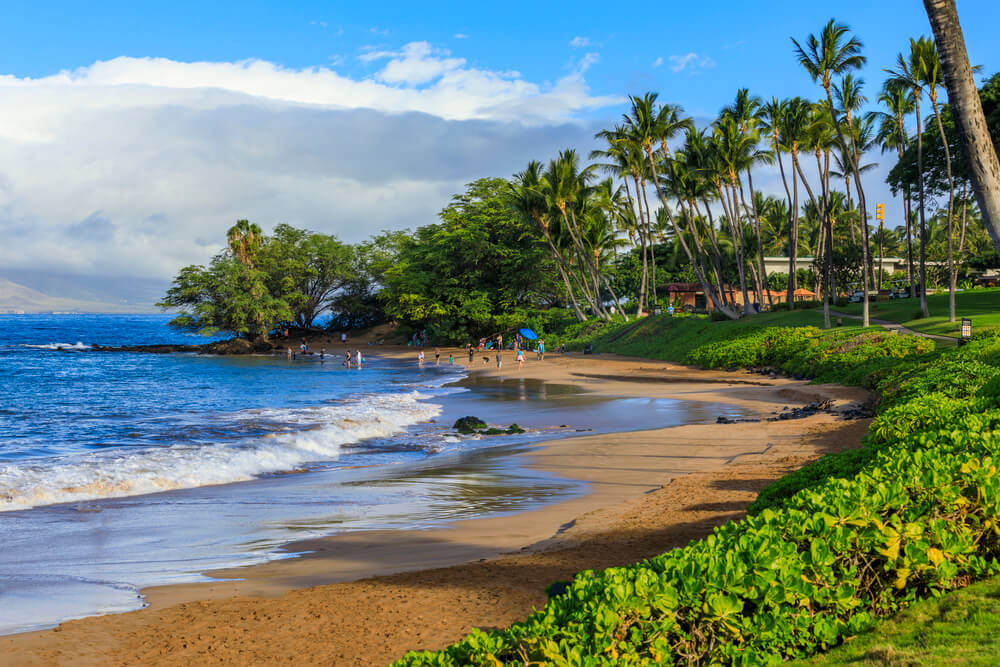 The downside to Wailea is that it can get crowded because there's less of everything. There's also not much to do outside the resorts besides go to the beach.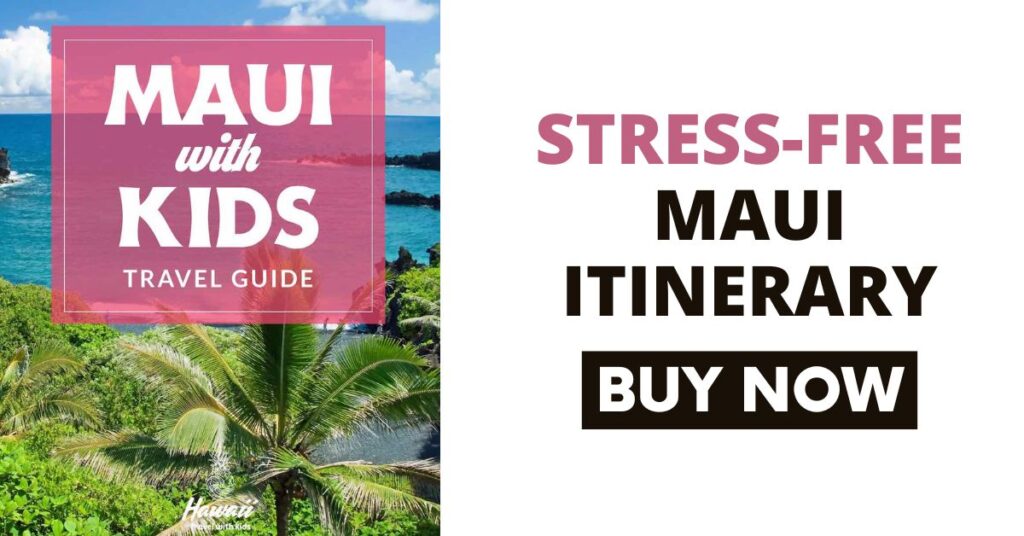 Kaanapali vs. Wailea: A Comparison
Now you have the basics on both, but which one will you choose? I'll compare some of the things you might want to know. This way you can decide what you think is the best side of Maui to stay on.
Weather
The weather on Maui varies depending on where you are on the island! Kaanapali is generally mild, staying between 60- and 85-degrees Fahrenheit, while Wailea stays between 70- and 85-degrees, even in the winter.
Also, winters in Kaanapali are rainier and cloudier than Wailea, which stays dry and sunny most of the year.
Travel Around the Island
Maui Airport to Wailea is about 30 minutes without traffic, compared to an hour's drive from Kaanapali.
In case you plan on dividing up your time in both places, you should know that Kaanapali to Wailea it's about a 50-minute drive without traffic.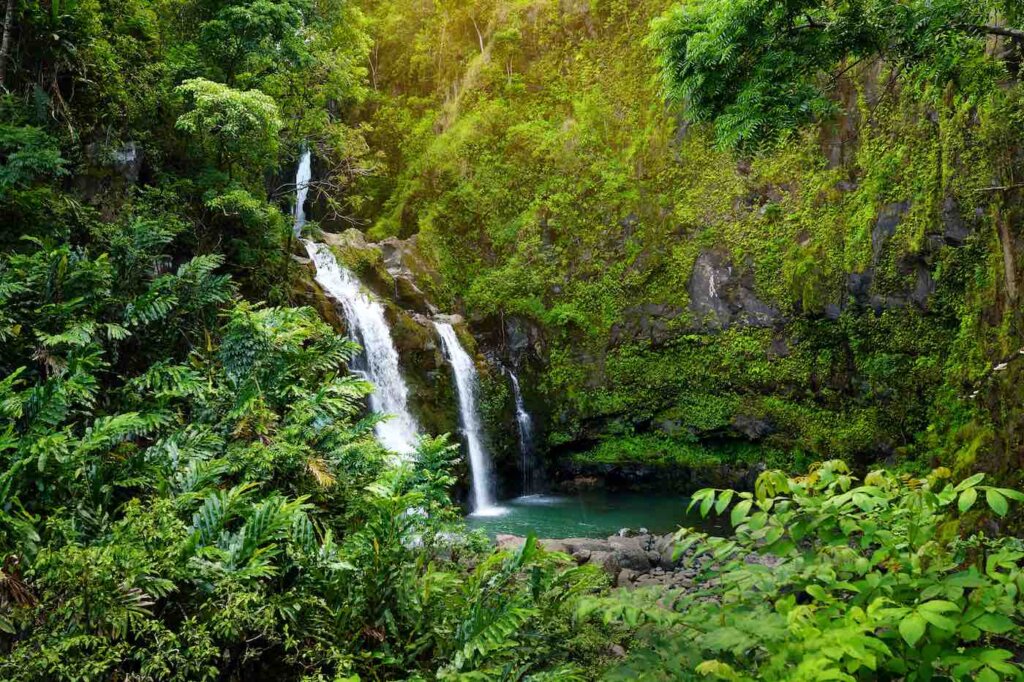 If you want to visit North Shore, Upcountry, or take the Road to Hana from Kaanapali, it's a 2-hour drive.
If you're staying in Kaanapali and don't want to commit to the Road to Hana, I recommend sticking to more local places like the Iao Needle and local hikes for outdoor adventures.
From Wailea, you also have to drive out of the way to get to these places, but you're about 30 minutes closer. You could rent a car in Wailea for the day if you decide you want to get out.
If you want to take the Road to Hana from Wailea or Kaanapali, I suggest looking into guided bus tours if you're nervous about the long drive.
Humpback Whales
Migrating humpback whales like to rest in the shallow Maui Nui Basin between Maui, Lanai, and Molokai. This makes Kaanapali the best part of Maui for whale watching. During whale season you can even see whales from the beach!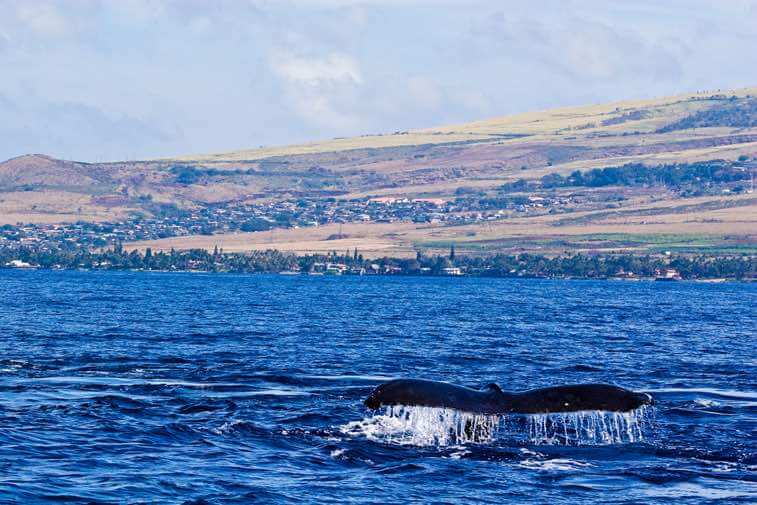 You might catch a glimpse of whales from Wailea, but it's less likely. Whale sighting boat tours launch from both Kaanapali and Wailea. You can read my full guide to whale watching on Maui.
Luaus
If you're looking for luaus in Kaanapali or Wailea, you can take your pick! The Old Lahaina Luau in Kaanapali/Lahaina and the Feast at Mokapu luau in Wailea Maui are considered the best of the best.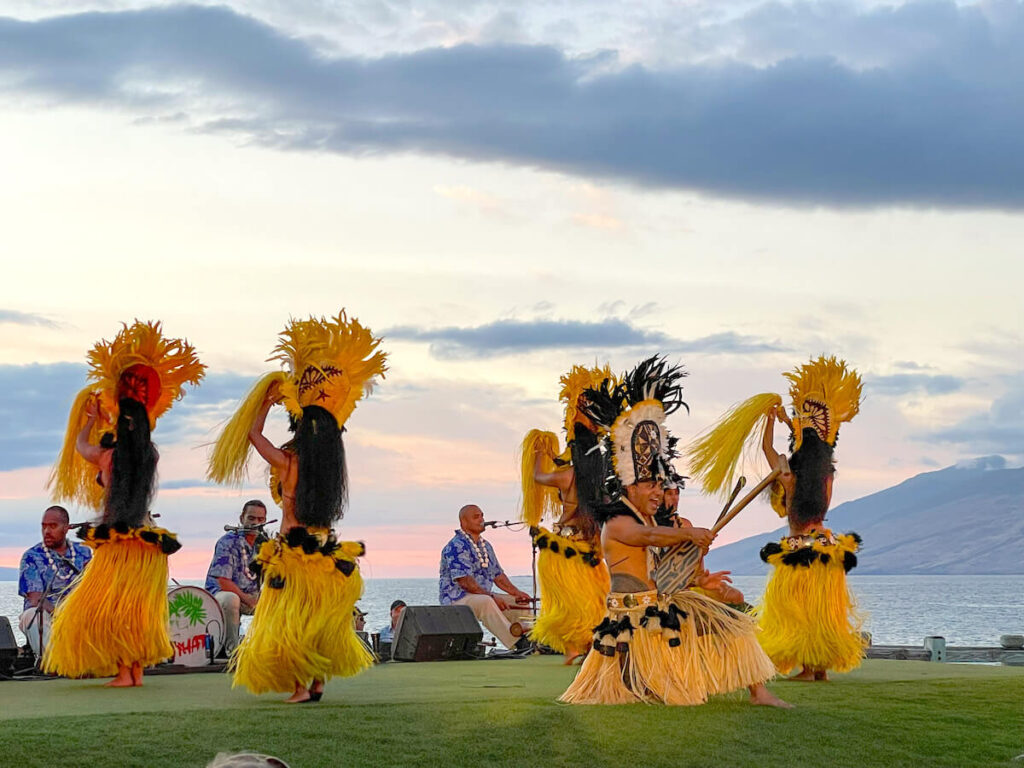 Most of the resorts in both Kaanapali and Wailea also host luaus, like the Maui Nui at the Sheraton Resort or the Myths of Maui at the Royal Lahaina Resort..
Book a Family Photo Shoot
Whenever we travel to Hawaii, we almost always book a family photo shoot with Flytographer. They are super easy, affordable, AND it guarantees that I'll be in some photos. You can get $25 off if you book through this link or use the code HAWAIITRAVEL.
Shopping
Kaanapali has everything from luxury shopping to souvenir shopping. Off Kaanapali Beach, there's Whaler's Village, a shopping center with all kinds of shops and attractions.
There's also Front Street in Lahaina with shops and restaurants with views of the water.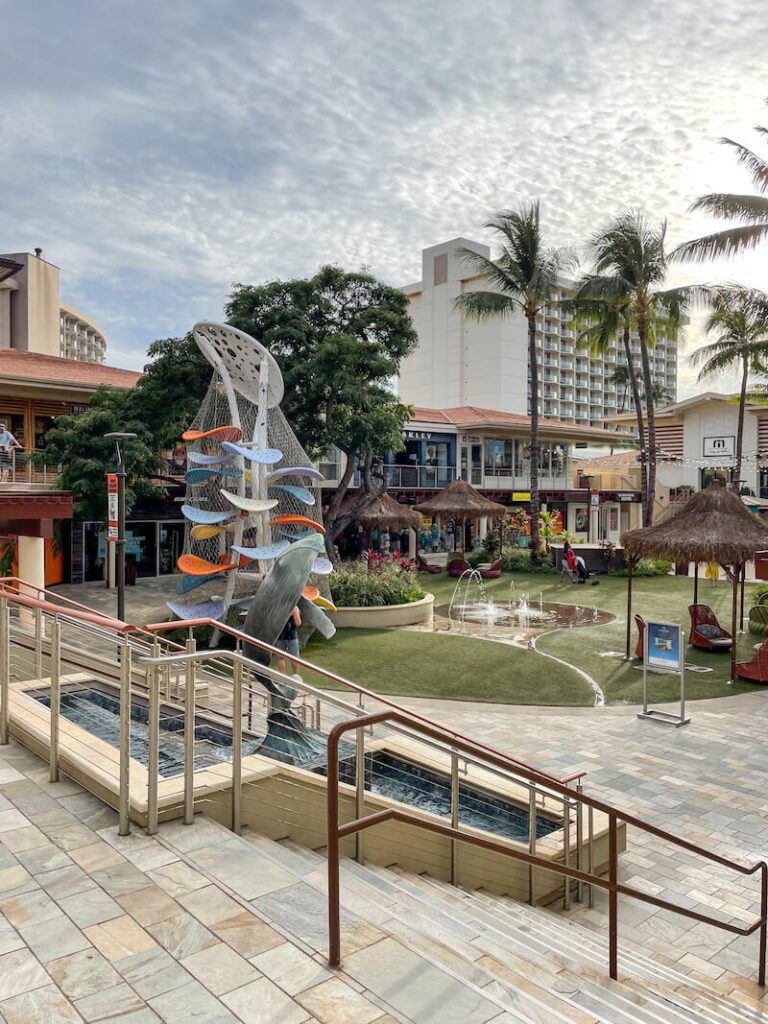 Wailea is the place for the ultimate luxury shopping experience. There are stores inside the resorts or there are The Shops at Wailea.
There you'll find stores like Tiffany & Co and Louis Vuitton. Besides this, you can find gimmicky touristy stores and hotel gift shops in Wailea.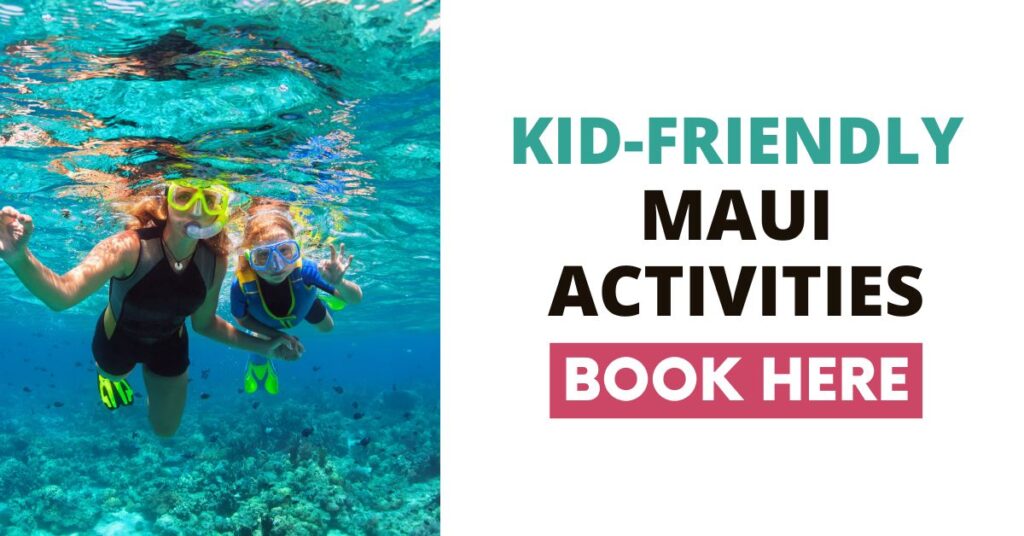 Where to Eat
With the focus of drawing in tourists from surrounding hotels, Kaanapali has restaurants for all pallettes and more of them. You'll find everything from fast-food stops and shave ice stands to your favorite family joints and white-linen restaurants.
Breakfast in Wailea will probably be at your resort. Besides the restaurants at your resort, you'll basically find 5-star restaurants and a few food trucks. It's worth driving up the road to Kihei for more food options.
For lunch in Wailea, it might be fun to take a stroll to the surrounding resorts and check out their restaurants. If you're renting a villa, you can find local grocers around to shop for your food in Wailea.
Check out our full guide to where to eat in Maui!
Kaanapali Beach vs. Wailea Beach
When it comes to beaches in Wailea and Kaanapali, both have great beaches near excellent amenities.
The famous Kaanapali Beach is where you'll find shops and restaurants and whale watching. Wailea Beach is safe for kids and you can take boat tours from there to the Molokini Crater off the coast.
Hiking
Hiking near Kaanapali and Wailea is sparse. You could go 4-miles south of Wailea to Makena State Park for a few miles of easy hiking trails near the beach.
If you're staying at either location, your best bet is to rent a car and head to the nature reserve areas.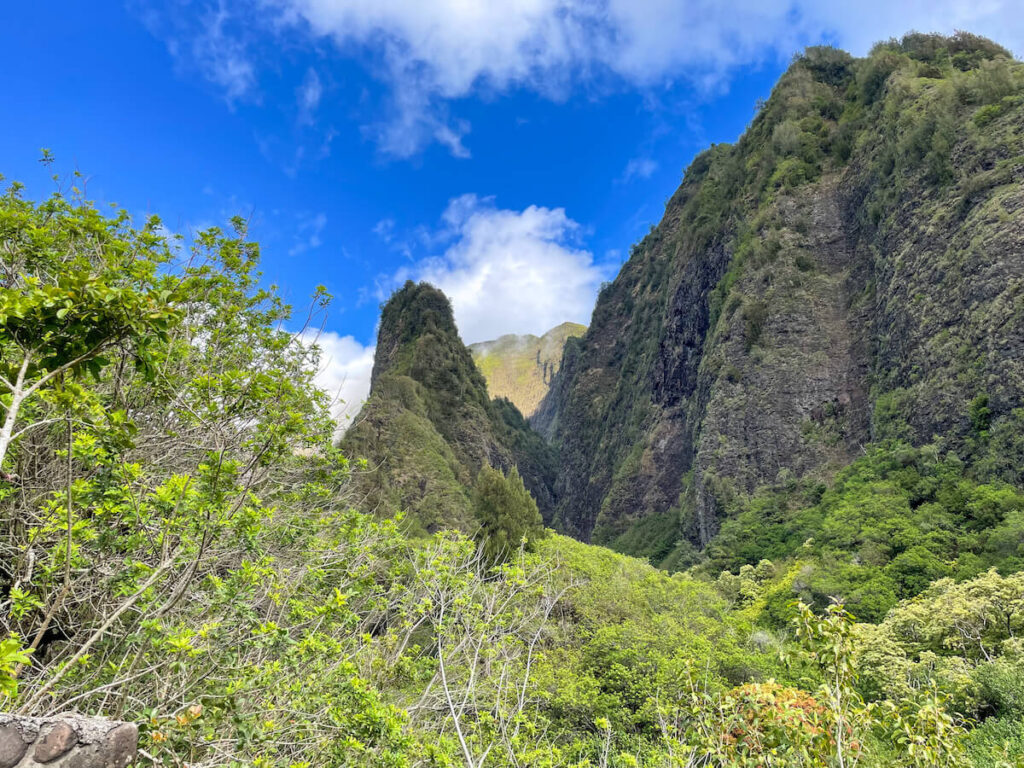 The I'ao Monument is the closest place to Kaanapali for great hiking with kids. It's about 45 minutes away, but it's a really nice place for an easy hike. Plus, there's a swimming hole there.
At both Kaanapali and Wailea, there's a paved walking path along the ocean that makes for a nice stroll. In Kaanapali, it's busier than in Wailea where it's isolated and connects the big resorts.
Where to Stay in Kaanapali
When you're thinking about where to stay in Maui, I have a few suggestions! While the best places to stay in Maui for families are both the south and west coast, Kaanapali has more variety.
Kaanapali Beach Hotel
This is my pick for where to stay in Maui on a budget. The Kaanapali Beach Hotel is a mid-range hotel. You'll find fewer amenities than the resorts, but it's still really nice and it's affordable. Choose from a variety of rooms and family suites.
It's steps away from Kaanapali Beach and a few minutes' walk from Whaler's Village. It also has activities open to kids of all ages to learn about Hawaiian history and culture.
Hyatt Regency Kaanapali
I love the Hyatt Regency for all the kids' activities available! There's no kids club, but you won't run out of things to do with the kids.
Check out the rooftop stargazing program or the Mermaid Swim Academy. Take a wildlife tour where you can see exotic birds that live at the resort, like cranes, penguins, and flamingos!
Your family can stay in your choice of stunning, spacious rooms or suites. Don't forget to stop by the Ululani shave ice stand or book a table at the popular Drums of the Pacific Luau.
Staying in Wailea, Maui
Wailea is where to stay in Maui with family if you are looking for high-end resorts with the works! There are other boutique resorts and hotels in the area and some adult-only (16-years and up) places. This is also the best place to stay in Maui for couples.
Four Seasons Maui at Wailea
The Four Seasons is a high-end luxury resort in every way you can think of. Here you'll find the quality service you'd expect.
It's the kind of place where the concierge remembers your first name, and pool attendants come around with Evian spritz to keep you cool! Plus, cabanas are complimentary.
Besides designer rooms and suites, there's a game room, lawn games, and a putting green.
The Four Seasons kids club runs from 9 am to 5 pm for children ages 5 to 12, and it's complimentary with your stay. Check the latest rates and more information.
Fairmont Kea Lani
In Wailea terms, the Fairmont Kea Lani is one of the more affordable places to stay. They offer spacious rooms and villas for your family. This stunning upscale resort and spa is on quiet Polo Beach. Check the latest rates and more information.
There's a complimentary kid club for ages 5-12. Besides that, there are endless kid-friendly activities, lawn games, and activity rooms.
You can enjoy kid pools with waterslides and sunscreen is complimentary. Plus, kids under 5 eat free at the hotel restaurant with discounts for kids 5-12.
Tips for Deciding the Best Location to Stay in Maui
If you don't want to rent a car, this may influence the best area to stay on Maui for your family. Think about what you want to do and what kind of place you want to stay.
If you plan on enjoying your resort, Wailea is for you. You can get around Kaanapali without a car as well but plan on booking a shuttle to and from the airport.
Keep in mind that a lot of popular things to do in Maui are a distance from both Wailea and Kaanapali. Some of my family's favorite attractions are the Maui Pineapple Tour in Upcountry and the Maui Ocean Center in Maalaea. Even the Iao Needle, is a drive from both areas.
When you're looking for the best place to stay in Maui, Hawaii, consider when you're going.
If you want to stay at a luxury resort but you're not sure if it's in your budget, check prices during the spring or fall. This is the off-season in Maui when there are fewer tourists in the area. Hotels and resorts often offer discounted rates during the off-season.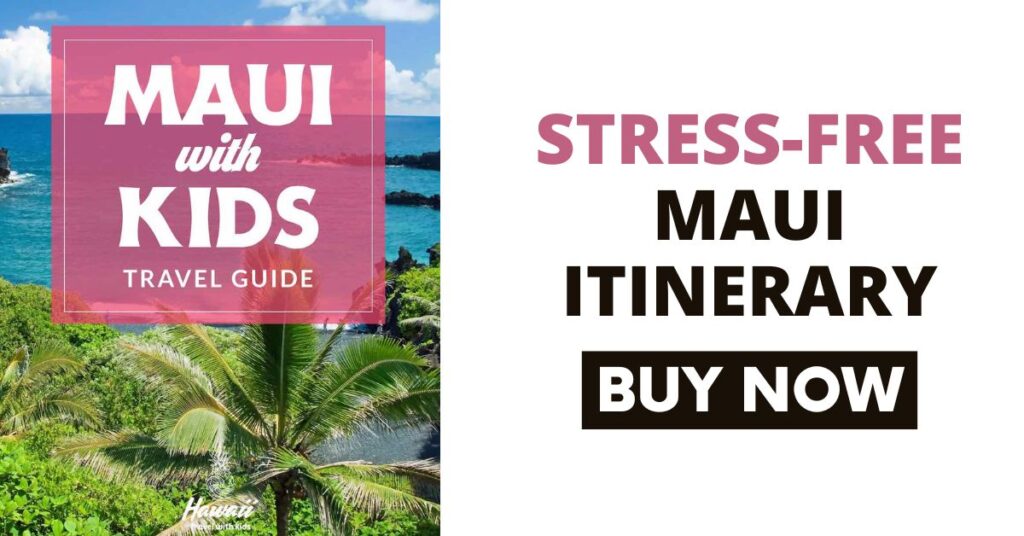 So, Where's the Best Place to Stay in Maui?
The answer to where to stay in Maui is all about you and your family! If you're looking for a relaxing high-end resort and spa experience, check out Wailea.
On the other hand, Kaanapali is the place if you're looking for tourist attractions, shopping, and whale sightings! Both locations will give you stunning views of the Hawaiian sunset.
Do you agree with my list? For more on where to stay in Maui, check out more of the Best Areas to Stay on Maui!