Are you thinking about booking a trip to Maui but don't want to stay in a hotel? Keep scrolling to find out some of the most amazing Maui cottages for rent that are worth checking out.
This list of Maui cottages for rent in Hawaii was written by Hawaii travel expert Marcie Cheung and contains affiliate links which means if you purchase something from one of my affiliate links, I may earn a small commission that goes back into maintaining this blog.
You can find absolutely charming Maui cottages for rent! Renting a cottage in the Hawaiian Islands offers your family lots of benefits.
First, renting a cottage is a great way to save a little money if you have your heart set on booking a vacation rental. Cottages tend to be cheaper than larger homes, villas, resorts, or hotels.
Staying in a cottage also offers you more privacy than if you stayed at a hotel or resort. You can spread out and cook your own meals. And an island cottage is the perfect setting for your family to experience the laid-back, easy-going culture of Maui!
I'll share with you my top picks for cottages in every popular region of Maui. So, if you are looking for the perfect Maui cottage for rent, keep reading.
Don't have time to read a bunch of Hawaii blog posts and reviews? Here are some of our top picks for visiting Maui.
Popular Maui Tours/Activities
Favorite Maui Resorts/Hotels
Andaz Maui (this is a luxury resort with the best luau on Maui)
Honua Kai Resort & Spa (this is one of our personal favorites because there are tons of pools and there are condo options)
Want to Rent a Car in Hawaii?
One of the best places to rent a car in Hawaii is Discount Hawaii Car Rental because they get the best rates from top national companies like Alamo, Dollar, Thrifty, Avis, Enterprise, Budget, and Payless.
Want to skip all the planning and just access my detailed Maui Itinerary complete with daily schedules, kid-friendly activities, and travel hacks? Click the button below.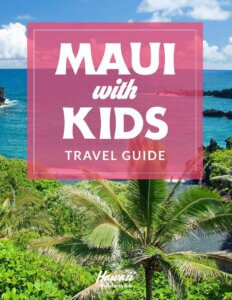 FAQ About Maui Cottages for Rent
What is a cottage?
Different cultures have different understandings of what a cottage is. Generally, a cottage is a small house in the countryside. Think of the sugar plantain culture of Hawaii. You might also find Maui cabins for rent, as well as bungalows. There are usually little to no differences between these types of rentals and cottages, beyond slight style differences in the houses.
What is the nicest area to stay in Maui?
Maui has so many nice places to stay that it really depends on your taste! Kihei and Wailea in South Maui are the most popular tourist areas for families. For high-end resorts and luxury experiences, look in Kaanapali and the rest of West Maui. The Hana Highway is the place for outdoorsy families.
What part of Maui has the most to do?
For outdoor excursions, the Road to Hana and Upcountry is your best bet. But West Maui and South Maui are really set up with attractions and amenities for visitors. There you'll find restaurants, luaus, beaches, water sports, whale watching, gardens, and more.
How many days do you need in Maui?
If you have just 5 days to visit Maui, this is certainly doable. However, if you have the opportunity to spend 7 to 10 days on the island, it's worth your while! There are so many different things to do that you won't want to skip out on.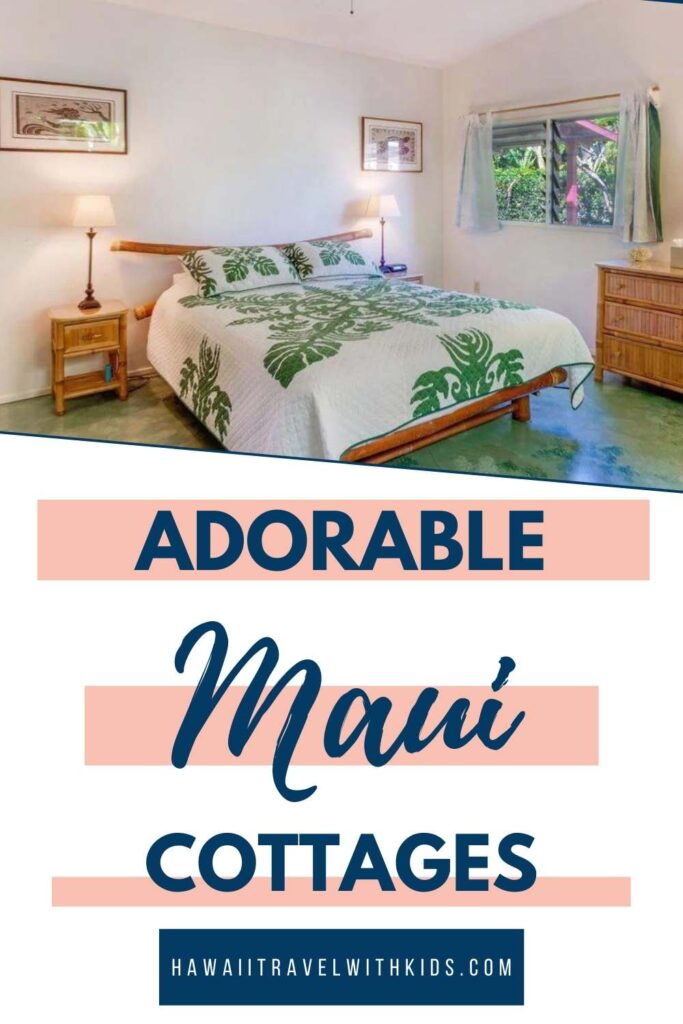 Where to Find Cottages in Maui
You can find Maui cottages for rent in some of the major regions of the island. Where you stay will mostly determine what's immediately accessible to you. Location can also affect the cost of your cottage rental.
West Maui
Stay in the resort towns of Kaanapali, Lahaina, and Kapalua if you prefer the royal treatment. Kapalua is more laid back than the other 2 locations.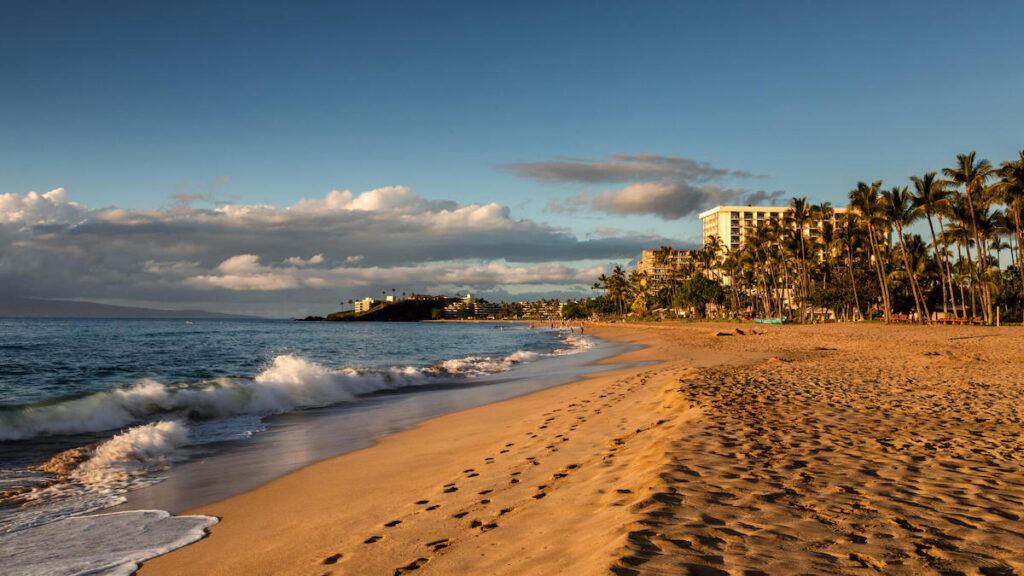 At all 3, you'll be within walking distance of malls, restaurants, golf clubs, water sports, and more. There aren't as many Maui cottages on the beach, but you can find a few at a surprisingly low rate!
South Maui
Kihei and Wailea are the main cities in South Maui for visiting families. Wailea is higher-end than the touristy Kihei.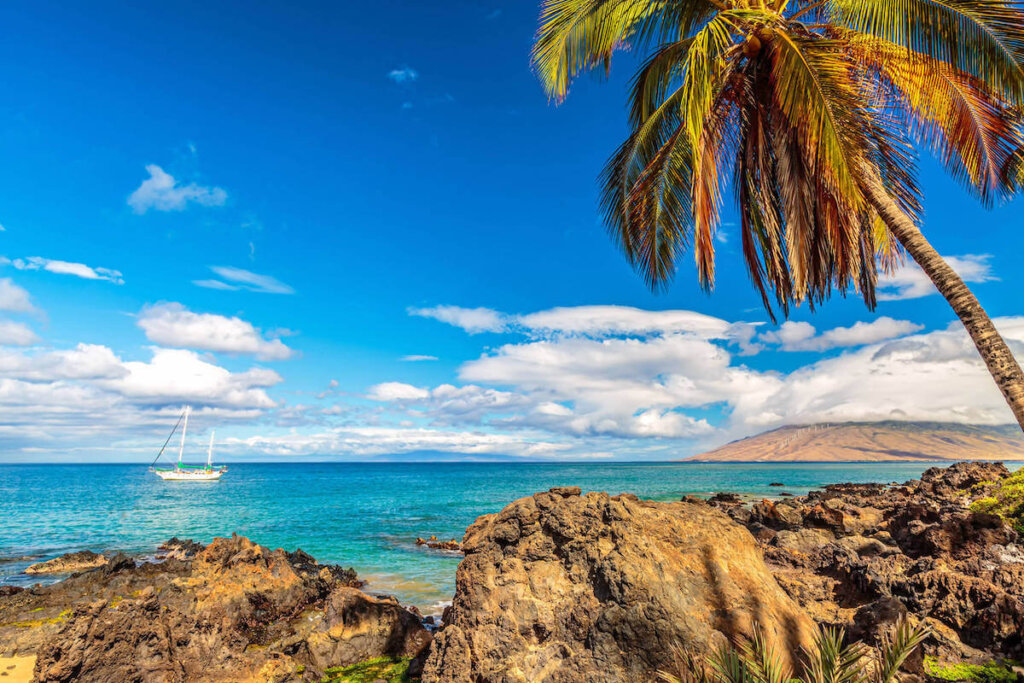 Like West Maui, this is the place for beaches and resorts. Stay in South Maui for family-friendly attractions and a few more inland cottages.
The Hana Highway
For the laid-back island experience, consider Maui cottages for rent along the Hana Highway and in Hana itself. Enjoy a quiet house in the forest or on the beach.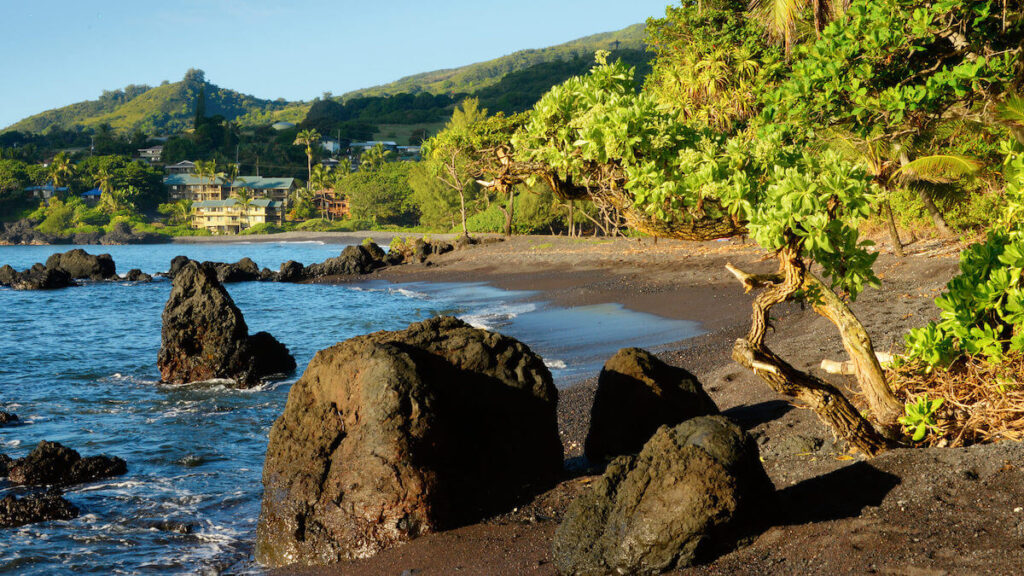 If you stay here you'll probably go on hikes, swim under a waterfall, or explore local villages on the northern shore.
My Picks for The Best Maui Cottages for Rent
Check out these adorable cozy Maui cottages for rent. I've divided the listing by region so you can choose the location you prefer!
Best Kaanapali Cottage Rentals
A family of 5 can stay at this 2-bedroom cottage minutes away from all of the best parts of Kaanapali Town!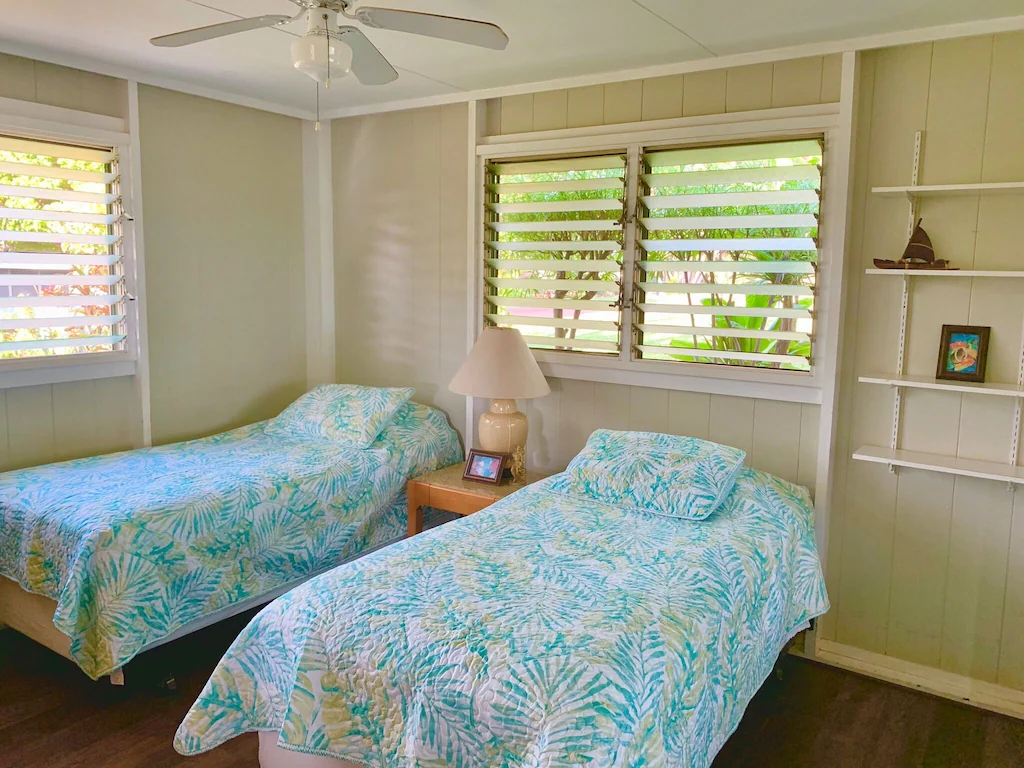 You're a short walk to Black Rock Beach, Kaanapali Beach, Whalers Village Shopping Center, excellent restaurants, and more. Check the latest rates and more information.
Your family can sleep on a Queen-sized bed, 2 Twin-sized beds, and a double pullout sofa. There are 2 full showers, 2 outdoor dining areas, and a bright and breezy common area!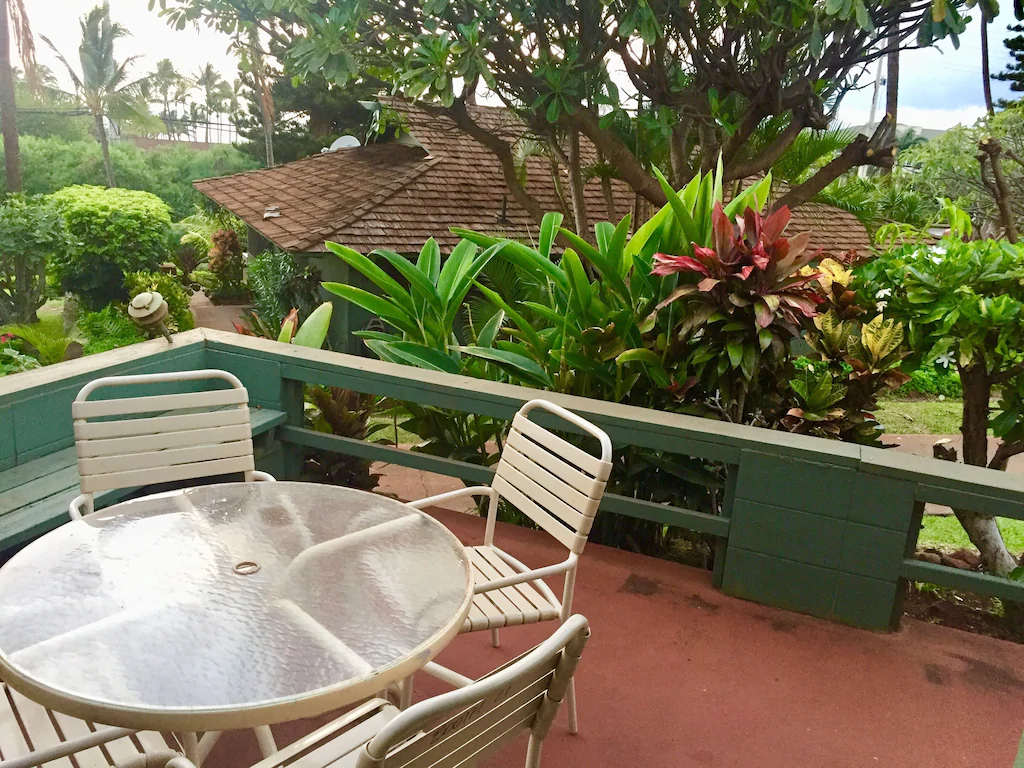 When you rent this house, you have access to the community pools, or you can hang out in the cottage garden. There are also housekeeping services available upon inquiry.
At this stunning plantation-style cottage, you can stay at the International Colony Club. This small community is just across the road from the Myths of Maui Luau and the famous Kaanapali Beach.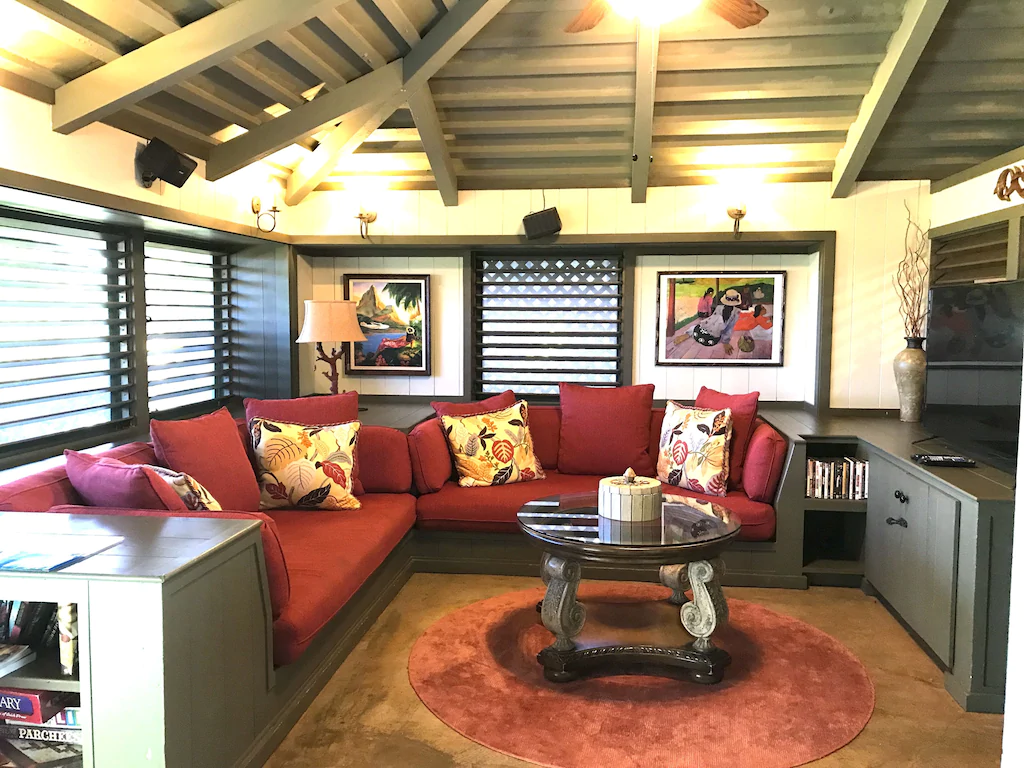 Take advantage of 2 pools in the community. You can also use the complimentary beach towels and chairs, bringing them to 1 of the 3 beaches within walking distance!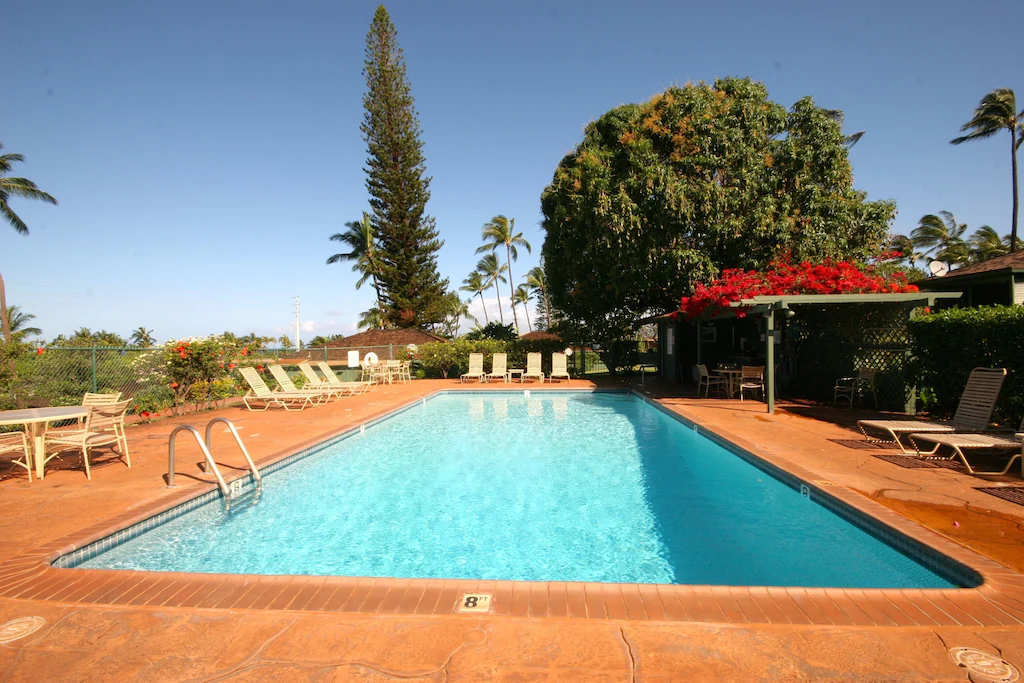 You can enjoy an elevated cottage experience at Dolphin Cottage with stunning modern interiors, slot windows, and a spacious lanai dining area. Check the latest rates and availability.
There are 2 Queen-sized beds and a large pullout sofa, as well as beautiful modern art all over the house.
Best Wailea-Kihei Cottage Rentals
Relax in a quiet residential area of Wailea and enjoy this modern beachy cottage. Share a room with a Twin-size and Double bed or stay in the main bedroom on a Queen-size bed.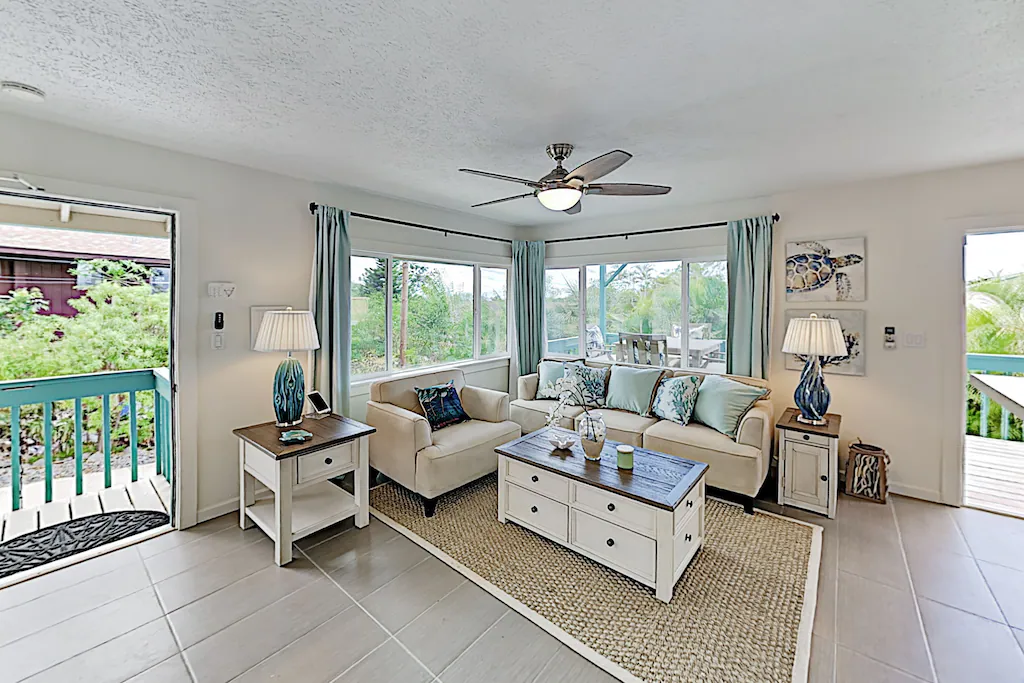 There's central air and an outdoor dining area on the porch. Plus, the host includes toys for the little ones! Check the latest rates and availablity.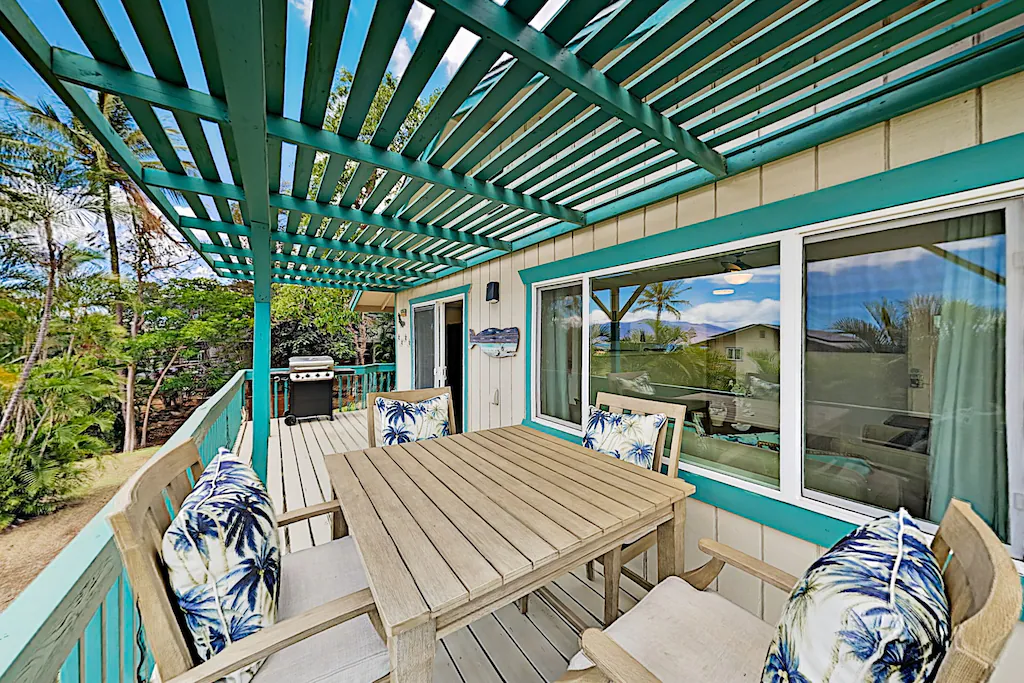 Guests can also take complimentary beach chairs and umbrellas less than 2-miles to Ulua Beach or Keawakapu Beach.
The popular Shops at Wailea are just a short distance away, as is the famous Te Au Moana luau.
Take a deep breath in this relaxing Polynesian pole cottage in Wailea. You have a full acre all to yourself with manicured lawns and gardens.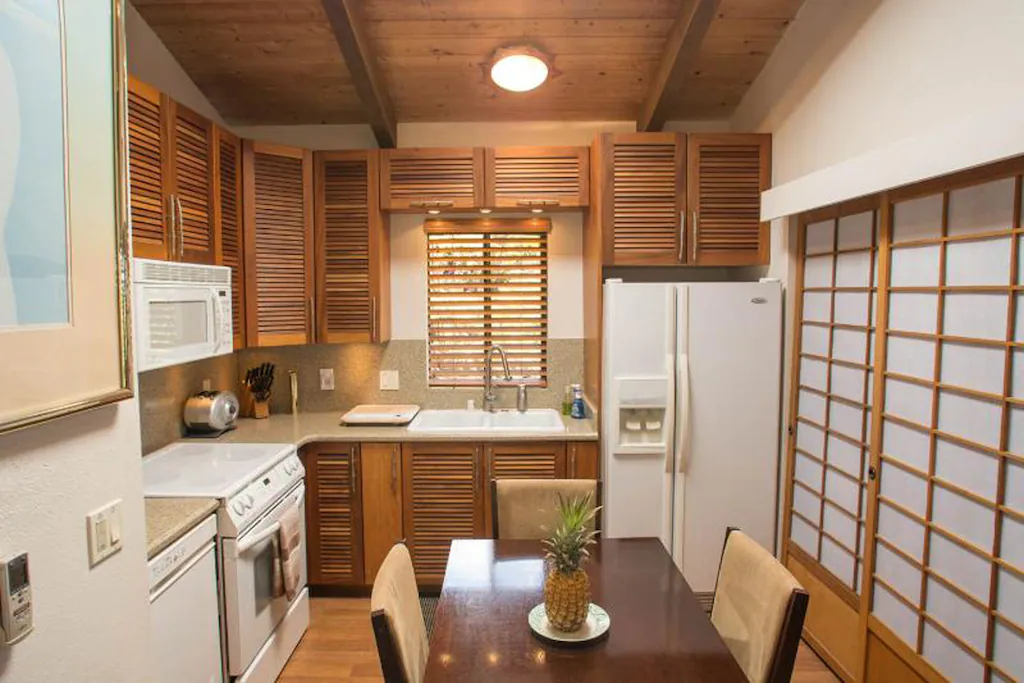 There's plenty of parking, and views of the town from the spacious lanai that wraps the Rainbow Deluxe Cottage. Inside are 2 bedrooms and 2 baths. Check the latest rates and availability.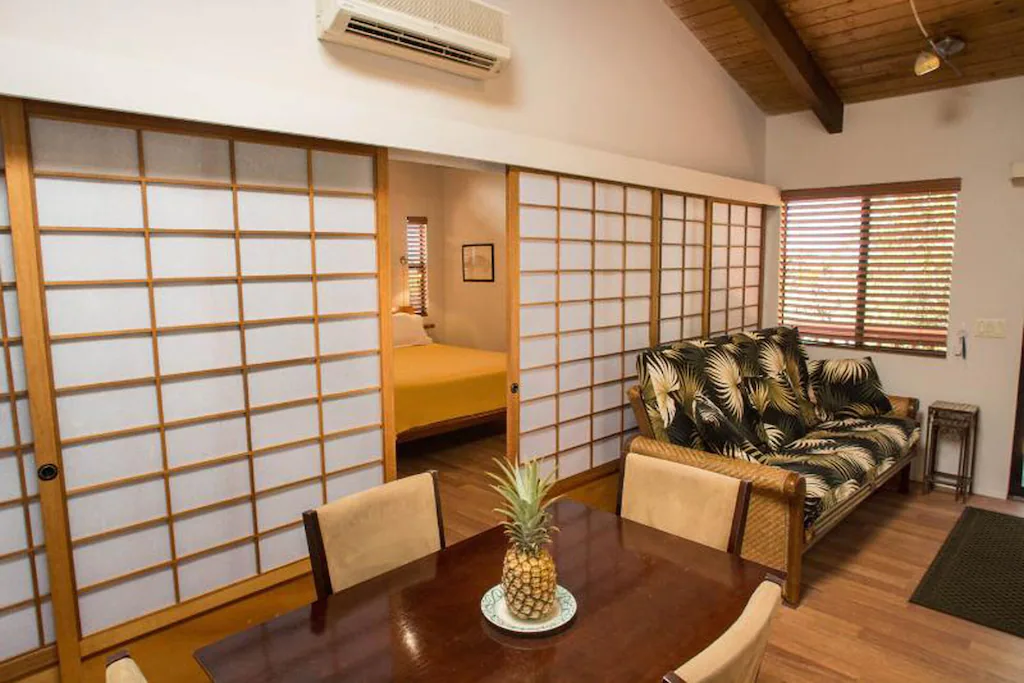 Enjoy kids' books and all kinds of beach and water sports equipment. To the east are all the local attractions in the Wailea resort area, like golf courses, shopping, beaches, and restaurants. To the west is the base of Mt. Haleakala.
Best Paia Cottage Rentals
Next on my list of Maui cottages for rent is this beautiful home just outside of Paia Town on the Road to Hana.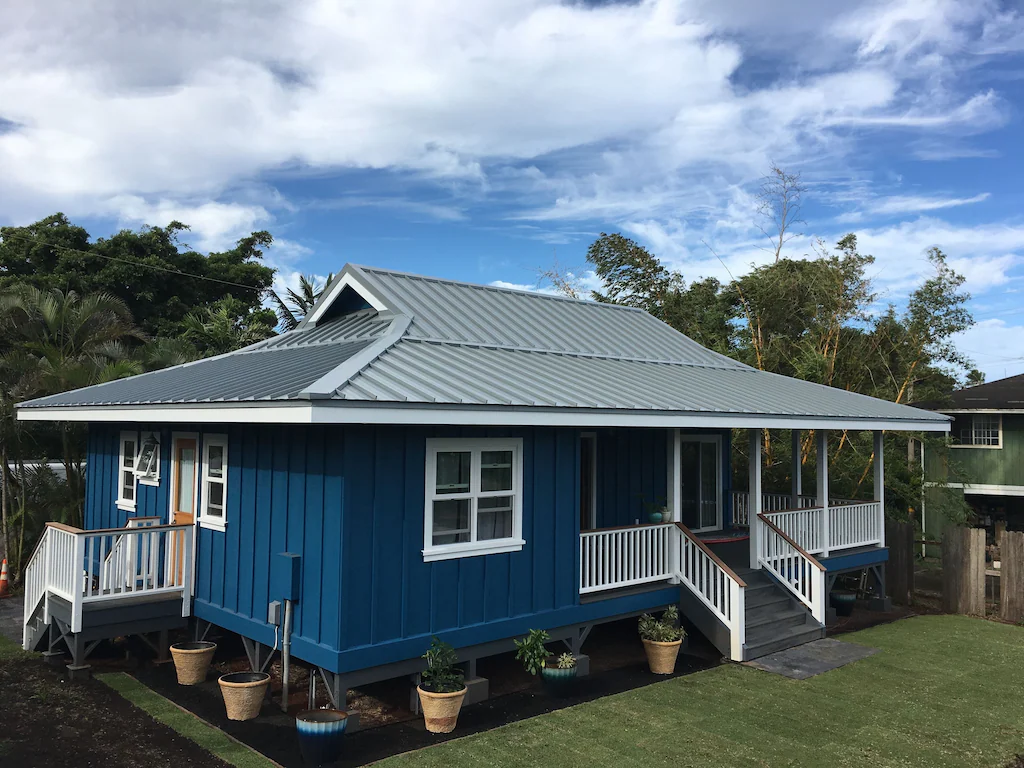 It's a block from Ku'au Bay Beach with access to all the local shops and food stops. But when you want to take it easy, you're on the quiet North Shore! Check the latest rates and availability.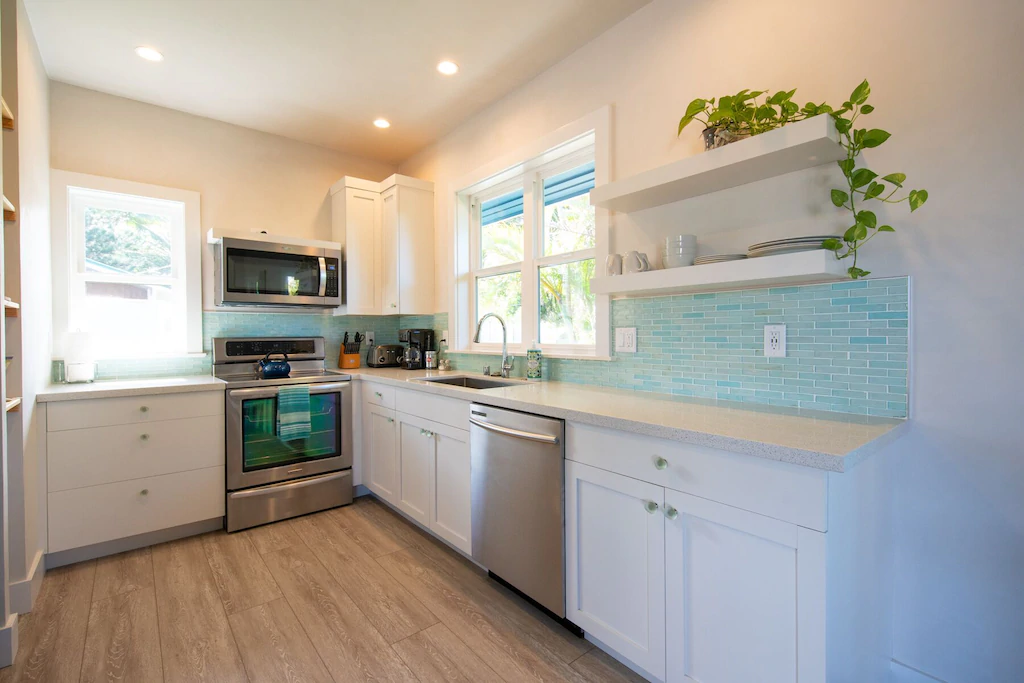 Your family will love the crisp, clean interiors of this small cottage in shades of white and blue. It has a spacious lanai with outdoor dining, 2 walk-in showers, and also an outdoor shower for rinsing off after beach days.
Both bedrooms feature Queen-size beds, and the rooms open up directly to the lanai. Plus, the host provides a travel crib and games for the kids.
When it comes to Maui beach cottages for rent, this is as close as you'll get! Walk down to the famous Mama's Fish House or go straight to the beach.
Paia's a mile east on the Hana Highway. Or you can head a mile west for Hookipa Beach, which is a popular spot for windsurfing or turtle sighting!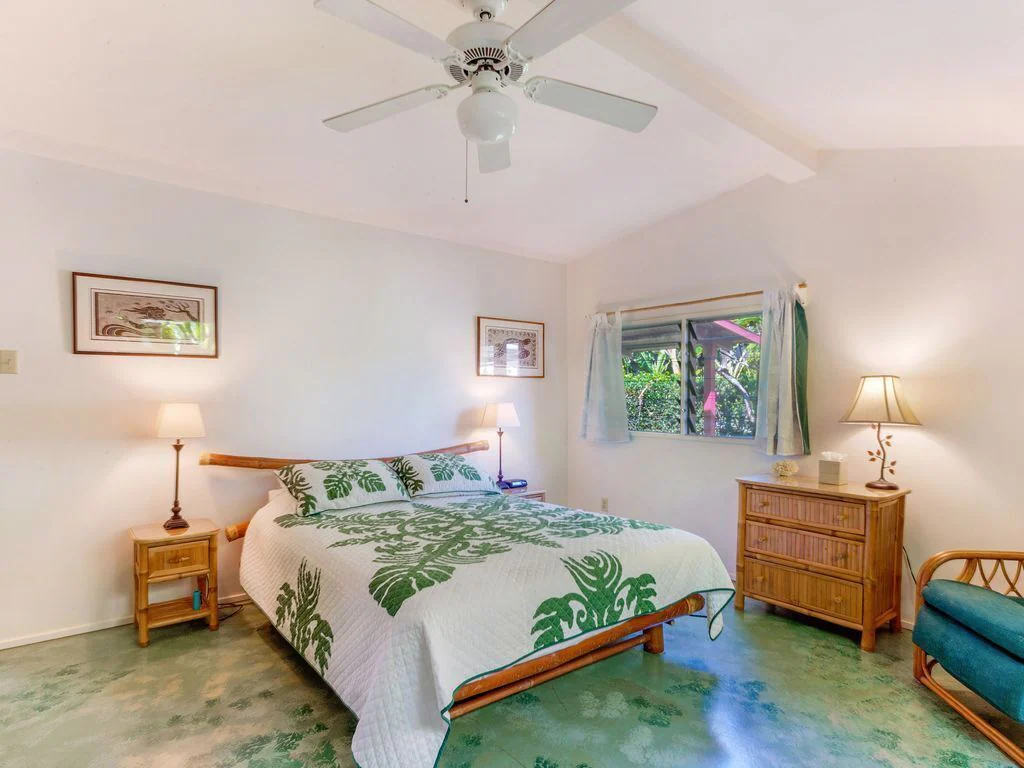 Menehune Cottage has 1 bathroom, an outdoor shower, and 2 bedrooms with Queen-size beds. Check the latest rates and availability.
The whole apartment is bright and feels like a surfer's getaway with teakwood furniture and colorful accents. Lounge on pillows in the living room or BBQ on the back porch.
Best Hana Cottages for Rent
The Star Honeymoon Hideaway is part of a collection of cottages on the Huelo Peninsula. While it's not in Hana Town, it's on the Road to Hana, a little less than halfway between Paia and Hana.
Your little family can enjoy a chill, isolated bungalow on a coconut grove by the ocean. Check the latest rates and more information.
While there's only one spacious loft bedroom, there's also a futon in the main room for the kids. And the host provides a travel crib. If you want a massage or private chef services they're available upon request.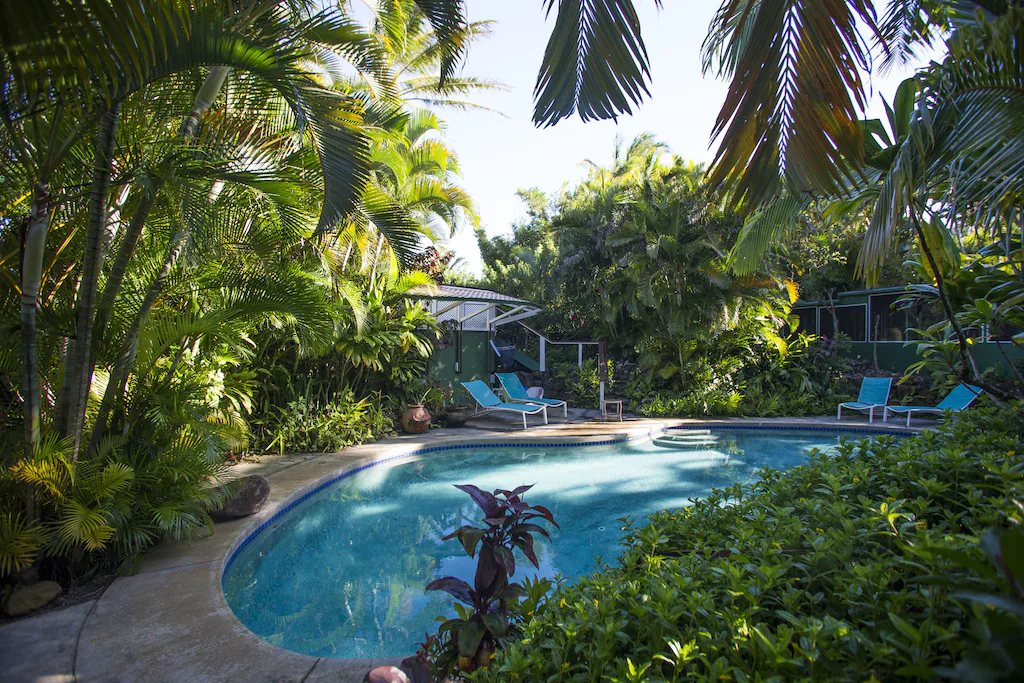 This adorable little getaway is perfect for the ones that want to retreat from the world.
Look out a window and you're met with tropical plants and flowers peaking back at you! Take a soak in the jetted hot tub outside or enjoy the beach chairs and hammock in the grassy backyard.
Just before you reach Hana, turn off the highway and onto Alalele Place. You'll drive through a tropical flower and fruit tree farm as you head to your little cottage in the woods. This is Tradewinds Cottage, and it's perfect for a family of 4.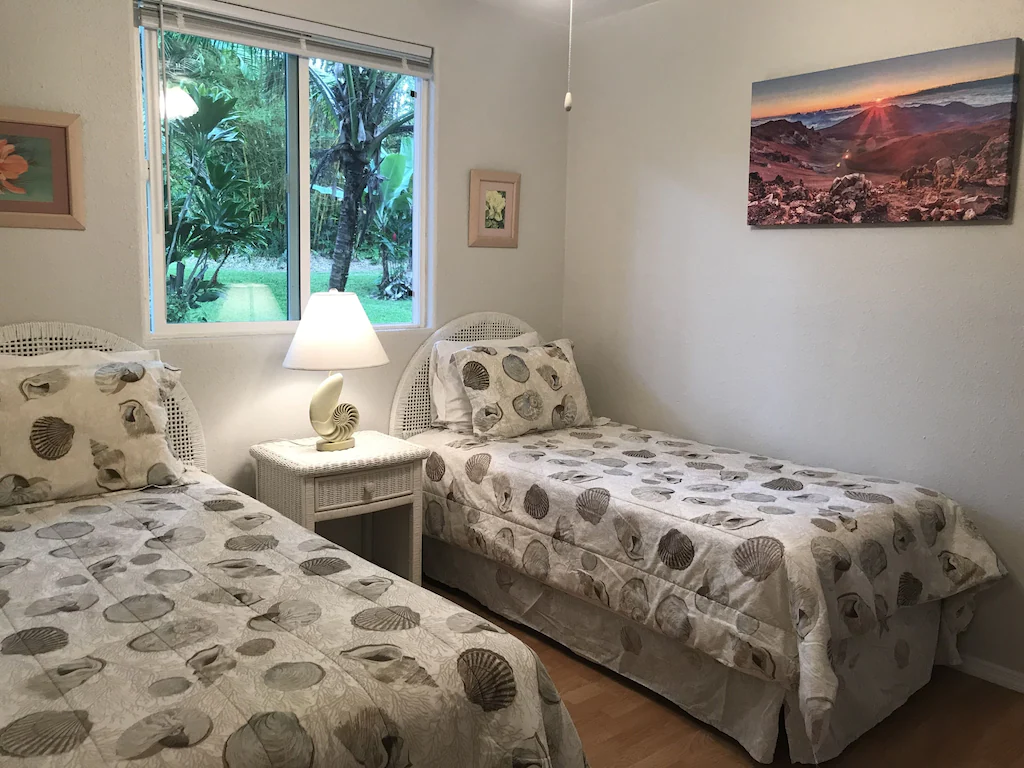 The cottage has 1 bath and 2 bedrooms with a Queen- and 2 Twin-size beds. Cook in the modern kitchen and dine inside or eat on the lanai while you take in mountain views. Check the latest rates and availability.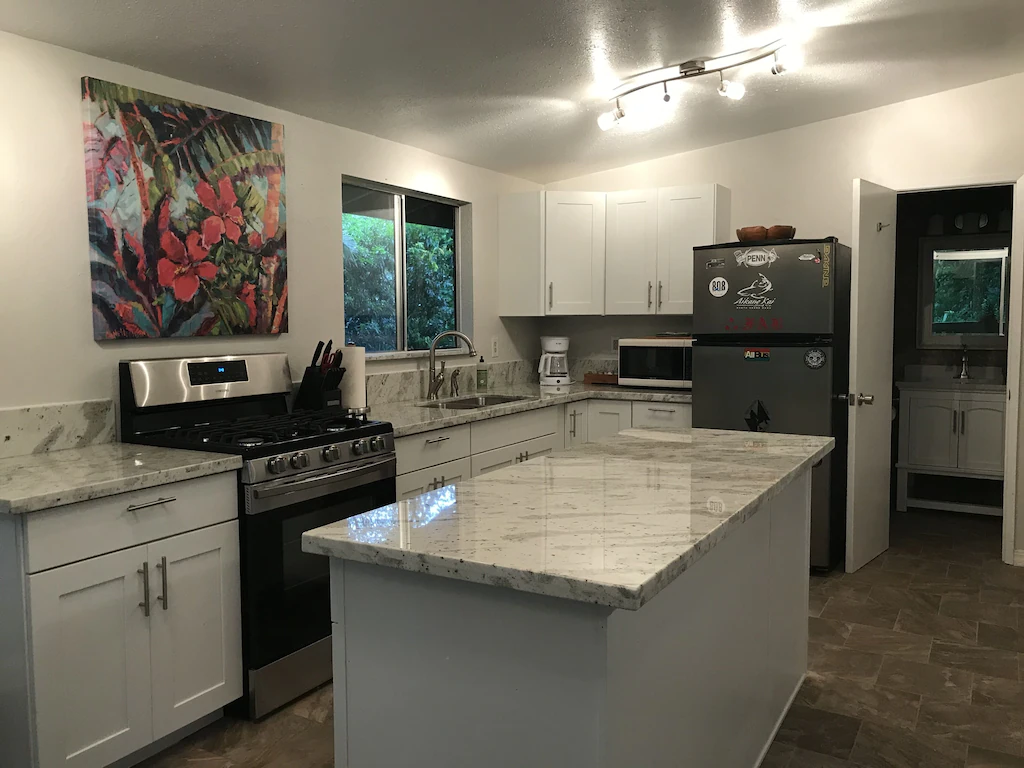 When you want to venture off the rental property, you're not far from Waiʻānapanapa State Park, the famous Black Sand Beach. Hana is less than 10 minutes away with restaurants, shops, and historical sites.
Last on my list of Maui cottages for rent is the quaint and quiet Hale Nanea, run by Hana Paradise Cottages.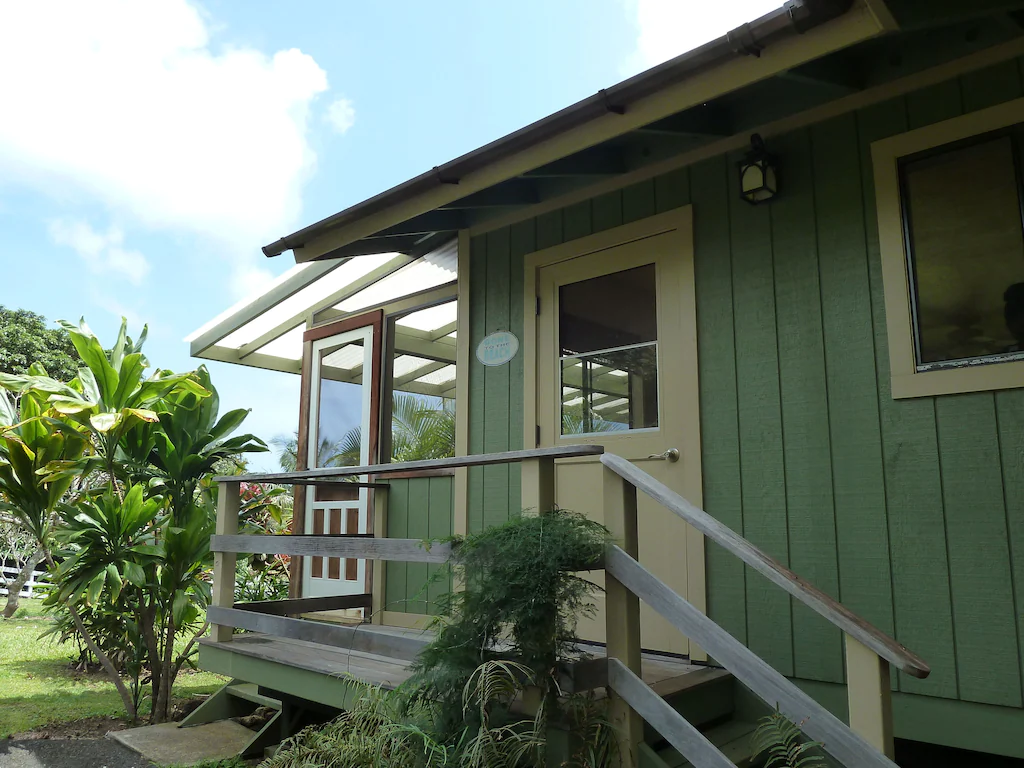 Enjoy fruit tree groves, tropical flowers, and ocean views a convenient half-mile on the other side of the town of Hana. You're also close to Koki Beach and Hamoa Beach, both of which are perfect sandy swimming beaches.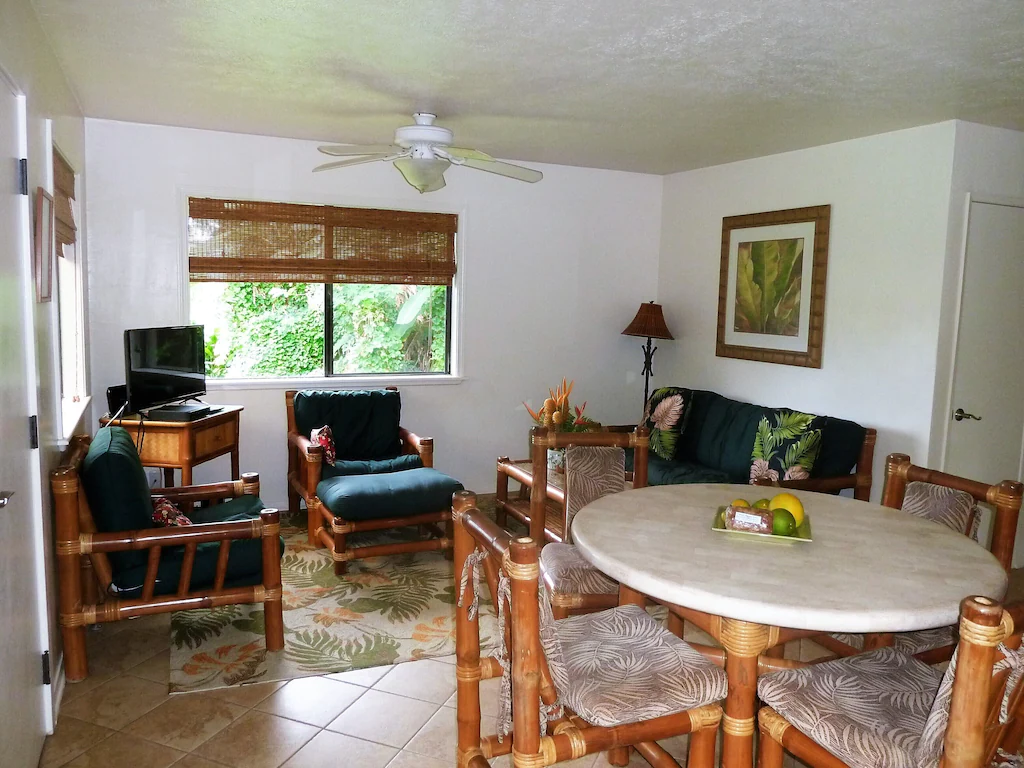 A family of 4 can comfortably stay in the 2-bedroom, 1-bath cottage set on sprawling grassy lawns. Check the latest rates and more information.
Inside, wide modern windows present the serene ocean and forest views. And the entire apartment is outfitted with custom Bali-style teakwood furniture and fabrics.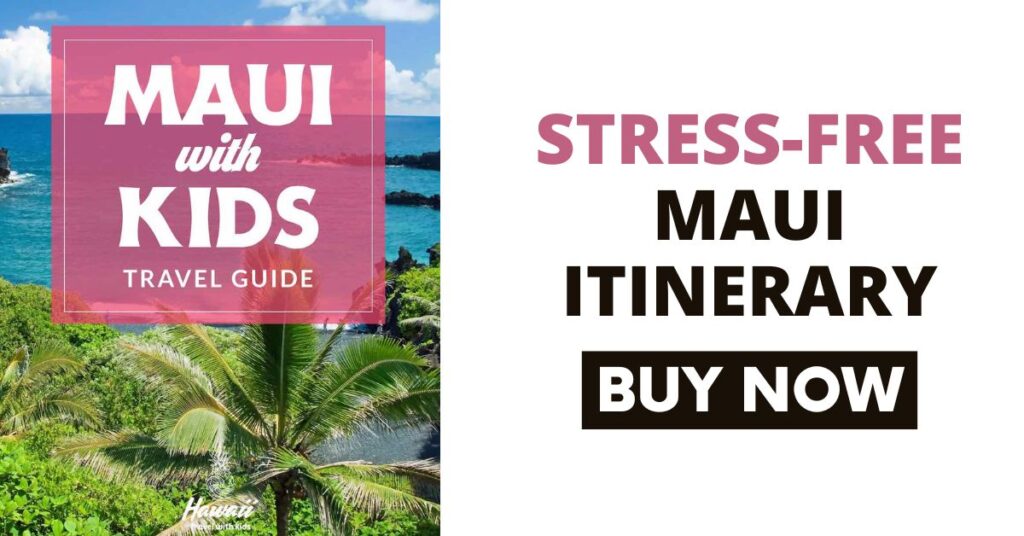 Final Thoughts on Cottages in Maui
There are some gorgeous little Maui cottages for rent. Many of them give you the same locale as the more expensive and crowded resorts and hotels. The difference is the price tag and the privacy you get with your own family cottage.
But that's not the only plus with renting a cottage in Maui! You can immerse yourself in village life or find getaways in coconut groves and on flower farms.
Book a bungalow along coastlines or next to the fairways and luxury shopping. Enjoy your Hawaii vacation your way, with the perfect island cottage for your family!