Are you thinking about booking a trip to Maui? Keep scrolling to find out the best Maui luxury vacation rentals that are perfect for families.
This list of the best Maui luxury vacation rentals was written by Hawaii travel expert Marcie Cheung and contains affiliate links which means if you purchase something from one of my affiliate links, I may earn a small commission that goes back into maintaining this blog.
You can find amazing Maui luxury vacation rentals for your family vacation. What you'll find and where all depends on what kind of experience you want in Maui!
Enjoying luxury vacation rentals is a great way to go for an island vacation. You get the space and privacy of home with all the high-end accommodations that you would expect at a resort.
For a genuine island experience with all the trimmings, Maui luxury home rentals are a great choice.
With 25 years of experience traveling to the Hawaiian Islands with my family, I feel confident giving you my suggestions.
So, keep reading for my top picks for luxury vacation rentals in Maui!
Don't have time to read a bunch of Hawaii blog posts and reviews? Here are some of our top picks for visiting Maui.
Popular Maui Tours/Activities
Favorite Maui Resorts/Hotels
Andaz Maui (this is a luxury resort with the best luau on Maui)
Honua Kai Resort & Spa (this is one of our personal favorites because there are tons of pools and there are condo options)
Want to Rent a Car in Hawaii?
One of the best places to rent a car in Hawaii is Discount Hawaii Car Rental because they get the best rates from top national companies like Alamo, Dollar, Thrifty, Avis, Enterprise, Budget, and Payless.
Want to skip all the planning and just access my detailed Maui Itinerary complete with daily schedules, kid-friendly activities, and travel hacks? Click the button below.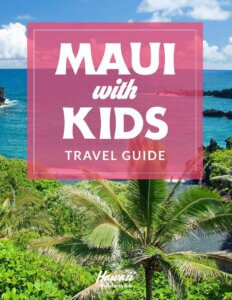 Luxury Maui Vacation Rentals FAQs
Can you rent homes in Maui?
Yes! You can find everything from surfer cottages and bungalows to luxury Maui vacation rentals and full private estates. And they're a great way to enjoy a vacation with a larger family or group.
What area of Maui is best for families?
The best part of Maui for your family really depends on what you like to do and the age of your children. For resorts, tourist attractions, and sunny beaches, stick to the West Side or South Side. For outdoor adventures, rugged nature experiences, and wellness retreats, North Shore, Upcountry, and Hana are great choices.
What is there to do in Maui at night for kids?
Maui is super kid-friendly and it's not hard to find things for the whole family to do at night! Attend an evening luau or enjoy a beachfront restaurant. You can simply walk the beach and do some stargazing or attend a Maui Friday Town Party!
Can you find babysitting services in Maui?
Several babysitting and nanny agencies cater to families vacationing in Maui, like the prestigious The Nanny Connection. With your Maui luxury vacation rental, you can also ask your host about special accommodations. Or they might have suggestions on which company to go with.
Are there any luxury experiences for my family in Maui?
While you're looking into Maui luxury vacation rentals, you can certainly enjoy the finer things elsewhere on the island! Rent a convertible sports car for the day or book a fishing charter for the whole crew. Take a private tour of Molokai and Lanai or spend a day at one of Maui's resort spas.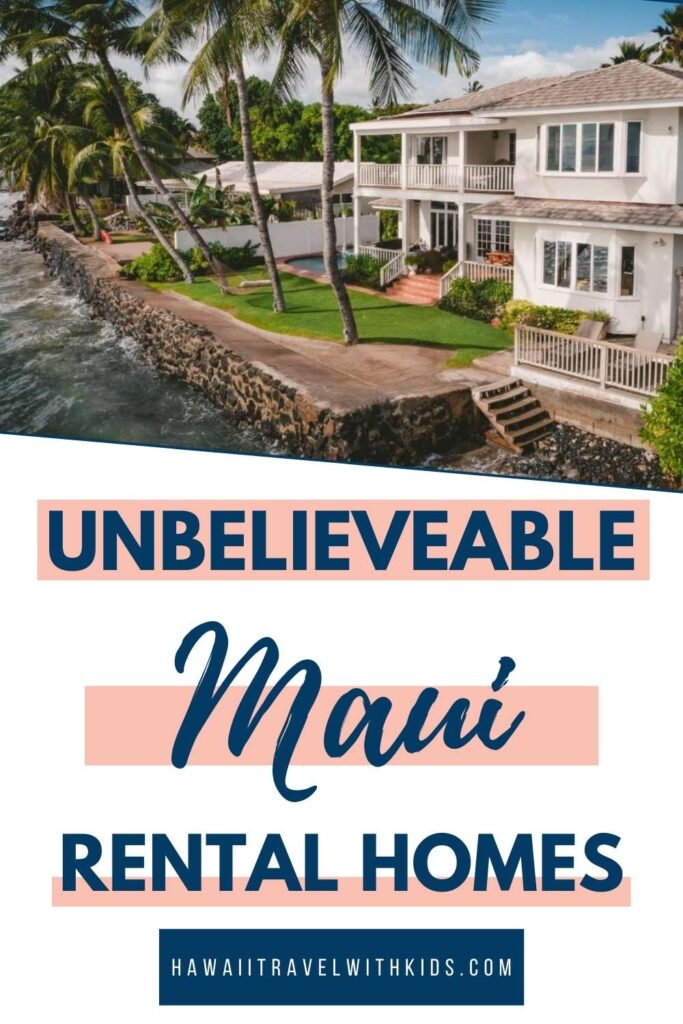 How to Define a Luxury Vacation Rental in Maui
If you're looking for Maui luxury vacation rentals, it means you're looking for a certain standard of care. You probably want a specific vacation experience.
To get your money's worth and know you're going to have a great time when you arrive in Maui, it's good to know what defines a luxury vacation rental.
In most cases, tourist destinations set themselves apart as luxury over basic rentals in a few ways. Usually, a vacation rental gives you autonomy, meaning once you arrive at your rental home, you fend for yourself.
A luxury rental is more likely to include a concierge or access to a host onsite or nearby. You can also expect to find all kinds of optional services from private chefs and masseuses to car rentals and house cleaning.
Looking for high-end rentals to share with you, I had certain expectations. At a higher price point, you want to have special amenities. Air conditioning should come standard.
Most family-friendly high-end properties will include toys and other items for children. I also looked for properties that had top-rating by certified guests.
Save Money with Points
Here are the best credit card offers for families who travel and want to use points to pay for airfare and hotels in Hawaii.
Where to Stay in Maui (and Rental Types in Each Location)
When looking for Maui luxury vacation rentals, you'll find them in 3 main regions:
West Side
South Side
North Shore
The type of elevated rentals you'll find depends on the region, but they generally include villas, condos, and vacation homes. Each region of Maui offers a different experience for visitors.
West Side
Stay on the West Side if you prefer the full luxury experience. Kaanapali and Lahaina are packed with high-end resorts, hotels, and luxury shopping and restaurants. There are wonderful beaches and lots of tourist attractions inside the resorts.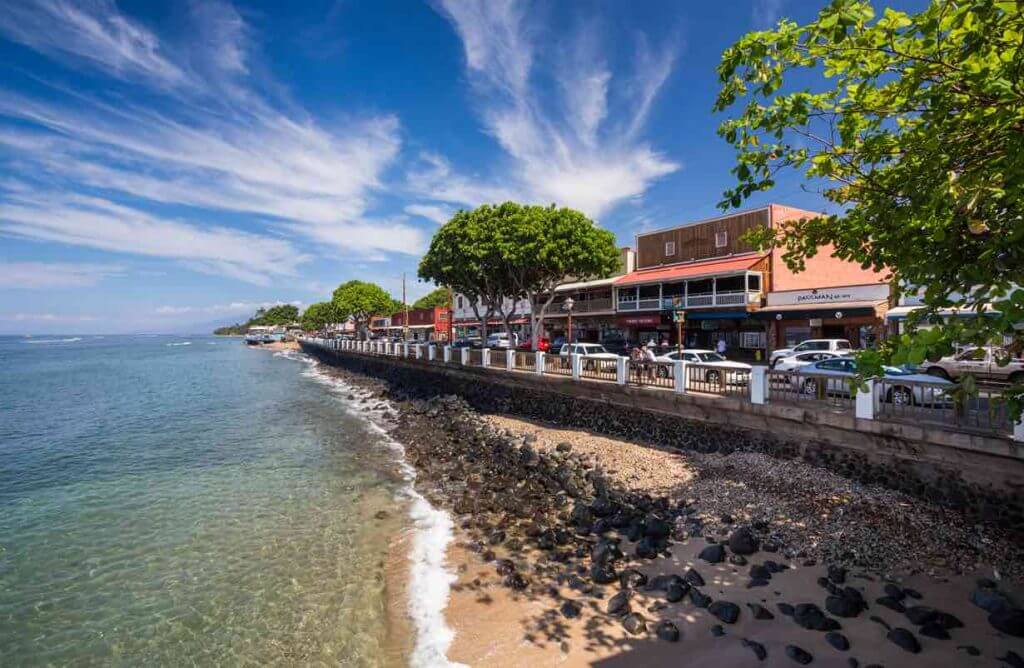 A little further north is the resort area of Kapalua. Here it's quieter and even more luxurious with a few expensive resorts, golf courses, and rocky coastlines.
You're most likely to find Maui luxury villas for rent in this area. At a higher price point, you might find a few condo communities that offer excellent amenities for your family, or the occasional beachside home. However, this is usually the exception!
South Side
Maui's warm and sunny south coast is great for beach days and lots of tourist attractions near an urban center!
Look around Kihei and Wailea if you want to be near all the action. There's tourist shopping, family-friendly things to do, and the best nightlife.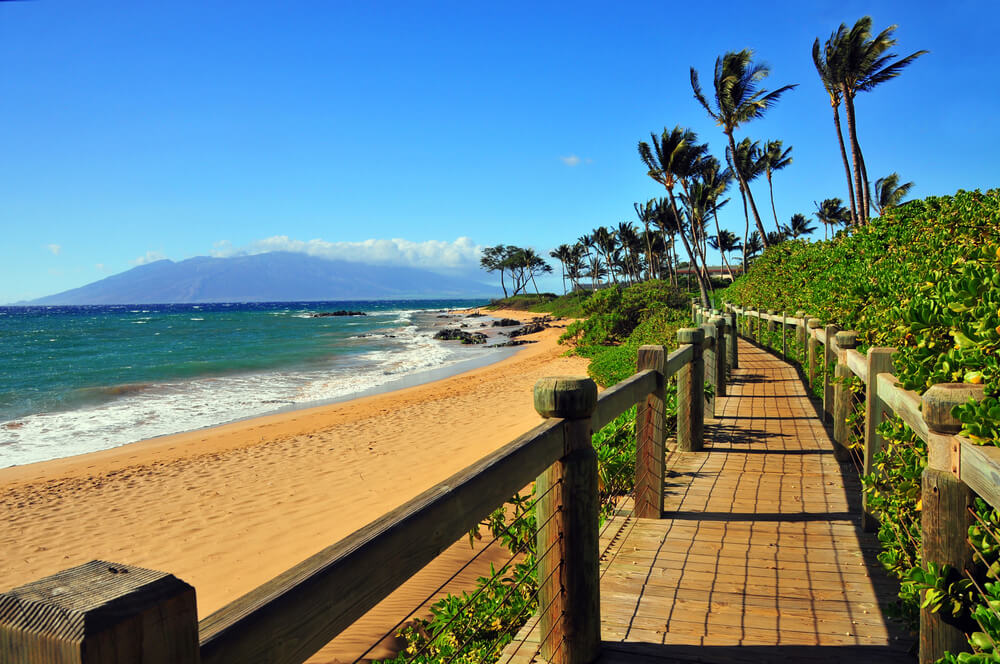 When you're on your luxury vacation, you might want a high-end experience as well. South Side has excellent professional golf courses, tennis courts, resorts, and some of the best restaurants on the island.
If you want luxury Maui condo rentals, check out Kihei. And Wailea has high-end resorts and residential areas where you can find villas. But don't expect to find any large luxury home rentals for families on the crowded South Side.
North Shore
Come to North Shore if you want to be in nature but with all the creature comforts afforded to you! North Shore includes everything from Paia on the Road to Hana all the way east to the town of Hana itself.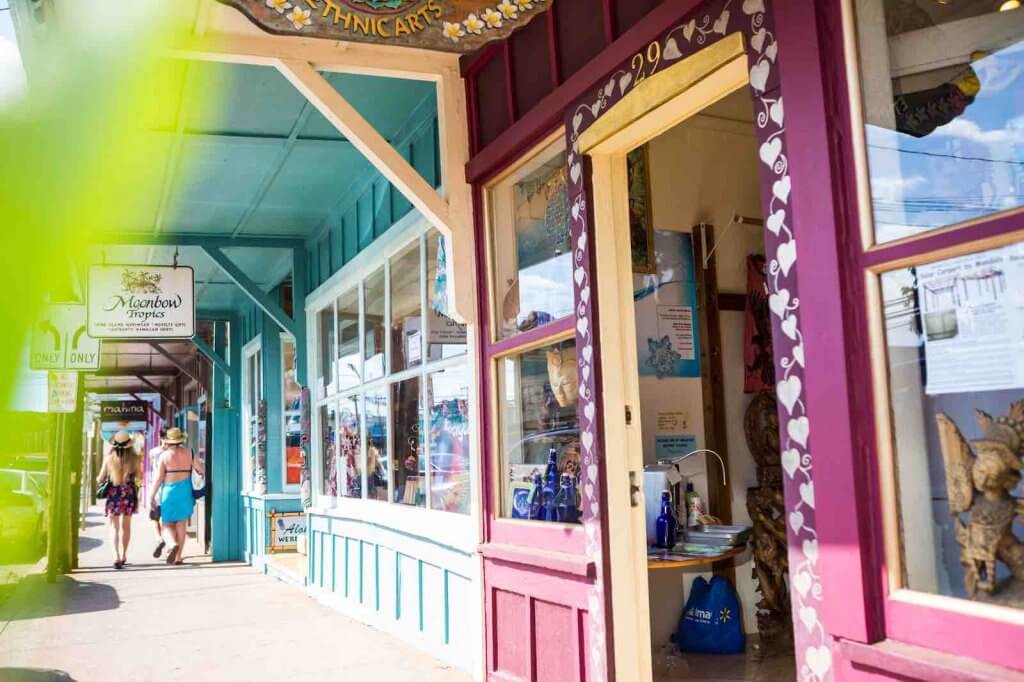 If your family likes to hike and wants to see waterfalls or natural reserves, North Shore is a great option. There are great surf beaches and low-key villages, but it's much more isolated and rugged with tons of space.
You won't find villas and condos on the North Shore. But when it comes to Maui luxury vacation rentals, this is the place to book older sprawling estates for your large group.
There are also newer specialty homes for rent with all kinds of services near private beaches and outdoor activities.
Fabulous Luxury Vacation Rentals in Maui
West Side
First on my list of Maui luxury vacation rentals is the best of the best in Kaanapali. Enjoy the rare luxury mansion directly off the fairway of the Kaanapali Golf Course.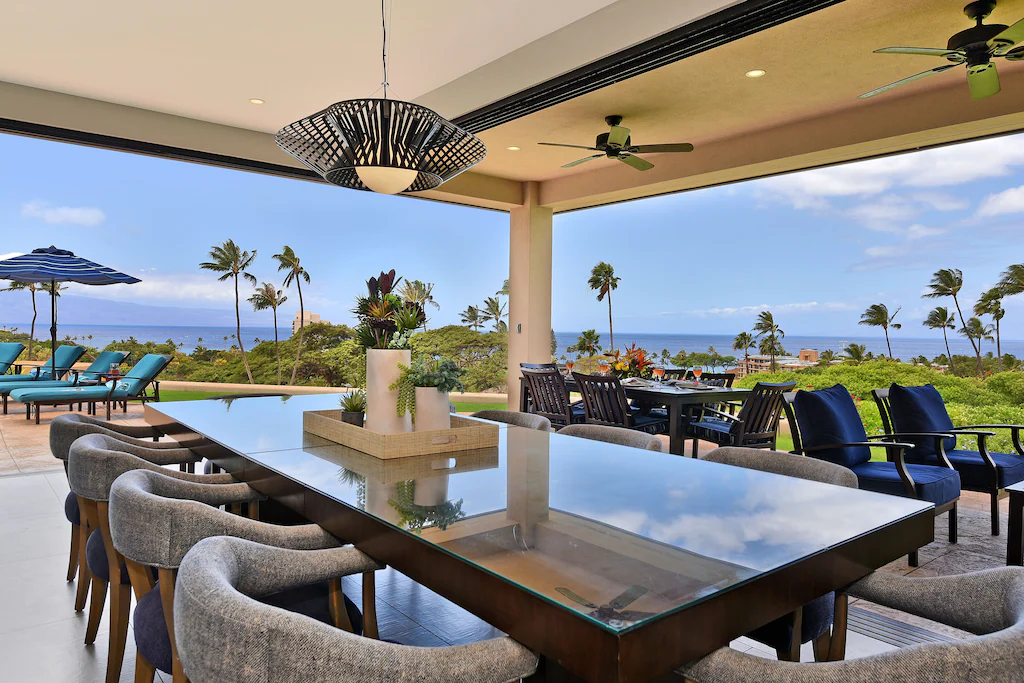 You'll have unobstructed views of the course, the resorts along the beach, and past them to the ocean! Check the latest rates and availability.
You're less than a mile from the most popular beaches on the West Side, as well as Whaler's Village Shopping Mall and the famous Myth of Maui luau.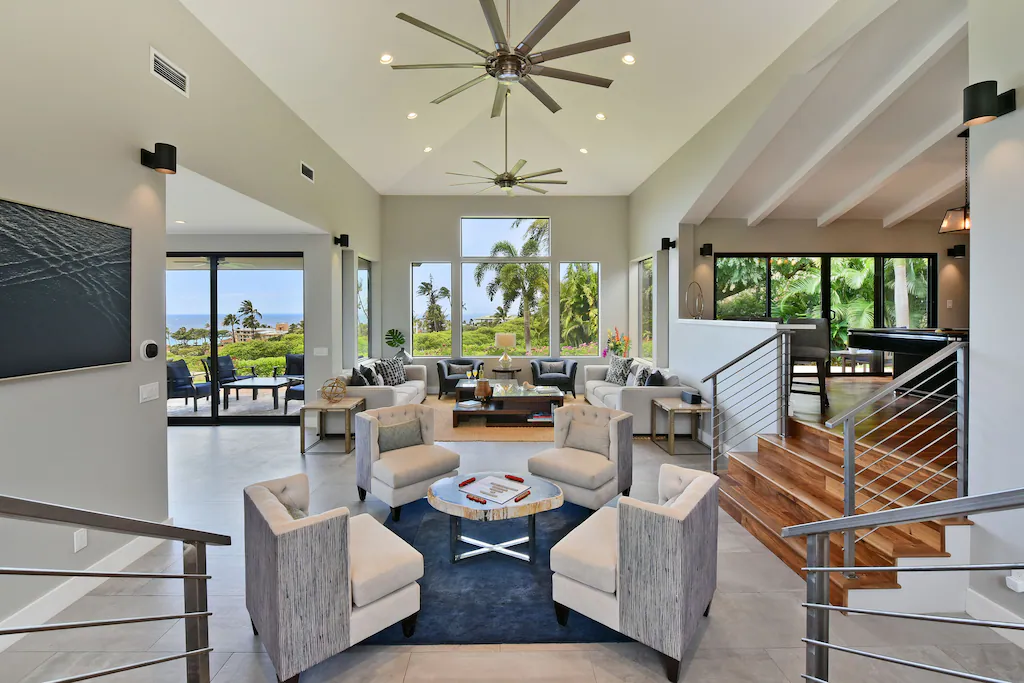 Inside the private luxury community where Hale Nui is located, enjoy a private yard with a grill, outdoor seating, and an outdoor pool with a whirlpool spa. Housekeeping is available as well.
The home features a modern design of cool stones and warm woods. You have a 10-seater dining room table and a lanai overlooking the ocean!
There are 6 bedrooms with options to sleep up to 10 people. Spread out in multiple common areas and a billiards room.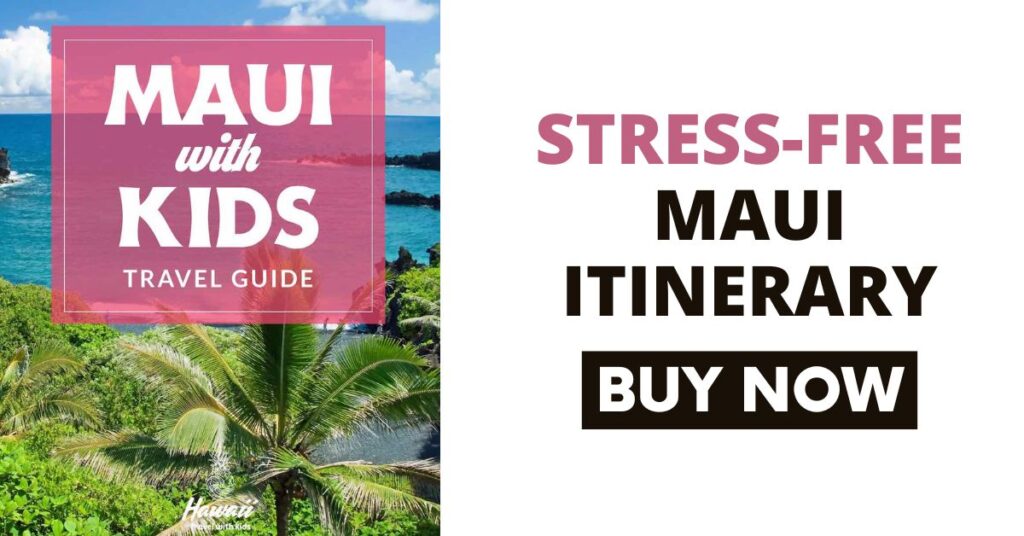 When it comes to Maui villa rentals, you can't beat Front Street in Lahaina. Don't let the word "villa" deceive you. Along this quiet street of private homes, you have full privacy and wiggle room inside this traditional plantation-style home.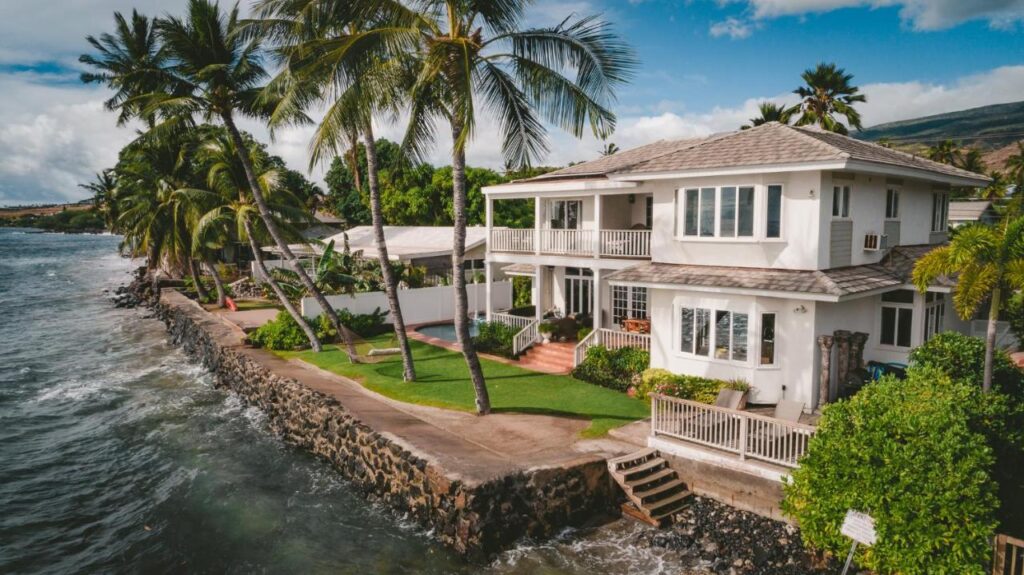 Despite the quiet, you're still close to central Lahaina with shopping and the Old Lahaina Luau. Check the latest rates and availability.
In the back, you can enjoy the sunset and the sound of the water lapping the shore.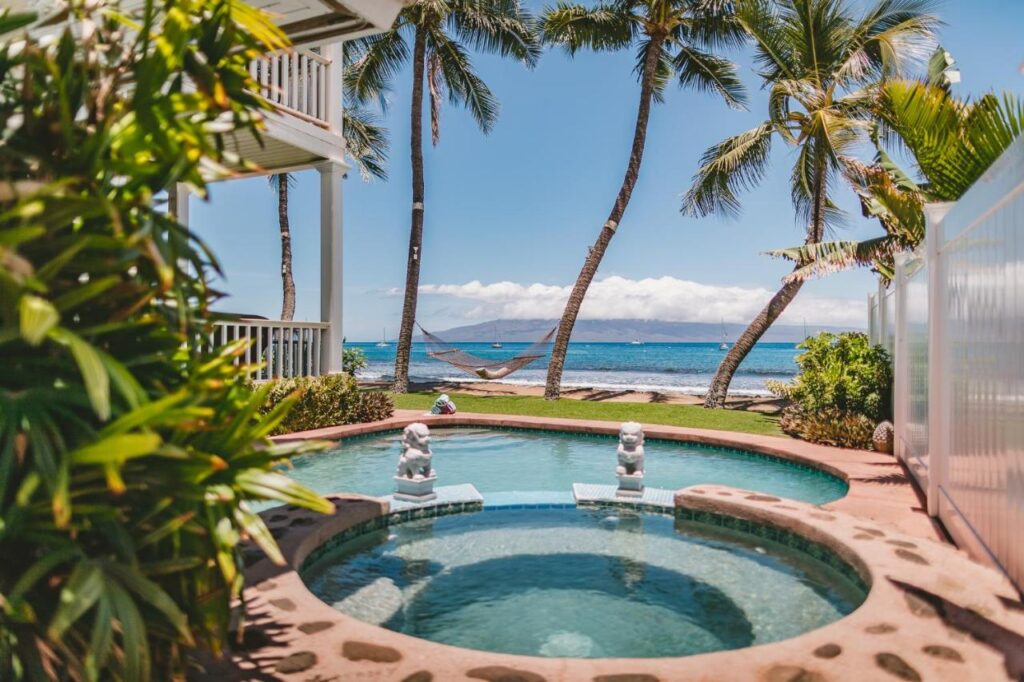 Relax in the hammock between palm trees with views of the ocean and Molokai in the distance. Jump in the pool and hot tub or barbecue on the patio. There's also plenty of parking and a 2-car garage onsite.
You'll have plenty of comfortable seating on the lanai and the second-floor terraces. You can sleep up to 16 people with King- and Queen-sized beds.
The estate also gives you access to house cleaning, laundry services, grocery delivery, car rentals, and shuttles to the airport!
Book a Family Photo Shoot
Whenever we travel to Hawaii, we almost always book a family photo shoot with Flytographer. They are super easy, affordable, AND it guarantees that I'll be in some photos. You can get $25 off if you book through this link or use the code HAWAIITRAVEL.
South Side
Kihei has stunning Maui villas for rent that let you enjoy your vacation in the lap of luxury! Mango Surf Beachfront Villa is perfect for a family of 6 with 3 bedrooms and 3 baths. Check the latest rates and availability.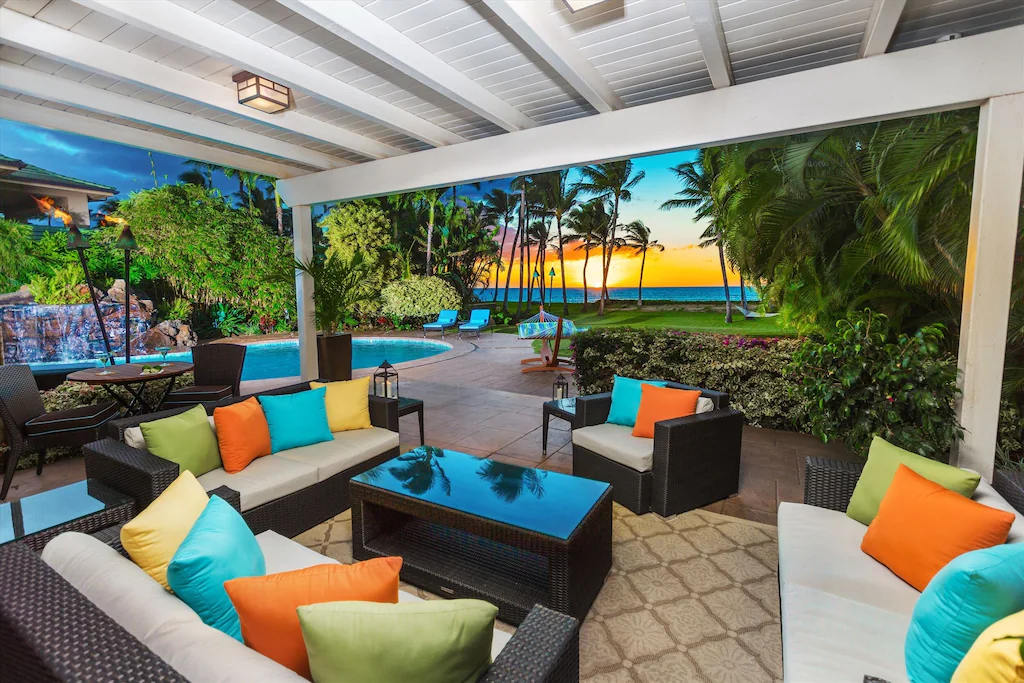 The interiors feature a contemporary coastal style with luxury teak furniture, top-of-the-line home entertainment systems, and a full-service kitchen. There are toys for the kids and all kinds of water sports gear and bicycles.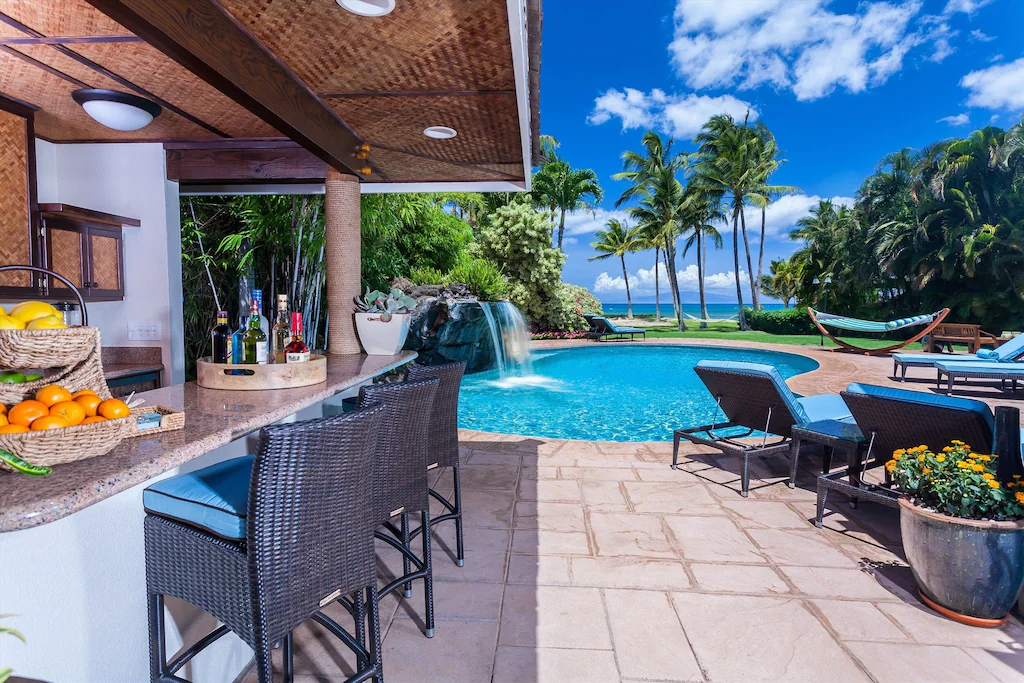 Outside there's the pool with a waterfall or the hot tub, as well as a calm beach that's perfect for kids. Make drinks at the poolside cabana or pick mangos from the fruit trees on the back lawn!
Enjoy special services like housekeeping, a personal concierge, massage services, a private chef, or car rentals.
Walk down to Waimahaihai Beach just off the lawn or walk a few minutes north to the city center. In Kihei, you're near are all kinds of shops, restaurants, and area parks.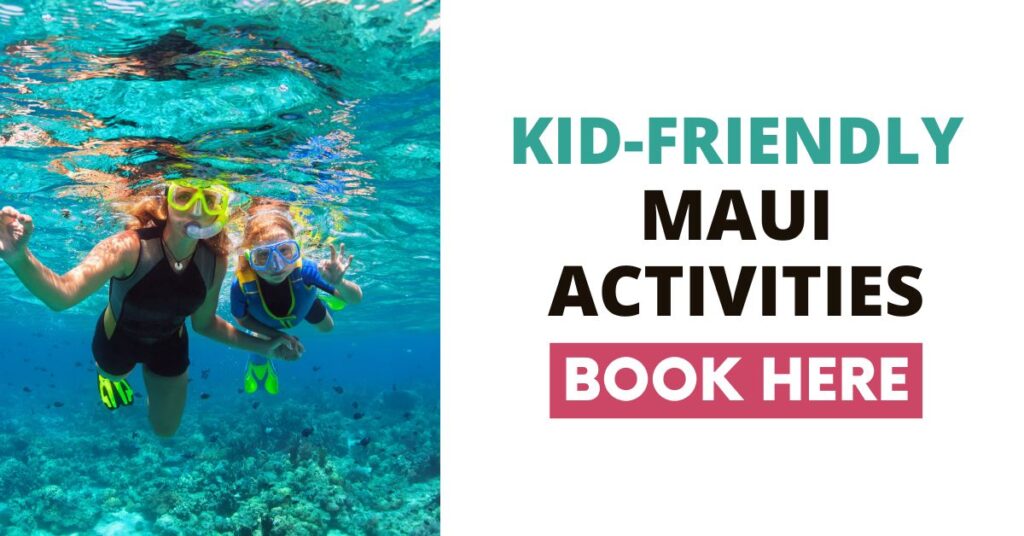 Condos are an ideal way to go when you're looking for Maui luxury vacation rentals.
You get access to all kinds of special accommodations with a larger condominium community while enjoying the privacy of a vacation home! Check the latest rates and availability.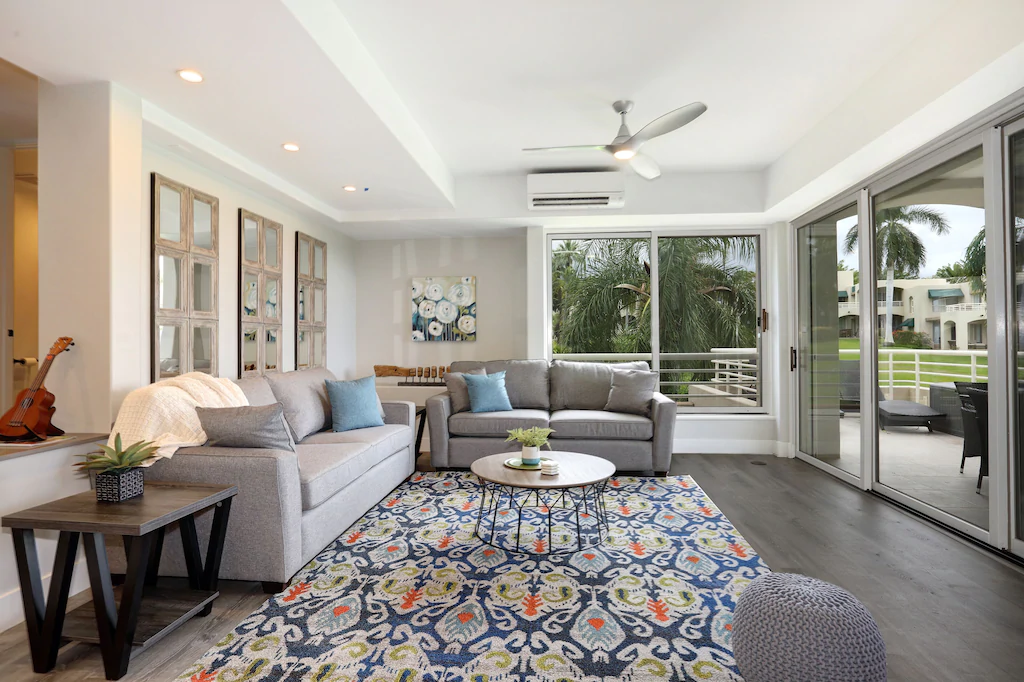 This 2nd-floor condo in the heart of Wailea is spacious and quiet with distant views of Keawakapu Beach from the balcony.
Nearby you can walk or drive to gourmet grocery stores, high-end restaurants, and luxury shopping malls. Plus, you have all the attractions of Wailea's beachfront resorts.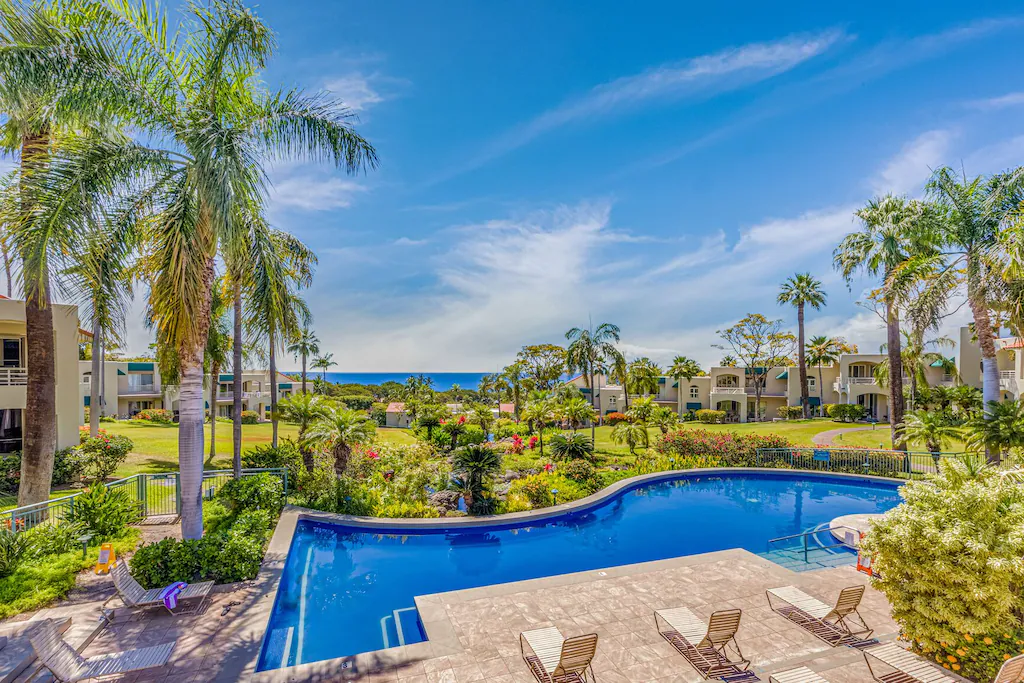 The owners of this 2 bedroom, 2 bath rental thought carefully about families with all kinds of attention to detail you'd expect with a luxury listing.
Sleep up to 6 people in rooms with blackout curtains and memory foam mattresses. The main bathroom even has a bathtub that's perfect for younger kids.
Enjoy community amenities like onsite concierge, pools and hot tubs, and outdoor grills. The home also includes tons of beach gear and toys and games for the kids.
North Shore
For the family who wants to get away from it all but still live the good life, check out Hale Mauka Makai.
This sweet designer home set on over 4-acres is in Haiku, minutes off the Hana Highway. Check the latest rates and more information.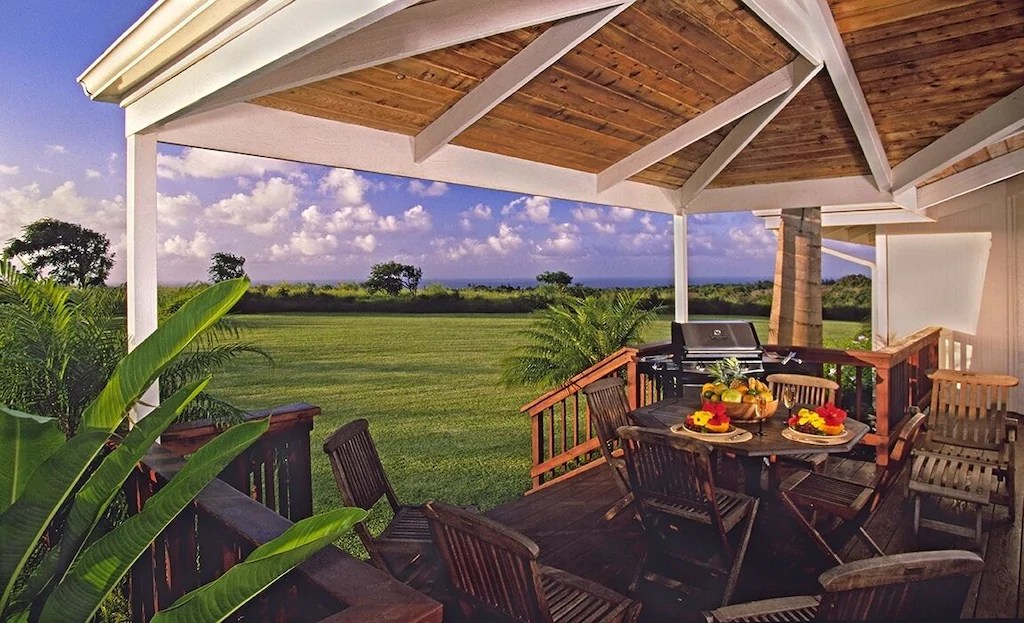 You'll love being surrounded by fruit tree groves, vegetable gardens, flower gardens, and sprawling grassy plains. But you're still just 15-minutes from hip Paia and only 5-minutes from Hookipa Beach Park.
The 3 bedroom, 3 bath home can sleep 9 people. There's an outdoor shower for washing off after the beach, as well as access to the porch from each of the bedrooms and the open concept living space.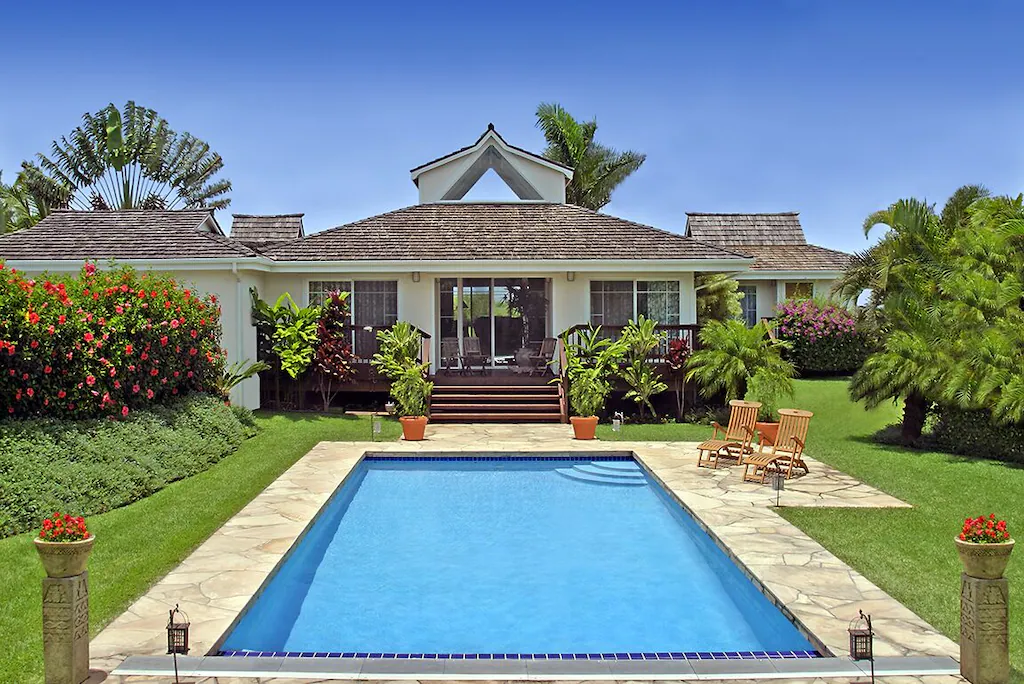 You'll love how homey the house feels while also displaying quality island art and luxury furniture.
Your hosts will include many child-friendly items like a high chair, travel crib, toys, water gear, and more. With this luxury rental home, you can also request housekeeping, a private chef, meal delivery services, and more.
Last on my list of Maui luxury vacation rentals is a very special place for a large group. You can stay with your group of up to 10 people on the grounds of a functioning farm and spiritual retreat!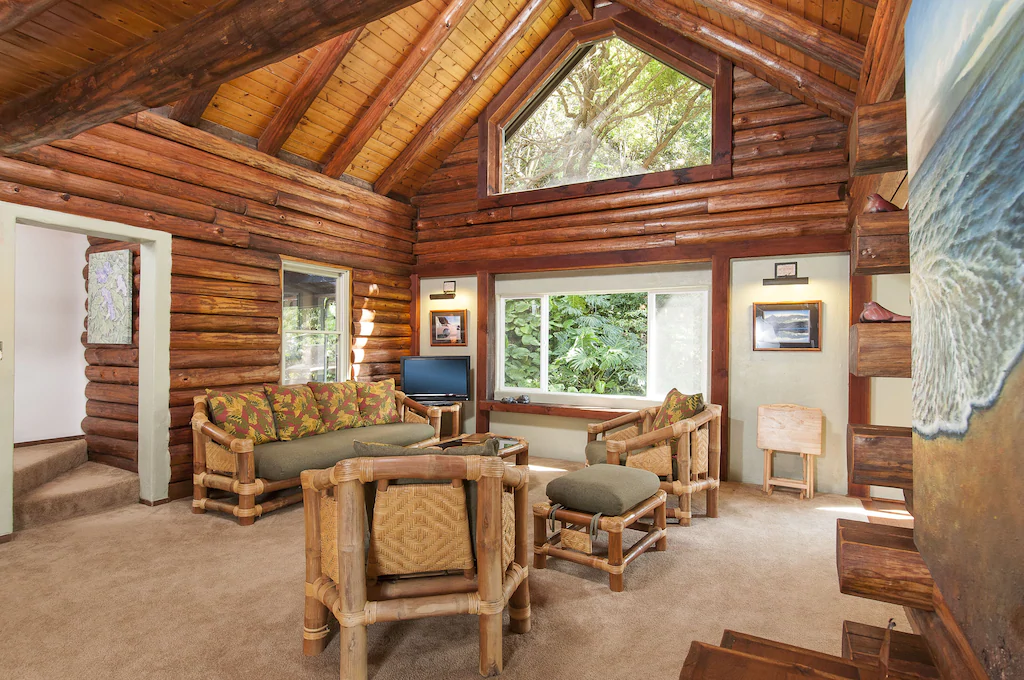 Just 10 minutes south of the Road to Hana in Makawao is The Sacred Garden Retreat, a 3-story luxury log cabin nestled into 8-acres of rugged tropical farmland. Check the latest rates and more information.
You can request a tour of the farm or ask about gardening classes. There's always someone on-site to help you, as well as offer masseuse and private chef services!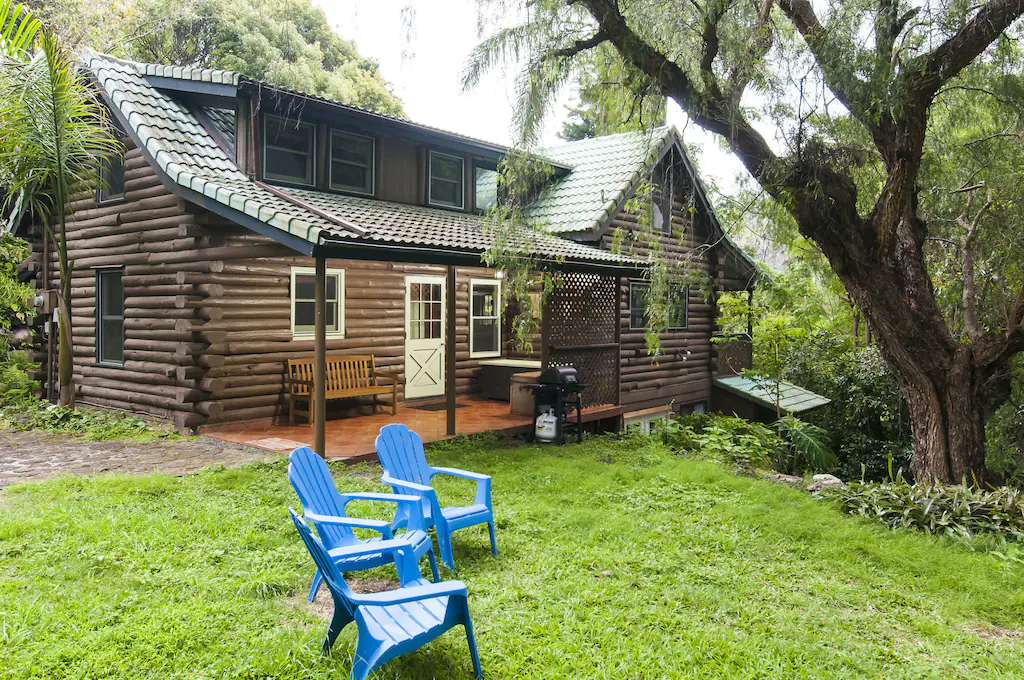 The stunning artisan home has 5 bedrooms, and 4 baths, with everything from a loft bedroom to a studio suite with a kitchenette.
For the kids, there's a high chair, baby gates, and toys. You can relax in the yard, in the large common areas, or on the spacious lanai.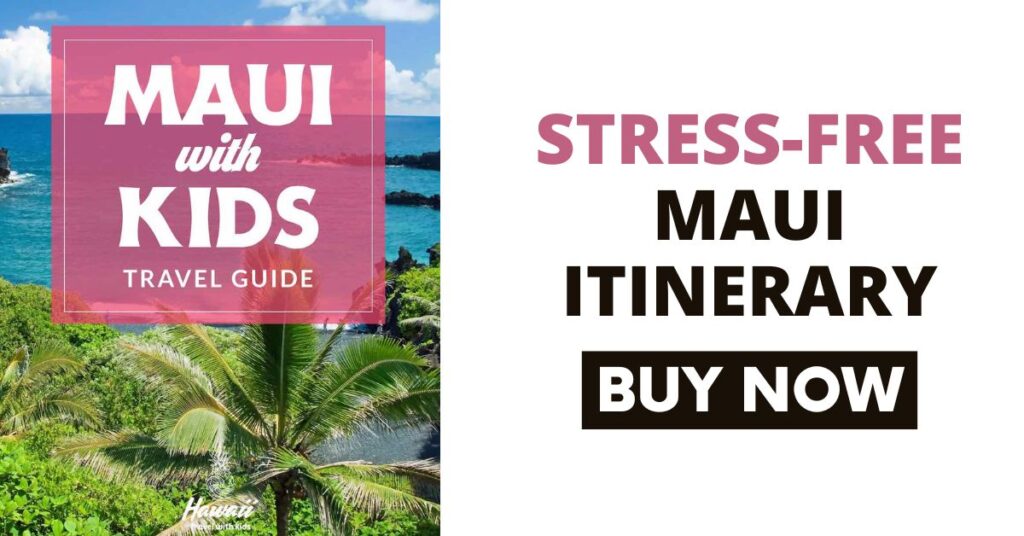 Book the Best Maui Luxury Vacation Rentals
You can find unique and fabulous Maui luxury vacation rentals in all the popular regions of Maui.
From Villas and condos along the shore to elevated vacation homes in the north country, there's something for every refined taste!