Are you thinking about booking a trip to Maui for a large family? Keep scrolling to find out the best Maui vacation rentals for large groups.
This list of the best Maui vacation rentals for large groups was written by Hawaii travel expert Marcie Cheung and contains affiliate links which means if you purchase something from one of my affiliate links, I may earn a small commission that goes back into maintaining this blog.
Finding Maui vacation rentals for large groups can be a bit of a challenge. It's important to know where to look and what to look for.
I love visiting Maui with my family and I've stayed in many parts of the island. So, I'll give you my advice on what to look for in rentals and where to stay!
You can find all kinds of wonderful vacation homes for rent in Maui, Hawaii. From villas in the resort areas to houses in the cities. You'll even see some larger luxury estates on my list that are available to your crew!
So, keep reading for my picks for the best Maui vacation rentals for large groups.
Don't have time to read a bunch of Hawaii blog posts and reviews? Here are some of our top picks for visiting Maui.
Popular Maui Tours/Activities
Favorite Maui Resorts/Hotels
Andaz Maui (this is a luxury resort with the best luau on Maui)
Honua Kai Resort & Spa (this is one of our personal favorites because there are tons of pools and there are condo options)
Want to Rent a Car in Hawaii?
One of the best places to rent a car in Hawaii is Discount Hawaii Car Rental because they get the best rates from top national companies like Alamo, Dollar, Thrifty, Avis, Enterprise, Budget, and Payless.
Want to skip all the planning and just access my detailed Maui Itinerary complete with daily schedules, kid-friendly activities, and travel hacks? Click the button below.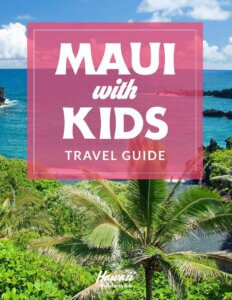 FAQ about Maui Vacation Rentals
Are short-term rentals allowed in Hawaii?
Each island has its own rules. Maui allows hosts to register vacation rentals as Short-Term Rental Homes (STRH). They can be out for up to 180 days at a time. STRHs have a registration number and certificate that you can request.
Will Maui vacation rentals provide cribs?
The amenities provided are up to the host. If a rental includes baby gear, it's usually noted in the amenities section of the listing. Hosts often provide things like high chairs, safety gates, and travel cribs. Some include toys, books, games, kitchenware, and more.
Does Maui have family-friendly things to do?
Maui is a super family-friendly place to visit! Each region has different things to do for fun with your large group. North Shore is more rugged with outdoor activities for all ages. South Maui and West Maui have stellar beaches and tourist attractions that kids and adults alike will love.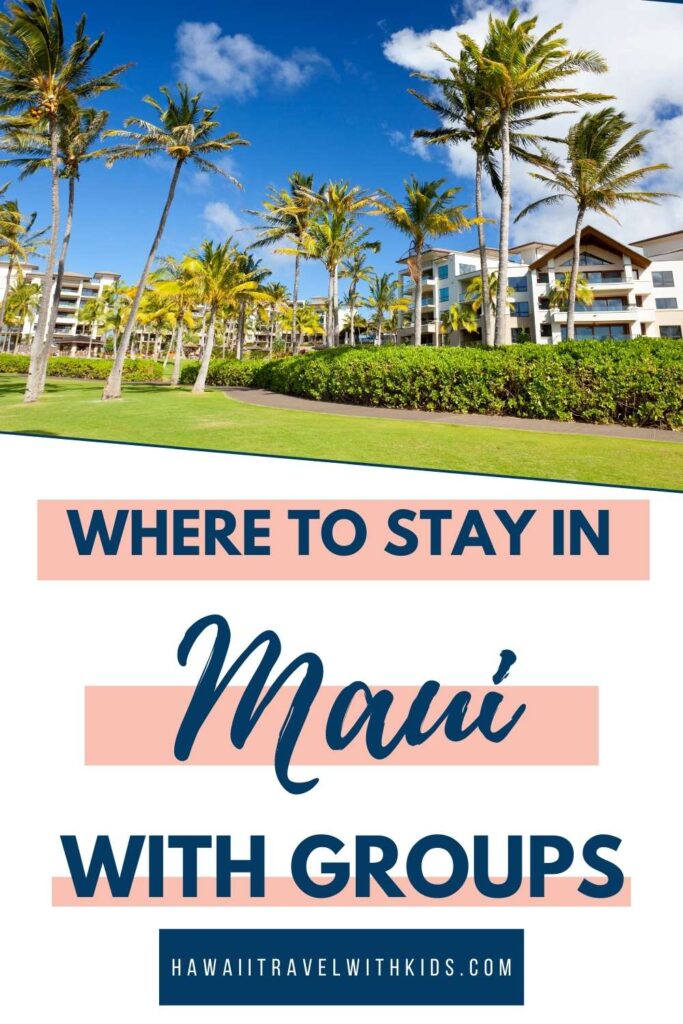 Where to Stay in Maui
You'll find most Maui vacation rentals for large groups around the resort areas, but also deeper inland and on the North Shore. Let's look at each area and what each one has to offer your family.
West Maui
Come to West Maui for sunny days and sandy beaches! The resort towns of Lahaina and Kaanapali have great shopping, water activities, whale tours, and luxury and top-rated resorts and hotels.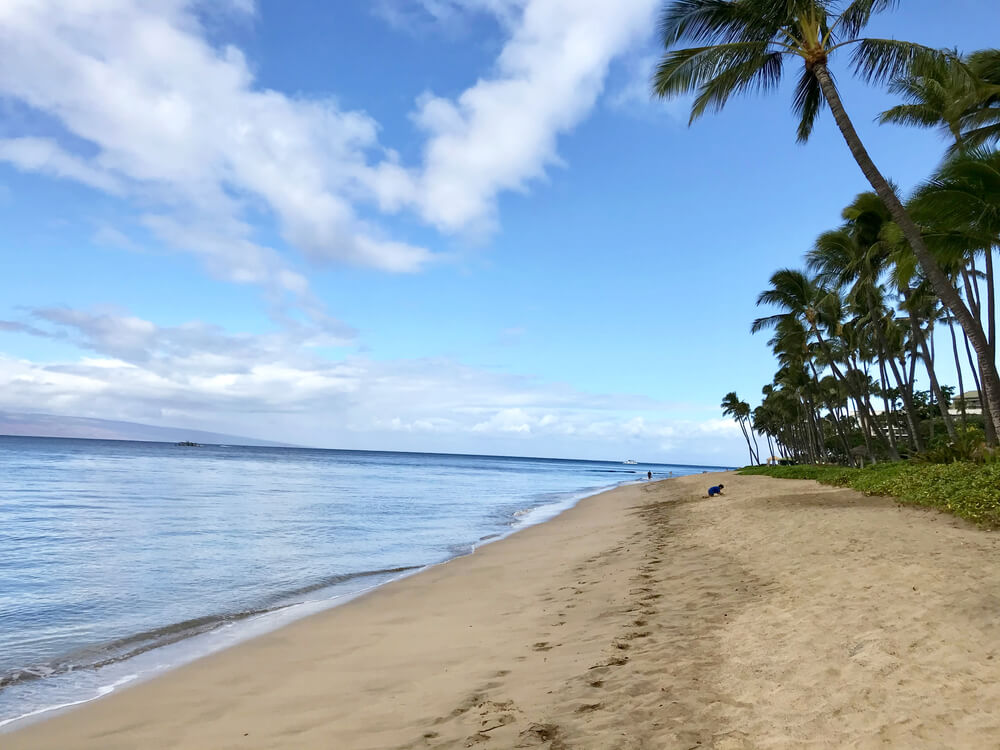 North of Kaanapali is the surfer town of Napili. There are a handful of places to stay, but it's a small area.
On the northern tip of West Maui is the luxury resort community of Kapalua. It's a great place to golf, as well as find walking and hiking trails along the rocky coastline. But there aren't any rentals this far north.
Save Money with Points
Here are the best credit card offers for families who travel and want to use points to pay for airfare and hotels in Hawaii.
South Maui
Stay in South Maui for fabulous golden sand beaches, a ton of tourist attractions, and access to city amenities like grocery stores.
Kihei and Wailea are more metropolitan areas for visitors. Come here for lots of typical tourist attractions.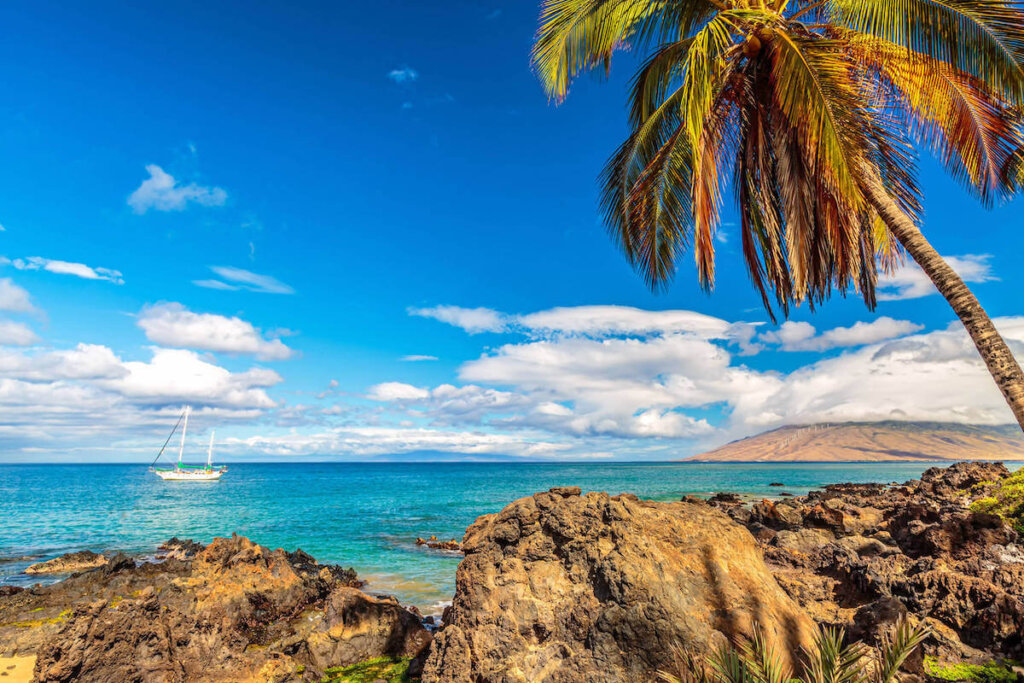 Wailea has more luxury condo communities, beachside resorts, and golf courses. But it also has a city feel with great shopping.
You can find some of the best villas in Maui here, as well as homes and condos.
North Shore
North Shore Maui is known for the Road to Hana, but there are also tons of farming communities, private estates, wellness communes, and more double as vacation rentals.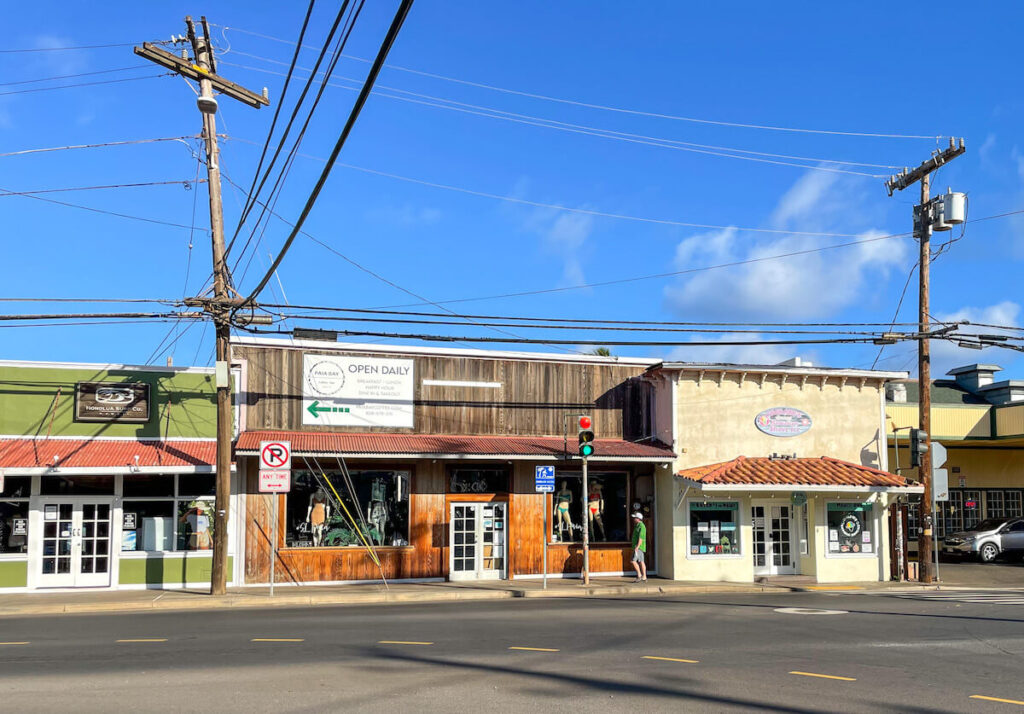 The main towns are Paia and Haiku. Think of everything from Maui beach home rentals to cottages and large homes on private estates.
If your group wants to get away from the city and head outdoors, consider North Shore. There you'll find the best beaches for windsurfing, as well as rocky shorelines, hikes to waterfalls, and nature preserves.
What to Look for in the Best Maui Vacation Rentals for Large Groups
When it comes to choosing Maui vacation rentals for large groups, there are certain things you want to look out for.
It's based on current Maui STRH laws and things I know as someone who's spent a lot of time in Maui over the years.
Number of Guests
Most of the vacation home rentals in Maui, HI, for larger groups included a variety of single, Queen, and King beds. Most also include futons, pull-out sofas, or bunk beds.
Keep in mind that a lot of listings consider a sofa bed or a Queen to be for 2 people.
I suggest you pay attention to photos of rooms and sleep accommodations based on the intricacies of your group. A cool bunk room might be great for a crew with middle school-aged kids, but not if all the children are in diapers!
I looked for rentals that could hold at least 8 people. One place on my list even sleeps up to 24! But the average was probably 10 to 12 people.
Maui doesn't currently have laws prohibiting the number of people per room, but rooms are limited to 6 per unit.
Type of Rental
Maui vacation rentals for families range from resort villas to a variety of houses. A lot of listings for Maui villas for rent for groups of 8 or more have multiple units included in the price and booking.
Some villas are spacious units inside multi-unit buildings, while others are stand-alone homes in private communities. Homes can be small and budget-friendly or luxury mansions and estates.
Location
Most Maui STHRs are located in and around the resorts in West and South Maui. You can also find home rentals along the North Shore and the Road to Hana. All of them are between Paia/Haiku and Hana.
Villas inside resort communities offer your group excellent amenities! There are many beachfront and oceanfront homes in Maui as well. Or if you prefer to be closer to city conveniences, look for houses and villas away from the water.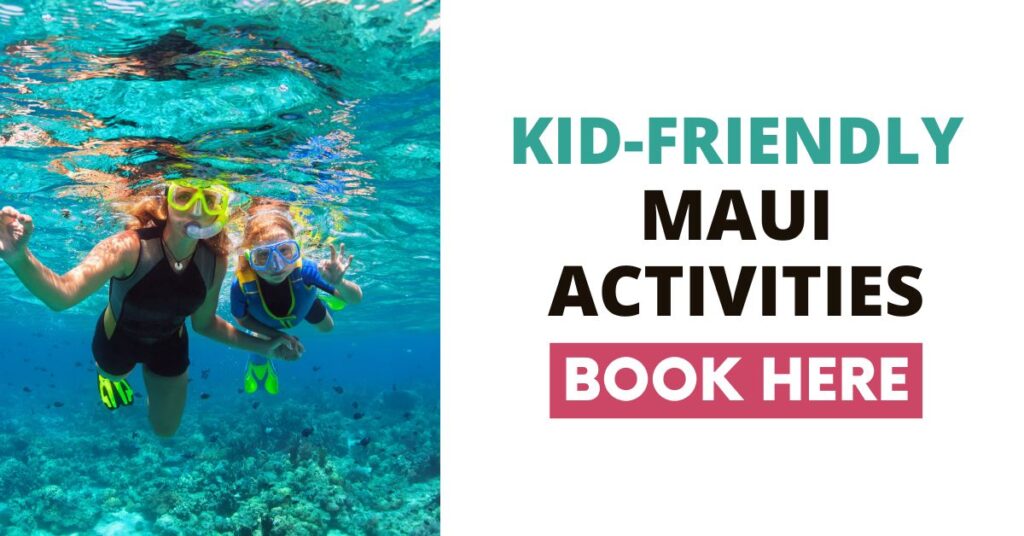 Amazing Vacation Homes for Rent in Maui Hawaii
Below I've listed my favorite Maui vacation rentals for large groups according to region. Keep reading to get inspiration from my top picks!
West Maui
If you're looking for Maui luxury villas, consider Kahana Nui Villa. You can sleep 12-14 people in this 6 bedrooms, 4.5 bath beachfront estate in Napili.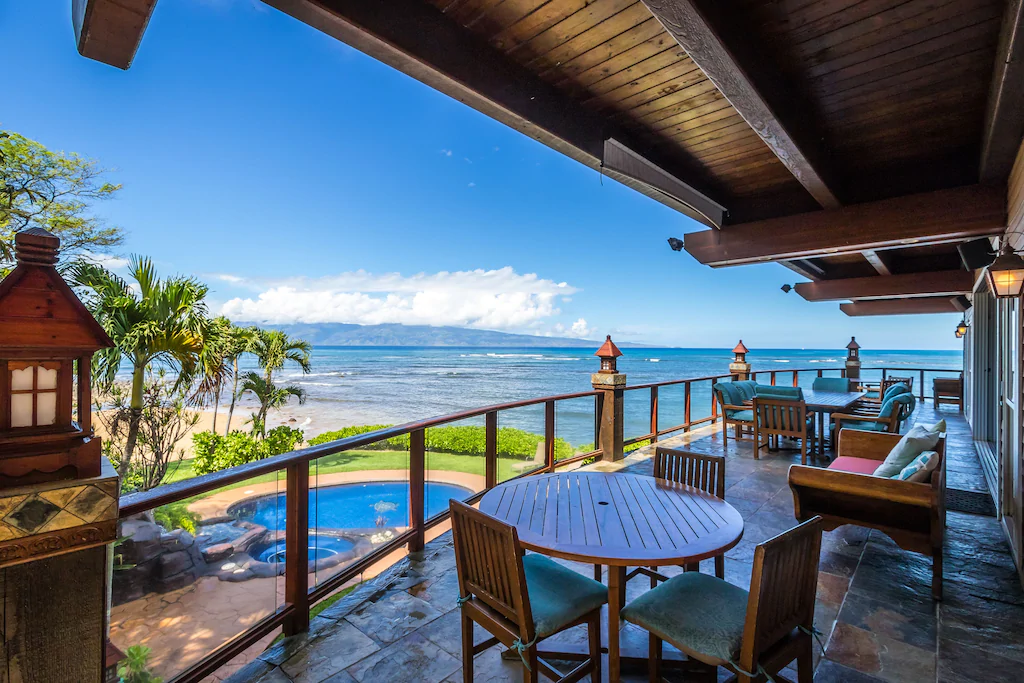 It's called "The Bali House" by locals, and it's covered in handcrafted details commissioned by Indonesian artists!
This stunning home features 3 levels of lanai that wrap the house. Every room has wide, modern windows for maximum views. Check the latest rates and more information.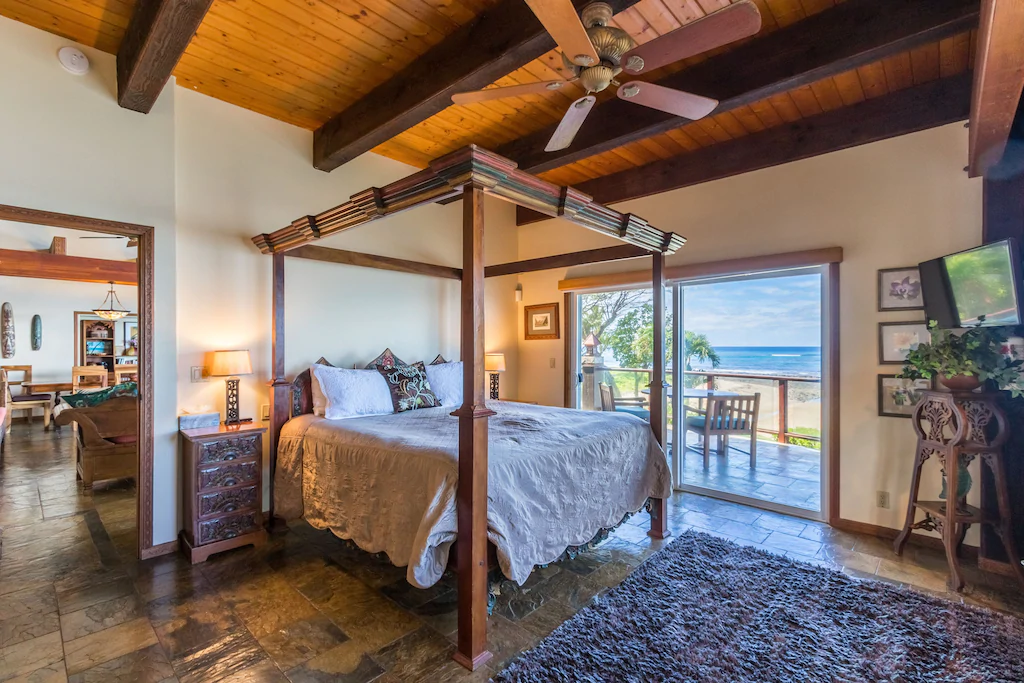 Relax in the den, living room, kitchen, or dining room, all of which feature artisan details and furniture.
Kahana Nui is located near the marine sanctuary, so keep an eye out for dolphins, sea turtles, seals, and more! You're also within walking distance of the most fabulous beaches in West Maui, as well as 2 golf courses.
At the estate, there's a pool and hot tub with a waterfall, as well as a manicured lawn that opens up to the beach. This listing also offers several optional services, including housekeeping, a private chef, and more.
Book a Family Photo Shoot
Whenever we travel to Hawaii, we almost always book a family photo shoot with Flytographer. They are super easy, affordable, AND it guarantees that I'll be in some photos. You can get $25 off if you book through this link or use the code HAWAIITRAVEL.
This is the best of the best when it comes to luxury Maui vacation rentals! Your group of up to 16 will love this 8 bedroom, 9.5 bath mansion that features balconies and whirlpool spas. This Hawaiian-style open-air home is a work of art.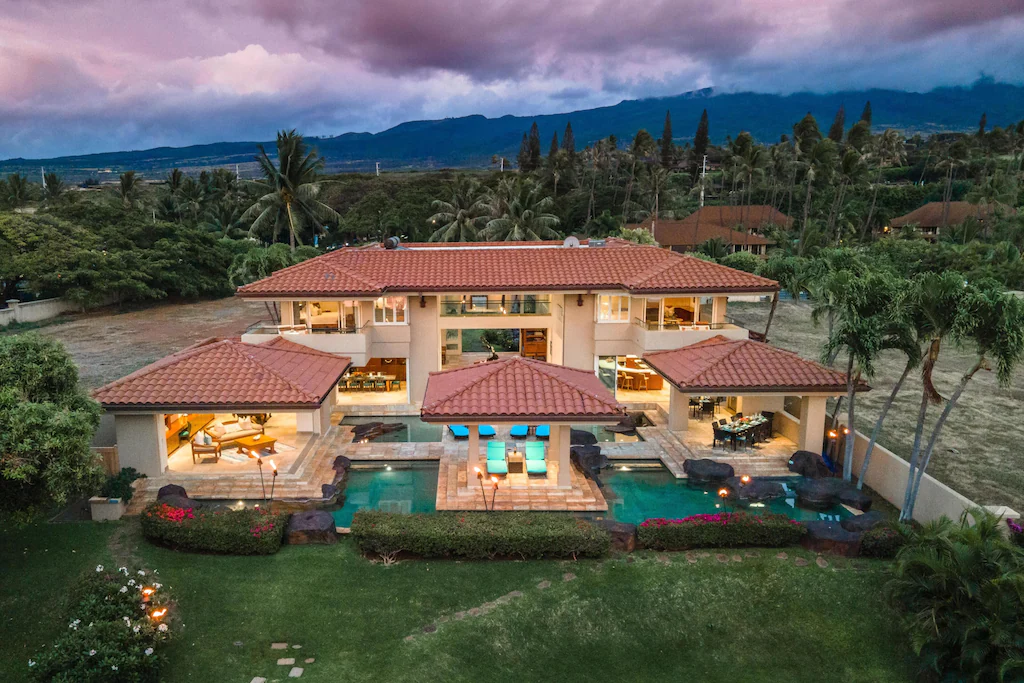 It centers around an Asian-style courtyard with a koi pond. The water lily-covered pond can be seen from every room and level of the home from front to back.
Sun-filled, lanai-style rooms open to the backyard. There you can enjoy sunsets over the beach, beyond the grassy yard. Check the latest rates and more information.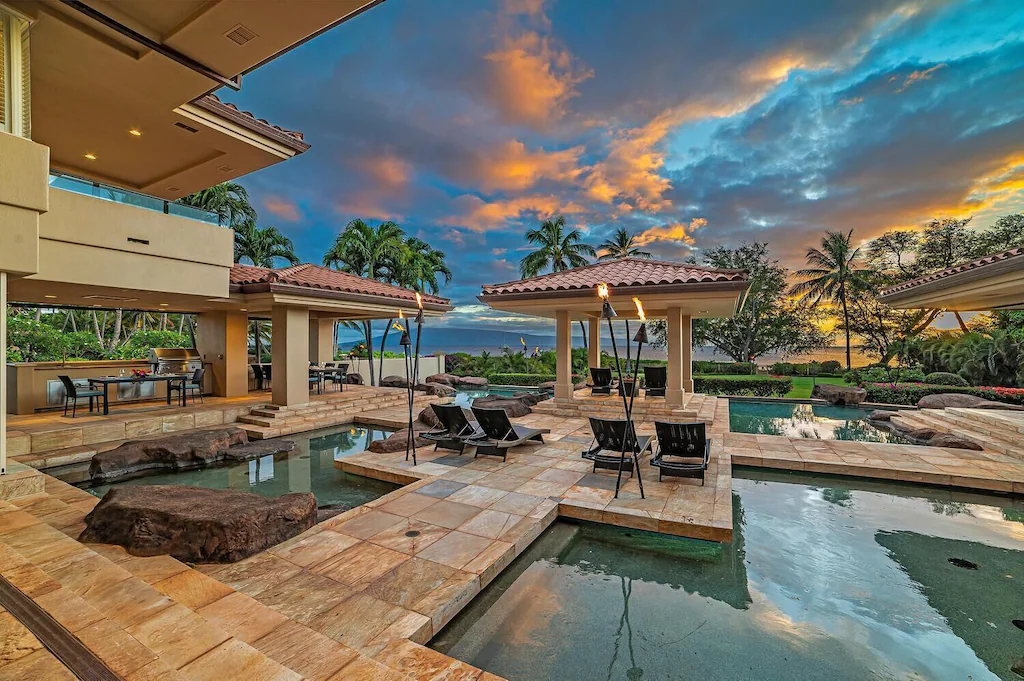 Grill outside with ample dining outdoors by the pool. Or you can use the gourmet kitchen and spacious dining room. The sprawling heated outdoor pools are a great place to relax. There are also kayaks you can take to the beach.
Enjoy amenities like a private gym, as well as concierge and housekeeping that come with the home.
At the Kaanapali Beachfront Estate, you're within walking distance of resorts and all their public offerings. Walk or drive to restaurants, beaches, shopping, and more.
A stay at the Honua Kai Resort & Spa offers you private living with all the accommodations of a resort guest! This Honua Kai rental features 2 units in the same building.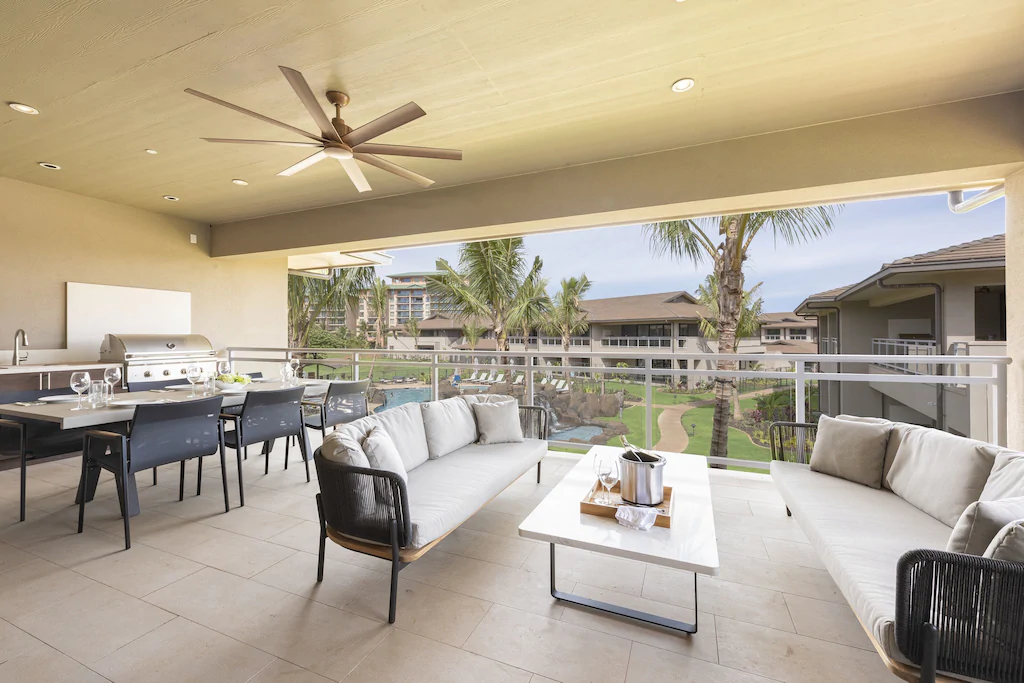 There's a garden-level villa and upper-level villa, both with views of the courtyard and pools with waterfalls you can hear from the lanai! Check the latest rates and more information.
Both villas are identical with 3 bedrooms and 3 baths, garages for parking, and more. Enjoy luxurious lanais with kitchenettes, grills, and plenty of outdoor seating.
There are also family-friendly items included by the host, like travel cribs, toddler swim floaties, wagons, and beach equipment.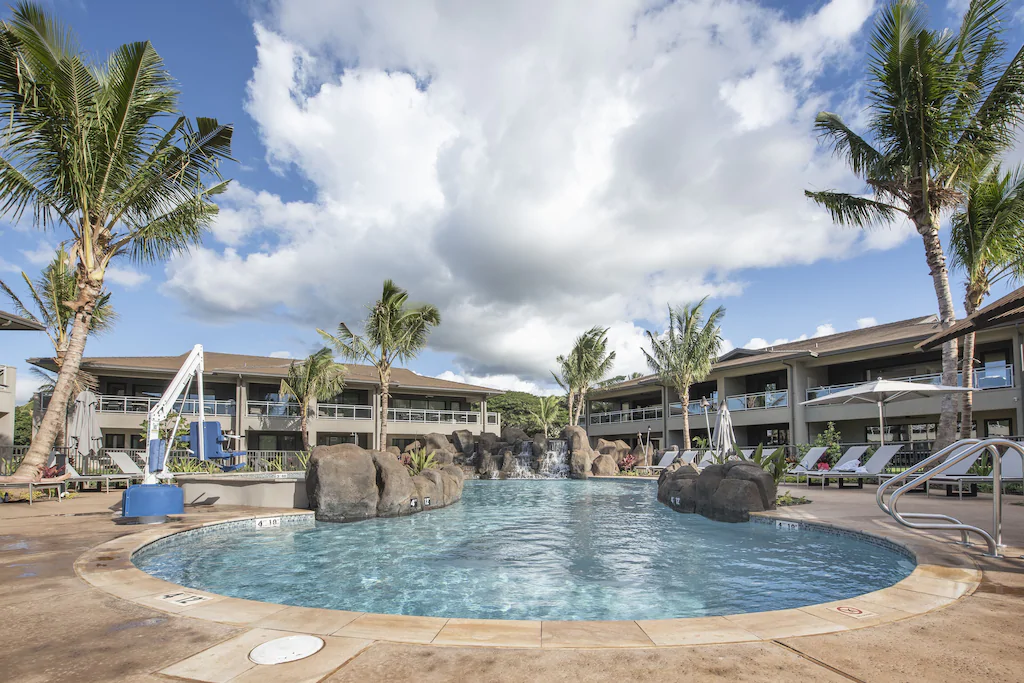 Staying at the resort allows you access to the fitness room, as well as resort pools, and optional housekeeping.
And Kaanapali Maui vacation rentals are a great option if you want to be close to the action! You can walk to the famous Kaanapali Beach or check out food trucks, restaurants, and shops in town.
Check out my full Honua Kai Resort review!
South Maui
If you're looking for beach house rentals in Maui, consider this Central Kihei home! You can walk into the backyard and onto the beach.
And it's a short walk into Kihei with tons of restaurants, the Kihei food truck park, and shopping.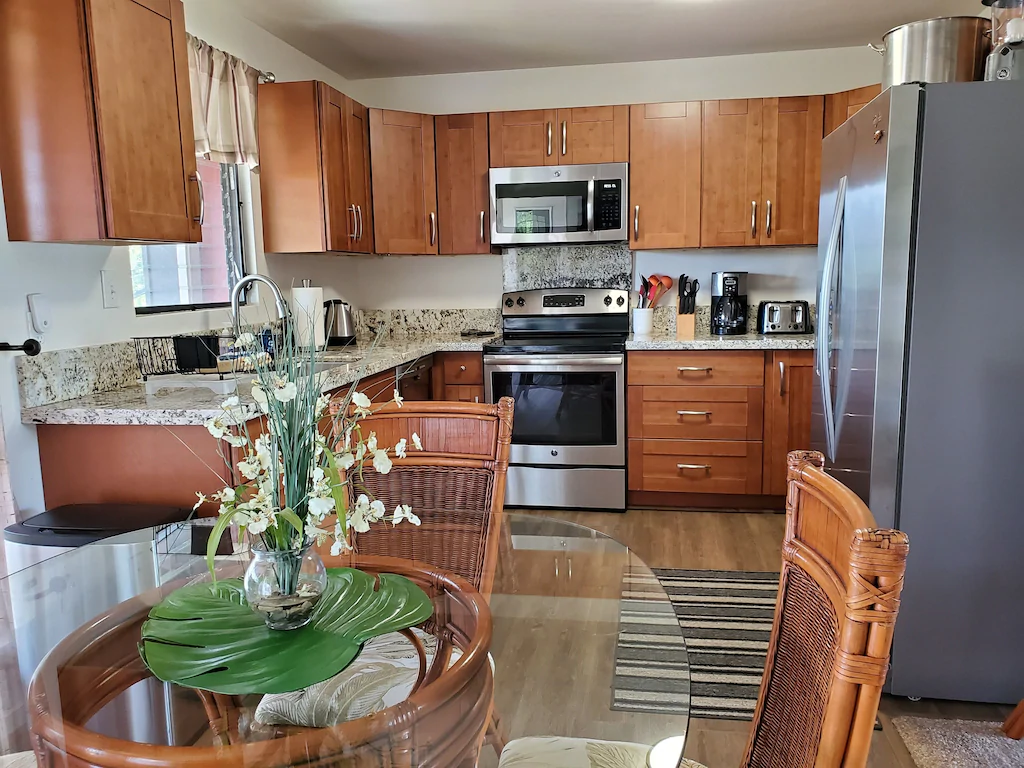 When you're looking for Maui vacation rentals for families, you want to know you'll have all the comforts of home. Check out the latest rates and more information.
Divided into 4 units, both floors have a 2 bedroom/1 bath unit and a 1 bedroom/1 bath unit. Each apartment has a living area with a pull-out sofa, and a full kitchen and dining area.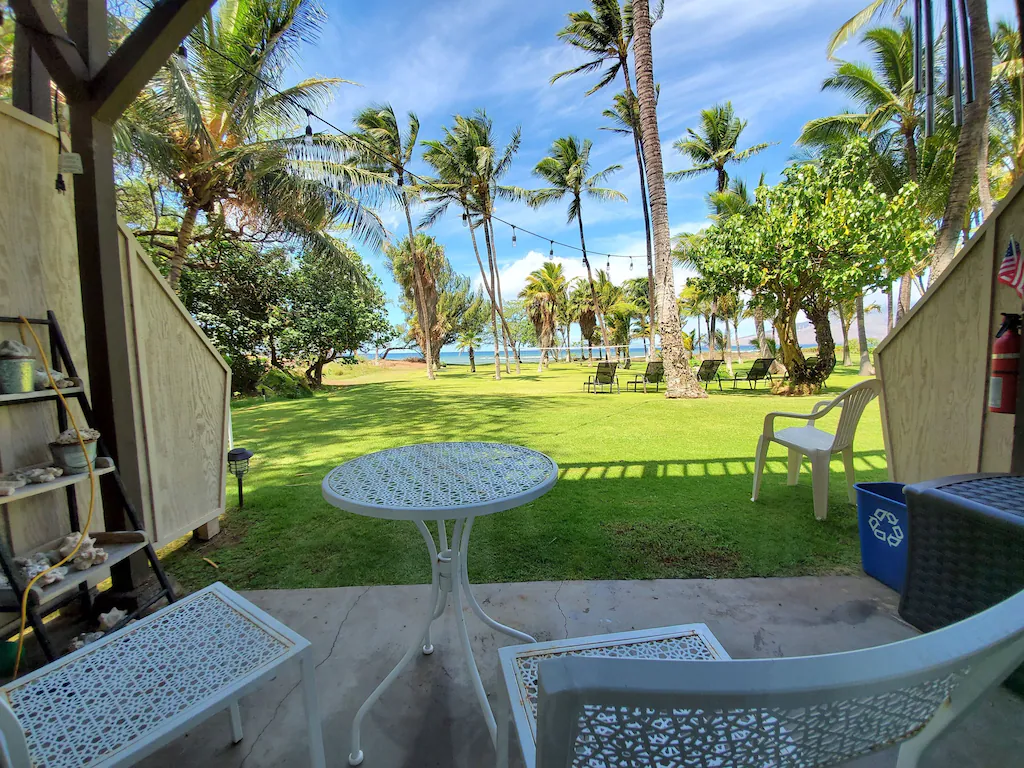 You also have lanais off each unit. And the ground floor lanai is perfect for gathering, with a grill and outdoor dining.
This family-friendly unit is ideal for all ages and comes with amenities like travel cribs, high chairs, toys, dishes for kids, and more.
Go with a set of 4 Maui villa rentals at Aloha Villas. With this Kihei listing, you have space for up to 28 people! Each villa has 3 bedrooms and 3 baths, plus a pull-out sofa in each.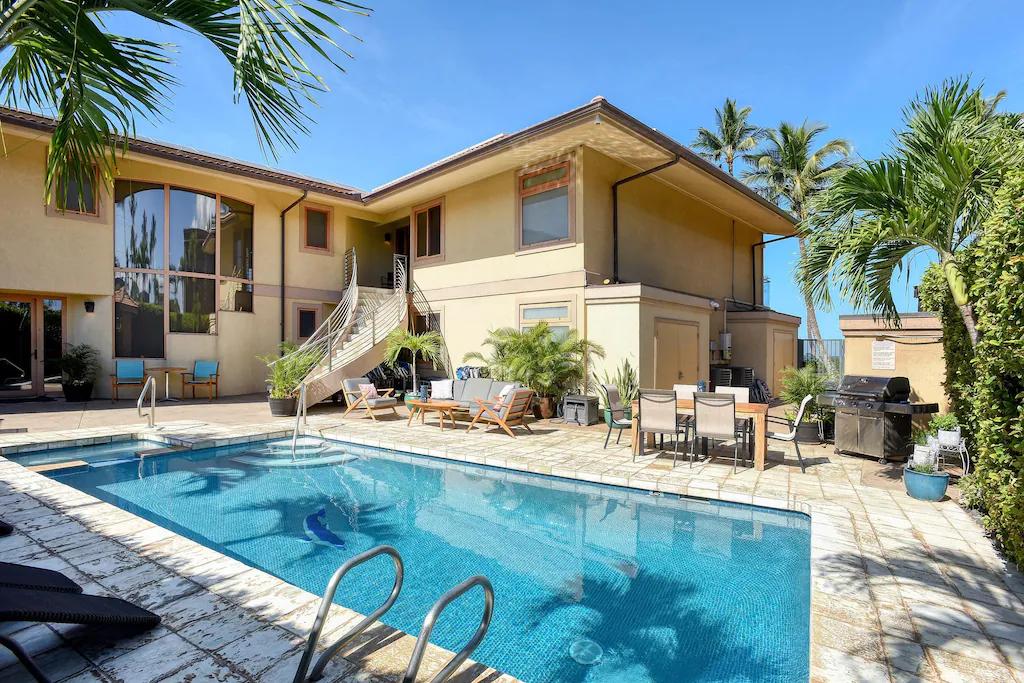 This is one of the best Maui vacation rentals for large groups, with 3 of the villas being immediately adjacent to each other. Check the latest rates and more information.
Two of the villas have 2-story townhouse layouts, and all of them have ocean views. Also, each villa offers a different benefit, like an extra family room or an extra-large lanai.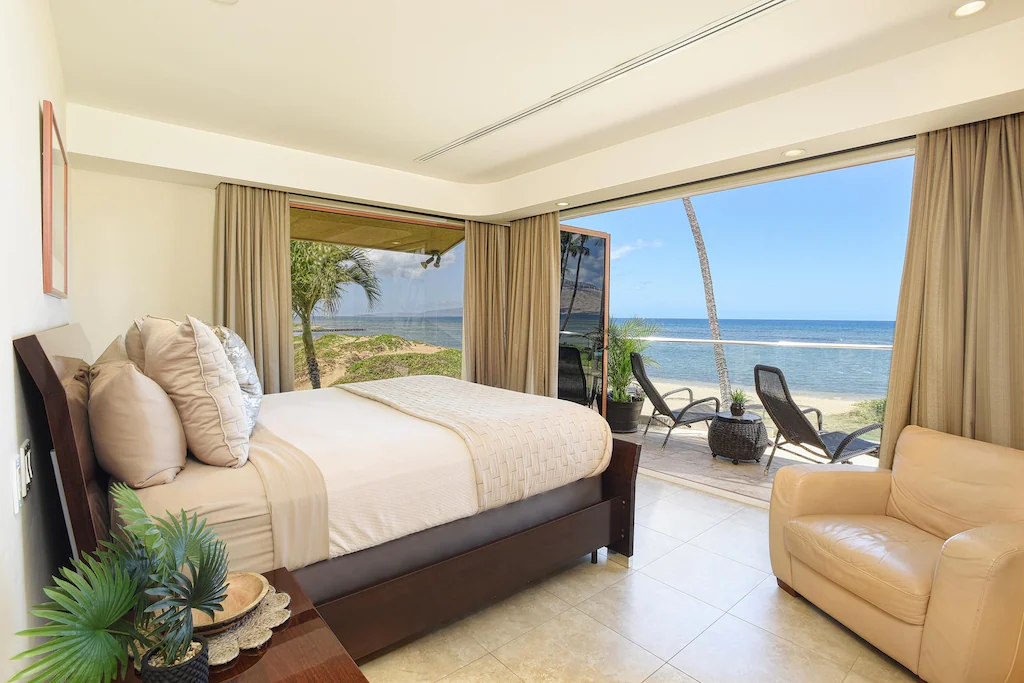 Each villa is the same with a gourmet kitchen, dining room, and living room. Enjoy luxurious touches like remote-controlled sunshades. The host also provides tons of beach equipment, and the package comes with 8 parking spots.
As a guest at Aloha Villas, you have access to pools, grills, a courtyard with lawn chairs, an outdoor shower, and a lawn leading to Lipoa Street Beach. It's a great alcove beach for kids, with calm, shallow water.
North Shore
Your group of 18 can enjoy the rugged, natural setting of North Shore at Banyan Tree Estate. The property has an Old Hawaii-style house with 4 bedrooms and 5 baths, and 3 surrounding cottages with a bedroom and bath each.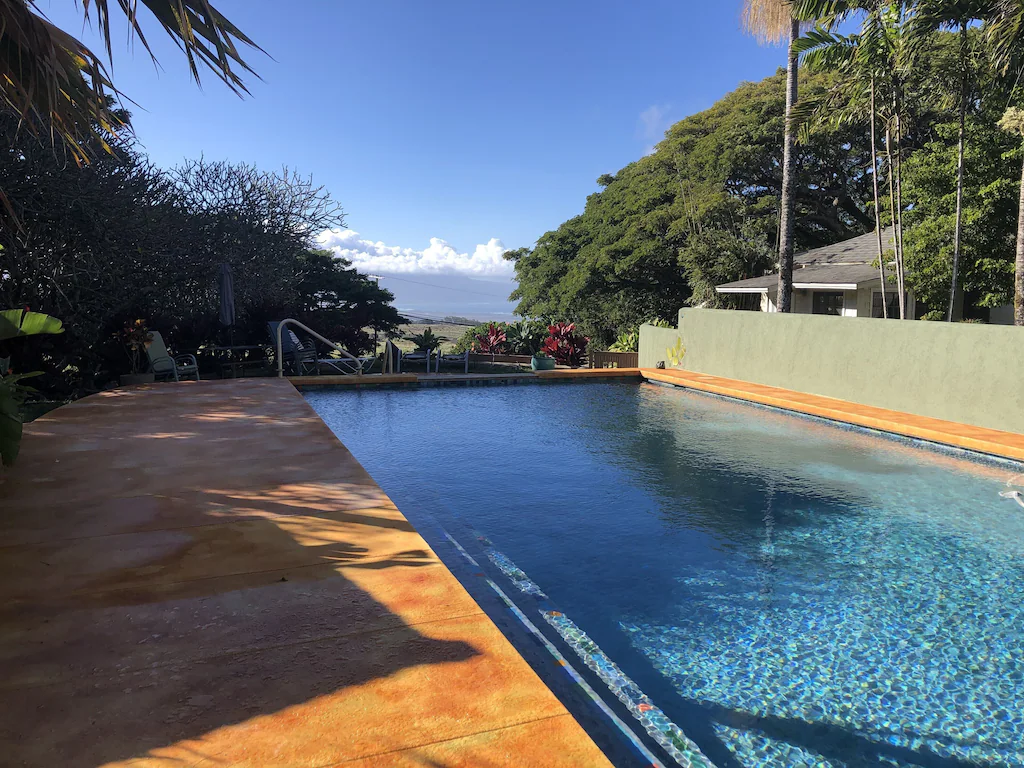 And it's all set on a 2-acre plot full of tropical trees, gardens, and grassy lawns. Enjoy mountain views on North Shore with a short walk to the local town. Paia is only 15 minutes away, with the Hana Highway being close by.
When it comes to Maui vacation rentals for large families, this is a great choice for multiple-family units. The main house and 2 of the cottages have full kitchens while the rest have kitchenettes. Check the latest rates and more information.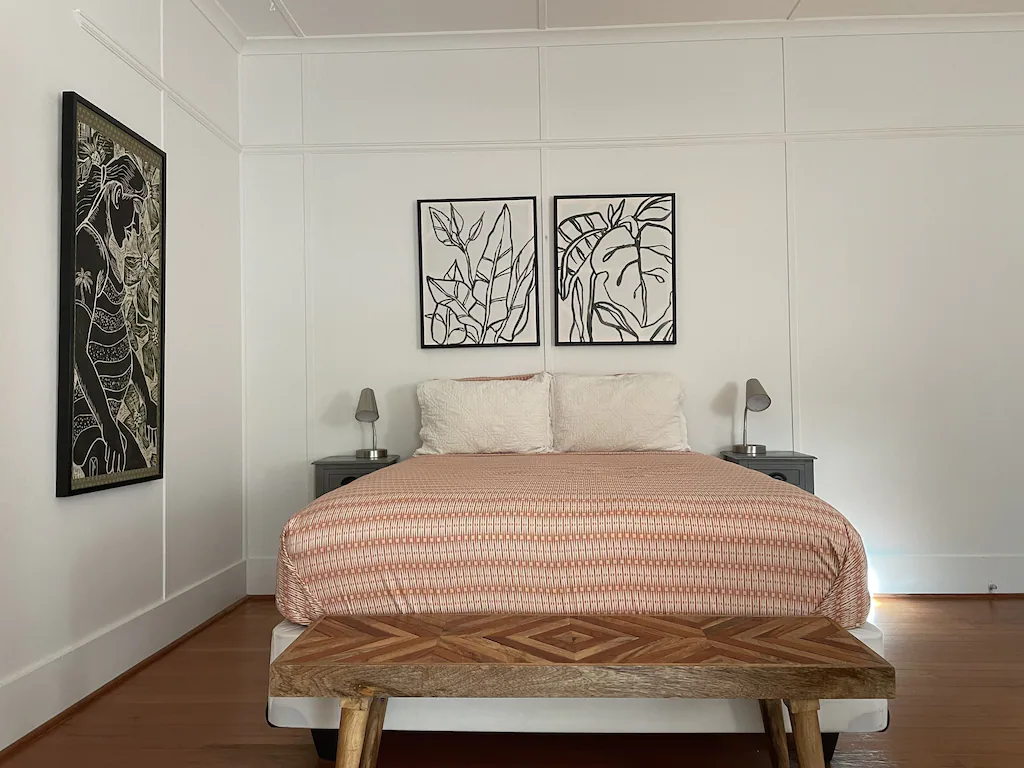 Gather with your group in the large living room and dining room at the main house, or on the lanai off any of the dwellings.
There are big and small features throughout the property that make the estate a cozy getaway! Enjoy a 50-foot saltwater lap pool, a yoga studio, and Jacuzzi. Play ping pong, relax on lawn furniture or take a nap in the hammock.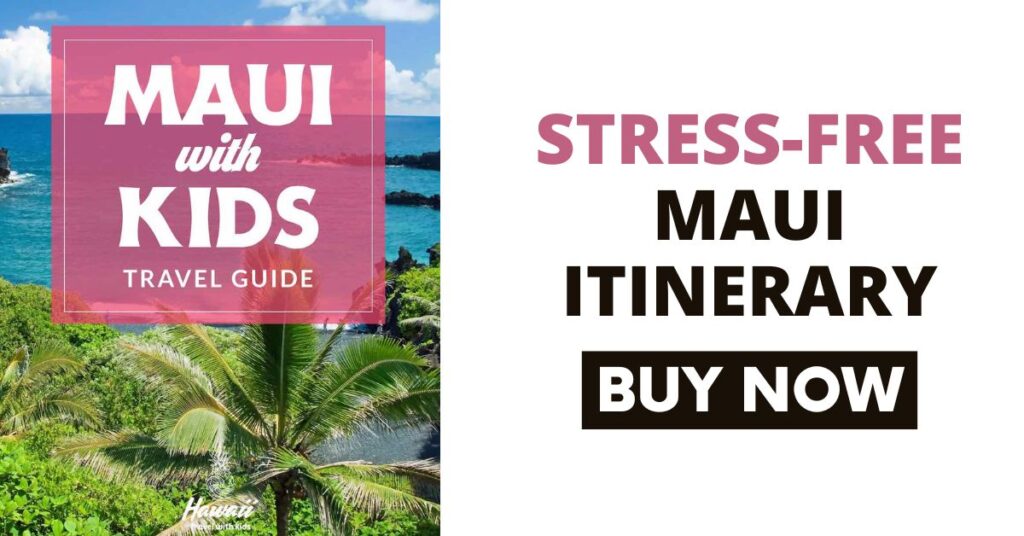 Where Will Your Large Group Stay in Maui?
There are things to know when you start looking for Maui vacation rentals for large groups. With all the information I've given you, you should be able to find the perfect place for your big family vacation.
Did you fall in love with any of the rentals on my list?