Are you looking for the best place to stay on Maui for families with kids of all ages? Keep scrolling for my honest review of the Honua Kai Resort & Spa in Kaanapali.
This Honua Kai Resort review contains affiliate links which means if you purchase something from one of my affiliate links, I may earn a small commission that goes back into maintaining this blog.
Are you planning a trip to Maui and looking for a kid-friendly resort?
My family has twice stayed at the Honua Kai Resort in Kaanapali, Maui. It's located on Kaanapali Beach and has several pools, Duke's Kaanapali, and is walking distance to other resorts.
What's unique about it is that it's a hotel that also has condos. Keep scrolling for my honest review of this Maui resort.
You'll want to read all about our experience staying here because I'm going to share with you what we loved most about this place! If you're considering booking your next vacation here or elsewhere in Hawaii, then keep reading!
We've got tons of tips below so let me know if you have any questions!
Keep scrolling for my full Honua Kai Resort review.
Don't have time to read a bunch of Hawaii blog posts and reviews? Here are some of our top picks for visiting Maui with kids.
Best Kid-Friendly Maui Tours/Activities
Best Kid-Friendly Maui Resorts
Hyatt Regency Maui (this has the BEST pool area and on-site shave ice stand)
Honua Kai Resort & Spa (this is one of our personal favorites because there are tons of pools and there are condo options)
Fairmont Kea Lani (this is a swanky resort with incredible kids' programming and an awesome pool area)
Want to skip all the planning and just access my detailed Maui Itinerary complete with daily schedules, kid-friendly activities, and travel hacks? Click the button below.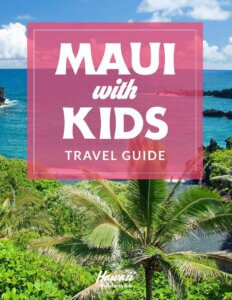 Where to Stay in Maui FAQs
Where is the best area to stay on Maui?
The main areas to stay on Maui are Lahaina, Kihei, Kaanapali, Kapalua, and Wailea. Kihei is great for families looking for a nice vacation rental home or condo. Otherwise Kaanapali and Lahaina have the best kid-friendly West Maui resorts. Wailea is down south and it can be pricey.
What are some of the best places to stay in Maui for families?
Some of the best places to stay on Maui with kids include the Honua Kai Resort & Spa, Hyatt Regency Maui, the Westin Kaanapali, and the Fairmont Kea Lani.
Is it better to stay in a condo or resort in Maui?
That really depends on the type of Maui vacation you're planning and what your budget is. I've actually written a full comparison about staying in a condo vs hotel. Condos are great for families wanting to save money by cooking their own meals. Resorts are great for families wanting lots of amenities and fancy pools.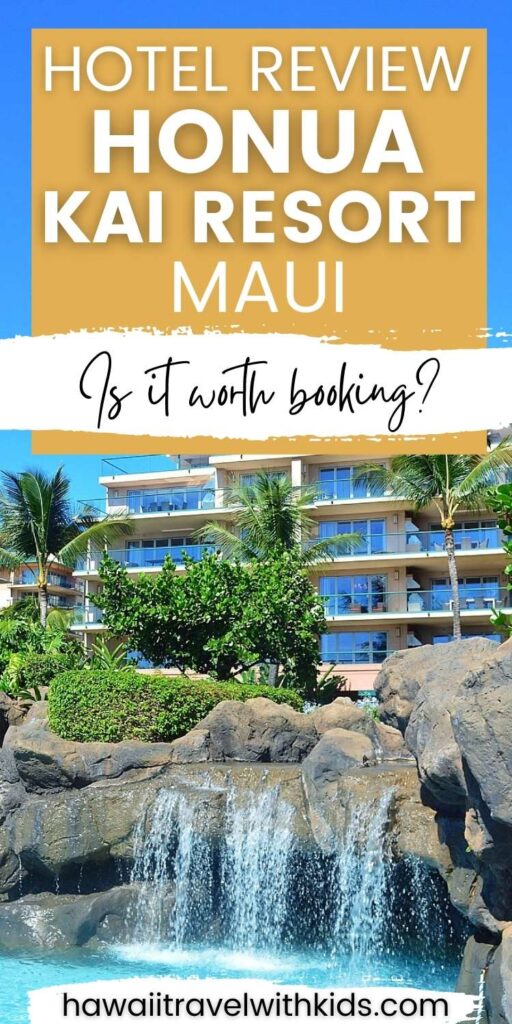 Where is the Honua Kai Resort & Spa?
The Honua Kai Resort and Spa is located in West Maui at 130 Kai Malina Parkway, Lahaina, HI 96761. It's right between Ka'anapali and Lahaina.
Honest Honua Kai Resort Review
My family has stayed at the Honua Kai Resort & Spa twice for multi-generational family vacations. The first time, I was pregnant with my youngest. The second time, I had an infant with me.
Each time, there were 13-14 of us, so we rented 3 condos between us.
This review is a combination of both times we have stayed here because I figured that would be the most helpful for readers.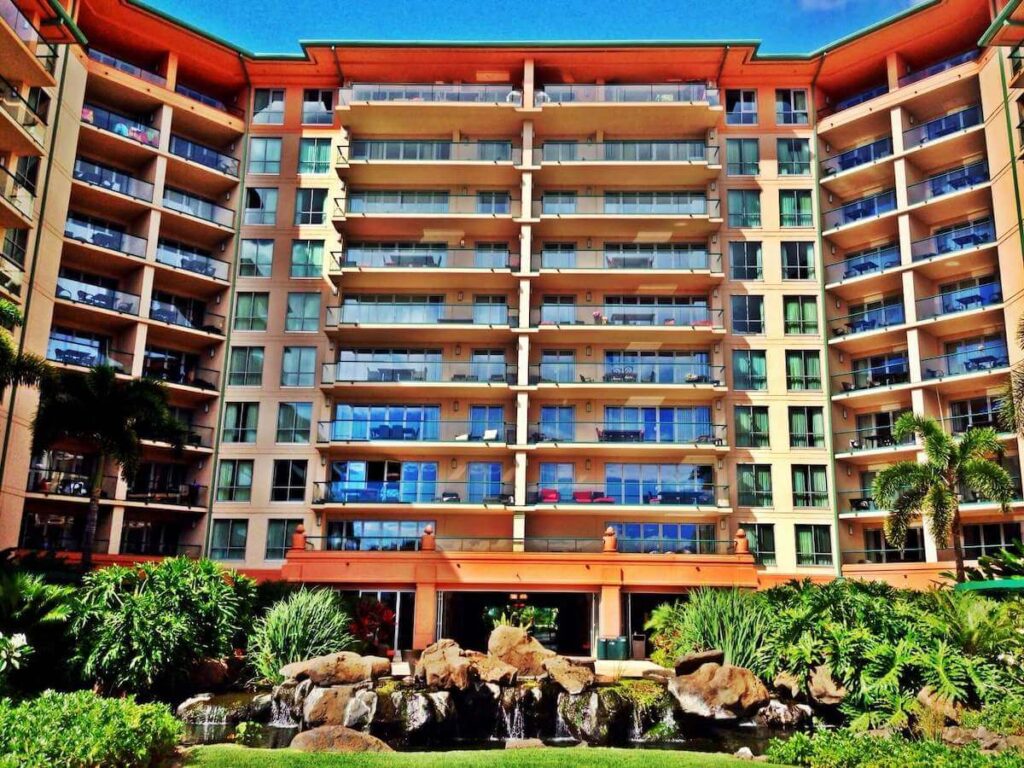 What was our room like?
We've had a two-bedroom unit both times.
The two-bedroom unit was really helpful when we had my mom stay with us. We tried a few sleeping arrangements and ended up having her bunk with our toddler at one point. It was really nice to have so much extra space.
It was great to have a kitchen where we could store easy breakfast items and snacks. Plus there was a decent size fridge for milk and yogurt, etc.
My in-laws rented a three-bedroom unit on our last trip that they shared with a family of 4. We also used it as the main gathering place. The kitchen was huge and we were able to cook a lot of meals in the unit and we all had places to sit and eat.
What did we think of the dining options?
The only sit-down dining spot at the Honua Kai Resort is Duke's. It's part of a chain of restaurants that includes Hula Grill, Kimo's, Keoki's Paradise, and Leilani's on the Beach. So, you'll be able to find similar items.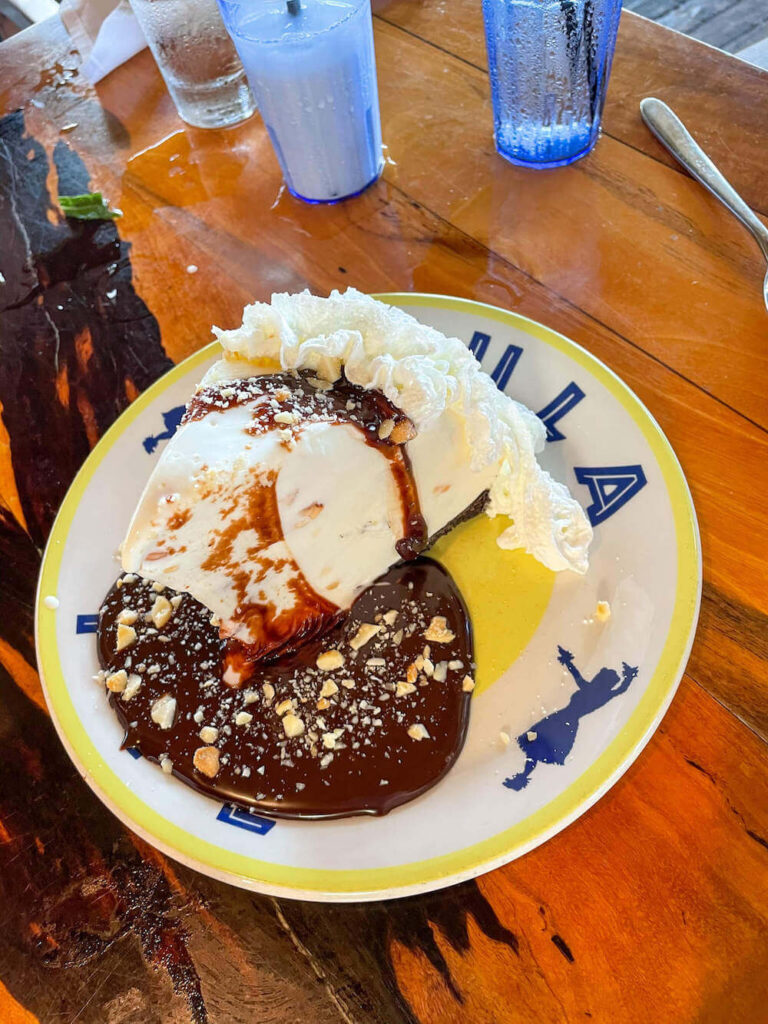 We ate here a few times for lunch. They also serve the pool area, which is nice. And we did a big sit-down dinner here on one of our last nights.
The food is pretty good and the ambiance is great!
This is more of a grab-and-go deli/coffee shop. We came here every morning to grab "fancy" coffee. We also did a few quick breakfasts and lunches here. The food tasted great and it was easy.
The last time we were here, I believe the kids grabbed pints of ice cream here. I'm not sure if they still sell those, but it was a HUGE hit!
Whaler's General Store
There's also a local convenience store called Whaler's General Store. It has a lot of souvenirs and sundries. But, it also has prepackaged snacks and drinks. These are super nice to grab before you head out on your daily adventure.
Other Nearby Options
You can walk to Times Supermarket, which is a local grocery store. It's a bit of a trek, so you might want to have backpacks or a wagon to put your groceries in, especially if you buy drinks.
There's also Slappy Cakes, which is a popular diner, and L&L Hawaiian Barbecue that is all in the same area as Time Supermarket.
Honua Kai Resort Pool Area
The main reason to book the Honua Kai Resort and Spa is for their amazing pool area. There are 5 swimming pools! A couple of them are designated quiet zones just for adults, but others are specifically for kids.
And there's even a water slide that is a total blast.
Is it worth renting a cabana?
YES! We've rented cabanas in Hawaii for many years and this is one of the properties where it's totally worth it. Their cabanas are nice and spacious and perfect for multi-generational trips to Hawaii.
Both of my kids have taken naps inside the cabana at the Honua Kai. Plus, the adults were able to play cards with no problems.
We were also able to order food from Duke's, which was another bonus.
Ka'anapali Beach
One of the best things to do at the Honua Kai Resort and Spa is to head to Ka'anapali Beach. It's just a few steps away from the pool area.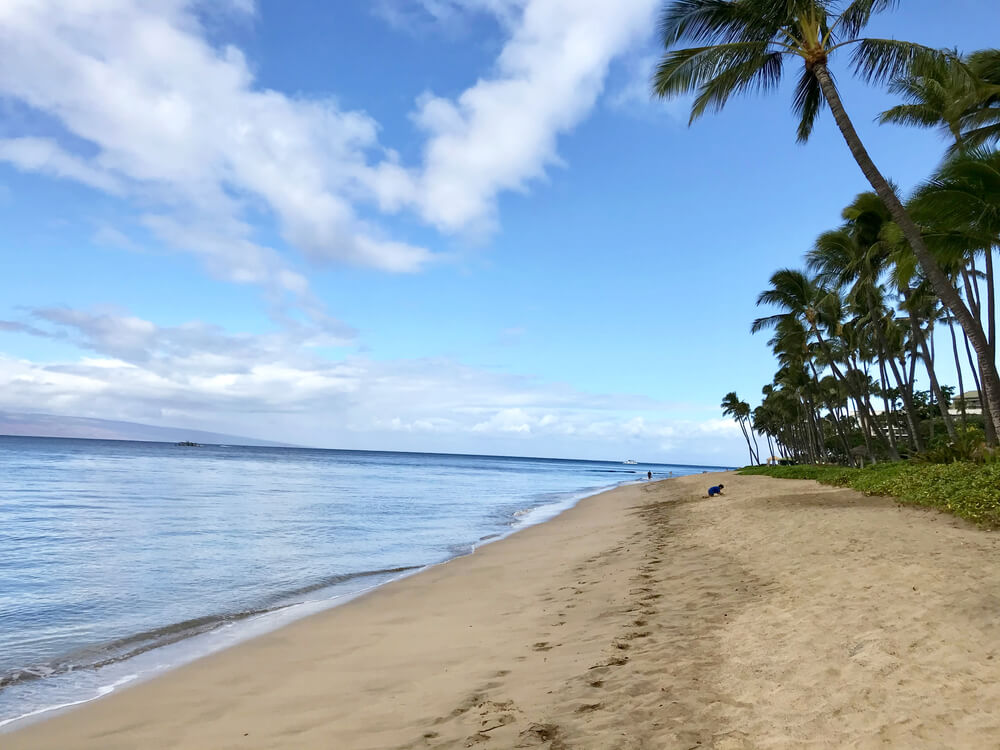 I suggest checking the tides before you head to the beach. There were a few times where there was barely any beach.
This is also a nice beach for morning or evening beach walks.
Pros of the Honua Kai Resort & Spa
The resort location is amazing! It's just steps away from Ka`anapali Beach.
Duke's is located on premises and there's also the `Aina Gourmet Market where you can grab lattes and breakfast items.
The `Aina Gourmet Market also has a whole section of organic baby/toddler food and Green Toys!
The pool area is phenomenal! There's lots of seating available plus it's 5 pools and a water slide!
The views! Our room overlooked the mountains (my personal favorite part of Maui) with the other rooms overlooked the ocean and the rest of the resort. And we saw too many rainbows to count from our lanai windows! Not too shabby!
The bathrooms are gigantic! I think the bedroom and bathroom were the same size. It's nice to have enough room to really spread out. And they have a separate tub, which is great for toddlers.
There are large tables and chairs on the lanai, perfect for breakfasts or dinners at the condo.
Times Supermarket grocery store is across the street (walking distance) to grab snacks and meal supplies.
Free WiFi. This is a must for me when we travel and it's surprisingly hard to find some places.
Cons of the Honua Kai Resort & Spa
The customer service was hit/miss. The first time, we arrived after midnight due to an unexpected highway closure and by the time we got to the Resort we were wiped. We unloaded our car and while we tried to get a staff member to help us locate a cart, we were brushed off while they helped others who arrived after us. Not a great first impression. However their security staff is fabulous and the management company sent us cookies the next day as a welcome gift because of the crazy highway closure.
Our bed was super bouncy. It was so bouncy that I felt seasick at night anytime my husband moved.
The water pressure was really hard. Normally I like good water pressure, but this was very painful for even the lightest of sunburns. Thankfully there was a separate bathtub.
Would we recommend the Honua Kai Resort & Spa
I really liked the Honua Kai Resort. It was nice to be on a vacation where we really could just stay at the resort if we wanted. The pools were pretty incredible and I loved that there were food/coffee options on-site! It's a great place relax and unwind!
You can find out more information about the two-bedroom unit and three-bedroom unit so you can decide if it's right for you.
P.S. Join our Hawaii Travel with Kids Facebook group to get connected with other families planning a trip to Hawaii!