Are you looking for an awesome vacation destination for fall break? Don't count Hawaii out! Keep scrolling to find out why you should visit Hawaii in October for the best deals and minimal crowds!
This post about why you should visit Hawaii in October was written by Hawaii travel expert Marcie Cheung and contains affiliate links which means if you purchase something from one of my affiliate links, I may earn a small commission that goes back into maintaining this blog.
Are you looking for a fun and exciting way to spend your fall?
Hawaii is the perfect place to visit during this time. You can enjoy all of the amazing things that Hawaii has to offer, but without having to deal with cold weather!
There are so many great places in Hawaii that you can go and see, as well as activities that you can do while visiting. Visiting Hawaii in the fall is an experience unlike any other!
With beautiful beaches, waterfalls, hiking trails, and more, there are plenty of things for everyone in your family to enjoy.
The best part about autumn in Hawaii is that even though it's not technically "fall weather" here in Hawaii we still get some nice breezes and cooler temperatures which makes everything feel just right!
So come on down and check out all of these awesome places for a Hawaii vacation in October.
Keep scrolling to find out the best things to do in Hawaii during the fall.
Want to skip all the planning and just access my detailed Hawaii Itineraries complete with daily schedules, kid-friendly activities, and travel hacks? Click the button below.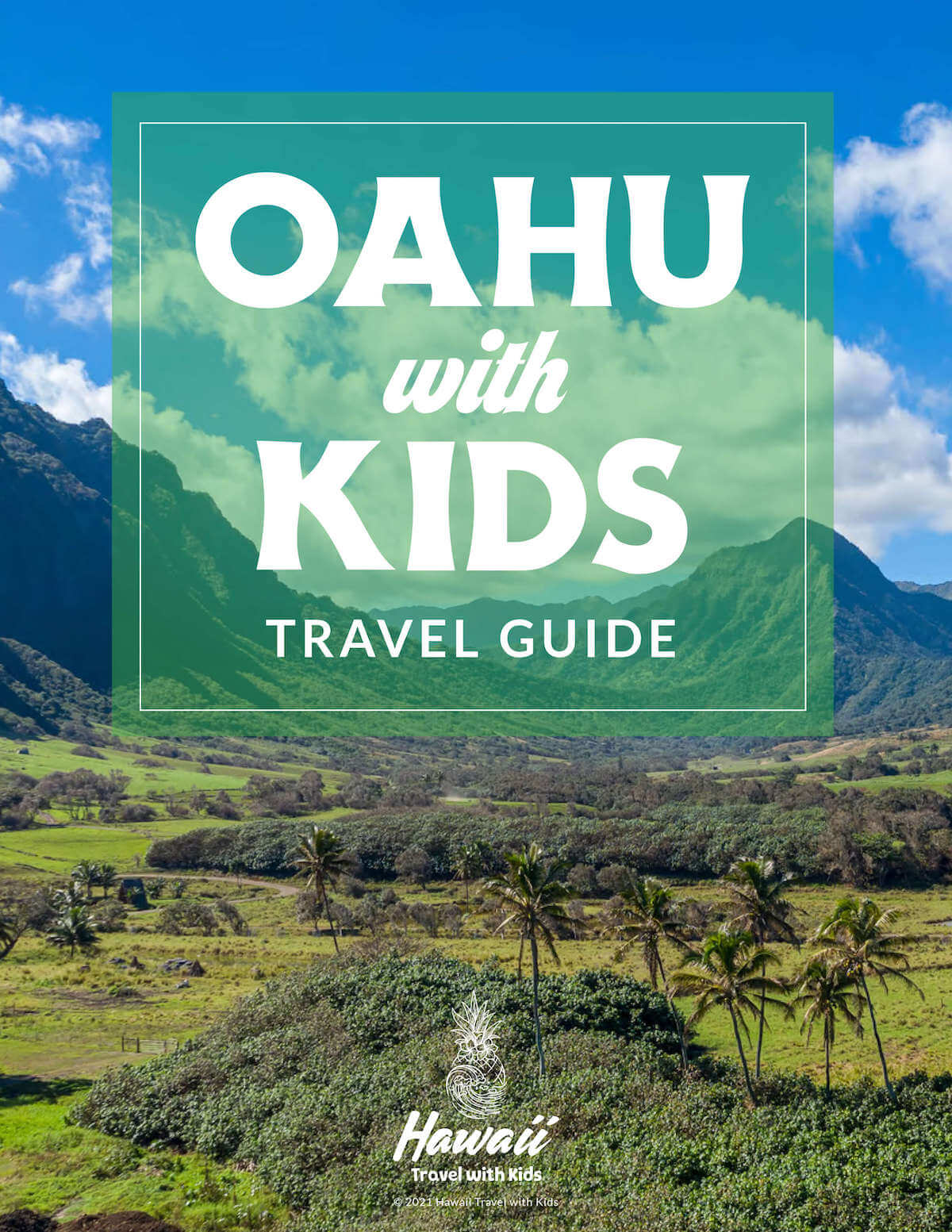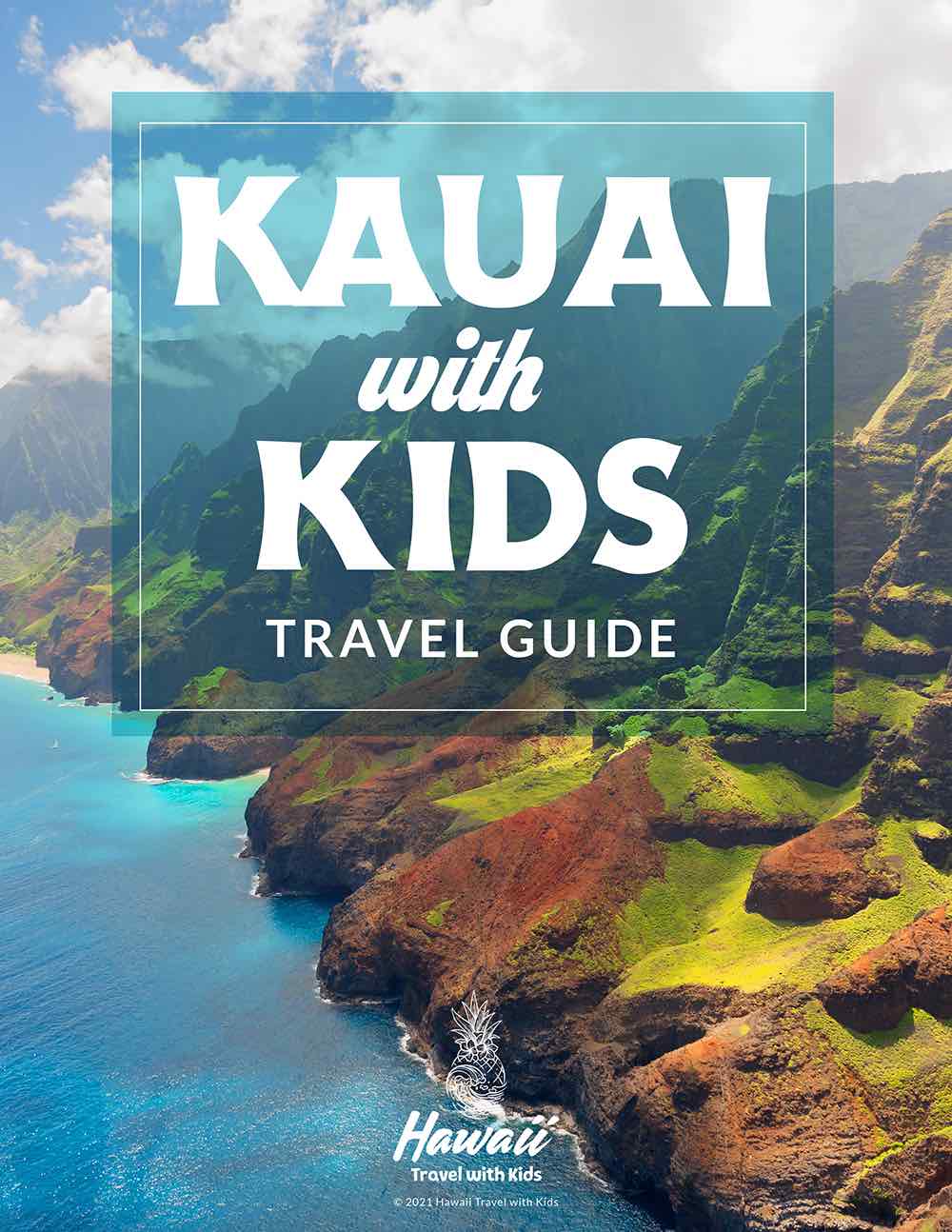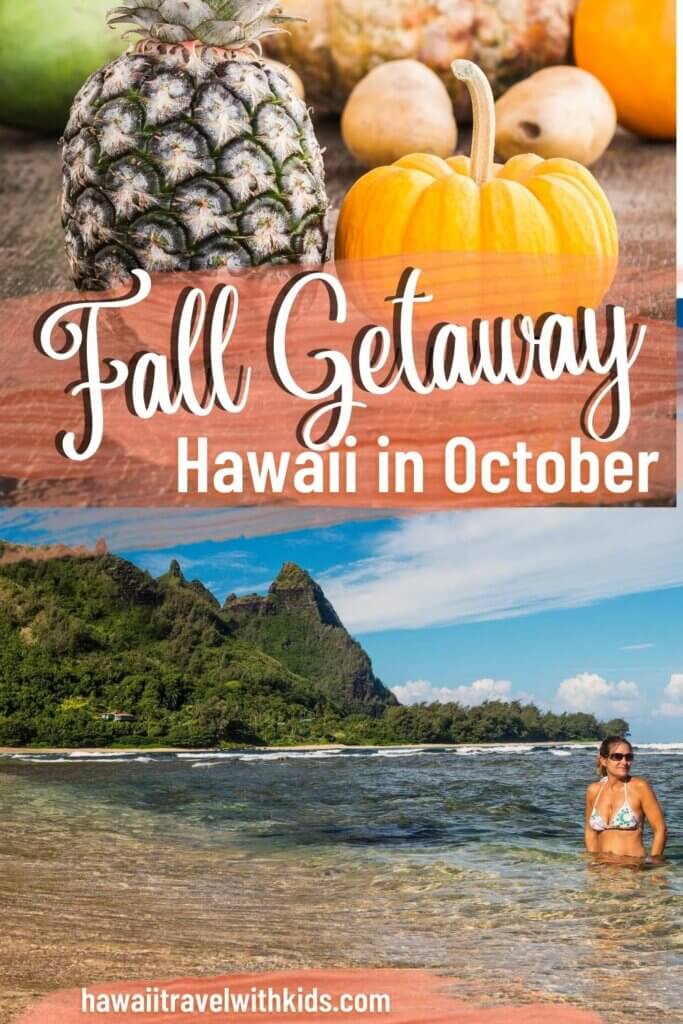 What is the Weather in Hawaii in October Like?
October is still the summer season for Hawaii, so it is still wonderfully hot, especially compared to the mainland. You might see it start to drop a couple of degrees in October, though.
Typically, the average temperature in Hawaii in October is around 83 degrees during the day and mid-70s at night. Some nights get a little chilly at 70 degrees!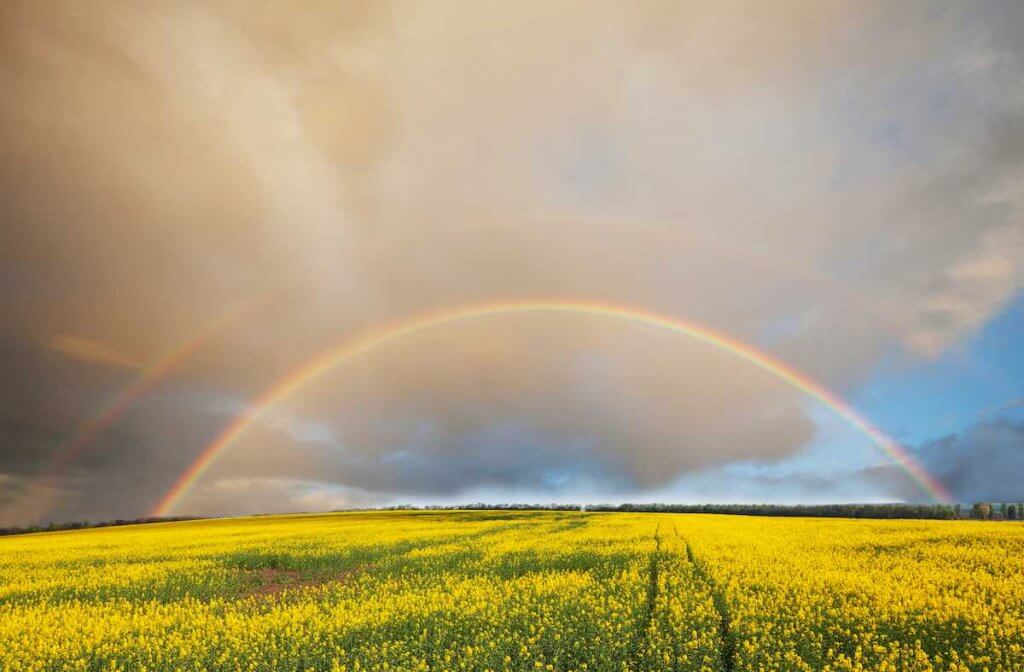 You might start to see more rain during October in Hawaii; however, it will mainly rain at night. Even if you get some rain during the day, it never lasts long. Quick rain showers are more common starting in October and through the winter season. But, you usually will still have around 8 hours of full sunshine!
Kauai weather in October has more rainfall, and the Big Island has less rainfall. The leeward sides of all islands typically have fewer showers as well. If you plan on visiting Kauai in October, make sure to bring a raincoat.
The temperature in Maui in October is around 87 degrees and the Pacific Ocean water temperature in Hawaii in October is about 80 degrees. It is one of the months with the warmest ocean temperatures, making it the perfect time to visit Hawaii!
The weather in Oahu Hawaii in October is slightly different with average temperatures being around 84 degrees and great for outdoor activities and swimming in the ocean.
Whether you are visiting Maui, Kauai, Big Island, or Oahu, you can still enjoy the beautiful sunshine and hot weather during October despite it looking a bit different on the mainland.
The climate in Hawaii in October is just perfect for a visit to the Hawaiian islands!
What to Wear in Hawaii in October
Packing for Hawaii in October isn't much different from other months.
You should be able to wear the normal things you would always wear to Hawaii, even though you are vacationing in Hawaii in October. Hawaii doesn't really have a fall season, so you should still expect hot and sunny days.
Wear shorts, lightweight clothes, and sandals. Loose dresses are always comfortable as well and allow the breeze to cool you down. Bring a hat or two, and don't forget your sunglasses!
You might want to bring a lightweight sweater or sweatshirt as the nights do feel cooler. The drop from hot to cool makes a lot of people cold, as it is not something you typically expect. One long pair of pants and a sweater should be plenty for the Hawaii weather in October.
The weather in Maui Hawaii in October might differ slightly from the rest of the Hawaiian islands, but for the most part, this is all you will need to pack.
What to Pack for Hawaii in October
You should pack what you normally would for any vacation in Hawaii! I've got a Maui packing list and Kauai packing list that will get you started. And you can read about the top things people always forget on their Hawaii packing list HERE.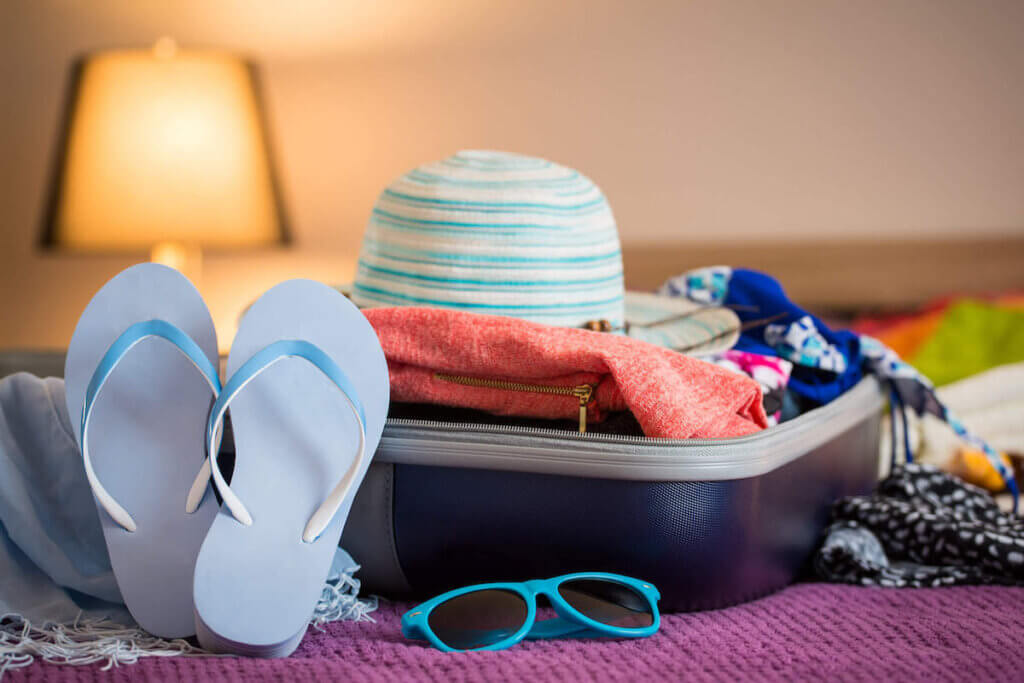 However, you may want to add a pair of pants and a very thin sweatshirt just in case you get cold at night. A rash guard swimsuit will also help you stay warm out on the ocean if you plan to swim at night.
Along with those, don't forget to bring:
Sunscreen
Hats
Sunglasses
Sandals
However, if you do forget something off your list of what to pack for Hawaii in October, don't worry. Head to a local Walmart or Target to find lower prices and grab what you forgot.
Why Travel to Hawaii in Fall?
Traveling to Hawaii in October does have some pretty cool perks. Some claim it is one of the cheapest times to visit as there are no major holidays. Beaches are typically less crowded as well.
Along with that, you can experience lots of the same fall things you would normally do, but in the sunshine and with a fun Hawaiian twist! Because it isn't so hot at night, the Hawaii fall weather is another bonus for an October vacation.
Fall starts the seasonal blues for some people as the weather cools down and things begin to die. During October, traveling to Hawaii may help you rest, relax, and reset to have a smoother and happier cold season!
The best time to go to Hawaii in October is usually at the beginning of the month. There tends to be a bit more crowded in Hawaii in late October for the Halloween festivals.
Aside from the awesome October weather, Hawaii hotel rates are typically a lot cheaper as well. There are tons of Hawaii hotels and car rentals that offer good discounts for a fall trip!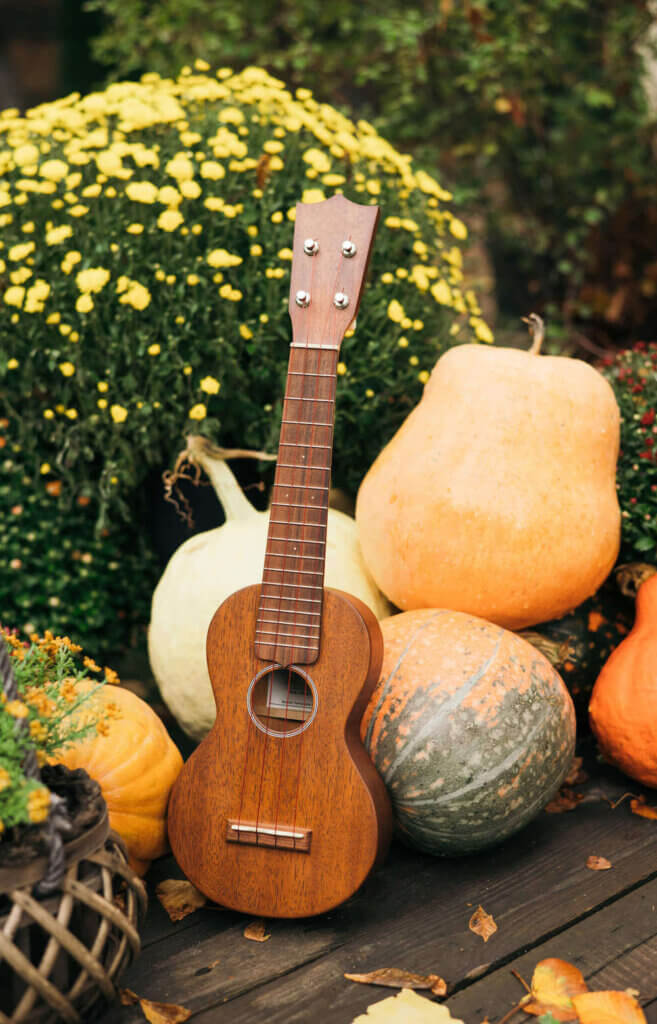 Best Places to Visit in Hawaii in October
Here are some of the best things to do in Hawaii in October! Check out the best places to visit, along with some fun fall favorites as well!
Pumpkin Patches
You will find some fun pumpkin patches that are open during the entire month of October. Some will have hayrides, mazes, and of course, pumpkin picking! You might even see a beautiful sunflower field in a few as well!
Aloun Farms
Aloun Farms typically will have an educational farm tour and pumpkin festival.
During this Oahu pumpkin festival, you can enjoy live entertainment, fresh farm food to eat, a pumpkin patch, and fun rides for the Keiki. Kids can enjoy riding on the horse, playing games, and having a good time!
Aloun Farms is located in Kapolei, Oahu, and is one of the fun things to do in Oahu in October, especially for little kids.
Waimanalo Fall Harvest Festival
Another fun pumpkin patch in Oahu is the Waimanalo pumpkin patch. This pumpkin patch has a beautiful sunflower field with photographers ready to take stunning photos of your family. They also have a place to visit and experience the animals on the farm.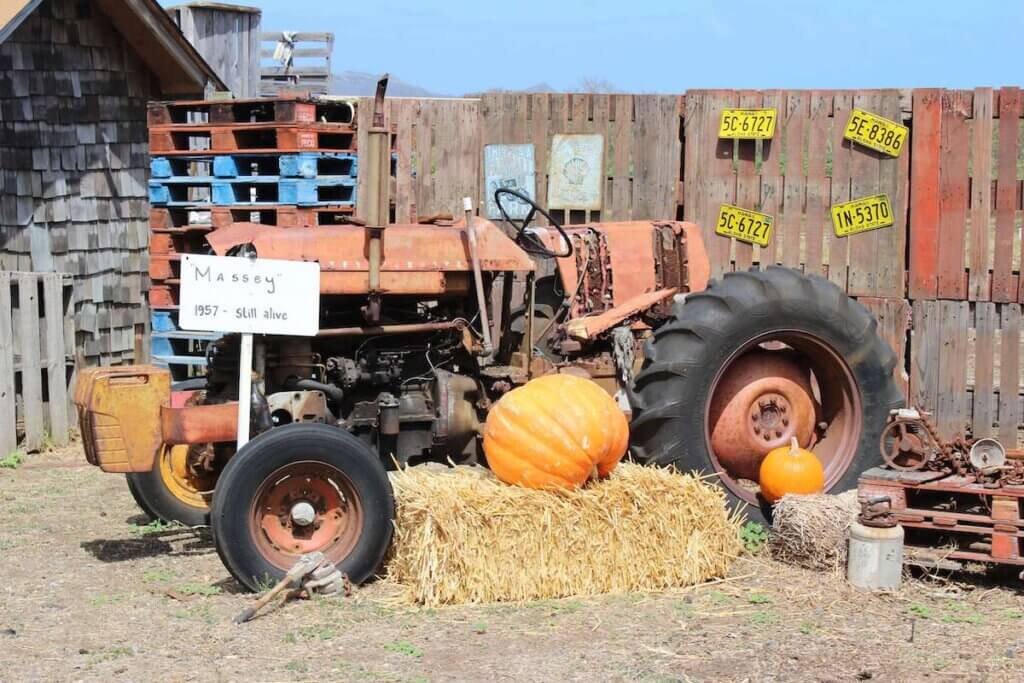 The festival usually includes exploring the pumpkin patch and the sunflower field with the animals.
Reservations are required in advance. You can still grab a pumpkin with your little ones and enjoy being on a beautiful farm! The natural beauty here is so unique.
It is another one of the top things to do in Honolulu in October!
Kula County Farms Pumpkin Patch
Located in Maui, the Kula pumpkin patch is another great one to visit in October. On this farm, enjoy seeing the farm animals while you pick your pumpkins and take your pictures as a family.
You can also enjoy the amazing fresh farm produce, including strawberries, pumpkins, and other goodies.
This is one of the top fun things to do in Maui in October!
Pa'Ani Ranch
Located on the Big Island, the Pa'Ani Ranch is one of the only pumpkin patches on this island. It is located near Hilo and has a lot more than just pumpkins.
On the Big Island in October, they have a special Holoholoween event that takes place at this ranch. You can enjoy a haunted drive-through, some farm fun, concessions, and more. It is one of the cool festivals to enjoy on the island.
Learn about Pa'Ani Ranch and find more information here.
Waikiki Costume Parade
On Kalakaua Avenue, in Waikiki, you will find a street full of people wearing all sorts of costumes.
Every Halloween, you will find lots of fun Halloween activities and spooky costumes as you walk the street! It's so much fun if you like to people-watch and see creative costumes!
Haunted Plantation
This Haunted Plantation located at Hawaii's Plantation Village in Waipahu is one of the scariest haunted places in the United States.
It has ranked top scariest in Hawaii, top 10 in America, and top 20 as well. This is not kid-friendly at all, so do not come here if you are vacationing with your family.
This is a haunted village and has around 60 actors and they will chase you down the street! They have been putting on this haunted plantation for 16 years now, and it is still scheduled to occur this year.
Children under 13 years old are not allowed. It is strongly encouraged that pregnant women and those with heart conditions do not visit as well. But, if you love the spooky Halloween feel, definitely check this out!
Hallowbaloo
Hallowbaloo is held in Chinatown in Honolulu, Hawaii. It is a wonderful music and arts festival that usually falls right around Halloween time.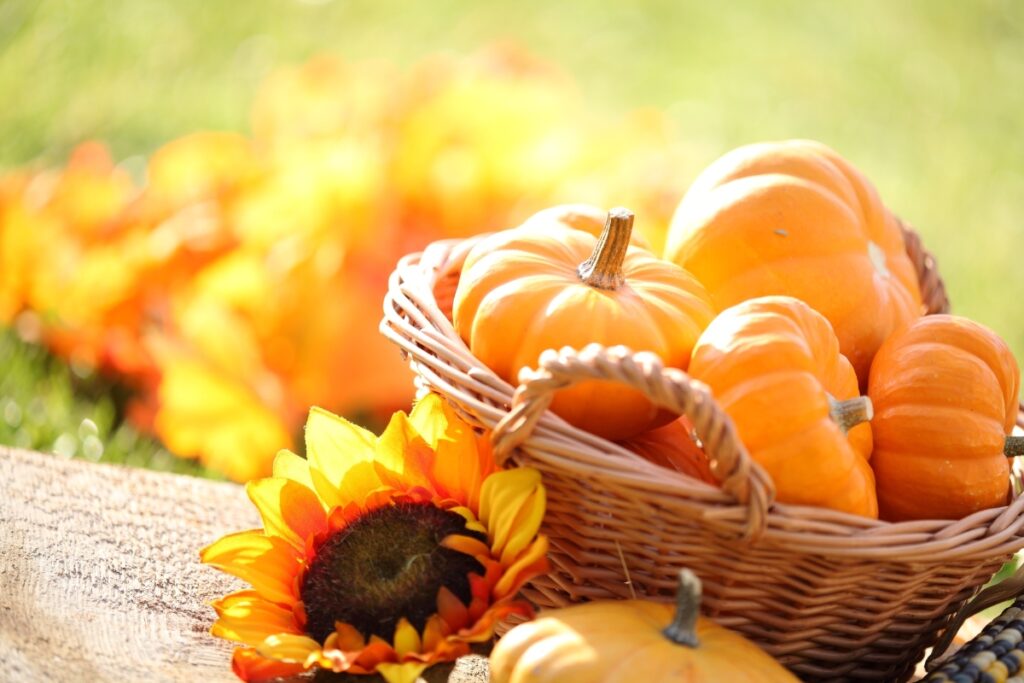 You will find national and local artists sharing their talent as they perform for you. Of course, there are costumes as well!
Follow their Facebook as they give updates.
Annual Hawaii Food Wine Festival
Celebrate the 12th Hawaii Food and Wine Festival this year in October in Hawaii! This festival is held on 3 of Hawaii's islands, including the Big Island, Maui, and Oahu.
With more than 17 events for this festival, there is something for everyone to love! There's even a kid's recipe contest!
This year they want to teach and help people to love and respect the aina, or land, culture, and people. Tickets must be purchased in advance for the Hawaii Food and Wine Festival.
Ironman World Championship
For many years the Ironman World Championship takes place in Hawaii during October. Start preparing now and have some fun during this championship!
It last took place in 2022 in Hawaii.
Kauai Chocolate and Coffee Festival
Who doesn't love chocolate and coffee? In Kauai, you can visit a beautiful festival dedicated to these delicious treats. Check out the Kauai Chocolate and Coffee Festival website for up-to-date information.
Many vendors come to share their best chocolate, coffee, and more! This is one of the best things to do in Kauai in October!
Hawaii in October FAQs
Is October rainy season in Hawaii?
While October tends to be a rainy month on the Mainland, it's only slightly rainier in Hawaii compared with other months. Winter is typically the rainy season in Hawaii. And when it does rain in October, it tends to be at night, so it shouldn't impact most of your activities during your Hawaiian vacation.
Is October a good time to go to Hawaii?
Absolutely! Usually, kids are back at school so there are fewer families traveling to Hawaii in October. You can also usually find great deals on airfare and hotels because this is part of Hawaii's shoulder season. The weather and temperature in Hawaii in October are really comfortable, too.
Is it worth visiting Maui in October?
For sure! In fact, Lahaina is known for being one of the best places to celebrate Halloween in Hawaii! Plus the weather in Maui in October is perfect for outdoor adventures like hiking around the Road to Hana or exploring Haleakala Crater. And the beaches are less crowded. Plus, you can usually find awesome deals at Maui Resorts. Check out the best things to do in Maui in October.
Is October hurricane season in Hawaii?
If you are going to Hawaii in October, you might be wondering about hurricanes. Hurricane season in Hawaii runs from June to November. The Hawaii weather in September and October is usually pretty nice, so you shouldn't have to worry too much. Be sure to check for updates during the fall season to be aware of any hurricanes or tropical storms, but it is pretty rare to hit Hawaii.
What is the best island to visit in Hawaii in October?
The best Hawaii island to visit in October all depends on what you want to do. If you want to enjoy plenty of tourist attractions and things to do in Oahu in October, Oahu is the best Hawaiian island in October. However, Maui, Big Island, and Kauai in October are all perfect for visiting Hawaii and are filled with fun activities.
How is the weather in Hawaii in October?
The weather in Hawaii during October is pretty sunny still, and it has warm weather to enjoy without all the summer crowds. Sometimes there will be light rain, but it doesn't last too long. The October temperatures in Hawaii average around 85 degrees Fahrenheit.
October in Hawaii Wrap Up
Visiting Hawaii in October goes way beyond the lower prices and fewer crowds, although those are huge bonuses.
Fall in Hawaii is gorgeous, fun, and exciting. It is a great place to explore pumpkin patches with your children or visit scary and haunted places.
Regardless of what you want to do, be sure to visit Hawaii in October at least once! You won't regret it!