Are you looking for an awesome vacation destination for fall break? Keep scrolling to find out what it's like to visit Hawaii in the Fall!
This post about Hawaii in the fall was written by Hawaii travel expert Marcie Cheung and contains affiliate links which means if you purchase something from one of my affiliate links, I may earn a small commission that goes back into maintaining this blog.
Planning a vacation to Hawaii with the family this fall?
You picked a great time! The weather is perfect, and there are not as many tourists. Plus, the prices are usually cheaper this time of year.
Check out our guide to learn everything you need to know about visiting Hawaii in the fall!
We want you to have the best vacation possible, so we've put together a guide full of information on what to expect when you visit. With our help, your trip will be worry-free and perfect in every way.
So what are you waiting for? Start planning your dream vacation today!
Here is your guide to learning exactly what it's like to visit Hawaii in the fall!
Want to skip all the planning and just access my detailed Hawaii Itineraries complete with daily schedules, kid-friendly activities, and travel hacks? Click the button below.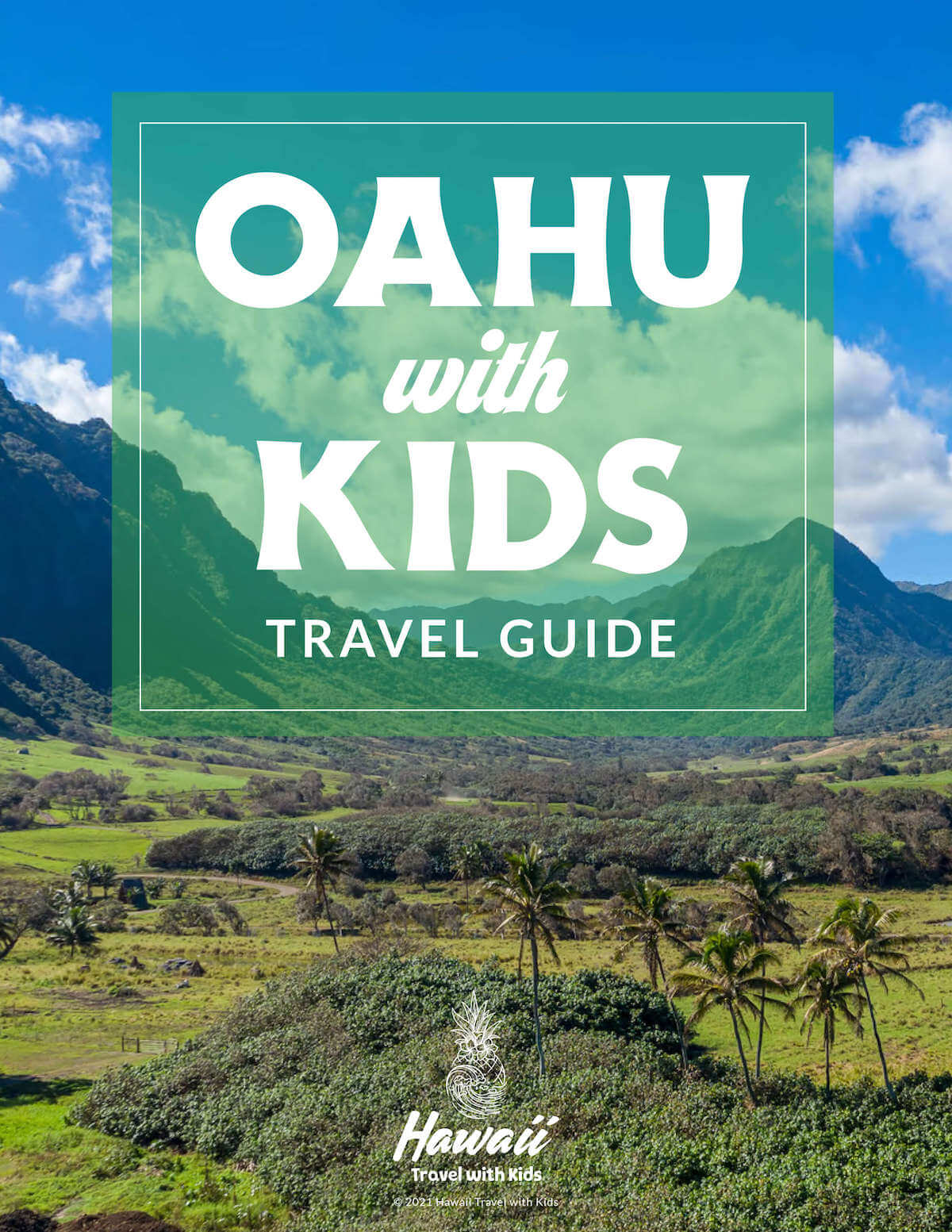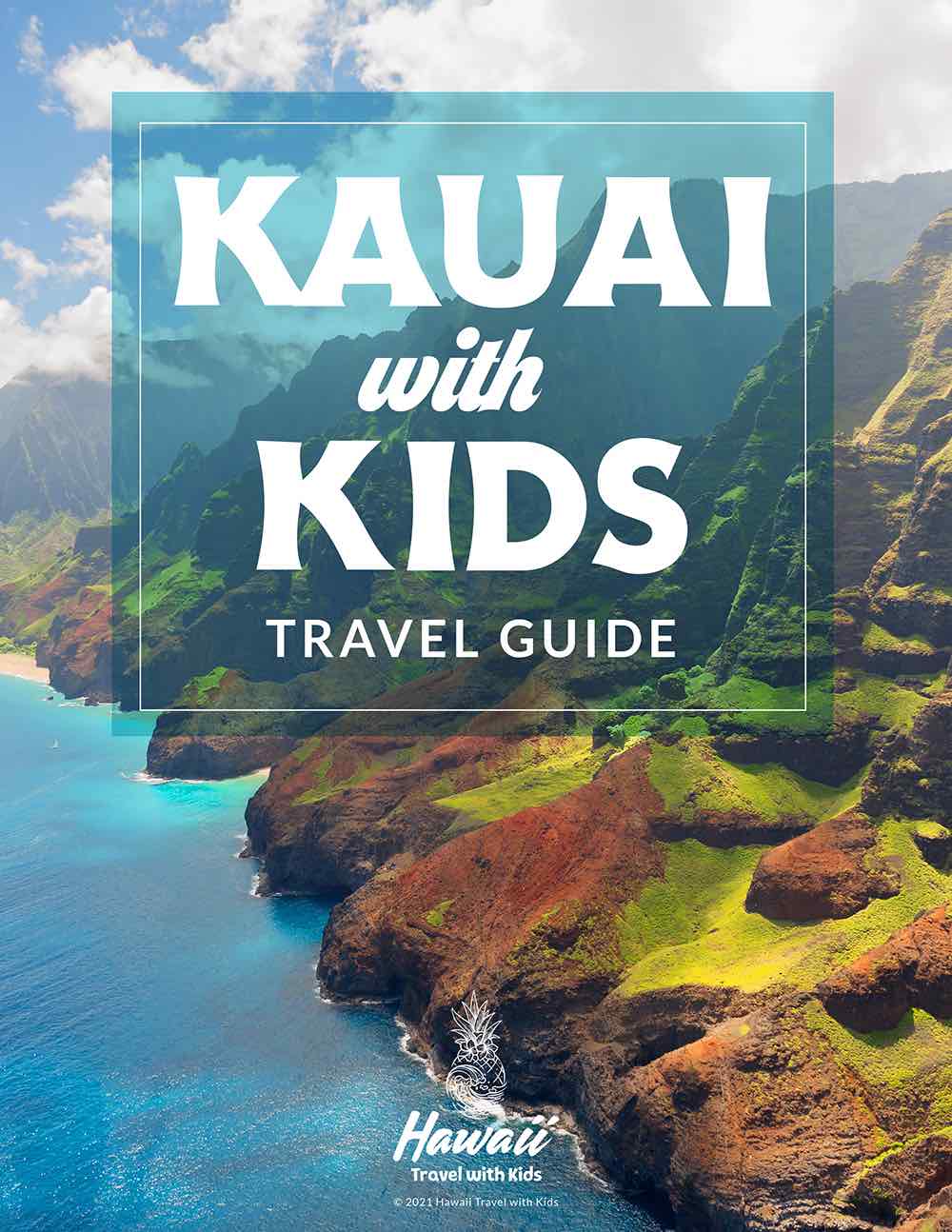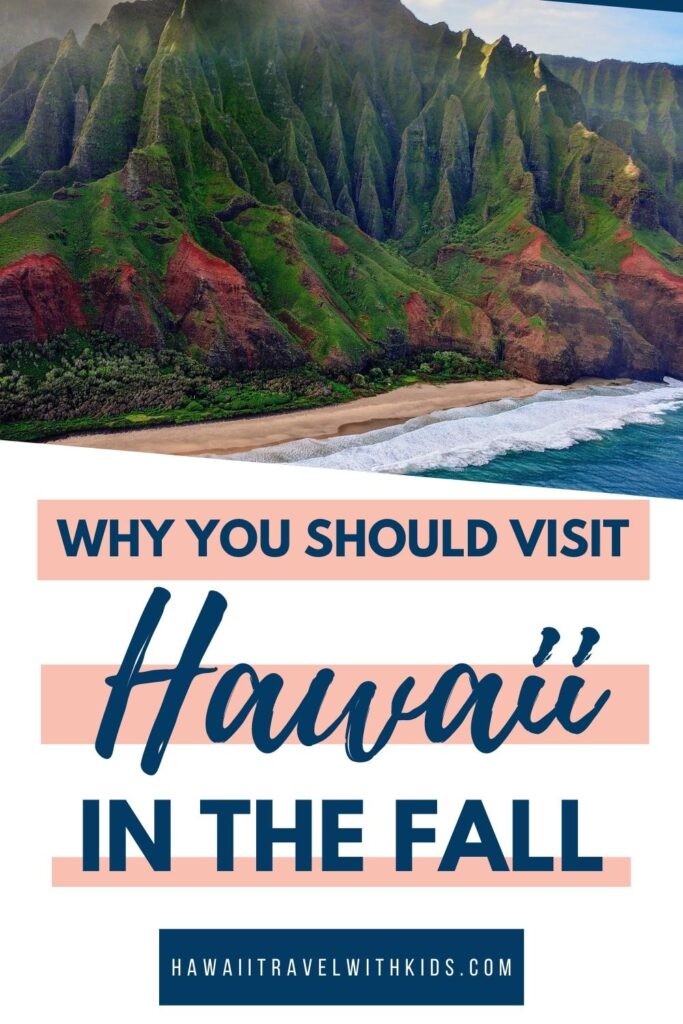 What's it Like to Visit Hawaii in the Fall?
Visiting Hawaii in the fall is amazing! The weather feels perfect, it is not too crowded, and the sun is still shining. Each month is broken down into exactly what the weather will be like for each island.
Hawaii in September
In Maui, temperatures are usually around 77 degrees for a high and 60 degrees for a low. It usually rains about three days out of the month and is never all day long, so chances are you will have beautiful weather throughout your trip!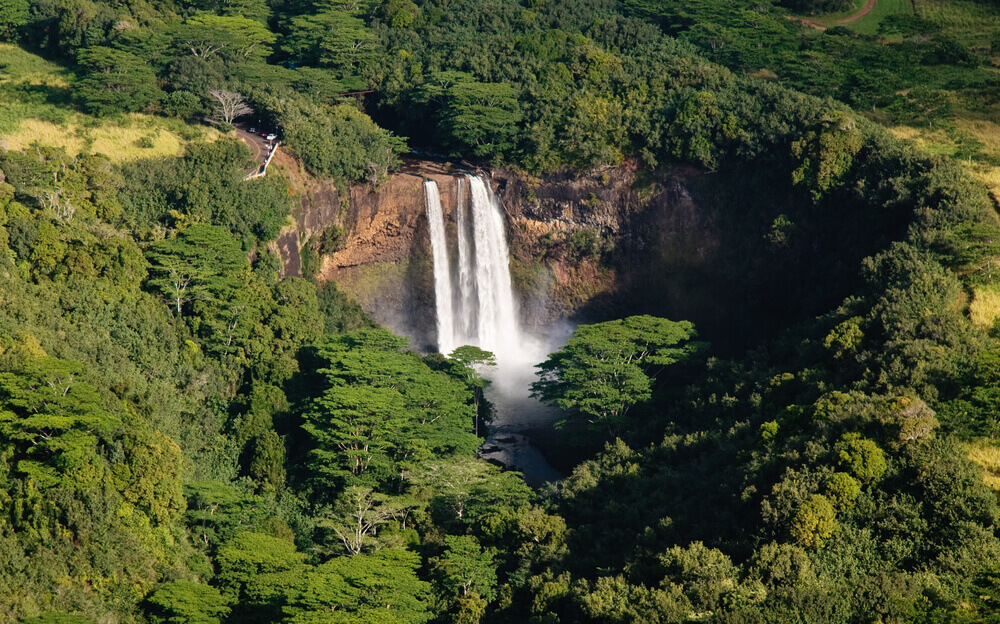 During September, you will find Oahu to be around 84 degrees during the day and about 70 degrees at night. On average, it rains only a couple of days during the month and only for a few minutes at a time, so it is a great time to explore autumn in Hawaii during September!
It is typically bright and sunny, with little to no rain in September on the Big Island. You will find temperatures around 87 degrees during the day and 73 degrees at night. These are some of the best and warmest temperatures all year long on this island.
You will find lots of rain in Kauai, as it is the garden island! It usually rains for the majority of the days for the month of September, with temperatures around 77 degrees during the day and 61 degrees at night.
Save Money with Points
Here are the best credit card offers for families who travel and want to use points to pay for airfare and hotels in Hawaii.
Hawaii in October
For October in Maui, you will find it very similar to September, with highs around 77 degrees and lows around 60 degrees. In October, it still doesn't rain too much, so you can expect great weather for the month of October on the island of Maui.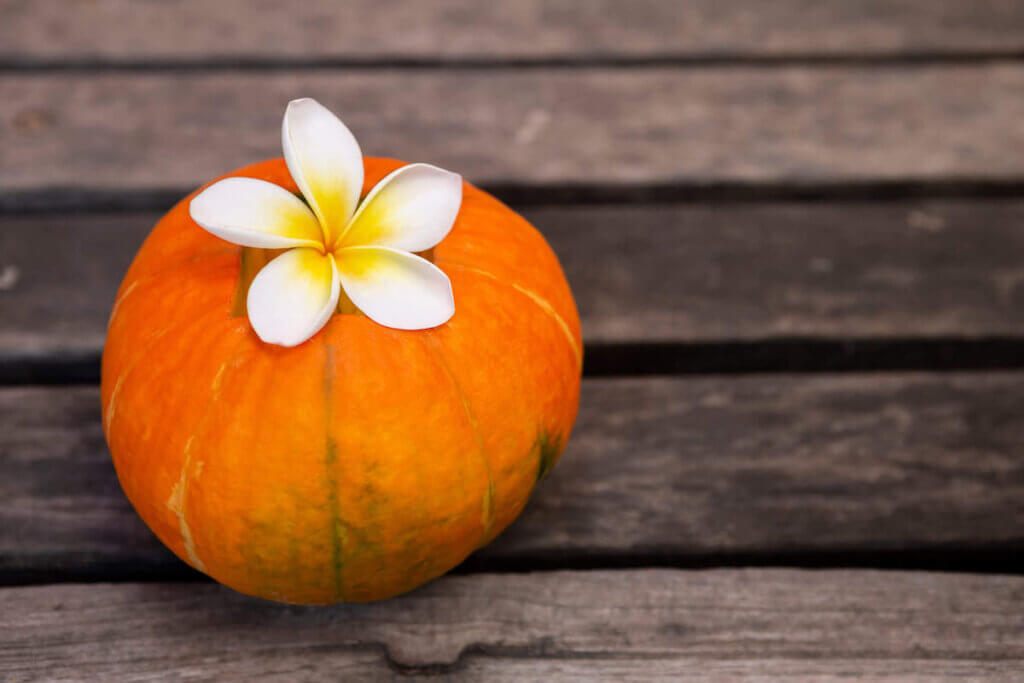 October in Hawaii on Oahu is simply the best. You will find gorgeous weather, with highs of 84 degrees and lows of 69 degrees. It still won't rain too much during this month, and is very similar weather to September.
If you are traveling to Hawaii in October to the Big Island, you are in luck. It is still super great weather and still won't change much from September. It is usually 86 degrees on average during the day and 72 degrees at night.
The weather for October is very similar to the weather in September for Kauai. Temperatures are around 76 degrees during the day and can get to 60 degrees at night. Again, you can expect to see heavy rain for most of the month, but it will usually be on and off.
Hawaii in November
If you plan to visit Maui in November, the weather does get a bit colder, but not by much. Highs are about 74 degrees, and you might see a low of 58 degrees during the night. It still is incredible weather for fall in Hawaii!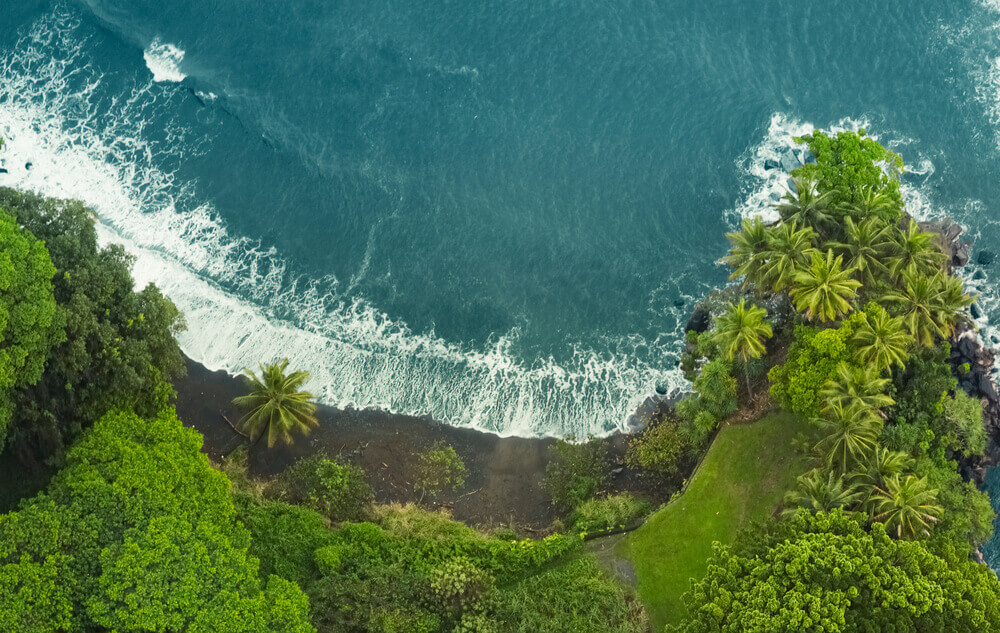 The Hawaii November weather for Oahu is a bit different from the first two months of fall. It will drop to about 80 degrees during the day and get down to 68 degrees at night. You will also see a bit more rain, especially as it gets closer to December.
In November, on the Big Island, you will see temperatures anywhere from 84 degrees to 70 degrees. It still usually doesn't rain too much here, but you might have a few drizzles here and there.
In Kauai, it will get a bit cooler in November, but not much. During the day, you can expect around 74 degrees and anywhere near 58 degrees during the night. It also might not rain as much in November, with the occasional cloudy days.
What is there to do in the Fall in Hawaii?
Besides the normal Hawaii activities, a few special events take place during the fall. Here are some of the best fall activities in Hawaii!
Visit Pumpkin Patches
Hawaii's pumpkin patches are slightly different from those on the mainland. You get to see stunning mountains and ocean views right from the patches!
You won't need to go get all bundled up either, as the weather stays pretty nice and warm.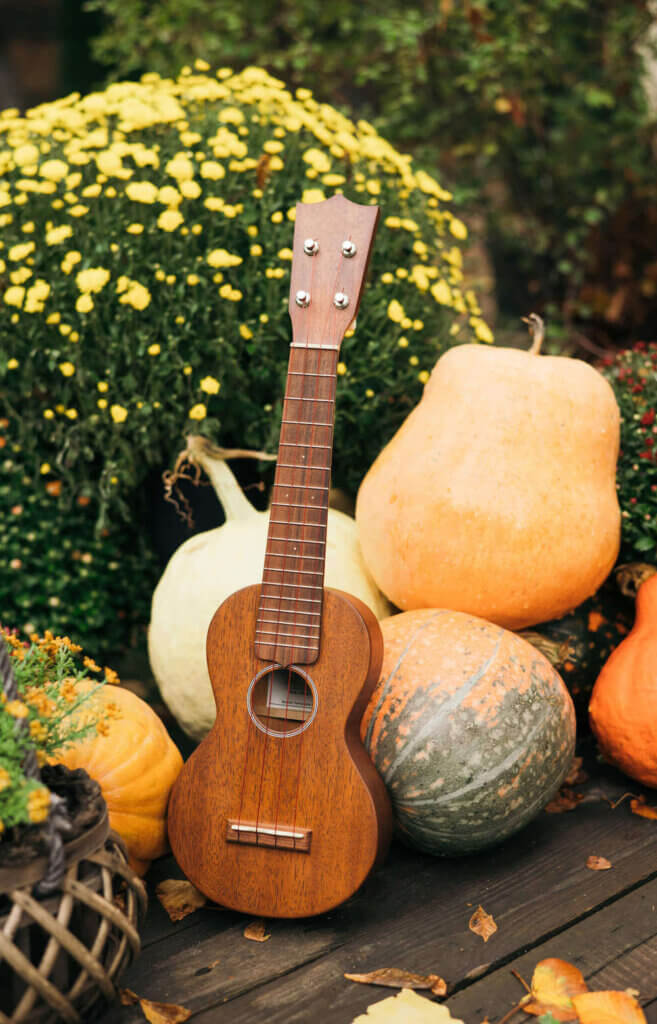 There are a few great farms on Oahu, such as the Aloun Farms and Waimanalo Country Farms. On Maui, you can enjoy visiting the Kula Country Farms as well.
You can grab a pumpkin and enjoy all the farms have to offer, from petting zoos to delicious farm-cooked food.
Haunted Plantation
If you love all things Halloween, you'll want to go to Oahu for the Haunted Plantation. This takes place at the Dole Plantation which is one of the scariest haunted places you will ever experience.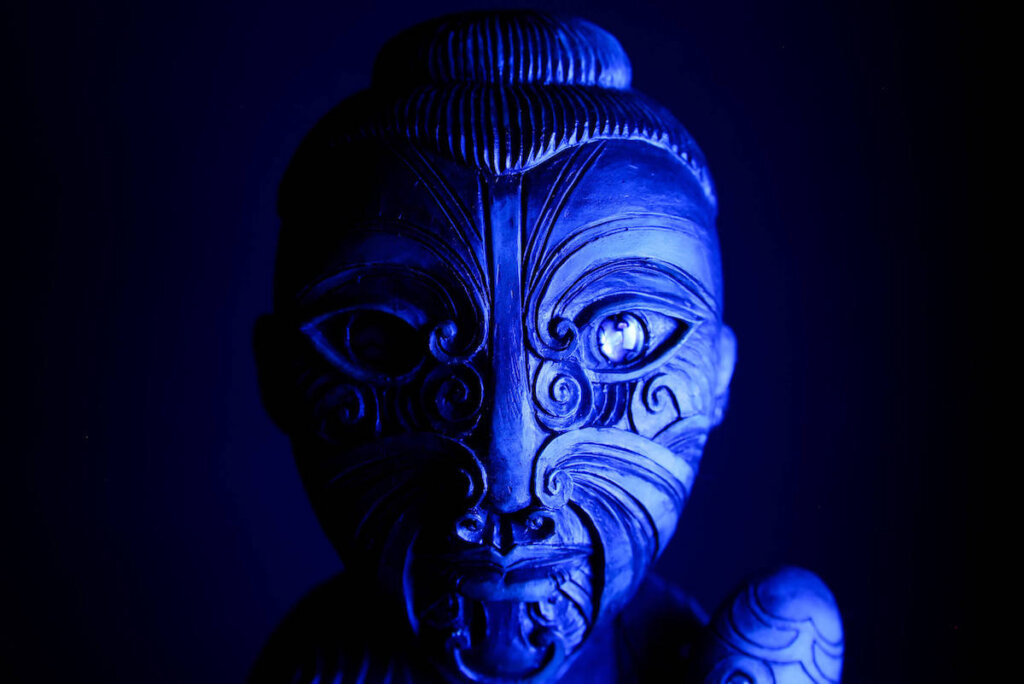 You can experience this scary thrill during the second half of the month of October. It is not for the faint of heart, but if you love being scared, try it out!
Waikiki Costume Parade
If you are visiting Oahu on Halloween, head to Waikiki for a huge costume parade. Dress up in your costume and walk up and down Kalakaua Ave. This isn't for kids, as it gets super busy and crowded, and lots of adults are partying.
It is fun to go to if you want to see some pretty neat costumes and enjoy a night out in Waikiki.
Aloha Festivals
Aloha Festivals is a huge event that takes place in the fall in Oahu. There are special ceremonies, a huge block party, parades, and much more. It is a fun way of learning more about the Hawaiian culture!
Food and Wine Festival
The Food and Wine Festival is another fun one that takes place during the fall in Hawaii as well. For two entire weeks, there is an event each day that includes incredible food and delicious wine.
From bourbon, brews, and BBQ to crafting charcuterie boards, there is something for everyone to enjoy. Check out the schedule and get your tickets in advance if you plan on attending.
When visiting Hawaii, this is one of the best annual Hawaii food festivals to enjoy.
Watch for Whales
Towards the end of the fall season and into winter, you will start seeing some whales in the ocean. It is fun to take a whale-watching cruise during November and see these beautiful creatures.
Go on Hikes
Because it is a bit cooler on some of the islands during the fall months, it is the perfect time to go on all the gorgeous hikes! You won't get as hot, and you can enjoy all the natural beauty on each of the islands.
It is one of the top outdoor activities to do during your Hawaii vacation.
What to Pack for Traveling to Hawaii in the Fall
There are a few things you will want to pack if you plan to travel to any of the Hawaiian islands during the fall:
Lightweight jacket. As it cools off in the evening, you might want a light jacket to keep you warm. Bring one that works as a raincoat, too, just in case!
Tennis shoes. If you are planning on hiking, you will definitely want shoes you can hike in and that you don't mind getting dirty!
Sunscreen. Even though it might not be as sunny on some of the days during your trip, you will definitely need sunscreen in Hawaii!
Fall in Hawaii FAQs
What is the best island to visit in the fall?
Because this is one of the best times to visit Hawaii in general, you cannot go wrong with any of the islands! There are some festivals on Maui, Big Island, and Oahu, but Kauai is always a good option too. Most of the tourist spots are located on Oahu as well, so it really depends on what you want to see and do during your trip.
How is the weather in Hawaii in October?
The fall weather in Hawaii during October is still very warm, but you will have some rainfall too. Continue reading to learn exactly what temperatures you can expect on each of the islands for the month of October!
Is October a good time to visit Hawaii?
Some will say that a Hawaii vacation in October is the perfect time to visit any of the islands of Hawaii. This is a great time to go if you want cheaper tickers and hotel fares. Plus, there are plenty of fun activities all month long too!
Is it cheap to visit Hawaii during the fall? 
It is usually the cheapest to visit Hawaii during the fall months, especially in September after Labor Day and October. You will see flight and hotel prices drop during these months!
When is hurricane season in Hawaii? 
Hurricane season usually runs from June until the end of November. While there are not many hurricanes that hit Hawaii, every now and then, there are some tropical storms. Just be sure to check the weather to be prepared for whatever.
Does Hawaii have a fall season?
Technically there isn't a fall season in Hawaii, since the Hawaii weather mainly has summer and winter across all the Hawaiian islands. That way, you can enjoy a Hawaiian vacation any time of the year!
Fall in Hawaii Wrap Up
Going to Hawaii in the fall is one of the best times to visit! You won't have to worry much about places being too crowded, the weather is beautiful and sunny, and there are plenty of fun autumn activities worth checking out. Plan out your fall trip to Hawaii today!
With fewer crowds, the warmest ocean temperatures, and reasonable rates, you will love a vacation during the fall!