Are you thinking about planning a trip to Kauai in September? Find out some of the best things to do in Kauai in September that are worth adding to your itinerary!
This list of things to do in Kauai in September was written by Hawaii travel expert Marcie Cheung and contains affiliate links which means if you purchase something from one of my affiliate links, I may earn a small commission that goes back into maintaining this blog.
There are plenty of amazing things to do in Kauai in September. From the spectacular events to the exciting attractions, this stunning Hawaiian Island has a lot to offer.
Planning a trip to Kauai in September can be relatively easy. Especially because there are so many choices for hotels and great places to stay.
No matter what the reason is for your visit to Kauai, the entire experience will be a great one. Especially since there are so many things to do on the island.
The weather in Kauai in September makes for a wonderful vacation. Once the fall season starts, a retreat to a warmer location is almost a must. This is especially true since the crowds are beginning to die down and there won't be as many tourists around.
Don't have time to read a bunch of Hawaii blog posts and reviews? Here are some of our top picks for visiting Kauai.
Popular Kauai Tours/Activities
Favorite Kauai Resorts/Hotels
Grand Hyatt Kauai (this Poipu resort has a luxurious pool area, romantic restaurants, and a stunning ocean view)
Koloa Landing Resort (this is a luxury resort with an amazing pool area and truly spacious rooms)
Royal Sonesta Kauai (we LOVE the pool here because it's the largest one in Hawaii)
Want to Rent a Car in Hawaii?
One of the best places to rent a car in Hawaii is Discount Hawaii Car Rental because they get the best rates from top national companies like Alamo, Dollar, Thrifty, Avis, Enterprise, Budget, and Payless.
Want to skip all the planning and just access my detailed Kauai Itinerary complete with daily schedules, kid-friendly activities, and travel hacks? Click the button below.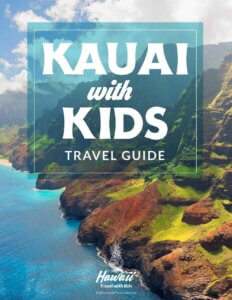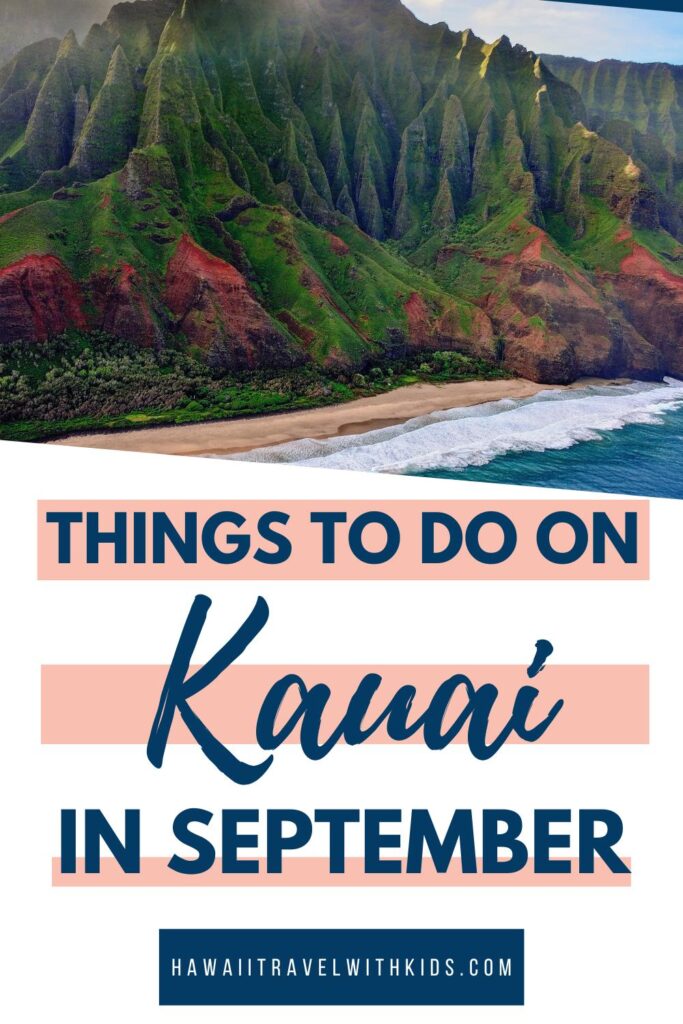 Kauai Weather in September
The weather in Kauai in September is spectacular. The month of September welcomes the end of summer. That doesn't mean the end of great temperatures though. In fact, the temperatures in Kauai will remain warm.
If you were looking forward to having a beach vacation in September, Kauai is a fantastic choice. September boasts some of the warmest ocean temperatures of the entire year.
Fall in Kauai usually signifies that Kauai is heading towards its rainy season. It is important to note that while rainfall is likely, it doesn't often last long.
Temperatures in Kauai in September
The average Kauai temperature during the day in September is still hot.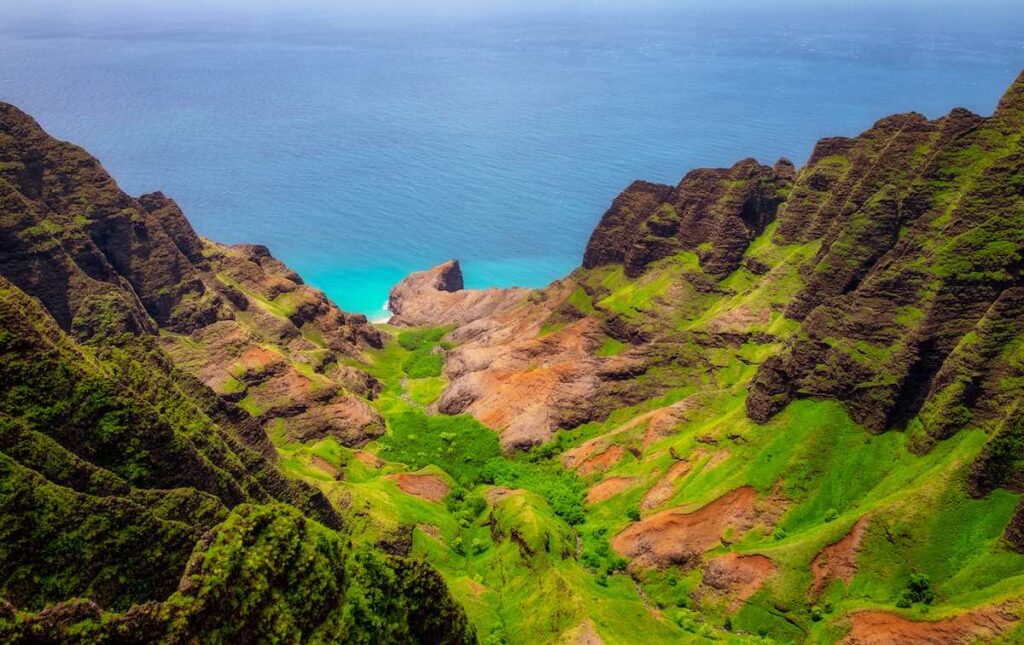 During the month of September, the temperatures remain in the mid to high 80s. The nighttime and evening lows stay pretty close to 72 degrees Fahrenheit.
These great temperatures are fantastic for beach days, outdoor activities and more.
Weather in Kauai in September
The weather in Kauai in September is enjoyable and provides so many chances to visit a beach. The ocean is warm, the sun shines and while there is a chance of rain, September is still drier than other months.
For more information check out What it's like to visit Hawaii in the fall.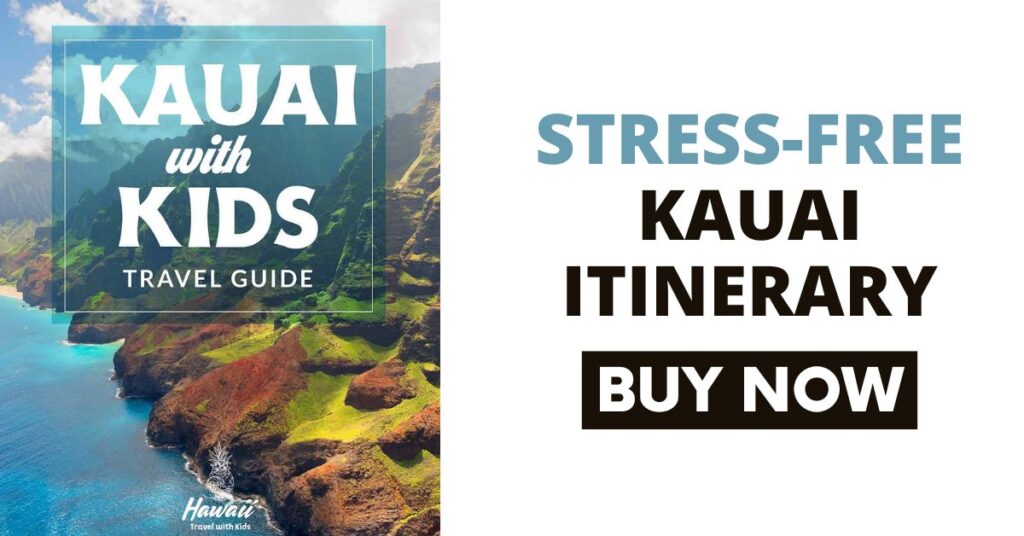 Things to do in Kauai in September
September is a fantastic time to book your Kauai vacation. The costs begin to lower and the summer visitors are lessening, making it a more cost-effective time to visit.
The month of September comes with great weather, and events, festivals, and activities to enjoy.
Booking a vacation to Kauai in September is sure to be a treat.
Battle of the Food Trucks
If you like to try new and unique food, this event is for you. Food trucks are a large part of what makes Kauai a diverse island. This amazing event celebrates all the delicious fare the island has to offer and more.
Kress Street in Lihue becomes a food lover's paradise as Kauai welcomes food trucks from all around Kauai to showcase their most prolific creations.
Visit the Parking Lot Paina website for more information.
Kauai Mokihana Festival
This festival goes for an entire week and takes place in many locations across the island. Hosted by the Maile Foundation, this cultural celebration is a must-participate.
You will take part in education, hula, music, and more. With several different performances and workshops, those in attendance at this festival will have the opportunity to discover all the things that make Hawaii such a unique and beautiful destination.
Visit the Maile Foundation Website to learn more.
Hawaii Line Dance Festival
If you are looking for something for the entire family to enjoy, this festival is a great choice. There are lessons, workshops, and more in addition to the open line dancing.
This two-day event takes place to fundraise for the Kauai Veterans Center, so not only will you have fun but you will be doing it for a great cause.
Check out the delicious food, drink and over 30 different craft vendors while you dance the days away.
Visit the Hawaii Line Dance Festival Website for upcoming dates and more.
Book a Family Photo Shoot
Whenever we travel to Hawaii, we almost always book a family photo shoot with Flytographer. They are super easy, affordable, AND it guarantees that I'll be in some photos. You can get $25 off if you book through this link or use the code HAWAIITRAVEL.
Top 10 Kauai Attractions in September
There are so many great attractions on the island of Kauai. If you are looking for the best things to do on Kauai with kids, you are sure to find something that will keep them entertained and engaged.
From great outdoor activities to fantastic indoor attractions, there is something to do on Kauai in September, no matter the weather.
1. Waimea Town
Thought to be one of the first settlements for early Polynesian explorers, Waimea Town is rich with Hawaiian history. This amazing town has several great restaurants, places to shop, and exciting places to see.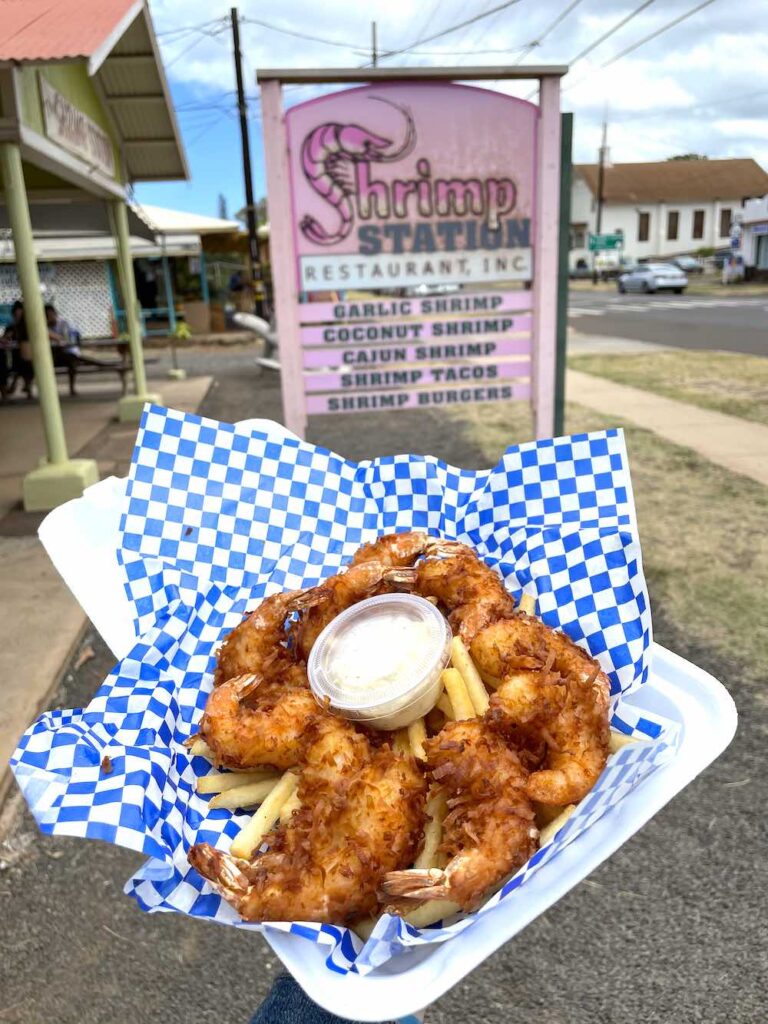 Waimea Town played a huge role in maritime trading for Hawaii and is also thought to be the first landing spot of Captain Cook in 1778. Rich with history and fun things to do, Waimea Town is a must-visit.
2. Wailua Falls
This gorgeous waterfall destination is the most accessible on the island for visitors. And no hiking is required (or allowed).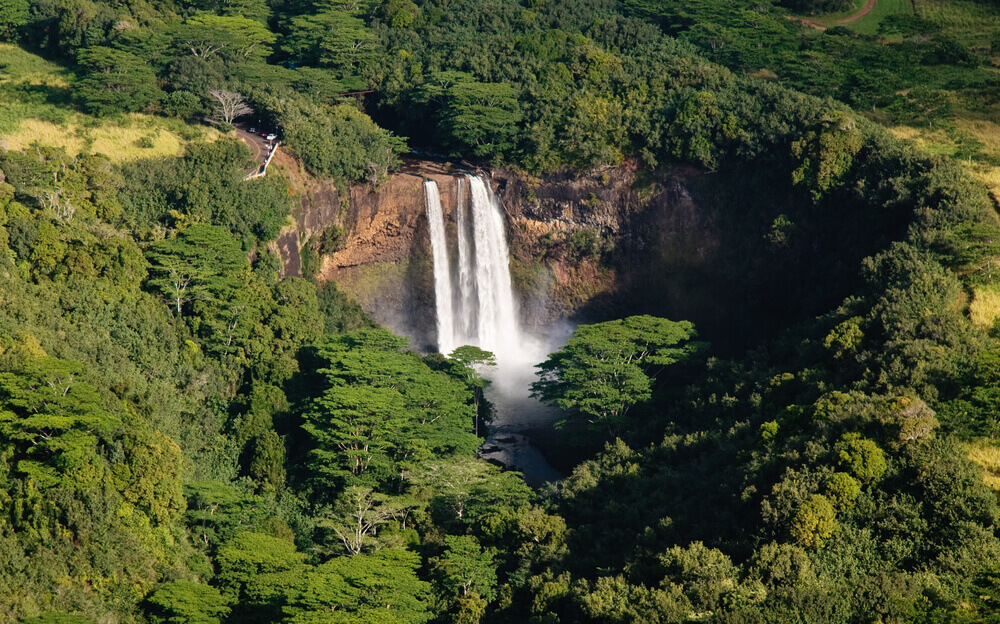 Enrobed by rich, lush greenery, this waterfall is sure to impress. Walk up to the lookout to get a great view of the cascading falls and be sure to bring your camera.
While the journey itself is short and may not be quite as exciting as others in Kauai, the end result is still impressive.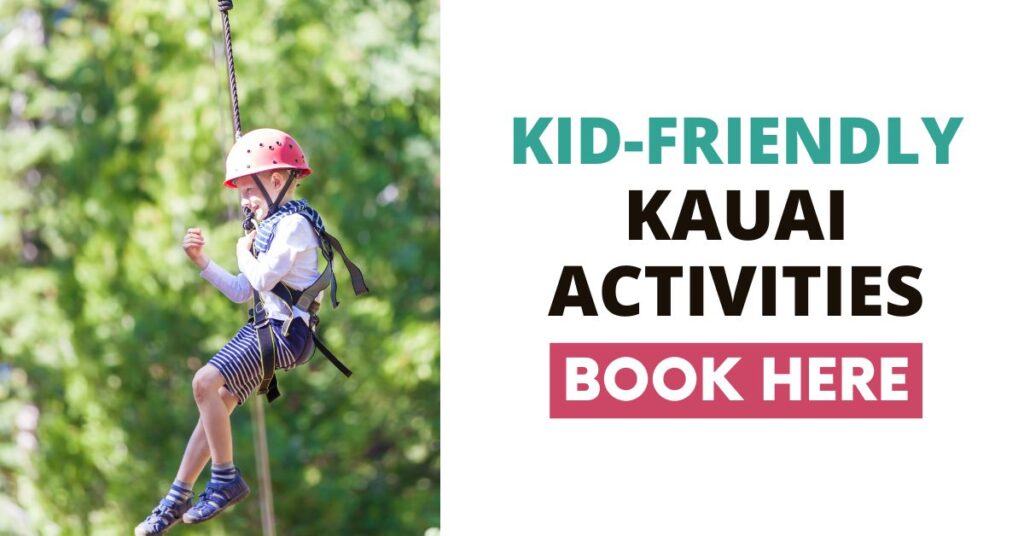 3. The Spouting Horn
Powerful waves crash along the coast and push up through a hole deep within the lava rock. This 50-foot blowhole is a must-visit while taking a vacation in Kauai.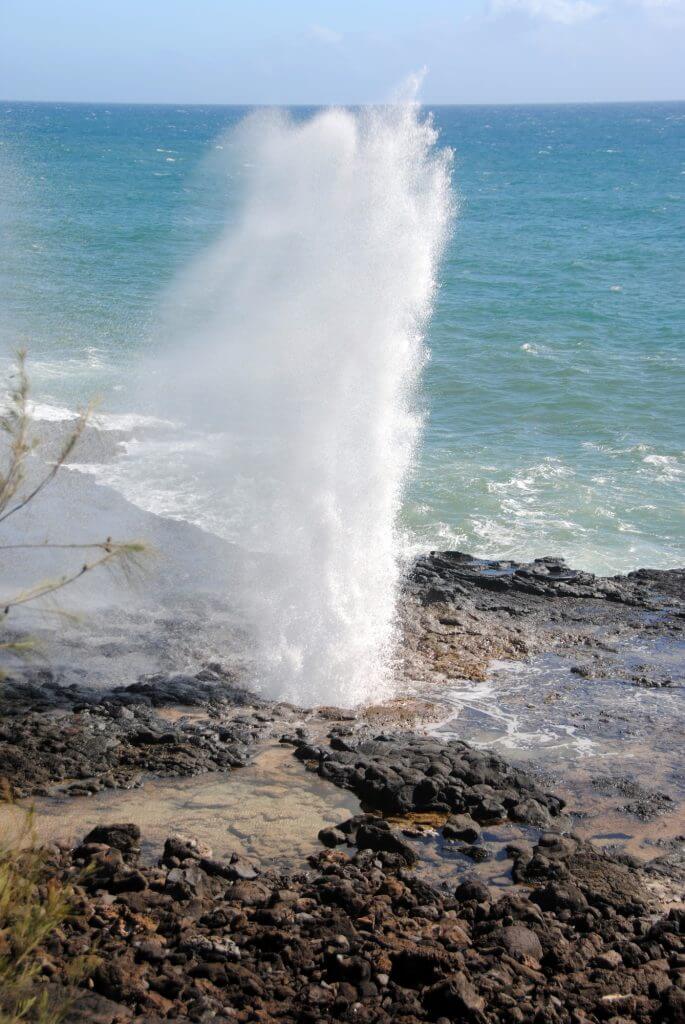 The large bursts of water created by the Spouting Horn not only look amazing, but they create a roaring sound like no other. This is a great place to stop to watch the sunset while you watch his amazing natural wonder.
4. Na Pali Coast Tour
A Na Pali Coast Tour is one of the most popular things to do on the entire island. You can book a tour to get spectacular views of the Na Pali Coast.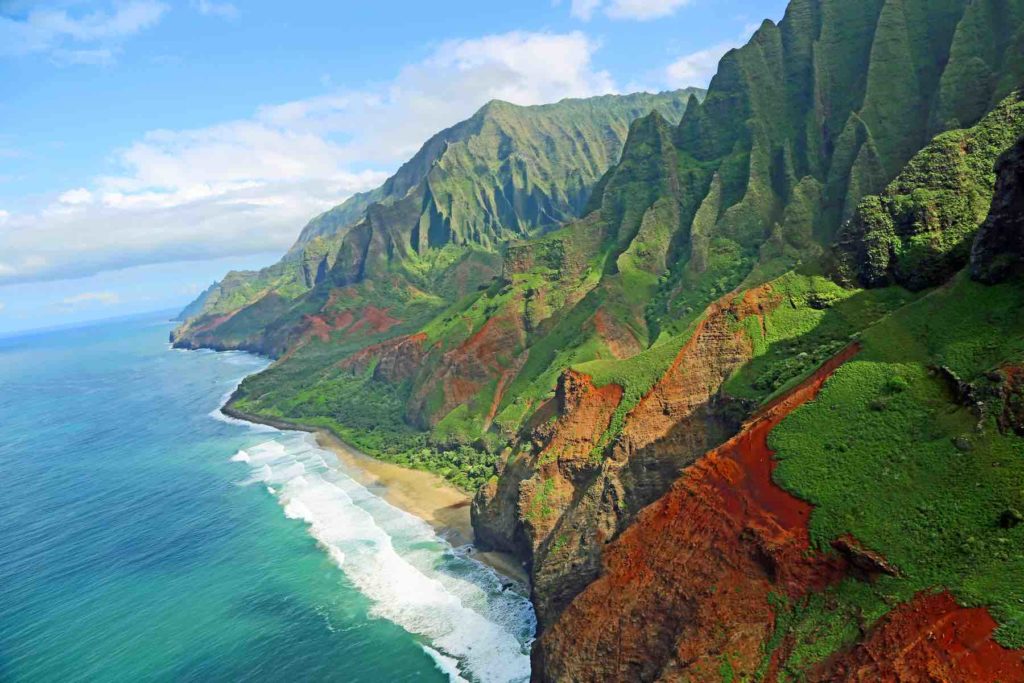 This stretch of sea cliffs is rich with waterfalls, sea arches, ancient Hawaiian fishing villages, sea caves, and more. You are sure to hear some spectacular stories while on your tour that give you some wonderful insight into the Hawaiian island.
There are several different ways to explore the Na Pali Coast. You can snorkel, take a helicopter tour, or even a sunset dinner cruise.
5. Tunnels Beach
If you want to enjoy a serene beach environment, Tunnels Beach is a must-visit. Whether you want to go snorkeling and see gorgeous fish, or simply enjoy the sights, there is something here for everyone.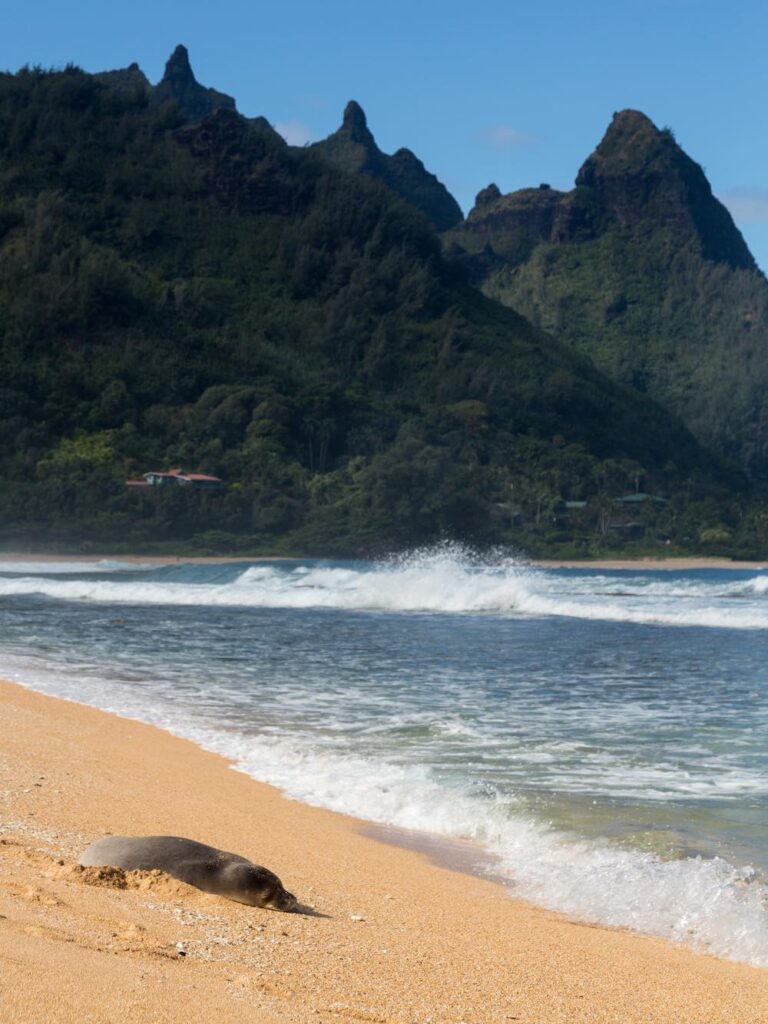 There are lifeguards on the beach that monitor the conditions. Your family can swim safely knowing that the water conditions are acceptable for taking a dip.
If you are going snorkeling, you will be sure to enjoy the reefs, intricate tunnels, sea caves, and effervescent coral. You can also Monk Seals and Sea Turtles at this beach.
6. Luau
While you will want to spend lots of time exploring Kauai's beautiful landscape, you also won't want to miss a luau. These great celebrations of Hawaiian culture are an absolute must-attend while in Hawaii.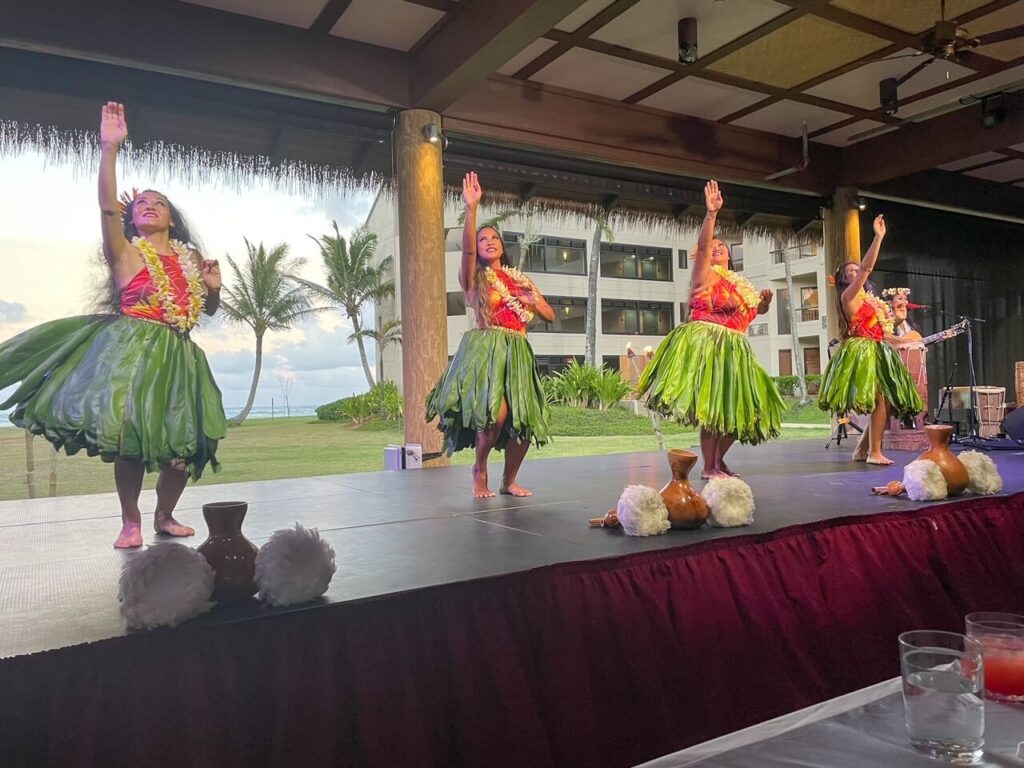 There are many luau experiences that take place across the island, so it won't be difficult to find one.
Enjoy the amazing music, live performances, and delicious traditional food. You will learn so much about Hawaiian culture all while experiencing fabulous views.
7. Mahaulepu Heritage Trail
If you want a gorgeous hiking experience this is it. The Mahaulepu Heritage Trail offers some spectacular scenery and a chance to get some great exercise.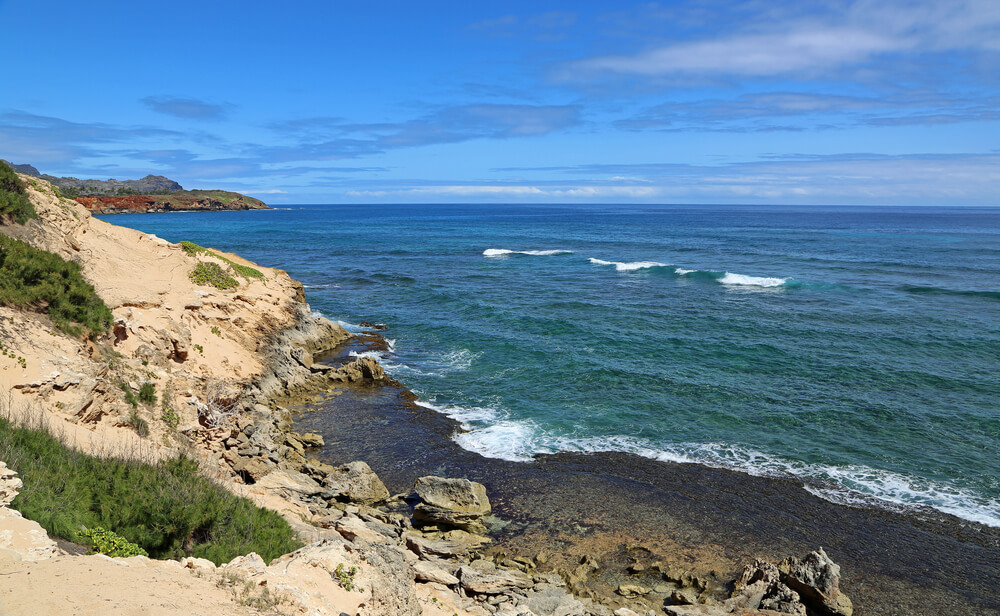 This trail spans the coastline of Kauai from Shipwreck Beach to Mahaulepu Beach. Specified as a heritage trail, you can view cliffs, sand dunes, amazing sparkling blue waves, and stunning tide pools.
Once you have arrived at Mahaulepu Beach, you will most likely get the chance to watch some Hawaiian Monk Seals sunning themselves.
8. Kauai Museum
The Kauai Museum is a must-visit. If you are looking for something fun to do with your kids, you are sure to enjoy this experience. In fact, this is a wonderful thing to do on those wet and rainy days.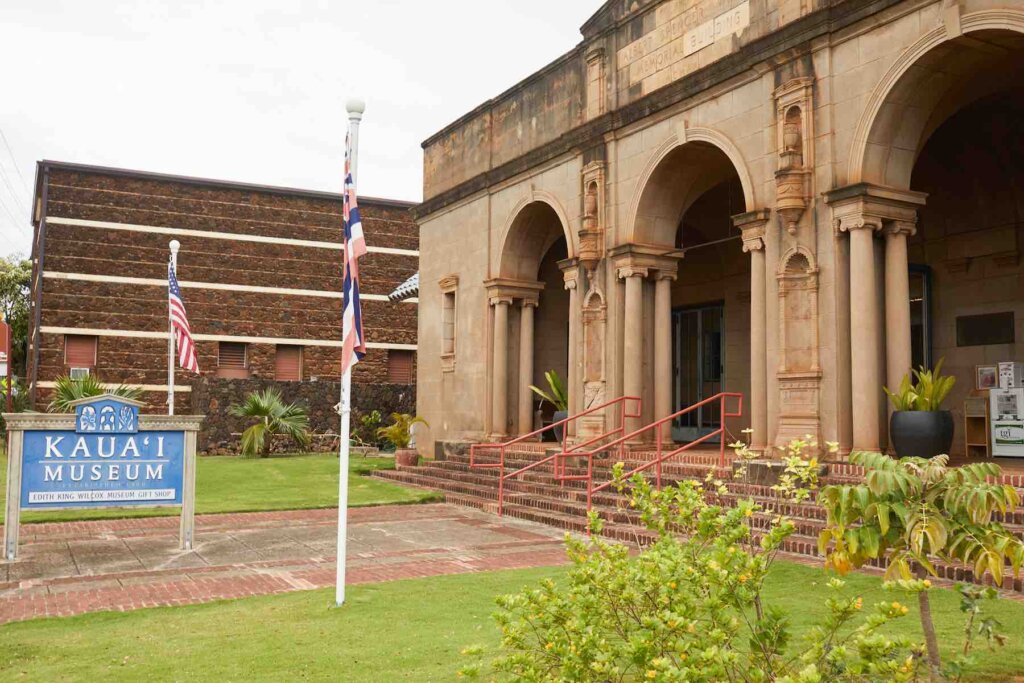 While the Kauai Museum is smaller than others, you will get to view some stunning art and take part in some fantastic history lessons.
There is also a cute souvenir shop on the location where you can pick up some great gifts. They have a wide variety of souvenirs that were locally made, and make for great keepsakes.
9. Glass Beach
Located in an industrial part of Kauai, this interesting beach is a great place to visit.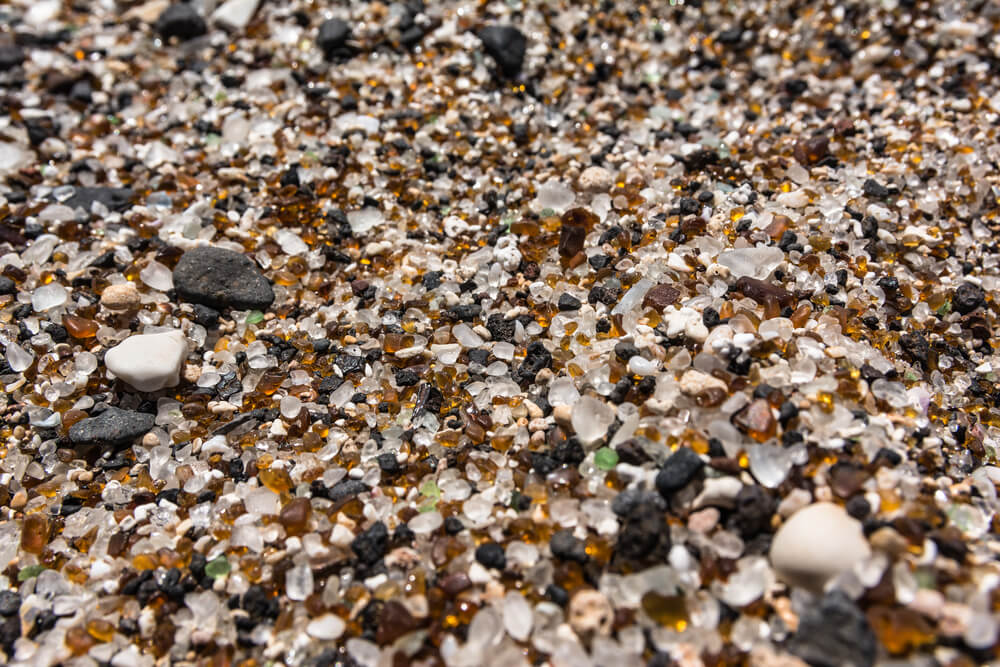 Unlike most beaches, Glass Beach is adorned with stunning sea glass rather than sand. There are so many different colors of sea glass lining the floor of this amazing place, sparkling in the sun, you will want to bring along a camera.
While this isn't the best place to sunbathe, it is a great place to experience something new. You can also see the sea lions hanging out on the beach in all their glory. '
10. Ziplining
Kauai is rich with adventure and one of the best things to experience is going zip lining. Kauai offers many different chances to go ziplining with several different ziplines to choose from.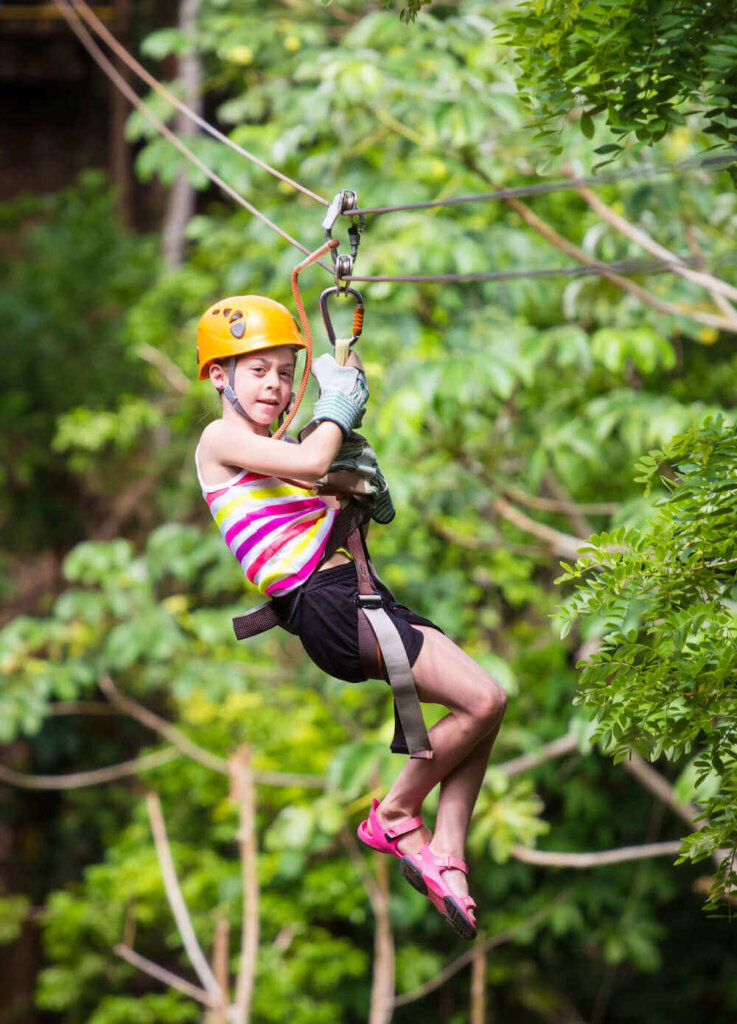 Ziplining in Kauai gives you the chance to get an adrenaline rush while you take in some really breathtaking views.
One of the ziplines you can choose from is the Koloa Zipline. If you want to experience some of the longest ziplines on the entire island, this is the place to go.
You can zipline however you prefer. Go upside down, hold on, and sit or be a little more adventurous, the sky's the limit.
Kauai Hawaii in September Wrap Up
Visiting Hawaii in September offers a great opportunity to enjoy a spectacular getaway.
September may be the best time to go to Kauai, simply because the tourist season has somewhat lessened, making events and attractions less busy and flights and hotel stays less expensive.
There are so many great Kauai things to do in September. No matter what you choose, you are sure to create some wonderful memories and have a fabulous time.
P.S. Join our Hawaii Travel with Kids Facebook group to get connected with other families planning a trip to Hawaii!