Heading to Hawaii with teens? Find out some of the best things to do with teens in Hawaii, scroll down for all our recommendations!
This things to do with teens in Hawaii post contains affiliate links which means if you purchase something from one of my affiliate links, I may earn a small commission that goes back into maintaining this blog.
Planning a family vacation with teenagers this year?
This is a great opportunity to give them more freedom and trust, while you get pampered and have a drink along the beach.
You don't necessarily want to have a grumpy teenager with you the entire week, do you?
While I don't have teenagers yet, I visited Hawaii a lot as a teen and I picked up a few ideas about what I thought was "cool" and "not lame."
It turns out, most of them don't even cost much money.
There are several frugal activities that they can enjoy that are not only cheap, but provide enough entertainment to hold their interests.
Here's a closer look at some free and cheap things for your teenager to do while visiting one of Hawaii's islands.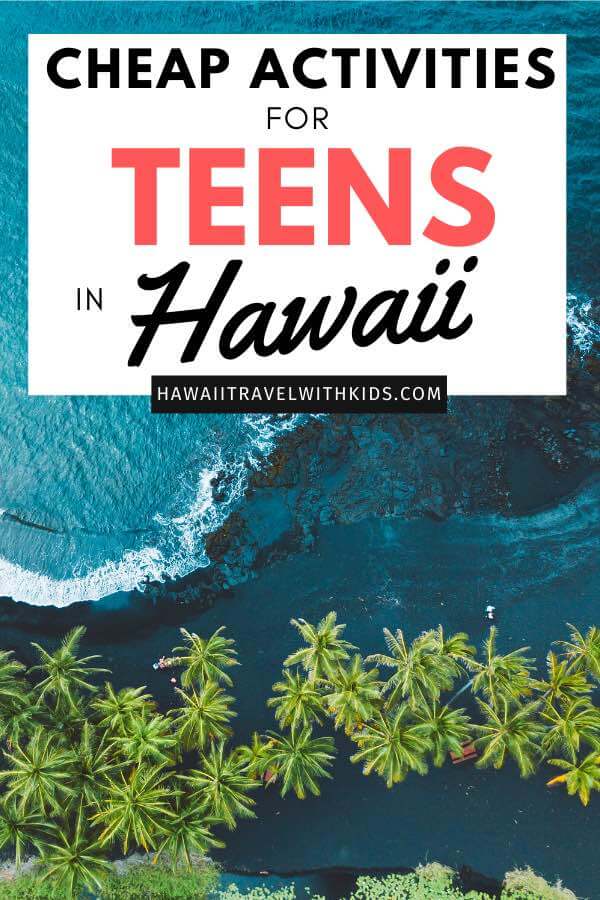 Traveling with Teens in Hawaii FAQs
What should a teen bring to Hawaii?
Teens should pack comfortable clothing like shorts, shirts, sundresses, flip flops, swimsuits, and sunglasses. If you're planning on doing lots of hiking or other adventures, you'll want sturdy shoes and any other required items.
Is Maui or Oahu better for teens?
Both islands are actually pretty great for traveling with teenagers. Oahu does have a lot more activities, shopping, and attractions. But Maui has some amazing resorts if your teen just wants to hang out by the pool.
The Best Things to Do with Teens in Hawaii
Head to the Beach
Hawaii has countless gorgeous beaches to choose from, no matter what island you're on.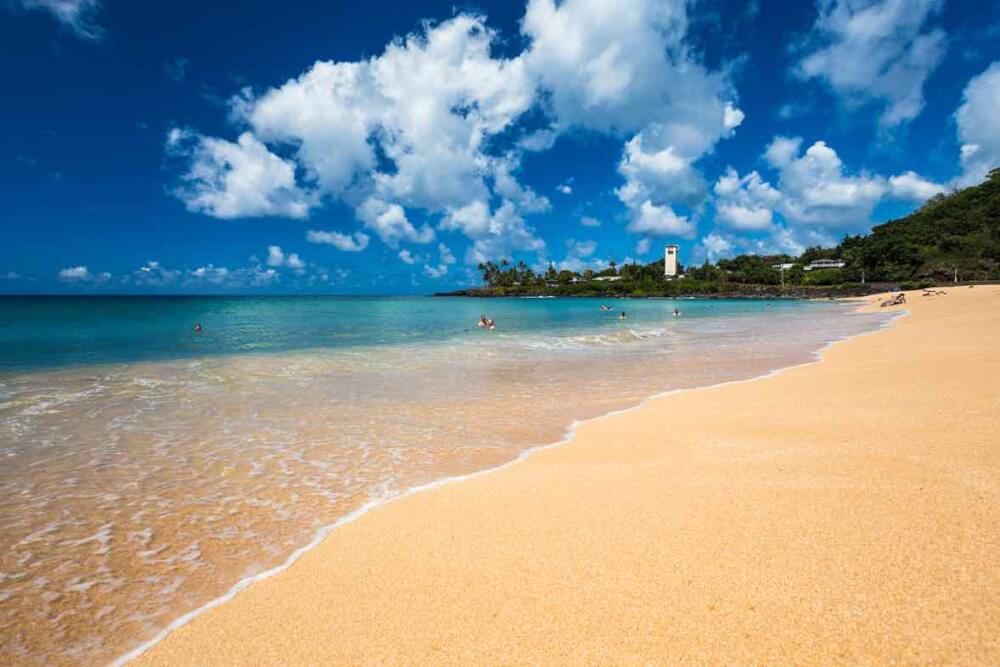 It also can't get any cheaper than heading to the beach.
Teens will love sunbathing in the white powdery sand and then swimming in waters that are the color of topaz.
It's also a great place to people watch and intermingle with other people their age.
Hit the Waves on Your Surfboard with your Teens
One of the best activities that you will find on the beach is surfing. You can also find fairly reasonable prices on surfboard rentals.
Surfing with friends or siblings will be an amazing experience while vacationing in Hawaii.
Be sure that your teens surf with someone looking out for them or you can keep an eye on them along the beach.
Another (less intense) option is Stand Up Paddleboarding (SUP.) It's become quite trendy the past few years and is perfect for people of all skill levels.
Snorkel Among Schools of Fish in Hawaii
You can find some incredible places to go snorkeling in Hawaii. Some spots are so clear that their among the best places to snorkel in the world.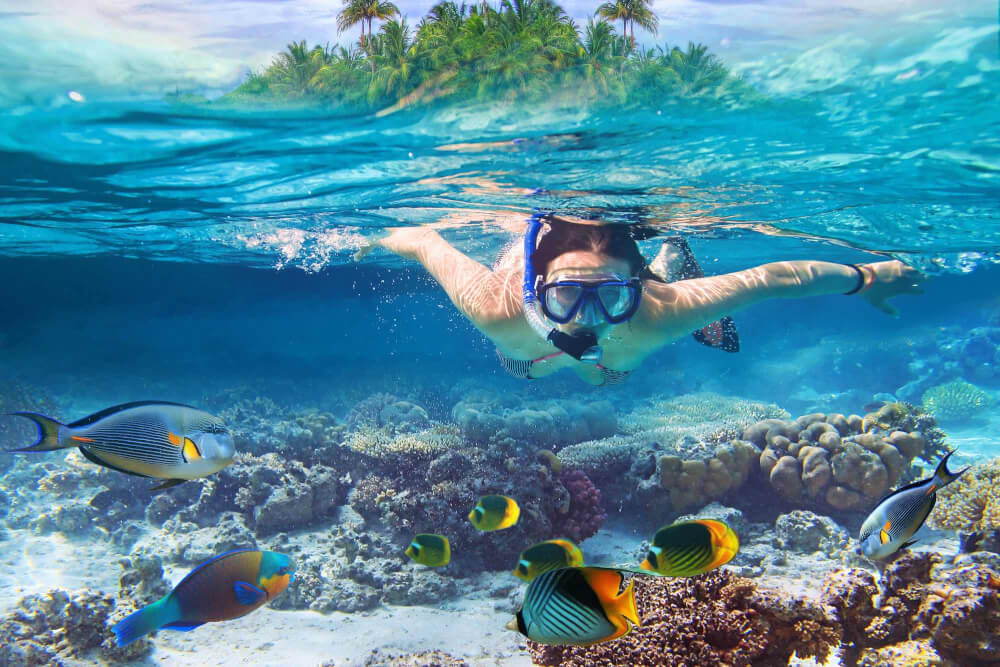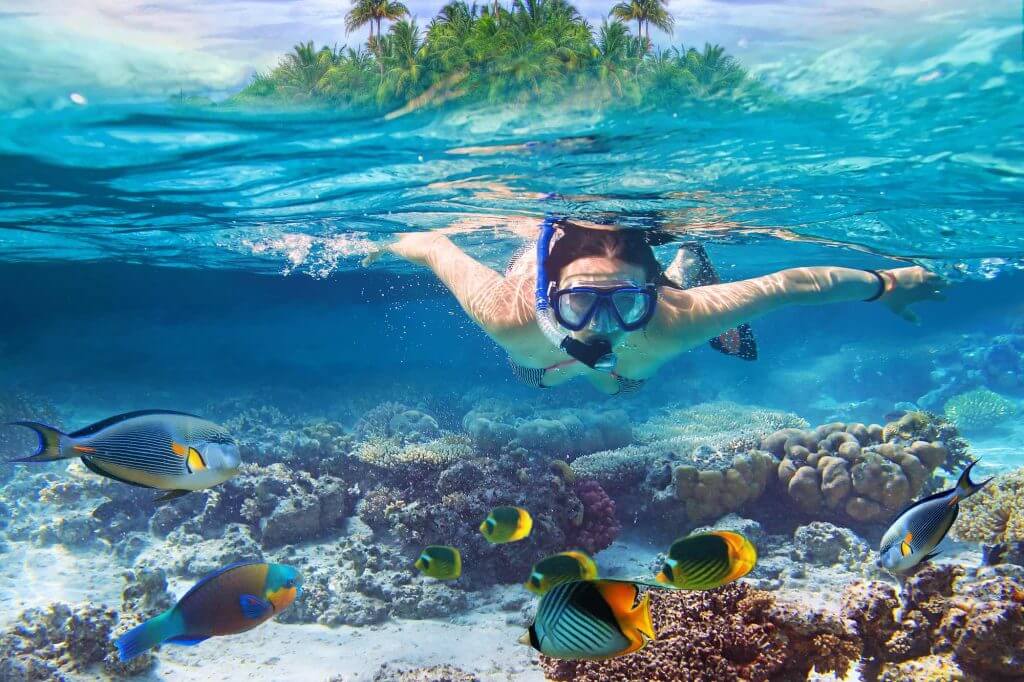 Teens will love this aqua experience in seeing marine life while swimming among them.
They will come across schools of fish, sea turtles and coral beds in this snorkeling experience. Snorkel gear for rent is also very reasonably priced.
Head out on Great Hiking Trails with your Teens
Hawaii is loaded with hiking trails that have amazing views with different terrain to explore on these trails.
This is another activity that won't cost you anything, while giving you a great workout.
Check out this list for some of the best waterfall hikes on Oahu.
Go Sightseeing with your Teens in Hawaii
No matter where you are located on the islands of Hawaii, there are numerous points to explore and to see.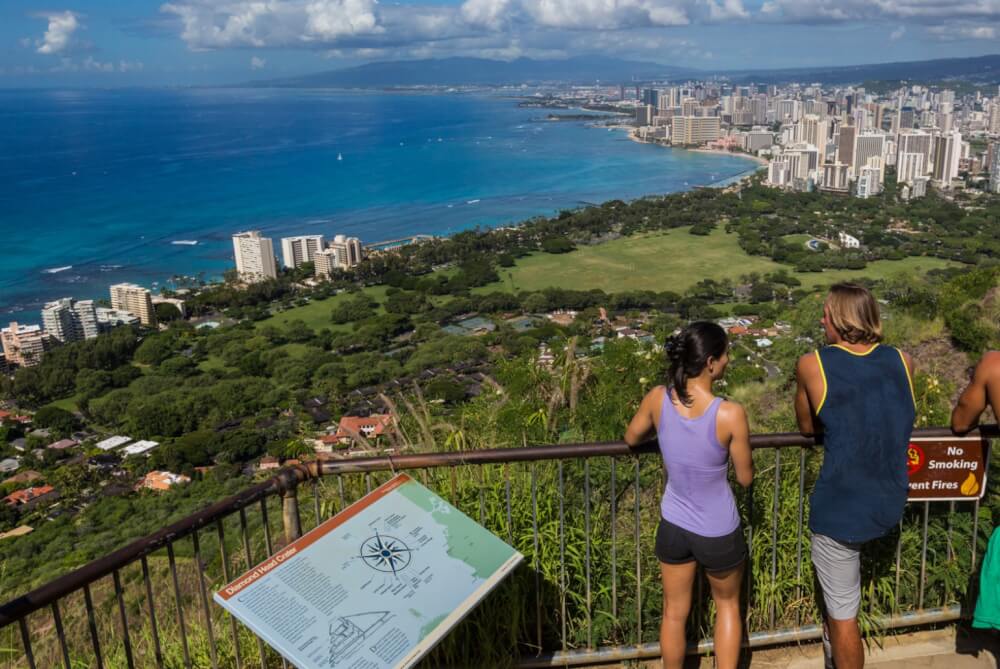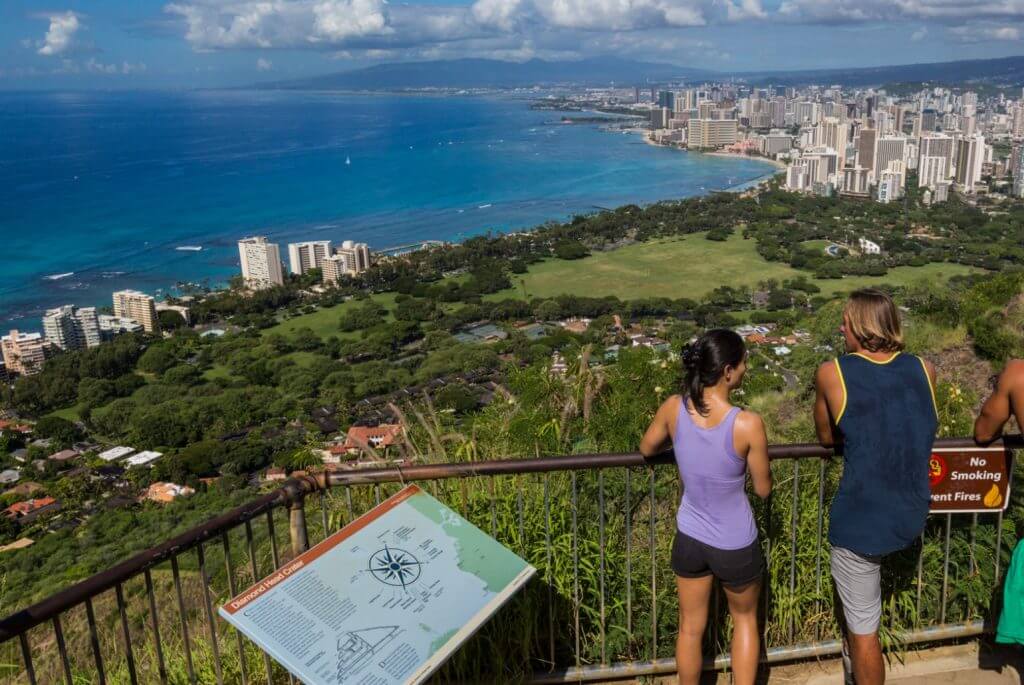 Diamond Head, Hawai'i Volcanoes National Park, and Haleakala National Park are among some of the best places to see on the islands.
Highway 3 (H-3) Waterfalls
Located on Oahu, is Highway 3 (H-3), a scenic drive that travels around many mountains and takes you by misty waterfalls.
If teens are looking to get out and get some fresh air, this is a drive totally unlike one they will experience back at home.
The other islands also have laid back drives with gorgeous scenery.
"Sunset on the Beach" at Waikiki Beach (Except August)
Teens love free events if mom and dad won't fork over any money and they don't have two nickels to rub together.
"Sunset on the Beach" at Waikiki Beach is an outdoor movie theater playing on a 30 foot screen.
There's also plenty of entertainment and food vendors. It's a great way to socialize and finish off an epic day in Hawaii.
Kapiolani Park in Waikiki
If you're a teenager, make sure you stop in and have a picnic at Kapiolani Park.
It's located at the base of Diamond Head and it's in the less crowded part of Waikiki.
Kite flying, music, and sports are among some of the best activities to do while visiting Oahu.
Hilton Hawaiian Village Beach Resort and Spa
Teenagers will want to head over to Hilton Hawaiian Village Beach Resort and Spa just before dusk for a free fireworks display.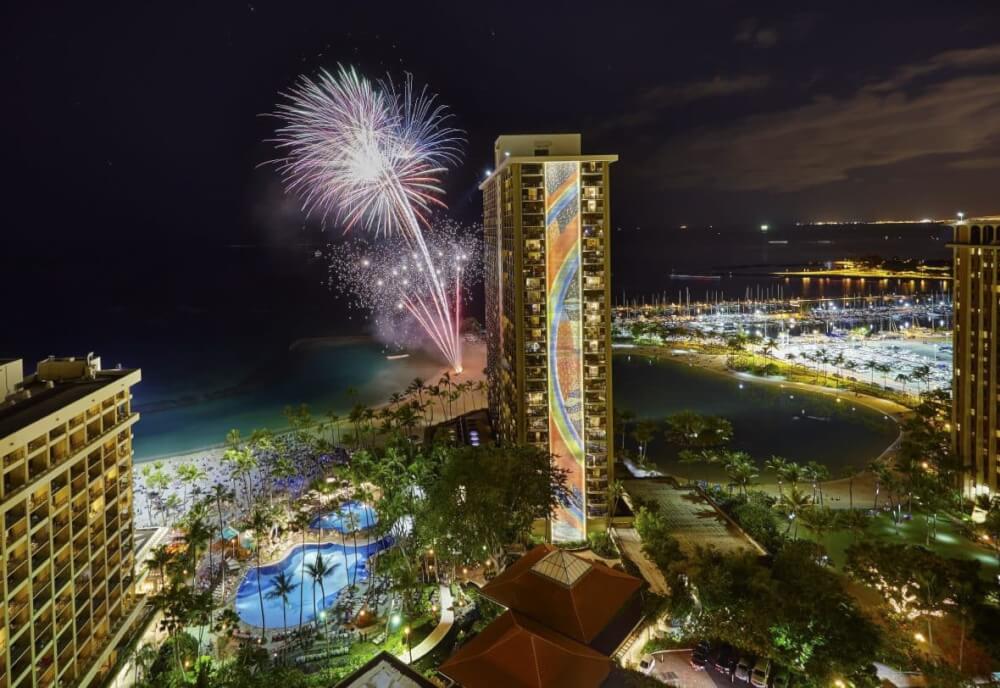 Fireworks are shot off here every Friday night here in Waikiki. Did we mention this is a free event.
Free Hula Dancing Lessons Waikiki Business Plaza
It's not every day you get to do the Hula, so stop on in at the Waikiki Business Plaza for free hula dance lessons.
It's usually a mix of little kids and older adults who are brave enough to try to hula. But, that doesn't mean it's not also for teens!
Teenagers might even be able to make a few new friends as they develop their new hula skills!
Visit Pearl Harbor with your Teens
Even teenagers can appreciate the sacrifice of the men and women that fought in Pearl Harbor.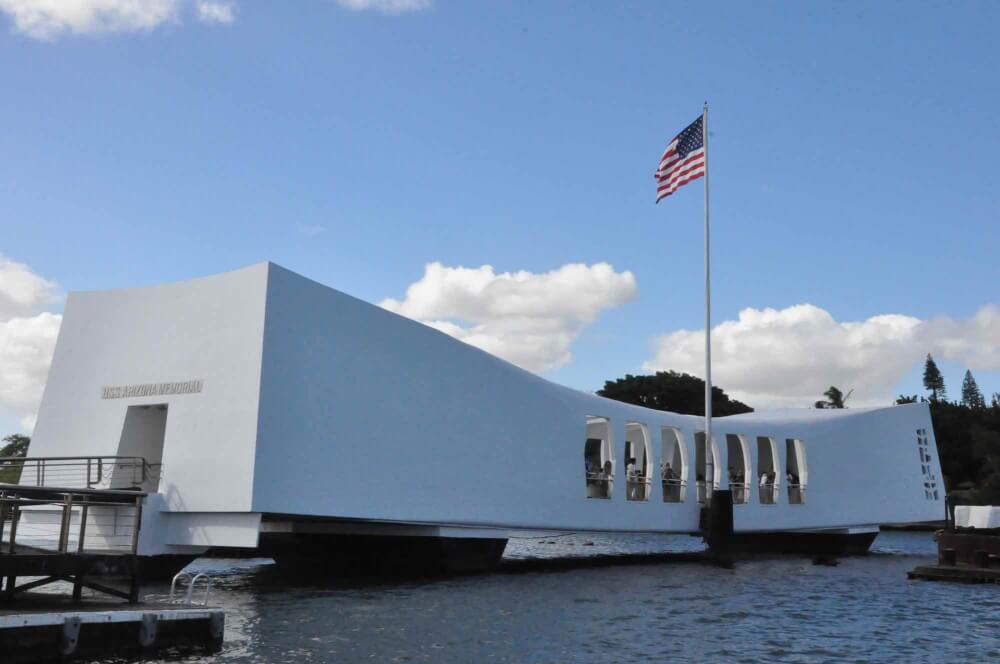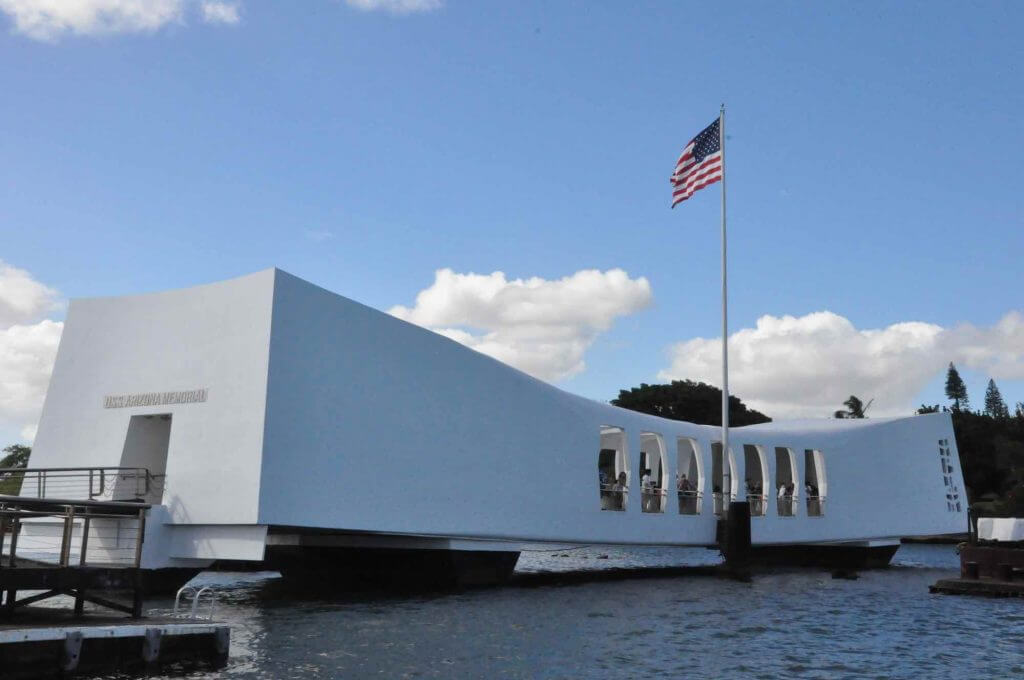 Teens will see and learn about the USS Arizona Memorial while taking a small boat ride.
While visiting Pearl Harbor in its entirety is expensive, you can visit the USS Arizona Memorial for free.
Visit the Hawaii State Art Museum
Maybe you have a teenager that is fascinated with art.
Have them check out the free Hawaii State Art Museum where they can see some of the finest artwork in Hawaii.
It's a great place to visit on a rainy day and can be toured within 1-2 hours, as it's not very big.
Turtle spotting at Laniakea Beach
Laniakea Beach is also called "turtle beach" and for good reason. This won't be your typical beach visit.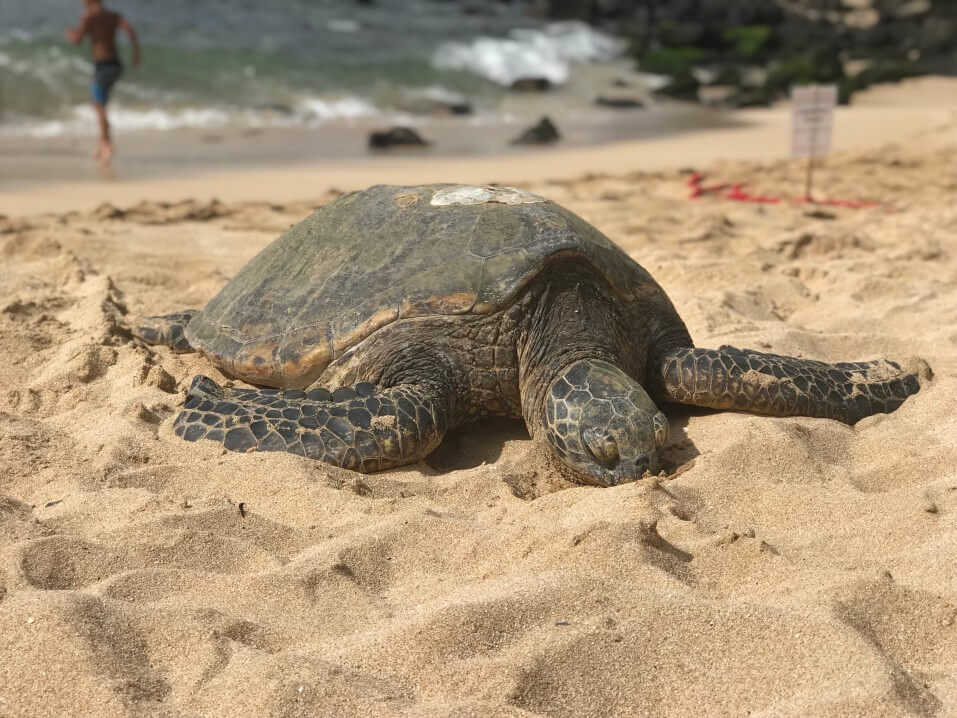 If you visit at the right time, you will see hundreds of sea turtles beached along the seashore.
Just remember not to get too close as you try to snap a selfie with a turtle.
Explore the Shops with your Teens
Check out the Ala Moana Center, that has some of the finest shopping areas, along with dining in all of Hawaii.
There's nothing wrong with shopping and window shopping without spending any money.
It also gives teenagers a great opportunity to people watch and hang out with friends.
And they have quite a few free programs available, including a polished hula show.
Grab Shave Ice with your Teens
Teenagers love shave ice with the many fruity flavors that you can add.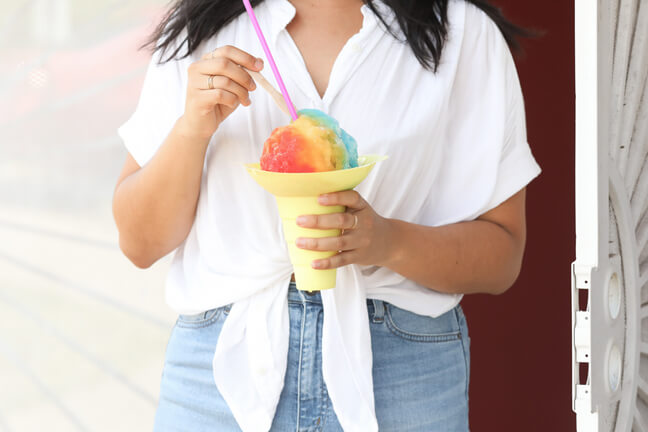 How about making a rainbow colored treat at the famous Matsumoto Shave Ice in Haleiwa on the North Shore?
Or head to President Obama's favorite shave ice in Honololu: Waiola Shave Ice.
It's a cheap way to grab a sweet treat. Plus, it's easy to share with friends.
Find out the best shave ice on Oahu
ArtAfterDark Honolulu Museum
On the last Friday of the Month, ArtAfterDark, presented by the Honolulu Museum is a cheap event to attend.
It's an art party with plenty of entertainment and a great place for young people to hang out and have fun. (As long as a person over 21 is present with them.)
These are a number of frugal activities that teens can enjoy while visiting the state of Hawaii.
If you're planning on giving your teenagers a little freedom on this trip, what do you think that they will enjoy doing?
If you've already been to an island, what are your favorite things to do with teens in Hawaii? Let me know in a comment below!